Let's be honest, camping with your kids makes for some pretty sweet memories. Now let's be realistic, camping with your kids and trying to whip up delicious and easy camping meals without missing out on all the fun, can be pretty much non-existent! It doesn't have to be this way.
A good starting point is coming up with some camping food ideas. What does everyone like? The usual suspects: Hot dogs, BBQ chicken, and burgers? Or should we add some flair: pepperoni pizza pudgy pie, skillet lasagna, and walking tacos?
Alright folks, who's hungry? I've put together some amazingly fun recipes and all the tips you need to stay well-fed on your next camping trip with the kiddos.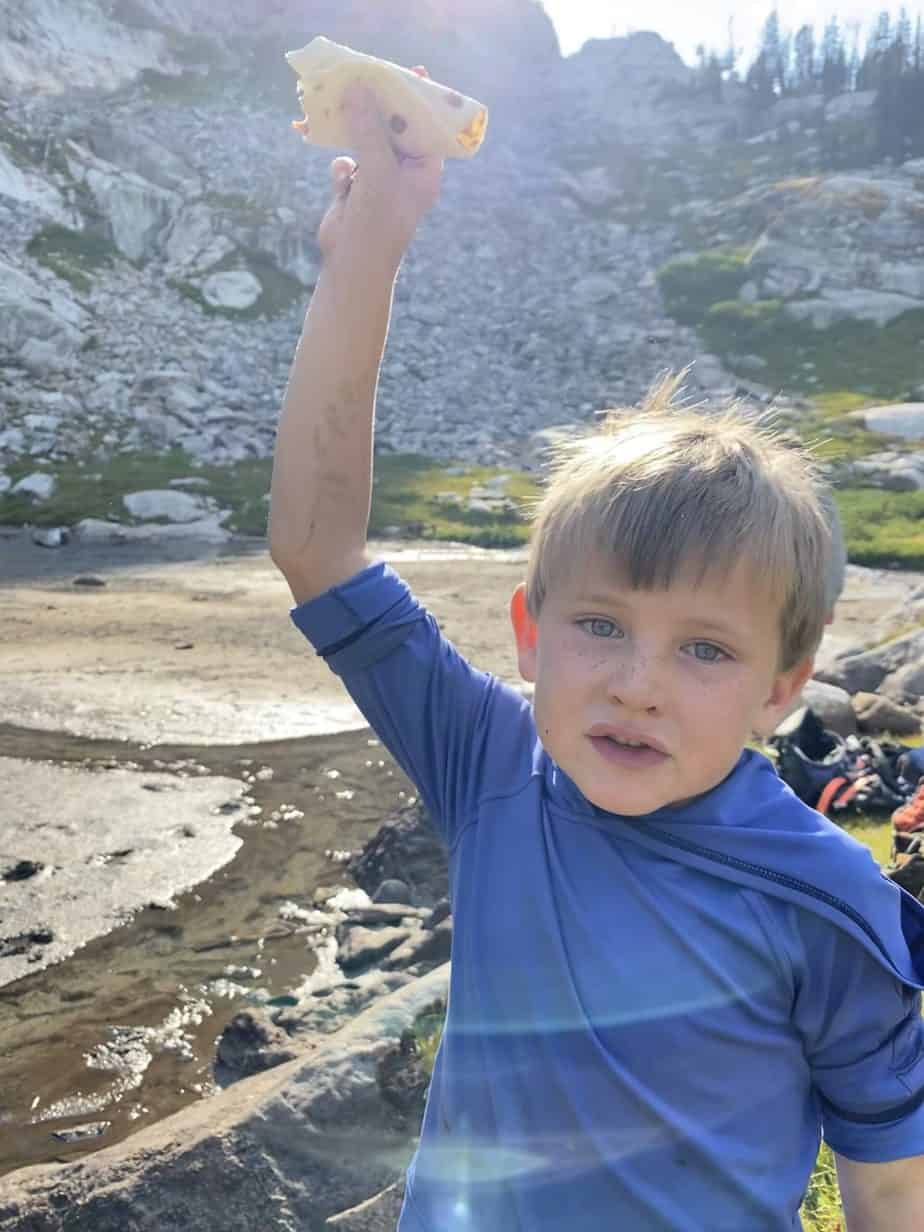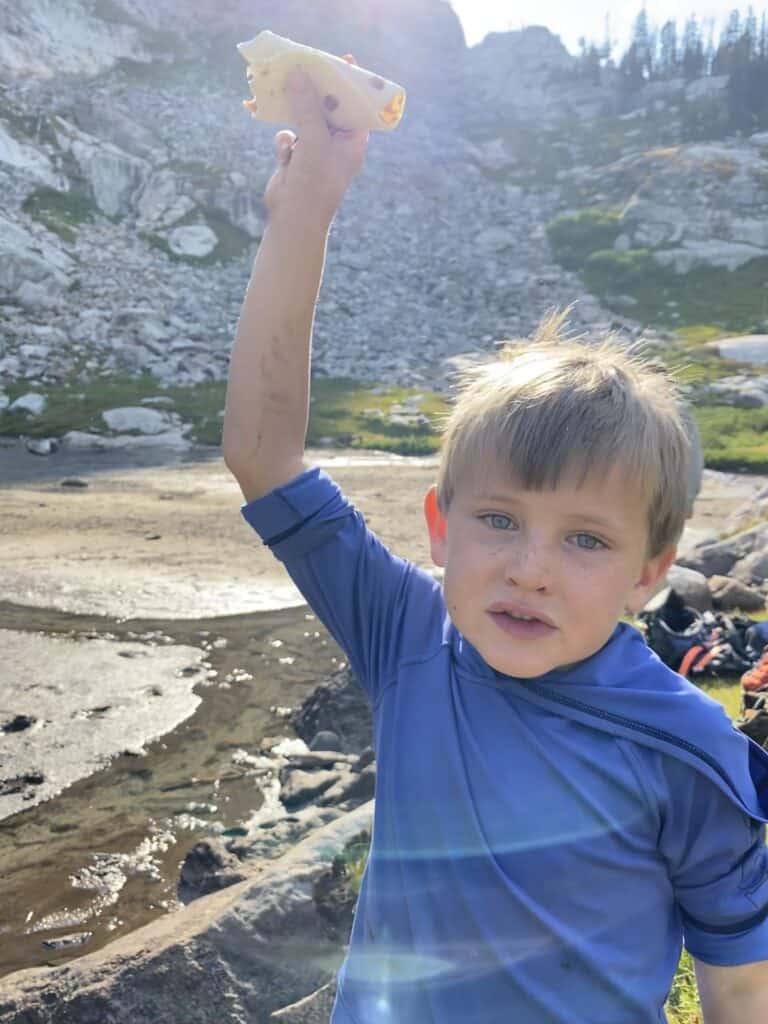 What Makes a Camping Meal Great for Kids? 6 Things
If your kids are anything like mine, they will definitely be apprehensive to try new things (so leave the kale avocado toast for another day). No worries here though, most of these camping meals are not only super easy, but they also include kid-friendly food that will be sure to get them lining up for seconds.
If you're looking to make your camp cooking even easier, these campfire cooking kits should help a ton!
Teaches them Different Ways to Cook
Dutch ovens, foil packets, tripods, open fire, and a camp stove are just some of the ways we've cooked delicious meals on our adventures. Look for meals that help you and your kids experiment with different cooking methods.
One of my kids' favorite camping food ideas is the "screw up method". This is where someone screws up dinner and we all load up and go out to eat. It's rare….. but it happens.
Camping Meals for Kids Should Be Fun to Make
Like the king of all camping meals (or snacks)…the S'MORE! Nothing is more fun than making a s'more. Fire, chocolate, flaming marshmallows…they've got everything!
In fact, I'm not sure I've ever seen a kid cook a s'more and not have the look of amazement in their eyes.
So look for camping meals that are also fun to make!
Camping Meals Should Make Memories
Just like ice-cold water, lemonade, or beer hits the spot in the scorching temps of summer, a hot bowl of stew, baked potatoes, or chili in the frigid months warms the soul.
I'm no meteorologist but I have coined the term "chili weather", meaning yes, it's time to make chili. In the cold months, chili is the perfect camping food.
For some reason, these moments cooking or sitting around the fire are the memories that always seem the most vivid. What can I say? I love to eat!
They Should Be Simple
Remember the song from Burger King? Hold the pickles, hold the lettuce, special orders don't upset us. This ain't Burger King, special orders do upset us. It isn't easy, but we try to make one simple meal for everyone.
That's why it's best just to avoid any and all ingredients that the kiddos have tried and do not like. Do not pack them. You don't have time or space to be making soup with onions for Mommy and soup without onions for Billy. 🤪
Don't worry, I've left a lot of flexibility in the camping meals for you to add and subtract ingredients the kids don't love. Camping with toddlers can be tough so we want to make it easy on you with the best camping food.
For example, while at home we have PB & J on "normal" bread… but camping? It's PB and HONEY in a tube and then squeezed onto a tortilla, which is way simpler to pack and prepare!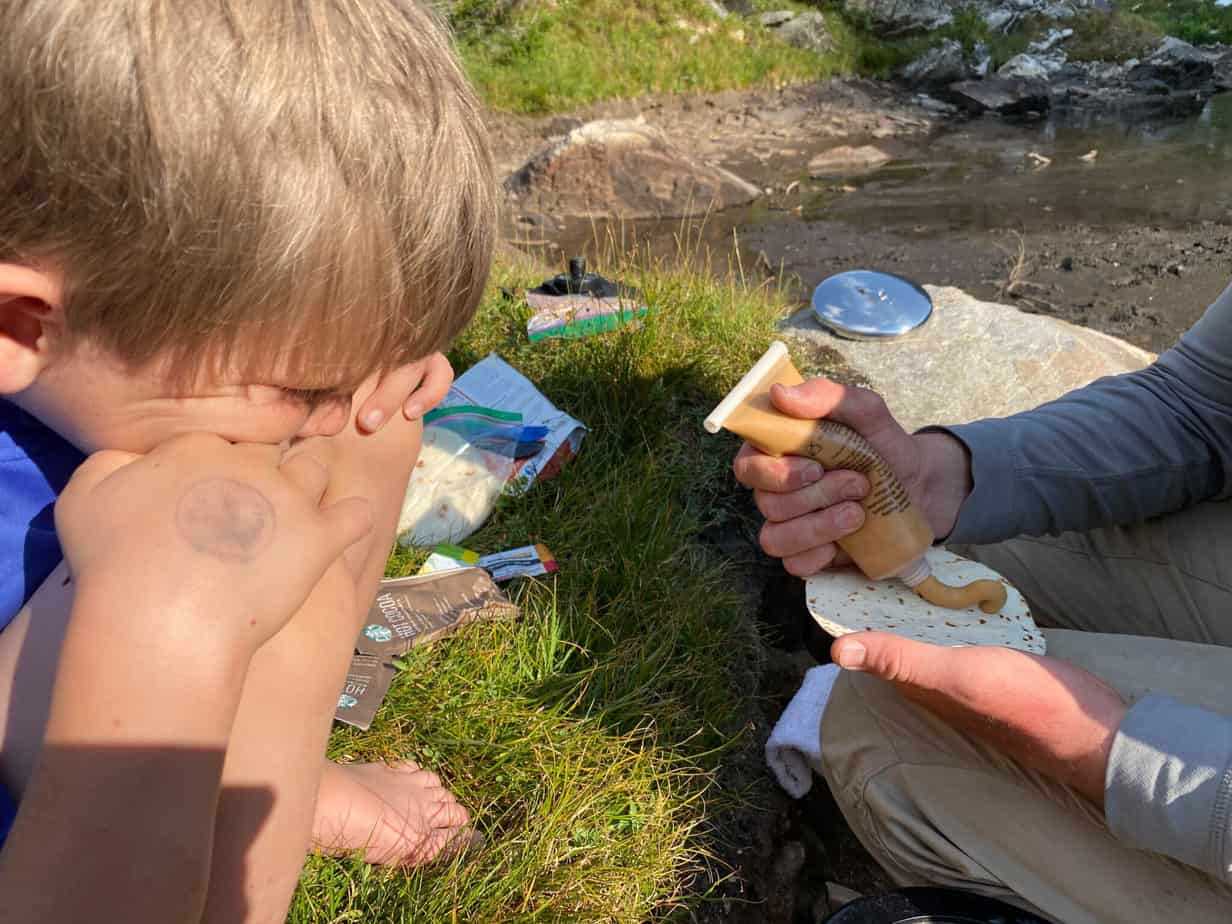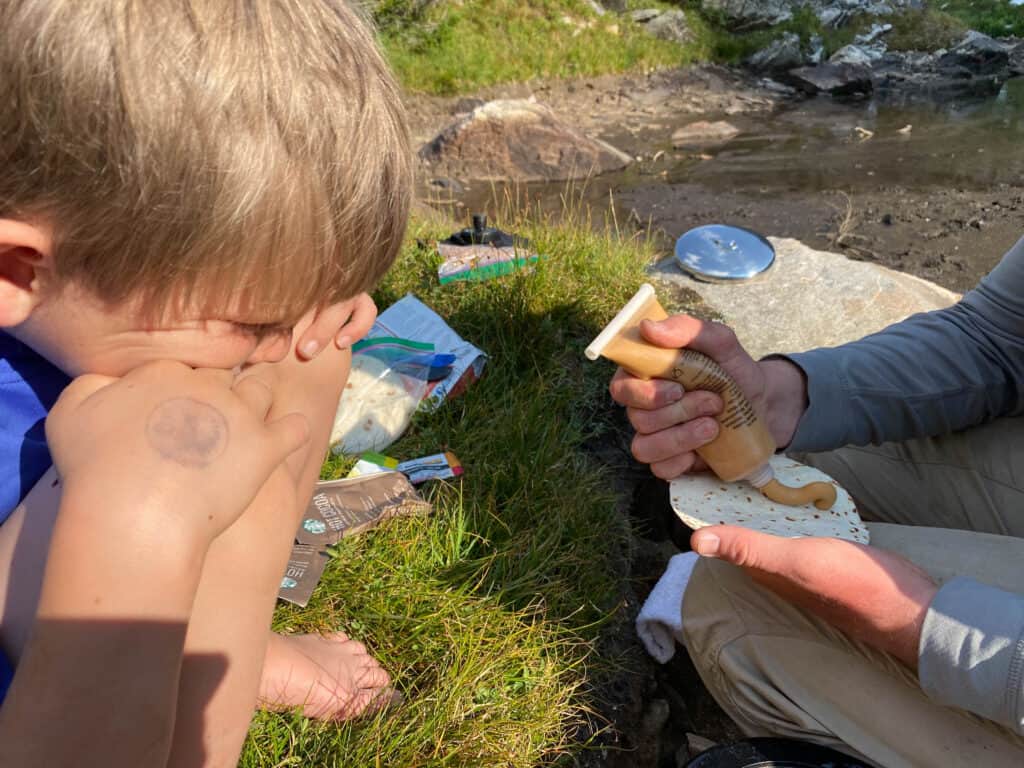 Camping Meals are Nutritious
If we allowed it, my oldest would eat mac-n-cheese for every meal. Is it a meal? Is it a side? It's debatable. Unless they decide to forage for berries, what we bring is what they eat.
The best camping meals should be the right balance of yummy and healthy. That way you don't end up with a standoff while trying to get them to eat, and they'll have plenty of energy to run around ravaging the surrounding woods.
Camping Meals Bring Us Together
Sometimes life gets us so busy we miss out on how important and meaningful just hanging out and eating can be. So look for meals that you can eat AND PREPARE together. It's a great way to limit screen time without them knowing.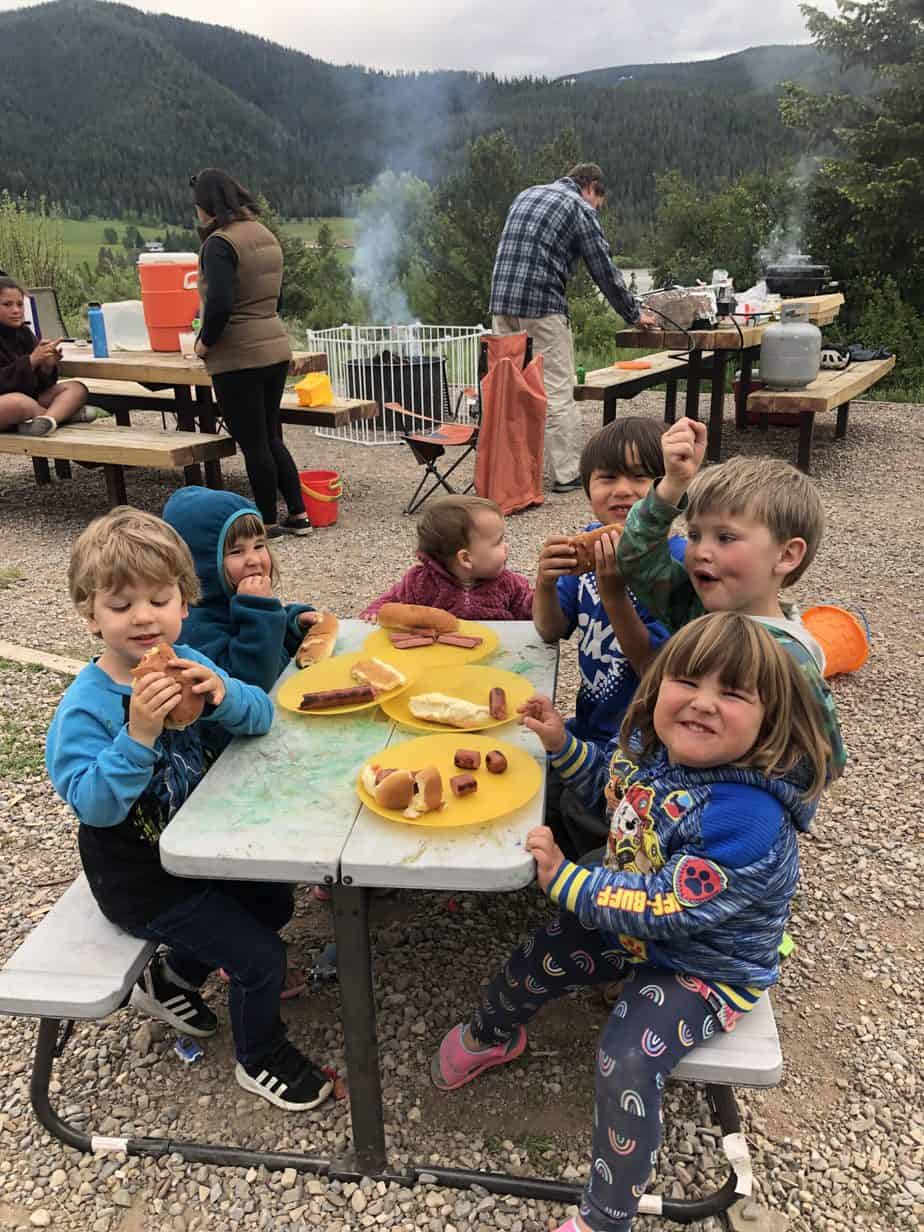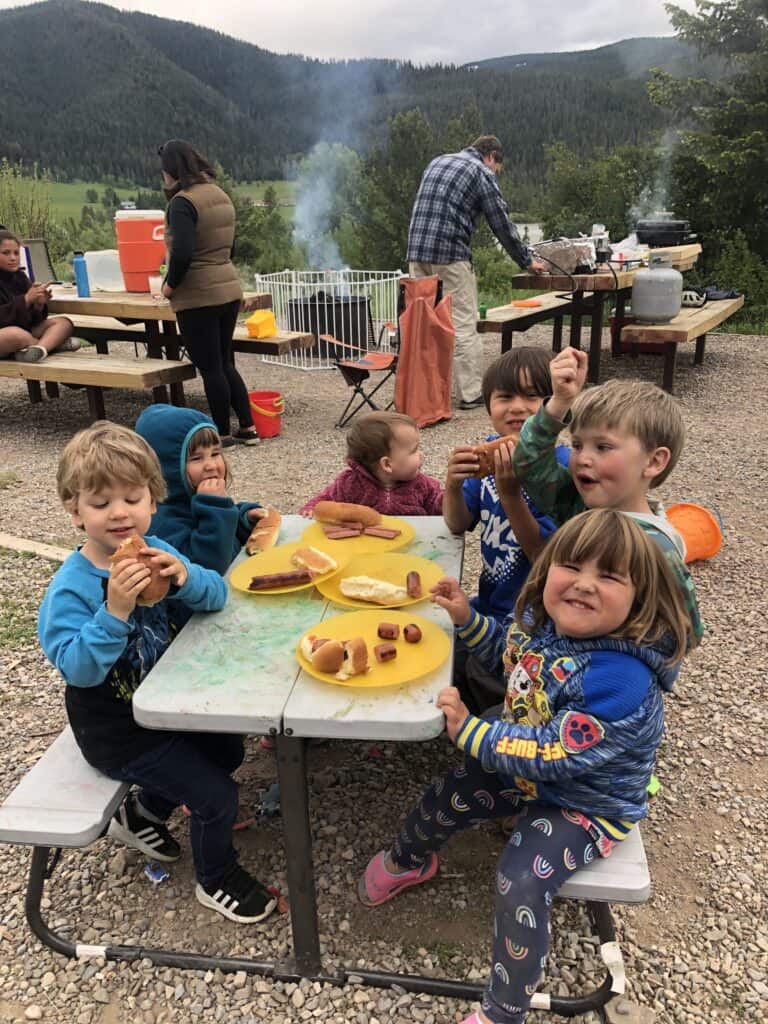 25 of the Best Camping Meals for Families with Kids
My kids can be some picky eaters so we've had to try about every recipe under the sun. I've put together some of our favorite meals and researched a few so you and yours can enjoy some great camping food.
In case you want to jump ahead the list is organized by breakfast, lunch, dinner, (linner 😊) dessert, & snack categories.
| | | | |
| --- | --- | --- | --- |
| Breakfast | Lunch & Dinner | Snacks | Deserts |
| Mason Jar Flapjacks | Hobo Packets | Trail Mix | S'more Quesadilla |
| Mountain Man Breakfast | Walking Tacos | Homemade Banana Chips | Campfire Cinnamon Rolls |
| Egg McHuffins | Pepperoni Pizza Pudgy Pie | Apple & Cranberry Campfire Granola Bars | Dutch Oven Peach Cobbler |
| Banana and Almond Butter Pancakes | Hobo Pie | | Chocolate Chip Cookie in a Cup |
| Car Engine Breakfast Burrito | Zucchini Pizza Boats | | Campfire Banana Boats |
| French Toast Panwiches | White Bean Dip | | |
| Campfire Oatmeal | White Cheddar Mac & Cheese | | |
| | Campfire Joes | | |
| | Grilled Ham and Cheese Sandwich | | |
| | Skillet Lasagna | | |
7 of the Best Camping Breakfast Meals for Families with Kids
Grab your coffee and get your camp kitchen ready. Here are some delicious breakfast recipes sure to get your kiddos leaping out of their sleeping bags.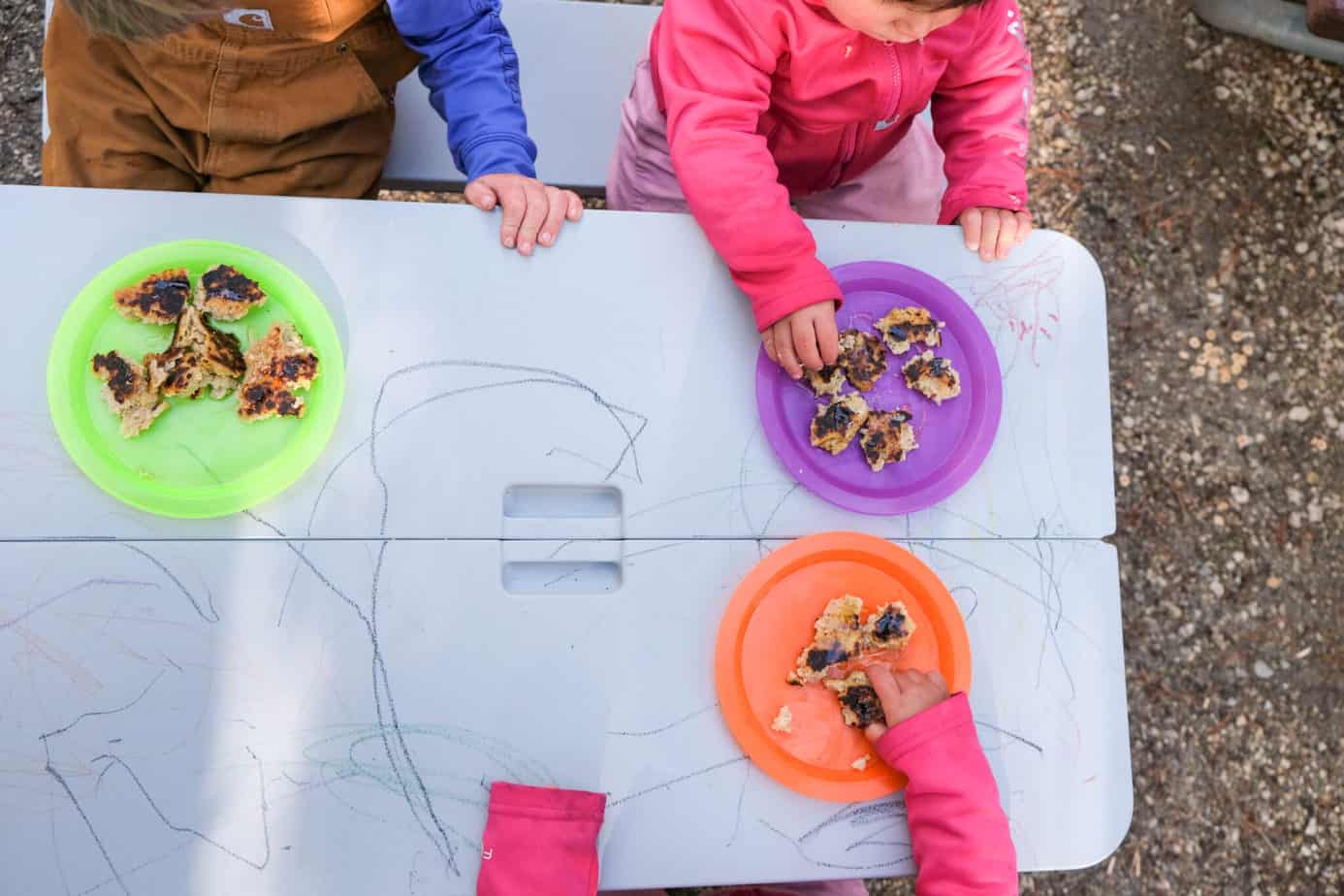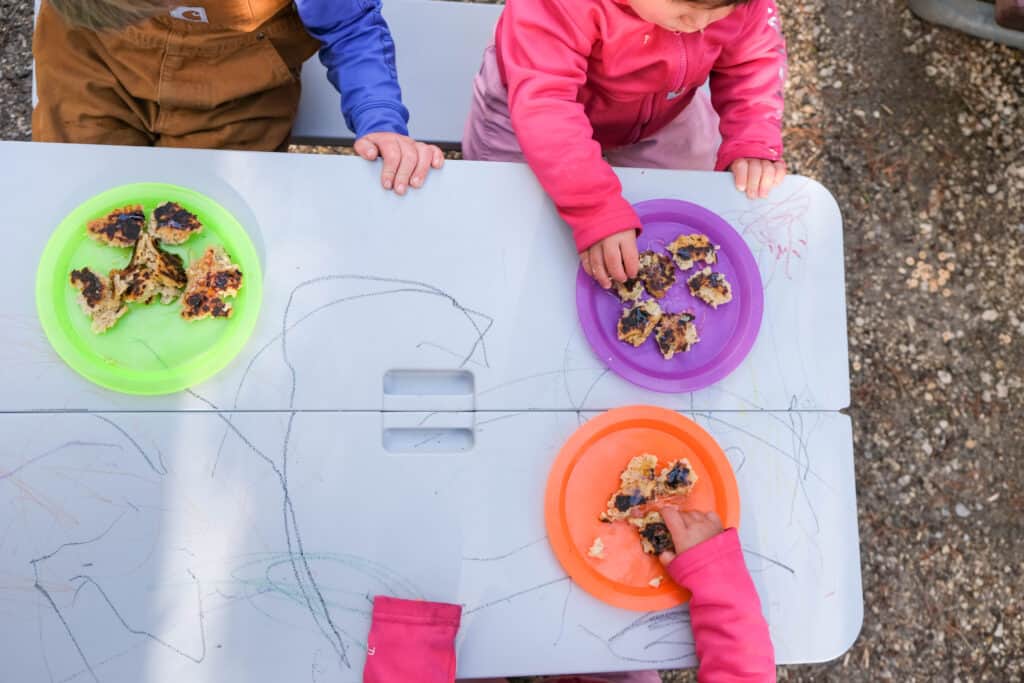 Mountain Man Breakfast
Why it's a great camp meal: This hearty breakfast can be modified for all your likes and spice levels. It's super easy to make, the only problem is there are rarely any leftovers. Yes, it's that good.
This meal will give your body all the energy it needs to get some hiking in or make you want to take a nap. Both are pretty awesome in my book.
Ingredients:
Carton of liquid eggs
Choice of meat
Bag of shredded potatoes
Your favorite veggies chopped
Shredded cheese
How to make it: Layer potatoes in your dutch oven. Cook until you've achieved your desired crispiness (super crispy to burnt for me). Add in everything else except the cheese. Return your dutch oven to heat and cook for a few minutes.
Remove, sprinkle cheese on top and return the lid so cheese gets nice and melty. Once your dutch oven has cooled enough to remove your masterpiece, plate it and cut it like a pie. Season to your liking and add a little hot sauce. When the dutch oven has cooled, rinse it out and get going on these chocolate cupcakes.
Egg McHuffins
Why it's a great camping food idea: Coming to America fans will get this reference. Yes, these are eerily similar to another famous breakfast sandwich. However, the improvements made by a fella with the last name "Huff" make these a slightly healthier and tastier option. What's great about this one is you can feed ~12 people for around $10.
Ingredients:
English Muffins
Eggs
Canadian Bacon
Cheese of choice, pepper jack or American
How to make it: I use my Blackstone griddle to make these but you can use any frying pan or flat griddle. Split and butter English muffins. Add them to a heated pan to toast. Crisp up Canadian bacon if desired.
Cook eggs too over easy/medium. I use egg rings to give the eggs a nice round shape. When the eggs have cooked, add them to an English muffin half. Add cheese followed by Canadian bacon. Leave them on the cooking surface for a few to get the cheese nice and melty. Serve these open-face for a lower carb option.
Banana and Almond Butter Pancakes
Why it's a great camp meal: I make a bunch of these ahead of time and store them in large ziplock bags. They are great because they taste good, can be eaten for breakfast or a snack, and can be eaten warm or cold. While we love cooking when we are camping we always make ahead meals for the family.
Ingredients:
Ripe to overripe bananas
Almond Butter (smooth)
2 Eggs beaten
How to make it: Mix up your bananas and almond butter in a large mixing bowl. Mix in beaten eggs until you get a mixture somewhat like a pancake mixture. It will be thicker! Spoon your mixture onto a preheated cooking surface and cook for approximately 3 minutes on each side. You can certainly make the entire recipe at camp or make-ahead like we do.
Car Engine Breakfast Burrito
Why it's an easy camping meal: A combination of make-ahead and cook-on-the-way in the most interesting fashion. An ideal time for a make-ahead meal is when you arrive at camp. There is typically quite a bit of setup and some YELLING and when that's all said and done who wants to cook? Not it!
I know exactly what you are thinking. What else can I cook on my car engine? Well, thankfully the book detailing the art of Carbecue is available on Amazon. You can't make this up!
Ingredients:
Burrito-Sized Tortillas
Cooked Eggs
Diced Ham
Cheese
Salt and Pepper
How to make it: I like to work with a warm tortilla when wrapping my breakfast burritos. It just seems to wrap tighter and it's easier to work with. Load eggs, ham, and cheese into a tortilla. Distribute evenly and season with salt and pepper. Get your burrito nice and tight. Next, secure your burritos in foil so nothing can escape. Pack these up until and keep refrigerated.
When you are about 20 minutes from your destination, pull over, pop the hood, and find a good spot to place your burritos on the engine block. When you get to camp your burritos should be ready to eat. I know this seems ridiculous but it's fun and something new to try with the kids.
You can also try this foil packet wrapped steak and potato option on the engine block. Keep these in your back pocket if you can't get the fire started. 😀
Cooking Steak and Potato on your Engine
French Toast Panwiches
Why it's a great camp meal: If you're looking for something truly "from home," look no further than the french toast sandwich. This can be an easy breakfast or a fun dinner in the woods, depending on your time of day and who you're cooking for.
Ingredients:
Bagels (day-old bagels are best because the bread soaks up the egg yolk batter better)
Eggs
Milk or cream or both to mix with the eggs depending on the consistency desired
Sugar, cinnamon, vanilla extract to season with. You can also add other spices that you want to your batter.
How to make it: Cut one side off of each bagel and scoop out the bread inside. The bread makes for a great toast to eat at another time or just throw it in the oatmeal below.
Mix eggs, milk, sugar, cinnamon, vanilla extract together until well blended. This should be for at least two sandwiches but you can make as many as you want.
Heat your cast iron skillet to medium-high before adding in some butter or oil of your choice. Dip the bagel bottoms into the egg mixture and cook until golden brown on each side (1-2 minutes per side). Continue this process until complete with all the bagels.
Cut french toast panwiches in half and serve warm. Add fruit on the top of each sandwich for a fun way to eat fruits.
Campfire Oatmeal
Why it's a great camping food idea: Oatmeal is the perfect breakfast before hiking or biking or fishing or running or any activity ending in "ING". It is also delicious and easy to make.
Ingredients:
Instant oatmeal (I like oatmeals with dried fruit)
Cinnamon
Brown sugar
Milk or water
Granola to taste and/or add-ins such as chocolate chips, nuts, or other oatmeals.
How to make it: Mix oatmeal, milk, brown sugar, and dried fruit into a camp pot. Cook oatmeal to your desired consistency and stir it frequently so it doesn't burn to the bottom. Who would do that?(person raising hand emoji) You can add cinnamon or other spices if you'd like to add some pizzazz.
If you're trying to save some time, just use a premixed pack OR try overnight oats (put all your oats/toppings into a jar, add milk/water of choice, and store in the fridge overnight so it's ready to eat in the morning!)
Mason Jar Flapjacks
Why it's an easy camping meal: This family-loved recipe is courtesy of L.L. Bean but I replaced it with pancake mix to save you some time and avoid messy situations.
Ingredients:
Your favorite pancake mix
Milk or water
Blueberries or chocolate chips
How to make it: You will be using your mason jar for mixing. Follow the instructions on your pancake mix or make from scratch if you are a showoff! Mix in your blueberries, chocolate chips, or both!
Have your kiddos shake the jar, getting that batter perfectly mixed (and burning some of their energy inthe process!)
Once everything is mixed, begin pouring your pancakes into a heated pan. Flip once you start seeing bubbles on top of your pancakes. Remove when both sides are golden brown. Serve with butter and syrup or eat them plain. Any unused batter can be refrigerated for the next morning's breakfast.
5 of the Best Family Camping Meals for Lunch
Most of our lunch and dinner camping meals are interchangeable. You're out in the wild so go get wild. Have lunch for dinner or dinner for lunch.
Hobo Packets
Why it's a great camp meal: My kids love playing with fire. Like, "you guys are scaring me" type of play. Cooking foil packet meals gives us a chance to cook/play in the fire safely.
They are easy to put together, easy to cook, and taste great. Plus I love making these types of meals where each kid or adult can have their own packet. It allows us to add or omit ingredients the kids don't like. As long as you can remember whose packet is whose.
Ingredients:
Smoked Sausage – sliced or chopped
Potatoes – Chopped
Carrots – Chopped
Onions – Chopped
Italian Seasoning
How to make it: Super Simple. You'll need several square-sized sheets of tin foil. You can either mix all your ingredients in a bowl or if you are OCD like me you can portion out each ingredient in equal amounts into each packet.
I like to put a pat of butter in each packet and season generously. Wrap packets tight. This may require another sheet of foil to keep everything contained. Let these packets cook in the fire for 30 minutes turning only once.
Tin foil is a lifesaver when camping with kids. There are just so many foil-wrapped meals you can make that don't require tons of prep.
Grilled Ham and Cheese Sandwich
Why it's a great camp meal: This is a kid favorite. It's easy to make and can very easily be made with cheese or veggie sandwich. Just adjust the recipe if you need too.
Ingredients:
Bread
Butter
Sliced meat: Ham, turkey, roast beef etc.
Sliced Cheese or cheese alternative
How to make it: Use your bread and butter as the base of your sandwich. Layer your choice of meats and cheese on top and enjoy! I like to put lettuce and tomato on mine for a slightly healthier camping sandwich.
Pepperoni Pizza Pudgy Pie
Why it's a great camping meal for kids: No kid in their right mind is turning down something called a pudgy pie. The good news is these are super easy to make but the bad news is you need a pudgy pie maker (aka "pie Iron" but just not as fun to say.) Picture a sandwich press on a stick.
Source: Amazon
I assure you the pudgy pie will return to our awesome list of camping meals for kids. It's just such a flexible cooking device for camping. You can individualize each one, you get to stick it in the fire (technically above or nestled in the coals).
Ingredients:
Pudgy Pie Maker
Non-Stick Cooking Spray
Tortillas slightly larger than the surface of your pudgy pie maker
Pizza Sauce
Shredded pizza cheese
Pepperoni
How to make it: This particular recipe comes from Legendary Whitetails. Spray each side of your pudgy pie maker(PPM) with non-stick cooking spray. Stuff a tortilla into one side and begin layering your pizza ingredients (Sauce, cheese, and Pepperoni).
Take another tortilla and place it on top of your masterpiece. Enclose everything in your PPM and tear off any excess tortilla. Place in the coals for 3-5 minutes on each side. Leftover ingredients. Try some grilled mini pizzas.
Hobo Pie
Why it's a great camping meal for kids: It's great because it is only a few ingredients and it feels like you shouldn't be eating it. Like most meals using a pie iron, they are single-serving which means you can alter ingredients for every single kid. Cooking with pie irons is one of the few ways you can make four different dinners.
Ingredients:
Pie Iron
Non-Stick Cooking Spray
Bread – 2 Slices
Butter
Fruit filling
How to make it: Spray both sides of your pie iron with the non-stick cooking spray. Butter both sides of your bread and place one in your pie iron. Proceed to put your favorite ingredient inside.
Uno Casa recommends sliced bananas and Nutella. Yummy! Place your second slice of buttered bread on top and close your pie iron. Place the pie iron in the fire and cook between 5-10 minutes, turning occasionally.
Zucchini Pizza Boats
Why it's a great camp meal for kids: This particular recipe for camping is really flexible. You can use almost any type of veggie, sauce and cheese to customize your pizza boarding pass. My favorite thing about this dish is how easy it is to customize.
Ingredients:
Zucchini – Sliced into boats/halves
Your favorite pizza sauce
Pepperoni or any type of meat you like on pizza
Veggies you love on Pizza
Shredded cheese (Parmesan is my fav)
Seasonings: Italian Seasoning, Garlic Powder, Onion Powder, Salt
How to make it: I do not recommend cooking this over a fire. Cook in a cast iron skillet on the stove. Cut your zucchini into halves or boats. I have also made these mini by using those slotted spoons from now-defunct fast food joints as molds. Season as you see fit.
Make sure to cook over medium heat so the cheese gets nice and melty. Once the zucchini is cooked through, remove from pan and top with sauce, meat and veggies of choice. I like to use a mozzarella/parmesan blend for mine but any type of cheese works.
5 of the Best Family Camping Meals for Dinner
Dinner is a loose term here – remember, when camping, rules can get thrown out the window! So if a bowl of cereal works better for your picky eaters than something officially considered "dinner" that's ok!
Walking Tacos
Why kids love this meal: You had me at tacos! Tacos are typically a difficult meal to pull off at camp but not walking tacos. After making these you may never hold a taco in your hand again…..Just kidding, that's ridiculous! But these are the best camping food options for tacos.
Ingredients:
Your favorite flavor Doritos in snack size bags
Taco meat
Taco toppings – lettuce, tomato, cheese, onion, jalapenos, hot sauce, sour cream
How to make it: Cook your favorite taco meat, we typically use ground turkey or chicken. While the meat is cooking, chop/shred up all your toppings. Once everything is ready to serve, open up your favorite Dorito bag, add the meat, desired fixings, and enjoy.
White Cheddar Mac & Cheese
Why it's a great camping meal for kids: Nothing makes me happier than some kid friendly comfort food while camping with kids. This is my go-to, quick, kid-friendly camping recipe for dinner. Yes, Mac & Cheese can be a standalone dinner but it's great as a side as well.
Ingredients:
Macaroni or other type of small noodles
White Cheddar Cheese – shredded
Milk/Water to thin out the cheese sauce
Butter (optional)
Salt to taste if necessary
How to make it: This is a super simple camping recipe. Cook your noodles in the boiling water until just al dente, then drain them and set aside. Add butter to a pot if you have it, or just use a non-stick skillet over medium heat. Whisk together cheese sauce ingredients (milk/water, cheese) until it is thick but pourable. Pour the sauce over the noodles and add salt if necessary.
Campfire Joes
Why kids love it: What kid doesn't like sloppy joes? Besides my daughter? How about wrapped up in a fresh baked biscuit? These are easy to make and can fill your lunch, dinner, or linner needs.
Ingredients:
Meatballs (homemade or store bought)
Barbecue sauce
Biscuits, buttermilk preferred
How to make it: Roll barbecue meatballs in a biscuit dough. These are great in a dutch oven but you can also place them in a well oiled cast iron pan over heated coals, rotating 5 minutes on each side. Serve with kid-friendly barbecue sauce.
Skillet Lasagna
Why it's an easy camping meal: Kids like to help cook and this is the perfect kid-friendly dinner for them to help with. My kids love helping me make this so much that sometimes they will fight over who gets to stir or pour in ingredients. It's really delicious and easy to make.
Ingredients:
No boil lasagna noodles
Italian sausage
Ground Beef
Onion
Garlic
Tomato sauce (canned or homemade)
Parmesan cheese or cheese alternative
How to make it: Cook the ground beef and Italian sausage in a skillet (cook meat at home ahead of time if possible). Drain off the excess fat. Add garlic, onions and stir until fragrant. Then pour in your tomato sauce and bring to a boil. Once boiling, reduce heat to low and simmer for 10 minutes.
Add a small amount of sauce to the bottom of your kid friendly camping pot and follow with a layer of noodles.
Continue layering until you've used all of the noodles. Finish on top with remaining sauce, parmesan cheese or cheese alternative, and more pepper for an extra kick! Cook until cheese is melty and sauce is bubbly like lava.
Don't expect to cut a perfect square of lasagna but expect some deliciousness and a bit of a mess. It's worth it, especially on cold camping trips.
White Bean Dip
Why it's a great camp meal: Yes, this is a side but it is just too good to leave off of the list. This is a quick and easy snack that will be a hit with your little hunters or fishers. Plus, later on that night you and your family can recreate the campfire scene from blazing saddles. 🤣
Ingredients:
White beans (cannellini, Great Northern, etc.)
Veggies of choice (spinach, tomatoes, mushrooms etc)
Parmesan Cheese
Garlic Powder or Garlic Salt to taste
Water – if needed
How to make it: This camp cooking recipe is really easy. Rinse your can of white beans and put them in a bowl with the garlic powder/salt and water (if you're using dry beans). Use an immersion blender or food processor for 2 minutes. If your beans look dry add a little more water and blend until you get the consistency you like.
What to put it on: This is really flexible depending on what you have in your pantry when camping with kids, but my personal favorite is whole wheat tortillas. I cut them into wedges and let my kids dip them into the bowl to avoid a mess!
5 of the Best Camping Desserts for Kids
Since we are talking kid-friendly camping food, we had to include these kid-friendly camp desserts. These recipes for camping aren't just kid friendly but kid tested and approved! And whatever they don't eat, grazing parents are welcome to enjoy.
Remember, if you're not a cook, bring the premix or premade (these cupcakes in the picture below… were from box cupcakes mix =P)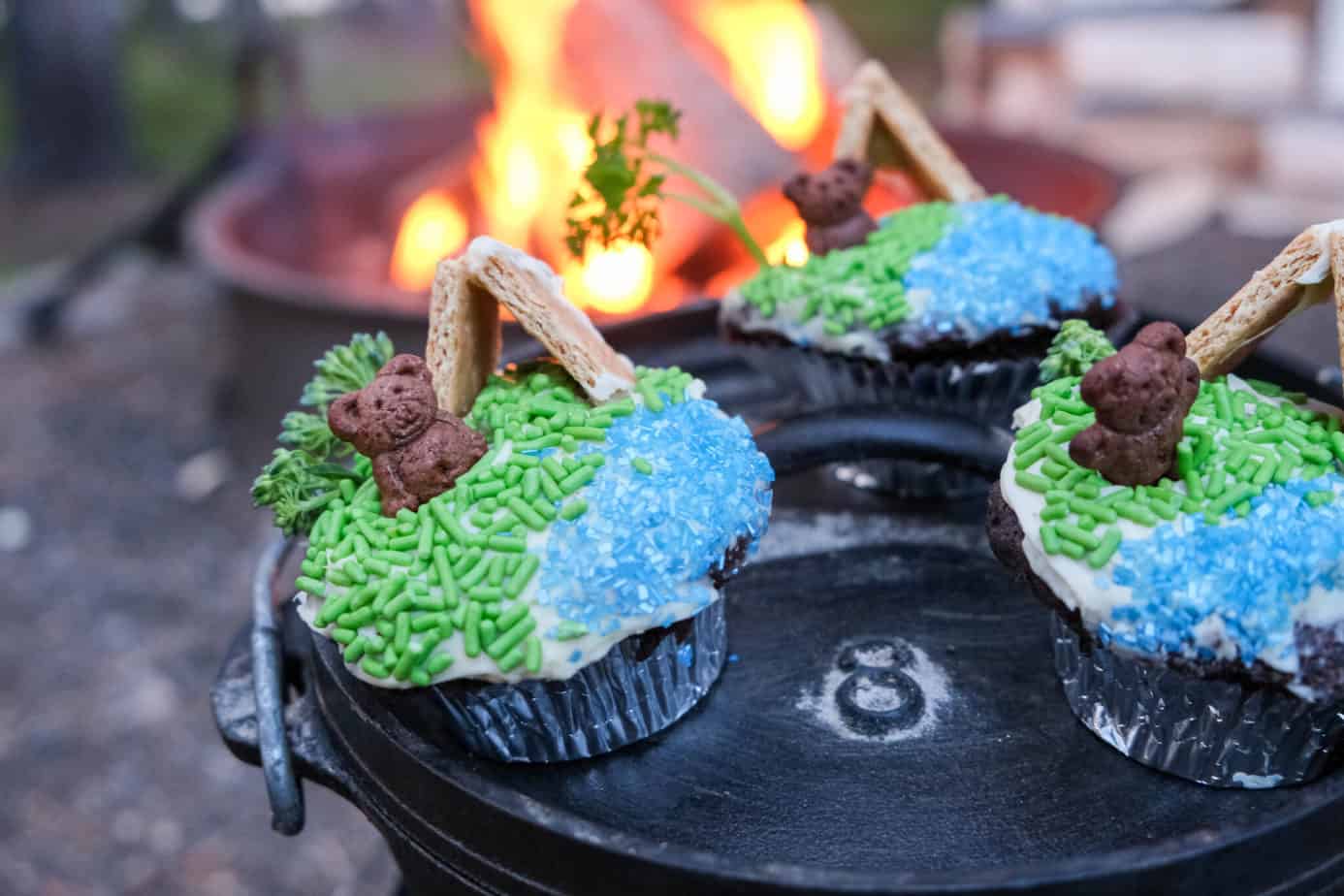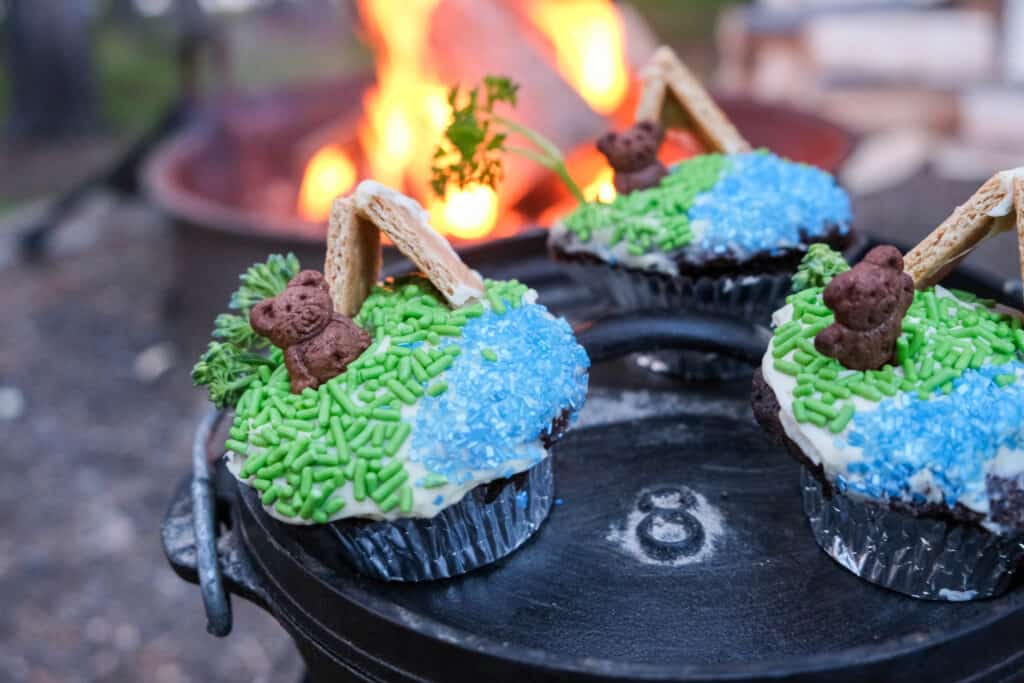 S'more Quesadilla
Why it's a great camp meal: This recipe for camping is really popular and easy to make. It's the perfect end-of-dinner treat or afternoon snack for your kids. You can also dress these up by adding veggies to one half of the tortilla before you add the chocolate chips like I like to do for me!
Ingredients:
Flour Tortillas
Marshmallows
Chocolate Chips (semi sweet, milk chocolate or white)
Butter (optional)
How to make it: This is a really easy recipe for camping with kids and family. In most quesadilla recipes you will see that the tortilla gets browned on each side before adding toppings but honestly, I don't bother. Just place your chocolate chips down first, then add the marshmallows, and top with the other tortilla.
Butter both sides of your quesadillas as desired or just cook as is in a skillet over medium low heat until the chocolate gets melty and there are visible grill marks on each side. I love using wonton wrappers for my chocolate chip cookie dough s'mores. Or go completely overboard and try sourdough bread with mini marshmallows and bacon for a marshmallow bacon s'more!
Campfire Cinnamon Rolls
Why it's a great kid-friendly camp meal: Most of the guilt associated with eating such a decadent treat can be fought with the argument that you are going to burn off what you eat while hiking, biking, climbing, and running around.
Ingredients:
Canned biscuits (any kind)
Cinnamon and sugar
Butter
How to make it: This scrumptous camping treat can be made in a cast-iron skillet over the campfire. Simply open the biscuits, sprinkle with cinnamon and sugar (the amount is up to you), roll them up, and cut them into 1 inch slices. Then make an assembly line with your butter, cinnamon and sugar in separate bowls to dip the rolls into. Cook over the campfire (ideally over coals) for about 5 minutes or until golden brown!
Dutch Oven Peach Cobbler
Why it's kid-friendly: This is an easier camping version of peach cobbler that is kid tested and kid approved! You can make this camping cobbler for kids with fruit that is fresh or canned.
Ingredients:
1 cup of all purpose flour
1/2 cup of white sugar
2 teaspoons of baking powder
½ teaspoon of salt
¼ teaspoon of ground cinnamon (optional)
½ cup of milk
3 tablespoons of melted butter
1 can or jar of sliced peaches, drained
How to make it: Preheat your dutch oven over the coals. Mix together flour, sugar, baking powder, salt and cinnamon. Add in milk and melted butter until a dough forms. If using canned peaches, be sure to drain the syrup off first. Pour in fruit and drop dough on top of fruit by spoonfuls. Be sure to save some dough for the "lid" of your kid friendly camping cobbler! Place lid on dutch oven and cook over coals for 25-30 minutes until golden brown.
P.S. if you like Dutch oven cooking, you gotta try these Dutch oven cupcakes! It's WAY easier than it sounds, and are fun to make for camping birthdays!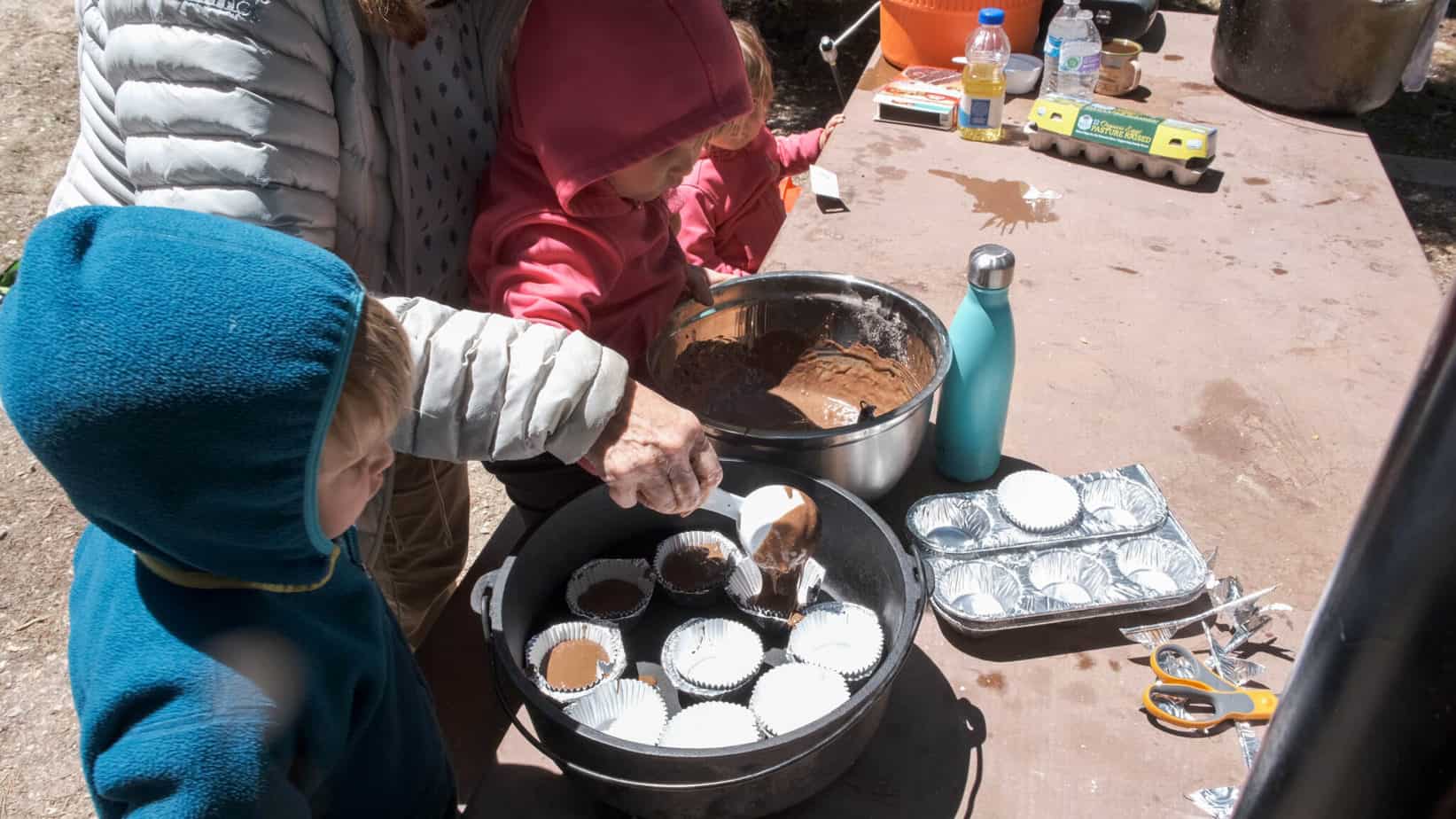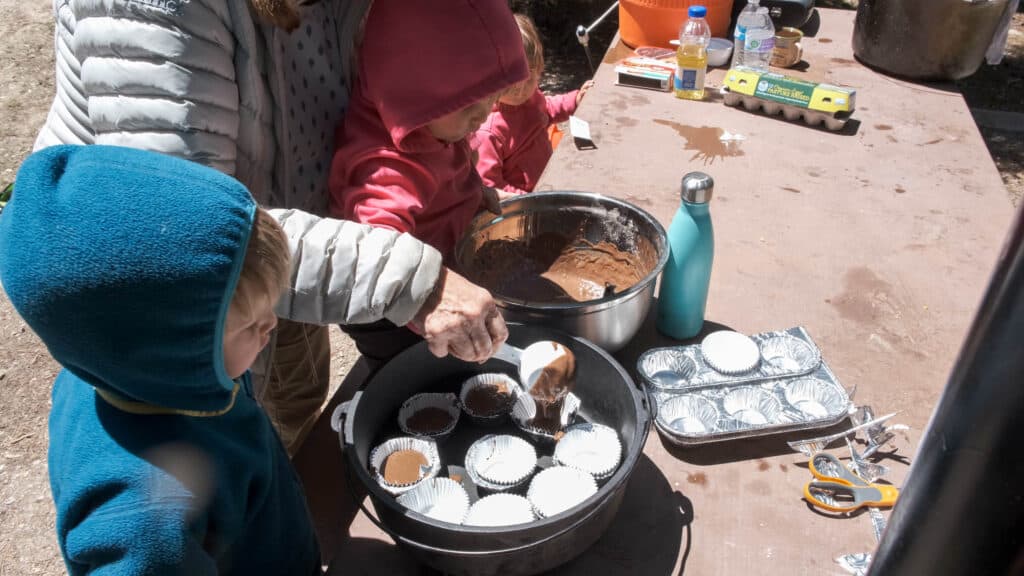 Chocolate Chip Cookie in a Cup
Why it's kid-friendly: It's made with items you can find at your local grocery store, easy to make over the campfire, and great for the kids to get involved with since they can make their own kid friendly camping cookies!
Ingredients:
Your favorite pre-made chocolate chip cookie mix
How to make it: Place your pre-made chocolate chip cookie dough in a large, heat-resistant cup (like metal) and place over the campfire for 10 minutes. Be sure to keep an eye on it as you don't want the chocolate to burn! Or you can use the Myott Silicone Mug. Just place the mug in a pot of boiling water to bake the cookie muffins.
Campfire Banana Boats
Why they're kid-friendly: What kid doesn't like bananas? How about when you make it fun by placing toppings in the center of them?
Ingredients:
Bananas
Chocolate chips
Marshmallows
How to make it: Slice bananas down the center. Peel back the skin and place chocolate chips and marshmallows inside the banana. Wrap in tin foil and place over coals on a fire for 5 minutes or until chocolate has melted. Open foil carefully and enjoy!
3 of the Best Camping Snack Foods for Kids
Depending on the age of your kids and the amount of activity you plan on while camping, your snack stash is going to vary. With a six year old and twin four year olds, we are snack heavy!
It's important to balance the sugary foods (good burst of energy, but not good for a sustained time) with the sustaining, more carb heavy foods. We tend to always bring some Cliff bars, fruit/nut mixes, and a LITTLE candy for when some extra motivation is needed.
Things that aren't sticky or crumbly work best – water can be limited, so the least amount of clean up is best!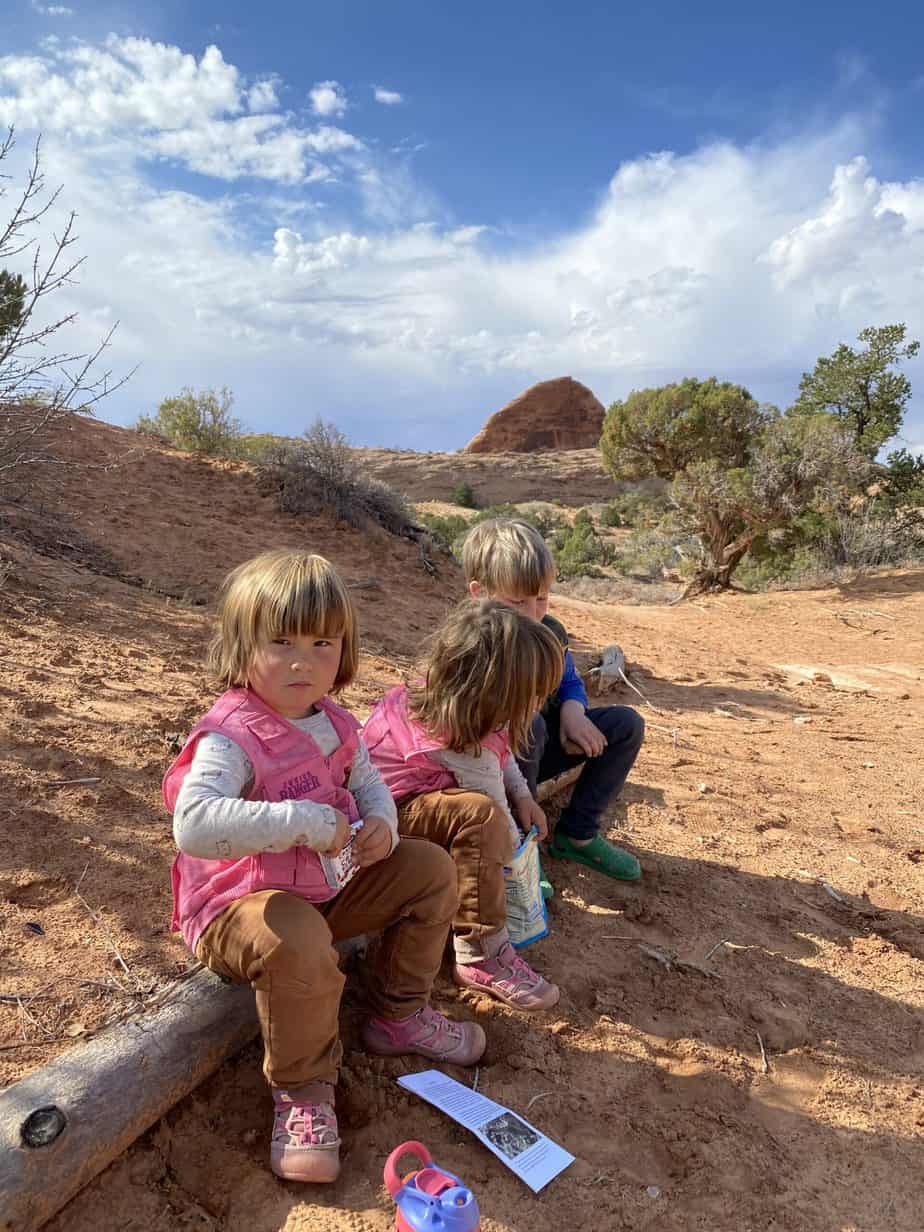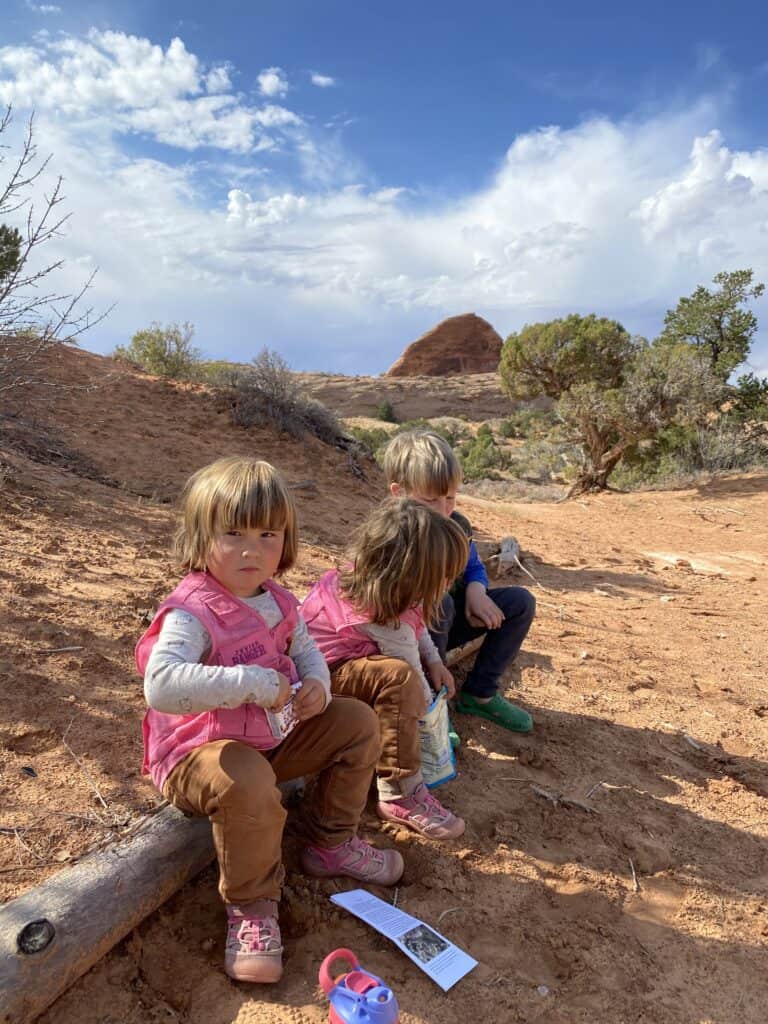 Trail Mix
Why it's a great camp meal: It's great on the go since it's packaged into easy-to-eat bags, can be kid-friendly if you pick out things that are kid favorites, and makes a healthy snack or meal for camping.
Ingredients:
Raisins, plain or yogurt covered
Dried cranberries
Sunflower seeds
Cashews (or nuts of choice)
Unsweetened coconut flakes
Chocolate chips or kid friendly M & Ms (optional)
Chex Cereal – favorite flavor
Pretzel sticks
How to make it: Set up your ingredients in large containers. Have your kids write their names on ziplock snack bags (1-2 for each day of camping). Next, have your kids go down the line filling up each of their snack bags. Make sure you set some rules or one of your more sneaky kids will walk away with just a bag of M&Ms. 😜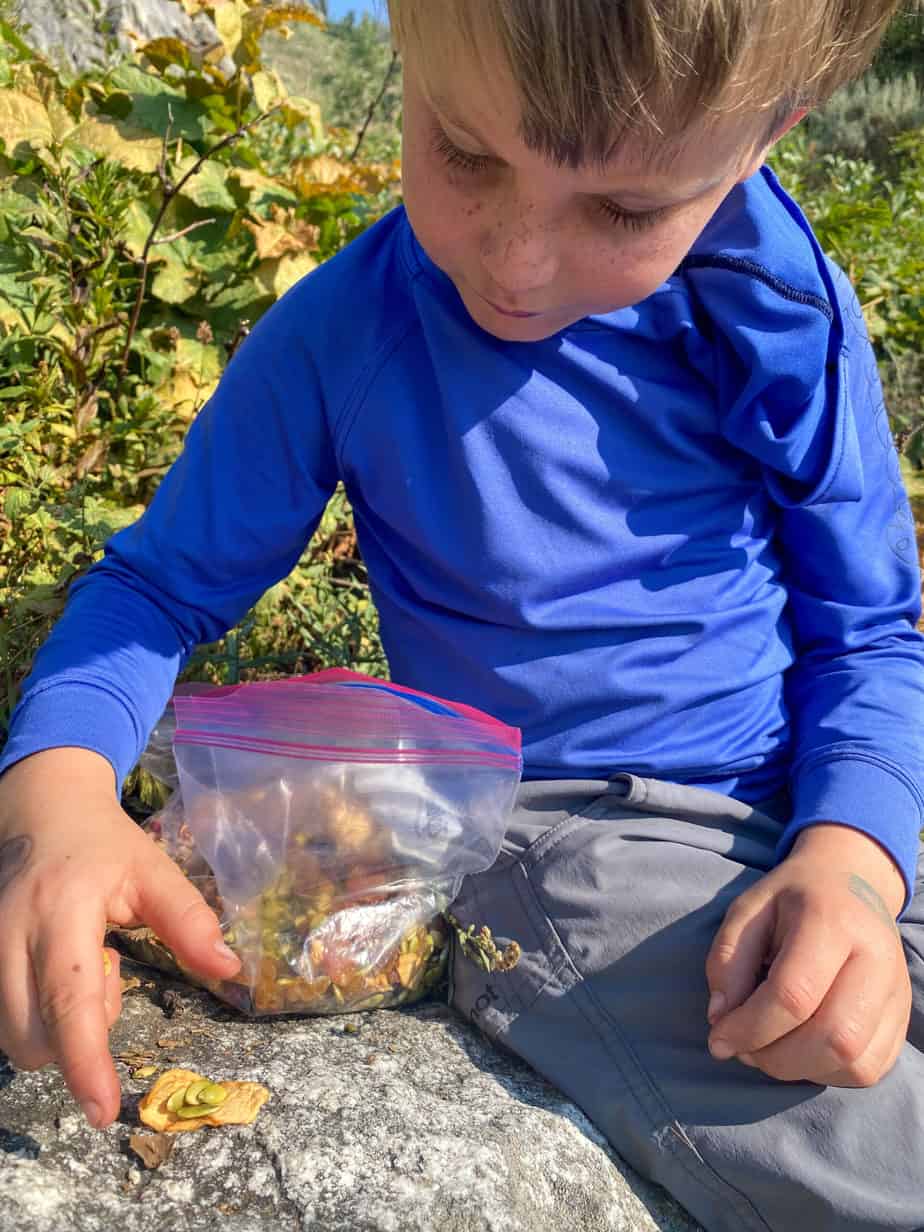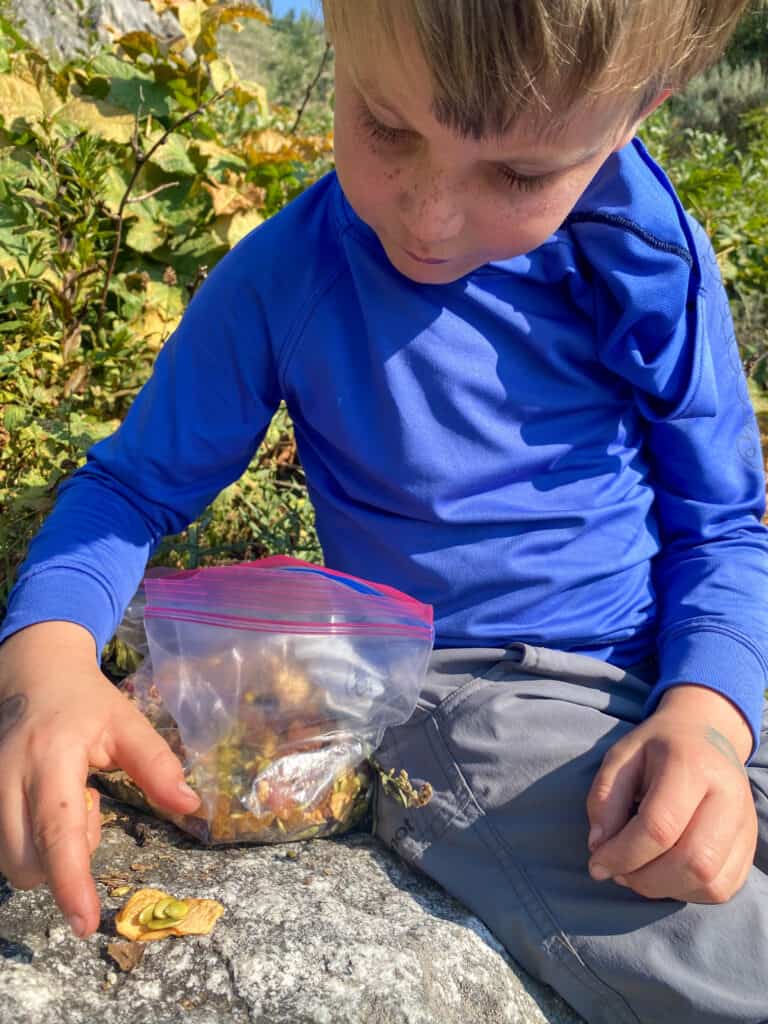 Homemade Banana Chips
Why it's kid-friendly: Kids can get involved in this kid friendly camping food idea by peeling the bananas and letting them dry! Plus, they don't take up a lot of room and taste delicious.
Ingredients:
Bananas (preferably green)
How to make it: Slice bananas about 1/4 of an inch thick. Lay sliced bananas flat on a kid friendly camping surface and let dry. You can place them in the sun or in your oven on low heat for 6-7 hours until dried. These are a great add to your kiddos pre-made snack bags.
If you love dried fruit, here's some dried cinnamon apples that are easy to make too!
Apple & Cranberry Campfire Granola Bars
Why it's a great camp meal: Kids can help cut out the granola bars and measure ingredients. Plus, it's a nutrient packed camp meal that will keep you full for hours! These are great in the colder months.
Ingredients:
Your favorite granola
Dried cranberries
An apple or two (side note – this could be substituted with banana or other fruit depending on your preference!)
Oats
Butter
How to make it: Melt butter in a pan and add oats. Continue to heat and stir for about 3 minutes until evenly coated with butter. Add dried cranberries, apples (or bananas) and additional granola.
Continue to heat for another 5 minutes or so, stirring occasionally. Remove from heat and flatten out with a spatula. Once cooled, you can slice into granola bar portions. These aren't perfectly square shaped like store bought granola bars but they taste better.
Tip: If you want to save a ton of time and mess, just buy granola bars 😁
A Few Final Tips for Easier Camp Cooking with Kids
​​Gathering the family together to make and eat a meal together in the great outdoors will be one of the best highlights of your camping trip. Here are my top things that make a camp meal healthy, yummy, and easy for families with kids.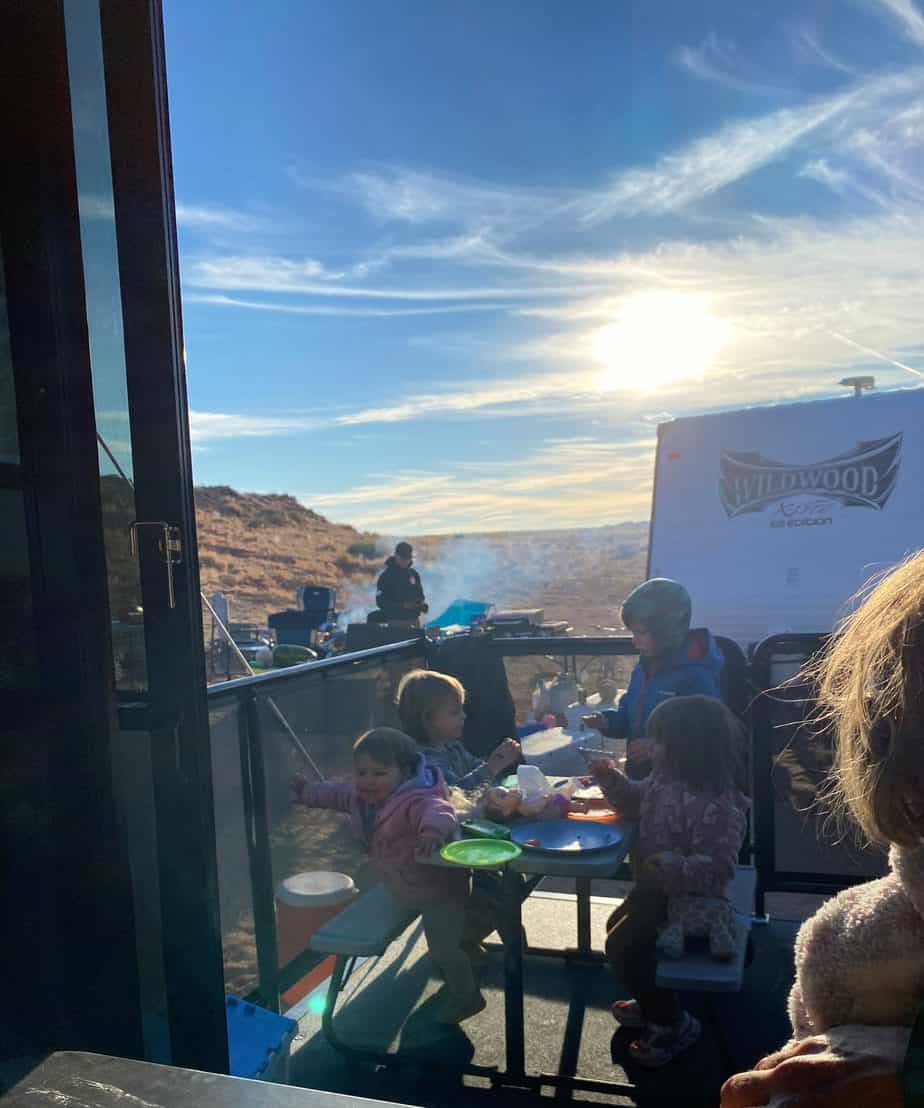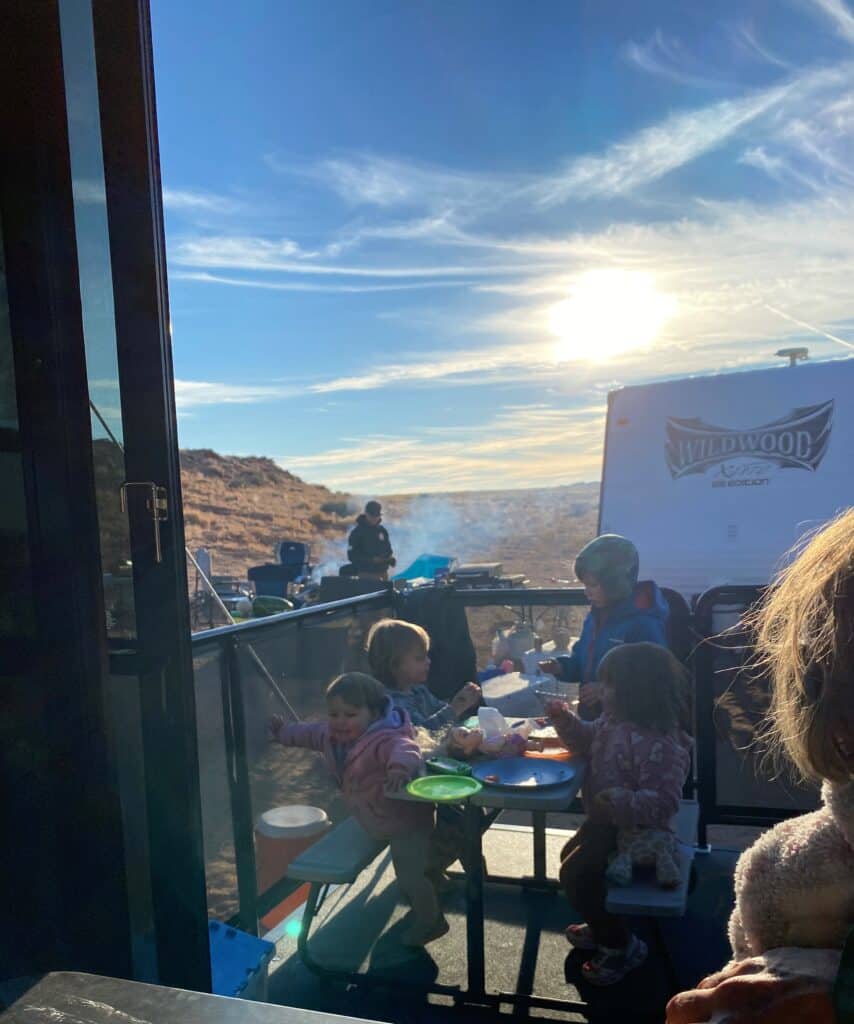 Pack Wisely
Pack healthy snacks that will provide energy for playing or hiking and healthy lunches and dinners. Try healthy dips, healthy sandwiches, or salads. Pack small snack size stuff that won't take up too much space in the cooler and that will be easy for kids to grab at their leisure.
Easy Does it
Make mealtimes easy on yourself and your helpers. Think bowls of cereals, oatmeal, granola bars, and sandwiches for toddlers and babies. You can do some serious meal prepping to keep the tiny ones happy and not go through 3 packs of wet wipes. A few pre-made camping meals won't hurt either.
All In One Seasoning
Keep the seasoning to a minimum. We found this camp mix seasoning at a cash register in the Northeast and haven't been without this seasoning since. I think we are on our 6th bottle. It is the only seasoning we bring camping. Sorry if that offends anyone. 😁 It's a secret weapon JIC you leave someone's dinner in the fire a tad too long.
Easy Clean Up
Pack up lots of napkins. You can never have too many. We pack baby wipes for quick cleanups, the water pail is also great for that. Having snack containers is a life saver for keeping things less messy and they are super convenient. Color code the lids for your kiddos to prevent fighting😁.
You can make your own DIY Wipes or buy your own. Camping is a great time to teach your kids about how important taking care of the environment, not littering, and educating them about pollution is.
Cook Ahead of Time
Cooking over the fire has one temperature setting and it is a little unpredictable. If you are cooking something with potatoes or veggies in them, cook everything ahead of time and keep it hot over the fire pit in a dutch oven.
Pre made camping meals remove the guess work and make your life easier. Cooking a few items ahead of time allows you to throw everything in together at the same time under the same temp. Easy peasy…
Pack Your Own Condiments
I really try and keep sauces to a minimum when camping. But packing your own premade sauces and other condiments is just way easier than trying to make your own at the site or trying to find the ingredients at the camp store.
For example, I don't drink dairy so I always pack my Macadamia Milk (bonus.. doesn't need to be refrigerated until opened!) so I don't have to deal with trying to find it in whatever store we're in.
Bring a Blanket (or other multi use eating/sitting surface =P)
Is it a blanket? Is it a tablecloth? Is it a mat? This "blanket mat table cloth thingy" has been a lifesaver for us. Our kids use it for eating and playing wherever we go. It folds up nicely and could be used as a tablecloth in a pinch.
Plus if your kids are messy like mine, having them sit in a camp chair and eat just doesn't work. You can rinse it down with a hose, with or without your kids on it. 😉
Need a blanket to stay warm? Here are the 15 best camping blankets.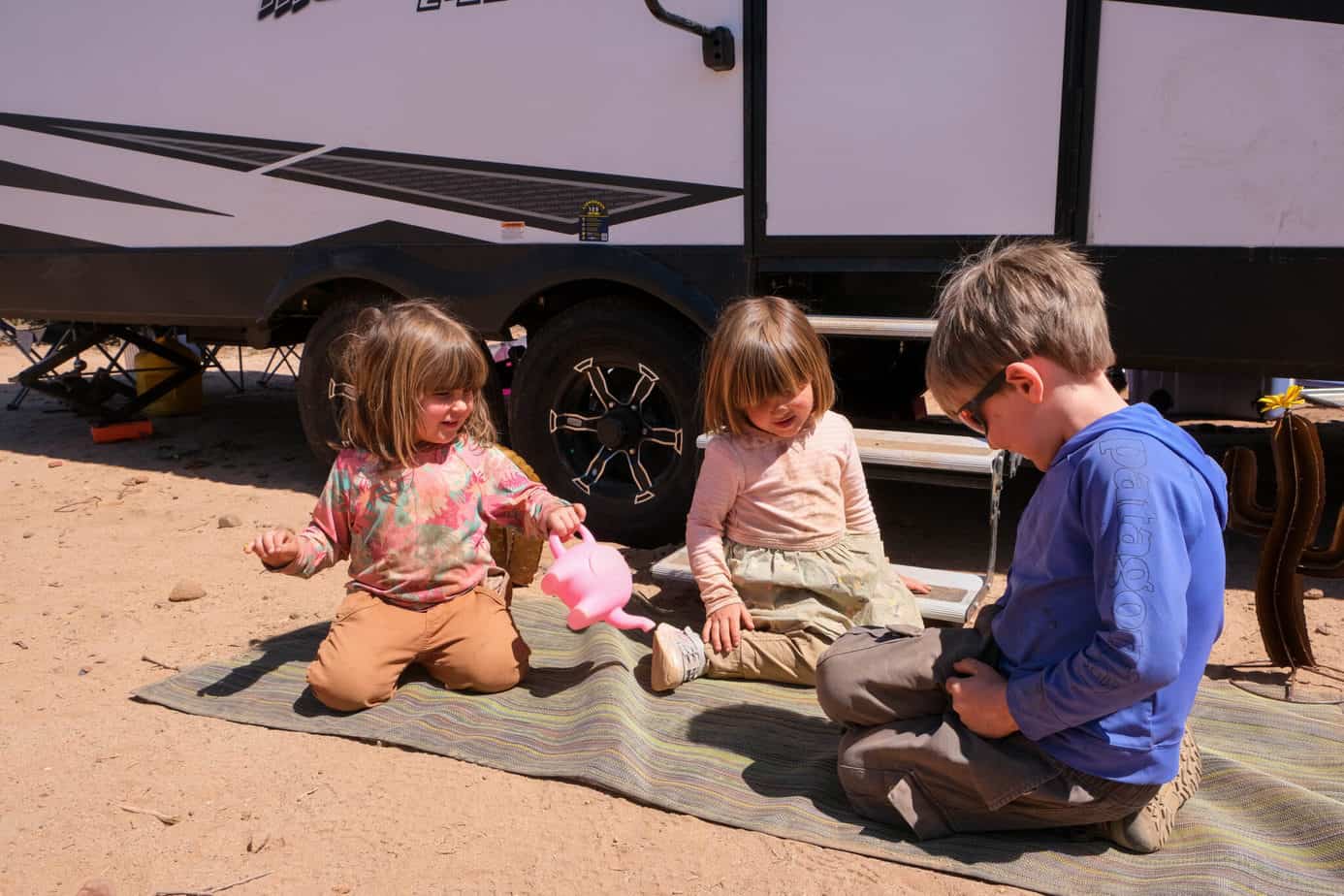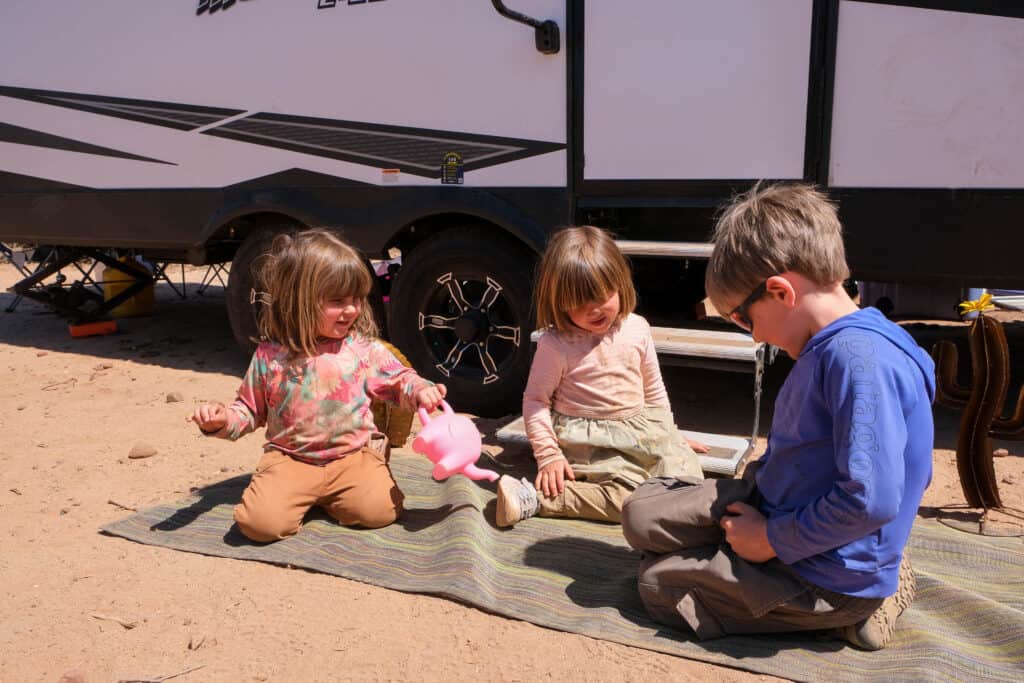 Conclusion
Making these camping meals with your kids in the great outdoors will be some of the best parts of your trip. Just remember to keep it simple, keep it fun, and keep it healthy (well…most of the time😜)
Be sure to check out these articles on camping with kids for more helpful tips and ideas. We hope you have an amazing time on your next camping trip!
Latest posts by Stacy Bressler
(see all)