Everyone knows how annoying it can be to pack kitchen/food things for a camp trip, get it all out at camp, pack it all back in the car, and finally unpack once you get home… but what if there was an easier way?
What if you could chuck everything into a purpose built box that you could move wherever you needed… and KNOW it has all the stuff you need?
The good news is you *can* simplify the camp cooking process – by using a Chuck Box Style Camp Kitchen!
As someone who is fairly unorganized but loves to take spur of the moment trips, day camps etc, it has especially helped out family be ready for anything! I'll go over some thoughts to consider before choosing one, what we use, and some other camp chuck box ideas that may work for you!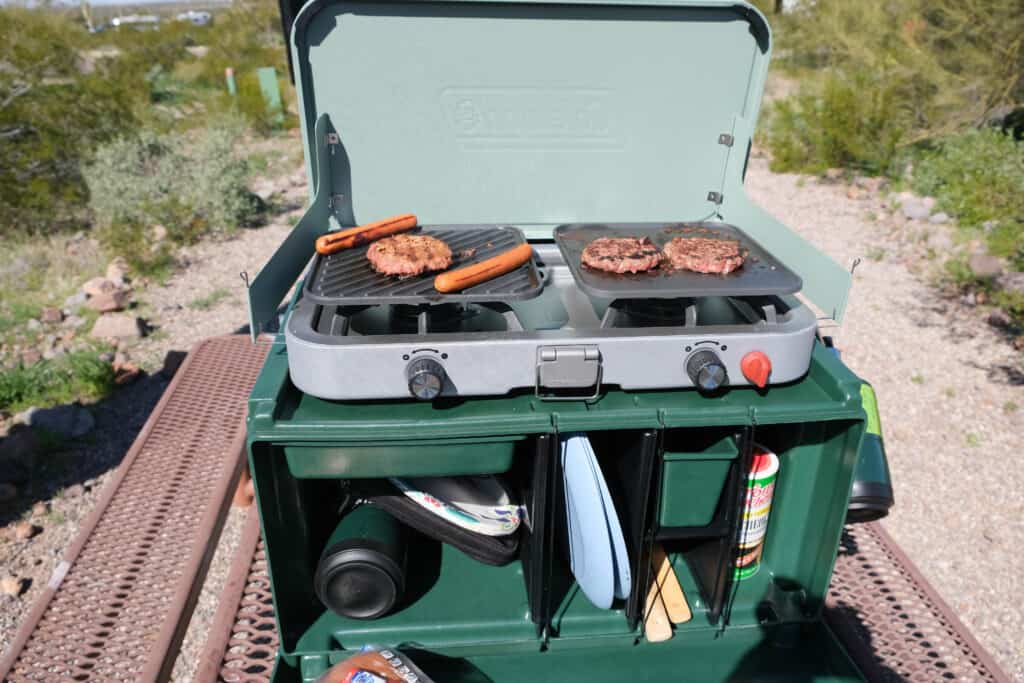 I am an affiliate for various products, and will receive a commission should your purchase through my links. I do my best to reserach all options, and I hope you find my reviews unbiased. I received the Yoke Outdoors Chuck Box in exchange for an honest review.
Chuck Box vs Your Trusty Home Depot Bin
Before getting a chuck box, we did have a "kitchen bin" for the camper. All of our stuff was thrown in – propane, utensils, plates, spray oil, pans… but it was a NIGHTMARE to go through once we got to camp! And since I could only see what I packed on the top layer, I'd often forget what I did/didn't pack.
It also seems that no traditional sized bin can fit a Coleman double burner propane stove, so we have always had to pack that separate (and all associated fittings and propane bottles.)
So, before we move into the review, all this is to say that a chuck box is a solution for a camper who
Likes to keep things organized and all in one spot
Day camp and car camp often, or use your camp spot as a basecamp and explore from there
Cook outside often vs in the camper or on the provided campsite grills
Values time and likes to streamline the camp packing/cooking process as much as possible
Pre Made Chuck Box vs. DIY Camp Chuck Box
Someone who is very handy could likely make one out of wood – there are a few well written, pretty looking DIY Kitchen Chuck Box plans from REI and Filson. However, if you're not handy, or lack the tools and time to make your own, you'll find a pre made option quite handy!
Not only are pre-mades usually made with something way more durable (and lighter) than wood, but they also have tons of built in storage systems that would be hard to replicate at home. For example, our chuck box has silverware trays, thoughtfully planned out storage slots, and an easy but secure latch system to keep everything in place during travel.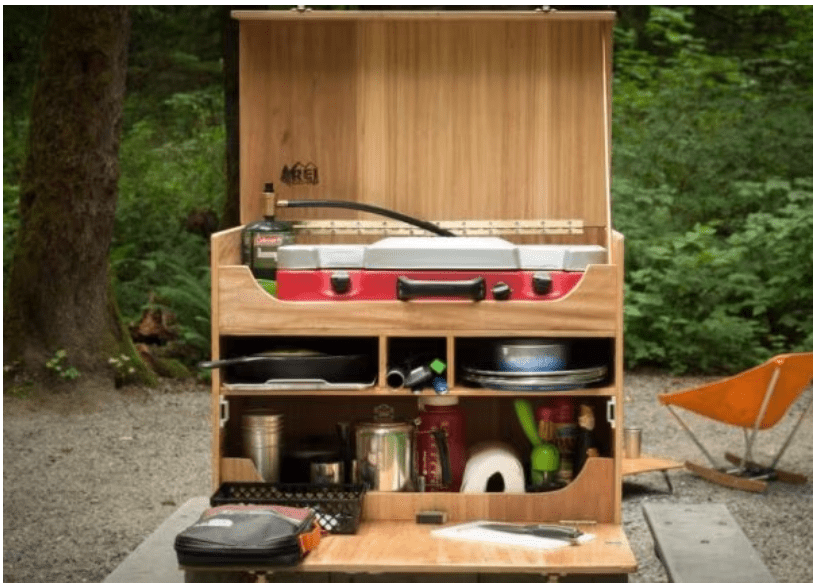 ---
What Do You Put in a Camp Chuck Box?
Overtime, we've gotten enough utensils and plates so that our chuck box has it's own set. So, assuming the base items are stocked, we then add in any specific spices or other non perishable items we plan on using during the trip.
Here's the basics of what we stock our camp kitchen chuck box with
Plates
Utensils + Spatula
Basic Spices (Salt, pepper, favorite spice mixes for grilling)
Propane Bottle + fitting
Cast Iron cooktops
1 multi purpose pot/pan
Paper Towels
Cooking spray
Dish soap + sponge
Here are some additional food items we throw in for day camps/tailgating that tend to fit well
Small, soft insulated lunch box (we use my sons old school lunch box!) with the meats/perishables
Bag of buns
Ketchup/Mustard
Dry pancake mix
Sausages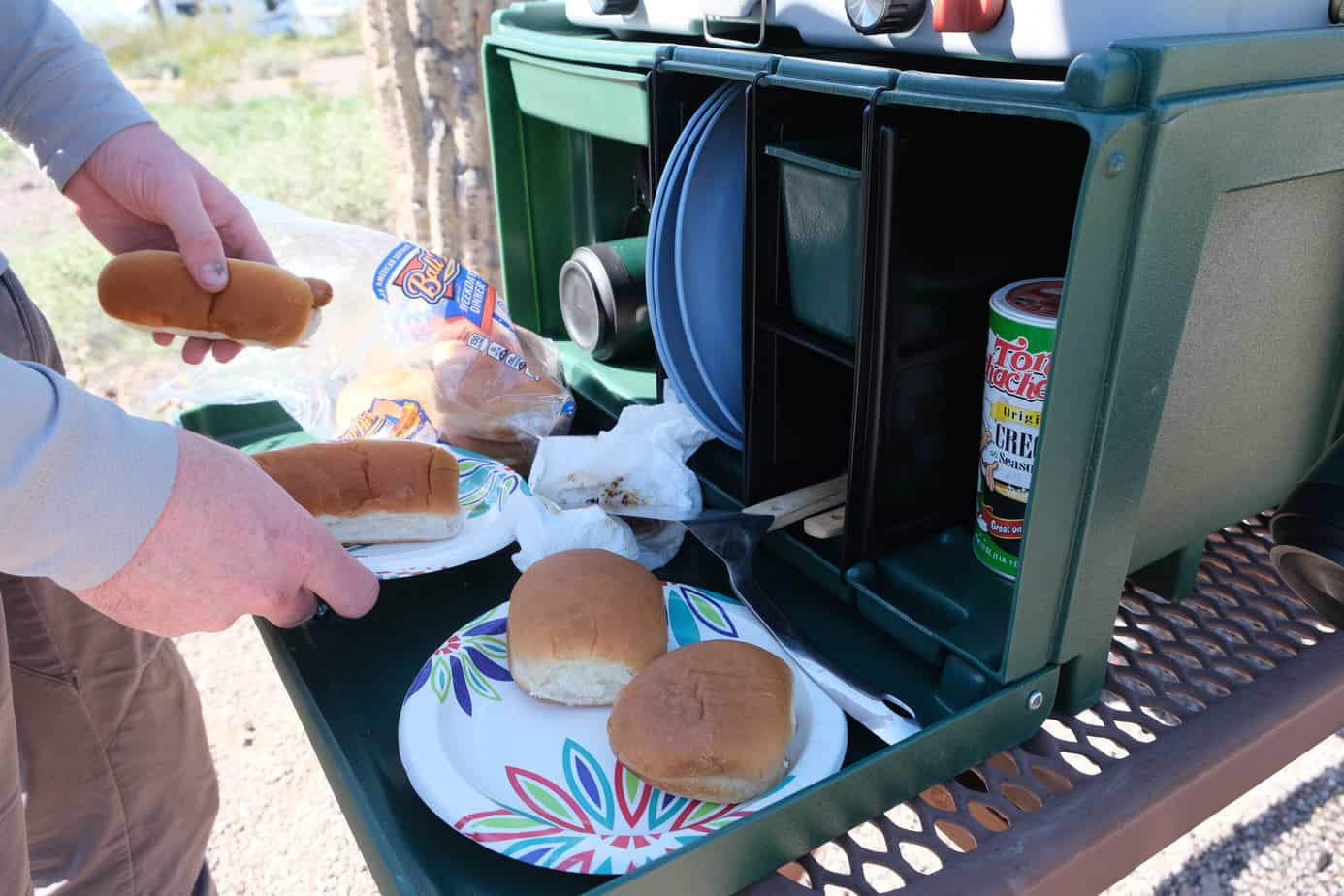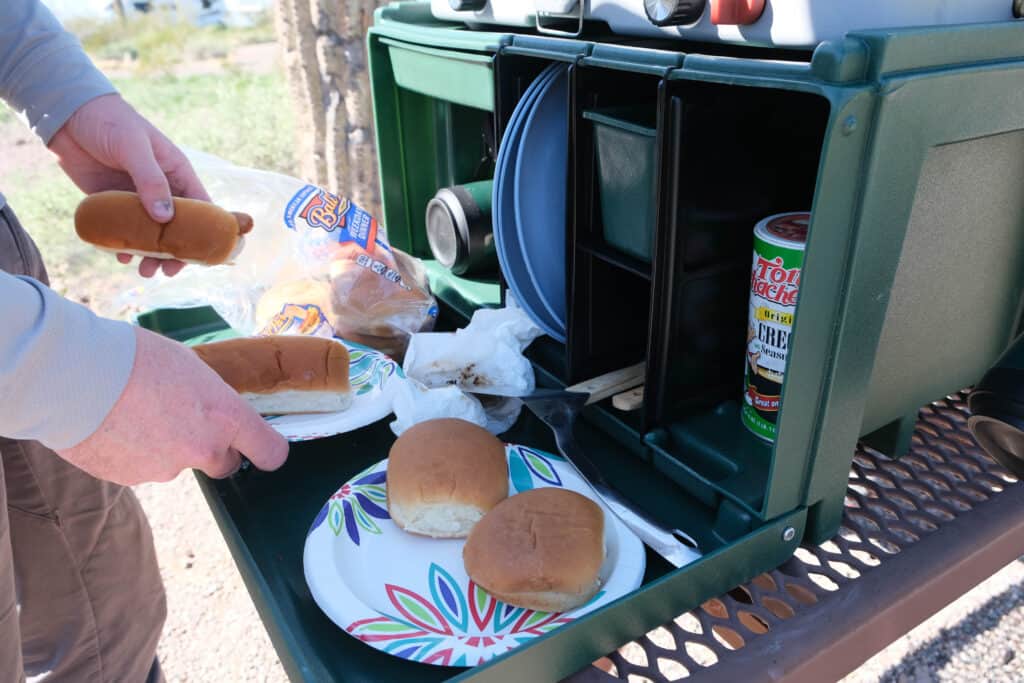 ---
Best Premade – Yoke Outdoors Camp Kitchen Chuck Box
Durability, space for everything, and lightweight enough to move easily – this chuck box was definitely designed by someone who actually who knows what the people want! Being able to store the stove IN the kitchen box has made it infinitely easier to cook wherever we go.
Since everything stays organized in their compartments for travel, there's virtually no prep time for our meals. If we are day camping, we will actually throw our food in the box as well so that all food related items are in one spot.
Anyways, here are some highlights about this camping chuck box
Fits our Coleman double burner propane stove (during storage AND use!) – With the design having the stove sit on top of the storage space, you don't even need to move the thing to use it! Just hook up the propane and it's ready to use.
Fold down food prep space – Horizontal space can be hard to come by when camping, which is why I love that the cover is still very functional, even while open to access your storage space. I wouldn't suggest storing your 5 gallon water bottle on it, but it holds up fine for food items, plates etc.
Lightweight (and a life time guarantee) – I am a 5'6, 120 pound woman and am able to move this (WITH the stove in it). Don't let that fool you though – the company did not sacrifice any durability – it comes with a lifetime warranty!
Made in America – It goes without saying that it's always good to support local made products and companies. Much better conditions for the people who make it, and a smaller carbon footprint.
The top can be used as a separate bin – More organization, a wash basin, extra food storage at camp… it comes off and reattaches easily for anything you might need.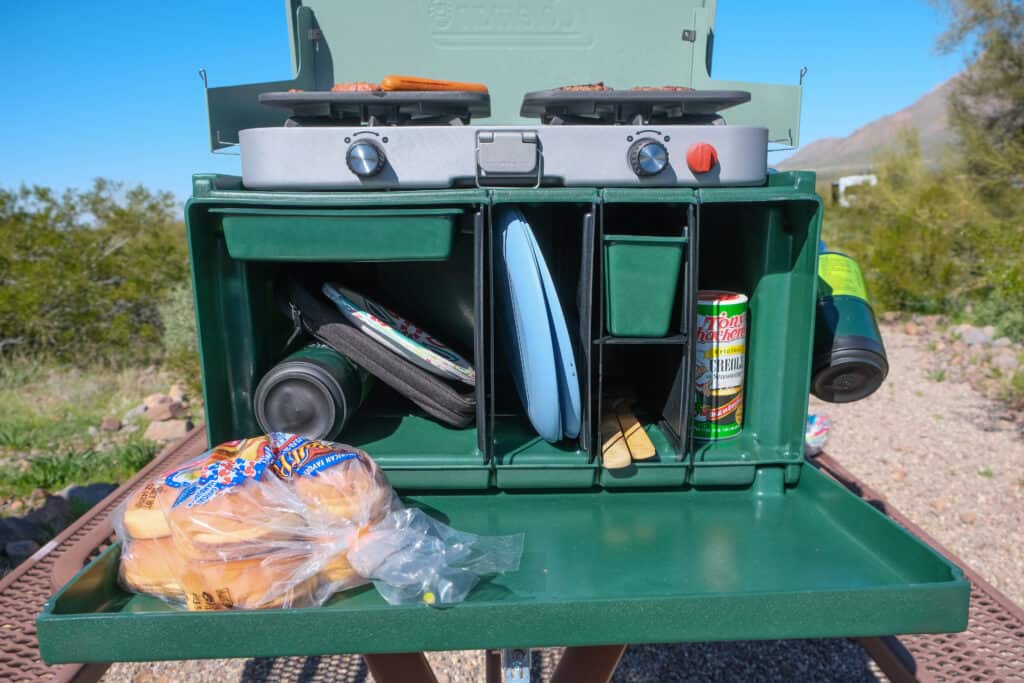 The only con I can see about this camp chuck box is the price ($349 as of 2/23) however, when considering these are made in America, the fact that they do offer payment options such as ShopPay and a lifetime warrantee, the price becomes offset by the value
---
Best DIY Chuck Box Ideas
There are different types of DIYs – some you build from scratch, others you utilize a preexisting product to start with and then modify it into a chuck box.
The beauty of DIYing is that you can build it to fit PERFECT for your needs. That could be the exact shape of the back of your truck, or the perfect rectangular shape that will pack well in your storage area… it's up to you!
There are TONS of free chuck box plans available on websites like instructables.com, and truthfully, I find those guides to be more informative and detailed than many of the paid ones.
Best DIY Wood Chuck Box for Car Camping or Overlanding
I found the plans for this chuck box on instructables, and it's pretty darn useful! The instructions are fairly thorough, and there is a decent picture guide to go along with them.
While I love how massive it is, the fold down flap looks like it folds TOO far out, making it a bit more inconvenient to move and cook around. The chain atleast adds some stability though to be able to set more stuff on it (perhaps use it as a portable table/eating surface vs prep?)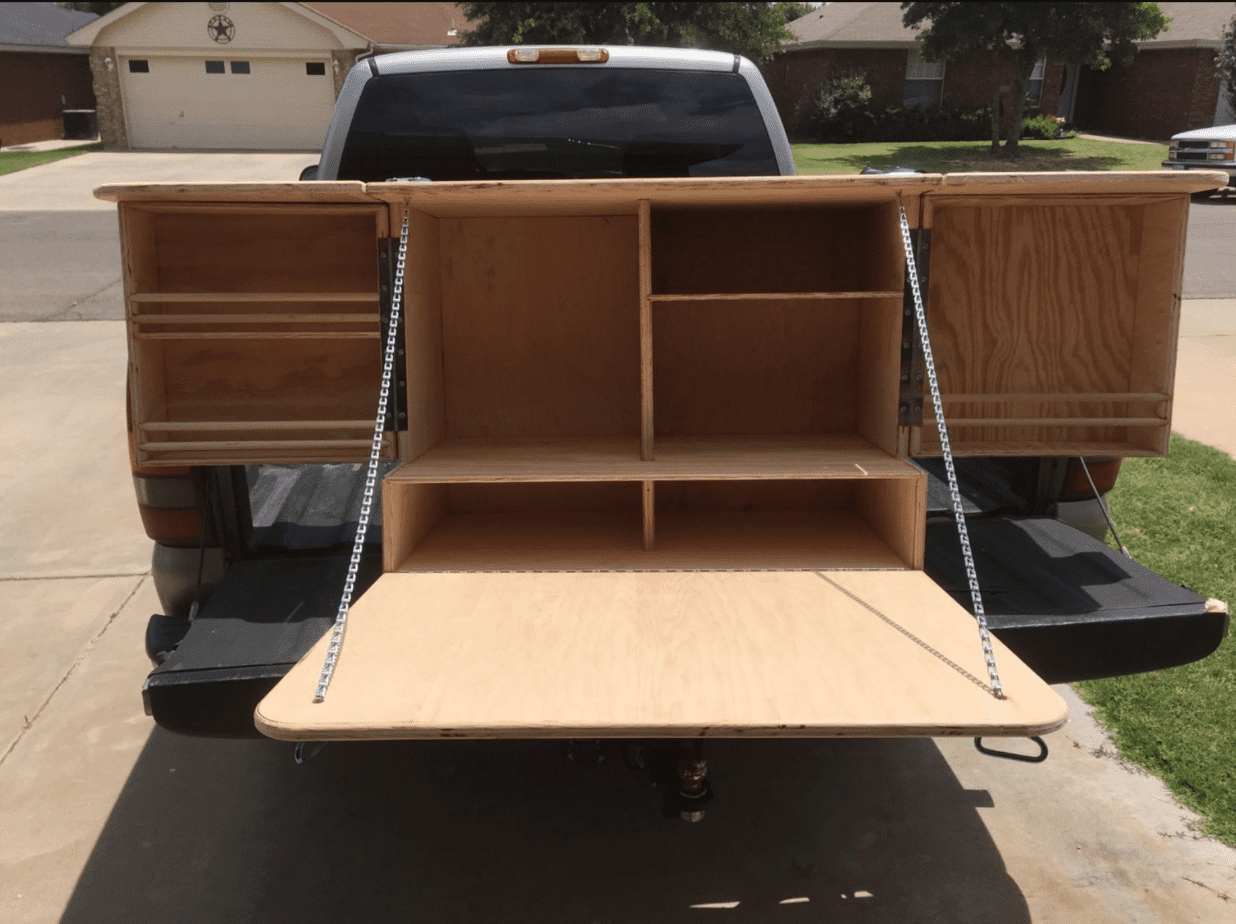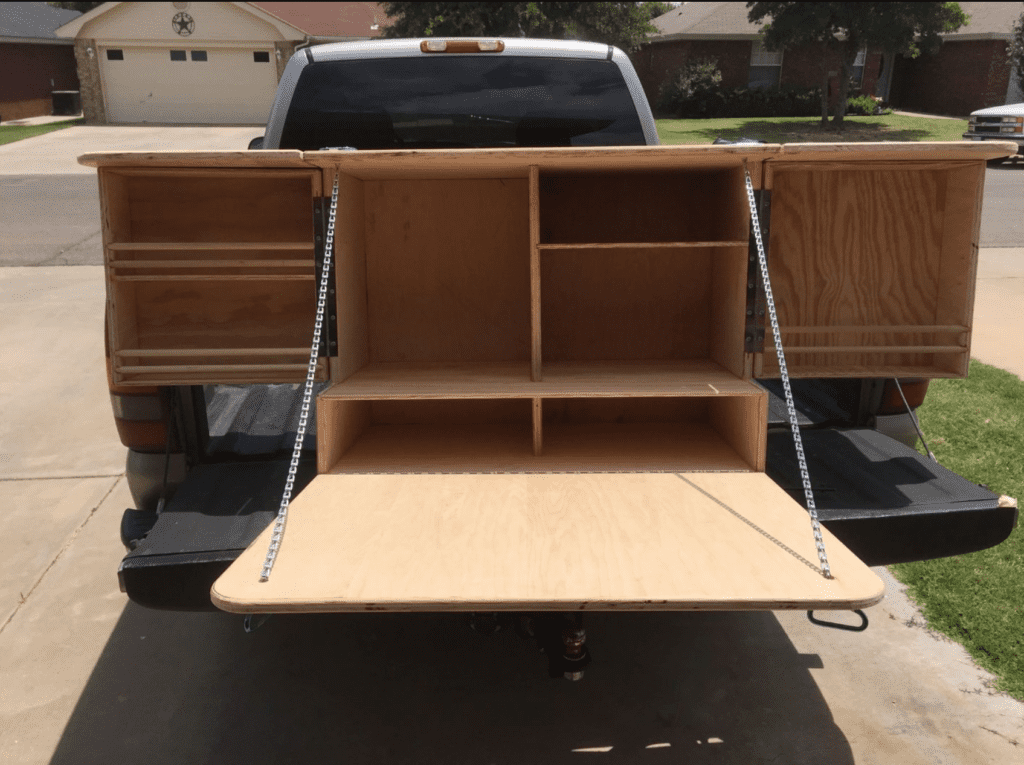 Best Converted DIY Camp Chuck Box
If you don't have the tools or knowledge to DIY something out of wood, your next best bet is to modify something that's already made. By repurposing the drawers of a traditional craftsman toolbox, you can then create the additional food prep flaps.
This design converts a toolbox, and it looks absolutely awesome, and I love how everything can be stored inside this – it's honestly the closest DIY thing to the Yoke Outdoors version that I've seen!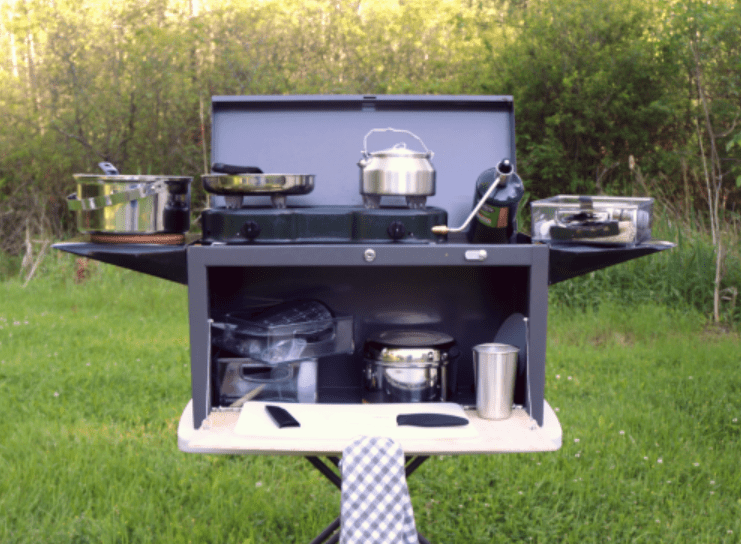 Best Glamping Style DIY Camp Chuck Box
Technically, I have already covered the best wood based design, but I had to include this. It is absolutely stunning, and although there may not be a ton of people able to actually make this… it still needed to be mentioned!
The compartments are stout and can hold pots, there's a large fold out space on top, and there's tons of other thoughtful details (leather accents?! wow!). The instructable guide can be found here, and is very detailed – it includes a complete cut list and most steps have pictures.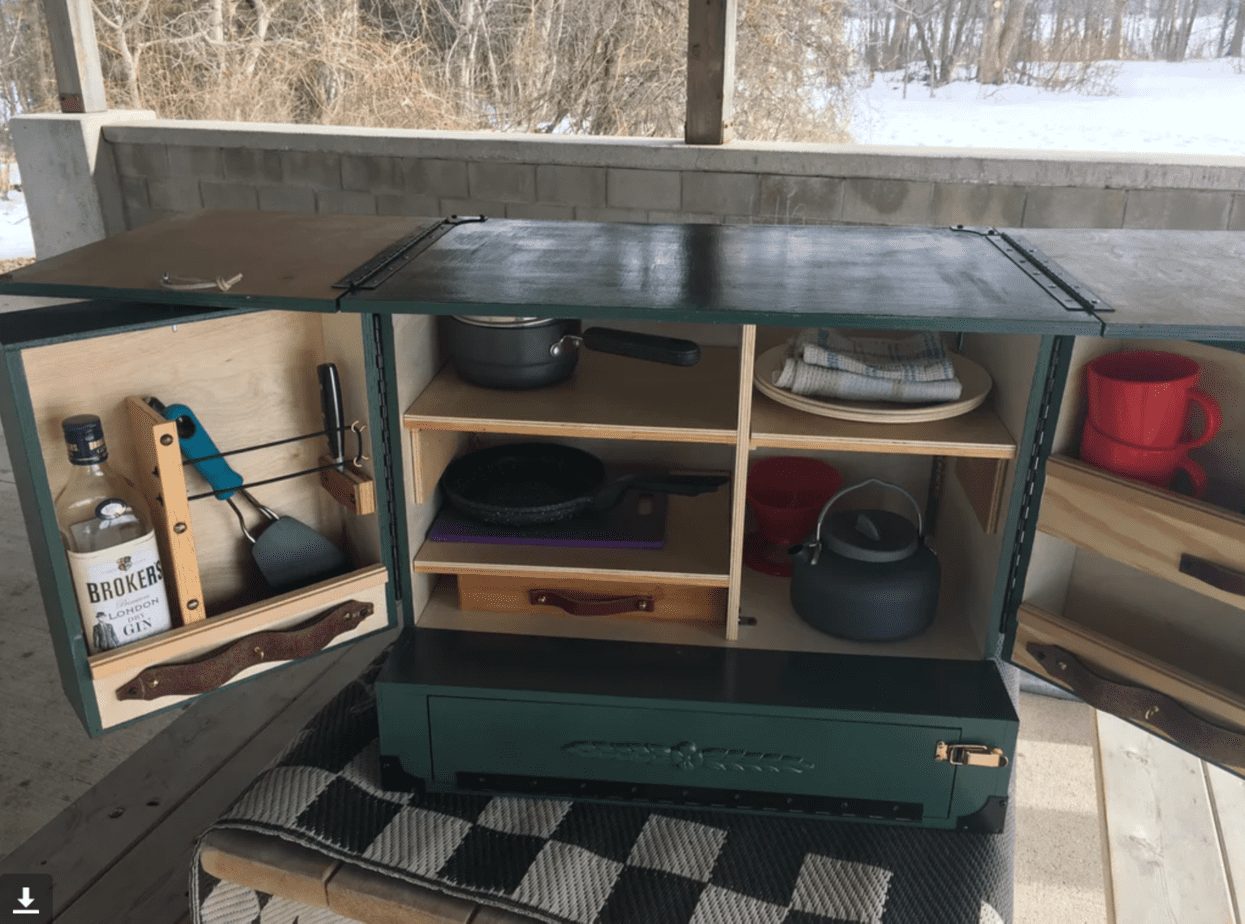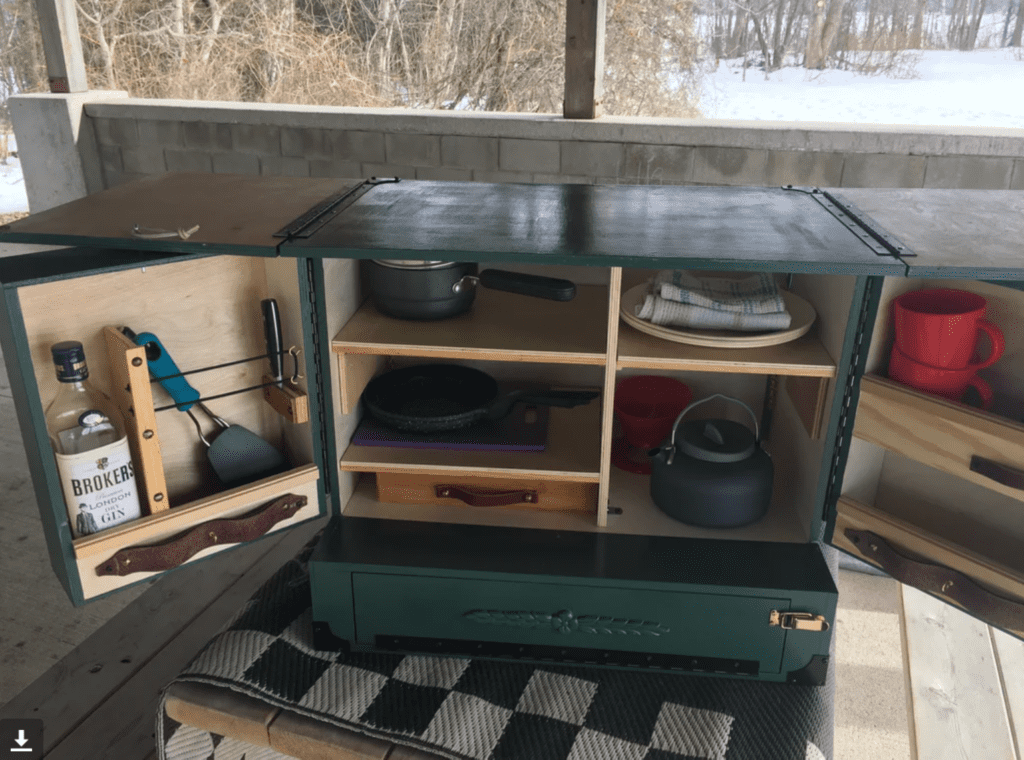 Other DIY Chuck Box Ideas (with free plans or instructions)
There are truthfully so many awesome ideas people have that it's hard to pick which 3 would deserve to be highlighted… so I had to include a list of additional options!
---
Best Premium Aluminum Camp Chuck Box
Coming in at 825 Euros, which converts to roughly 849 USD, this absolutely gorgeous chuck box is expertly crafted out of high grade aluminum, stainless steel and is accented with beautiful bamboo accents. Aluminum is extremely lightwieght, making this easy to transport and pack.
It also has an awesome set of legs that pack seamlessly into the rest of the box! I figured I would include this last, since it's out of most peoples price range (definitely mine!) but in case you feel like treating yourself… check it out!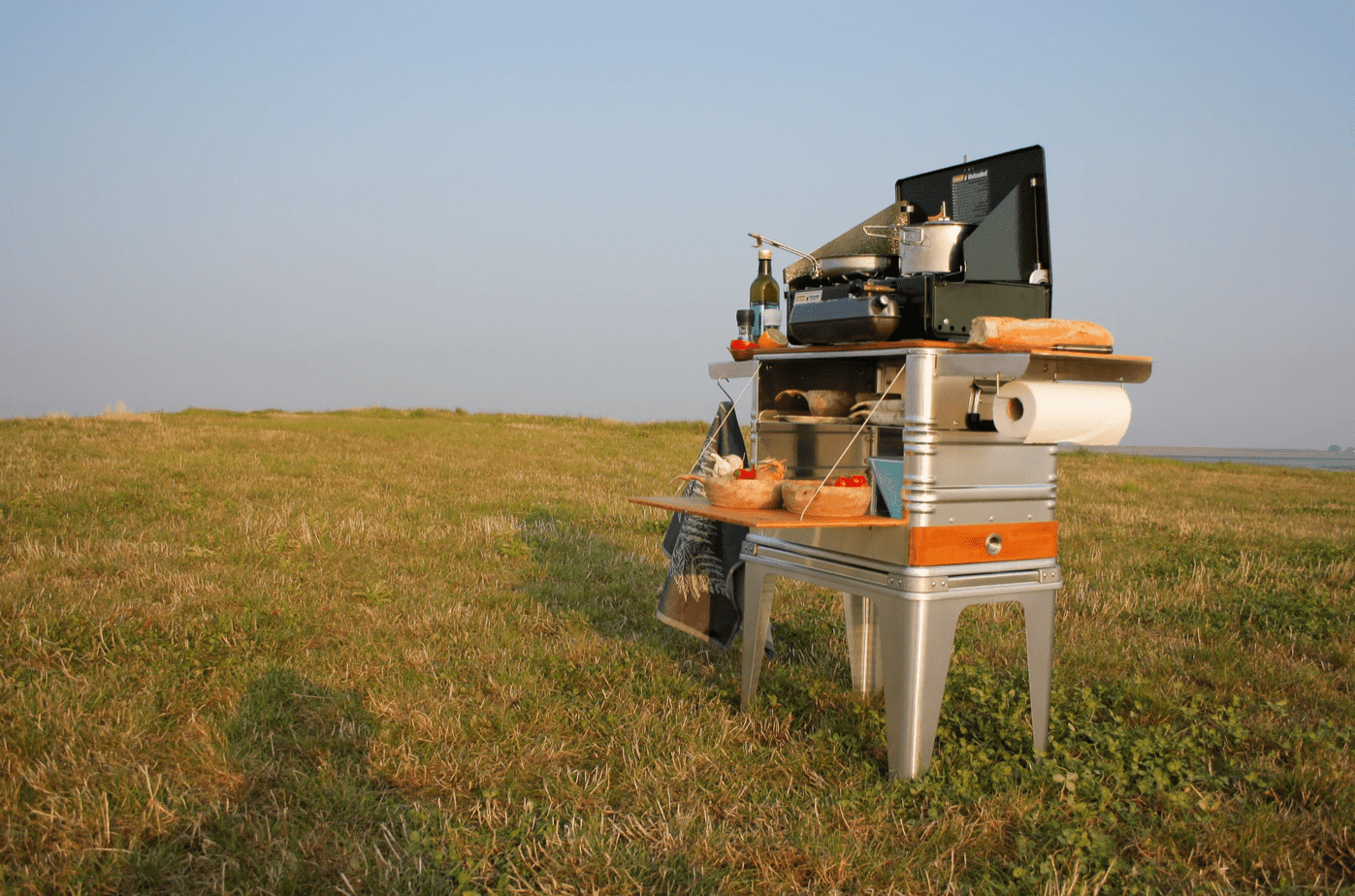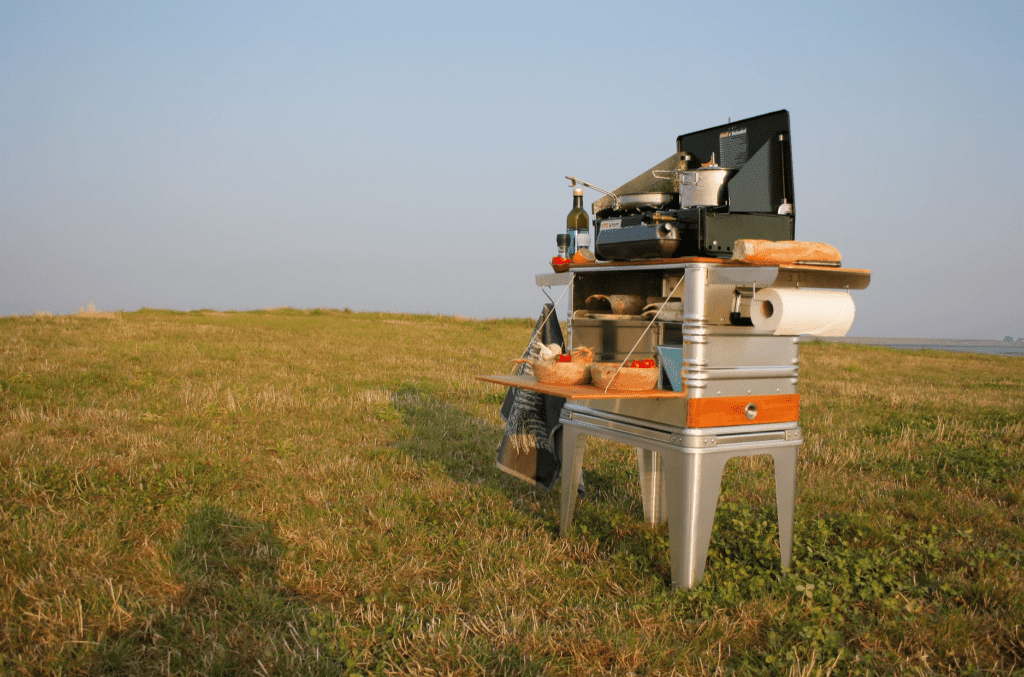 ---
FAQ About Chuck Boxes
Here are the most common asked questions I've noticed over time – make sure to leave yours in the comments if it hasn't been covered!
How do you make a chuck box for camping?
There are 3 main options – a standard bin you "chuck" all your items into, DIY version using wood, or by using a pre existing item and DIYing it to fit your specific chuck box size/storage needs. Scoutlife has an excellent, free basic chuck box design that's a good place to start.
What's the difference between a chuck box and a camp kitchen?
A camp kitchen usually has legs and folds up in a way that cannot store anything. A chuck box, however, is designed to be able to store everything you need *inside* of it and be used on the go – tail gating, overlanding, camping etc – so they skip the legs and focus on durability and packability.
This list has more camp kitchen style ideas as opposed to just the boxes here.
What are the dimensions of a chuck box?
Nowadays, most will be, at a minimum, the size of a traditional double burner propane stove – this allows it to truly store everything needed in one bin. The dimensions of our chuck box are 19″ h x 24.5″ w x 18″ d, which fit this standard Coleman stove.
Latest posts by Stacy Bressler
(see all)