If you're looking for a new camping experience that is different than camping in a tent, camping in a yurt may be the perfect option for you
! Yurts are becoming more and more popular, and for good reason. They offer all of the fun of camping with some extra amenities that make it a bit more comfortable. In this blog post, we will give you an overview of what to expect when camping in a yurt with your family.
We'll also provide some tips on what to pack so that you can make the most of your yurt camping trip!
Note – If you're here to read the Gooseberry Mesa Yurts review, just click here to skip all the packing and educational info!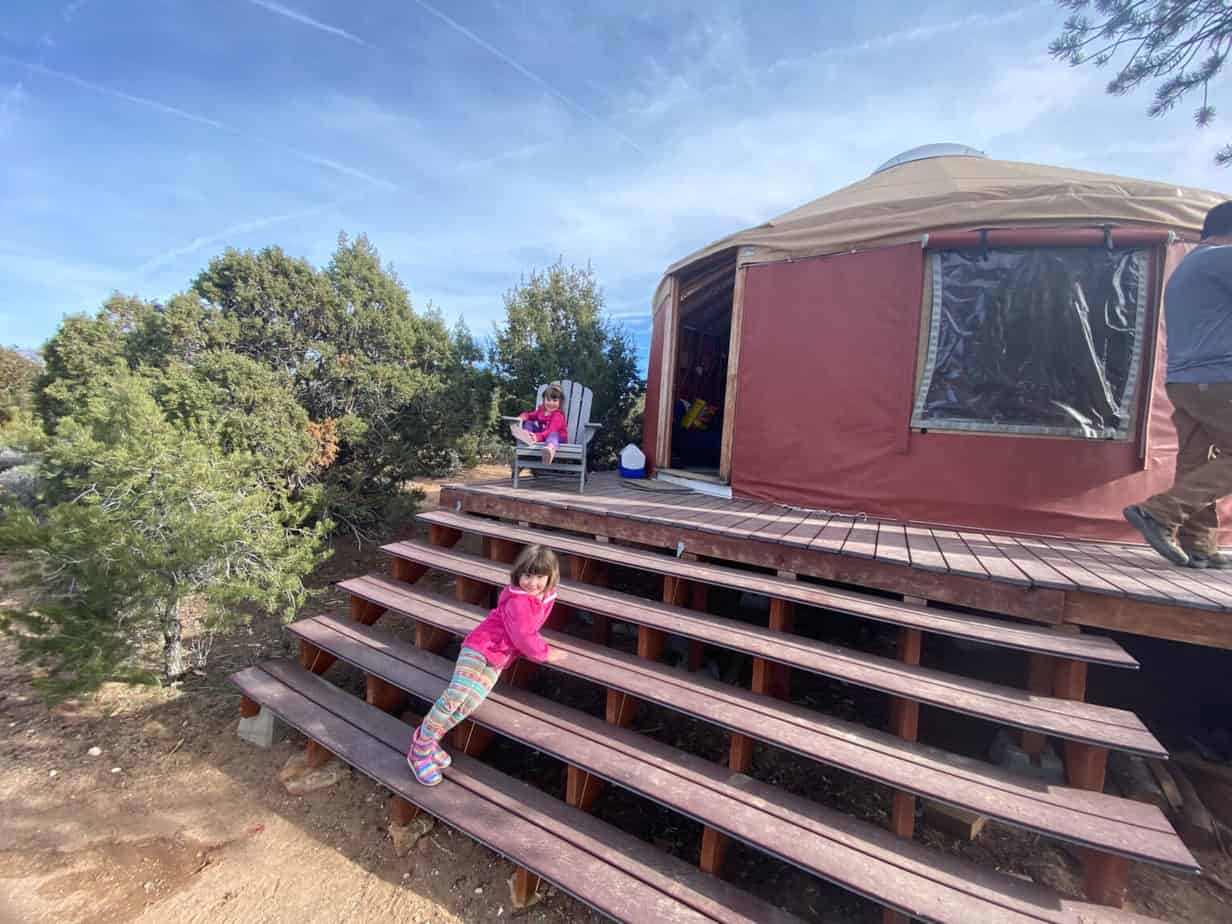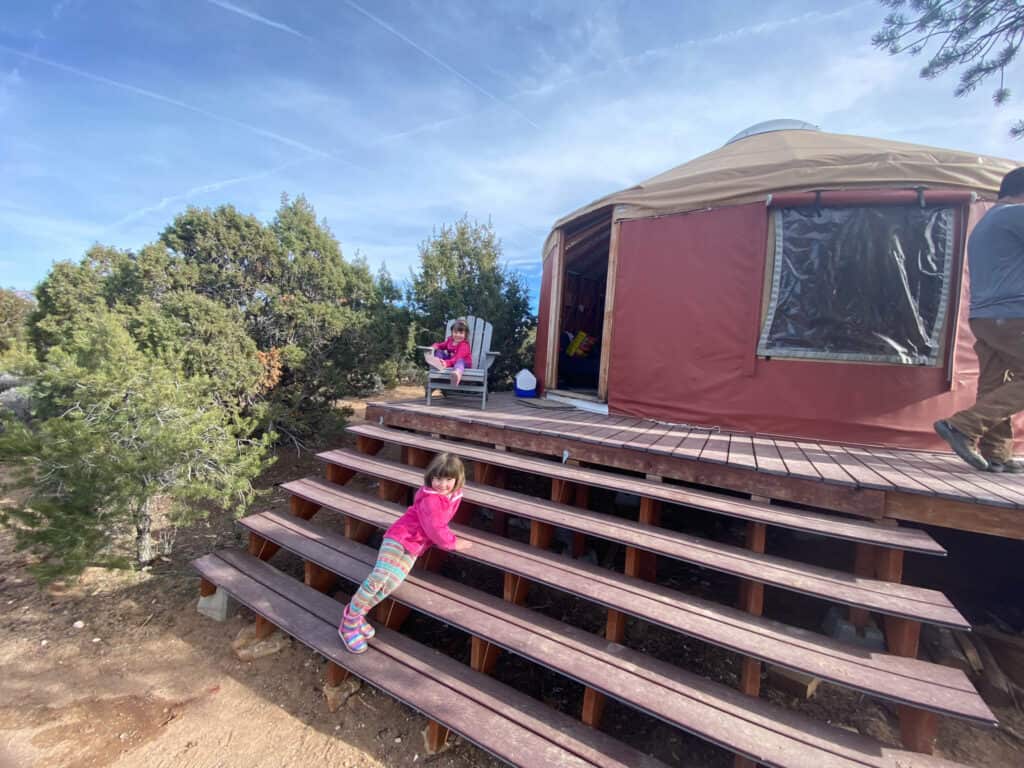 What is a yurt, and how is it different than a tent?
A yurt is a circular tent-like structure that has been used by nomadic tribes in Central Asia for centuries. They are typically made out of wood and animal hide, with an open top to allow light in (and for smoke from fires). The word "yurt" comes from the Turkish language meaning "abode"; it was originally used as a shelter by nomads.
Today, modern yurts are made from canvas or synthetic materials like nylon and polyester with frames that can be set up easily in just about any location – including camping grounds!
Yurts come in various sizes, so there's sure to be one that fits your camping needs – we stayed in a 16 ft one so our family of five had plenty of space.
When it comes to tent vs yurt, the only thing I've noticed is that yurts tend to be more long term structures, so they are also heavier duty and can be more spacious and comfortable. They also often utilize wood stoves/fires for heating, where as most tents you would plan on needing a sleeping bag and other items to stay warm through the night.
How to prepare for your first yurt camping trip
This will vary slightly depending on how outfitted/permanent the yurt your staying in will be, but I'll go over basics you'll likely need no matter what!
Verify on the website/with the owner what is already supplied in the yurt
Ours was already furnished with beds, a Coleman double burner stove, and a wood stove for heat. There also seemed to be various other useful items that other campers had left behind, such as lighters, an axe and some kitchen things.
This can drastically change how much you pack and save a ton of time/money needing to shop once at your location.
Winter yurt camping vs summer yurt camping – pick a preference!
Winter yurt camping can feel more magical, with the snow falling gently on the canvas roof and a wood stove crackling all night. However, you'll also need to account for maintaining a comfortblae temp in the yurt all day/night and be ok dealing with firewood and feeding the fire all night.
Summer yurt camping means no wood stove to deal with and an easier time enjoying the yurt experience – hanging out on the porch, less to pack… however that an also mean a hot and MUSTY yurt environment! Some have built in ventilation via removable flaps, but getting an air flow an be pretty tough sometimes.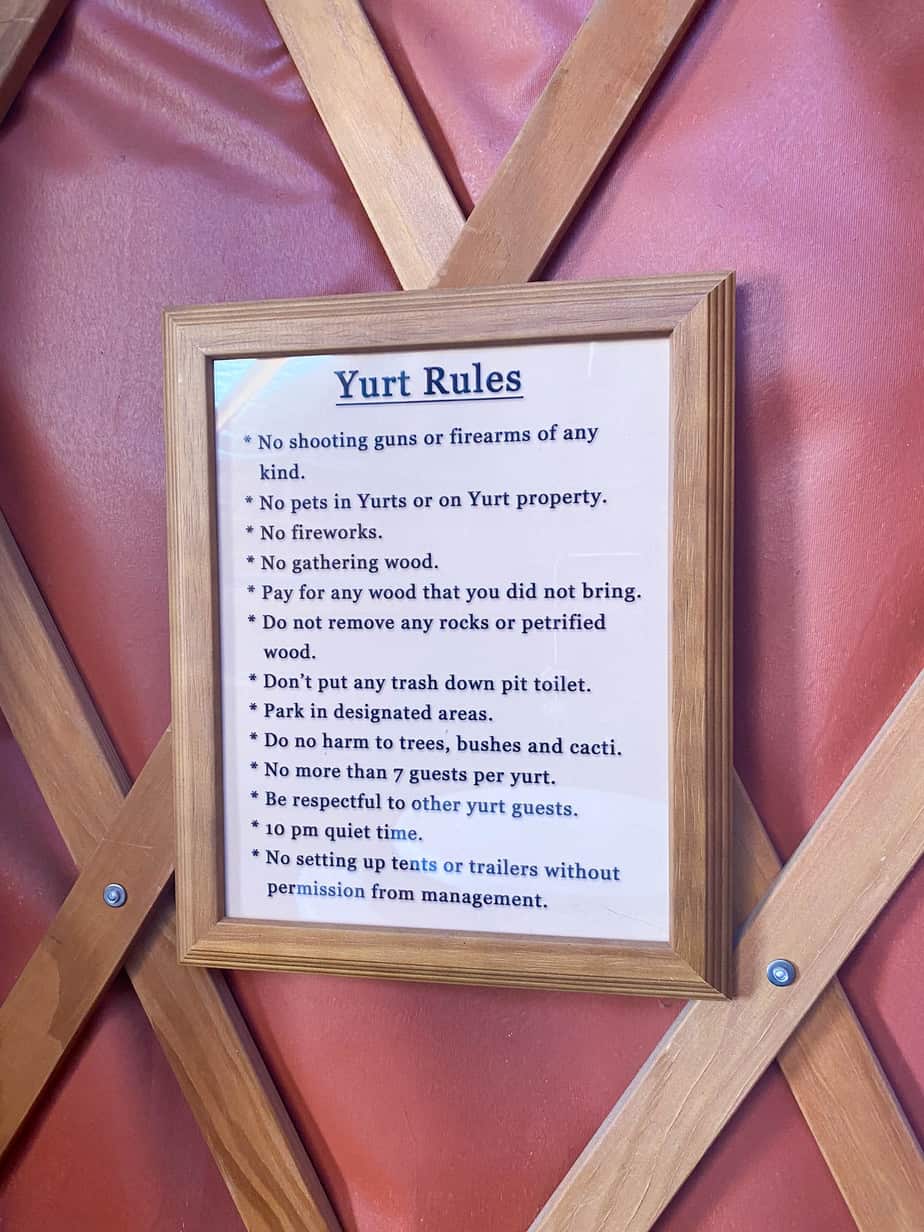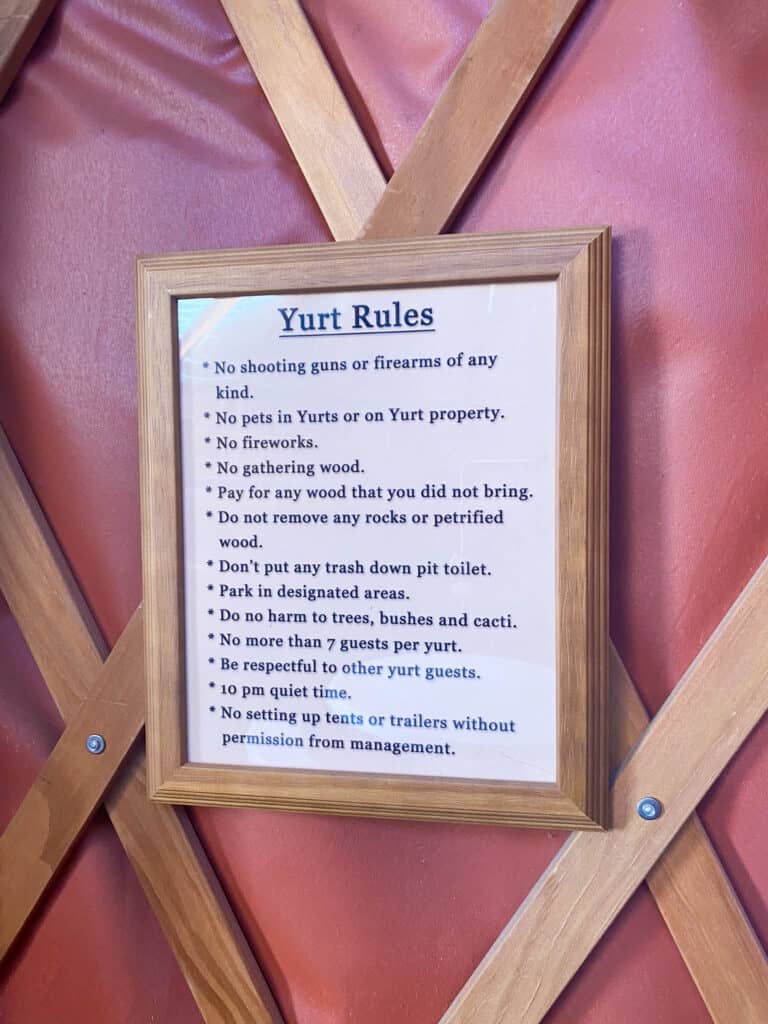 Determine whether a full yurt camp trip is doable for your family and camp style
We have 3 kids under the age of 7, so just like with any other place we rent/stay in, we had to think if our kids were old enough to be able to handle some yurt specific details (for example, as shown in this pic, the ability to play and be crazy without forgetting to NOT TOUCH the wood stove!)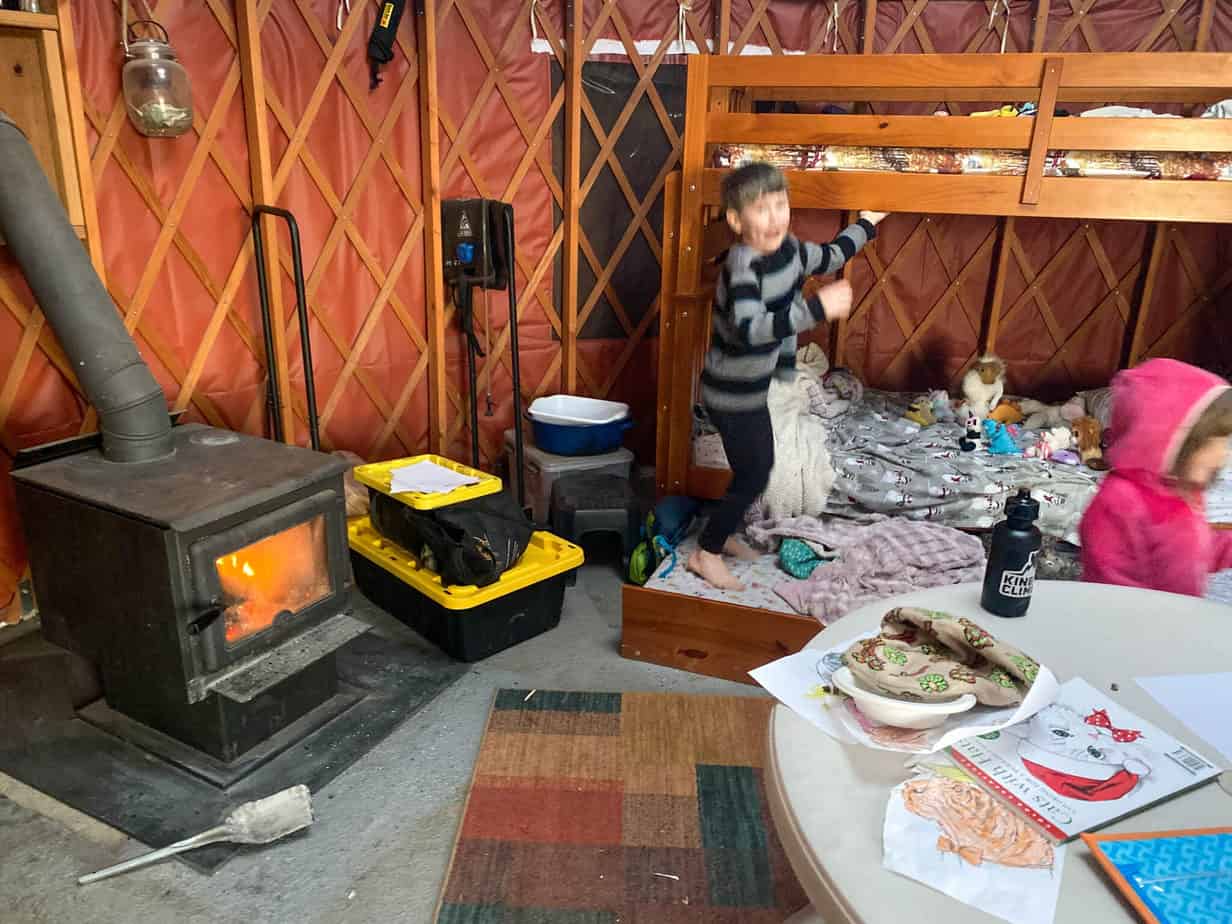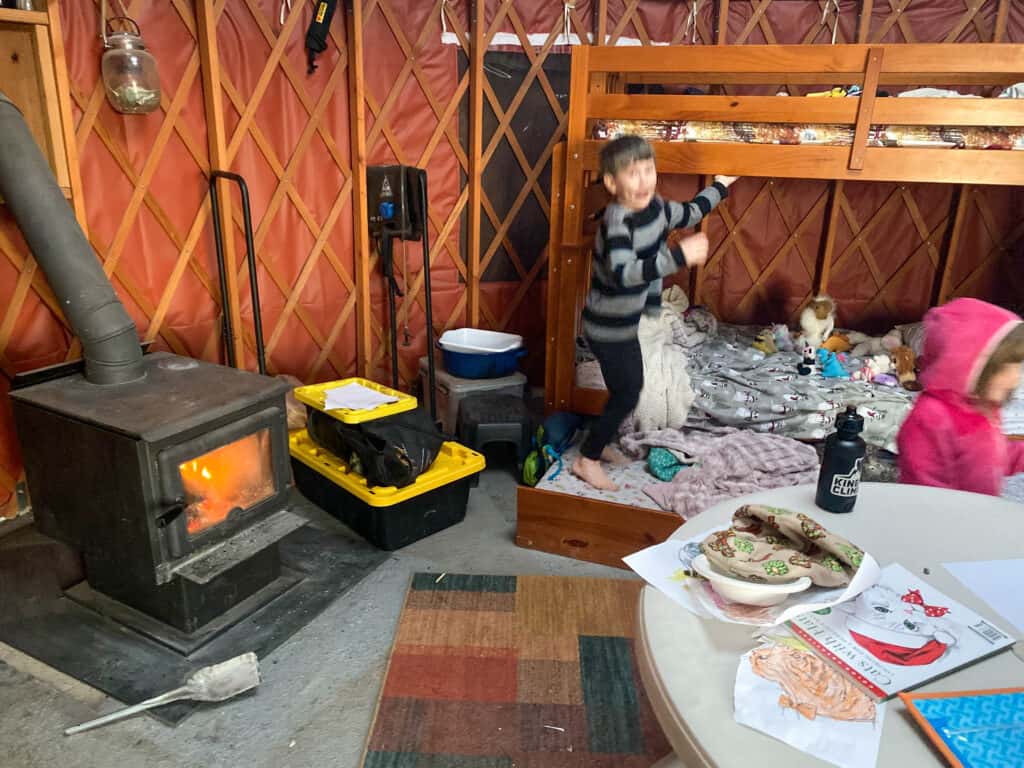 If your kids can tent camp, then they will likely be able to yurt camp too. I wanted to add this section, as some people associate yurts with glamping. While glamping ones do exist, that is not the standard!
I want to emphasize that this isn't meant to sound negative – our yurt stay was absolutely beautiful and we got to see the stars every night! It's just good to know before you go!
No immediate access to a bathroom – Potty training would be difficult here as it can be a couple minutes mimimum to the bathrooms (ours were a vault style that was shared with other yurt campers)
No electricity – Most of our charging was able to be done in our car while driving to various hiking spots, however we did end up bringing a small generator just in case. Our kids use tablets to wind down some nights after big hiking days, so we had to make sure everyone had their "decompress" stuff usable.
Old enough to be trust that they'll know wood stoves are hot – This is also something to consider for new walkers. If your yurt utilizes a wood stove or other heat source, it's going to be super stressful if you are constantly worried about your kids forgetting to not touch the wood stove. I'd recommend waiting until they are 4+ so that everyone an relax.
No running water (and you may have to pack it in from town) – Dishes, getting dirty and drinking water all need to be planned for. There was no spout at our site, and we were about an hour from town. Even if you don't plan on needing a ton, keep in mind you will need a way to completely put our your campfires every morning/night.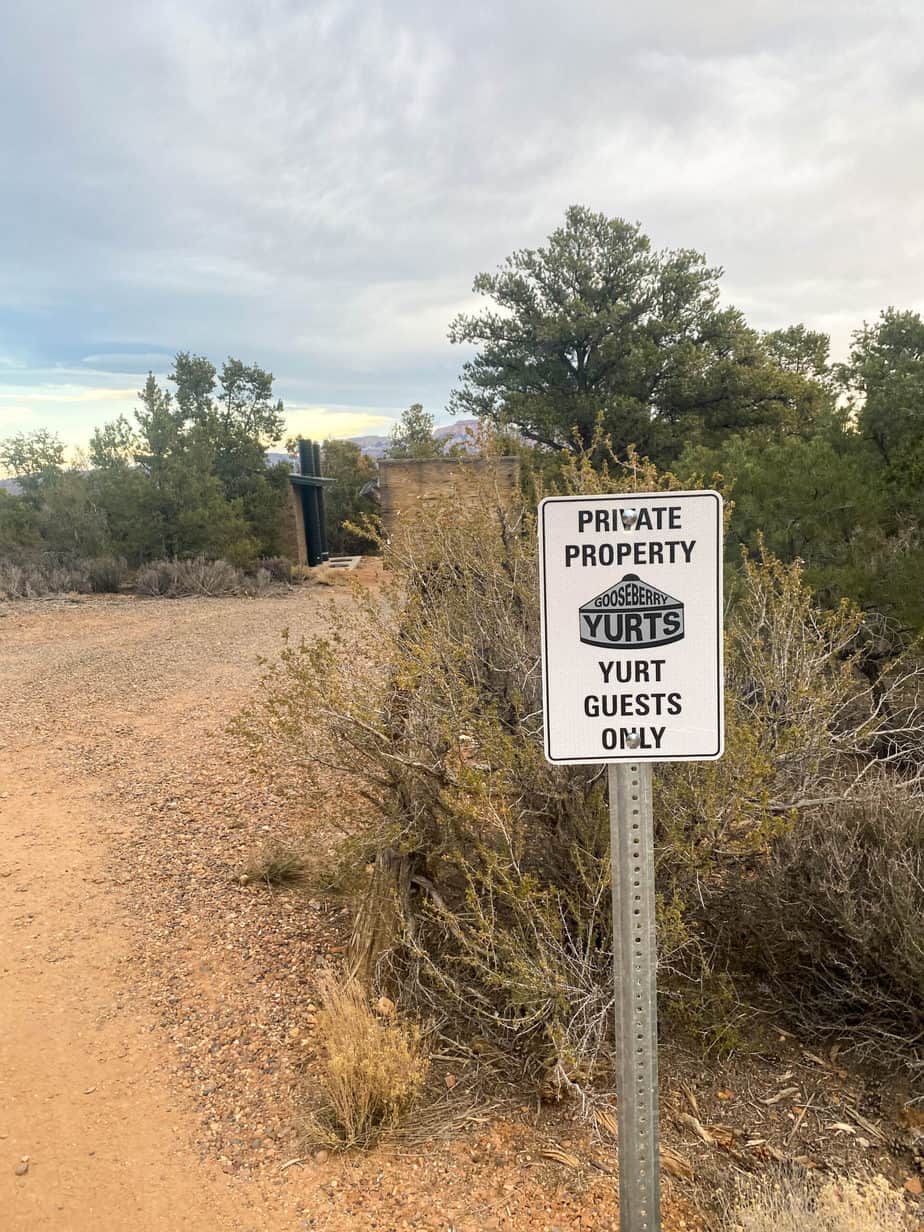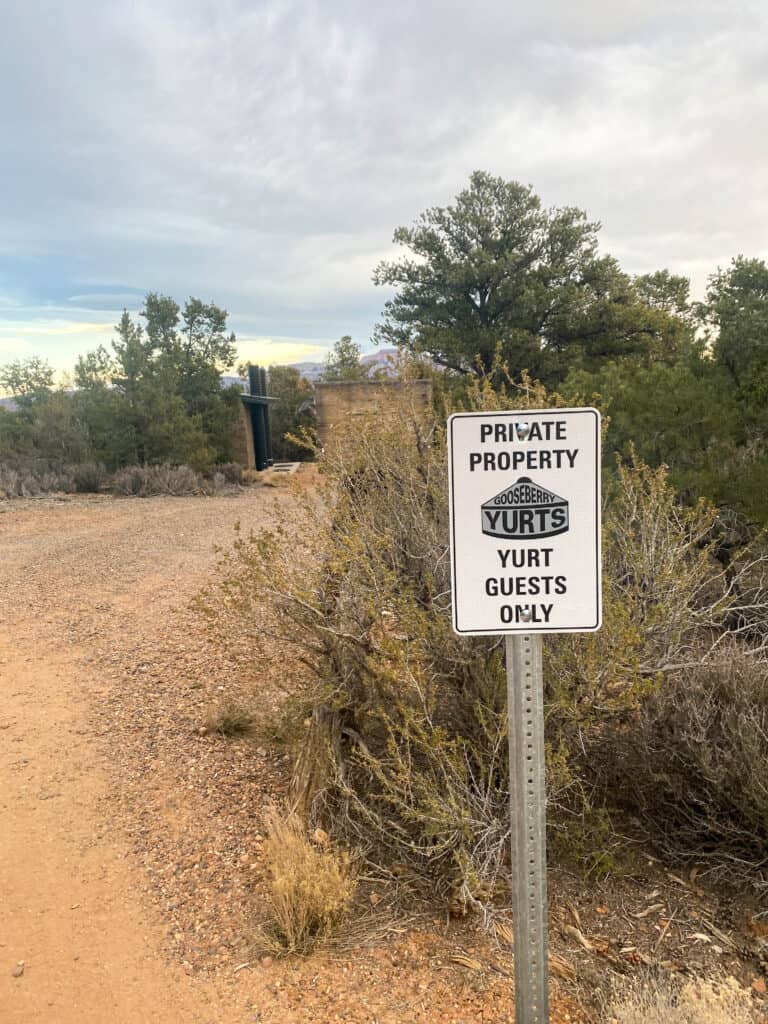 Our 5 Day Yurt Camp Trip Packing List
Here's a quick overview on what we packed for our yurt camp trip and what made it easier. We love using those giant black rolling bins as opposed to cloth luggage bags as it keeps everything dry, stackable, and easily contained.
We had 3 main camp supply boxes that worked well in the yurt, so I'll organize it that way for easy reading.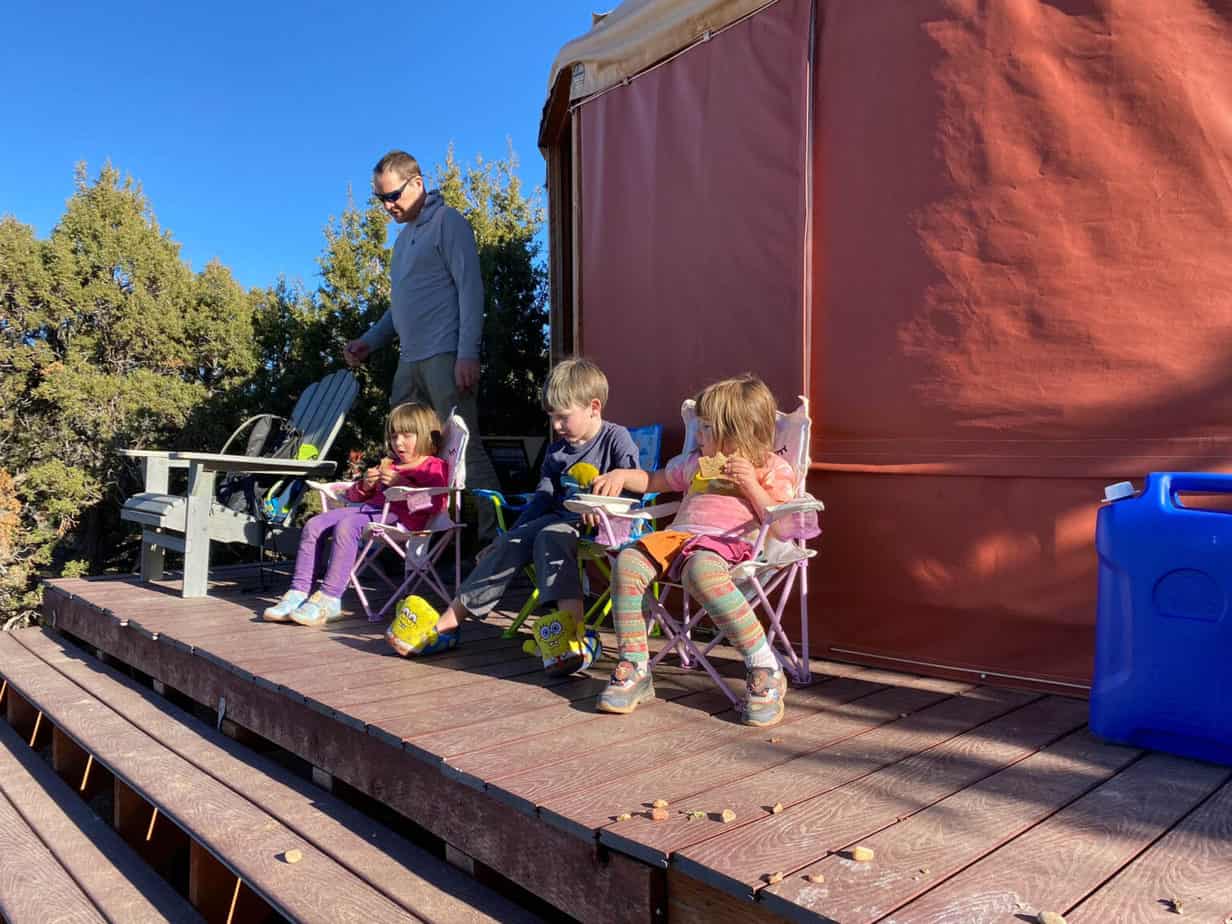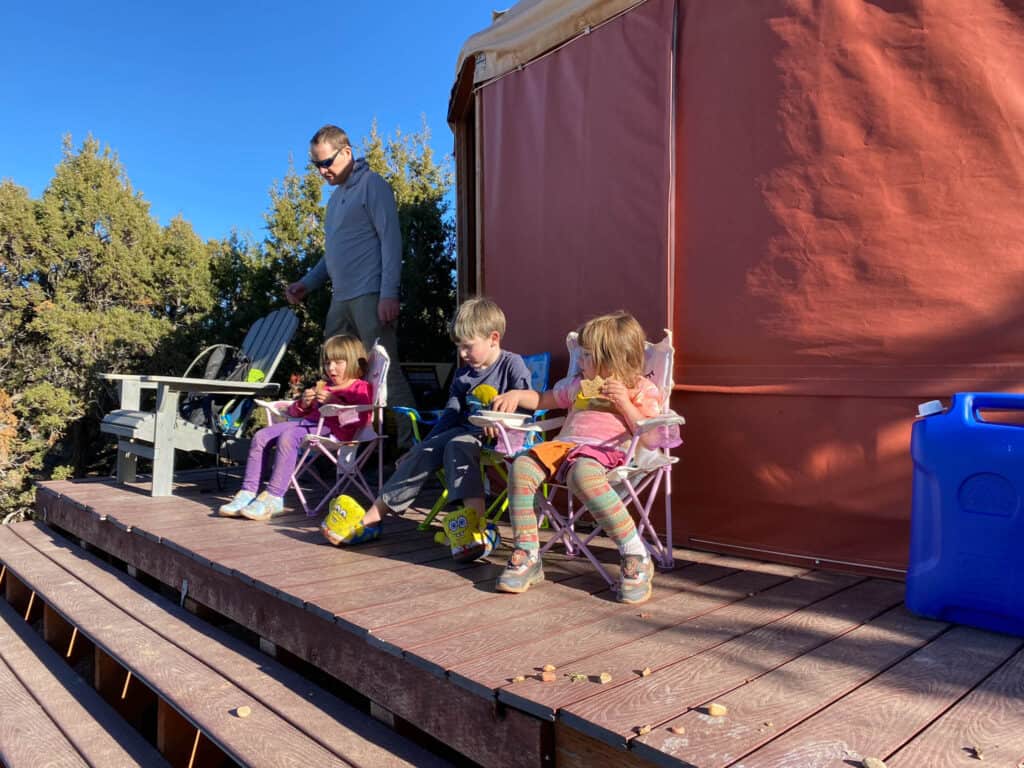 Box 1 – Linens and Pillows
Our yurt didn't supply linens and pillows – we had to bring our own fitted sheets and such. We could have brought a sleeping bag set up instead, but with the difficulty of keeping a yurt at the perfect temp all night, we opted for blankets that weren't quite as warm so that it would be easier to sleep comfortably.
We did bring a portable speaker for white noise – yurts aren't super soundproof, so having some speakers helped everyone.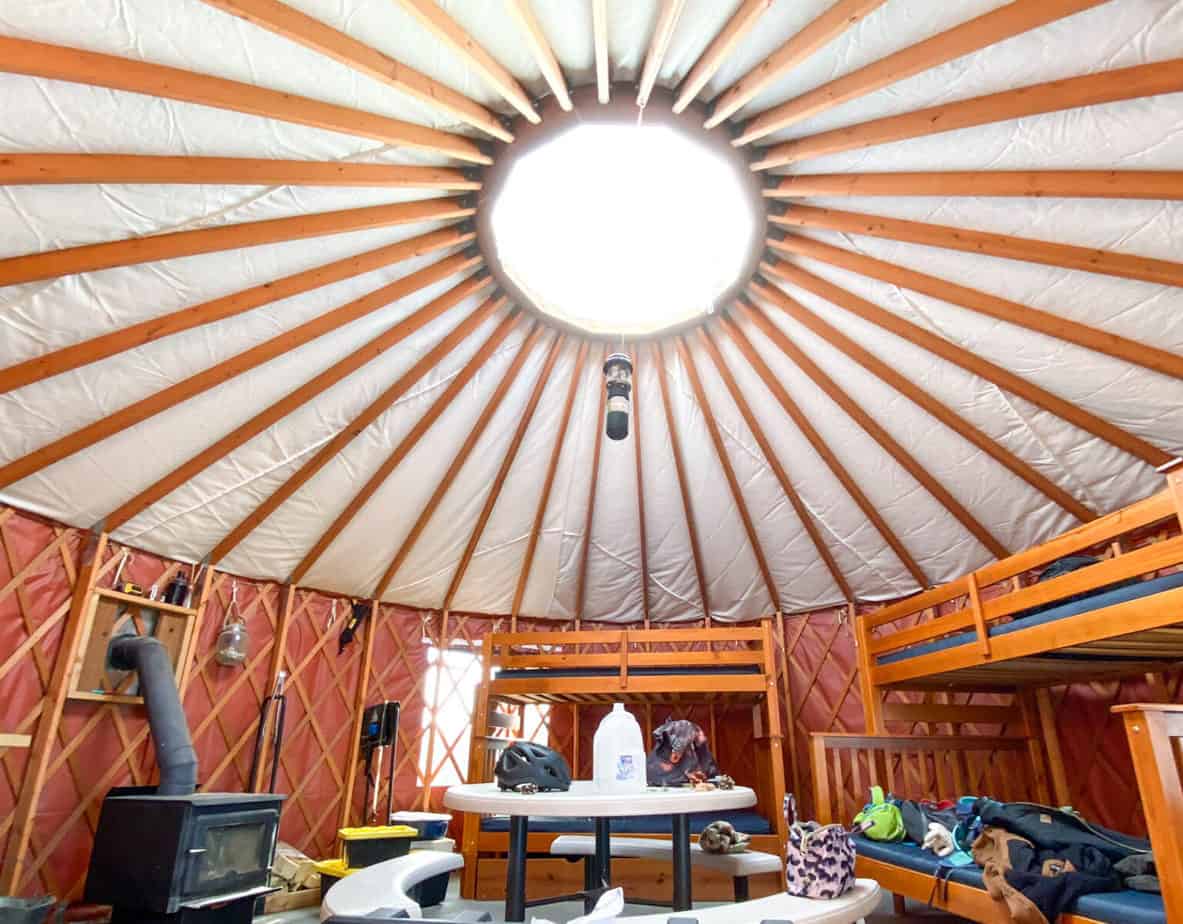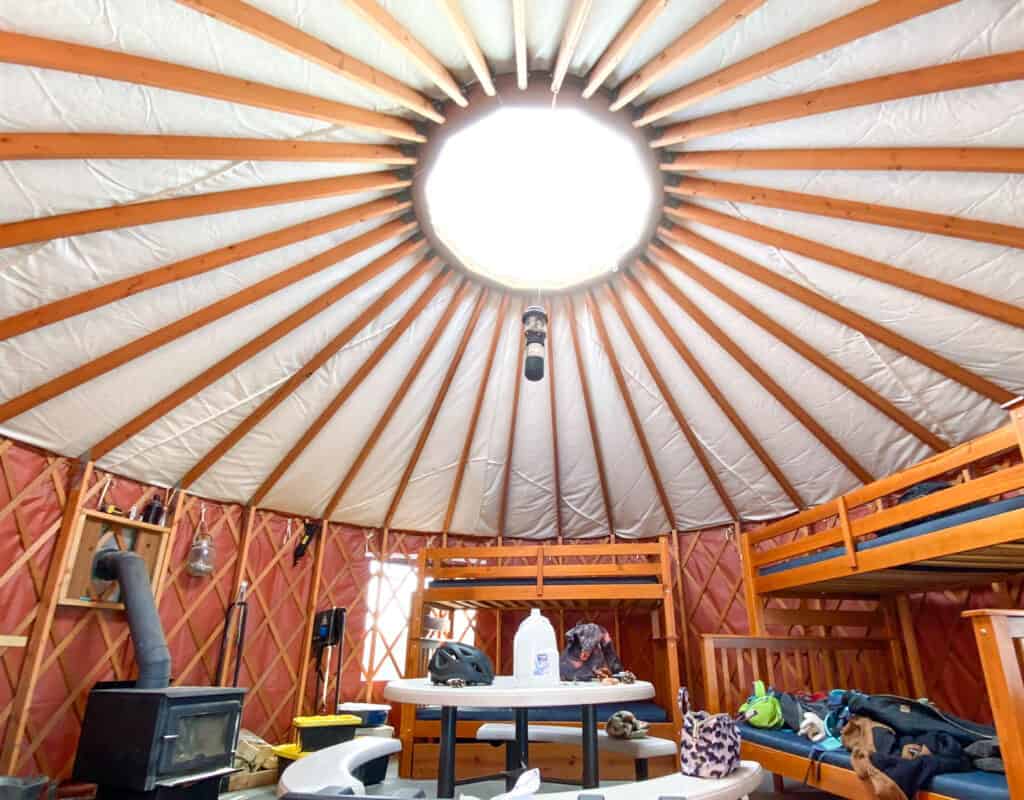 Box 2 – Clothes and shoes
No real difference between a tent and yurt trip here, however it was fun having the additional space of a yurt for fun stuff like slippers, onsies, and such.
Box 3 – Kitchen + Dry Food
We knew we would only have a small cooler, so our dry food was carefully planned.
Propane Bottles + long lighter for the supplied Coleman stove
Lantern or tap lights – Our had a lantern, but lighting can be so annoying and easy to forget about!
Cereals, bread, tortillas – We do oatmeal or cereal for camping, and do PB and Js for lunch. Tortillas were great for wraps for my husband and I
Nuts, packaged bars and snacks – Walnuts, cashews, Cliff Kids Bars and Peanut Butter pretzels for easy, filling food on the trail (or when we just weren't somewhere to cook a full meal)
Juice boxes (we have kids!) – These aren't normal at home, but as we like to say, we hiked hard and then we relax/enjoy hard! Juice boxes are great motivation and pep for days that are way busier than normal for them.
Paper plates/bowls and composable utensils – With the lack of water, doing dishes is extremely hard so we did our best to only need a couple of dishes
Paper towels and wipes
Percolator Coffee Pot + Coffee
One sauce pan for cooking hotdogs/sausages
Small Cooler (no electricity for refrigeration)
With our 3 kids, we needed to be able to pack milk for cereal and have room for a couple of favorite snacks. The room left over gave us space for some hotdogs/sausages and my plant milks and salad stuff.
If you're camping somewhere that doesn't get too hot during the day and super cold at night, you may be able to get away without needing ice or a big cooler by just storing it in the shade most of the day.
Our highs were 65 F, lows around 20 F so we were able to just move it once in the morning then once at night and everything stayed plenty cool.
Dairy + Macadmia Milk
Salad Mix + Hummus for wraps
Hotdogs and sausages
Cheesesticks
Ketchup and the dressing for my wraps
Outdoor items to consider for your yurt stay
Again, depending on how well supplied your particular yurt is, this list might be super long or short! Ours had a Solo Stove firepit, some firewood, and a bike rack – here are some ideas to consider brining to your own yurt camp trip!
Camp chairs
Roasting sticks
Bucket to put out fire
Axe for kindling/firewood
Firestarters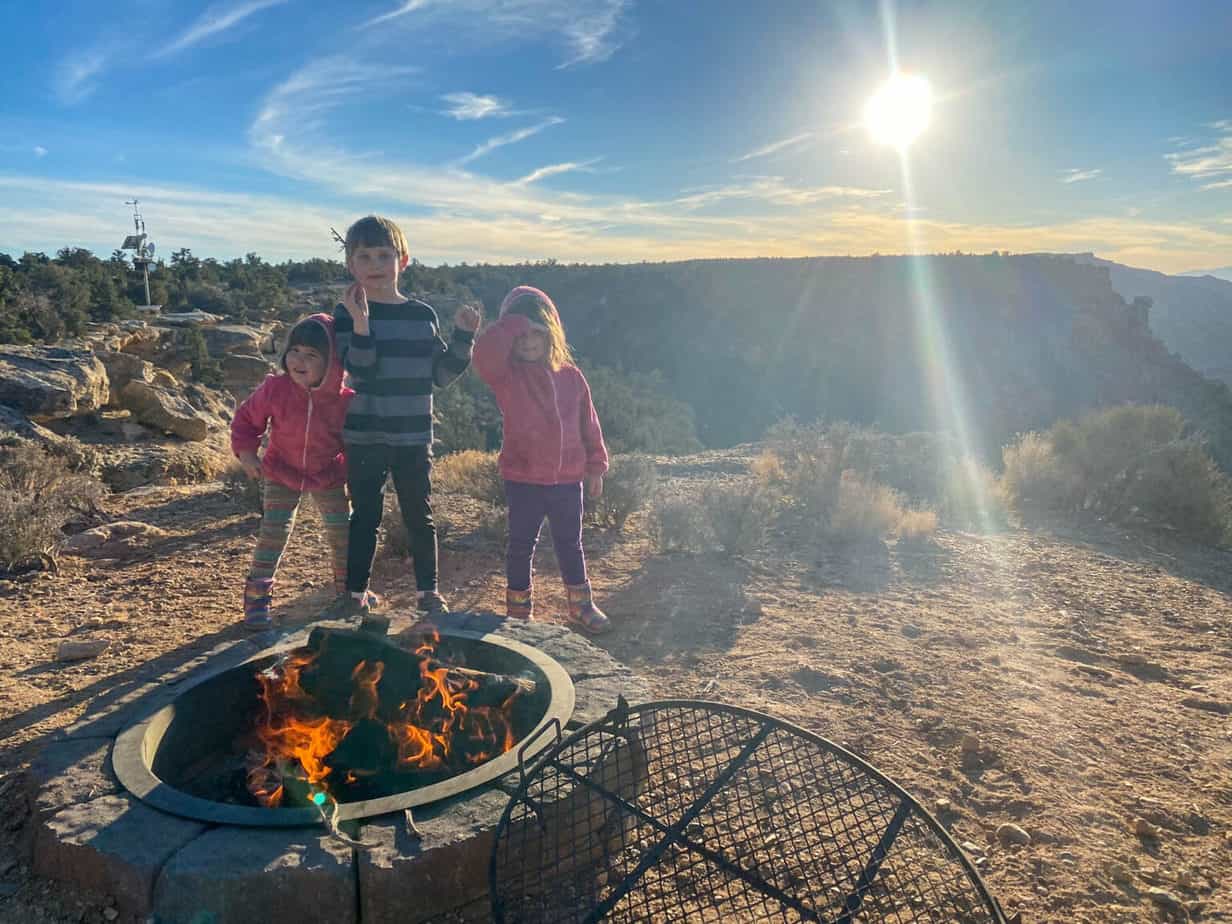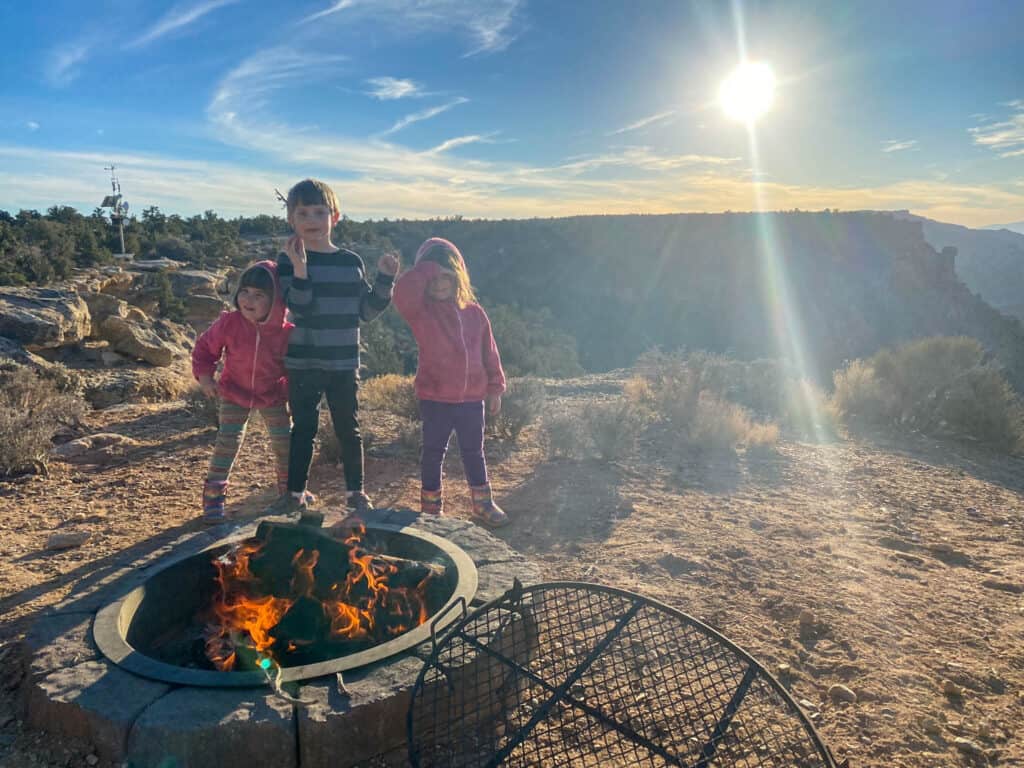 What to expect in a day when camping in a yurt
Yurts vary so much in location, what they're stocked with, and amenities available so I can only speak to my experience with my family of five in Utah at the Gooseberry Mesa Yurts, but here we go!
Morning – Wake up with the light from the ceiling bubble window, and get the wood stove going again. Start the coffee on the Coleman stove and get everyone to the bathroom throughout the morning – it's a brisk 3 minute walk to the vault toilet. This can be kind of annoying with kids or if it's cold, but not a big deal for the adults.
Breakfast is easy, usually cereal or oatmeal. As a bonus, we can keep things warm by just setting them on the wood stove!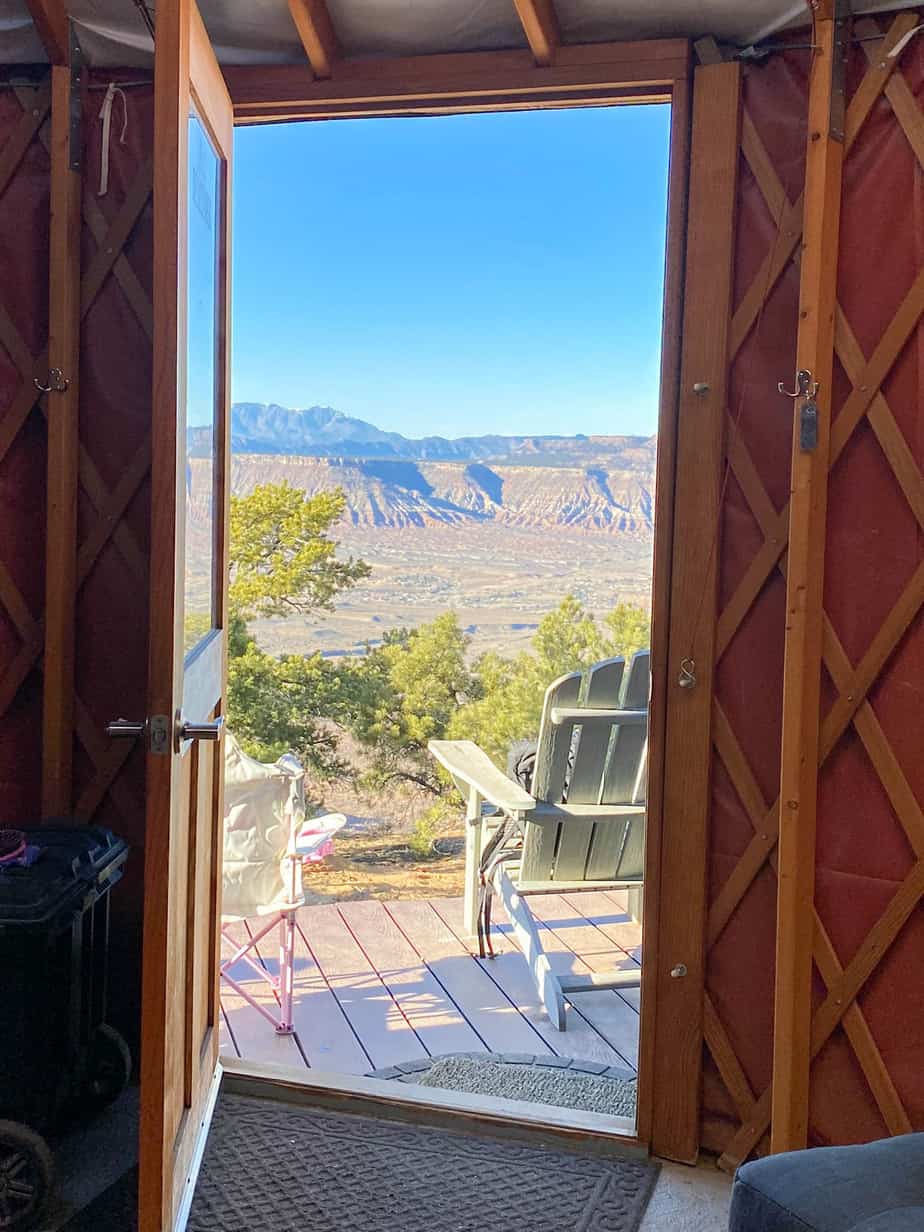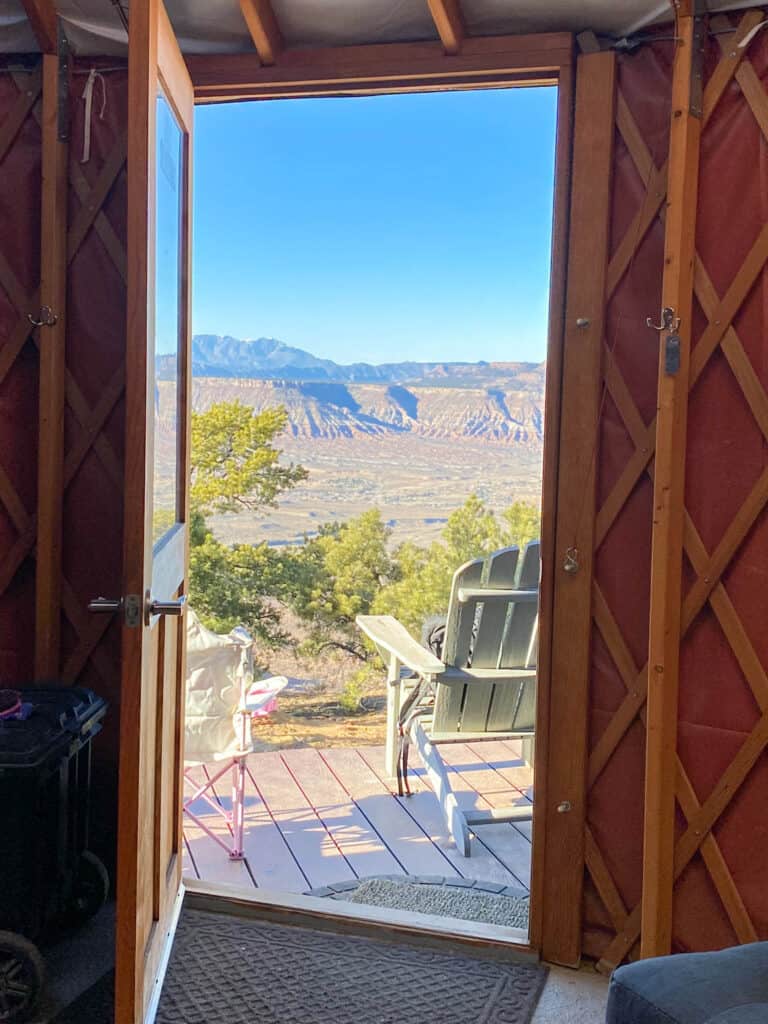 Afternoon – The day has heated up, so we need to lift all the window flaps and let some air flow in. Depending on where you are camping, there may be TONS to do just from camp – we usually did some biking, hiking or geocaching during the day.
Since our cooler is super tiny, we need to make sure to move it into the shade.
We also run our generator during this time (verify for yourself if this is allowed at your site, or if your yurt already has electricity… some do!), as it's when most people are gone and within typical generator hours. Laptops and phones (we both work remotely) are charged as well as the kids tablet for wind down time later.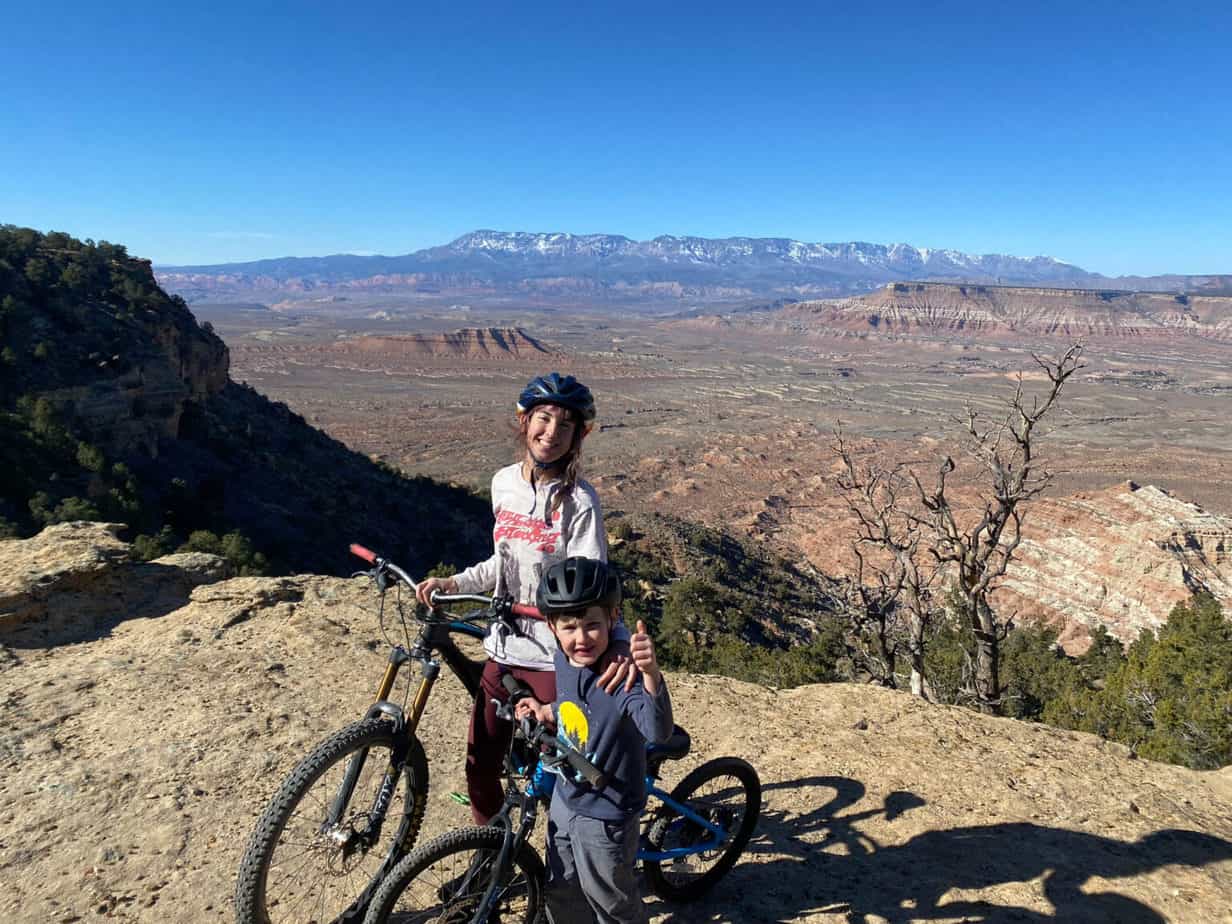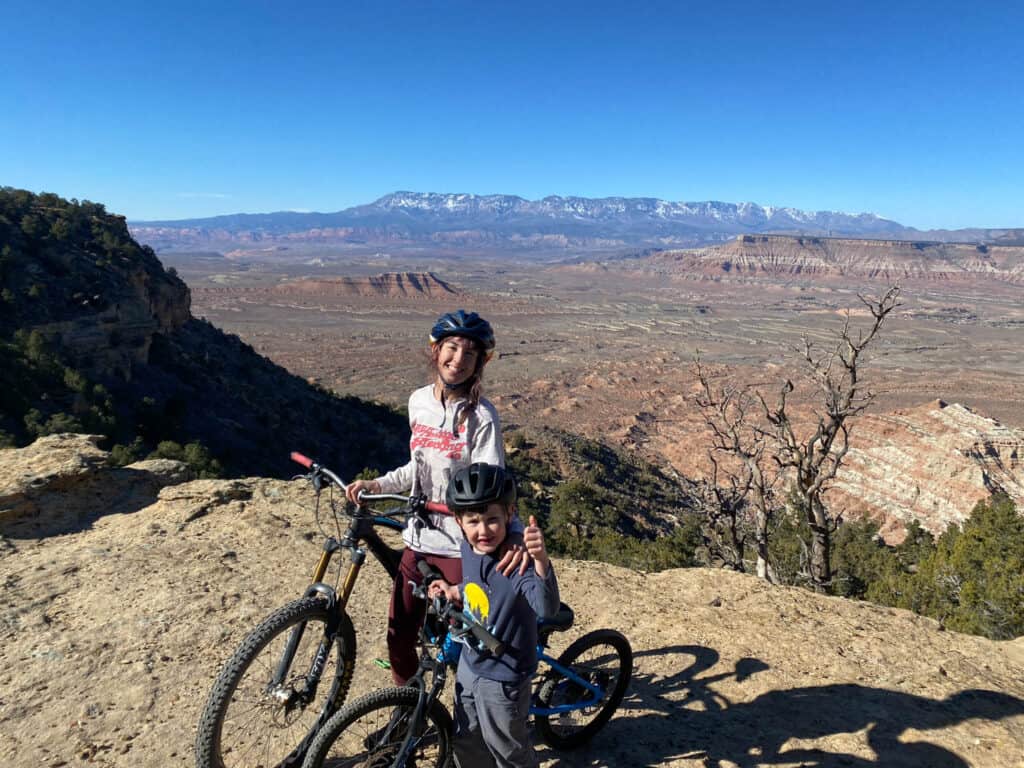 Evening – We gather firewood from the provided pile and bring it into the yurt so we have enough for all night through the morning. Most times, you are NOT allowed to gather from around the yurt, so plan on either buying your own and bringing it in or paying for it onsite (if available!)
There's a giant table in the middle of the yurt, so the kids color and play while the adults prep food/clothes for the next day.
It was pretty windy, so we weren't able to have campfire to cook our food. Thankfully, we did bring our one pan that worked well for the sausages and hotdogs.
After everyone is done eating, changed into PJs and cleaned up, we put on the white noise for the kids and so that us adults can talk/veg without disturbing the kids sleep. Depending on the time of year and age of your kids, the sunset time can make a big impact on evening activities (IE if it's too early, you're left in the dark with not much to do, but if it's too late, you can't block out all the light like you can at home in the kids rooms)
PRO TIP – To create privacy and darkness, we draped blankets over the bottom bunks. This let us scroll and decompress in privacy, and for our kids to have less distractions when trying to sleep.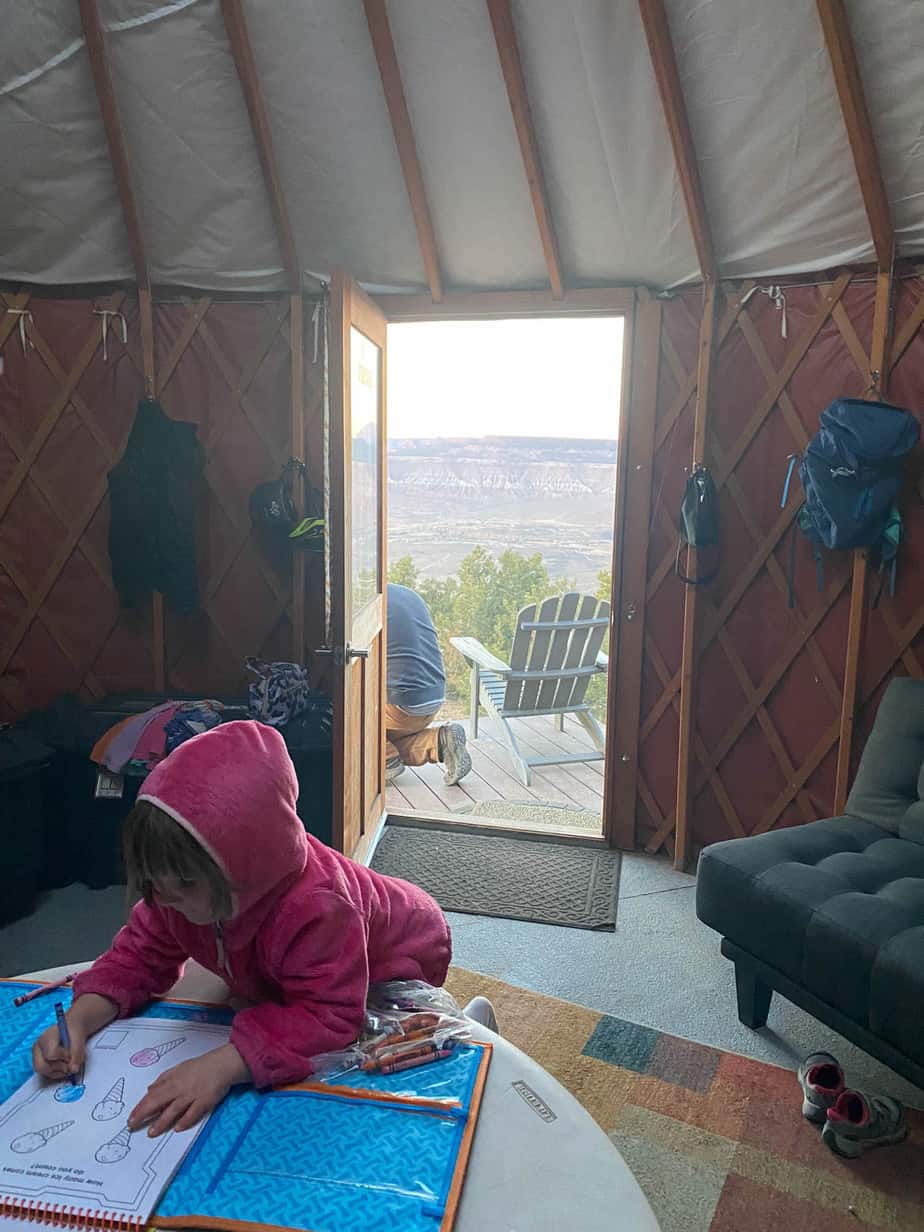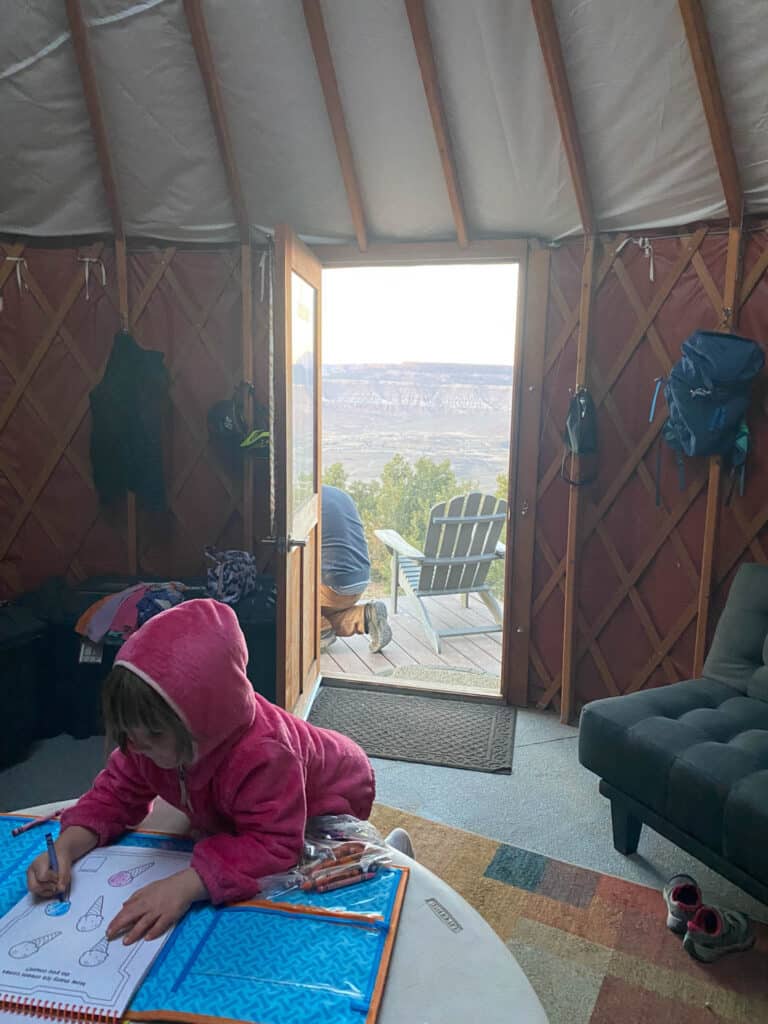 How to find and book a yurt camping trip
I'm just going to say it – yurt camping is not for the spontaneous.
Depending on where you're looking, you can book up to a YEAR in advance! We usually start looking around September/October and planning our spring trips as they are most popular during winter months (no surprise there).
The best way to find affordable yurt camping near you is through the USDA Forest Service website. Filter by "yurts" and your state/region (or country if outside of the US), and it will populate a list for you!
From there, clicking on each yurt will give you all the pertinent information – pictures, prices, reviews, what to expect, etc.
Once you've chosen your yurt and all the details have been worked out (check-in/out times, number of people allowed, whether or not pets are allowed), book through Recreation.gov! They are the middle man for all federal campgrounds and it's a really easy process.
You can also just do a simple Google Search or look at AirBNB/VRBO type things, but those can be way more expensive.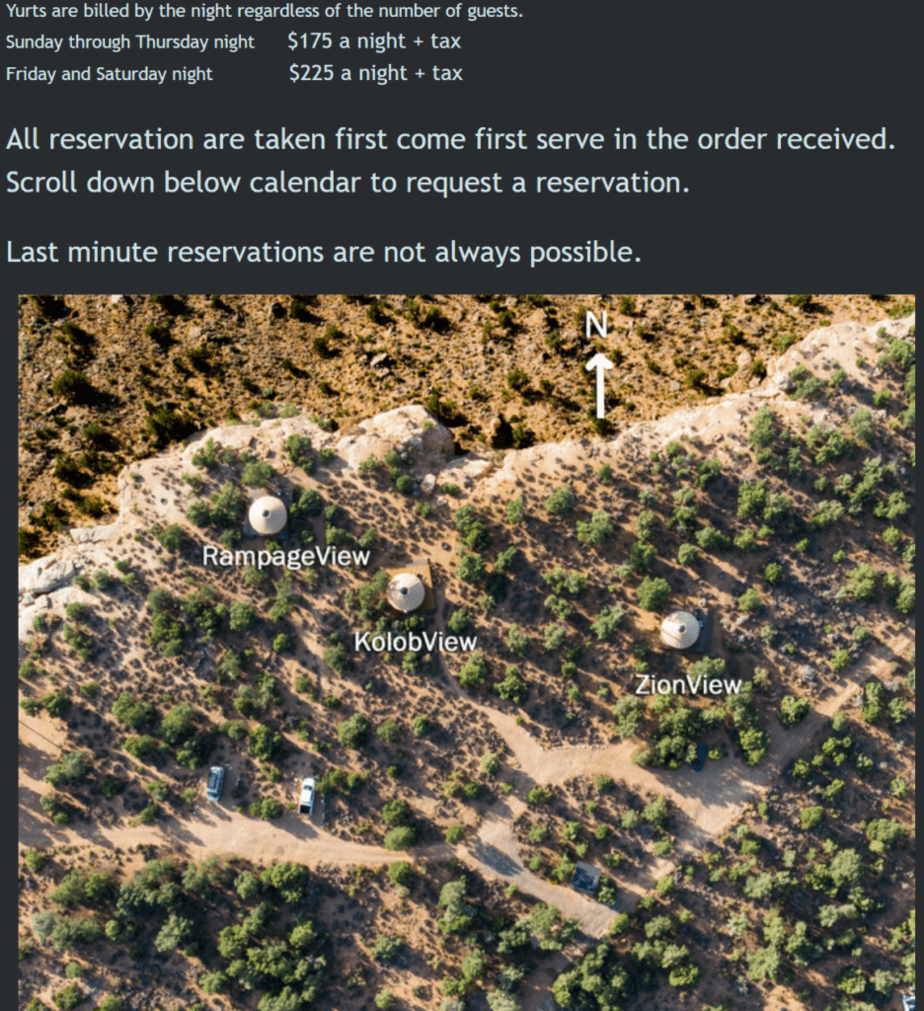 How much should I expect to pay to rent a yurt?
This is a tough question, as it can vary drastically depending on the time of year, size and location of yurt.
Generally speaking, though, you should expect to pay anywhere from $35 – $300/night. Again, this will depend on what amenities are included (ie some have bathrooms/showers, full kitchens etc while others don't)
Our yurt rental from Gooseberry Mesa Yurts was $175 a night in southern Utah – for the views we got, the space, and all the activities available right from camp, it was well worth the cost.
Gooseberry Mesa Yurts Review
If you are visiting Hurricane Utah or Zion National Park (it's only an hour or so away!) and enjoy mountain biking, hiking, or geology, this is a MUST! I am not an affiliate or anything, but the views were absolutely some of the best we've ever seen!
The bubble window was magical – our yurt being lit by only moonlight was surreal. The wrap around porch was great to view sunsets/sunrises, and from the top of the mesa… they look like a painting every night.
The road to the yurts, atleast in February, are very private and don't seem to be used much so everything felt calm and peaceful.
I purposely didn't bring my "fancy camera" for this trip so I wouldn't be tempted to cram in some work stuff, but I'm so bummed I didn't! My phone CANNOT capture the vibrance of everything – so I apologize for the pics!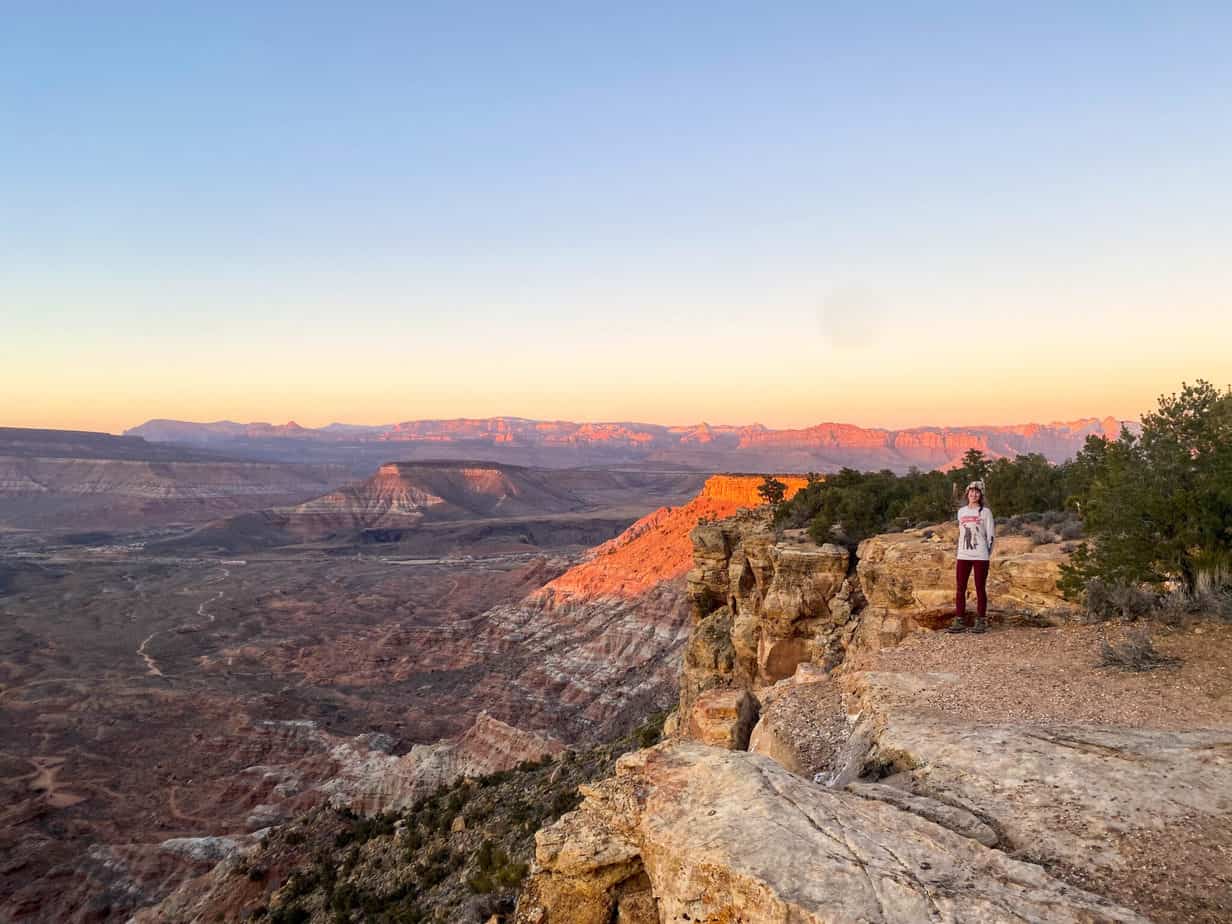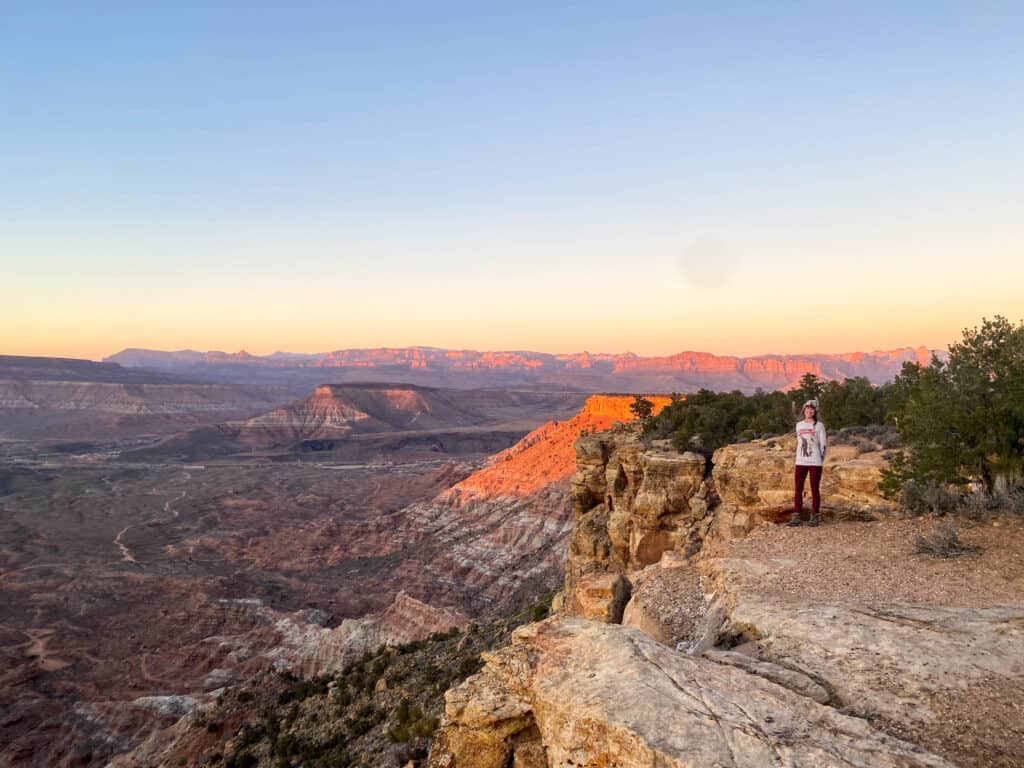 Here are some more points of interest about the Gooseberry Mesa Yurts
Excellent sunset/sunrise views – No joke, you walk out onto the porch and everything is in view. There's virtually zero light pollution too so that stars and moon are BRIGHT at night!
Hiking and biking trails easily accessible directly from your camp (we stayed in the Rampage Yurt)
Basics are provided – a Coleman stove, axe, seating, and even a Solo Stove should you opt to have your campfire somewhere else other than the firepit provided
No electricity/running water – That means no heat and you need to pack in water. That isn't a big deal, just be sure to charge your stuff in the car or bring a small generator.
Wood stove heated – Simple to use, but be sure to pay attention to the woods you use and the tamper on the bottom so you don't burn too hot and wake up sweating at night!
Easy temp control – The bubble roof can be cracked open which REALLY helps if things get too hot – just open the door or a window flap to create some good airflow.
Bring your own small propane for the stove – We left some of ours there, but don't count on someone else leaving some (there weren't any when we arrived, which was to be expected as it was in the rules/agreement.)
Can be almost an hour down a dirt road – Depending on if it's grated or completely washboard (and your vehicle of course) can change how long this takes. Just wanted to mention if so you can plan for that when making travel plans
A great "homebase" when exploring Zion, St. George, and other spots – The yurts (3 total) are within an hour or so of TONS of awesome hiking and biking spots.
The picture below didn't come out near as magical as it felt – this was the moonlight shining on me at night through the ceiling bubble!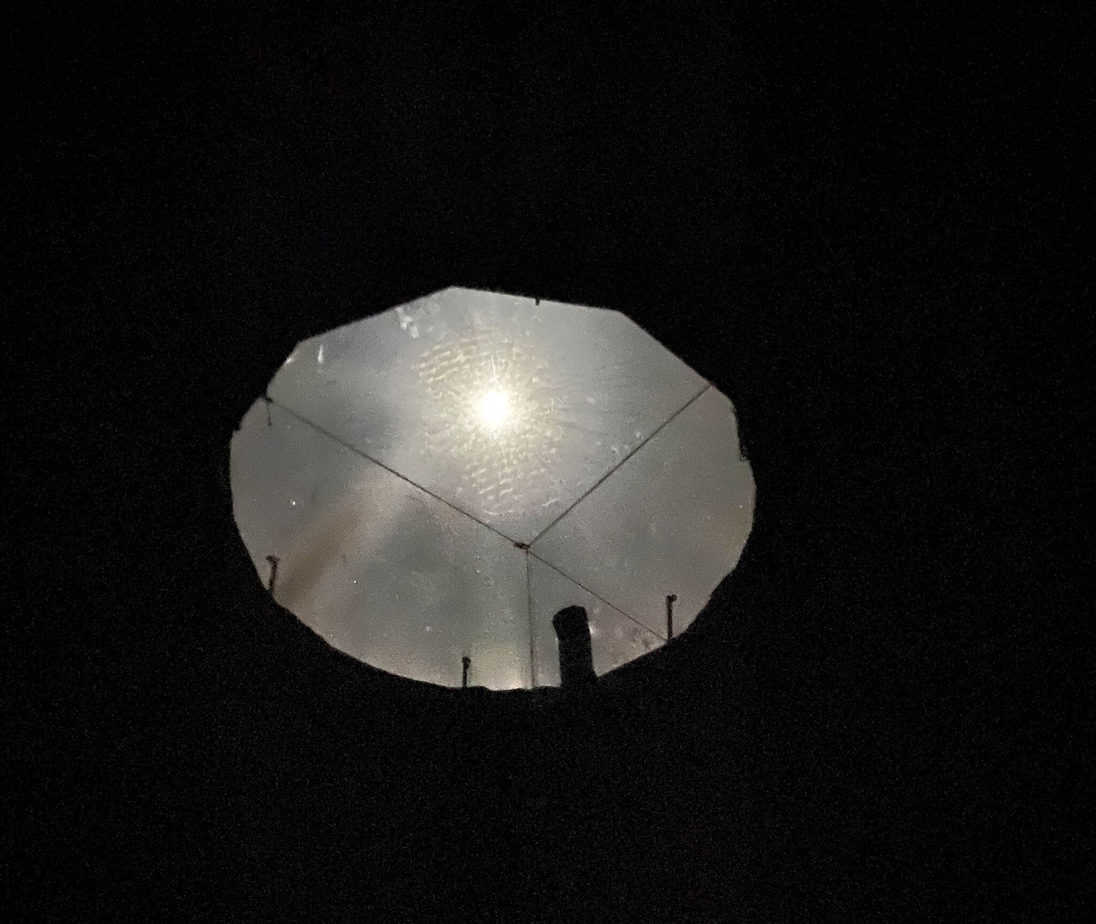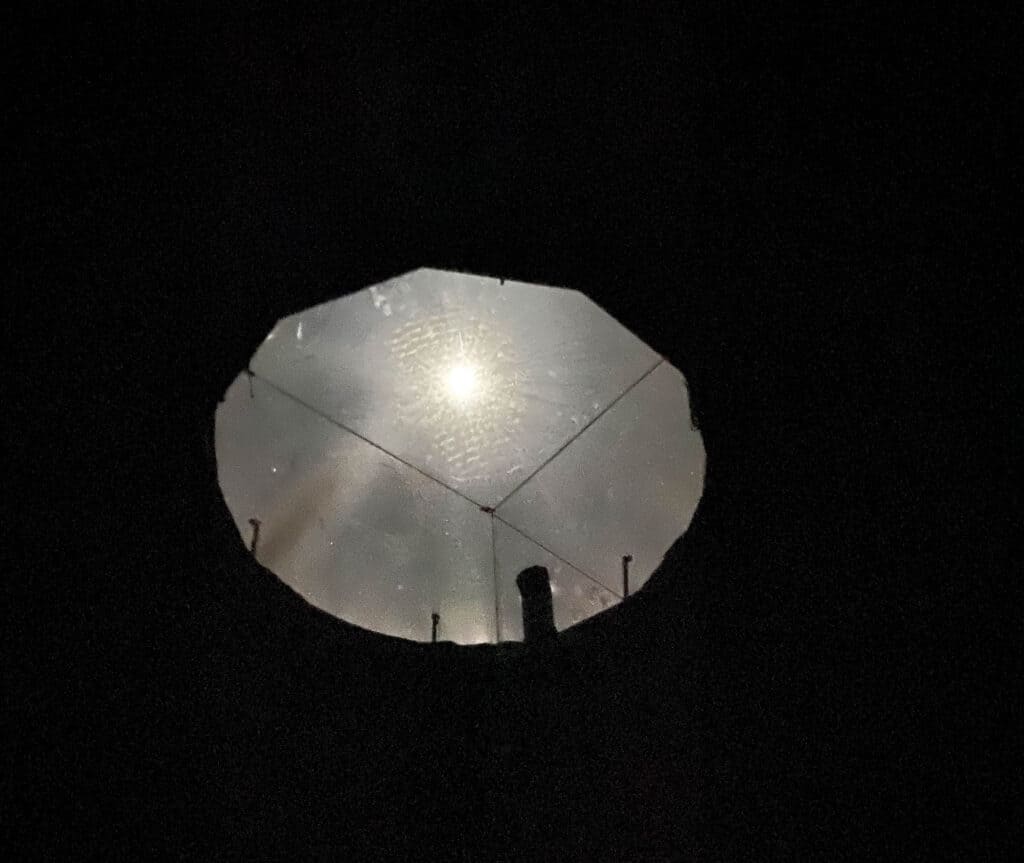 Latest posts by Stacy Bressler
(see all)