Life with Jonah is always an adventure. Like any adventure, there is good and bad. Jonah helping me carry firewood is good. Jonah naked on the jump pillows in front of what felt like a thousand other parents and campers bad. Funny but bad.
We have been blessed with four awesome children (Julian 12, Jonah 10, Juniper 7, and Josalyn 4). Jonah was diagnosed with Autism shortly after his 4th birthday. He's unpredictable, impulsive, and has a laugh that will turn any frown upside down.
I've taken Jonah tent camping during all seasons, cabin camping in the winter, and in 2021 we stayed at over 50 campgrounds during a 9 month RV trip.
So yes, special needs camping can be done and it can be enjoyable.
For us, it requires more patience, planning, and support. For other special needs kids, additional accessibility requirements may be required.
Hopefully what we've learned over the years provides you with some practical tips on camping with special needs kids that will give you the confidence to enjoy an epic camping trip.
6 Reasons Why Special Kids With Special Needs Should Go Camping
Camping gives a child with special needs a chance to do what other kids take for granted. Campfires, fishing poles, and hammocks become exciting tools in the outdoor world.
With each task I put Jonah up against, he always comes out of it a stronger, more capable person. Sure, camping with Jonah does take more work and patience but it's good for him and it's good for the rest of us too.
Here's why.
Teaches Independence
We make camping fun but our kids know that setting up camp and helping out, in general, is everyone's job. Jonah and the other kids enjoy helping out especially when the work is dangerous (chopping wood, climbing trees, etc.) and doesn't seem like work.
I think Jonah's disability put it into our heads that we need to do everything for him. As scary and unrealistic as it sounds now, Jonah will be living on his own someday.
So he needs to know how to prepare his own meals, learn to care for himself, and make good decisions. Camping provides another opportunity to build confidence and prepare Jonah(and us) to live independently.
Teaches Responsibility
From setting up tents to collecting firewood, kids with special needs are capable of many tasks. I didn't know if Jonah could do it but he did and he had a blast.
It's not just Jonah either. His siblings often help out by keeping an eye on him, helping him, and encouraging him to make "good decisions".
Teaches Safety
Jonah has an appetite for danger so one of us always has to keep a close eye on him. This includes constant awareness of our surroundings and teaching him not to approach or talk to strangers. We set up boundaries at our campsite so all our kids know how far they can go.
Teaches Self Esteem
Each time Jonah does something new he gets excited. He loves catching fish, completing hikes, and helping me start the fire. Now he has the confidence to take on new challenges like hiking 5 miles or canoeing 50 feet without stopping!
If he's going to believe in himself, it only makes sense for us to give him those opportunities. Camping, especially tent camping provides challenges to overcome and confidence-building galore.
Teaches Us to Let Go…. a Little Bit at a Time
Seeing Jonah gain independence and venture off with his brother has been difficult and scary (plus it has cost us 2 different sets of walkie-talkies and 2 pairs of shoes.) But it also brings the reality to light that someday we will need to let all our little ones go.
We wonder if Jonah will have a job. His own place? Our 12 year old firmly tells me that he will take care of Jonah. This of course melts my heart and brings a smile to my face.
Teaches Problem Solving
Being in the wilderness presents plenty of problem-solving opportunities. We need to problem solve the weather, bugs, tangled fishing line, and sunburns without getting angry or frustrated (me included). Camping teaches our kids how problems get solved!
So yes, camping can do a lot for families with special needs children! Ready to give it a try?
Here are some tips.
11 Tips for Family Camping with Special Needs Children
Our kids love camping, even tent camping. Because of Jonah's disability, there are additional things to consider while planning our next family adventure. Being prepared can make all the difference in your trip.
Here are some tips we've picked up over the years, through some tears, and later laughed about over beers. If you have a child with special needs, these will definitely help you have a safe, fun, and rewarding time camping!
1- Talk it up
Jonah's always a little apprehensive when we go somewhere new or try something new. Open communication is so important.
Let your child know this will be an enjoyable trip and then plan ahead of time. Tell them they might even see a screaming frog!
Show them pictures, videos or even let them pick out their own hat! They are more likely to enjoy the trip if they are part of the preparation. Talk about all the awesome stuff you will be doing like eating s'mores, fishing, swimming, or whatever your child is into.
2- Have a Schedule
We've learned that having a schedule, even if it is just blocks of time, sets Jonah up for success. If it isn't on the schedule and it's something he wants to do, I can expect to be asked "When?" or "How long then?" until he knows the time.
3- Plan Lots of Activities
That old "Idle hands" saying has never been more true than with Jonah. We try to keep Jonah and all the kids busy with lots of activities. Scavenger hunts or keeping a journal are easy ways to keep their little hands busy and out of trouble.
We don't plan every moment of the day though. We do leave some free time for our kids to relax and hang out. It's important to try new things, but on the other hand, you want your children to enjoy themselves too.
4- Be Flexible with Your Expectations
Every child is different and every disability is unique. Be aware of your children's limitations but don't let them stop you from having fun! I remind myself all the time about being realistic so I don't get frustrated.
Jonah doesn't do well in crowds and there is no sign of improvement. This is tough when you have 3 other kids that want to go to fairs, events, and amusement parks.
So we try to pick activities and events that everyone will enjoy and at the same time won't have Jonah and me sitting in the car for a few hours.
5- Bring Some Toys!
Two of the best things we've brought with us are hammocks and a Lycra Snuggle Swing. Not all campgrounds allow you to put them up or have trees to do so. When they do, it can transform your campsite into an adventure park.
Squirt guns are also a big hit. We try to shy away from water balloons and any projectile guns while camping just because of the potential for litter.
6- Tag Team
Just like tagging in your partner in a WWE wrestling match, my wife and I have learned to tag each other in for several reasons.
Perhaps we are frustrated with Jonah or perhaps another family member needs us. Either way, my wife and I "Tag" in and out so someone always has eyes on Jonah. This helps us avoid the dreaded "I thought you had him" statement.
7- Buddy System
Similar to the tag team system, our whole family uses the buddy system. Even Jonah's younger sisters jump in to help keep an eye on Jonah. Man, that 4 year old is bossy! 😜
8- Bring Some Help
We have been blessed with some amazing care attendants(nannies) over the years. So amazing, they were even willing to join us for camping and help out with Jonah. Mom and dad actually had time for hikes and conversations with other adults.
Can't afford a nanny? Yeah, neither could we but thankfully the great state of Virginia provided child care and respite funding for parents of children with disabilities. These programs vary by state so you'll need to do some research to see what benefits are available for your child.
9- Camp With Friends
Everyone should enjoy the camping trip. That means mom and dad too. We often camp with friends. This allows us to play zone defense in keeping an eye on all the kids.
The moms always get some time away together and so do the dads. Even if it's just a trip to the tackle shop, it is nice just to get away and socialize without worrying about the kiddos. This sets us all up for success and makes for some happy camping.
10- Pick the Best Site
We probably go a little overboard in picking our campsite — always as close to a playground as possible but not right next to a body of water.
"Rubbish," you say, everyone wants to be on the water.
But one of our biggest challenges early on with Jonah was wandering off (aka eloping). It still worries us and being right on top of the water just amplifies that fear.
So when picking a site we aim for safety, fun, and functionality. If we don't have a reservation, I simply ask the host or clerk for the best site for our needs.
11- Free Passes
I love this great country of ours, especially our National Parks. Years ago I found out about a free lifetime access pass available for individuals of any age that are considered disabled. This allows us free access to national parks and half-priced camping at most Army Corps of Engineers (COE) campgrounds.
You aren't in the Army you say? Well, you don't have to be in the military to stay at most COE campgrounds. These are some of our favorite campgrounds out there. So much so, we are often reluctant to tell people because these campgrounds seem like a secret to most.
Many of the COE campgrounds we visited had ADA sites and the hosts have always been friendly and amazing. I could write a whole article on my love of these campgrounds!
Those 11 tips have big the biggest help when camping with our autistic son. But depending on what special needs your child has, don't forget to plan things like:
Special camping meals to avoid food allergies
Safety ID bracelets for kids who have a knack for wandering off
Don't forget any medications they take and backups if you'll be in remote areas
Bring plenty of camp lighting to help soothe anxious kids who may be afraid of the dark (or us adults who still are afraid of the dark)
A Few Things That Make Special Needs Camping Even Easier
Jonah doesn't have any physical limitations. He struggles mostly cognitively and socially. When I think of the things he (and mom and dad) would miss most on a camping trip, these 3 came to mind.
Quality Therapy Swing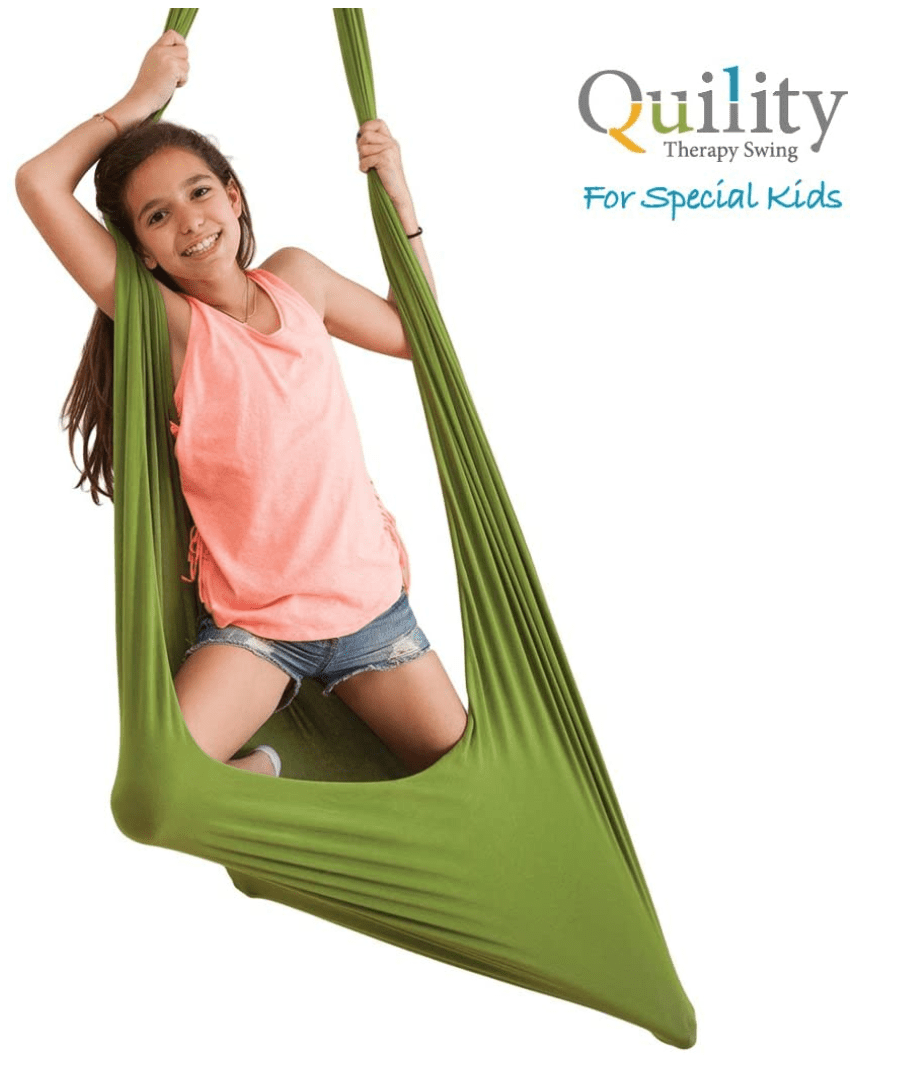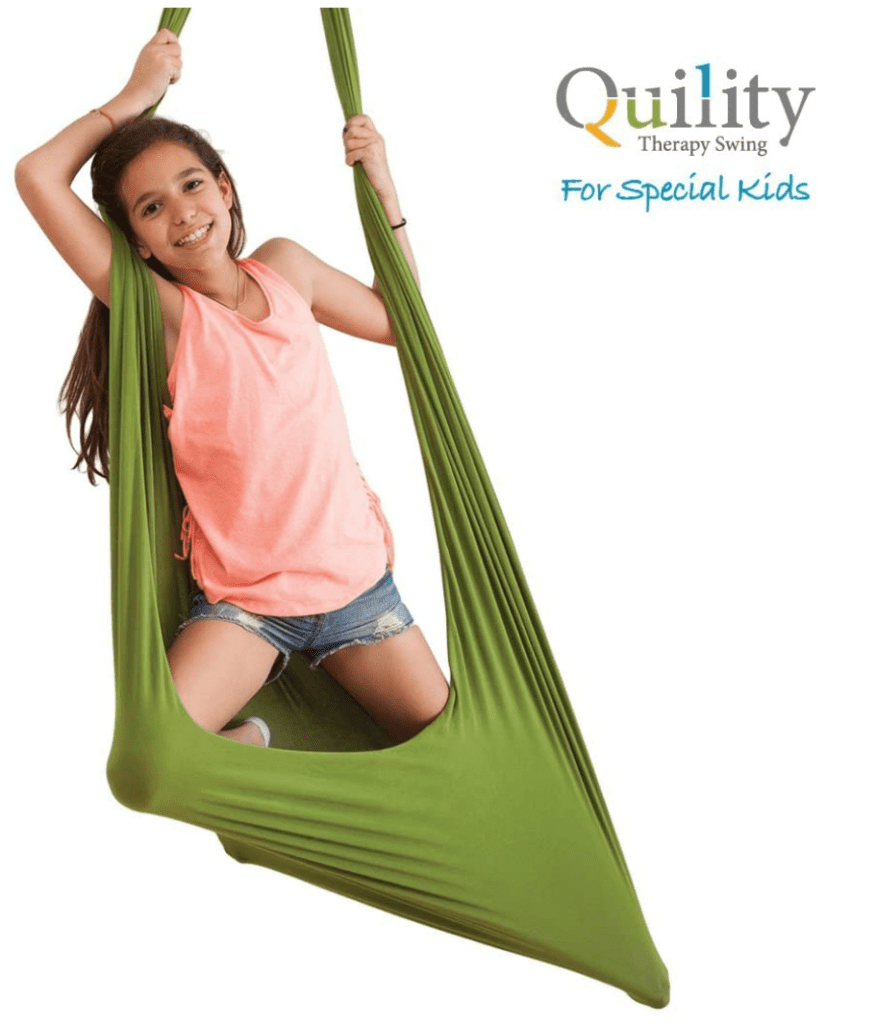 Jonah loves this thing at home and at the campground. Not all campgrounds allow hammocks and sometimes there is no place to hang it. I've hung it from horizontal branches and from tie straps spanned between two trees. This has been a great "chill out" space for Jonah and the other kids on our adventures.
Check the current price.
Water Shoes
Odds are you'll be camping in the warmer months as opposed to winter camping. Having a good pair of quick-drying water shoes frees up all sorts of activities for Jonah. One of his favorites is exploring in the creek for crawdads. He lets them pinch his finger, puts them down, and repeats.
These are super flexible and are available in tons of sizes and colors on Amazon.
Walkie Talkies – Waterproof & Rechargeable
Did I mention we are on our 3rd set of walkie-talkies? The first set we bought was rechargeable but not waterproof. These didn't last long in the hands of my little frog and toad hunters (catch and release always).
The next set was waterproof but not rechargeable and my kids kept leaving them on. Our last and what I hope to be our final set is this 4-pack from Amazon.
Check out the price here!
What About Special Needs Summer Camps?
We had our first summer camp booked at Joni & Friends (pronounced Johnny) in 2020 and sadly the pandemic caused it to be canceled. A dear family friend of ours has volunteered at the Joni & Friends camp for years and told us all about it. The idea of a camp for the entire family really appealed to us and we look forward to bringing all of our family members along when we go.
If you don't know the story of Joni Eareckson Tada and how Joni & Friends came to be, grab yourself a box of tissues and be inspired. To learn more about Joni & Friends family retreats, check out this video.
Hopefully, we will see you there!
Conclusion
I'm no expert on Autism. But I am learning every day about my son's needs and struggles. And I can tell you that camping has been great for Jonah and the entire family. We've seen so much growth in him from being outdoors, exploring, and catching just about every reptile imaginable.
Preparing Jonah for the world is something we focus on as parents. Camping with Jonah gives us the opportunity to teach him resourcefulness, safety, and independence.
I hope this article helps you have a fun and rewarding experience with your special needs kids!
Don't miss these other kid-centric and camporific articles from COM
Latest posts by Stacy Bressler
(see all)