The end of the summer months doesn't have to mean an end to camping. Sure, a dip in the lake may not be an option in the winter months, but there are still a ton of ways to enjoy winter camping with kids.
There's a different sense of adventure and survival that goes into winter camping. Anyone can handle that easy summer camping…right? 😂 If you can survive winter camping with kids, you are a modern-day Daniel Boone.
I actually prefer certain aspects of camping in colder weather. There are fewer bugs and campfires seem more enjoyable when they're needed for warmth and not just for smores.
So why not give it a try with your kids?
It's true… winter camping with your kids is a different animal than summer camping. But with planning and the right gear, it's easy to tackle and totally worth it.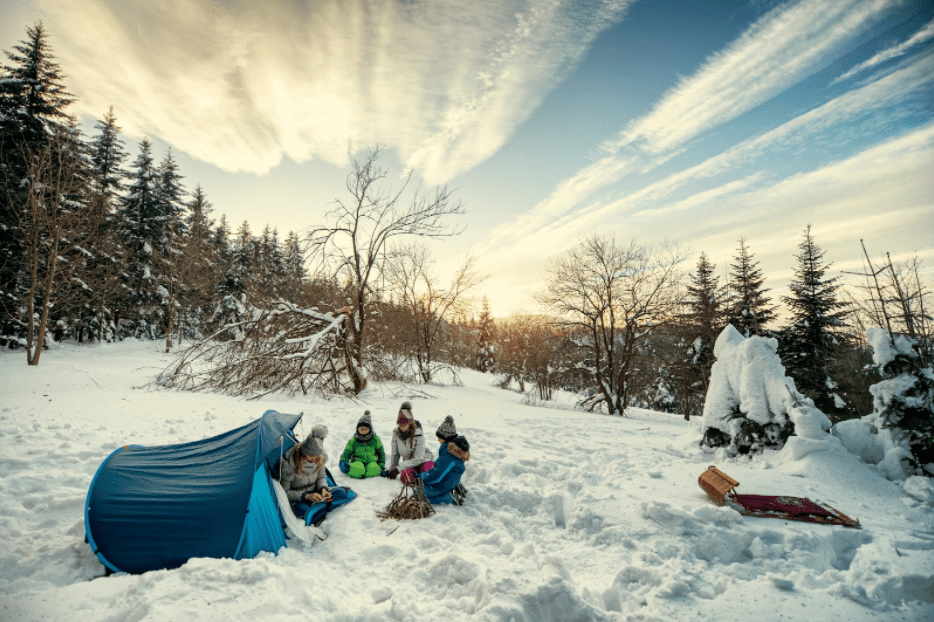 Can Winter Camping With Kids Really Be FUN?
Of course, winter camping with kids can be loads of fun!
But keep in mind…if your kids don't enjoy summer camping, they probably won't enjoy winter camping. It might not be a seasonal problem.
So focus first on enjoying warm weather camping, and THEN move on to winter camping.
And just remember that anytime you do something in the outdoors — from a short walk to a multi-day trek — focus on having fun together with your kids. Personally, I'm at the point in life where things just aren't as fun without them.
Every time I solo hike, I end up seeing something or thinking of something that makes me wish they were there to share that moment. Sure they drive me nuts sometimes but most things are just more enjoyable with them.
If you can have fun as a family with other outdoor activities, then I'm sure you can have fun winter camping.
So while there are some extra dangers that go with winter camping, if you can keep your kids warm, comfortable, and dry, you can have the time of your life!
11 Tips for Having a Blast Camping with Your Kids in the Cold
Winter camping with our kids should be safe, fun, and of course full of learning and memory-making. So I tried keeping these things in mind as I worked on these tips. I pulled from my own experiences and researched my butt off with the hope of saving your sanity while you enjoy family camping in colder weather.
Tip 1 – Plan Ahead
Now that I'm a responsible parent (most of the time) I make sure I'm prepared. Ok, sometimes I may be a little over-prepared, especially when it comes to doing these types of things with my kiddos. Planning for winter camping means having the correct clothing, the right gear, enough food, and a safe and fun environment.
Summer months are peak months for campgrounds, but when you camp in winter, you need to be extra prepared.
For example, don't assume all the services and facilities will be open during the winter months. Always call ahead or check the campground's website to double-check.
*Check out this kid's camping planner and activity packet from the Crazy Outdoor Mama for help preparing for your winter camping trip.
Here is my "Essential enough to turn the car around" list you just can't forget when winter camping with kids.
Firestarter – lighter or matches will do
First Aid Kit – Just in case!
Shelter – Tent and Rainfly
Plenty of Water – 2 gallons per person per day. A way to filter water or confirmation that the campground has water available.
Bedding – Sleeping bag rated for the temps you are camping in.
Pillows – I'm a three pillow sleeper myself so yes, these are essential.
Kids – It doesn't count if they don't go.
Food – Indulge, you can hike off the extra calories.
Obviously, this isn't all you need to bring. But these are the items that, if forgotten, would have to be replaced by either going to a store or a trip back home. Both trips will be filled with shame.
Keep going to see more ways you can prepare.
Tip 2 – Check the Weather Report & Check it Again!
When you're planning your trip, get an idea of what you're in for by checking out historical weather data for the area you'll be visiting.
I find Mellisa.com the easiest and most user-friendly way to get this info. Just enter the zip code and you'll get average temperature by the month, high and low temps, and average precipitation.
You'll want to check the weather again closer to your actual trip. You don't want to spend your winter camping trip hunkering down in your tent in sleeping bags and relying on body heat until the nightmare is over.
Remember, you want your kids to ENJOY camping, not just survive!
Knowing the temperatures and potential precipitation allows you to stay warm by bringing the right gear or perhaps canceling the trip altogether. Who knows? You could get a 70-degree weekend when you were expecting the low 30s.
So prepare by getting a rough idea of what temperatures you can expect. And if cell service is going to be iffy and there's potential for hazardous weather, I suggest bringing a weather radio like this one.
Tip 3 – Keep Those Kids Busy!
There's always a time in our camping adventures where I need to remind myself we are out here to have fun. We aren't settlers making our way across the country. We get out in nature because we love it and it's fun for us.
It needs to be fun for the kids too. They get bored easily and they outnumber us.
Here are some fun winter specific activities for kids at camp!
If they get through all of these activities and crafts and are still bored, you can introduce them to the fun activity of gathering and chopping wood…safely of course 😜.
P.S here's a fun winter scavenger hunt I made you can have free! Click here to go to the PDF!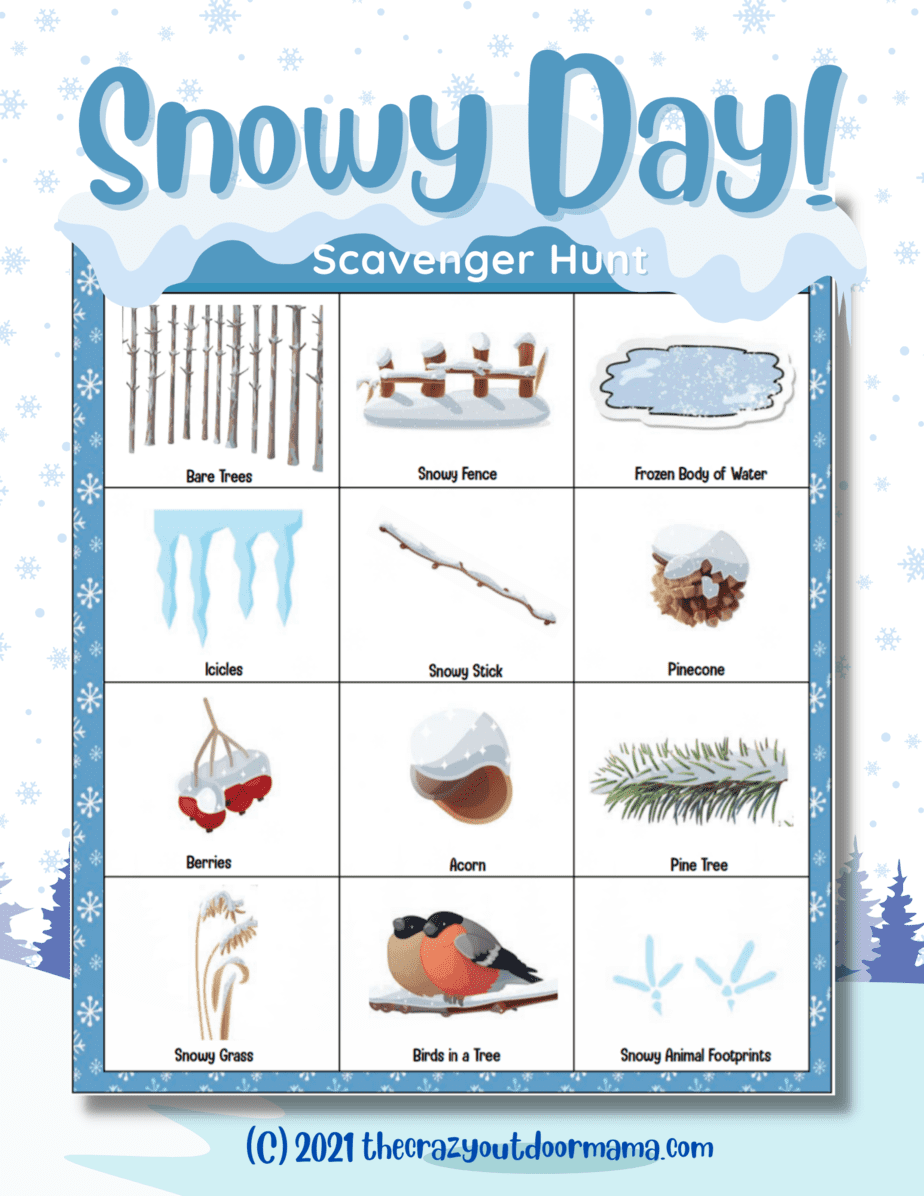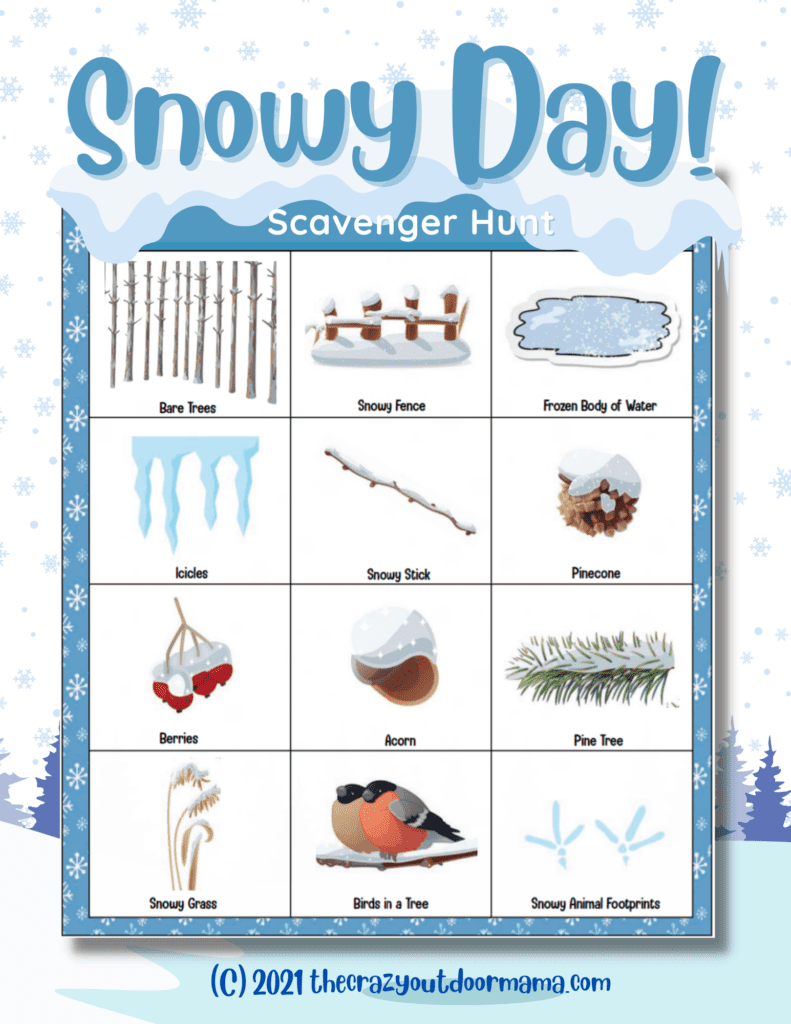 Tip 4 – Dress Appropriately
Layers, layers, layers! If you aren't hurting for space, try to pack extra clothes. This follows the whole "better to not need it than not have it" philosophy.
Remember to pack according to the latest weather report as well as the terrain you're camping in. Be especially careful if you see some serious temperature variations in a short period of time.
Here is our essential list of clothing we bring for the kids. It's tricky for us since two of our kids run hot and the other two run cold.
Winter jacket – Bring the warmest one they own.
Warm socks – Several Pairs
Long underwear – Tops and bottoms. We've been buying 32 degrees for all of our kiddos.
Warm gloves – pair these with some hand warmers for pure joy!
Warm hat – I found Britt's Knits hats a while back and now we have 5!
Warm hoodie – There's nothing like a nice warm hoodie. Odds are you and your kids will shed your jackets from all the moving around.
Warm jammies – There's a good chance nature will call in the middle of the night. Wearing some warm jammies makes the journey a little more bearable.
Warm boots – a good pair of warm hiking boots will do the trick. If you're expecting snow, bring snow boots of course.
You also want to be careful and overpack if you're spending time in higher elevations or remote areas. Snow accumulations could be higher and the more remote you are, the more likely random snowfall can occur.
Tip 5 – Stay Dry
Cold and wet make for a miserable combination when spending time outdoors, especially in the chilly months.
Getting snow in the tent is bad too (but not quite as annoying as having sand in the tent during the summer…anyone agrees?)
Colder temps don't give you the luxury of being able to hang things out to dry. So unfortunately if your kiddos get anything wet, the safest bet is to change them out for dry items.
And that means being prepared with plenty of extra dry items — socks, undies, gloves, etc.
Tip 6 – Stay Hydrated
I'm a big water drinker…in the warmer months. In the winter, I just seem to forget and my water intake drops if I'm not intentional about it.
Even in the winter, you need to worry about hydration. If your kids are active, they can end up sweating just as much in the winter months with all the warm layers. This can lead to dehydration if you aren't careful.
So be intentional about how much water you drink and how much your kiddos are drinking as well. Hot chocolate has water, right?
Tip 7 – Have the Right Gear
There are several ways to winter camp, from primitive to glamping. If you lack the camping gear to take a full winter camping trip, don't fret. Many campgrounds offer cabin or yurt rentals which are perfect for cold weather camping and family adventures.
We've winter camped quite a bit and we've been able to manage with all of our summer camping gear and a few extras. If your winter camping adventure has cross country skiing trails you may want to outfit yourself and the kiddos with cross country skis.
My son and I enjoyed a few days in a cabin last December. The cabin came complete with cots and lights and that's all we needed. The rest of the day was spent hiking, biking, and sitting around a fire. We did bring our sleeping bags to stay warm because wow, it was still super cold in the cabin.
Here are a few key gear items for winter camping.
Tents are tricky for winter camping. If you plan on doing intense cold weather camping, you'll want to get a 4 season tent.
Can't I just use my regular tent? Yes, you probably can. It really just depends on the elements you're camping in. Here's what to look for in a tent for winter camping with kids.
Large enough for families and preferably with separate sleeping quarters. My kids must dream they are in karate movies because when they sleep next to me it's non-stop kicking. If you've got the extra space, great! If not, it's time to get cozy.
Double layered (inner tent + an outer rainfly) for additional protection from the elements. The inner layer shouldn't have a lot of mesh.
A vestibule for a place to leave wet gear like your boots. This means less snow in the actual sleeping areas and your boots will be safe from the elements.
But even if a tent is listed as 4-season, be realistic — a tent isn't going to keep you as warm as an RV or a cabin. So don't forget to get a good sleeping pad and bag.
Sleeping Bags are probably the most critical piece of gear to consider for winter camping. Your sleeping bag should be like Goldie Lox. Not too hot and not too cool, just right.
Sleeping bags come in a few different types. You have a rectangular (my personal favorite), mummy sleeping bags, and a semi-rectangular which is somewhere in the middle.
I prefer the rectangular ones because they can be zipped together to create a larger one. I've had the same flannel-lined sleeping bags for ages like this one. Add a Coleman sleeping bag liner and these are all we've needed for our winter camping adventures.
Mummy sleeping bags are typically associated with cold-weather camping. While they do keep you warm, mummy bags can be a bit confining and claustrophobic. We've got two Kelty ~30-degree mummy bags for the kids. They seem to like them.
The only downside is once I zip them in, they can still get out 😆.
Need help finding sleeping bags for smaller kiddos? Check out these articles…
Sleeping Pads are like mini air mattresses and are positioned under a sleeping bag to provide additional comfort. They're typically the width of a sleeping bag and range in thickness from 1" up to around 6".
The insulation in a sleeping bag doesn't do as much when it's squished flat under your body. But a quality self-inflating or insulated sleeping pad with a high R-value will keep the cold ground from affecting you.
You can also just layer some extra blankets under your sleeping area. We lay our flannel-lined sleeping bag on our air mattress. Some wool blankets will do the trick either underneath your air mattress or sleeping bag.
Speaking of blankets, it's always nice to have some extra when winter camping. Here are the best options out there for camping blankets.
For cold weather, Sea to Summit's 4 season, self-inflating pad will keep you warm while the 4" of depth will keep you comfortable. Sea to Summit also offers a 4" insulated extra thick sleeping pad designed for comfort, warmth, and extremely cold temperatures.
Tip 8 – Do a Trial Run
Winter camping in your backyard still provides the experience of winter camping with the luxuries of running inside a warm house for a bio break or calling it quits when someone has just had enough.
I'd rather work out the kinks close to home than have to pack up in the middle of the night from a remote campsite.
During your trial run, take notes on what would make the trip more comfortable and enjoyable. Also, keep note of the items you thought you'd need and didn't use. Lastly, see if both you and your kids are enjoying yourselves.
Tip 9 – Sit Around the Campfire
You cannot camp in the winter without a campfire. Sitting around the campfire are some of the greatest times we have when camping. From burning marshmallows to warm snuggles with the kids, it's just an essential and amazing part of the winter camping experience.
If gathering firewood isn't an option, perhaps a propane firepit is more your style. These are easy to start, no smoke, and hassle-free. Plus they're great for an impromptu fire at home.
If you want the wood fire without the smoke, the Solo Stove Bonfire is a popular option. The Solo Stove is a big investment but it's totally worth it. Check out the Solo Stove Bonfire review.
And once you're all snuggled up by the fire, don't forget to bust out some campfire songs!
Tip 10 – Lighting (nights are short during winter)
The days are much shorter in the winter months. My kids no longer fall for the "suns down, time for bed" trick, so we still have several hours outside in the dark before bedtime.
That means we need some light!
We all have these rechargeable headlamps. We had battery-powered ones but the kids (although none of them admitted it) kept leaving them on and we were blowing through batteries.
The rechargeable ones are great. They're super bright and have several different modes.
We also have this Coleman lantern we keep on our cooking table. It works well but runs on 4 D batteries. I doubt we'd replace it if it conked out on it.
We also have this set of string lights. I prefer these because they are solar, can charge other devices, and has a few different lighting modes.
Tip 11 – Keep the Cooking Simple…. or Don't!
I love my Jetboil. It's versatile, easy to use, and makes decent coffee in a few short minutes. Pair your Jetboil with your favorite mountain house freeze-dried meals and you'll be eating a scrumptious meal with very little effort. Trust me, these are way better than they sound.
Maybe a dutch oven is more your speed. These are great too for breakfast casseroles, pizzas, cupcakes, and whatever else you can think of.
Dutch ovens are fun to cook with and make some delicious meals. They do require a lot of cleaning up and you'll need to keep the kids away from them and the starter during the cooking process.
If you want to keep it simple check out these backpacking recipes that are super minimal.
For really simple cooking while driving, try an engine block burrito. 😬😲
I have a friend who swore by this method. They would throw these (actually tie these carefully…don't damage your engine!) in the engine compartment 20 min before arriving at camp and when they arrived the burritos would be cooked and ready to go.
Here's how…
Bonus Tip – Let People Know Where You Are Going and When You'll Be Back
This is always solid advice any time you go hiking, camping, or on some off-grid type activity. If things ever do go south, time is of the essence. Plus, you don't want people to worry for no reason if you cannot be reached.
Check out additional outdoor safety tips – you'll want to make a trip plan so your loved ones know what to expect!
Winter Camping with Special Needs Kids
I can share from my own experiences with my autistic son that winter camping can be fun. Some of my son's superpowers are lack of fear and lack of danger. We are basically on high alert at the campsite until we've mapped out dangers and established boundaries.
He loves to help so getting him involved in cooking, gathering wood, and playing games has been amazing for his confidence and his behavior. So winter camping for my son hasn't just been fun, it's been an opportunity for him to blossom.
*Stay tuned for a future article about camping with special needs kids.
Winter Doesn't Have to Stop Family Camping Fun
There is something special about being warm and cozy in your sleeping bag while it's freezing outside. I'm talking about the kind of cold that makes you sit wide awake rationalizing how you will ever abandon your cocoon of happiness that is your sleeping bag.
The outdoors hold a unique type of beauty in the winter that should be enjoyed as a family by hiking and exploring. Flowing water turns to ice and leaves give way to expose more of the landscape that can't be seen during the summer months.
So don't let the cold weather deter you from camping in the late fall or the colder months. With just a few extra supplies, some coordinated planning, and a positive attitude, you can tackle winter camping with kids just as effectively as summer camping.
Latest posts by Stacy Bressler
(see all)