Camping with kids can be pretty darn fun, but if you're looking to get even more out of the experience check out this 25 page fun printable kids camping journal!
After camping with 3 kiddos (and let's be honest… writing about camping with kids for yeeaarrss!) I've created a perfect camp journal for kids that is both fun and educational!
On top of the obvious ability to be able to journal their camp experience, kids can also be inspired to explore nature around their campsite through scavenger hunts, sketch prompts and outdoor games!
Related: This printable kids hiking journal has a similar theme… but it's bene tailored PERFECT for documenting each hike and nature walk!
Let me show you what's inside!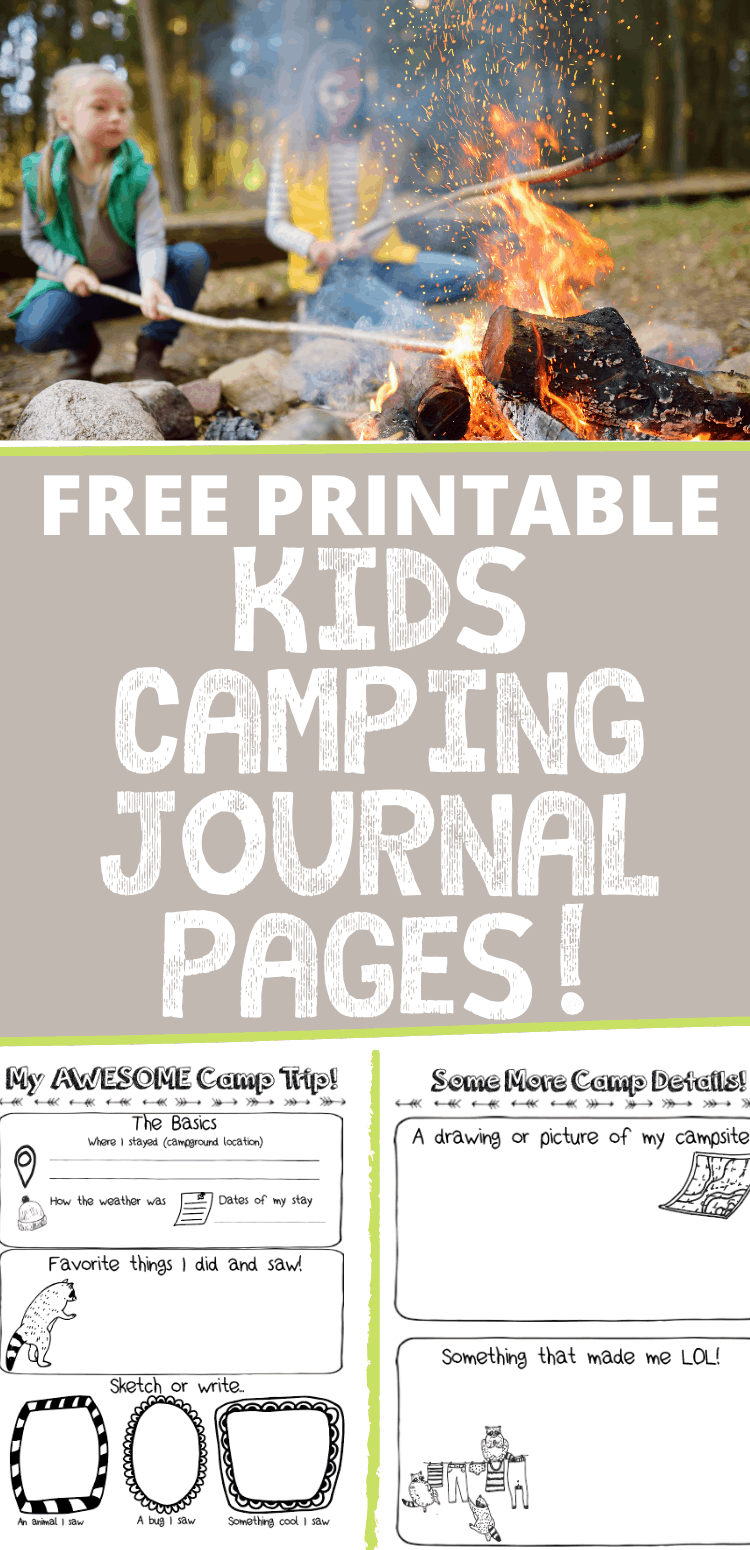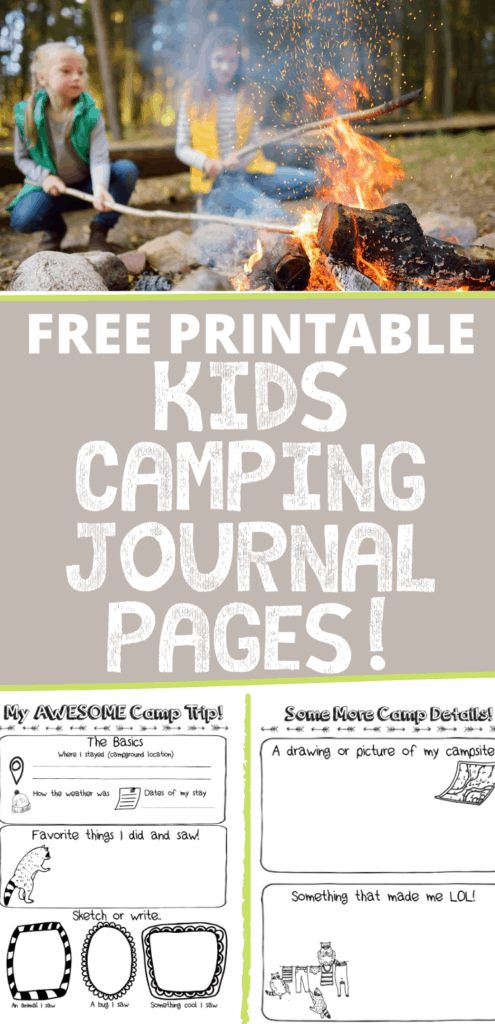 Adventure Rules and All About ME!
The first couple pages are all about introducing your child to what to expect from the journal as well as start with some fun! Kids will love answering the following fun prompts
I mostly camp in ……
When I camp or hike, I LOVE to see
My favorite animals I've EVER seen while adventuring are…
And the animal I can't wait to see one day!
I really love camping with
My favorite things to eat while camping are…
My favorite hikes to go on are…
I wish I could camp here again…
My favorite memories! (Blank page to paste photos or use for drawings)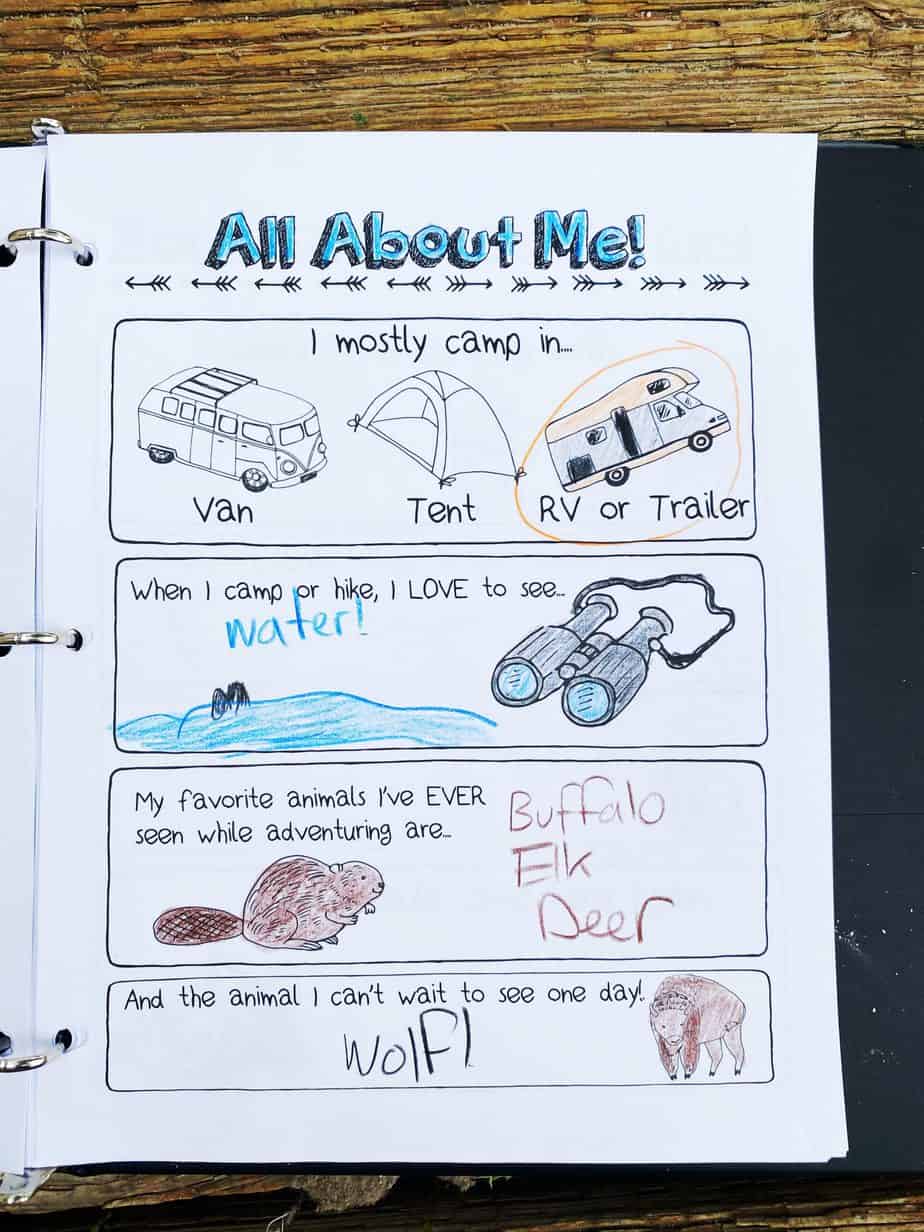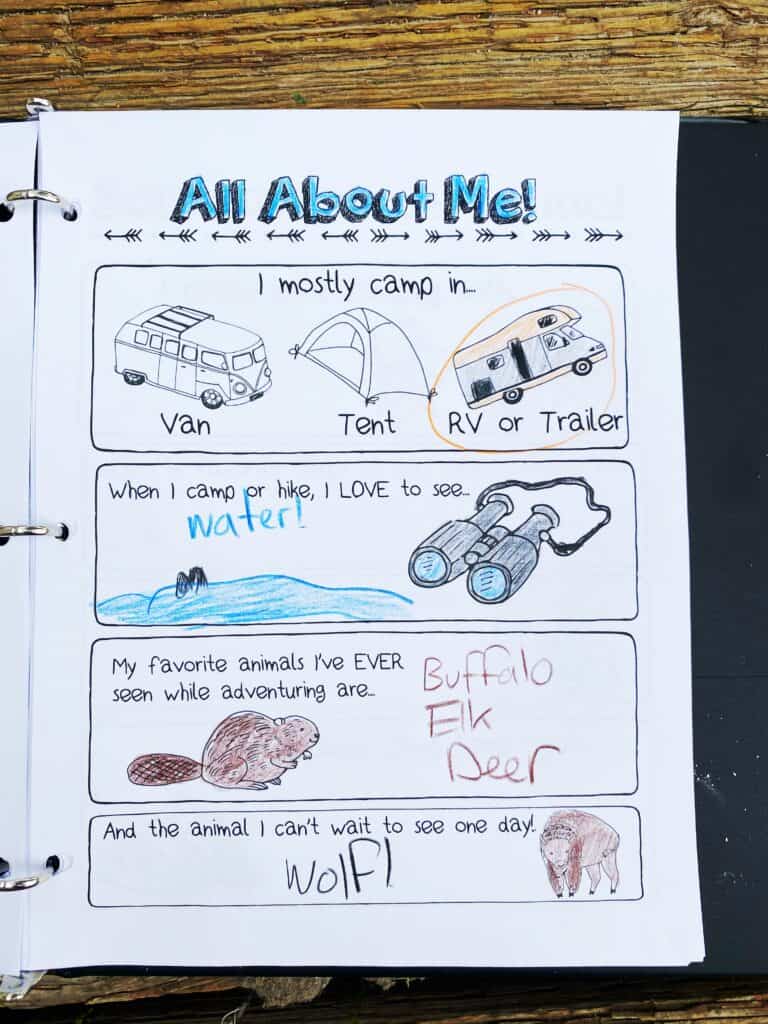 Two pages to list all the places they've been
Think of this as sort of a Table of Contents – except it's to keep track of each camptrip! This easy reference log is a fun way to see an overview of your childs camp trips!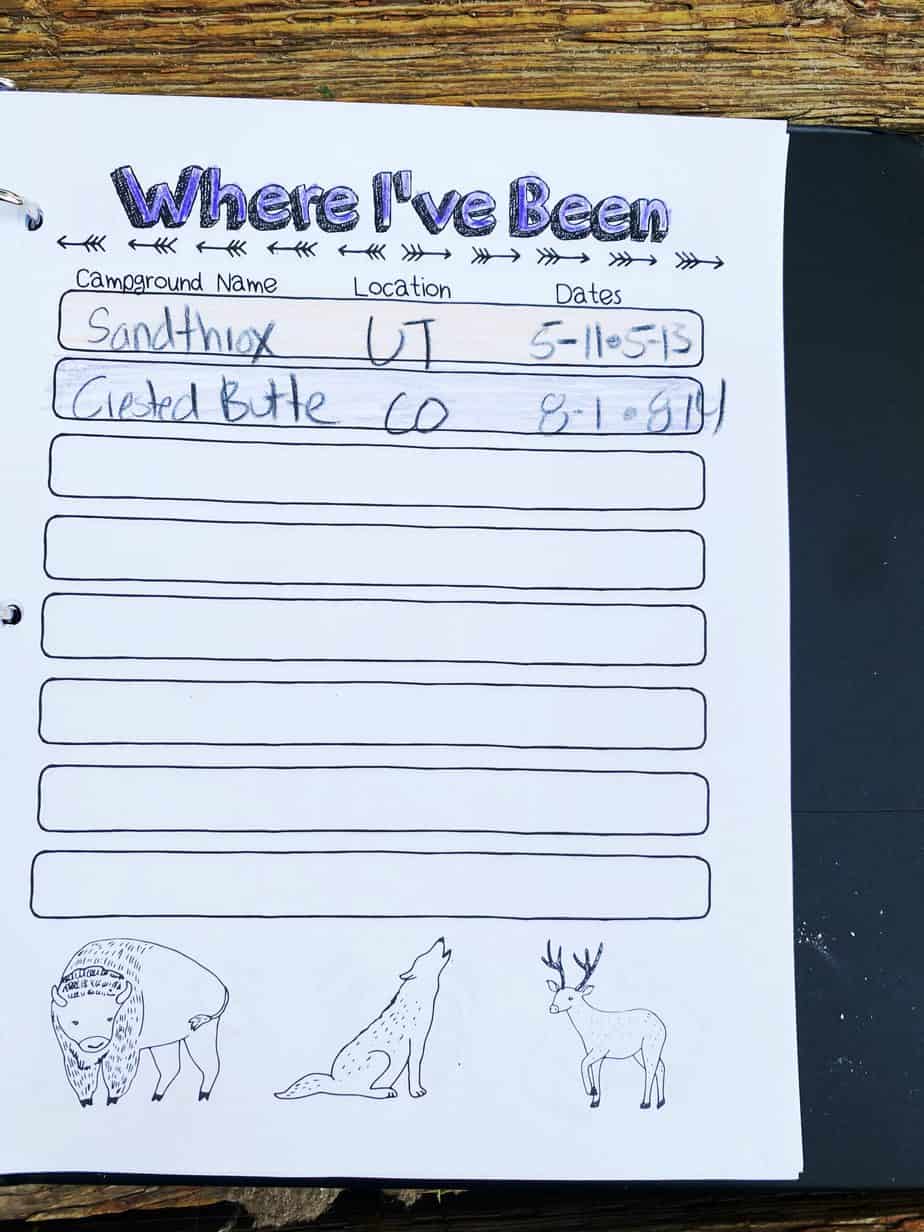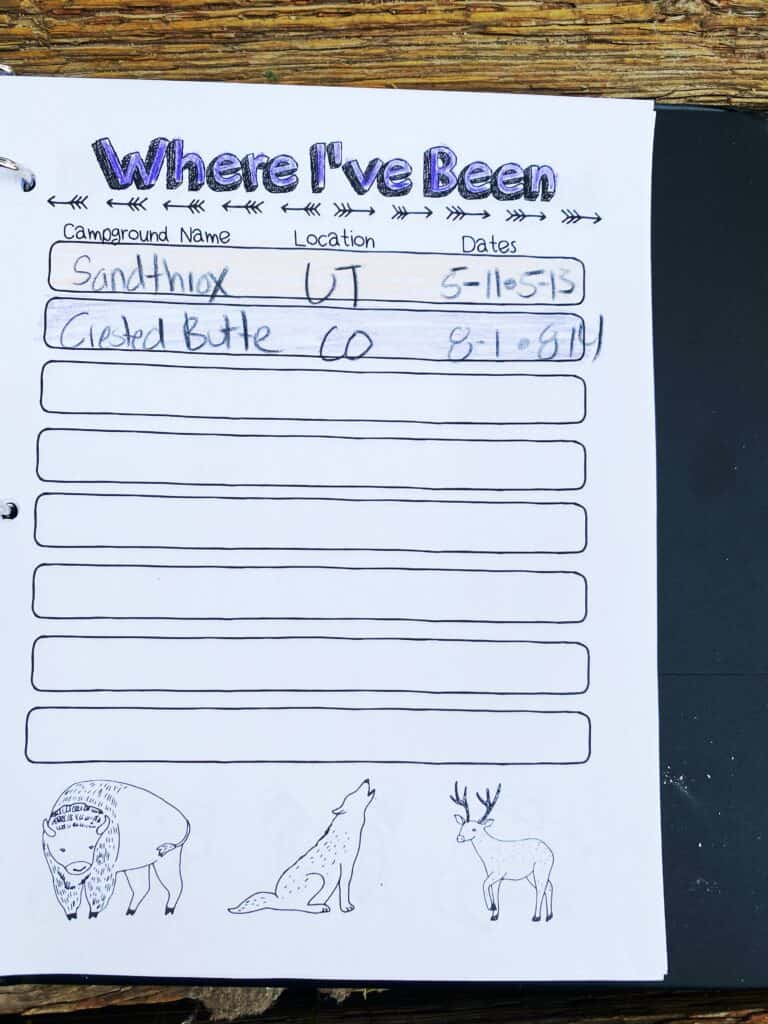 Cool Friends I've Met (while camping!)
Whether you're roadschooling or your kiddo is just really social, it's fun to keep track of new friends met while traveling and at campgrounds! Make sure they get the contact information incase a penpal/email exchange type thing is possible (kids love that!)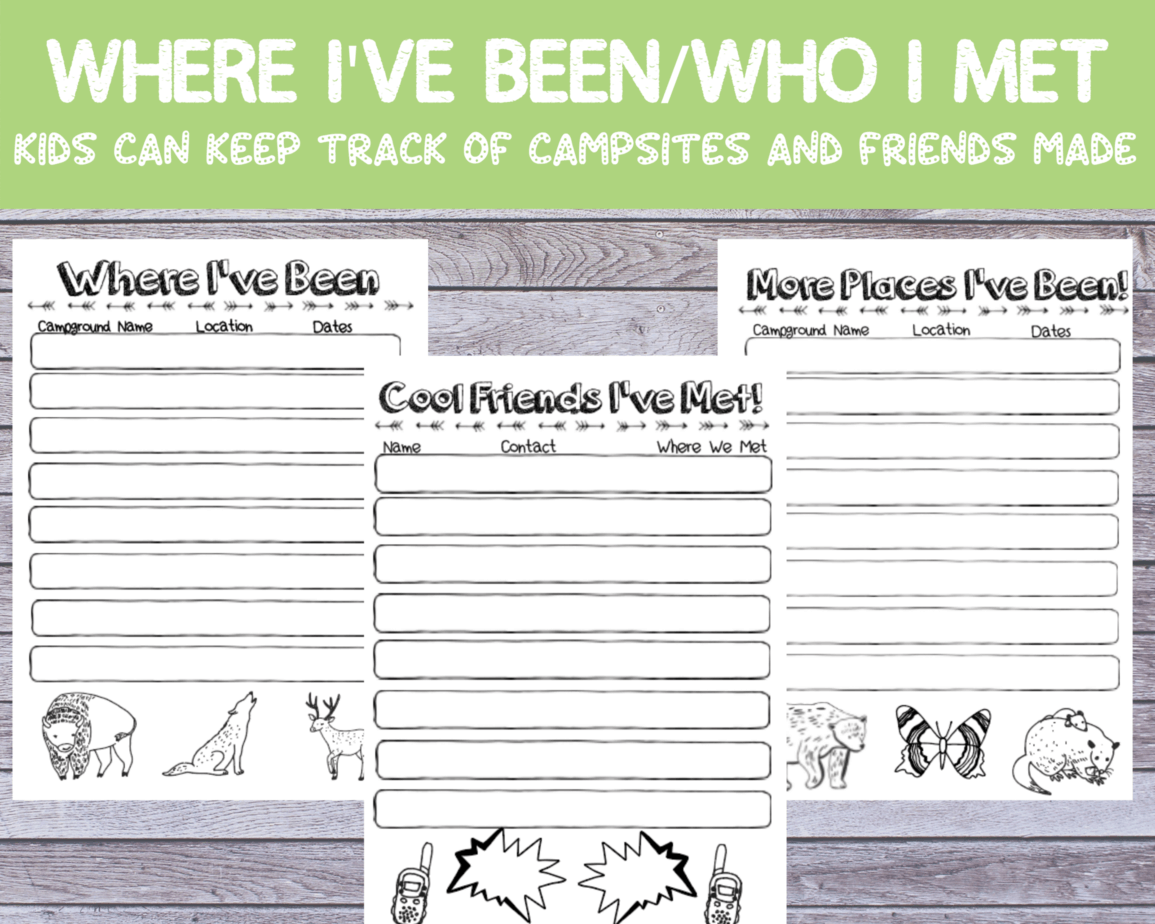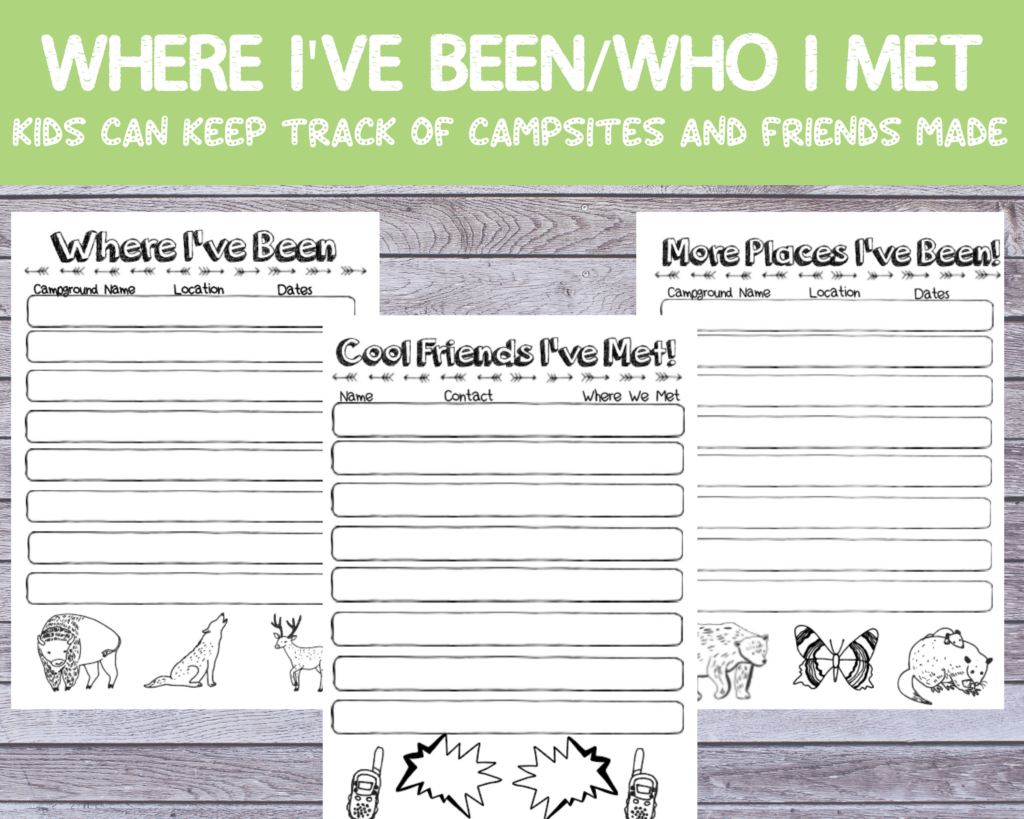 Kids Campsite Log Entry Pages
This is the meat and bones of the camp journal! Unlike /most/ of what you'll find on Amazon, this isn't your Plain Jane blank lined entry page. This is full of sketching, storytelling and observing activities to complete during or after each campsite!
I love the DIY style of a printable camp journal because you can just print off as many sets of the entry pages as needed!
The prompts here include:
Basics of the stay (location, weather and date)
Favorite thing I did and saw
Sketch or write three things (an animal, a bug, something cool)
Drawing or picture of the campsite
Something that made me LOL (a picture or story!)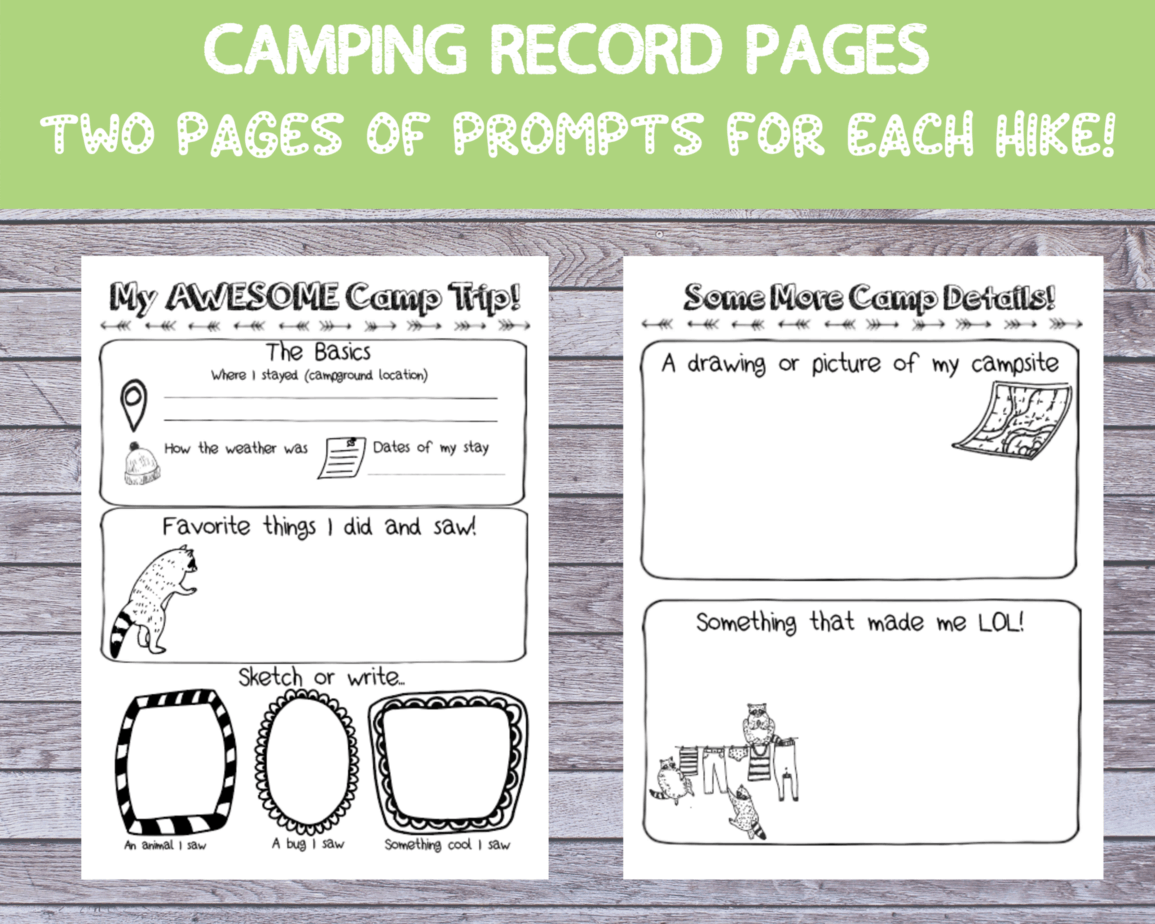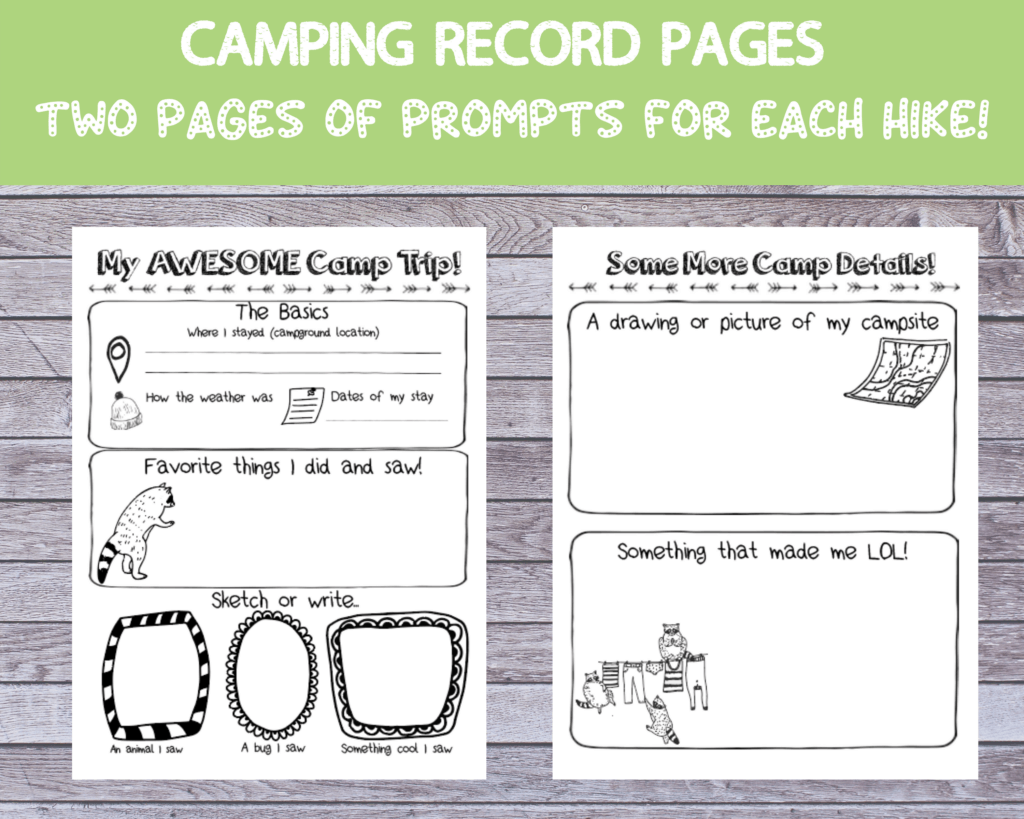 Animals + Plants I've seen
With four spots per page for animals and six spots per page for plants, this section is a great boredom buster! Anytime the kids start getting antsy, just ask them to find something cool to put in their journal – I know our family almost always discovers some small interesting object that we didn't notice earlier!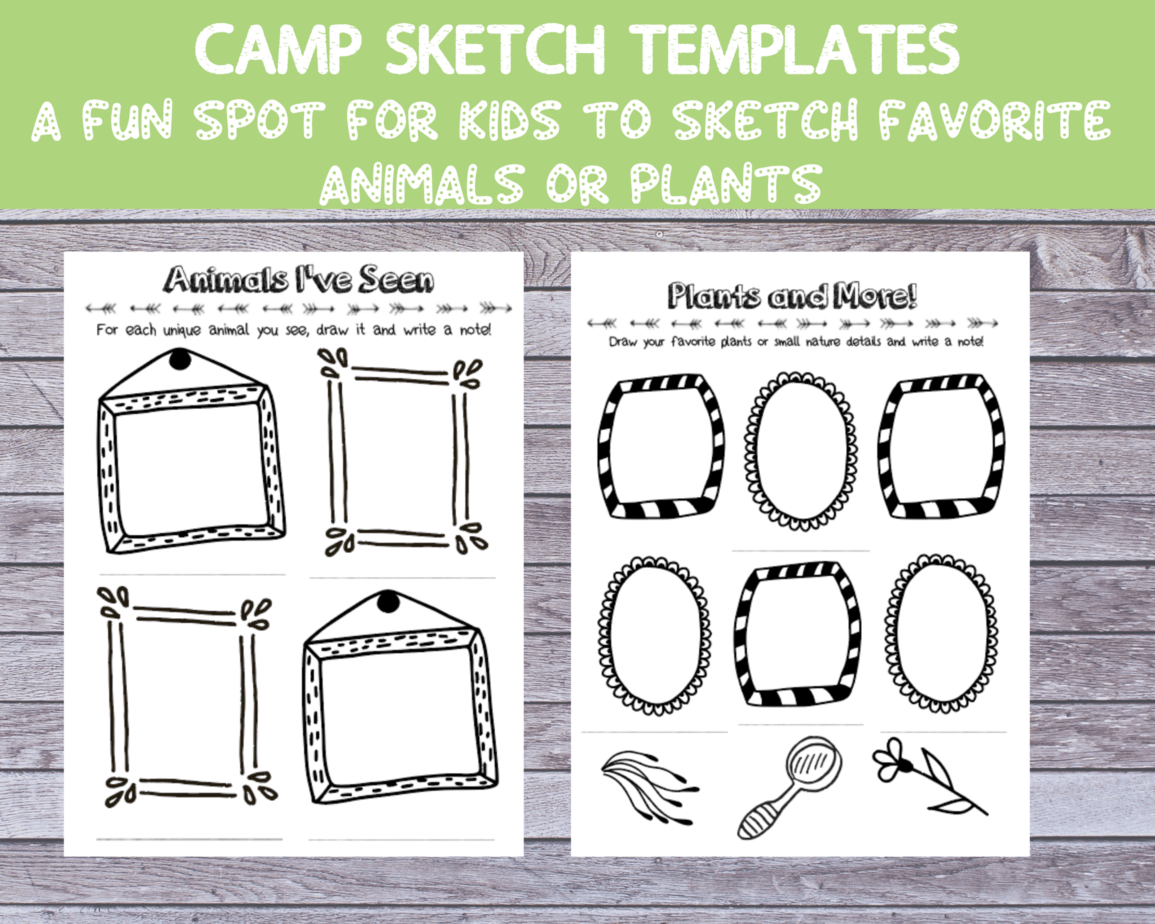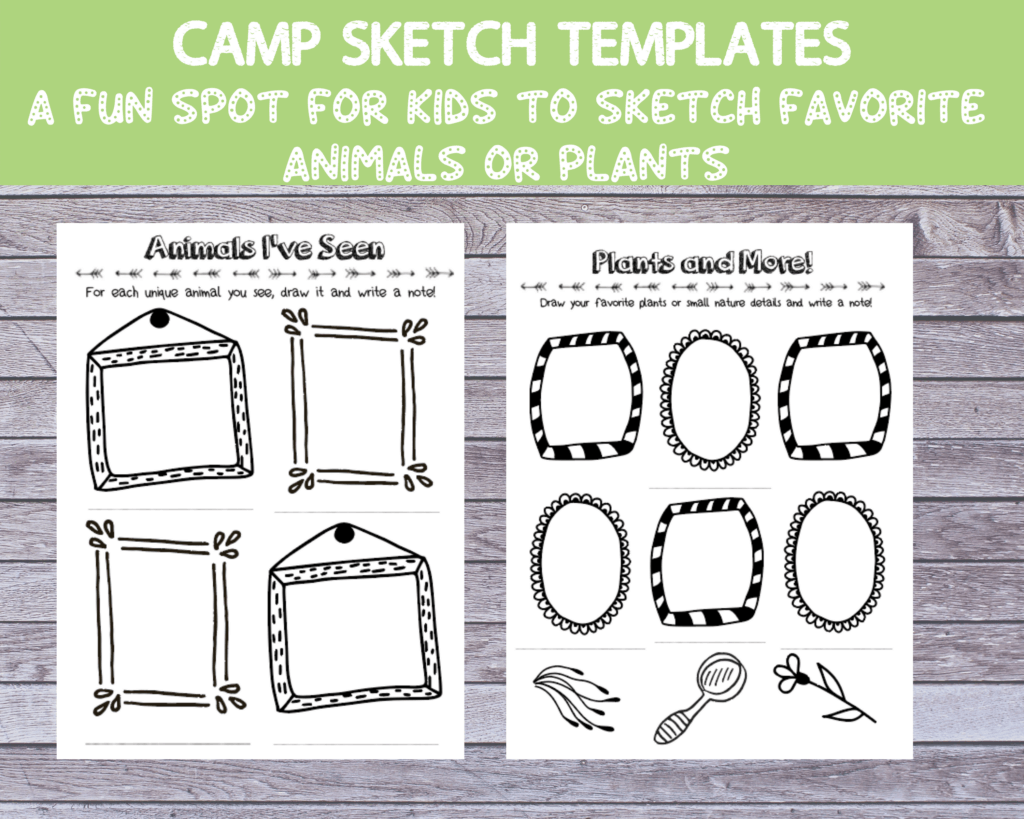 3 Camp Themed Scavenger Hunts
There's no shortage of boredom busters in this camp journal – check out these three types of scavenger hunts that are included (and, again, they can be reprinted so you can use them at each campsite if you'd like!)
ABC Scavenger Hunt based on items found in nature and at camp
Camp Experiences Hunt to encourage them to try new camp experiences!
Camp BINGO that can either be played as a scavenger hunt or as a matching game (just print out a second copy of it, cut out the pieces, and match! This is best for younger kids of course =) )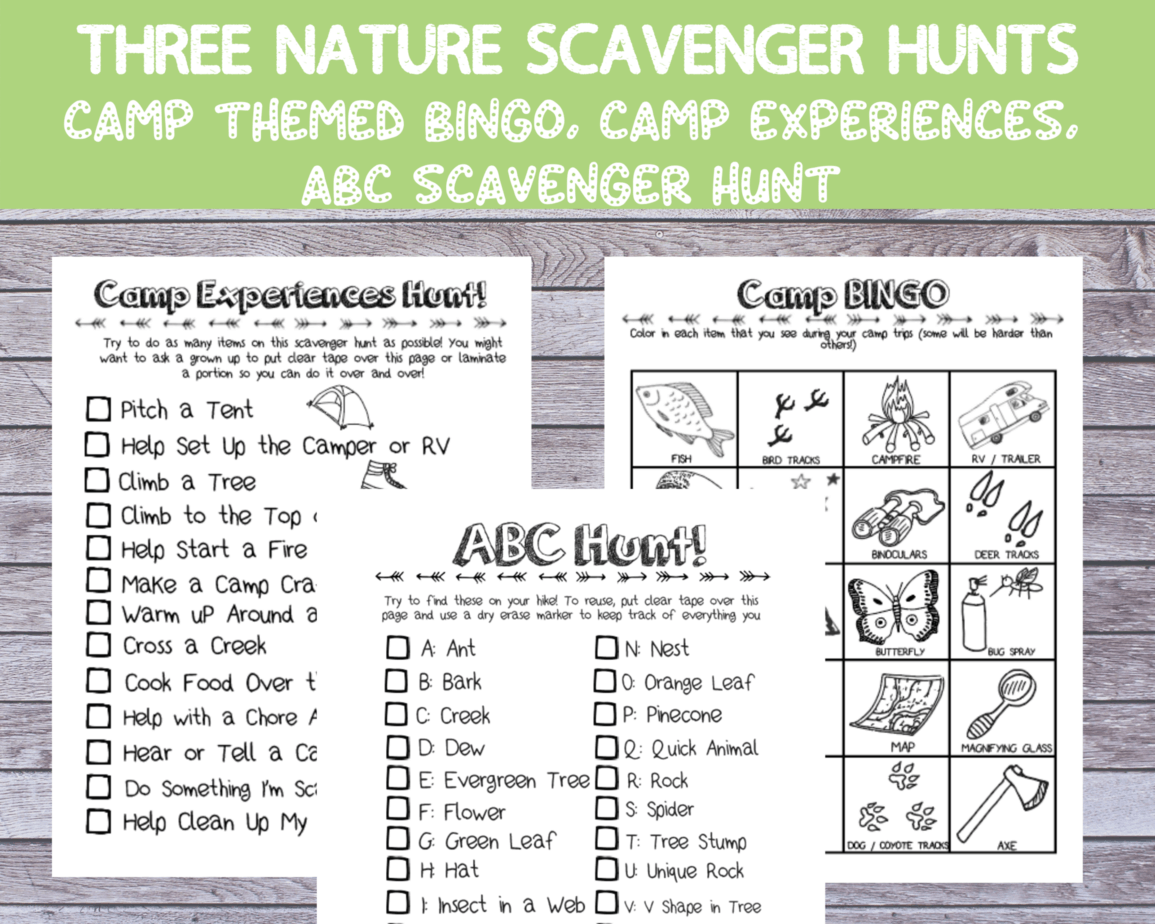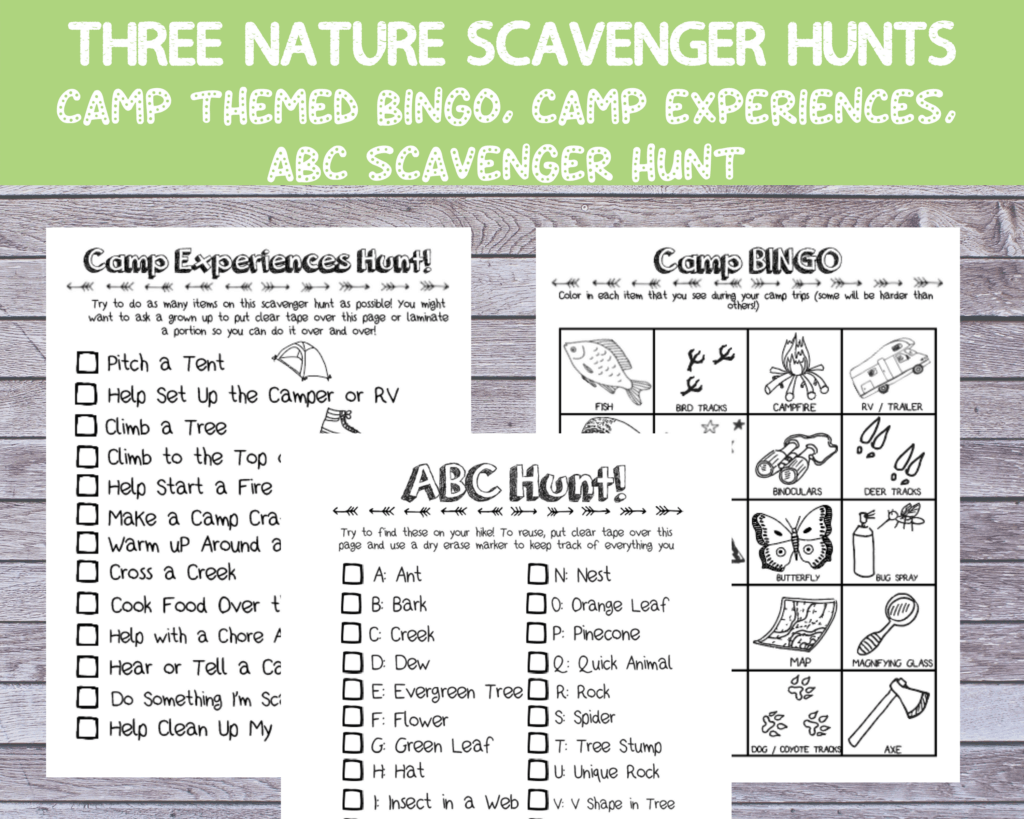 Camp Mad Libs, Camp Charades and Wordsearches
Camp Mad Libs Storytelling has always been an important part of camping (thanks Grandpa Mike for your bear and witch stories) so I figured I'd throw these stories in there to inspire you and your family!
If you haven't played Mad Libs before, all you do is fill in the prompts at the bottom of the story (WITHOUT looking at the top) then plug them in to see what crazy camp story you created!
Wordsearch – Unless you're lucky enough to live close to a campsite you like, there is almost always a roadtrip. So, in sticking with camp themed everything, I included two word searches for the bigger kiddos to do while on the drive.
Camp Charades – Camping ALWAYS brings our family together, so the best way to really seal the deal is by laughing together! Just cut out the charades, put them in a jar or bag, and take turns picking one paper at at time and acting out what's on it around the campire!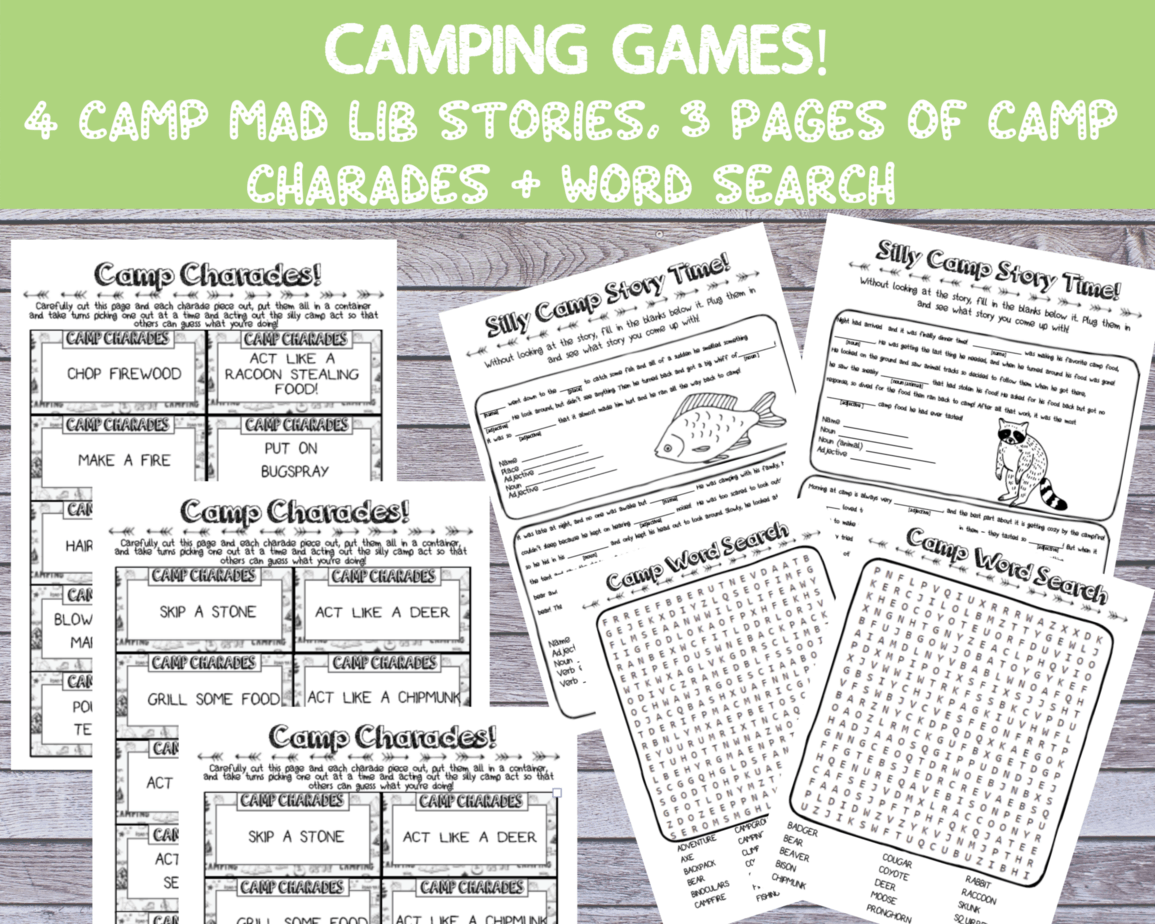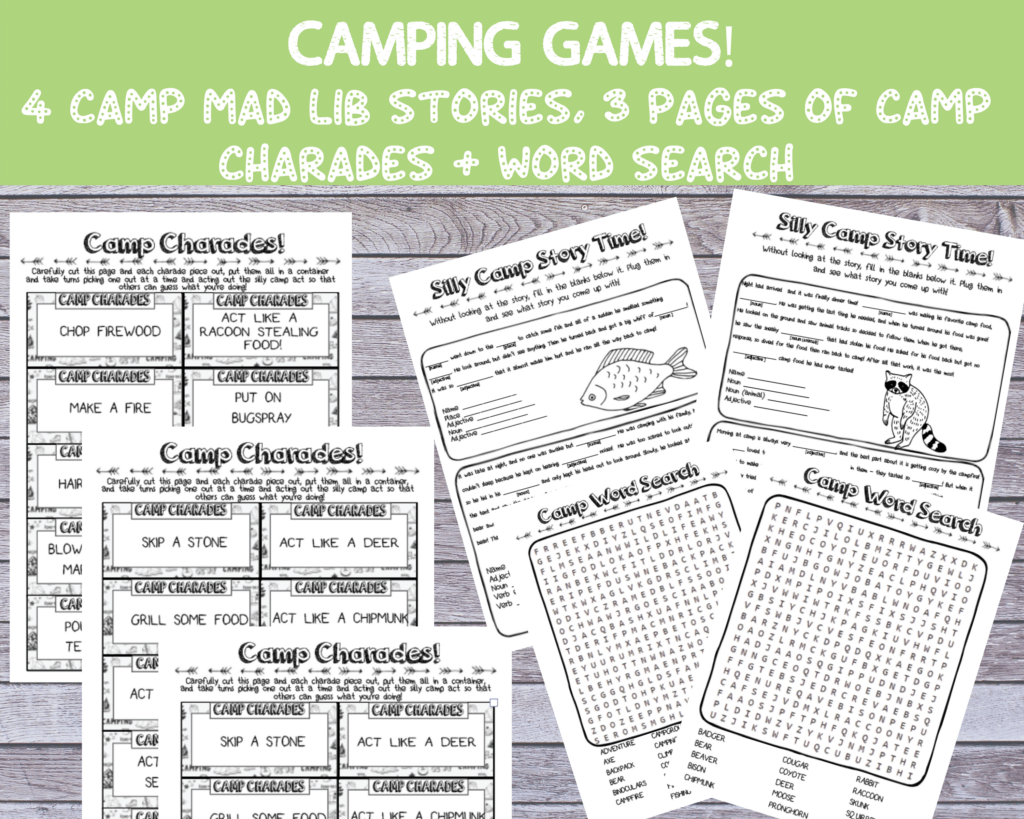 Cute notes and photo pages
Whether your child wants to sketch things, take notes, paste pictures or other meaningful things into their journal, there are both lined and blank page options.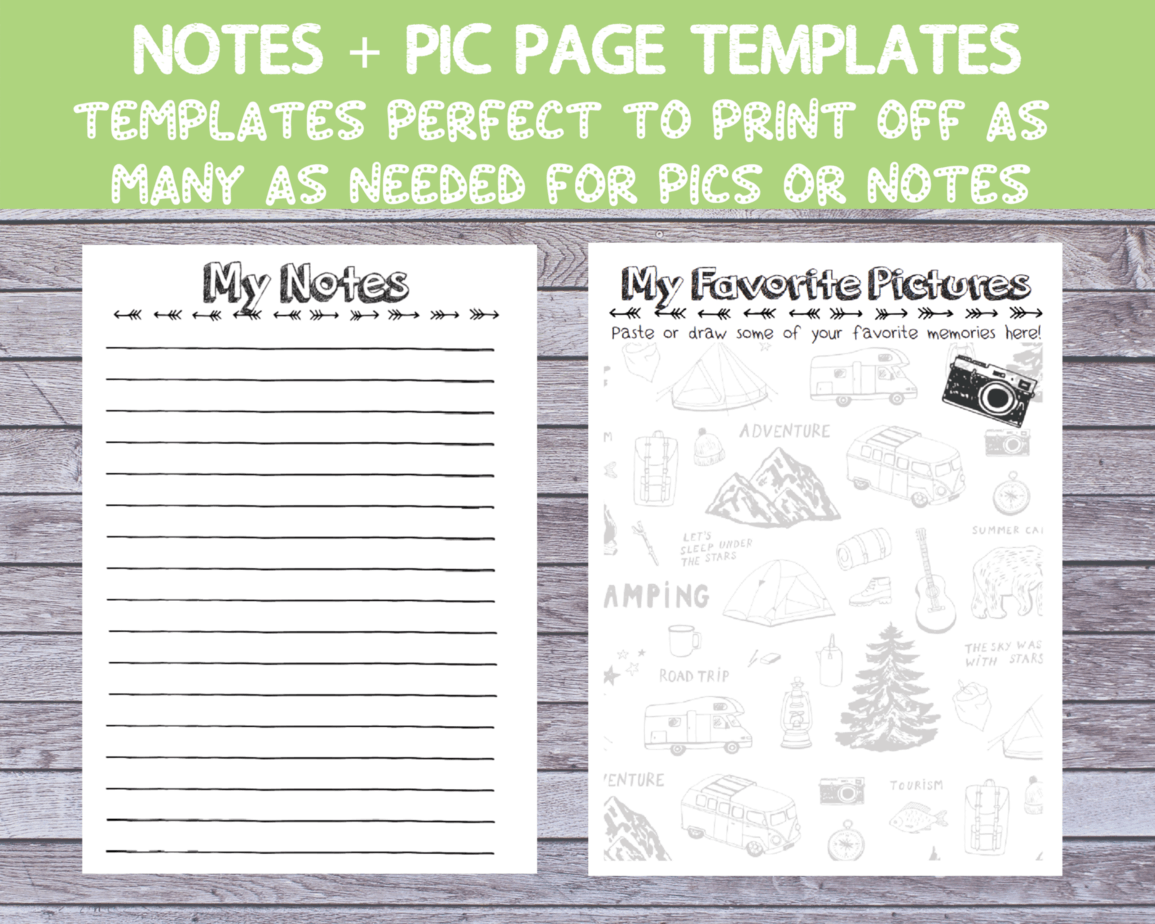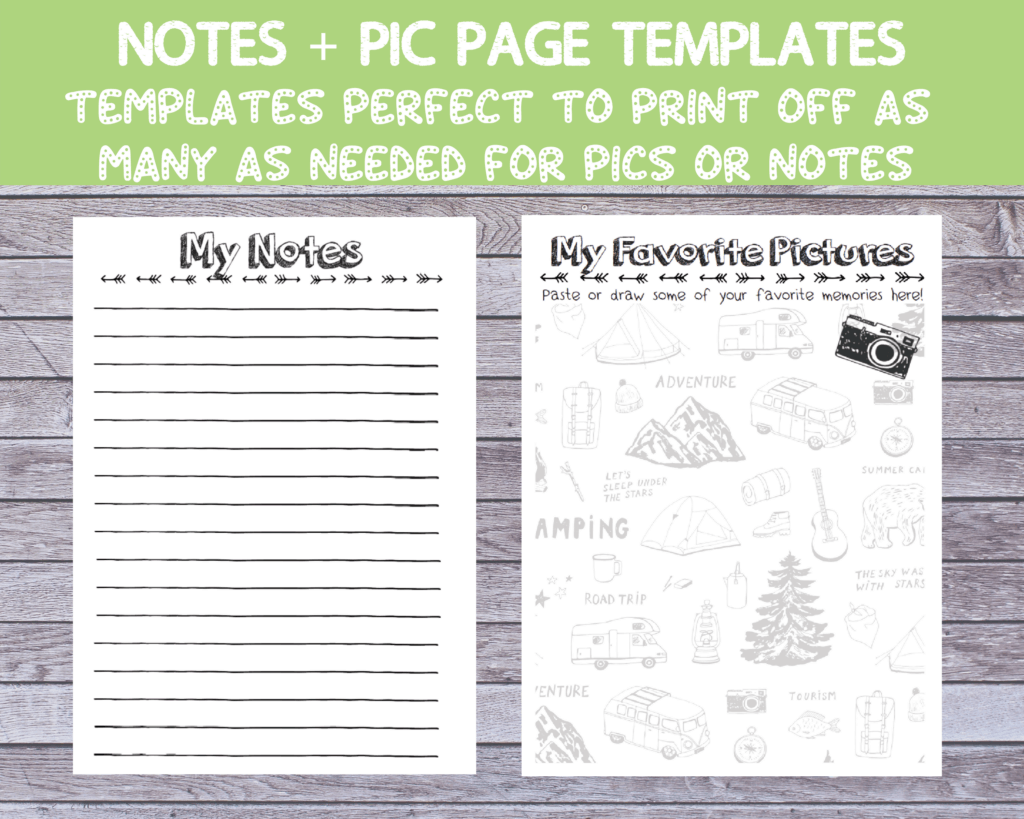 Ready to start creating even more awesome camp memories?
If you're a DIYer who wants the perfect amount of activity pages (IE perhaps ALOT of sketching and no word searches) then this is the bundle for you!
Once you get your 25 page camping journal you can print as much or as little of each item that you want – and of course, you get it NOW as opposed to waiting for something to be shipped to you!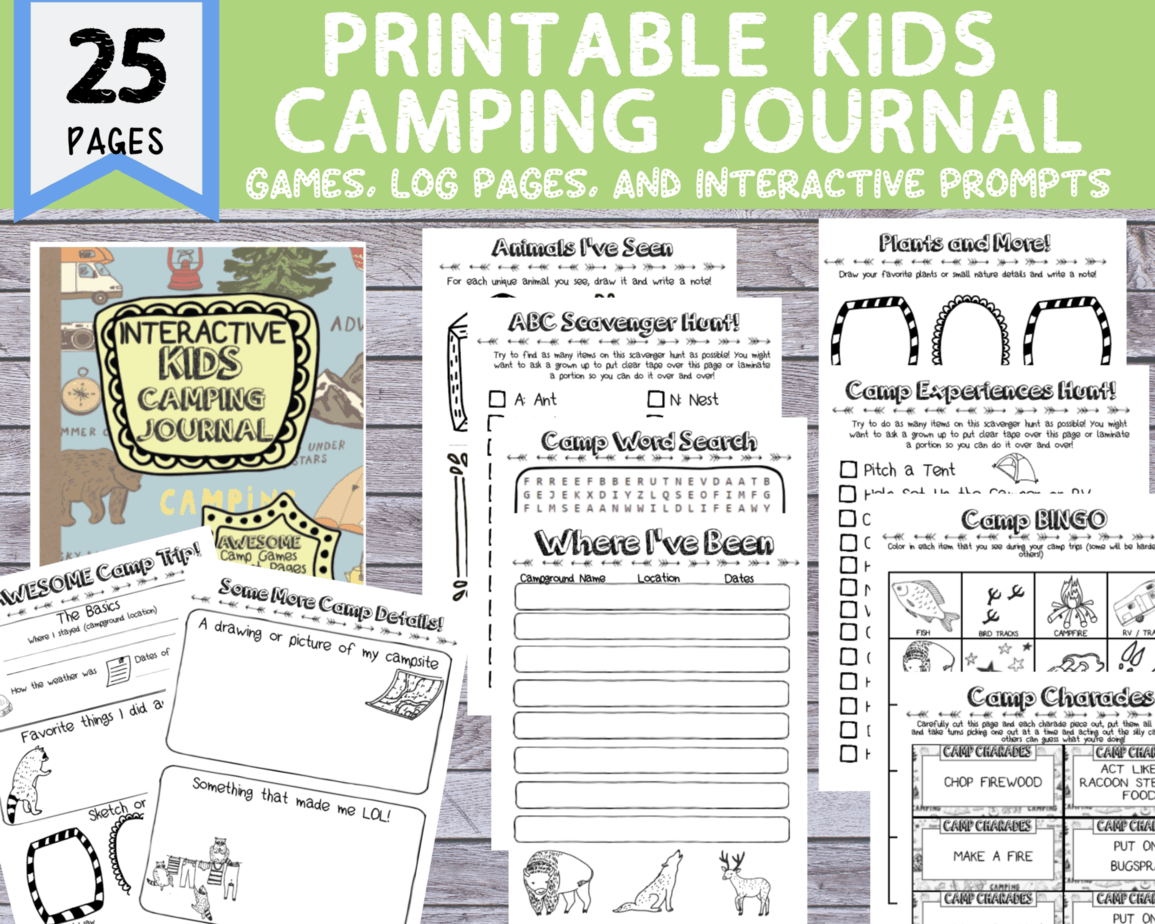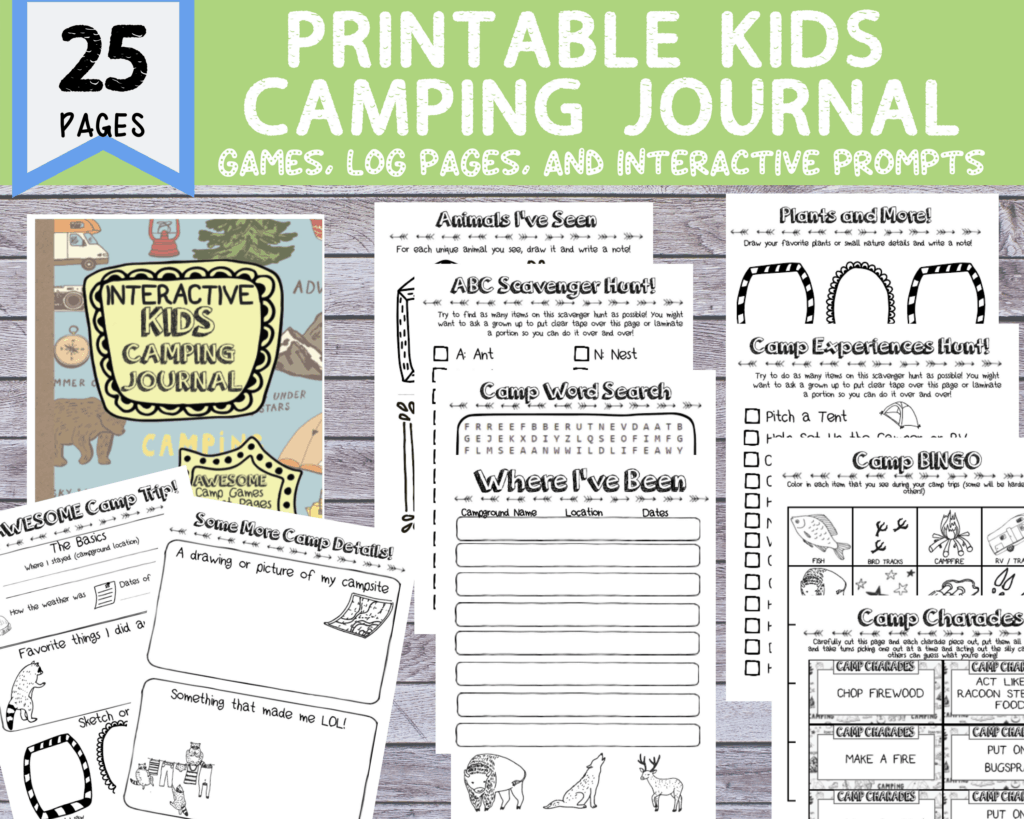 I really care about every kiddo having a fun way to journal about each camp trip so… I won't leave you empty handed!
I know times are crazy right now so let me give you the two main journal pages (the one that your child journals each camp trip with) for free!
All you have to do is sign up so that you get access to my resource library (which has a TON of fun outdoor camping printables in it!) so that you can download the two kids camp journal pages!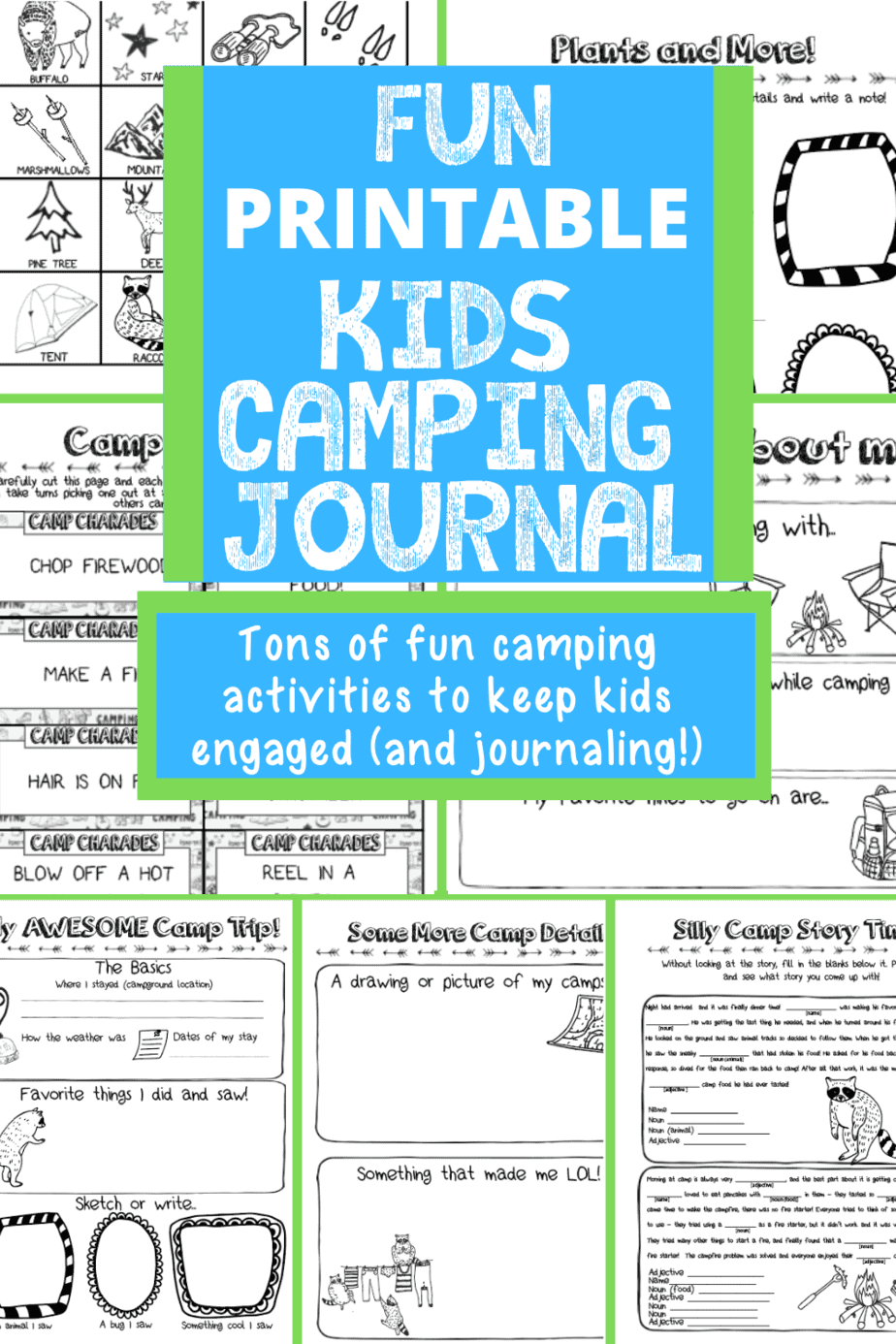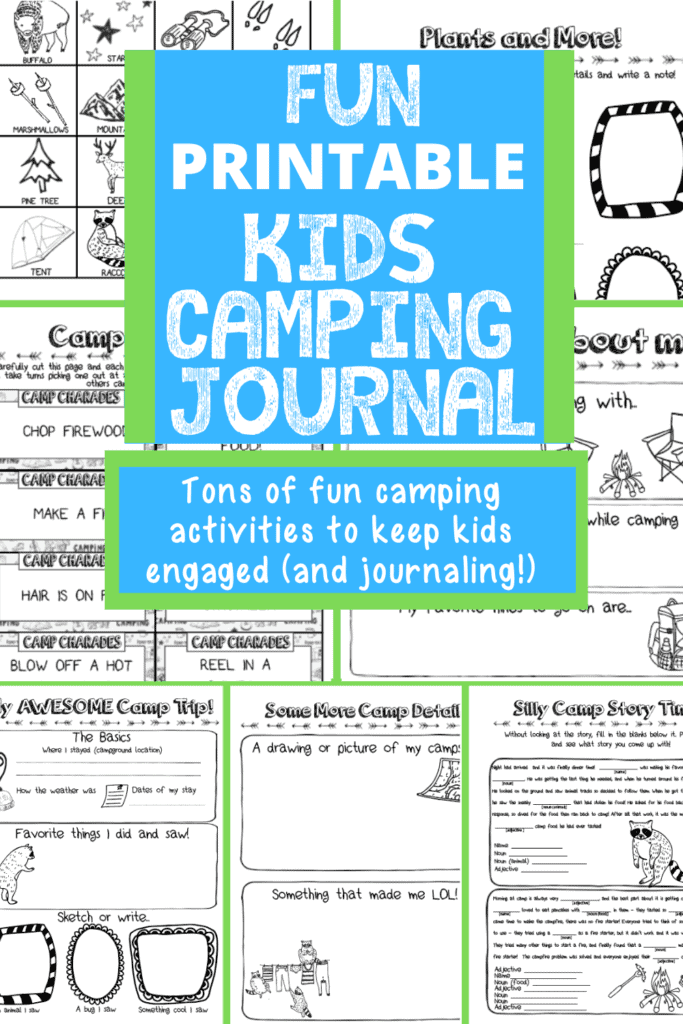 Latest posts by Stacy Bressler
(see all)