Whether you're an I Love Lucy fan or just appreciate amazing workmanship, you'll fall in love with Jeff and Carrie's I Love Lucy themed RV renovation!
I first saw them in one of the Facebook RV groups I'm in, and when I say that I couldn't stop looking, I'm not lying! I saved it so I could look at it later, and in just two days their post had hundreds of shares and I think over 1,000 comments – EVERYONE absolutely loved it!
The amount of unique pieces speficially crafted for this theme are incredible… almost as incredible as this couples relationship (they are so sweet!)
It was an absolute joy to talk with them and learn more information about the inspiration and details that created this beauty!
I highly encourage you to follow their Facebook Page, The Not So Long Camper (LOL it's a play on famous The Long Long Trailer movie that has Lucielle Ball in it!) to follow their journey, especially if you are also an I Love Lucy fan!
P.S. There are two videos at the bottom of this post that cover the complete walk through of their I Love Lucy inspired "Not So Long" trailer if you'd prefer to watch than read!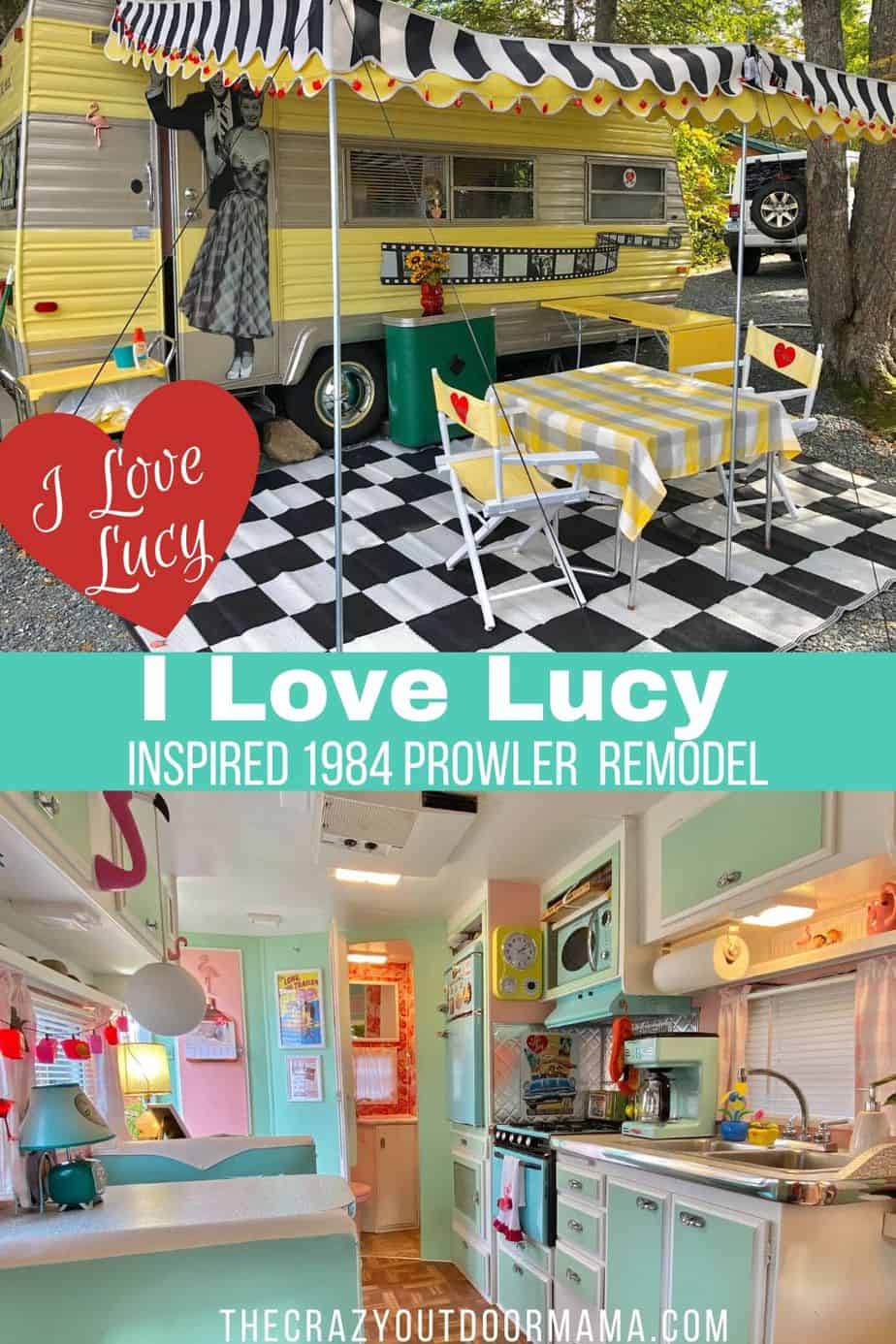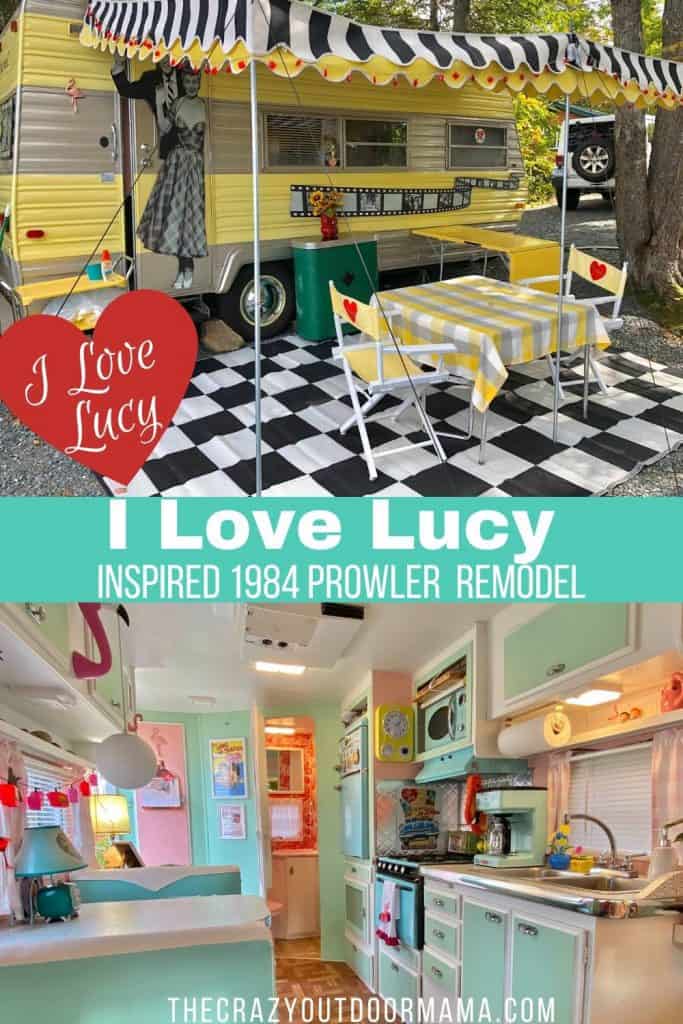 Meet Carrie and Jeff
I first wanted to know their background and how they got to be so creative!
Q: Who are you and your wife and what are your hobbies (besides making really awesome videos and remodels)
Jeff: Ha! Who are we, indeed? LOL!
My wife and I are long-time theatre people. Actors. We actually met on the stage. We fell in love during a production of The Music Man, in which I played the lead male role of Harold Hill and she played lead female role of Marian Paroo. Our first kiss was on-stage with the director standing a few feet away telling us to "go for it"! Lol! We have been inseparable ever since that show in 2009.
We are both vocalists and I play piano, guitar and assorted other instruments. Carrie is a trained vocalist, I just wing it. Lol We are also both artists, with my wife having a degree in art. We truly just love any opportunity to be creative and we compliment each other very well.
Personally, I feel like I am the luckiest man on earth to even be seen with this tall, gorgeous redhead, let alone share each day with her and explore so many creative ideas. Carrie is always coming up with sometime new for us to put our creativity to. She is a true dynamo. I sometimes just try to hang on for the ride.
We also love traveling and have been camping in all but seven states.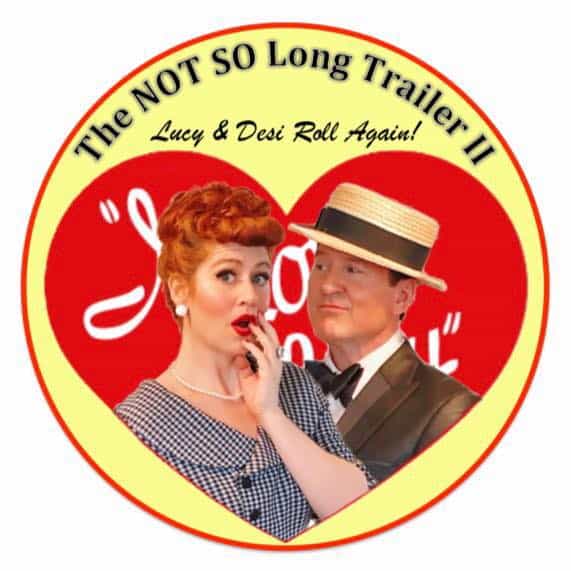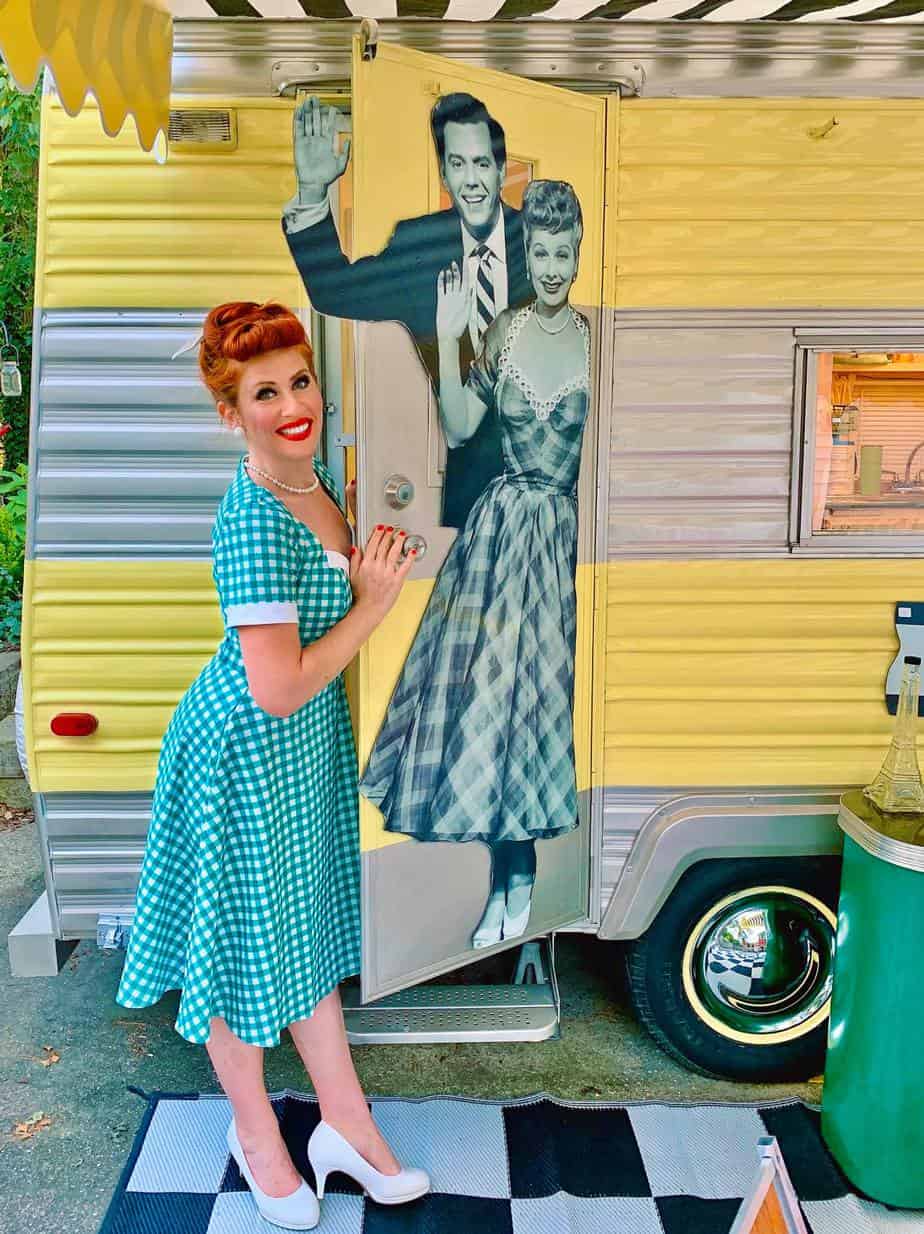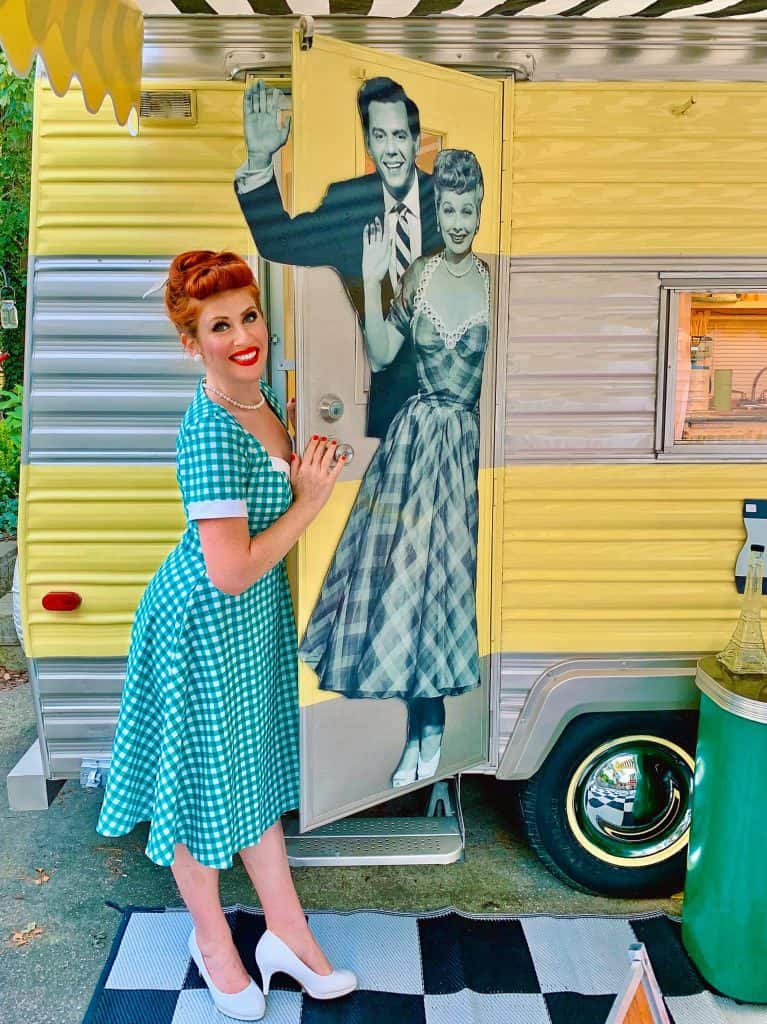 What inspired this beautiful remodel?
Jeff: My wife is a Lucille Ball fanatic and impersonator. When I finally talked her into getting a trailer so we could go camping (like I used to do with my family growing up), she wasn't real keen on the idea. But, she loves the movie The Long, Long Trailer with Lucy & Desi. (If you haven't ever seen it, you should watch it sometime. Very relatable movie for camping folk.)
So, I said, what if I make you a smaller version of the trailer from that movie? Would that be something you would embrace and go camping in? She said yes. And, I found a 1984 Prowler that had a similar shape to the trailer from the movie. It needed some TLC and a makeover. So, last year at this time, I began working on it and had it finished in a few months. I give you…The NOT So Long Trailer.
Carrie: The inspiration for this besides the movie, obviously, was I wanted it to feel and look like what I pictured a 1950s palm springs bungalow to look like! We've got a seafoam green, pale blues, salmon pink paired with wood grain floors so it feels very light and happy. We also wanted to have all the touches of actual 1950s pieces
Jeff: Honestly, the camper was something I had to talk her into. But, when she heard my idea about making it into a traveling homage to Lucy, she was all in. This is our camper renovation. I have done most all of the work on both. I even sewed the curtains! The second one was done with mostly just input from Carrie. I wanted her to see the finished product for the first time as an unveiling. We have a video on our Facebook page that documents that.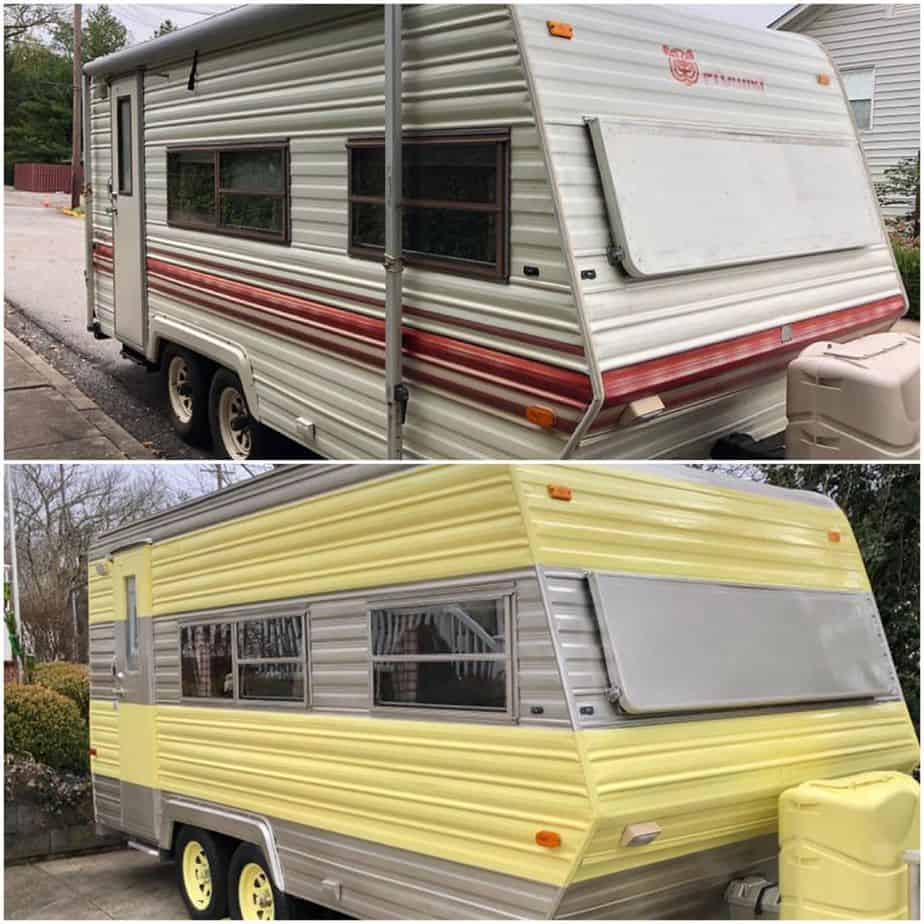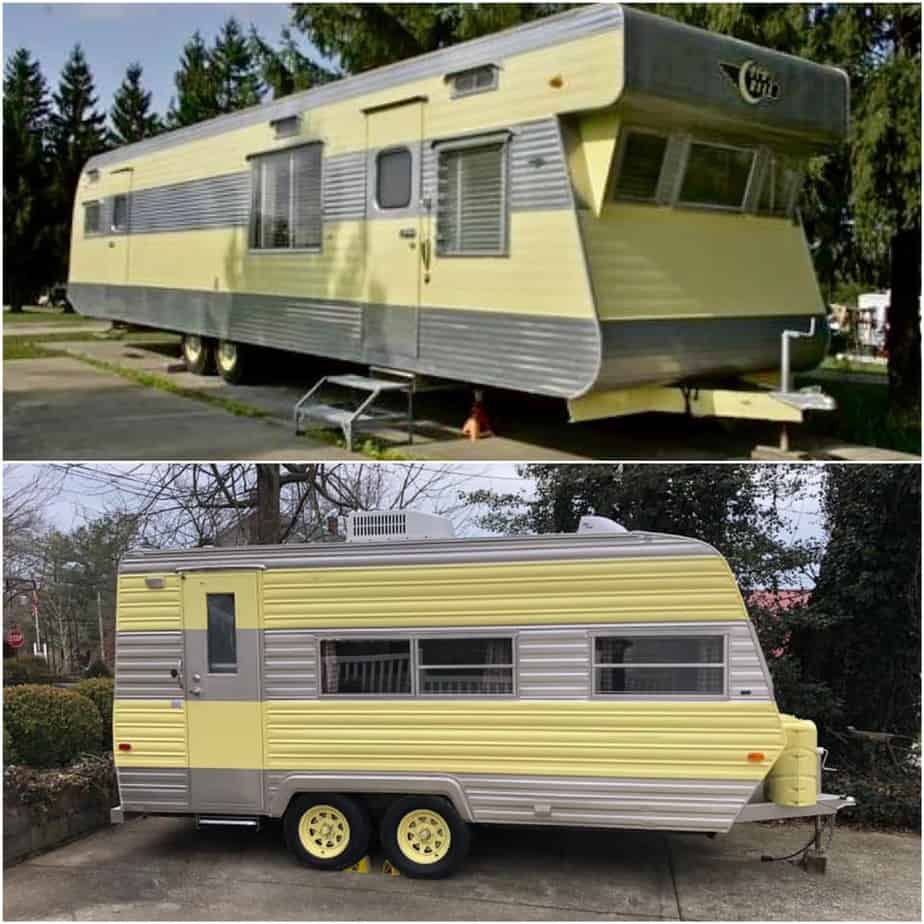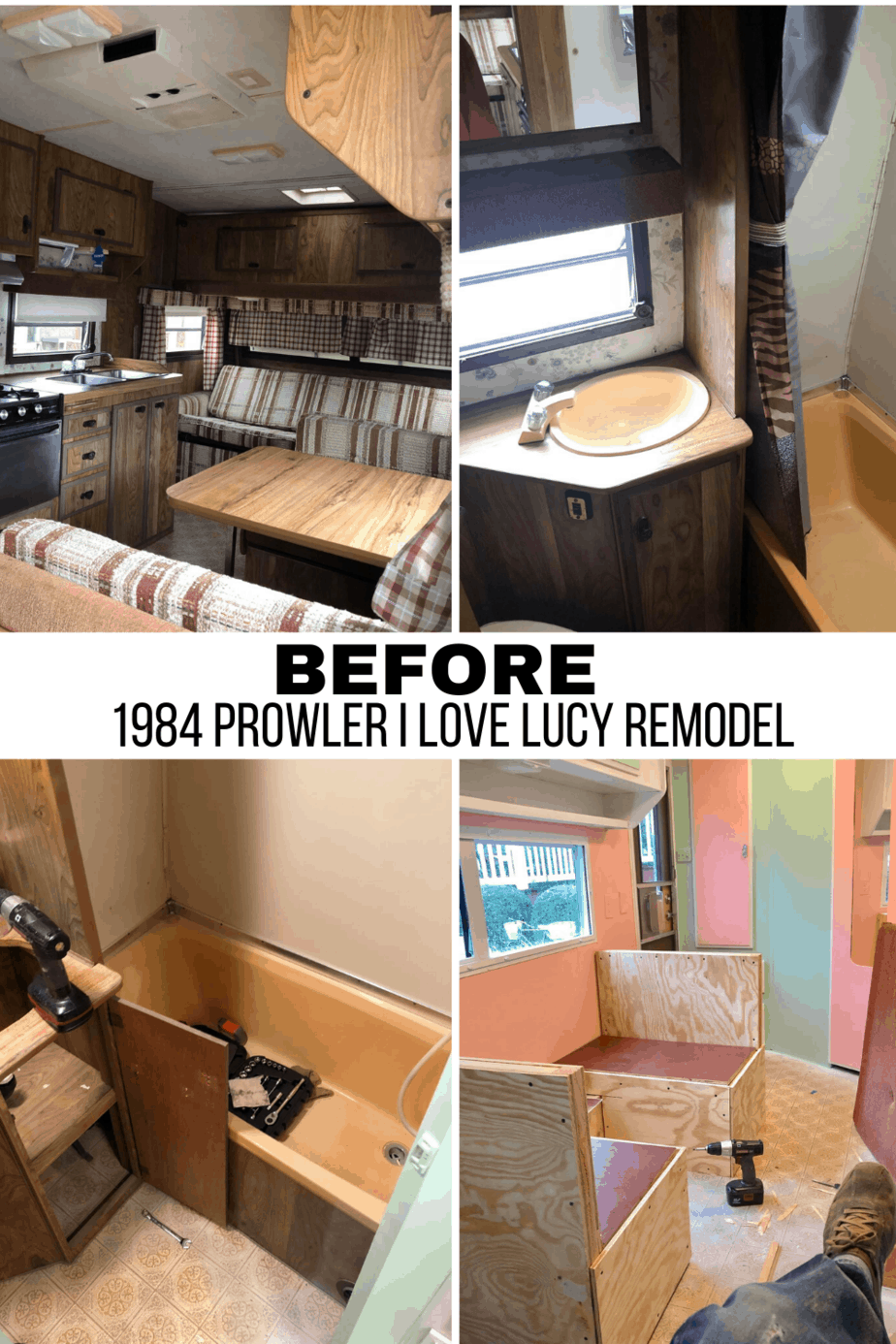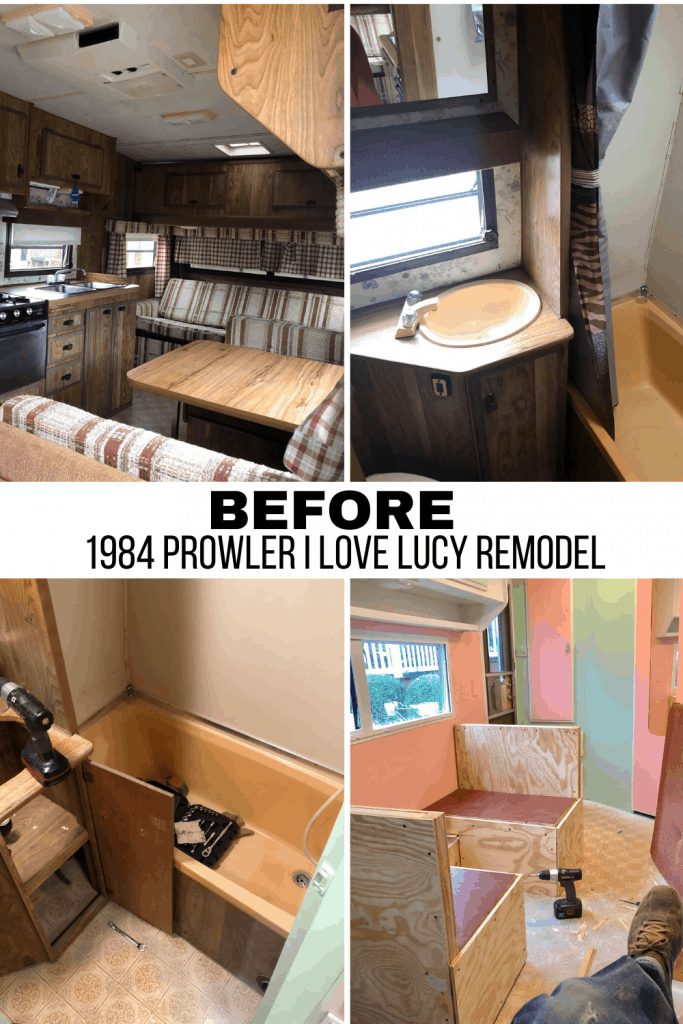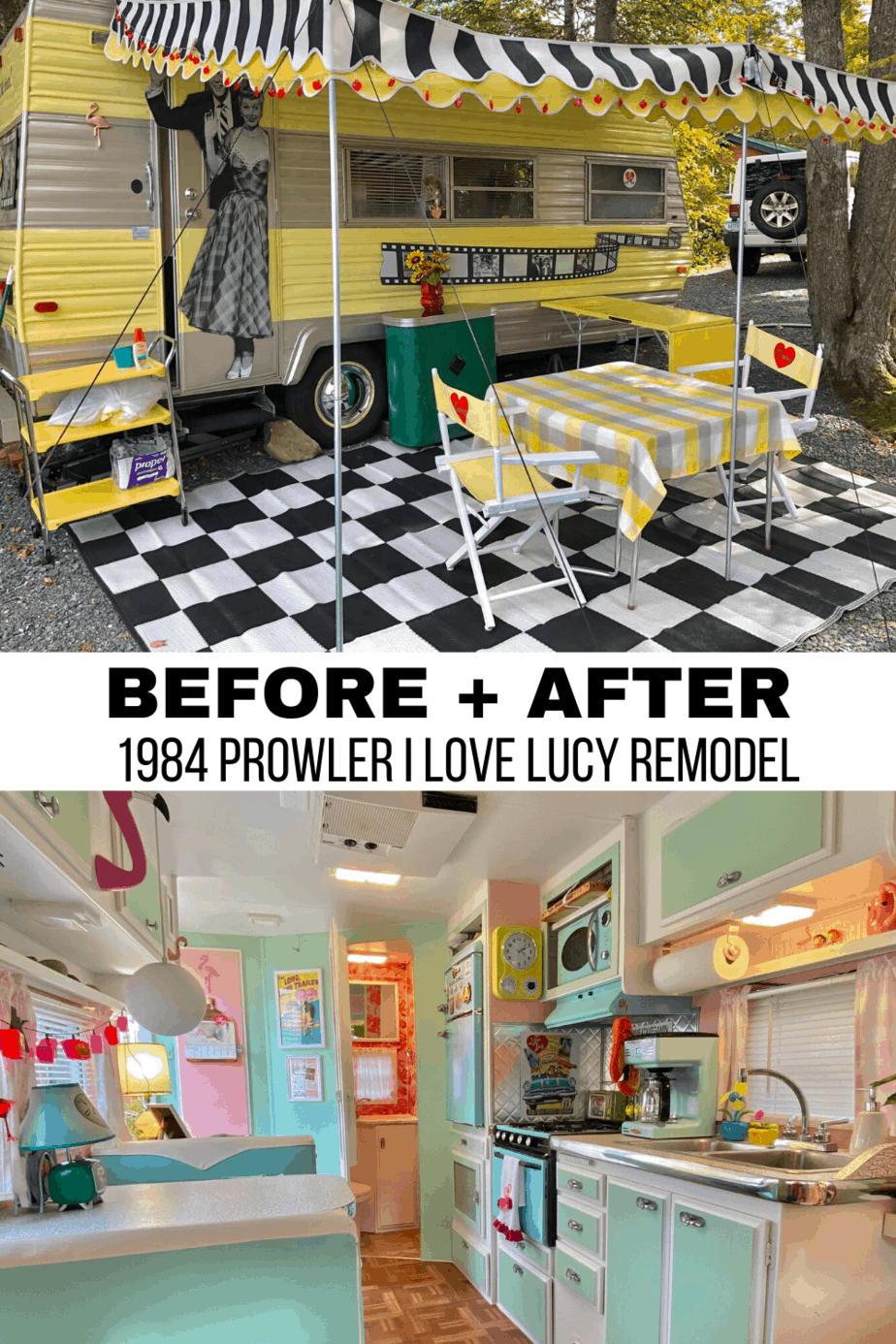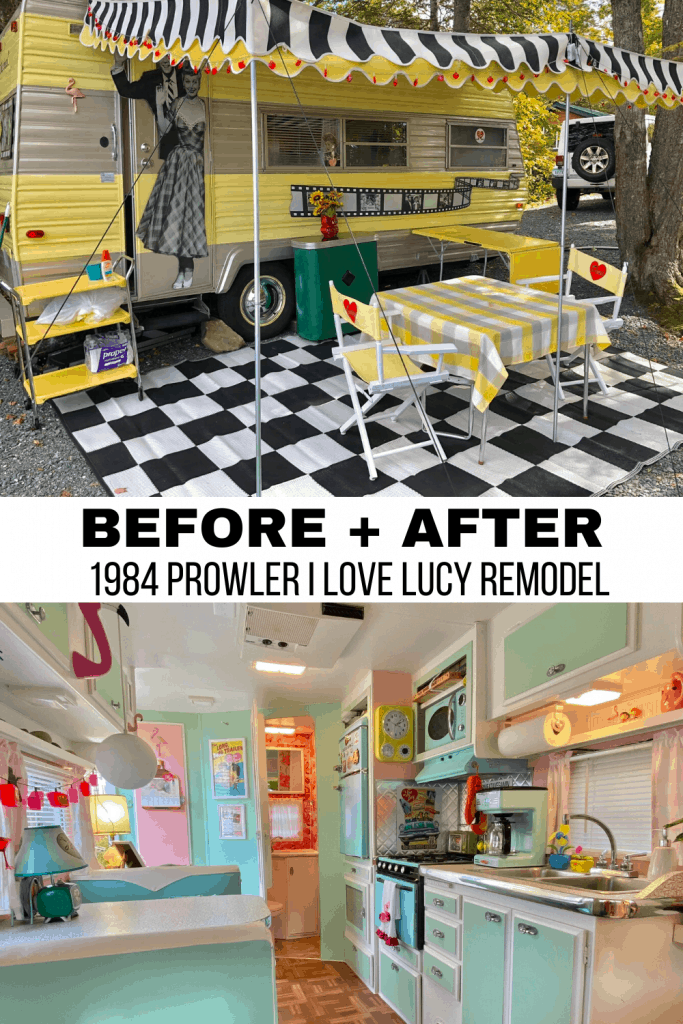 What was one of the things you wanted to accomplish with the camper remodel (besides of course changing the theme)
Jeff: Creating increased storage space was a big one – we had already done a remodel with a previous camper and had some ideas of things we wanted to change in our next.
For example, originally, the bed area was actually a double bunk but I converted it to create more space. It wasn't secured to the ceiling (so that it could flip down for use as a bed). I just secured the top portion to the ceiling to create some permanent storage space, and we found a futon online for the bottom that can be folded down into our bed.
There is also built in storage under our bench seats – we keep all of our bedclothes and our mattress there.
She wanted bookcases, so I built those in at the ends of the bed for our books, magazines and DVDS.
We have additional storage under the bed that has access from outside of the camper for more items. I built doors in front of the futon bed to be able to access everything in that storage compartment since I couldn't reach it all from the single outside access panel.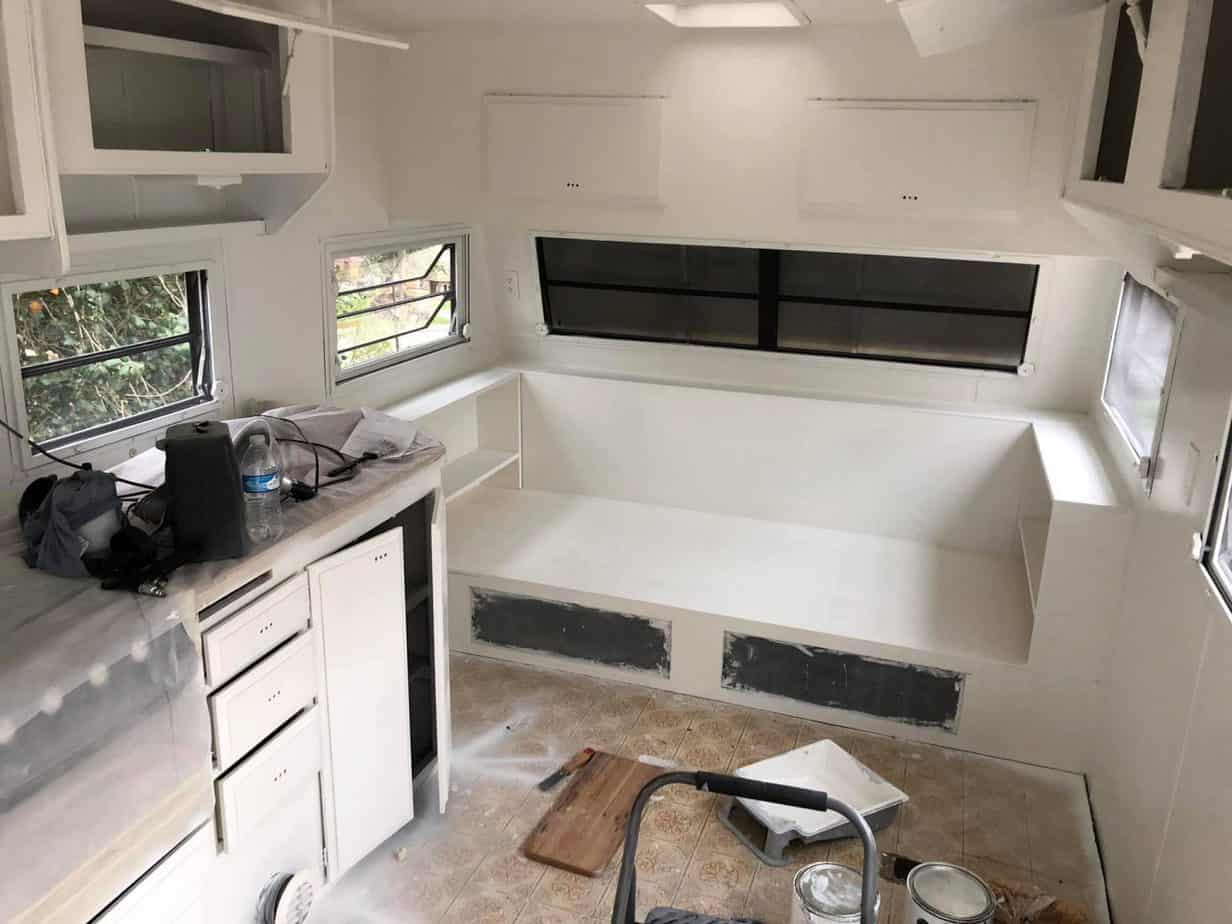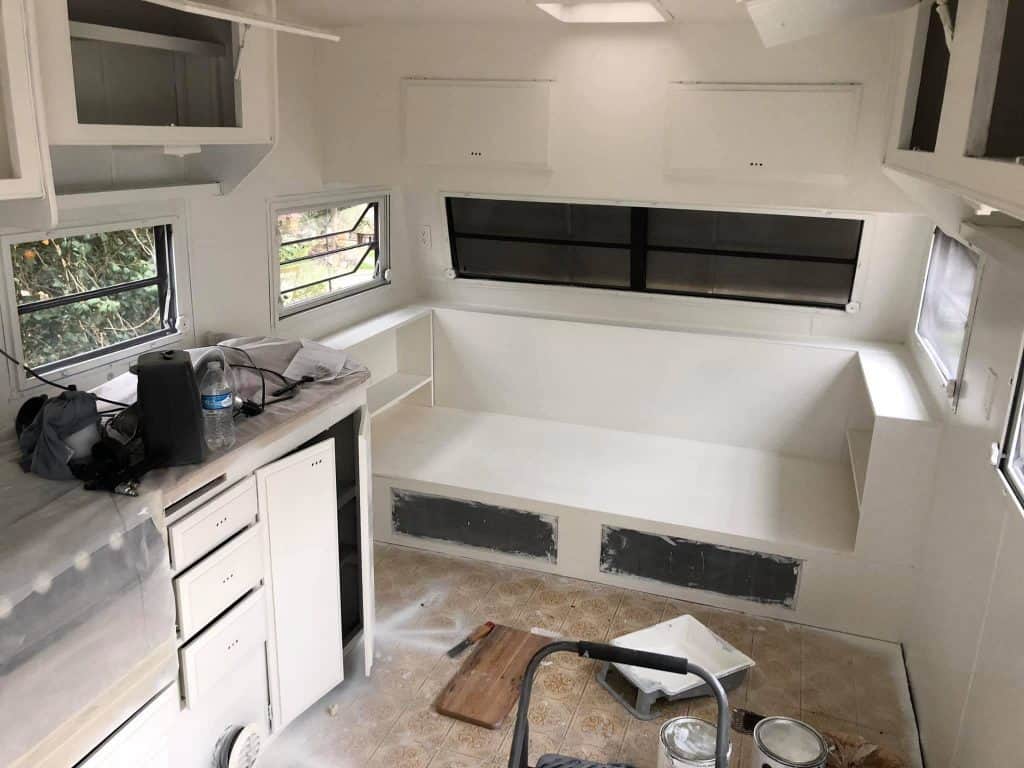 Are there any special design features you love?
Vintage TV Bar
Carrie: The vintage TV bar was one of the first things I knew I wanted!
We searched vintage stores but were unable to find one do to size restrictions for the area we were hoping to put it in.
Jeff then built replica one out of plywood (vinyl stickers gave it the wood look). Part of the face did actually come from a vintage TV we had gutted and found the authentic 50s era dials on Ebay.

We, of course, included a bottle of Vitameatavegamin in our bar area!
In order to make it multifunctional, storage was built into the bottom of the TV bar to hold a record player and our favorite vinyls!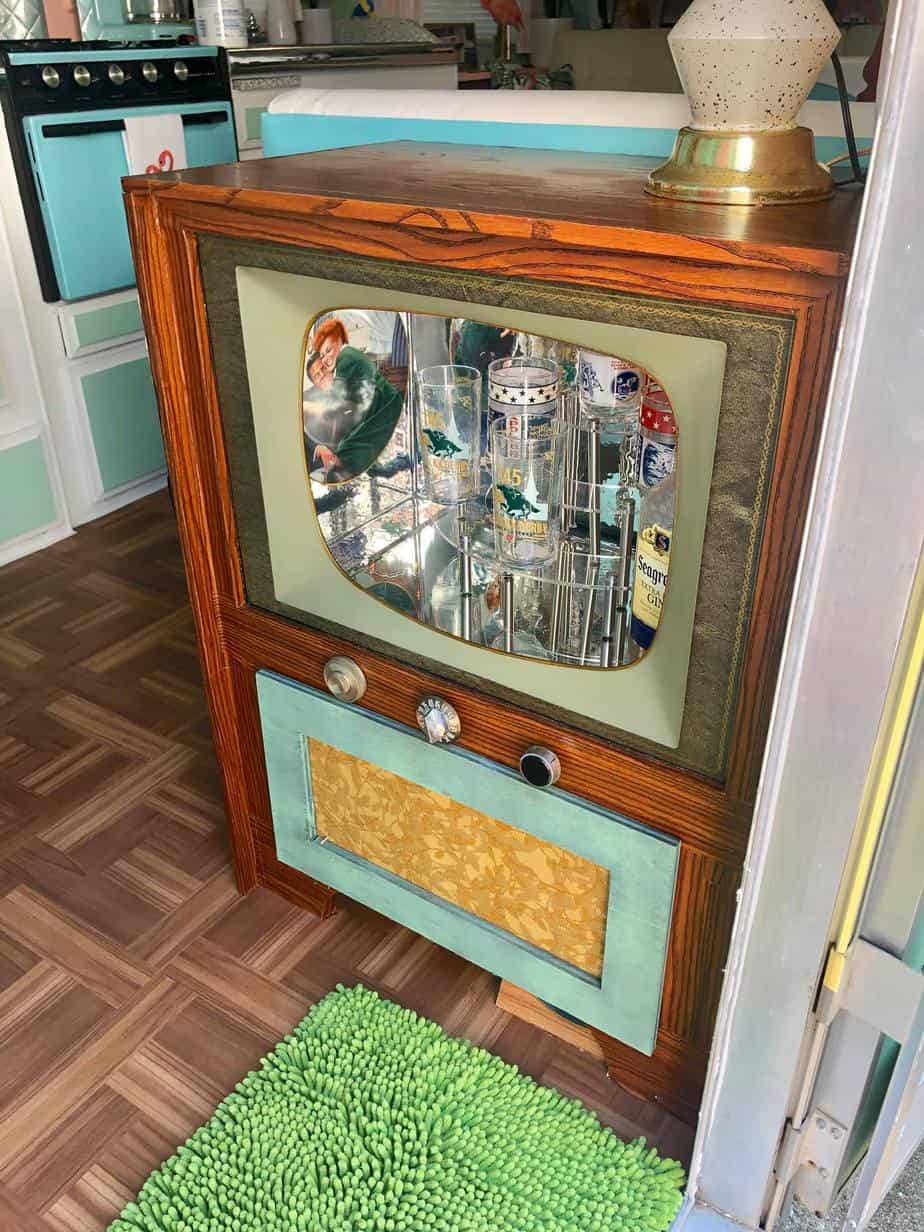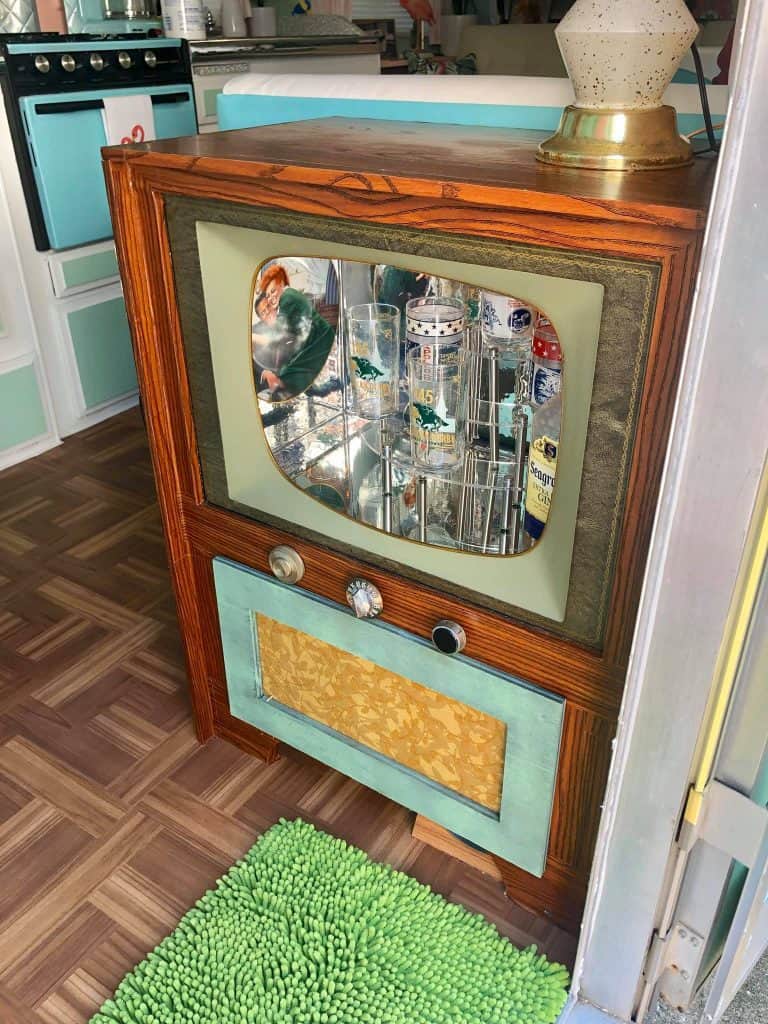 Custom Dining Area (including a Flamingo Dining Nook Light and Long Long Trailer tribute rock collection)
Carrie: Another one is our cute custom made dining area – a cute diner is always one of the first things we look for in a new town, and now we have our very own! Our old dining area was taking up too much room anyway, so Jeff took the opportunity to rebuild the benches as well as create the custom countertop. Our talented friends then helped us reupholster our benches in a matching style!
Jeff: And while we're talking about the dining area, let me tell you about the flamingo holding the light – Carrie just had to have it!
Carrie: I found the flamingo head in the clearance section at the craft store and asked Jeff if he could turn it into our light – string globe light and all to fit in with our Palm Springs feel.
Jeff: If you've seen the Long Long Trailer, you know about the rock collection and it's kind of a plot point. These are rocks she's collected during her travels (just like Lucy's character in the movie!) and people always notice it who have seen the movie. It's anchored down, like most things so we don't have to deal with packing it all up during our travels.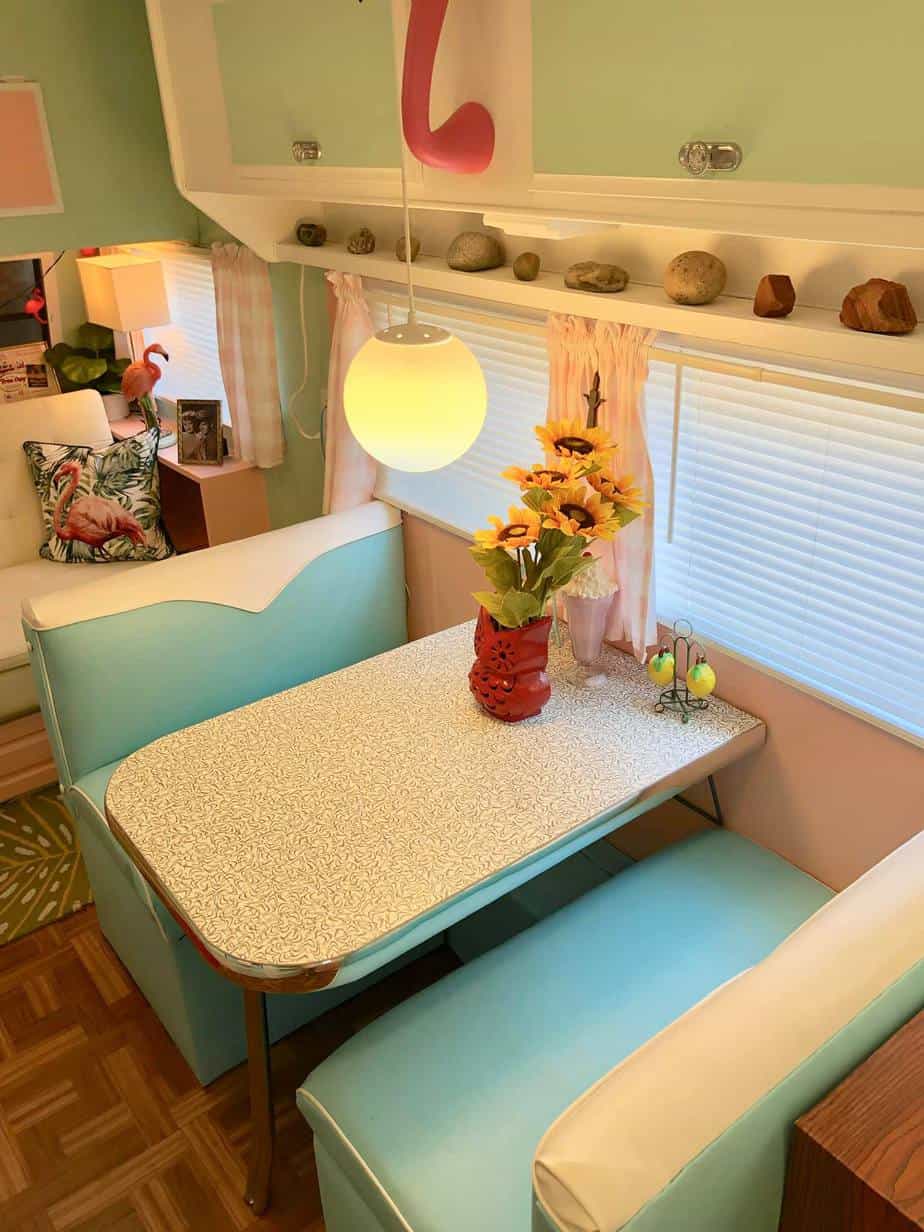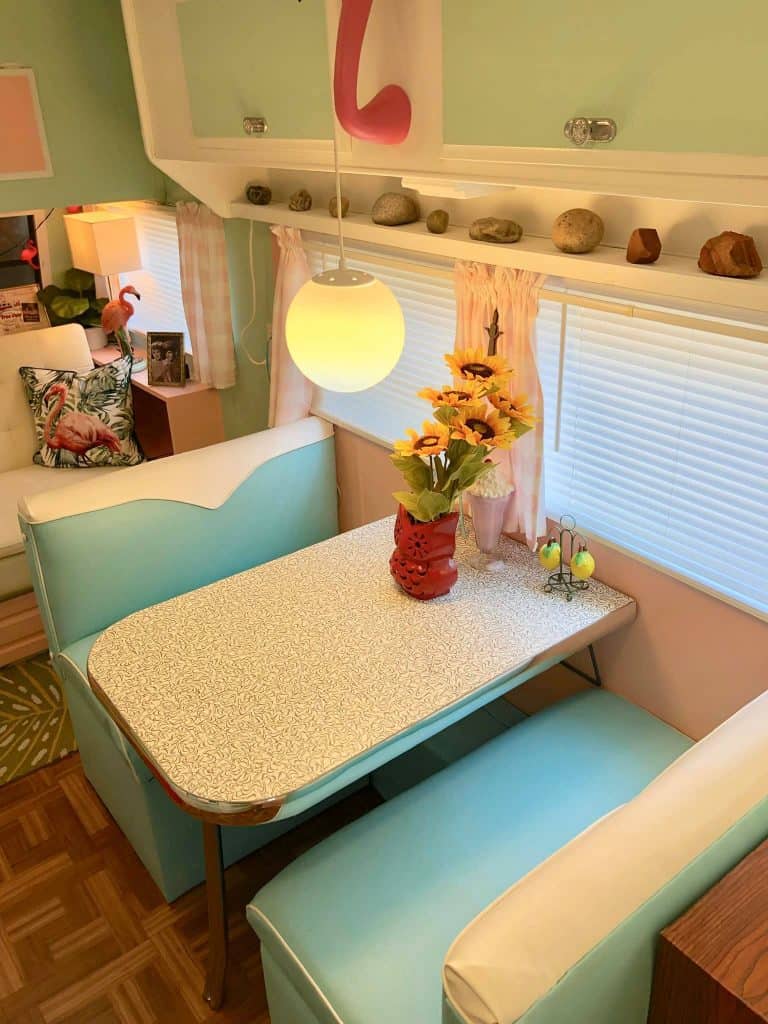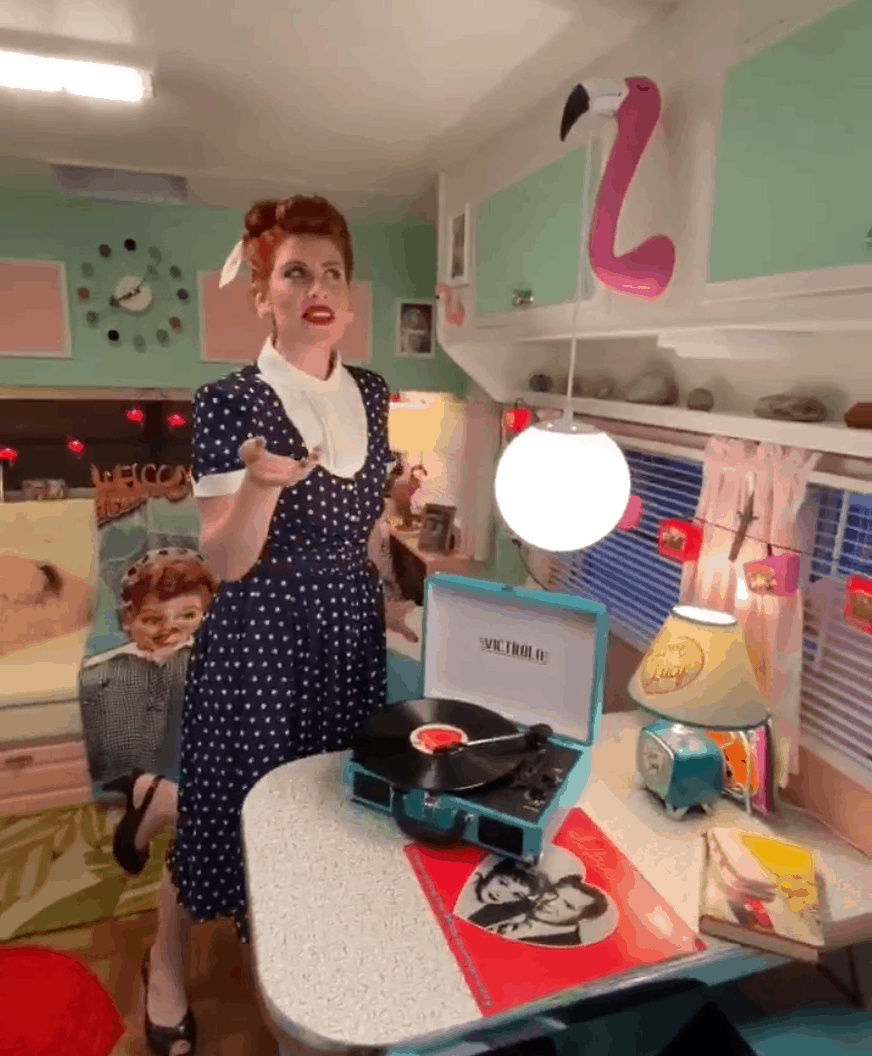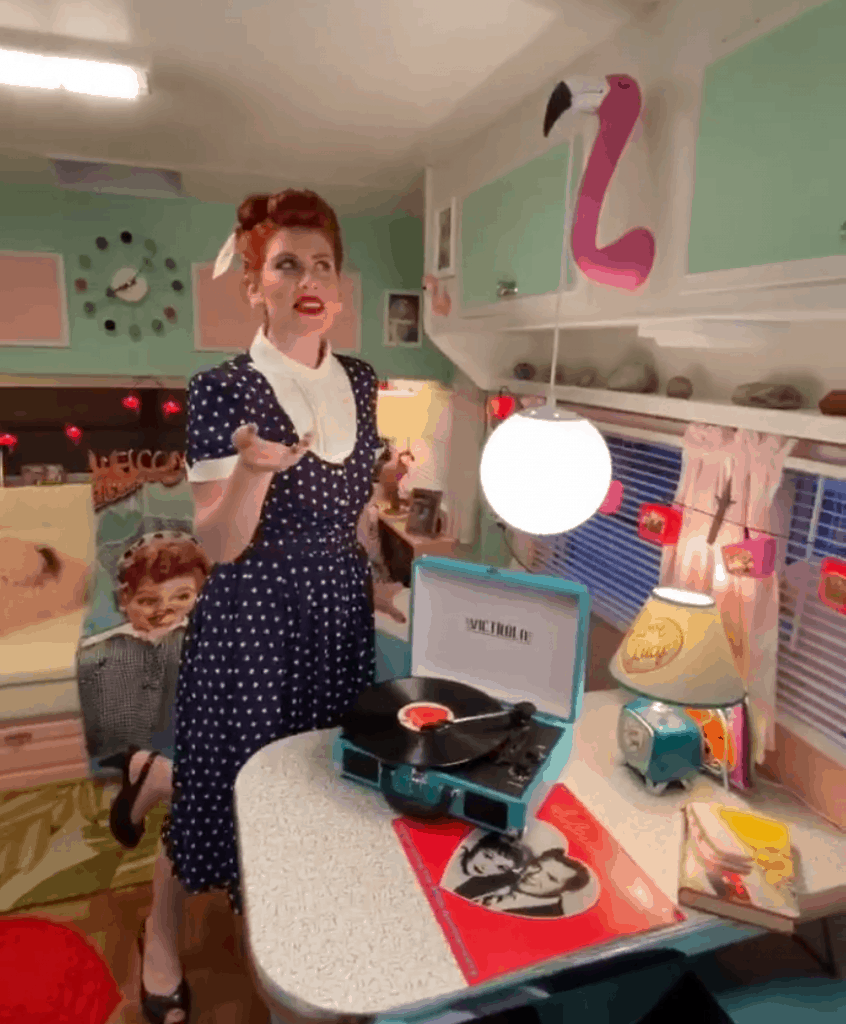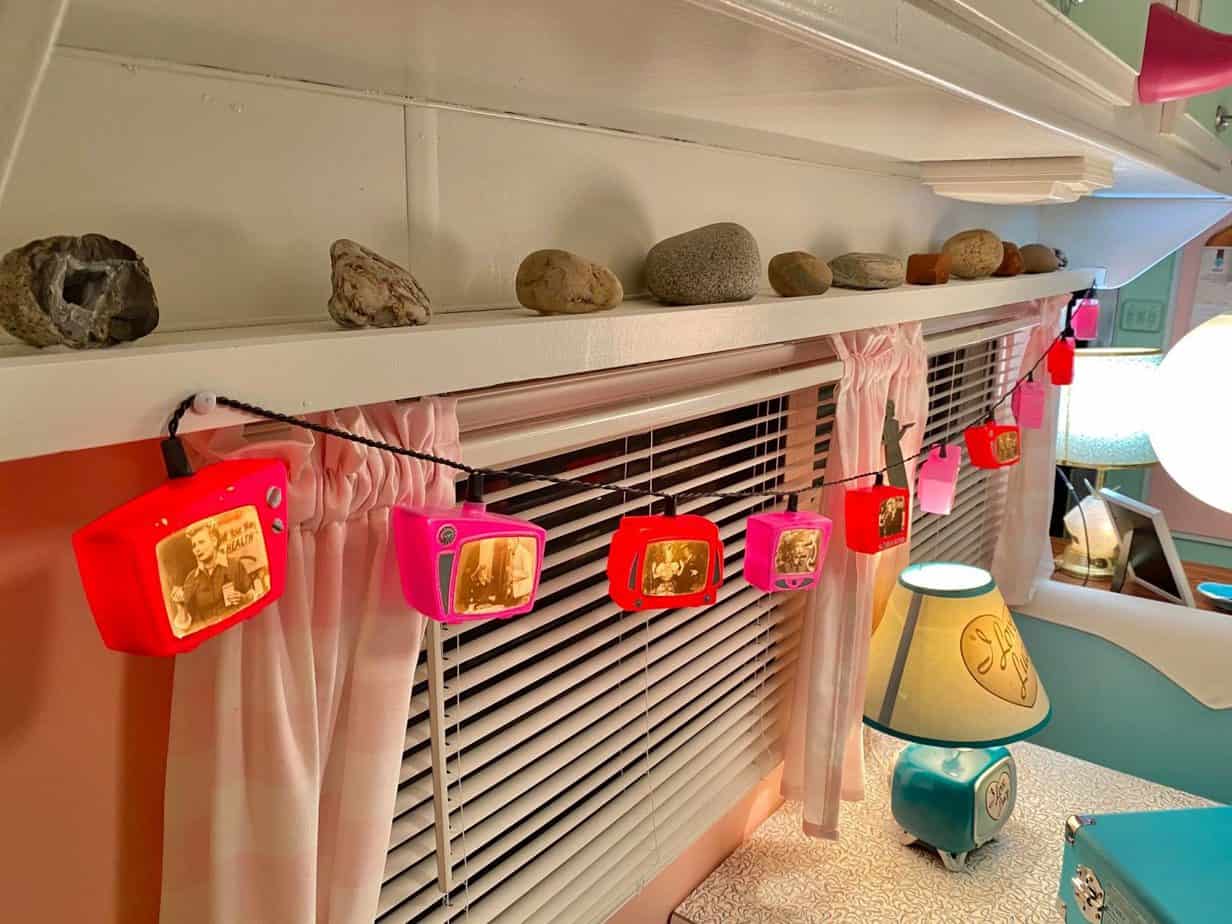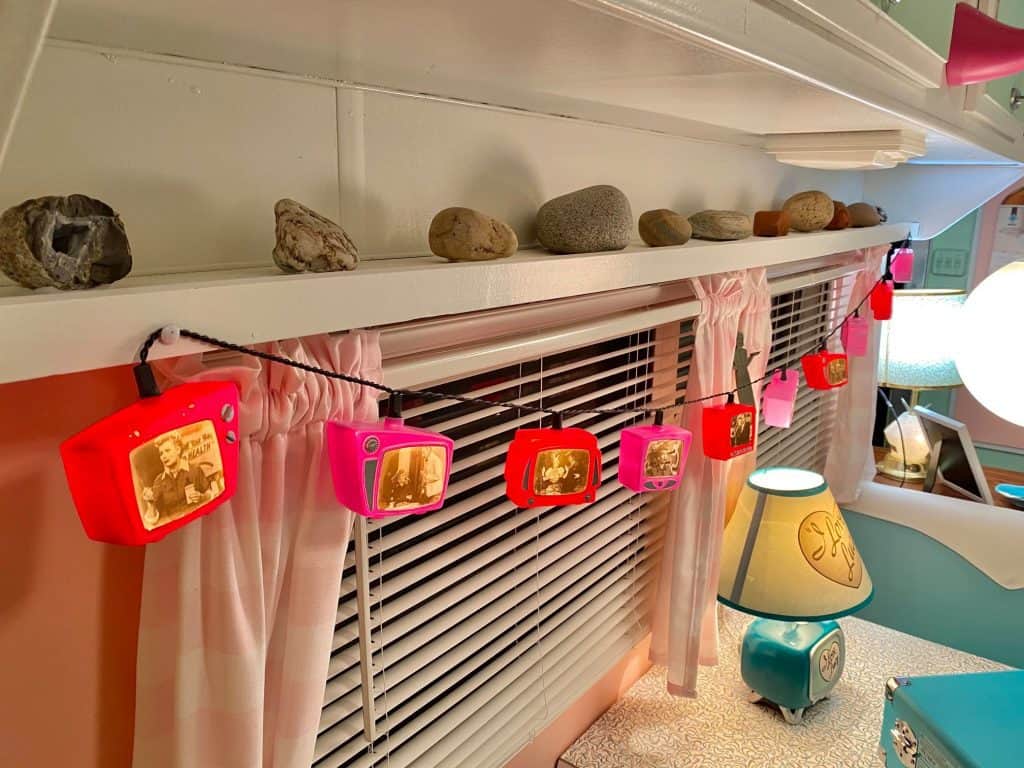 Custom "Vintage" Mounted TV
Jeff: She said she wanted a vintage TV in here, but of course there was no way that would work, especially mounted on the wall. To still get the vintage look, we got a flat-screen TV to mount to the wall, then I built a faux 50s' era front to complete it. We keep a cutout from an episode of I Love Lucy (the one where they go camping for the first time!) when it's not in use.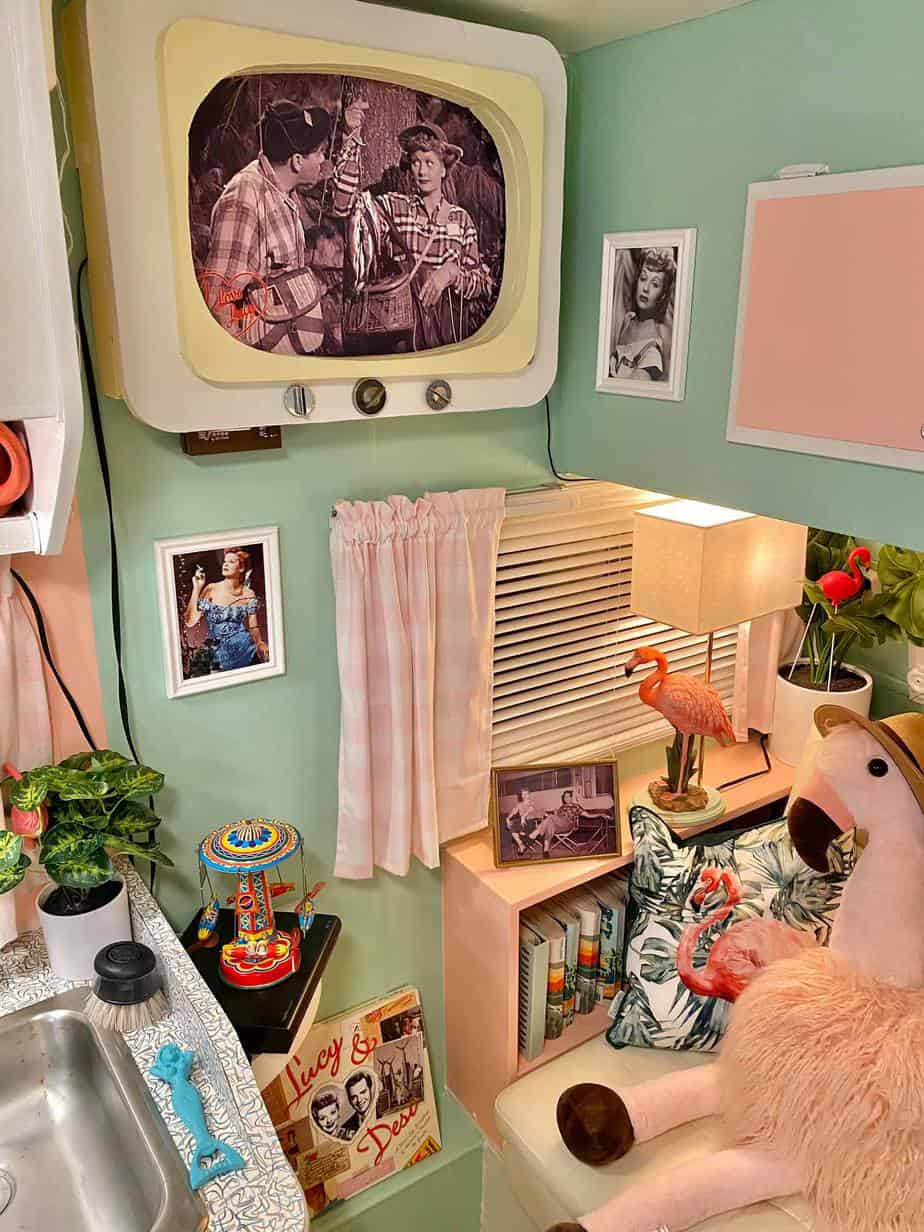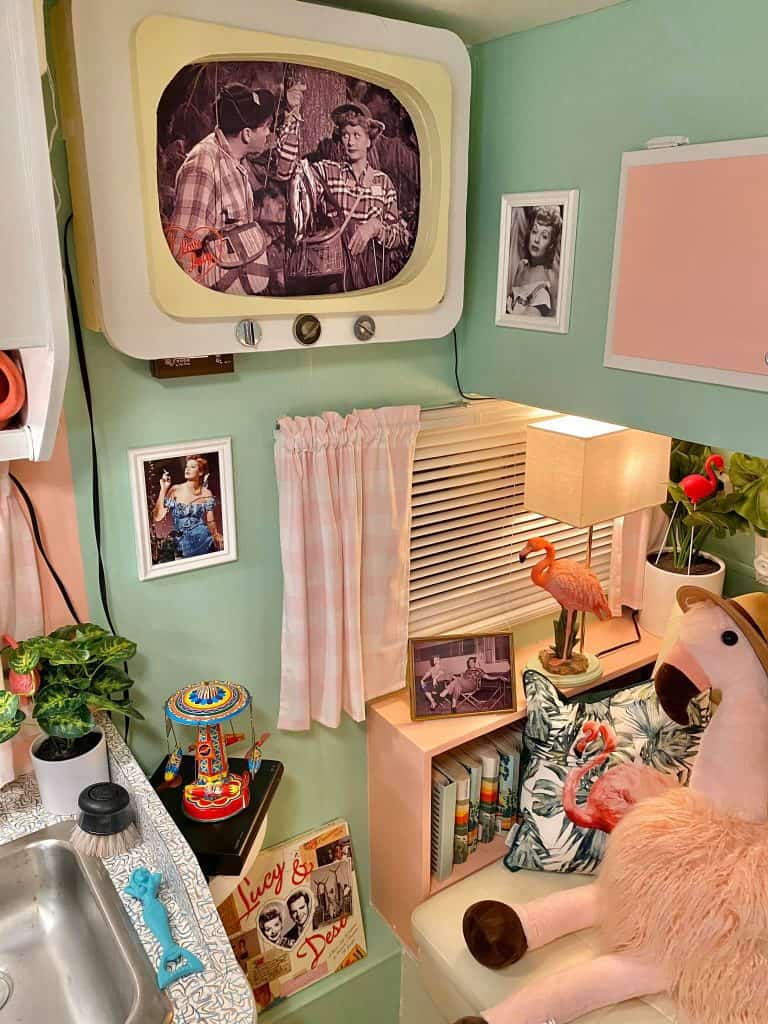 The Flamingo Bathroom
Carrie: The sink, bathtub and toilet are all pink and everything is flamingo – the wallpaper, shower and wall decor! I just love it!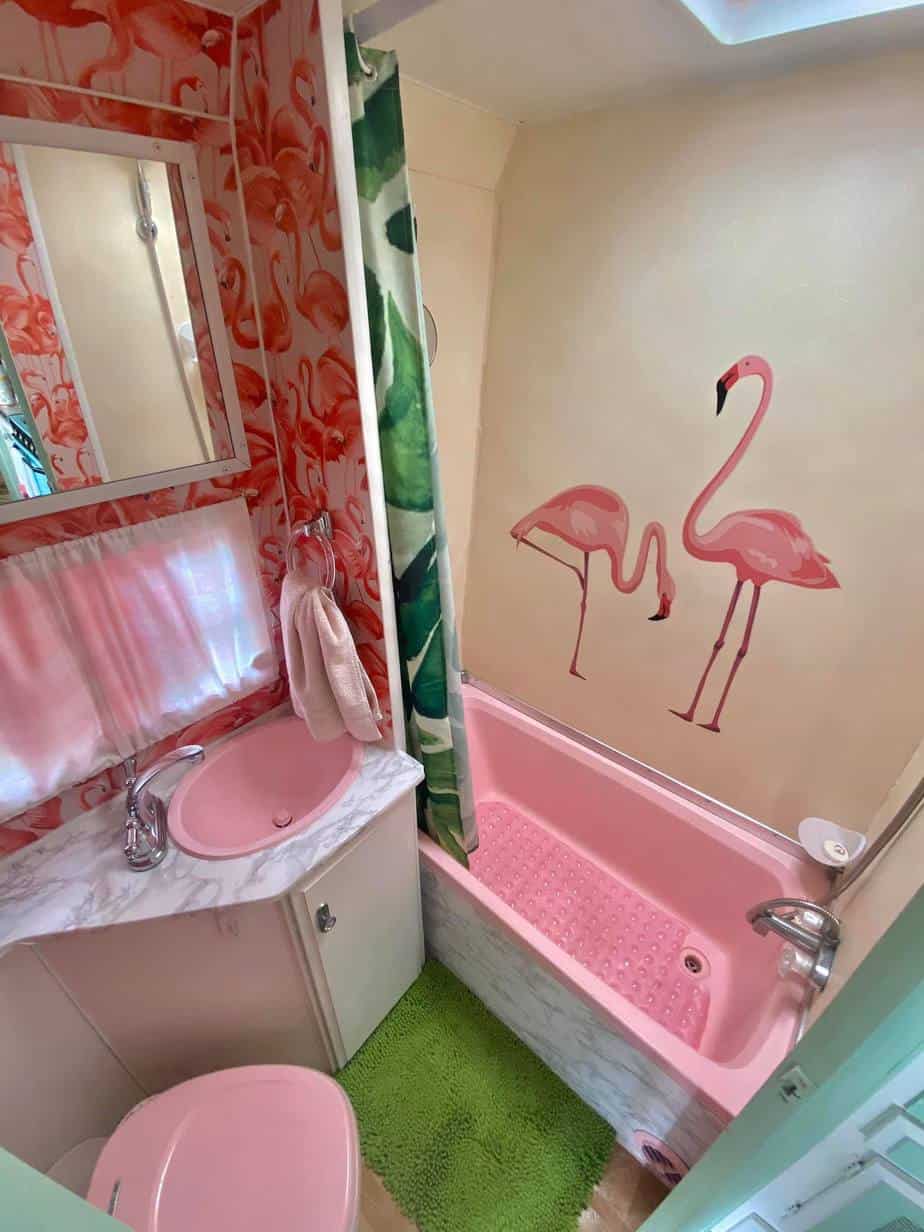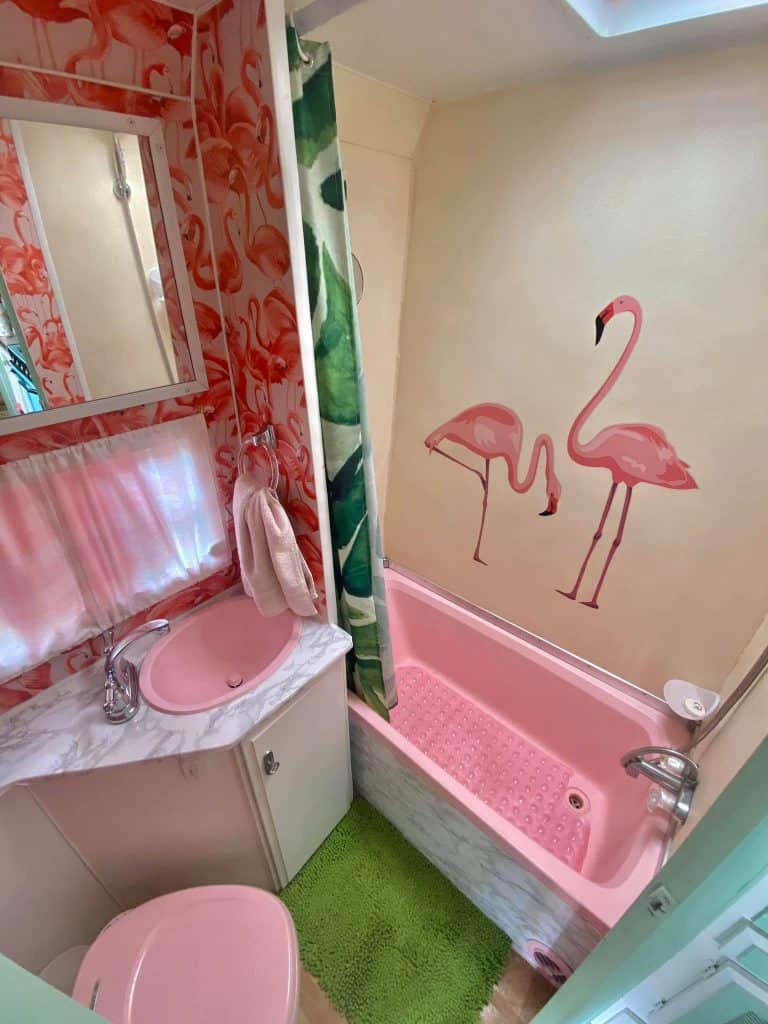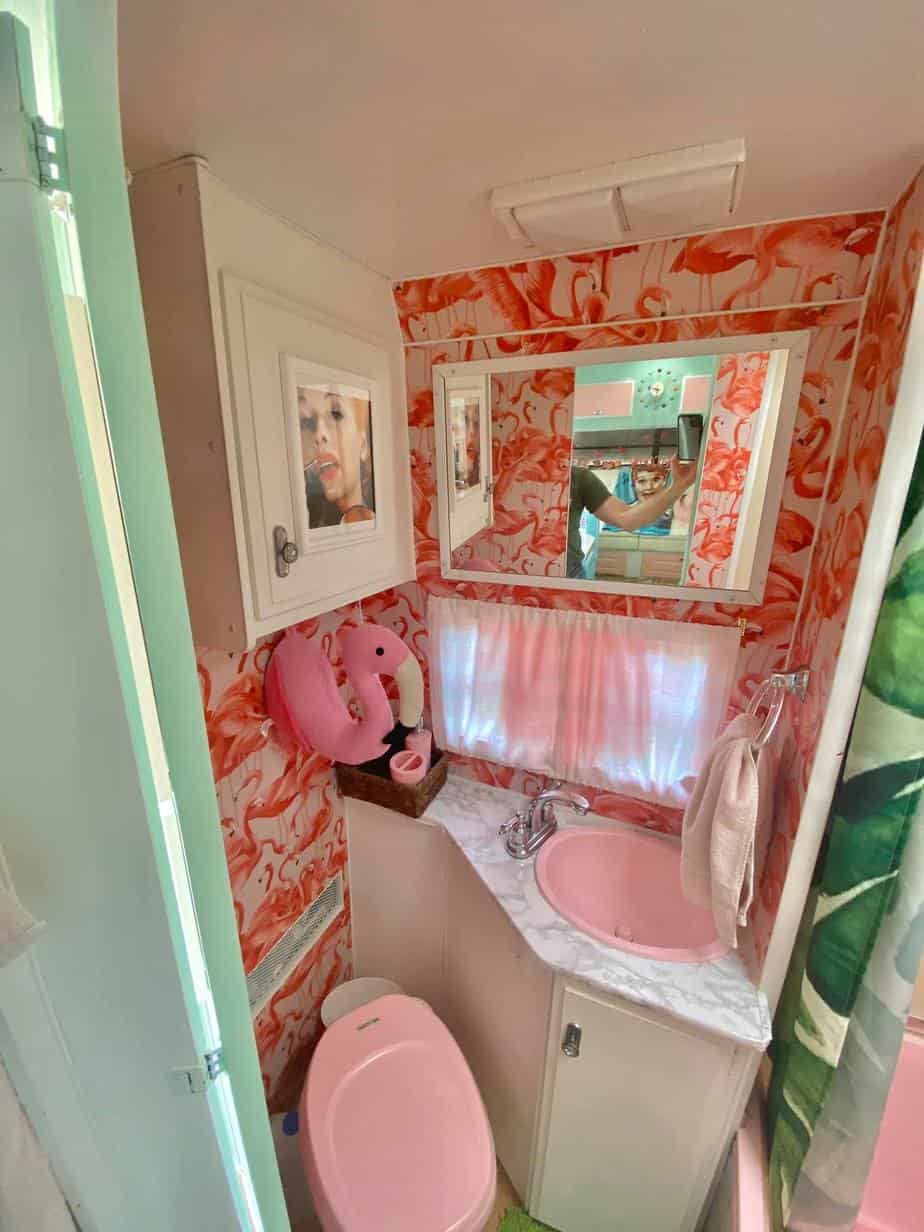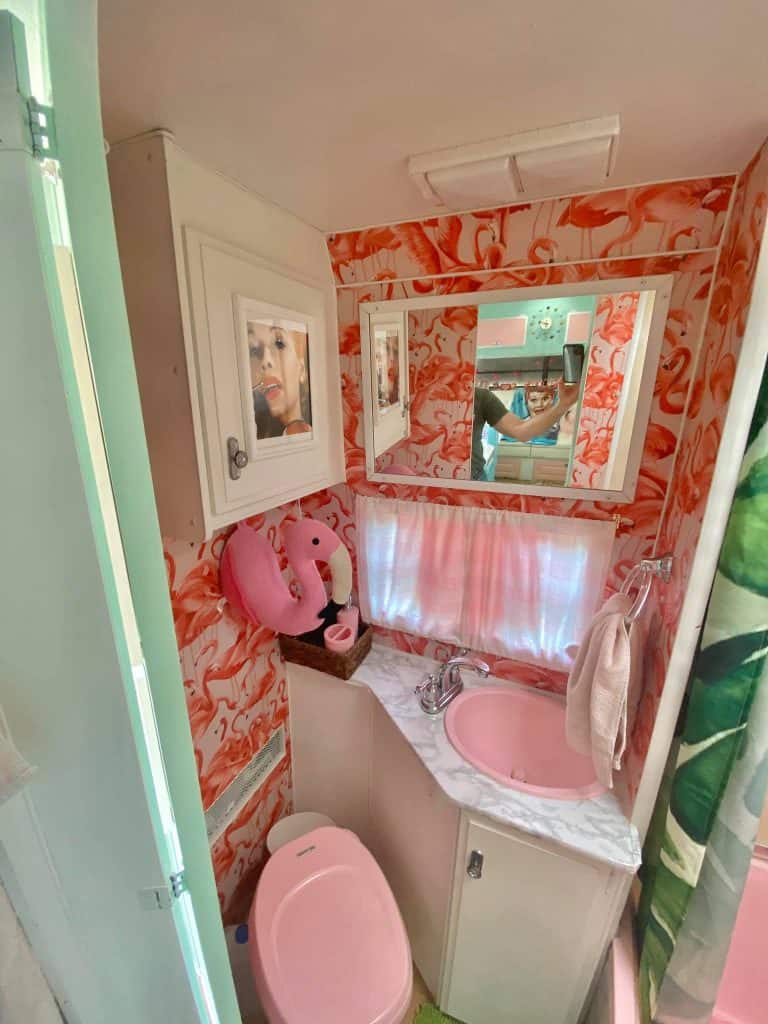 What are the personal touches that are important to you in the camper?
Carrie: There's a ton, but I'll point out some of my favorites. We have a framed picture of Jeff and I doing our Lucy and Desi routine at a theater.
Another picture we just love is of us with THE Lucie Arnaz (daughter of Lucy and Desi) at the Lucille Ball festival we attended! She was so nice! When she saw us she elbowed Jeff and said, "My dad would have killed for those shoes!" (he had his black and white spectators on). Completely made our year!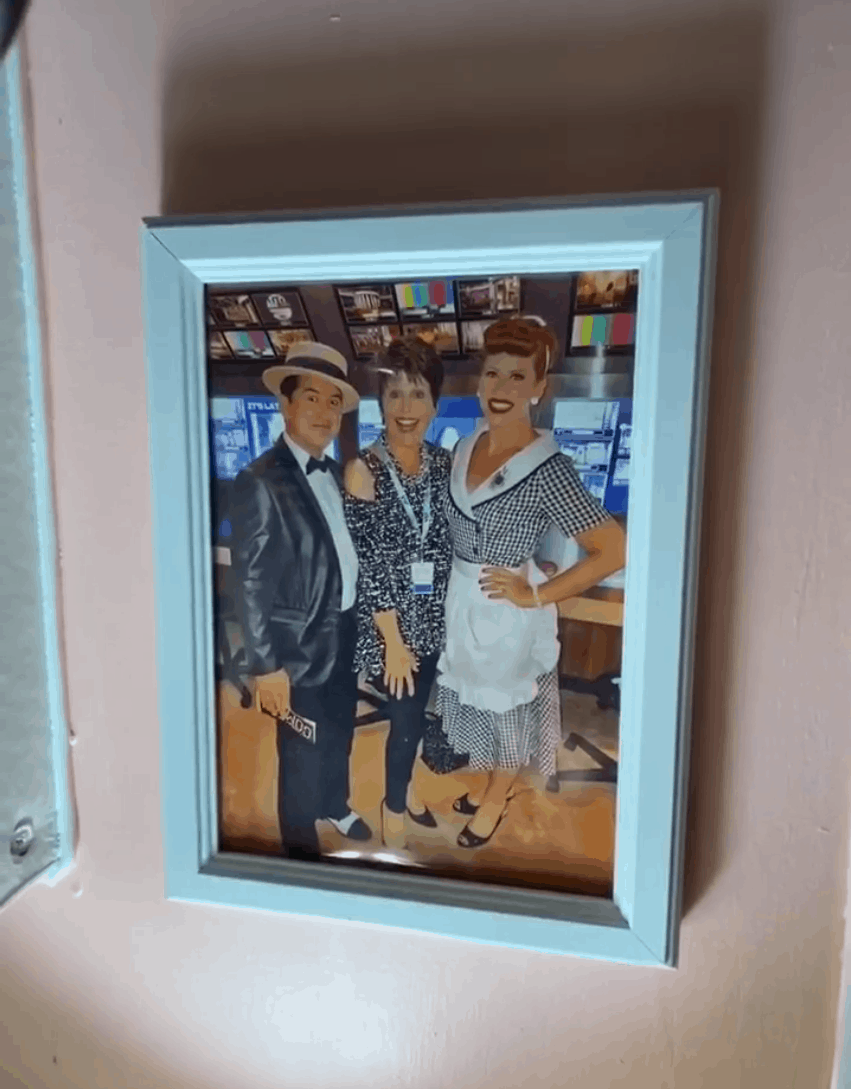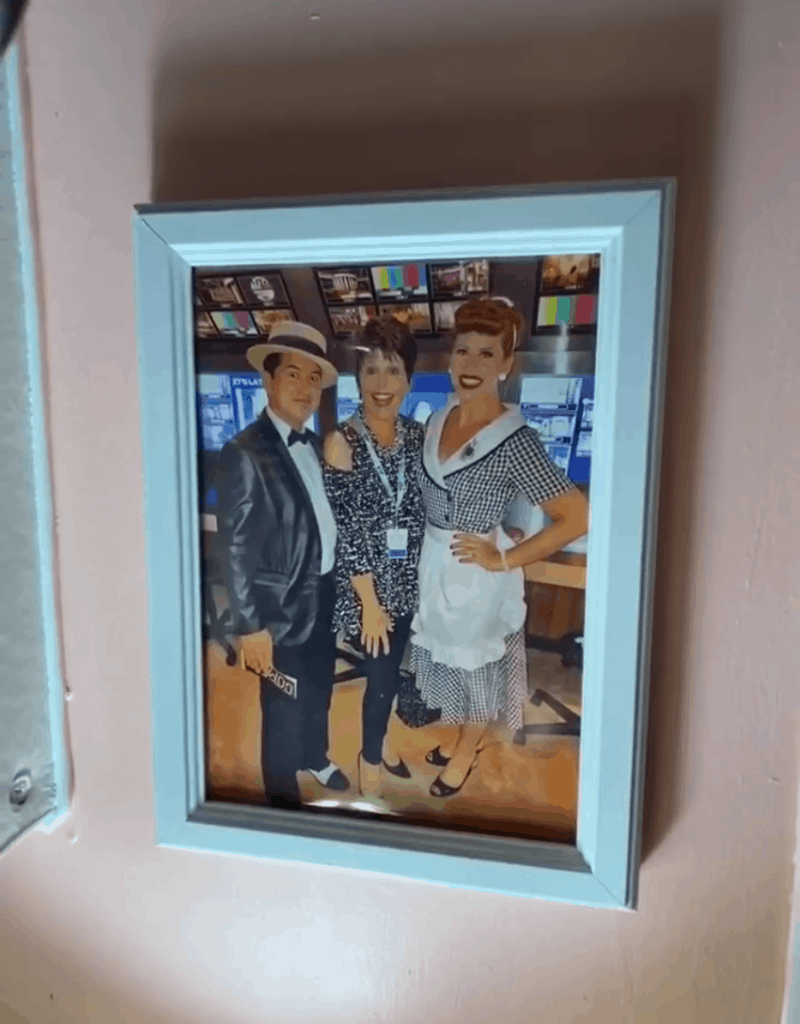 Where in the world did you find and how long has it taken to get so many beautiful pieces of I Love Lucy decor?
Jeff: Carrie is a HUGE fan of Lucille Ball, and more specifically of I Love Lucy. She had quite a collection of items that she brought into the marriage and added SO much more after.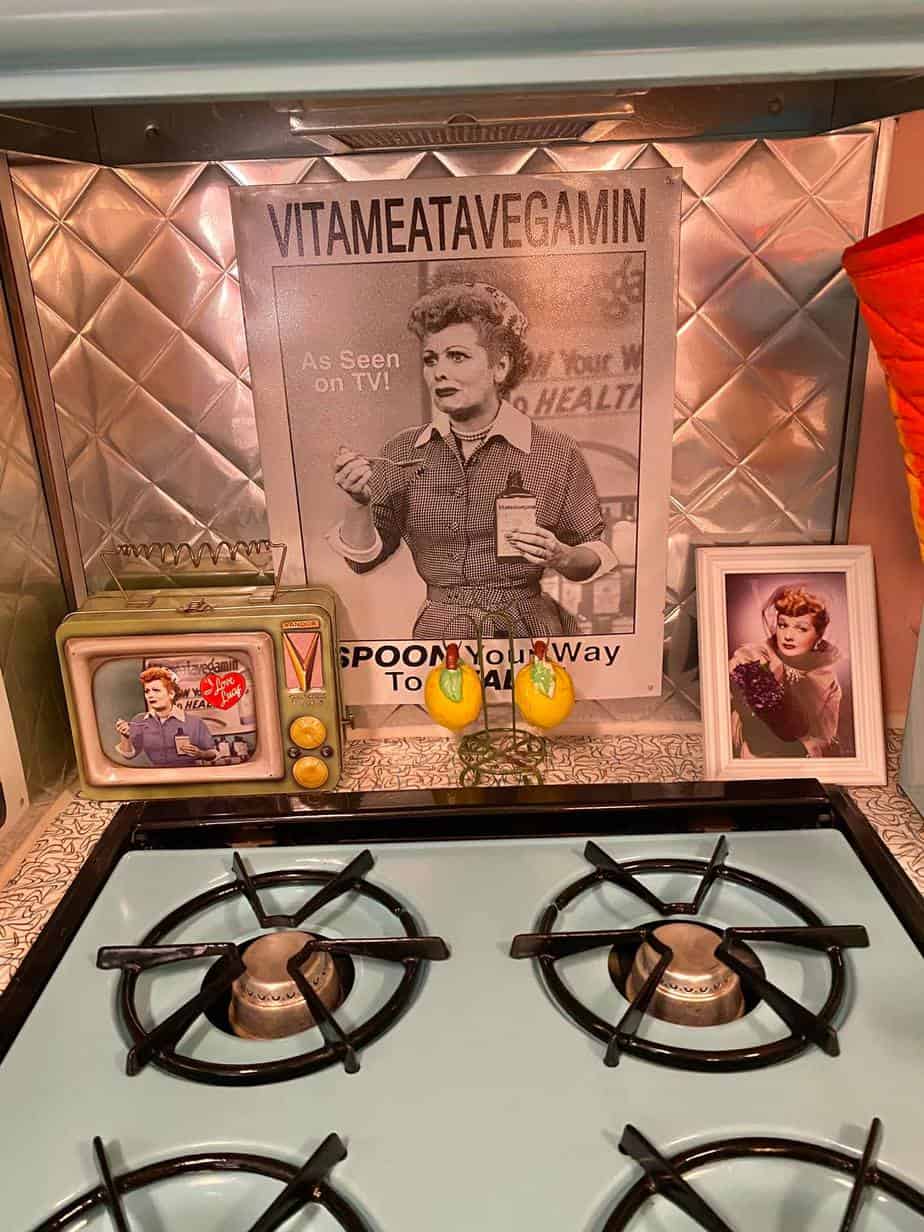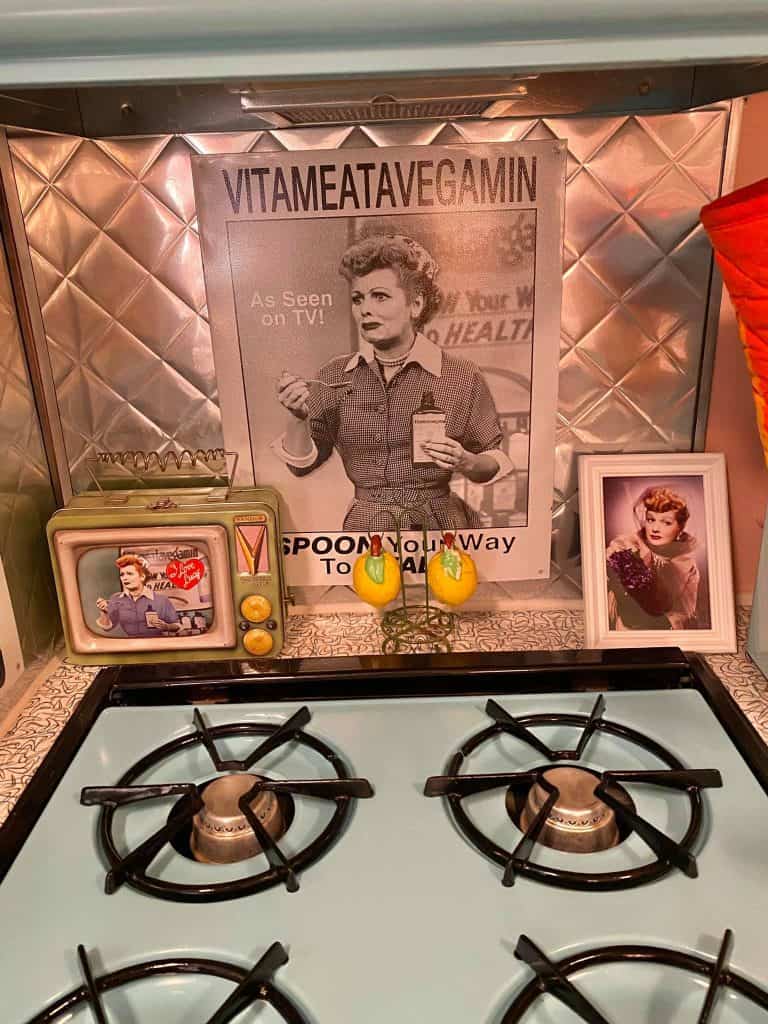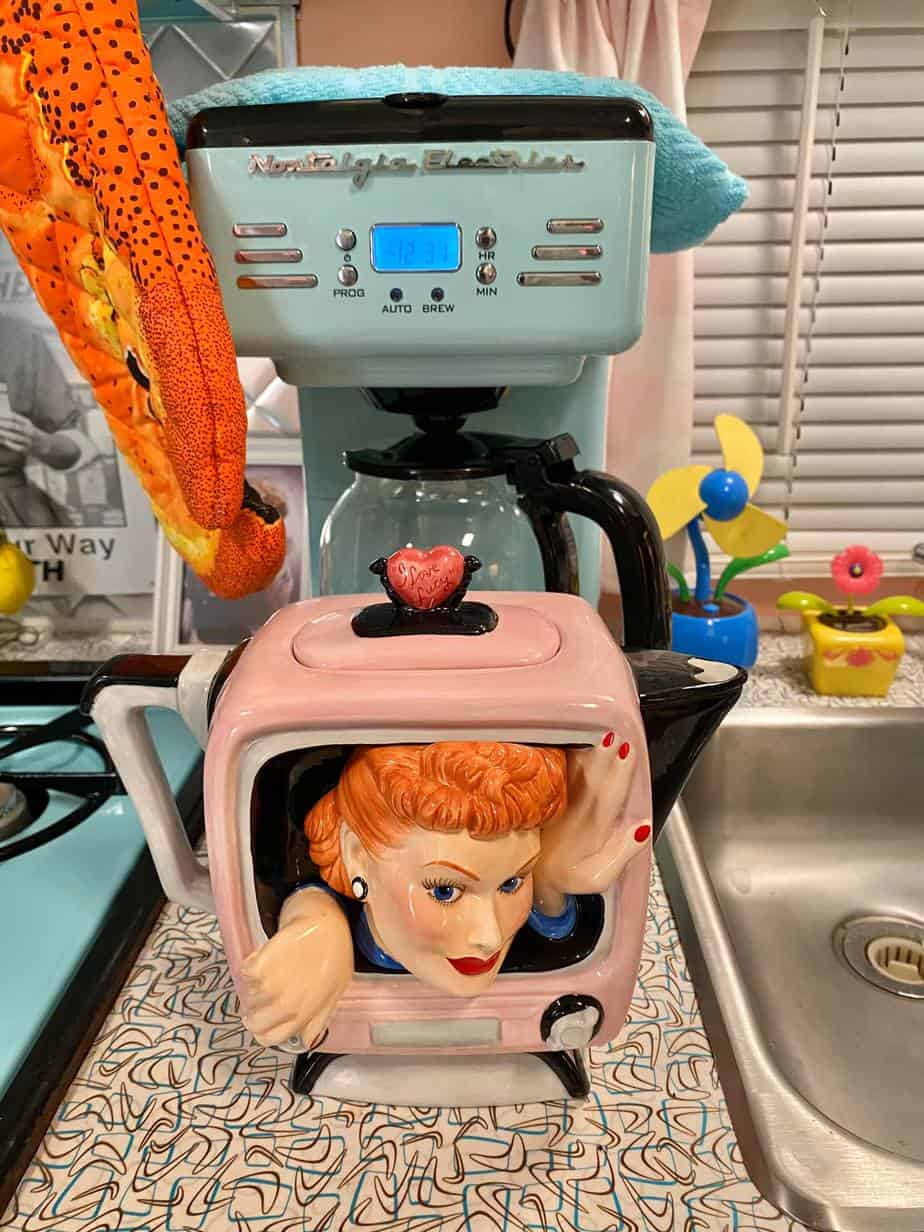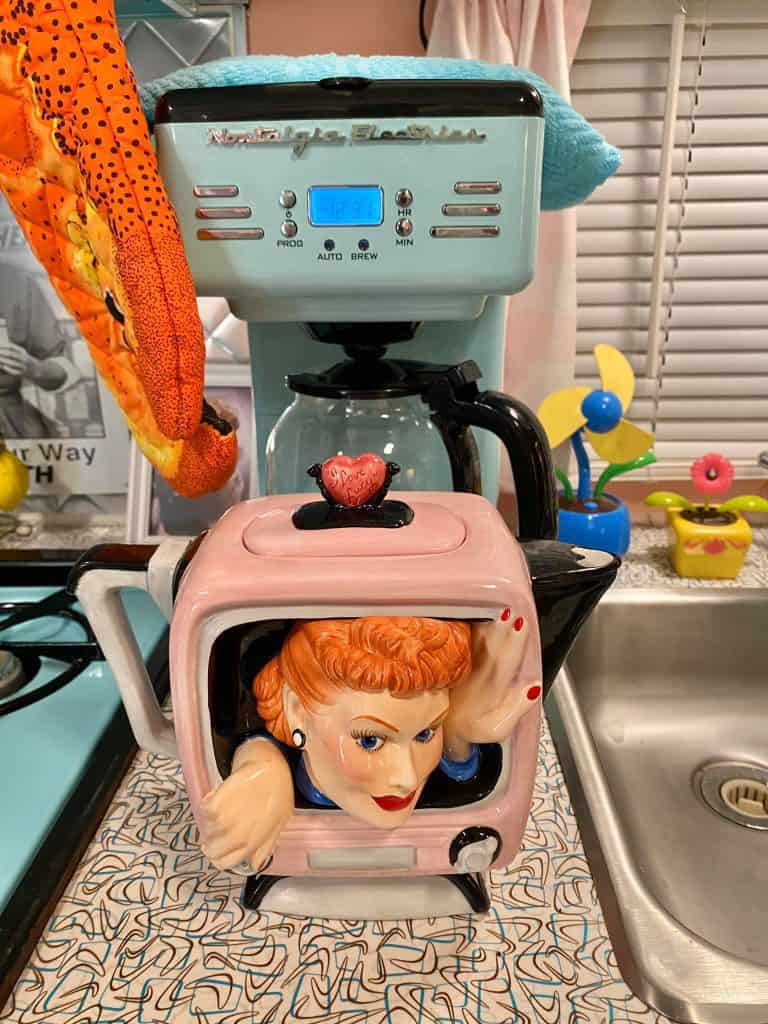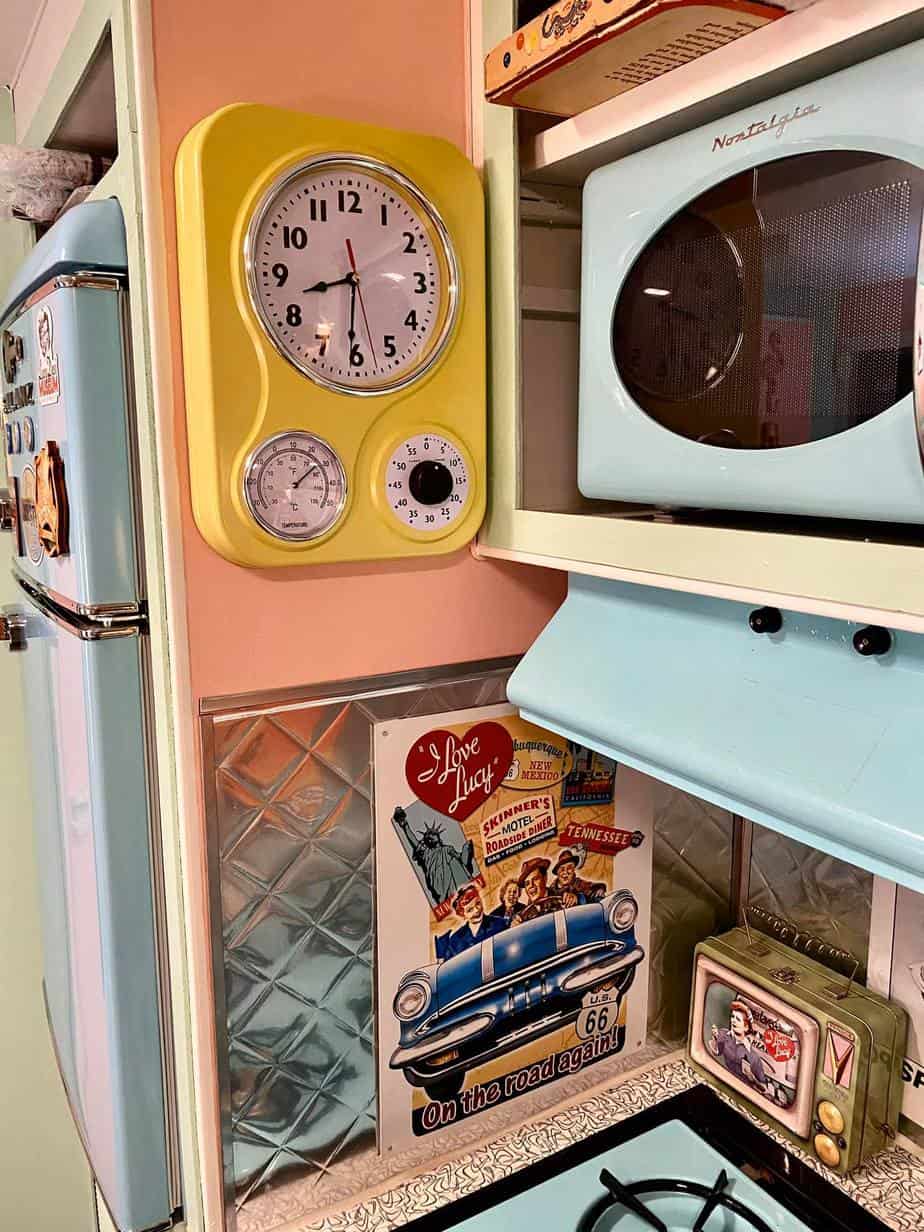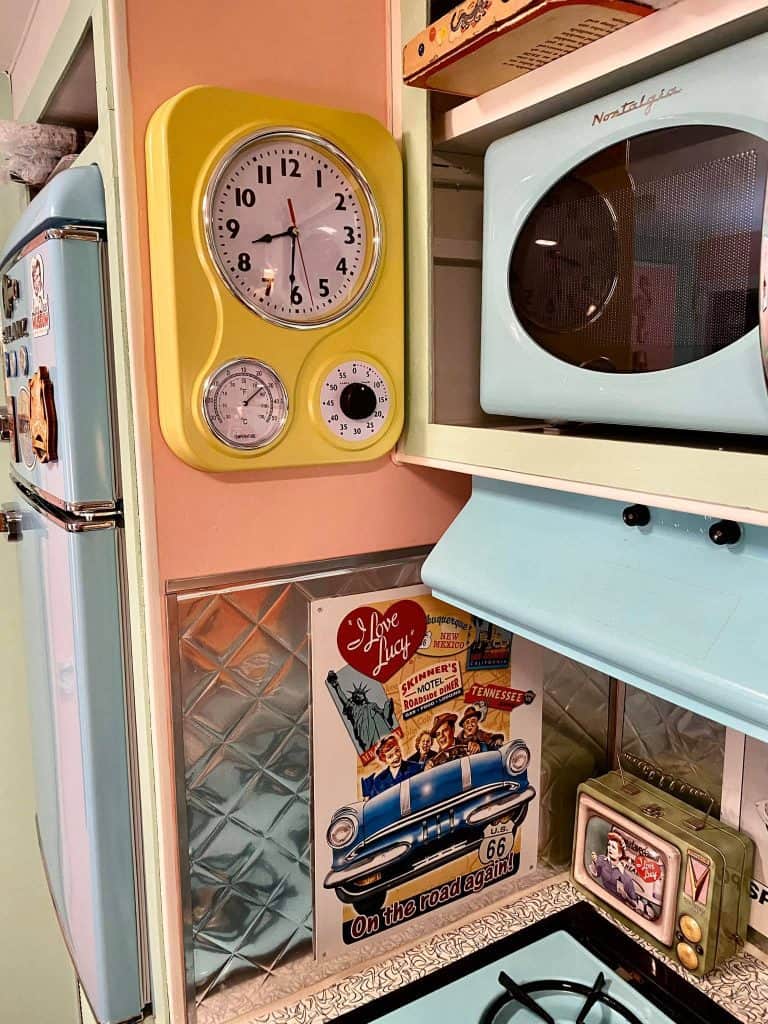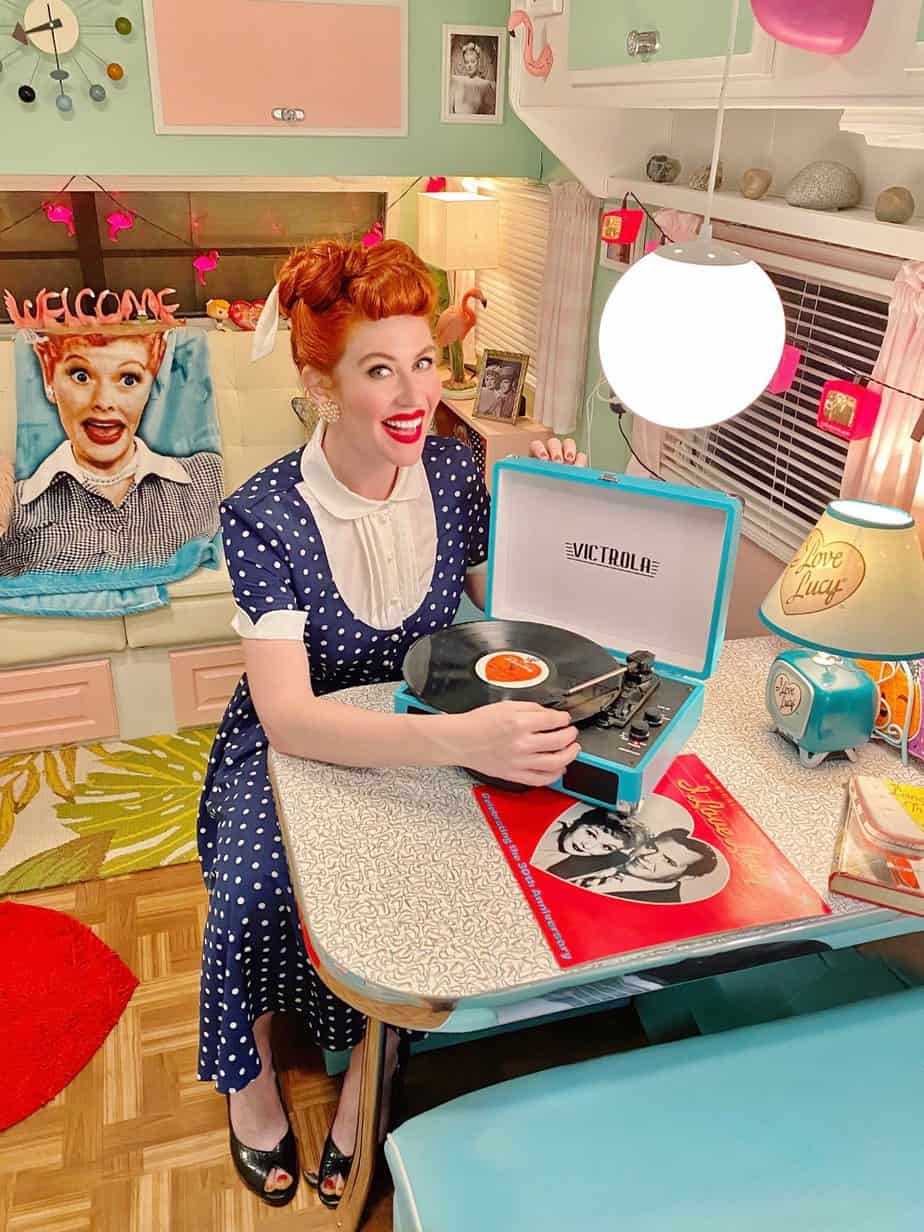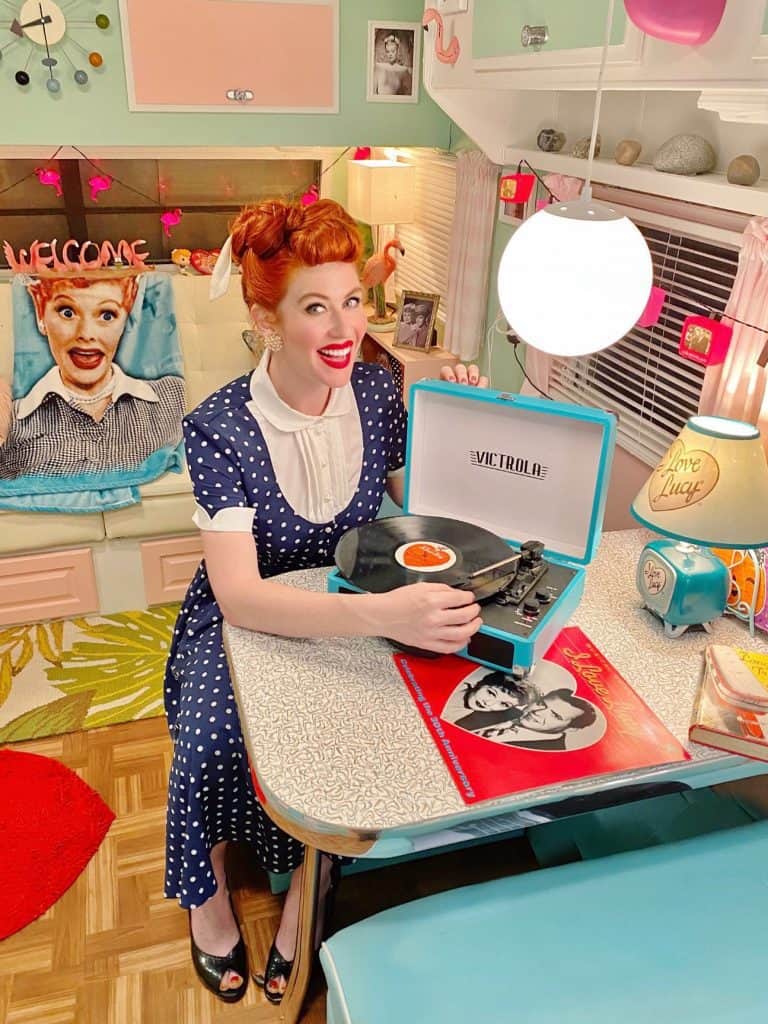 Closing thoughts about their beautiful camper renovation and even more beautiful relationship from Jeff
I know people probably think we are very eccentric when we camp. But, really we want it to feel like we are camping in the 1950s.
I should also mention that Carrie is a collector. She collectors everything it seems. She is also an old soul and she attaches memories to everything, sometimes not even OUR memories!
She loves collecting vintage dresses and clothing. You've seen her photos, I'm sure. She looks stunning in anything and everything, especially vintage pieces. She brings them to life!! And, she loves the fact that she IS giving them new life. She romanticizes the ladies that wore the clothing before. She also loves hats. Now, I am not joking or exaggerating in the least when I tell you this, but she has over 300 dresses and over vintage 100 hats.
She is a thrift shopper and she has gotten some amazing pieces for next to nothing. And, she has also paid dearly for some pieces that are truly unique. She has actual vintage clothing for the early 1900s. And hats that go back as far as the 1920s.
All this time, she actually dresses in then every day. They don't just hang in a closet. She looks like she has walked out of a bygone decade (from the 1920s through the 1960s) every day. And, it gets her some strange looks, but it also comes with appreciation from many who are transported back in time when they see her.
I could honestly talk all day about Carrie. She is the most remarkable person I have ever known. Again, I am blessed and fortunate beyond anything I deserve to just be able to share each day with her.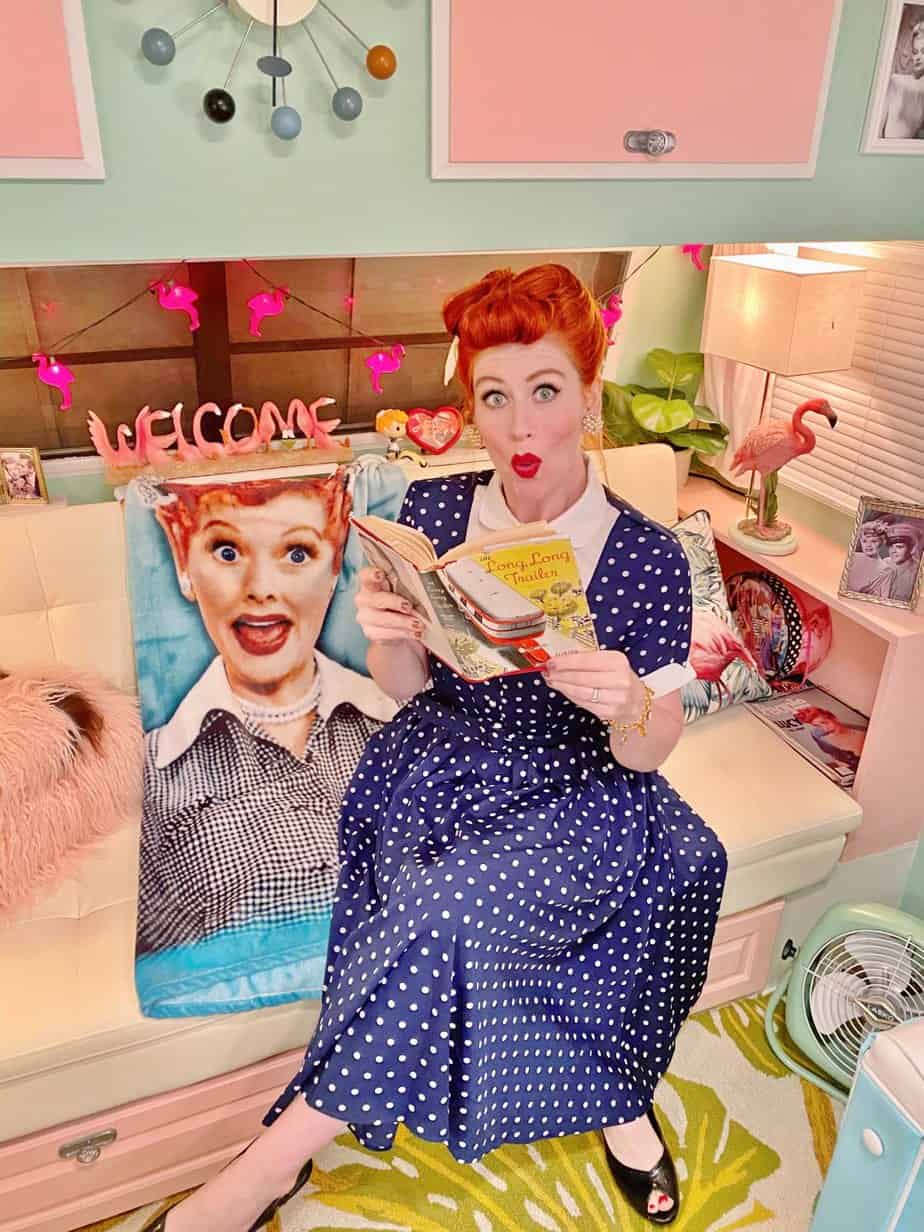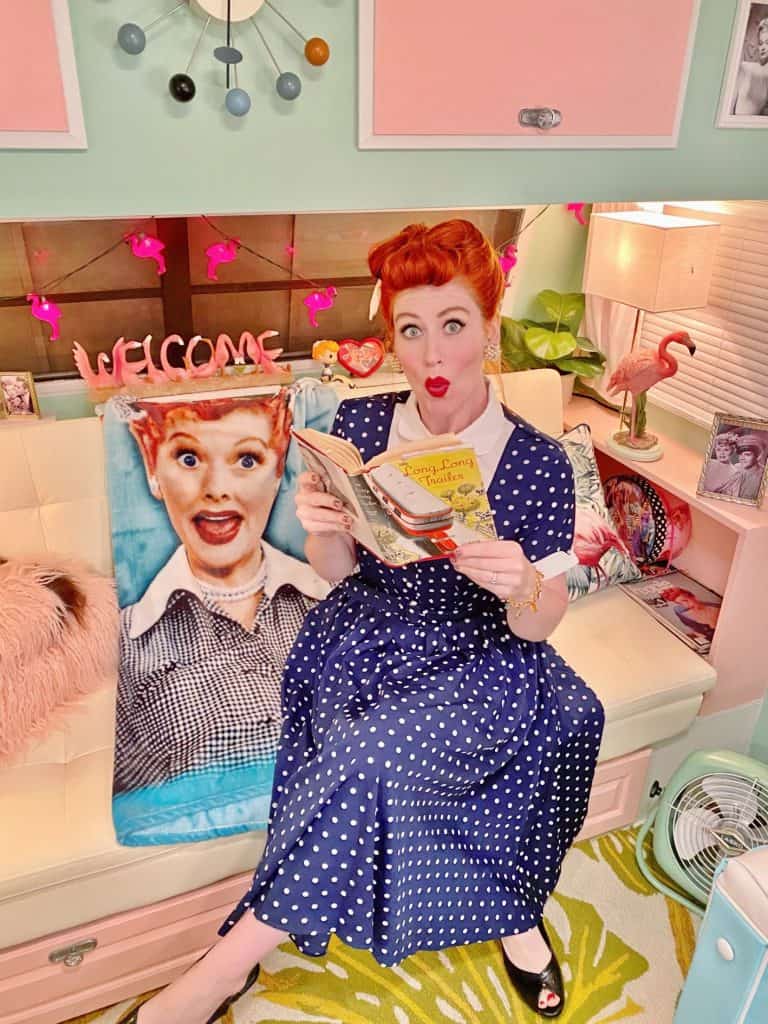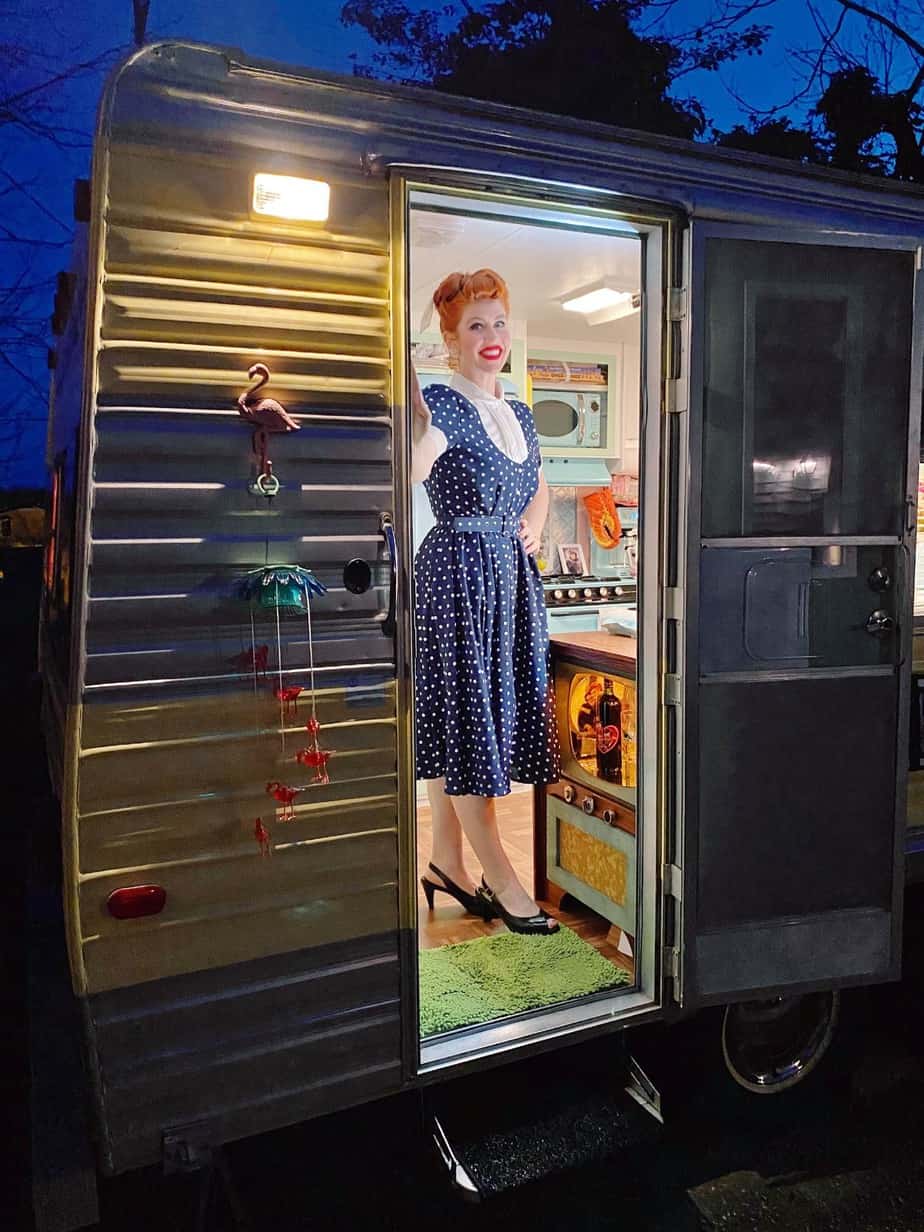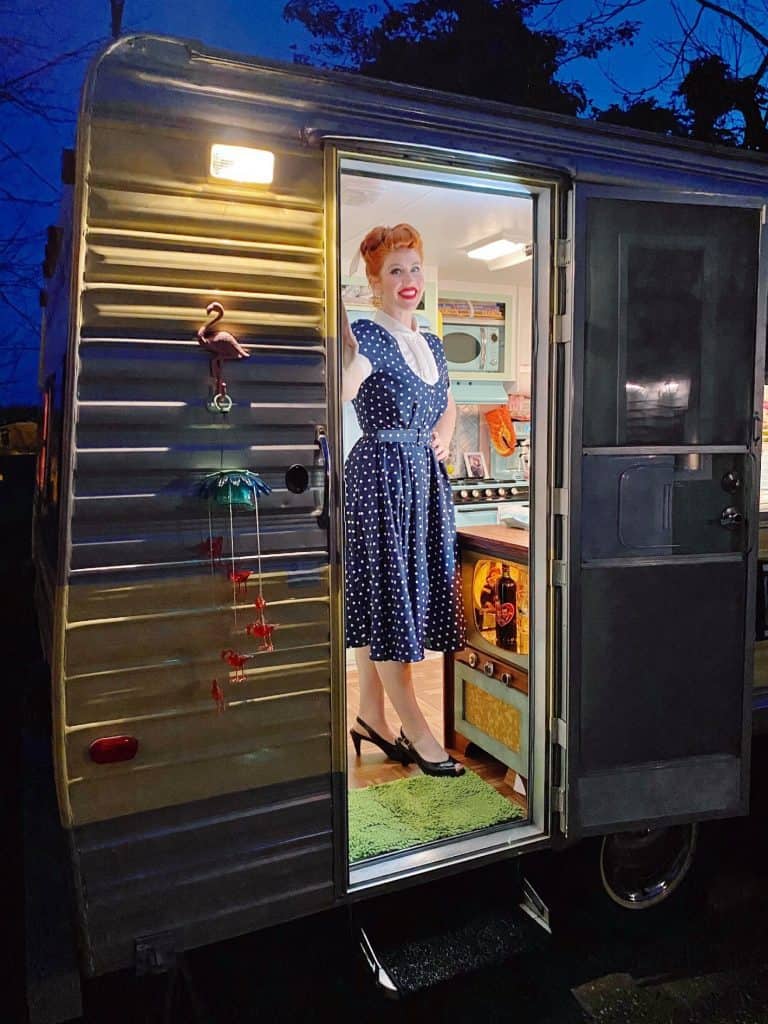 Feeling inspired and in awe yet (both by this remodel and the beautiful relationship)? Here's the video if you want to hear more about it!
I don't know about you, but Jeff and Carrie's story is even more beautiful than the renovation (if that's possible!)
If you enjoyed this interview, I encourage you to watch their videos – you get to see even more details!
Follow their adventures on their Facebook Page, The Not So Long Trailer!
More camping articles you'll love!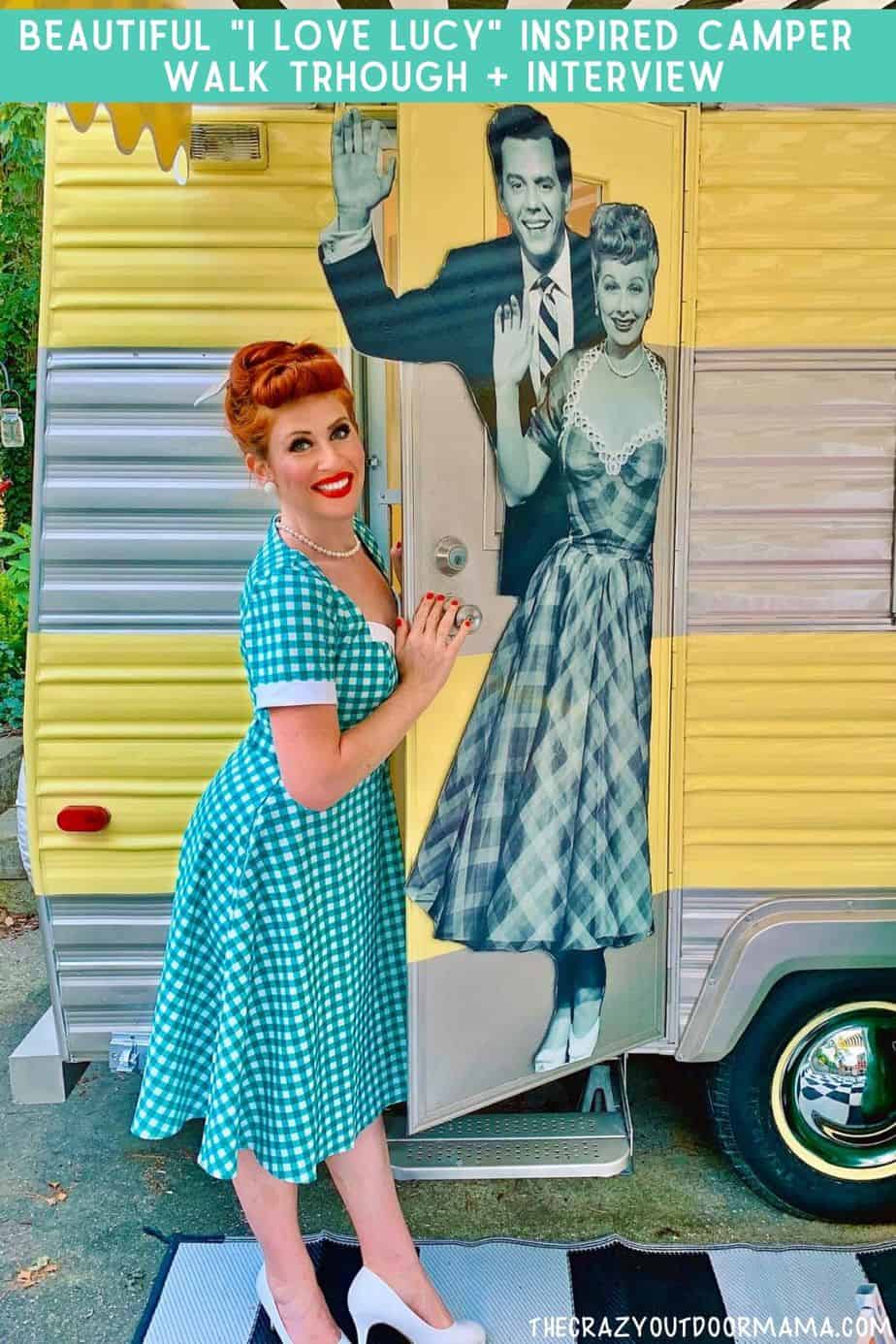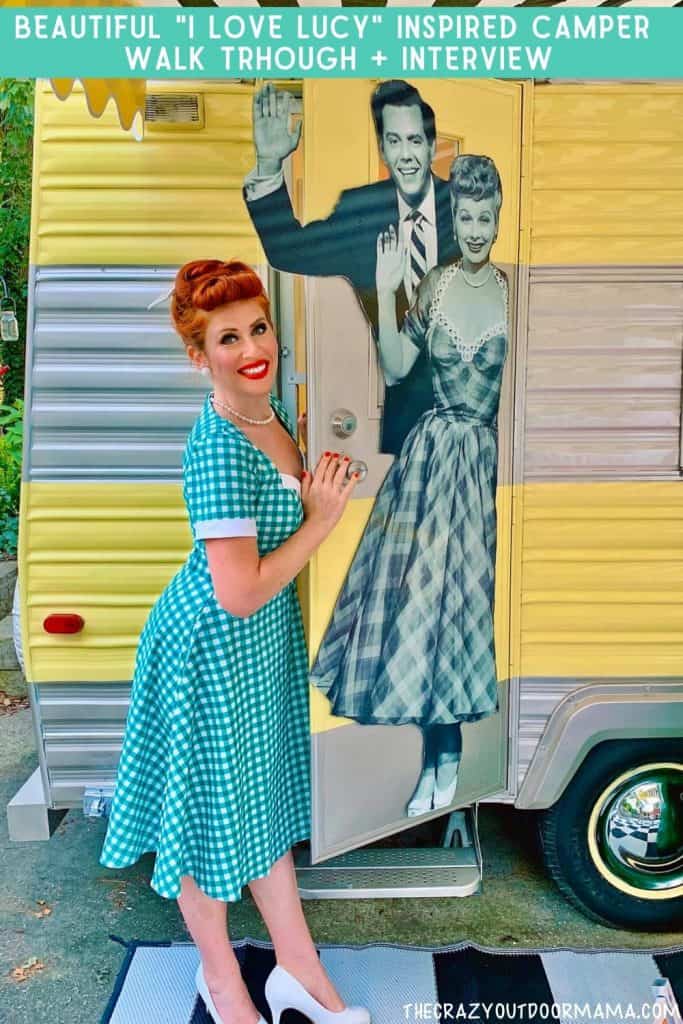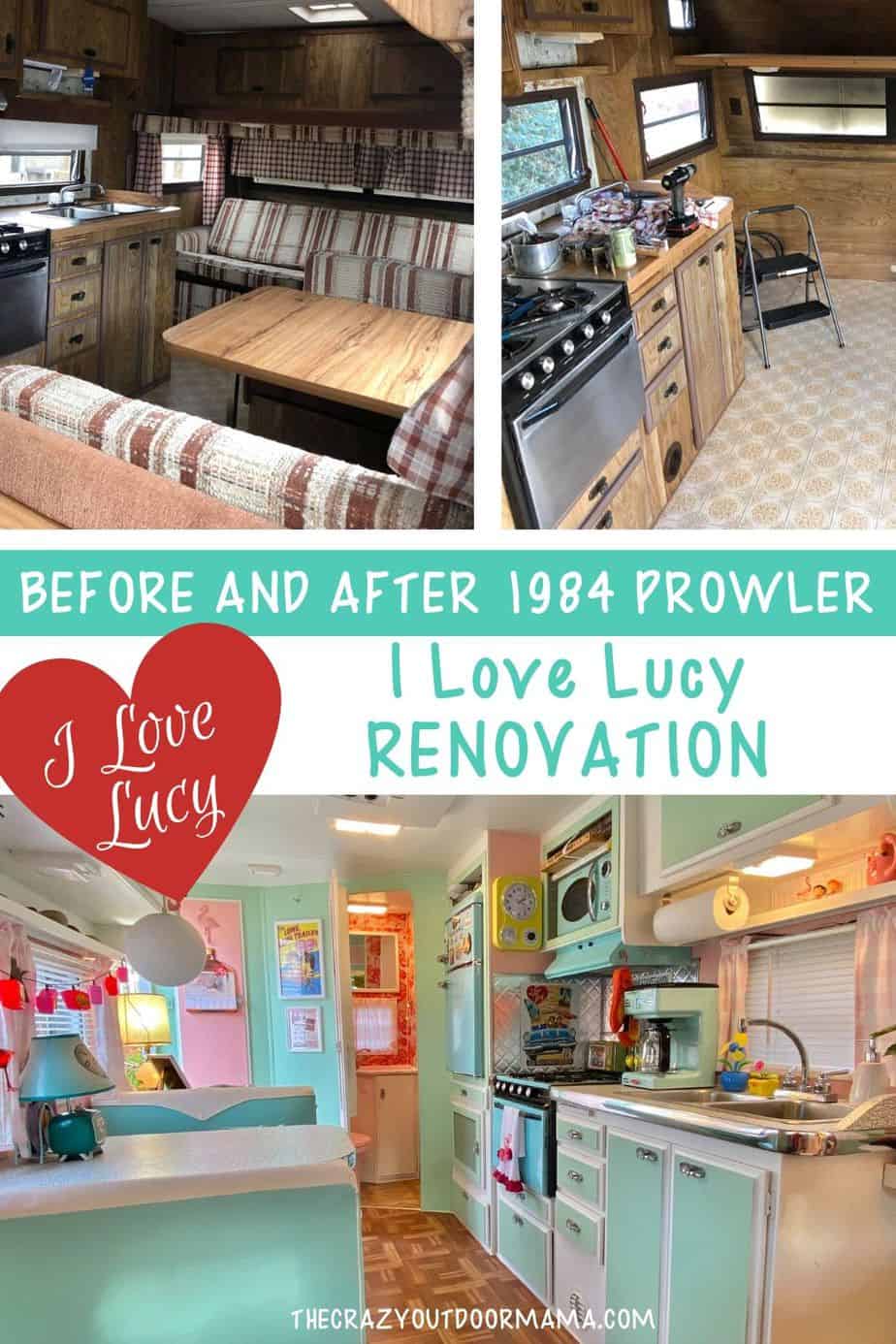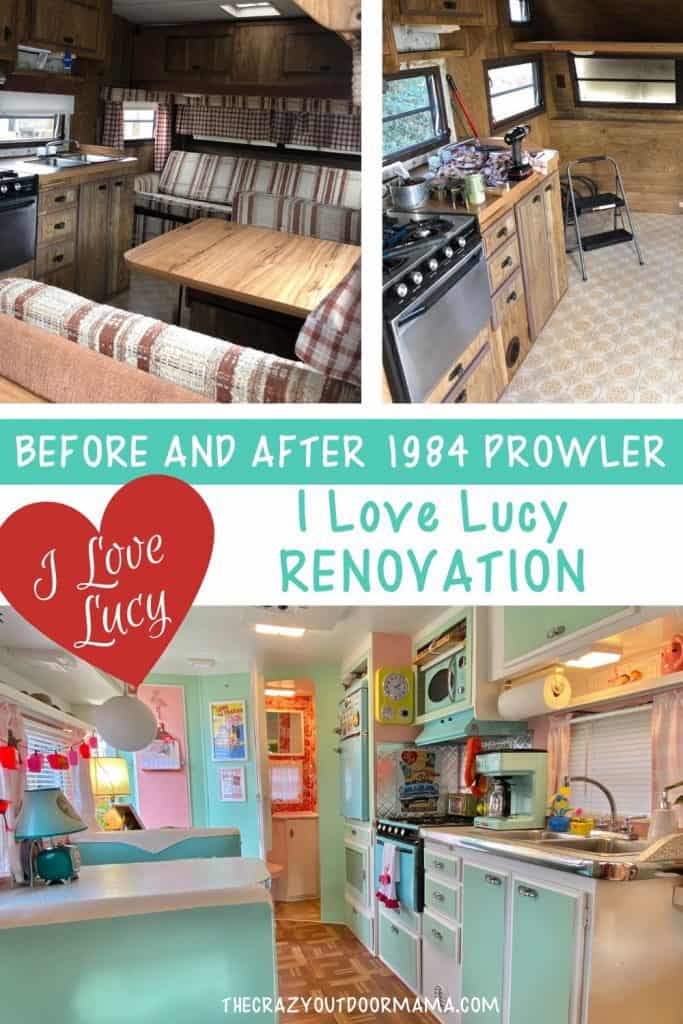 Latest posts by Stacy Bressler
(see all)