If you are an owner of a cute house kitty, and have decided you want to bring him camping in your tent or RV, don't worry… it's not as hard as you might think!
While cats will obviously adjust better the younger they are, nearly all cats can adjust to a more "on the go" and adventurous lifestyle with a bit of patience.
As a kitty owner myself who loves to camp, I thought I'd compile all of my the most useful tips I've found to take your cat camping! If you want to learn more, I encourage you to join this Facebook Group, RV Traveling With Cats. Tips, Hints and More!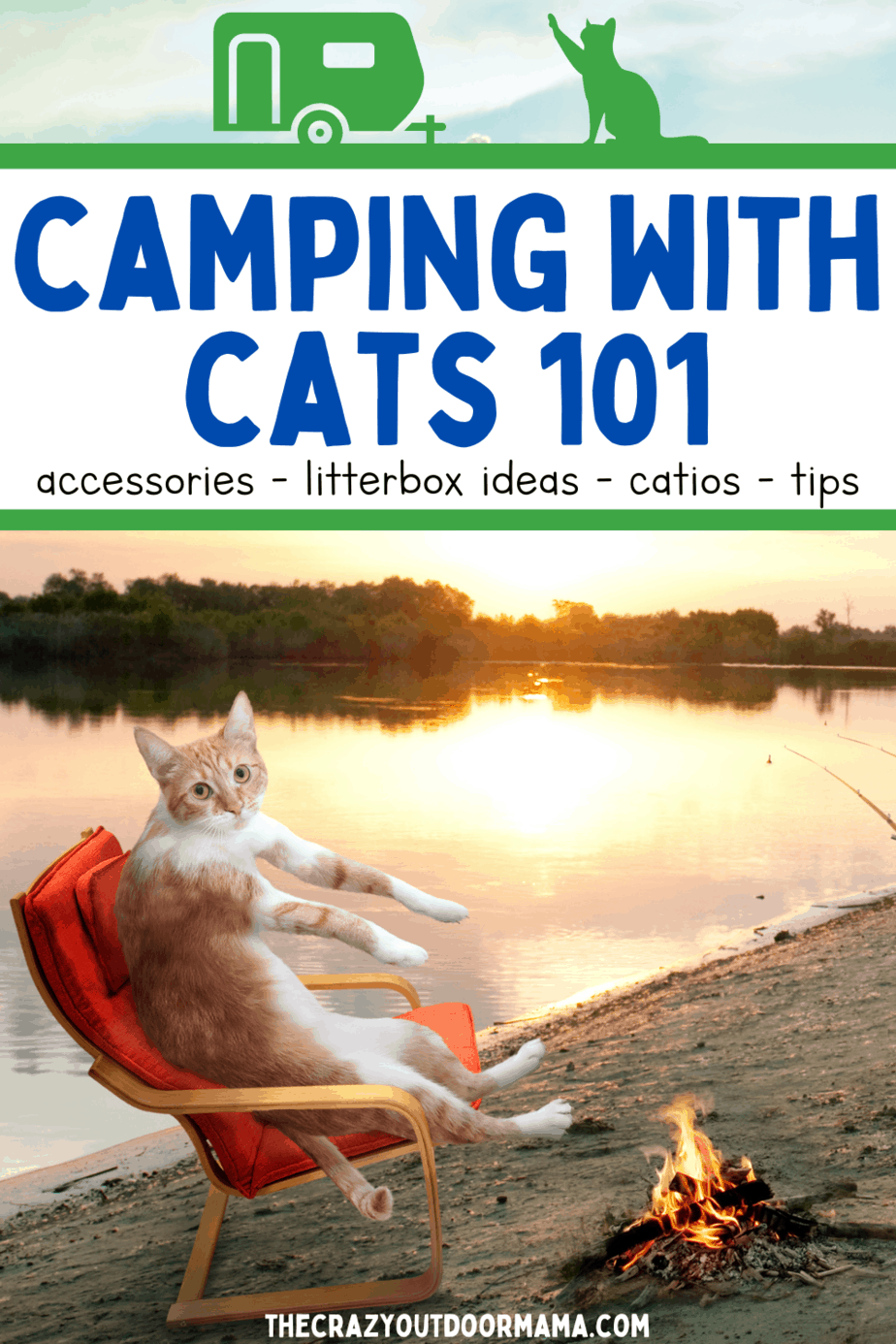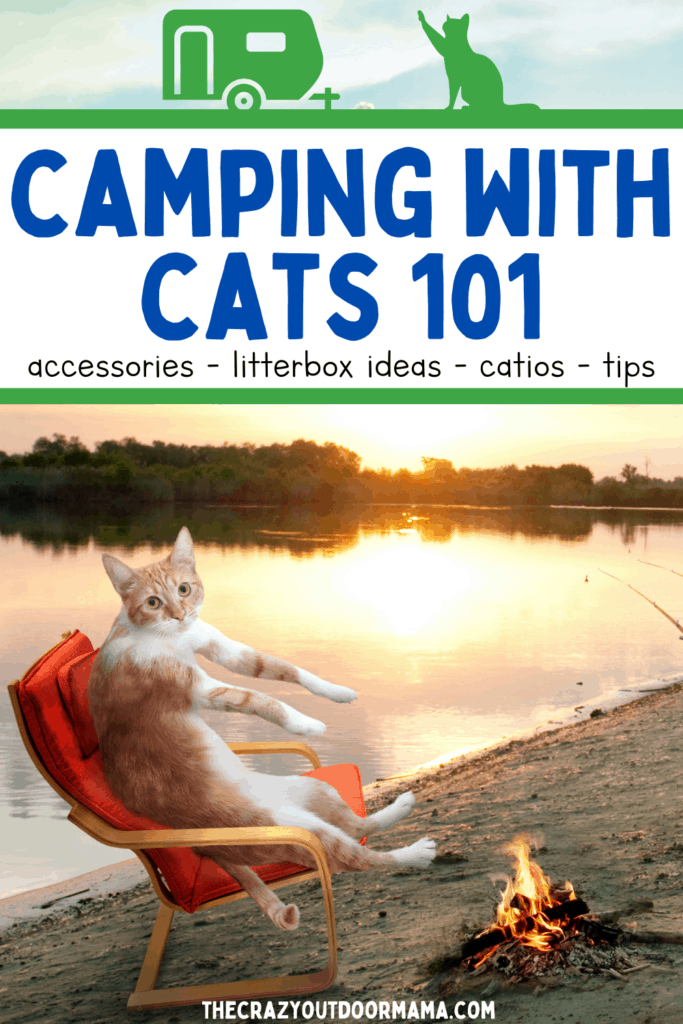 So you want to take your cat camping – here are some skills to work on pre trip
Any cat owner knows that it's important to give them plenty of time to adjust to change – the less changing factors at once, the better.
Car rides to get used to movement – Most camp trips involve a bit of driving, so it's better to help your cat get comfortable with that feeling early rather than hope for the best.
Leash training – While not neccessary, it sure as heck increases the adventurous options for you and your kitty! Use treats and slowly introduce the leash – some cats take longer than others to get used to it.
Compatible with the camp life? – Is your cat ok with being left in the camper? Is he ok being in a cat tent outdoors? Does he adjust easily to change? Almost all cats will surive camping, but if your cat will be nervous the whole time and yowel then it may not be worth the sress for your kitty.
Nighttime meowing under control – Your house is likely far bigger than your camper… if your cat meows all night, it's a good idea to figure out a solution as the sounds will be way harder to ignore in your camper!
Cat Camping Accessories
Just like at home, you will need the basics (litterbox, toys, scratching post etc) but there are some pretty nifty cat camping accessories that can make things a bit easier.
With RVs being so small, most of these are compact versions of cat care items or specific to exploring the outdoors. Here's what we'll go over
Collapsible food/water bowls with a suction cup for less mess
Wall mounted or foldable scratcher
Outdoor cat tent for campsite views
Portable litter box with a zip top to contain mess/smells
Carrier with room for a smaller litterbox (no potty breaks during travel!)
Harness + leash designed for cats
System to monitor your RV temps if you plan on leaving
Mess free, collapsible food/water bowls with a suction cup for stability
Whether you need it to stay in place in transit, or it's just likely to get kicked over in a small space such as a travel trailer, this design is perfect for camping cats!
Here are some quick facts about these collapsible water/food bowls
Food catch– Prevent cat food kibbles from getting kicked around once spilled with a built in design to keep it all in place.
Suction cup in place – If you choose to keep food and water out while moving, the suction cup adds a TON of stability! It's also handy to prevent the bowls from being accidentally kicked over
Collapsible for storage – When not in use (some owners don't leave anything out while traveling to prevent sickness) these collapse pretty darn small. And they have a way to hang them for storagte!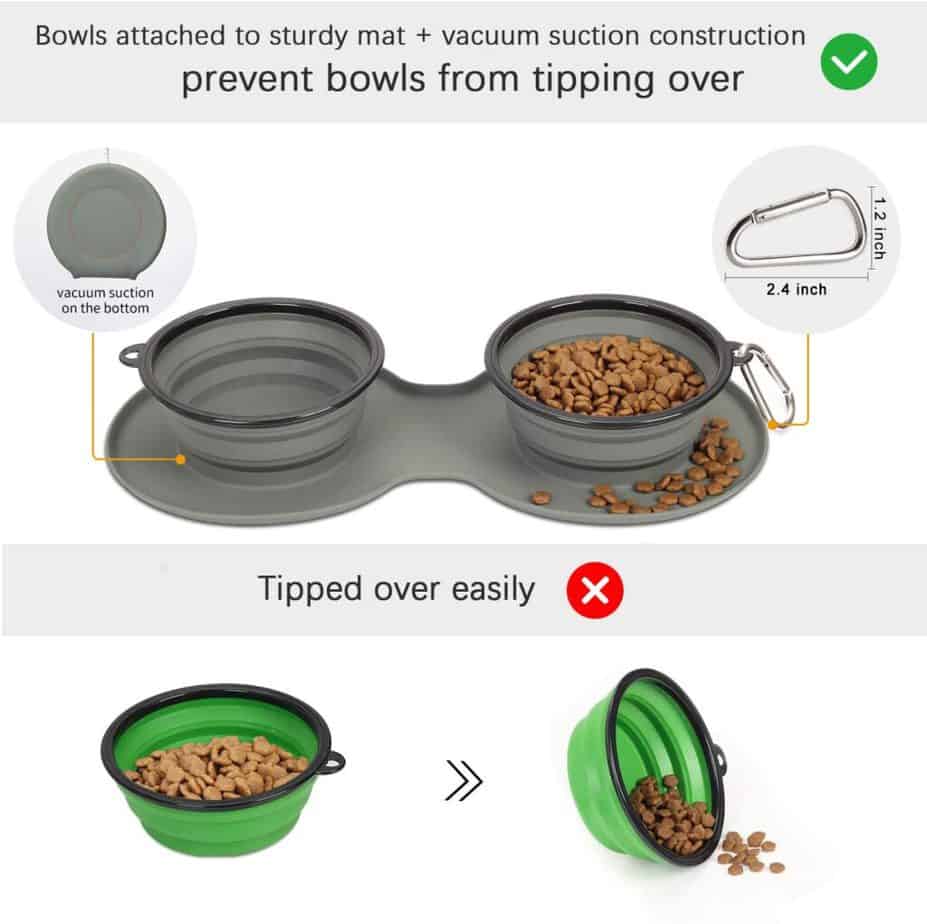 Colapsible or wall mounted cat scratchers to save space in the travel trailer!
It's super important to provide somewhere your cat can scratch – especially in a small environment with potentially more stress going on!
The good news is there are plenty of options depending on the layout of your RV. If you have wall space and don't mind putting some holes in, these are a hassle free option for your cat. For those who prefer to avoid any installation, I found a cute foldable scratcher/tower combo!
Fold and store cat hammock, cat scratcher and cubby all in one!
The cat tower perfect for RV life – it folds flat, isn't super tall, and includes three favorite options. If you have ths floor space, the travel cat scratcher tree is an easy solution.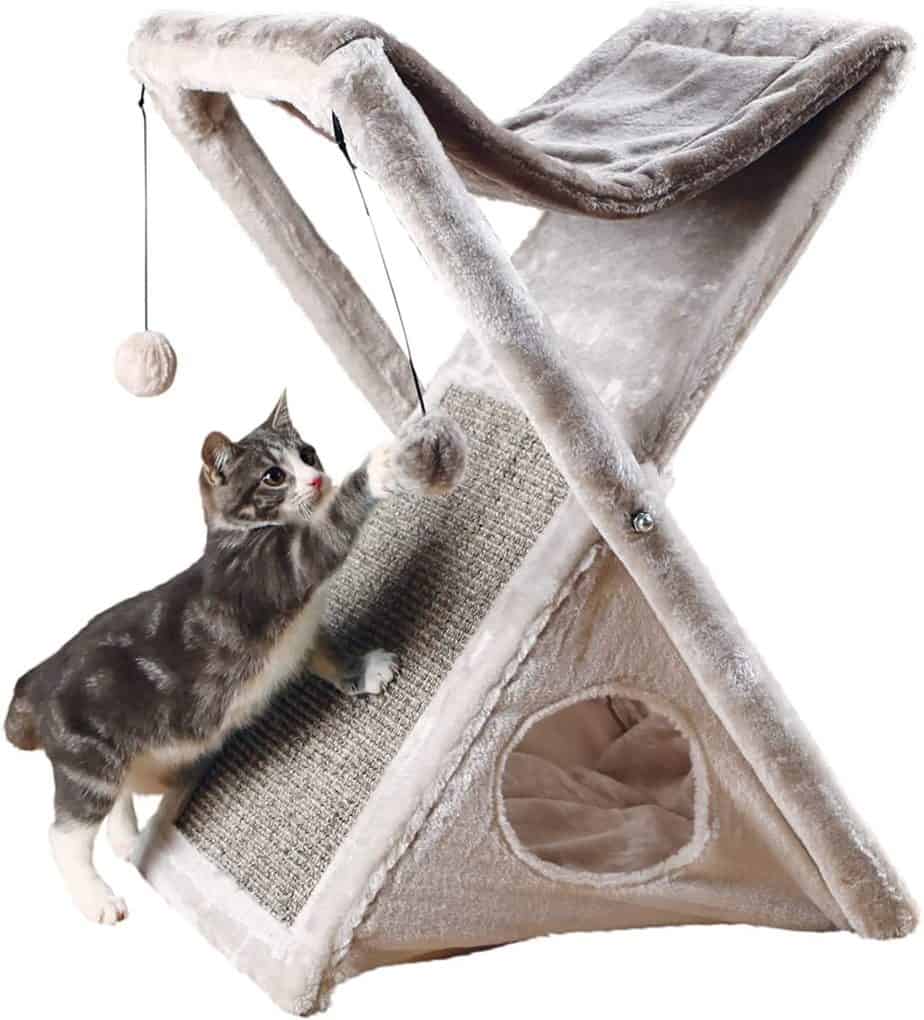 Low profile wall mounted scratching post
This modern design matches most travel trailer's decor, and it's a convenient way to get your cats scratching needs met while camping!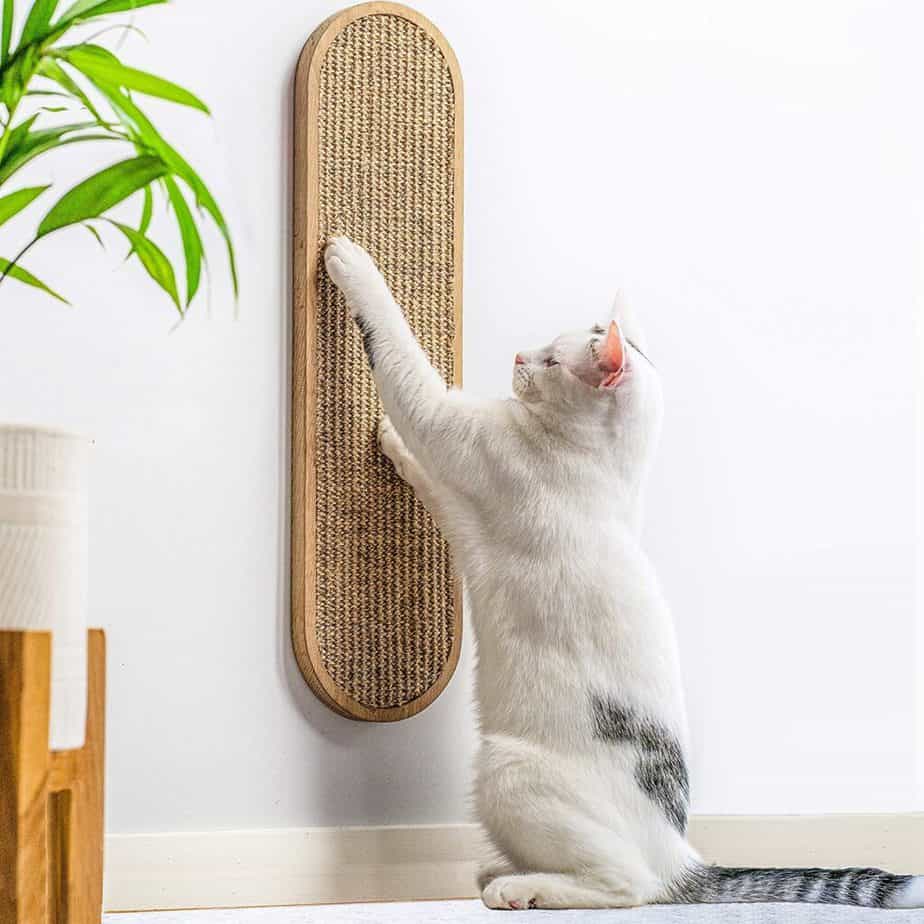 Outdoor Cat Tent that fold down/sets up fast!
Cat tents are great for letting your cat get some fresh air at the campground while still being contained and safe from predators. The most popular cat tent is the Outback Jack Cat Enclosure – it has 30 square feet of play space and easy to close zippered ends.
Make sure to get your cat comfortable being in a cat tent by setting it up in your backyard first!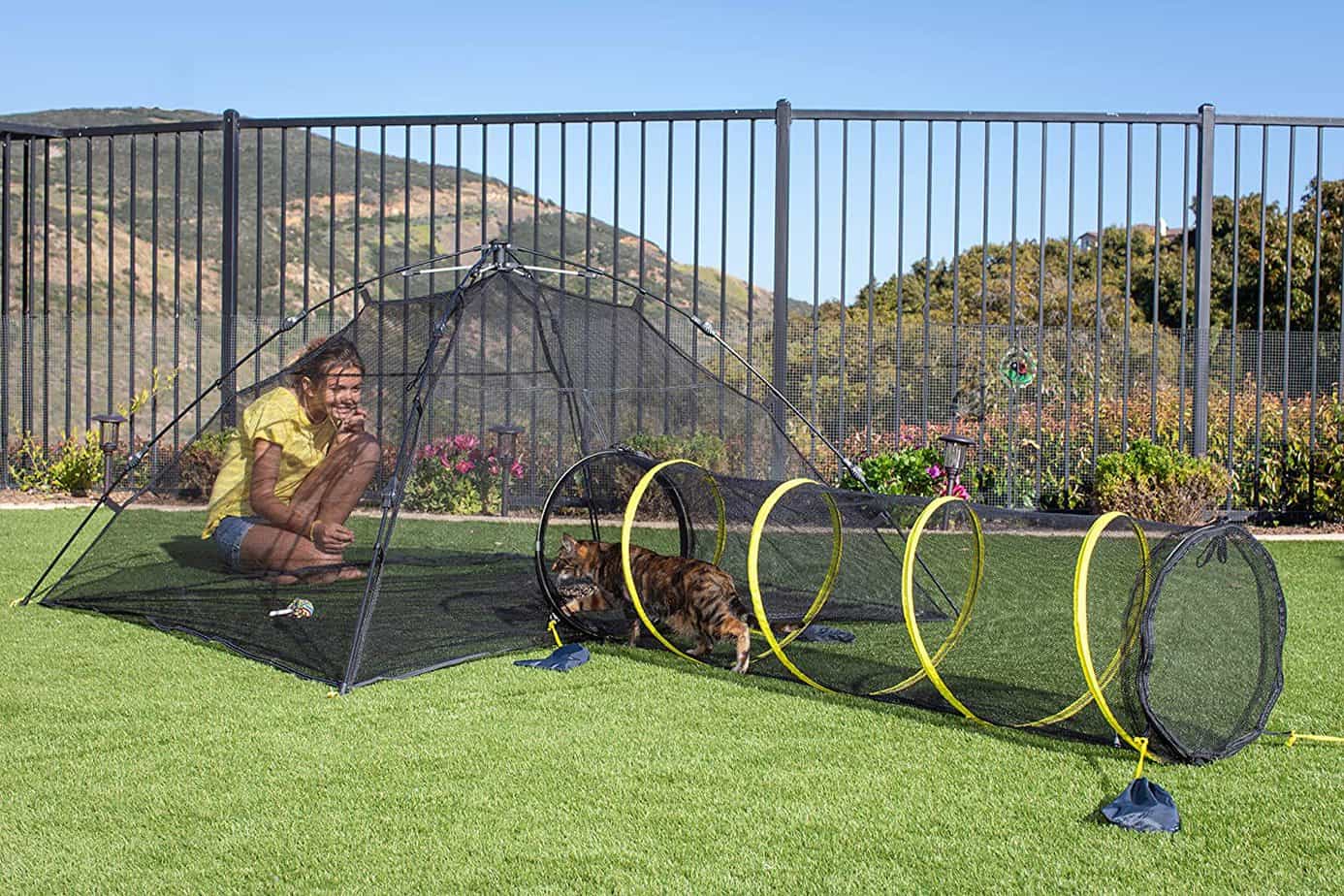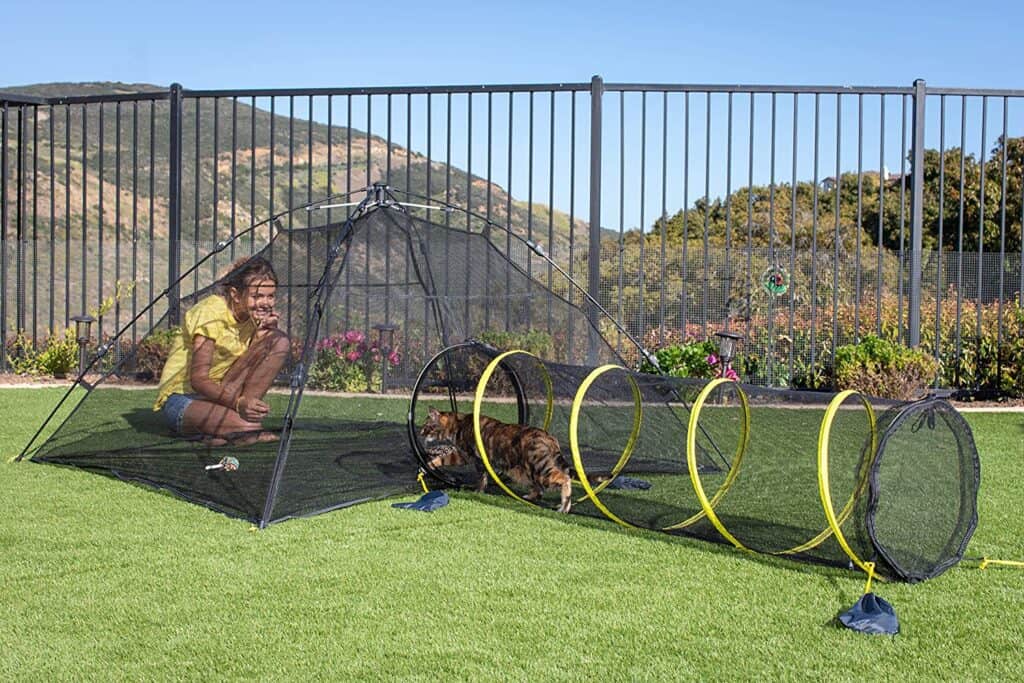 Cat harness + leash for safe outdoor exploring!
Having your best kitty friend at your camp is great – it's even more great if you are able to take him around the campground or small hikes with you!
I'm not going to sugarcoat it though.. not every cat will love having a harness on. It's something that's worth practicing at home with patience and treats though.
Make sure to get a harness specifically designed for a cat to ensure a proper fit and safe experience – I love this cat harness that has a soft, but supportive mesh design. Remember, don't take your cat on long hikes without a backpack or carrier to use after a bit!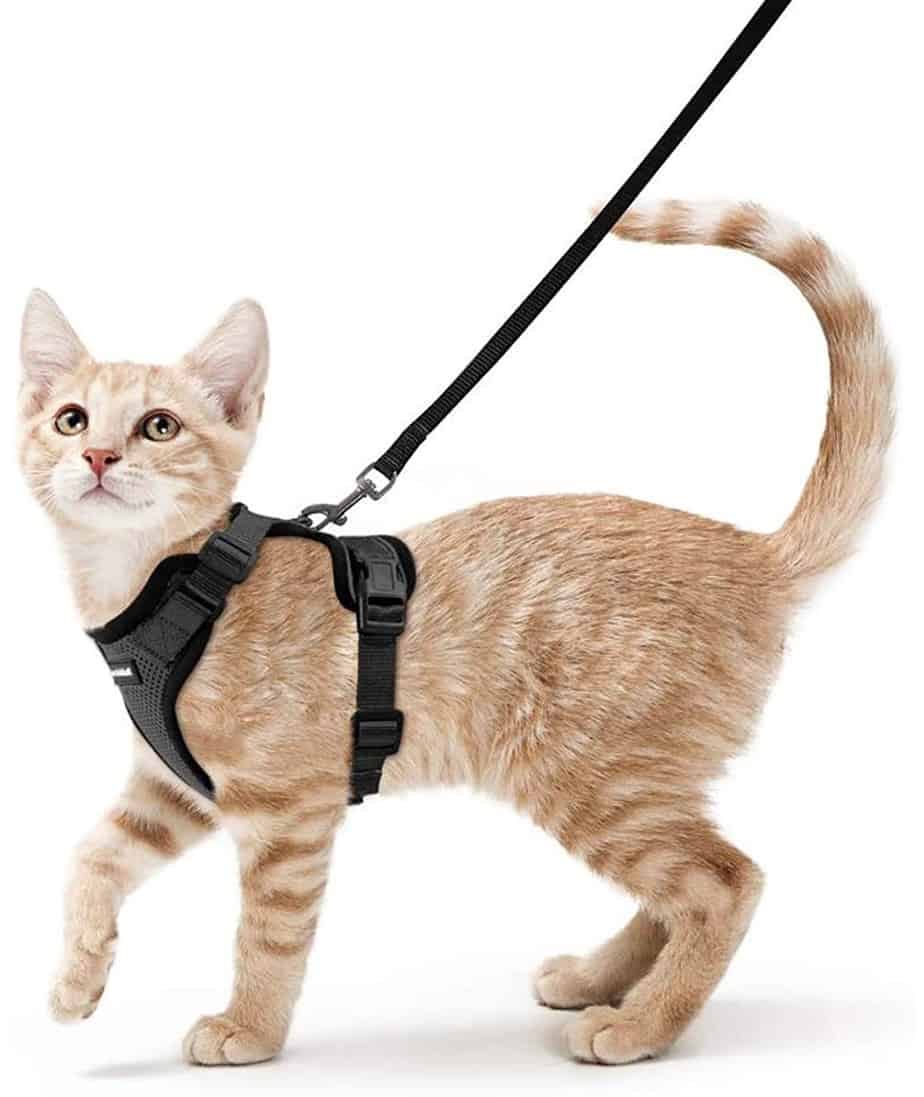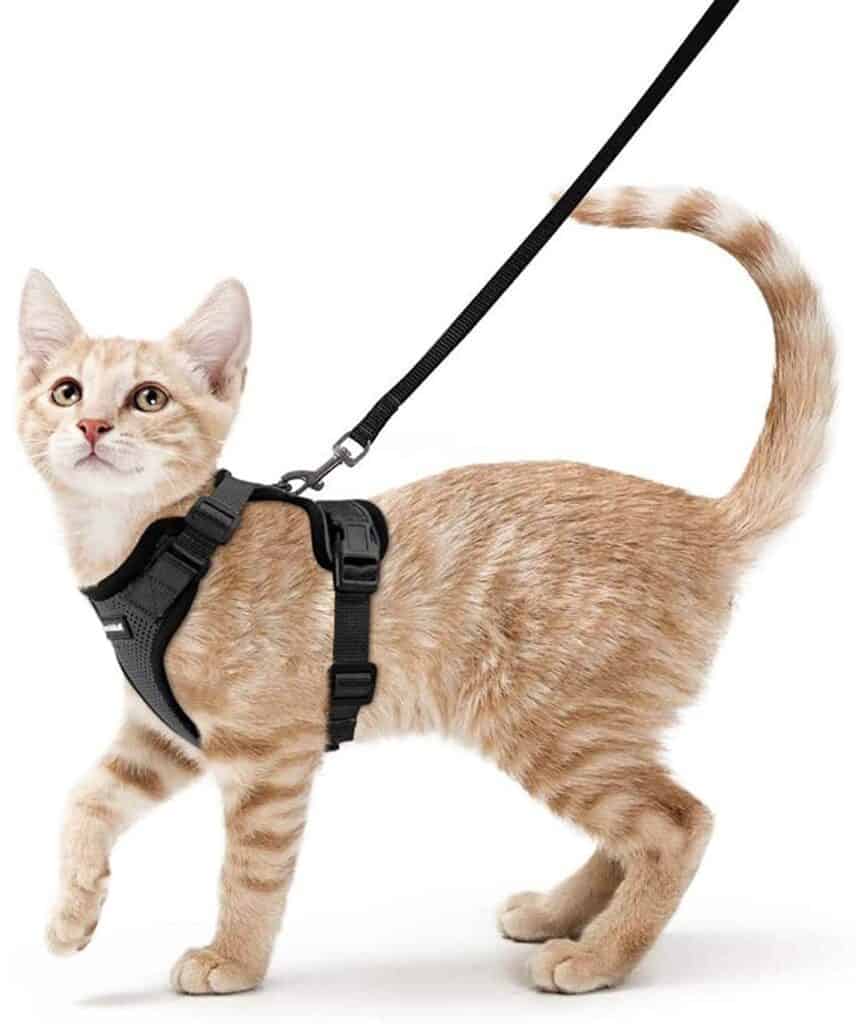 Camping cat litter box with a zip top to prevent spills
You could use a spare plastic litter box, or bring your fancy one you use at home, but the most convenient litter box to use on the road is a zip top!
Not only do the smell and mess stay contained while in transit, but it's easy to wash and repack till needed (and it folds pretty darn small!)
This leak proof litter box zips, collapses down, and is a pretty reasonable price.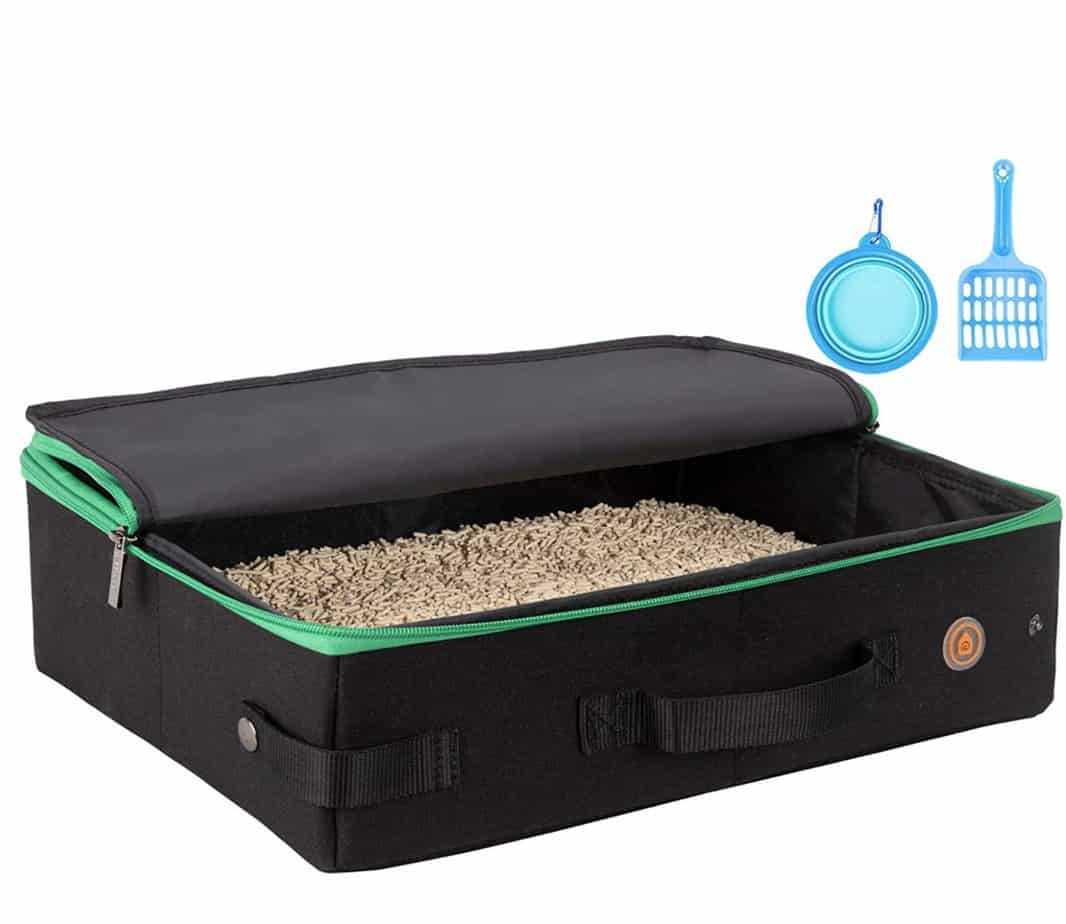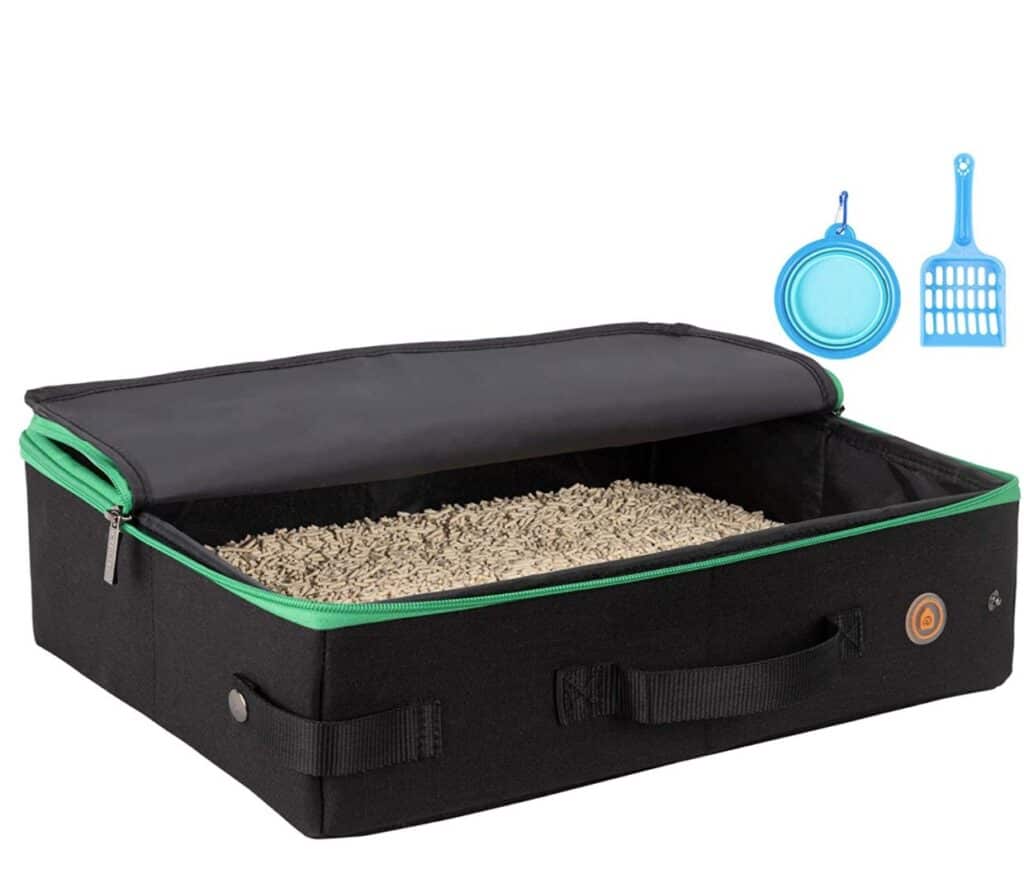 A collapsible cat carrier with enough room for a small litterbox
When traveling, it's important to ALWAYS bring a carrier! You never know what could happen on the road, and it can sometimes be useful to keep your cat contained while traveling.
Mesh windows, optional flaps and the included small litterbox (no more stopping for potty breaks!) make this cat travel carrier great!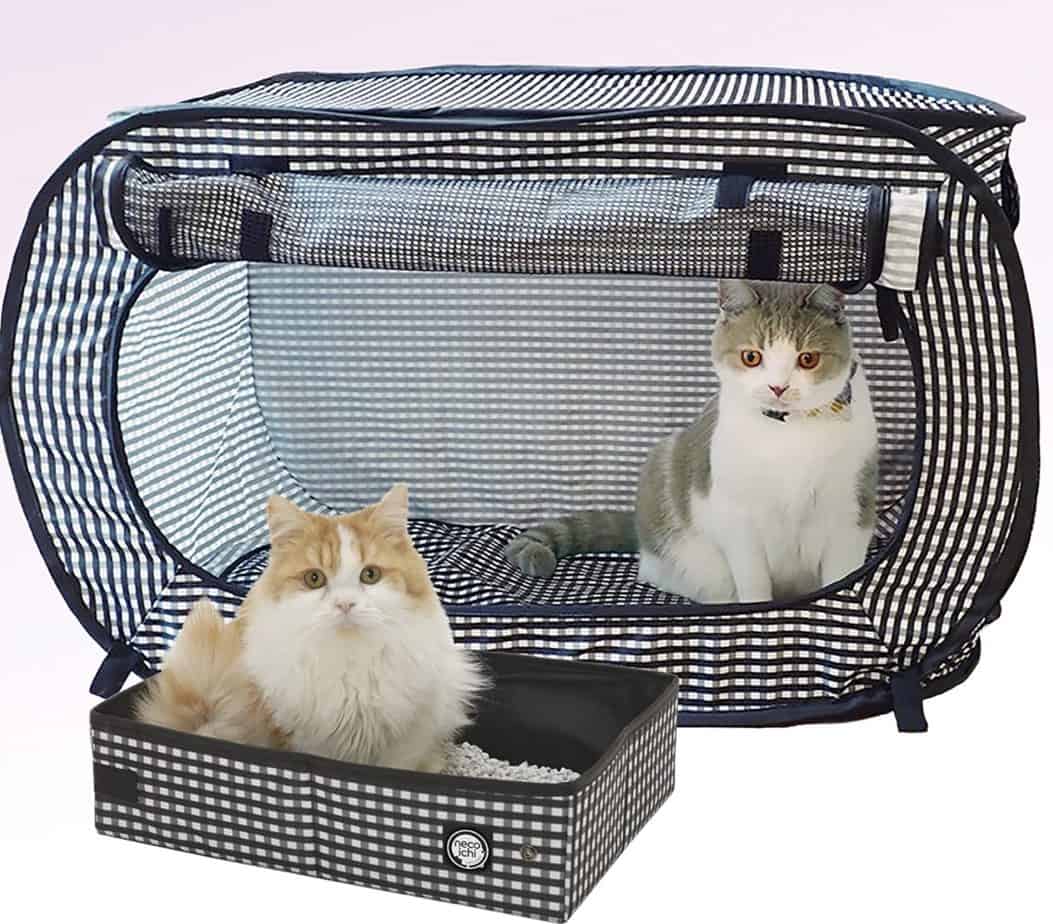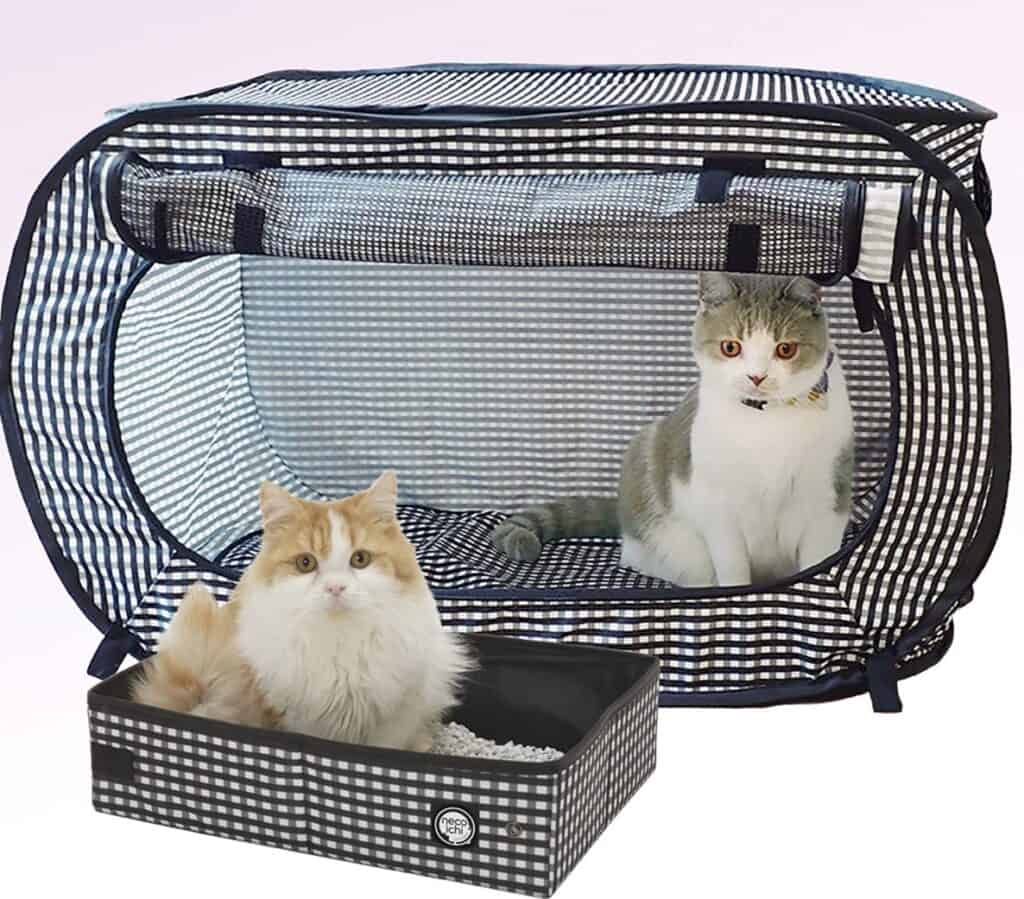 Ensure safe temperatures in your camper right from your phone
Depending on your camping style, you may need to think about setting up a temperature monitoring/control system. Leaving a window open is not enough in many places, especially during peak camping time in summer!
The Waggle monitor is super popular – it's able to send updates straight to your phone, plus these other cool features
Power loss + power back alerts for your RV
Humidity AND heat index
Option for additional alerts
Verizon service built in, so you don't need a specific internet connection for it
P.S. this temp monitor is also a great option (seems to be VERY accurate sensors!)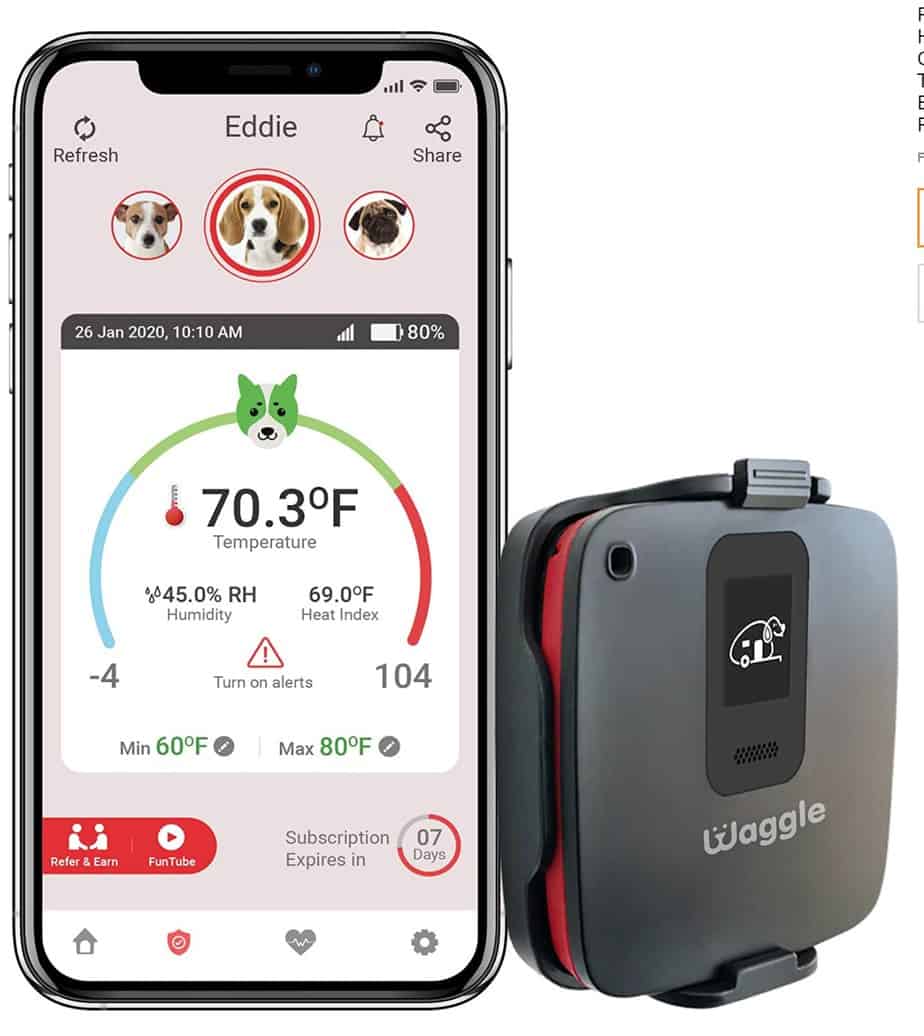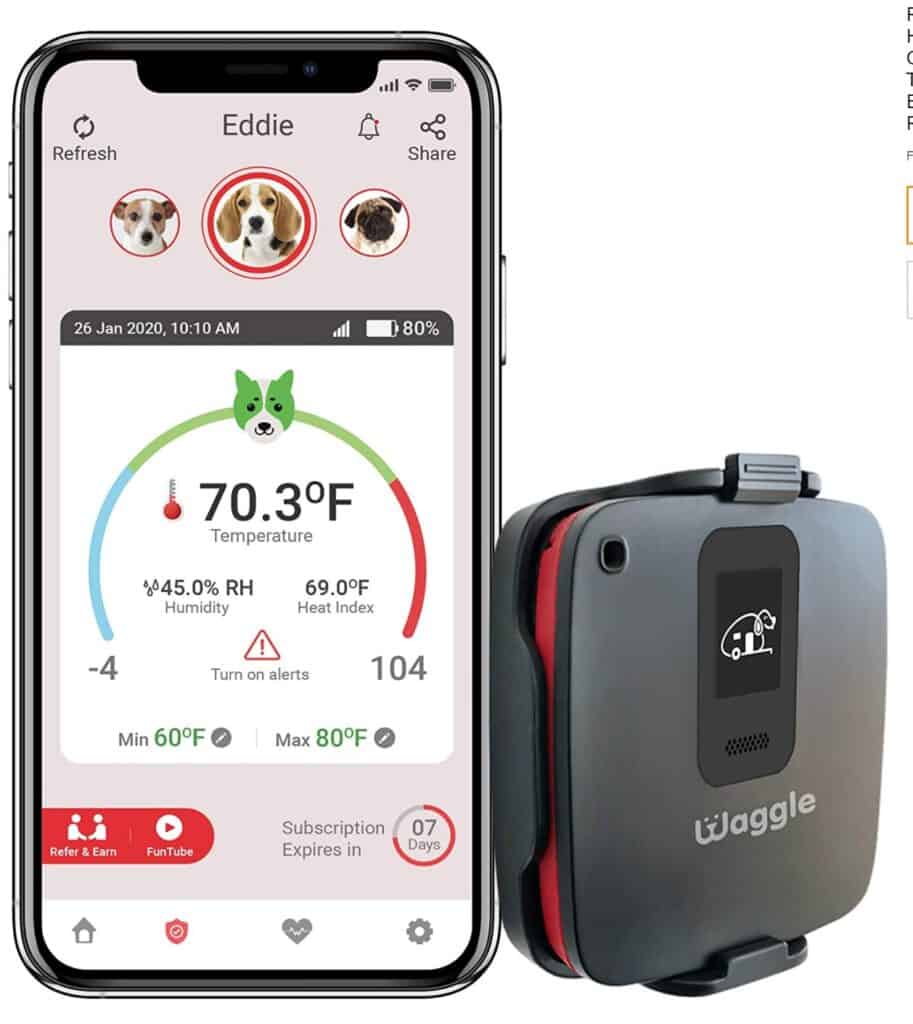 ---
Litterbox Ideas for your RV
Every rig is different, but here are some pictures from other camping kitty families.The most popular placements seem to be the following:
In the shower
Under bench (remove drawer, leave open and put a litter box in the empty space at the end)
In the basement area (cut a hole for access to basement and put up a kitty door)
Under bathroom sink
Cutting a hole somewhere there's space behind it (under beds, cabinets etc)
Here are some more general litterbox tips while camping
Tidy Breeze Litter System

for less dust and smell – Many people specified that they used this sysem in their camper because there's hardly any tracking! This system also makes ues of a pad (you only change it once a week though) that really helps keep urine smells down and the box clean
Switch to

pine litter

– Significantly less dust, lightweight and very absorbant… all good qualities in a cat litter that is to be used in a small space like a camper

Furniture with built in cat acces

s – If you don't feel like cutting a hole to a storage area/bench, then see if you have space for something where the work is already done!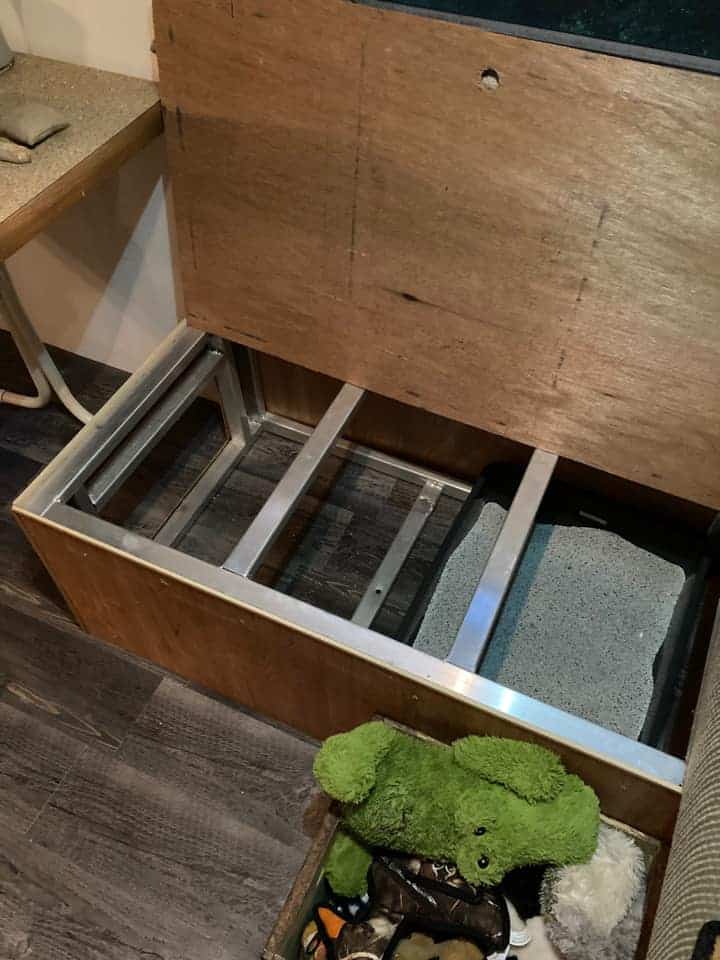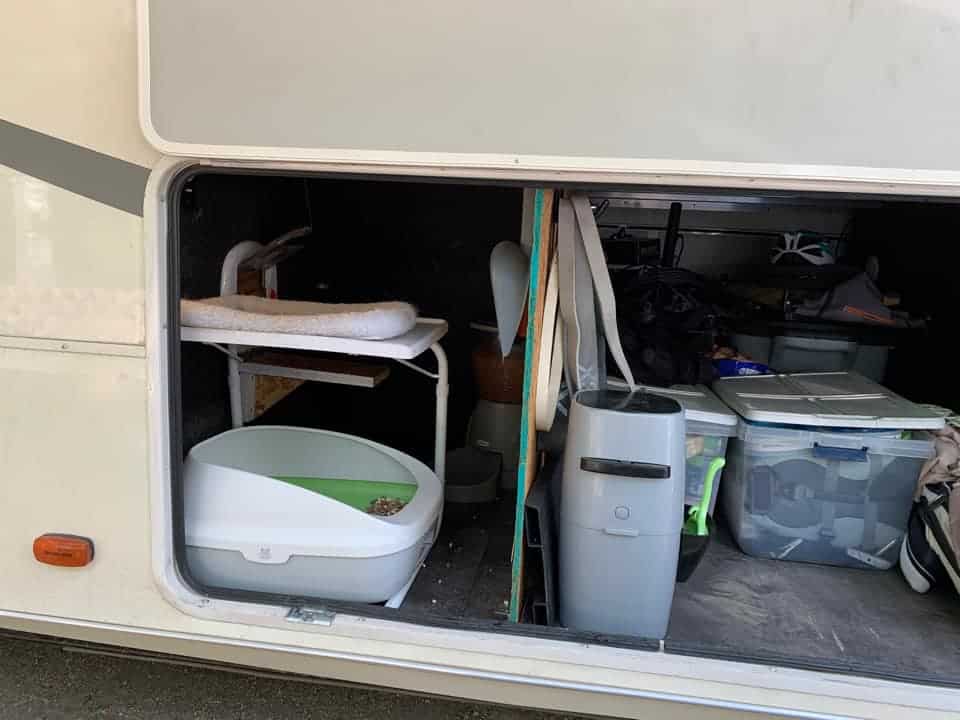 via C. Eden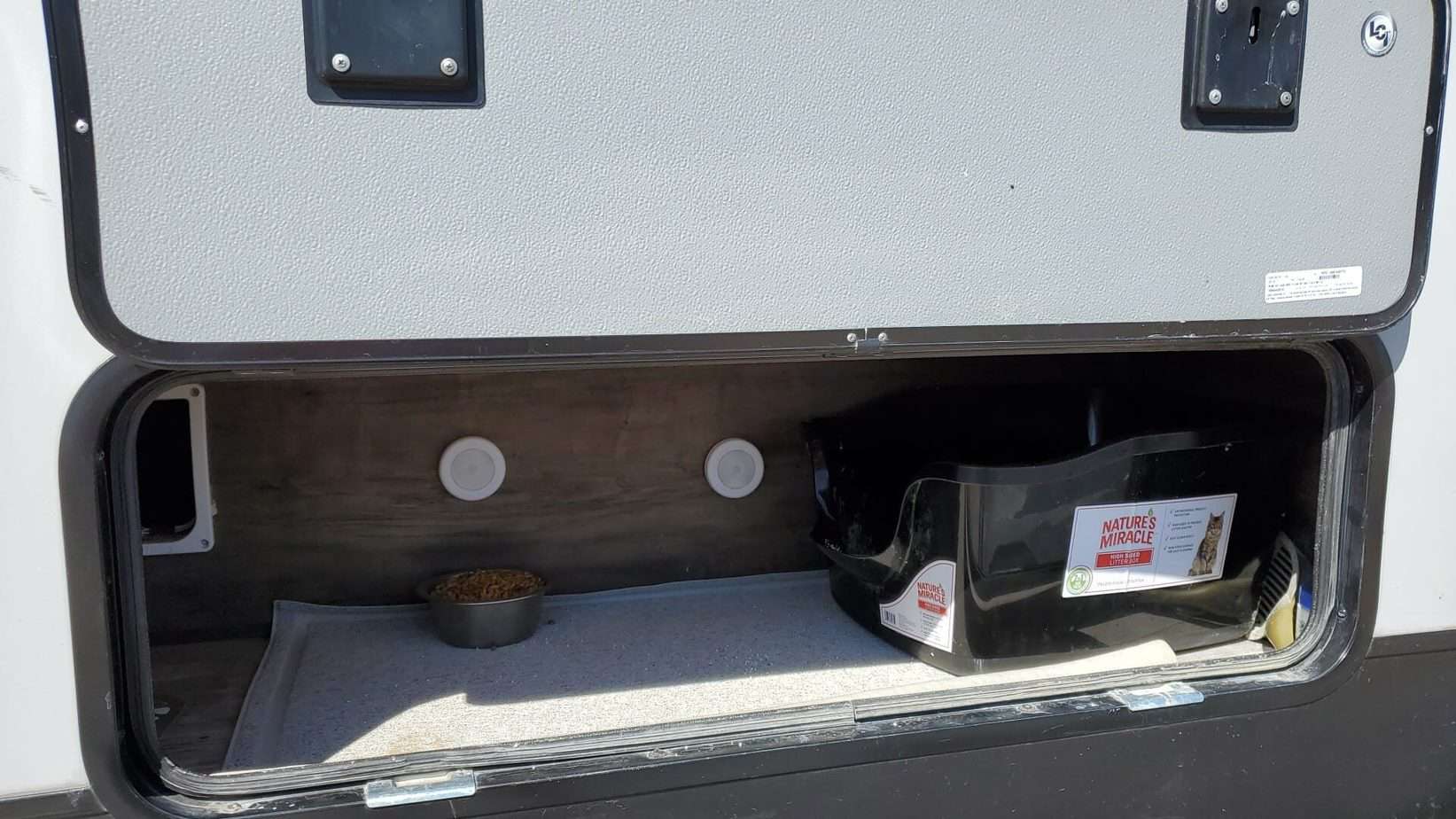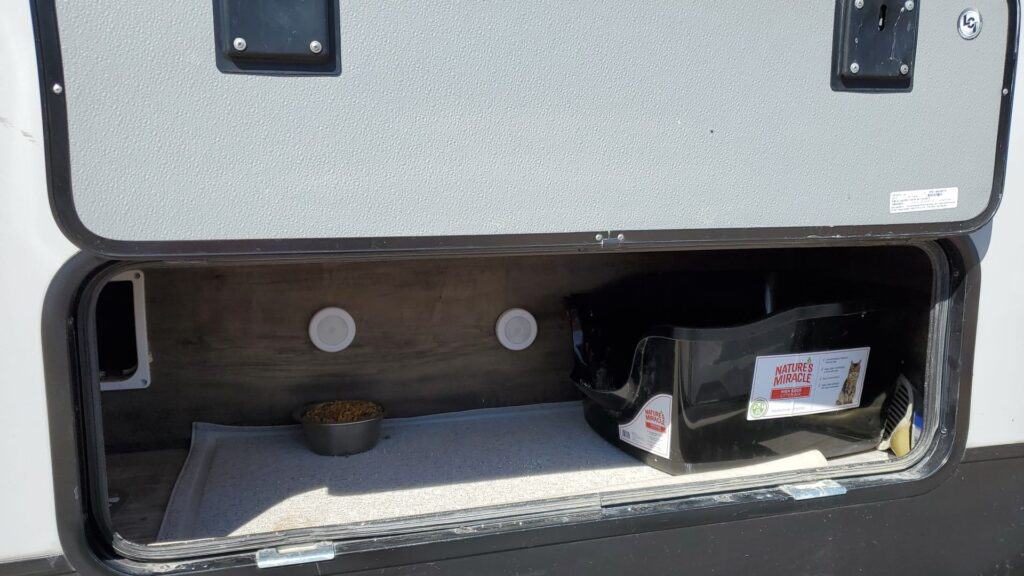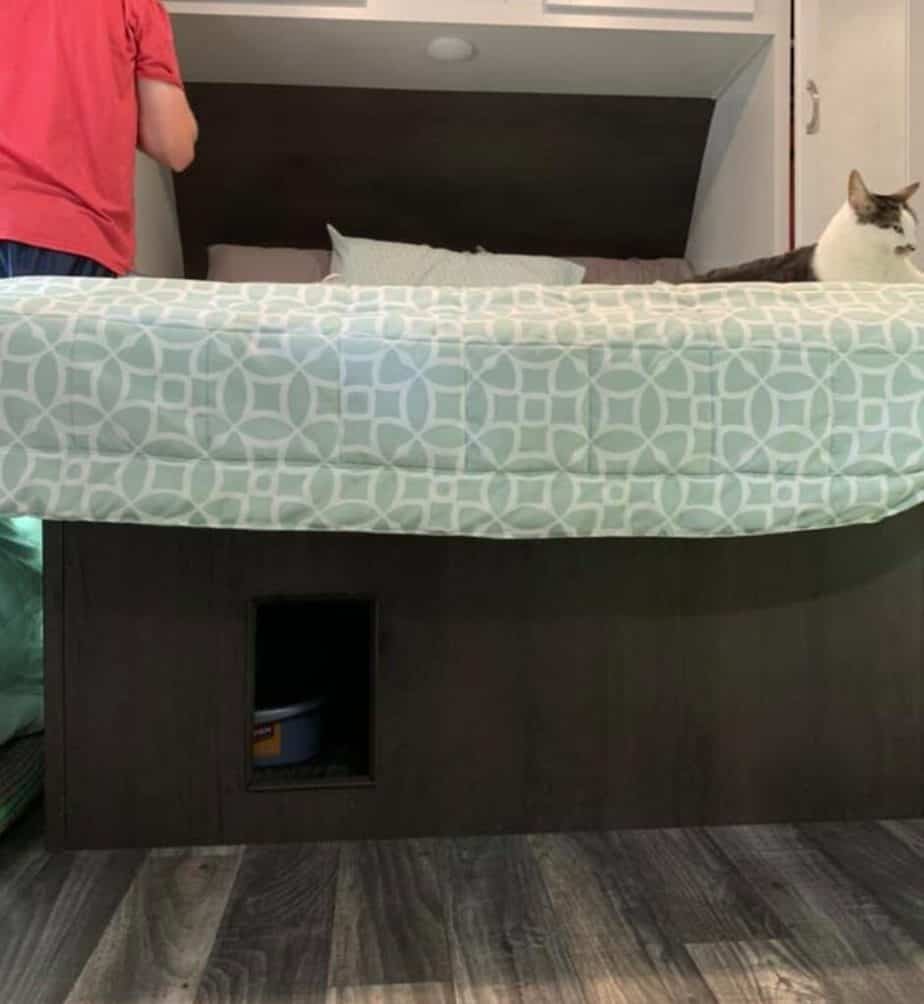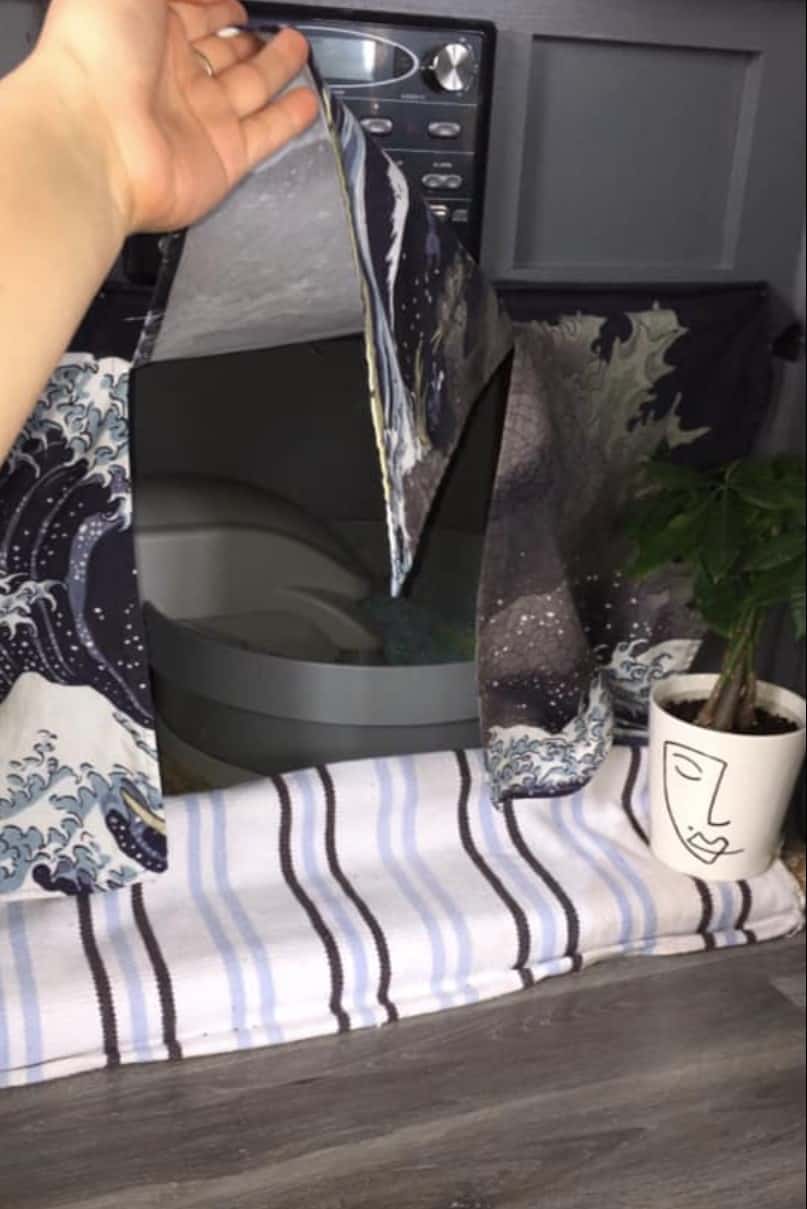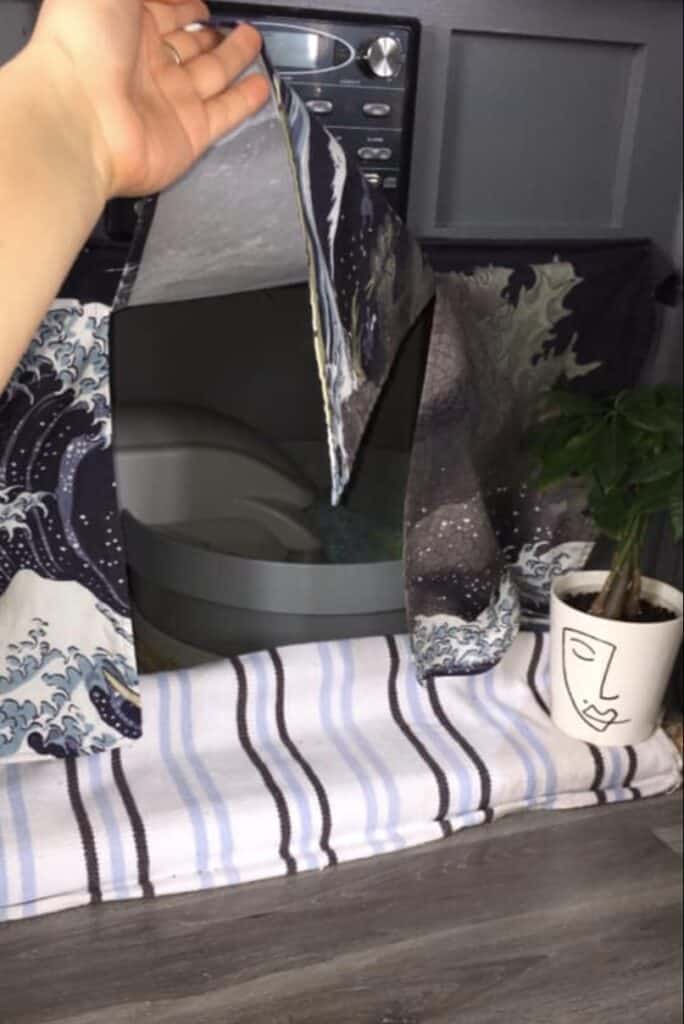 "Catio" ideas for your cat while camping
Just like at home , indoor cats love being able to go outside… and if you can get a setup that allows them to safely go in and out whenever they want, everyone is happy!
Most set ups either utilize a window or an exit through the basement/storage space. Here are some ideas for inpsiration! Make sure to leave a comment if you have a catio you'd love to share!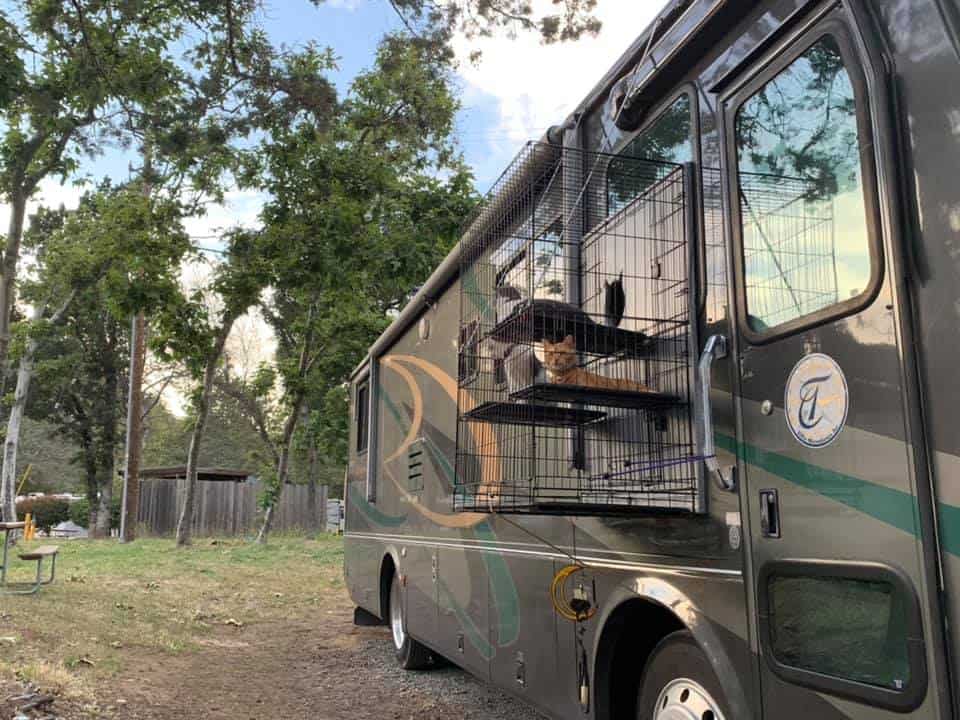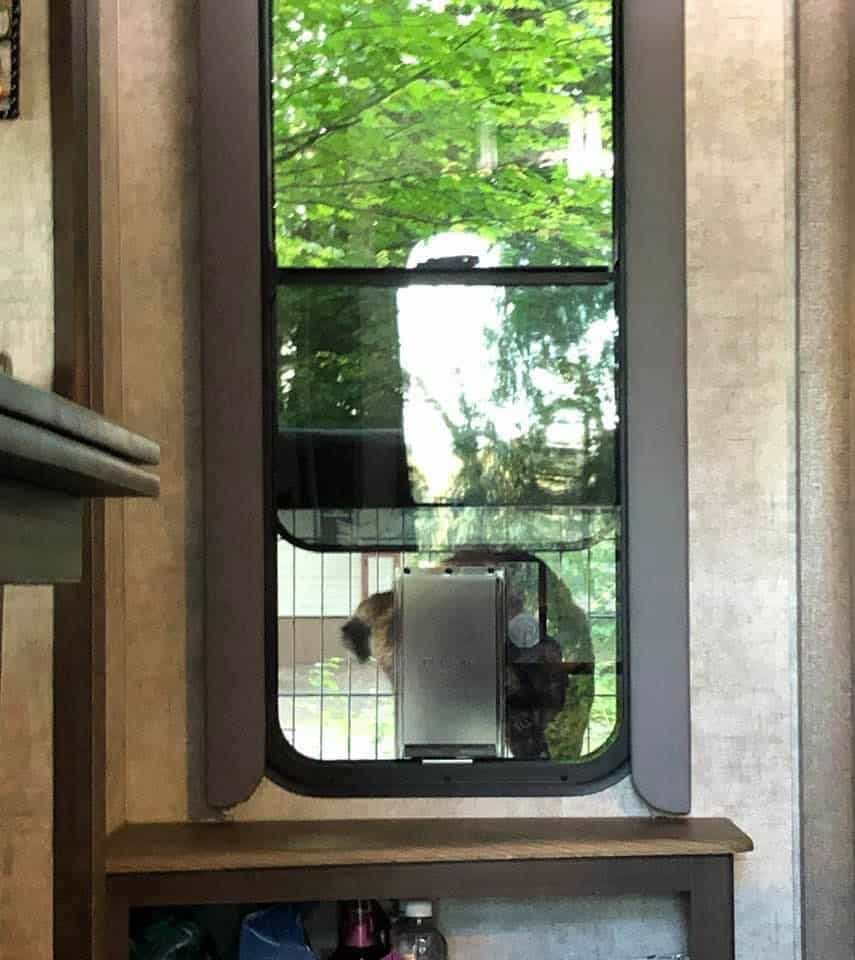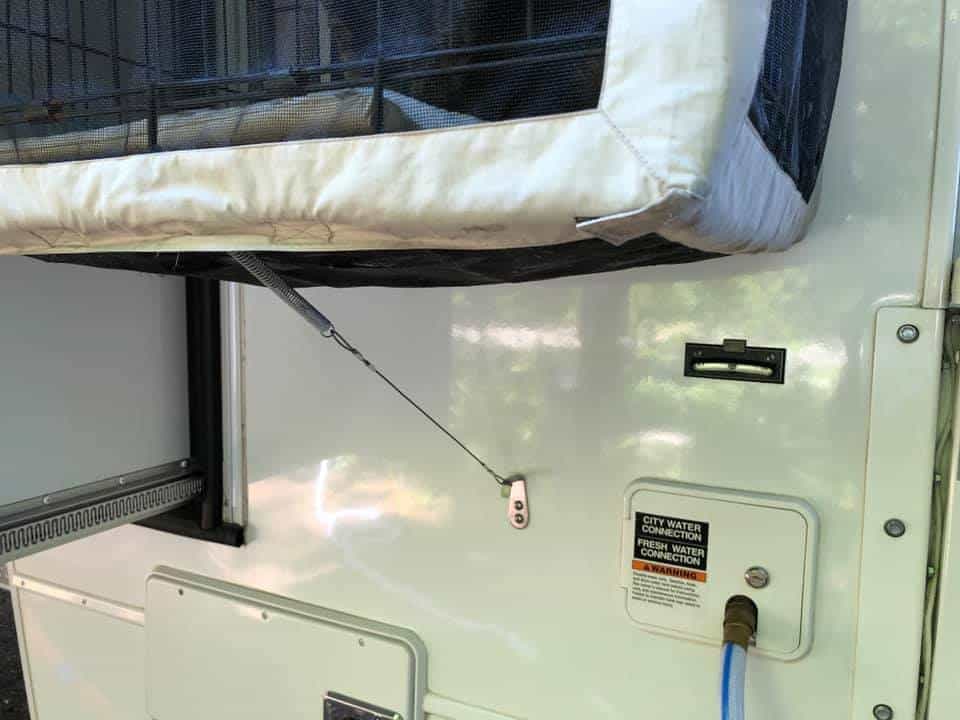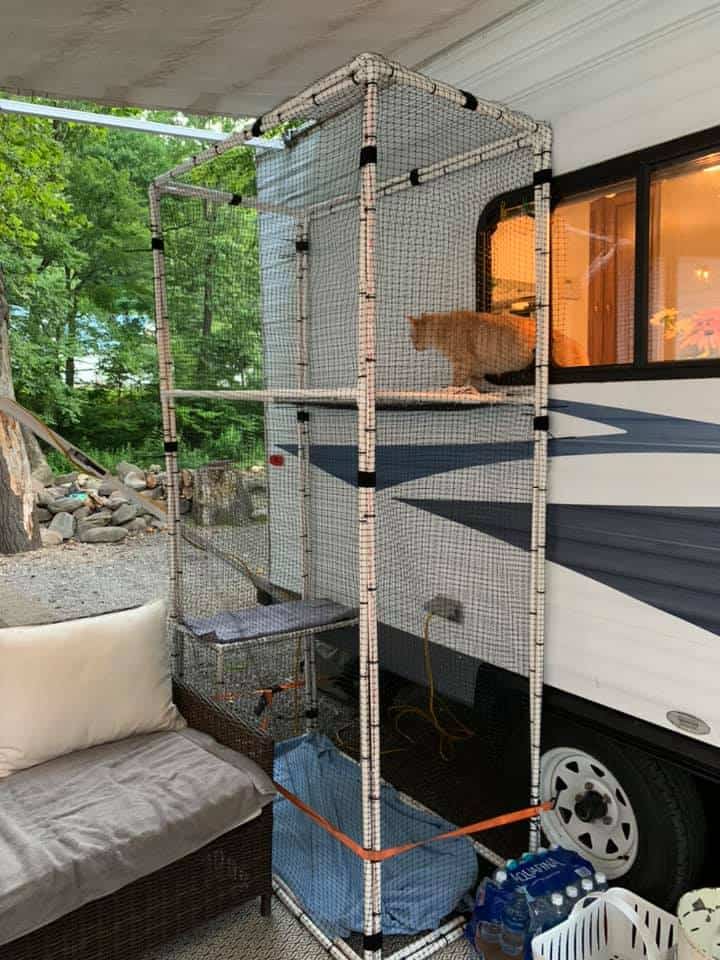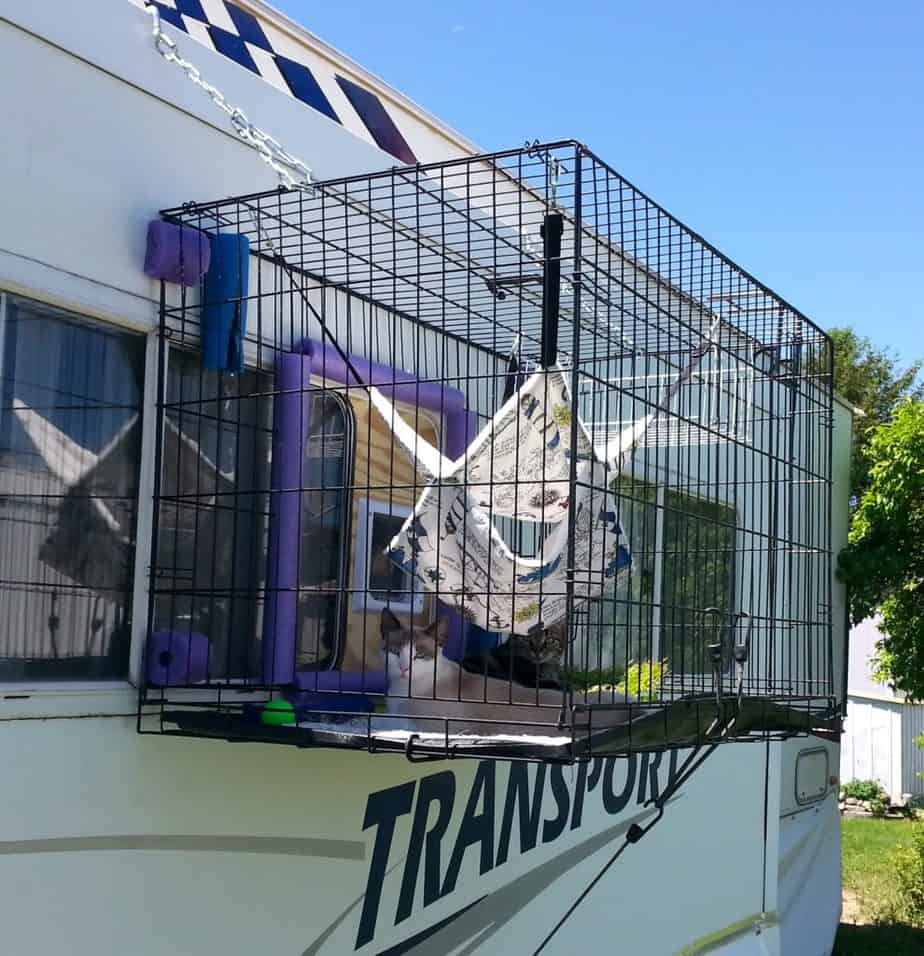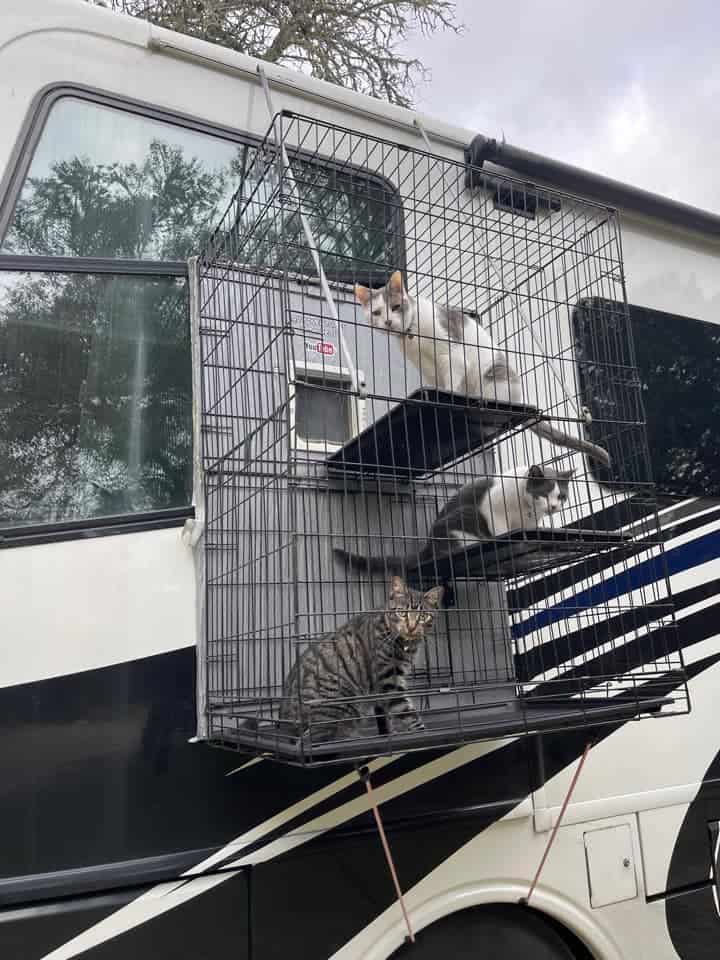 More PURRfect tips for a cat camp trip!
Some more tips I've found that will make your experience even better. =)
Write your site name and dates you'll be there on another tag and add it to your cat's collar
Access to the outdoors If you'll be somewhere for awhile, think about setting up an outdoor enclosure of some type
Ensure you'll have

temp monitoring

if you plan on leaving– Most cat owner's use the Waggle system to monitor temperatures while away

Calming collar

for travel/first timers – Special cat collars with a calming pheromone are an awesome option to help your cat relax during travel or camping for the first time. They help reduce yowling, scartching and other unwanted behaviors that might be exaggerated by doing something new.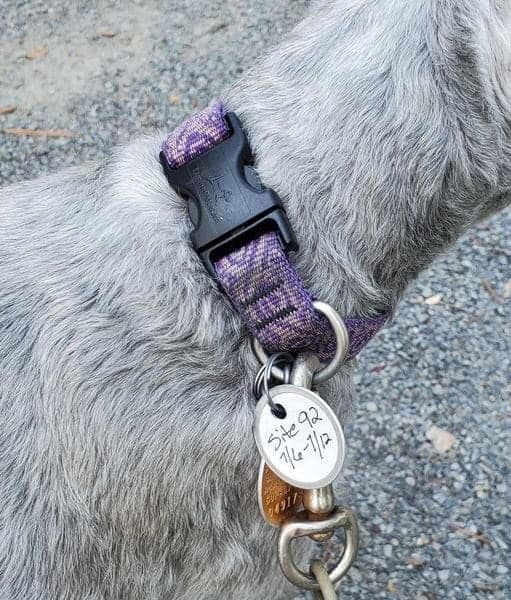 Camping with your cat is very possible, and I hope these ideas have helped you feel more prepared!
If you have any questions, or would like to submit some cool camp setups of your own, please email me at [email protected] so that I can add them to the idea bank here!
Check out Instagram's camping cats for some cute pictures… and more inspiration!
Latest posts by Stacy Bressler
(see all)