Create this homemade birthday banner with a cute sunflower theme for your birthday girl!
With my twins first birthday coming up (my last babies =( ), I knew I wanted to go big (and beautiful!) so I wanted a country rustic sunflower theme that would perfectly compliment both their personalities and the flowers of the season!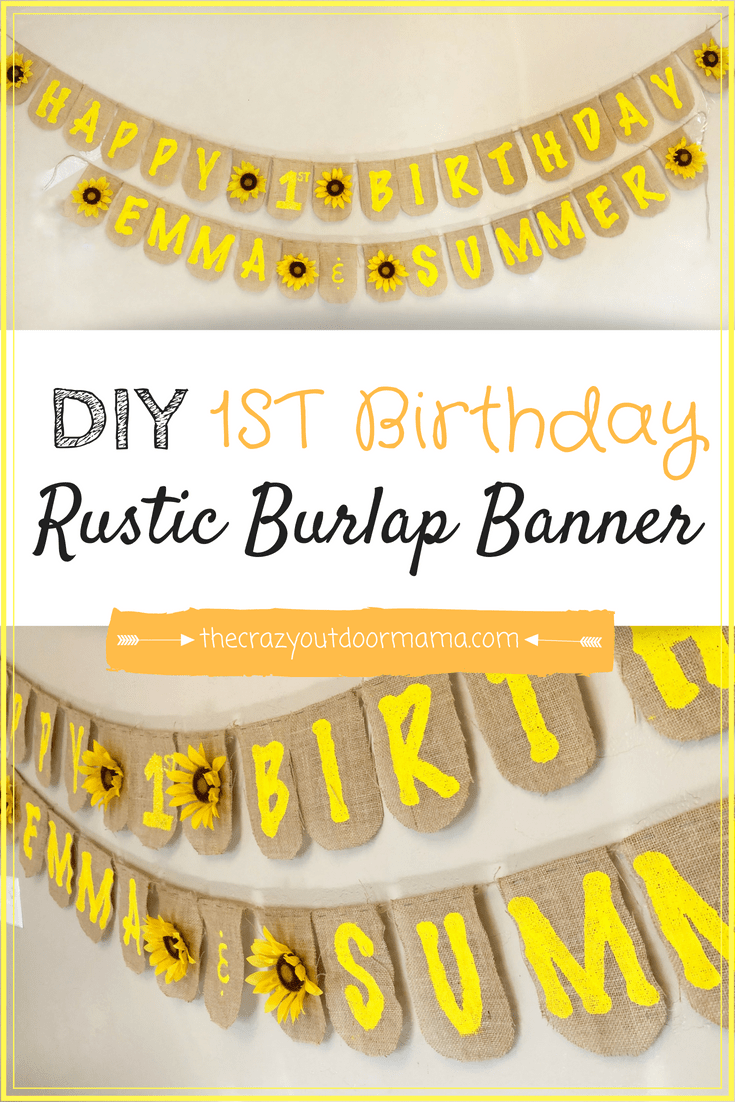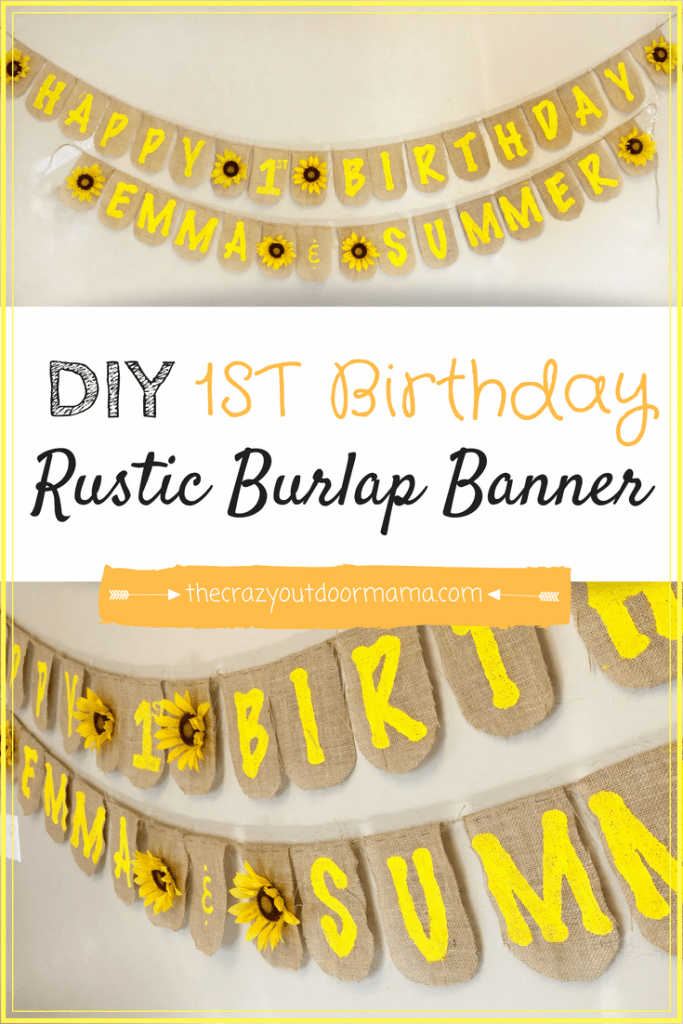 Of course, I jumped onto Etsy to see what there was – I wasn't disappointed.
There was tons of cute stuff, but the problem was that it was insanely expensive!
I wanted a couple of key first birthday components – a banner, a month by month banner, and some cute highchair decorations.
I also needed things like balloons, cake decor, etc.. and it all started to add up!
I decided that I'd DIY it all myself, and do it even better than what I saw!
The first step was a "Happy Birthday" banner customized with their names, which is what I'll be covering first.
This DIY will be a 3 part series that eventually ties into a whole sunflower theme post!
If you want to see more cute rustic/shabby chic decor, check out the highchair banner decorations from this party here!
Let's begin!
Items needed for your burlap sunflower birthday banner
1-2 Yards of Burlap (from the fabric section) – It's best to buy this in bulk. YES you can buy them pre cut, but it's super expensive and you also don't get to personalize the shape and such. At Wal-mart it was around 5 dollars a yard, so it doesn't hurt to get extra to ensure you have enough! (Especially if you intend to do all the DIY decor in this series!)
Yellow Paint (and paint brushes)– I got "Craft Smart Acrylic Paint" in Bright Yellow. You don't need much, but again, it's used for other decor so it wouldn't hurt to buy a decent size bottle. After all is said and done, I still have half of a 16 oz bottle left!
Plastic Stencils – Don't skimp and buy paper! The paper gets soggy and smears easy, so, if you have the means, buy a plastic set! Mine cost around 15 dollars, but they made the process so much easier!
Twine – Look for something fairly thin!
Fake Sunflowers (or flowers of your choice!) – This banner is a theme that could work with a lot of kinds of flowers, especially wildflowers! I put one between each word, so depending on the number of names (I have twins!) you may need more or less.
Stapler – This is just a super easy way to attach the burlap to the twine. You could get fancy and use grommets, but the staples aren't super visible, are pretty secure, and are a good time saver so that you can invest it elsewhere!
How to assemble your cute country rustic banner!
Create a template for your banner pieces and cut them out of the burlap– Use something sturdy such as cardboard. For this project, my pendants measured 7″ tall and 4 1/2″ wide. Count out the number of pieces you will need, making sure to account for spaces between words! It might be easier to cut out rows of burlap that are the right height, then trace on each one! 

Paint your letters onto the burlap – It's easiest to do all the same letters at once – IE, if you have 5 a's total, do all of them at once instead of waiting to get to them with the next word. It just saves time wiping off your stencil, and reduces the chance of accidental smearing paint on the burlap from extra paint on the stencil! FYI – Burlap does use a lot of paint, and some of it goes through to the other side so be sure to paint on top of something washable or disposable! (I just used cardboard!)

Staple the letters to the twine – Fold the top of the burlap behind itself, over the string. It's nice not to staple it onto the string itself because then you can slide it back and forth if you need to adjust the spacing later. Be sure to think of how you want your message set up! We divided ours into to rows.

Staple flowers to the blanks in the banner – If you are using sunflowers (or any larger flower) just staple the green part underneath the flower itself.

Done! This DIY Birthday Banner idea is an easy homemade first birthday decoration that everyone will love! Especially for a twin girls 1st birthday!
Did you do any varitations of it? Let me know – I'd love to add it to this post to give other people ideas of what will look good!
P.S. If you want another banner idea that doesn't use burlap  (but still cute), check out this cute DIY tutorial HERE
Latest posts by Stacy Bressler
(see all)