This easy DIY flower handprint craft is a perfect handmade gift for mom or grandma!
I am absolutely obsessed with sunflowers, which is why I am so psyched to show you how to make this quick and easy sunflower handprint craft!
My grandmother is visiting for my twins first birthday party (which, of course, in sunflower themed! :P) and my mom brought up that she would love a gift from the grandkids!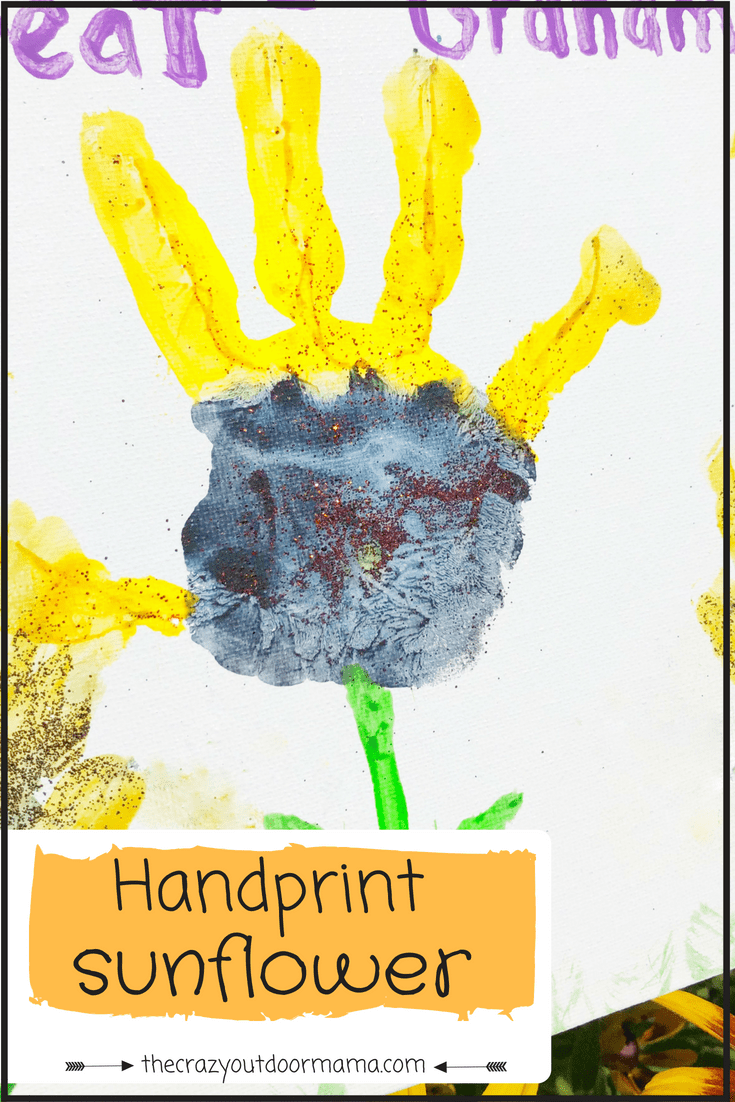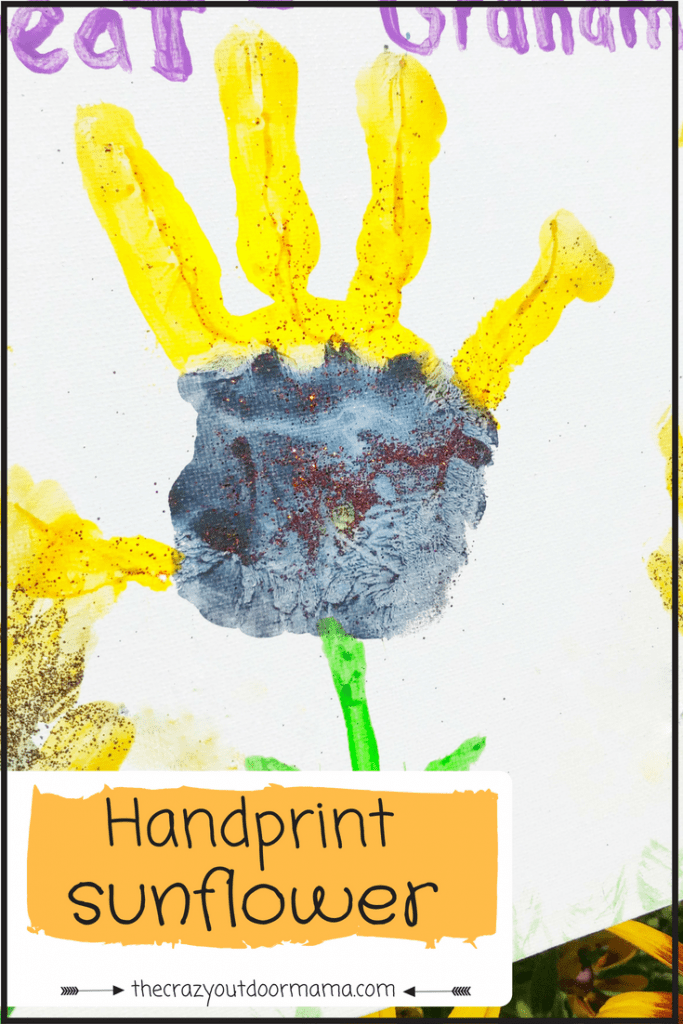 She lives very far from us, so I wanted to do something handmade by the kids.
Something unique, as well as flowered themed, as both of us love flowers!
That got me thinking… let's turn the kids' hands into sunflowers!
I love painting the kids' hands and feet and love thinking of new ways to make cute pictures out of them!
Materials needed to make this cute handprint flower craft
This craft can be as easy or advanced as you like!
I'm kind of a perfectionist, so I always use things like glitter and canvas to really give it that extra punch!
Materials needed:
Paper or Canvas Board
Black, Yellow, and Green Paint (And a word color!)
Paintbrush
Glitter (optional)
How to paint your child's hand for this sunflower handprint art!
Let me preface this by saying the older the child, the easier!
My toddler was WAY less difficult to get this done with (besides his need to apply an "extra" sunflower, as you'll see in the finished product!)
If you are doing this with babies, you should definitly get a 2nd person if possible.
Being that there are two colors for this handprint craft, and the tendancy for babies to make a fist, it really makes for a hard time of getting the full, unblended handprint!
Just keep in mind, this IS kid's arts and crafts, and mistakes are bound to happen!
Pin this cute kid's DIY handprint craft for mother's day, or just for the next homemade birthday gift from the kids!
Anyone who loves flowers is sure to love this fun handmade craft from the kids! I might even make one for myself!
Enjoy summer and the iconic sunflower, a marker of summer time heat!
If you're looking for more sunflower crafts, there's a great roundup of sunflower hand and footprint crafts here!
Here's another way to make a sunflower handprint craft here and some handprint cutout sunflower art here!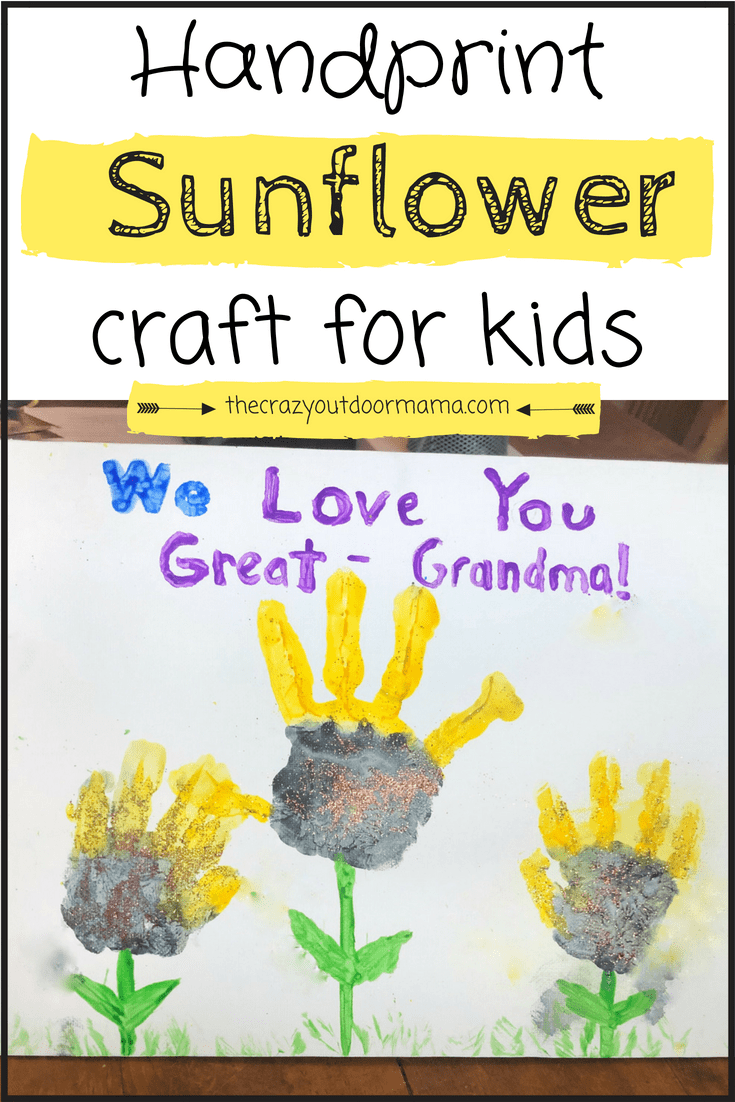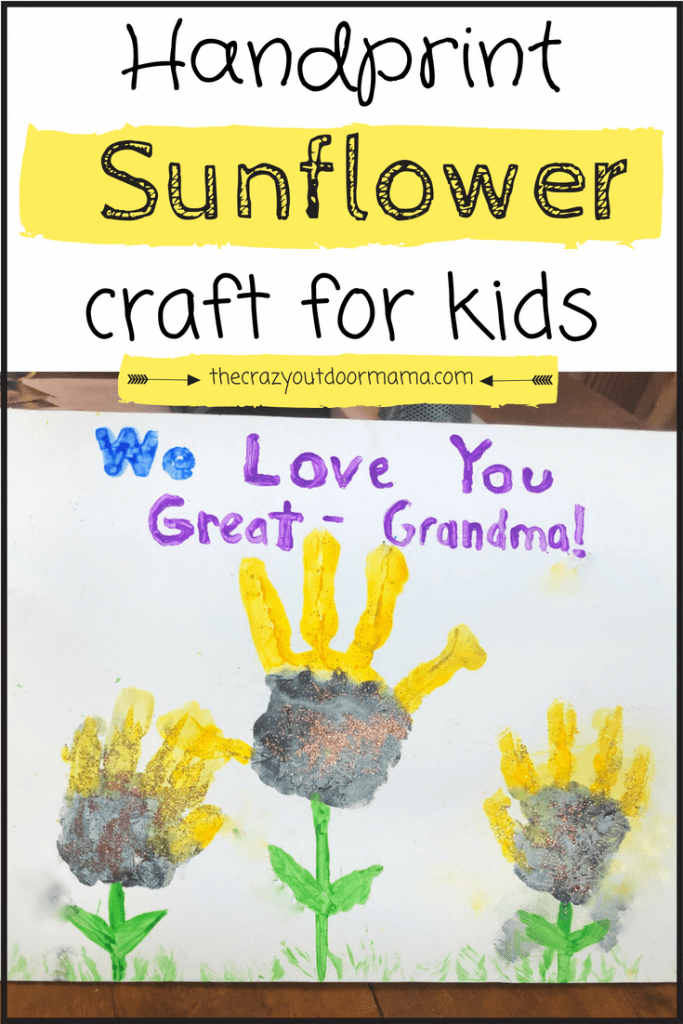 Latest posts by Stacy Bressler
(see all)