What better way to craft for the 4th of July with the kids than with something glowly like the fireworks… a patriotic GLOWING lantern!
If you've ready any of my other articles, you probably already know that I really, really love to use what's around the house as much as possible for my crafts.
I've had a couple orange juice bottles sitting around and I finally found the perfect craft for them! Pretty decorative lanterns that can be as advanced (or simple!) as you like!
Here we go!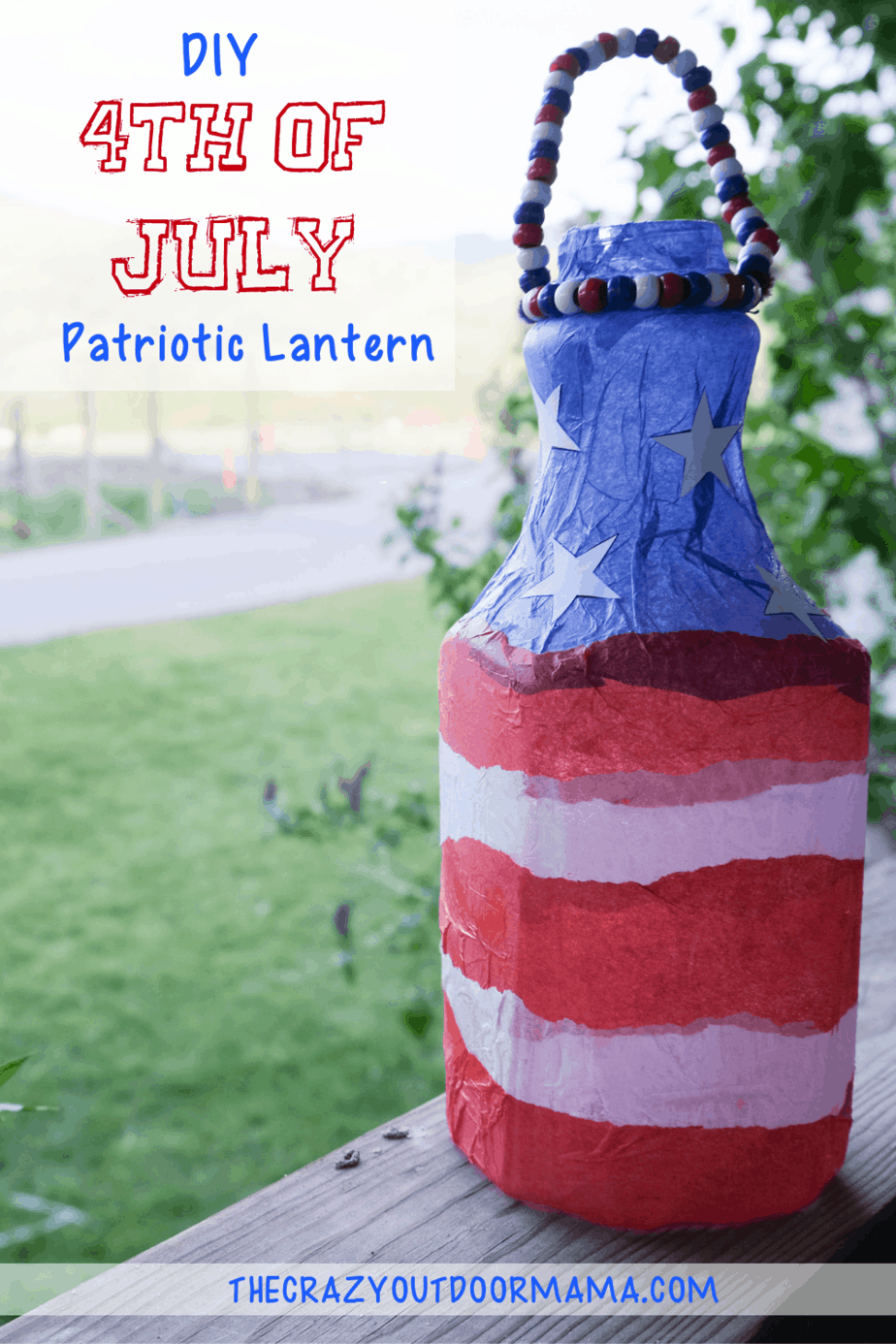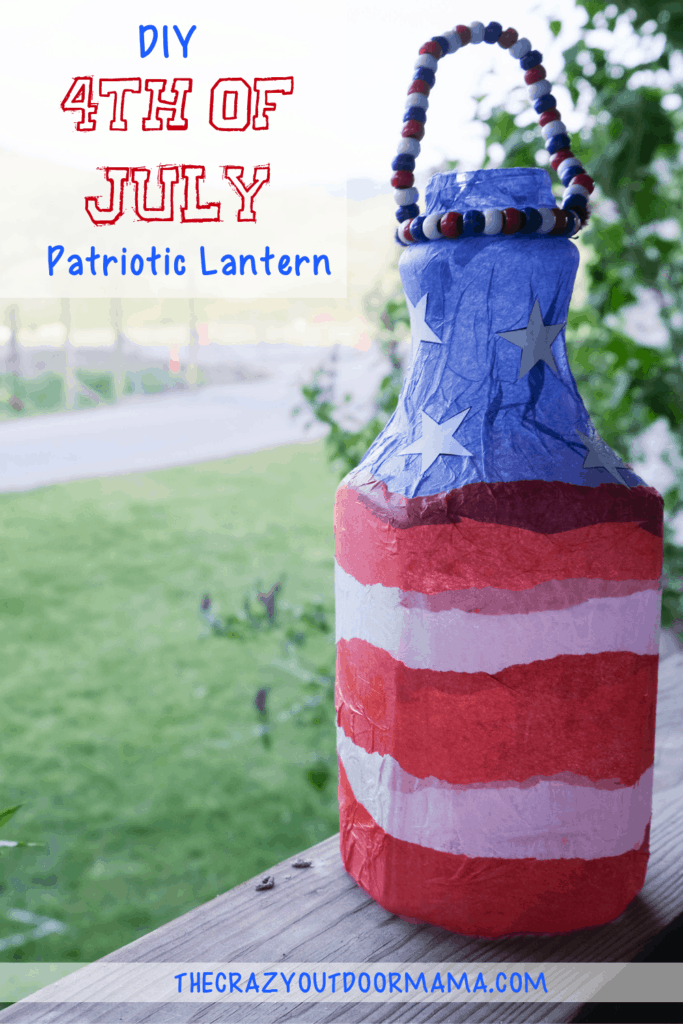 How to make this pretty 4th of July Lantern (from a recycled bottle!)
As long as your bottle is clear, this will work!
I did this one more than my kiddo, but if you do want kids to do it, it might be easier to just let them decorate with the colors in whatever pattern they want. If it's red white and blue, I'm sure it will still look good!
Yield: 1
4th of July Patriotic Lantern Kids Craft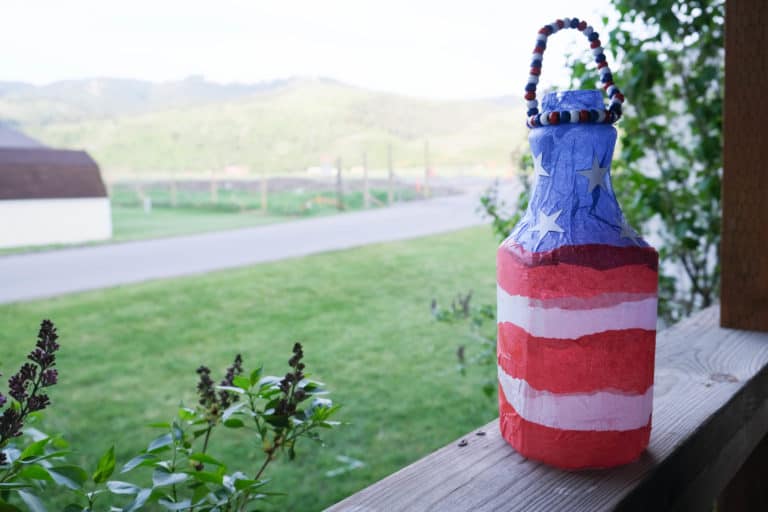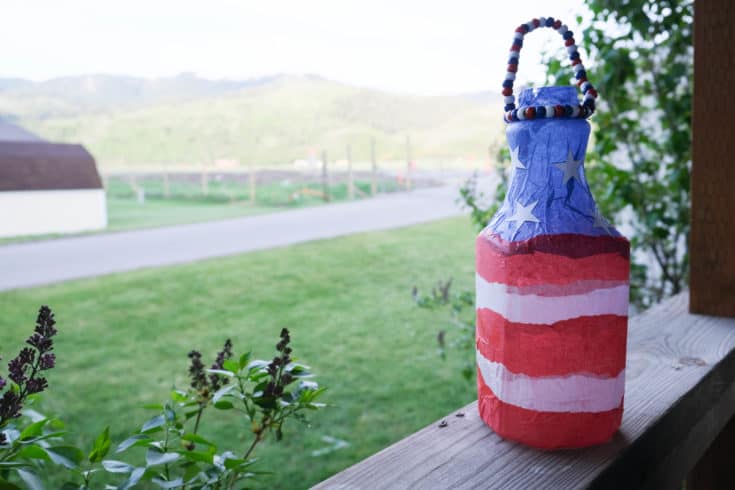 Make this pretty 4th of July Patriotic Lantern craft and glow like the nightsky! This 4th of July DIY lantern decor can be done by kids or adults, and will be one you reuse next year!
Materials
- Large clear bottle (OJ, Soda, coffee etc)
- Red, blue and white tissue paper
- Modge Podge
- Printed star shapes or paper to cut out shapes from
- 1 or 2 pipecleaners for handle
- Beads (optional!) to decorate handle
- Glowsticks or electric candle for the glowing effect (optional)
Instructions
Tear off and crumple large piece of tissue paper roughly the size of the top part of your container.
Tear 2 or 3 strips each of red and blue tissue paper (you could cut them, but I think the rough edges add to this!)
Using a paintbrush, cover the top section of the container with modge podge. Press your blue tissue paper on. Make sure to cover the threaded section on top.
Now cover the bottom of the container with modge podge and alternate red and white strips of the tissue paper.
Cut out your stars (if you're not good at freehanding.. which I'm not.. make some on Microsoft word and print them!) and modge podge them to the top.
Go over the container and paint over any loose edges with the modge podge. Mine dries clear and glossy, so if you want that look, you can go over the whole thing with a light coat!
Wrap a pipe cleaner around the top of the bottle, just under the lip of where the threaded portion starts. Take it off, and slide on red white and blue beads to cover the length of pipe cleaner needed to wrap around the lip.
Get a second pipe cleaner and measure out how long you want your handle. Slide beads on that one in same pattern, and VERY securely attatch to each side of the pipe cleaner already on the container.
If you choose, insert glowsticks to make it glow! There are ones that come with strings so you can sort of hang them from the top that look great! Alternatively, you could make a slit in the bottom large enough for an electric candle and insert it that way.
I hope your patriotic DIY turned out beautiful!
This is a pretty forgiving craft because the rough edges really add to it! Especially if they overlap a bit in places and you see it through the light!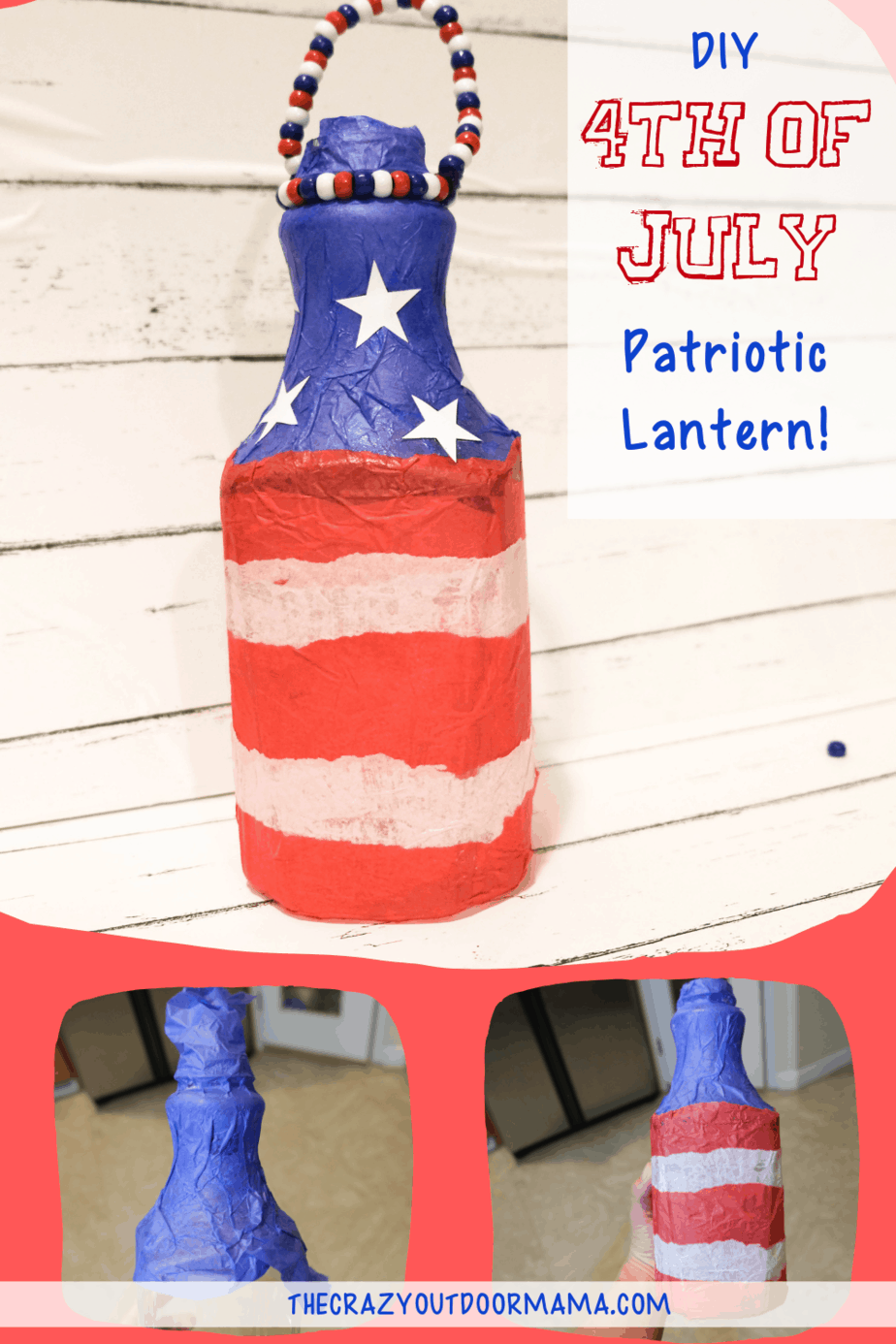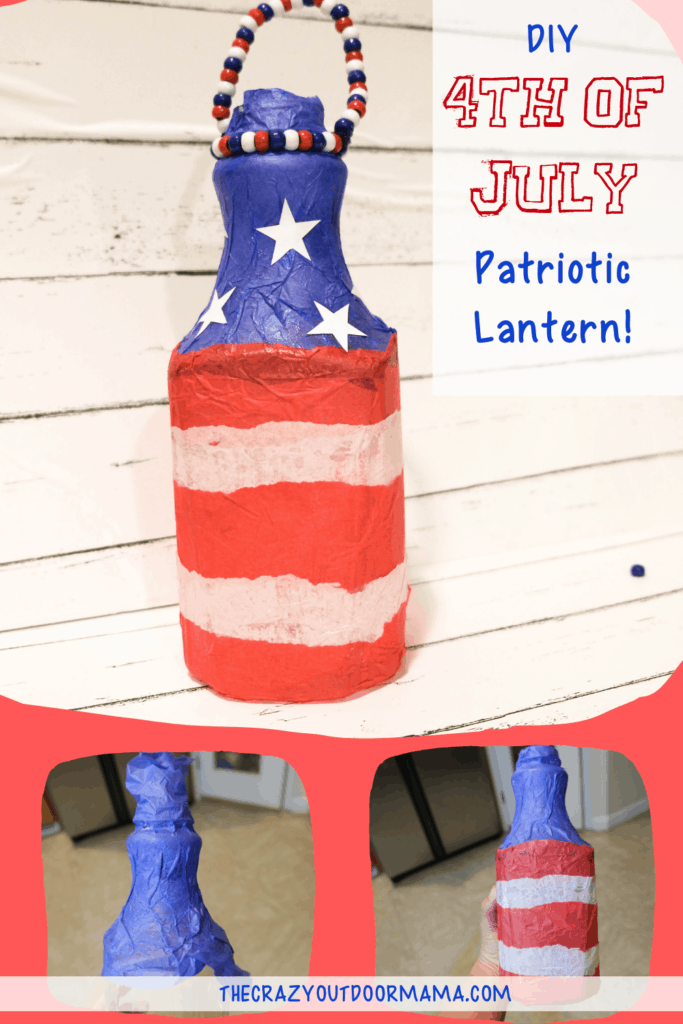 Latest posts by Stacy Bressler
(see all)