If you're planning your big winter vacation, but you've never actually BEEN IN SNOW, it can be pretty darn hard to know what to expect to pack or bring!
But don't worry – after growing up in the desert (SoCal!) and now having experienced six Wyoming winters, I got all the details and tips you need! I hope that with this winter packing and vacation guide, you'll not only be prepared for your winter getaway but gain a couple of insider tips too =).
This post is sponsored by Stanley.
As an Amazon Associate, I earn money from qualifying purchases. You can read more about my privacy policy here! I am also an affiliate for various other programs and may earn money from those qualifying purchases at no extra cost to you.
HERE ARE THE TIPS I'LL GO OVER TO HAVE THE BEST WINTER VACATION YET!
How to find a cheap (but nice) hotel/cabin
What is the "off-season" and how to use it to get CHEAP hotels
Types of fun snow activities to choose from
What to pack based on your plans
Women's winter clothes recommendations/favs
How to layer to keep warm
Winter activity ideas
Whether to bring heated supplies such as socks/jackets
What gear to bring for warm meals/drinks
Additional things to bring (spikes, hand warmers, etc.)
HOW TO FIND CHEAP BUT AWESOME WINTER VACATION LODGING
Living in a resort town, I've really locked onto the time periods where hotels get cheap (I'm talking sometimes up to 50% off if you get them at the right time!), and I'm stoked to share that info with you!
Here are some quick tips for booking your winter lodging/cabin
Avoid holidays/school breaks as that is when the price will be the highest.
Try to get familiar with the location's "off-season" so that you can compare prices. Each one is different. This typically depends on when the destination starts to get snow (and when the snow starts, the "off-season" is typically done).
Check your credit cards for travel points/bonuses – some cards have bonuses for certain branches of hotels. Cash em in (or at least use the card that gets double points for travel/hotels!)
If flying in, plan ahead and try to avoid weekends – Many people go on weekend trips, so if it's possible, try to travel during less popular times to save some money!
WHAT FUN WINTER ACTIVITIES ARE THERE TO DO IN THE SNOW FOR ADULTS ?
If this is your first time experiencing snow, here are some popular activities you can try. Most require specific gear but share common clothing.
I know everyone probably associates a winter vacation with skiing, but there's A LOT more to do (especially if you have a family with little kids who cannot ski/snowboard yet!)
HIKING AND SNOWSHOEING
Surprisingly, you DO NOT need snowshoes for every snowy trail (which is good because they can be pricey to rent and are massive to pack!)
With that being said, let me stress the importance of being prepared so you don't "post hole" when you hike. Post holing, for those new to the term, is when the snow is so soft/fresh that your feet literally sink all the way down with each step. It's pretty darn exhausting and, if you aren't dressed in snow pants or gaiters, you can soak your pants over time.
If the snow is packed down well, you'll likely be able to just walk on it with regular hiking shoes.Hiking shoes are softer and more flexible than hiking boots, aren't as tricky to fit, and don't need breaking in. They are a good choice for dry weather and gentler terrain, though some proponents argue they're also better in wet conditions than hiking boots.
For extra stability, you can strap on some "spikes" to your shoes that will provide a ton of extra grip on icy trails. They're also a lot smaller to pack and far cheaper than a good pair of snowshoes are to rent/buy.
Just be sure to never step in the ski tracks – it's considered pretty darn rude!
I LOVE winter hikes with the kids – we always bring some hot cocoa or something to enjoy at the end of it!
CROSS COUNTRY SKIING (NOT DOWNHILL)
This is a great option for anyone who is terrified by speed or doesn't want to pay to enter the resorts. Many trail systems can be found outside of the resorts (just ask the local ski shop or pick up a map) and can be a way to get a more "local" feel than the chaos of the resort.
Cross country skiing is typically on flat or gently rolling trails (the skis are much skinnier than downhill skis), and I found it to be a lot easier to learn than downhill skiing. For anyone not used to snow, I think it's a better way to enjoy the landscape since you'll be going slower and can stop easier as a beginner.
These are available to rent for decent prices (again, don't rent at the resort but instead at one of the local outdoor shops OUTSIDE of the resort for best prices).
You will need to rent skis, boots and poles but, as I said, I feel like the learning curve is much less than downhill. You won't waste half your vacation in ski lessons – unless, of course, that was the whole purpose of your get away!
FATBIKING/SNOWBIKING
I don't see this mentioned very often (it is pretty new, I guess), but this is a VERY fun way to enjoy the snow without having to learn any new skills – after all, a fat bike is basically a normal bike with FAT tires for better grip!
These are usually a reasonable price to rent and are usable in a ton of snow conditions. Even better, you don't even need a "track" as you do for some forms of cross country skiing, just a non-rutted out trail.
SLEDDING/SNOWTUBING
Most people think this is for kids, but wherever you plan to go, it's a fun option to check out (especially if you're traveling with the family!)
The local ski hill where I am (Snow King <3) has a freaking epic snow tubing/sledding hill and a family day pass isn't too bad!
SNOWMOBILE/SLED DOG SLED TOURS
As you might have guessed, this will likely be the most expensive and time consuming activity, but if you want some once in a lifetime memories, this is the way to go!
Some places are only accessible via "over snow travel" (basically means the road is now plowed and you must travel over snow) during winter but are VERY long distances or require a guide.
For example, there is only ONE road plowed in Yellowstone during winter, so to access all the popular attractions (they're very spread out), you could check out a guided snowmobile tour!
WHAT TO PACK BASED ON YOUR WINTER ACTIVITY
The first choice to make is how much you want to spend – rentals aren't cheap, but it's also a pain in the butt to take all your stuff (if you have your own gear!)
WHAT I ALWAYS PACK IN MY BAG FOR WINTER VACATION OR GETAWAY
Warm Beanie + Earband– Obviously, something for your head is a must, but I also like to bring an ear band. It can serve as extra protection or stand-alone on warmer days.
Buff Style Neck Gaiter – I prefer to bring buffs/neck gaiters over traditional scarfs because they don't take as much space, are multifunctional (especially as I type this in Jan 2021), and can be used for your ears should you need the extra warmth.
Base Layer Top – Merino or Wool works best for moisture-wicking and retaining warmth.
Light fitted sweater (optional loose fleece sweater too)– Great for layering if needed between your top base layer and puffy or just to wear by itself on warmer/more active days.
Puffy – My puffy is my go-to winter jacket. It's great for around town, moderate hiking activity (just unzip if you get hot), and provides a lot of warmth compared to other jacket styles. It can be an all in one, depending on the day, so it's nice to not have to layer sometimes!
Glove Liners/Thin Gloves – Mittens are great for warmth, but sometimes are TOO warm or too hard to do stuff in. I like bringing a thin glove that doubles as a glove liner so that I have warm winter and cold winter day options.
Long Underwear – Merino or wool is best, but I've honestly used yoga pants in a pinch (not optimal, but it'll do!). This is the first layer you put on.
Shell Pants – these pants are part of the layering system that helps protect against snow and wind. They aren't usually insulated.
Combo Pants – These are a mix of insulation and shell. They're good for "average" days where it's not too extreme of temperatures (IE not below 20 and not above 40)
Wool Socks/Heated Socks – If you haven't noticed, wool is always going to be a top pick! If you want to take it up a notch, check out some heated gloves!
AND MY WINTER VACATION "HACKS" THAT JUST MAKE LIFE AND TRAVEL EASIER!
BRING HAND AND FEET WARMERS
They last a pretty decent amount of time and can be the difference between your getaway being ruined by negative temps or actually being able to enjoy it. Don't wait until you can't feel your fingers/toes, though – it will take a LONG time to warm up compared to just putting them on at the start.
I also like bringing them to just put in my pockets to warm up mine or my kids hands when needed!
BRING A QUALITY INSULATED DRINK CUP (I LOVE MY STANLEY)
Warm drinks DO warm you up, so it's good to bring a warm drink with you for your hikes/adventures. With temps getting so cold, it's important to up your drink game beyond your typical water bottle/coffee cup – I do so with my Stanley bottles.
When water or other drinks are stored away from your body in your pack, they can actually freeze! I have had my uninsulated water bottles freeze on me if I hang them on the outside of my pack.
You also want to be sure that it won't leak – the last thing you need when you're freezing your behind off is to dig for that emergency jacket you brought only to find it soaked with your drink you bought (no water and no warmth!).
Luckily Stanley makes a whole line of insulated water bottles and vacuum bottles that keep hot drinks hot and cold drinks cold without leaks!
DON'T FORGET SPIKES IF YOU'RE NOT USED TO WALKING OUTSIDE DURING WINTER
As someone who did not walk on ice till they were 23, let me tell you that the first time you feel yourself slip is TERRIFYING, and it will make you walk at 1/4 speed over all the rest of the ice patches/trails you're on.
For peace of mind, consider getting some yak-tracks or similar "spikes" that strap onto your feet. This helps a ton with traction on ice and snow, plus makes those early morning hikes where everything is still icy way more doable.
SAVE MONEY AND BRING YOUR OWN HOT MEALS (LIKE A HOT SOUP OR OTHER FILLING + WARMING MEAL)
If you have ever visited a resort or destination town, you'll know that the prices for just about anything are WAY WAY more expensive than normal. And after a long ski/hike, it can be seriously tempting to swing in and warm up with a hot meal.
However, if you're trying to save money or eat healthier, it's a lot easier to just bring your own hot soup with you! It'll stay warm the whole hike if you pack it in a Stanley food jar, and you can even bring it on the hike if you want to have a beautiful winter picnic. =)
Not only that but have you ever walked through a store HUNGRY? You buy WAY more, and if you're trying to save money, you should avoid doing that too often!
Instead, get a trusty food jar, heat up your food beforehand, then pour it in the jar and pack a spoon for enjoyment after your outing!
WHAT IS THE "OFF-SEASON" AND HOW DOES IT AFFECT SNOWY WINTER DESTINATION PRICES?
Simply put, the off-season for snow destinations is when the conditions aren't perfect for popular winter/snow activities, and so the hotel/food prices are lower to compensate!
Fall and spring are typically the two "off-seasons" for winter destinations and tend to be the best prices for hotels. This is due to the fact that the snow is not at its peak due to being too early in the season for a good snowpack or too late in the season, and the snow is slush by the afternoon or ONLY in the mountains/resorts where it's higher elevation.
So, while most people think of the "off-season" as cruddy snow or mud, you can still have some "pow" (powder/fresh snow) possibilities! Keep an eye on the weather forecast and snow accumulation for your winter destination, and wait till you see the conditions you want!
Obviously, if you're trying to save money, don't reserve anything around any major holidays or standard school winter breaks. Not only are the prices super expensive, but the resorts/trails are often overcrowded, and it just leads to a lesser experience.
This is especially true if you're traveling and plan on taking pictures – while Photoshop can do a lot, it takes away from the magic to have a ton of other people in the shot!
For example, this picture was taken in March in Jackson, Wyoming – it's a lot of slush, but there were a LOT less people in the museum than normal!
OFF SEASON EXAMPLE MONTHS IN JACKSON, WYOMING (TOURIST DESTINATION DUE TO TWO SKI RESORTS AND TWO NATIONAL PARKS NEARBY)
Fall off-season (October – mid-December) typically starts once it gets cold, but there's no snow and ends when the snow comes (and sticks!)
Spring off season (April/May – June) typically starts once the snow in the valley begins to slush/melt and ends once the weather warms up enough to dry out trails or be more enjoyable for summer activities such as hiking/camping/fishing.
Depending on your planned activities (for example, many people LIKE spring skiing in the mountains, but since there's no snow left on the ground at lower elevations, it wouldn't be great for skis/fat biking/pretty snowy hikes)
Keep in mind what your goals are, how the weather can affect that, and how important that is to you when it comes to cost!
Don't forget to download your free printable snowy winter getaway or vacation checklist
I made a little bit more printer friendly version of that checklist from up above so you can keep it for reference when planning out your own winter vacation!
Download your printer friendly winter vacation checklist here!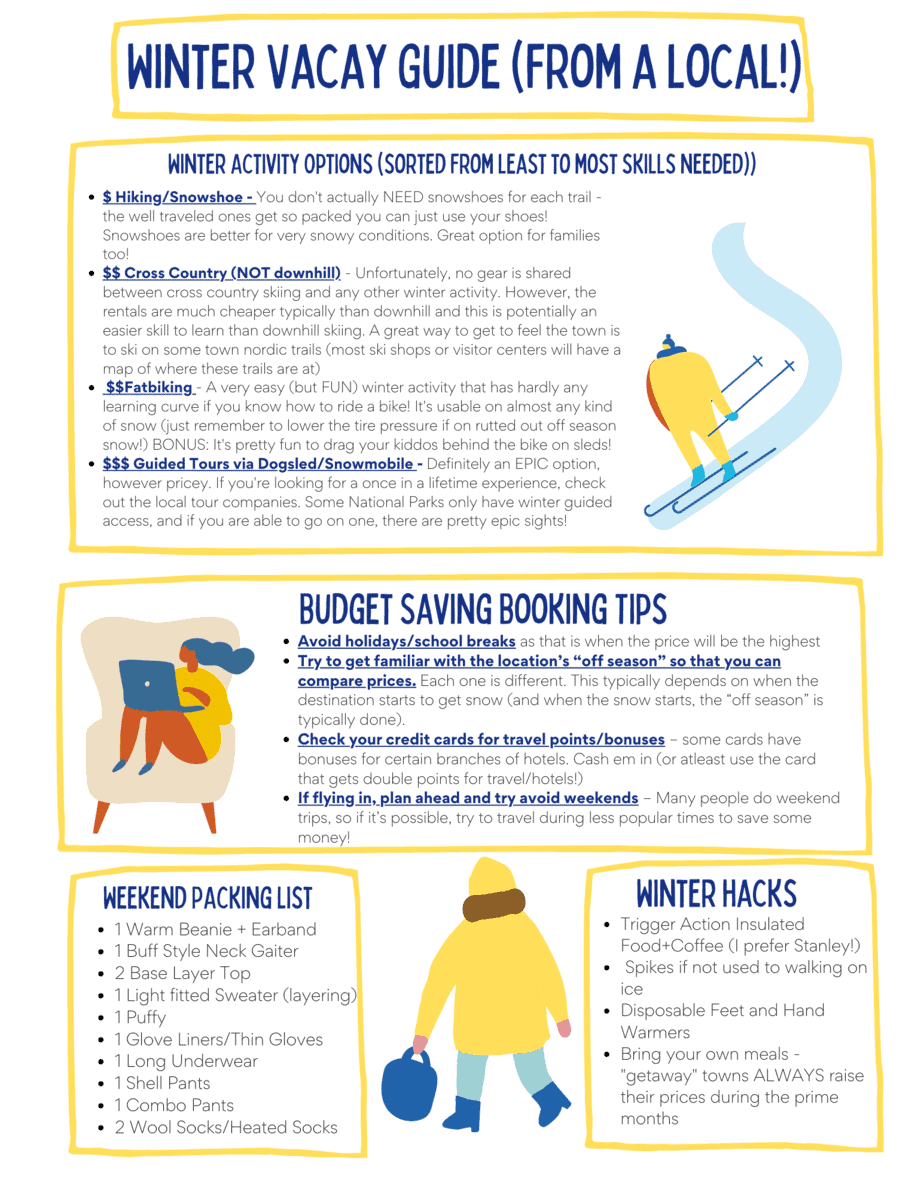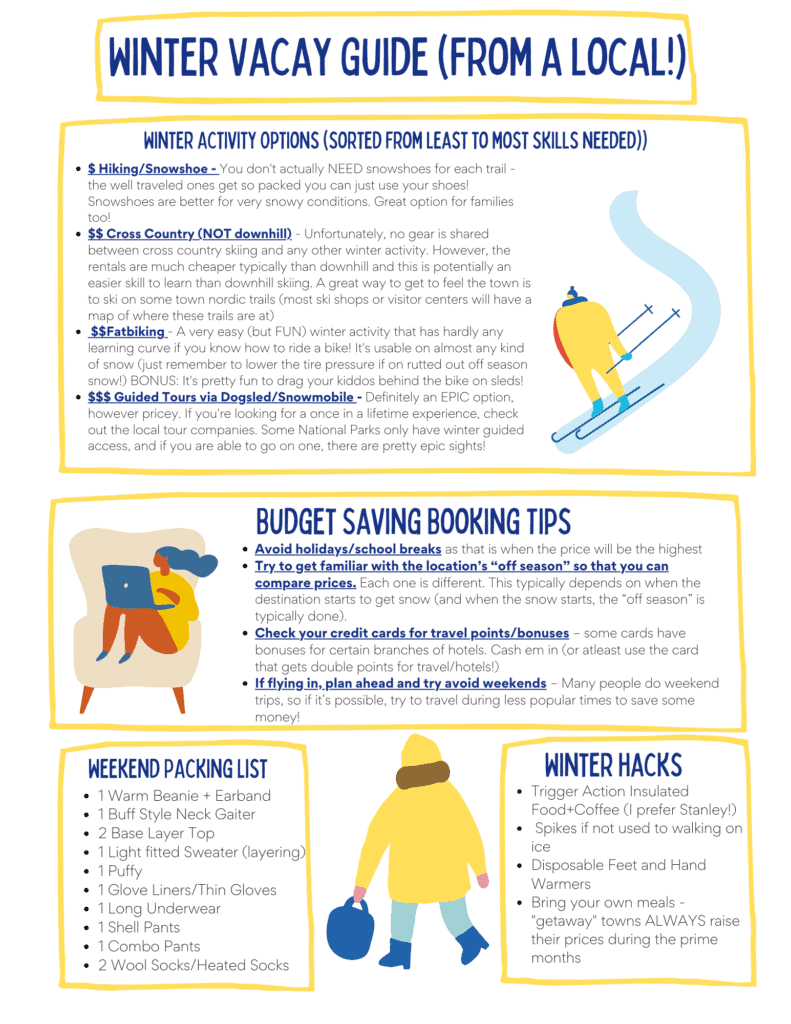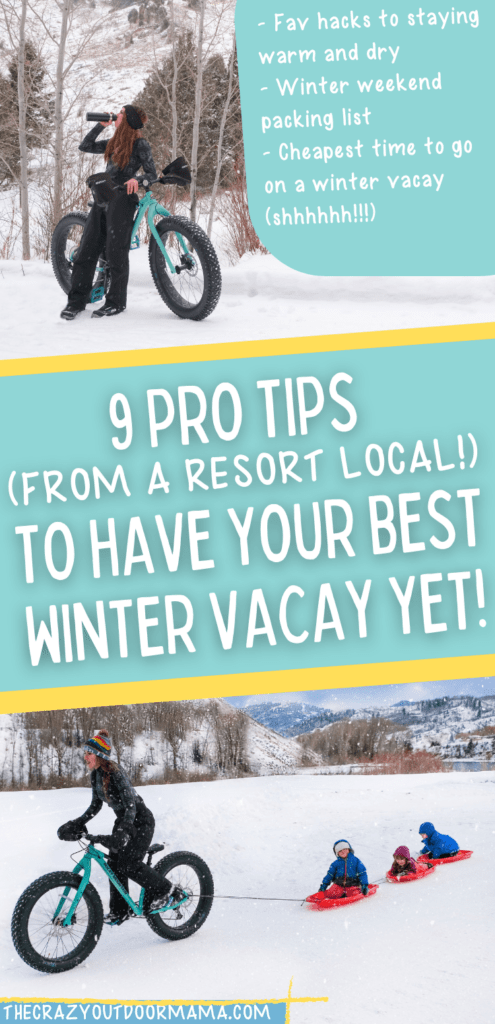 Latest posts by Stacy Bressler
(see all)