Do you want to play around in epic slot canyons and skip the crowds on your next visit to Southern Utah? Then you gotta hit these guys up!
It was absolutely amazing, and even better, totally doable for most kids! Even if you have kids in packs, you can get pretty darn far in some of these canyons before having to do anything technical!
These slot canyons are located between two major national parks – Capitol Reef and Canyonlands, so you know they're going to be sweet!
I'll show you guys some pictures as well as how to make these hikes great with the kids!
Here we go!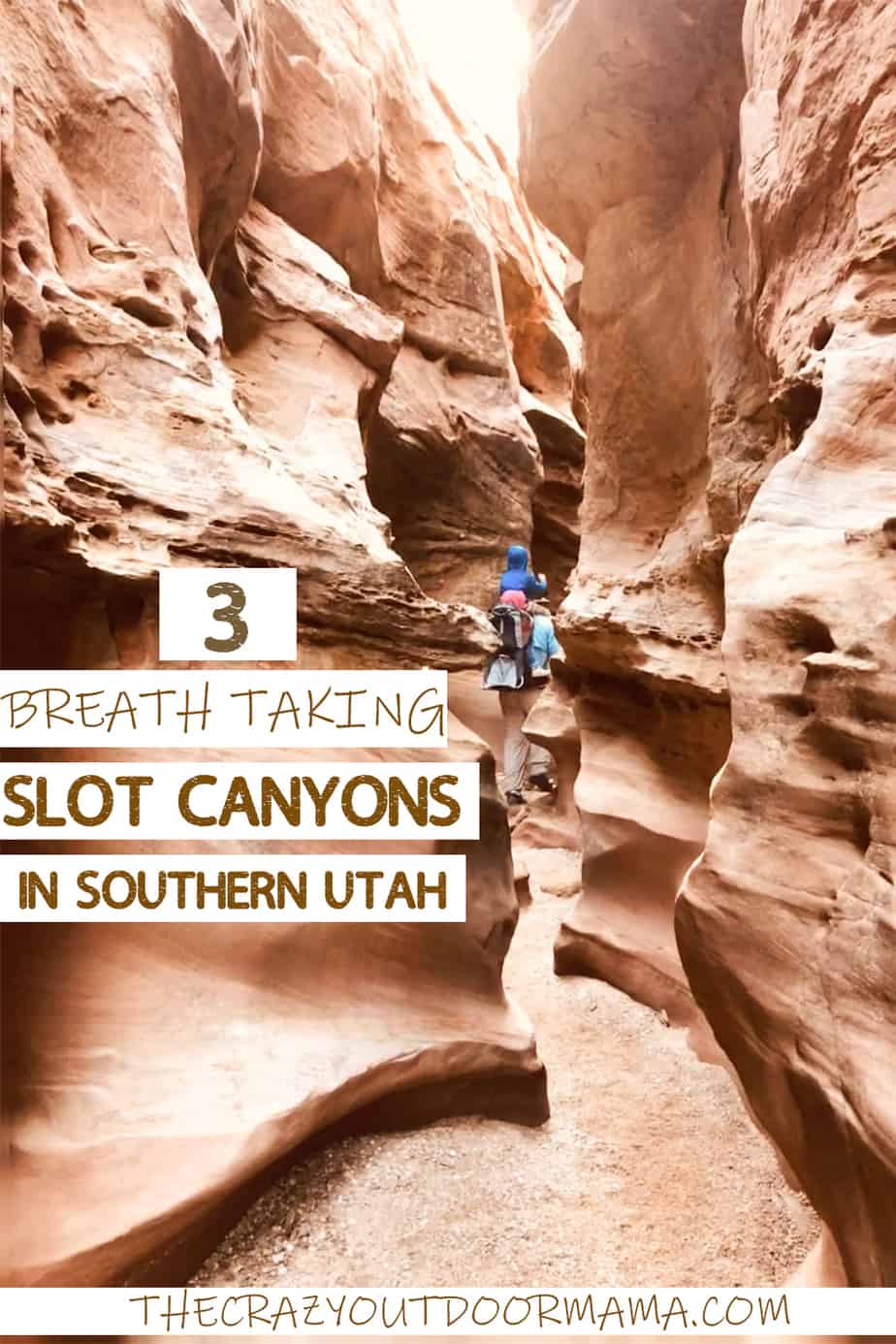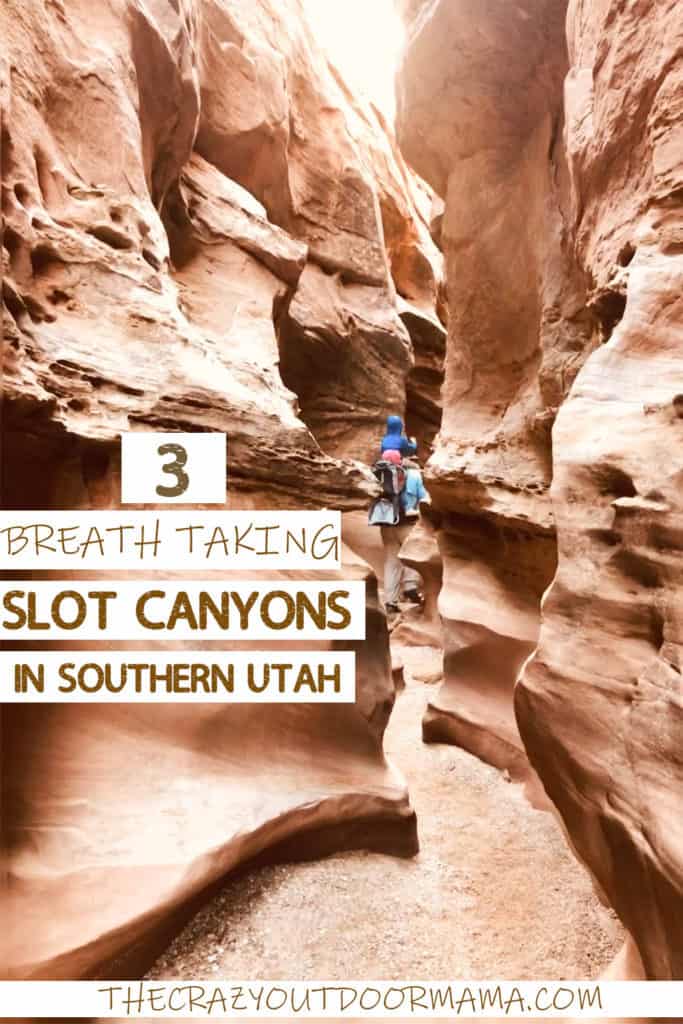 Leprechaun Canyon
If you want to camp right outside of somewhere awesome, then you need to head to leprechaun canyon! There is a decent size campsite right outside of the trailhead, and a much bigger campsite (with multiple spots!) just a couple minutes down the road at the Sandthrax Campground.
I loved this canyon because it didn't take long to become pretty darn impressive, and when it comes to kids, there were plenty of sandy spots to stop and play!
If you are wearing a kid in a backpack, there will be some spots where you will have to take it off and just carry them in your arms, but there's quite a ways you can go (see the full loop and more info here)
We only did up to where you would need climbing equipment, however, there's a good mile or two that is stunning canyon to enjoy before then!
Where to park / how to access Leprechaun canyon
We parked and at the pullout off of State Road 95 near the entrance of the canyon (see map) but if you want to camp nearby and someone has taken the only spot there, nearby Sandthrax campground has alot of room! It's about two miles from the junction with state road 276, and 28 miles south east of Hanksville.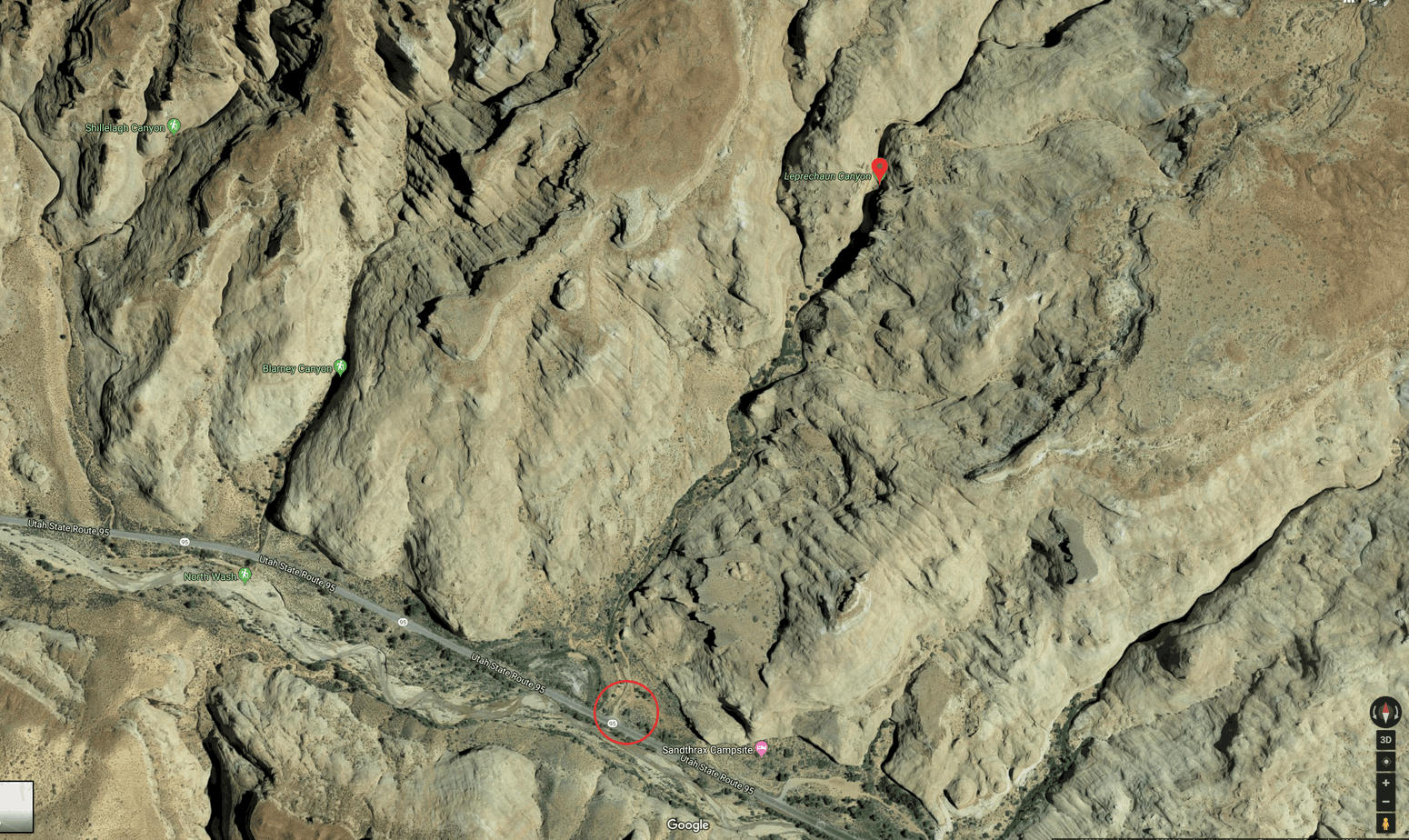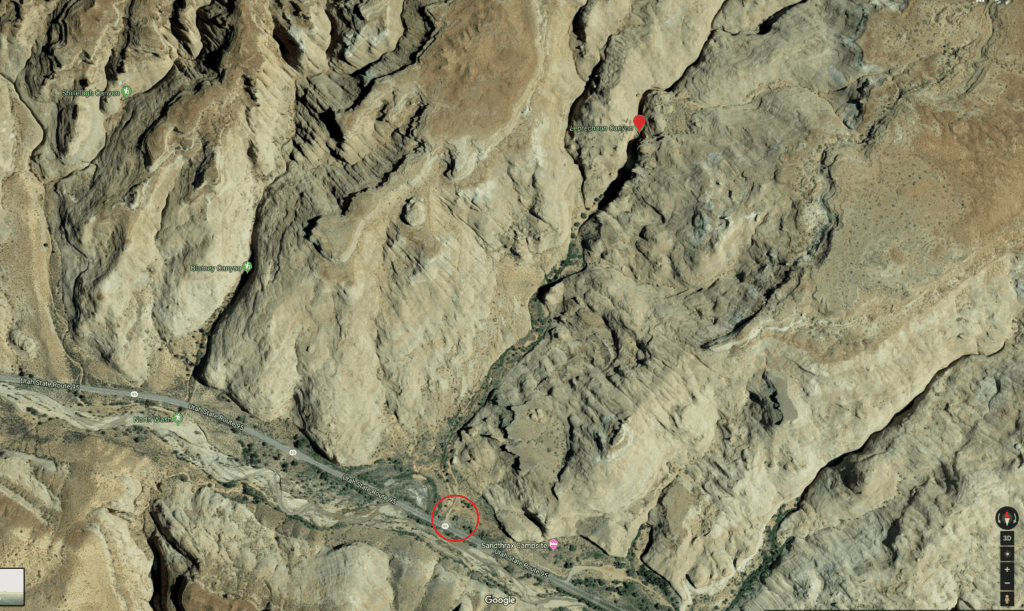 What to expect at Leprechaun Canyon
For the first bit, you will wander through trees and reeds then start to hit the sandstone.
You'll see a slot canyon appear on your left, but it's fairly technical so it's best to avoid it unless you are prepared for that. Keep hiking and you'll find a mini that's fun to explore (especially for the littles!) but if you want to avoid that, just hike above it – either way you take, you will have to get out of it.
Soon you'll see the ENORMOUS mouth of the canyon, and it just keeps getting smaller and smaller! It gets to a point where you have to shimmy sideways, but of course, you can stop whenever you want and turn around!
There is hardly any elevation (Only around 100 ft) and the older kids who came with us had a pretty easy time finding footing on the sandstone portions of the hike!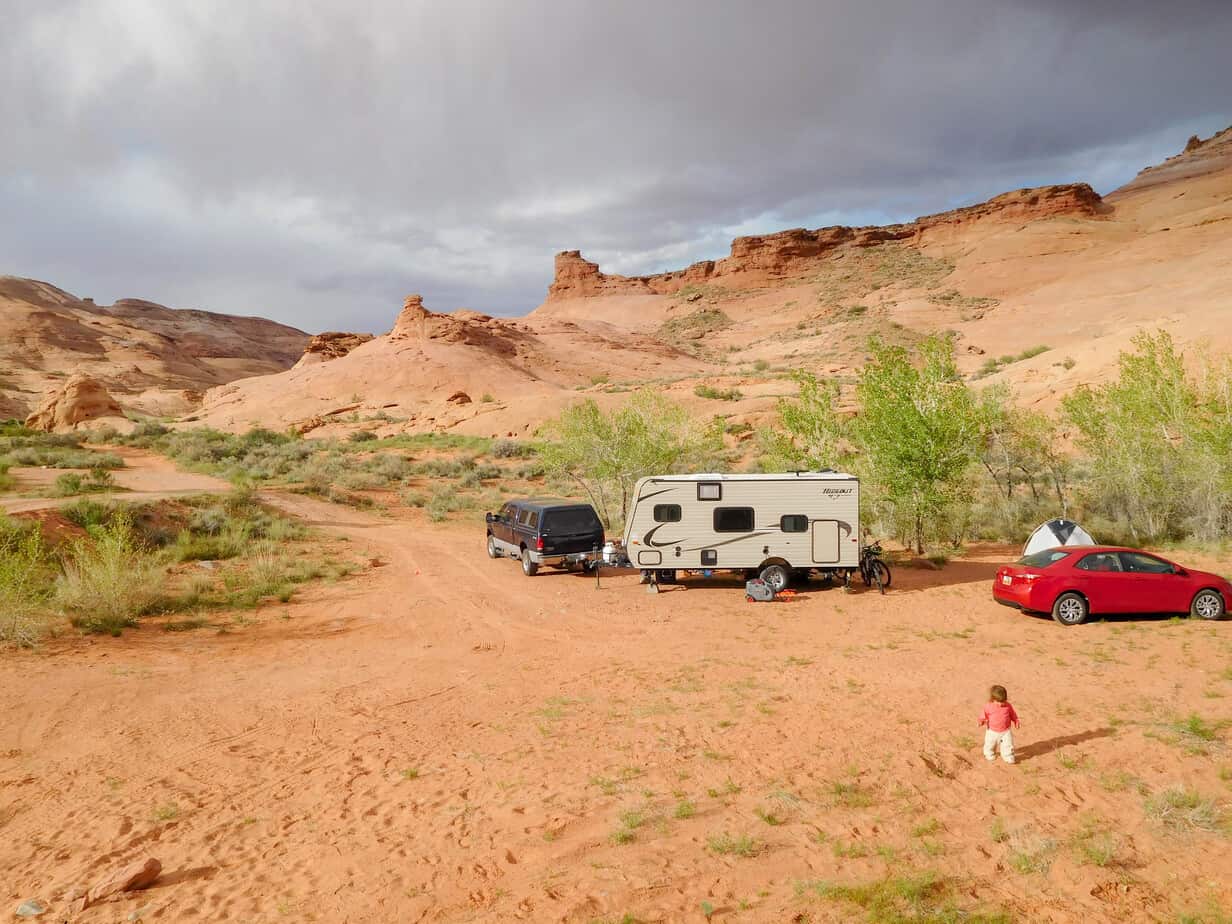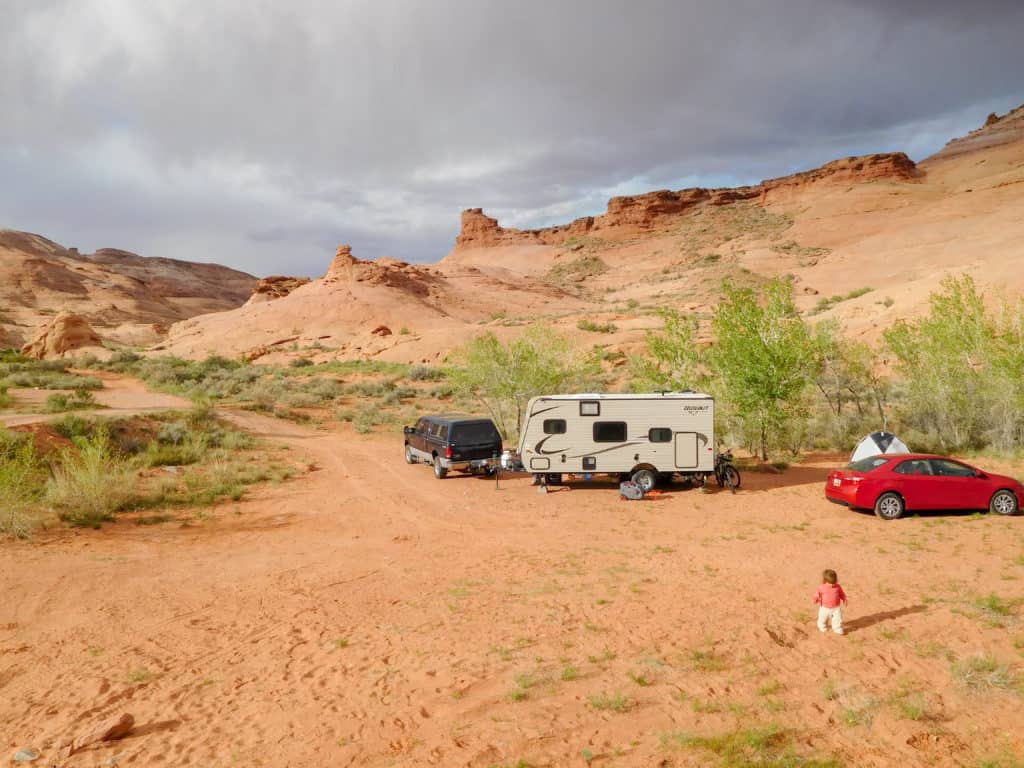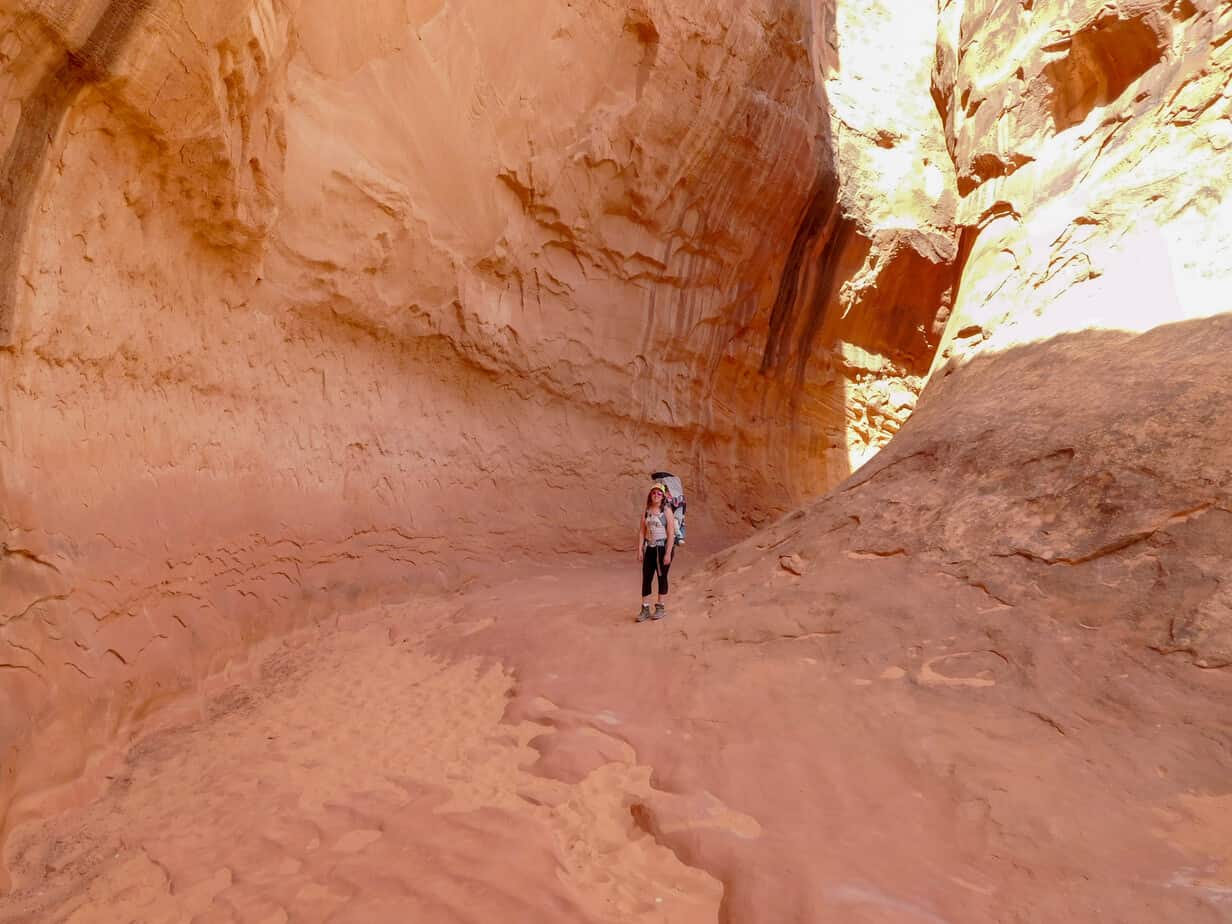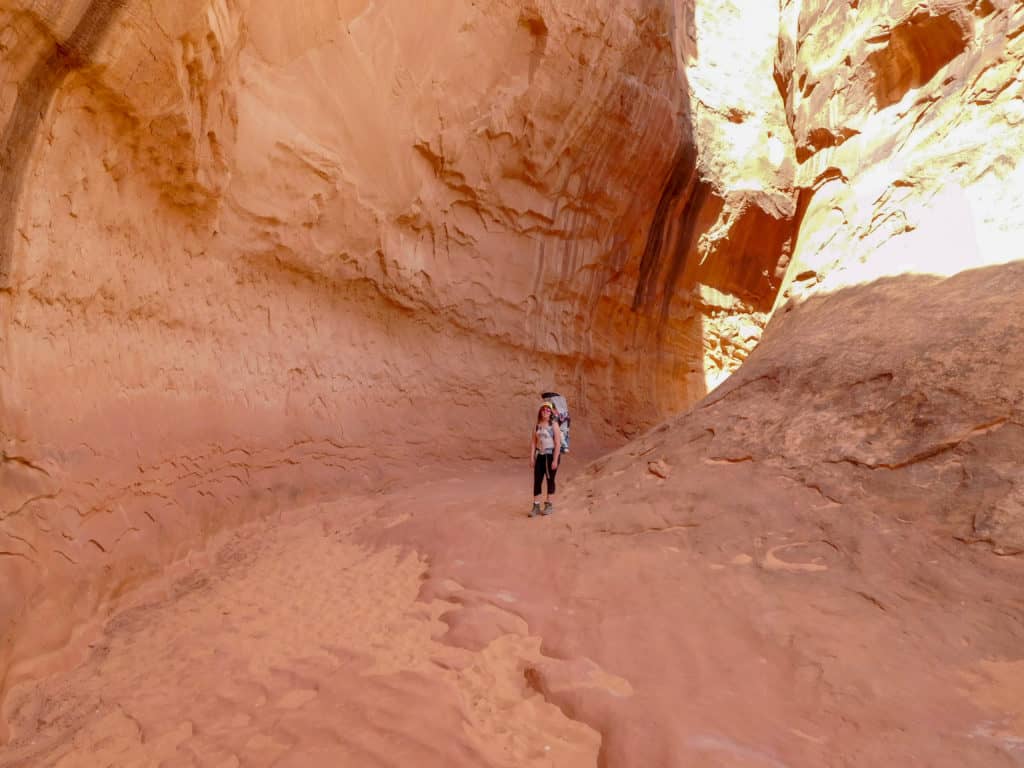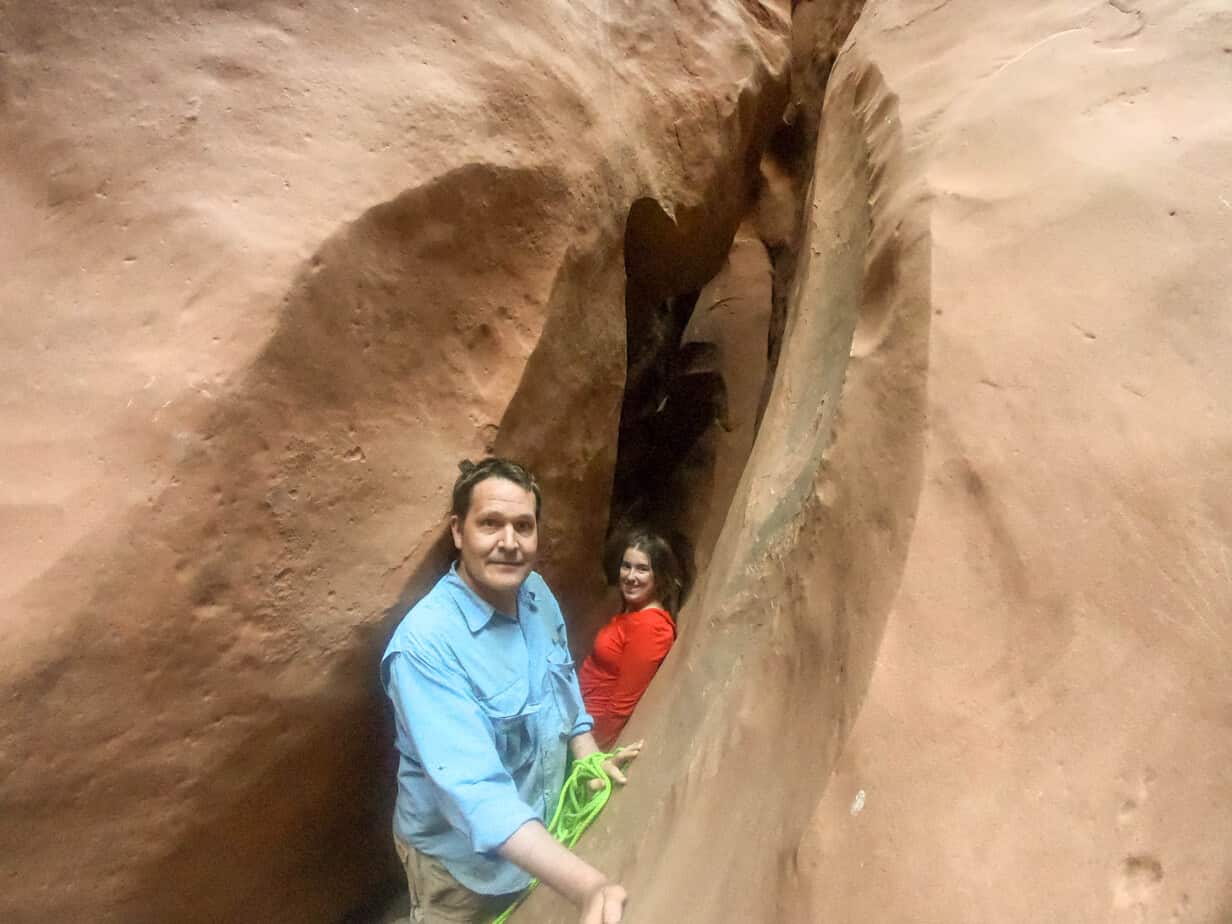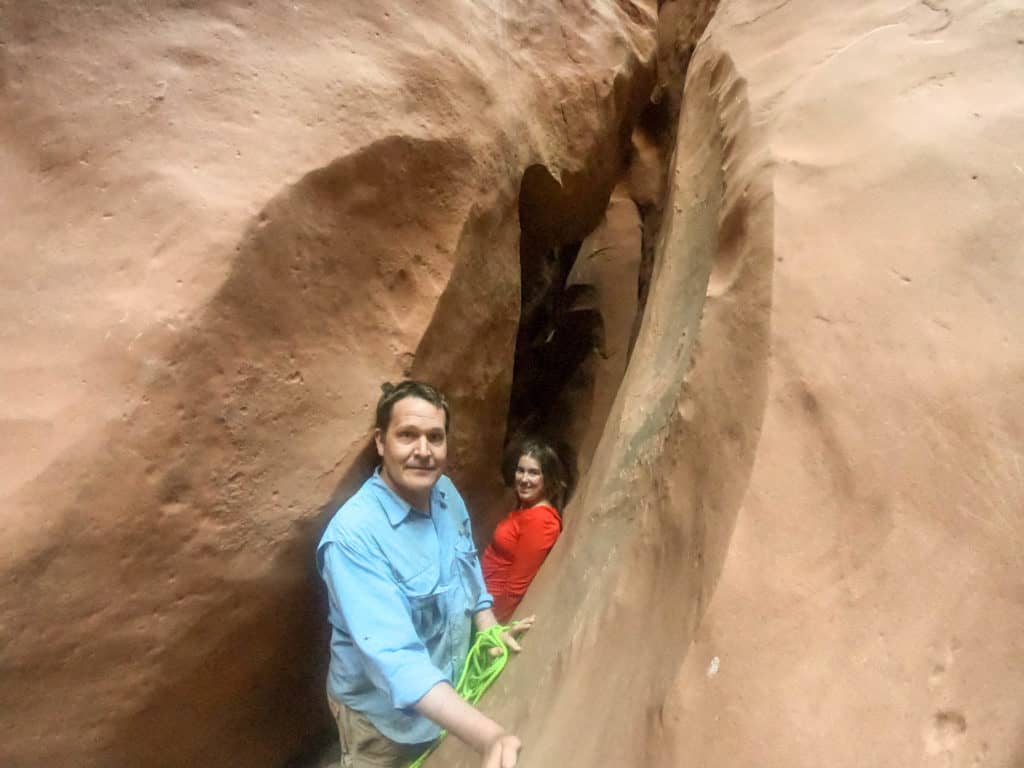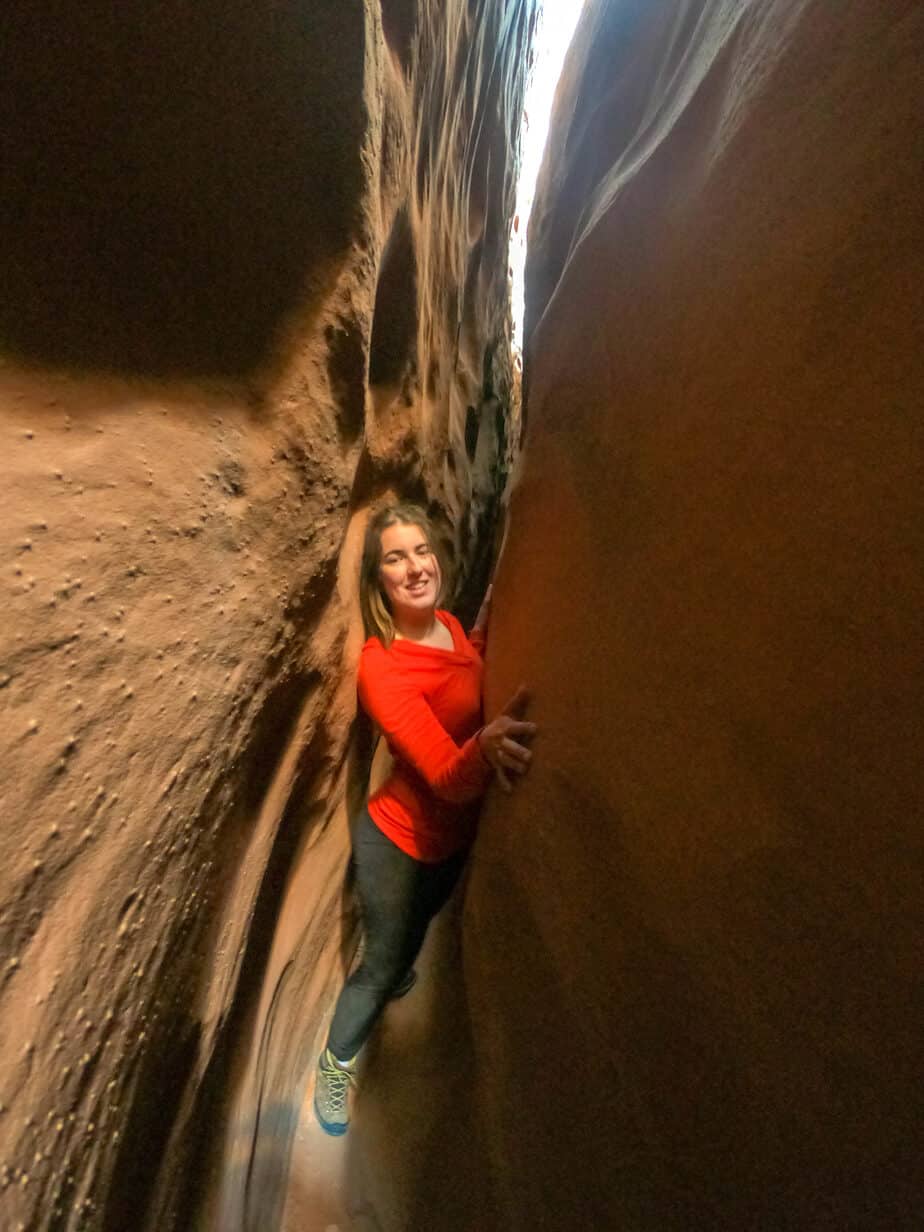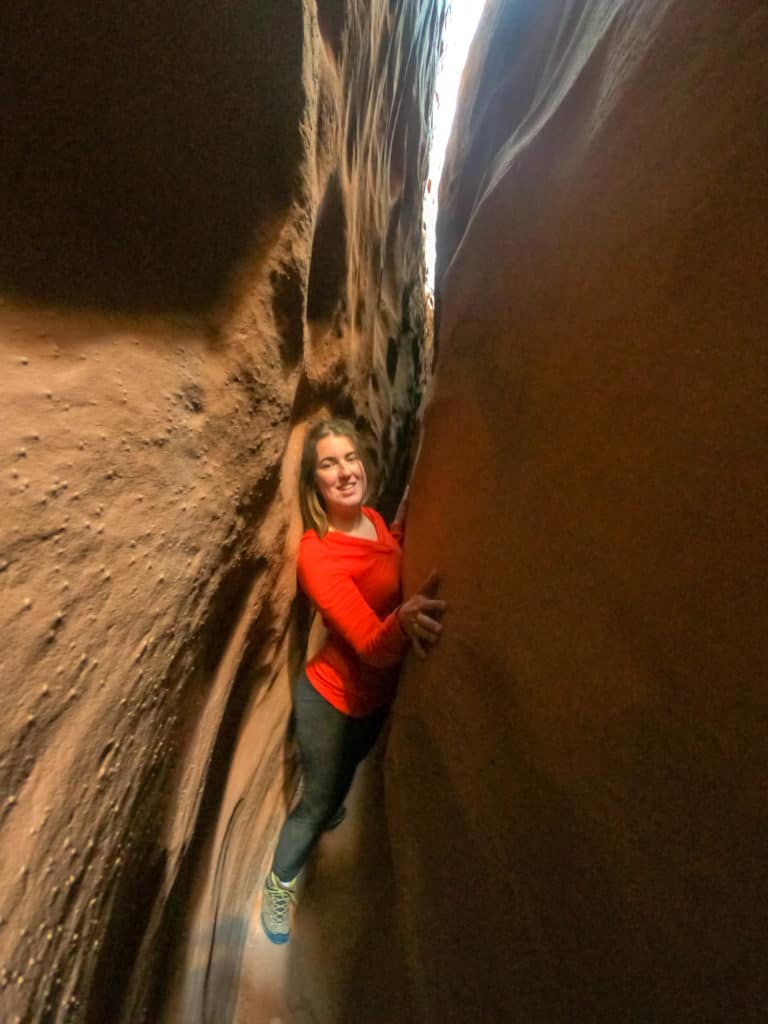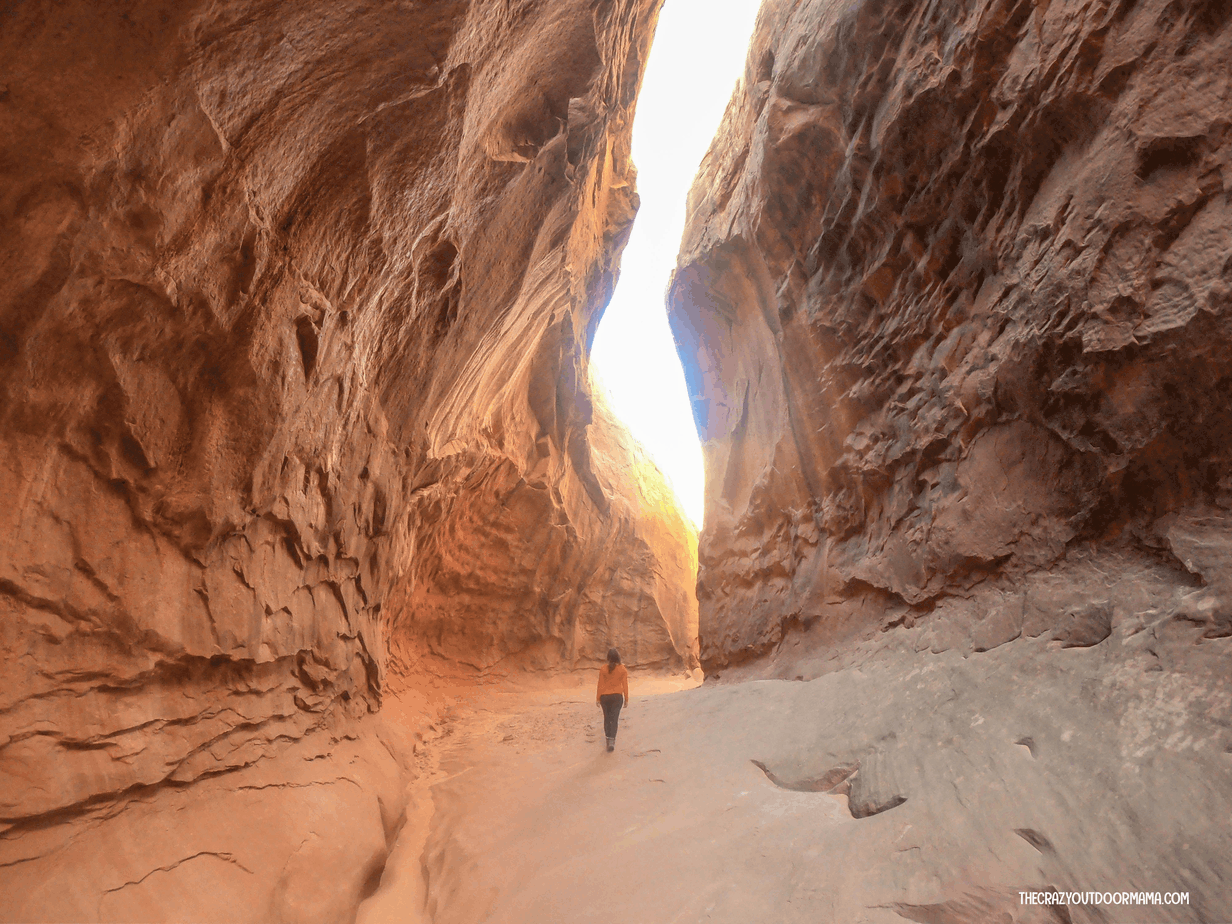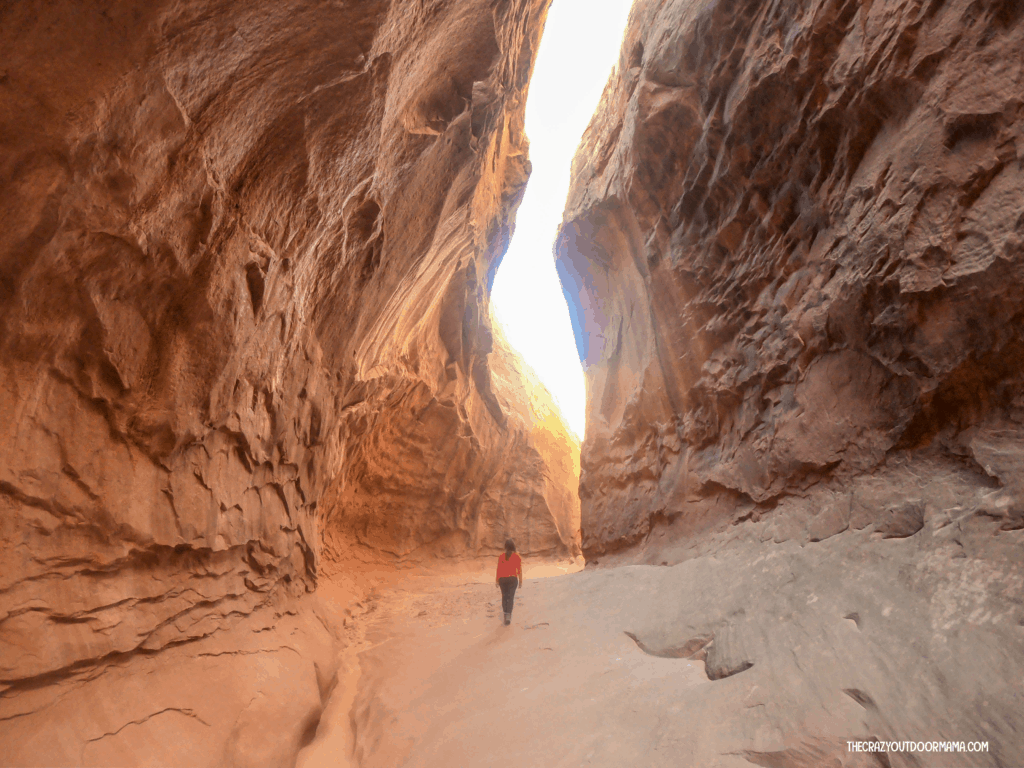 Blarney Canyon (About 5 minutes from where you park for Leprechaun)
This is another amazing canyon that is pretty darn close to Leprechaun, so is well worth exploring as well!
You can get quite a ways without needing ropes, however if you are carrying kid backpacks, it will get too slotty to use them the whole time. We actually just carried the babies, handed them up out of the slot, then used a rope to get the backpacks out.
There's alot of sandstone travel, some scrambling, and plenty of awesome opportunities to stem and play around!
We just hiked with the kids till it got to sketchy (too much stemming and scrambling to get over obstacles) but don't worry, there's PLENTY of narows to see until then!
My husband's dad came along with us on this trip, so we were pretty thankful to be able to escape for a bit while they napped in their packs and really explore!
We stopped at a point where you had to either use a sling rope (already placed there) or perhaps stem up if you are super tall. It's probably better to use climbing gear of some sort, and after my husband was able to pull out with a tug one of the other slings, we weren't going to trust this one!
For more info on the technical side of things, check out this article for a full loop guide as well as what gear to bring!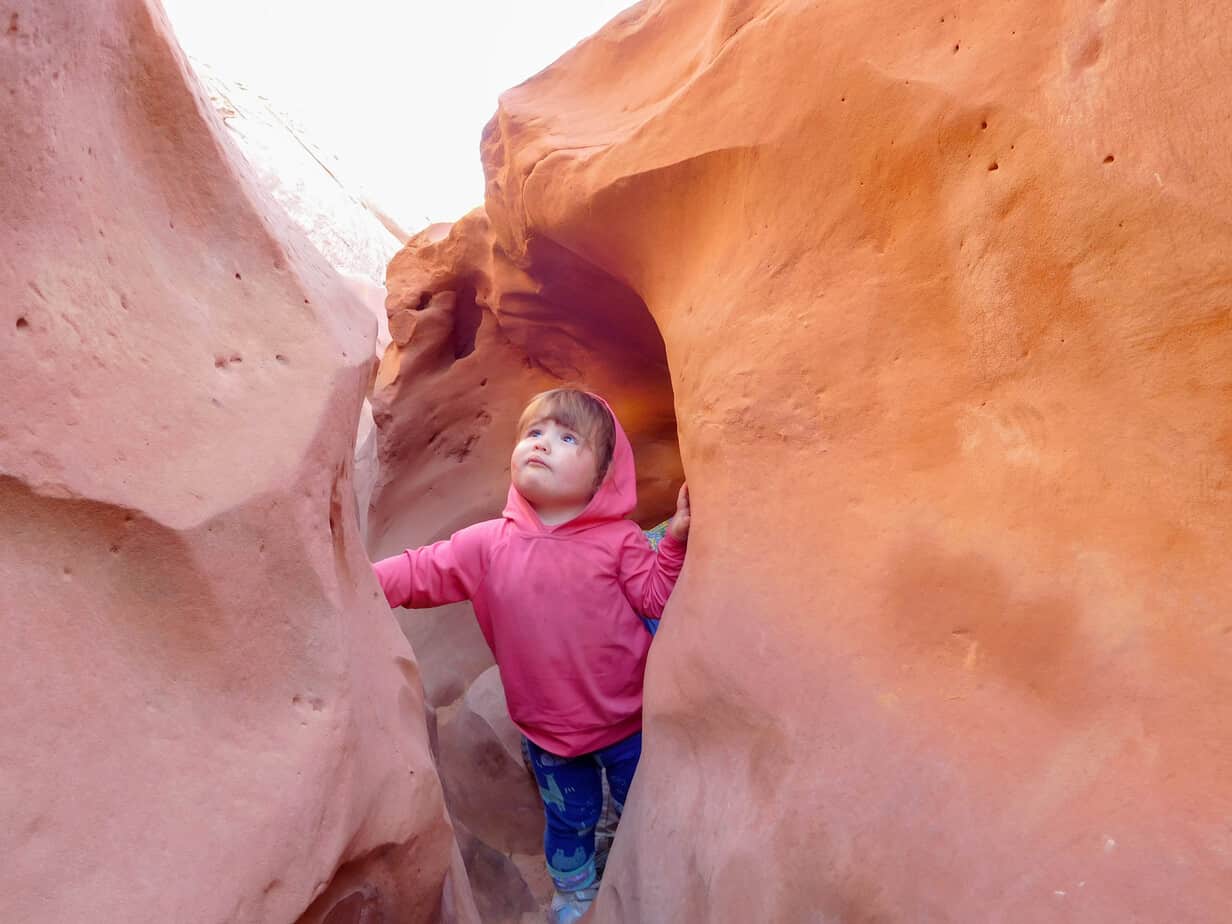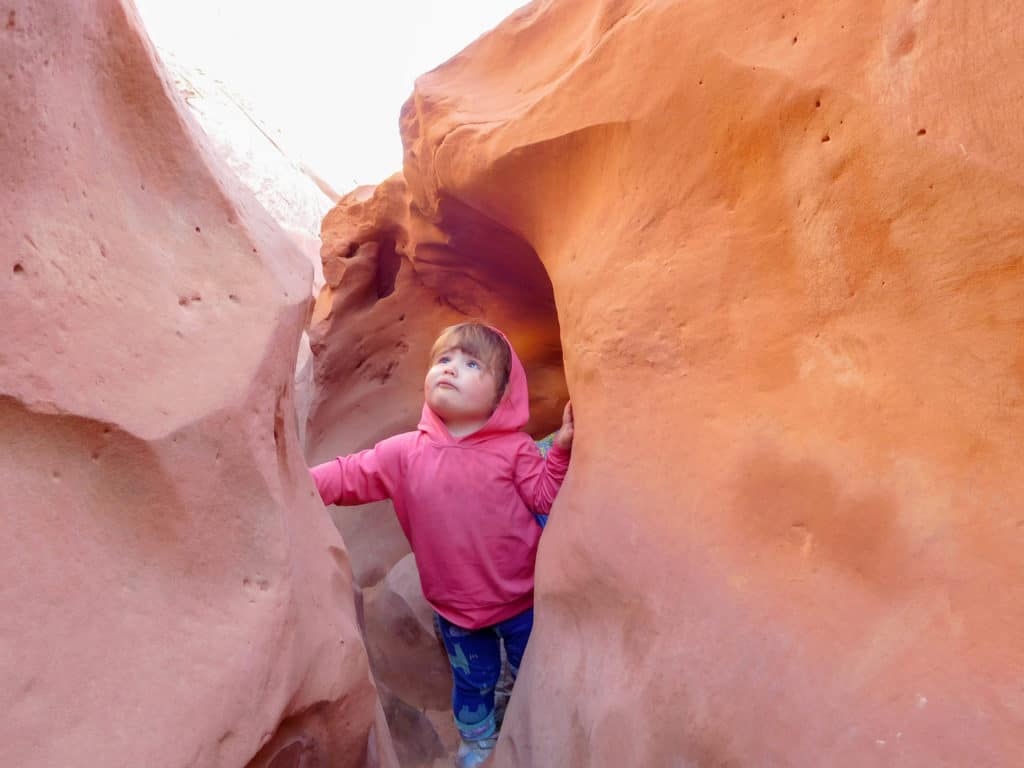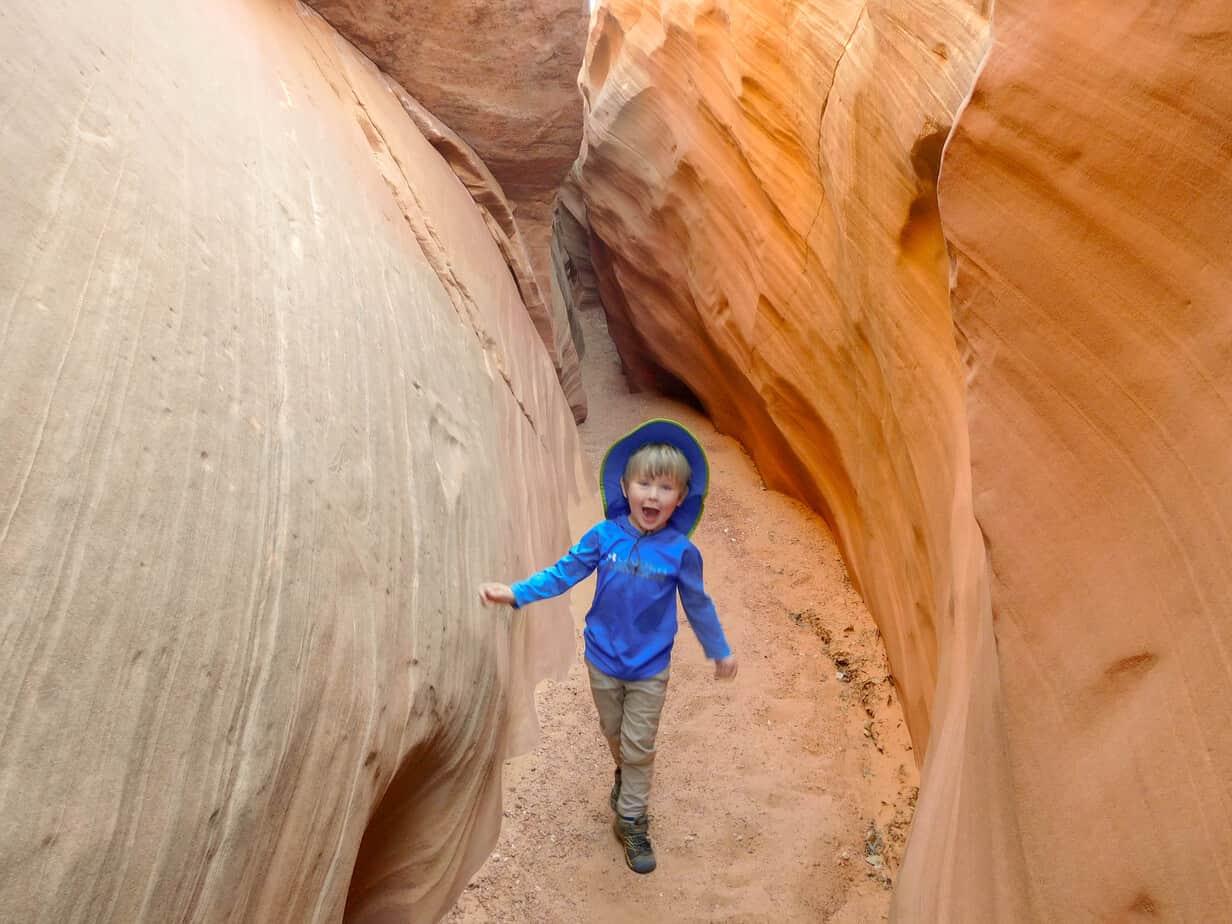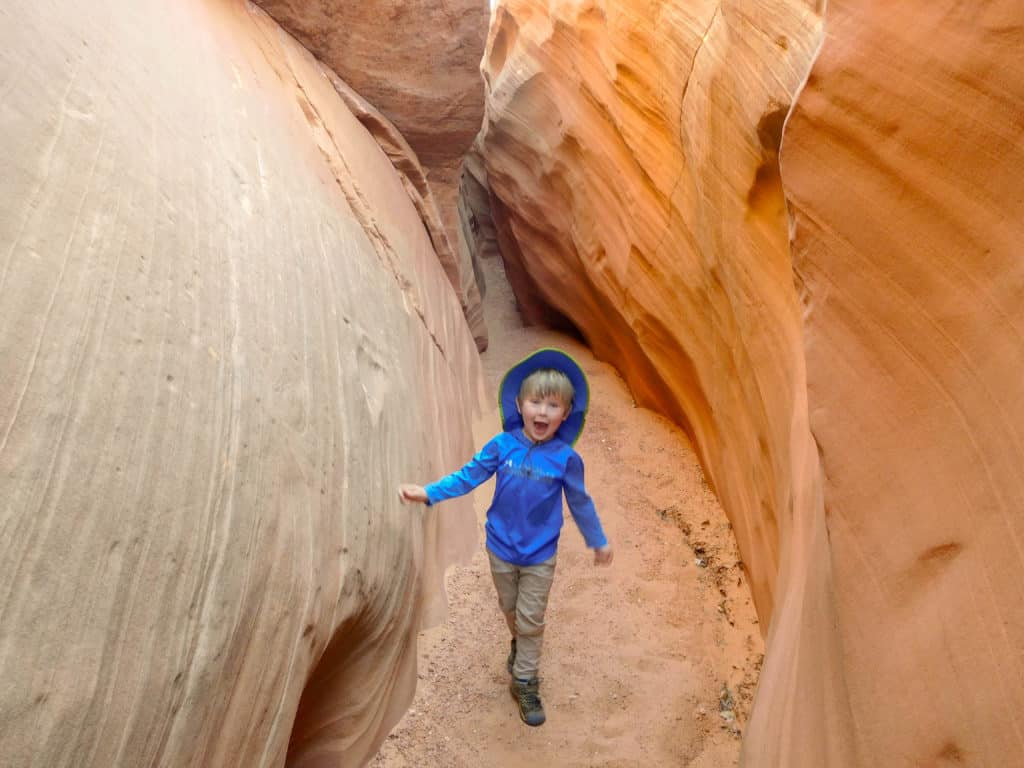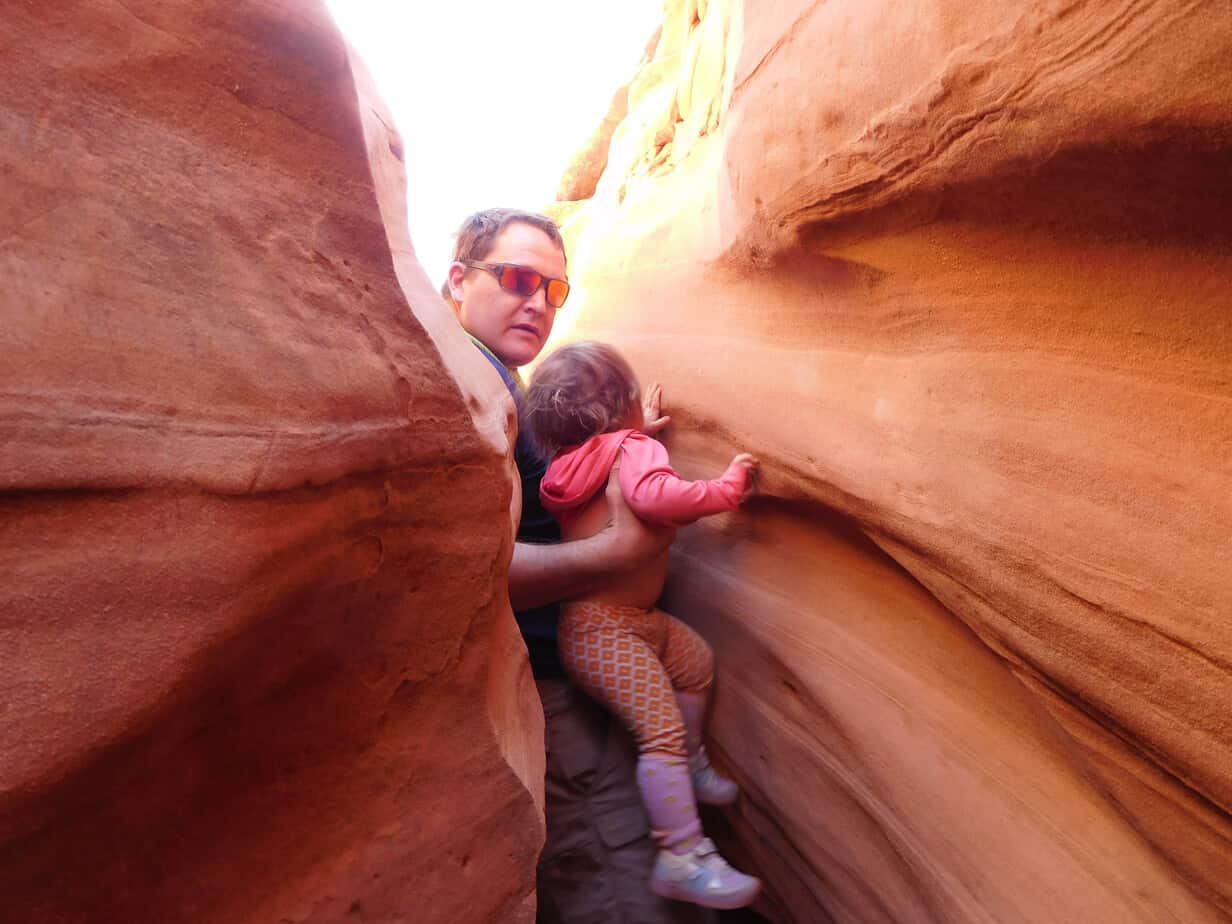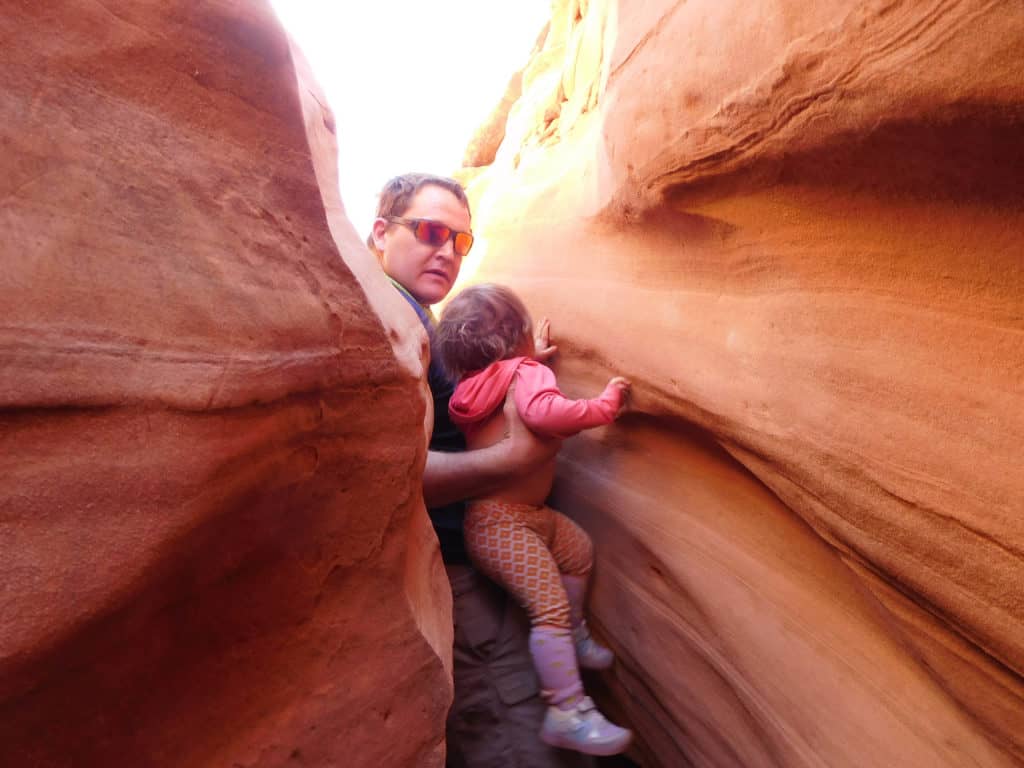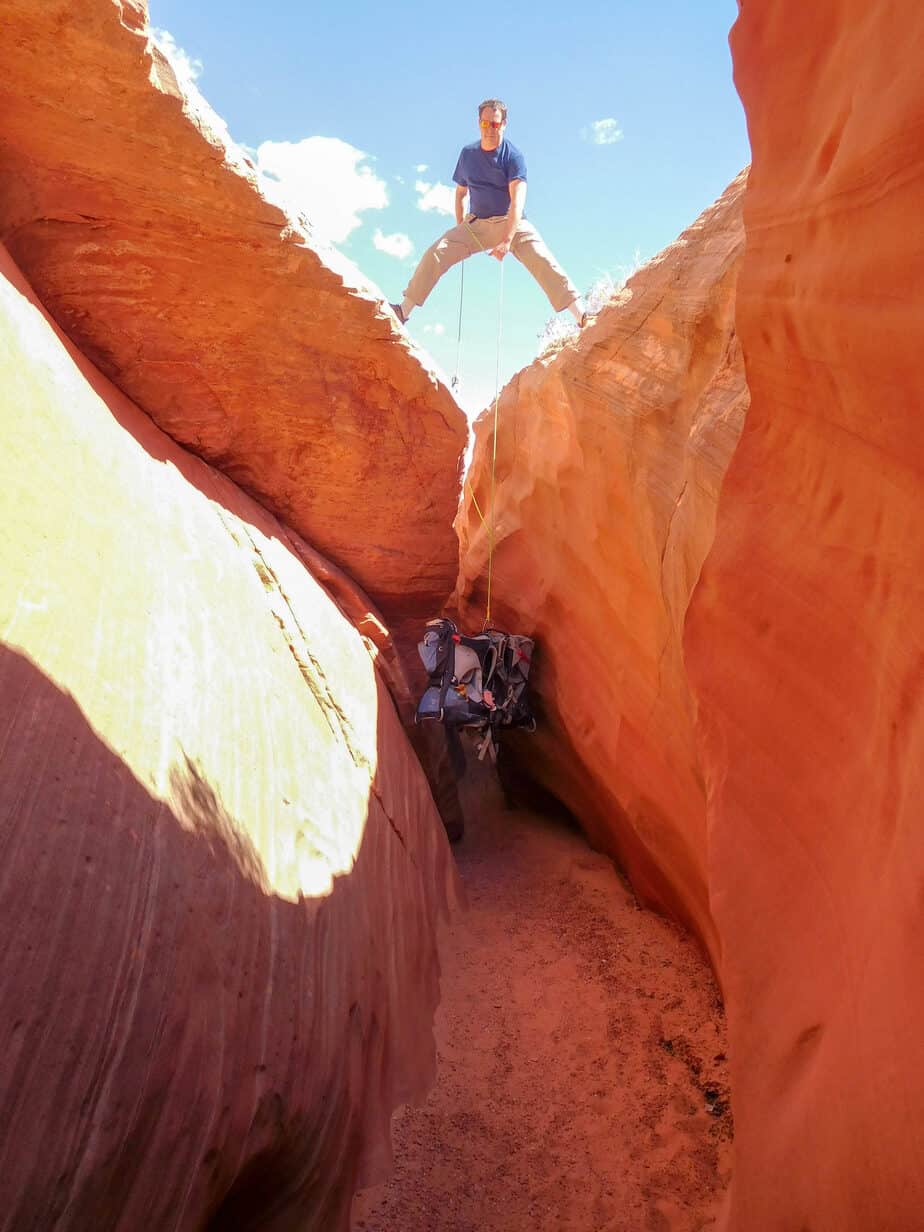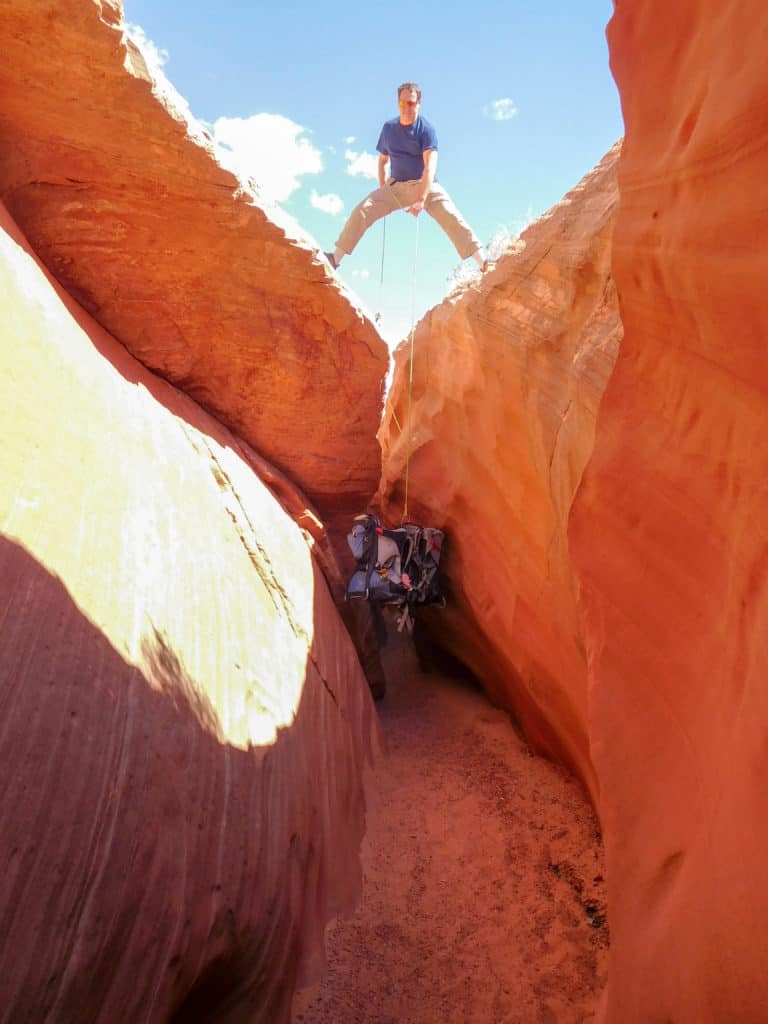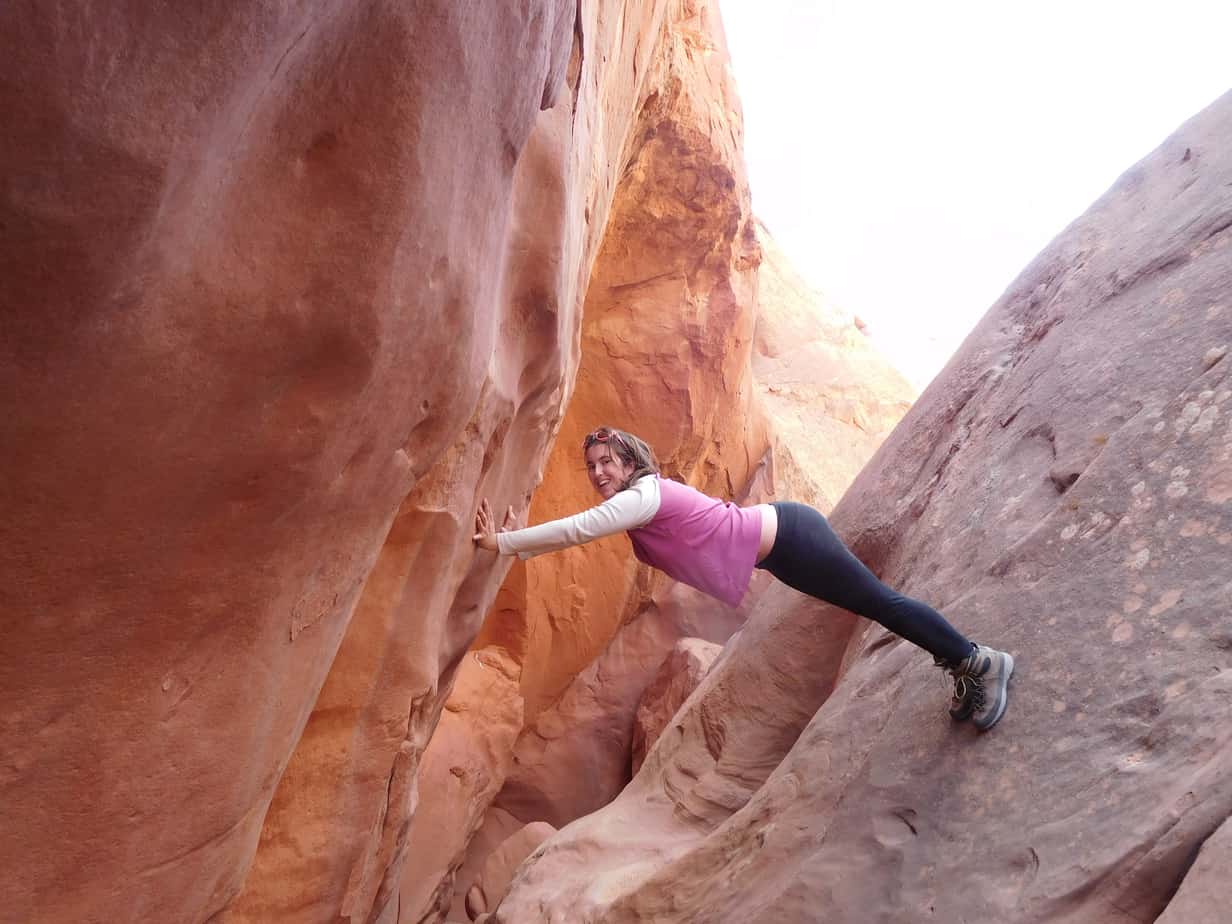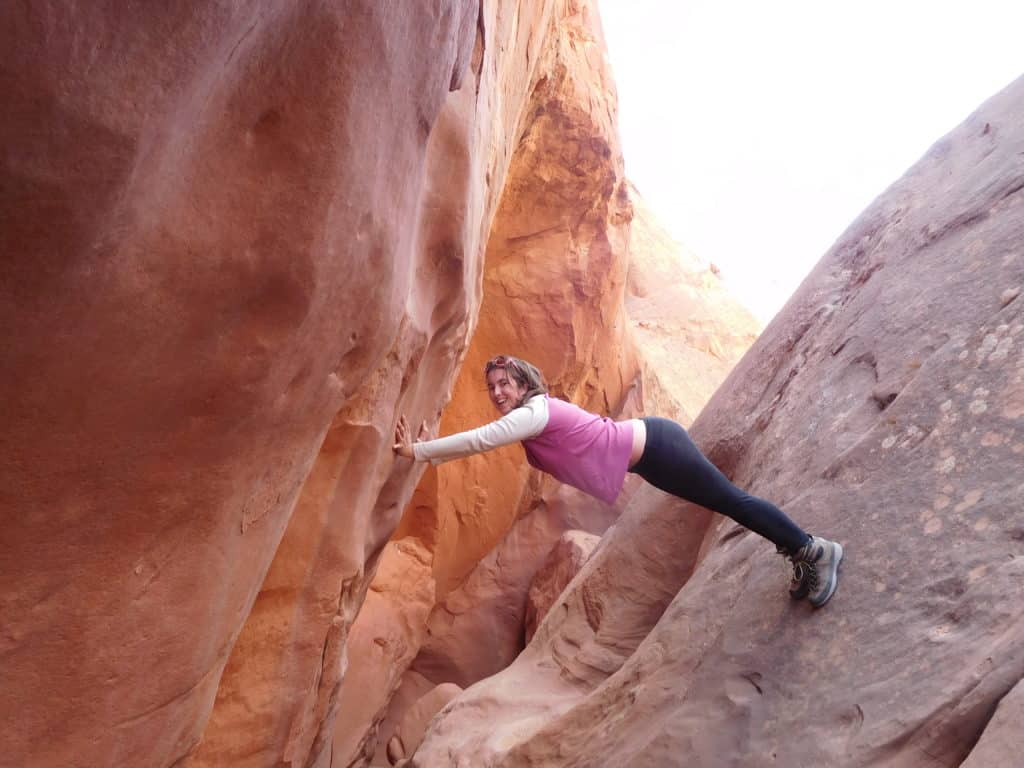 Little Wildhorse Canyon
Located near Goblin Valley State Park, this is another Must Do in the area! It wasn't quite as "secluded feeling" as the previous two canyons, but if you get there early enough, you'll likely beat the crowds and only see them on the way out!
We visited in the last month of April and there were only a few puddles left, but as with any canyon, flash floods are deadly so make sure to check the weather so you know when to be out of there by!
The best parts of this can be seen in the first hour or two of hiking, and you get into the fun stuff in about 20 minutes!
I've listed some quick tips below, but for a ton more information on this hike, check out American Southwest's guide here (including detailed directions and route info!)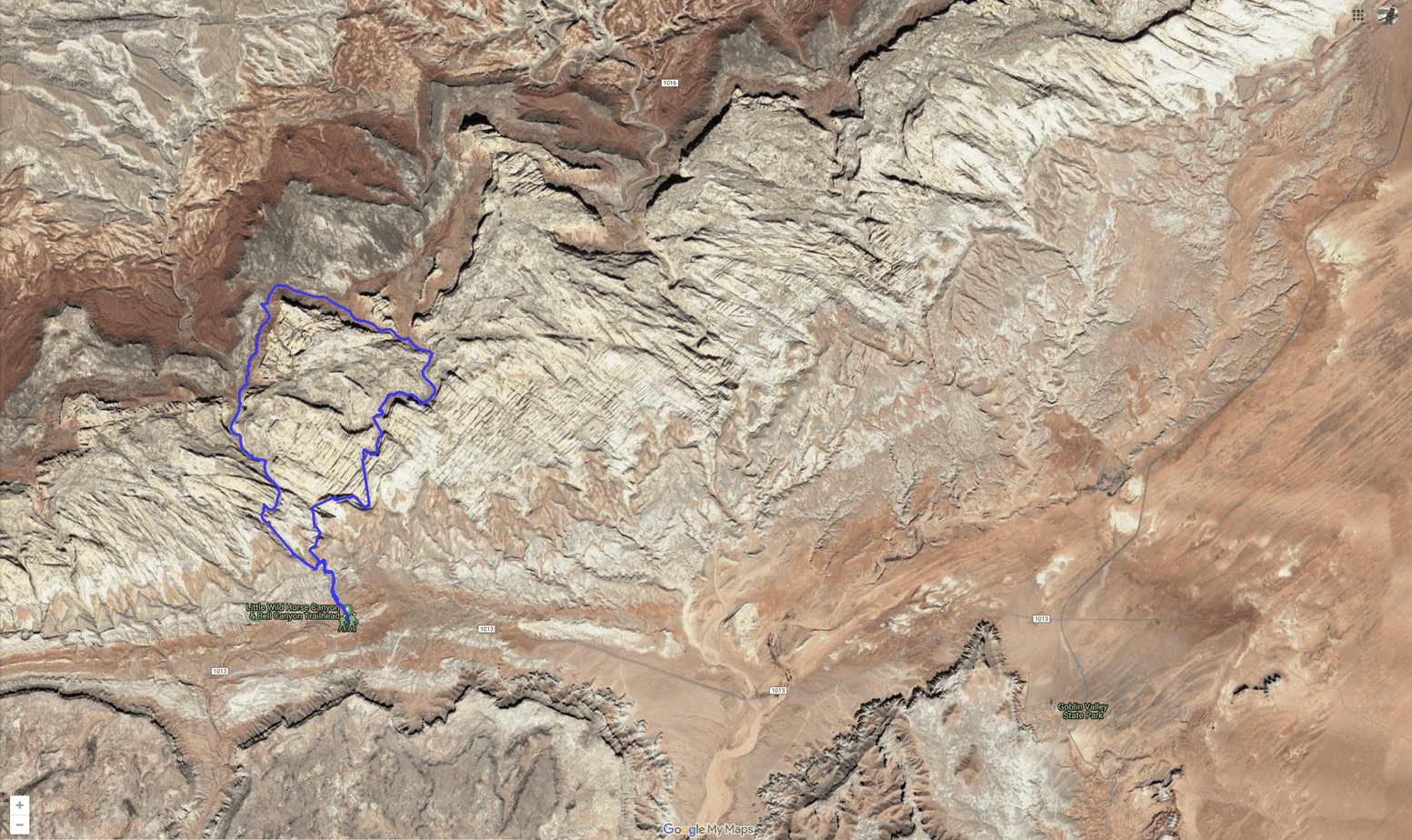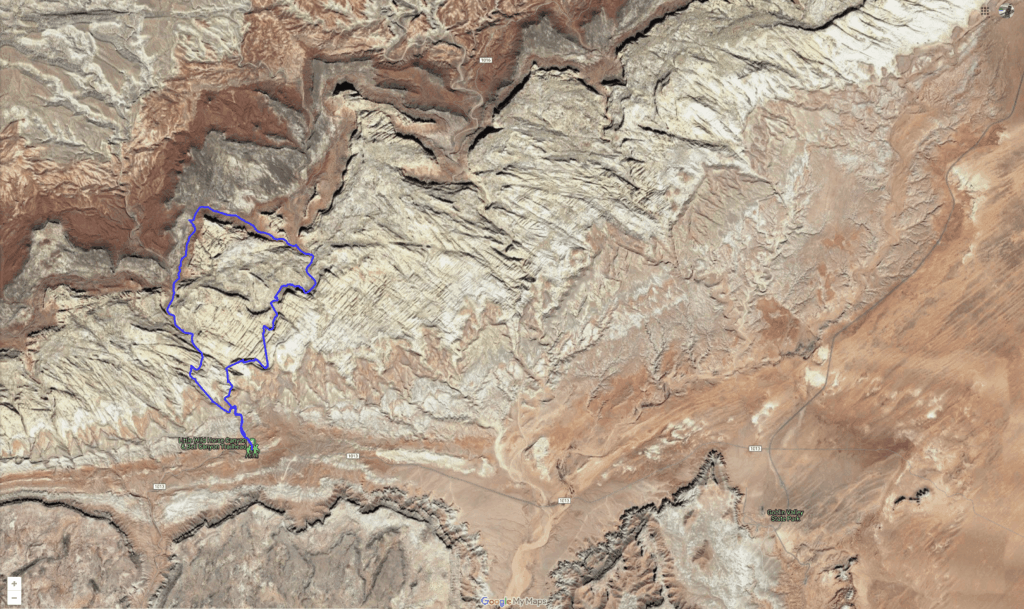 What to know about Little Wild Horse Canyon
This is actually one side of a loop – the other is Bell Canyon, and the trail splits between the two. If you don't have much time (the whole loop is almost 11 miles) I'd suggest taking Little Wildhorse as far as you want and turning back. It is usually considered more "slotty" and picturesque!
The trail is not well marked in places
There is a decent amount of parking nearby, however, the Goblin Valley State Park nearby does offer campgrounds with showers and a small visitor center if you prefer to camp.
You can bring dogs, however, be prepared to lift them or wade with them.
We went at the end of April and there was no wading really in LWH, however, we heard many comments that was abnormal (some have had to wade up to 2 or 3 feet around March and then starting again in September and October) You may be able to ask nearby
A perfect "beginner slot" canyon for the family – no gear required to fully enjoy this until perhaps the very end where there is a 12-foot scramble up and cliff navigation.
Bring PLENTY of water, it gets hot fast and not everything is shaded by the canyon!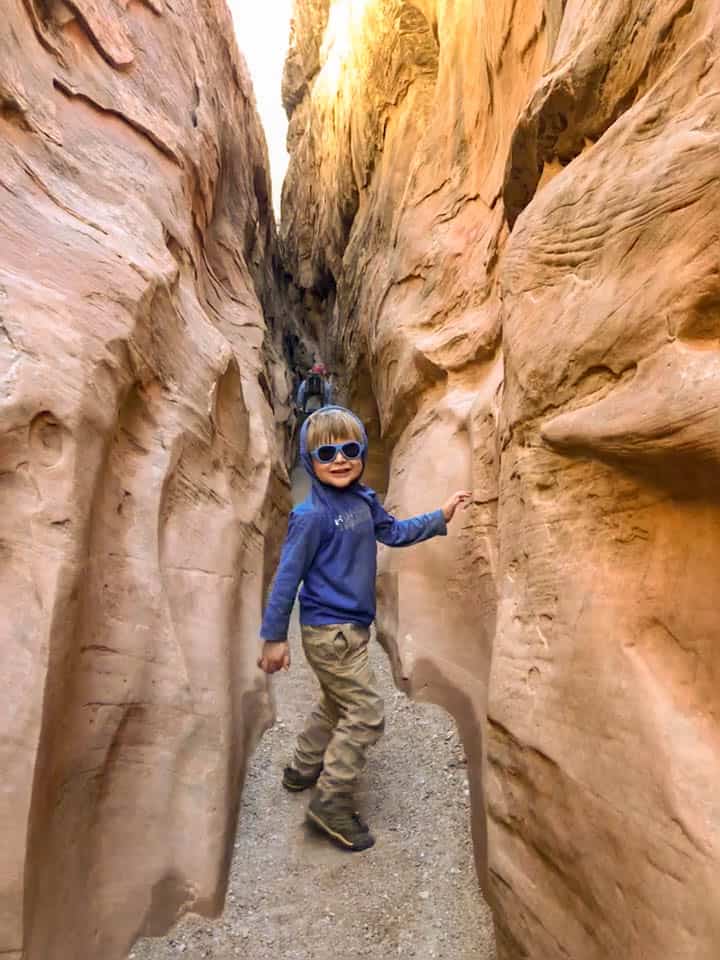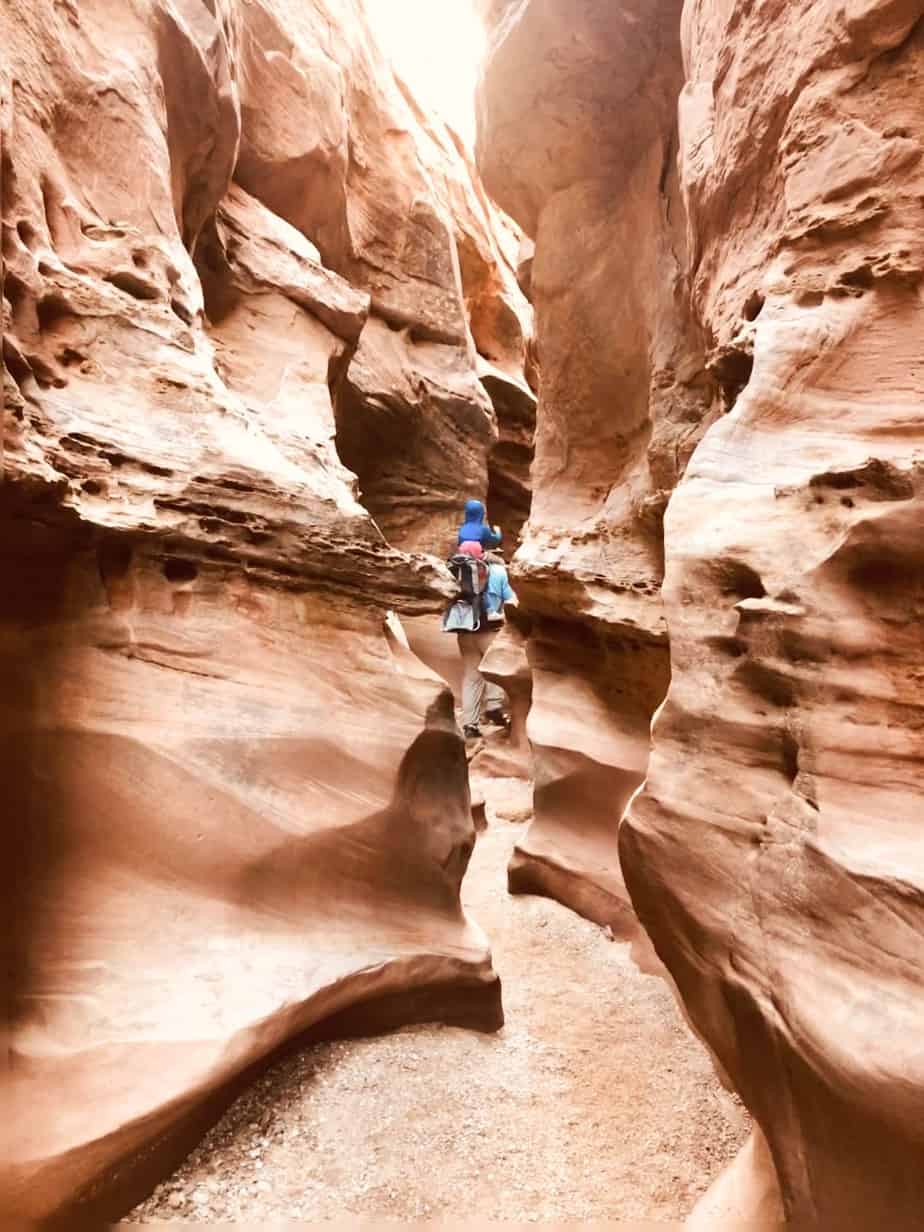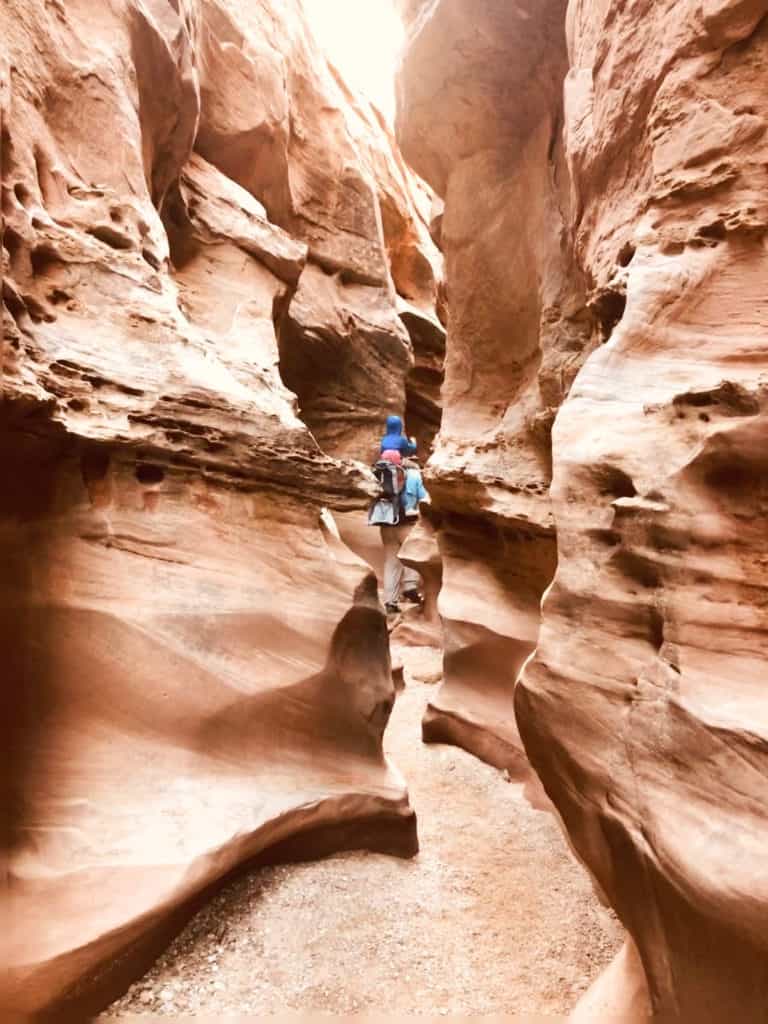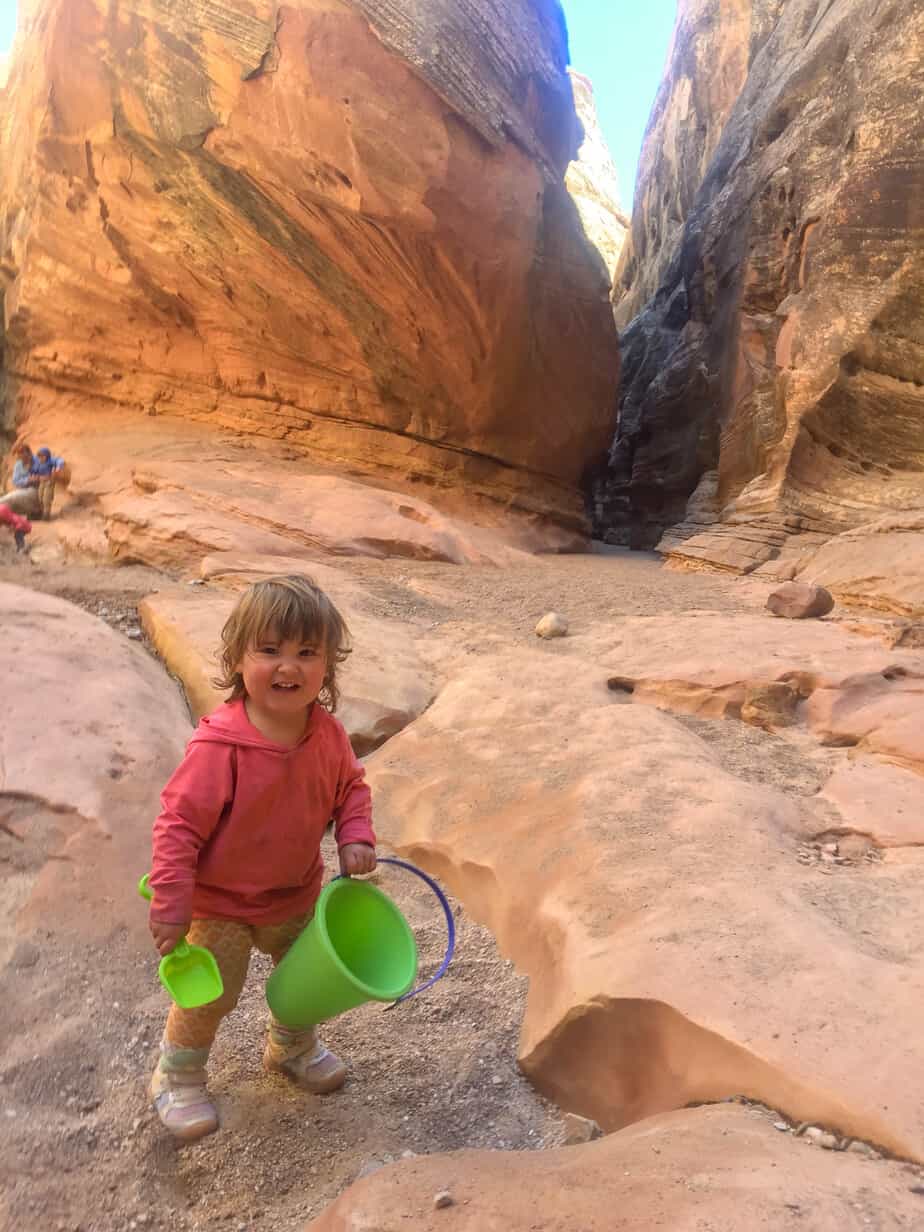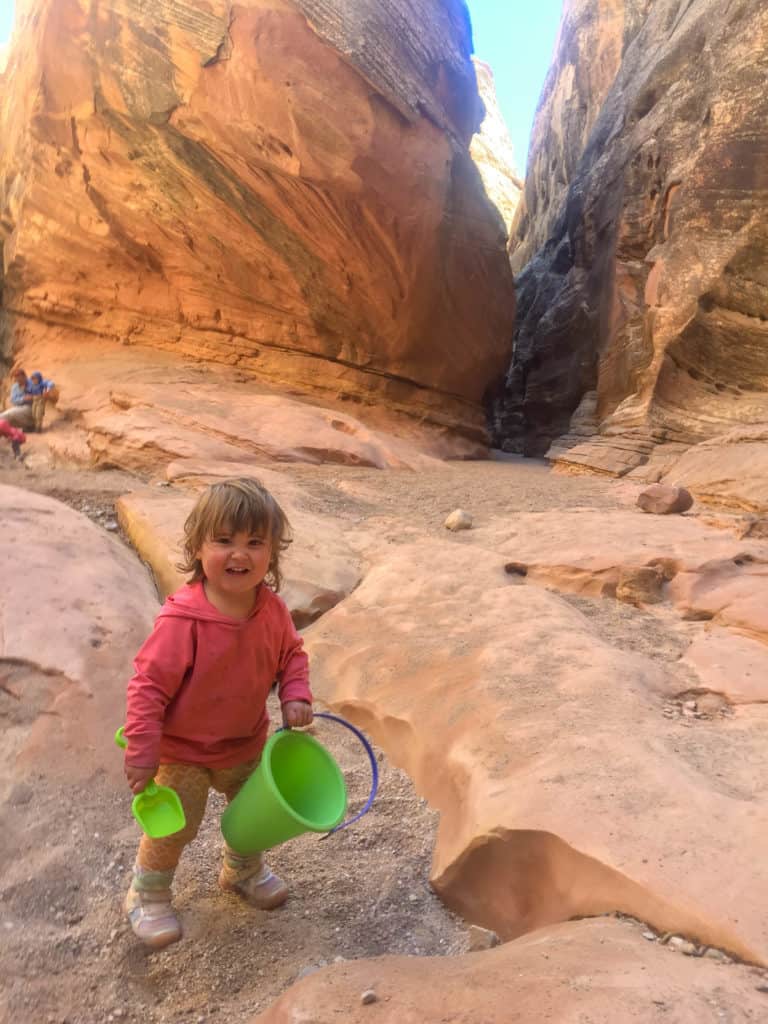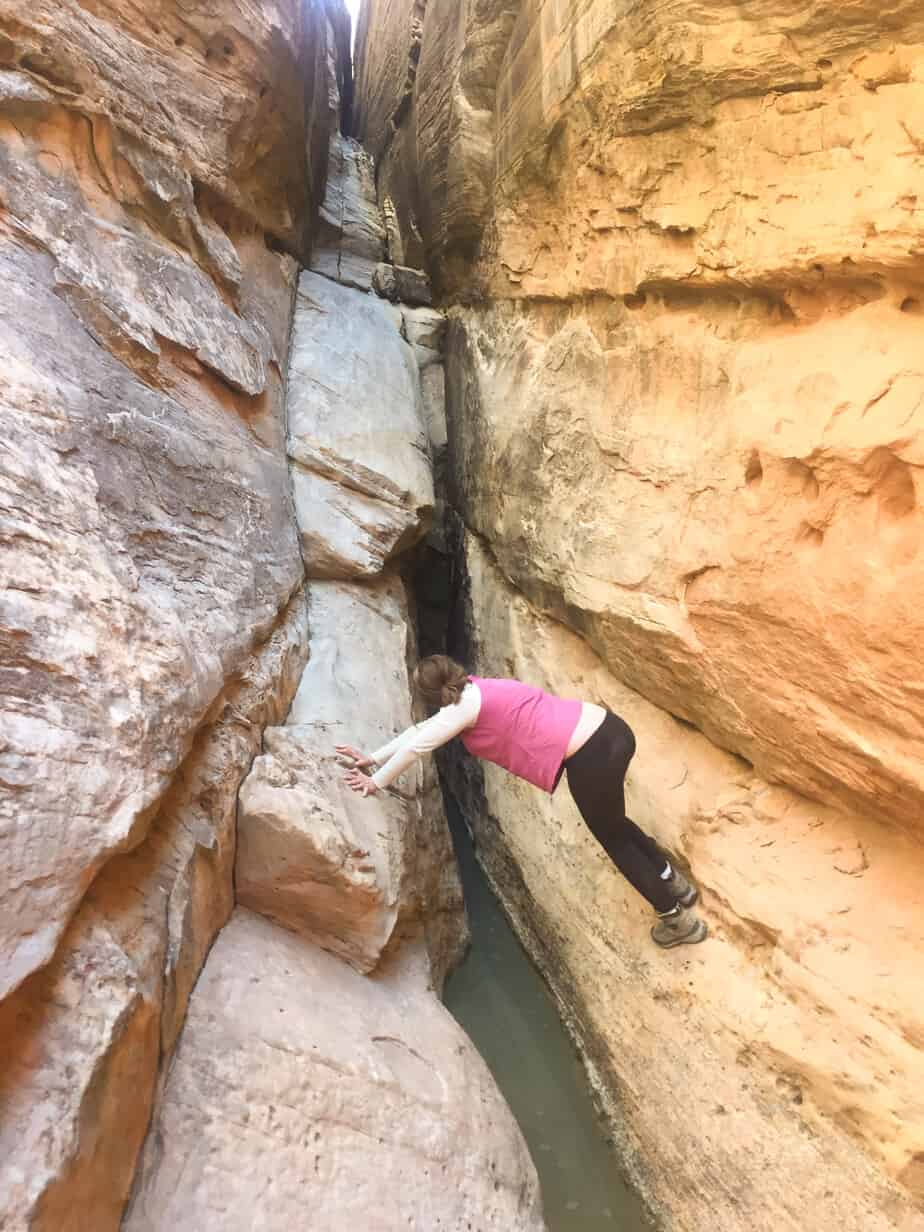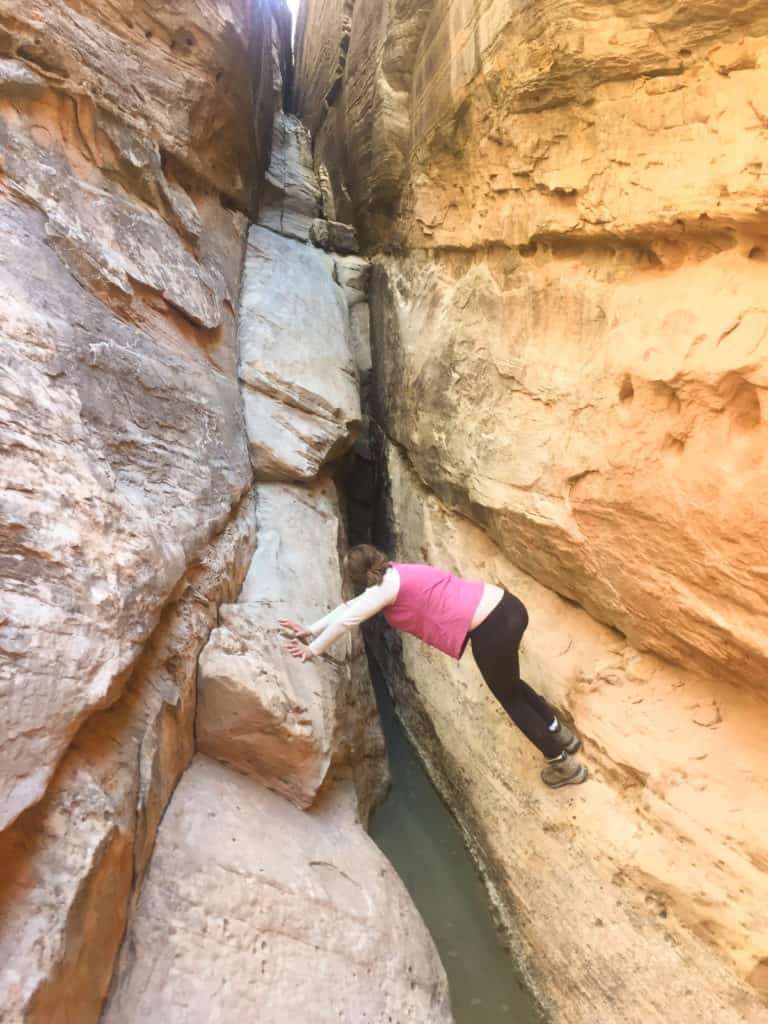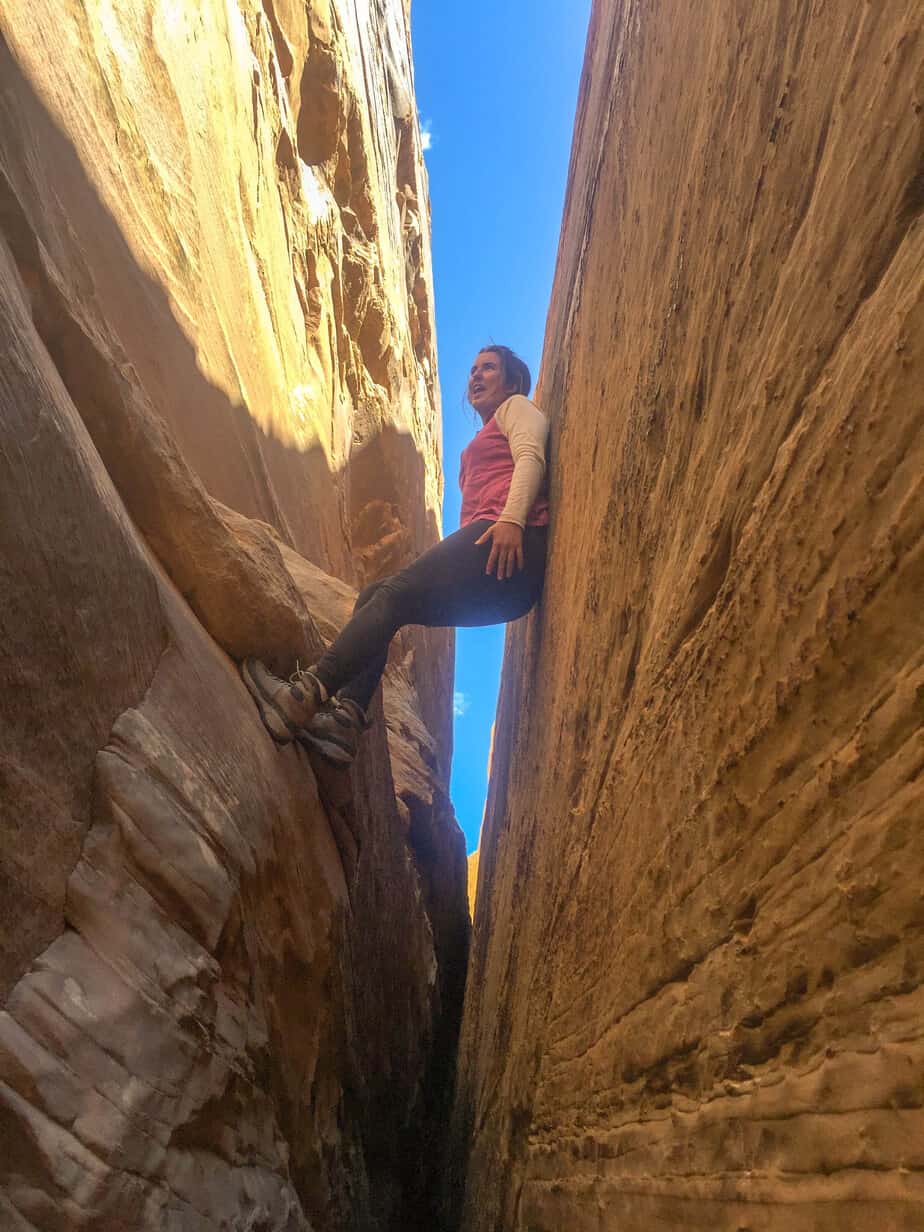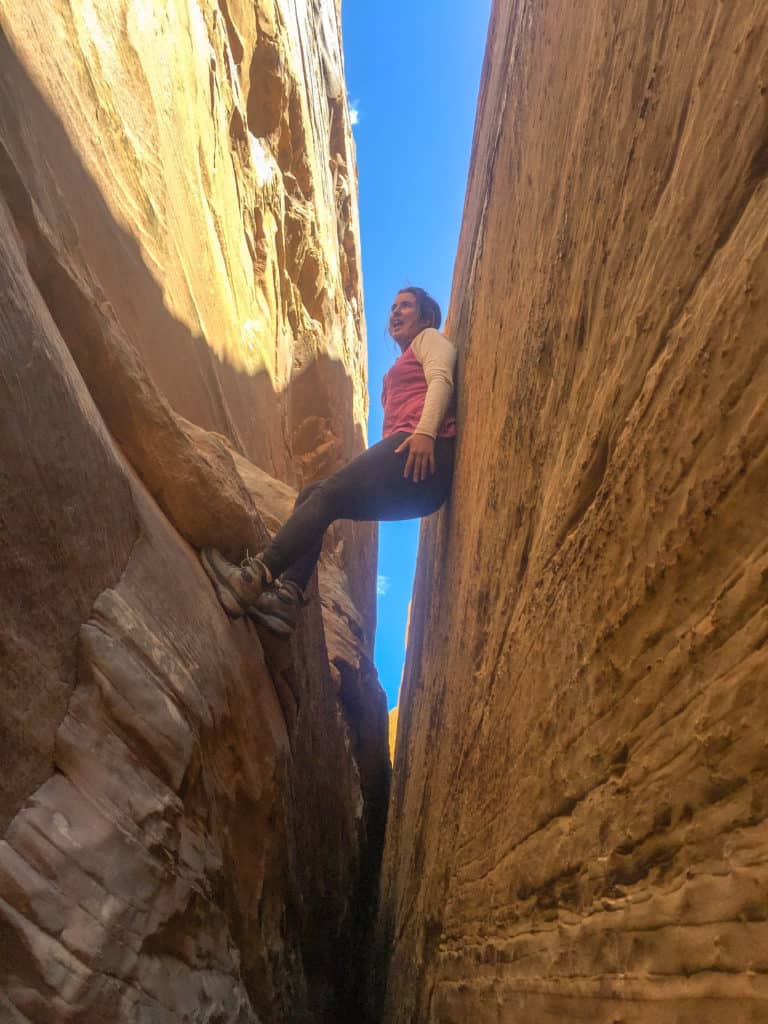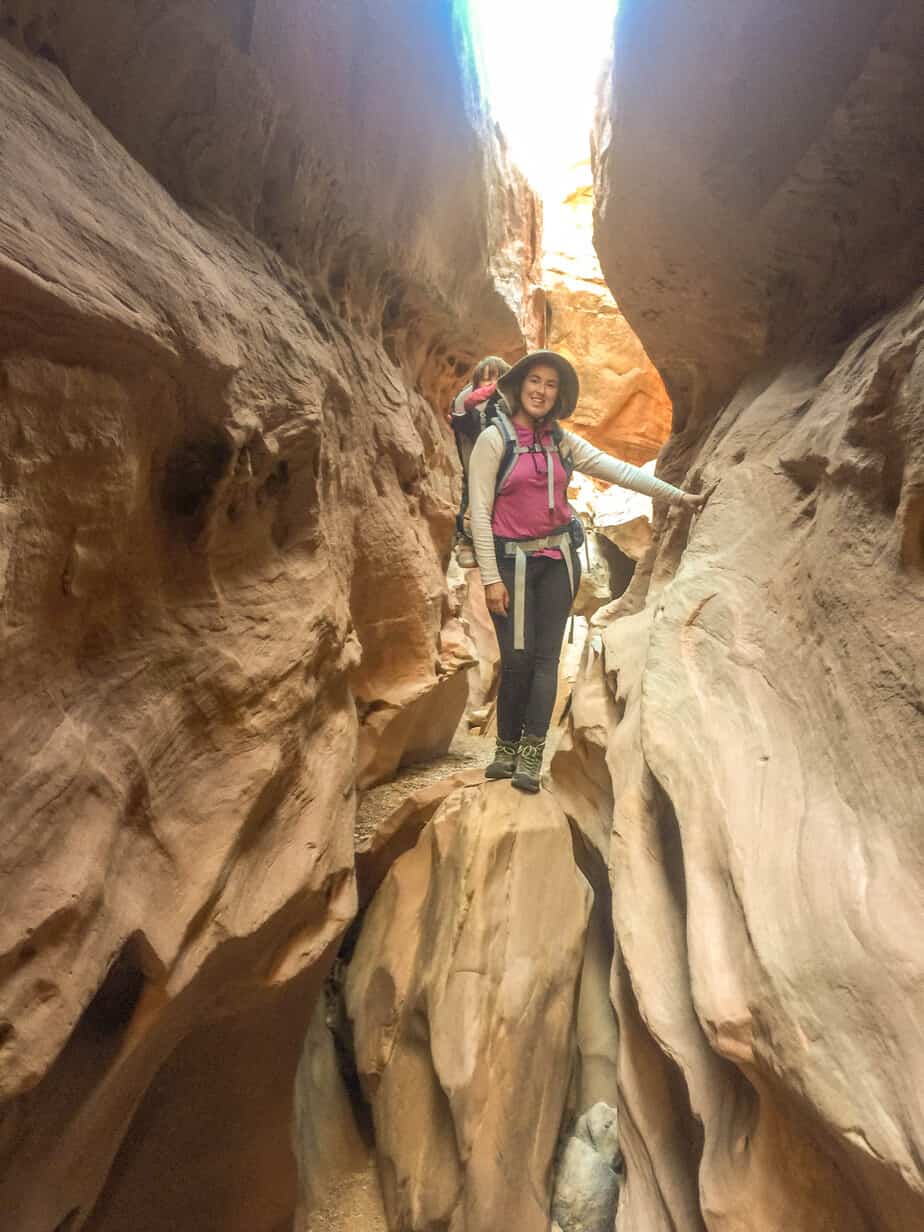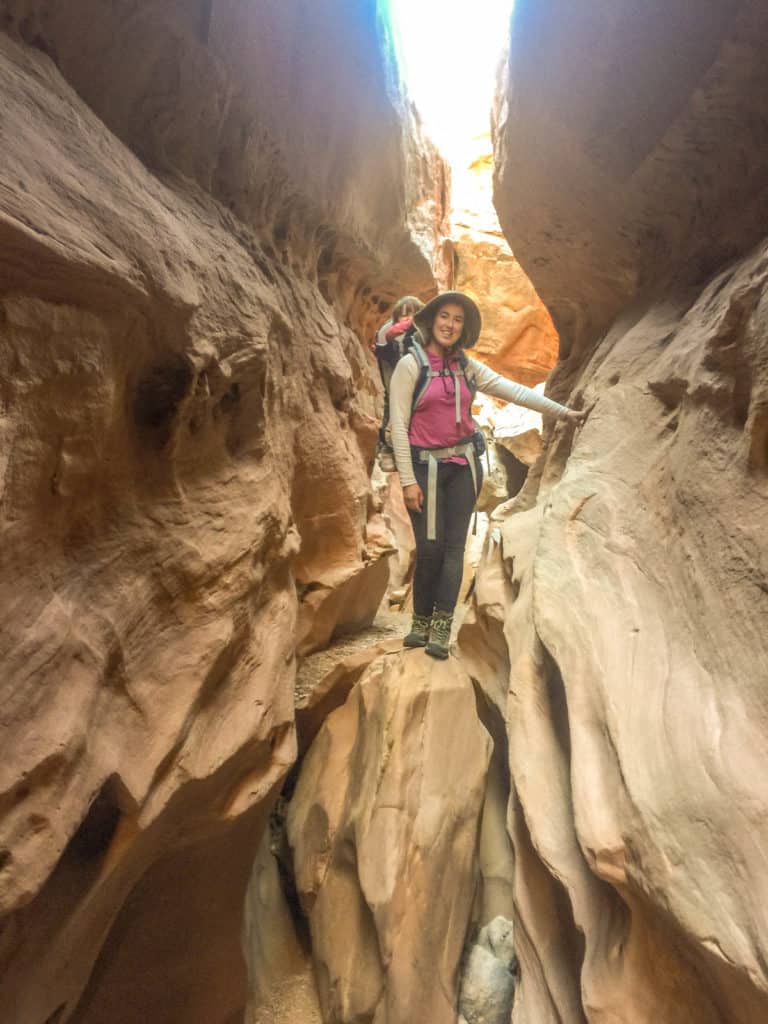 What was your favorite slot canyon?
I know it's hard for me to pick – I loved Leprechaun because of how narrow it got, loved Blarney because of the stemming fun, and loved Little Wild Horse because of the amazing texture of the rock and sheer massiveness of the walls!
Let me know in the comments!
P.S. We went to Zion and that was amazing, but I had way more fun in these. Zion was so incredibly crowded at the start of May (and there were quite a few trails still closed!)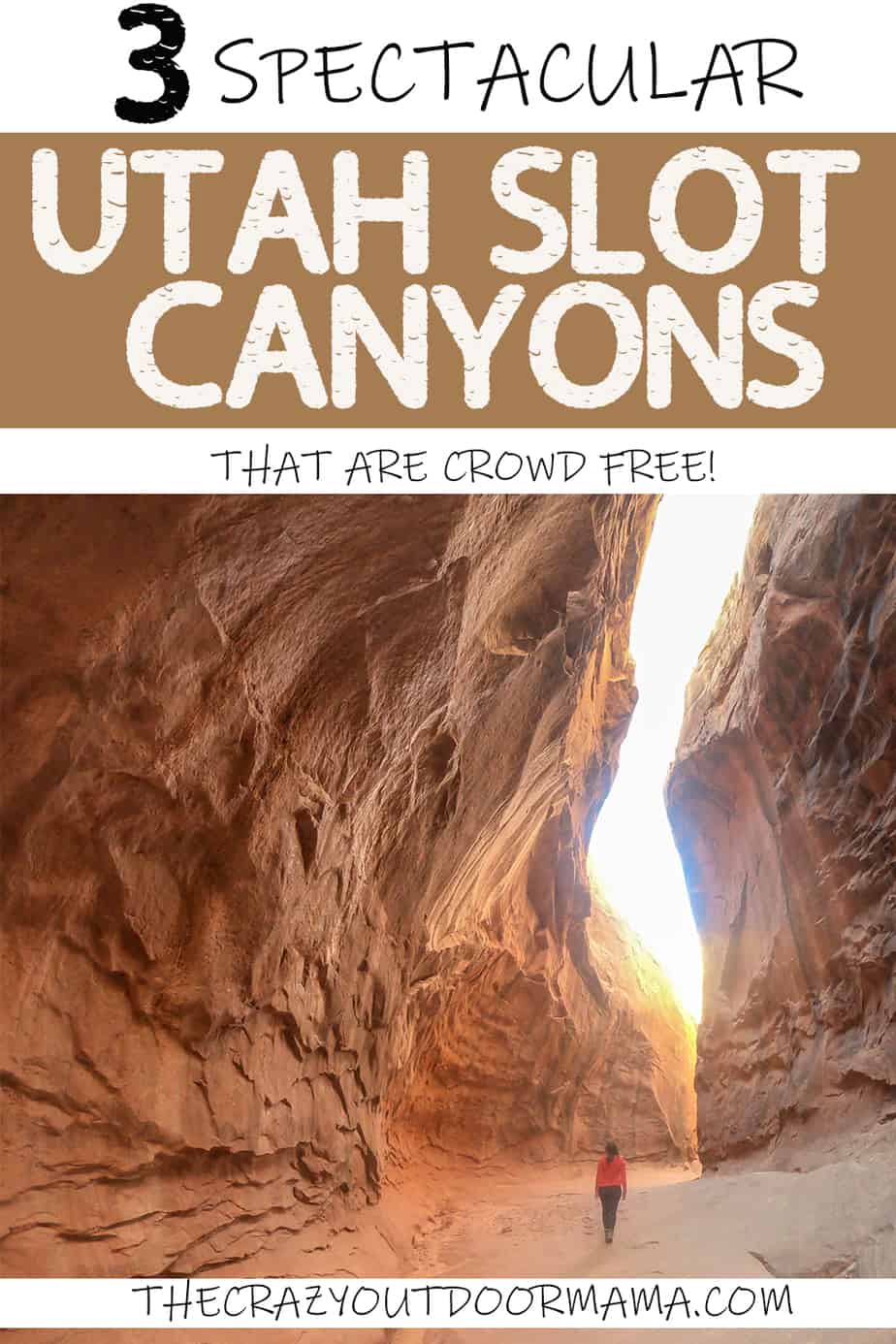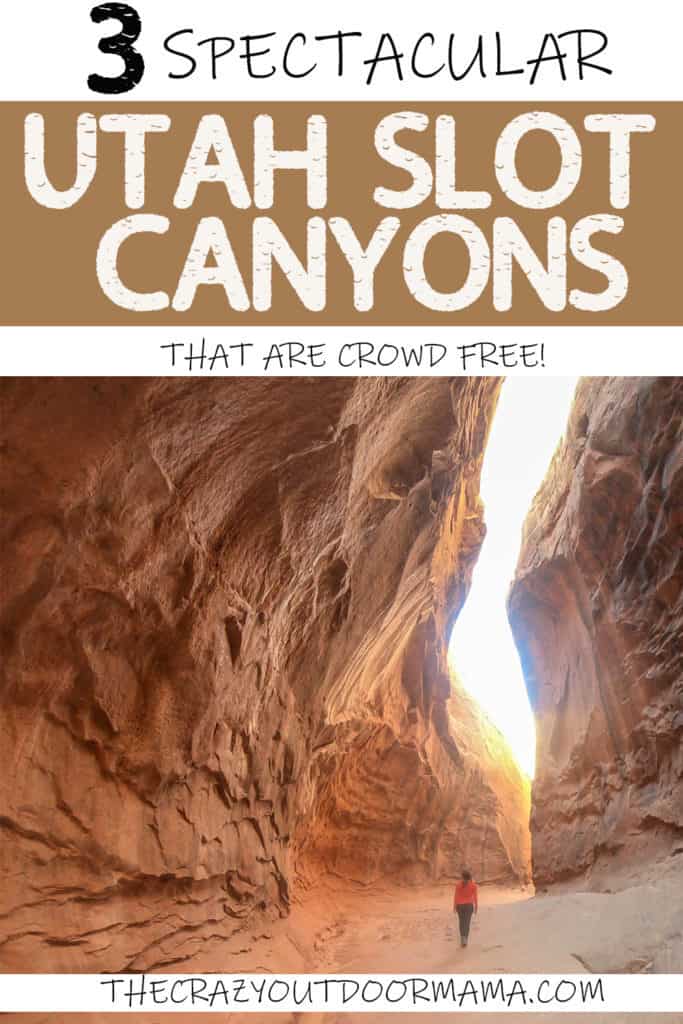 Latest posts by Stacy Bressler
(see all)