Natural Bridges National Monument is so unique! These Natural Land Bridges are MASSIVE, and for whatever reason, seldom visited! This makes for an amazing experience – we hiked to two of the three, and only saw maybe 4 groups the whole time.
To look down into the canyon, and see the bridge from ontop, and then to use things like ladders, rails, and carved in steps to get down in there… it feels absolutely amazing, and is an experience like no other!
I can't tell you how awe inspiring it was to have lunch under one of these natural bridges (we had ours under Sipapu) – they seem so much more massive when you're under them!
There are of course options to visit view points, which are amazing, but if you feel comfortable with somewhat strenuous hiking, you must go down in the canyon and hike to atleast one!
I'm going to give you a good over view of what to expect if you plan on hiking Natural Bridges National Monument (and some sweet pictures so you have something to visualize!)
P.S. If you haven't ever done hikes with toddlers (and plan on taking one!), then check this toddler hiking guide before you go! Toddlers have a short attention span sometimes, so it's all about keeping it fun and not pushing too hard (think lots, LOTS of breaks, games, and snacks!)
Note: We were very thankful to have our awesome father in law help us, and so we did a loop most people wouldn't do as it requires a car shuttle. Please keep this in mind when you think about seeing what we did (Drop into Sipapu, hike back up near Kachina)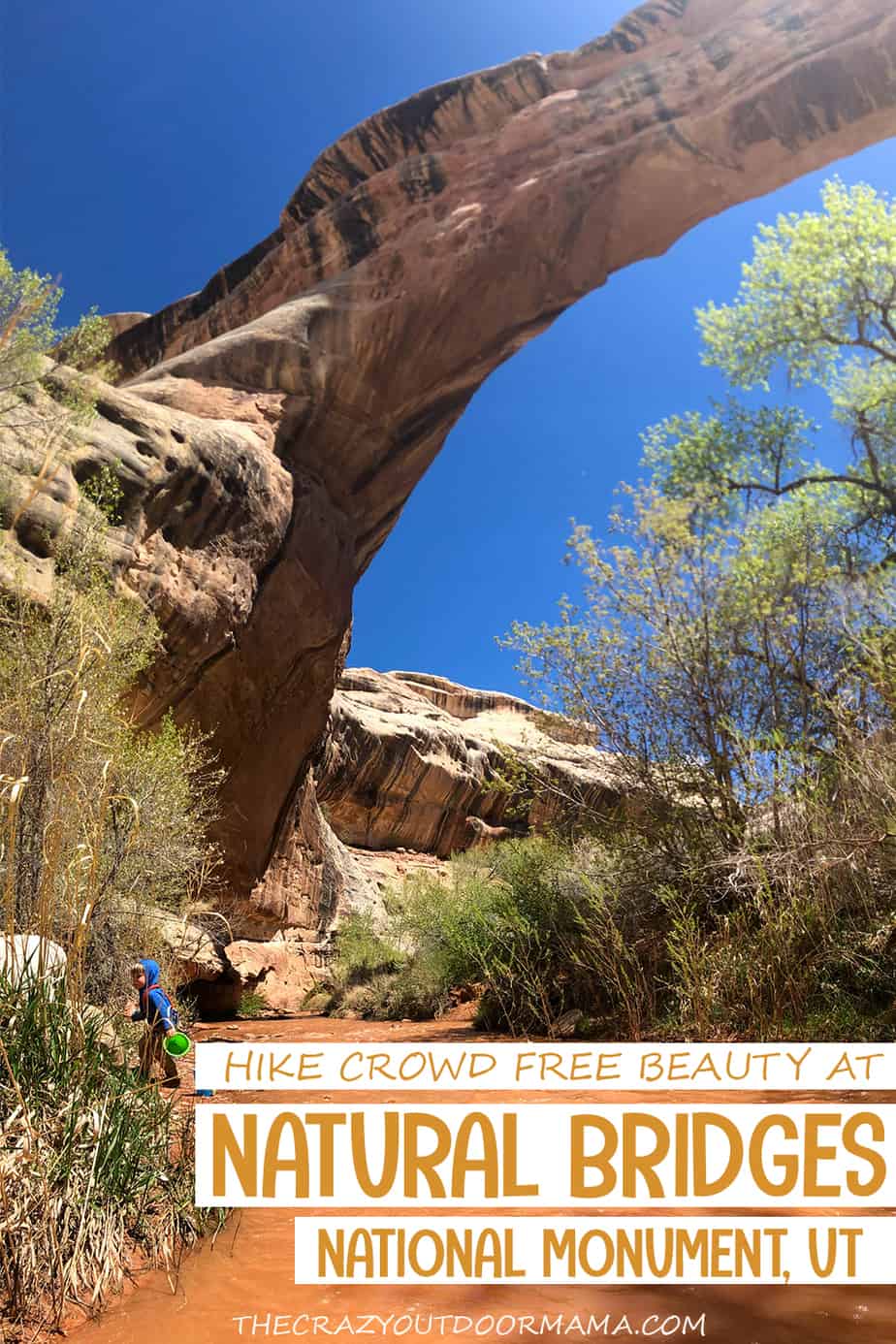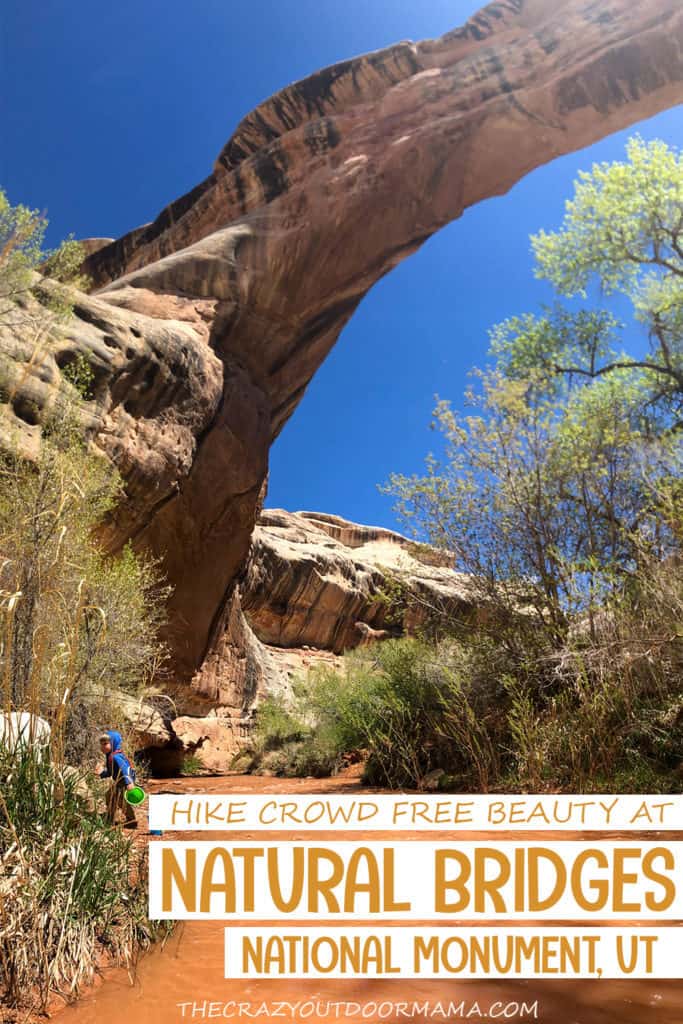 What to expect at Natural Bridges National Park
I'm going to answer the basic questions, however you can find more advice on this amazing loop trail here.
We did about 5.2 miles, the distance from the Sipapu Trailhead to the Kachina Trailhead with a 3 1/2 year old, two 21 month olds in backpacks, and an awesome father in law to pick up any slack as well as hike in and out TWICE in order to do a car shuttle for us! Keep expectations real guys – we didn't know how difficult this hike would be!
There are three natural bridges in the monument (Sipapu, Kachina, Owachomo) which can either be done as an 8.1 mile loop or as individual hikes if you only want to see one in particular. You can also choose to just do two that are next to each other (We dropped into the canyon at Sipapu, and hiked out above Kachina). Check out the

National Park Service's guide here for mileage for each one

There is a campground, however, it is only 13 spots and is first come first serve
Swing by the Visitor Center for a Junior Ranger (of sorts) activity book, beautiful art and souviners and some treats. There are a couple of ranger-led programs you can look into if you're interested
This area is known for its very dark skies and so beautiful nights! It's a highly photographed area at night, so bring your nice camera stuff if you have it!
If you don't have time to hike, there is a drivable loop – The views aren't near as great, but this is a good option to still see it for yourself! You will still have to pay the fee unless you have a National Park
Pass
This is considered a strenuous hike, depending on where you drop in – Be prepared to walk on slick rock, go through multiple creek crossings depending on the time of year (we did probably 10+ in late April) and steep hiking both ways. I would definitely suggest bring hiking sticks if you are uncomfortable doing these things while carrying a kid on your back (I had a rope on me at times because I get nervous, and found various hiking sticks to use along the way)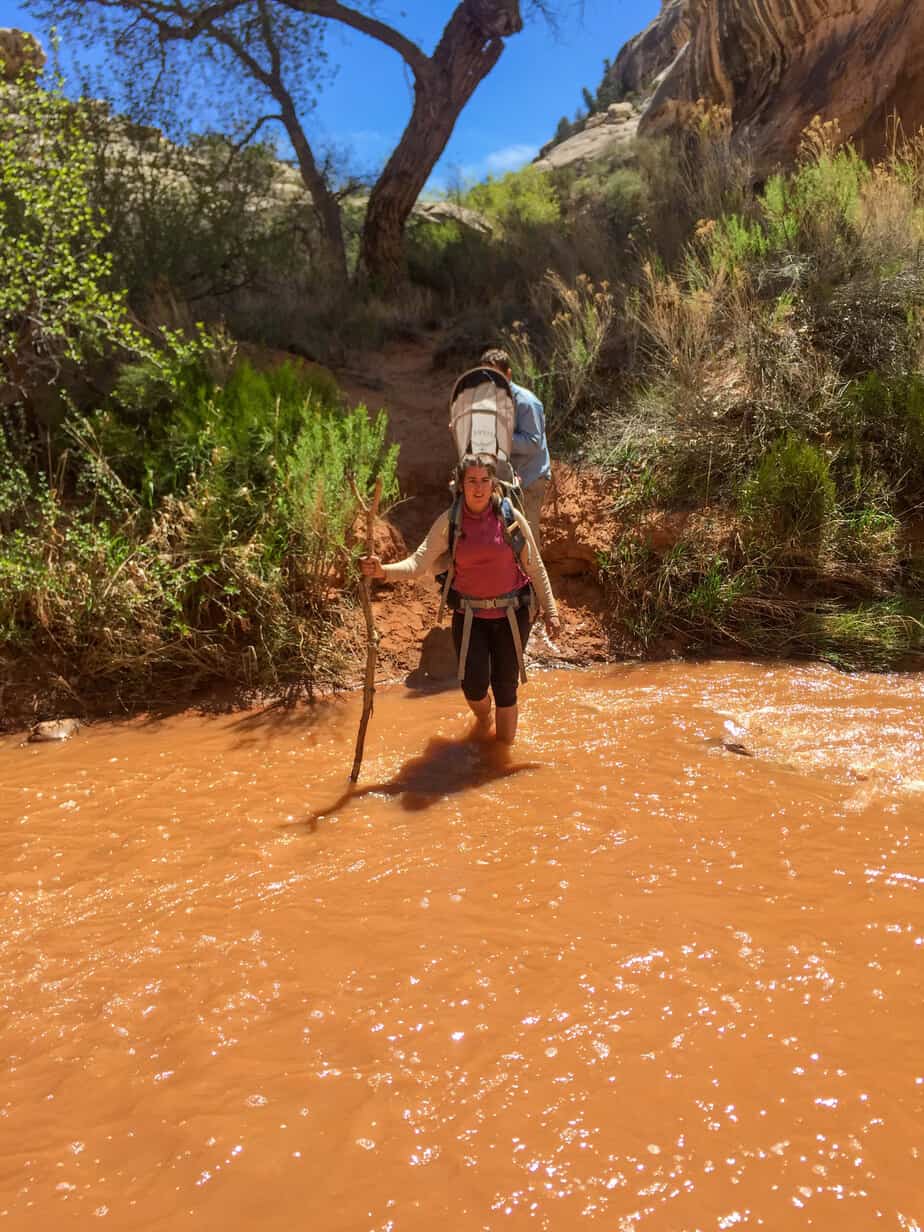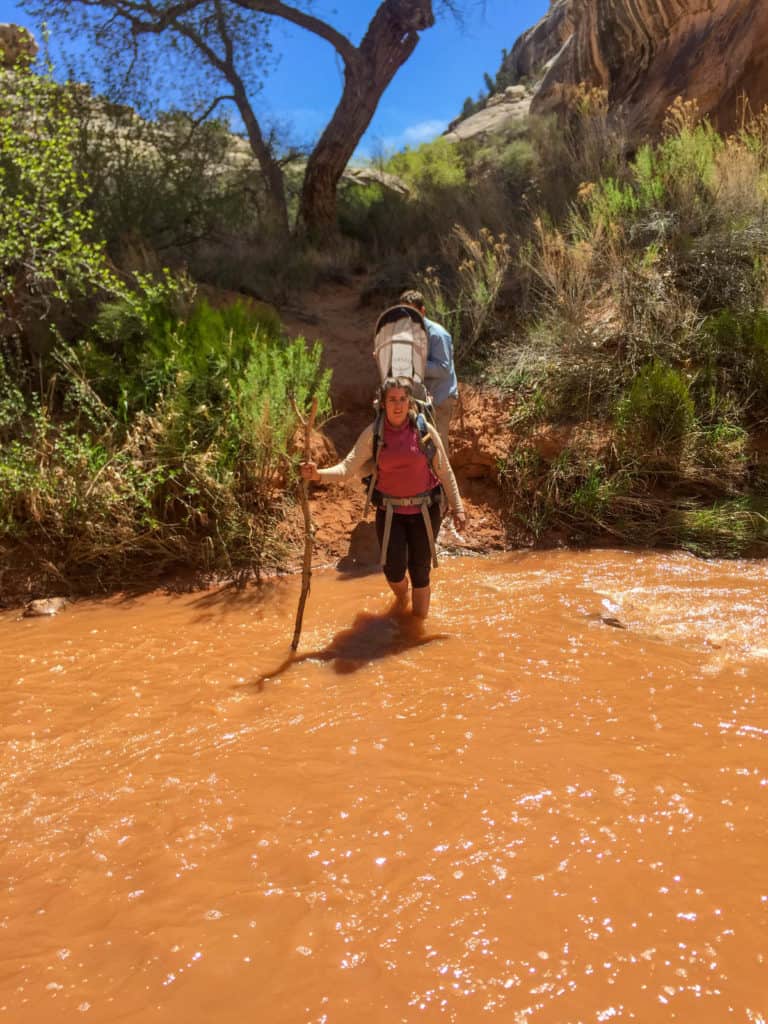 The easiest bridge to hike to is Owachomo Bridge, so if you want the feel but without the intensity then scroll down to find out about it! The trail is only 0.5 miles roundtrip, and a short 188 ft in elevation change.
Sipapu Bridge
(1.4 Miles Roundtrip, 436 ft elevation loss)
This is the biggest bridge in the Natural Bridges National Monument, and the second biggest in the United States! It is 268 feet long, 67 feet high, 9.5 feet wide, and 16 ft thick!
There are MANY rails, carved steps, and wood ladders so if you're hiking with a toddler, you may want to have a harness and rope on them just to be safe. We certainly did!
To get here, start at the Sipapu Bridge Trailhead parking area (which is different from the viewpoint parking area). Follow the signs to the bottom!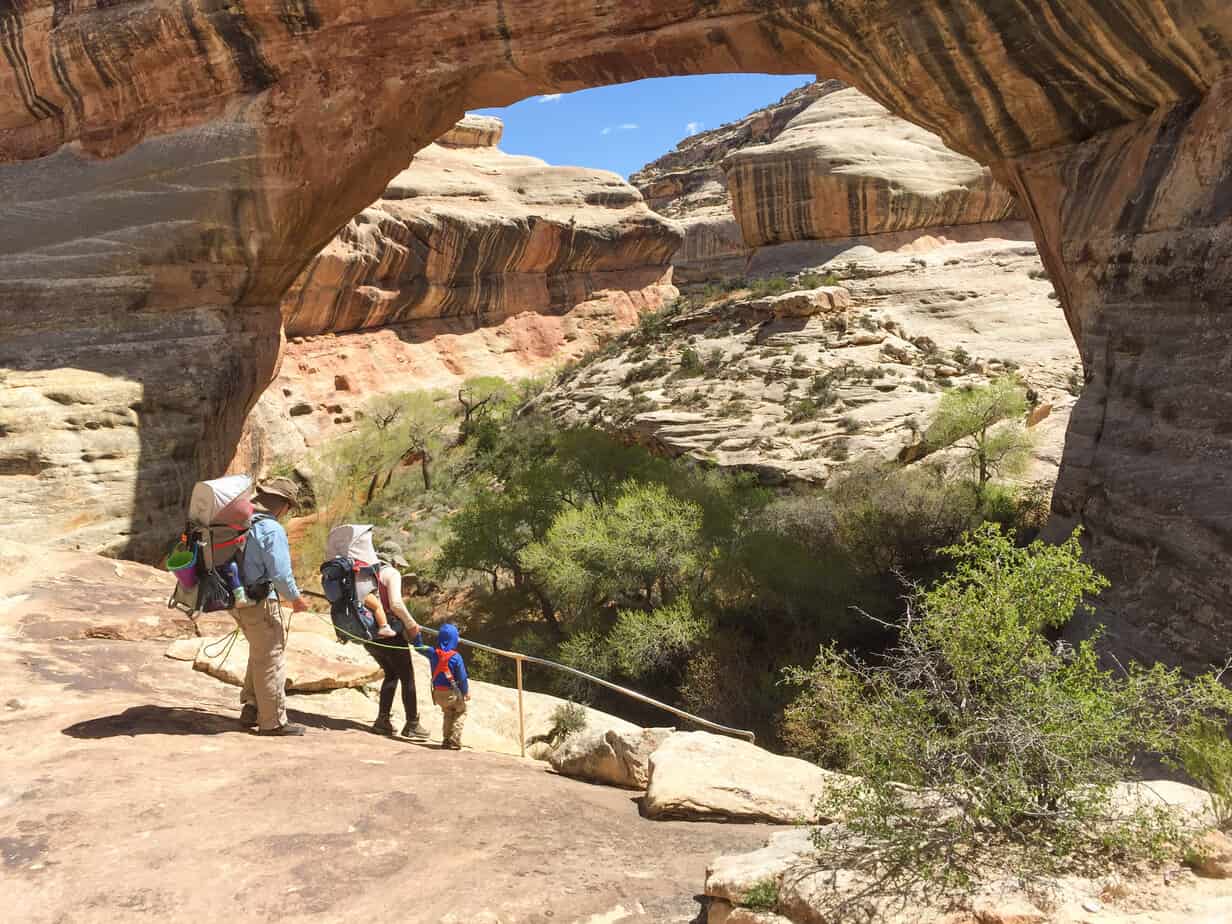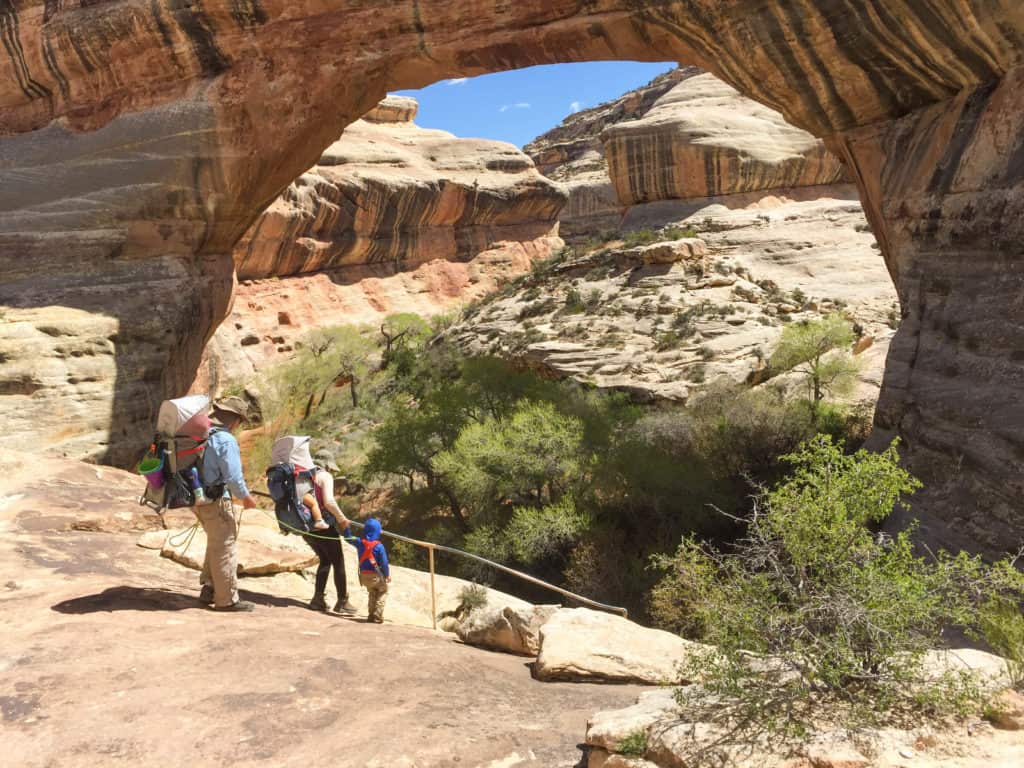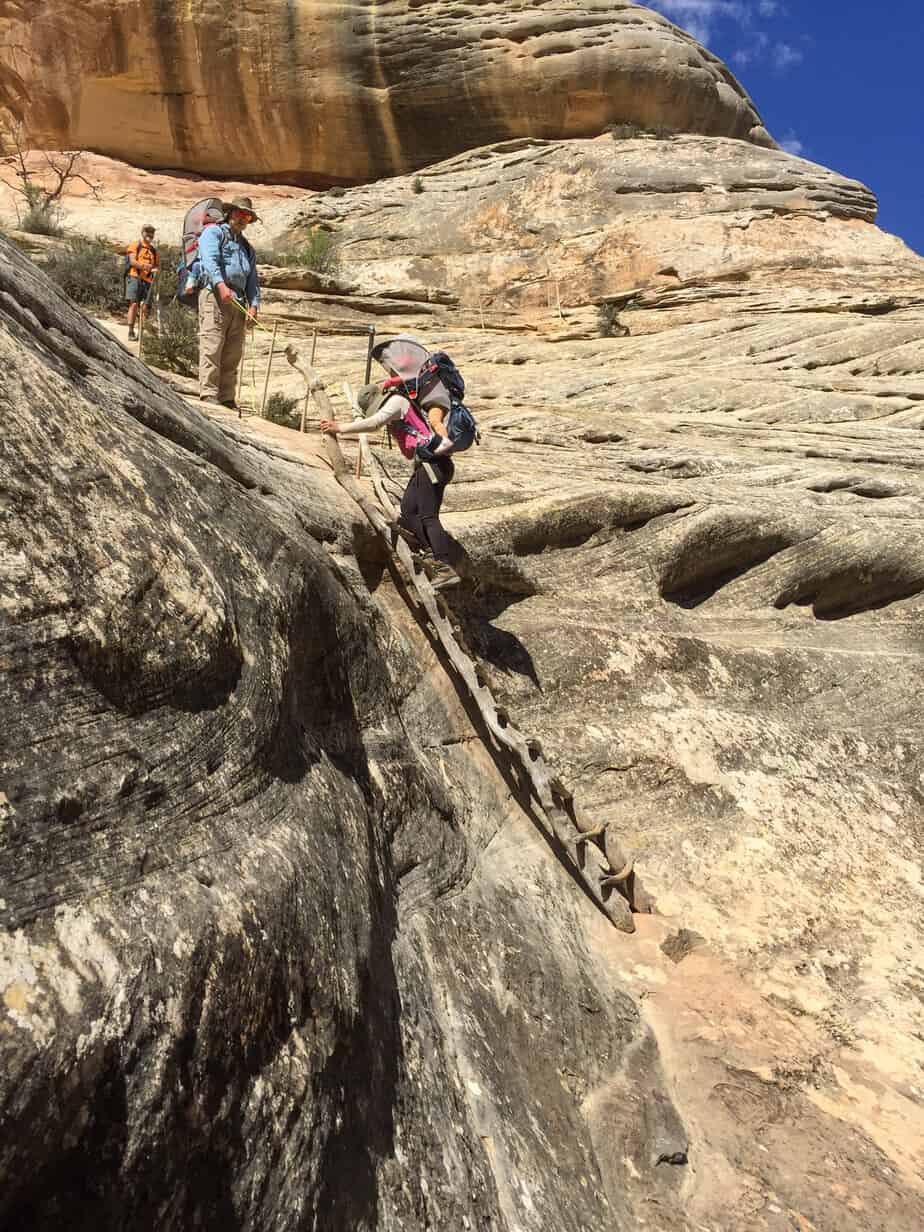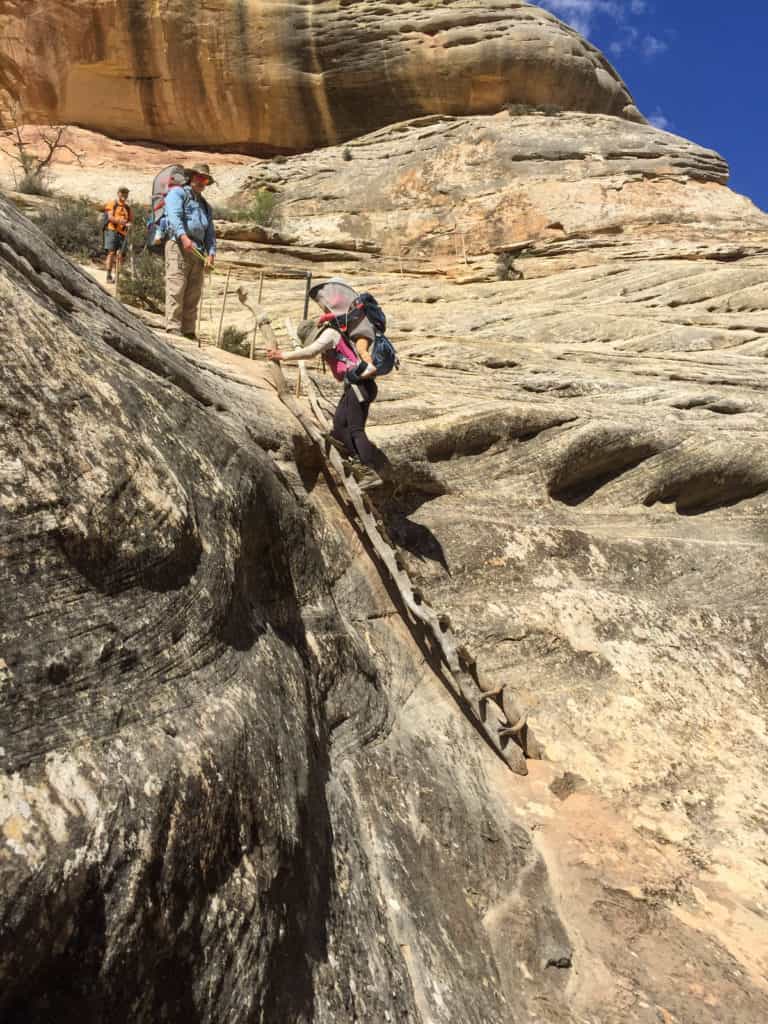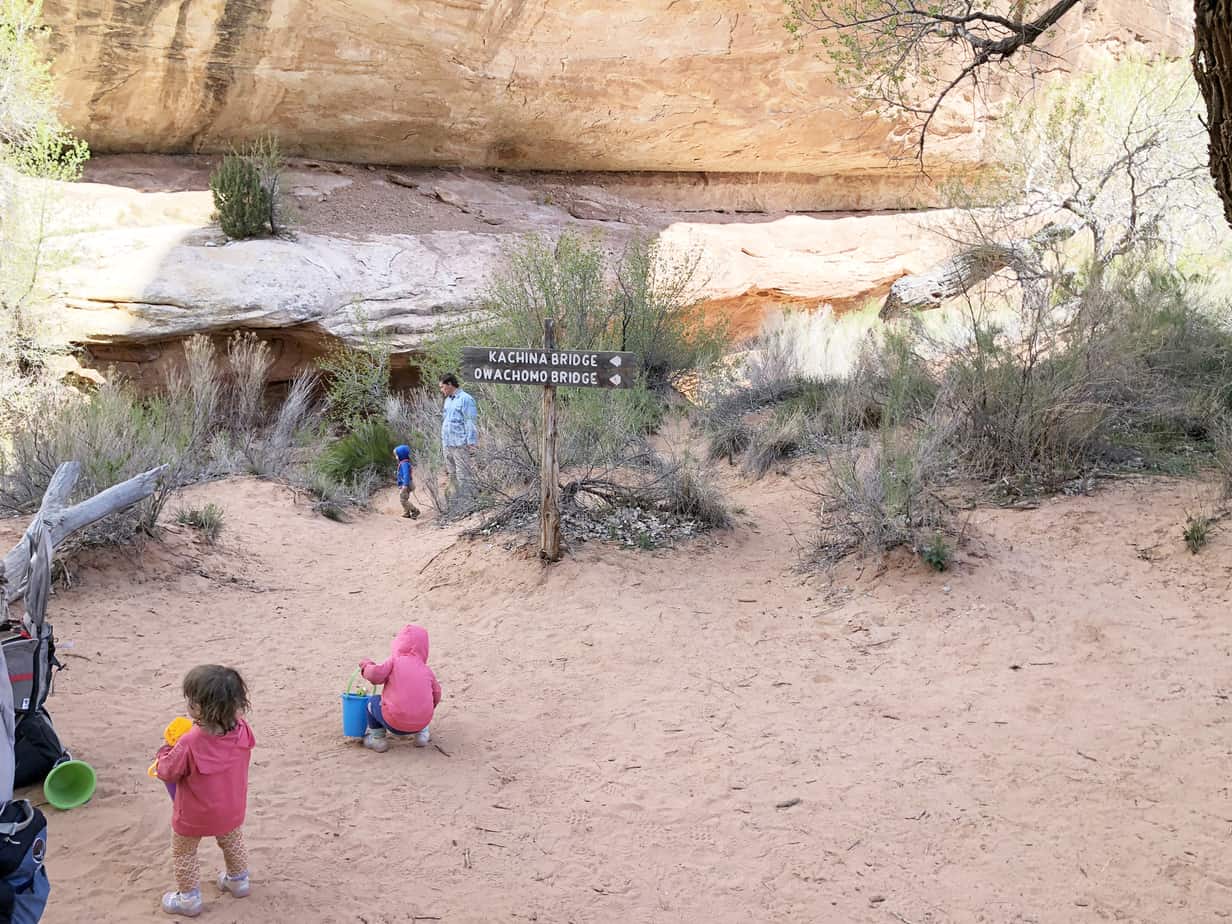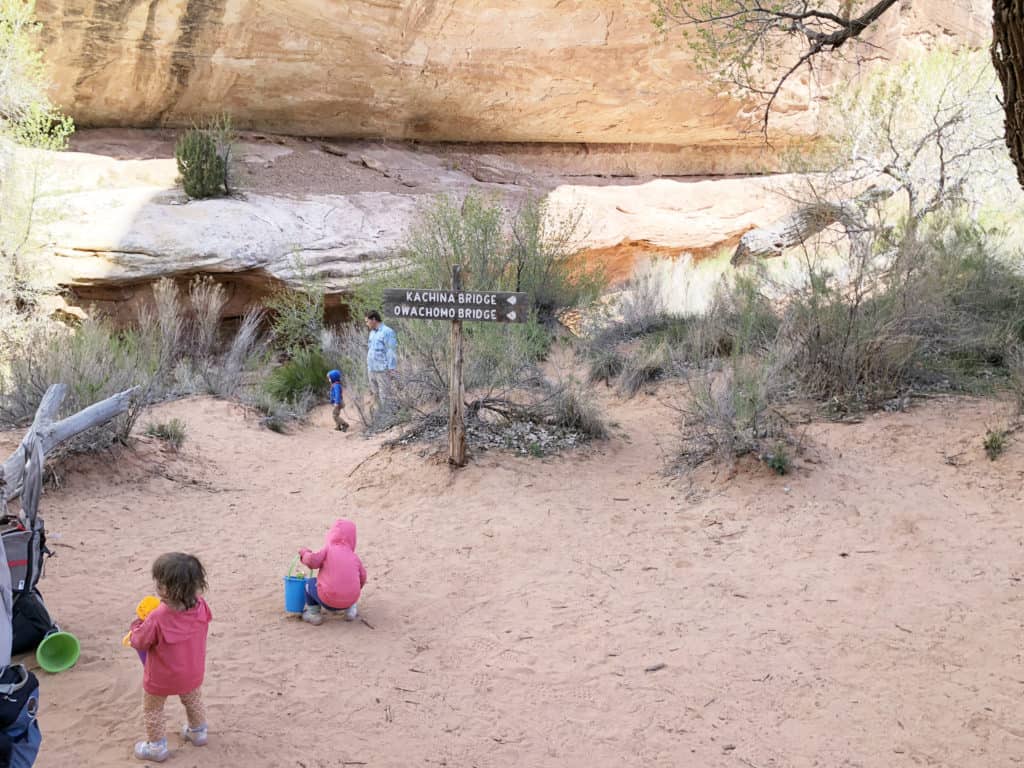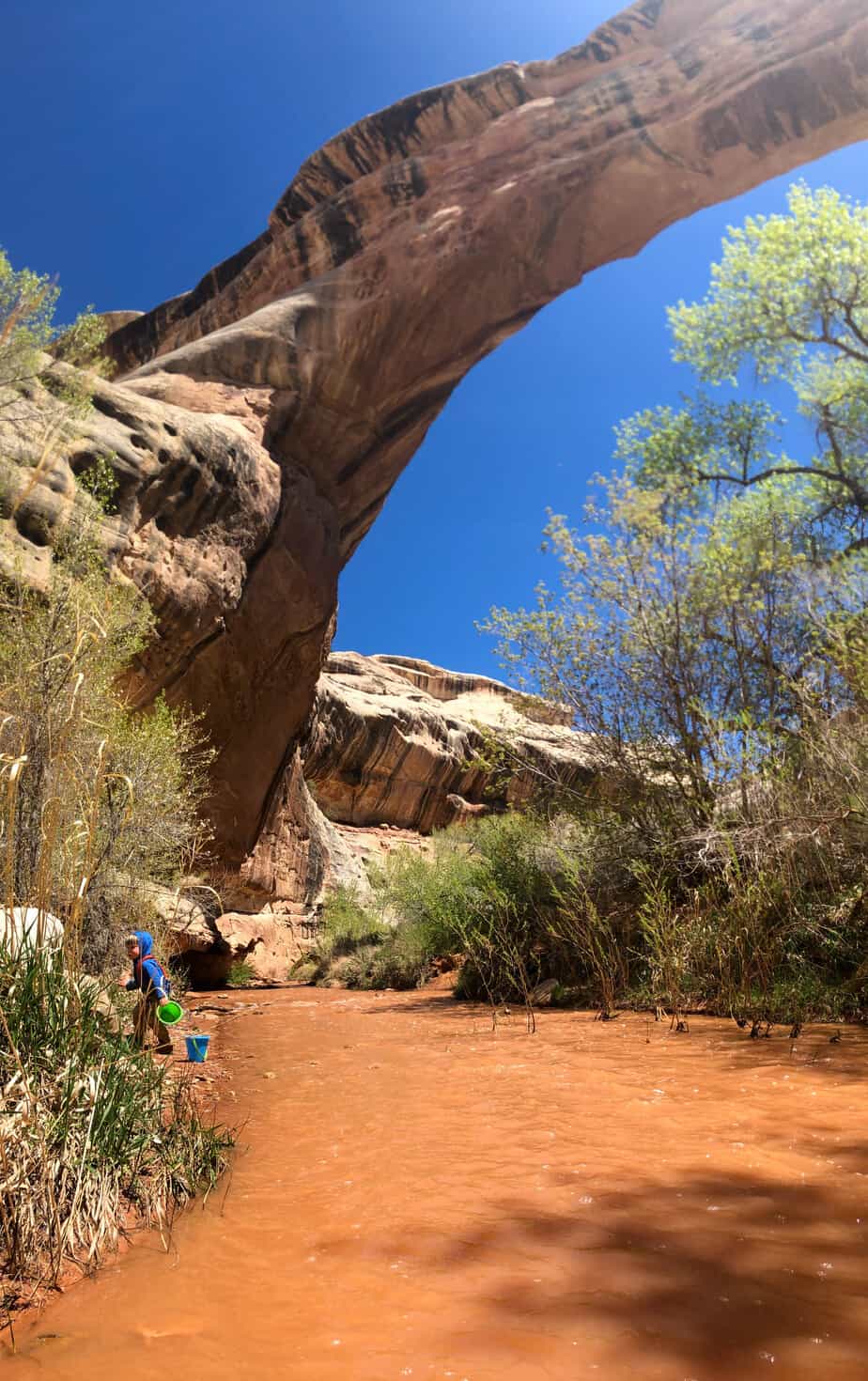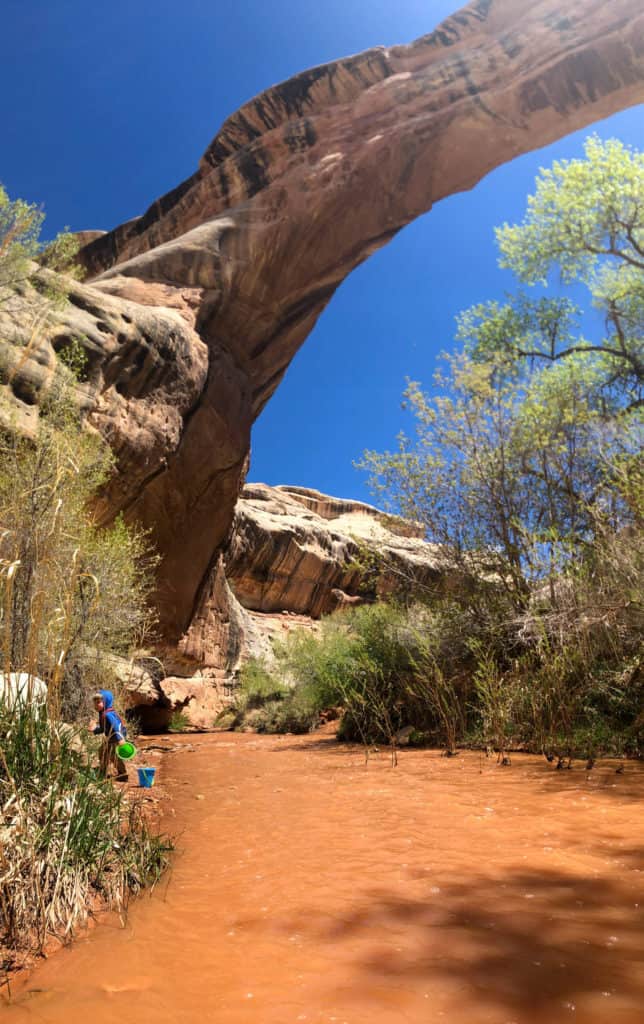 Kachina Bridge
(1.4 miles Round trip, 462 feet elevation loss)
This is the second biggest natural bridge in the park. It is 204 feet long, 64 ft high, 13 ft wide, and 28 ft thick!
The hike to this bridge is considered strenuous, just like Sipapu, and has much of the same features including the wooden ladder, rock stairs, wood stairs and plenty of switchbacks with pretty decent drop offs!
To hike down to this bridge, start at the parking area and follow the paved viewpoint trail to the split, then take the unpaved trail to Kachina's base.
Keep an eye out for petroglyphs along the bridges side!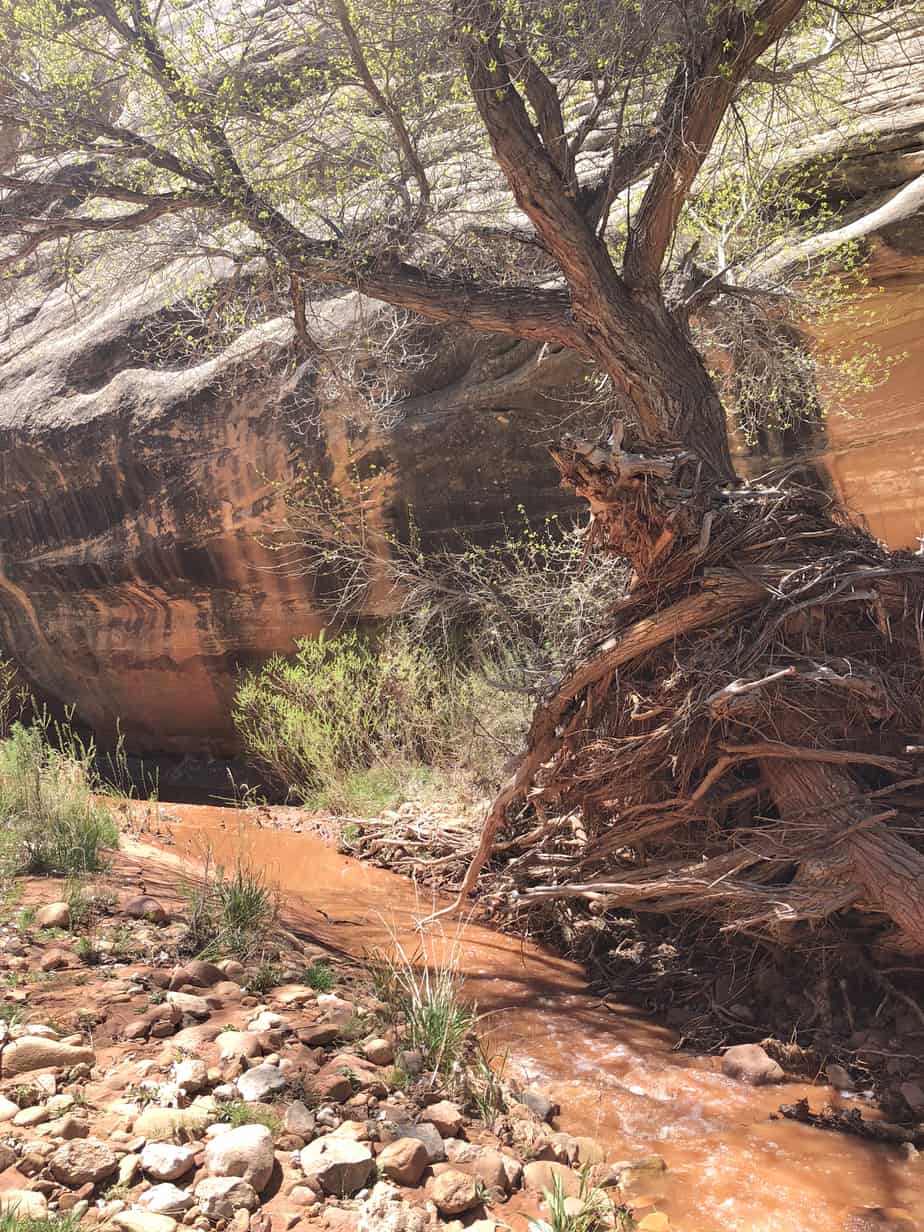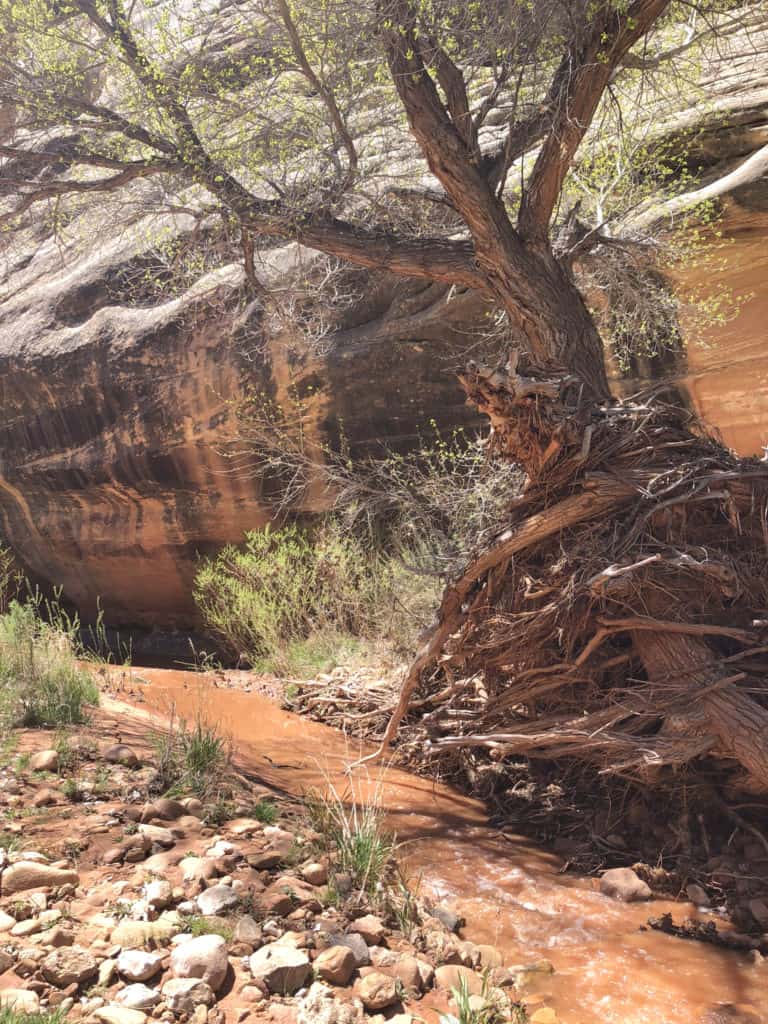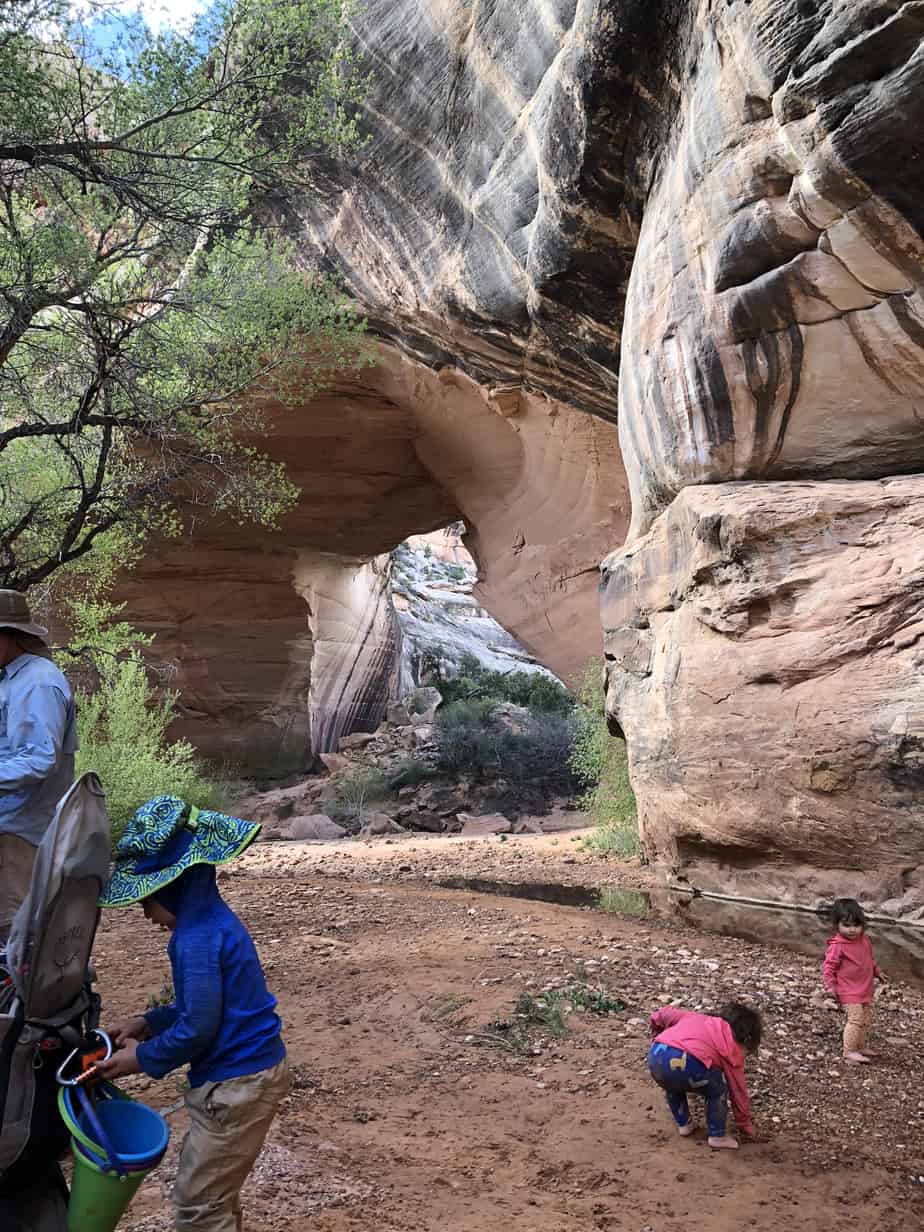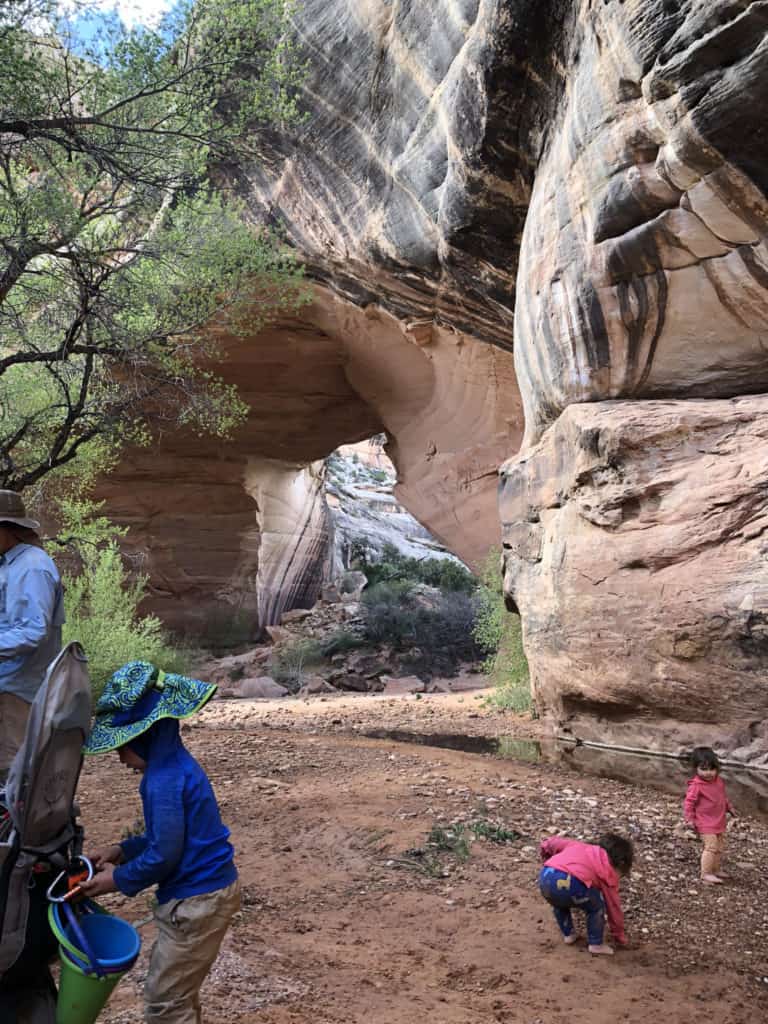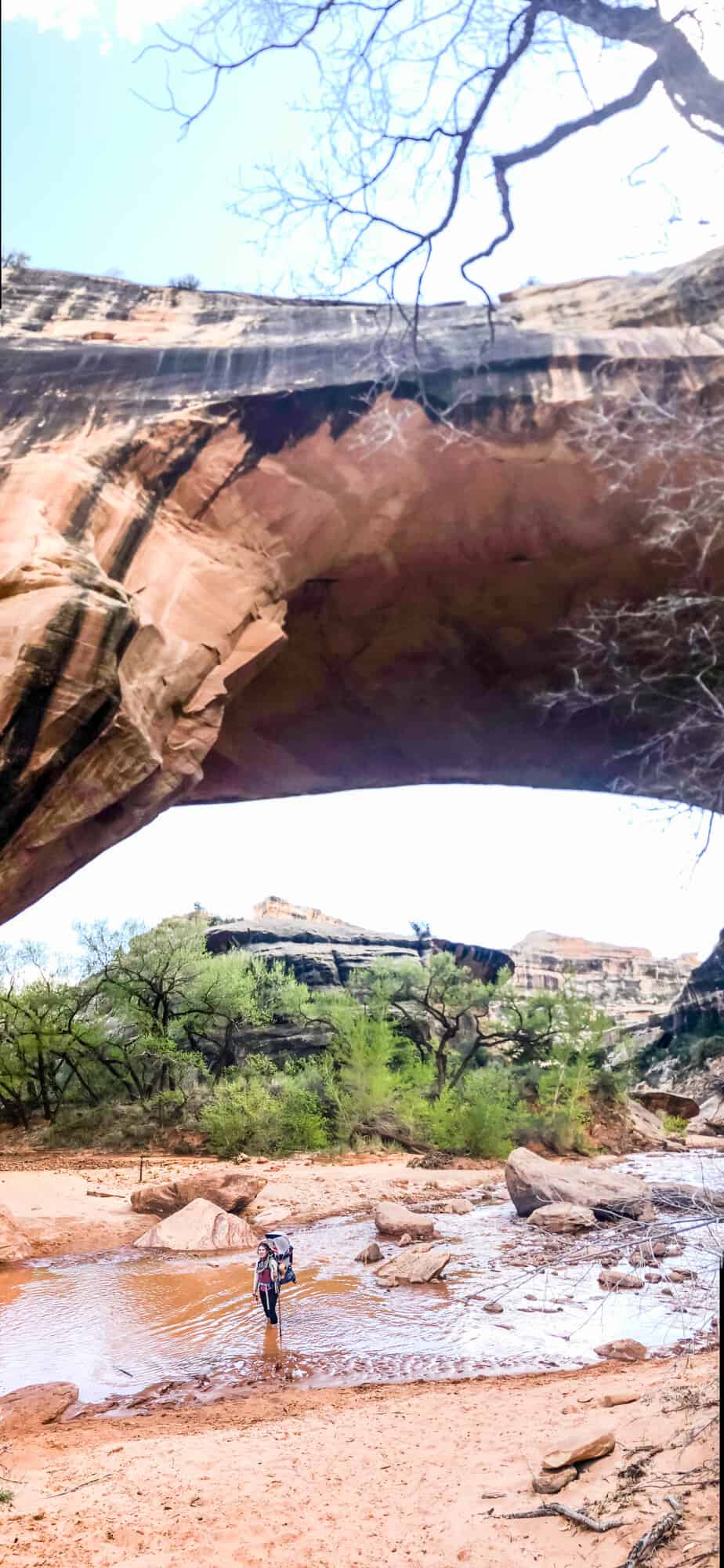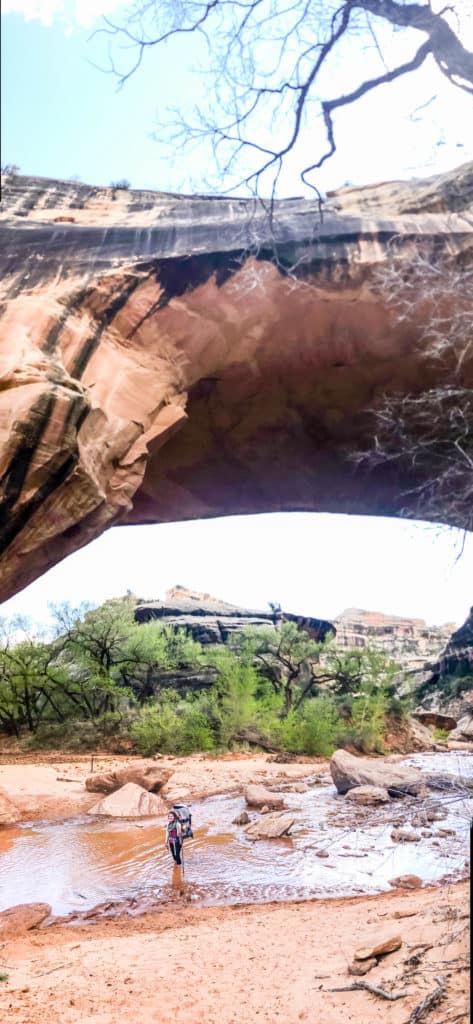 Owachomo Bridge (0.5 miles Roundtrip, 188 feet elevation loss)
This is the perfect bridge to visit if you are short on time, but want to experience it more than just looking at it from a view point! It is the thinnest bridge in the park at 180 ft, 32 ft high, 8 ft wide and only 3 ft thick.
The hike to this bridge is the easiest of the three!
To hike to this bridge, start at the Owachomo Bridge parking area and follow the trail down. This trail only has wooden and rock stairs, which can be helpful for those leery of rails and ladders!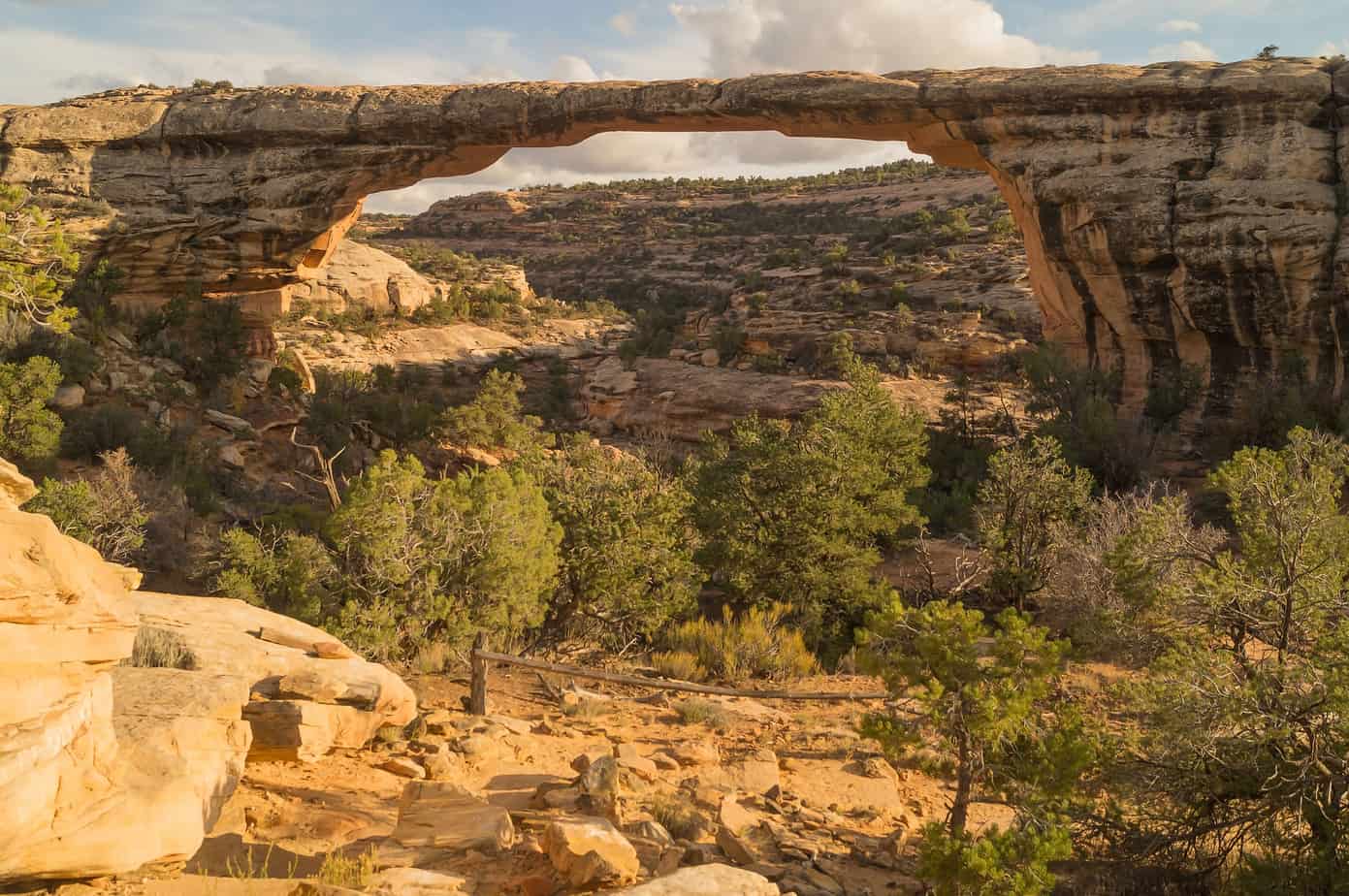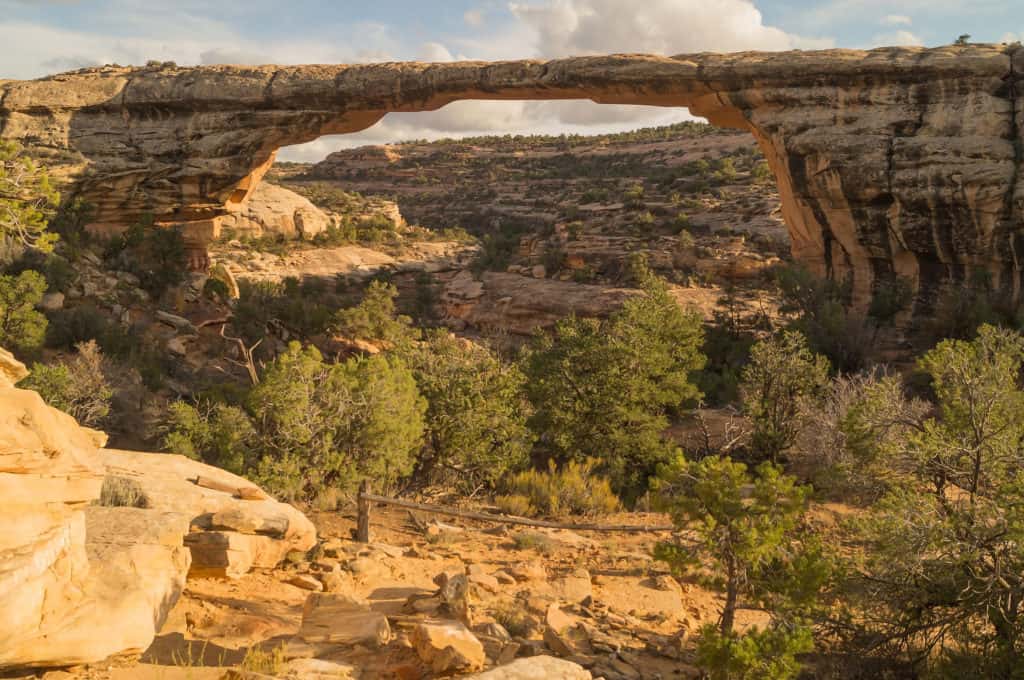 Ready to skip the big National Parks and see Natural Bridges National Monument instead?
Guys, I seriously can't believe how few people were here! I think everyone gets distracted by the major NP nearby (Zion, Arches, Canyonlands etc) and forgets about this!
If you want to see some other Southern Utah Gems that don't get the traffic you'd expect, then head over to see these 3 epic Utah slot canyons that anyone can do!
And if you're going to hit up the National Parks anyways (they're popular for a reason after all!) then check out this guide on Arches National Park with the family!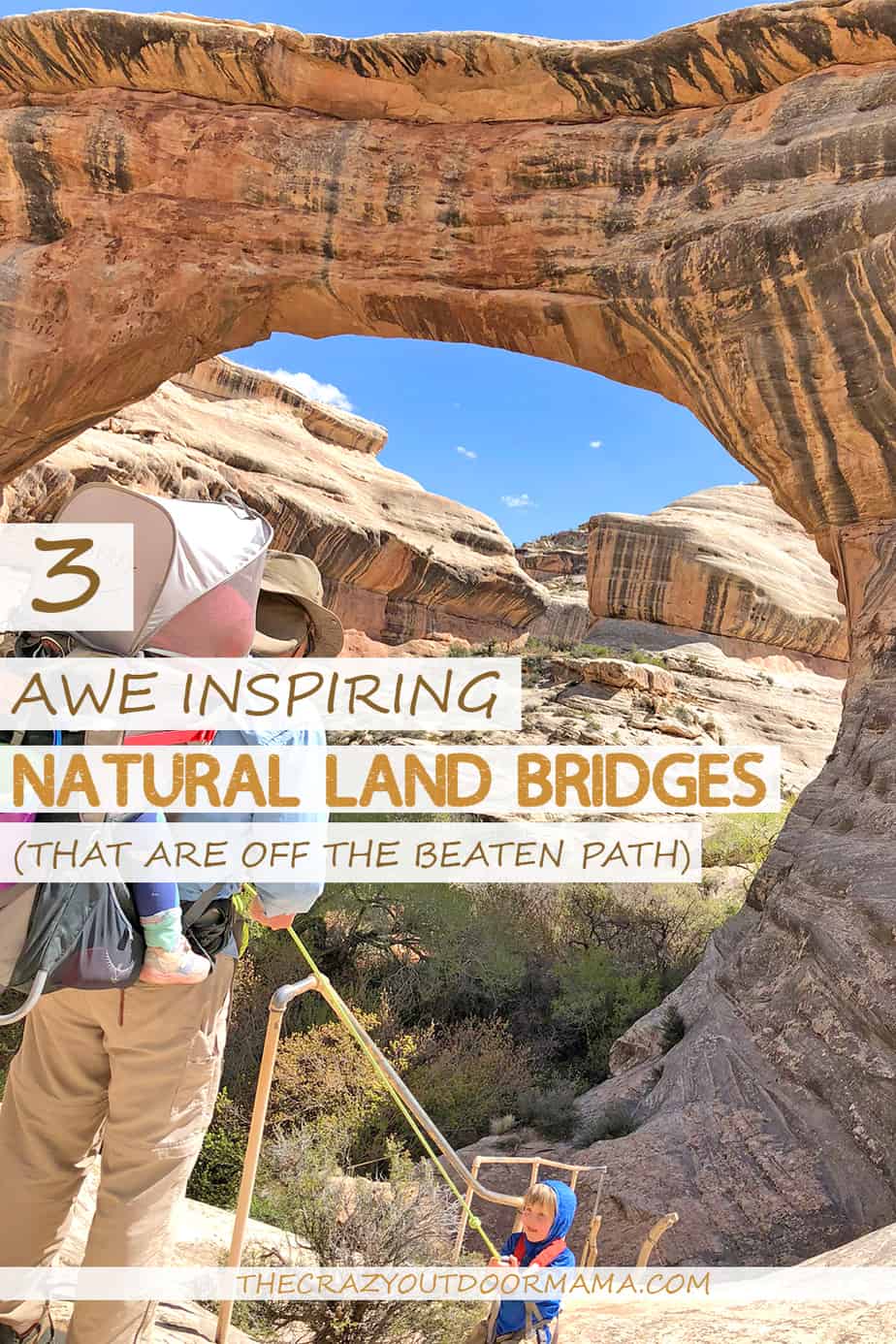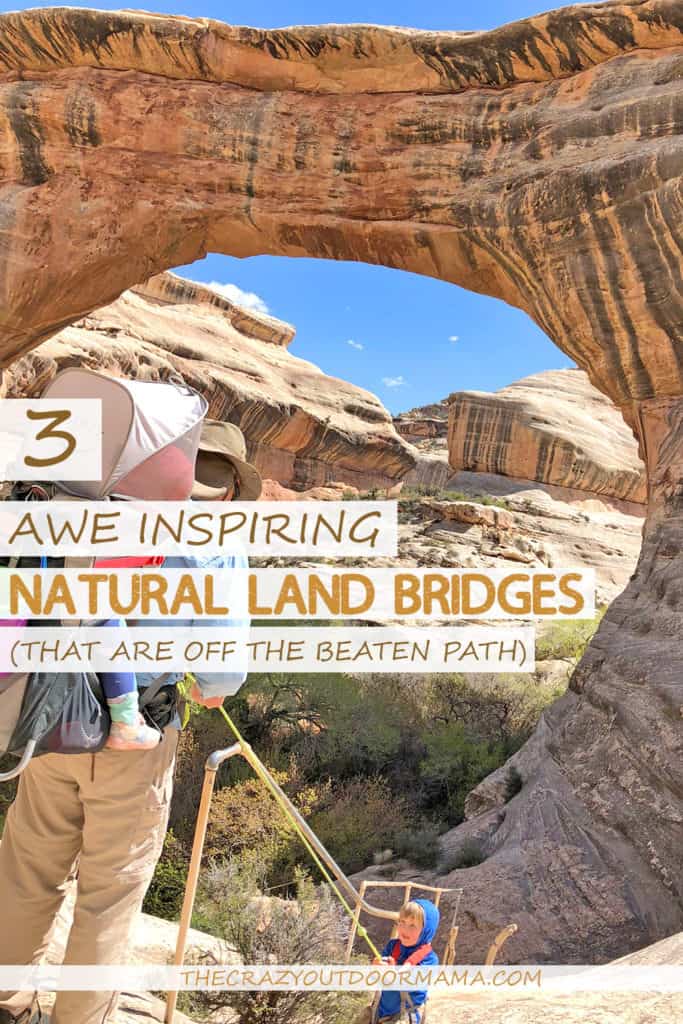 Latest posts by Stacy Bressler
(see all)