I thought Floam was a thing of the past until I was trying to brainstorm ways to use up the rest of my crushed styrofoam from my last craft (sytrofoam snowman here if you're curious!) and then a thought crossed my mind..
If I put this styrofoam into "slime" it will be like slime snow!
Turns out, that is actually floam (sort of!)
The first time I made it I actually thought it was awful (I did it wrong!) and I threw it out. I had even done it with my son and all that stuff because I thought it would be awesome.
The second go around I did it myself after the kids went to bed… and I had WAY too much fun with this!
It's a bouncy ball!
It's a snowman!
It's a fun popping squishy thing that just feels rewarding everytime you hear it make a sound!
It's a fun goop to stick things into! AHH it was great!
So here's how to make this snow themed floam, as well as a couple of ideas to have fun with it!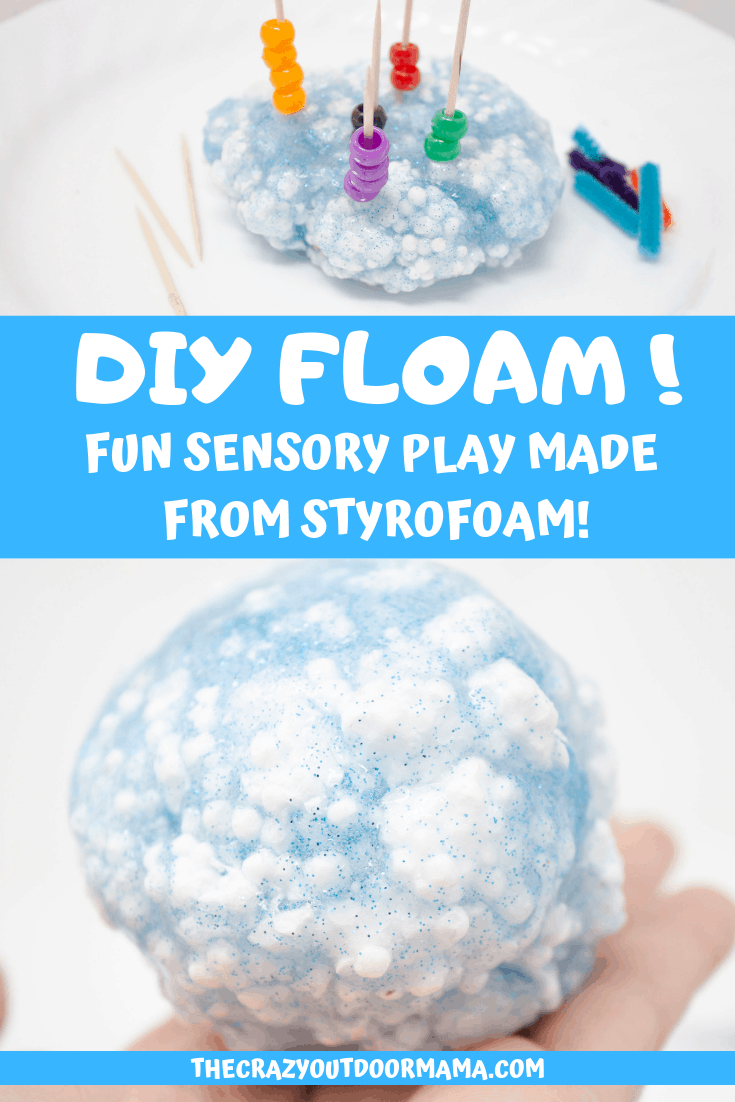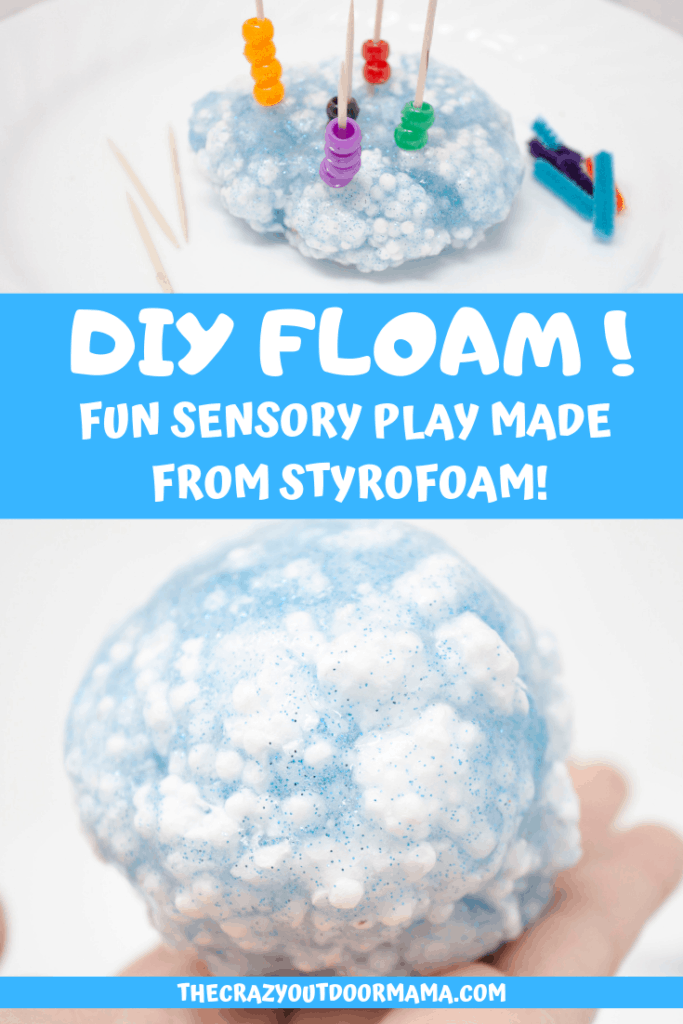 Ingredients to make Snow Floam
1/2 to 1 cup Ground up Styrofoam – I used the shipping Styrofoam and just put it in a gallon bag and let my kiddo crunch it up! (It might take a while on their own, so feel free to jump in!)
2 tsp Borax Powder – If you want it firmer, add more! I think I did add maybe half a tsp more
1/4 cup clear or white Elmer's glue
Sandwich Bag
1/2 Cup Warm Water (1/4 cup for the Borax, 1/4 cup for the glue)
Blue or silver glitter
Directions to this easy winter themed sensory

floam

!
Time needed: 10 minutes.
Break up styrofoam in gallon ziplock bag

I didn't list the bag because it's optional… but I learned from my last craft that this stuff is REALLY staticky, and sticks to everything and makes a mess if not contained! Instead, break it into a couple small pieces, then seal it into a gallon bag and squish it up from there. Try to get it as close to little "beads" as possible (this will take some mashing!)



Make the borax solution

Put 2 tsp of borax into a small bowl, and add 1/4 cup of pretty warm water. Mix it up until it dissolves

Make the glue solution and add decor

In another little bowl, add the 1/4 cup of Elmers glue and 1/4 cup warm water. Don't forget to add your glitter or other decor (I wish I had had snowflakes for this!)


Put the glue and water mix into the sandwich bag

Fairly straightforward =)

Add 1 cup of styrofoam into the glue mixture bag

Squish them around and make sure that the glue is evenly distributed onto all the pieces of styrofoam

Add Borax solution into bag

Once you add the borax, it should "gel" or "floam" up pretty quick.

Take the floam out of the bag and get rid of excess water!

This is important! It's unlikely that your floam will asborb all the water… so just dump it out! I made the mistake of throwing the whole thing away last time!


Hand mix!

It's going to feel gross and slimy at first, but somehow the more you play with it the less slimy your hands feel. In fact, after all the pictures and playing with it, it now doesn't even leave a residue! AWESOME!
Fun ways to enjoy your snow

floam

!
Make a snowman – Of course, the first thing that came to my mind was a snowman! I just used pipecleaners cut to various lengths to decorate him with. I found that, with this particular floam, things like beads don't stay, but penetrating things like pipe cleaners do!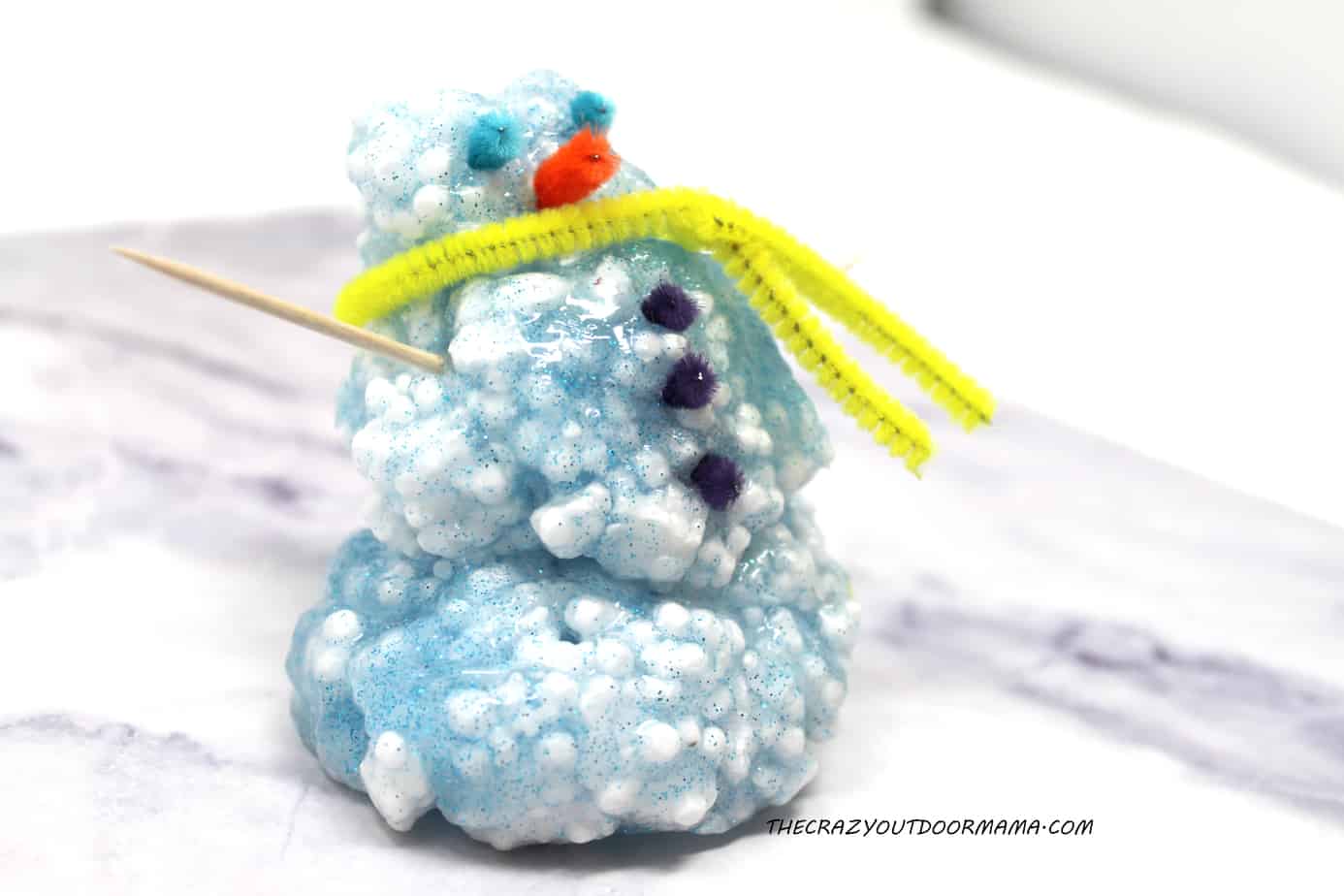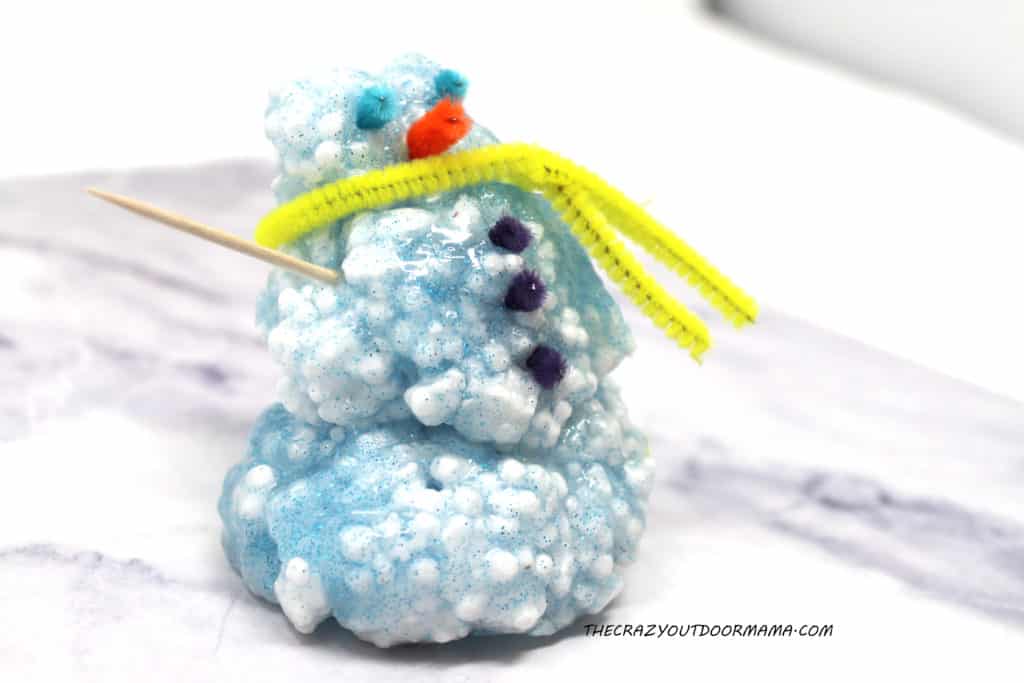 Encase small toy animals in the "snow" and rescue them! – My guy would LOVE this (I might try it tomorrow!). To add another twist to it, ask them to use tongs or one of those oversized kids tweezers! FUN!
Create small balls of floam and bounce them into cups – I did not know how bouncy this would be! Especially if you really keep compacting it and squishing it once you get it into a ball! Get a low rise cup and try to bounce the floam ball into it!
Create stacking and sorting poles – I also really thought it was fun for my son to practice his fine motor skills by sorting out different color beads on the pipe cleaners I stuck in there. It was fairly sturdy!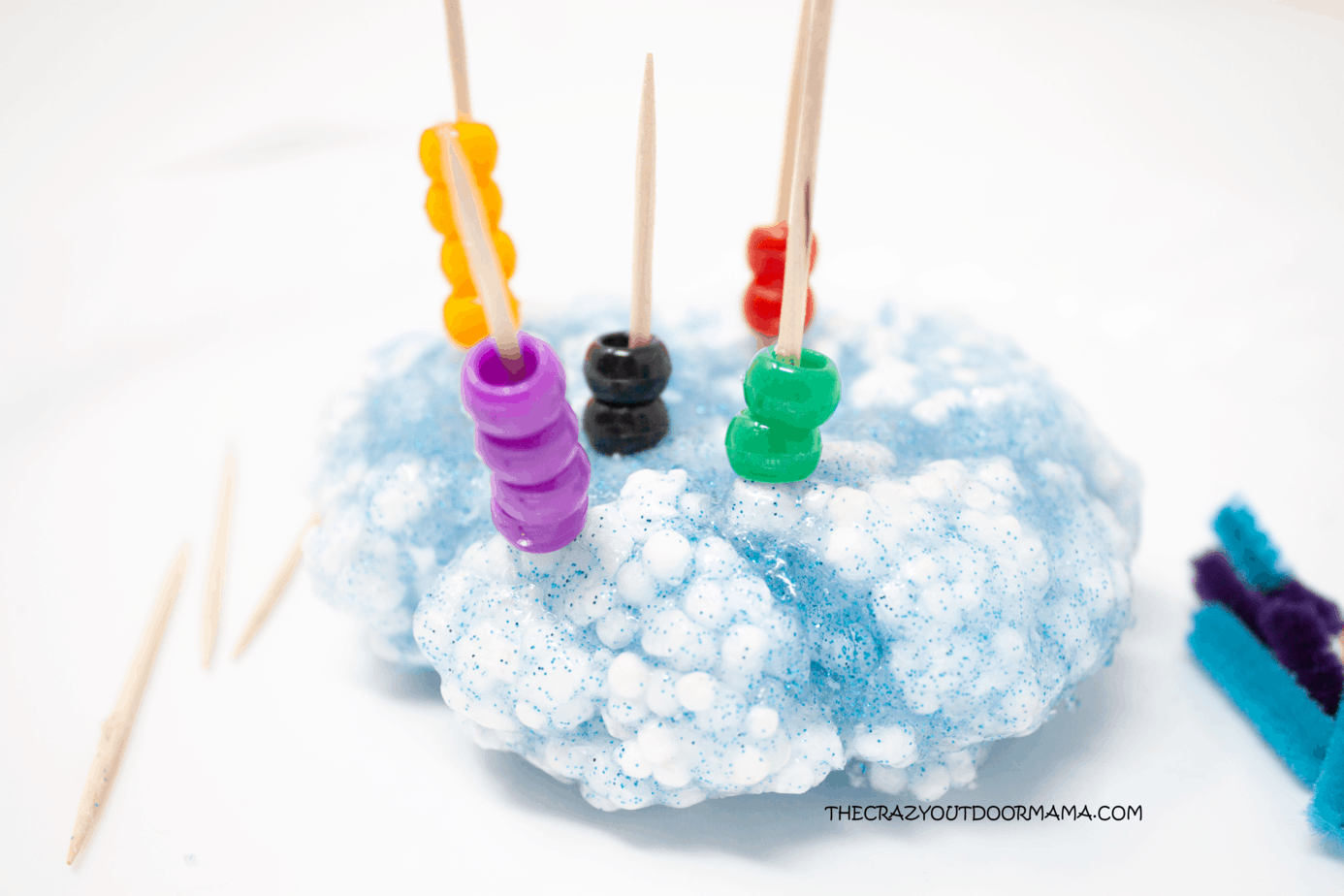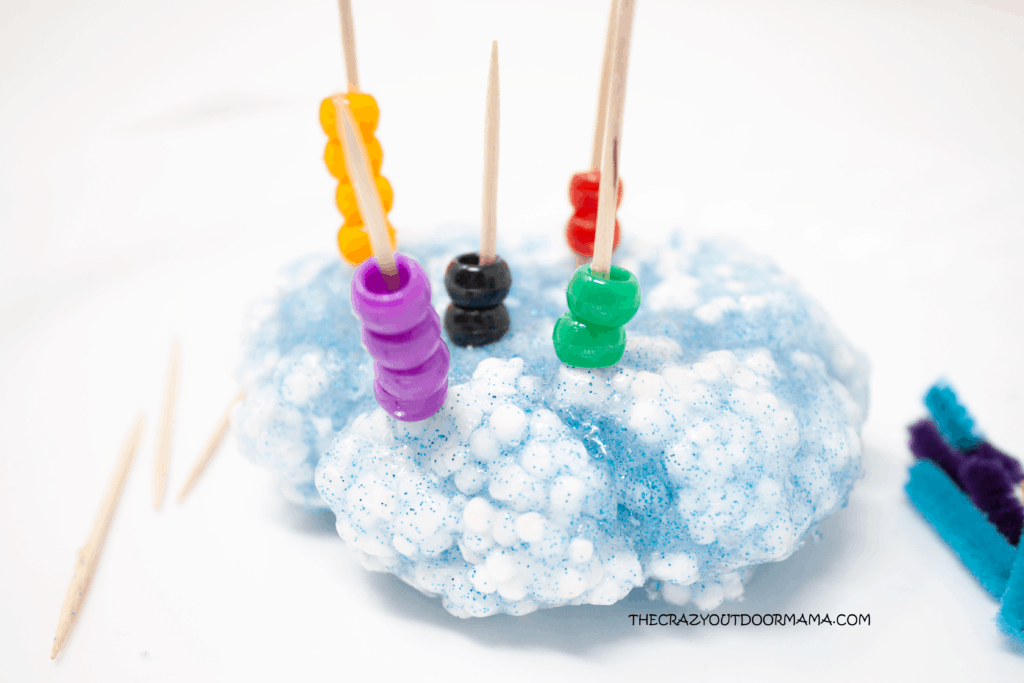 Create a sculpture – I haven't tested this one yet, but it makes sense since it has glue in it. I read somewhere that it will dry in place and become statue like should you leave it out!
Store your floam in an airtight bag once you're done to keep it from drying up!
Pin and share this snow floam recipe if you loved it! Thank you! <3
I LOVE this recipe – I was expecting it to be more slime like, but actually I REALLY love that it is bouncy and poppy!
I hope you love it just as much – let me know of any cool modifications you did that you felt improved the recipe!
P.S. Here are some other fun crafts and activities to do with your kids!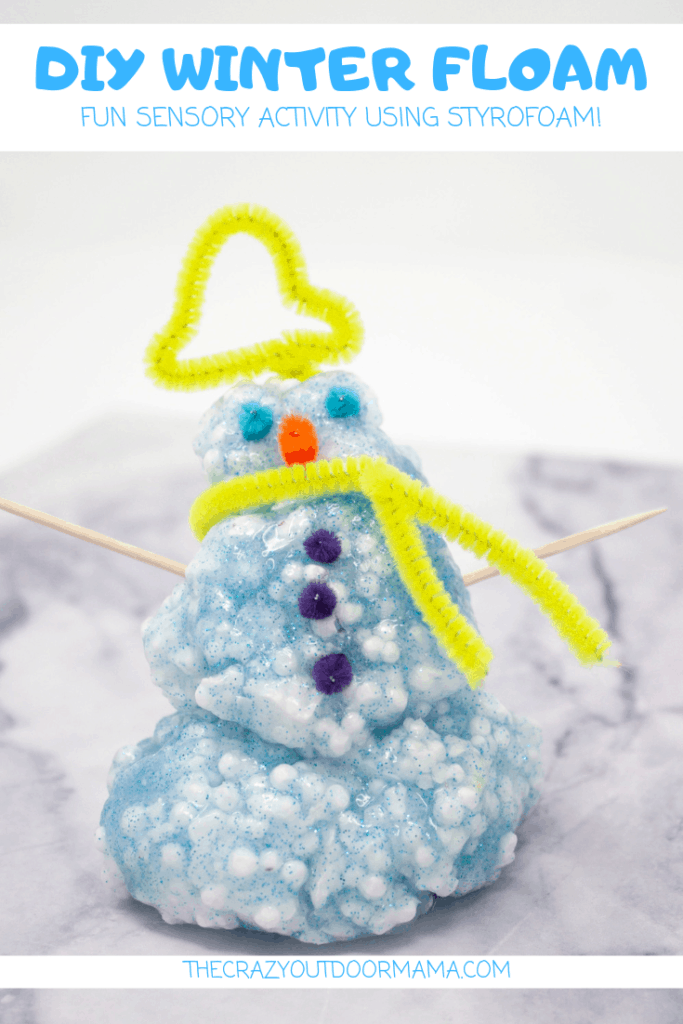 Latest posts by Stacy Bressler
(see all)