With my son starting preschool this year, I've realized there is ALOT that they are expected to learn… and it's not all on the teacher to teach it!
The ideas might start at school but you can reinforce them at your house.
I honestly had no idea what was expected until he start, and his teacher talked to me after his class one day.
She asked if I could just give him a paper and some scissors to practice his cutting, since he was struggling.
I literally had no idea he was supposed to be doing that! A simple google search could have figured that out I guess, but it never occured to me that anything super dificult would really be taught there.
But you know what? Learning the muscles it takes to hold scissors, or hold a crayon with enough pressure and accuracy to color something, being able to have your hand eye be good enough… that takes time! And practice!
I later found out that he was having a hard time focusing with his shape matching with stickers. However, I KNEW he knew his shapes, and loved stickers)
That means he just needed some practice in applying his knowledge through different methods!
So now knowing a couple of skills he should work on, I wanted some simple activities he could do if I had a couple minutes here and there.
Don't forget to pin this for later if you don't have time to read! <3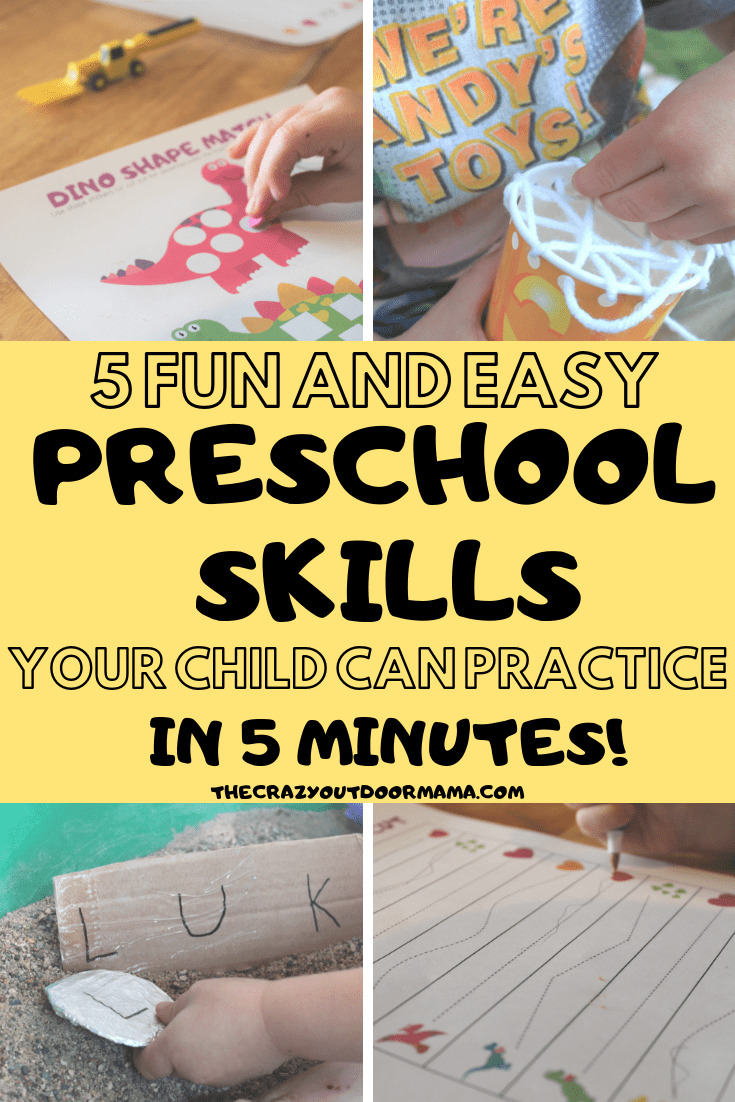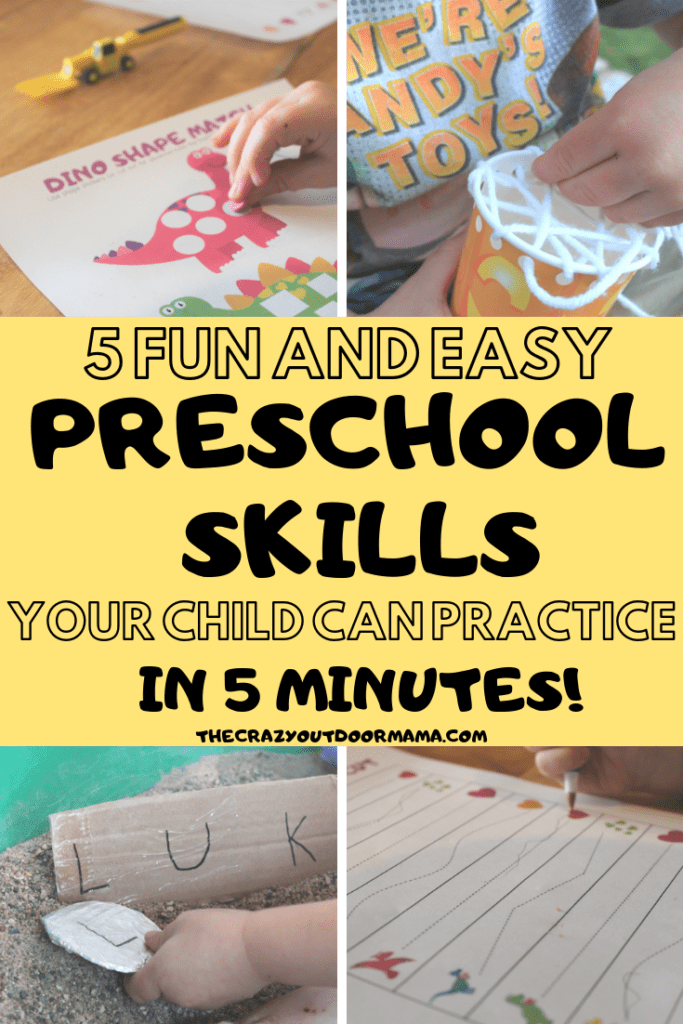 The skills these preschool practice activities cover are
Cutting
Tracing
Shape Matching
Fine motor skills with detail items (lacing, separating, etc)
Name recognition
Now, there are TONS of other things kids should be learning in preschool, however alot of it is (rightly) about social interactions and such!
Anyways, here we go!
Make cutting cards to help learn how to hold scissors!
They actually learn way more than that – before we started, my guy somehow didn't get the concept of following the line. He would just take the most direct route, and call it good!
He is getting much better now with the practice he's been getting.
I love doing this if I'm in the kitchen cleaning – I can just give him a couple sheets, and he can sit at the kitchen table and keep busy while I do chores!
Here are a couple of fun ways to include cutting practice
Draw up your own – Add something fun at the end of the line like a sticker like these! Cute, cheap and easy… love it!
Printing out themed cut cards – I have some

cute valentine dino ones

he loves and some black and whites ones!
Fun design cutting activities – I love this troll haircutting one because you can sort of make a story with it and increase the excitment ("Oh! She wants another haircut! I think this looks better!" etc… )
Make a collage – For more advanced kiddos, give them a couple sheets from an old magazine that has fun pictures and ask them to cut them out!
Print out tracing activities and have them on hand!
So, I'm the absolute worst about having stuff ready!
I actually have alot of time in the day sometimes, but if I don't have it ready to go and in plain sight, it just might not happen.
Tracing activities are one of those things – it's so easy to just print out like 20 pages of black and white tracing practice pages… Instead, I print out ONE and have him keep retracing it XD
Anyways, these are another simple thing to help your preschooler get the skills they need for kinder!
It actually takes alot of practice and hand strength to train your muscles to hold a pencil the right away.
Here are some simple tracing activities to do with your preschooler
Line Tracing – Probably the best place to start if your child has never traced before. I included two simple ones you can download for free right below this!
Letter Tracing sheets – Preschoolers do this! I thought it was kinder! Anyways, this site has the ENTIRE ALPHABET of tracing sheets for free!!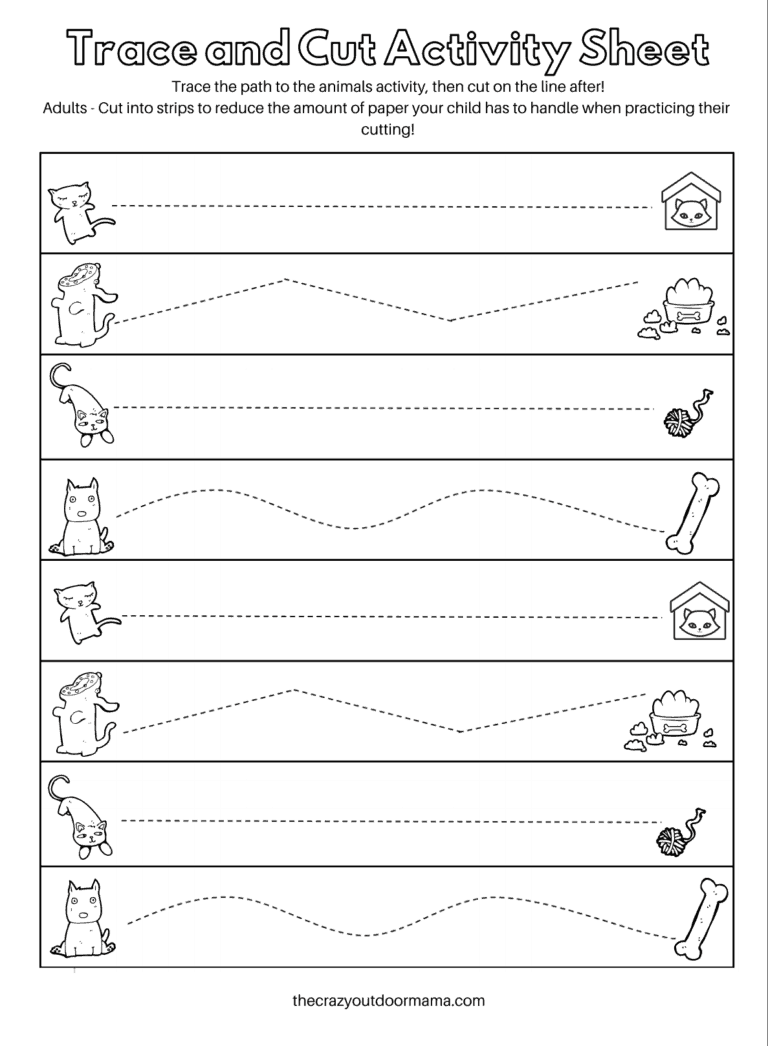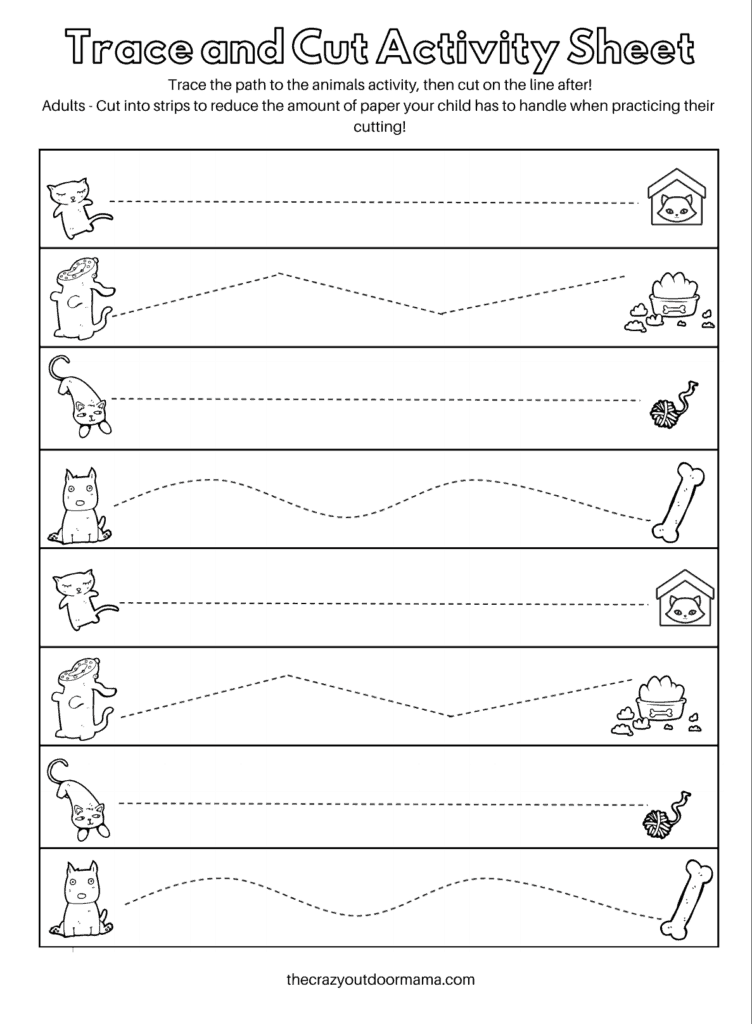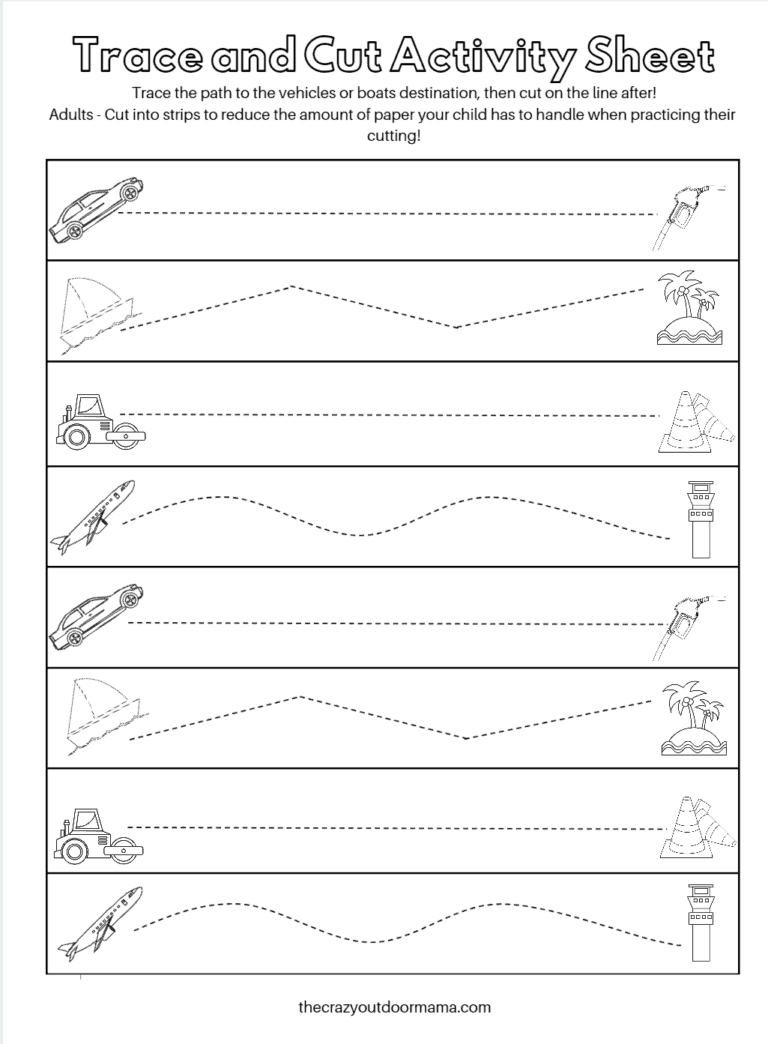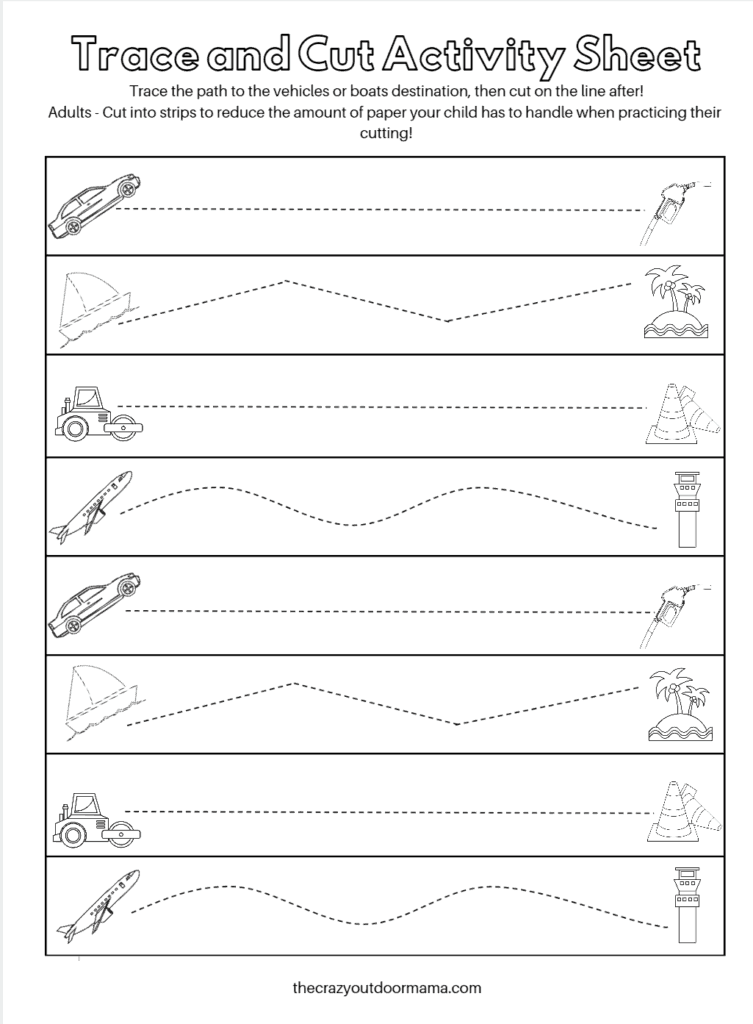 One tip I was given to encourage this strength is to use crayons as opposed to markers, and pencils instead of pens when practicing – the additional pressure needed to make crayons and pencils work will help solidify their grip!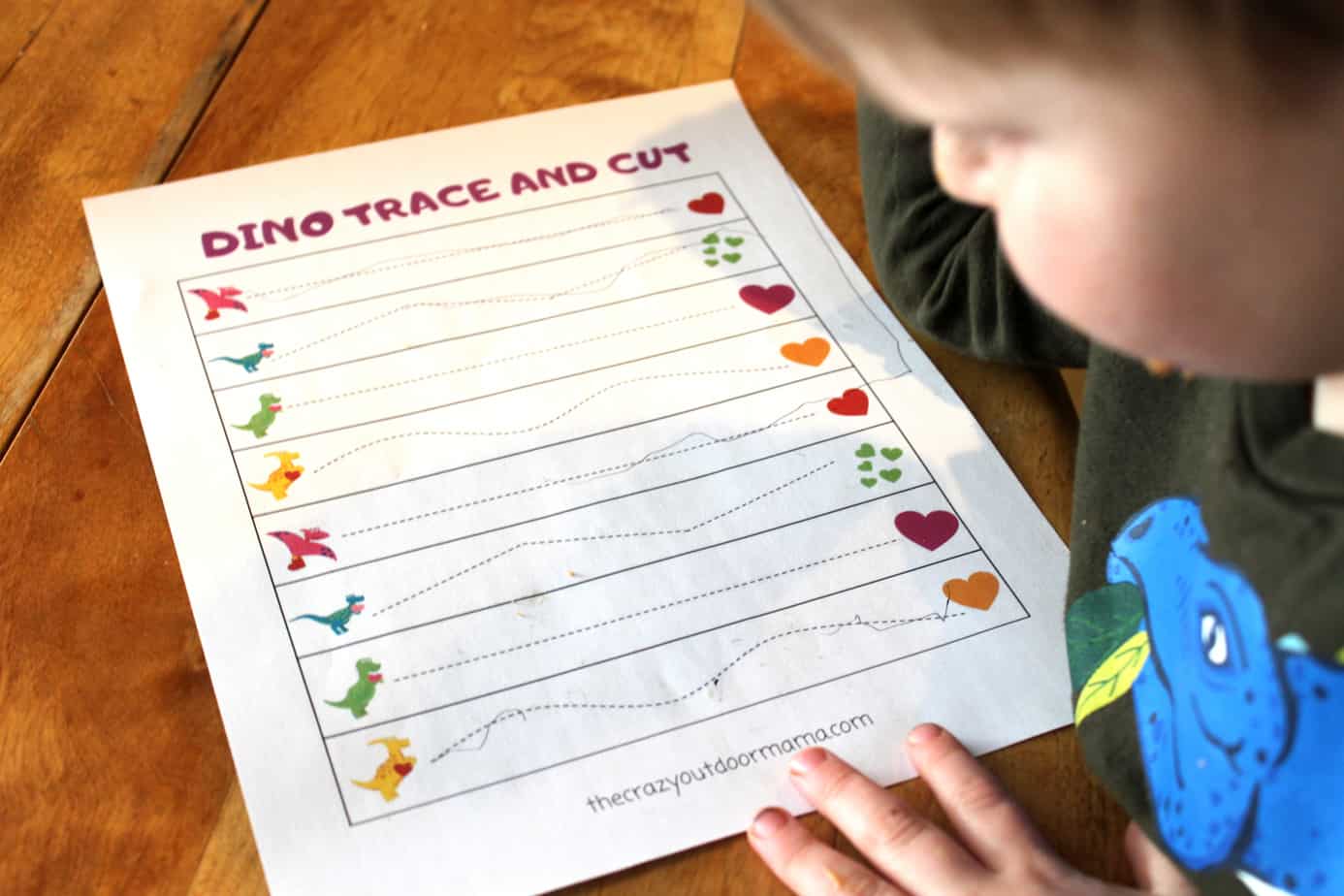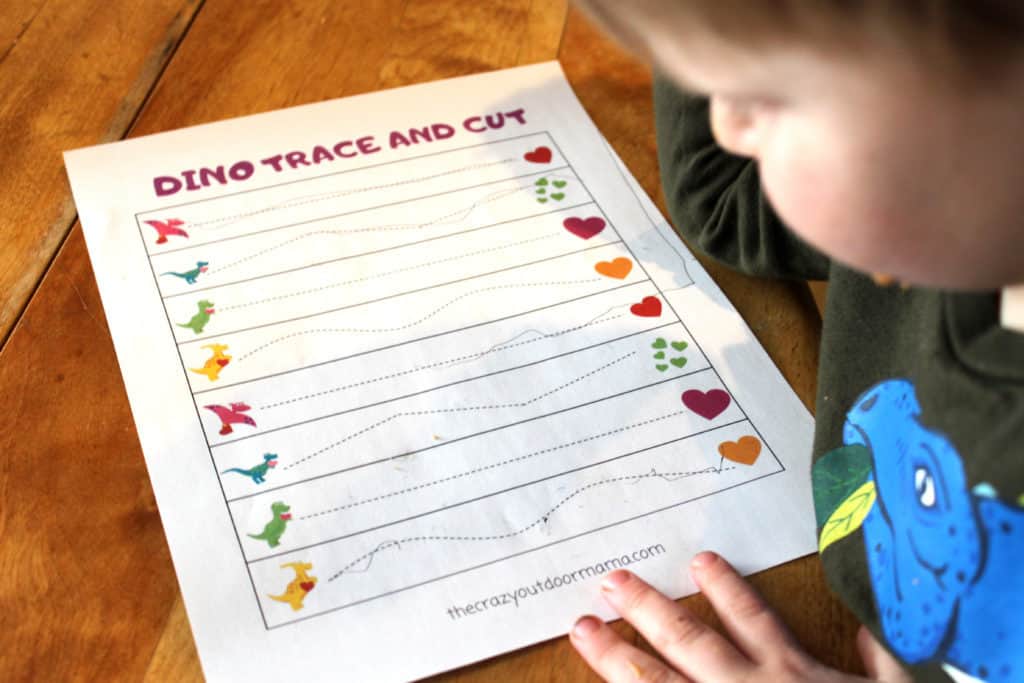 Shape match activities
This is another one that can be super simple (like the plastic shape sorters) or can be more difficult, such as having to remove a sticker form of the shape, and put it into it's corresponding spot on paper!
I love all different forms – I thought my guy was awesome with shapes, till his sisters got one of the shape sorters for Christmas and he had a go at it.
It turns out, while he is good at 2d shapes, he sometime struggles with 3d ones, or is just less patient with them.
Anyways, my favorite quick activity for this is just to draw a big circle, square, and triangle on a scrap piece of paper and give him some shape stickers to match with.
Ideally, they won't be ordered in rows or else that would be too easy!
I love these foam shape stickers that are REALLY cheap (you get over 1000 of them for under 15 bucks last I bought them!) because they come randomly assorted, and with different sizes and colors!
So, not only could you use these for shape matching, but you could include a color match factor if you wanted to as well!
Peeling tiny backings off of stickers is also great fine motor practice (and patience practice as well!)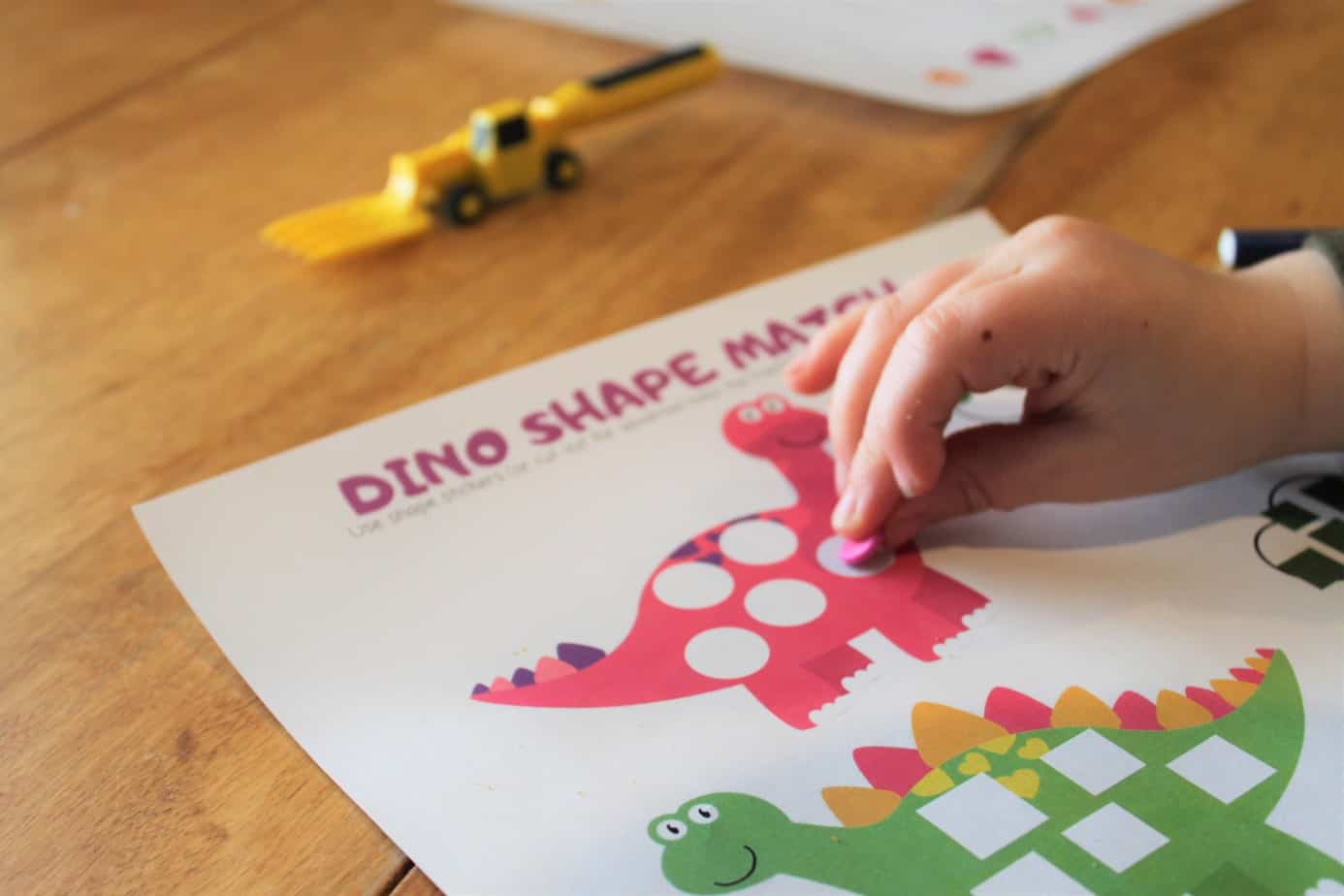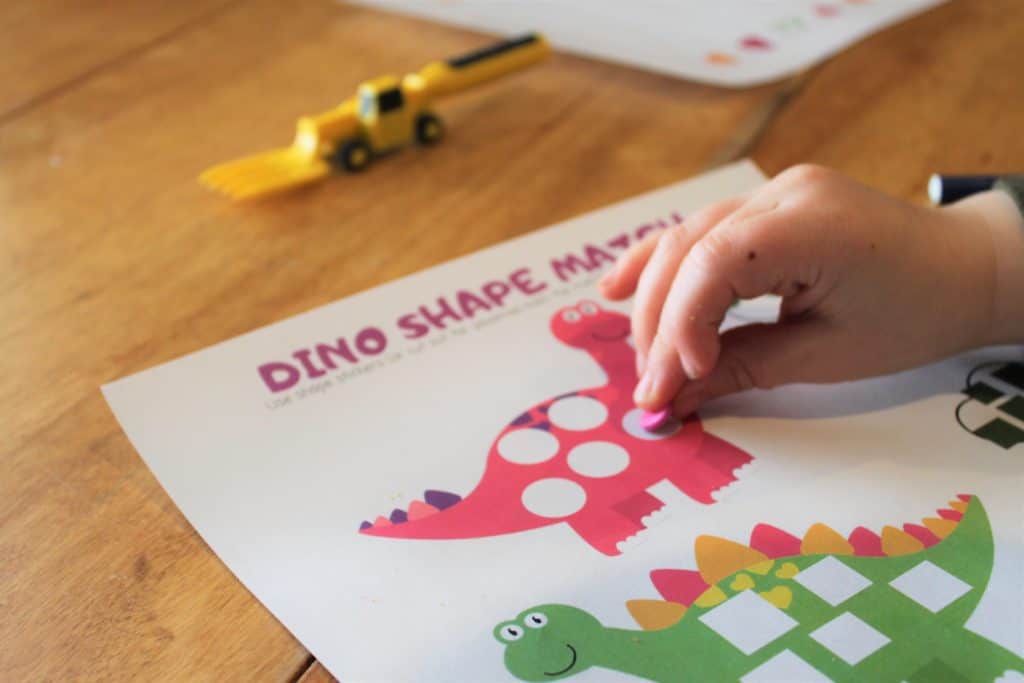 Lacing activities to strengthen hands and

hand eye

coordination!
I love love love lacing activities because there are so many forms of them!
They also are a great screen free activity to bring with you when going out to dinner and such!
Here are some examples of lacing activities perfect for your preschooler
Hole punch a paper plate – Have your child use yarn to go through all the holes!
Hole punch around a paper cup – Challenge your child to lace enough to cover the whole top! (Check out this

fun cup lacing activity

that was inspired by Eric Carle's "The Very Busy Spider")
Make jewelry – Get some

chunky beads

and ask your child to make a bracelet (Bonus – give it to mom or grandma as a gift later on!!)
Buy one of those cute lacing sets – Melissa and Doug, as always, have some of the cutest ones. They are often very durable and made of wood, and are perfect to slip in your purse and use while you're out to keep your kiddo entertained! I love this

animal themed one

!
If you want more ideas, check out this article for even more creative lacing activities!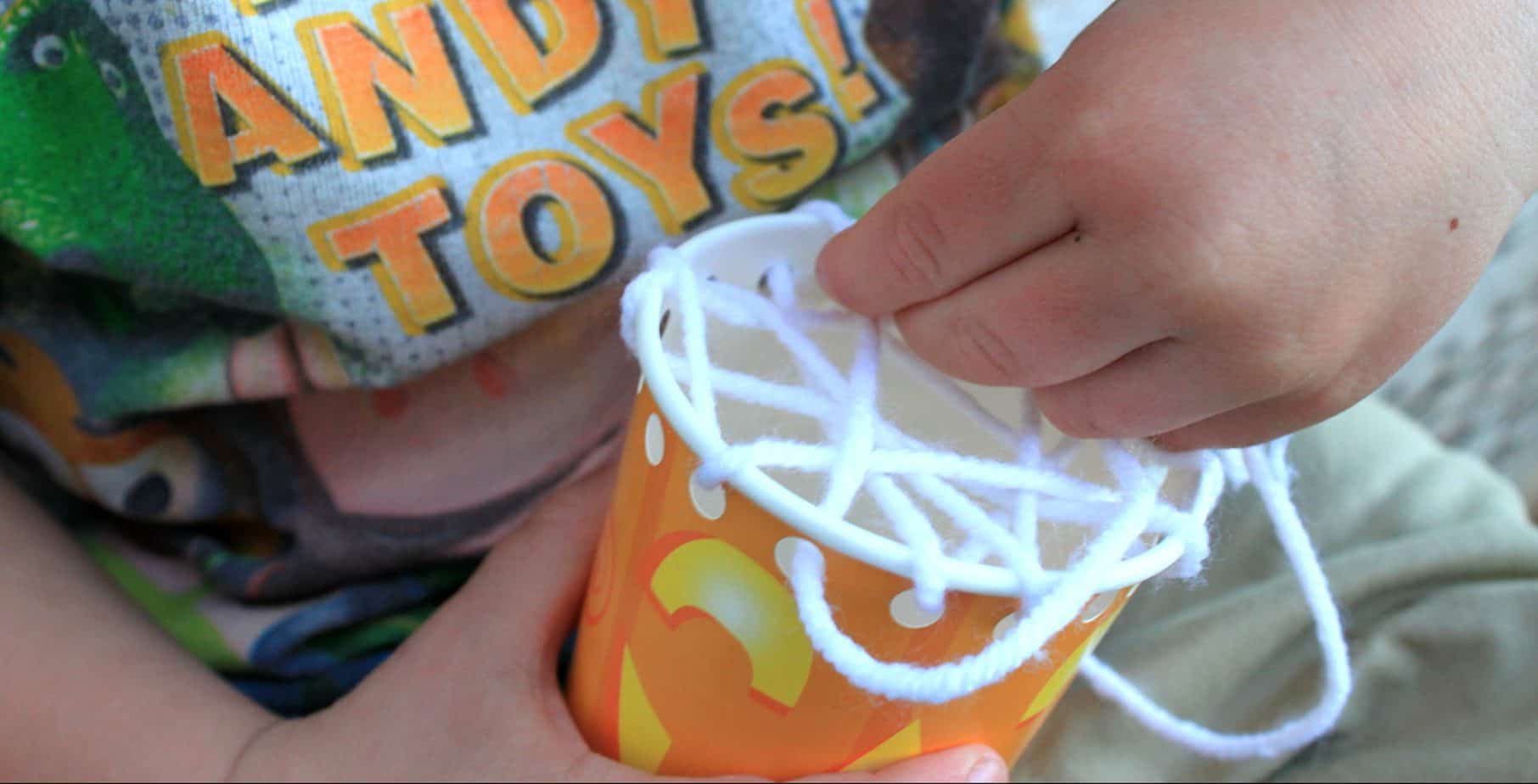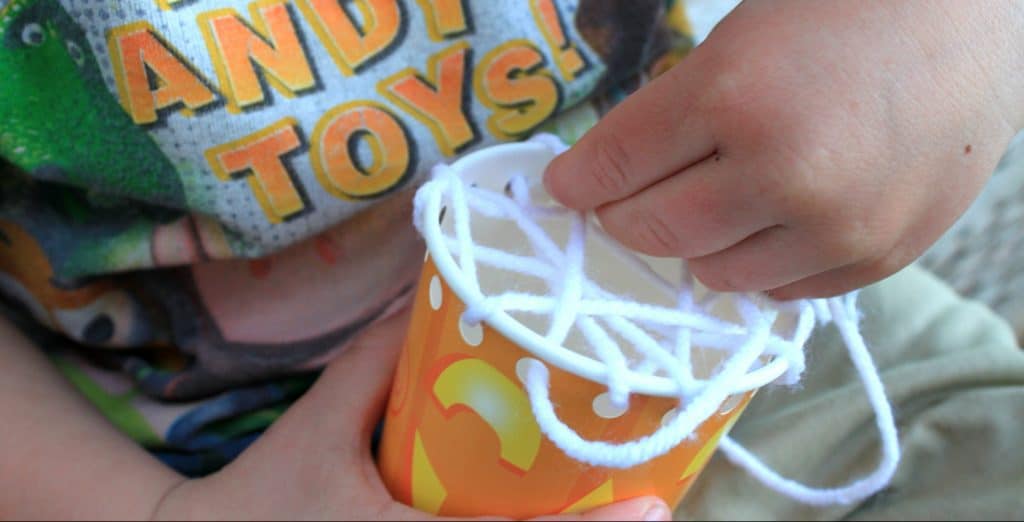 Name Recognition and Familiarization
This one I didn't even know was expected (as well as learning how to actually write all the letters of the alphabet! =0 )
Anyways, this is another fun one because you can sort of modify the activities to match what your child's interests are.
After all, we learn through play right?
For example, my boy LOVES the sand box. He loves burying stuff and finding it again.
So of course, I created a "treasure hunt" name game for him that worked with his love of digging and finding – he had to fine each letter of his name and match it up to the "map" which was just his name spelt out as a guide.
Here are some fun ways to help your preschooler with his name and letter recognition
Sandbox Treasure Hunt – As mentioned earlier, my kid loves his sandbox so I made a game for that. Get creative and think of how to bring together your child's interests and learning!
Clothespin Match – This one matches up the letters using clothespins (I love it because of the hand strengething aspect!)
Sticker Letter Matching – I LOVE this one, and am probably going to set this up soon (it's winter break right now… tough!) . It's a great way to get repeated practice with letters in your child's name plus… it's fun because it uses stickers!!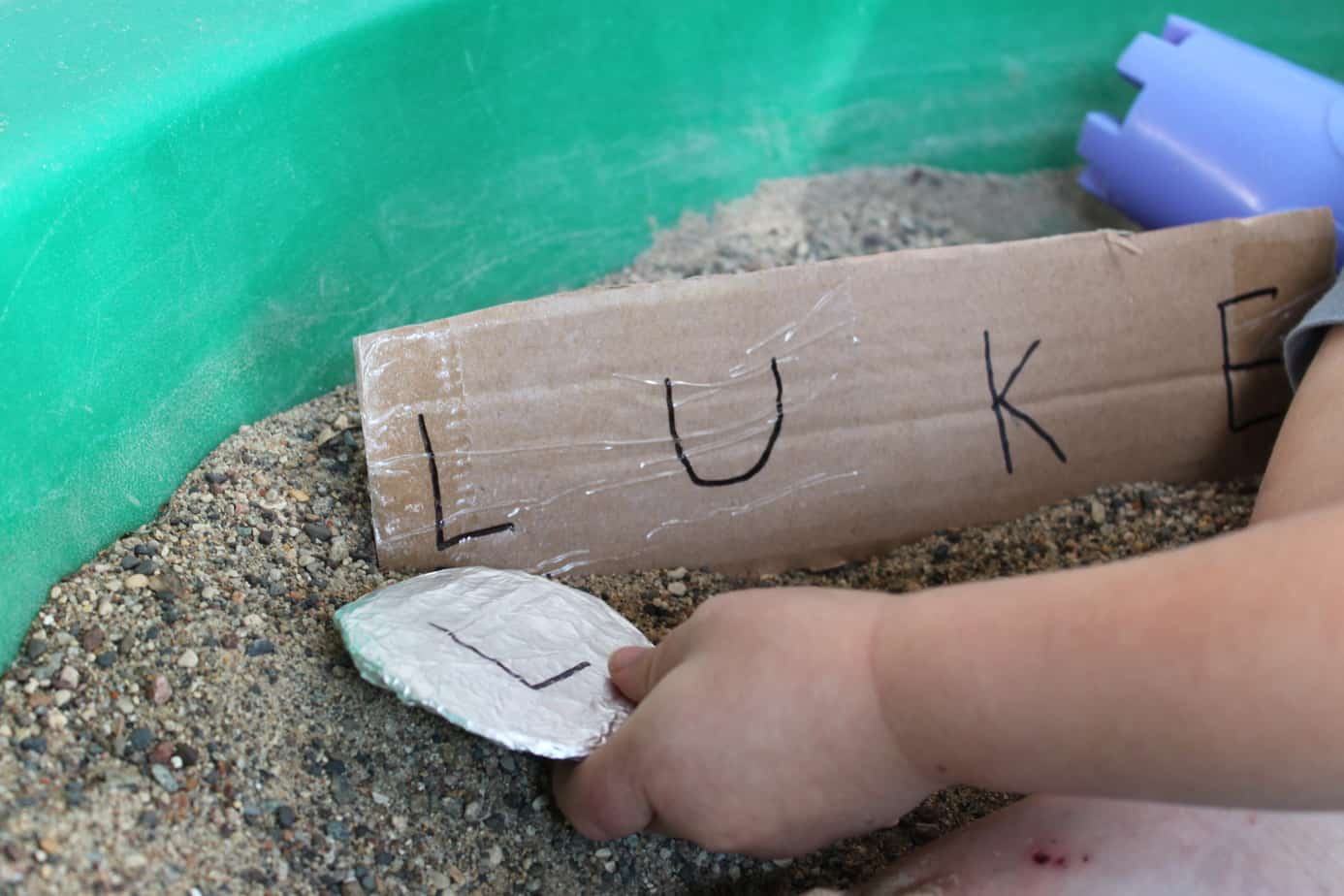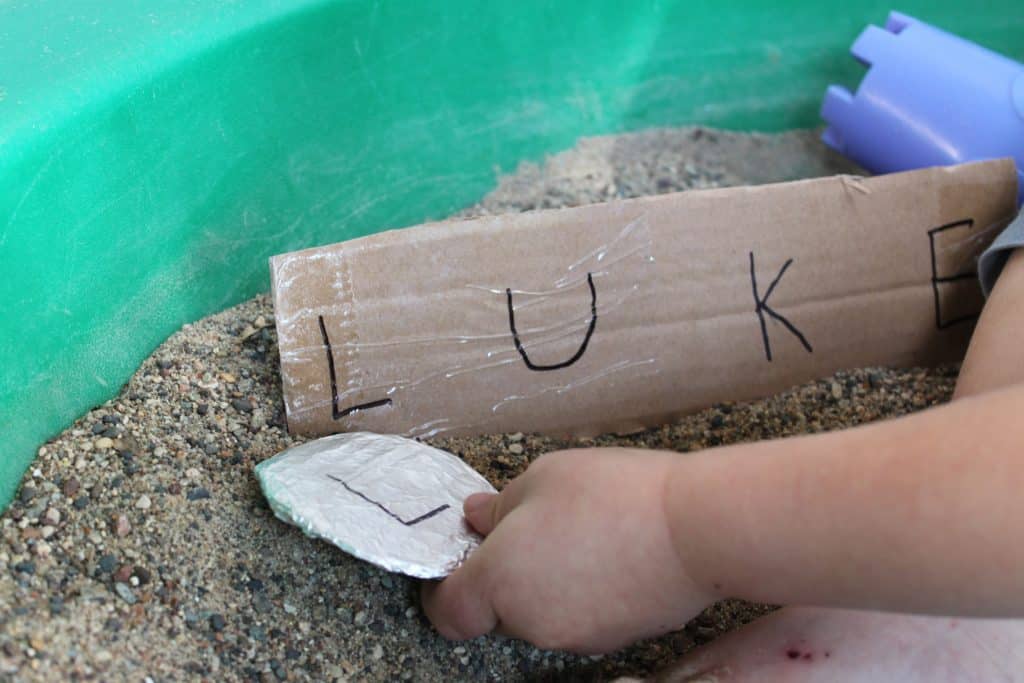 Are there any

go to

activities you do with your preschooler?
It's really kind of intimidating that first week or so of preschool – it's almost like a test to see if you've done good enough with your kiddo!
Your bound to receive some kind of feedback (that's good!) to help you understand where you child needs practice.
If this list isn't enough examples, or you want an all in one for preschool skills, I absolutely love this Highlights preschool workbook.
I have this book myself, and every night after my twins go to bed we work on two pages of his "practice book". It's over 250 pages of all the skills they need, but fun and colorful (and it's under 10 dollars!)
He's on the letter tracing portion now, so we've gone back to simple line tracing until he gets a little better and able to do things like letters..
Anyways, the point is you can usually fit in these activities somewhere in the day!
And it's SO important – it's your responsibility too to help your child out with areas they struggle in!
Here are some other fun preschooler activities and articles you'll love!
Don't forget to pin it if you loved it! <3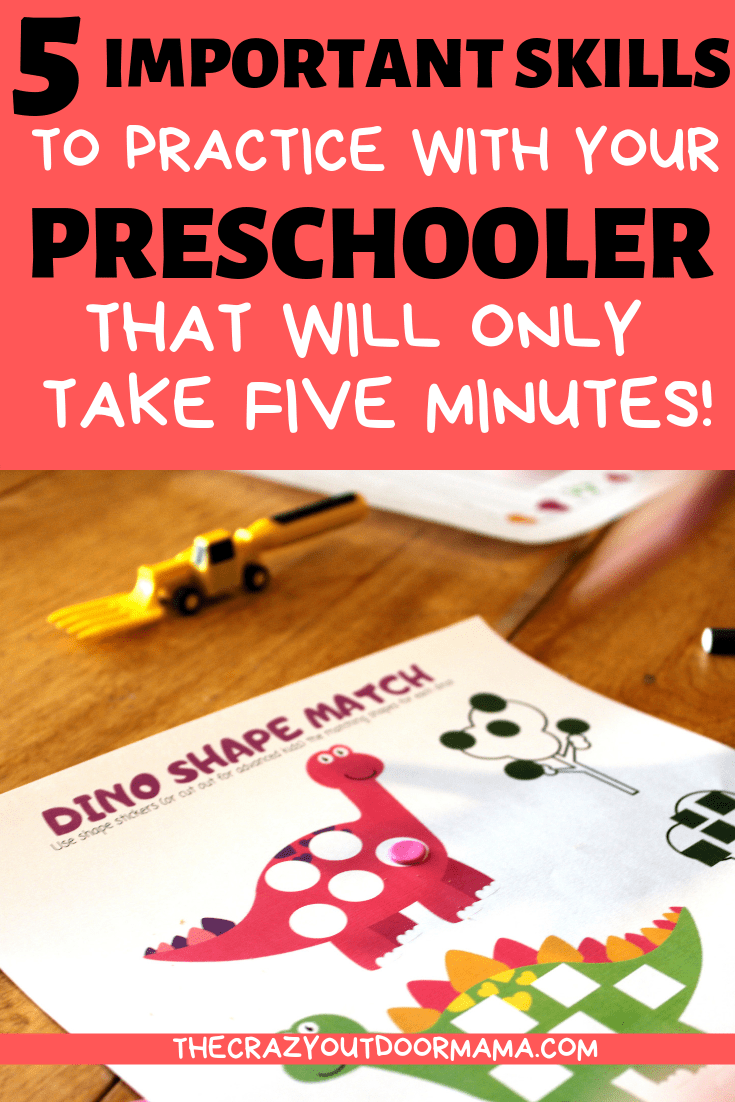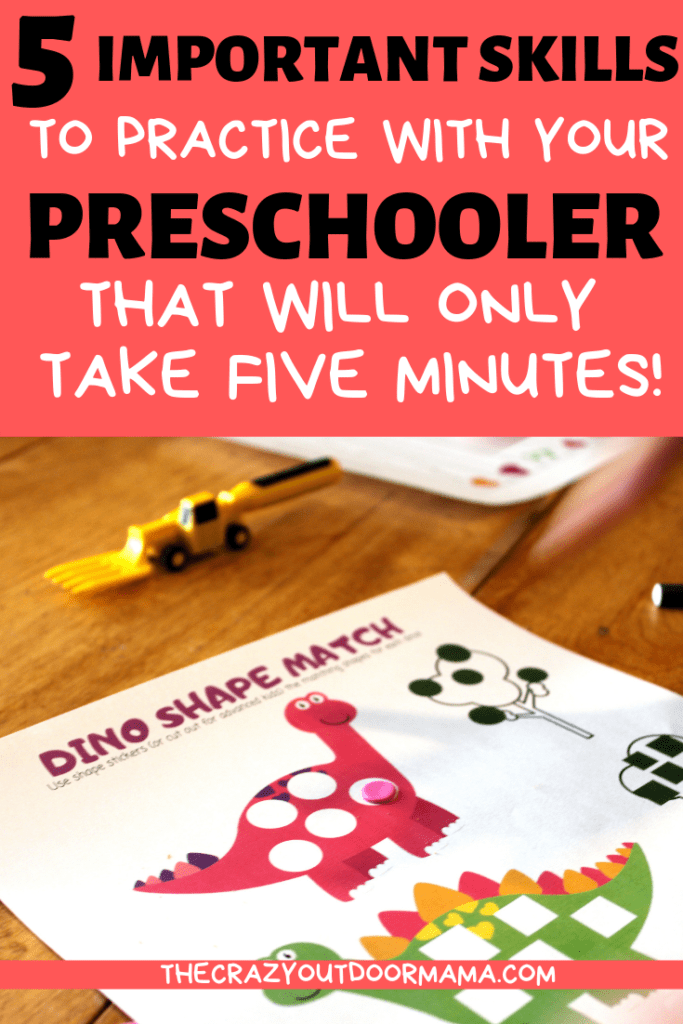 Latest posts by Stacy Bressler
(see all)