When you're desperate to have that baby, and past your due date, try some of these natural labor methods to get the ball rolling!
As I look at my friends Facebook who just had their babies, it brought back that intense memory of wanting to meet my baby SO bad, that I was desperate for any natural way to start labor!
This was so true with my first – I was desperate to get him out and meet the little person I had been growing! I also was scared of being induced or losing control of my plan to birth him naturally (which, with my twins, would find out the whole birth plan thing is something to not stress about!)
I asked my doctor about suggestions to sort of get things going but unfortunately, she wasn't legally able to say anything. She said there are some old wives tales, but that she can't really endorse those… so, like any other desperate mom, I googled it!
I found a TON of stuff – and sadly, tried almost all of it! I feel like some of it did DEFINITELY work, as after I started some of the methods I had my baby within a day or two!
Related: 27 Gold Tips from 100+ moms on how to rock a natural delivery!
Now, there's no way to know if my babies were coming anyway, or to pinpoint which exact thing worked to start labor. But I do know most of these methods are fairly cheap, not harmful, and couldn't hurt to try!
Ask your doctor before starting any of these methods! Particularly if you have a high-risk pregnancy!
I am not a medical expert, and am only discussing what worked for me!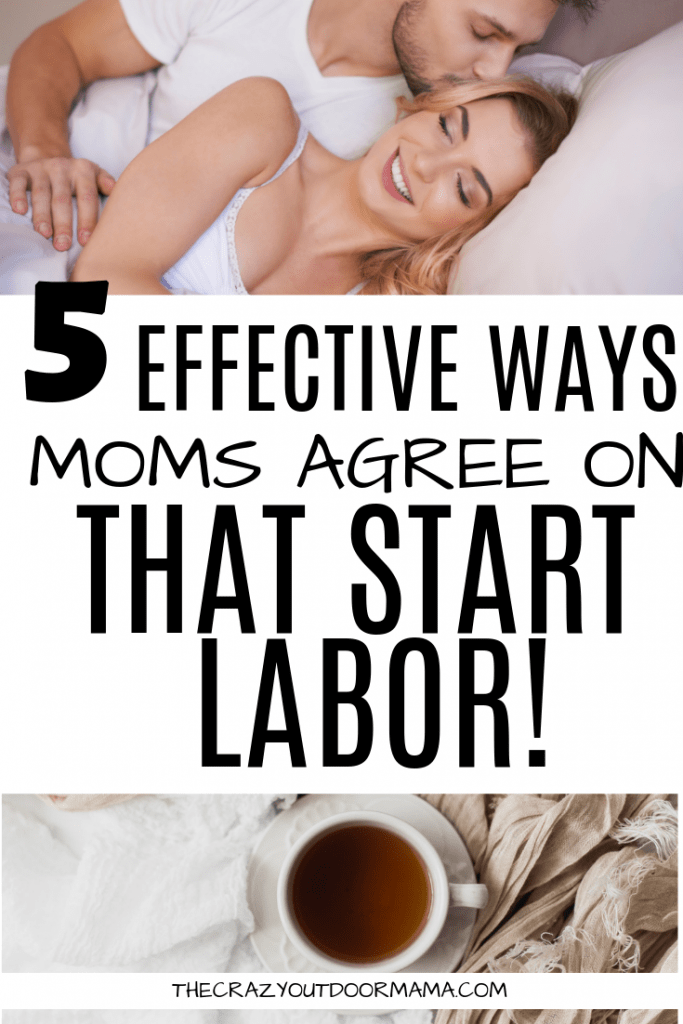 Walking to help baby get into position
While it sounds simple, it's likely something that you haven't been doing enough of!
I'm not talking about giant hikes or something (but if you're up to that, awesome!) but just walks around the block to get your hips swaying and your baby into your pelvis!
The pressure of your baby might help your cervix prepare for labor!
If you are already having contractions, that constant pressure from your babies head on your cervix can release oxytocin which will help regulate them!
This one was easy for me because I absolutely love hiking! I sort of feared losing that once my son came (which I found was silly – just take them with you!) so I really wanted to get all my hiking in that I could!
Red Raspberry Leaf Tea to condition your uterus for labor
I loved the taste, and this is a regiment you can start as early as the second trimester! It has been used for hundreds of years as a preparation for labor, and it is still doing it's magic!
Raspberry leaf tea works by conditioning your uterus and pelvic muscles with the alkaloid, fragrine, to prepare for what they will need to do for labor! Red Raspberry Leaf Tea has other benefits such as helping with period cramps, improving chances of implantation and reducing chances of miscarriage! This is powerful stuff people!
I was too nervous to drink it early on, but I did start at 32 weeks drinking 2 cups daily. As I got closer, somewhere around 38 weeks I drank 4 cups then drank A TON (6-8) around 2 days before labor!
Of course, if you start feeling cramping or contractions you should tone down your usage unless you're VERY close to your due date!
If you would like more information on this awesome tea, check this out!
Sex (I know, this seems like an AWFUL idea!)
I know this is likely the LAST thing on your mind, but with being so big and all, hopefully, you won't have to do to much of the "work!" Besides, anything sounds good when you are overdue and feeling awful!
This is why sex is so effective- semen has hormones called prostaglandins which are pretty close to the medicine you'd be given at a hospital (Cervidil) to induce labor.
Obviously the more, the better! I found that at least two times was pretty effective, but other woman did the deed more!
I would suggest waiting till your due date as this method is pretty effective and it's one of the top pieces of advice given to moms trying to induce labor naturally!
Evening Primrose Oil to soften your cervix in prep for labor
This is an easy to work in natural labor starter that, to me, felt like it was the game changer! I had both my labors within a few days of fully starting this method!
Knowing how effective it is, I didn't start taking this evening primrose oil until around the 38th week. As with anything else, start small and build up as you get closer to your due date! I started with 500 mg and eventually got to 2000 mg once I was within days of my due date.
You could also insert the pills vaginally to get even more of the benefit! I just did one pill (I, unfortunately, don't remember what dosage my pills were) and it will melt and help soften your cervix.
The magic for this one is, again, due to the prostaglandins it helps to produce. Evening Primrose Oil contains gamma-linolenic acid which gets your body busy producing the good stuff (prostaglandins) that can start contractions and dilation!
This guide is awesome and really give tons of details and studies on how this works!
P.S. There are a TON of benefits of taking evening primrose oil beyond just pregnancy related stuff, so don't throw out that bottle once the baby comes! Check out that guide above, or even look at the reviews for this Evening Primrose Oil and you'll be pretty surprised at all it can do!
Nipple Stimulation to simulate suckling and start contractions
This one I KNOW works because I was advised by my OB to stop breastfeeding my son once I was at 18 weeks with my twins due to how potentially powerful this method was! (I wanted to note that I had to quit due to my twins being a high risk pregnancy – plenty of people are still able to breastfeed their toddler and newborn if they choose!)
The idea behind this is to make your body think you are nursing your new baby, which will start contractions that would help uterus shrink back down. However, pregnant woman do this to release oxytocin and start those contractions to get that baby out!
If this isn't your first child, you may have a breast pump laying around which is PERFECT for this method! I just used the "let down" setting (normally the initial pumping that is small little pumps to stimulate baby trying to suckle for let down) for about 10 minutes each breast a couple times a day once I was atleast 38 weeks.
If you don't have a breast pump, it's not difficult to do with your hands either! Simply roll your fingers on your nipple until it's erect, then continue to pull on it in various directions. Then do your other breast!
If you are about to be a first time mom… I KNOW this sounds weird! I was so hesitant to try it before the birth of my son – my husband and I sort of cracked up when I tried while watching TV! I even managed to try the pump that was given to me and I was so embarrassed (I don't know why!) that I stopped!
With my twins though it was no questions asked – breastfeeding sort of gets you over that weirdness of transitioning the thought of your breasts being only sexually useful to the idea they are also awesome for nourishing babies!
Do you have any secrets that helped you start labor?
Help a mama out and let us know in the comments!
Mama to be, you may also be interested in these articles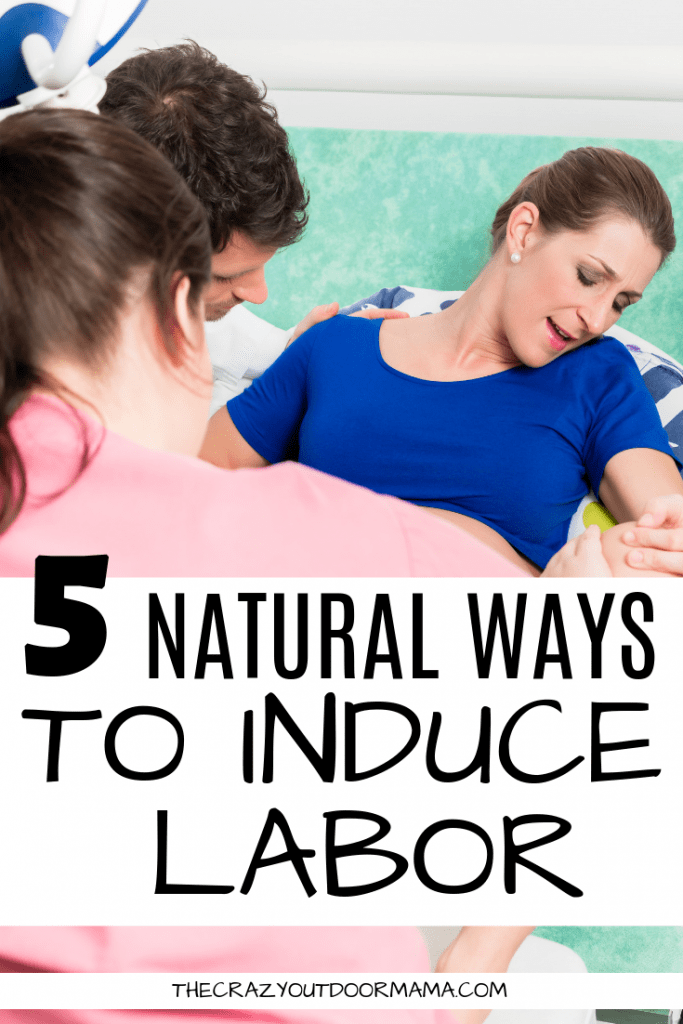 Latest posts by Stacy Bressler
(see all)