Amphitheater Lake in Grand Teton National Park is a beautiful spot worth the grunt – even when carrying 3 kids!
Before any of our kids were born, we were fairly outdoorsy people, so it's no surprise that when our first child was born, we wanted to hit up Amphitheater Lake in Grand Teton National Park.
With my husband carrying our son in a pack, it didn't feel too difficult (I was just carrying what I normally would!) but it did feel amazing to know that we could STILL do outdoor stuff, even with a baby!
Fast forward two years later, and our twins were born. We knew we only had a year to get back to Amphitheater because the year after they would be too insistent on walking and not love the pack as much. With the hike being a 3k elevation gain, 10 mile round trip hike, it was sort of important to either be old enough to be able to hike (our son was 3 at the time, and he walked alot of it) or be ok with being in a pack!
Related: If you're in Grand Teton National Park, don't forget to check out the 6 best hikes in GTNP that ANYONE can do! (Perfect for families!)
Then the logistics came.. how can two people carry three kids? Our twins were just over a year at that point, and well over 25 pounds each. My son had just turned 3 and weighed 37 pounds! We could count on him to hike for a bit, but DEFINITELY not the whole thing – there's quite a bit of elevation gain!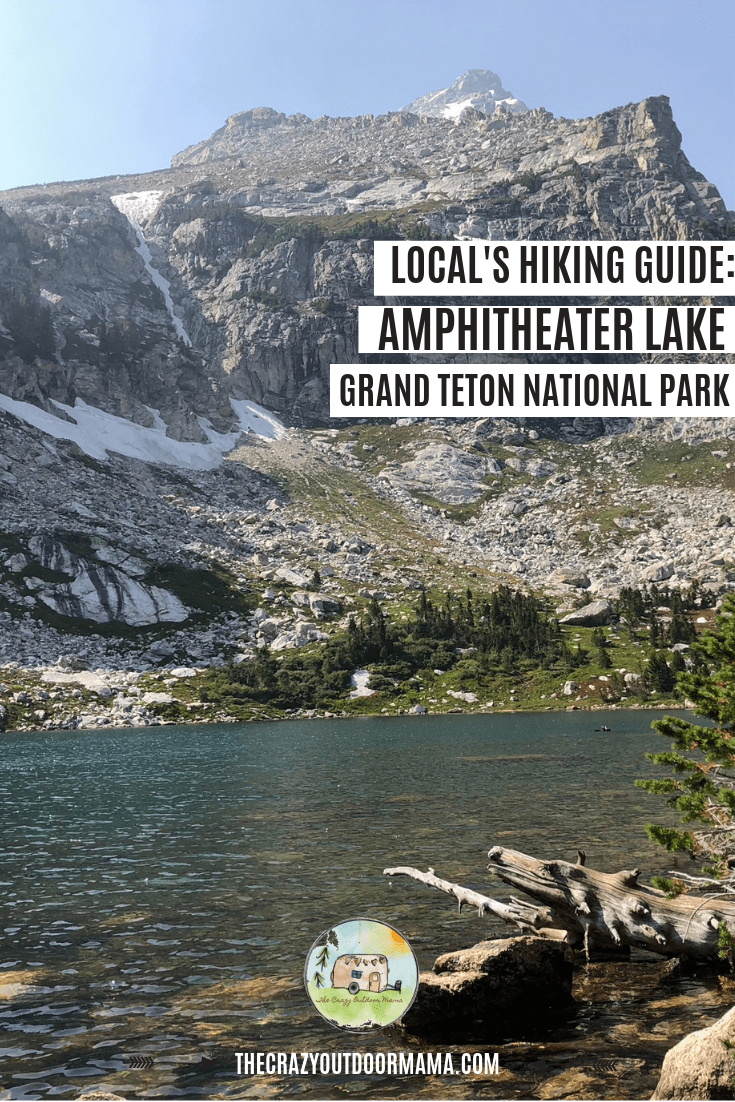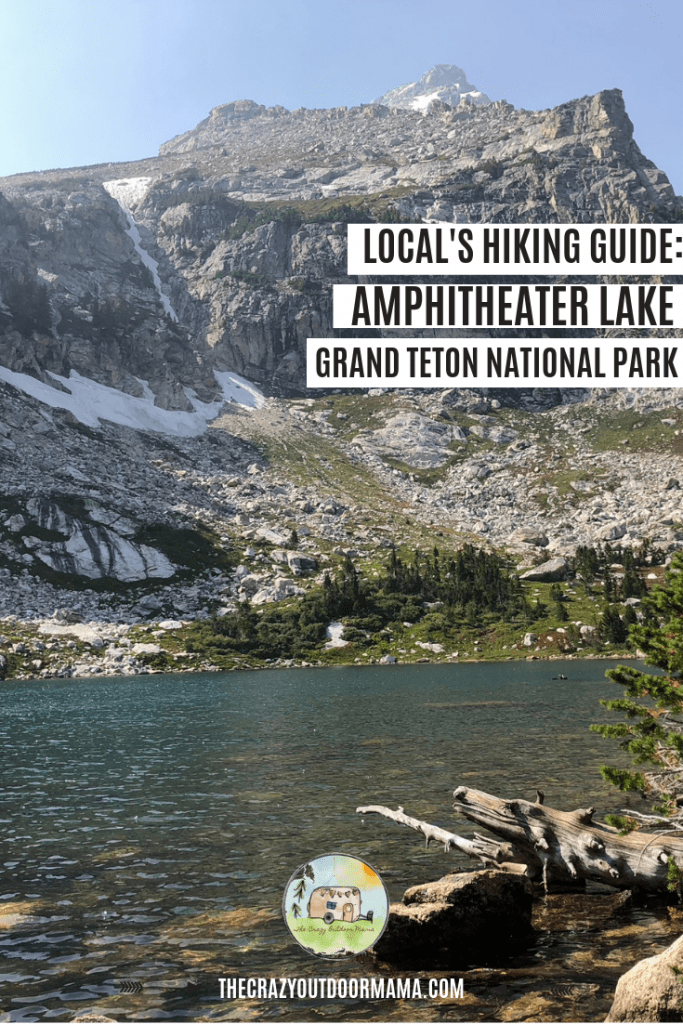 We figured my husband could put my son in a backpack if needed, I'd have a backpack for one twin, and the other twin could be in a front carrier with my husband.
Anyways, the hike was difficult but so worth it with the knowledge that we won't be doing it again with the kids for a while!
Here's a little of what to expect, and how our hike went!
P.S. Find out why we are so determined to keep our hiking and adventuring life active with 3 littles – and how you can do it too!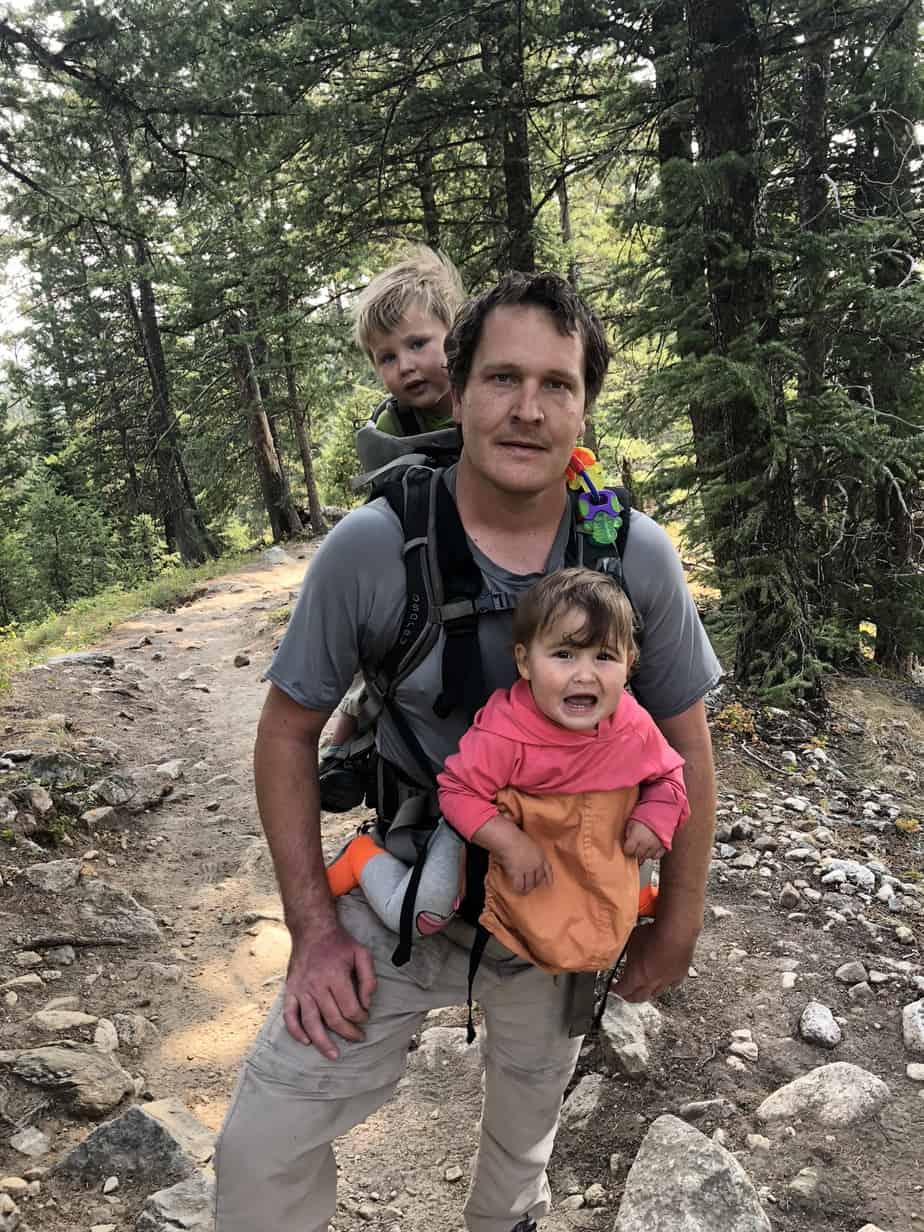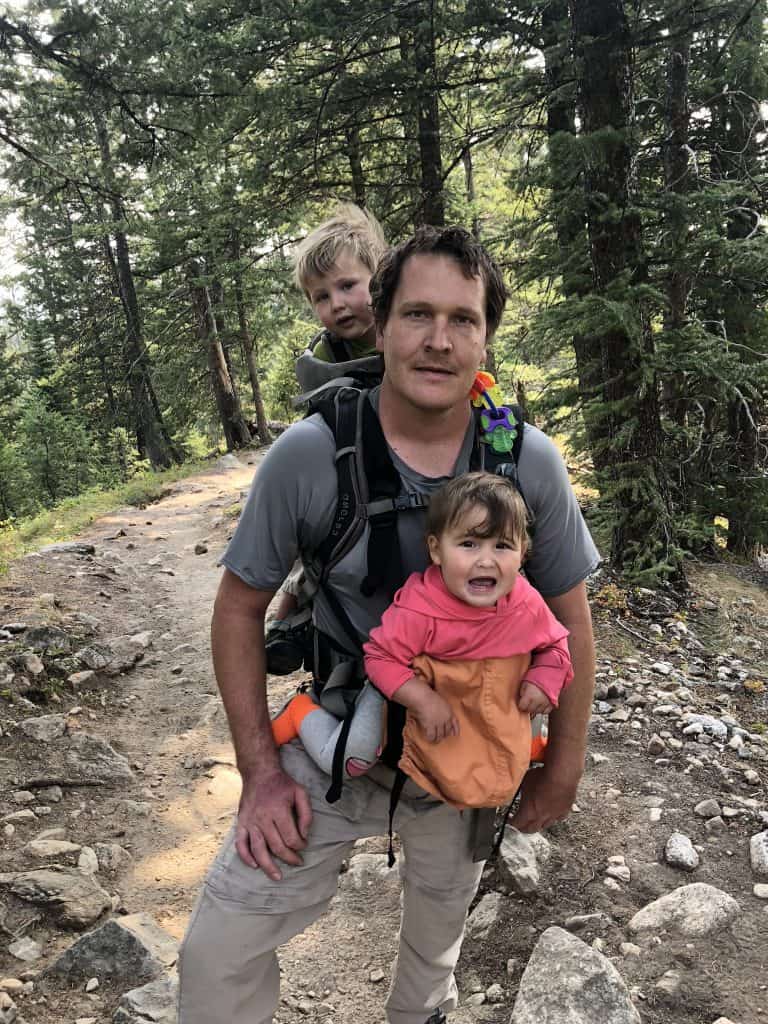 Which trailhead do I start at to reach Amphitheatre Lake?
Once you're in Grand Teton National Park, you would start at the Lupine Meadows Trailhead which is about 1.6 miles down a dirt road from the sign.
How long is this hike, what is the elevation gain of Amphitheatre Lake?
It is 10.2 miles round trip with 2980 ft of elevation gain. Expect a grunt if you're a casual hiker or are carrying a big pack (or kids!)
There's a lot of helpful information regarding milage and elevation here!
Here's what a hike to Amphitheatre Lake looks like!
Unless you arrive early, expect a bit of parking at the Lupine Meadows Trailhead. It happens to also be a starting point for those climbing the Grand Teton, and they of course start pretty darn early!
But if you're hiking 10 miles, an additional 0.02 walk through the parking won't hurt ya!
After about 1/3 of a mile, it starts to get steep and doesn't really stop until you get close to the lakes!
Be on the lookout for huckleberries



We did this hike late August, and there were huckleberries for DAYYS! I'm talking you could sit in the same spot and get a ton! My husband didn't want me to say this, but if you drive all the way to the park and start this hike, I think you deserve some too! I loved this about this hike because it was a perfect way to give the kids a break as well as keep our toddler busy searching for them as he was hiking!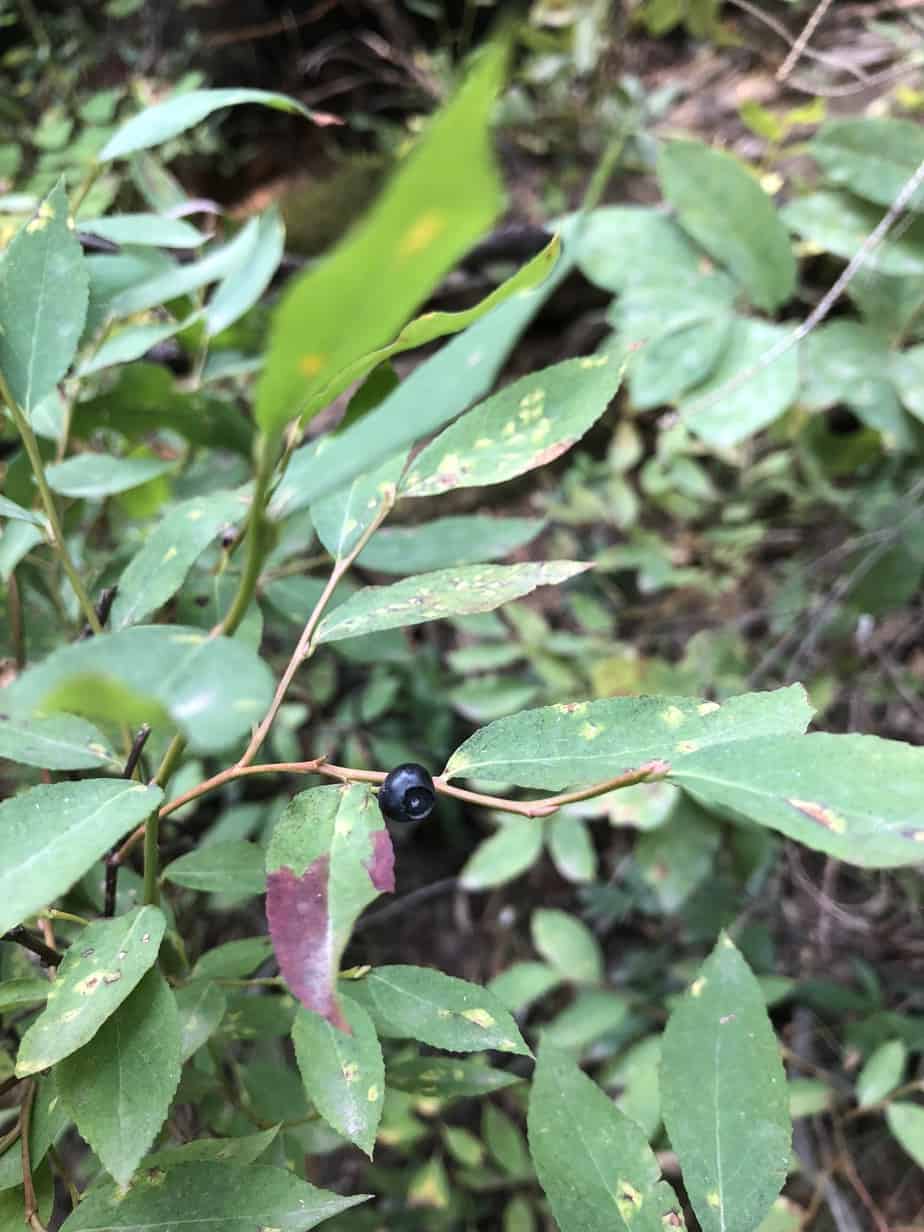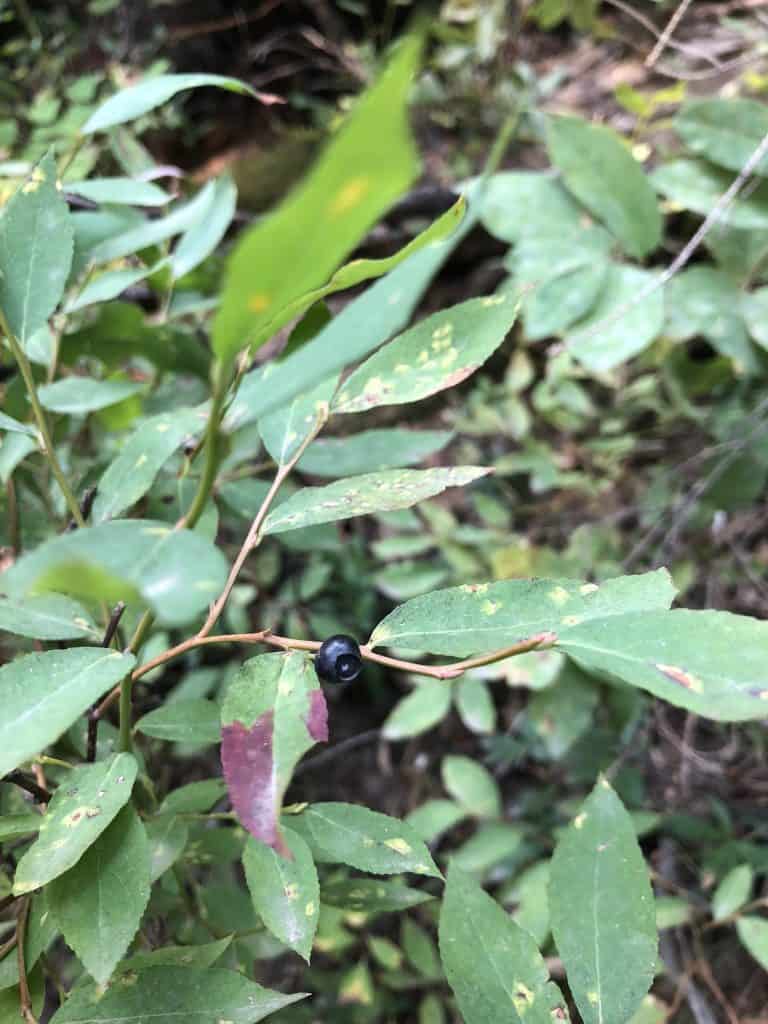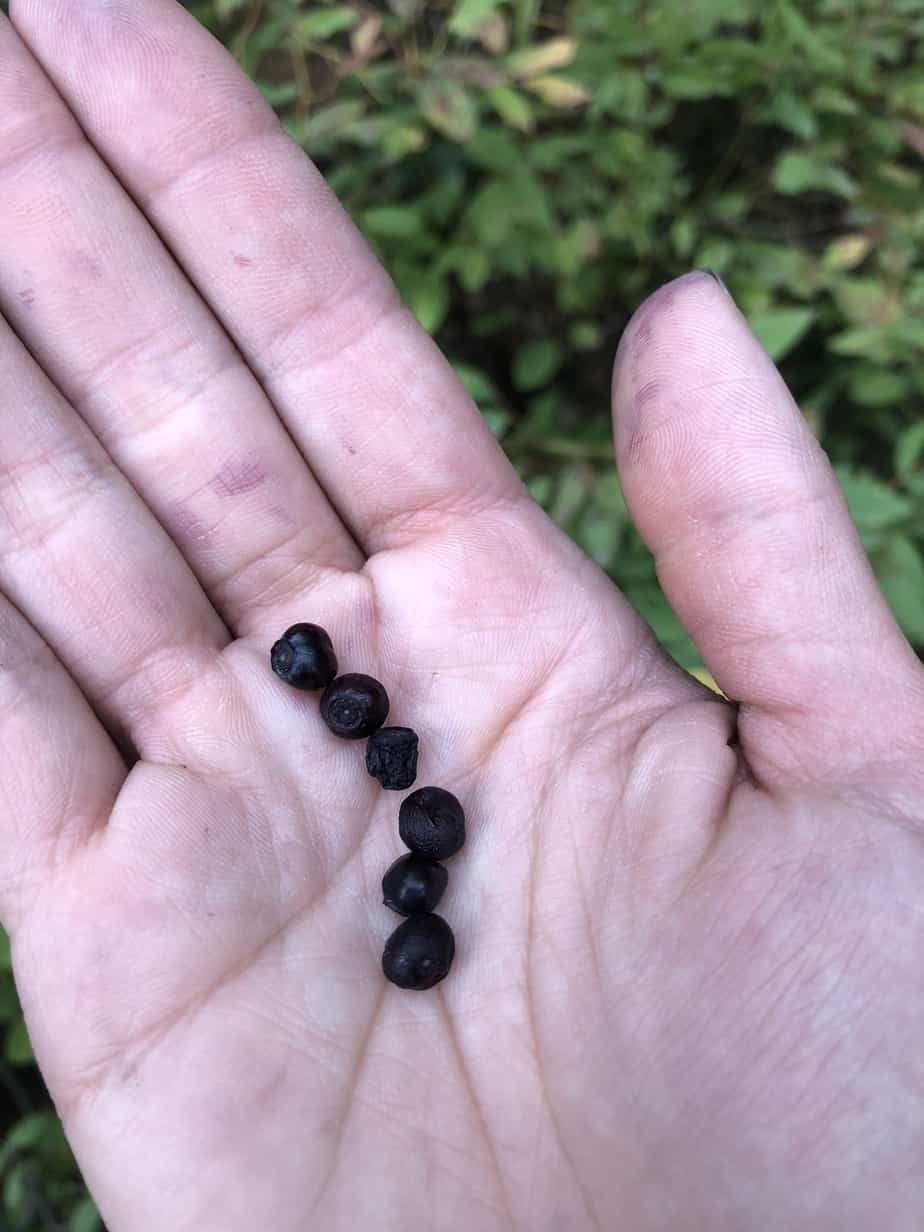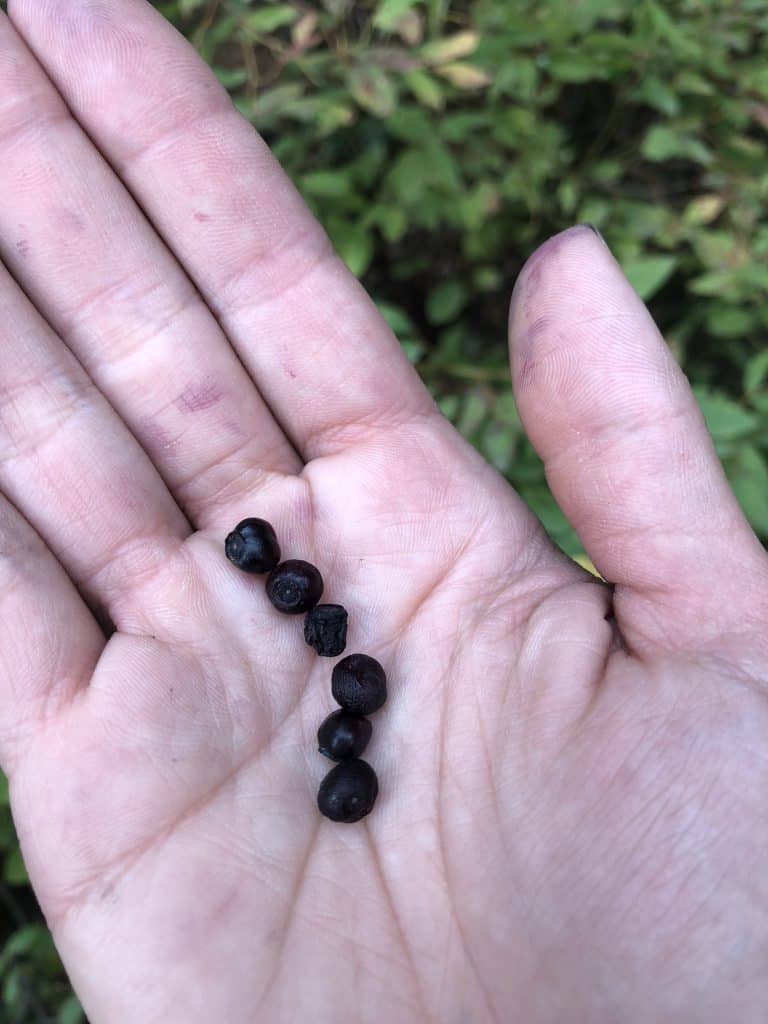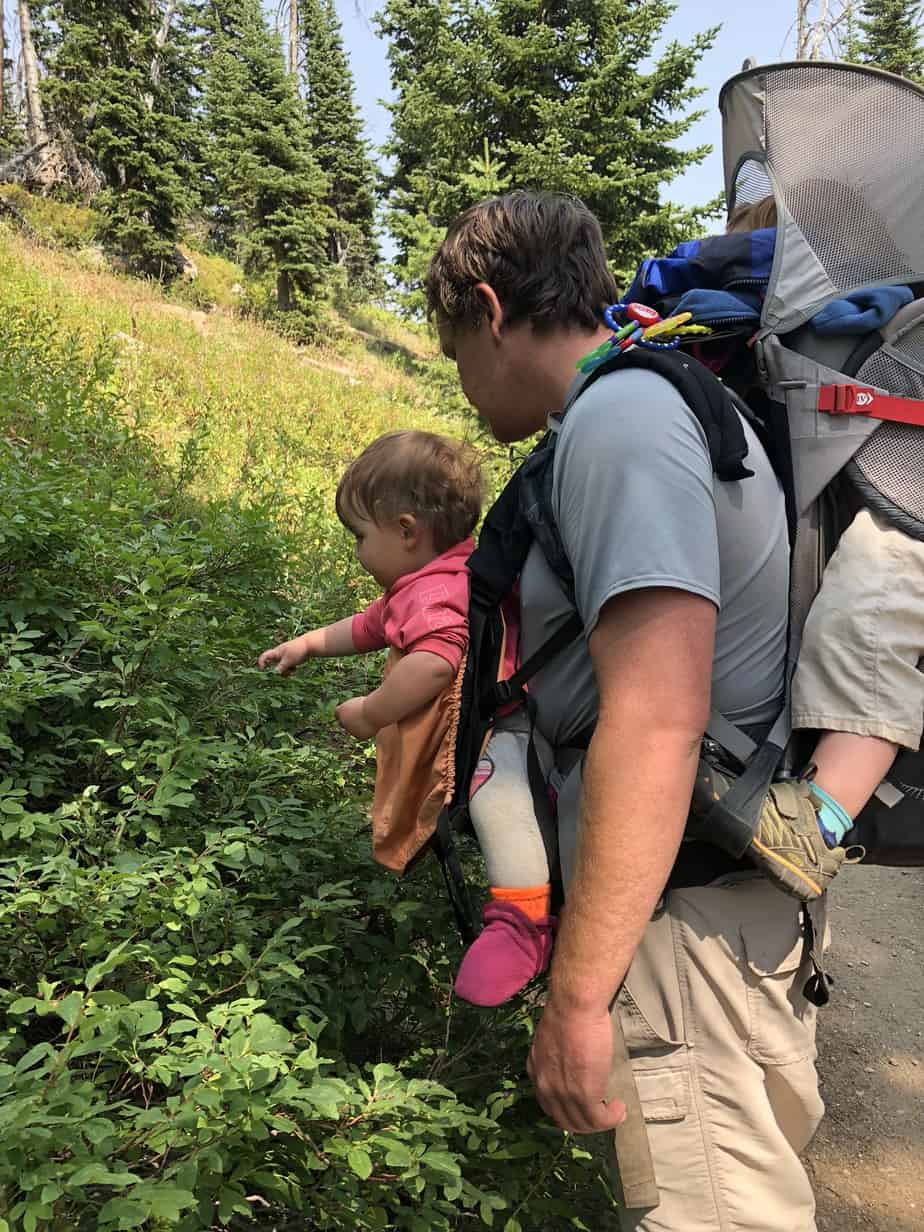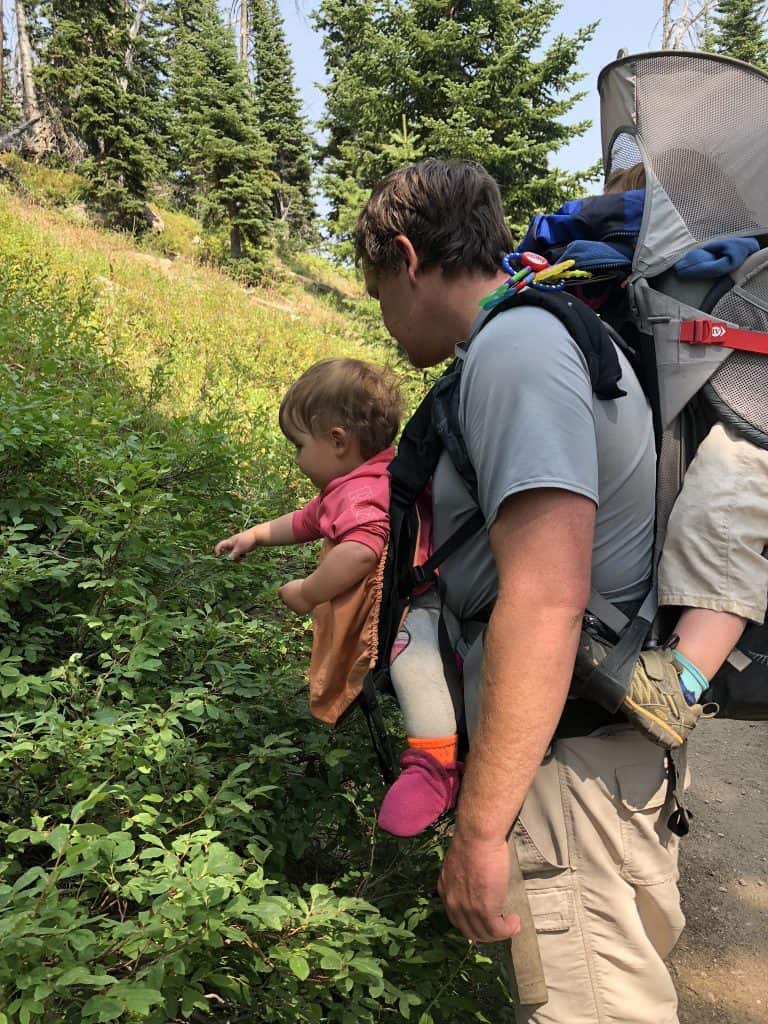 First trail junction (1.7 miles) 
At around 1.7 miles, you'll reach the Valley Trail Junction. From here, you can turn left and drop down onto the trail to Bradley and Taggart Lakes, or just keep going straight to head to Amphitheatre and Surprise Lakes. The junction area is fairly big (well, for a trail anyways) and has some cool sights along each side. This was my husband's goal before we took the kids out for a break! As he says, it's not really hard hiking until you at least get to the Valley Trail Junction (Which made me sort of freak out because it already felt crazy!)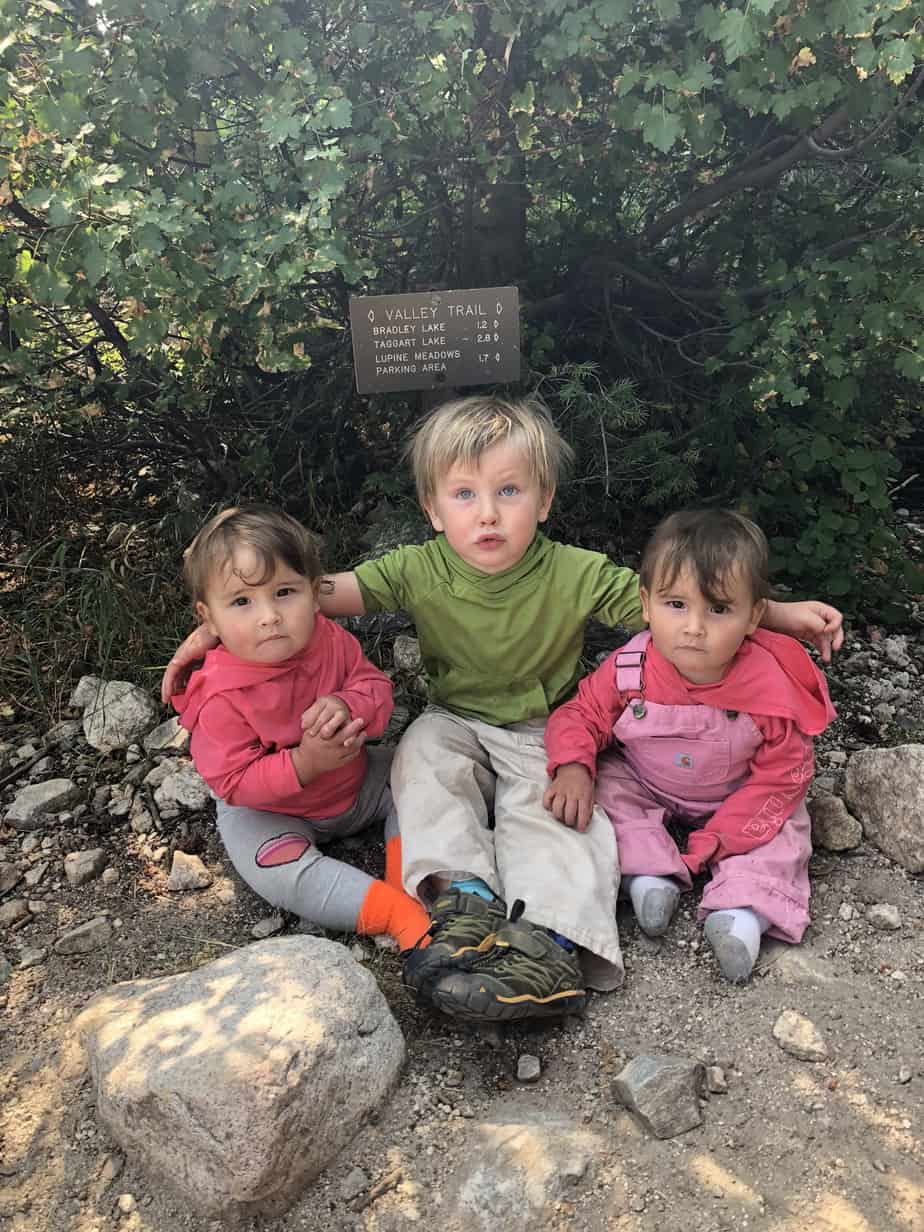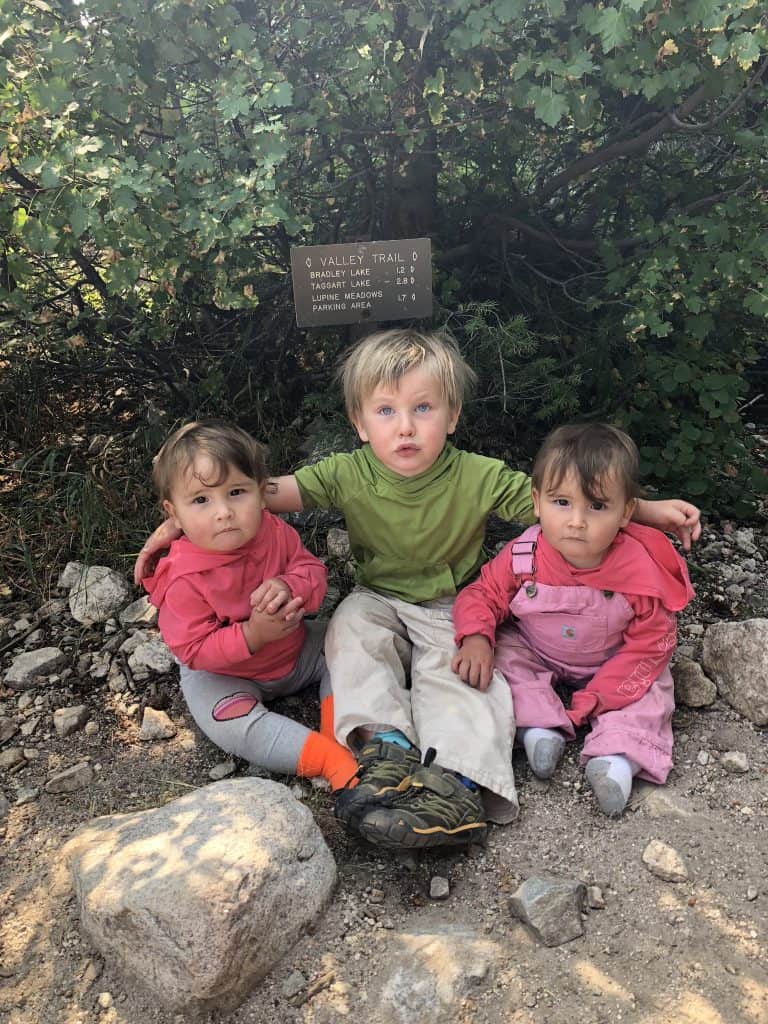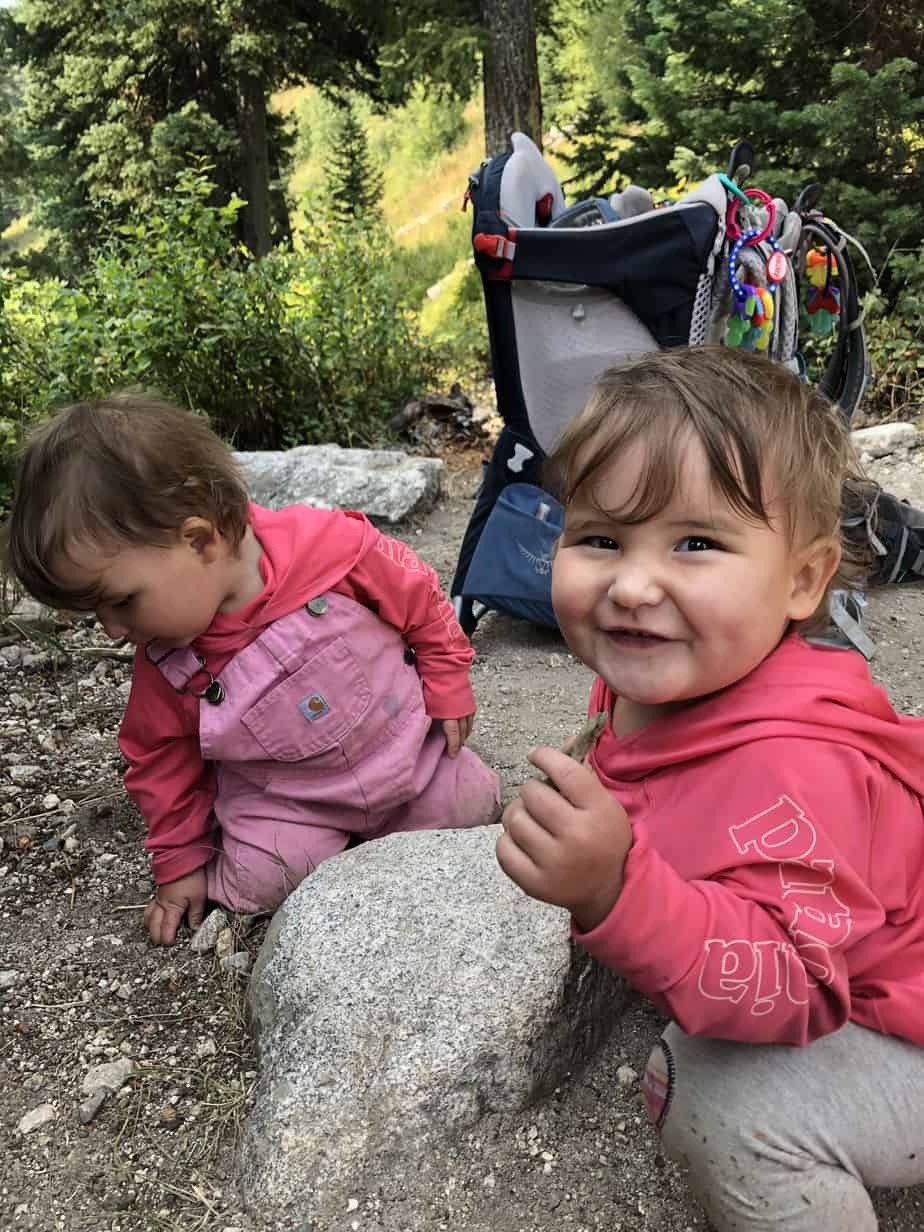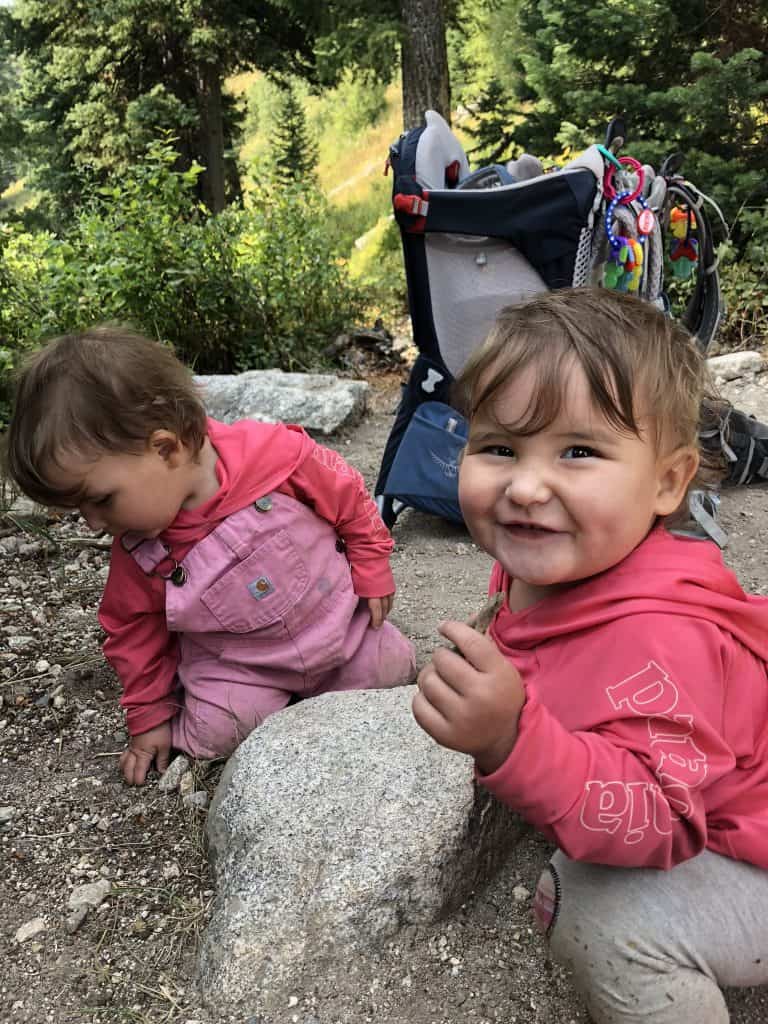 Need water? Look for the small spring after the Trail Valley Junction
I want to preface this by saying it's completely up to you whether or not to trust this water – my husband said he drank it all growing up, so I did. For our kids though, we did bring a UV water purifier just in case something was wrong. This is a great way to not carry as much water! In fact, I highly recommend these UV water purifiers because it seriously lightens your load – just carry one or two water bottles compatible with the device, and fill up at the various lakes and springs you find!
It will be pretty obvious to see because there is almost always water coming out of it, so expect to see a small bit of water running across the trail. People are considerate and there is usually a stem of some sort to make a spout for the water to come through so that it's WAY easier to fill up your water bottle!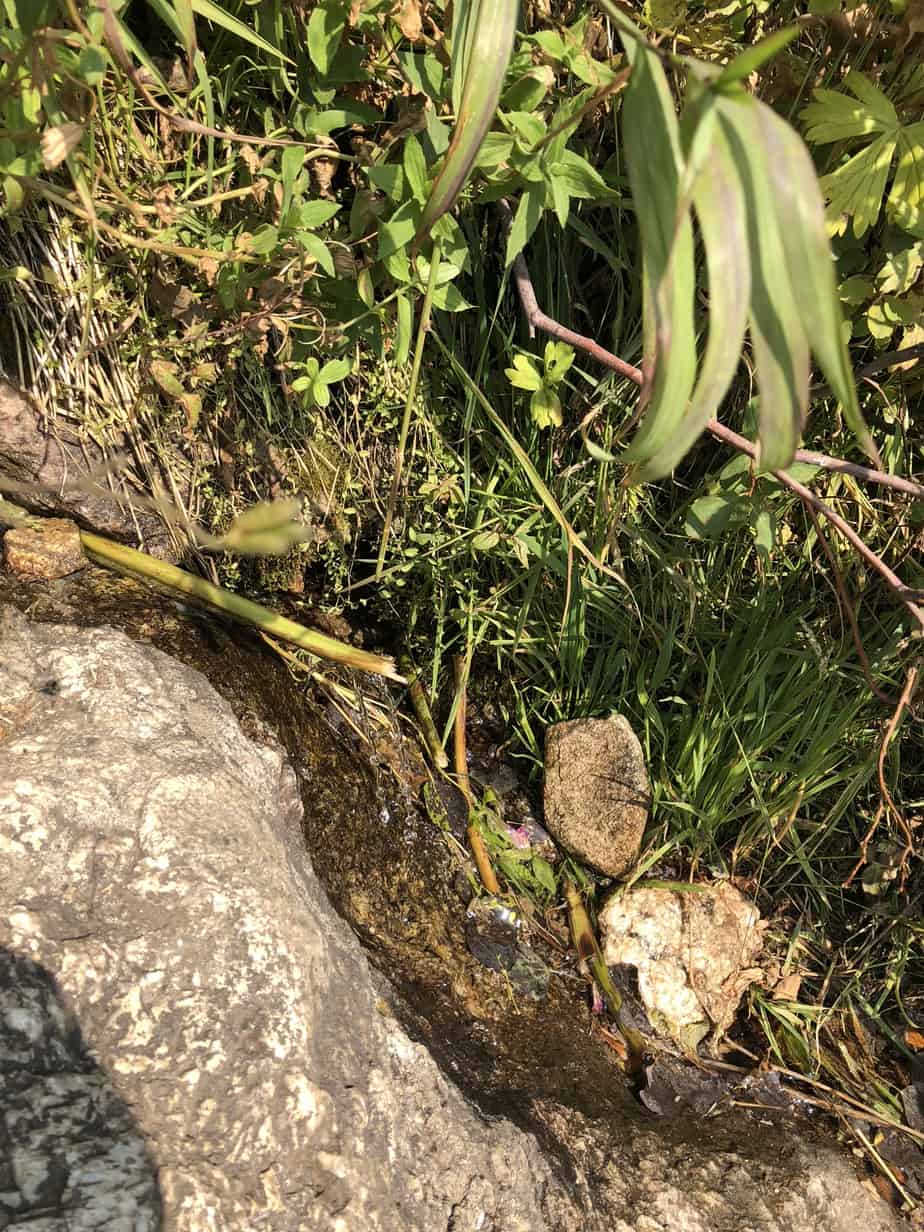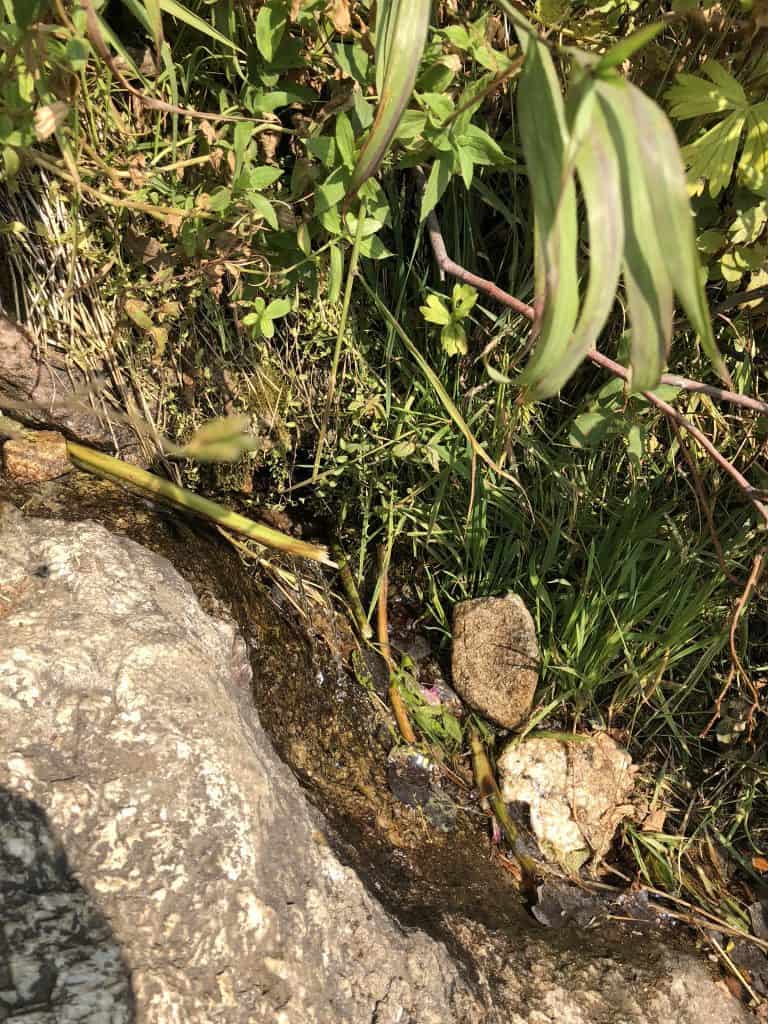 A lot of switchbacks + views of Bradley and Taggart Lake!
It felt like these were nevvvverr going to end – around 17 I think! BUT you get to see some amazing sights! Namely, once you're high enough, Bradley and Taggart Lake. There are a couple good look out spots that make for an amazing picture!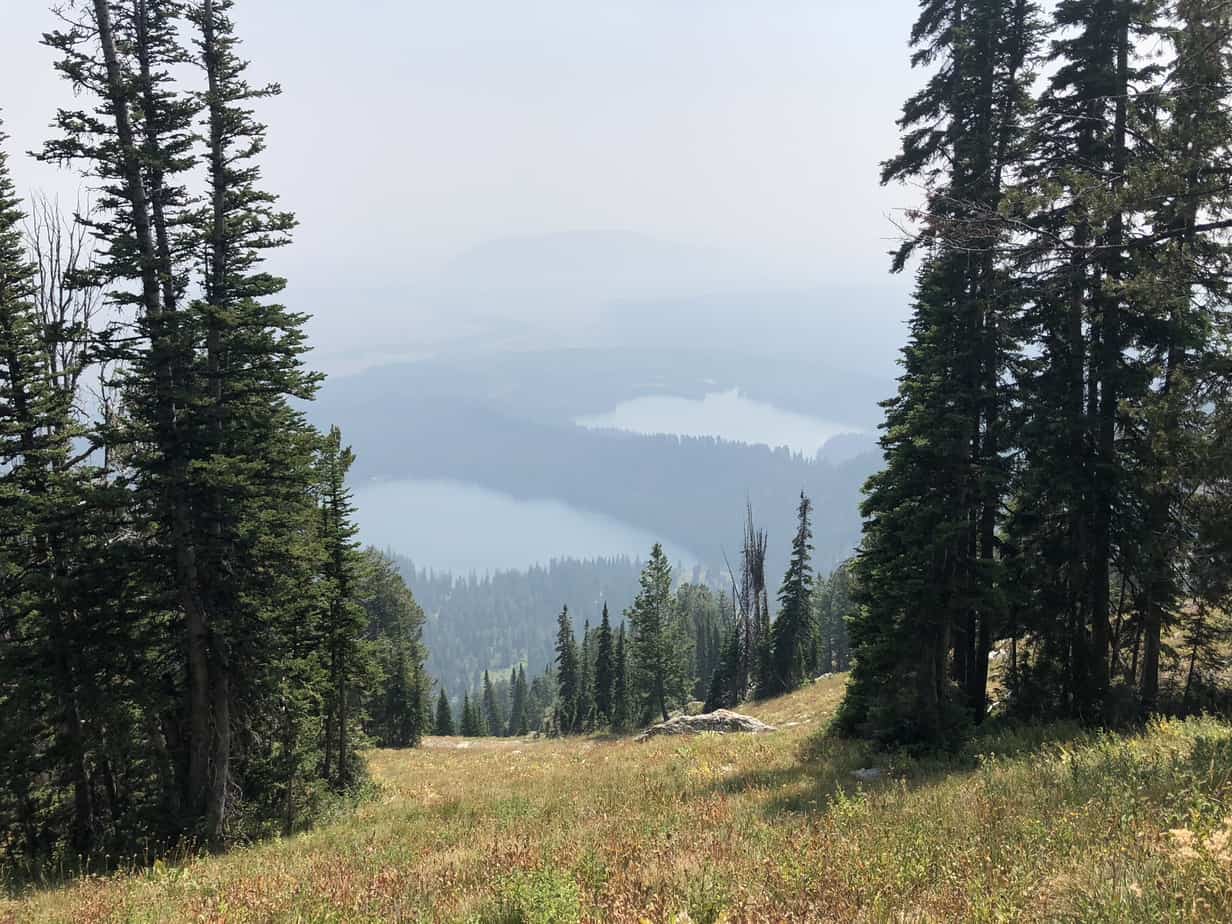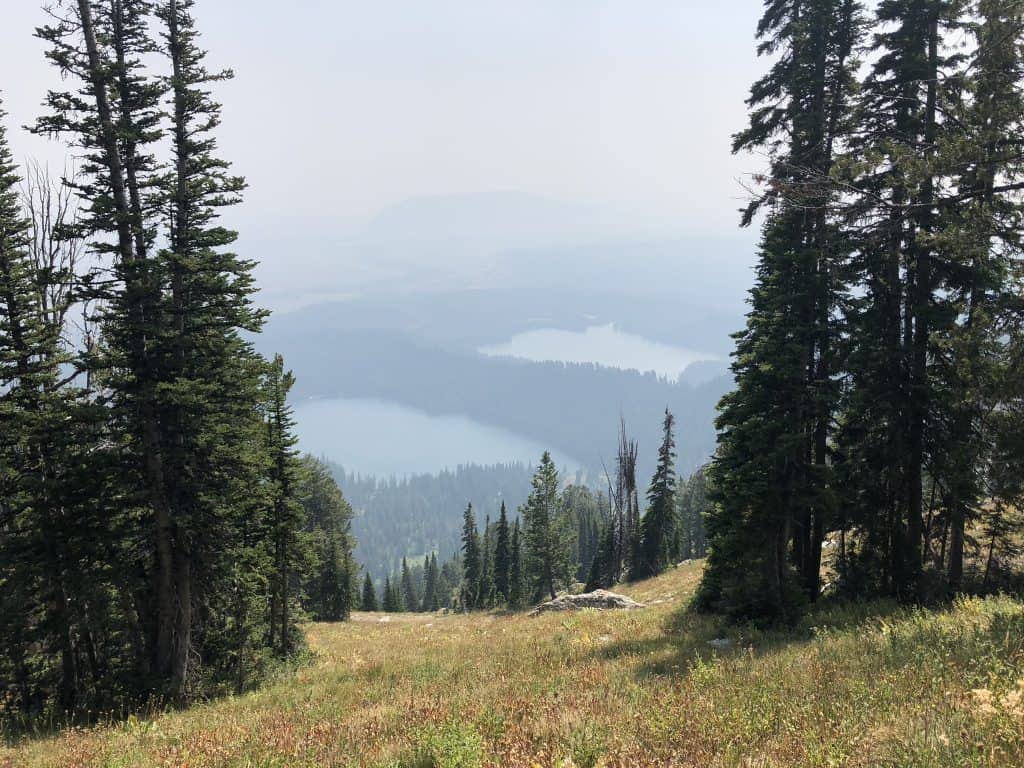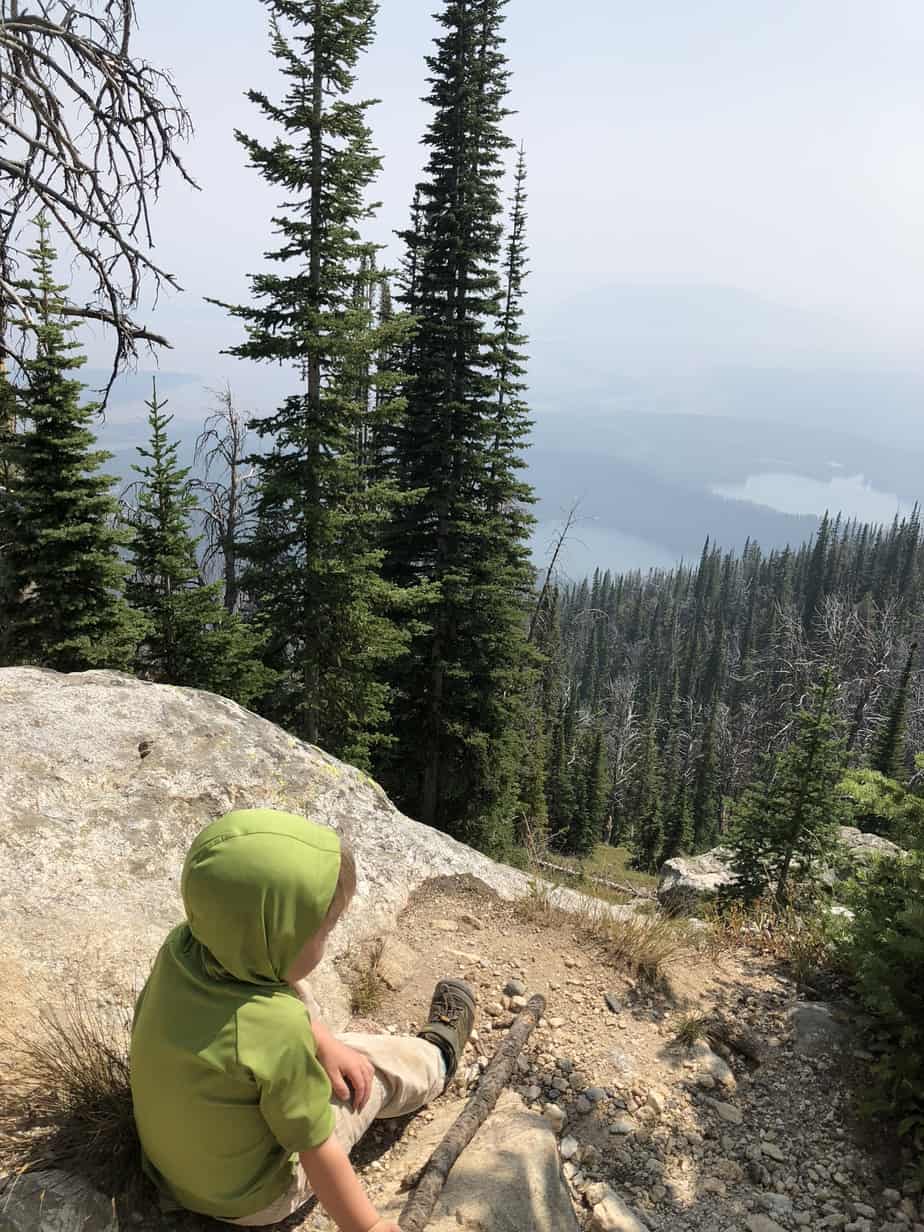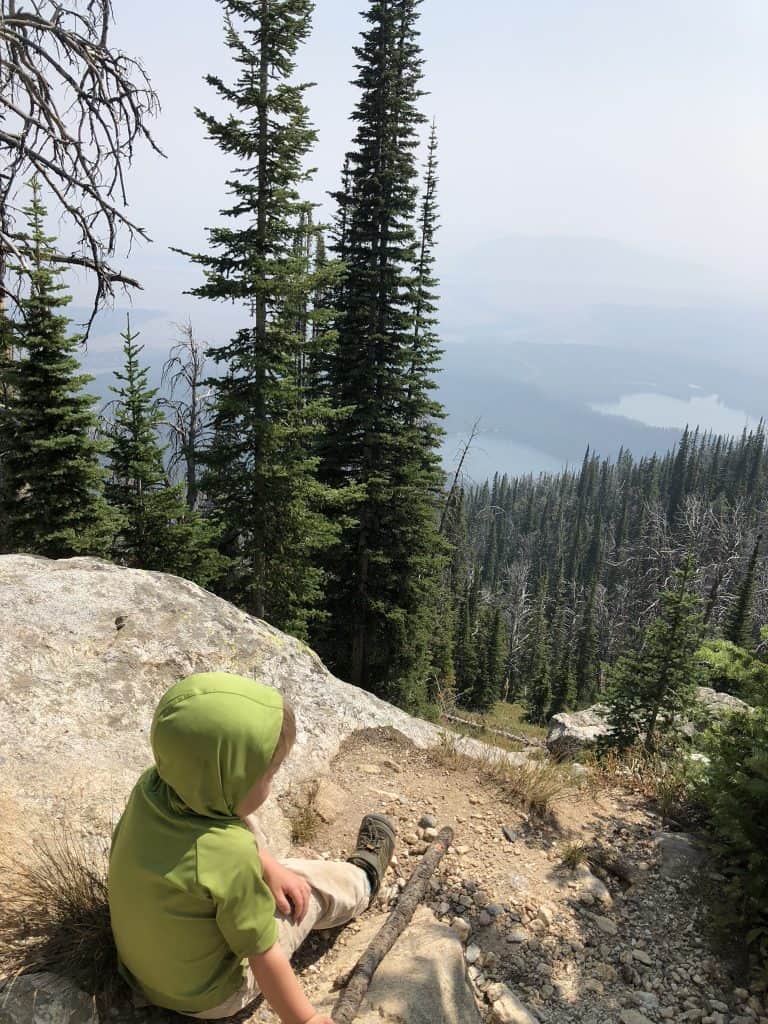 2nd Trail Junction (3.1 miles)
This is about 3.1 miles – just follow signs for Surprise and Amphitheatre Lake! You may find a sign hanging on the junction sign mentioning any bears in the area. When we hiked this, there was a black bear and cub sighting which is fairly common in the area. Make sure to bring bear spray and know how to use it!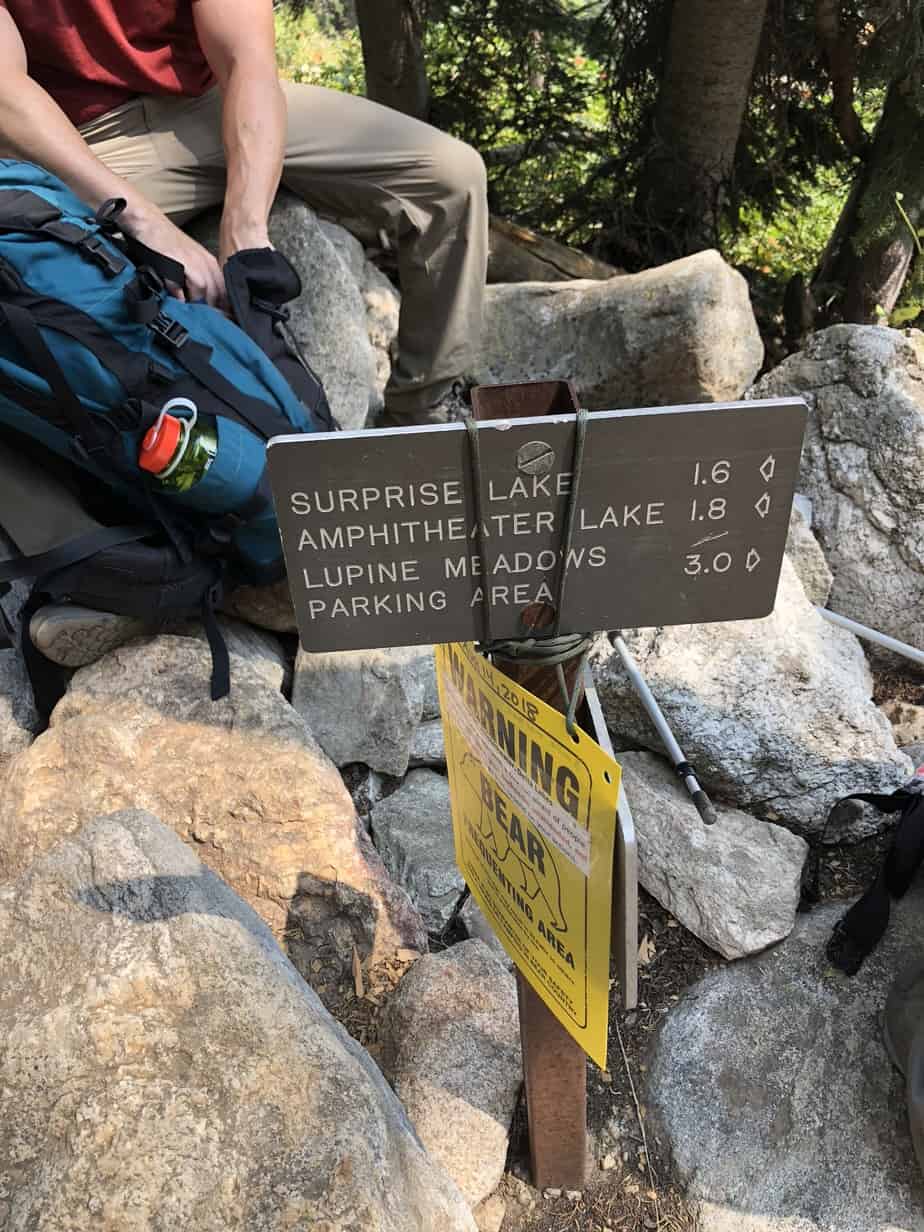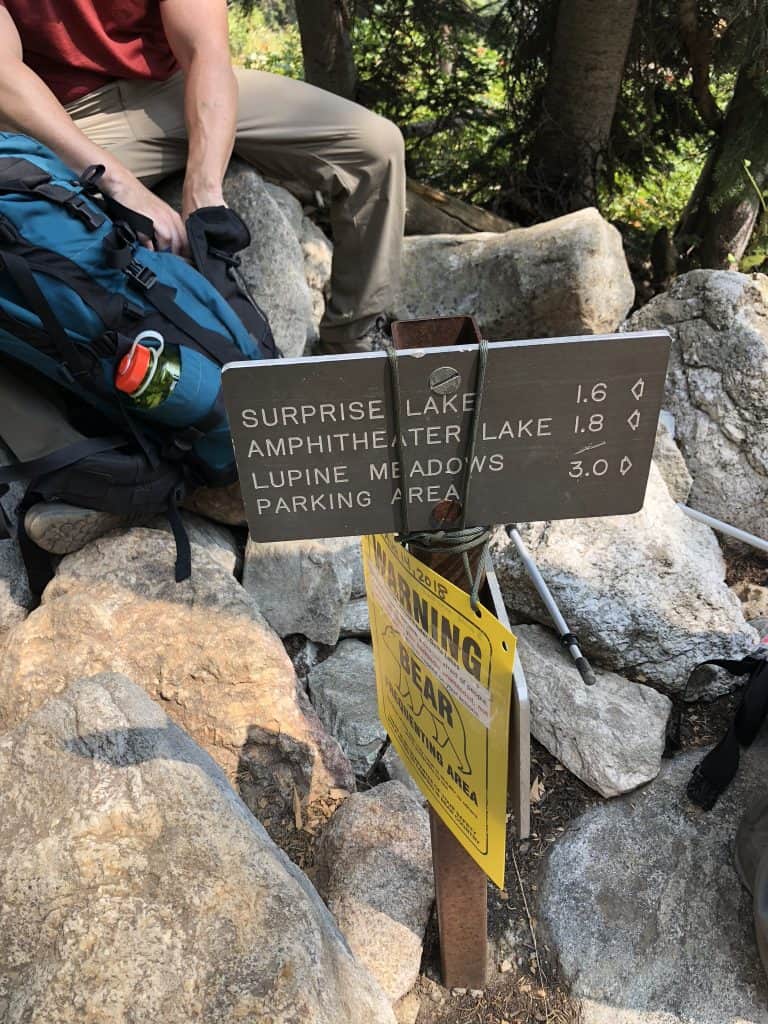 Trail levels out and becomes meadows (4.75 miles)
This is what I LOVE to see, because it means we're getting close. Also, I'm sick and tired of switchbacks by this point and there are alot more places for the kids to play without being near the edge of a cliff! There are some pretty sweet photo ops in the open meadow areas to get a picture with the Grand Teton behind you! I wish I had brought a better camera, but it was still pretty darn cool!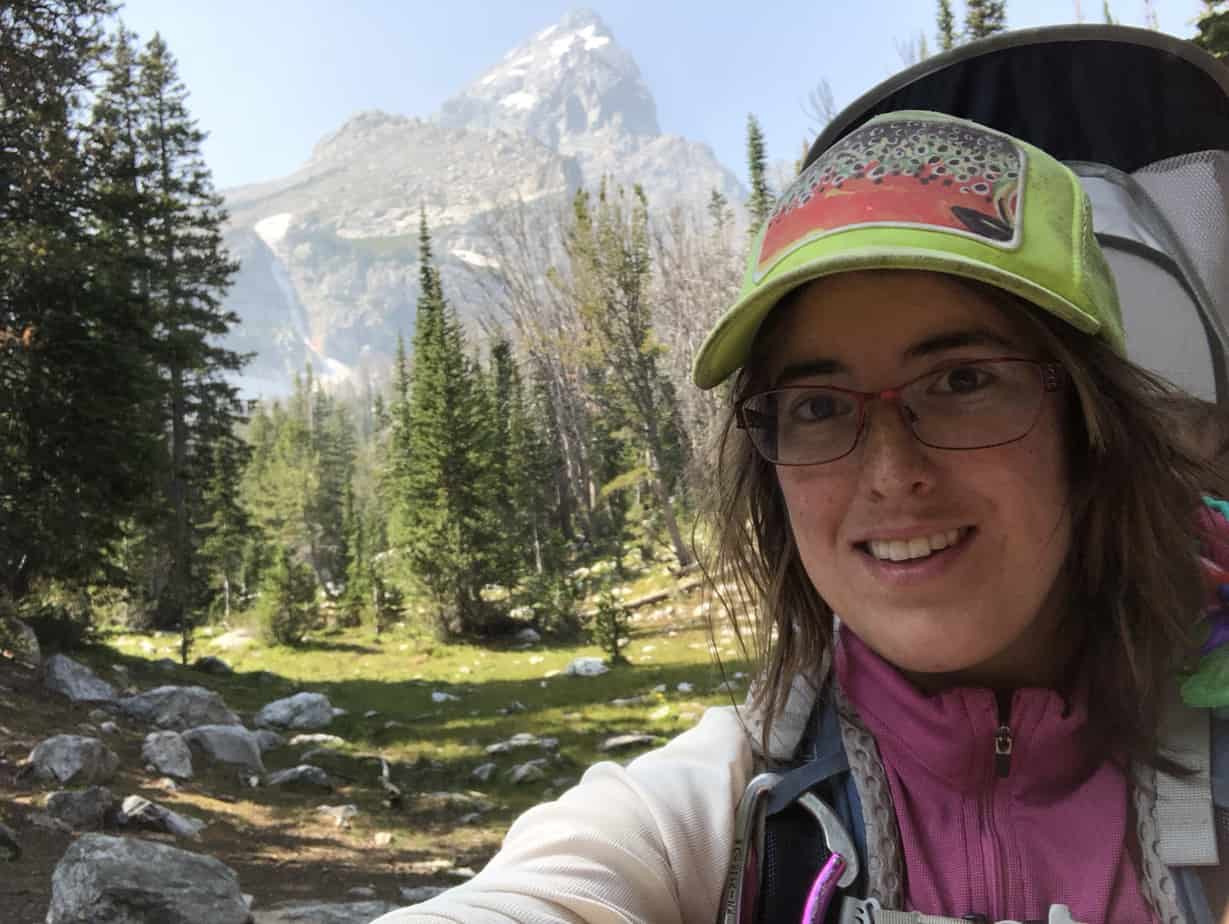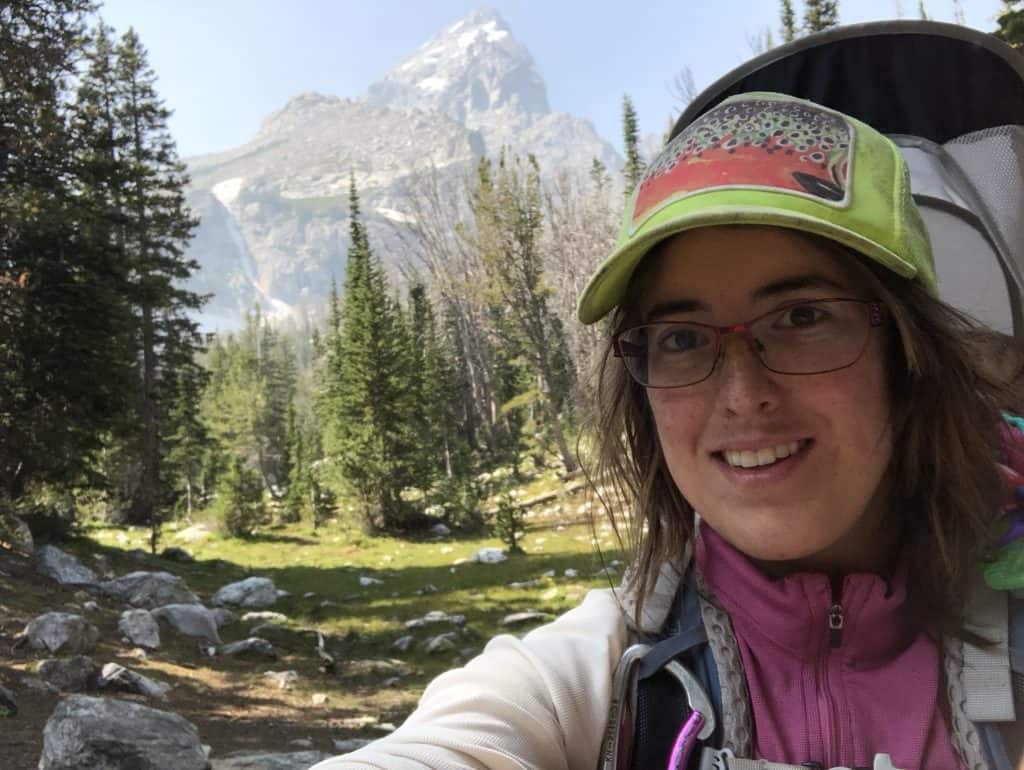 Surprise Lake
If you're going to one lake, you have to go to the other! There is only 1/4 mile between the two, so it's worth it! This is the first one you'll see once you get out of the meadows. It's of course clearly marked, and is wonderful!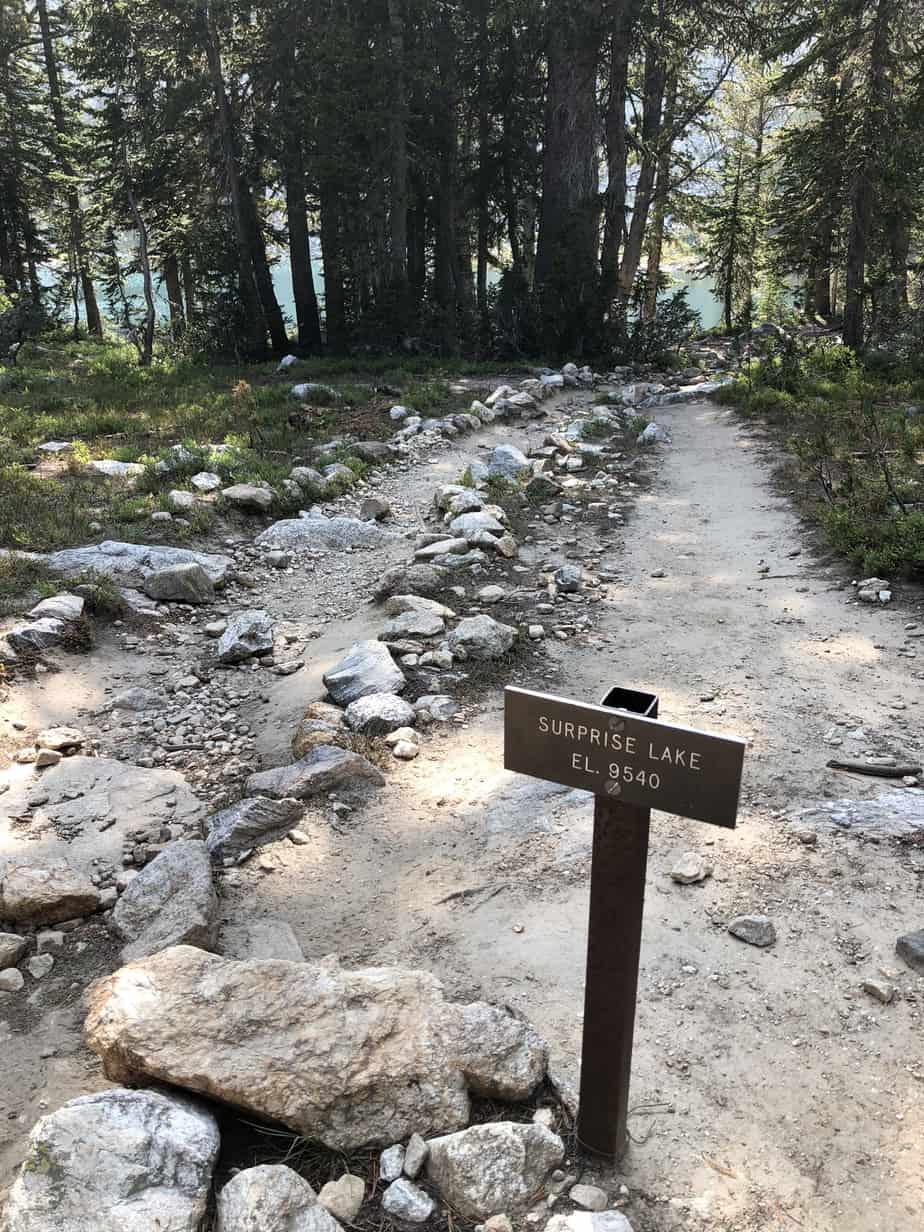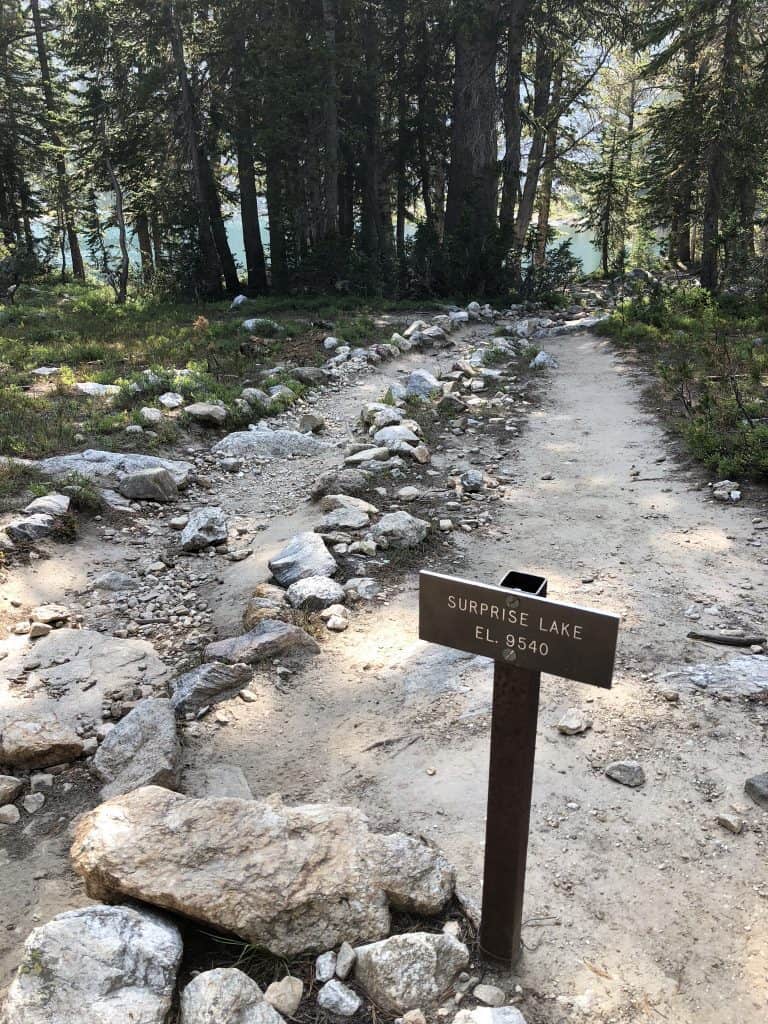 Amphitheater Lake
Woo! Enjoy the views of the Middle Teton, Disappointment Peak, Grand Teton, Mt. Owen and Teewinot if you're looking from left to right (although you can't see them very well from these pics. Sorry!)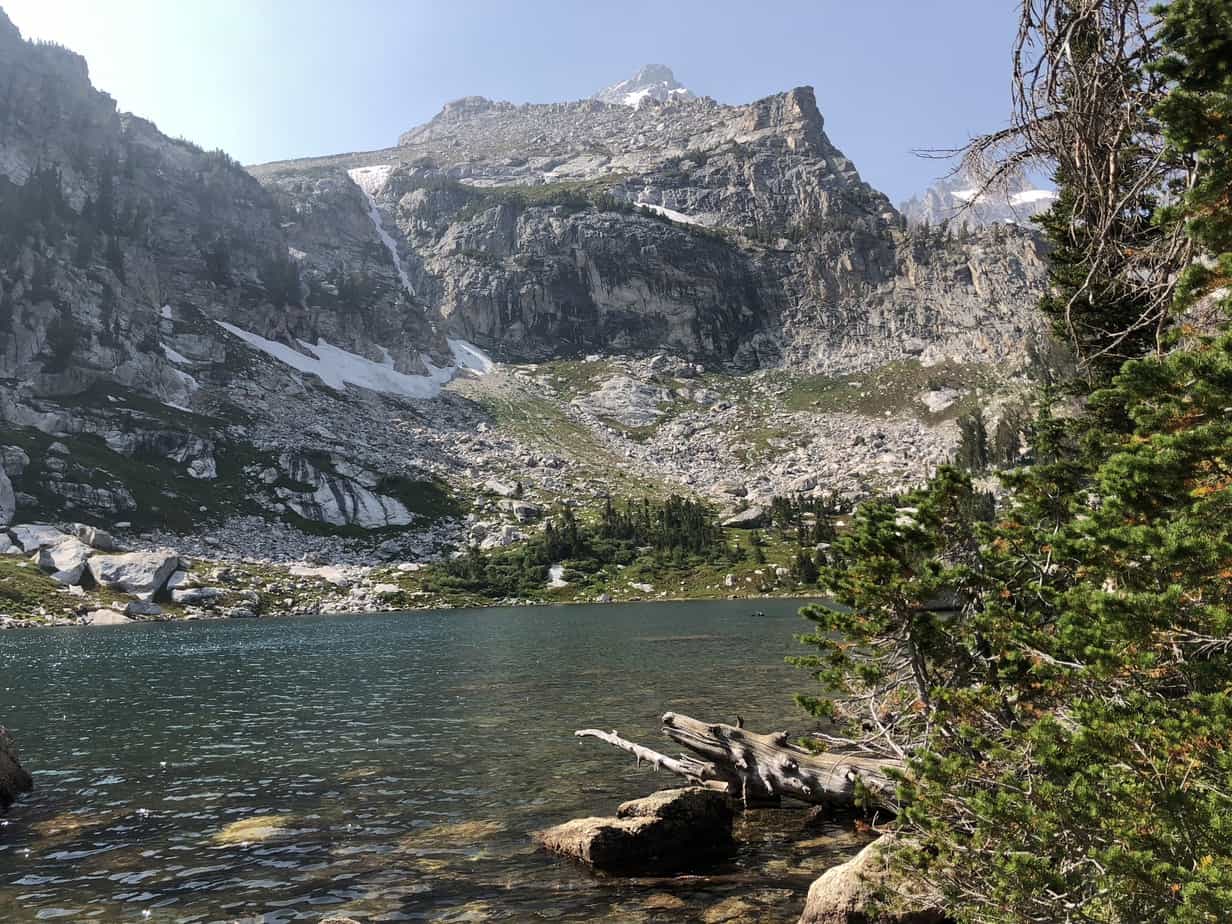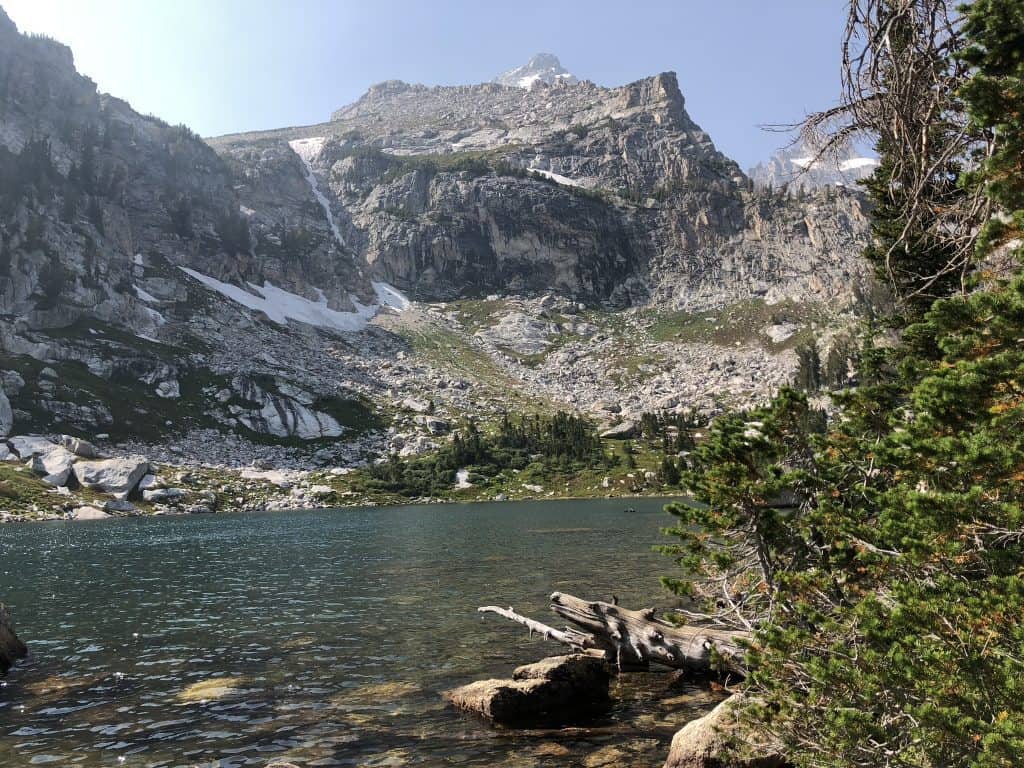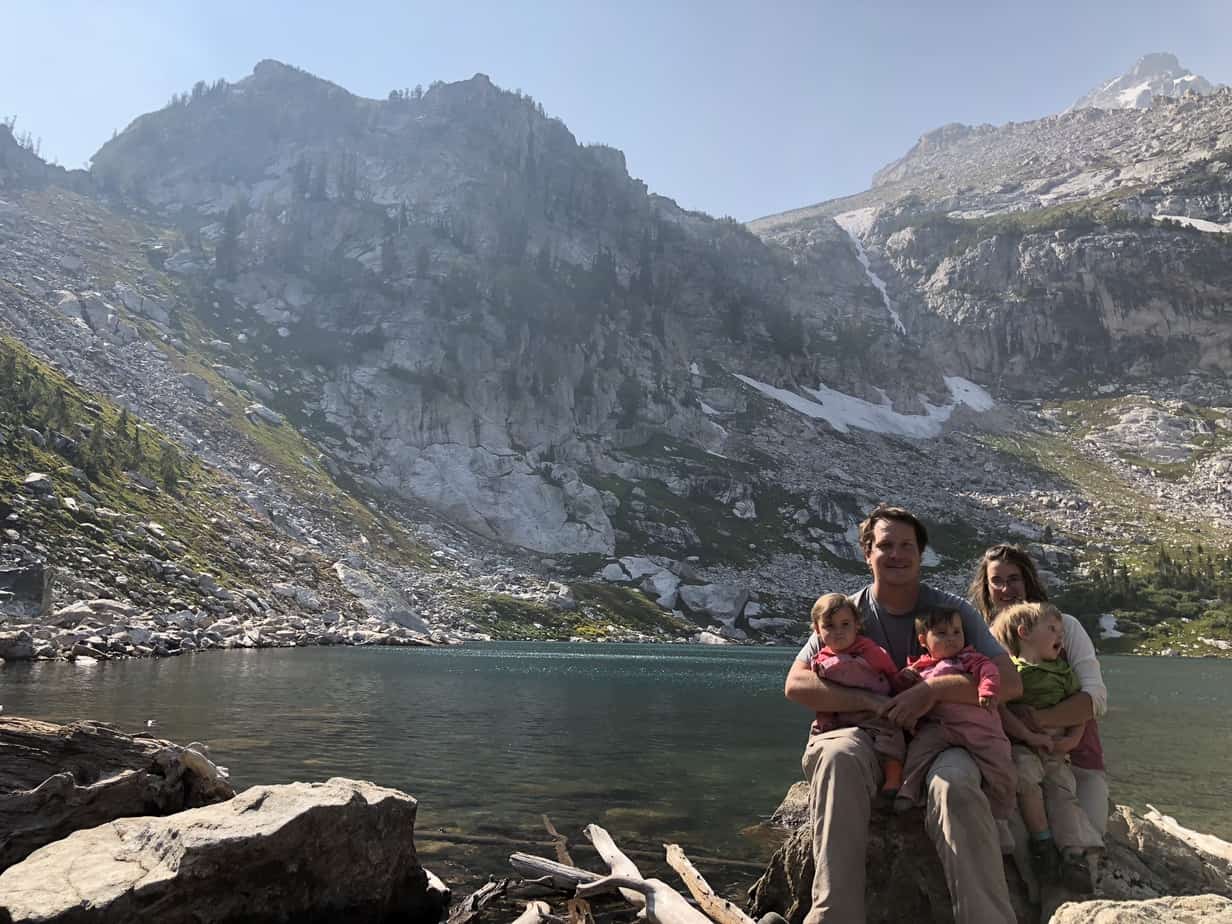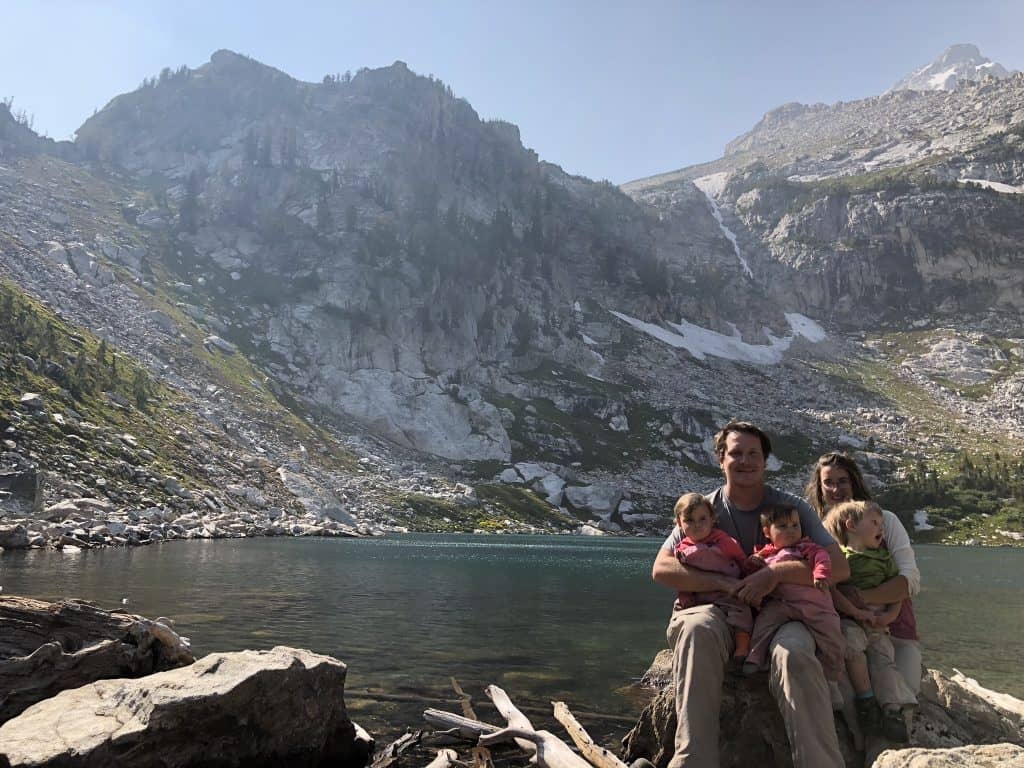 Tips about hiking to Amphitheater Lake
It is pretty exposed in some spots, so bring sunscreen, a hat, and plenty of water!
Snow takes a LONG time to melt off. In June, there was still 4 to 5 feet of snow in the meadow area leading to the lakes (which were still frozen) and the trail can be VERY hard to see. Plan accordingly!
There is another lake along the way, but I won't recommend it unless you hear from word of mouth – it's very difficult, not well marked (there's no trail marker for this lake, not sure if the trail is even maintained) and several hikers have to be resuced from there a year.
Black bears are VERY VERY common here, and sometimes get as close as 10 feet to the trail. While they often mind their own business eating huckleberries, you should still have your bear spray and know how to use it!
There are some areas of the trail that are fairly rocky, so it may be harder for those who aren't used to hiking or are older to feel steady. Bring a hiking pole or two if necessary!
If you're hiking in Grand Teton National Park with kids check these out too!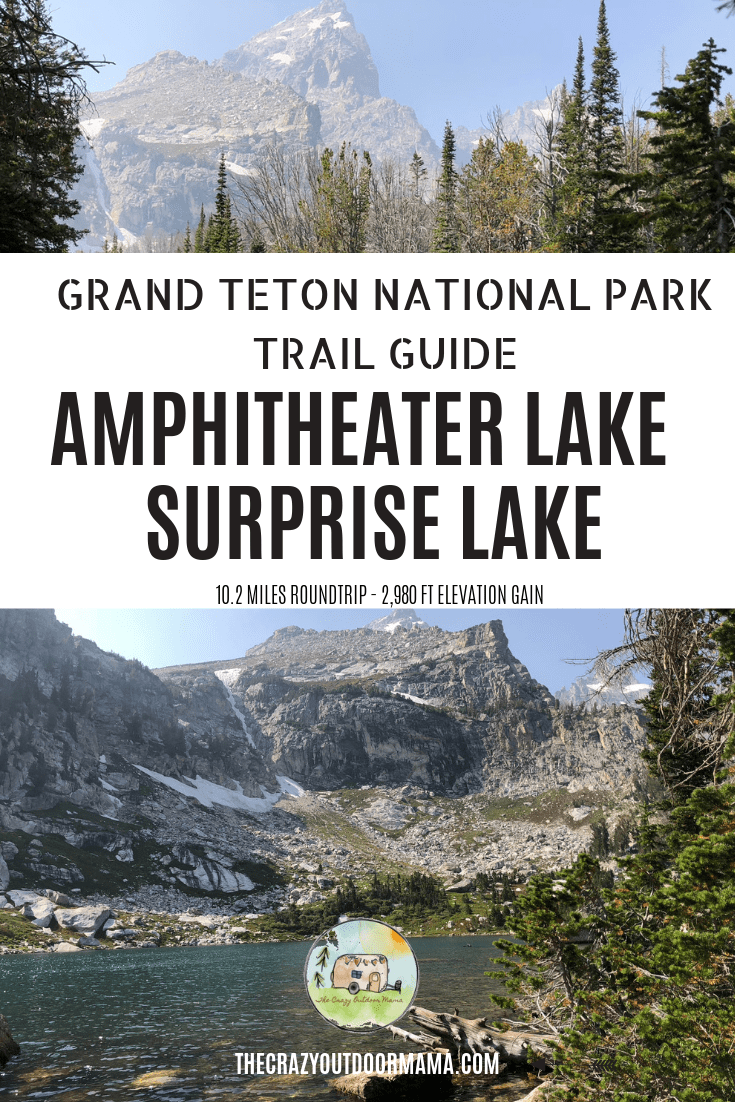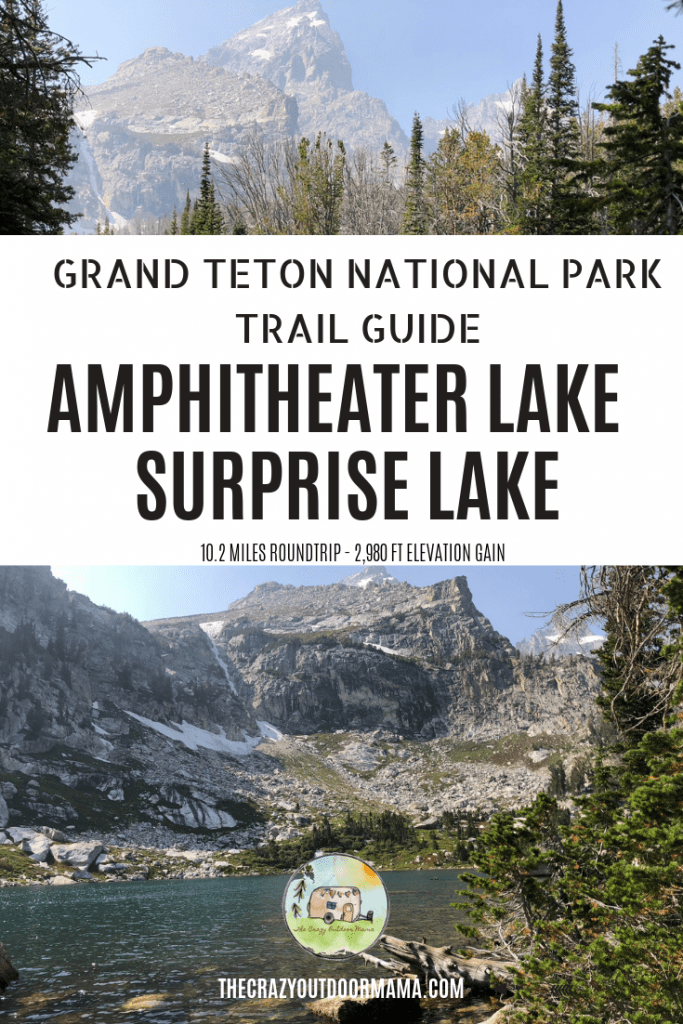 Latest posts by Stacy Bressler
(see all)