These 6 Grand Teton National Park Hikes are the best around… and the whole family can do them!
One thing I love about Grand Teton National Park is that there are quite a variety of hikes for people of all skill levels – in fact, most of the beautiful spots are a quick, low difficulty hike!
My grandma came out recently for my twins birthday party, and of course we loved to play tour guide and show her everything!
We sort of had an idea of what to check out seeing as we already picked hikes that were a little easier due to our 3 little kids, but it was awesome getting to see some of the stuff we skip over.
We knew it was beautiful, but I guess it's one of those things where if you know it's there every day, then you sort of take it for granted.
There are lakes, beautiful view points, and so much more in Grand Teton National Park!
The trails are really well maintained and marked, so it's a perfect spot for both young and old!
Anyways, here are the top hikes/places in GTNP!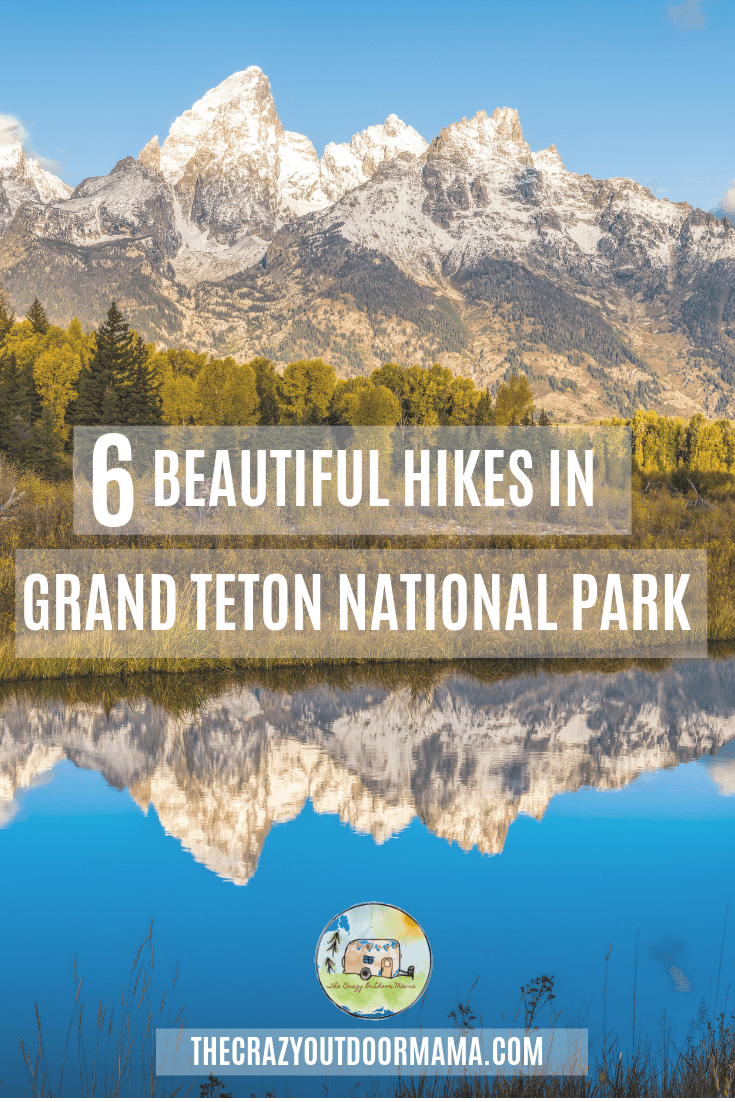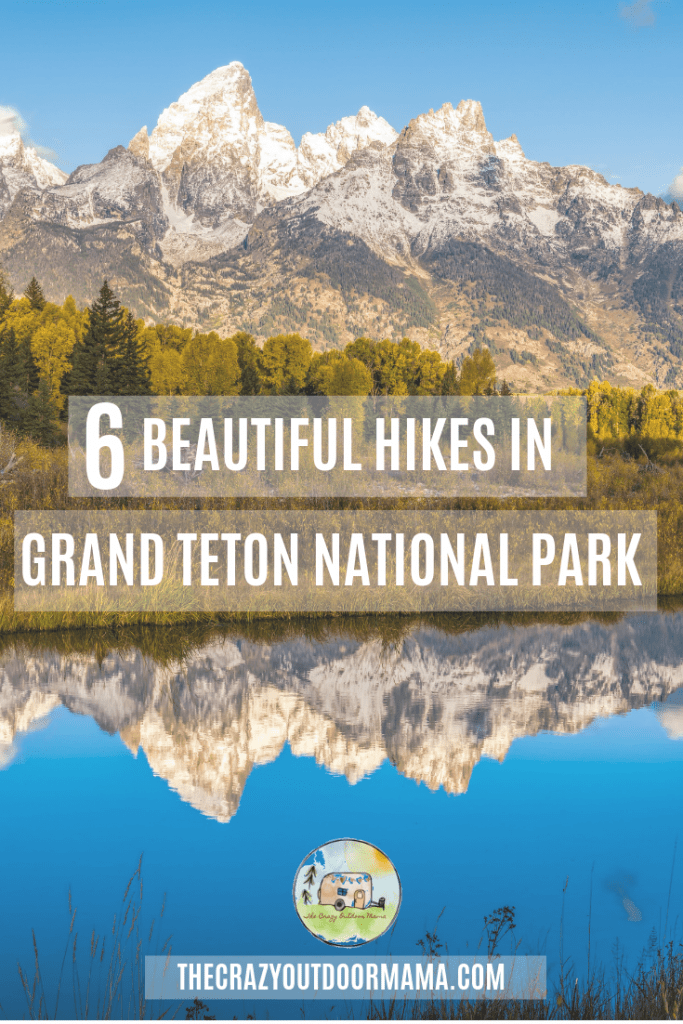 I am going to try to list them in order of difficulty/length so that you can pick and choose accordingly depending on who is in your party.
We were hiking carrying two babies, one preschooler, my parents who are in their 50s and my grandma who is 70ish (I'm sorry, I should know!) so that you can get a gauge of how difficult these are.
Also, if you see things in GREEN, that is more detailed information about the trail such as exact directions to get there, elevation gain and more! 
For a map of GTNP, click on this link!
P.S. You HAVE to eat at Dornan's on your way out! It has massive windows that give a gorgeous view of the Tetons, and their food is freaking amazing!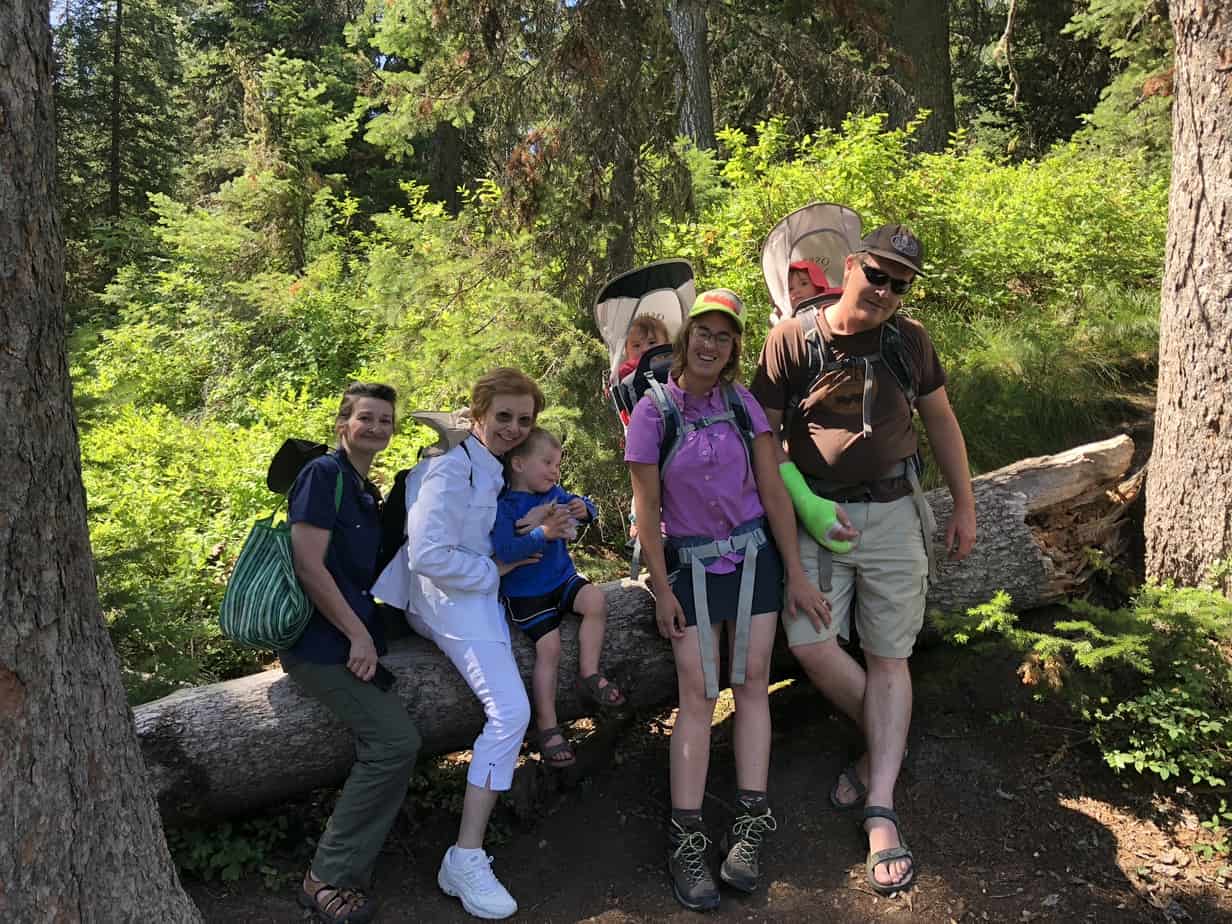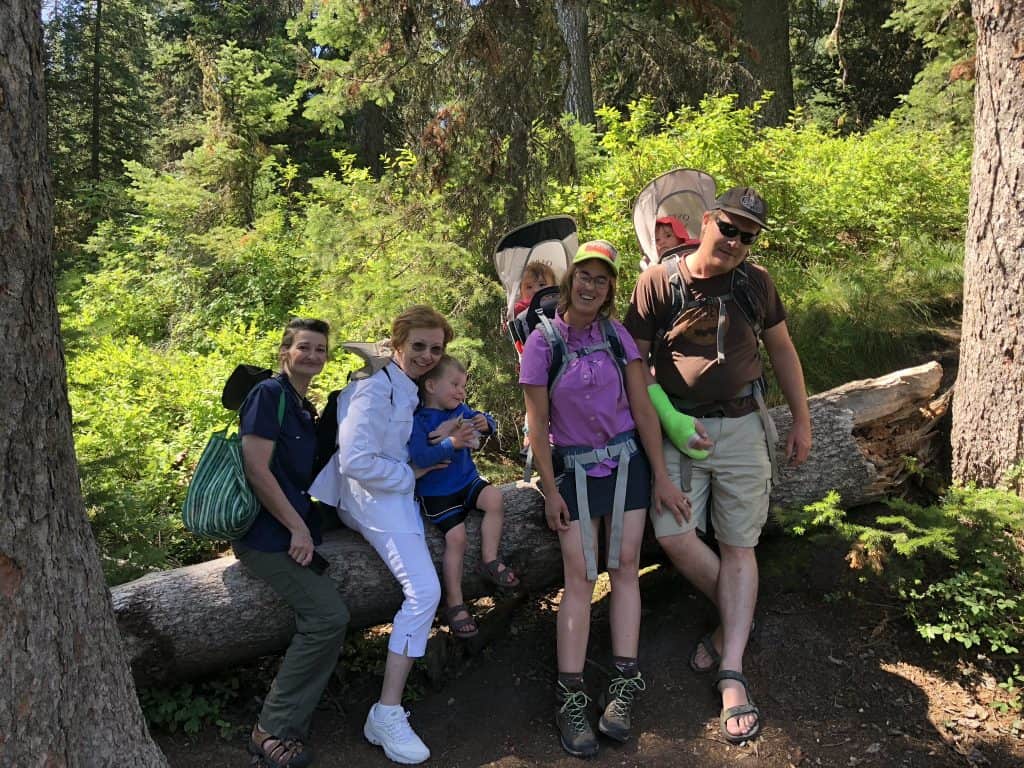 Jenny Lake (less than 0.1 miles from parking lot!)
Jenny Lake is MASSIVE! It is the second biggest Lake in the park, with Jackson Lake being the biggest.
I always am interested in the story behind names of mountains and lakes and such, and found it interesting the Jenny Lake and Leigh Lake have a connection! Richard "Beaver Dick" Leigh was an early trapper who helped explore the area, and his Shoshone wife's name was Jenny, who helped set up and keep the camps running (this was back in 1872 – they were named by Ferdinand Hayden)
Anyways, the best place to get to Jenny Lake is by turning into the South Jenny Lake Junction.
Boating across the lake is AWESOME and it's something well worth the money! The shuttle is an open boat of sorts, and is a fun ride across the lake that will save some time if you want to access great spots like Inspiration Point (which unfortunately is closed ATM for resoration work as of 11/18) and the Hidden Falls trail!
There are of course multiple trails around Jenny Lake, but with this being a family guide (including older people and younger ones!) the best bet for everyone to enjoy it is to take the shuttle!
For more information on the shuttle as well as scenic floats, follow the previous links! We went on the shuttle and it was AMAZING!
If you like, there is also a rental service that runs during the summer months that will rent out kayaks should you prefer to explore on your own (which would be great if you're a fisherman and want to hit all the good spots!)
Tips for visiting Jenny Lake
Definitely check out the trail list above in green – there are many options here!
Check out the shuttle and rental services – this lake is fun to explore!
This is possibly the most popular area in the park – arrive before 9 or expect to be parking on the road where you turned in at!
Be sure to check out the Jenny Lake visitor center! You can get a Junior Ranger book from there too!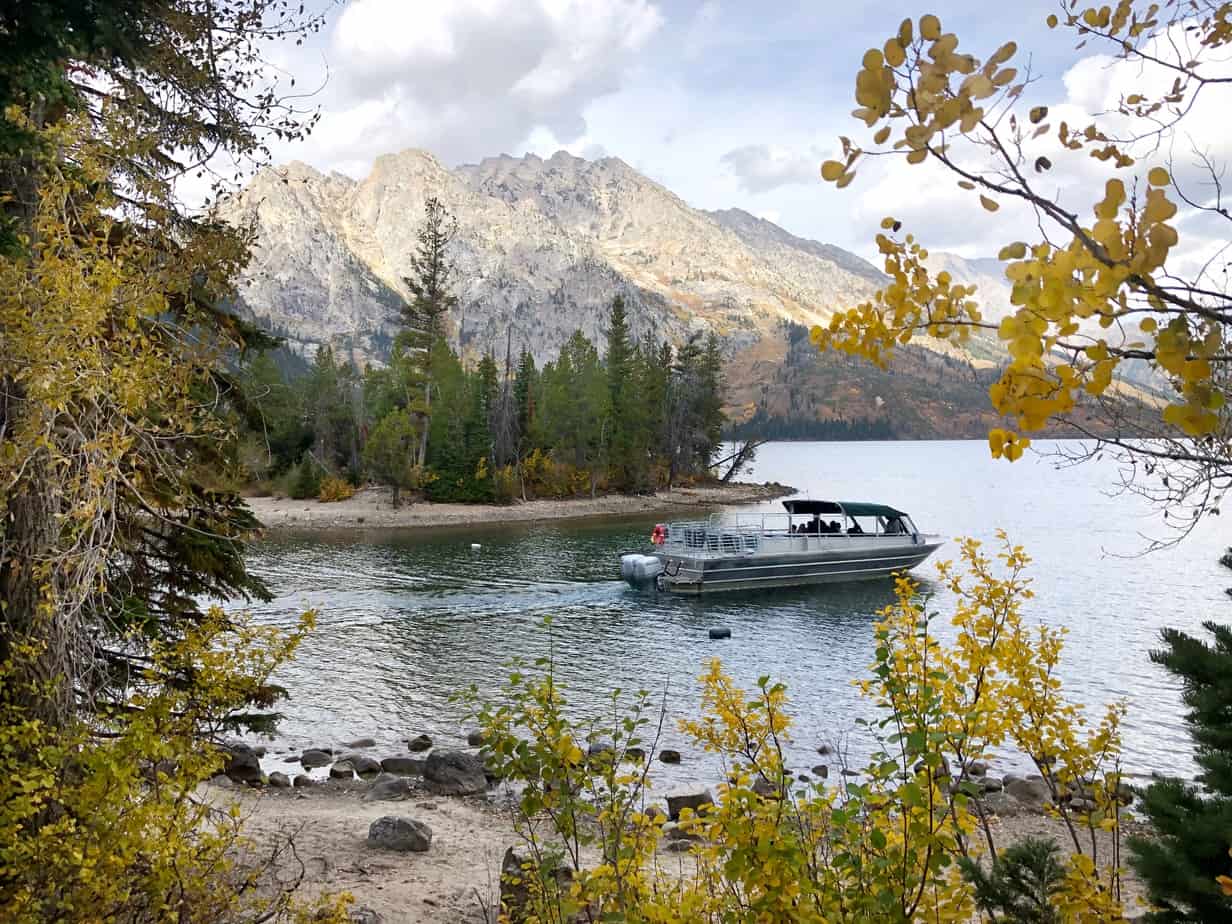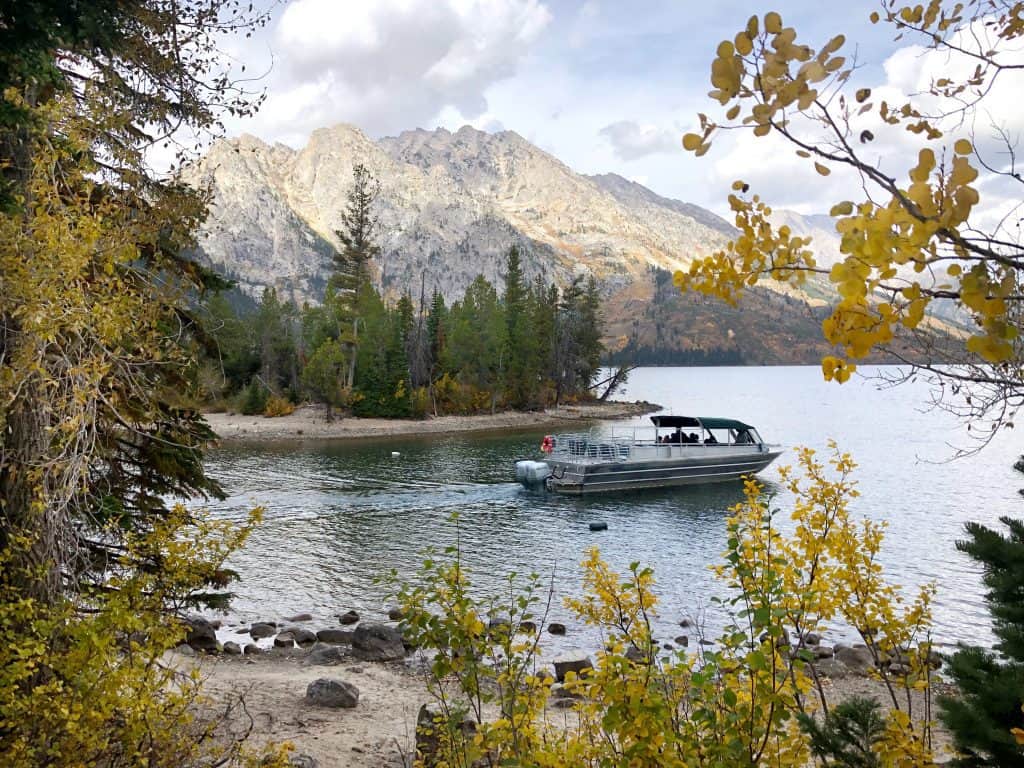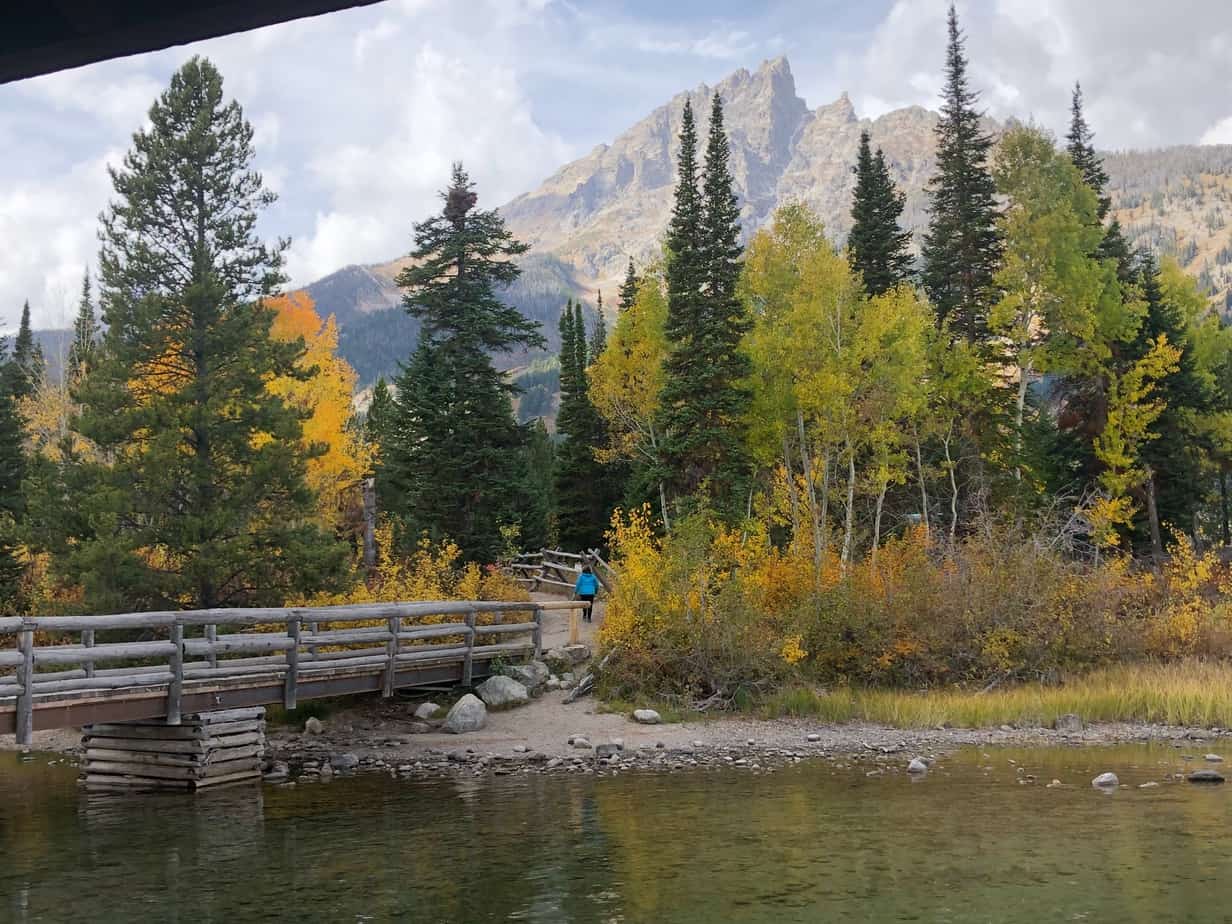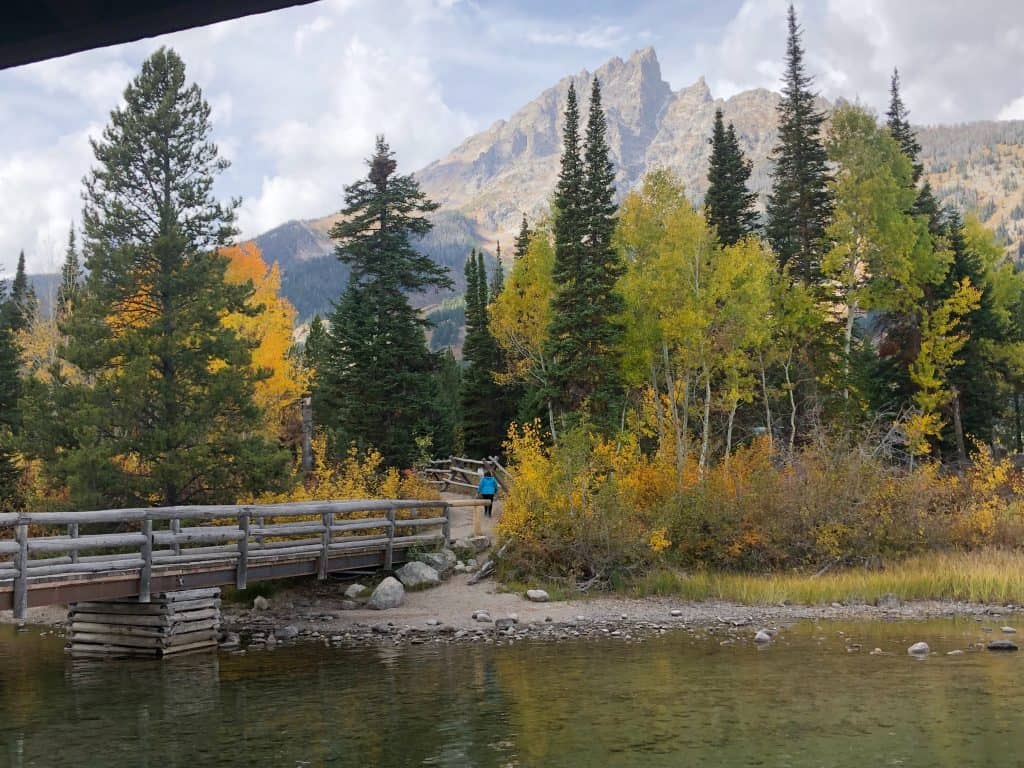 Hidden Falls (via Jenny Lake Boat Shuttle, 1.3 mi round trip)
This is a beautiful hike (I seem to be saying that about everything! I guess it's all just beautiful!) that takes you to a super tall water fall! There's tons of awesome small waterfalls on the way, as well as fun pit stops for kids to play and weary legs to rest.
This hike offers plenty of beautiful river views, a tiny bit of elevation gain, but it is so worth it!
At the end of the hike there is seating of sorts, so it's a great place to have a snack. If you come at the height of summer season, expect some crowds! I went the day the shuttle closed, so it wasn't super busy.
You also are allowed to further explore and climb the rocks along the water fall. Just be careful because they are super slippery!
You may notice that the mileage for this hike is a bit more than others – I just wanted to include it because if you're going to Jenny Lake, you should think about hiking to Hidden Falls as well!
Once you come off the boat shuttle / ferry, the trail is clearly marked should you want to head to hidden falls!
Tips for visiting Hidden Falls
This hike is shortest if you take the shuttle, though it is accessible via other trails
Check if this area is open on the NPS website. It was unfortunately closed when my grandma visited, but opened later on in the season (this just depends on if they are doing work on it or deem it unsafe based upon cracks and geological activity)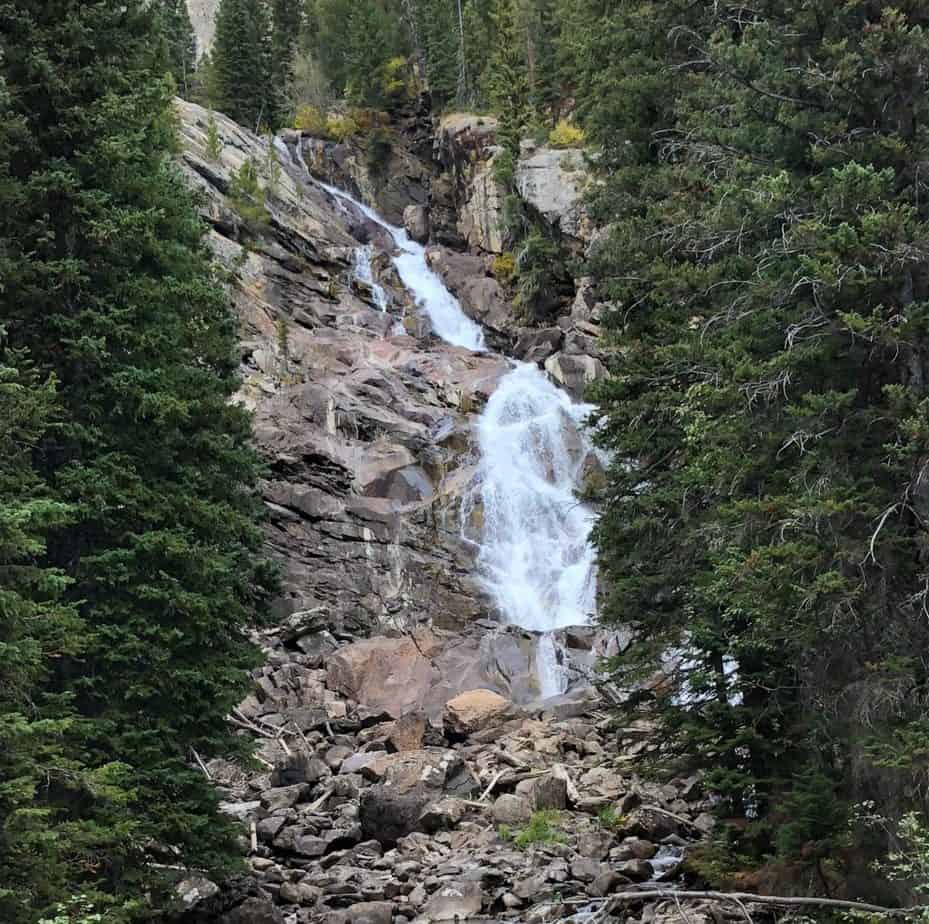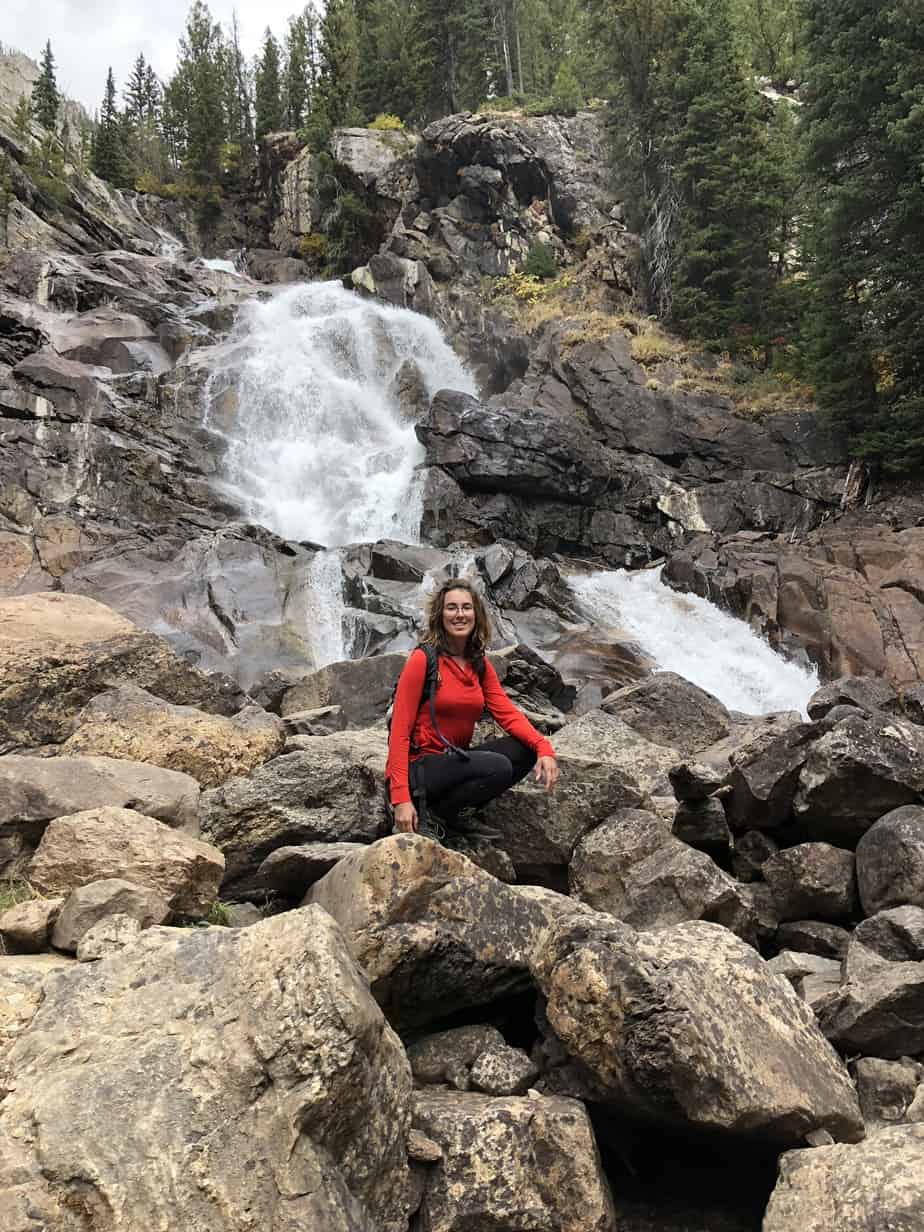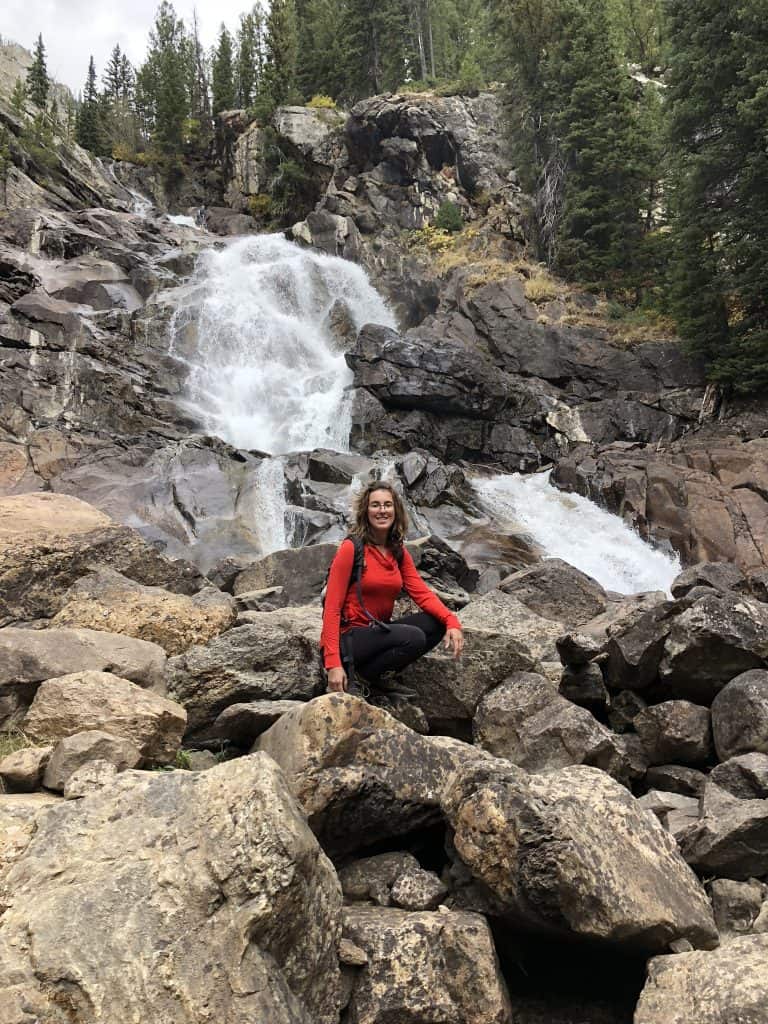 Inspiration Point (via Jenny Lake Boat Shuttle, 1.8 miles round trip but only .5 miles further if turning off from Hidden Falls Trail)
It's like I'm creating a pyramid or something here! So, if you are visiting Jenny Lake, take the boat shuttle, and go to Hidden Falls… walk .5 more miles and check out Inspiration Point!
It's an amazing view of Jenny Lake as well as of the Tetons!
This hike may not be best for those who aren't sure footed or in the best of shape – there is a rocky kind of exposed section that might throw some people off. I did see people of all ages doing it though!
To get on the Inspiration Point trail, head back out of the Hidden Falls trail back onto the main trail. There will be a sign for Inspiration Point, so head on over!
Tips for visiting Inspiration Point
It is a little rocky and exposed in sections, so be sure to bring hiking sticks if you're uncomfortable. For little kids, be prepared to either put them in the carrier or have a harness / leash if you are super nervous about it (though I don't think that's neccessary at all!)
There is actually a lower and upper Inspiration Point (pictured is lower) but at the time the Upper Inspiration Point was closed (11/18) and I'm not sure when it will re open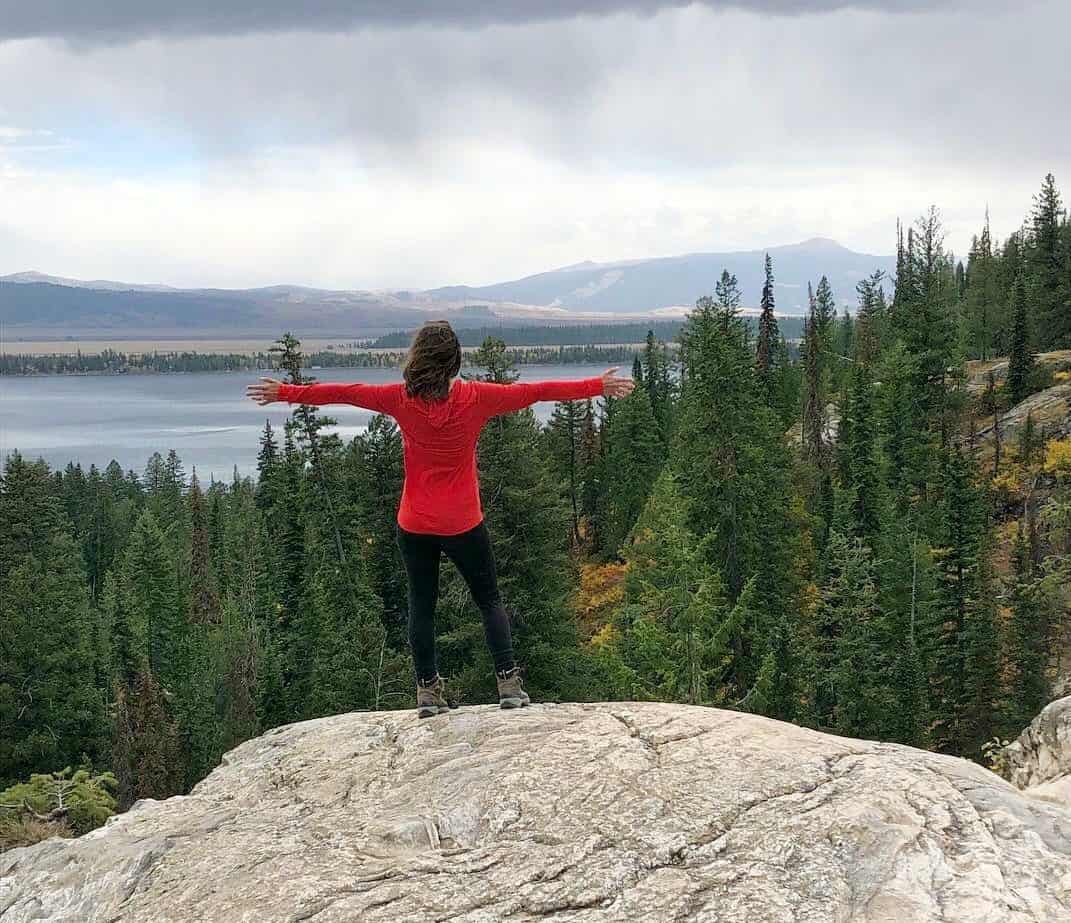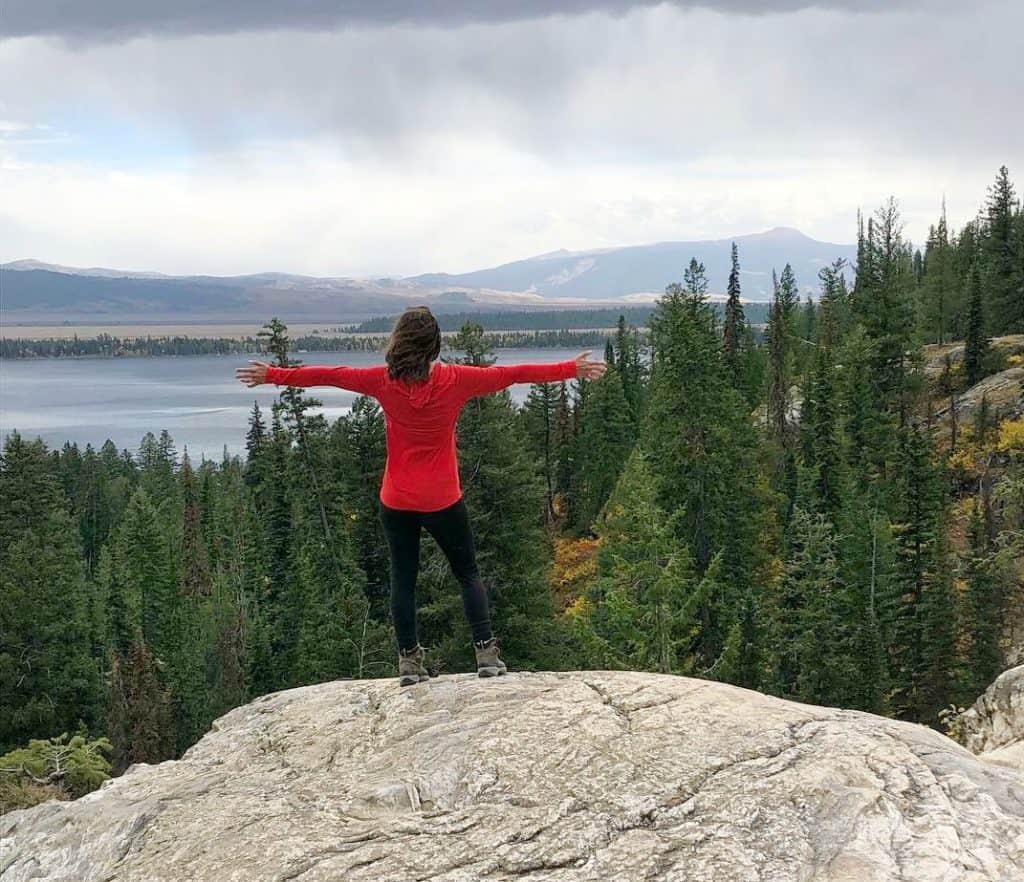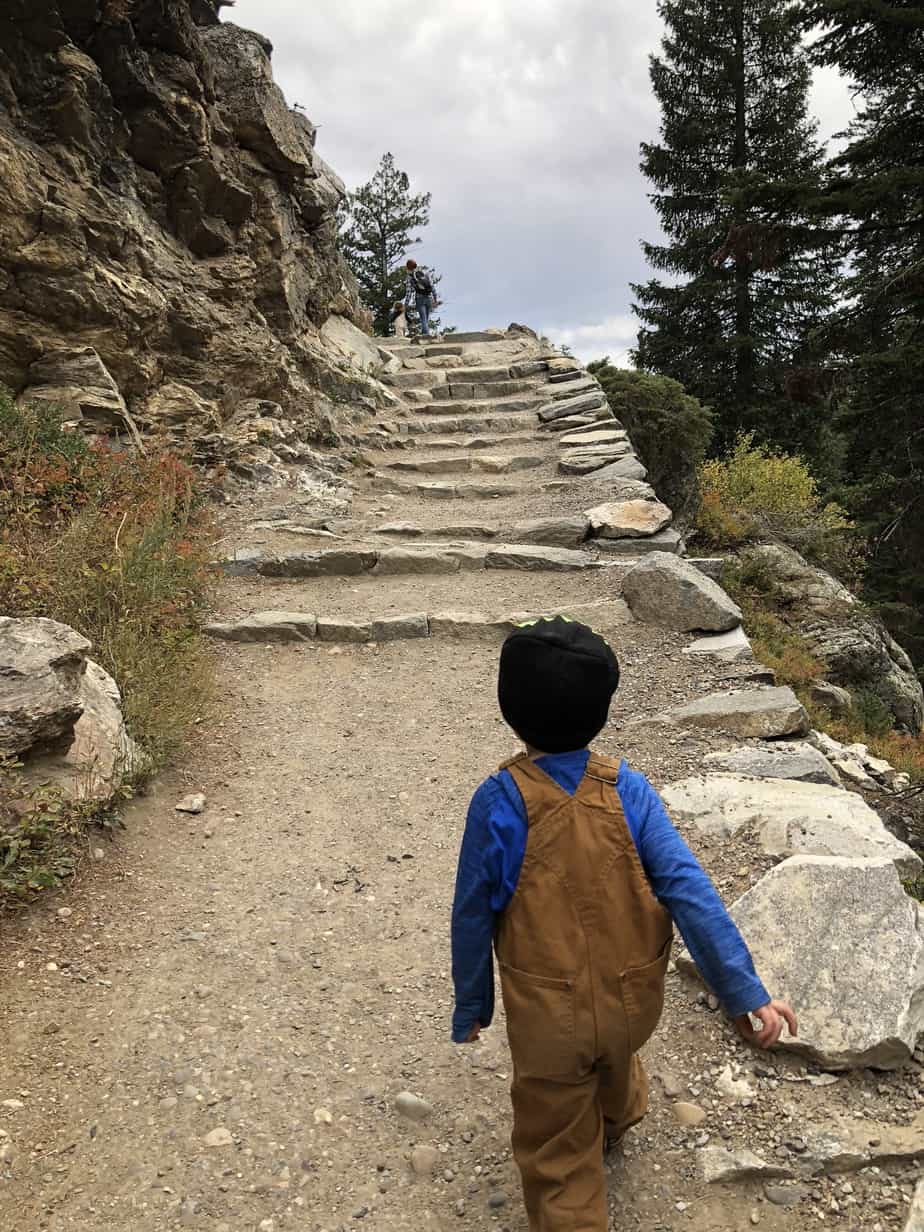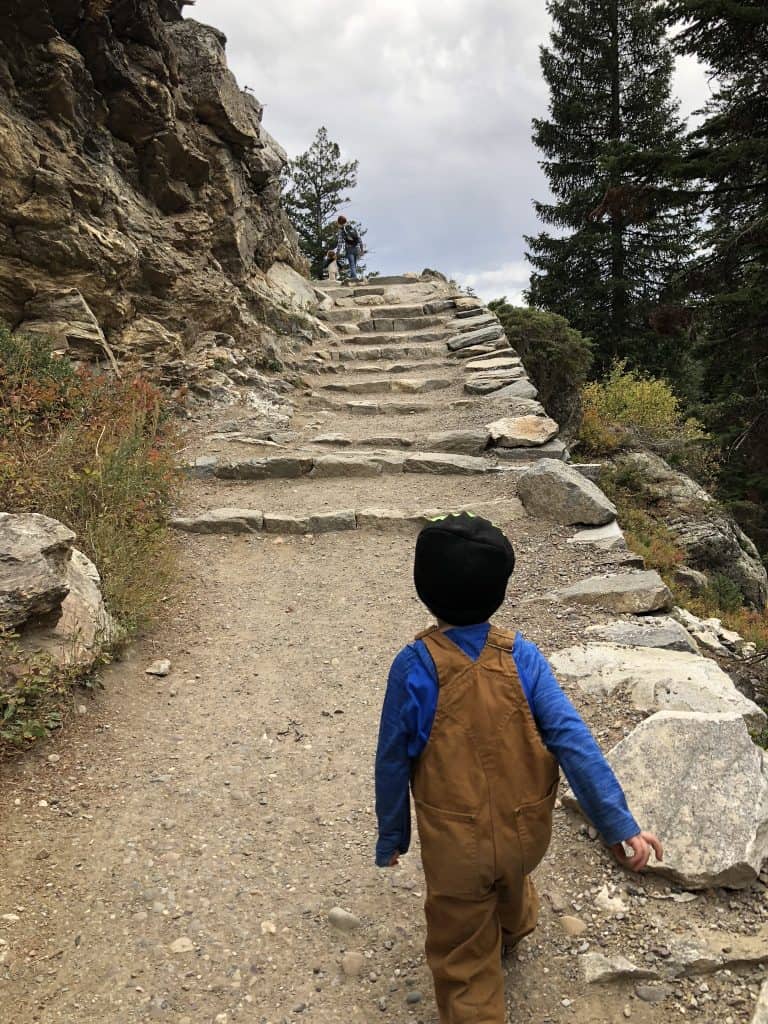 String Lake (less than 0.1 miles from parking lot)
String Lake is accessible pretty much from the parking lot!
It's absolutely beautiful, with crystal clear water that is fairly shallow in most places. This makes it a PERFECT place to spend an afternoon to let the kids unwind (travel and cramming in as much stuff as possible can be exhausting!)
This is a great spot for simming, Stand up paddle boarding, and just general water play. I don't know if there's any fish there, but it really isn't a good spot to try since there are so many kids and animals in the water.
There are also tons of picnic areas with bear boxes as well as restrooms and such making it perfect for the whole family – even those who aren't used to hiking and having to "find a bush"!
I wrote a fairly in depth Guide to String Lake if you're interested in all the details, so head on over and check it out!
Tips for Visiting String Lake 
Can access from short walk from parking lot
Many picnic benches, restrooms and bear boxes on site
Plenty of "beach" area to set up chairs and such, just arrive early for a spot (before 10 am)
Great lake for water toys, SUPing, and swimming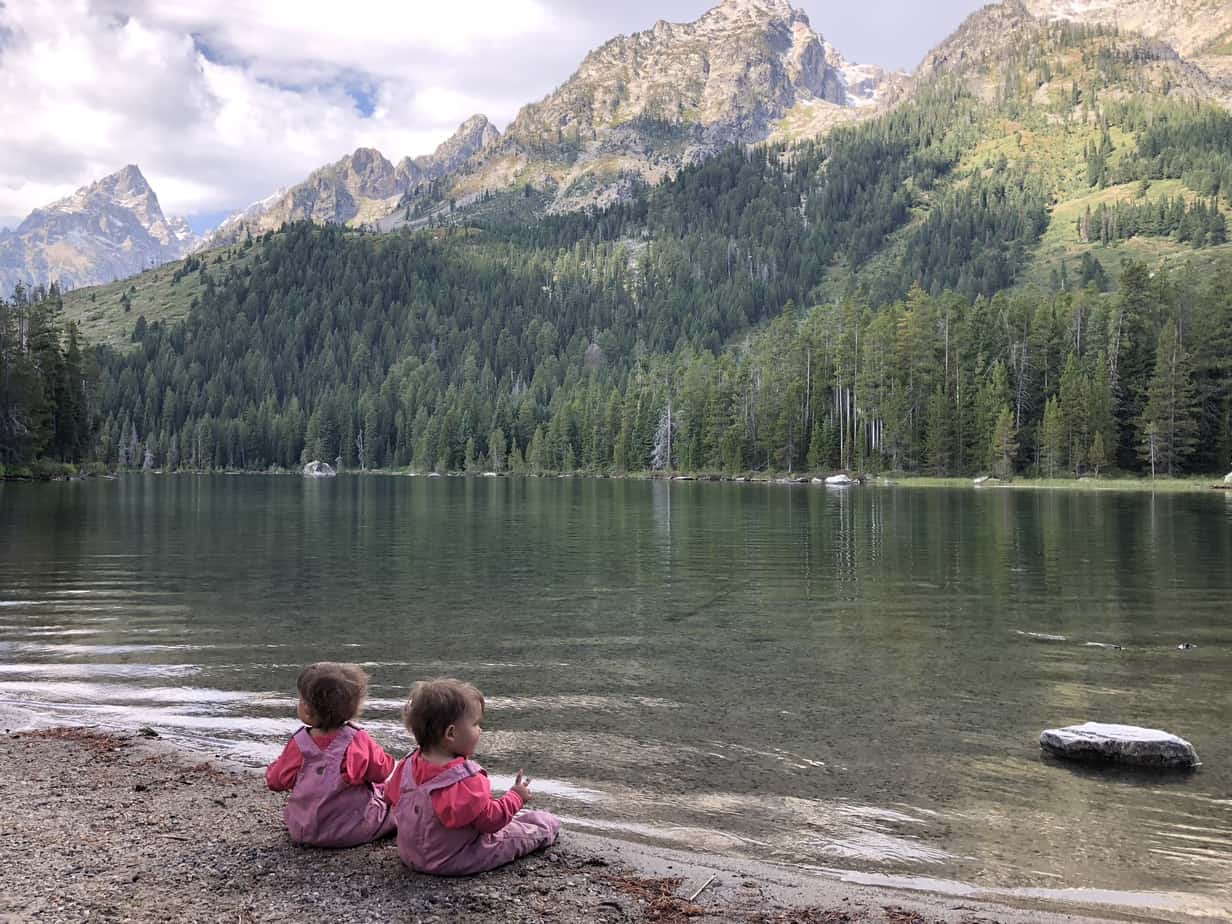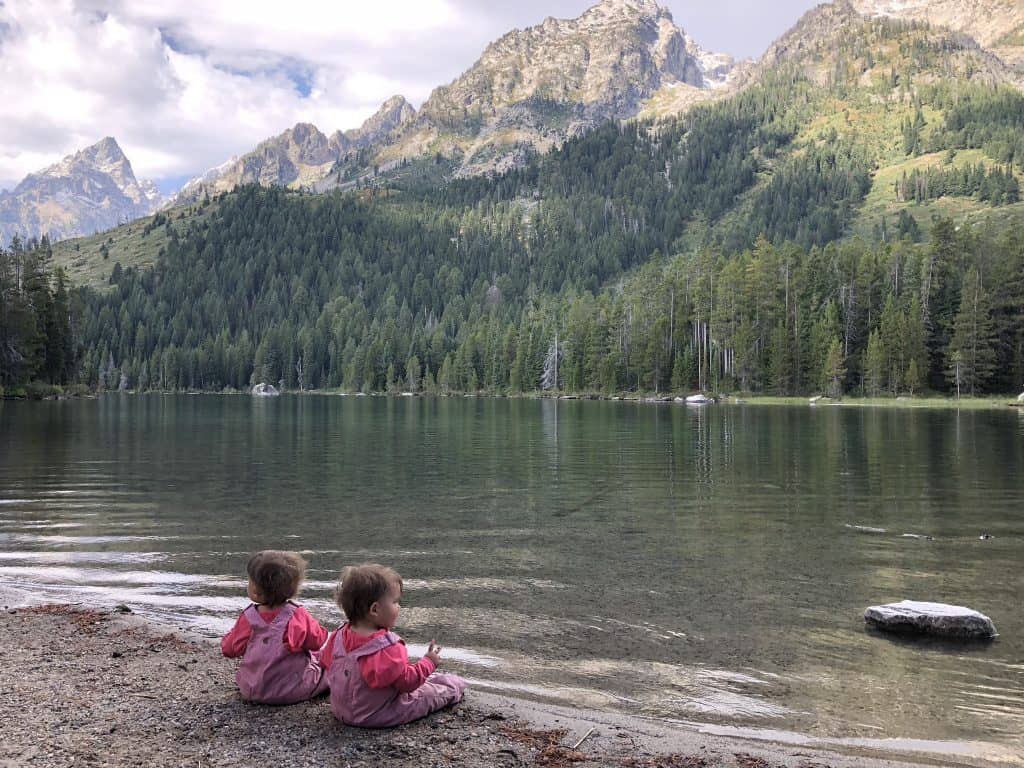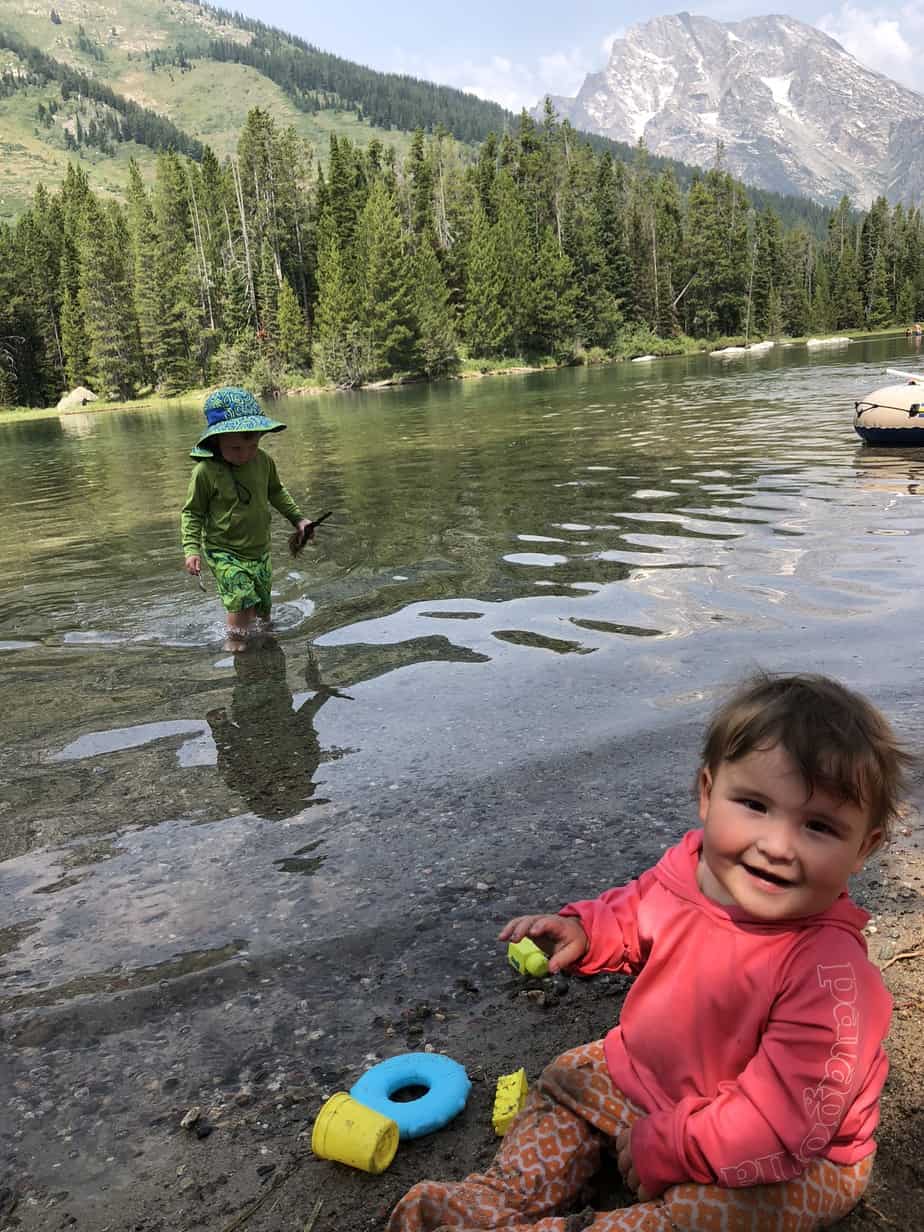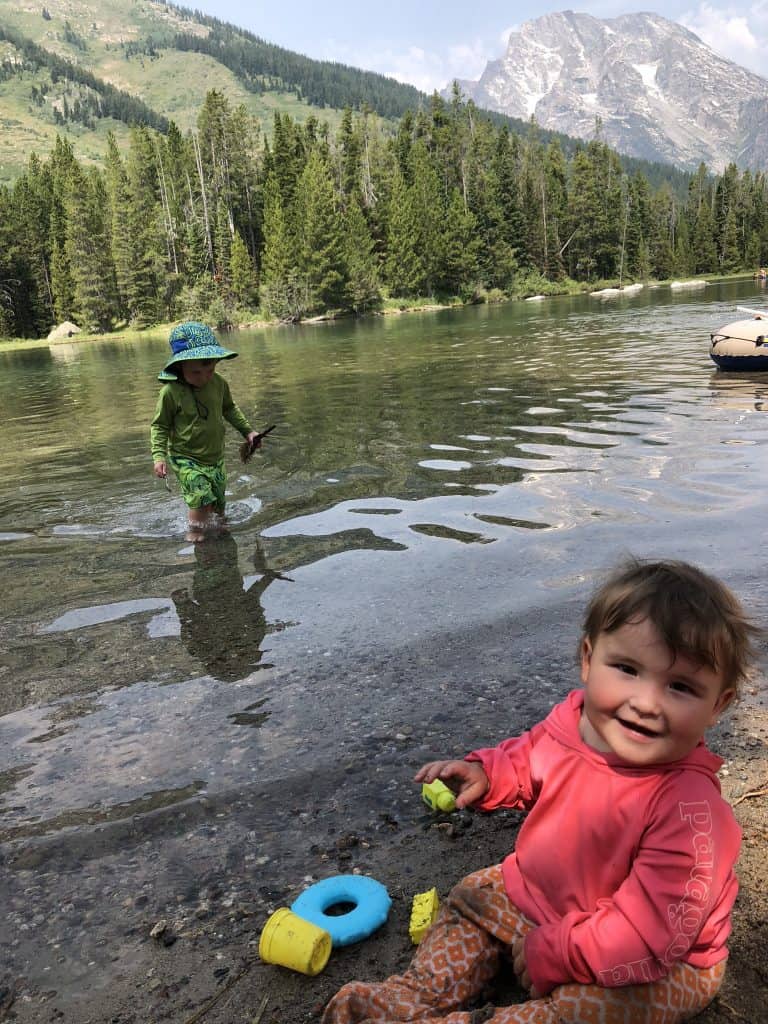 Leigh Lake (Portage View Point, 0.9 miles)
Leigh Lake is another breath taking lake that actually happens to be right next to String Lake!
If you're headed to String Lake, head to the right and you'll see an informational bulletin with some stairs behind it – follow that to start the hike to Leigh Lake! While the hike can go on for quite a bit, we stopped at the portage which was about 0.9 miles in.
It's fairly flat and easy, and a perfect add on to your String Lake experience!
P.S., below this picture is a map so that you can sort of tell how these lakes are laid out!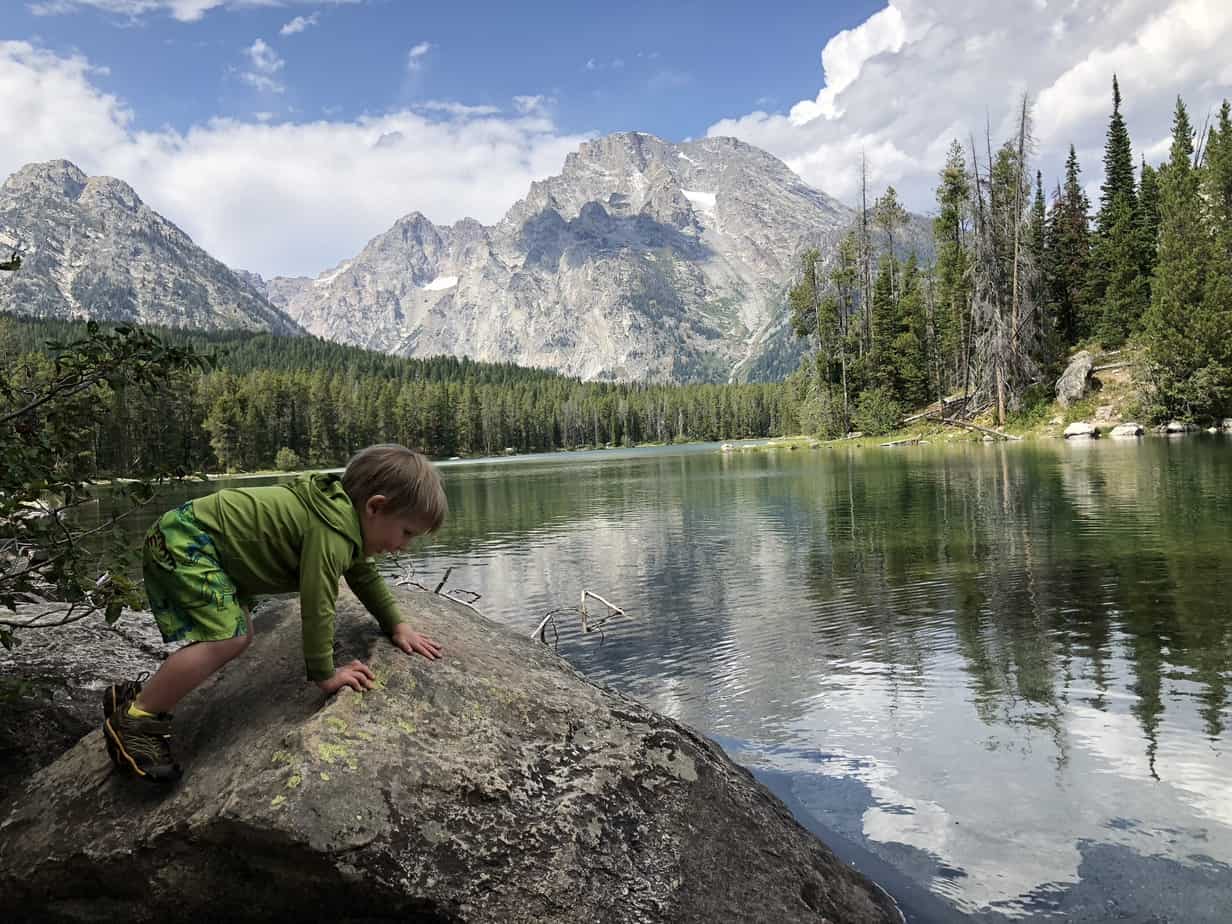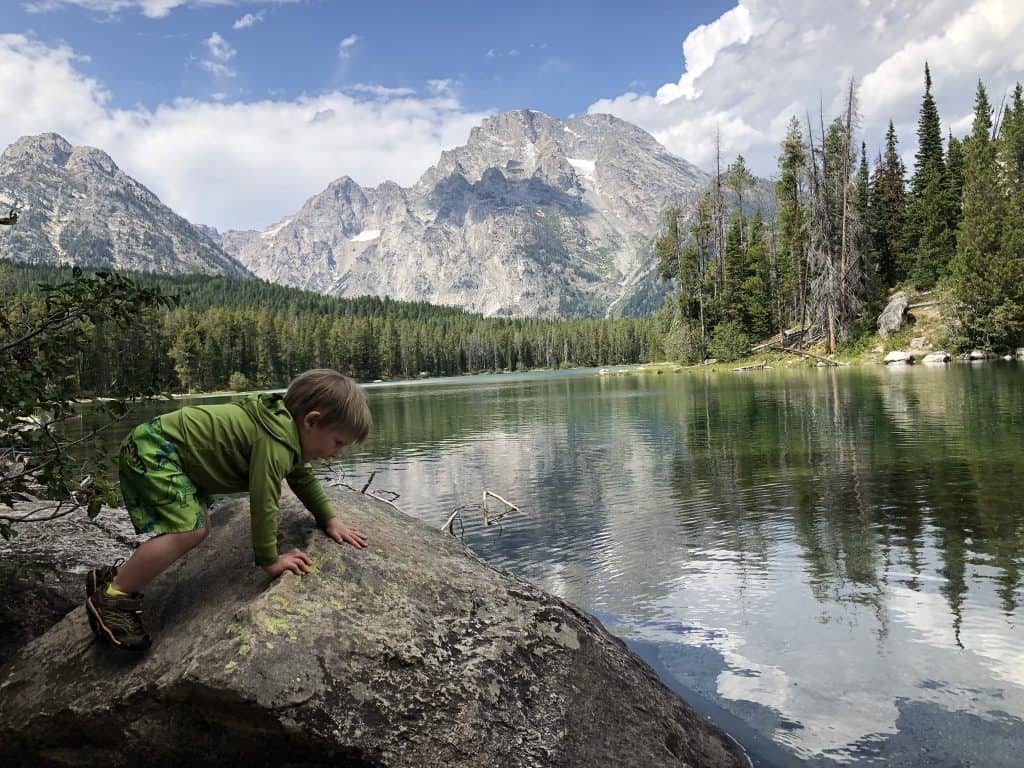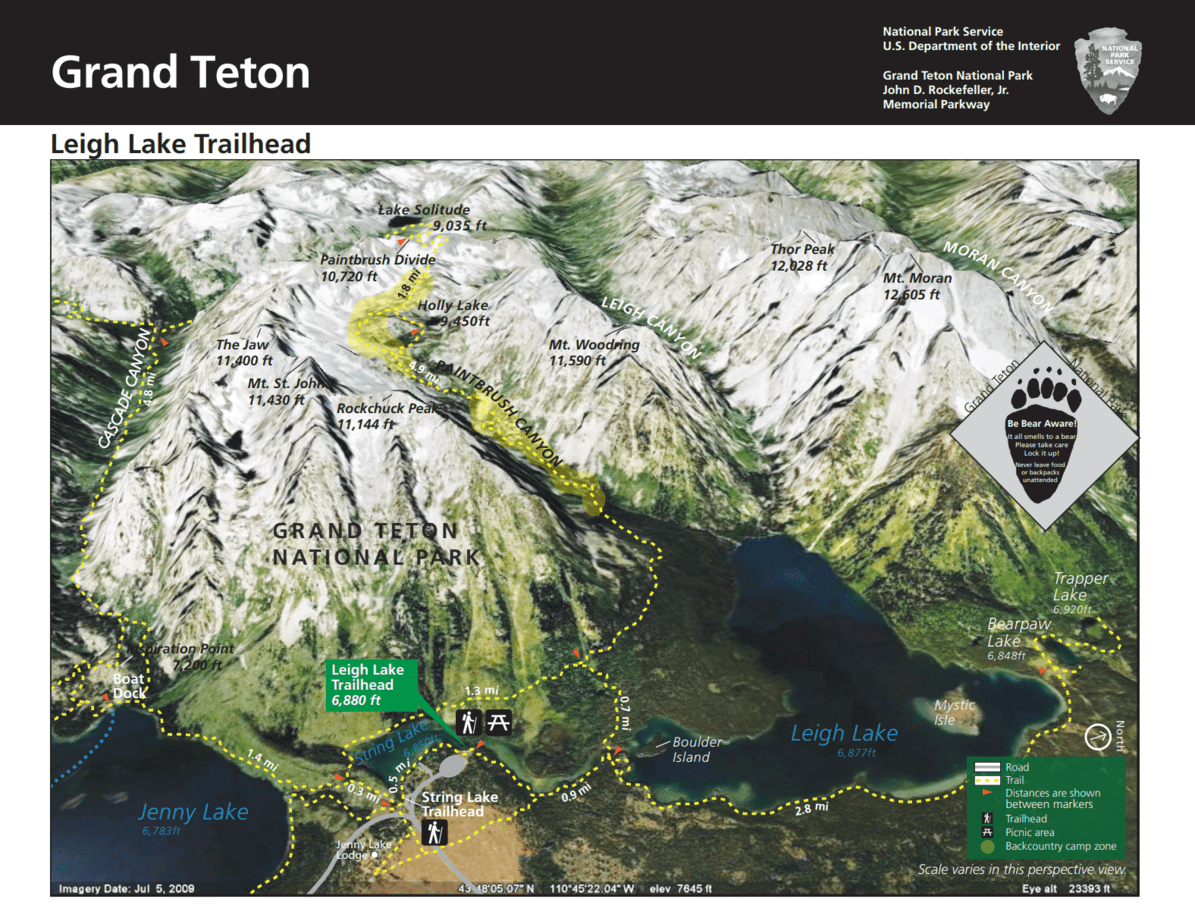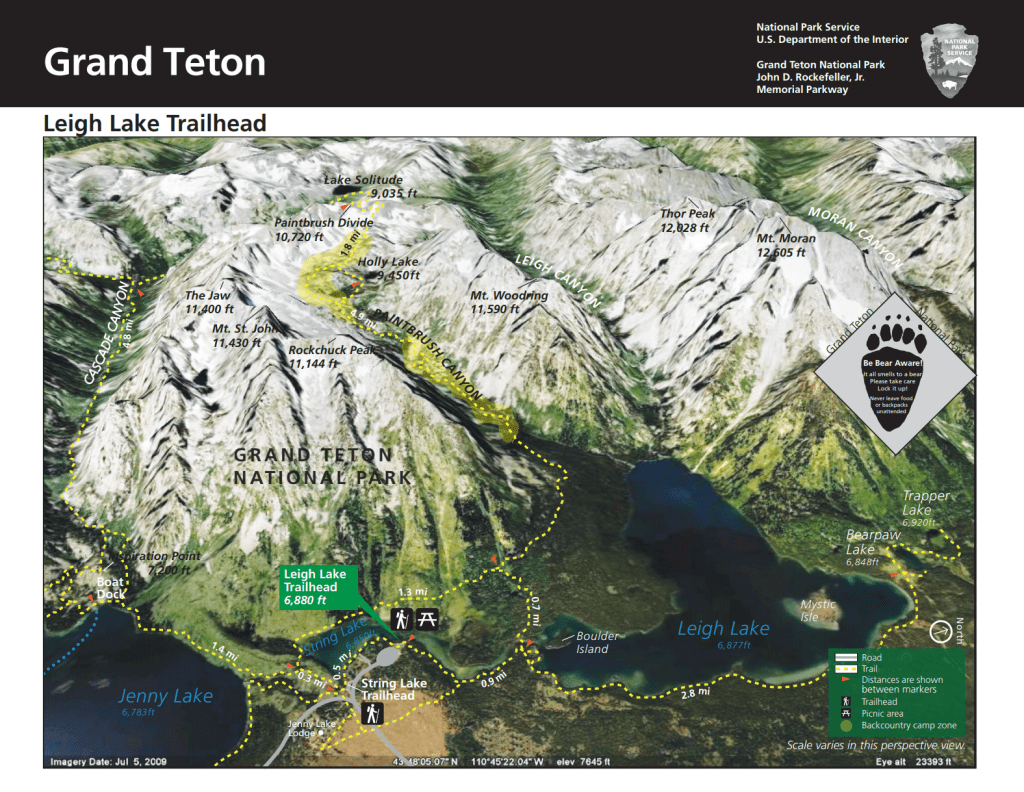 Signal Mountain / Jackson Point Overlook 
While it is a bit of a drive, the view from the top of Signal Mountain is beautiful!
Look for the Signal Mountain turn off as your driving down the park road (I hate giving directions because I typically just type locations into my phone and assume that hopefully others do too!)
The road up the mountain is a windey, 5 mile ride but this is a great spot to look for moose and bears! So have your passengers keep an eye out while you're driving!
There is a small parking area at the top and the viewing is right next to it – it's perfect for everyone!
The Jackson Point overlook is only 200 ft from the parking lot and is a great view of part of Jackson Lake and the valley below!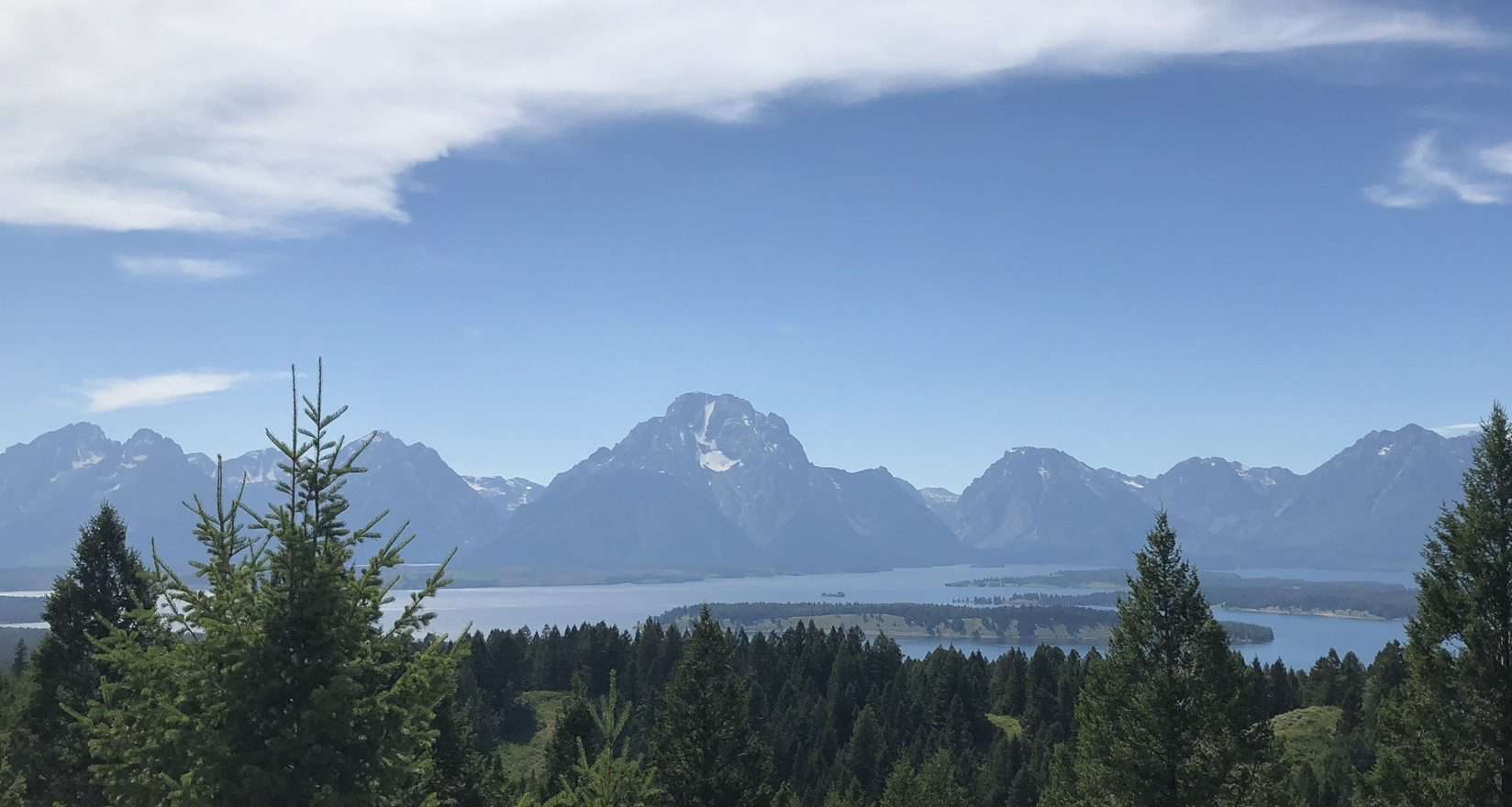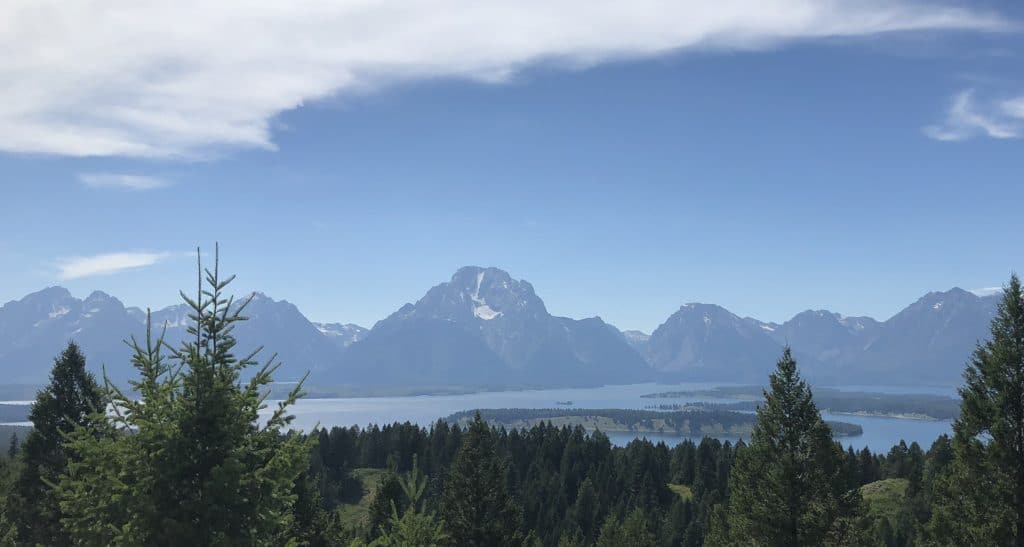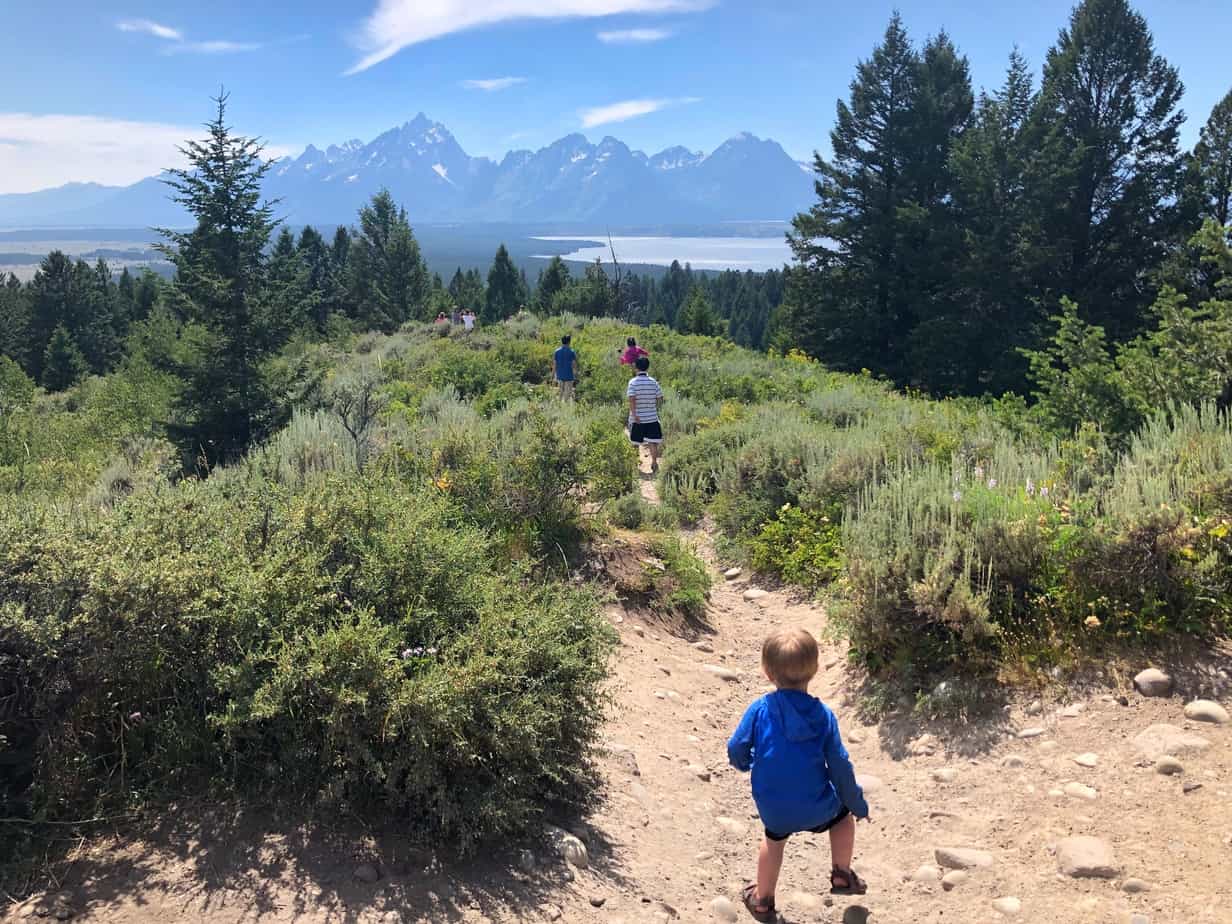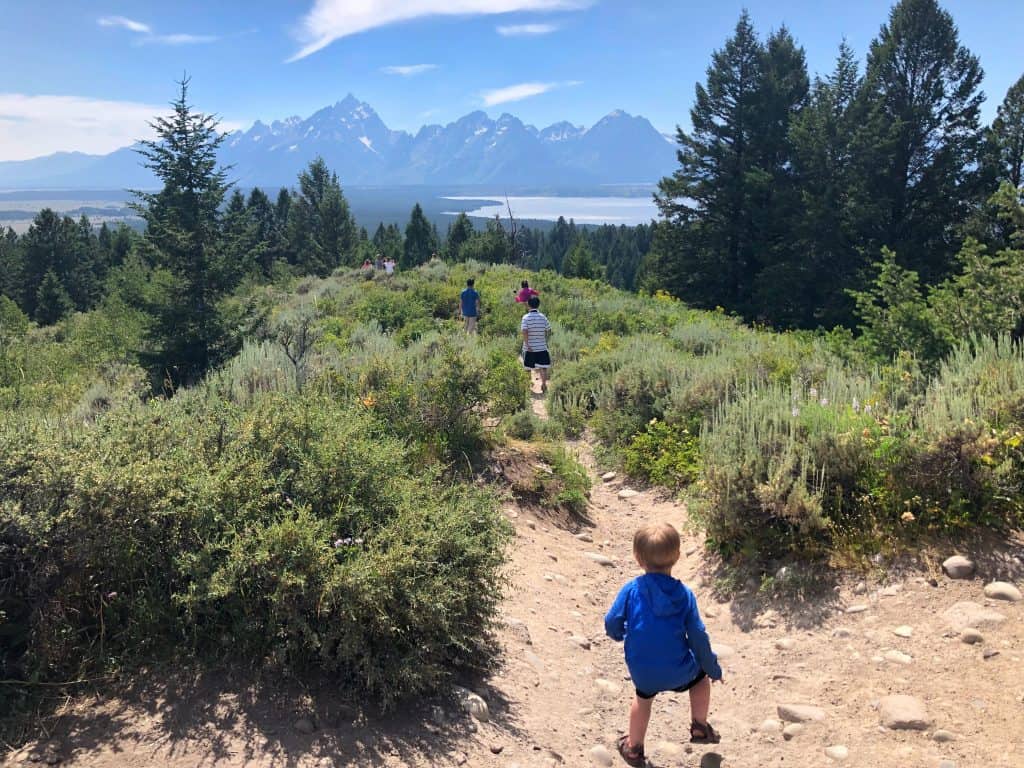 If you are in the Grand Teton National  Park/Jackson Area, you might want to check these out too!
These are all awesome hikes to do if you have limited time in the area, but if you have more time then you should check out these other  hikes and areas! Not all of these are in the park, but everything is within half an hour or so!
I love the Taggart Lake hike (which I forgot to include in this guide!) but I absolutely love this guide to Taggart Lake!
Teton Village / Jackson Hole Mountain Resort
I  can't even count the amount of awesome things to be done here – both summer and winter! This resort is most famous for it's aerial tram "Big Red", but it also has tons of area for kids to run and play, sweet restaurants and more!
Here are some of the best things to check out there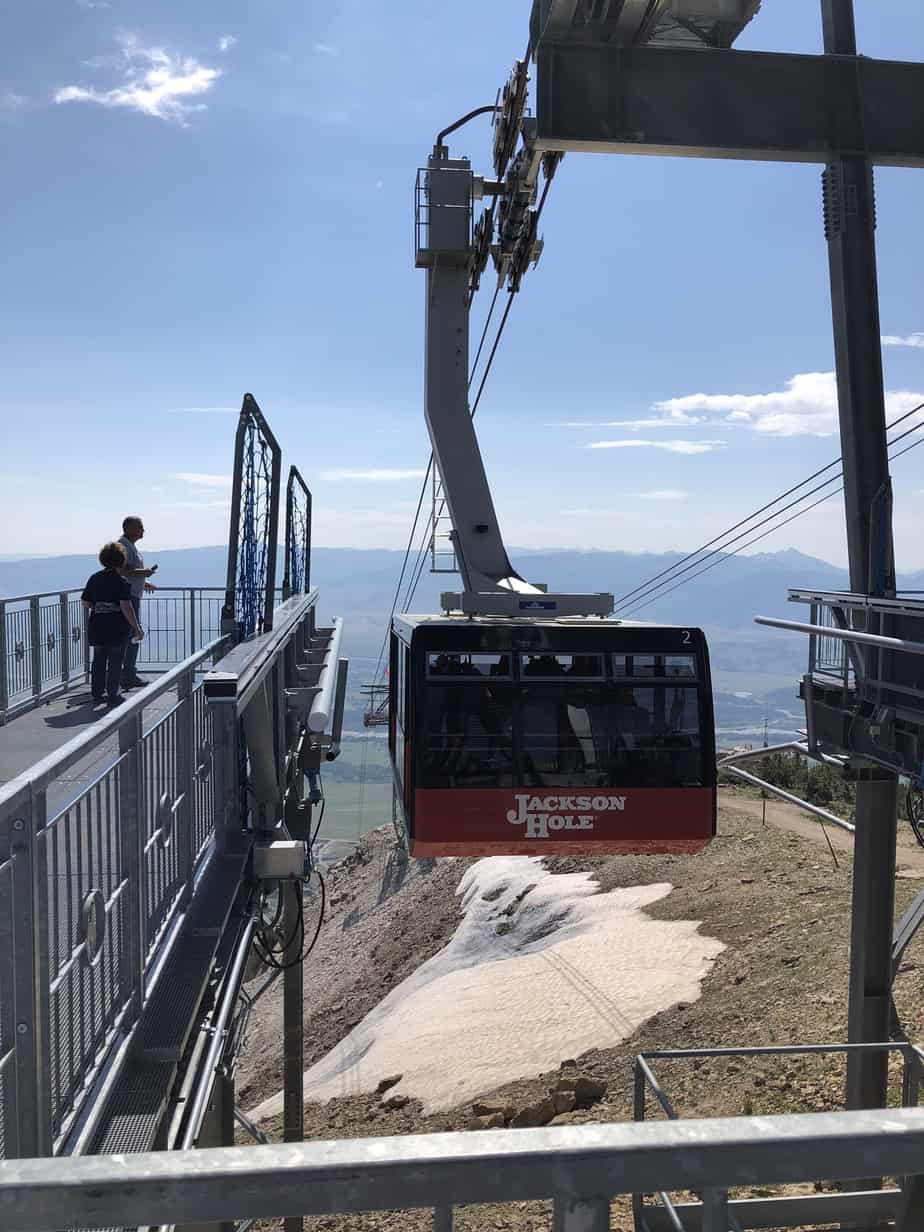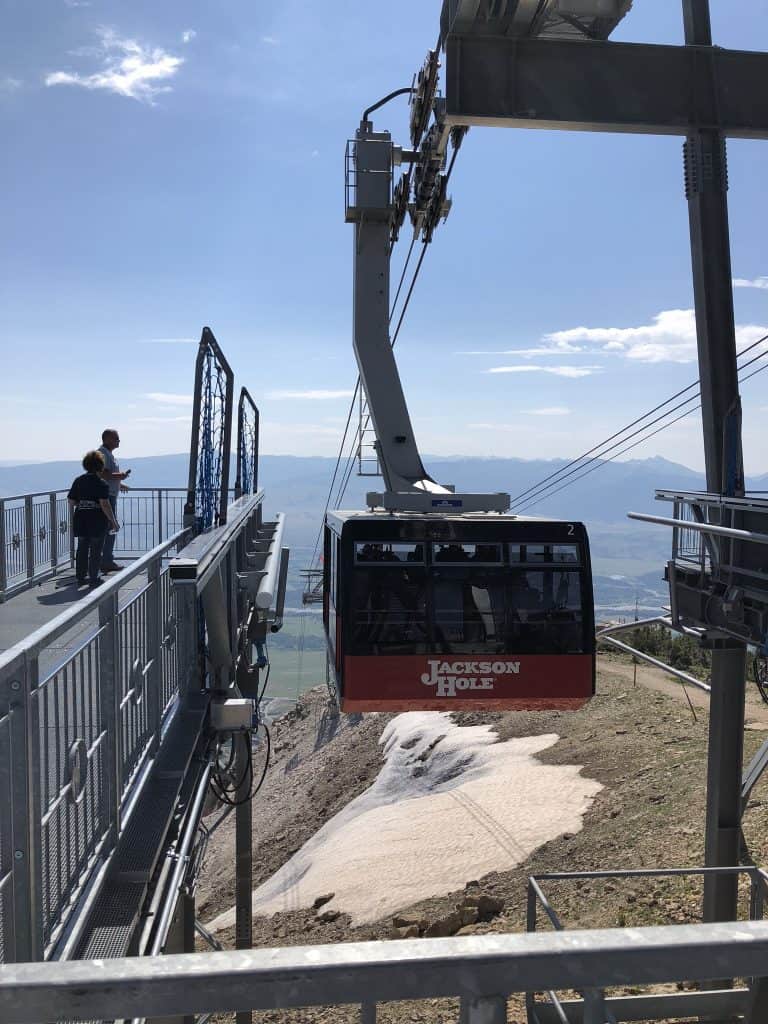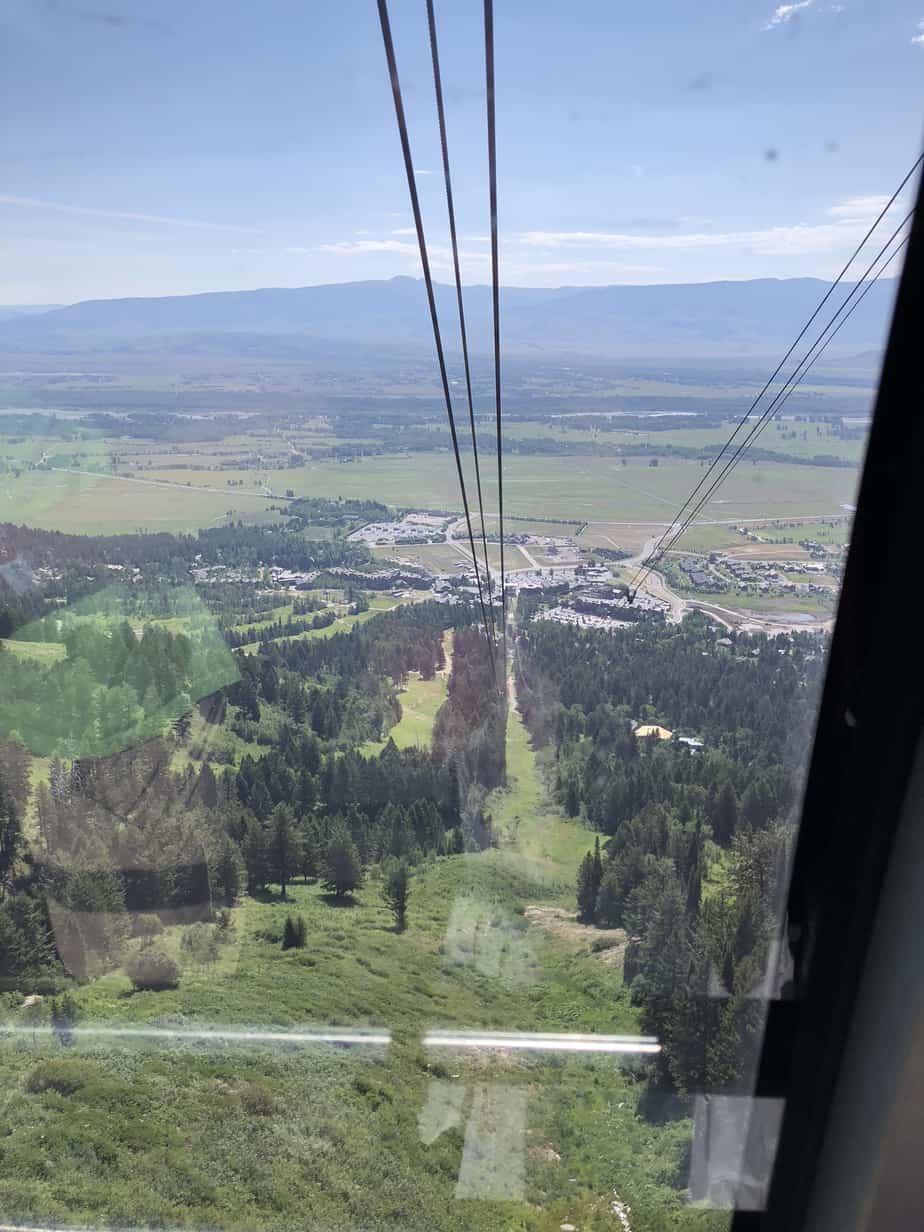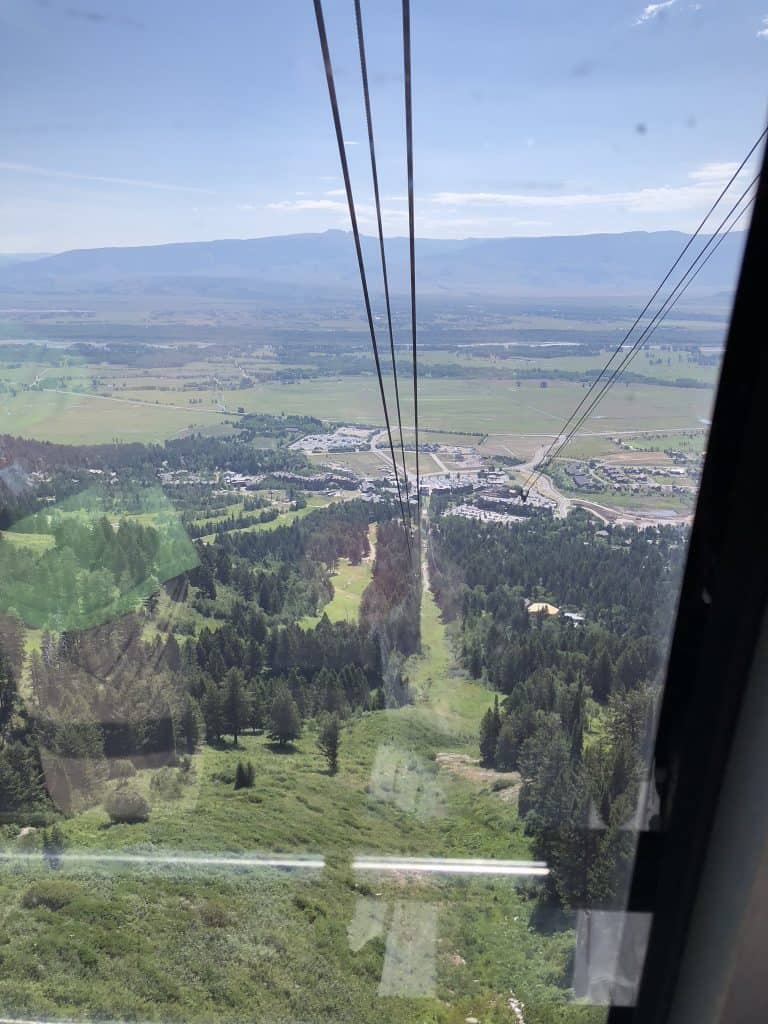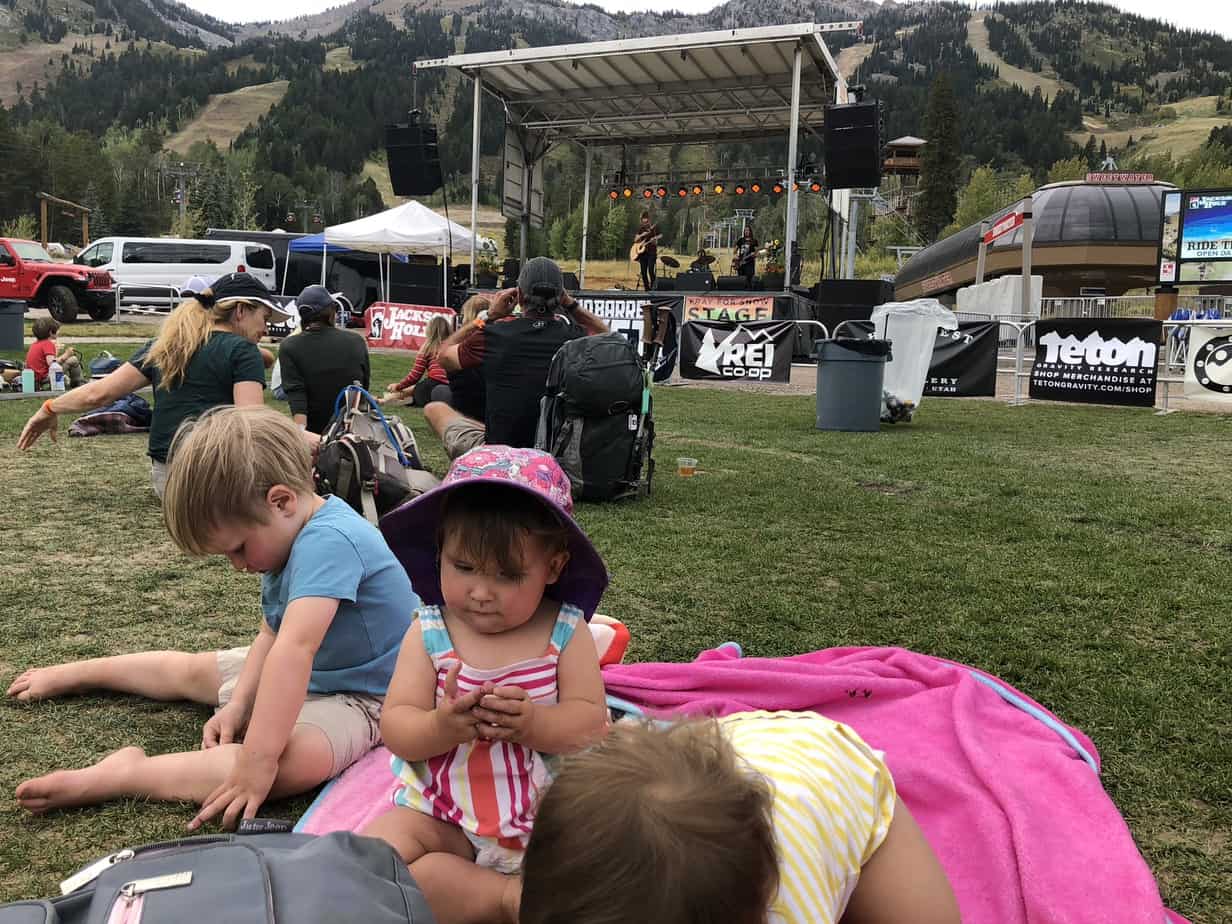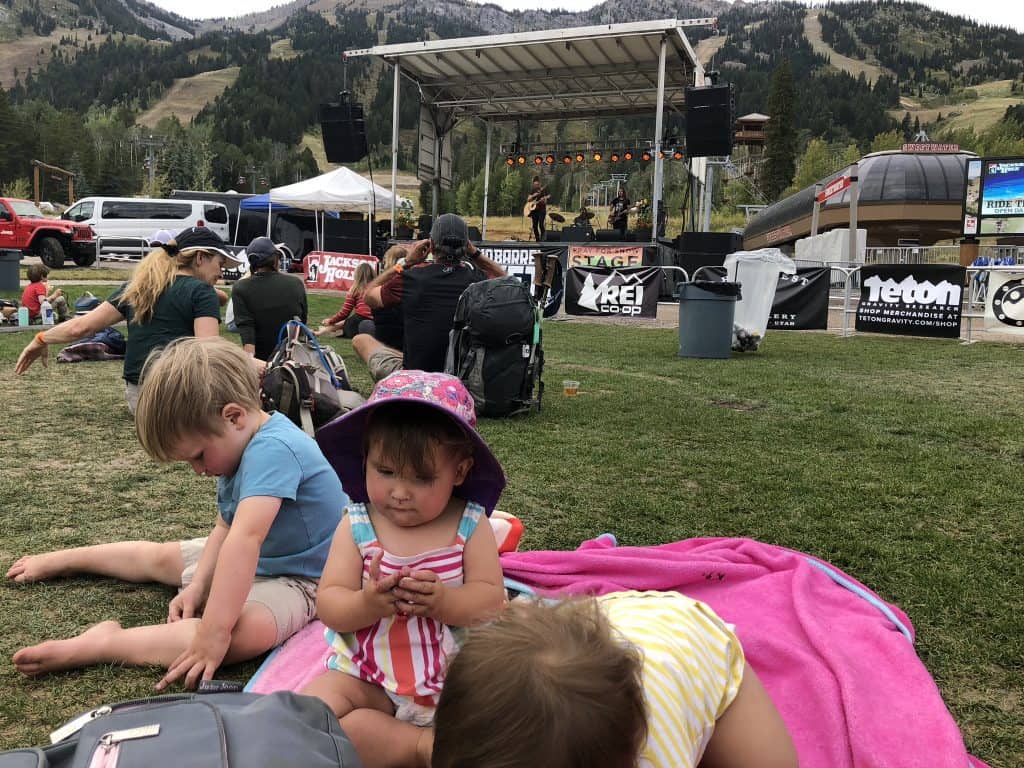 Jackson Hole (the town 30 mins away from GTNP)
This is the town that you likely passed through on the way to the park! There's so much to do and see!
This is a fun break from hiking around, as well as a way to get a feel for the  western mountain town style of Jackson!
I wrote a Guide to Jackson Hole for Families that has over 15 fun things to do if you want to check that out!
Here are some of the highlights of family activities in Jackson Wyoming!
The Antler Arches – It's one of those things that everyone has a picture of, and for good reason! They are awesome! They are on almost every post card and have been photographed thousands of times by professionals… so get your picture too! It's something that you have to do if you want to have "officially" visited Jackson
Horse Drawn Stage Coach Ride – If you aren't around horses that much, or maybe you just think it would be awesome to ride in a stage coach, then you have to take this ride! The horses are beautiful and massive, and the stage coach is very western looking!
Town Square Shootout – Every summer day (besides Sunday) at 6:00 pm, get a taste of the old west with a good old fashioned shoot out – right in town square! There's people on buildings, bad guys, and more! It is really fun and the actors are pretty interactive if you get there early and get a good spot!
Farmers Markets, Music on the Square and more! – Like the village, summer is a poppin time for the town square! Check out the calendar of events to see what's going on in town!
Did I miss anything fun in Grand Teton National Park?
Do you have any favorites you frequent in Grand Teton National Park? Let me know in the comments!
Here are some other reads you may be interested in!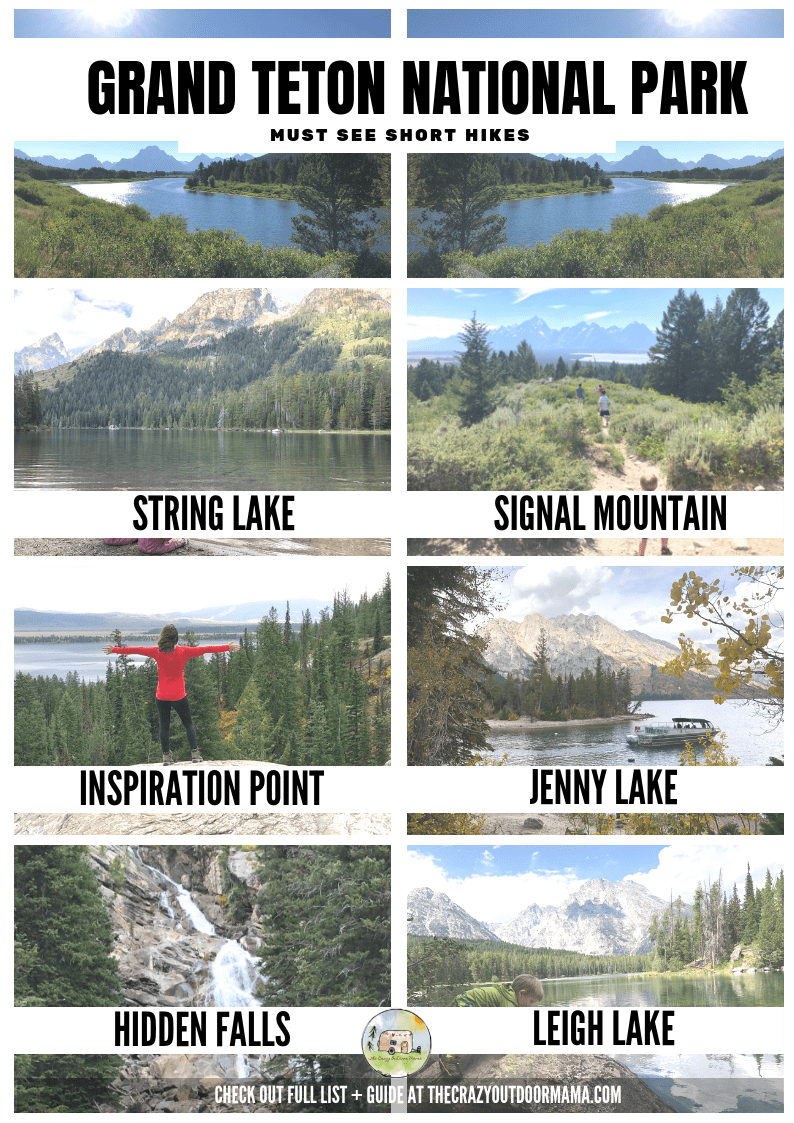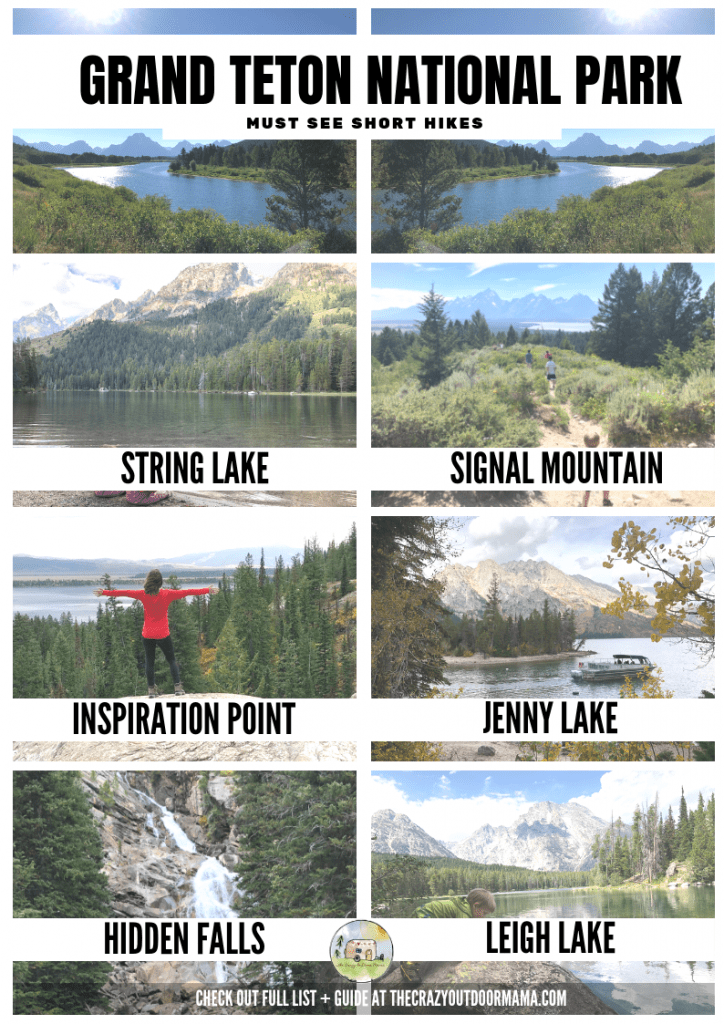 Latest posts by Stacy Bressler
(see all)