Maintaining your happiness and feeling successful while being a stay at home mom is so important to really appreciate the opportunity!
While I am so so thankful for the opportunity to be able to stay home with my kids, this job is HARD! In fact, it's way harder than any other job I've held – I can't just walk out on my kids, or get frustrated and lose my patience with them, or any other of the plethora of things I've done at work when things frustrated me.
I can't scroll through my phone on a lunch break, or use the restroom alone without 3 kids screaming at the door…. so I find it's very very important to prioritize taking care of MYSELF first, then my kids.
After all, how can I give my kids the patience and guidance they needed if I myself feel one inch from falling off a cliff!
I've definitely had many many days of looking forward to nap time, yelling, and everything else that comes with lack of sleep or time away.
And let me tell you, that is mostly my fault! My husband has volunteered plenty of times to take the kids for the night, or take over bed time (as alot of moms know, bed time can really be the icing on the cake of a rough day!) but I have always felt guilty asking him to do that for me.
He works 10-14 hour days most of the time, and I just want him to be able to come home and relax! Do fun stuff with the kids, have time for his hobbies and things, and maybe even carve out some time for us!
I'm not saying that he shouldn't ever help, but I do know that I've had to find ways to keep myself happy and the house under control in order to be able to give my best to my husband and children.
While I don't ALWAYS do these things, I try my hardest to implement them whenever I can! I find that as soon as you get that first time away from being "mom" it becomes easier to leave – you realize how good self care feels, and how much happier you are when you come back home!
So here's my best advice to fellow mamas from a stay at home mom of three kids three and under!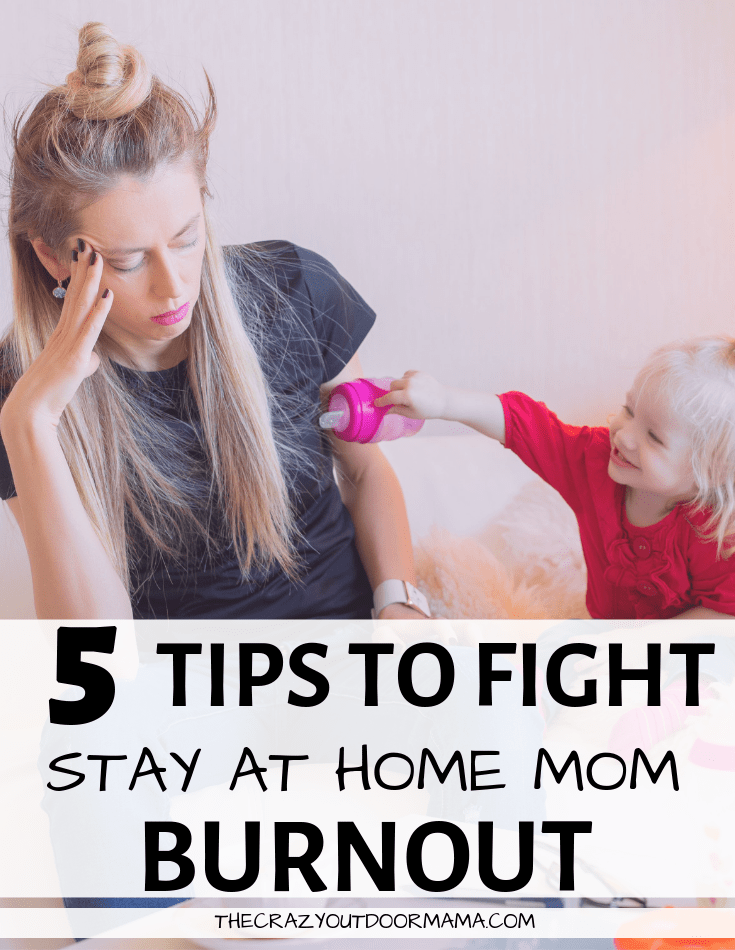 Have a routine
In the past I've been awful about just winging it, which left no time for chores, myself, or activities with the kids. So at the end of the day, I had a messy house, was running on fumes, and felt bad because I didn't feel like I spent any quality time with the kids!
Now that my son is in preschool in the mornings, it has kind of forced me to have a routine!
For me, it looks like this
Clean up during babies first nap (dishes sweep and vaccum – f)
"Me Time" during 2nd nap (Unless there is some project going on)
After everyone naps in the afternoon, play time outside – This one doesn't ALWAYS happen, but it's what I try to do!
It's a super simple schedule, but it lets me clean, have time to myself, and do something the kids love!
Related: Clean the kitchen in 20 minutes with these 6 tips! (even if you hate it like me!)
If you have an older child home with you who's awake during baby's nap, that's a perfect time to spend some quality time with them! In fact, that's what I do with my 3 year old on the 2 mornings he's not in school! Usually, he helps me with the dishes or helps vacuum (which he absolutely loves) and then we read some books until the babies wake up!
If you have bouncers for your babies, you could get a work out in while they are awake! I used to plop them in their jumpers then do a quick 15 minute work out on TV! (Look up Jenny Ford, she has AMAZING workouts!)
Workout, even if it's for 15 minutes!
Speaking of working out, try and squeeze it in whenever! Don't even think about the weight loss or toning aspects or whatever – any kind of heart rate elevating movement will feel amazing!
I have fallen out of this because now I've been obsessed with writing, BUT whenever we do go on hikes or things like that, my head always feels so clear!
I used to do workouts with Jenny Ford on youtube – she has a wide variety of workouts both with and without a stepper! Being a hiker, I really appreciate her stepper workouts because I feel like it helps me get in shape for upward hikes!
If you don't have time for that, try doing workouts that are easy to include in your daily activities!
Here are some workouts I do if I don't have 15 minutes to set aside
"Donkey Kicks" while patting my girls down in their crib (think raising your leg up behind you and up slightly! It burns my booty and backs of my thighs!)
"Calf Lifts" while patting down my girls too – These are easy, just stand up on your tiptoes and lower yourself again until exhaustion! Then wait a couple minutes and do it again!
"Bridges" while laying on the floor with my kids – When you're laying flat on your back, raise your hips and midsection up then, while keeping control, back down!
"Single Leg Raises" while laying on the floor with my kids -Pretty self explanatory, but just raise one leg up at a time while layin on your back!
These workouts are by no means going to get you in major shape, but they are little things you can do to feel better about yourself!
Find a Hobby
Mamas, this is so important! If you feel like your only identity now is "mom" then you will get burned out quick!
It doesn't have to be anything big, but something that you are interested in that can take your mind off your normal duties!
I've tried everything from crocheting, needle felting, epoxy jewelry, and painting! Right now I'm really loving painting since there are local "Paint N Sips" hosted where I live. They are basically instructor-led painting sessions to make beautiful pictures while drinking some wine or beer! For me it's wonderful because I get out of the house and have some adult conversations!
Obviously, I also enjoy camping and hiking and such… but that isn't always an option so it's good to have other things to enjoy!
If getting out of the house isn't an option for you, just zone in on things you can do in the house! Whether that's having an awesome workout routine after the kids go to bed, writing online (I do that too! =P) or having a crafting skill, rock it!
P.S. If your hobby requires you to leave the kids for a little, don't feel guilty! I did for the longest time, but this is how I fought the mom guilt and became so much happier once I got me time!
Here are some ways to find a new hobby – it doesn't really matter if you're good at it!
Look at local Art Centers, Michael's Stores, or other places crafting goods are sold (our local knitting store hosts knitting / crochet nights!) and find something that sounds interesting!
Try typing in your city to

"Meet Up"

– it's a website that has online communities for people of all interests! You can see events happening near you and it's pretty easy to join! For example, I looked up my town and found there's a trail rain, professionals meet up, meditation session, and a cool hiking event from "Open Outdoorsy Females"
Comb through Facebook and find local groups – whether that's mom groups, hiking groups, book clubs or whatever else. It's sort of scary to put yourself out there, but once you go that first time, it becomes alot easier!
Find mom friends
This is probably one of the hardest ones to do! It can feel like you're on an island by yourself with no resources if you don't try to reach out!
Mom friends can be hard to find, even when you do try!
There's been plenty of times that I've tried talking to someone, saw them multiple times in real life, and they NEVER contacted me! And that's ok! Some people aren't looking for more friends, or maybe are more introverted people!
I am happy to say that I have found many friends now, and it makes my life so much easier! We don't even have to see each other all too often, but when we do, it's like we just saw each other yesterday!
I actually wrote a piece all about what worked for finding mom friends (and what didn't!), because I feel like it's so important for your mental health to have more than online mom groups to chat with! To actually be able to go out and have coffee with someone, or have a solo hike is amazing! Heck, it's great even if you do bring the kids because, with an additional person there to help, the load of watching the kids is split in half!
Here's a quick summary of how to find mom friends
Download mom friend apps, such as Peanut, to find local moms who have the same interests as you (think a dating app for moms!)
Get involved in the community – it's different for every person! Church, neighborhood cleanups, fundraisers or hobby groups are all great ways!
Don't get discouraged if you don't find anyone at the reading hour or toddler time sorts of events – Alot of people, myself included, are too busy trying to keep track of their kids to have time for anything more than polite small talk!
Find a Podcast or Radio Show you love!
While we all love to talk to our kids, sometimes the endless babble or repetitive questions can take its toll! Especially if your partner is gone often or works late hours!
When I did home daycare, I found that listing to a radio talk show helped give me that adult time and talk that I craved!
I don't particularly like to have the TV on the whole time, and my husband loves to steal my Pandora (they recently really cracked down on only one person being allowed to listen at a time! I get it… but still, boo!) so I have really enjoyed listing to NPR or Podcasts about my hobbies!
This helps take my mind off of mom stuff, and keeps me busy thinking about stuff other than dishes, poop diapers, and the endless repetitive questions from my three year old!
It's hard to give advice as to where to look for this one, but I would start with typing in something you're interested in into the Podcasts search and see what you find!
You could also give audiobooks a try! I have listed to quite a few and really enjoyed that!
Make a To Do List!
Something I really struggle with is feeling like I don't contribute enough to the family!
In fact, alot of moms I've talked to have mentioned that since they don't bring home money, they feel like they don't help out enough, or don't deserve to buy things for themselves!
One way to battle this is to make a to do list and check things off as you go!
Alot of times tons of things are expected to get done by stay at home moms, but it's never noticed! The only time it's mentioned is when said chore is NOT done!
It helps to have a visual of all the things you do during the day, as well as sort of keep you on track to doing everything you need to do!
I don't always do this, but sometimes little tasks really build up and start to make me super anxious because I feel overwhelmed with the consequences of not doing said thing!
For example, here is what's on our plate right now
Dealing with bills from our twins NICU stay that we are still fighting over a YEAR ago, and trying to figure out what we actually need to pay and what is still being figured out. It makes me nervous to not have this done because I don't want to be sent to collections!
Butchering a deer we harvested – this takes alot of time, and the kids have to be occupied because our hands are messy and can't intervene or help as much! This makes me nervous because the deer has been hanging and aging for 4 or 5 days now (this is good and normal btw!), and I just want to get it done before we have a warm day and all that meat goes bad!
Getting more firewood – We only have a cord, and need to get more to last us through the winter! This makes me nervous because that means my husband will have to be gone during a weekend day, which means he gets less relax time and I have an additional day by myself! PLUS it's about to start snowing and firewood cutting will become exponentially harder!
Figuring out some insurance stuff that lapsed – We both forgot to pay the renewal fee for one of our insurances and now it's an annoying big deal to get said insurance again!
Not getting out enough with the kids – I have been freaking exhausted from my twins teething, and so don't often feel like getting everyone dressed just to get soaked and cold outside in this fall weather! I should love it, after all I claim to be "The Crazy Outdoor Mama" but I just don't have the energy! This makes me feel down because I feel like they'll become too hooked onto TV, or learn from me that anything besides good weather isn't something to be embraced!
This is my to-do list for the above concerns!
Look at recent bills, call to make sure there is an auto payment in place
Clear counters and make sure we have all the materials ready to package the deer so that when we do do it, we are prepared!
Make space on the porch so that the firewood has a place to go once we get it
Fill out the paperwork the insurance company sent us, and call with any questions about how to do it
Find some chore to do outside so that I have a reason to be out with the kids anyways
Even if I know the solution to some of the problems, it helps to actually list the solutions so I have a clear path to completing them (and reducing my stress!)
I bet having a to do list could help you too to create a simple to do list so that you can see what needs to be done and see the progress you are making to help the family!
Get out of the house!
I can't even count the number of times I've packed three screaming kids in the car and just went to the grocery store!
I think kids just love a change of scenery, and it doesn't hurt you either!
We tend to go to our local grocery / cafe and each get a super small snack. My son gets a bagel, my girls some fruit, and I will often get coffee and a muffin (or a cheap thing of sushi! )
Going somewhere different, even if it's just a store and you walk around the aisles, has been a life saver when everyone is cranky!
If you don't want to go to the store, taking the kids on a walk outside is helpful too!
I hate to admit it, but sometimes I'm too impatient to wait for my 3 year old to catch up so I plop him right on the stroller too!
Wherever you go out of the house, it's likely that it will help your situation!
What do you do to keep your sanity as a SAHM?
Taking care of yourself is so important! I know it's cliche, and it's repeated everywhere, but just start trying to do ONE of these things and you'll feel a little less stressed
Latest posts by Stacy Bressler
(see all)