With my twin baby girls approaching toddler hood, I'm really starting to see the differences that everyone talks about in the experience of the first baby compared to the 2nd – and it's SO true!
With my first, I was all about eating everything healthy – with my second and third now? Pass the cheez its!!
First baby falls – rush to their side, hugs and kisses, the whole nine yards.
Today when my twins both ate it at toddler gym? Meh, they seem fine. They'll find me if they need me!
Hah!
Anyways, it reminded me of how stubborn I was to do everything the "right" way, also known as the much harder, society influenced way!
I was of course going to make my own foods, co sleep forever (though I did still co sleep for around 6 months with the twins out of convenience) no screen time (LOL)…
Then all my perfect mothering ideas changed when I became a mother!
Save yourself some time and just get these products instead of being stubborn like me!
P.S. If you have yet to make your baby registry, I highly recommend an Amazon baby registry (learn about it here!) You get the best recommendations for each category of item you need, an easy to email list, and even thank you card tracking! Best of all, you get 15% off anything that wasn't purchased on your list!!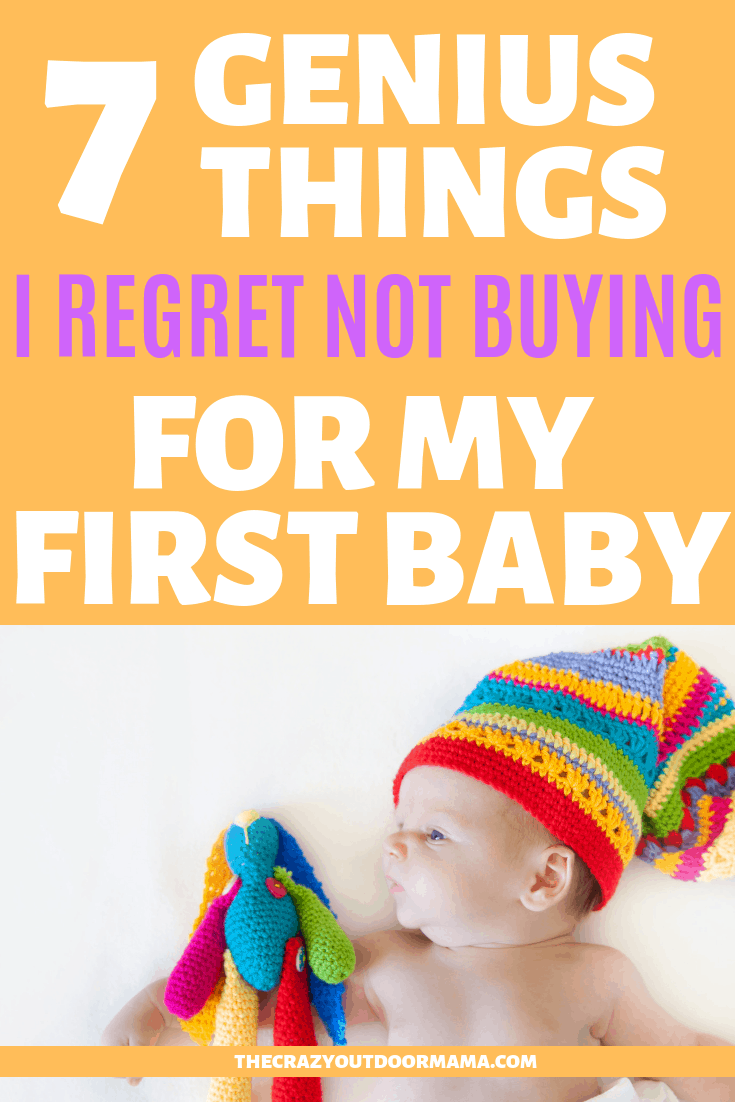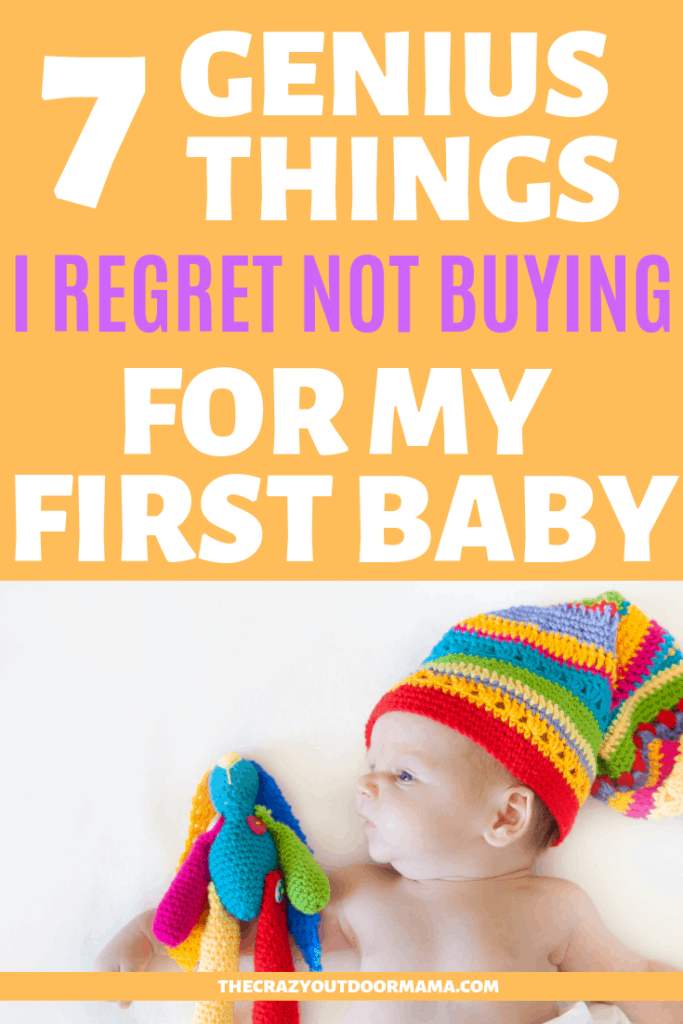 An Owlet Oxygen and Heart Rate Monitoring Device so that I could actually sleep at night!
I can't count the amount of commenters on facebook threads that said moms who used owlets were "lazy moms" who should actually not need a device to know if their child is well, and actually should just follow safe sleeping guidelines and everything will be good.
That meant that I had to create this magical bond with my first born the only way I knew how – by staying up all hours of the night, checking on him, constantly worried if something had happened!
The game changed when my twins came home on oxygen, and it was time to wean them off.
I couldn't function on no sleep, freaking out about their safety, for 6 more months… so we just took the plunge and got a set!
I slept SO. DANG. GOOD!
It attaches to their foot, and sends an alert to both your phone and a base station should their heart rate and/or oxygen levels drop below a certain threshold.
They are pretty pricey, but there is a foundation called Knox Blocks that will provide them for free if you apply and are accepted!
P.S. Following safe sleep guidlines, while awesome, does not completely prevent SIDS. After all, it is called "Sudden Infant Death Syndrome" for a reason!
" According to the U.S. Department of Health and Human Services, SIDS is the sudden and unexplained death of an infant under one year of age, which strikes nearly 4,000 babies in the United States every year. The causes of SIDS are still unclear, but experts have identified some key factors that can reduce the risk of SIDS, and are attempting to make this information known. " – National Center for Health Research
So please, skip the cute shoes and fancy outfits they will grow out of in a month and save up for this one!
Nice PREMADE VELCRO swaddles for each stage of babyhood (skip the cute muslin blankets!)
I somehow didn't know there were premade swaddles available before my first born came!
I failed miserably at wrapping my wiggly newborn in those cute muslin blanket ones over and over again, and eventually just gave up!
I was scared that he'd get out and move it over his face while sleeping, so I just never looked into it!
He slept AWFUL for awhile… and part of it was my fault, but I do wonder if he would have been better if he had been cozy and contained in a nice swaddle!
Related: 21+ awesome baby sleep tips that just might change your baby's sleep habits (for the better!)
I found out about the handy velcro ones when my girls were in the NICU – it was very standard that each baby was wrapped in one, and it really seemed to comfort the babies there!
We were sent home with the ones we used, but they worked so well that I wanted more!
Here's the exact swaddle transition steps we followed at home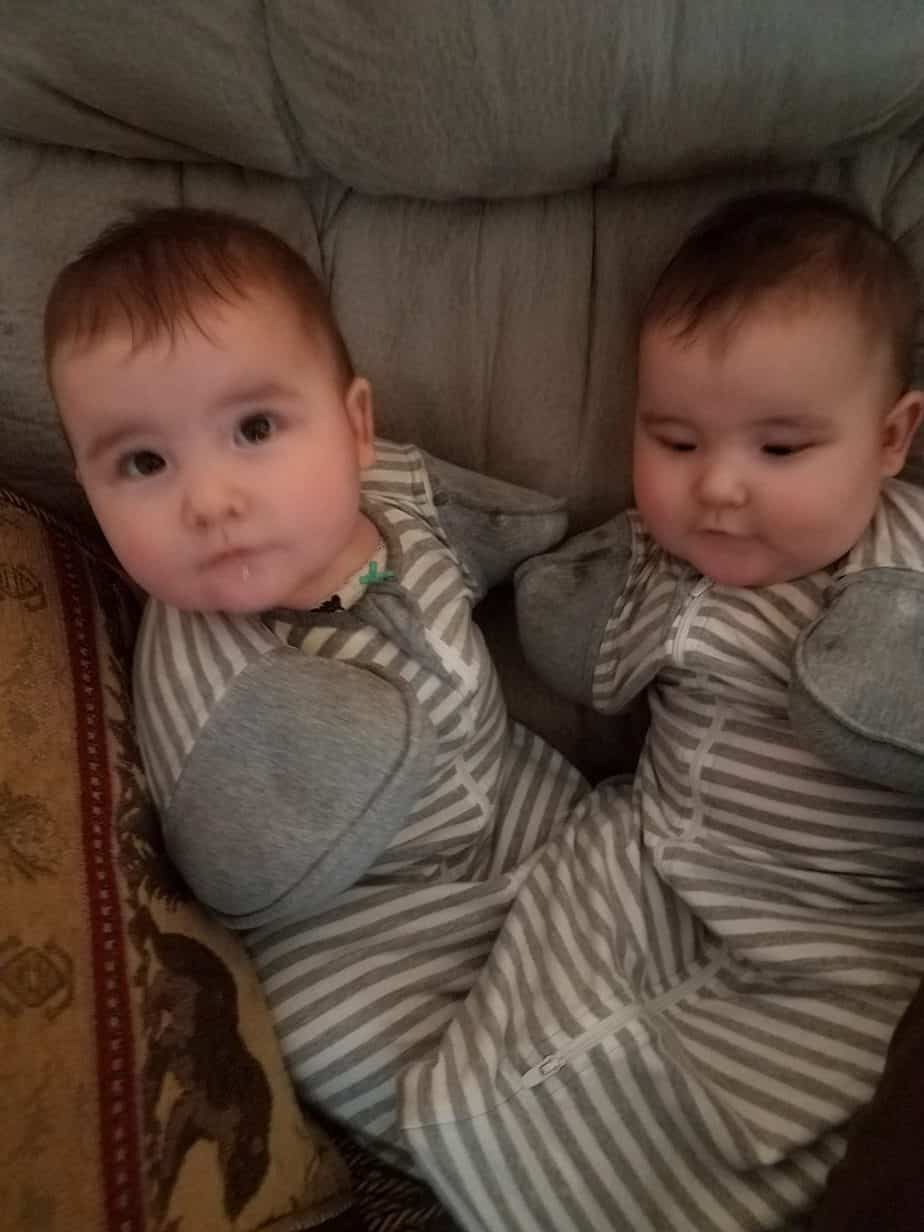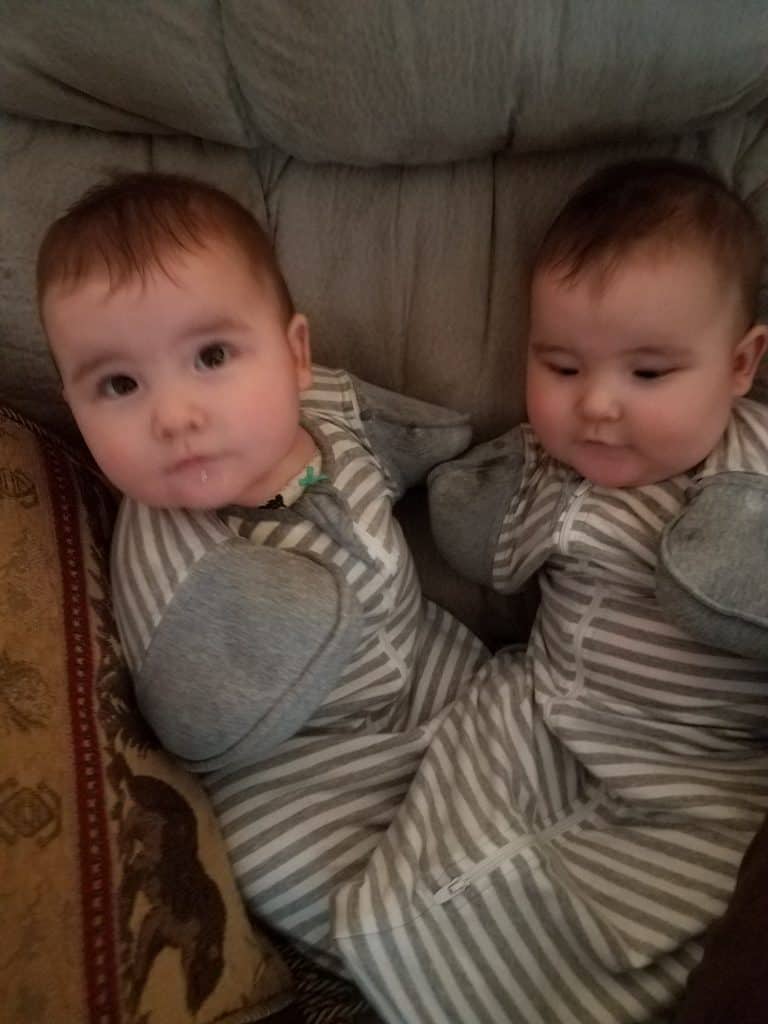 "Peapod" 0-3 months or 5-12 pounds
Swaddle with wings for secure and comfy fit!
Swaddle with removable arms to transition from a full swaddle when they start to roll!
A nice white noise machine as opposed to just using a fan to save money!
I always heard conflicting information about white noise – people said it was just another "sleeping crutch" while others said that it was really beneficial (adults use them too!)
However, I already felt overwhelmed with all the stuff we got and was too lazy to buy one (full disclosure – my twins broke and I REALLY need to get one because using a fan and creating an awful draft is getting old!)
Turns out, white noise isn't really a crutch – while they might need it to fall asleep, it's not really an action you need to do to help them (which, honestly, they are just babies so who cares!)
But as a first time parent, you are so scared of doing it wrong, you just listen to the loudest voice, which at the time was sleep training people who said don't let the baby need anything to fall asleep…
I've since learned that babies need comfort, support, and soothing to grow into confident little ones, and so have two white noise machines!
We take them everywhere we go (even camping!) and it just really helps to block out other noises!
I don't think I'll ever be able to sleep again without it either, because I'm so used to hearing it over the baby monitors for 3+ years now!


Pre made
pouches of baby food as opposed to making everything on my own!
Oh my gosh, the amount of time I spent stressing over making my own food with the baby bullet, steaming food, looking up recipes and everything only to have my baby spit it out… unreal!
If you really have the time, and it's REALLY important to you, go ahead and keep home making that food!
However with my son I was a working mom for awhile, and even when I quit I found I would much rather actually play and engage with my son than spend all that time making food, cleaning up etc..
There are some really good brands of squeeze pouches that are organic, have little to no preservatives and no added sugars that I have felt comfortable feeding to my kids!
It was a big giant sigh of relief to not have to worry about running out of food and making more when I only got to spend around 3 hours a day with my son after work!
I loved Happy Baby Organics (and still do, since my kids hate anything green and it's the only way they will eat things like veggies!)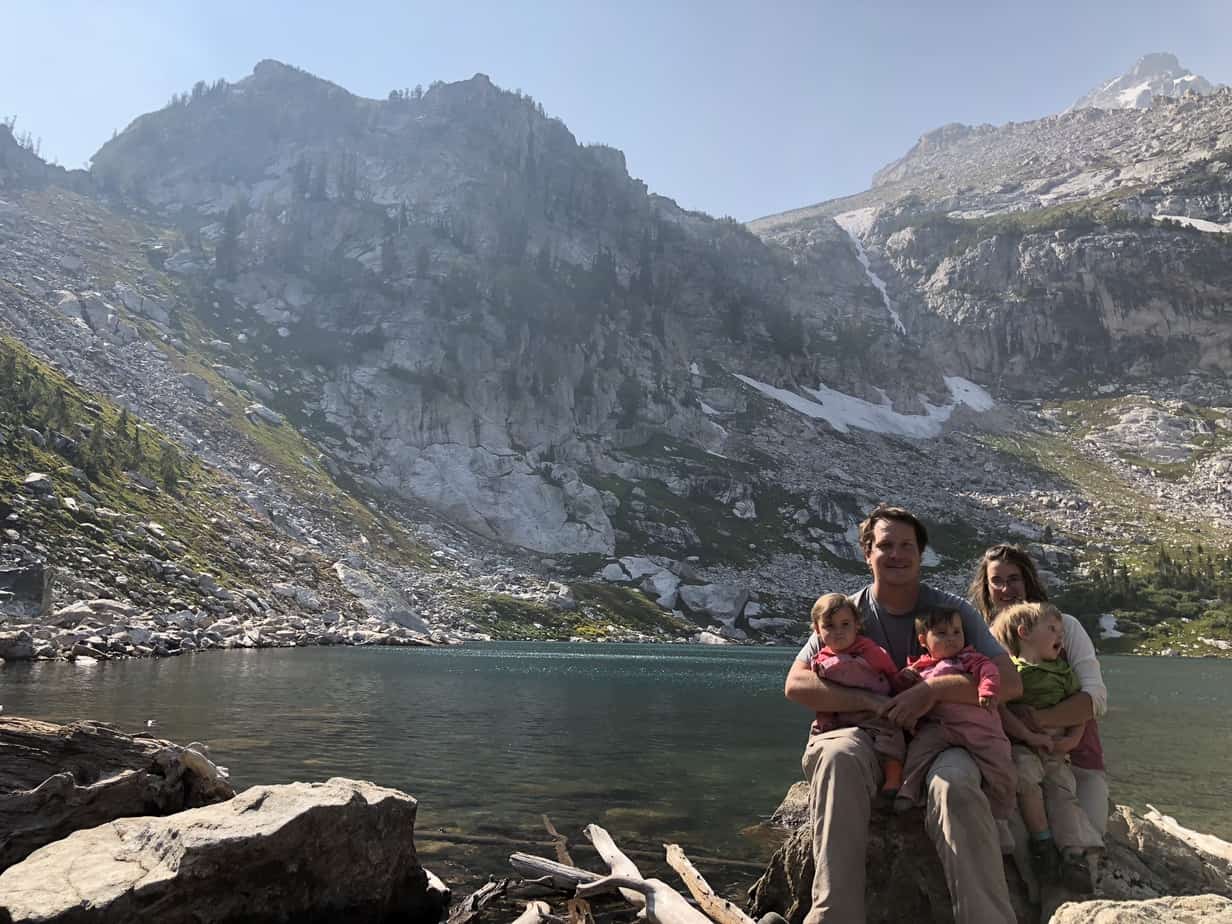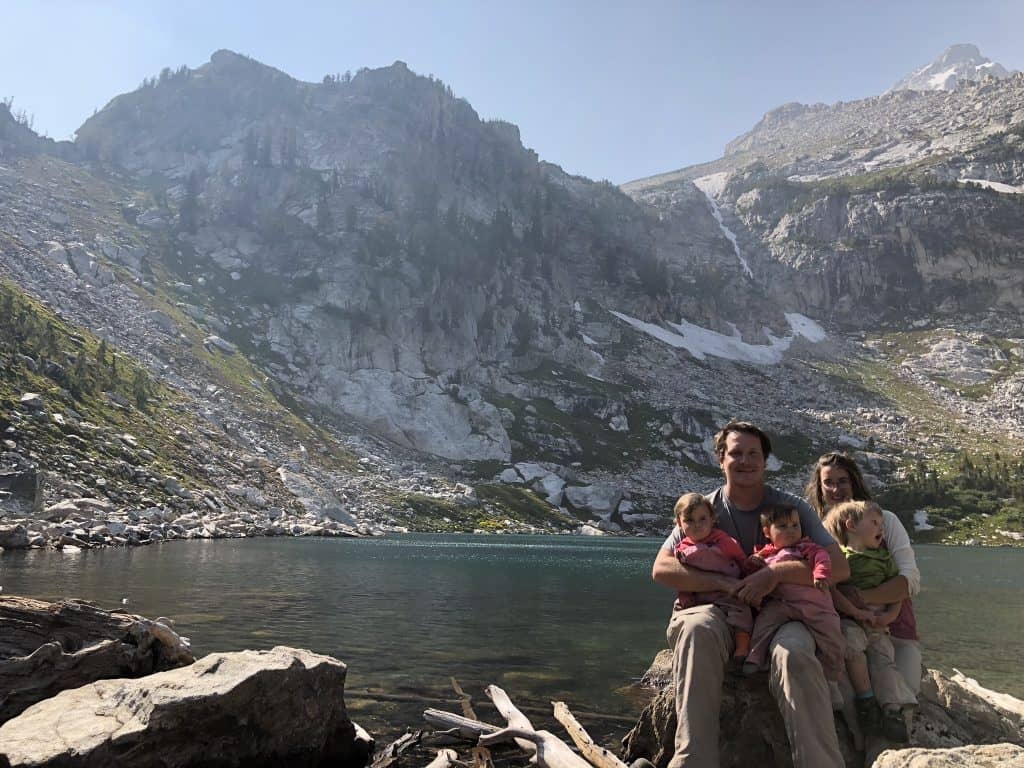 A Nose Frida Snot Sucker instead of a typical bulb type to make it less stressful and more effective to help baby's stuffy nose!
I figured that since the hospital sent us home with it, it must be the best option!
Wrong!
You can't see what the heck you're doing with the bulbs – you need to know if you're getting any snot out, and it's also nice to have control of the amount of pressure you're using, none of which the bulb has.
Enter the nose frida!
It might be intimidating to those who aren't actually parents yet (you suck your baby's nose with a device powered by you!) but it is 100 tims more effective and less stressful for your baby!
Related: ALL the veteran mom baby tips you wish someone would have told you about!
It comes with a filter, but I have never actually seen boogers or snot reach it!
A Medicine Pacifier Dispenser instead of wrangling your tiny (but suddenly hulk like!) baby and attempting to get the syringe into their mouth!
A sick baby is hard, but trying to give said sick baby medicine you know they need, but they are hard set against it?
Impossible, and almost always resorts to having to pin down arms and legs, and maybe even have a second person hold their head straight so that you can get the syringe in their mouth!
The amount of times I have either
1) Missed, made their face sticky
2) Got the medicine in, but they were so stressed they spit it out
3) Got the syrgine in, but was trying to force it in so hard I accidently knicked their gums or cheek in the process and felt REALLY bad
is way too much!
If your baby isn't into pacifiers, this isn't going to work for you, but if they are… this is a life saver!
A Pack N Play instead of a super limited use bassinet!
While the bassinets are cute, babies grow out of them REALLY fast!
They also tend to be limited use, meaning they are pretty shallow, don't transport well, and don't have as many uses!
I bought a bassinet used for my son, and I think he slept in it maybe two times!
However we were later gifted a "Pack n play nursery center" which is still in use today, 3 kids later!
This thing has a diaper dispenser, flip out changing pad, removable bassinet, play area, and so much more!
Even better, they can play in it during the day!
Parents, do you have anything you regret buying, and wished you would have gotten something else instead?
So many regrets here!
I'm a big sucker for cute stuff, so I loaded up on so many items that I didn't need, but places like Pinterest (In case you found me through Pinterest… I hope I don't turn out to be another misleading guide for ya! =0 ) said were must haves…
But I want to pass on the knowledge to someone who might be able to use it!
If you're pregnant or a new mom, don't forget to check these other articles out <3
Pin this if you liked it! Thank you!! <3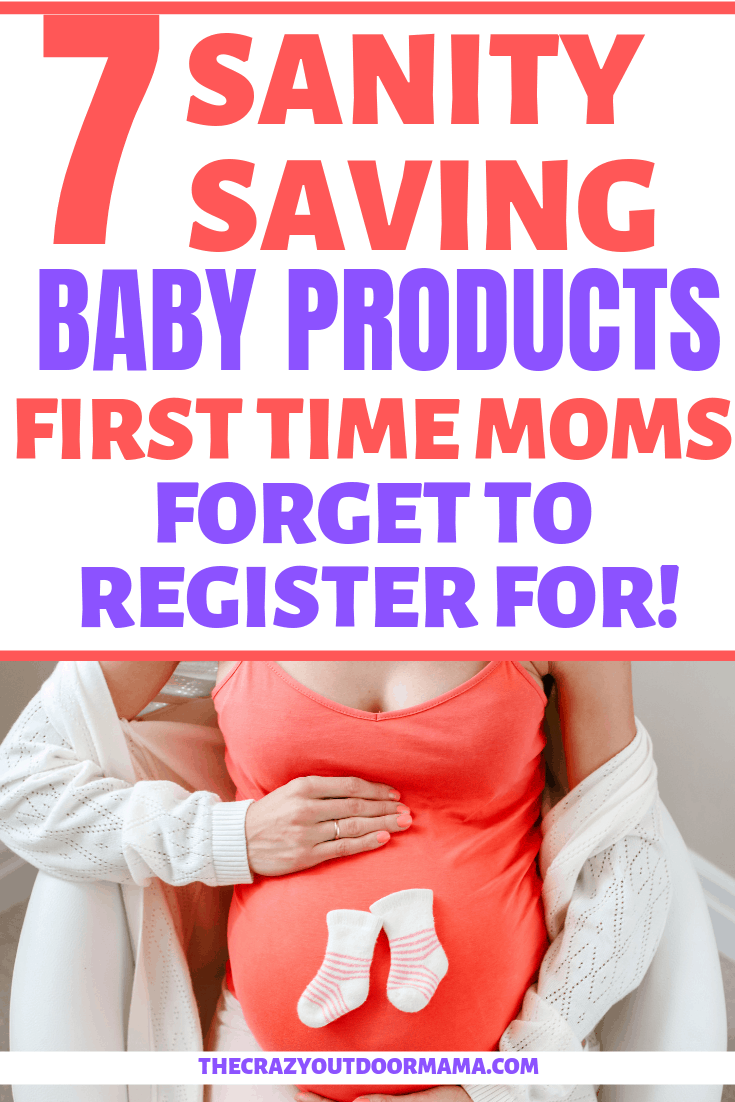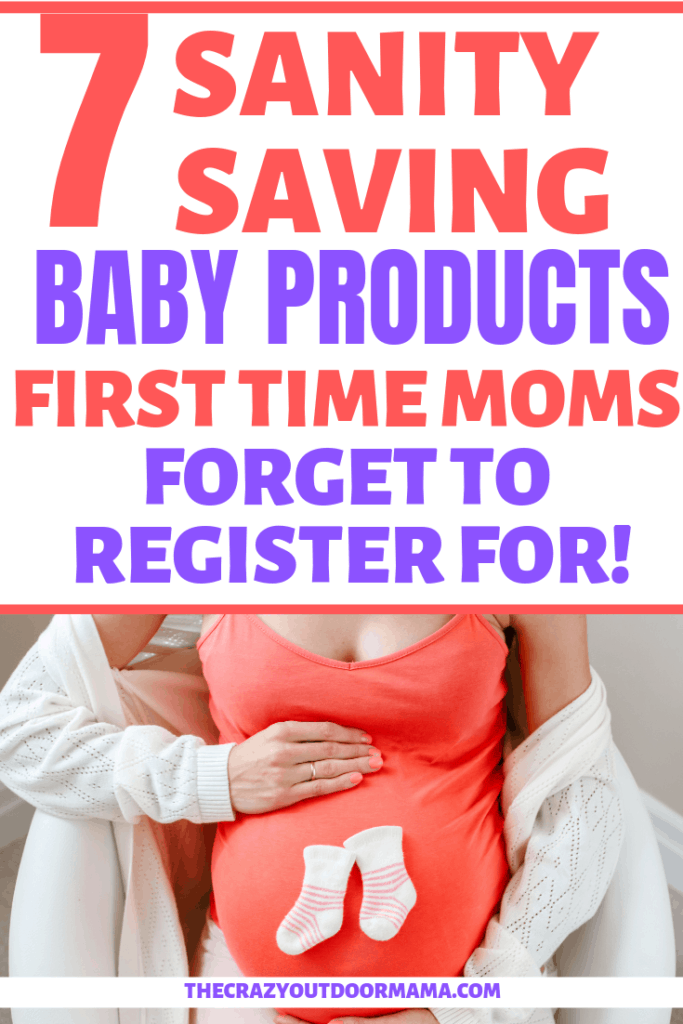 Latest posts by Stacy Bressler
(see all)