One of these baby sleep tips may just be the weird trick that finally gets your baby to sleep (a little longer!)
Now that my twin girls are ALMOST sleeping through the night (My one twin slept from 7 pm to 8 am, while my other was awake for an hour or so in the middle of the night) it reminded me of the awful struggle and many, MANY 2 am searches on the internet for new ideas on how to get your baby to sleep!
I feel like I've tried almost every trick in the book, or at least heard of a ton. After all, when you have two babies who need to sleep in the same room, you are pretty desperate to keep them from screaming too much and waking the other!
I don't think you can go too far or "extra" when it comes to finding ways to get your baby to sleep… my parents apparently had to put me in the car seat and drive around the neighborhood for me to fall asleep!
OK, that seems like too much.. but I do still sleep freaking amazing in cars!
Anyways, a big fear of parents is that they will create "bad habits" should they try any unique sleeping tip.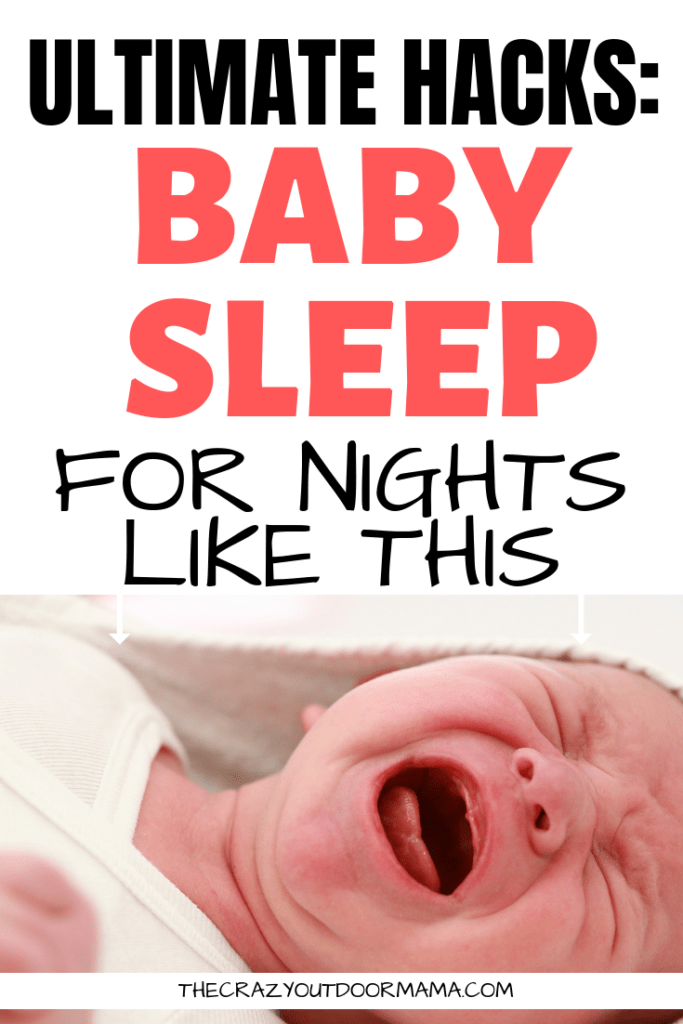 Here's the deal – I co slept with all 3 of my kids, and all 3 are now happy sleeping in their bed! I used all sorts of wizardry to get them used to it, and the only thing they need anymore is a darkened room and some white noise.
So when you're going through this list, just know that most babies will either grow out of needing the special things for sleep, or you can just deal with 1 or 2 awful nights when the time is come to be done with it.
Getting a solid night every now and again is so so important.
And if you don't have a partner to "take a night" or who is unable due to very demanding work, then it's even more important that you are able to get some rest!
I figured as long as I had one night with at least a 4 hour stretch once a week, I would be OK with broken sleep!
Also, don't forget babies change every day!
So if something didn't work last month, heck, last WEEK, it could be worth trying again!
Anyways, here's all the things I've heard of or tried when it comes to baby sleep.
I really hope that one of these is new to you so that you have another tool in your box!
P.S. I am an Amazon affiliate, meaning if you purchase something through my links I receive a small commission at no cost to you!
Reevaluate your coffee intake if you're breastfeeding
I know, that's a tough one! But don't worry, if your baby is sensitive to caffeine, they do get better at processing it as they get older!
The half life of coffee in a newborn is 96 hours, so imagine the build up that happens after a couple cups a day!
Every baby isn't like this – I was able to drink 2 average size cups at the start, and by a year around 3 to 4!
This is just something to think about before freaking out that your baby will never sleep! Keep in mind it might take up to a week with no coffee for it all to get out of the babies system!
The heartbeat pat
Something my mother in law told me after a particularly rough night really resonated with me – when you're trying to calm an upset baby, pat them in a heart beat pattern that matches the pace of what their heartbeat is (for example, a really fast "thump thump, thump thump" for an angry baby, and getting slower as they start calming down)
I honestly am not sure if there's any science behind it, but it has worked for me way better than just a plain old "pat, pat, pat, pat, pat, pat, etc"
In the beginning, don't try to stay quiet!
This surprised me, but the sound my son and our girls fell asleep to first was "Busy Bar", some 6 hour white noise track on Youtube with, you guessed it, tons of people talking and making noise!
Babies do hear a lot in the womb, so to hear complete silence when they come out is alarming to them!
Not to mention it's sort of nice if your baby can sleep through some chatter or occasional noise! It is way easier to travel (they can take naps in the car, even with talking going on!) and hang out with friends (my friends newborn slept in his rock n play IN THE LIVING ROOM for 3 months!)
I think, in my experience, it's comforting for them to hear familiar noise such as talking!
White noise (later on)
I've heard some opponents of white noise give me the reason of "Well I don't want to start bad habits" when it comes to getting a white noise machine.
But why is it bad?
It's not harmful in any way like a binkie or falling asleep with a bottle is, and plenty of grown people use them!
In fact, I don't think I'll ever be able to sleep without white noise now because I'm so used to hearing it on their baby monitors!
We use a box fan in our girls' room and a little owl in my son's room. There are plenty of on the go white noise devices that are perfect for car seats, as well as stuffies that have all kinds of sound options.
I know they have a ton of choices for white noise, but the most effective I've found after three kids has always been the actual "white noise" setting. It sort of blocks everything out, and is a steady tone.
Things like waves also work to, because they are a steady pattern.
Temperature in room
Since I'm always freezing, I just assume that everyone else has to be cold too. So I dress everyone for bed pretty warm, and have been known to pump up the heat a bit too much!
I actually found that babies sleep better cool, between 65 F and 72 F max!
So no need for a short onsie, with a fleece onsie on top, with a warm swaddle to boot!
Use blackout curtains
This isn't such a big deal at the start when they aren't super aware of things, but when babies get older and notice the world is awesome… well, they want to check it out!
Ensuring the room is pitch black is a great way to make sure there are no distractions to keep them from fall asleep!
I know this could be considered a "bad habit" to need a pitch black room, but since we travel, I found a solution to completely darken pack n plays so that there are still no distractions, especially somewhere new!
Help reinforce your baby's idea of day and night
I don't mean to scare you, but in that first couple of months, there is not a whole lot you can do to help them understand this.
It's still worthwhile to start the routine so that it is all familiar to them once they do start to understand things!
Make sure that during daytime, it is really bright in the house and there is lots of stimulation. Even naps can be partially lit, so they know there is a difference between night and just a nap!
When it comes close to bedtime, a lot of parents (including me!) have some sort of routine which helps send the signal that bed time is coming.
This includes dimming the lights, turning off any stimulating things such as toys, tv or crazy music.
If you have an older baby or child that is having trouble sleeping, try one of those "sleep to wake" nightlights that change color based upon your customizations.
A lot of parents seem to have had success with older kids 18+ months in getting them to sleep later, or just stay asleep in the middle of the night when they wake up!
Weighted item (with monitoring)
If you have a baby who is peaceful and wonderful till the second you remove your hand from their back, then this might be for you!
I would suggest only using this method if they can be monitored, and definitely not once they are able to move and such.
Our girls were in "peapod" swaddles for the first 2 months or so, so their arms and everything were contained and they were unable to roll.
Anyways, I found using one of those neck cold / hot packs that are long and filled with rice AMAZING for getting them to sleep when they refused to be ok if I ever took my hand off their back!
Mine came scented with lavender, and I warmed it ahead of time too to make it feel warm like me!
I've also seen people fill up rubber gloves with beans or rice to make it even more handlike!
Pre-warm their bed with a heating pad
Does your baby fall asleep on you but refuse to transfer to their bed?
Try warming their spot in their bed ahead of time so that the transition isn't so shocking with the temperature difference!
I did this plenty of times for my girls, and it worked!
I know it sounds kind of elaborate, but once you're on like day 7 of waking up every 15 minutes then you're game to try anything!
Sleep with the crib sheet
Babies LOVE your smell… so if you sleep with their crib sheet for a night or two before putting it on their bed, they might be more likely to accept sleeping there!
If you're breastfeeding, this is especially helpful because babies love to smell the milk, so if you're leaking in the beginning (I know… it sounds gross) having a spot or two on the sheet will make it smell just like it would sleeping on your chest!
Don't change unless poopy
You don't have to change them with every feeding! Unless your baby has super sensitive skin, leave it be!
It just causes unnecessary movement and such, and you could risk waking them up!
If you're concerned about rashes, just apply a lot of cream before bed.
If your baby pees a lot, just size up their diaper for bedtime so that it can hold more pee!
Dreamfeed or "top them off" before bed
A dream feed is when you VERY gently wake your baby just enough for them to nurse before you head to bed.
This sort of "resets the timer" in terms of the next time they will be hungry.
For example, if you put your baby to bed at 8, but you don't go to bed till 10, and baby only goes 3 hours without eating (if you're lucky at the start!) that would mean your baby is likely to wake up at 11… one hour after you went to bed.
But we all know we don't normally just go to sleep when we hit the bed – sometimes it takes half an hour!
So that means you get a half hour of broken sleep before having to get up again…
So dreamfeed!
Feed the baby right before you go to bed, so you get that solid couple of hours (hopefully!) before you need to wake up again!
Try swaddling
So I was completely unaware of things, even in this day and age, with my son… I really thought that those muslin swaddles were all there was to swaddling.
And I was AWFUL at it – my son broke out within minutes, and I figured he just didn't like to be swaddled.
Lo and behold, the velcro swaddle!
When my twins came, they were used religiously in the NICU and were sent home with us.
It was wonderful… they went to sleep way easier and earlier by themselves than my son did!
There are swaddles for all ages and stages, such as the peapod for newborns that is super stretchy and tight to simulate the womb, the standby favorite Halo Swaddles with velcro arms, and Love to Dream swaddles with removable arms so that you can make that swaddle free transition around 4-6 months a little easier!
You would be surprised and how much babies like to feel "contained" and it might just be the trick you need to get longer stretches of sleep!
Get a crib wedge if you suspect your baby has reflux
If your baby spits up alot, that could be really uncomfortable for them, and it will very likely make them wake up!
Reflux is when food backs up from your baby's stomach and comes back up due to their immature digestive system.
This does eventually get better as they get older- but of course, that doesn't help NOW if you're frantically reading this after days of no sleep!
While you could use a rolled up towel under their sheet, it's really not recommended due to the risk of suffocation should they roll into it.
Instead, just buy a crib wedge with good ratings like this one .. you won't regret it if that means your first night of sleep!
Amber teething necklace
I know some moms who have used these things from birth to 3+ years old! Some parents swear by them, some see no difference… but the point is, it's worth a shot!
Baltic amber (real stuff, make sure they have a certificate showing this) releases succinic acid when it is warmed by the body, which is absorbed through the skin and supposedly reduces inflammation.
This could be from teething, growing, or anything else.
They also sell adult amber necklaces, which tons of people love so there may be some truth behind the hype!
I got some but never used them because my girls were too chunky to fit around their neck, and their legs were too chunky to be able to wrap it around twice so that it wouldn't fall off, meaning I, unfortunately, have no experience with this.
Lavender diffused in the room or rubbed on the feet
You've probably heard all about lavender being calming and sleep-inducing, so it's something to think about if you're running out of options to help your baby sleep!
Even if you are skeptical about it's calming properties, there is no doubt that it smells amazing, and would feel even more amazing to rub oil on their feet as part of their bedtime routine!
Chamomile tea before bed
I've heard of a couple parents who do this, and I get it.. that stuff makes me SUPER relaxed and way more ready for sleep than normal!
Chamomile tea IS NOT RECOMMENDED FOR USE BEFORE 6 MONTHS, so don't introduce it too early!
With that being said, it's perfect timing since this is normally when teething has full on hit.
Chamomile tea has tons of benefits, including having anti bacterial properties, mild pain relief, helping with colic, and of course, is a natural sedative
Crib vibrator
Not every baby will love it, but some can't sleep without it in the beginning!
I know from around 0-2 months, when our girls woke up in their bassinet, we were sometimes able to shake it a little and they would fall asleep.
The same concept sort of applies here… they might just want a little movement!
Cut a nap
Babies take ALOT of naps in the first 6 months. I know when my son was born, it was easier to keep track of the time he was awake than asleep!
But after a couple of months, you can start to see patterns of when they tend to get sleepy and start to stretch it or reduce it to make a schedule.
This tip applies to kids of all ages (it just worked for my 15 month olds!)!
Sometimes if they get too much sleep during the day, they will sleep awfully at night!
I know, it's hard to lose that extra time to yourself.. but think of how awesome actually getting to sleep at night would be?
In all 3 of my kids, I knew it was time to cut a nap based on two things.
First, they took FOREVER to fall asleep for the nap I cut. I'm talking 45 minutes to fall asleep for a one hour nap!
Second, this drastic change always came due to super awful nights that made me willing to try anything.. even that 1 hour to myself!
It may take a couple days to adjust, and there may still be days here and there when they need an extra nap (sometimes my 15 month olds will fall asleep in their highchair.. meaning they need more sleep that day!) but my girls went from being awake for 2-3 hours a night SCREAMING (even with me laying with them!) to sleeping through the night 90% of the time!
Eat a heavy meal before bed
This tip applies to babies over 6 months who can start eating some solids.
It isn't recommended to add rice to your baby's bottle due to things such as increased chances of developing allergies increased digestive issues and more  It also has not been proven to help babies who drink this sleep through the night any better than babies who don't (the study ).
However, after your baby is ready for solids (which can vary by baby) my pediatrician recommended eating some protein before bed to help them sleep longer… and it worked!
We had alot of success with things like eggs, small ground up very lean hamburger meat and soft shredded chicken.
She said that it takes alot longer to process that protein, and so they don't feel hungry as soon.
Of course, ask your pediatrician if you have concerns, and again, every baby will be ready at different times.
If you're just starting out with solids, try gently cooked egg yolk… it's really healthy and super soft!
PLEASE skip the rice cereal.. it has virtually no nutrients and is chockful of arsenic (read more about that here!)
Water instead of milk if past a year
This was another recommendation given to us by our pediatrician when I complained that they still woke every 2 hours to eat at a year old…
Giving them water instead of milk at night would satisfy any thirst, but encourage them to eat more during the day since they weren't being fed at night.
I know, that sounds harsh. And I hated it at the time so I didn't try till months later…
But, a gentle way to do this is to give really watered down bottles of milk!
I started doing half milk, half water, then eventually got it to a splash of milk and the rest water!
Now they are fine with sippy cups of water!
Give them a couple of minutes to work it out
And this one is from my husband after I asked, in disbelief, how he got the girls to sleep through the night once I finally gave in and said I needed one night of full sleep (meaning I needed him to take a full night!)
And guess what… they only cried for max 3 minutes!
I'm definitely NOT cry it out at all, so this made me really happy that it took such a small amount of time for them to figure it out!
This might not work for every kid… I know with my son if I waited at all it just made him hysterical, however we co slept way longer which may have been a factor.
Do you have any sleep tips that were magic?
I'd love to hear them! Or anyone frantically searching the internet at 3 am looking high and low in forums and every single website on the first 4 pages of Google!
Hey mama! Check out these other mom and baby tips you will love!
Here are some other common problems for mamas!
-If you are having baby sleep problems, you may also want to head over to this list of
awesome baby tips
! You might find help there you didn't even know you needed!
Stacy Bressler is an avid outdoorswoman, wife, and mother of three who lives in Jackson, Wyoming. She loves all things camping and enjoys sharing helpful tips, fun activities and laughable learning experiences she finds along the way! Navigating the outdoor life through the lens of humor and positivity, she chronicles it all on her website "The Crazy Outdoor Mama"
Latest posts by Stacy Bressler (see all)