How to find mom friends and get into amazing mom meet ups!
So this is how it's supposed to work – you have your baby, everyone helps, you make besties at your local library story time and you have a sweet group of mom friends that you exchange funny memes with and have pinterest perfect mom meet ups.
 BUT, it's likely that's not how it happened!
A lot of times, especially if you are the first of your friends to have a baby, or you're in a new town, it can be pretty intimidating trying to find someone to actually talk to.
Someone who will understand a screaming baby, who won't look down on your crazy house, or heck… someone you even have anything in common to talk about now that you're raising a little one!
It's so easy to get overwhelmed in the craziness of it all, and put finding your village on the backburner. But the sad part is when you desperately need that adult time, you often are at the end of your sanity and don't have the time or energy to find them!
I've been fairly lucky in finding an amazing group of women that are most definitely my village!
But don't get it twisted – I've also had my share of awkward attempts at connecting, nervousness about that first solo "mom night" and weird side glances even trying to start a conversation!
I wanted to go over what did, and DIDN'T work when it came to finding mom friends!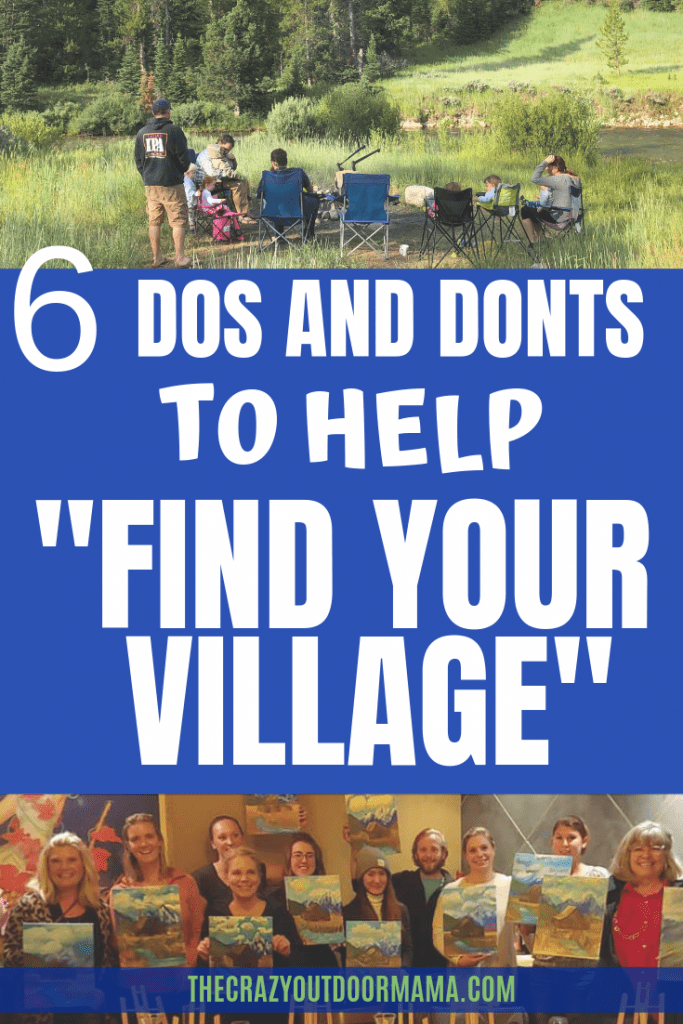 What didn't work when trying to find mom friends
When I look at this list, I realize there's one thing in common – these are all events that are KID centered, and not based upon interests moms might have!
Yea yea yea… we are all interested in our kids. But when you go to events like library hour, toddler gym etc, it's pretty common that moms are absorbed in watching their kids, and don't have the time or energy to talk.
I'm not saying you can't find anyone there – I just know I've tried talking to moms there, got a friendly answer, and they moved on!
Here are some of the events I went to that didn't work for making connections with other moms
Here is what DID work for finding mom friends!
The common thing here, now that I've looked over this list, is that each of these started with a meeting of people who have a known thing in common! Here's another thing – you DON'T have to go to things with the kids to find mom friends! Sometimes just going to things that interest you will not only help your mental health, but you might make an amazing connection with someone that loves the same things as you!
Related: If you have mom guilt for having to leave a little one behind to do something for yourself, check out these 5 positive thoughts to battle that mom guilt!
Mom friend apps you might love!
I haven't tried these, but they seemed to have amazing reviews and honestly would have been the next step had I not met my friends I have now. In fact, I will probably try them anyway because I love having lots of mamas to chat with!
The key to making mom friends and KEEPING that relationship
Don't let it die! You don't have to text all the time, or meet up all the time, but try to see them now and again! As tempting as it is to skip a party because you're exhausted, or not take that first step towards scheduling your next meet up because you might feel awkward… do it!
And if you really can't make it, let them know you're bummed!
I know the feeling of being let down when you have your kids party or ladies night, and no one can end up coming that you were looking forward to. With kids, sickness is always a factor, so cancellations are going to be pretty common. Or maybe you are too damn exhausted, and no amount of coffee or redbull can help… Just let them know what's going on!
I can't count the number of potential friendships I sort of let fade away. We do still chat, but it's been so long since we hung out, I'd feel weird asking. Like years, guys!
I figure each kids birthday party is another chance to reconnect, so don't be disappointed! I happen to live in an area that requires people to work A LOT, and so sometimes it's just hard with schedules, sickness, and little time off to meet up. I don't get discouraged when things don't pan out, you shouldn't either!
This article had some more great tips on why some friendships didn't work and why others flourished!
You might also enjoy these articles on mamahood!