Alright, so I SWORE I would never allow this stuff to enter my house… but when we acquired a box of it this summer, I knew there was going to be more moon sand in my future – My kid LOVED IT!
So I went and found some recipes, but when I made them they seemed sort of… boring.
Don't get me wrong, it's a cool texture, but I wanted to make it even cooler! PLUS my son loves trucks, so I wanted a way to combine the two..
In come my CONSTRUCTION ZONE moon sand! It has added oil and play sand, and it's an awesome texture! I think it even holds up a little better, but perhaps that just my bias 😉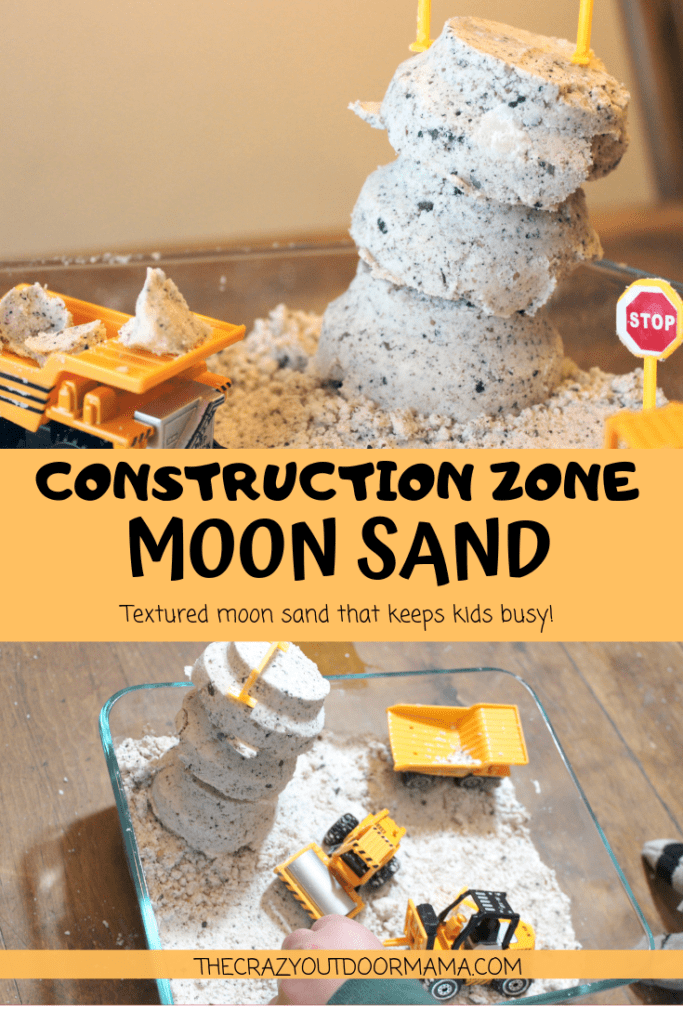 Guys… my boy purposely walked out from Daniel Tiger to play with this sand that was in a different room! It was AMAZING!
(Word of warning – it is still crumbly, so I suggest a high sided bin that can have a lid to reduce spillage!)
Ingredients needed for DIY Construction Zone Moon Sand
8 Cups Flour
1 Cup Baby Oil (though truthfully, no one has that and I probably could have subbed it for vegetable oil!)
1/2 cup Olive Oil
1 Cup to 1 1/2 Cups "Play Sand" – Not the fine stuff you'd imagine as play sand, but the kind that has little rocks in it and is quite a bit rougher (Not sure why it was labeled "play sand" at the store)
Trucks! Or animals if that's your thing!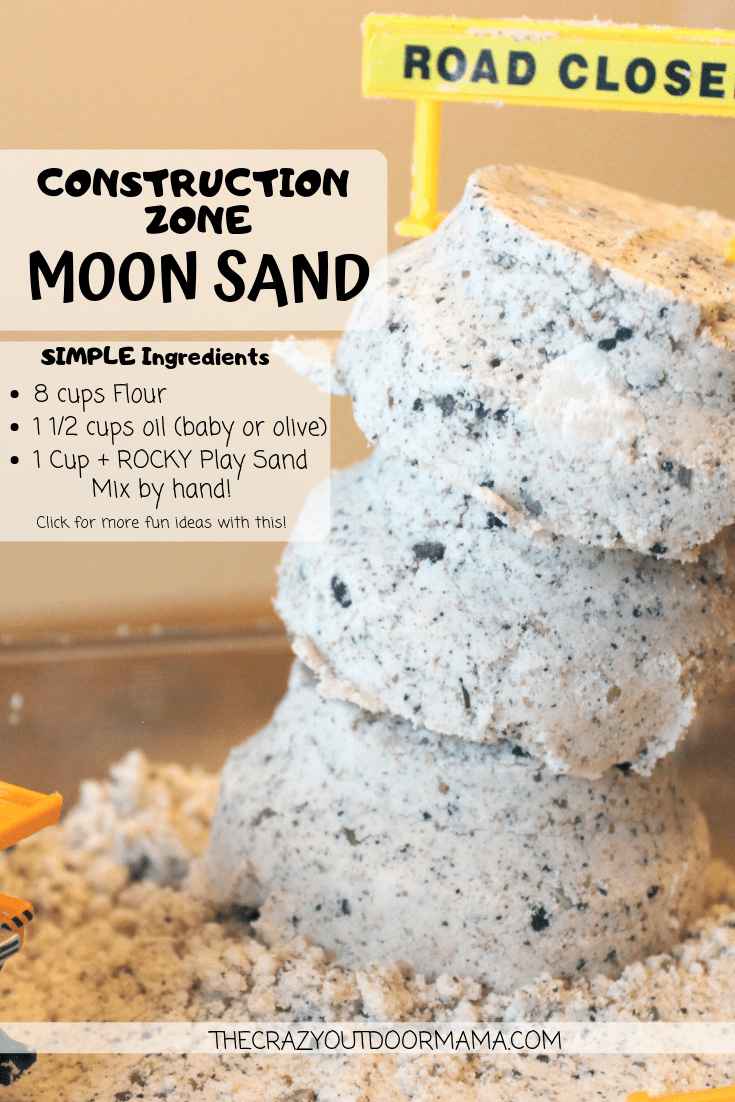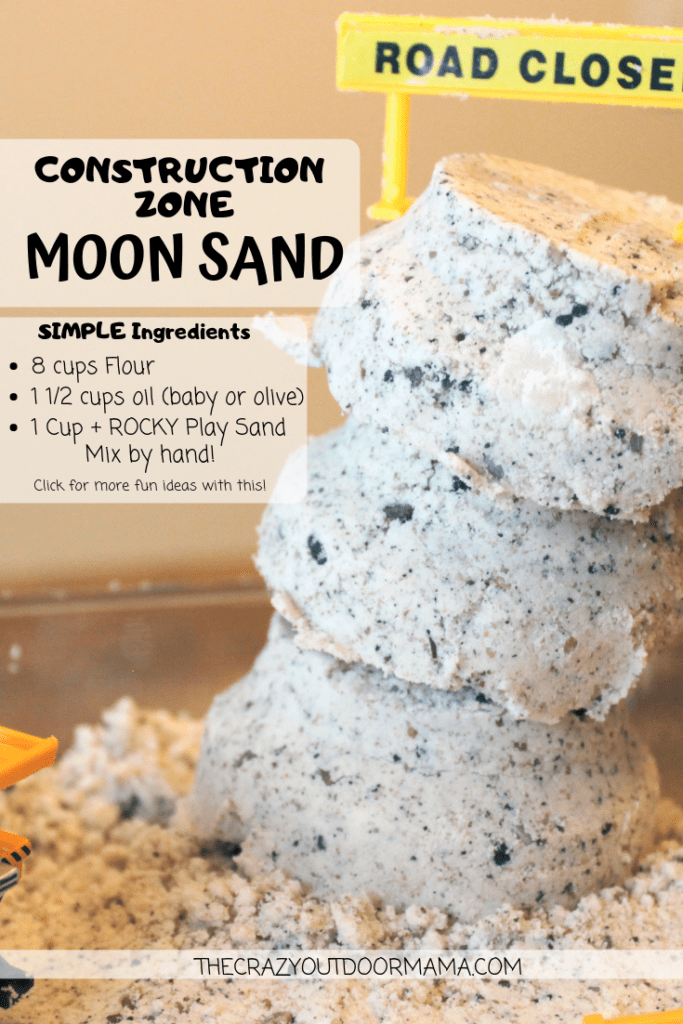 How to make DIY homemade Moon Sand (that's perfect for construction trucks!)
Time needed: 5 minutes.
The oil amounts don't have to be exact – so if you do too much or don't have enough, it will likely be fine!
Pour Oils into bottom of bin

Add the 1 cup baby oil and 1/2 cup olive oil


Add flour and sand

Feel free to add as little or as much sand as you like! You may have to add more oil to compensate for the additional "dryness" though.


Mix it up!

I was going to try and be neat and do it with a spatula, but I found that just using your hands is way more effective. The "squishing" you can do with your hands is way better for mixing everything together!

Add trucks and mini sand molds if you have them!

This is super fun because kids can build towers and knock them down with their trucks!
Have you created any fun combinations with moon sand?
I see myself become a scientist in the coming long winter months – slime, moon sand, kinetic sand.. so much stuff to keep my highly active kid occupied!
Where to buy moon sand (if there's no time to DIY)
So what if you don't have any fun molds, and you don't feel like using up all your flour, or are worried it won't turn our right?
OR just legit don't want to spend your 15 minutes of free time making sand?
Buy some!
There are some awesome moon and kinetic (molds even better!) kits, these are my favorites!
Don't forget to pin this recipe so that you can break some winter boredom in a pinch!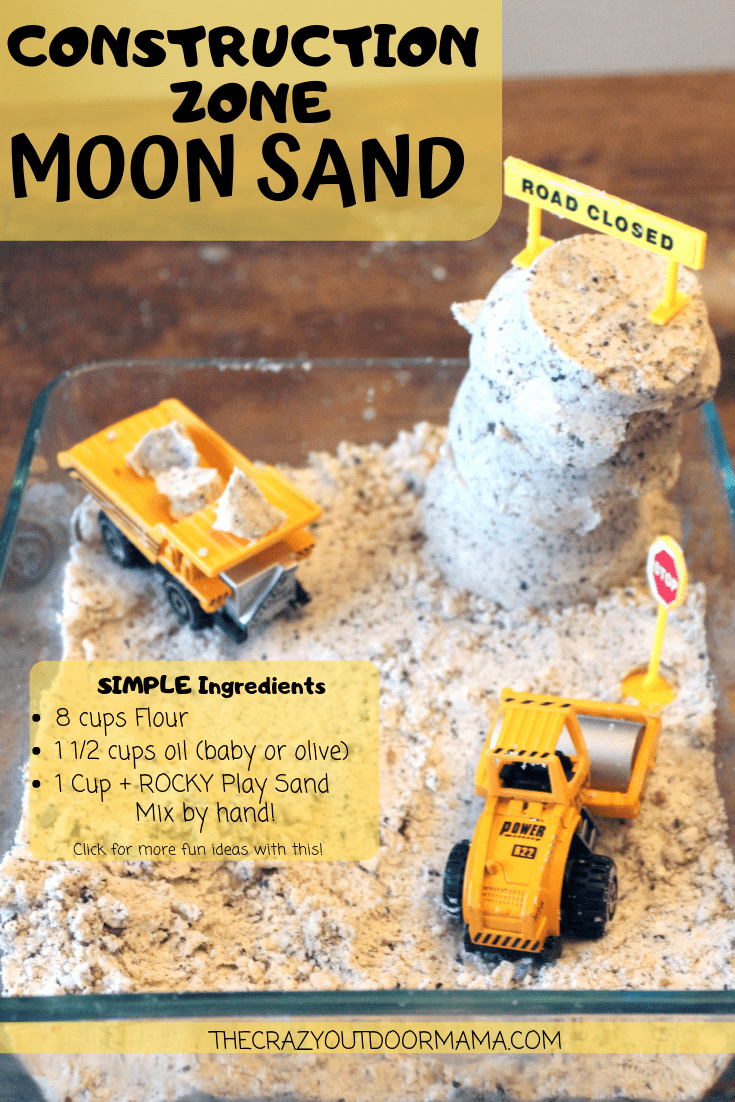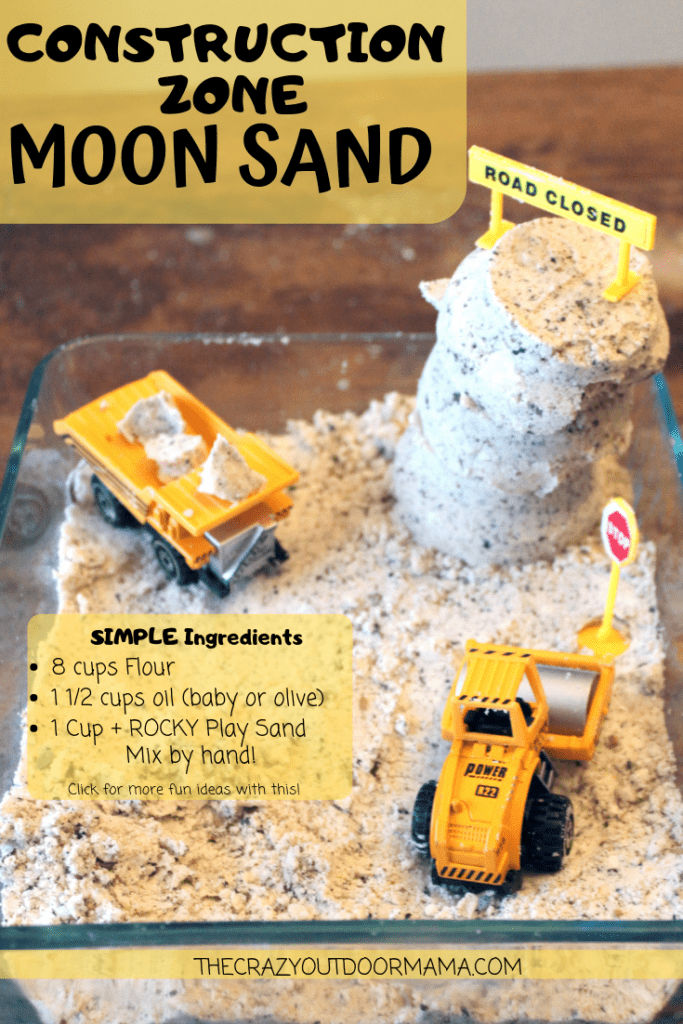 P.S. Here are some more fun sensory and preschool kid activities!
Latest posts by Stacy Bressler
(see all)