I'm sure it's happened to you at least once. If it hasn't happened to you…well, you better prepare yourself. Sooner or later it will.
You know how it goes…
You pull up to a campground, set up your campsite and then head over to the bathhouse to get a shower. You open the shower stall and are greeted with something that looks like…
Let me tell you from personal experience…there are a lot of nasty campground showers out there. That's why it pays to be prepared with a portable camping shower.
And fortunately, portable camping showers are super useful as more than just an alternative to a dirty bathhouse shower. 
Use them to get running water in your camp kitchen
Wash off gear
Give pets a bath
And any other time you need some running water
Camping showers come in all shapes and sizes — some are gravity fed, others, battery-operated, and some even with hot water! Some work great. Some not so great.
Don't waste your money. Use this guide and list to get the best camping shower for you.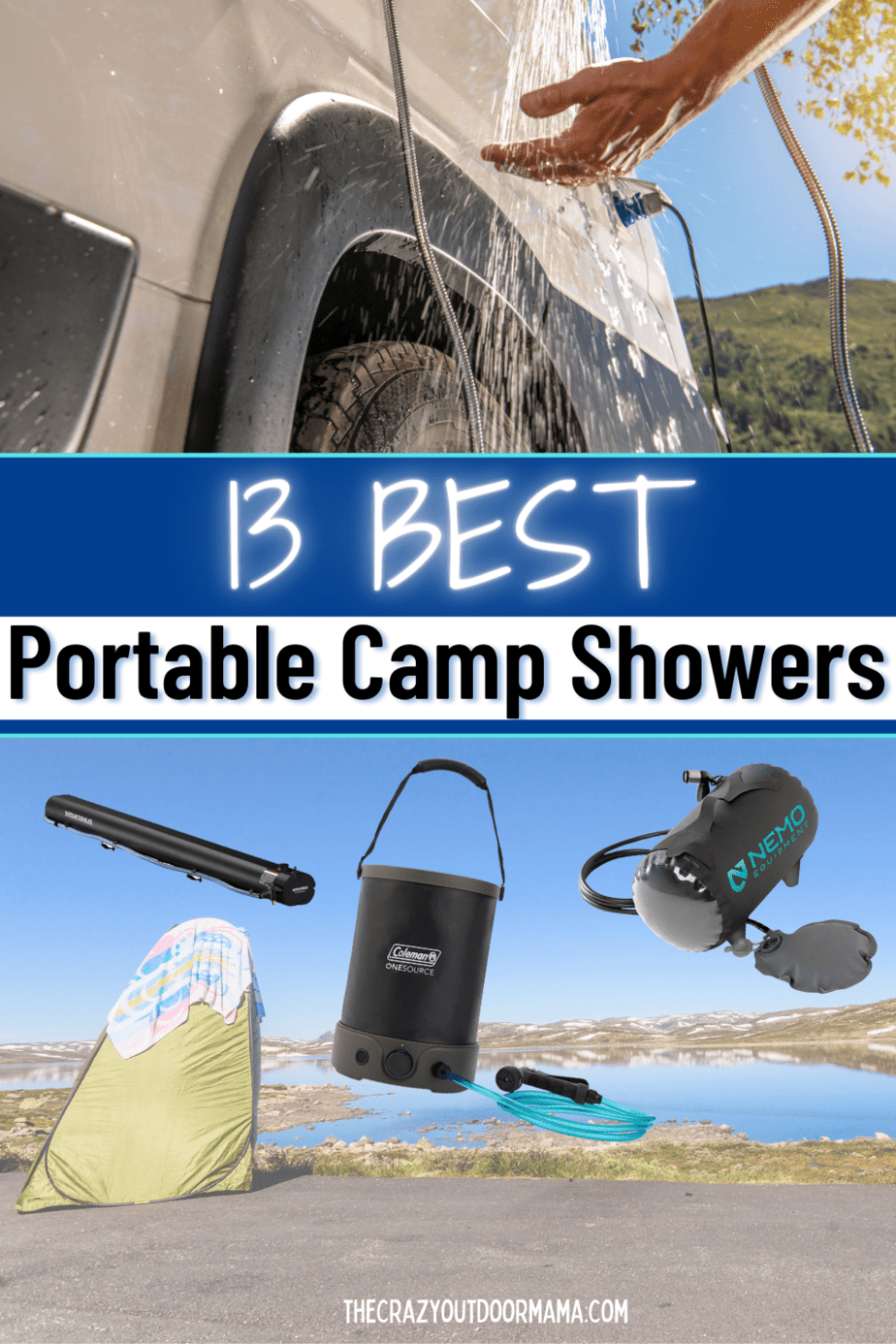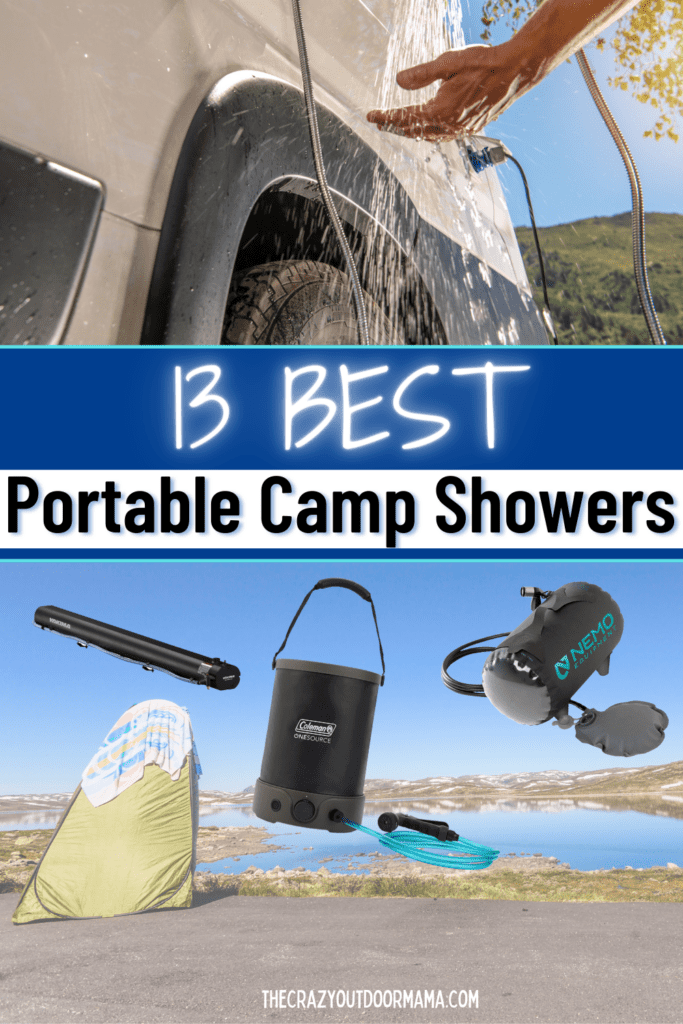 As an Amazon Associate, I earn a commission should you purchase anything through my recommendation links.
Top 3 Quick Picks for the Best Camping Showers
For those of you who don't like to wait, here are the top 3 picks. Don't miss the FULL list below along with a gear guide.
Nemo Helio Portable Pressure Camp Shower
Sea to Summit Pocket Shower
Ivation Portable Outdoor Shower
Top Pick
Most Portable
Budget-Friendly Comfort
Pros
Versatile design
Two sizes
Packs down small
Decent pressure
Pros
Ultra-lightweight
Simple, simple, simple
Affordable
Heats well in the sun
Pros
Consistent pressure
Easy to use
Budget price

See it on Amazon

See it on Amazon

See it on Amazon
Those are my top 3 picks, but still…they may not be the right shower for YOU and your camping adventures.  Over our years of camping, we've showered in practically every way imaginable…buckets, nasty bathhouse showers, RV wetbaths, solar showers, etc. 
So keep going in the next section to see a few things I think you should keep in mind before buying a portable shower for camping.
Guide to Portable Camping Showers
Old camping showers used to be pretty simple. But modern camping showers have a long list of different features. Here are some to consider.
Water Flow
Gravity-fed showers: The simplest portable camp showers are gravity-fed. They look like a big bag with a shower head on the bottom. Can't get much easier than that. 
However, there are some disadvantages:
They can be hard to hang up high enough. This is especially true if you have a big 5-gallon shower bag. Five gallons of water weighs 40+ pounds!
The pressure is just so-so.
Here are two great gravity-fed camp showers from my list.
Electric Pump: These types of camping showers have a small electric pump. Sometimes these showers have their own battery or they hook up to your car's 12V DC power outlet. 
These are nice because they provide consistent pressure as long as you have water. There's no need to pump by hand or hang up a heavy bag on a tree branch.
However, since they do need electricity, you have to make sure the battery is charged or make sure you have a power source (which isn't always easy when you're boondocking).
Here are two great showers with electric pumps from my list.
Manual Pump: You'll definitely get your workout with this type of shower. Some use a foot pump and others a hand pump. Either way, the pump pressurizes a container. That pressure then squirts the water out.
These are a nice middle ground between the gravity-fed and electric pump showers. Just keep in mind that the water pressure is not constant and sometimes you may need to repump while showering.
Here are two nice camp showers with a manual pump.
Pressurized: These also rely on a pressurized tank to power the showerhead. The difference between these and the manual pump ones is that these usually don't have their own onboard pump. 
Depending on the model of the shower, there are 3 different ways you can pressurize them:
With the water pressure from a domestic water system
With a compressor (like the kind of 12V compressor you would use to pump up a flat tire)
With a bicycle pump
These tend to suffer from the same issue as the manual pump showers — pressure starts off great but slowly wanes as you shower.
This is one of the best pressurized camp showers.
What Makes the Water Hot?
Maybe you're a die-hard lover of cold showers, but most of us don't complain if the water is hot. Hot water just makes you feel civilized (which is kinda nice after you've been traipsing around the woods all day!)
Here are several different ways you can get hot water with a portable shower.
Solar: Harness the sun's energy with a solar shower. Stick your black shower bag or black shower tank in the full sun and in a few hours you'll have a hot shower! Just keep in mind that these work really well in full sun on hot summer days. Stick it outside on a cloudy spring day and maaaaaaybe you'll have a lukewarm shower at best.
Electric: These types of portable showers (like the Geyser Systems Shower with Heater) have a mini on-board electric water heater. These are nice but have a big disadvantage — you need a normal electric outlet or a running vehicle with a 12V plug to power them. 
Gas (or other fuel):  Gas-powered portable showers (like the Mr. Heater BOSS-XB13) use propane to get hot water. You can hook some up to a regular-sized propane tank, but a lot are also made to run off of #1 propane cylinders like the ones you probably have for your camp stove. 
The Kettle Method: This method of getting hot water is simple, easy, and gives you a hot, hot shower.
Heat up a kettle of boiling water
Pour it into your shower container along with some cold water until you reach the desired temperature
Boom! Hot water shower baby!
The kettle method works great with showers like the:
Shower Capacity…How Many Gallons Do You Need?
The portable camping showers on my list range from 1.5 gallons to 9 gallons in capacity. So how much do you really need?
My suggestion…go with something in the 3-5 gallon range.
1.5-2 gallons (5.6 – 7.5 liters) is the bare minimum for a single camp shower. The first time you try to shower with just this much, you're probably gonna still be a little sudsy.
4-5 gallons (15 – 19 liters) is enough for a decent shower. Depending on the pressure and the shower head, 4-5 gallons will give you at least 5 minutes of continuous flow.
*Head to the bottom of the article for some tips on making the water last.
Can't I Get Some Privacy?!
One thing most camping showers don't provide is privacy. You could do the shower-in-a-bathing-suit thing, but that's still not enough privacy for most.
Your best option is a simple privacy tent.
They're like a mini pop-up outhouse tent. Set it up and you've got a private place to take a shower anywhere. Plus, they also come in handy as a changing room or a place to put your camping porta potti.
*Important! Just be wary if you bring a flashlight into the privacy tent with you at night. Depending on how it shines, you could cast some interesting shadows on the side of the tent (or so I've heard🤔🤪). Make a mental note to test that out before trying.
Top 14 Camping Showers 
Here's my full list of the top 14 portable showers for camping.
Like a lot of my gear lists, these aren't organized from best to worst or ugliest to prettiest or anything like that. Just check out the features and choose the one that's best for you.
If you think you'll be using a portable shower often whether it's for washing off gear at the beach, in your camp kitchen sink, or just for regular showering, this is probably your best bet. Get the NEMO Heliopolis shelter for hands-free private showering.
Capacity: 2.9 and 5.8 gallon models (11 and 22 liters)
What's Good:
It has decent water pressure
The water pressure stays pretty consistent for a long time
Easy to pressurize with the foot pump
It's black so if you put it in the sun it'll heat up the water
Packs up small
7-foot hose
What's Not So Good:
The 11-liter version (the small one) can be a little tricky to fill
Check current price.
If you just want a backup shower that doesn't take up any space or need a portable shower for backpacking, the Sea to Summit Pocket Shower is a great choice.
Capacity: 10 liters (2.7 gallons)
What's Good:
Compact and lightweight — only weighs 4.3 ounces (when empty, of course)
Adjustable shower head lets you adjust the flow of the water to get a longer shower
Comes with 20-feet of nylon cord to help you hang it
Has a roll-top closure that lets it double as a dry sac
What's Not So Good:
It can be a little tough to hang it high enough. The shower head is right on the bottom and there's no hose, so you have to hang it a little higher than other gravity-fed showers.
Check current price.
Convenient, rechargeable, less than $50…a winner! This portable camping shower has a rechargeable electric water pump on one end and a showerhead on the other.
Capacity: As much as the water container where you place the pump can hold
What's Good:
Budget-friendly price (less than $50 at the time of writing)
Comes with suction cup and S-hook so you have a variety of ways to hang the showerhead. The S-hook is nice for hanging it on a branch or clothesline. The suction cup works really good on the side of your camper or vehicle.
USB rechargeable
Full charge works for 45 minutes to 1-hour
Heat some hot water on your camp stove, pour it in the bucket and you've got a HOT shower!
What's Not So Good:
The pump can't empty the last couple of inches of water from the container where you place it. That's why it's best to use something like a tall 5-gallon bucket instead of a low and wide bin or sink.
Would be nice if the hose were a bit longer.
Need to reach down to the pump to turn it off.
Check current price. 
This is kind of like the nicer version of the Ivation Portable Shower. The Colapz Portable Shower for Camping has a few extra features that might make it worth spending about double the price of the Ivation to get this one.
Capacity: Included collapsible bucket holds a generous 35 liters or 9 gallons. But you can put the pump in any type of water container.
What's Good:
Comes with three different shower head options – wide, targeted, and a separate trigger head (like you probably have on your sink at home)
Generously sized bucket means you can get a proper shower with this one (not just a rinse off)
Charges via USB
Comes in a nice, zippered carrying pouch that holds all the shower parts (but not the collapsible bucket)
Multiuse hanging hook with a suction cup
What's Not So Good:
Still no on/off switch on the shower head. You have to reach down to a separate piece that hangs outside the bucket.
Check current price.
The Advanced Elements camping shower is modern take on the classic solar shower bag. Just fill it with water, hang it in the sun, and in a few hours, you'll have a warm shower. Plus this one's got a few extra nifty features.
Capacity: Available in 2.5, 3, and 5-gallon capacities. (9.5, 11.4, & 19 liters)
What's Good:
Durable
Large filling valve is nice especially when you need to fill this from a bucket or another water container. Others have a small valve that's hard to fill with anything but a hose.
Twist-on fill valve has a secure fit that doesn't leak
Convenient mesh pocket is nice for holding a razor, small soap bottles, or a piece of beef jerky for a mid-shower snack🤔🤪
Velcro strap keeps the shower hose from flopping around when you're not using it
Temperature gauge helps you see when the water is hot
What's Not So Good:
A tad more expensive than some other solar shower bags (but I think it's worth it)
Check current price.
This portable shower is similar to a garden sprayer you might have in your garage. Fill it with water, pump it 20 times and you'll have a stream of water for about 2 minutes. It's not the largest or most powerful option on this list, but its compact size and ease of use make this a nice option for some quick emergency showers.
Capacity: 2 gallons (7.5 liters)
What's Good:
Black cover helps warm the water if you put it in the sun (it won't get it hot)
Small size is easy to transport even when it's full of water (it's got a nice shoulder carrying strap too)
Mesh pocket on the side for holding shower essentials
What's Not So Good:
Check current price.
The Yakima RoadShower is the most expensive camping shower on my list, but with good reason. It's a durable aluminum water tank that you strap on your vehicle's roof. It's black to help heat the water while you're on the road and it has several different options for pressurizing it.
Capacity: 10 gallons (37.9 liters)
What's Good:
Pressurize it with a garden hose, bicycle pump, or 12V compressor
Long 81-inch hose
Fits on most roof racks (not just the Yakima ones)
Comes with a stick-on thermometer so you can monitor the water temperature
What's Not So Good:
Pricey
Limits where you can shower
Weighs 120 lbs when full (good thing your vehicle's carrying it)
Check current price.
Coleman is moving into the 21st century with their ONESOURCE battery powered camping gear. Similar to power tools, they have one type of battery that works on their lanterns, fans, and even this camp shower. It's similar to the Colapz shower but the collapsible bucket has a built-in pump and battery.
Capacity: 3 gallons (11.4 liters)
What's Good:
Rugged design
No need to fuss with extra hoses, pumps, and cables
Large handle makes it easy to carry
Four different pressure settings
Works up to 1 hour per battery (if you run out of battery, you can just swap it out for a new one)
Garden hose style trigger works great for spraying off gear
What's Not So Good:
It's a brand new product so we'll have to wait and see on the durability
Check current price.
The Simple Shower really is just about the simplest shower you can get. Stick it on the end of a 2-liter bottle and BAM!…you've got a camp shower. This makes it a great item to throw somewhere in your camping gear so you have it when your primary shower option goes kaputz.
Capacity: No capacity. This is a shower spout for a bottle. Want more capacity? Get a bigger bottle.
What's Good:
Cheap
Simple
Straw lets the bottle breathe so you get a continuous flow
What's Not So Good:
You need an empty bottle
You have to hold the bottle
Check current price.
This Green Elephant shower is kinda like a more robust version of the Sea to Summit Pocket Shower since it's both a shower and a dry bag. However, this one has a larger capacity and a flexible hose. Plus you can remove the shower hose and add a shoulder strap for using it as a dry bag.
Capacity: 4 gallons (1 liters)
What's Good:
Multi-functional design
Has a hose holder on the side to keep the hose in place
Large mouth opening is easy to fill
As a dry bag, it's fully submersible
Green Elephant also makes a privacy tent
What's Not So Good:
Doesn't get hot as fast as other solar showers
Water tends to leak a little when it's on its side (you have to be really careful with how you close it)
Check current price.
Yeah, I know…it's not exactly a shower. But it does the same thing as a camp shower. And it doesn't even use any water!!! If you need to get clean in a pinch, these will do the trick.
Capacity: Each wipe is a whopping 1ft x 2ft!
What's Good:
It's a huge honkin' wipe
Doesn't use any water
Made in the USA
TIP! Soak the package in hot water before using. Makes it feel real nice!
Toss it in the washing machine and then reuse it as a shop or floor towel…sweet!
Unscented and no harsh chemicals
What's Not So Good:
Still not quite as good as a real shower
Check current price.
If you know you'll be taking regular off-grid showers and don't want to hassle with heating water on your camp stove or waiting hours for a solar shower to maybe get hot, the Mr. Heater BOSS is a nice choice.
Capacity: Depends on your water container.
What's Good:
On-demand hot water heats up fast
Runs on D-cell batteries and propane so no cables are required
Works with a small #1 propane cylinder
Get about 12 showers with the same D-cell batteries
What's Not So Good:
Heats water about 35 degrees warmer than the starting temperature. That means if you're starting with 50 degree water from a mountain spring, it'll only heat to 85 degrees which is more lukewarm than hot.
No place on the shower head to turn off the flow.
Check current price.
This video demo is for a similar model, the XB18
The Geyser Systems shower is unique. And to be honest…I'm not sure you could really call this a shower. But then again, I don't know what I would call it. 🤔 It's basically an ultra-efficient camping shower that uses a sponge instead of a shower head to conserve water. Get this if you're regularly out on overland or off-grid camping trips and you need to conserve as much water as possible.
Capacity: 3 liters (0.8 gallons)
What's Good:
Uses very little water so it's great for making your water supply stretch
There are different colored sponges available so you can have one for your body, one for dishes, and one for gear
Use hot water from a camp stove to get a hot shower (I mean sponge bath) See the video below for a demonstration.
Flow adjuster
What's Not So Good:
It needs electric to run the pump. You can power it with your vehicle's 12V power or a large battery bank.
Pricey
Check current price.
The good old Coleman camp shower. If you've been camping for more than a decade, chances are at some point you've had one of these. It's just a simple, no-frills, solar shower bag.
Capacity: 5 gallons (19 liters)
What's Good:
Simple and it just words
Easy to use
Generous size
Cheap price!
What's Not So Good:
No nifty features like pockets, temperature gauges, or wide-mouth fill spouts
Check current price.
Some Privacy Please!
Need some privacy for your camp showers? Here are 3 of the best portable privacy tents for camping.
If you're going to shower often outside where you need some privacy and have some money left in your budget, spring for this one. It's from NEMO, the same company that makes the top pick on my camping showers list.
Check the current price.
This is a good mid-range option from the company that makes the 2-in-1 dry bag/solar shower. It's simple, but still has some nice features for using it as an outdoor shower (like a towel hook).
Check current price.
If your budget is your biggest concern, go with this one. It's less than $50 but still has the standing room for an average adult. The top opens so you can fish through a showerhead and there's a nice pocket on the inside for holding your shower essentials.
Check the current price.
Tips for Making Your Camping Shower Water Last
Even the best camping showers still won't give you a shower experience like you get at home. You won't be able to lounge in the steamy hot shower for half an hour while you sing your favorite Celine Dion song 5 times in a row. 🤣
But you can make your water stretch and end your shower suds-free if you follow these tips.
Use cold water. You'll want the shower to be over faster.
Get wet. Turn the water off. Lather up. Then turn the water back on and rinse. Don't keep the water running the entire time.
Save water during the initial step by soaking a big sponge in water and using that to lather up. PRO TIP! – Get a big tile sponge from Home Depot. These work great!
If you have long hair, use dry shampoo and go a few days between washing it to conserve water.
If your camp shower lets you control the water flow, make sure it's on low.
It's Shower Time!
So which portable camping shower is right for you?
If you're a regular outdoor showerer and want something that you don't need electricity to run or charge, go with the Nemo Helio. It's simple, easy to pressurize, and sprays for a really long time. The Coleman ONESOURCE Camp Shower Sprayer also looks to be a promising choice with its innovative battery system.
If you're looking for something for just every now and then when you've got no other option, go with something simple and cheap like the Advanced Elements Summer Solar Shower or the Sea to Summit Pocket Shower.
But really, just think about your needs, consider the pros and cons of the ones on this list and you can't go wrong. From now on, if you're stinky and smelly in the woods for more than a day…it's your own fault!
Don't miss my other camping gear articles!
Latest posts by Stacy Bressler
(see all)