Whether you are hosting a New Years Eve party this year or staying home away from the crowds, this fun holiday can be a lot of fun for the entire family (especially with this printable New Years Eve Activity pack!)
This is also a great way to make New Year's Eve feel special without having to stay up and actually watch the ball drop (but if that's important… find the one from last year on Youtube! =P)
Anyways, let's get right into a couple of fun New Years Family activity ideas you can do!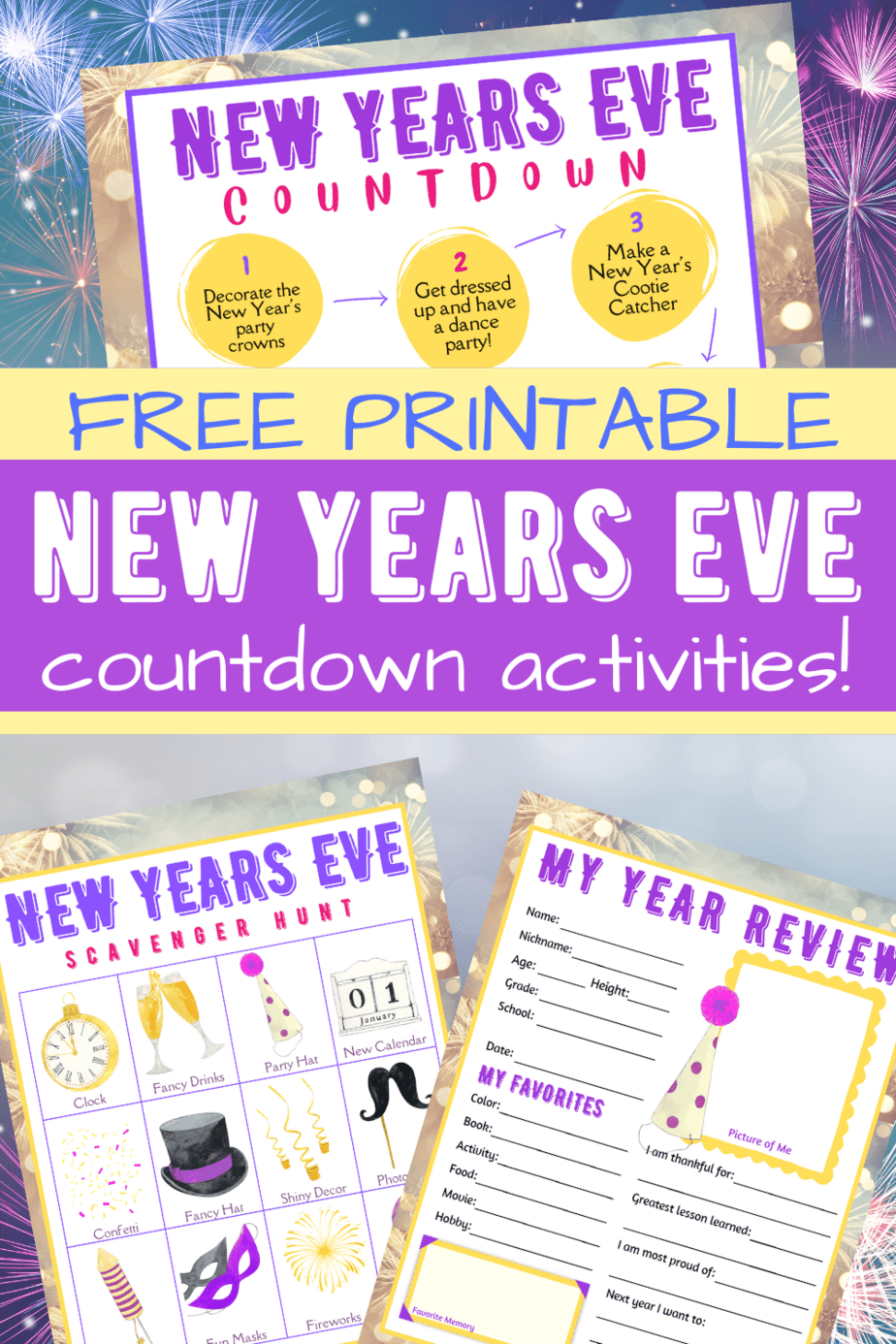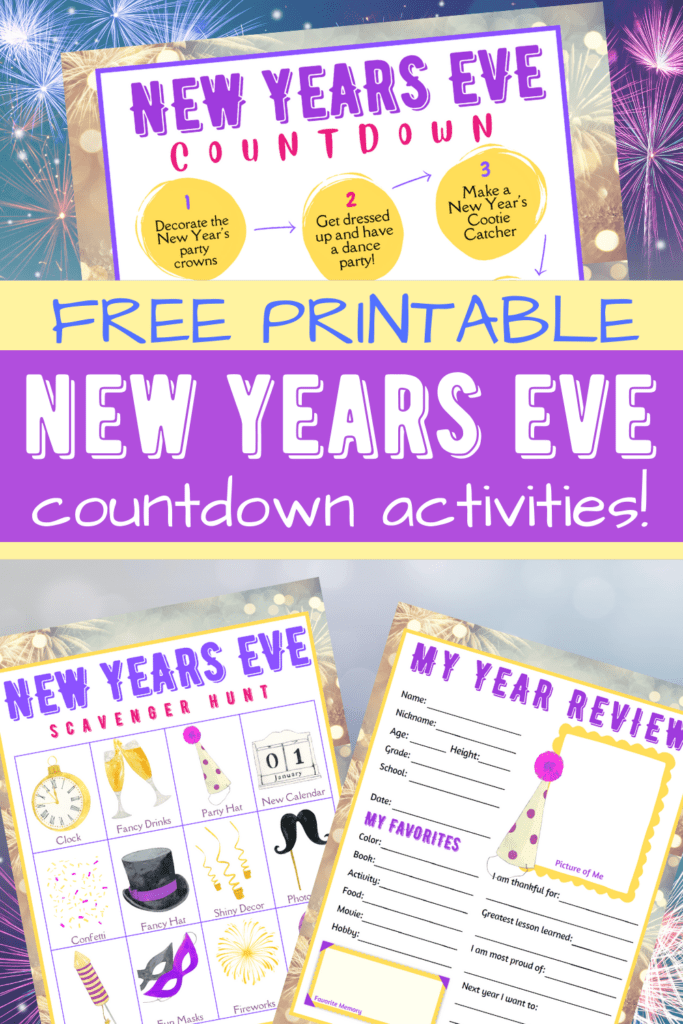 1) Print a New Year's Eve Countdown!
This New Year's Eve Countdown printable is a great way to fill the night with fun activities! You can use the 12 spaces however you want. For example, each one could mean an hour, half hour etc depending on age and how long you'd like this activity to last!
Here's what included in our New Years Eve Family Party (again, just swap any out for your own special New Years Traditions!)
Decorate the

New Year's party crowns

Get dressed up and have a dance party
Make a New Years cootie catcher
Have a family movie night (or watch the New Year's Eve Ball Drop festivities if age appropriate!)
Pick three words to describe this year (focus on the good)
Add your New Year wishes to the wish wall
Play New Year's games (like BINGO or

color by numbers

!)
Fill in a "Year in Review" activity sheet
Go on a New Year Scavenger Hunt
Make/enjoy a

New Year's Eve treat

!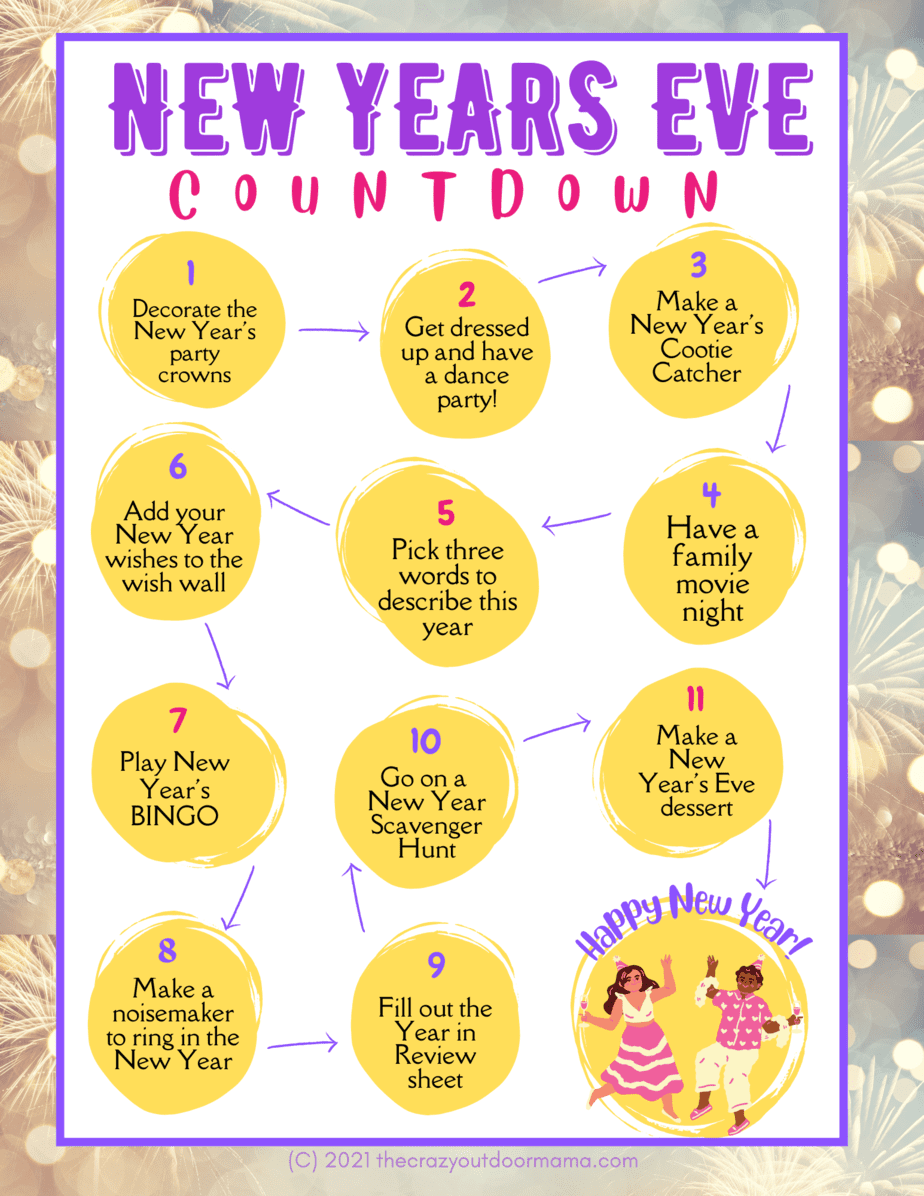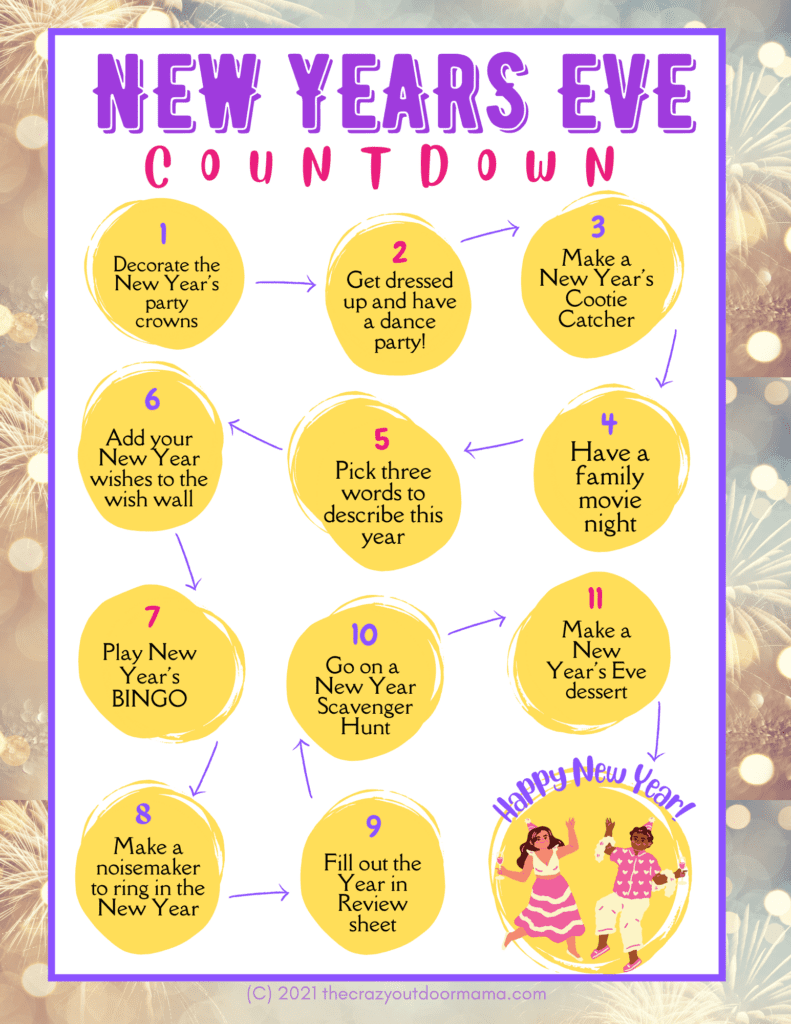 2) New Years Scavenger Hunt
Scavenger hunts are perfect for just about every occasion! If you pick up some cute New Years decor from the Dollar Tree to celebrate, this scavenger hunt can be pretty fun! Don't worry though – even if you don't want to do decorations, you could just print an extra couple of sheets and hide the pictures around the house!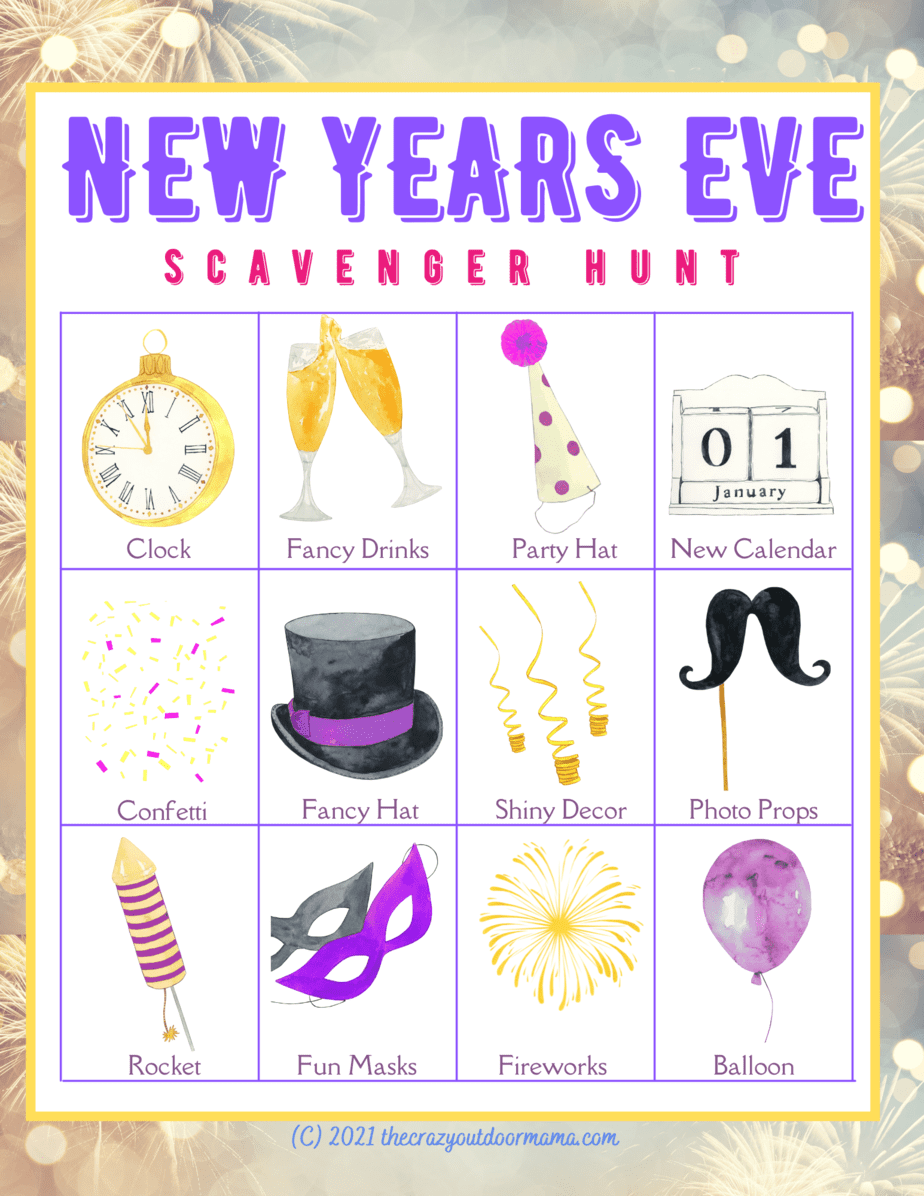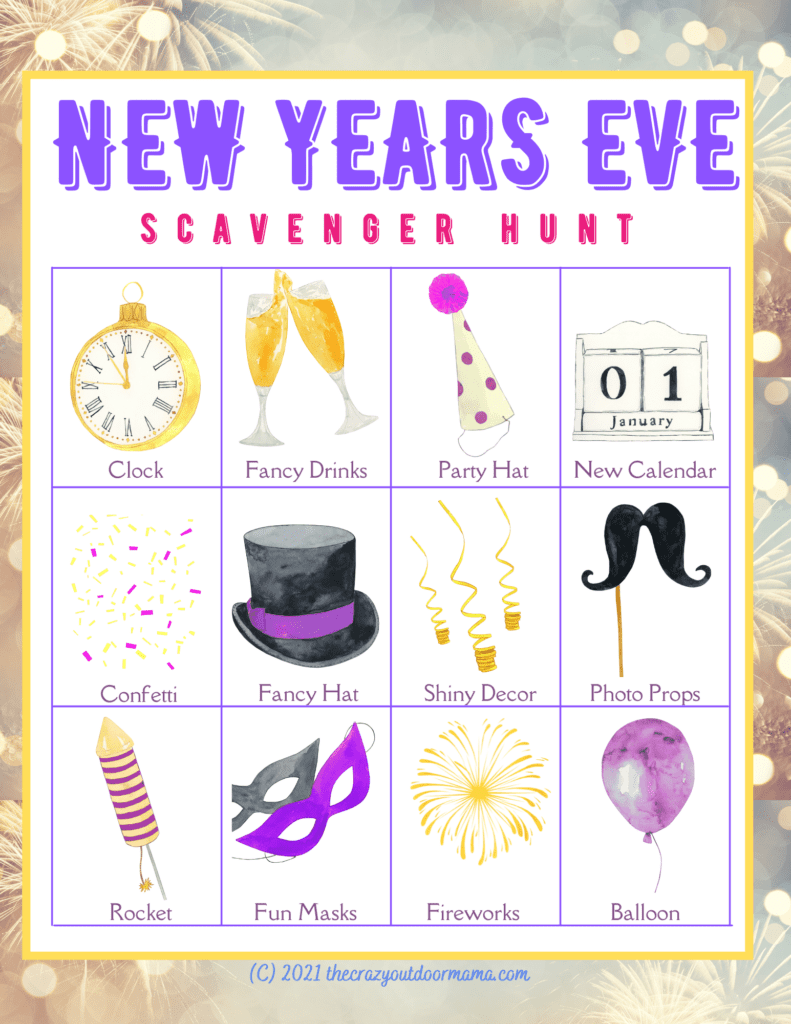 3) New Years Eve Cootie Catcher Game
Share all the best times of the year with your family and friends by playing a fun cootie catcher game! I love the positive prompts – check them out below! You can write them out yourself or used a printable ready to use one here.
You are most proud of…
Favorite place you visited this year
Describe your year in 3 words
Funniest moment of the year
Best thing you did for some else this year
favorite movie of the year
New friend you met
New skill you learned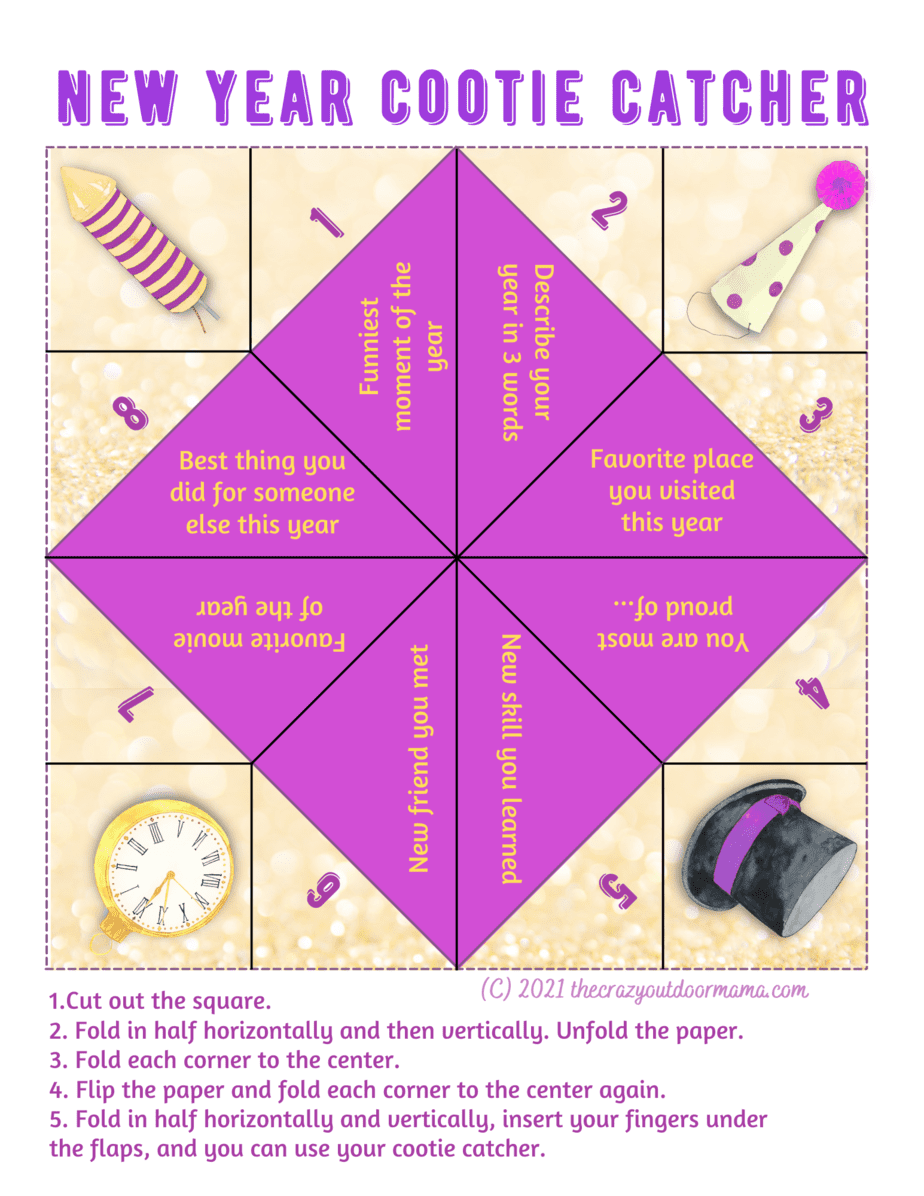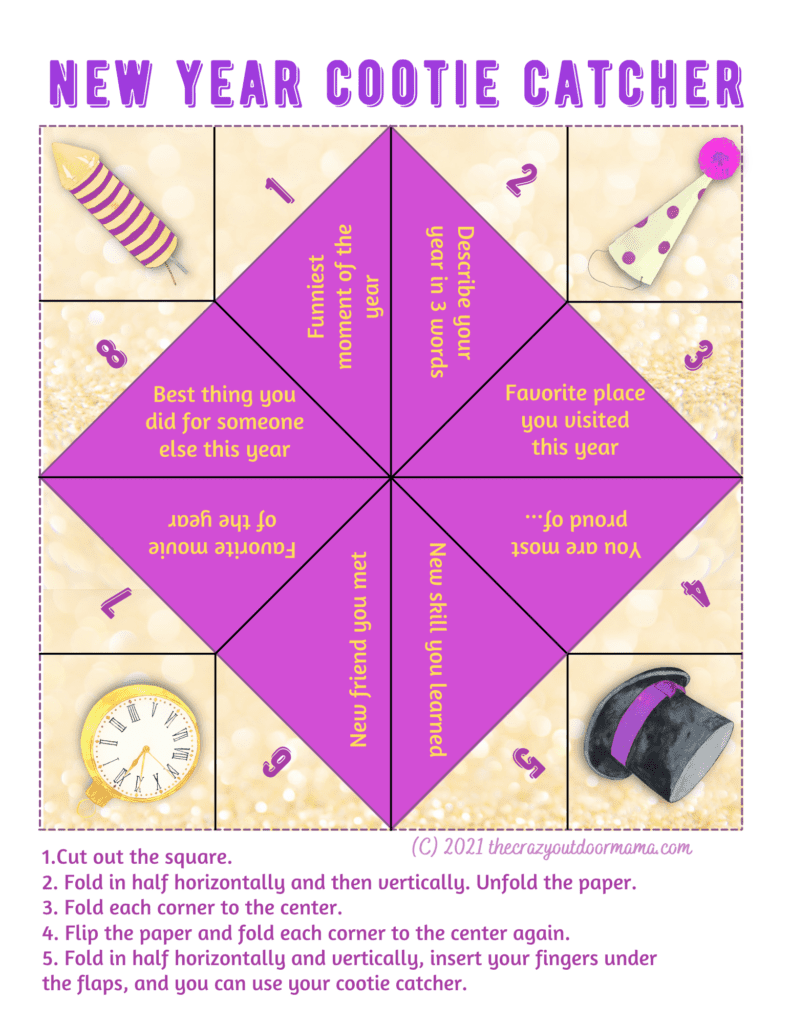 4) Make some celebratory New Years crafts
We usually make some DIY shakers (beans/rice in a plastic water bottle) but there are other fun themed crafts to make. Here are a couple of our favorites (and a picture of one of our own new years crafts from a couple of years ago!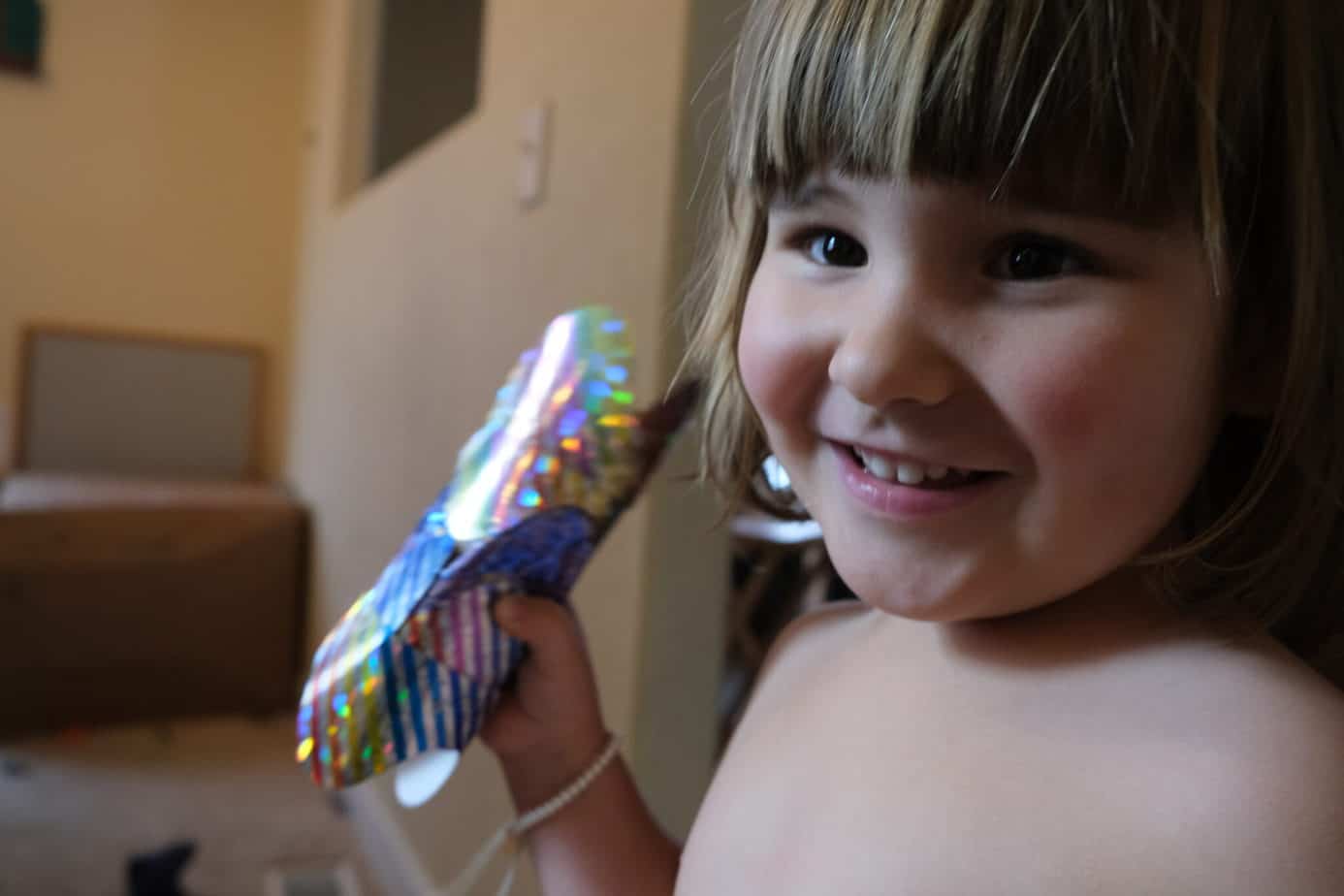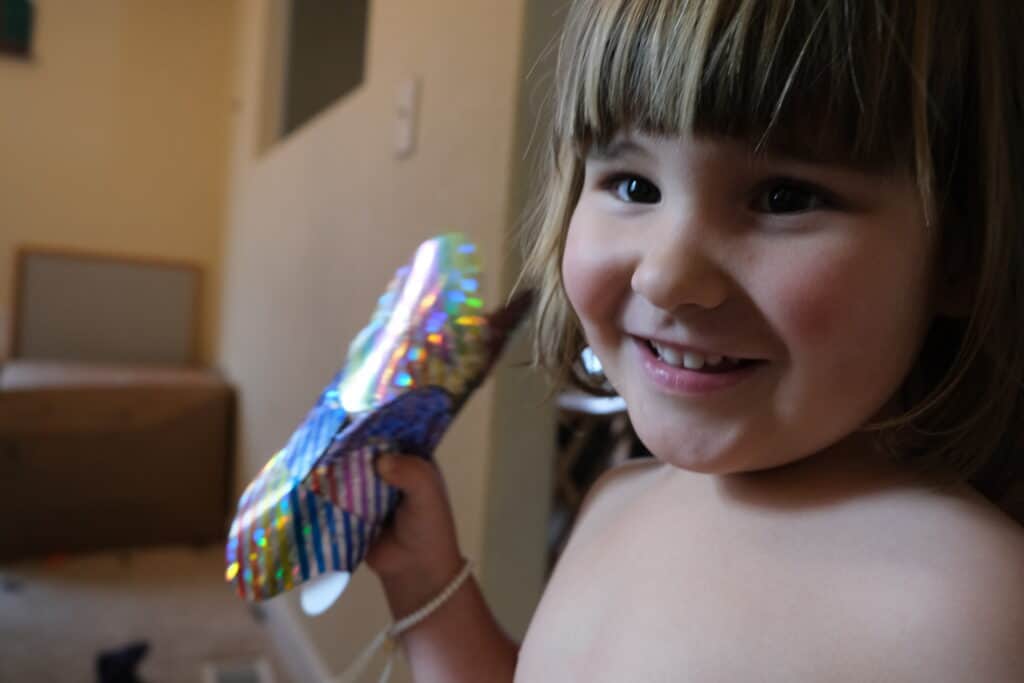 5) Fill in a "Year in Review" with each of your kids!
These are really just as fun for you as they are for your kids! The years really do go by fast (cliche yes… but true!) so it's great to be able to look back at these sheets and remember what your kids were into at the time.
We do a year in review sheet likes this (and I keep every one!)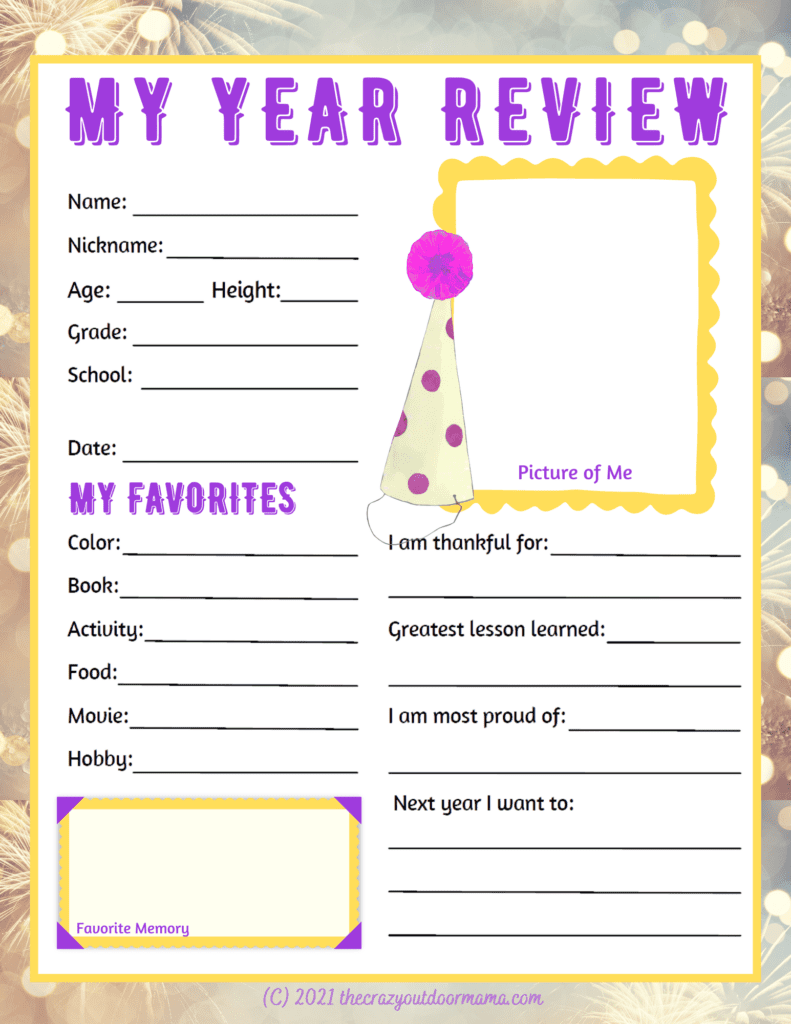 Get the family friendly festivities rolling and get your New Years Eve printables now!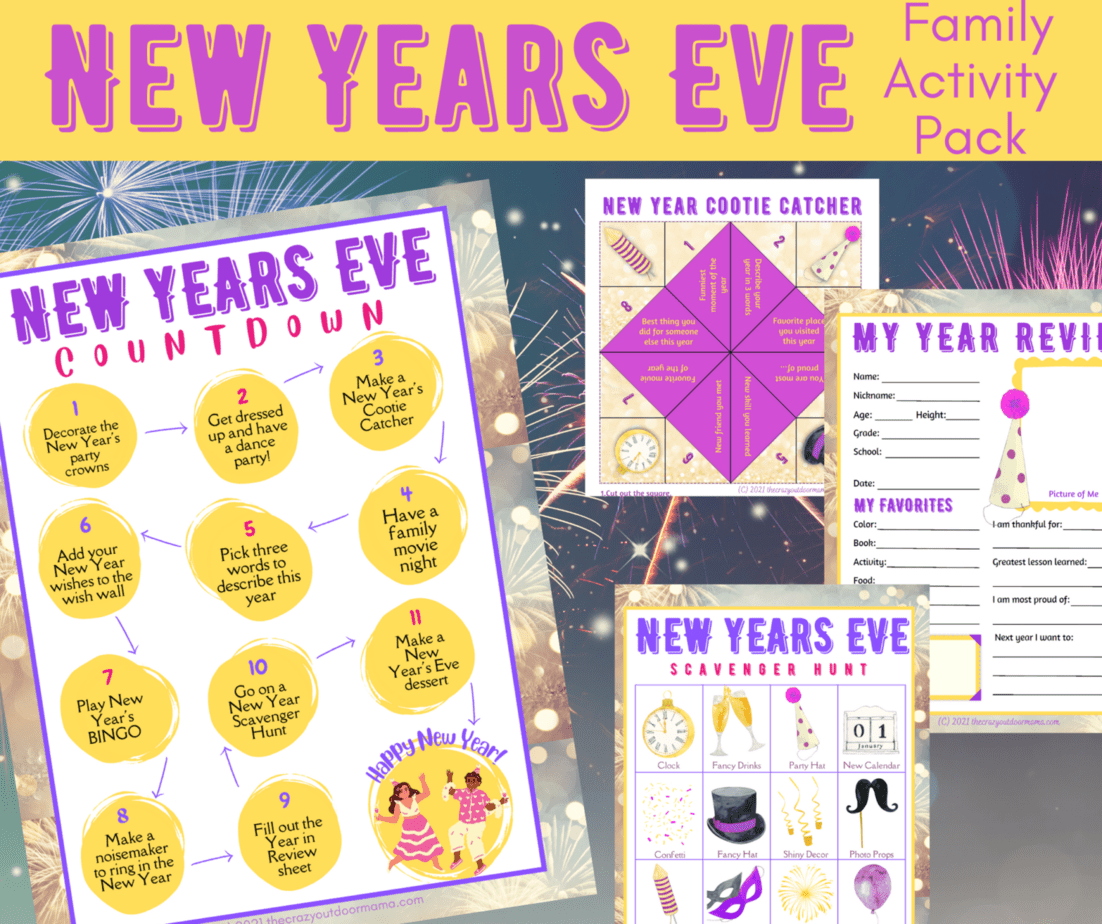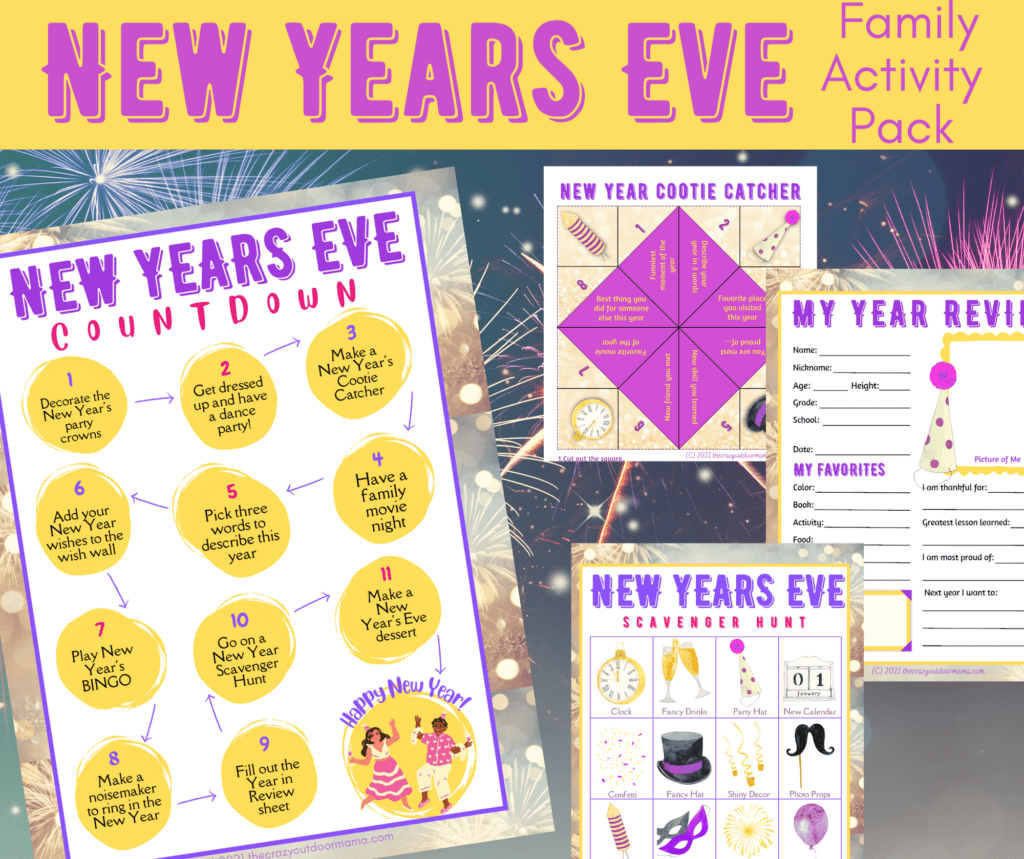 Do you feel a bit more excited now? New Year's Eve is NOT just a party/going out holiday!
Before you have kids, the idea of just staying home might have seemed super boring. But, really it's just another chapter! I love making goals with my family and going over all we were thankful for this year.
Just make sure to encourage your kids to only make goals that will make THEM happy – not goals that you or others expect of them.
Latest posts by Stacy Bressler
(see all)