Whether you're downsizing from a home to a small RV, or selling your Class A motorhome, traveling in a small RV can be a huge adjustment. But they come with tons of perks as well!
If you're ready to make the switch, I'm here to help! This list has my top 12 small RVs and travel trailers out there, plus, what you need to consider while shopping. I'll cover Class Cs, class Bs, small travel trailers, and I've even thrown in a couple teardrop trailers for all you minimalists so you can find the best small RV for you.
Okay, let's go!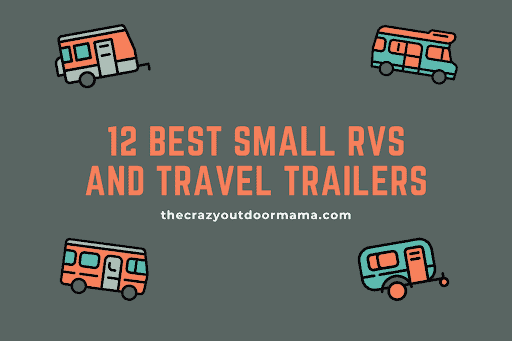 Pros and Cons of Small RVs and Campers
First off, you'll want to figure out if a small RV might be right for you. So, here's my pros and cons list to help you decide:
Pros
You don't need a car with massive towing capability
You'll save gas $$
Small RVs make it easier to get to off-road spots so they're great if you love boondocking
They're easier to drive
Cons
Less storage space
If you have a large family, there may not be room for all of you
Fewer amenities inside (i.e. some don't have bathrooms)
They have lower capacity holding tanks (sometimes no holding tanks at all)
So, if you're okay with downsizing your space and potentially not having a full bathroom, small RVs are an awesome choice. They'll save you money and allow you to get down some windy and bumpy roads that a humungo Class A would never be able to traverse.
How To Decide Which Is the Best Small RV or Camper for You
Before deciding on what the best small RV is for you, go through this list of considerations to narrow down your options. Small RVs can vary a lot in size, floor plan, and weight, so you want to know what your needs are before you even begin shopping.
Family Size
Teeny tiny teardrop campers usually only sleep two, while larger Class C RVs can sleep up to six. Before you shop, consider how many people you'd want to be able to sleep in the RV.
By family size, I don't only mean the number of people in your family, but literally, the size of the people — traveling with two adults and three toddlers is way different from two adults and three adult-sized teenagers.
Travel Plans
What are you planning to do while RV camping? Does the RV need to be able to handle cold temps? Do you want to live in it full time? Or is it just for the occasional camping trip? The more time you spend in your RV, the more room you might need.
You'll want to consider the season you will most often be traveling in so you can consider if you need a four-seasons capable RV. If you're an avid boondocker who likes to get to those off-road spots, you'll need to look at the off-road capabilities of different RVs.
Towing Vehicle
The difference in towing capacity between an SUV and a V-8 pickup truck is huge! If you're looking for a towable travel trailer, find your vehicle manufacturer's rating for the maximum tow weight of your vehicle and search for a travel trailer that's well under that weight (consider the number of people in the car and amount of stuff you'll put in the RV as well).
6 Best Mini RVs (Class C and B Motorhomes) for 2022
Of course, these class b and c motorhomes aren't listed in order of best to worst, or biggest to smallest. Everyone has completely different must-haves for their dream motorhome, so just browse through and see if any of these small RVs are right for you!
​​
Source: forestriverinc.com
Small Class C without sacrificing must-have amenities.
With a length of around 24', and built on a Chevy chassis, this Forest River Forester Class C pretty much gives you all your amenities in a nice compact space. It's not the smallest RV on the list, but if you need a small class C but don't want to sacrifice a bathroom or storage, this is a great bet.
The floor plan gives a master bedroom feel, with the queen bed and bathroom separated from the living area with a curtain. You also get lots of storage, a full kitchenette, and it can sleep up to 6 people! It's also on the less expensive end for a class c motorhome so you're getting great bang for your buck.
Here's the video tour of the Forest River Forester LE
Pure luxury Class C that's pretty much the size of a Class B
If you're looking for something a little more fancy, the Airstream Atlas is a gorgeous small motorhome that's pure luxury inside. While it's technically a Class C vehicle, it's pretty similar in size to a typical class b, but you still get a bathroom inside!
The interior of the Atlas is gorgeous, but the basic floorplan only sleeps 2. So, if you're traveling with a big family, this may not be the best option for you. I'd say the Atlas airstream is probably best for couples looking to live the glamping life inside their luxury mini RV.
Since this also has a nice V6 turbo diesel engine and relatively high clearance for a small Class C, you may be able to do some dirt-road driving.
Just be ready to drop some cash on this thing–at the time I'm writing this, the Airstream Atlas will run you $273,273 for the base model 😨.
Check here for the 2022 Atlas video tour.
Mid-range small motorhome with everything you need
The Winnebago Fuse is built on the old faithful Ford Transit chassis. It's around the same length as the Forest River Forester, but it appears a bit more compact.
The bed system in this small RV can be changed from either two twin beds or a single queen. Plus the sliding door bathroom has a shower, toilet, and sink, all separated from the rest of the living area.
The interior isn't quite as fancy-looking as the Atlas, but it has more sleeping room and storage. This also isn't super affordable for a small class C, so if that's one of your must-haves, a Forest River RV might be a better option for you.
Here's a video walkthrough of the Winnebago Fuse. 
Class C with lots of room inside.
The Forest River Sunseeker comes on either a Ford or Chevy chassis (here I've got the one that comes on a Chevy). It's the largest Class C I've included on this list at 25' for the 2150 model.
The layout is pretty similar to the Forest River Forester that I talked about earlier, but this one has a bit more room overall. My favorite feature of the Forest River RVs is their bunk above the driver's area, which is the size of a queen bed, so you can sleep six people in here altogether.
Forest River does a great job at jacking up sleeping space and available amenities without the space feeling cramped inside at all. If you have a large family and you need a lot of room, but you still want to go for a Class C, the Sunseeker is a great option that's also way more budget-friendly than a lot of other RV manufacturers.
Here's a nice walkthrough tour of the 2022 Sunseeker.
​​
Source: winnebago.com
Compact camper van that sleeps four
As far as leisure travel vans go, the Winnebago Solis Class B RV is top of the line. It's famous for its pop-top (which admittedly looks super awesome), but it's also got some other cool features like moveable seats and a built-in solar system.
Although it's a Class B, this camper van still sleeps FOUR people because of that pop-top. You do still have to sacrifice some amenities though. The bathroom is basically a tiny toilet/shower combo (wet bath), and there isn't a separate bathroom sink.
The small size and built-in solar on this camper van make it perfect for off-grid off-road adventures. So, if you're looking for lots of sleeping room but you don't need a full bathroom, and you might want to do some boondocking, the Solis is a great class b RV.
Check out this video tour of the Winnebago Solis.
The Coachmen Nova is a small RV that's very similar to the Winnebago Solis, the main difference is that the Nova does not have a pop-top. So, if you're deciding between the two, the sleeping capacity difference might be how you decide.
The layout is similar to other leisure travel vans. This bathroom is a bit larger than average, but it's still just a wet bath and not a full bathroom like you'll get in Class C's.
The Coachmen Nova camper van definitely appeals more to the outdoor-activity-inclined folks, with the roof rack that comes standard on each vehicle. You can also get an optional bike rack on the back, plus it has great suspension and high clearance to traverse bumpy back roads.
Check out the 2021 Coachmen Nova video tour here.
For even more options, check out my other articles on small RVs:
6 Best Small Travel Trailer Campers
And now for my 6 favorite small travel trailers (in no particular order)…
A classic retro trailer with your choice of amenities
This is definitely the cutest trailer on my list. The scamp is an RVer favorite for its classic 60s style and its compact layout inside. It's a lightweight, fiberglass trailer that's just 16 feet long and easily towable.
The Scamp is a small camper that offers several different layouts for the 16' model. The model I have here comes with a shower and toilet (wet bath), and still sleeps four people, which is impressive for how small the trailer is.
The different floor plans allow you to choose between extra storage space, extra sleeping space, a wet bath, a fridge, and some other amenities you might want. So, although it's still a small travel trailer, plenty of owners live in their Scamps full-time.
If the Scamp 16 is still too big for you, Scamp makes an even smaller model that's just 13 feet and somehow even cuter.
Here's Scamp's video tour of the Scamp 16.
​​
Source: casitatraveltrailers.com
A tiny trailer that sleeps five
The Casita heritage is very similar in size and style to the Scamp 16. Its fiberglass shell at just one foot longer, although it does come with some extra goodies like heating and cooling.
The Heritage is a tiny travel trailer that sleeps up to six people with its three sets of double beds. The popular deluxe model even comes with a toilet and a shower. The finishings inside aren't anything fancy, which is great if you're not looking for any extravagant design features like in some fancier motorhomes.
Casita trailers are a little easier to get your hands on compared to the ever-popular Scamps, so they may be a more feasible option. Plus, these small trailers are known to be rugged and reliable, so they're great as a long-term investment.
Here's a nice tour of the deluxe model.
A minimalist's teardrop trailer
Oregon Trail'R is a small company based in Eugene, Oregon that makes these tiny campers custom for each buyer. They allow you to switch up different elements of the teardrop so it's suited exactly to your needs, which is honestly my favorite thing about the Frontear.
If you're looking to live minimally while camping, a small teardrop trailer is a perfect choice. They're easy to tow into hard-to-reach places and way more affordable than traditional travel trailers. That does mean that you'll have to sacrifice some basic things a normal travel trailer would offer–like, being able to stand up inside.
You also won't get a bathroom or even a living area with this Frontear Teardrop. It's essentially just a queen bed inside, with a kitchenette in the back. 
Related: If you're looking for a beautiful, custom build, you have to check out Odyssey Teardrops!
Because this tiny teardrop doesn't have tons of amenities, it might be more difficult to stay in for long periods of time, or in really hot or cold weather. So, the Frontear is better suited for the occasional couples' getaway than a 3-month-backcountry camping trip with the whole family.
Here's a tour of the Oregon Trail'R FronTear teardrop camper.
​​
Source: nucamprv.com
A stylish tiny trailer with a beautiful kitchenette
The nuCamp Tag is a bit fancier and less bare-bones compared to the Frontear. It still sleeps just two, but it comes with solar panels on top, a nicer interior, and it has a microwave and a nice large space for a cooler in the back.
The Tag comes in two sizes: standard and XL. Here, I have the XL which is slightly wider so it has a larger bed and more counter space in the kitchen area compared to the standard model.
These are made to order by a very small company, so you know that you're getting great quality and customer service compared to purchasing from a large dealer.
Like with any tiny teardrop camper, you won't be getting a living area, restroom, or indoor kitchen, so be prepared to spend lots of time outdoors if you get one of these.
Here's the 2021 nuCamp Tag XL video tour.
The go-to for adventurers who don't need more than a tent
The SylvanSport GO is by far the most barebones mini travel trailer I have on my list, but it's also one of the most popular. The GO is essentially a gear storage trailer with a popup tent pod on it.
The GO has an awesome design and weighs basically nothing compared to most trailers, which means you can tow it with virtually any vehicle that has a hitch. Of course, since this is just a tent, it doesn't have any amenities, so it's better for mild weather camping trips than full-time living.
Despite its small size, the GO still sleeps four people inside the spacious tent. This trailer might not be for everyone, but you can't deny it's an awesome design.
Here's a demo video of how the SylvanSport Go works.
A small trailer with a separate toilet and shower that sleeps five
The Micro Minnie is a small travel trailer but still manages to fit everything inside. The cheapest model still sleeps five people, it has a shower and a separate toilet (not a wet bath), a dinette, and a kitchenette. The Micro Minnie also has a completely enclosed and heated underbelly so it functions as a four seasons travel trailer for year-round comfortable living.
Winnebago offers several different floor plans based on your needs, and some come with murphy beds for even more space-saving. Although it's not shown in the floor plans, the Micro Minnie does have a lot of storage space.
And here's the walkthrough video tour of the Micro Minnie.
If you want to explore more small travel trailers, check out my article on the 8 Best Travel Trailers Under 1500 lbs.
Try a Small RV Before Buying
RVs–even the smallest of them–are a huge financial investment, and you never know what you like or dislike about the RV until you actually live in it. Or, if it's your first time maybe you'll find out that you hate traveling in a mini RV and you wish you'd never bought it!!
Anyway, if you're a beginner RVer, or wary about spending a gazillion dollars on a small RV you aren't sure if you love, renting RVs for a quick getaway can be a perfect test drive.
You can do this through a service called RVShare. It is the largest RV rental company in the country. They have tons of RVs from small teardrops to class As, and you can pick up and drop off the RVs in different areas so you don't have to do a round trip. 
The prices are more affordable than you'd think–they start at around $100 per night–so you can easily pick the model you want and take it out for a test!
Do Mini Campers Have Bathrooms?
Lots of mini campers have bathrooms! If a bathroom is a must-have for you, you'll definitely be able to find a mini camper that has one. Mini travel trailers and Class B and C RVs tend to offer a floor plan with at least a wet bath, teardrop trailers do not typically have bathrooms.
How Much Do Mini RVs and Travel Trailers Cost?
Mini RVs and small travel trailers range a lot in price–from about $5,000 to over $200,000.
Can You Live Full Time in a Small RV?
Absolutely!
You may have less room to store your items and less living space, but it's an adjustment that many full-time RVers get used to in no time.
Can a Family Travel Comfortably in a Small RV?
Yes!
Most small RVs have a sleeping capacity of at least 4 and some sleep up to 6. Just make sure you get an RV that has enough room for everyone to sleep comfortably, and enough storage space for everyone's stuff.
Conclusion
Whether you've decided to go all-in on the luxurious Airstream Atlas, or you just want to give a small RV a test drive with RVshare, I hope you got some useful info about mini RVs.
Happy camping!
While you're here, check out some of my other articles about all things RV life:
Latest posts by Stacy Bressler
(see all)