The best overlanding tent is the one you already have. Yep, that's right…a decent camping tent is good enough for most overlanding adventures.
But what if you're looking to upgrade to a tent that's better suited to overland camping or longer overland trips?
Should you go with a rooftop tent or a ground tent?
Are rooftop tents worth it?
Are there any budget-friendly overlanding tents? (Yes there are!)
In this 5-minute read, I'll give you everything you need to know. Let's start with what makes a tent a good tent for overlanding.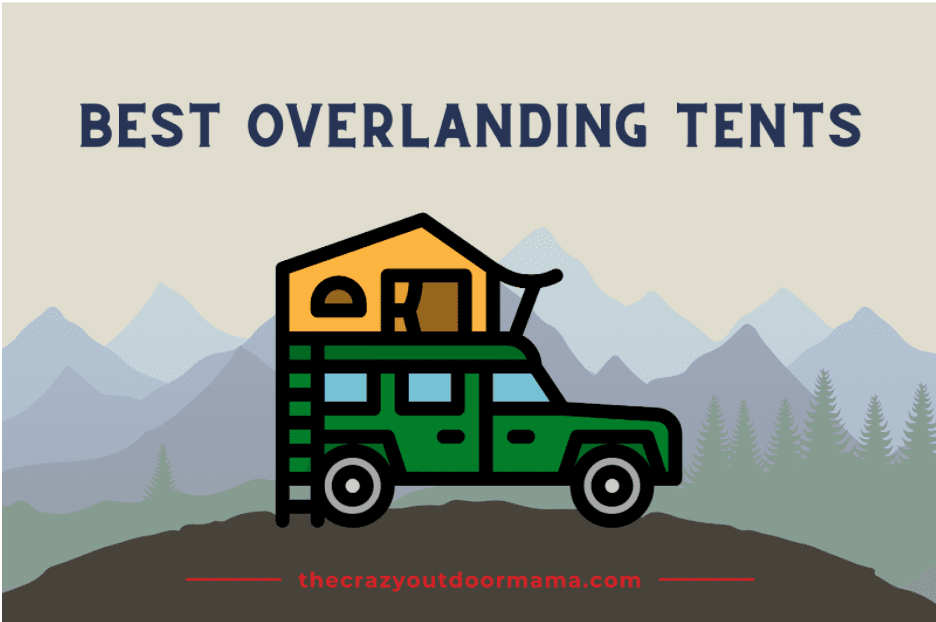 What Is an Overlanding Tent?
Most would quickly answer…a rooftop tent (RTT). But the reality is…you can use just about any camping tent for overlanding.
However, because overlanding is a very special type of camping, certain types of tents do lend themselves to overlanding.
So here's what makes a truly great overlanding tent. The best overlanding tent for you is…
Easy to set up and take down: Since you're moving from place to place every day, you NEED a tent that's easy to set up and take down.
Rugged: Forget the flat, open pads at campgrounds. You could literally be sleeping anywhere — grass, rocky ground, pavement, middle of the forest. Also, setting up and taking down a tent is hard on it. So you need something that can take the abuse
In your budget: Overlanding tents can get pricey with some costing over $3,000! If you're on a limited budget, it's better to spend it on vehicle repairs and recovery gear and get a more budget-friendly tent. (Don't worry, there are some budget-friendly options on my list!)
Ground Tents vs Rooftop Tents – Which is Best for Overlanding?
Rooftop overlanding tents have grown in popularity in recent years. But although they're super cool, they may not be the best overlanding tent for you.
Here are some pros and cons for each to help you decide which is the best type of tent for you.
Related – Check out these 47 Tent Camping Setup Ideas if you're trying to decide between overlanding and a ground tent!
Rooftop Tents Pros and Cons
Pros
Easy to set up: This is one of the biggest pros! You can set up most rooftop tents in under 5 minutes.
Off the ground: If you can find a level place to park your vehicle, you've got a place to sleep. No need to find a nice level patch of smooth ground without mud, sticks, rocks, and anthills.
Security: Being 6-feet off the ground gives you some protection from creepy crawlies and curious animals.
Good for bad weather: Since most rooftop overlanding tents are extremely well-made (for $1,000+ they better be!) they hold up better in heavy rain. Hardshell rooftop tents tend to do better in wind. Some even feature semi-insulated sides to help trap heat in cold weather.
Cons
Expensive: Rooftop tents start at about $1,000 and go up to $3,000 or more.
Heavy: Most weigh over 100lbs. This adds to your cargo weight and can increase vehicle sway.
Need a compatible roof rack: Not all roof racks (or car roofs for that matter) can handle the extra weight of a rooftop tent and its inhabitants. So you may need to budget a couple of extra hundred dollars for a new roof rack.
Limits your vehicle usage: Once it's set up, you can't drive your vehicle. Not usually an issue when overlanding, but can be a real headache if you're camping several days in one place and want to explore during the day.
Ground Tents Pros and Cons
Pros
More space: Even the largest rooftop tents are only about the size of a 3-4 person backpacking tent. But it's much easier to get a large ground tent with standing room and enough space for several cots at a fraction of the cost and weight of an RTT.
Budget-friendly: Even top-quality ground tents usually cost well under $1,000. You could actually buy several ground tents for different adventures and still pay less than a rooftop tent.
Lightweight: If you're short on cargo space and weight, a ground tent is a great option. Most weight 20lbs or less.
No ladder: Since a ground tent is on the ground (duh!🤪) there's no need to climb a rickety ladder to get in bed.
Versatile: Leave your ground tent set up during the day and have the freedom to explore in your vehicle.
Cons
More work to set up: In addition to actually setting up your ground tent with all its poles, straps, and flaps, you also have to unroll your sleeping bag or blow up an air mattress.
Finding a place to set it up: When you're off-road camping, it can be tough to find a smooth, level place to set up a ground tent.
Closer to nature: You're on the ground and everything that comes with it — mud, rocks, bugs, and curious critters.
6 Best Overlanding Tents
Here are 6 of your best tent options for your overland adventures. Keep in mind…this is NOT an exhaustive list and they're not organized from best to worst or prettiest to ugliest. Choose the one that's best for YOU.
*Don't miss my other overlanding articles!
Nice balance of quality, features, and price (for an RTT)
Good ventilation
UV and mold resistant
With optional weatherhood, it's ready for really bad weather and winter camping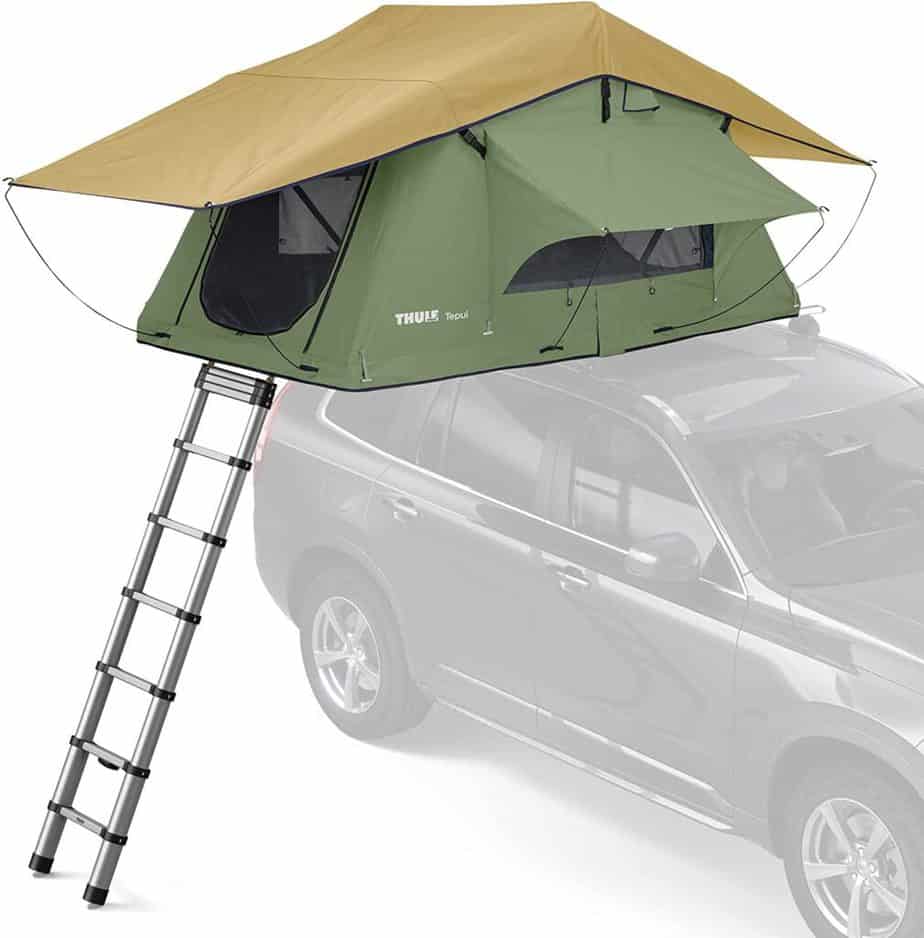 The Thule Tepui Kukenam is a nice middle ground when it comes to rooftop overlanding tents. It's not the most expensive and it's not the cheapest either.
It's relatively easy to set up and has some nice features like large mesh panels for ventilation and huge awnings to protect the windows from rain while still allowing for plenty of ventilation.
It's small enough that you can use it on small SUVs, but still has plenty of space for two average-sized humans and a few gear items.
Another nice thing about the Thule rooftop tents is there are a bunch of available accessories that help you expand its functionality even further.
Check the current price.
At less than $1500 for an RTT with annex, you can't beat the value
Plenty of room for 2 people and some gear
Annex works nicely as a changing area or even extra sleeping space
Sunroof
660 lb load capacity
At just over $1,000, the Smittybilt Overlander rooftop tent is an incredible value. Add the awning for just under $300 and you've got a sweet overlanding tent setup for less than what most RTTs cost.
Despite its budget-friendly price, it's still got some nice features like a high-density foam mattress, waterproof rain fly, large side windows with mosquito netting, and an LED light strip inside!
Check the current price for the Overlander Tent and Awning
Watch this unboxing and setup video.
Big! This one's not for the compact crossover.
Fast setup in just 60 seconds
Insulated sides for winter camping
Hardshell rooftop tent design is better for bad weather and wind
Quality construction
If your budget isn't an issue and you want the best in RTT overlanding comfort, consider the iKamper Skycamp.
It's got 44+ sq ft of interior sleeping space so you can spread out or fit up to four people inside if you're traveling in a group. The thick blackout canvas, rugged hardshell construction, and insulated sides help you rest easy even in inclement weather.
Watch it set up in just 60 seconds.
Check out the iKamper price.
Heavy duty for bad weather and overlanding abuse
Superfast setup (just 30 seconds for the tent plus an extra minute or two for the awning)
Roomy with a nice size awning
Can handle 30+ mph winds
The Oztent RV doesn't quite look like your normal camping tent. And that's because…well, it's not a normal tent. The RV tents are more like a mix between an RTT and a normal ground tent. It weighs a little over 50 pounds and packs up to 10.6" x 79.5" x 15" so it's not exactly small and lightweight as far as tents go.
However, it's super easy to set up. Plus, the lightweight aluminum frame can handle strong winds that would bend normal tents all out of shape.
With the smallest versions starting at about $800, the pricing is more like an RTT. Just keep in mind that, unlike an RTT, you get lots of standing room space and a large awning.
Check the current price for the:
Check out the setup video below.
Less than $150
Sets up in a few seconds
Small size is nice if you're short on cargo space
Integrated rainfly
Convenient storage pockets inside
If you're on a tight budget but want an overlanding tent that's super easy to set up, go with the Front Runner flip pop tent.
Just pull it out of the storage bag, throw it on the ground and it basically sets itself up! However, it can take some practice to learn how to fold it up. But once you do, it just takes a few seconds to pack up and put in the storage bag.
While you might normally think of pop-up tents as kid's tents, this one's for the adults. It's got a unique double-walled design with an integrated rainfly so once it's set up, it's ready to go…even in bad weather.
Check the current price here.
See it in action.
Tons of space
Versatile – You can just use the awning for day trips or use it as a screened-in area
Lightweight – The awning room attachment weighs just 3 pounds
Is it a tent? Is it an awning? It's a little of both! ARB offers this pretty cool overlanding tent option. It's a combination of an awning with an enclosed room attachment.
The ARB awning folds out from the side of your vehicle. Then the enclosed room attaches underneath to give you a place to change, cook, or even sleep.
The awning room comes in two different sizes to match 2 different sized awnings. The wall panels are made from 300D Oxford Polyester UV-treated fabric with large mesh panels for ventilation. Plus, it's got a durable waterproof floor. You can even pull pack the fabric panels to create a screened-in awning.
One thing to keep in mind is that it is by no means aerodynamic, so it's not the best option for windy weather.
Check the price for the:
Watch how it sets up.
FAQs
Do you need a rooftop tent for overlanding?
No, no, and no. While rooftop tents seem like a cool option, they do have a lot of drawbacks and aren't always as easy to handle as they might seem in well-edited youtube videos. Most overlanders will do just fine with a ground tent
Why do most overlanders use RTTs?
Most like that they set up is faster than normal ground tents. Also since you're up off the ground, there's an added level of security. But there are also a lot of overlanders who prefer ground tents.
Can you go overlanding with a normal camping tent?
Of course. And in fact, if you're just getting started with overlanding and off-grid tent camping, it's perfectly ok to use your normal camping tent. Spending big bucks on an overlanding tent should only come once you've got a reliable vehicle, decent recovery gear, and a convenient overlanding kitchen setup.
Conclusion
As you look at the different overlanding tent options, remember to look for something that's…
Easy for you to set up
Durable
Within your budget (after you've gotten more essential overlanding gear)
If you've got an unlimited budget, go with the iKamper Skycamp or the Oztent RV-5. If you're looking for something cheaper that's still easy to set up, go with the Front Runner Flip Pop Tent. Or stick with your current camping tent!
The important thing is just to get out there, enjoy the outdoors, and have an adventure!
Don't miss my other overlanding, boondocking, and camping articles!
Latest posts by Stacy Bressler
(see all)