(Updated 8/21)
Before we get into the list of the best pop up campers…let me tell you a quick story. It's about a tent and an RV that were madly in love.
Their families tried to stop them from seeing each other but eventually, they ran away together to a campground far, far away. Years later they returned and were hoping their families would be more accepting, especially since now it wasn't just the two of them.
Now they had a little pop-up camper child, the result of the perfect union between Mrs. Tent and Mr. RV. And so the humble pop-up camper came into existence, to bring peace and harmony to the great divide between the RVs and the Tents. 😲🤣
Now, decades later, the pop-up camper or tent trailer is still one of the most popular family camping options. You get some of the comforts and security of an RV while still being affordable, lightweight, and easy to use.
If you're thinking of getting a pop-up, this is the article for you. You get some of the top picks for the best pop up campers and tent trailers as well as a few things to consider before buying. Oh, and don't forget to check out the video reviews since they really help you visualize the size and features.
Let's dive in!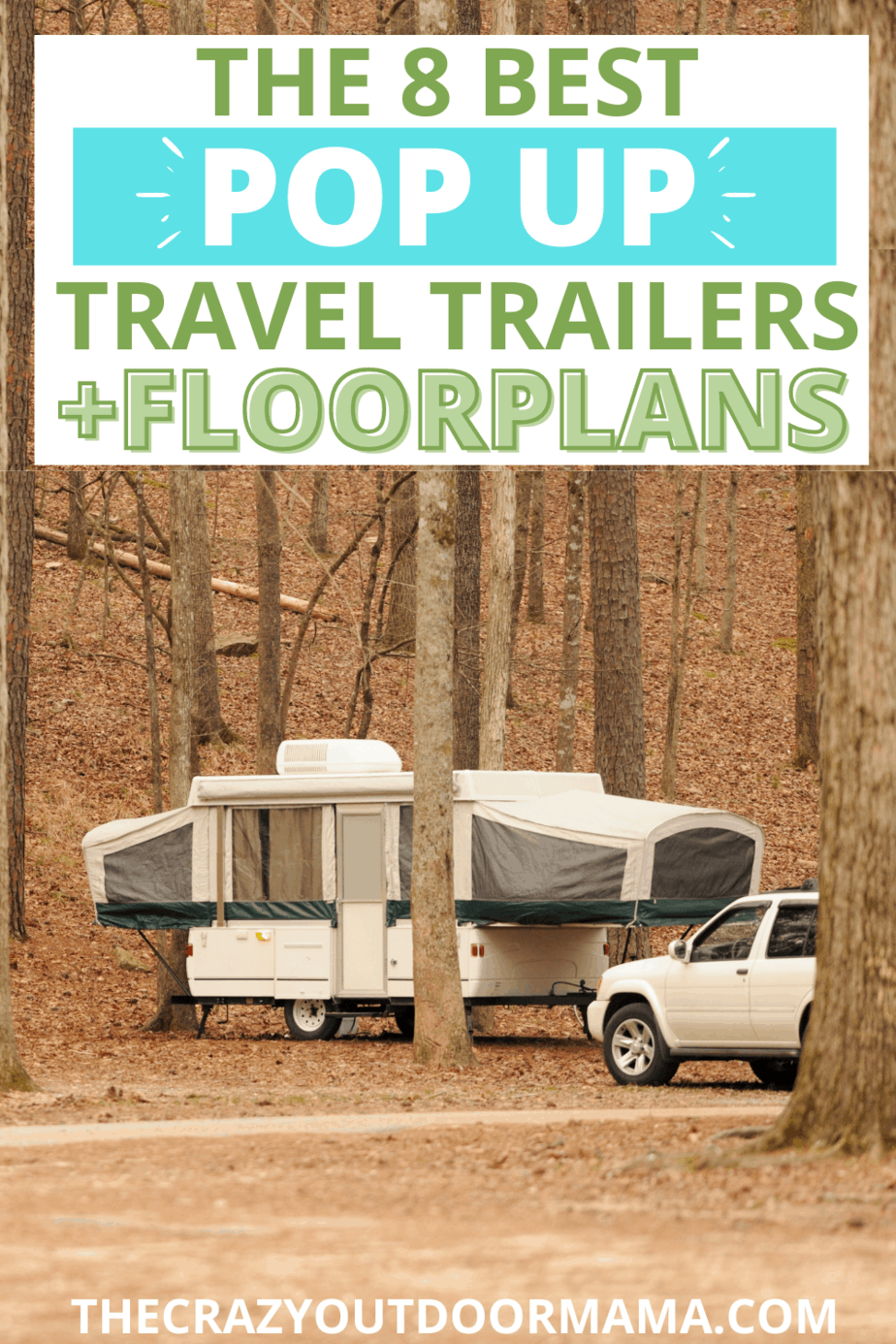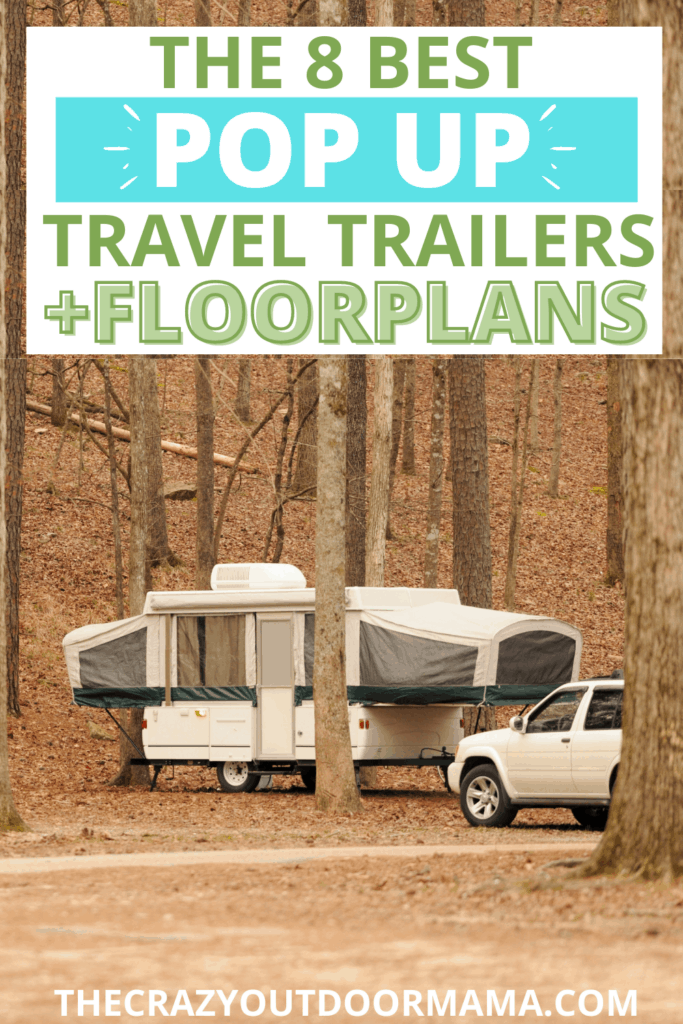 What Types of Pop Up Campers Are There Anyway?
Tent trailers have come a long way and even evolved into some hybrid types of pop up campers.
Traditional Tent Trailers
These are the kind most people envision when they hear "pop-up camper". They look like a flat rectangular box when all put away. Then the top pops up and bed platforms extend out from either end leaving soft tent-like sides.
Hi-Lo Style
This style is kinda like a hard-sided RV that's been cut in half horizontally. The top half has a hard roof and sides that goes up and down. When put away, it almost looks like a normal pop-up camper. Hi-Lo was a popular brand for years, but they're not made anymore. Now, a brand called Trail Manor makes something similar.
A-Frame
When folded up, an a-frame pop-up resembles most other tent trailers. However, the roof has two parts that when raised, give the appearance of an a-frame house. These have hard sides but limited headroom. There are some models that do have small tent pullouts to help maximize the space inside.
Hybrid Pop-Ups
Hybrid pop up campers come in all shapes, sizes, and configurations. What they have in common is that some part of it unfolds and/or pops ups. Makes sense right? 🤔 See if you can find the hybrids on my list!
*Psst…if you're looking for other small and lightweight travel trailers, don't miss these articles.
List of the Best Pop Up Campers (Updated 2021)
Before we dive headfirst into this list, keep in mind that it's not organized as a list from best to worst, biggest to smallest, or prettiest to ugliest. Each of these trailers has its advantages and disadvantages and it's up to you to decide which is the best pop up camper for you and your family.
Ok, now we're ready to go!
A perfect first pop-up camper for couples who want a step up from their tent and extra space for their gear.
Weighing in at just 840 pounds, this mini pop-up camper doubles as a sleeping area, toy hauler, and gear rack. In fact, when it's folded up, you can barely tell it's a foldable camper.
There's a unique tent pod that, when folded up, can be adjusted up and down as needed depending on what else you want to haul. Keep it down if you want to carry some kayaks or a couple of bikes on the top rack.
Adjust the tent pod to the top position and you can haul a dirt bike or even a 4-wheeler on the lower gear deck.
Then when it's time to camp, just open up the waterproof tent pod and you've got sleeping space for up to four people and a generous 6'5" standing height inside. The interior can also be configured with just two bunks on each side and a multi-position table in the middle.
Check out the video tour here.
An excellent hybrid pop-up for camping as a couple.
If you want to start small and don't need space to haul bikes or kayaks, a Coachman Clipper Express is an excellent choice. About 2/3rds of the roof pops up so you get standing room in part of the trailer.
Currently it comes in 3 different configurations with the smallest havine a bed, sink, bench seat and countertop inside. It's nice if you have a smaller towing vehicle since this little guy has an UVW of just 1,418 pounds. (But always double-check how much your vehicle can tow. You don't want a repeat of this scene from The Long, Long Trailer)
The largest configuration comes in at a little over 2,200 pounds, but it has a bed, sofa, kitchenette with refrigerator and microwave, and a small wardrobe inside.
Check out the video tour here.
One of the smallest pop ups with a bathroom
This simple pop-up camper is a greater starter choice for families looking to upgrade from a tent. Its simple design adds an extra layer of security and comfort you won't get with a tent, and with a UVW of 2,204 pounds, it's still light enough to pull even if you don't have a big truck.
On the inside, it's got several storage cabinets, a kitchenette, and a dinette for when you want to eat inside away from the mosquitos. Plus, it's available with an optional bathroom package so you don't have to run to the bathhouse when nature calls at 2am.
There aren't a lot of great video tours for this one. Here's a short one, but I'll be sure to post a better one once it's available.
A little extra space for you and the kids.
A family camping trip can go downhill real fast when you've got a day full of rain and the entire family is crammed in a tiny camper. Fortunately, this pop-up camper gives everyone a little extra space.
The box is 12-feet long and in addition to the pullouts on either end, it also has a side dinette pullout that gives you a lot more space to move around inside.
This model also is available with an optional shower and toilet cassette if you'd prefer not to have to run to the bathhouse for late-night emergencies.
Here's the video tour.
The best pop up camper for families with a lot of toys.
Trying to tow your pop up camper in addition to a bunch of bikes, tarps, skateboards, footballs, and random pool noodles can be challenging. If that sounds like you, you'll love this Coachmen Viking V3.
It's got a front cargo area where you can haul anything from a few mountain bikes to a few dirt bikes. But don't worry, that extra cargo space doesn't mean you've got less space inside.
Inside the 12-foot long box, you've got a queen and king size beds, a kitchenette, a slide-out dinette, and a toilet.
Here's the comprehensive video tour.
Not your Grandma's pop-up camper.
If you want to get more amenities than some traditional RV travel trailers while having the lightweight and easy storage of pop-ups, this is the camper for you.
The HW in its name stands for "high-wall", meaning the side walls are a little taller than traditional pop-ups. You might not even notice this in pictures, but it really makes a big difference.
Just that little bit of extra height on the sidewalls and the longer 16-foot box length mean you get a pop up with a microwave, fridge, oven, double sink, hard wall toilet/shower, and more.
Here's the detailed video tour.
Let's have a look at three more unique pop-up campers that you should also keep your eye on.
The best pop-up for going off the beaten path.
Most pop-up campers can't handle much more than the occasional pothole. This Opus off-road pop-up camper laughs in the face of potholes and dirt roads. It's made to go…well, anywhere your vehicle can go.
If you've got a serious off-roading vehicle that can scale rocky slopes and trudge through deep sand, this Opus camper is happy to follow along.
It's built like a tank and has a unique inflatable tent structure that sets itself up in about a minute and a half. Plus it's got gear racks for hauling bikes, toys, and extra supplies for when you're camping off the grid
Here's the complete video review.
Big space you can pull with small vehicles.
This is definitely not your traditional pop-up camper. Once it's fully folded up, it's almost hard to tell what it is you're pulling. But once set-up, you've got a 12'x8' cabin with over seven feet of headroom.
It comes with different options that include bedding, heaters, a sink, and stove. And best of all, it weighs just under 1,500 pounds so almost any vehicle can tow it.
Check out the video review here.
Lightweight, easy to set up, and filled with nice features.
If you don't like the soft sides of normal tent trailers but still want something that's easy to pull, the Trail Manor could be the one for you. Even the largest model weights just over 3100 pounds. There are two top sections that fold up and out to give you the full standing height and some extra length.
Plus, you get something very few pop up campers have, a hardwall bathroom that's not a wet bath. That's right, it's got an actual shower and tub, toilet and sink!
Watch the video tour here.
So there you go! You've got some of the top picks for the best pop up and tent trailers for your family.
If you're new to the world of pop-up campers, tent trailers, and RVs, you've probably still got a few questions bouncing around your head right about now.
Maybe you're wondering…
Pop Up Camper FAQs
What are all these acronyms… CCC, UVW, GVWR?
Hint, they're not TV stations.
GVWR = Gross Vehicle Weight Rating
UVW = Unloaded Vehicle Weight
CCC = Cargo Carrying Capacity
The GVWR is the total allowable weight of everything. I mean everything… the pop-up camper itself, full water tanks, beach toys, flip flops, and snacks you have hidden in the secret compartments. Combine all of this to get to the maximum allowable weight of everything together.
This is important to keep in mind both when packing as well as when deciding if your vehicle can pull your camper.
Imagine your vehicle can tow a maximum of 2,000 pounds. So you buy a pop-up camper with a UVW (unloaded vehicle weight) of 2,000 pounds. But then you add 20 gallons of water, a full propane tank, a cooler full of Pepsi and cheese, and few pieces of firewood for good measure.
That extra weight will put more stress on your towing vehicle than it needs. So make sure to consider the GVWR, how much stuff you plan to pack, and your vehicle's towing capacity when looking at campers.
The UVW is the weight of the camper when it leaves the factory, without water, propane, or other cargo.
And to get the CCC, it's easy. Just take the GVWR and subtract the UVW. Don't worry if you're tired of math, most companies give you these figures on the product page.
Take for example the specifications for the 2020 Forest River Flagstaff 228D. The UVW is 2,439 pounds and on top of that, you've got a whopping 824 pounds of cargo capacity!
What if I want to buy a used pop-up camper?
Just like when buying anything used, it's important to give it a good once over to make sure it's been well-maintained. Here are some things to look for.
Check for water damage. If the previous owners closed up the camper after a rainy weekend of camping and never reopened it to air it out, it's likely that the canvas may have started to mold and deteriorate.
Look for water marks on its interiors as well as damage to the floors or cabinets. Most pop-up campers have laminate cabinets that don't hold up well when they get wet.
And just use your nose. Does it smell musty and moldy inside? Then there's a good chance it may have some moisture problems.
Check the hard exterior. Pay special attention to the seams where different pieces come together. Are they still sealed or does it look like water could get in? Do you notice any rust spots or visible damage to the hard exteriors? Is the chassis in good shape?
Completely set it up and take it down. The setup and takedown process is a good way to help identify problems. Check things like:
Do the ends slide out properly.
Does the lift system work smoothly?
Are the levelers in good condition?
Does the door close and open properly?
Does the plumbing system work properly, including the fresh, grey, and black water tanks (if it has a flush toilet)?
Do the dinette and other interior pieces unfold properly?
Can I rent a pop up camper before I buy one?
Yes you can! You may not be able to rent the exact model you're looking at buying, but it's a smart idea to try a tent trailer if you've never used one before. It'll help you decide if you'd rather go for a regular hard-sided RV.
Check out RVshare to see what pop up campers are available to rent in your area.
Do those tiny bathrooms really work?
So you're looking at a larger pop-up with a small bathroom and you're probably thinking, am I really going to be able to, well… take care of business?
Many have what's called a cassette toilet. Newer ones have a CD or mp3 toilet. (Just kidding, I couldn't help but put that cheesy joke in there.) A cassette toilet has a lid that folds over it so you can use that area as a shelf if you need some extra storage or just don't plan to use the camper's bathroom during a trip.
But when it's time to take care of business, I'll be honest, they don't give you a lot of privacy. Most have a curtain that goes around the tiny toilet area.
Some larger pop-ups have a combination shower and toilet cassette. These are nice since the toilet area is a bit larger, so even with the curtain closed you don't feel quite so claustrophobic.
So, to answer the question… Do those tiny pop-up camper bathrooms really work? Yes, they do, but they're not the most comfortable. If your campground has a nice bathhouse that's close to your site, you'll probably end up heading over there to take care of business.
Can my vehicle tow a pop up camper?
One of the big advantages of a pop-up camper is that more vehicles can tow them thanks to their lightweight. But don't think the V6 under the hood automatically means you can pull a pop-up camper.
There are other things that manufacturers take into account when rating a vehicle's towing capacity other than just the size of the engine – suspension, type of hitch mount, etc.
Here are some good guides that'll help you figure out how big of a pop-up camper you can afford to get.
Guide to Towing Capacity for SUVs and Trucks
A Few More Things You Should Know Before Buying Your First Pop-Up Camper
It can get hot in the summer. If you forget to make a site reservation and end up with a site in the full summer sun, it'll get hot inside. Although they have mesh sides, the heavy fabric can still trap a lot of heat, so don't think that the whole family can just relax inside the camper on a 90-degree day.
But some do come with A/C! If you're going to be doing a lot of camping in hot, muggy weather, then look for one with an air conditioner. Because of the fabric sides which don't provide a lot of insulation, you won't be able to get it like an icebox inside but it'll definitely take the edge off.
You'll still feel like you're sleeping in a tent. Yup, you're gonna hear the crickets as you're falling asleep. This is something people will either love or hate. It's great if you want some extra conveniences but still want to feel like you're in the outdoors. It's not so great if you have some noisy campground neighbors who aren't respecting "quiet time".
When it rains, you need to air it out. If it rained during your camping trip and you had to pack up the camper while the awnings were still wet, don't forget to open it up when you get home to make sure it fully dries. Sure, it's an inconvenience, but it'll prevent mold and mildew which could lead to more costly repairs in the future.
Extreme wind can be an issue. While this depends largely on where you plan to camp, keep in mind that places such as Utah and Wyoming are notorious for their wind. This can snap the "pop up" portion – I actually saw this happen in real life with my cousin while camping near Goblin Valley, Utah. They had to spend the night in our camper!
Some National Parks require hard sides to camp in. This is mainly in bear country (such as Yellowstone National Park) but it's something to consider if you live around the area and hope to camp there.
So Which of The Best Pop-Up Campers Will You Get?
So, will the best pop up camper for you be the cute but capable Sylvansport Go or the luxurious and comfortable Forest River Rockwood HW296? Or maybe you're on a budget and will look for a used pop-up camper in good condition?
Whichever you choose, I'm sure you and your family will love the extra comfort and convenience that pop-up campers provide.
To make the most out of your next RV camping trip, don't forget to check out some of my other RV camping articles, like…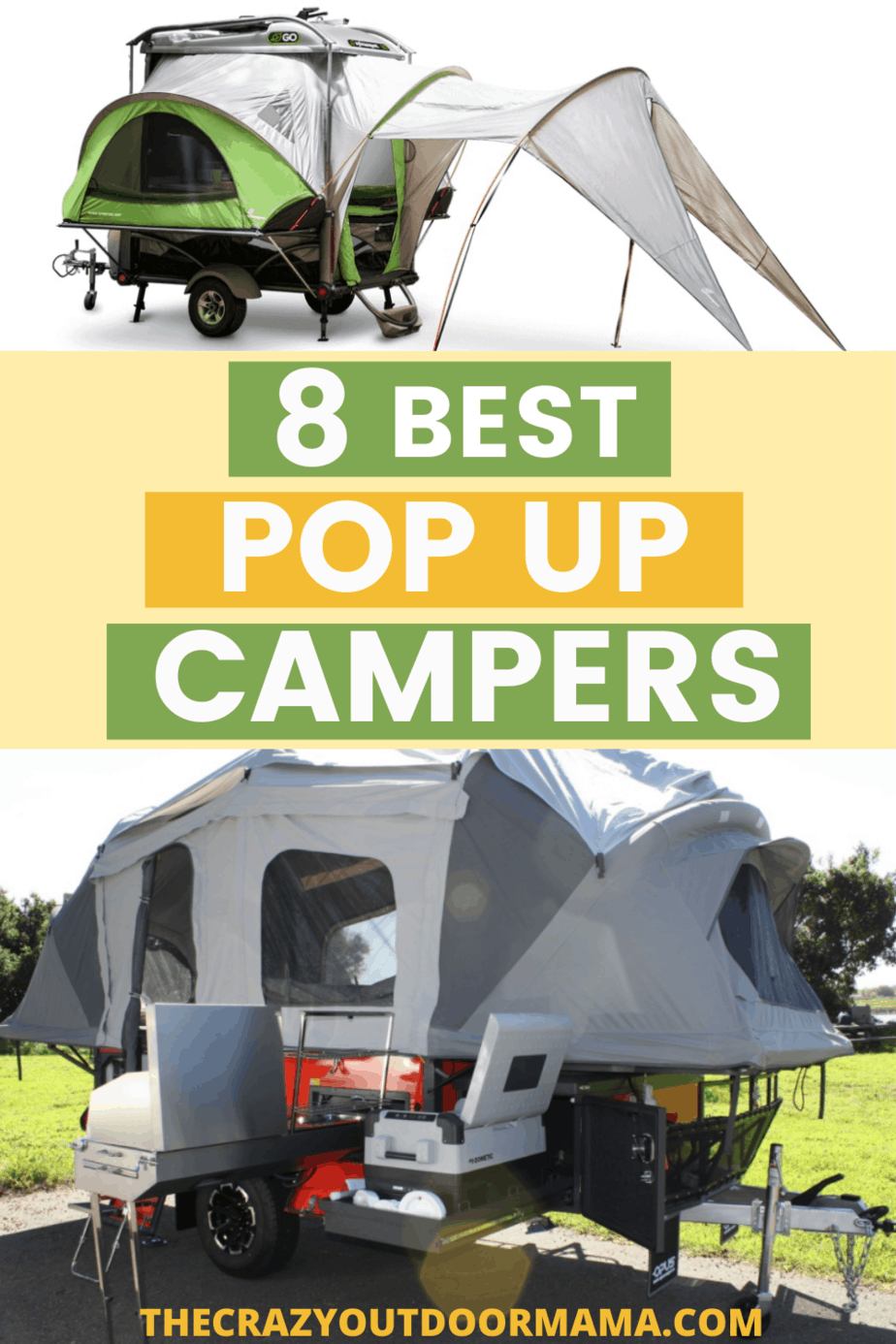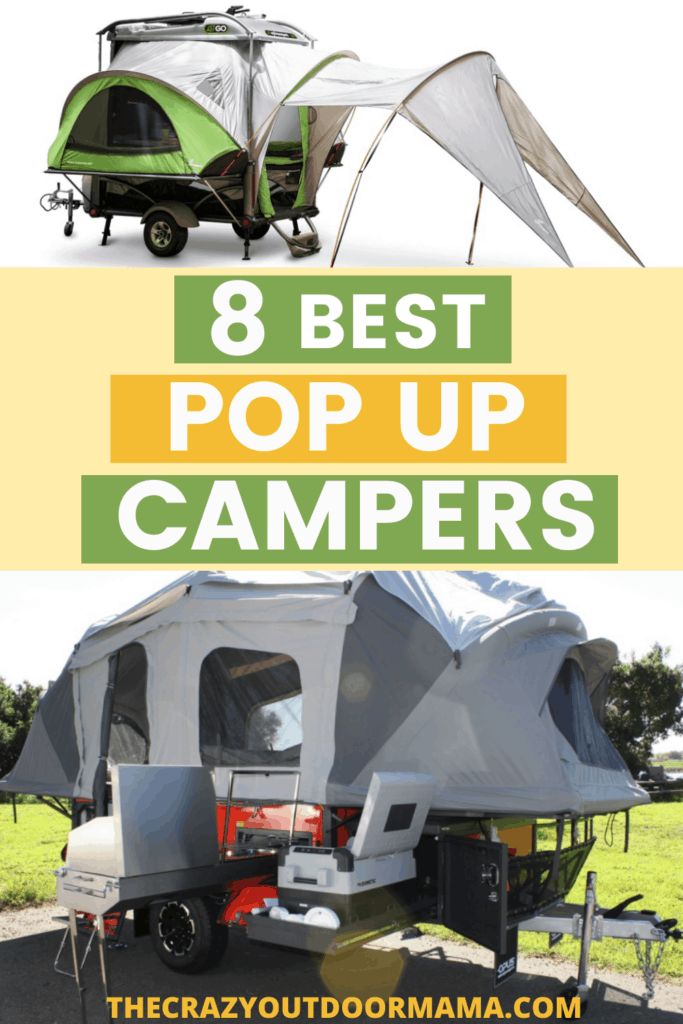 Latest posts by Stacy Bressler
(see all)