Whether you're getting ready for van life or prepping your overlanding rig, a slide out camp kitchen is a space saving way to have the comforts of decent kitchen while camping.
There is a VERY wide range of quality (which, obviously, determines the price) but don't assume that you need all the bells and whistles the pricier ones offer! In this article, I'll go over what to look for in a quality slide out camp kitchen, as well as specific stats to check before buying.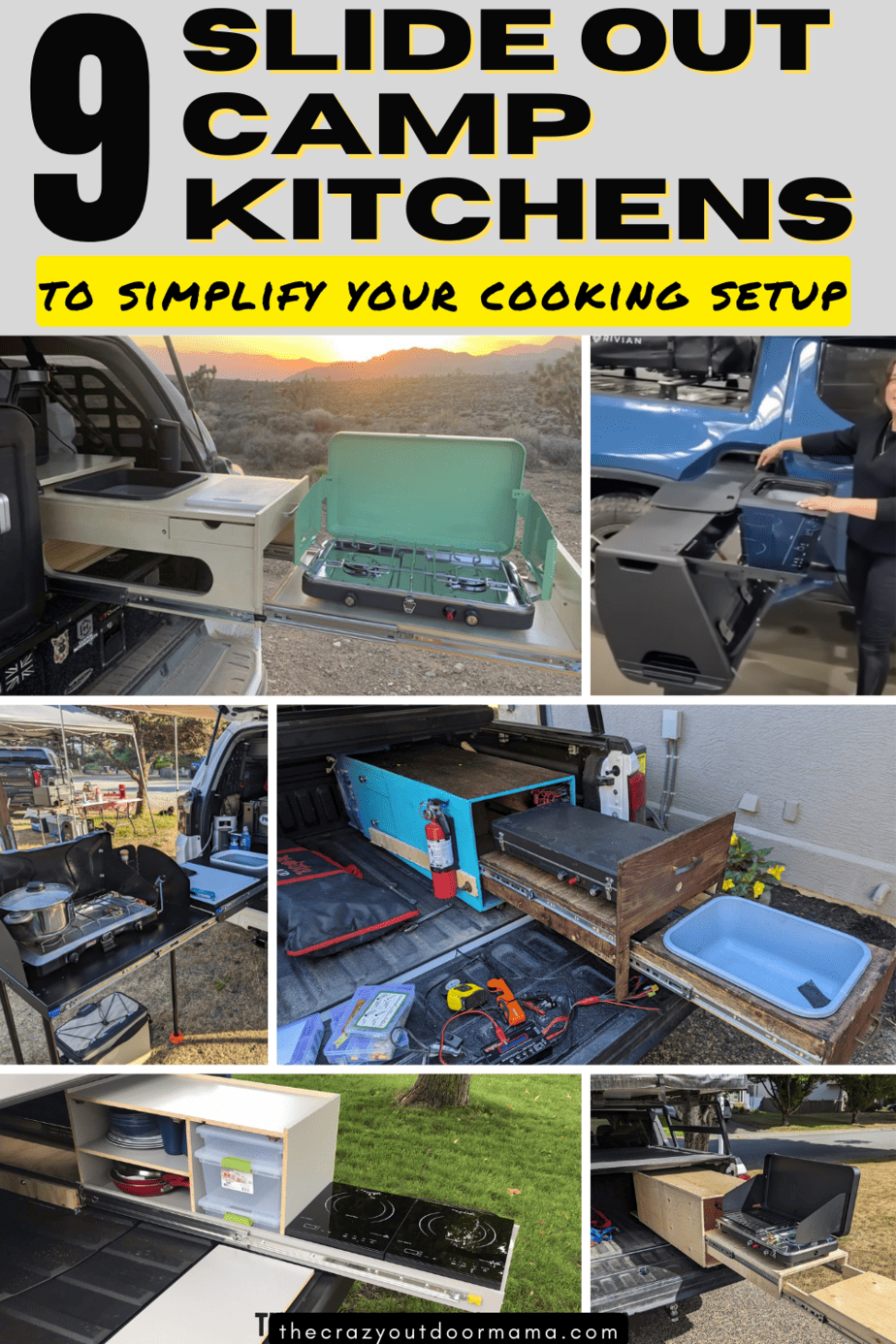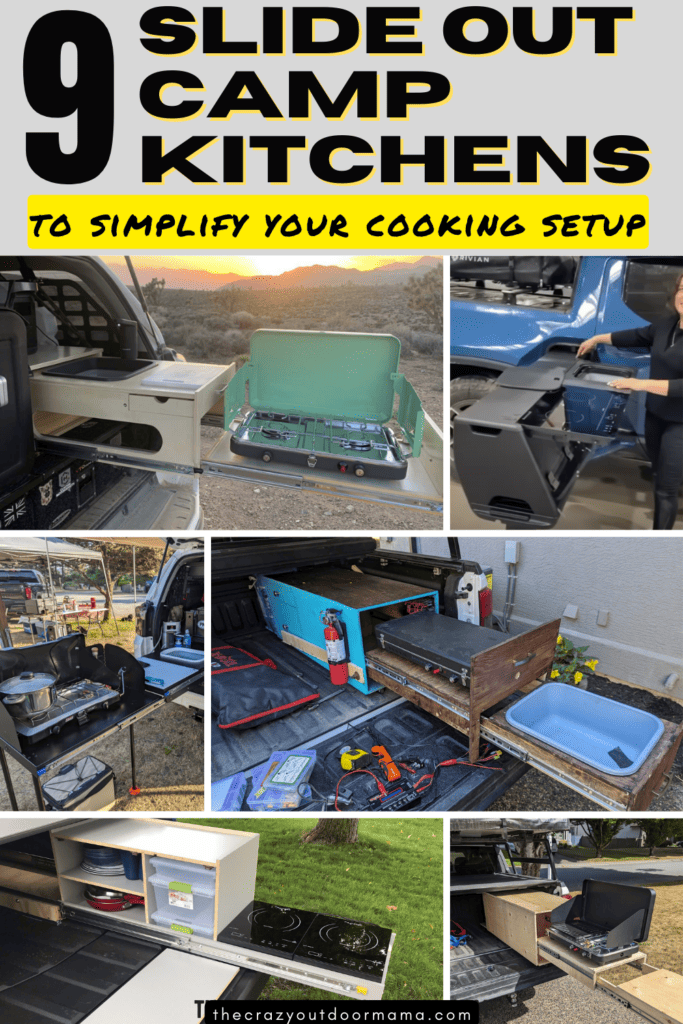 As an Amazon Associate, I may earn a commission should you purchase something through any of my links. Learn more here =)
What to Look for in a Decent Slide Out Camp Kitchen
First off, if you're completely new to camping, you might be wondering… what is a slide out kitchen? Slide out kitchens are typically very compact units that are mounted on slides that include space for functions such as food prep, cooking and washing as well as storage space for associated camp kitchen tools and spices.
Most people use them in their vans, overlanding rigs (usually trucks, but smaller ones can be utilized for cars!) and occasionally RVs!
Here are some qualities to look into when picking the best slide out camp kitchen for your situation
Durability – Since these things will likely be on bumpy roads and carrying heavy things (stove, pump, accessories etc) in varying weather, look for models made out of aluminum or stainless steel. A good quality wood is ok, but may be harder to keep clean.
Compact Design – Most are designed this way by default, but make sure the features most important to you (counter space, sink etc) are included in the design so that you won't need any extra space to store them.
Surface Space vs Storage Space– Think about what you need more of in your current setup. For example, if you already have a good storage system, you'll be able to save a ton of money by getting something that doesn't include it!
Easy to Clean – Removable pieces and easy access to dirty points ensures no residual smells or crumbs… which might attract mice!
Top 9 Slide in Kitchens for Camping!
This list is organized mostly by cost (in the year of 2023, it is definitely on alot of our minds!) and have a couple important qualities listed about each one. Everything from your budget Amazon pick to the ultra custom (and yes… pricey!) slide ins will be included!
Wood Slide Out Kitchen (Best Budget Pick)
While I absolutely love the look of the wood, I had concerns over it's durability. Rest assured, it seems to be extremely high grade – solid wood, not fiberboard! The essentials are included – sink, food prep space, and a spot for a grill. If you're looking for more storage space and don't care about the sink, here is a comparably priced option.
It even comes with straps to be able to strap it inside your bed, which is honestly a relief for people like me who don't know how and don't have the access to tools to actually mount it to my truck bed.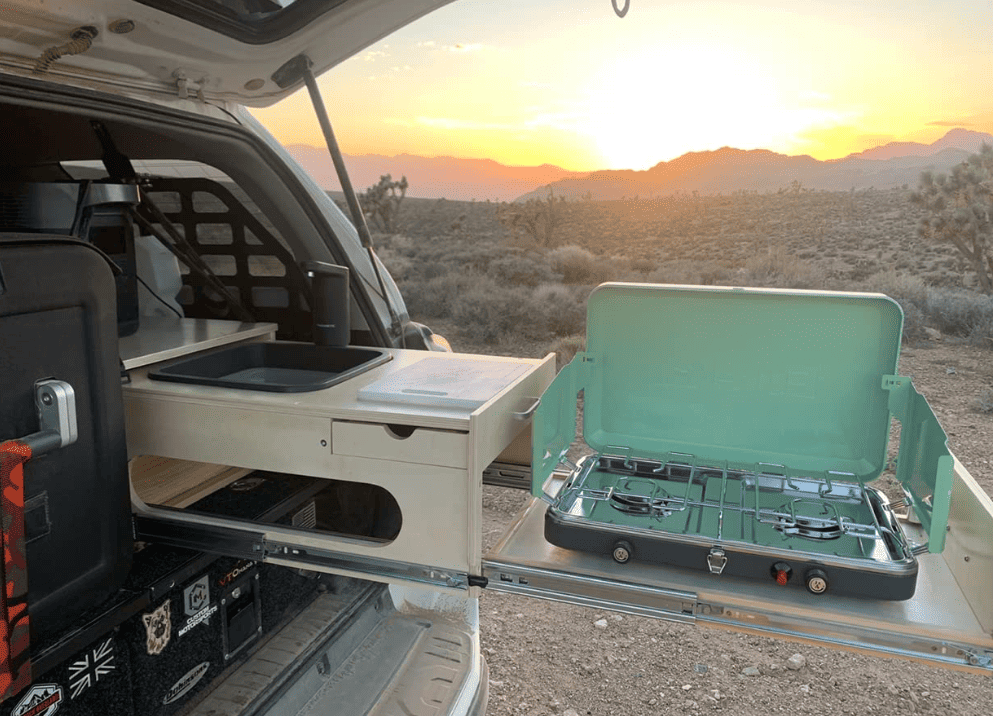 ---
Overland Vehicle Systems Camp Steel/Aluminum Kitchen Slide Out(Best Mid Level)
This slide out camp kitchen gets you all the basics fora decent price (under $1,000 – decent for a ready to install, durable slide out!) Spots for a 2 burner propane stove, sink and cutting board are all included. I love that it has optional use legs in case you are using something super heavy like cast iron to cook.
This is a basic but functional design – there's no storage space or water pump capabilities, but if you don't need those, then save some money and buy a slide out without them!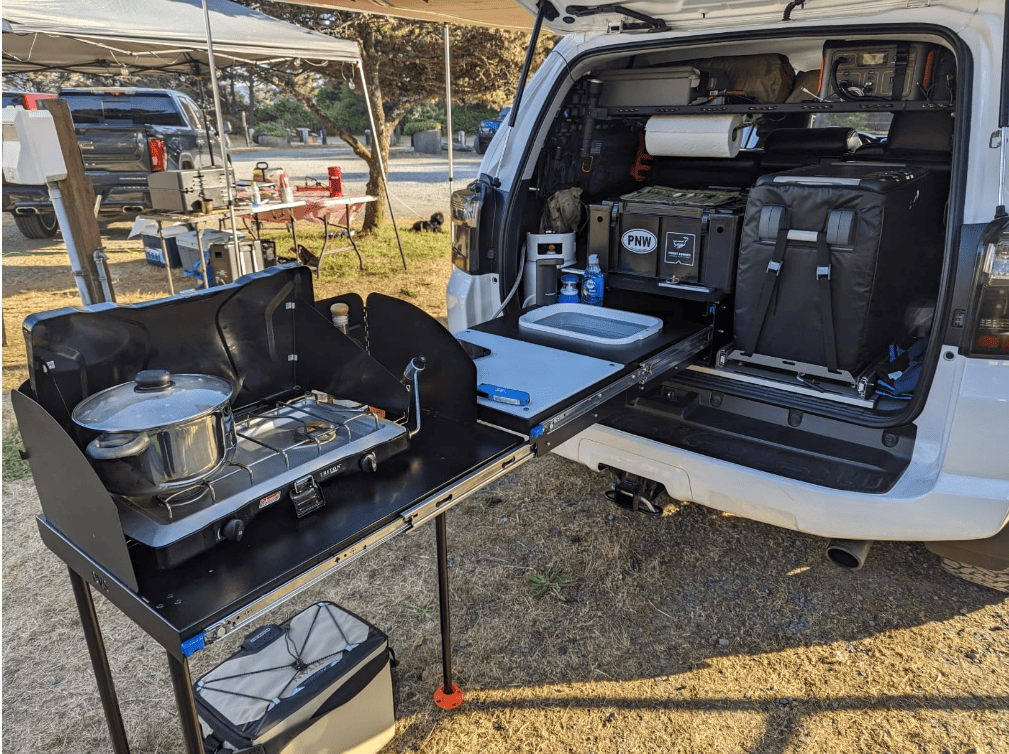 ---
Top *Premium* Slide Out Kitchens
These slide outs are typically either made to order/locally made, or atleast created by a company committed to these sorts of products – no faceless companies that also make hammocks, tents or other "genereal" run of the mill stuff.
While these do offer a ton of stability, versatility and storage, it comes at a cost (most are above 1k here) If you're looking to invest in a long last camp kitchen slide out though, it may be worth the cost.
Nomad Kitchen Co.
If you're looking for a perfect mix of durability and aesthetics, then you'll love the Nomad Kitchen Co. Systems! Not only do they have a *beautiful* slide out that doesn't require any permanent installation, but they have other compatible, modular units that work really well together!
As a person who loves a good system to keep organized (my husband's thing is Milwaukee… products that can all work together are VERY valuable!), I just love how you can add more pieces as time goes on.
They are perfect for vans and SUVS – the low profile allows rear view mirror access, and there's no need to permanently install (vs more truck specific options that are tall and screw into the bed).
There's no built in power or water pump, but for just a little over $1k for the base setup, that's not a bad deal. There's tons of other optional upgrades, which is helpful to save on getting your perfect set up without paying for things you are not going to use!
With so many options beyond just the photo below, I encourage you to check out Nomad Kitchen Co's impressive line up of slide out kitchens and accessories!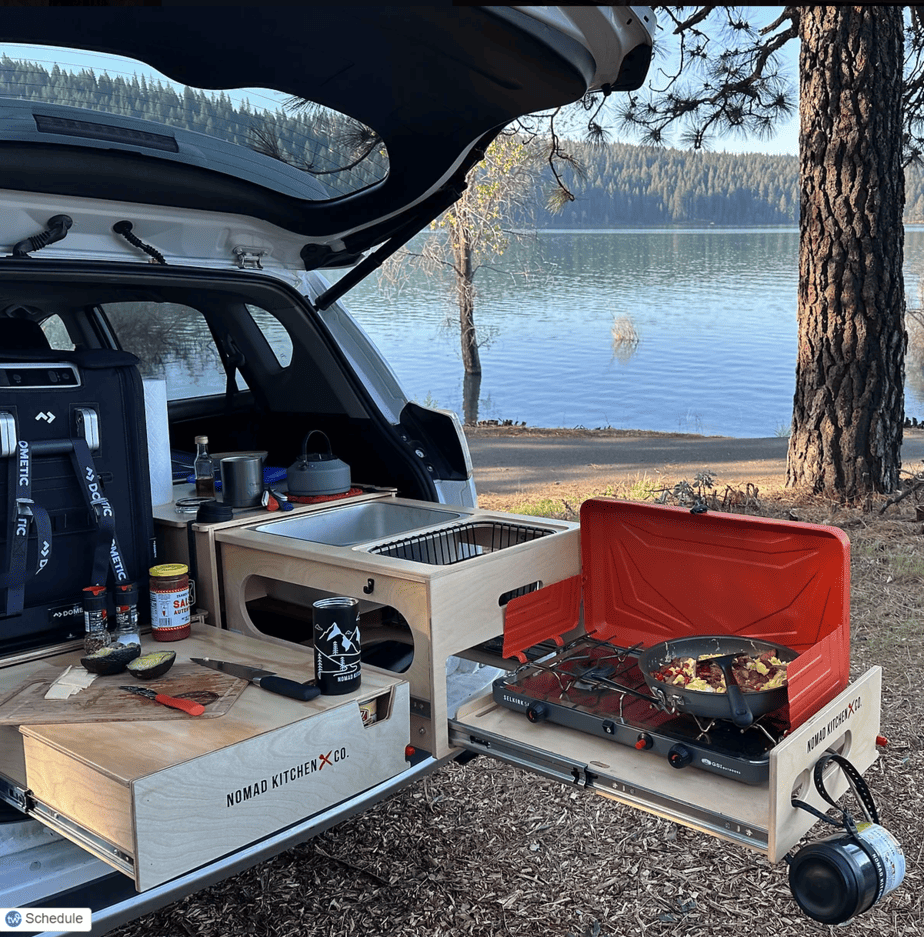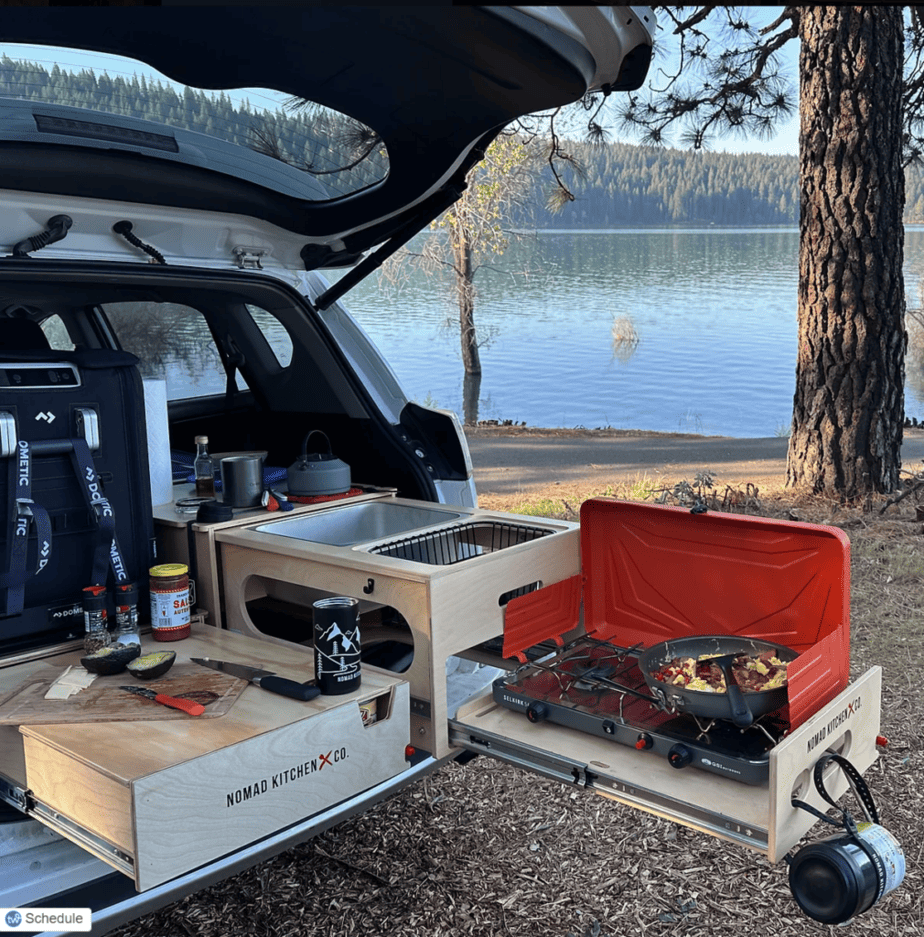 ---
Trail Kitchens
This brand of aluminum slide out kitchens is pretty popular in the overlanding community specifically, and for good reason… they are durable and very well thought out. If you have a mini van/van, then their minvan camper kitchen may be more up your alley.
This kitchen includes a water system, recharagable 12V pump and even the option for an on demand hot water heater! There's plenty of storage to fit up to 6 people and cook gear as well as a fold down food prep area.
I also love that these are all made in America – easier to access parts and customer support!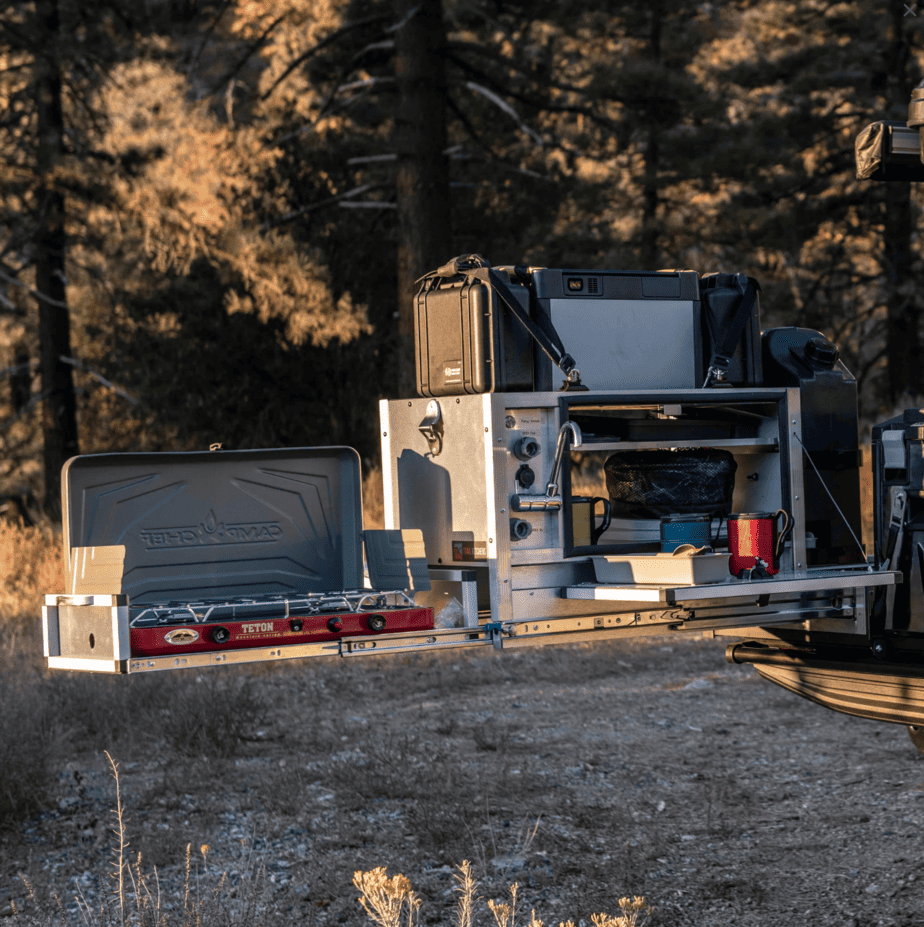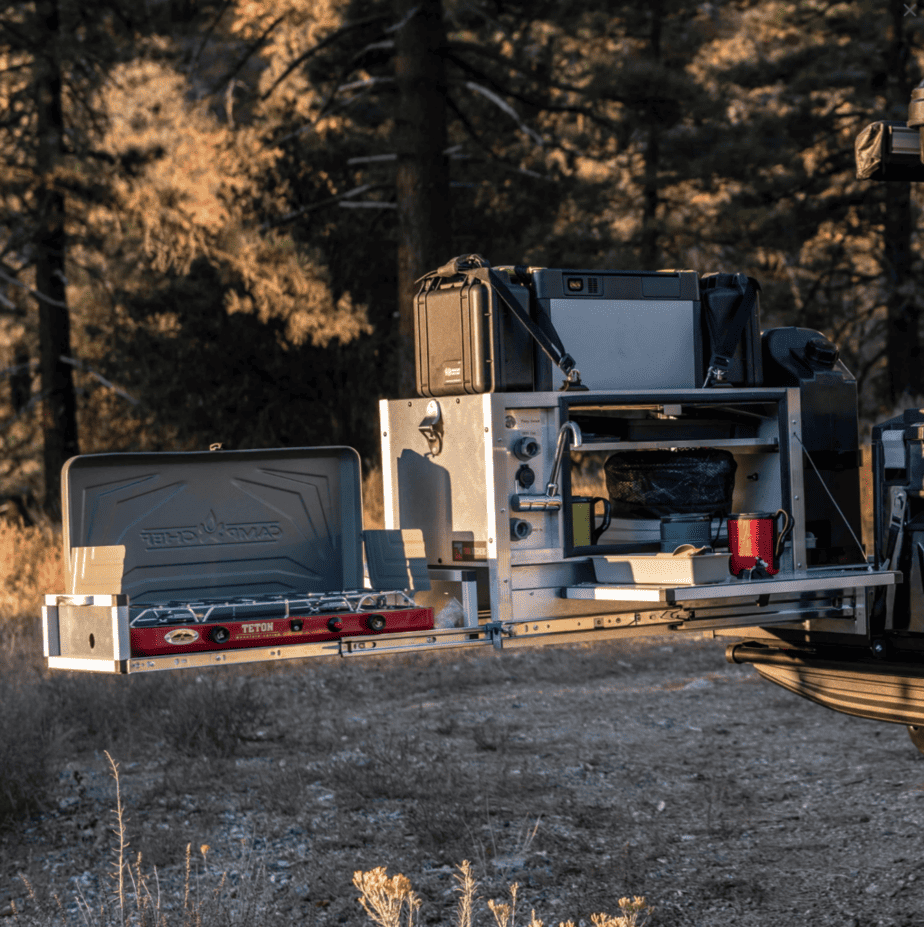 ---
Overland Kitchen
Designed for truck beds of overlanding rigs (typically jeeps/trucks), Overland Kitchen's slide out is especially rugged! They've been making these stainless steel slide outs for 8+ years, so their quality seems to stand the test of time. I also love that there are mounting and strap options so that you can opt for the one that best suits your situation.
This is an especially spacious design that even includes space for a refrigerator and a mini pantry! The only draw back (personally) is lack of a sink/pump, though I imagine if you're overlanding, you're likely using water sparingly anyways… so may not even end up using something like that!
There's pretty much no other brand of slide out kitchen who is using ALL stainless steel in their design – while it's more expensive, it's also more sanitary, heat and weather resistant, stronger and easier to keep clean.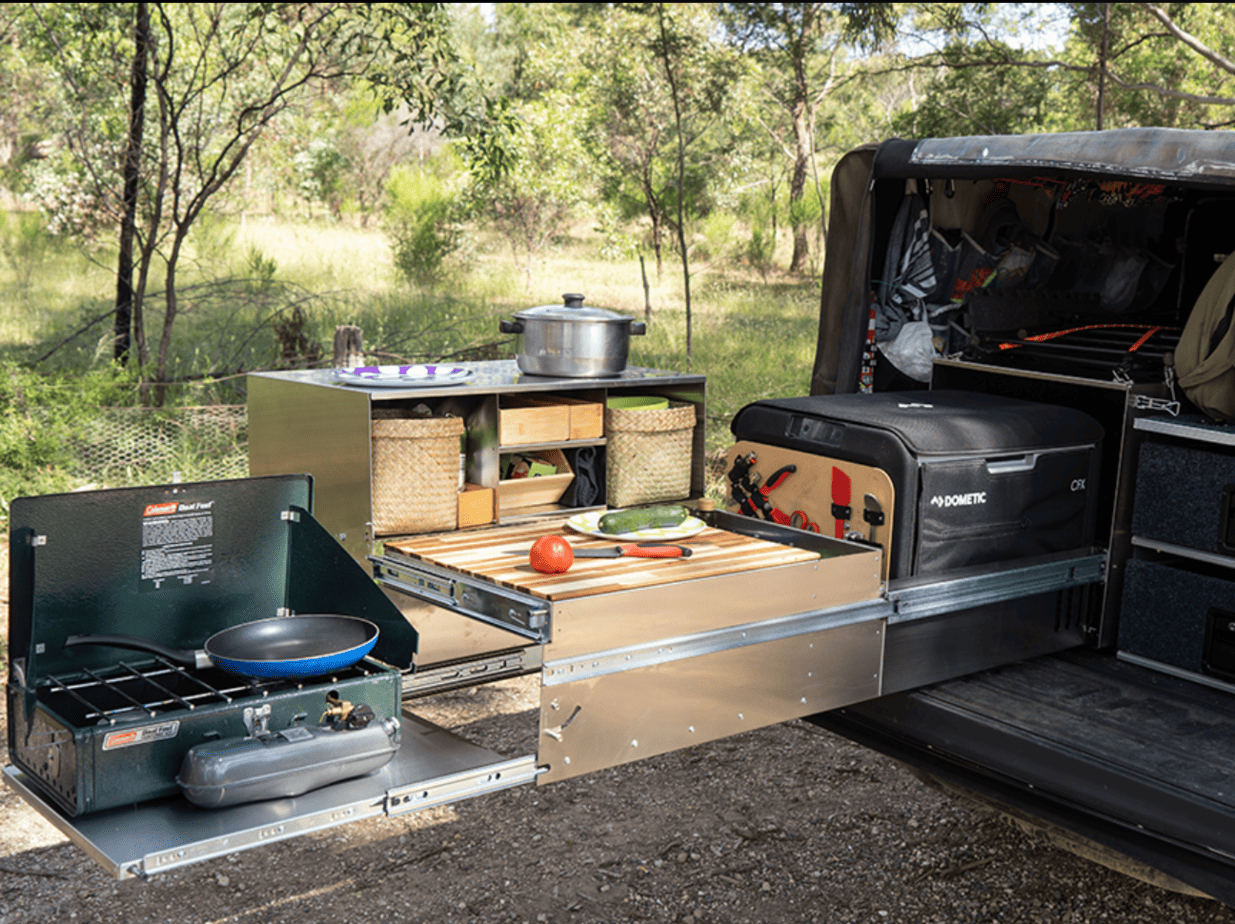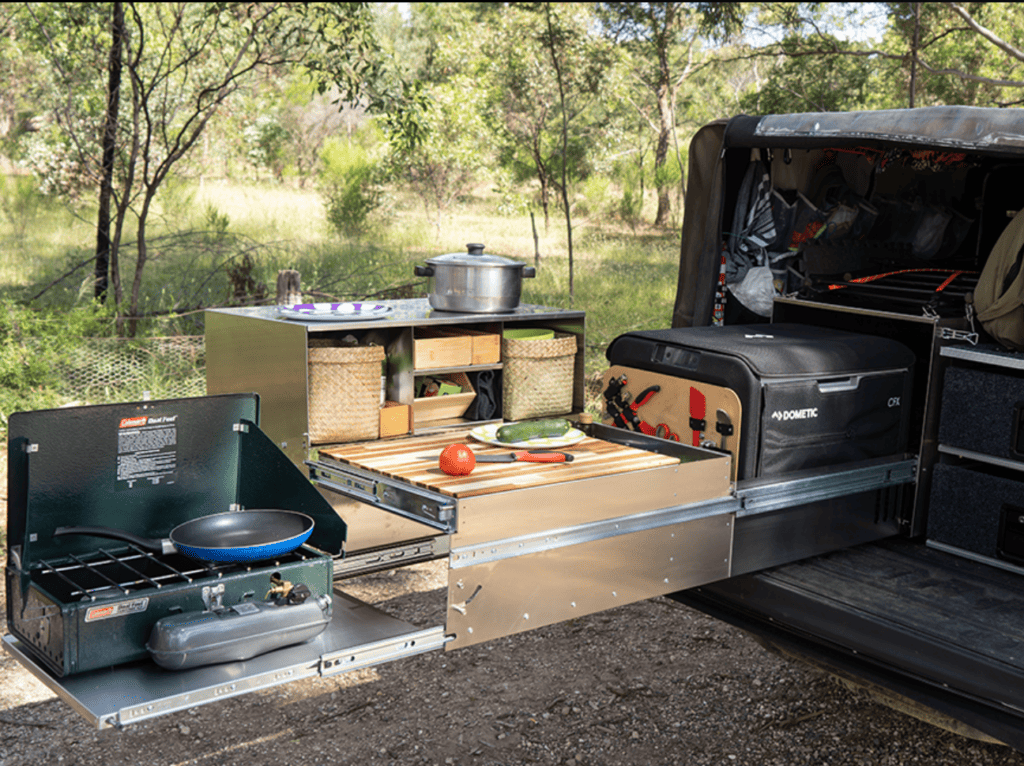 ---
---
DIY Slide-Out Kitchen Ideas
If you're looking to save some cash or want to flex your DIY muscles, you can make your own slide-out kitchen. Most utilize plywood, as it's easy to work with or start with a base such as and old desk or dresser.
K.A.M.P.
K.A.M.P., which stands for "Kitchen and Mattress Platform" is a beautiful build from Sam Chou that offers ample space and durability. The length it's able to be pulled out is pretty remarkable – that means TONS of storage and prep space!
This build has an additional storage set of drawers that pull out as well, and both are exactly level making it easy to put your mattress on top of it. There's no power/water, however after reading that the creator liked it especially for back country skiing, it makes sense not to leave space for water (or need power for a pump) snce it would all freeze anyways!
If you're looking for water and power, Sam credited this design idea to this more complex version that DOES water and power – so check it out!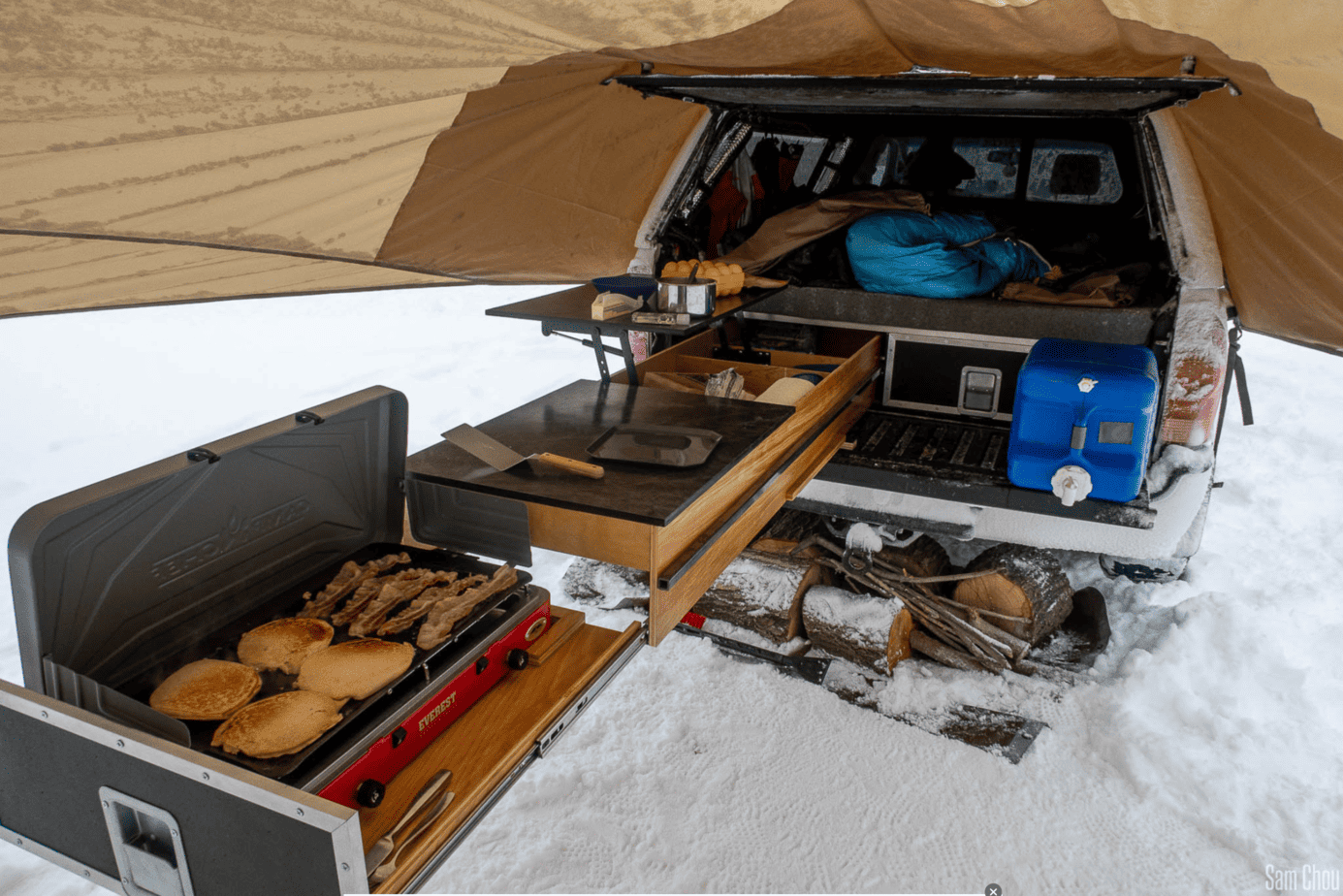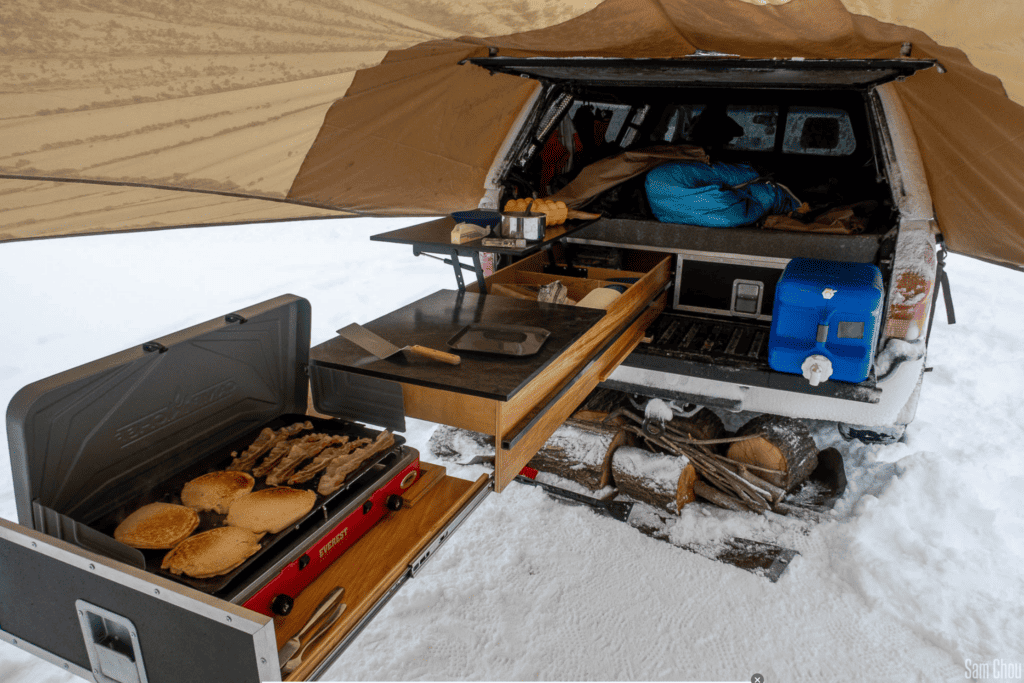 DIY Truck Bed Slide Out Kitchen -With an Induction Burner!
This has to be one of the most unique but stout DIYs I've seen for a slide out! One of the creators key goals he said was to not include a sink – this really opens up a ton of storage space not having to deal with water ora big basin!
Another interesting choice was the induction burner, which Rick said he preferred over propane and was made possible by the 120V outlets in the bed of his truck. The only regret he expressed was building this out of 1/2″ melamine vs 1/2″ plywood, as melamine can be so difficult to work with.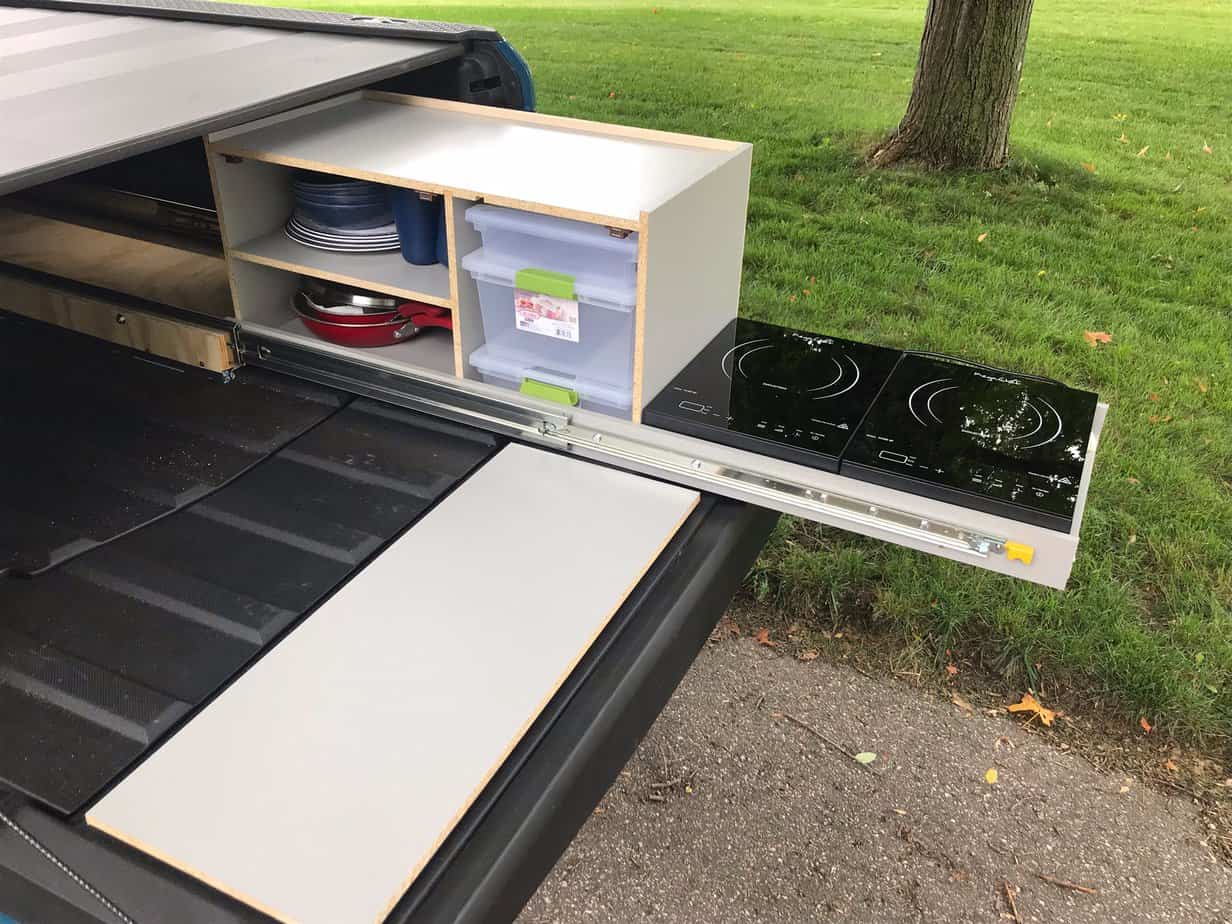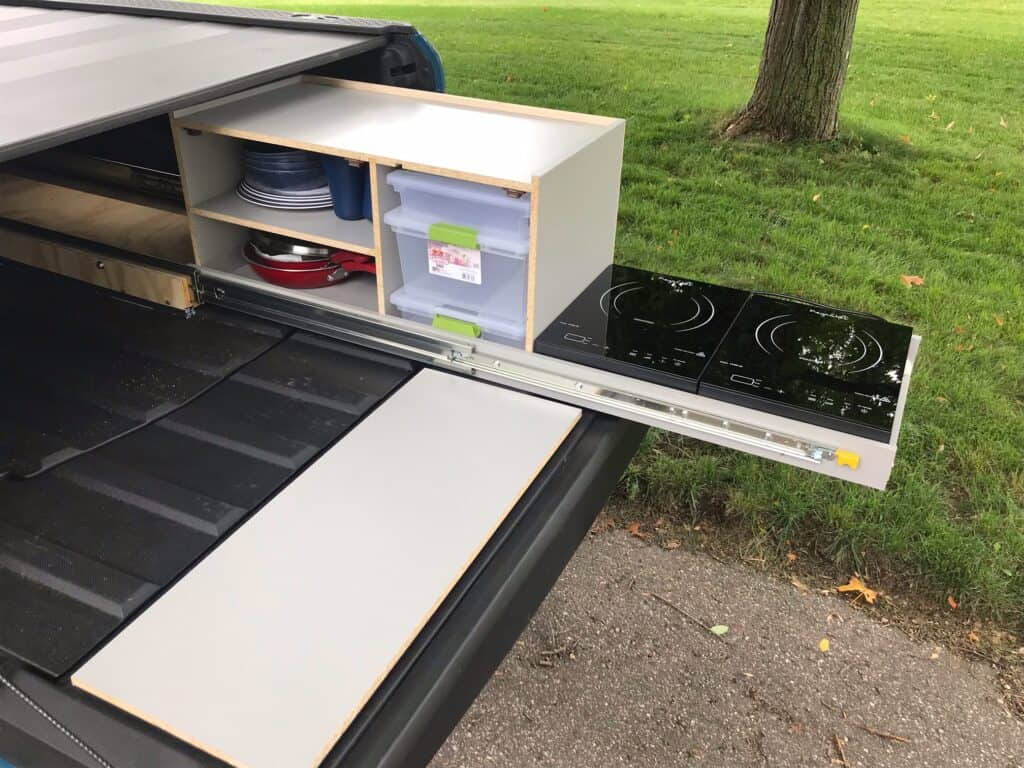 DIY Plywood Truck Bed Kitchen Slide Out
The design goals for Malyk's build were a sink, pressurized water and plenty of storage for kitchen accessories (pots pans etc). The build also utilized an old battery for power, which was useful to charge his phone and have some fun things like string lights!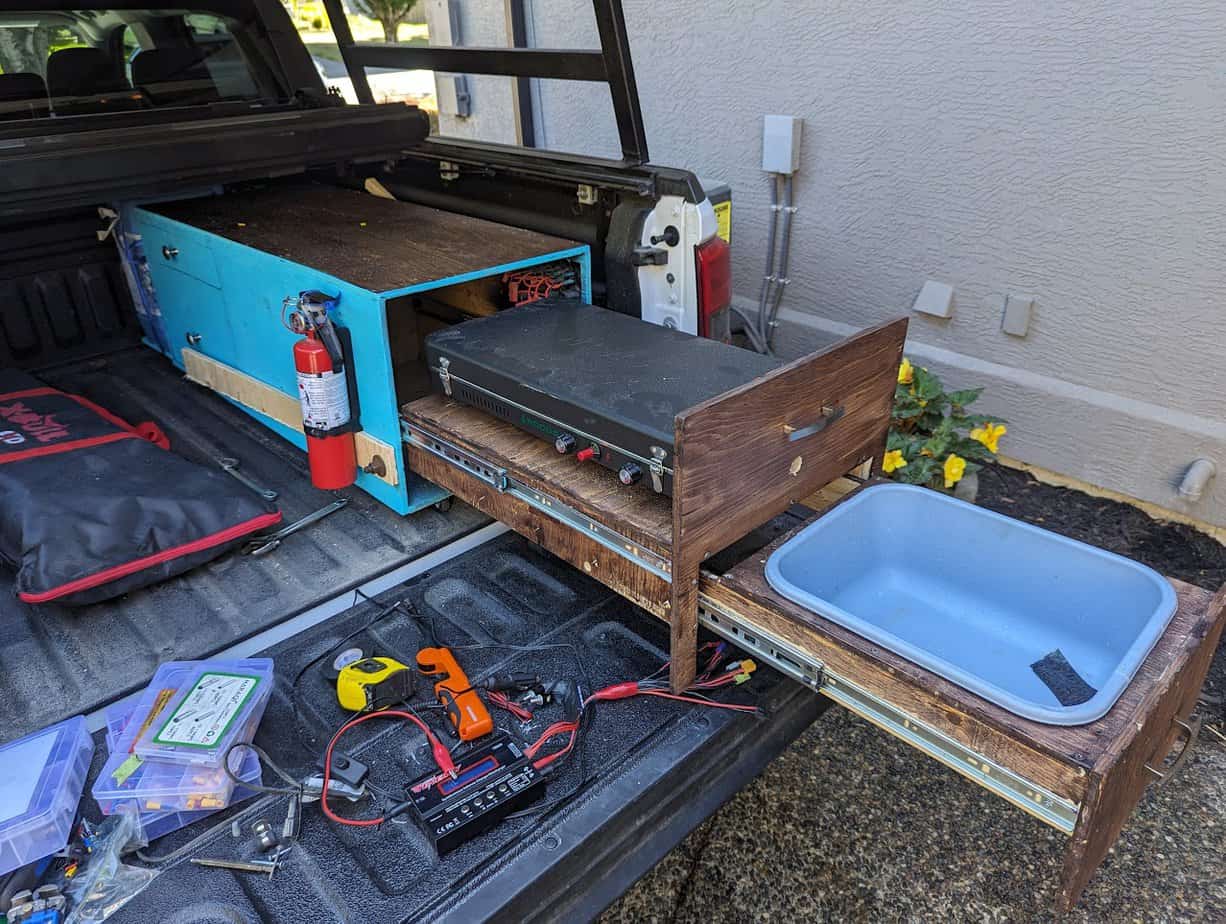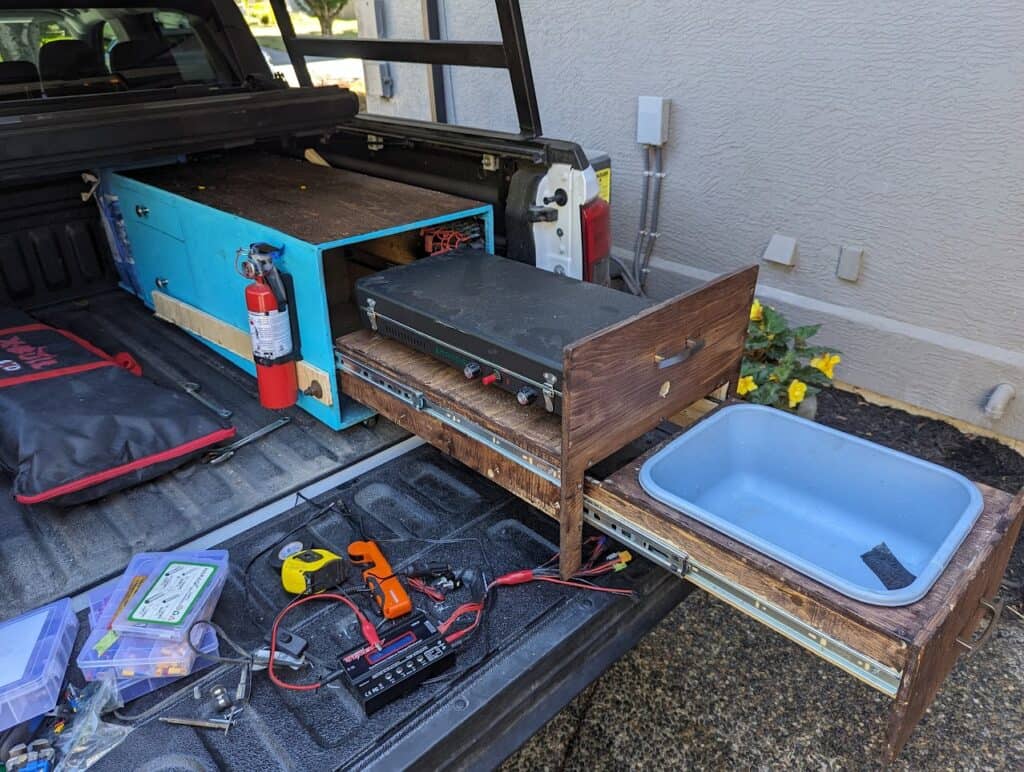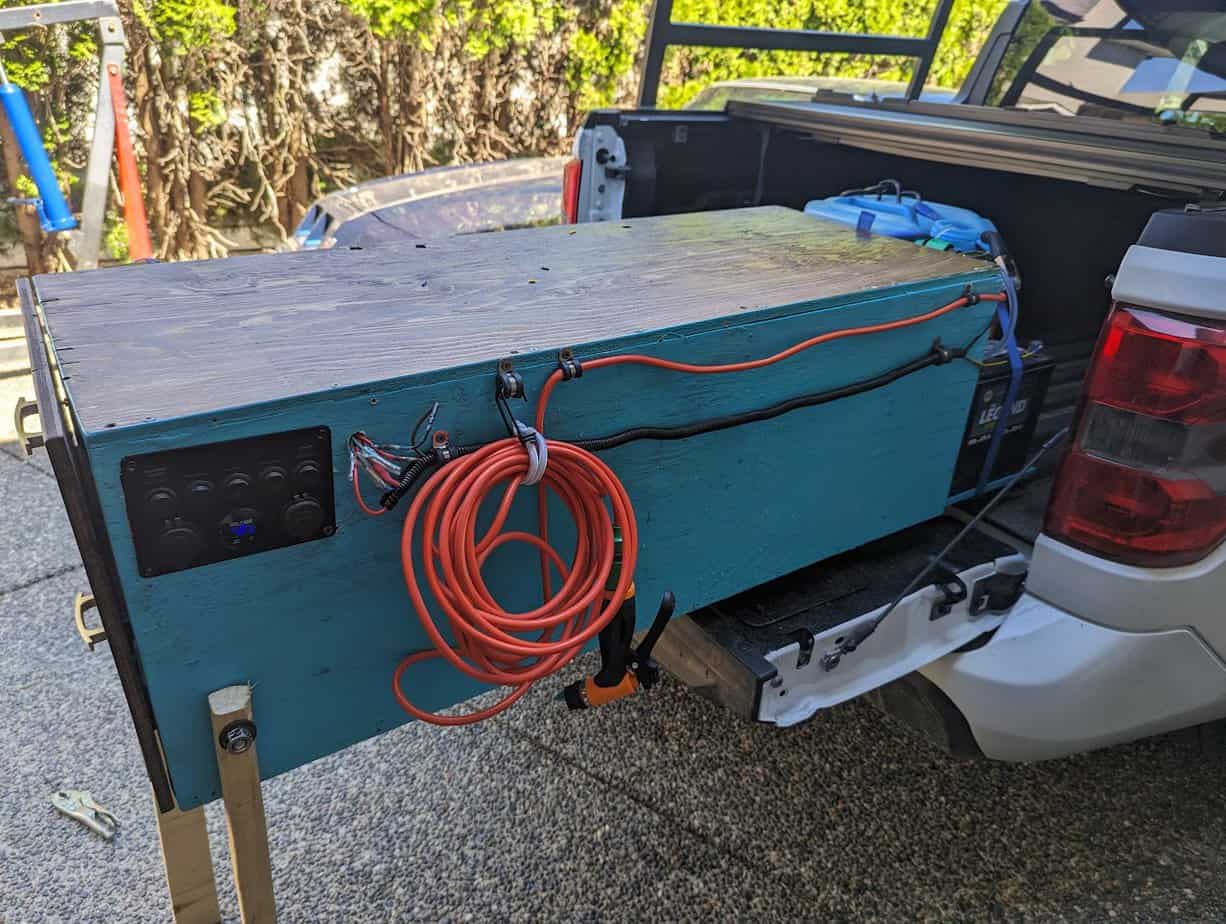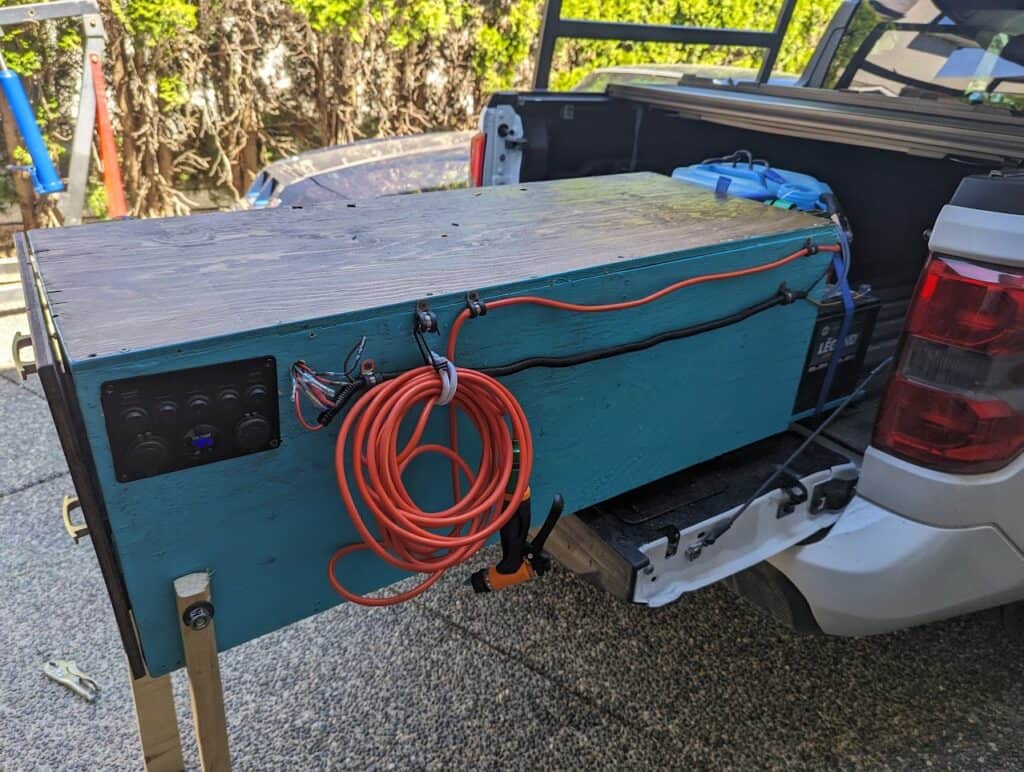 DIY Van Kitchen w/Sink and Propane Stove
If you are looking for something more enclosed and designed for a van, Crafted Workshop has an AWESOME Instructables guide and youtube video on how to make the one in the screenshot below!
I love that the bins are easy enough to remove and take where you need, and also that there is so much storage in such a small slide out out!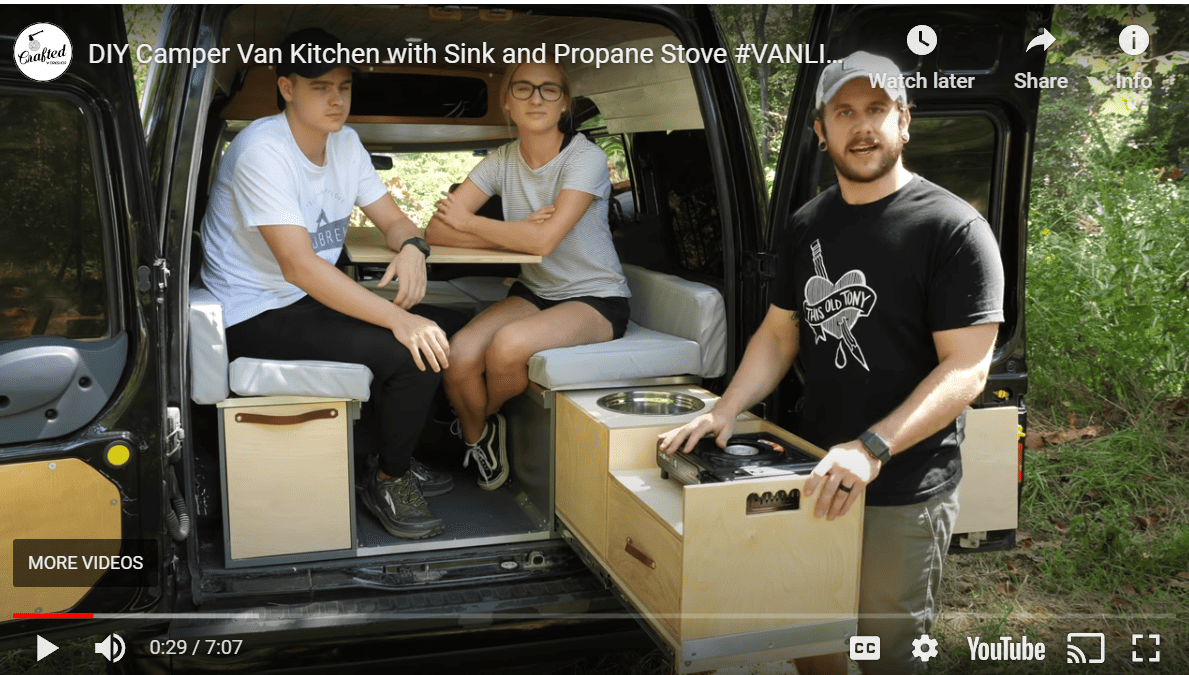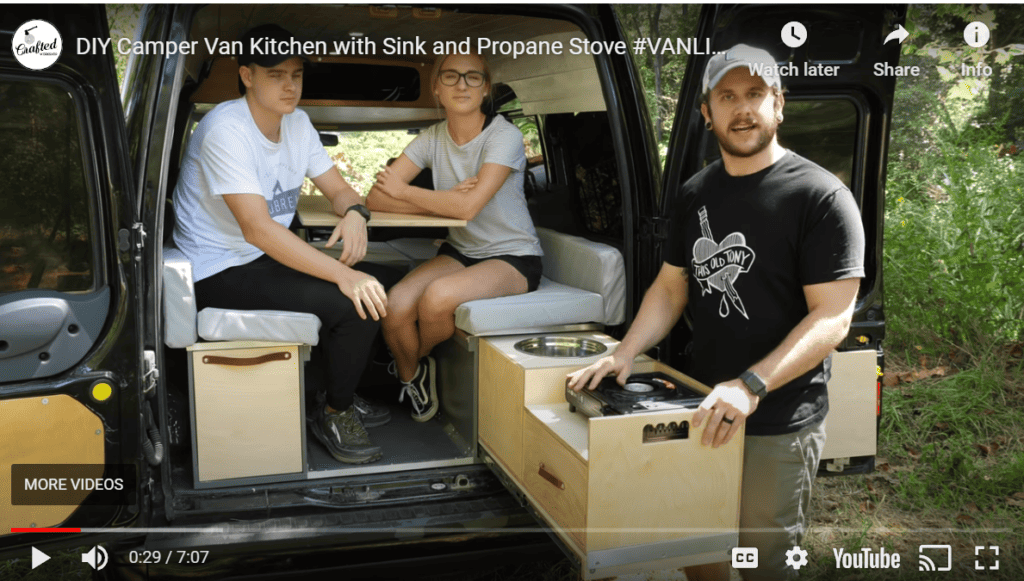 ---
---
FAQ About Slide Out Camp Kitchens
How do you install a slide out kitchen so that it doesn't tip out?!
If you are buying a kit for your truck/SUV, make sure to look for installation instructions to see if it needs to be mounted to your bed via actually screwing it down, or if it's something easier such as strapping it down to the strap points in the back of your bed. Truck bed installations are a little easier to deal with as they will likely have the support of the tailgate when in use.
Some models also include fold down legs for use if needed.
How much does it typically cost to DIY your own slide out vs buying one?
Most DIYS seem to be between $600-$1,000, which includes heavy duty slides, heavy duty wood/steel/melamine, as well as any custom extras. Between 10-20 hours may be needed (as well as access and knowledge to assembles things like cabinets, slides etc).
Depending on how many features you want, buying your own can vary from $400 to $6k plus for the ultra rugged and multi functional designs.
Why buy a pricey slide out when you could simply chuck it all in a box?
If you have an overlanding vehicle (truck, jeep, some SUVs etc), EVERYTHING has to fit in or on it – that means there's likely to be layers of stuff that need to be moved every time you need to get something. With a slide out kitchen, you'll save a ton of time (and stress!) by simply pulling it out and turning it on!
Now, if you don't a little extra setup, there ARE some pretty nice chuck boxes that still serve a good purpose in the camp kitchen setup!
What happened to the Rivian R1T Camp Kitchen?
You may or may not have heard about this *dream* slide out camp kitchen that was an option for the EV truck, the Rivian. It had garnered some massive hype following initial previews – like this one on Youtube, however it seems about 6 months ago (late 2022, early 2023?) these options were quietly removed from their gear store.
Supposedly this was for design updates and research, but with no word for months about this popular idea, it isn't likely to be full scale produced.
Ready to make overland camp cooking easier?
A slide-out camp kitchen can make your camping experience a lot more enjoyable and comfortable. With so many options available in the market, you can find one that suits your needs and budget.
However, if you're feeling adventurous, you can make your own slide-out kitchen using some basic tools and materials. Whether you choose to buy one or make one yourself, a slide-out kitchen is an excellent investment that will make your camping trip a lot more manageable.
Latest posts by Stacy Bressler
(see all)