Picture this…you're all excited about your upcoming camping trip, ready to sleep under the stars and enjoy the serenity of nature. But wait! Did you remember to pack everything?
First aid kit? Salt and pepper? Toilet paper?! 😱
Fear not! We've got you covered with this tent camping checklist.
Whether you're a seasoned camping expert or a newbie setting up your tent for the first time, having a comprehensive checklist is absolutely essential. It helps you avoid those "oops!" moments when you realize you forgot fuel for the camp stove, or even worse…the marshmallows for s'mores!
So if you want to skip the rest of the article and hit the EASY button, pop your email in the form below and I'll give you FREE access to my private resource library where you can download a printable version of the checklist (and a bunch of other printable camping checklists and activities!)
Keep going to get the tent camping checklist. Then later check out some personal gear recommendations for each category to make sure you bring the right stuff.
As an Amazon and REI affiliate, I may earn a commission should you purchase something through my links. Learn more here! =D
Tent Camping Checklist
Campsite Setup:
Essentials:
Tent (Make sure you have the rain fly with it)
Tent footprint or tarp
Ground stakes
Rope or guy lines for securing the tent
An extra 50-100 ft of paracord (can you ever have enough paracord?)
Sleeping bags
Camp pillow
Sleeping pad or cot
Camp chairs
Camp lighting (lantern, string lights, led lights, etc.) *Don't miss a super easy lighting option later in the article!
Optional depending on where and how you are camping:
Camp table (if there's no picnic table or you want an extra one for food prep)
Small rug for in front of the tent (helps keep tent clean)
Clothesline with clips
Canopy or tarp and necessary poles for covering the picnic table/cooking area
An extra tarp or two for additional shelter or ground cover if needed
Camp Kitchen:
Essentials
Cooler(s)
Cooking stove
Fuel for stove
Cookware (pots & pans)
Cooking utensils (spatula, tongs, large spoon, etc.)
Potholders
Plates & bowls
Cups (for regular drinks and hot drinks)
Eating utensils
Bottle opener
Can opener
Corkscrew (I can't tell you how frustrating it is to be in the middle of nowhere, wanting to enjoy your favorite vintage only to realize you forgot the corkscrew…I'm obviously not speaking from personal experience 🤣)
Cutting board and knife
Food storage containers and ziplock bags
Biodegradable dish soap and sponge
Water bottles for drinking water
Water containers or jugs for dishwashing/handwashing water
Salt, pepper, spices and sweeteners
Oil and cooking spray
Food for your camp meals
Aluminum foil
Collapsible sink for dishwashing
Dishwashing sponge and pot scrubber
A way to make coffee
Trash bags
Dish towels
Optional depending on where and how you are camping:
Tablecloth and clips
Campfire grill grate or tripod
Griddle
Dutch oven or cast iron skillet
Charcoal
Fire starter cubes
Marshmallow/hot dog roasting sticks
Camp toaster or grill rack
Sanitizing wipes
Portable fire pit (propane or Solo Stove)
Tools and Miscellaneous Items:
Essentials
Multi-tool or pocket knife
Hammer or mallet
Hatchet or axe (for splitting firewood)
Shovel or folding camp shovel
Duct tape and zip ties (for quick repairs)
Inflatable mattress/camp pad repair kit
Extra rope or cordage (paracord or nylon)
Portable camping saw
First aid kit (including bandages, antiseptic, pain relievers, etc.)
Windproof or waterproof matches
Insect repellent
Sunscreen
Hand sanitizer or soap
Toilet paper (and trowel if you're gonna do your business in the woods)
Cash and identification
Cell phone and charger
Waterproof bags or containers for storing delicate items
Optional depending on where and how you are tent camping:
Small handheld broom and dustpan
Small fire extinguisher or fire blanket
Bear spray or deterrent (if camping in bear country)
Snakebite kit (if camping in snake-prone areas)
Emergency whistle or signal mirror
Emergency shelter (lightweight tent or bivy sack)
Campsite reservation confirmation and permits (if required)
Portable camping shower and privacy tent
Portable Wi-Fi hotspot
Books, magazines, or games for downtime
Clothing:
Choose the correct clothing for the season and type of camping you'll be doing.
Quick dry pants/shorts
Moisture-wicking shirts
Moisture-wicking underwear
Sleepwear
Sturdy hiking boots or shoes
Durable socks
Sandals or water shoes
Hat or cap for sun protection
Sunglasses
Swimwear (if needed)
For cold weather
Lightweight jacket
Vest
Warm, insulated jacket with hood
Beanie
Gloves or mittens
Long underwear
Fleece-lined pants
Thick socks
Gaiters (for hiking in muddy or snowy conditions)
Personal Care:
Toilet paper (That's not the first time it's on this checklist…I really don't want you to forget it!)
Hand sanitizer
Personal toiletries
Bath towel
Washcloth
Prescription medications
Feminine products
Toothbrush
Toothpaste
Lip balm
Baby wipes
Mirror
Brush/Comb
Extra set of glasses or contact lenses
Accessories:
Backpack or daypack for hiking
Water bottles or hydration system
Campsite lighting (headlamp, lantern, flashlight)
Maps or navigation tools
Binoculars or telescope (for stargazing or wildlife spotting)
Camera and extra batteries
Portable power bank or solar charger
Outdoor games or recreational equipment (frisbee, ball, etc.)
Camping hammock or swing
Batteries for camp lighting, fans, or other accessories
Portable camp shower
Stuff for Kids:
Appropriate clothing for all weather conditions
Sleeping bags or bedding
Snacks and drinks
Activities or toys for entertainment
Child carriers or strollers (if applicable)
Portable high chair or booster seat
Travel crib or playpen
Kids' camping chairs and table
Nature exploration kits or field guides
Reddit has a couple of good threads regarding camping gear as well – this one "First time campers must haves" in the camper gear subreddit is super helpful. This other subreddit question addresses the best things you WONT find on a camping checklist… lots of wisdom in one spot!
*If you need some more specific camping checklists, check these out…
Some Help When Packing the Tent Camping Essentials
Camping requires a few essential items to ensure a comfortable and enjoyable experience. From shelter to sleeping gear and cooking equipment, having the right gear can make all the difference. So if you're new to tent camping, here are some tips for choosing some of the big essential gear items.
Tent
There are different types of tents available for camping, including dome tents, cabin tents, and backpacking tents.
Dome tents are popular for their easy setup, durability, and versatility.
Cabin tents offer more space and sometimes include dividers for privacy.
Backpacking tents are lightweight and designed for easy transport during hiking trips.
A good starter tent – Coleman Sundome. It's hard to beat its quality at that price point. Plus, it's available in 2, 3, 4, and 6-person versions.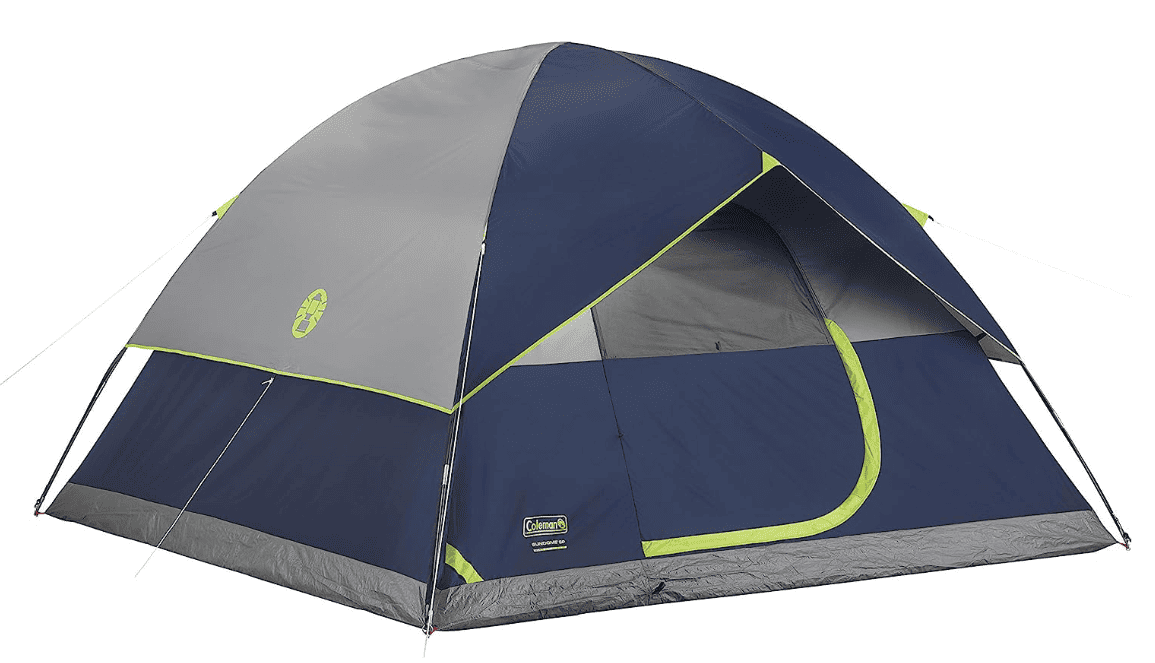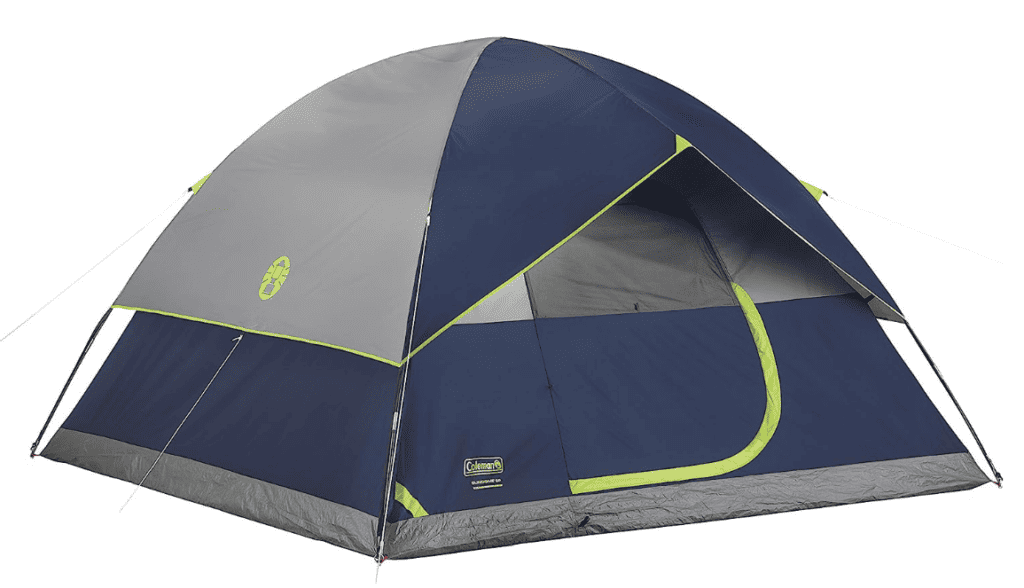 Check the Coleman Sundome price here.
Need some inspiration for setting up your tent and campsite? Check out 47 Tent Camping Set Ups You'll LOVE (With Pics!).
---
Sleeping Gear
Sleeping bags are crucial for a good night's sleep. Look for ones that are suitable for the camping destination's climate, provide insulation, and offer comfort.
If you're not camping in super cold weather, you can get a cheaper sleeping bag. It'll be bulkier when it's packed up, but it'll give you the insulation you need for warm-weather camping. Then, whatever money you save on a sleeping bag, drop it on the next item.
If you're going to drop a chunk of change on any part of your sleeping setup, I would suggest doing it on your sleeping pad or air mattress. Self-inflating hybrid sleeping pads are the way to go. They insulate you from the ground and only take a few breaths to inflate.
Here are two great options: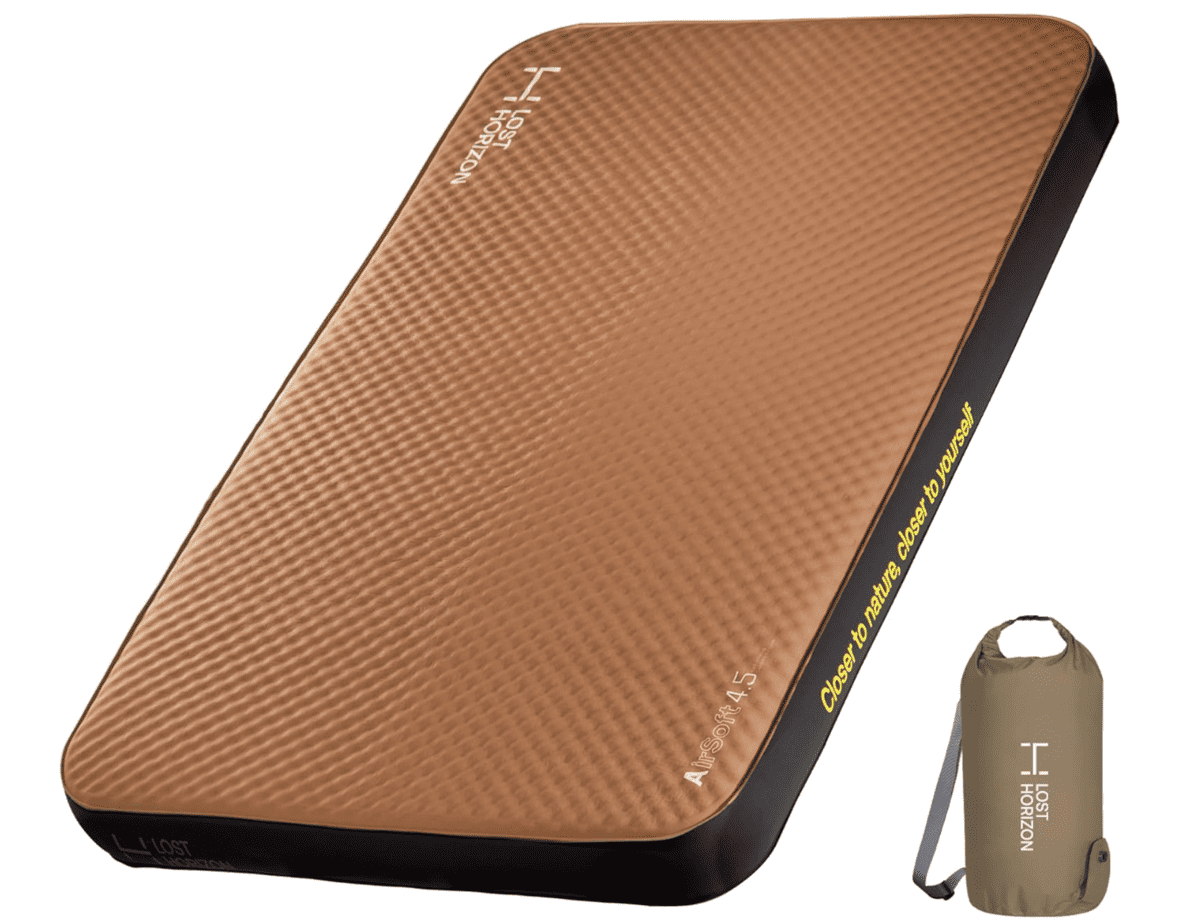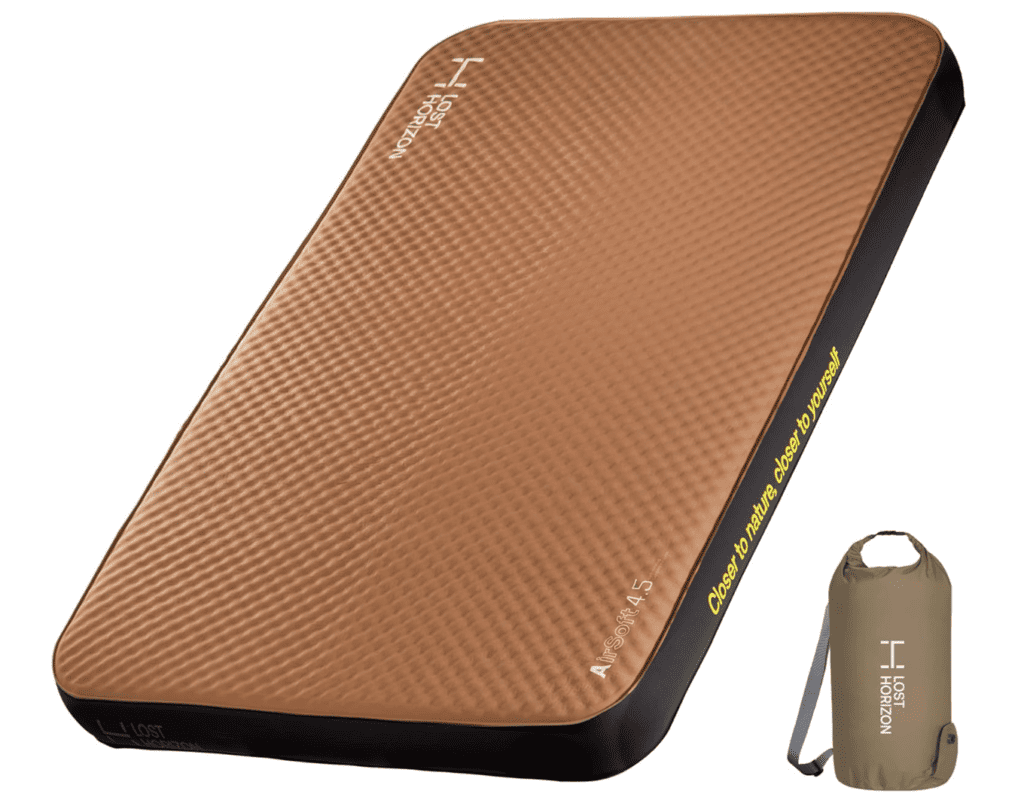 Don't forget to bring pillows to ensure a comfortable sleep. You can go with traditional pillows or camping pillows for convenience and space-saving. Check out my article on the 10 Best Camping Pillows.
---
Cooking Equipment
A camping stove allows you to prepare meals and hot beverages conveniently without having to fuss with starting a fire. Two and three-burner stoves are great for families. Couples and singles can get away with a single burner.
Here are some good options…
Cookware such as pots, pans, and kettles are essential for cooking meals at the campsite. Cast iron skillets, griddles and dutch ovens are great for cooking over the fire.
The Stanley Adventure set is a great cookset. Best of all, everything nests into the cookpot for easy storage and transportation.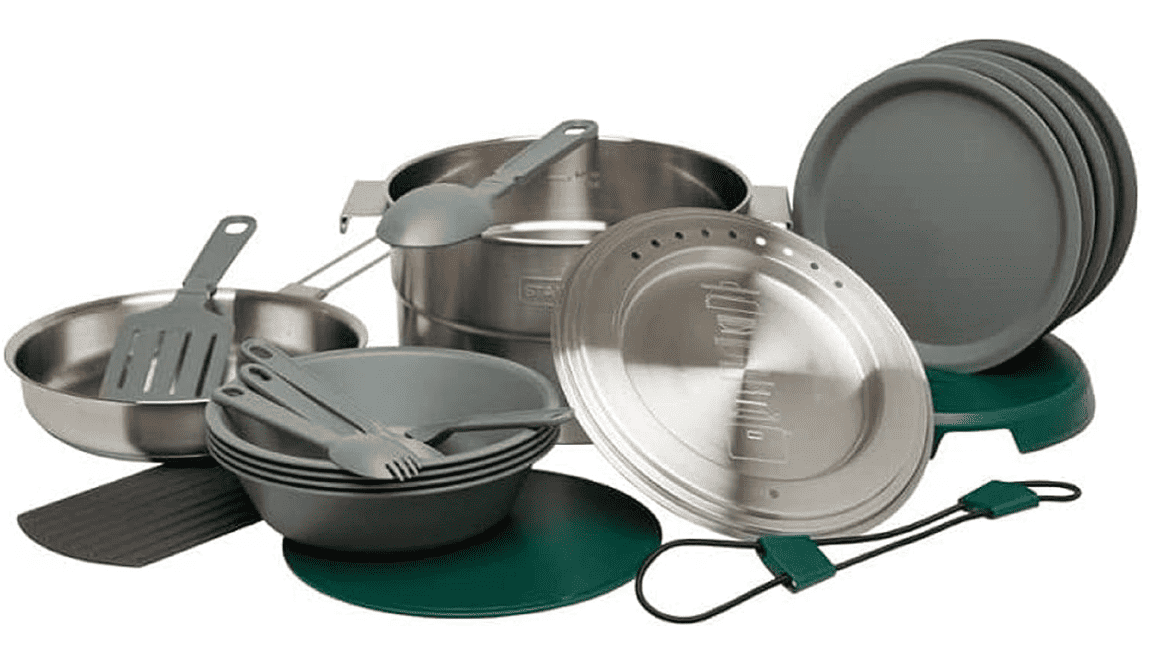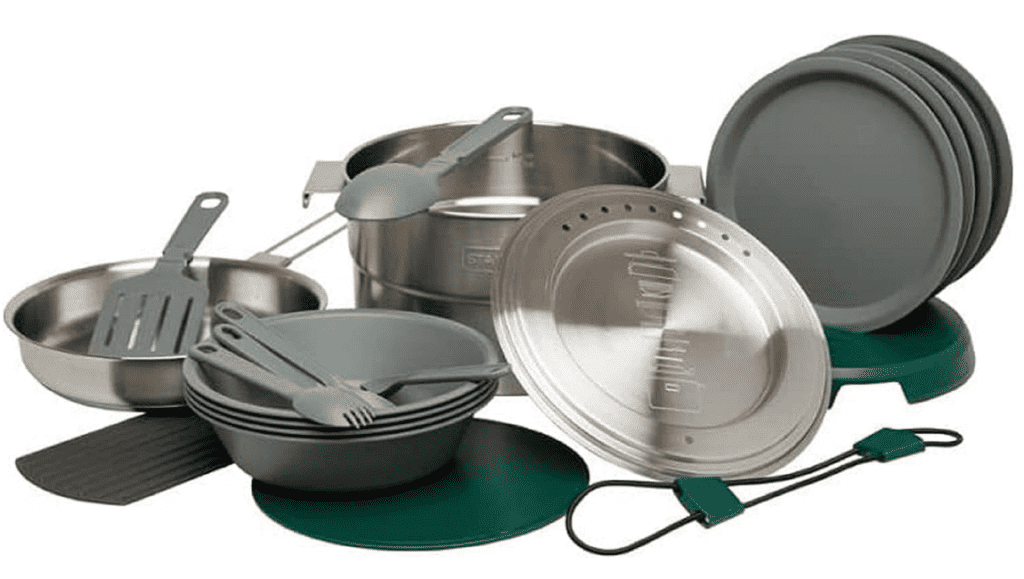 Pack camping utensils like spoons, forks, and knives suitable for outdoor cooking and eating. Stainless steel or lightweight plastic utensils are popular choices.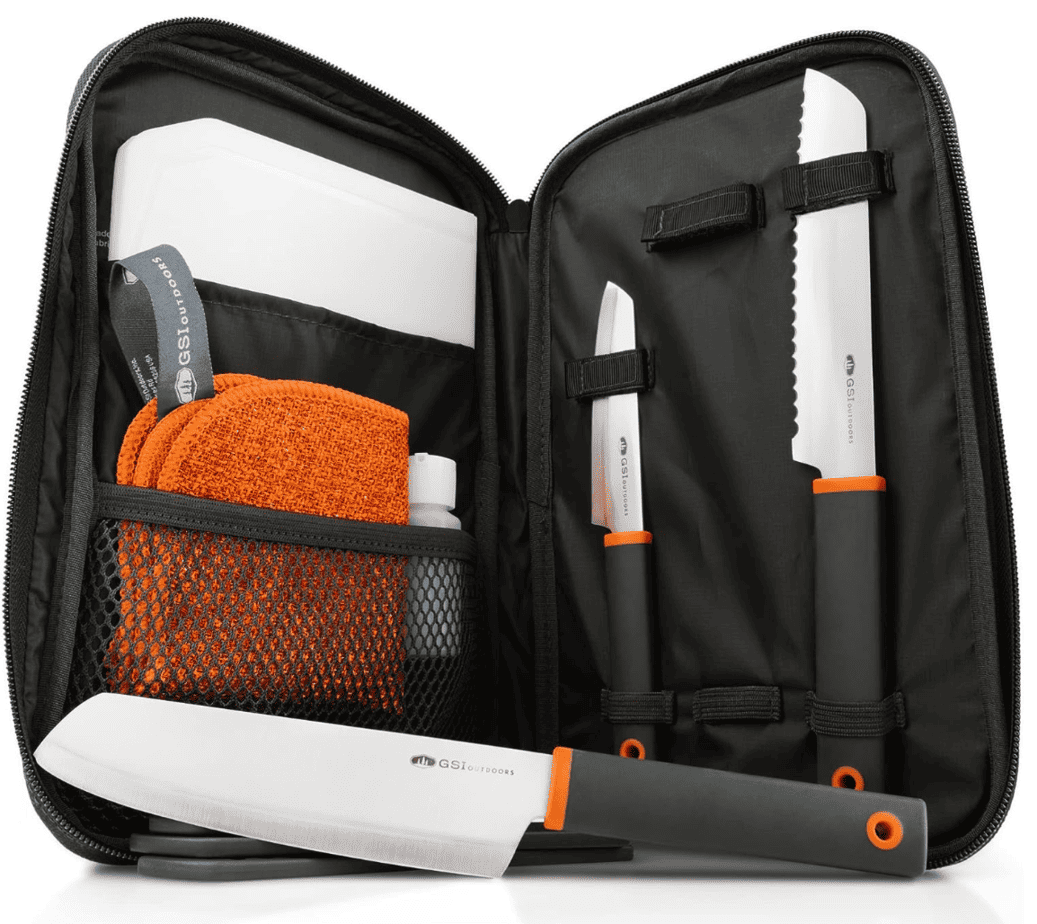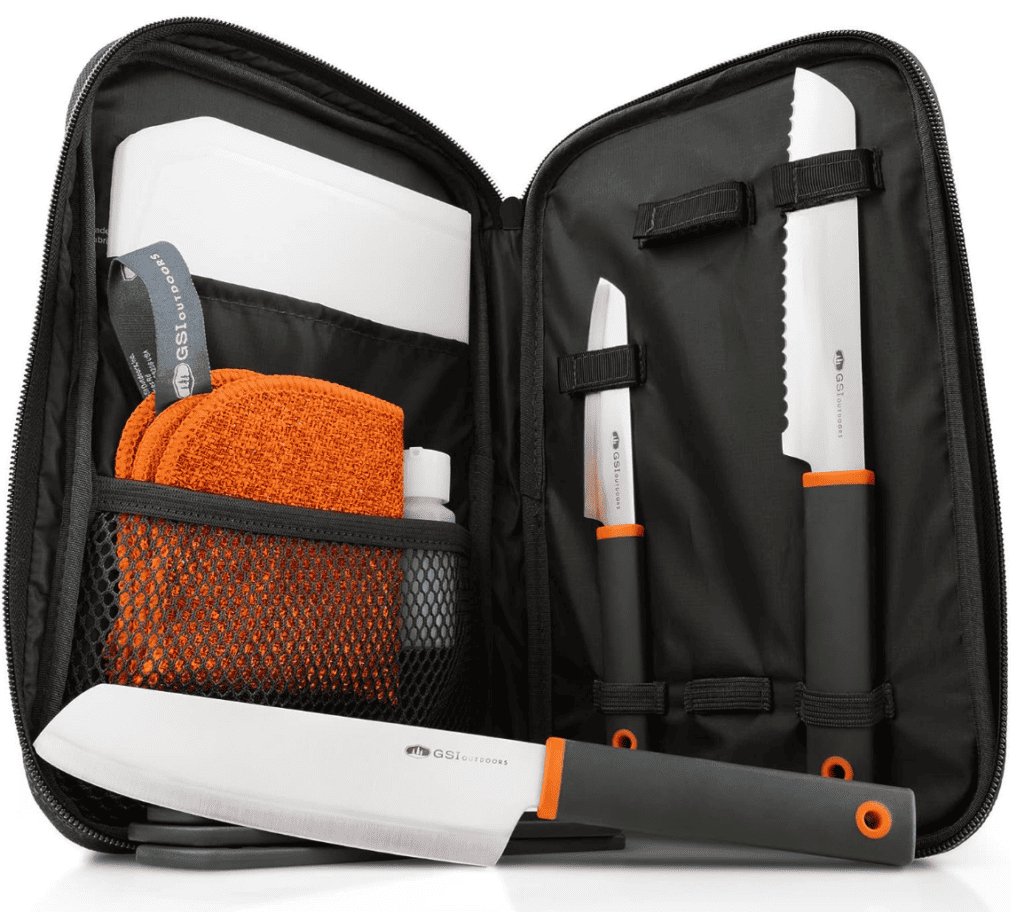 ---
Lighting
Flashlights or headlamps are essential for navigating around the campsite at night or in low-light conditions. Look for options that are durable, waterproof, and provide ample brightness.
Lanterns provide overall campsite illumination. Choose lanterns that offer adjustable brightness levels and have features like hanging hooks or handles for easy placement.
*I would highly suggest foregoing the old propane lanterns and getting a modern, rechargeable LED lantern like the Goal Zero Lighthouse 600.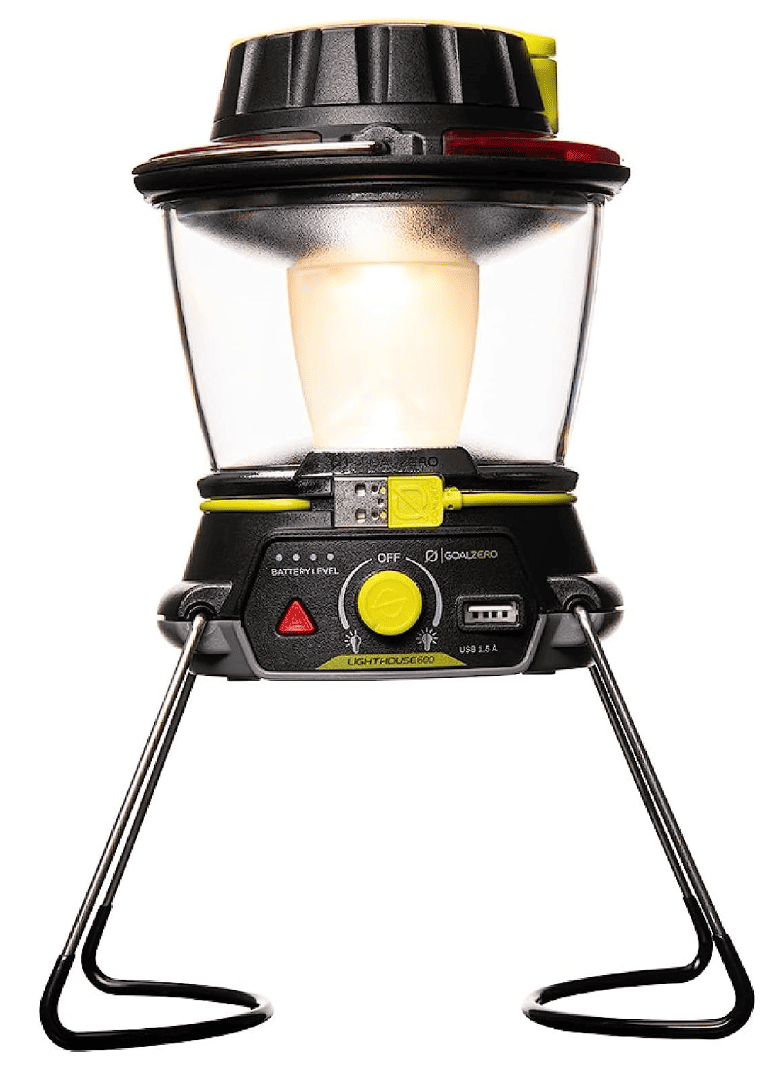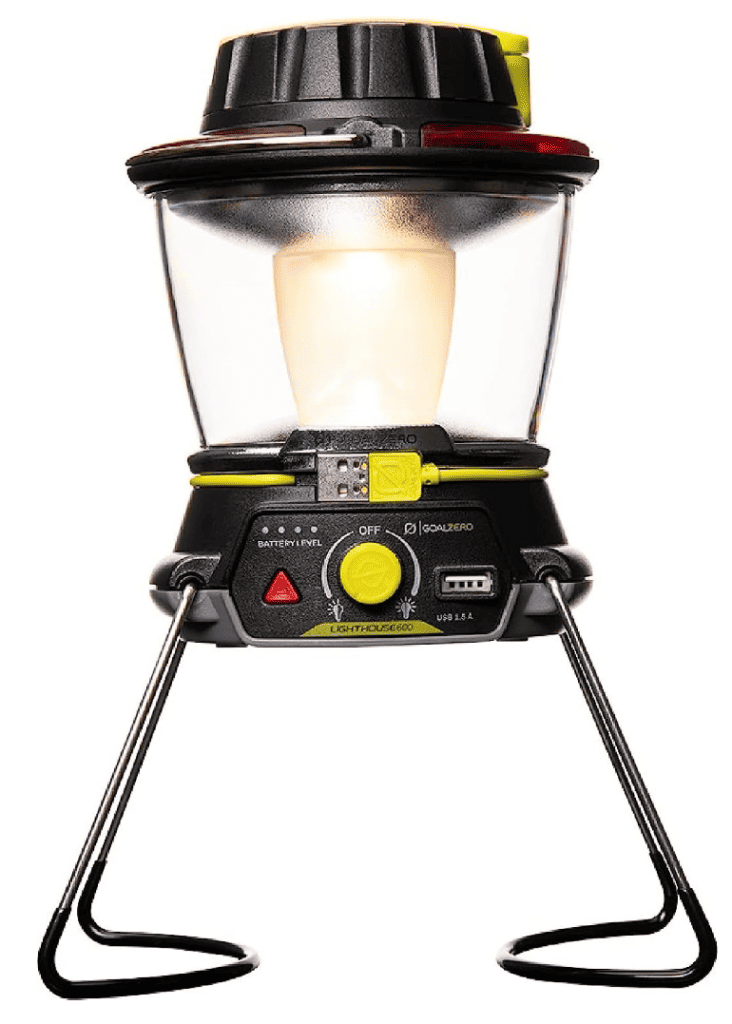 ---
Campsite Setup
Camp chairs and tables add comfort and convenience to your campsite. Look for lightweight and foldable options that are comfortable to sit on and easy to transport. Tables with adjustable heights and built-in storage pockets are super useful.
Some nice camp table options: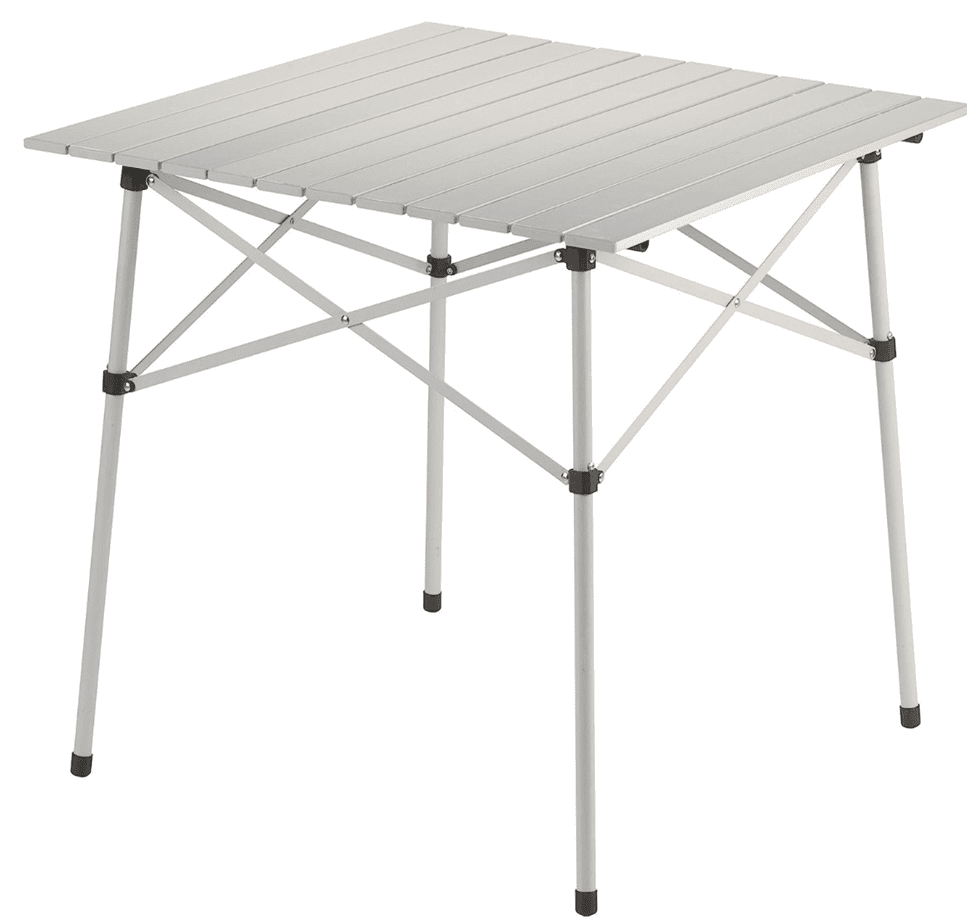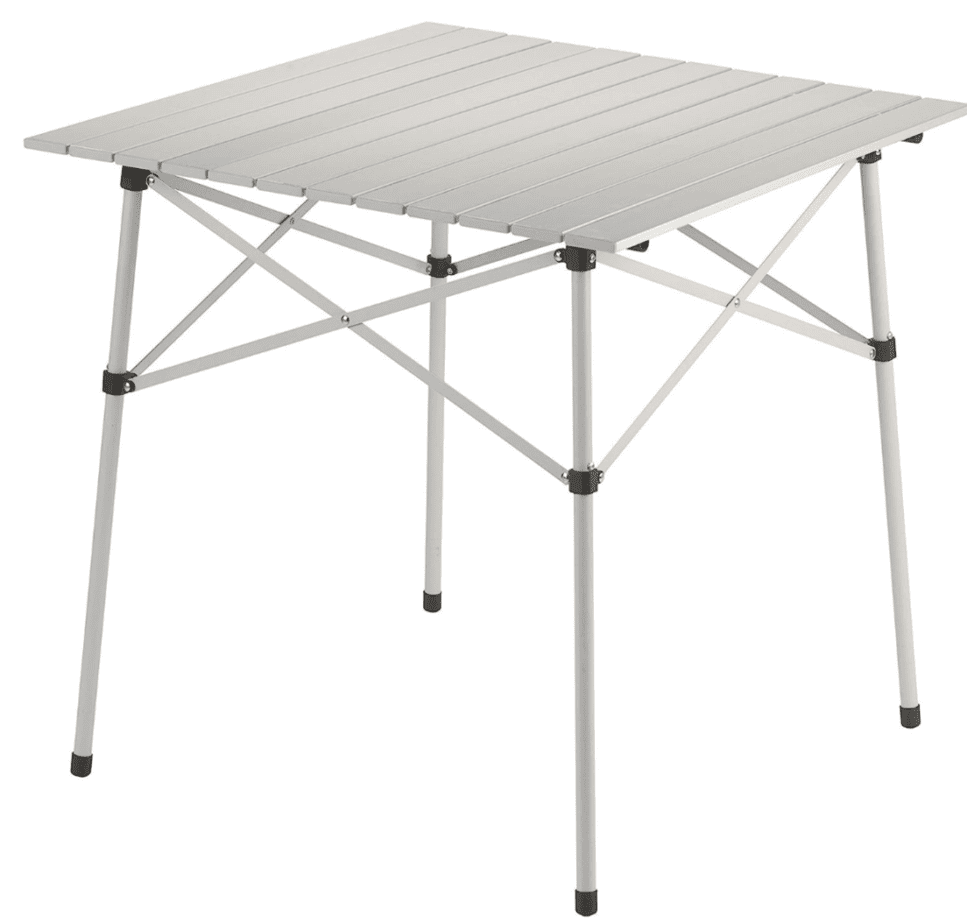 Some nice camp chair options you may not have seen before:
Instead of a regular table, you could also go with a foldable camp kitchen. They unfold and provide a workspace, a place to hang a lantern, a place for your camp stove and sometimes even a sink!
Check out the best options in my article 9 Best Camping Kitchens for Cooking Anywhere!
Tarps and ropes are handy for creating additional shelter, protecting your tent from rain or sun, and providing a clean surface to sit or store items. Choose durable tarps (look for ones that are at least 10mil thick) and reliable ropes (paracord works great) for versatile use at your campsite.
*TIP FROM A PRO CAMPER – Get brightly colored, reflective paracord. If you use it for low-hanging clotheslines or tent guylines, you'll be less likely to trip over it in the dark.
Tools such as hammers, multitools, and knives are important for hammering in stakes, campsite setup, repairs and axe throwing competitions if you want to give that a try.
I've had the Fiskars X11 hatchet (they call it a 17" splitting axe) for a couple of years now and absolutely love it. It's the perfect size and weight for general camping tasks. And it's usually what I use to hammer my tent stakes into the ground.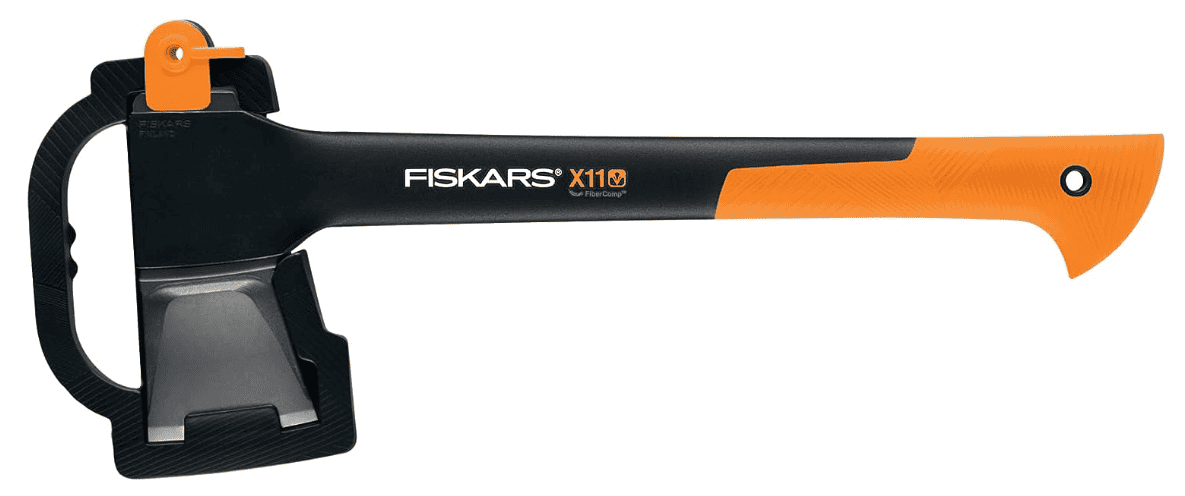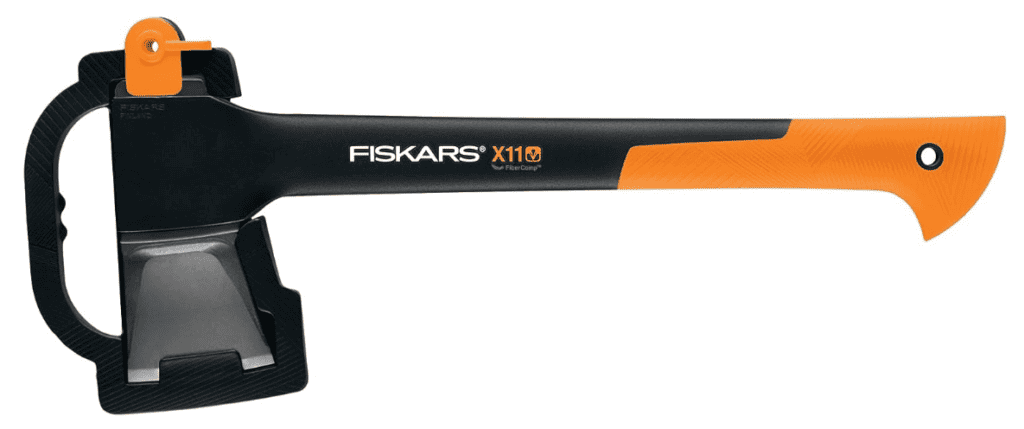 ---
Personal Care and Safety
A first aid kit is a crucial item for any camping trip. It should include essentials like bandages, adhesive tape, antiseptic wipes, pain relievers, tweezers, and any necessary prescription medications.
Hanging toiletry bags are a lifesaver in campground bathhouses. Get one like this Sea to Summit Travelling Light Hanging Toiletry Bag.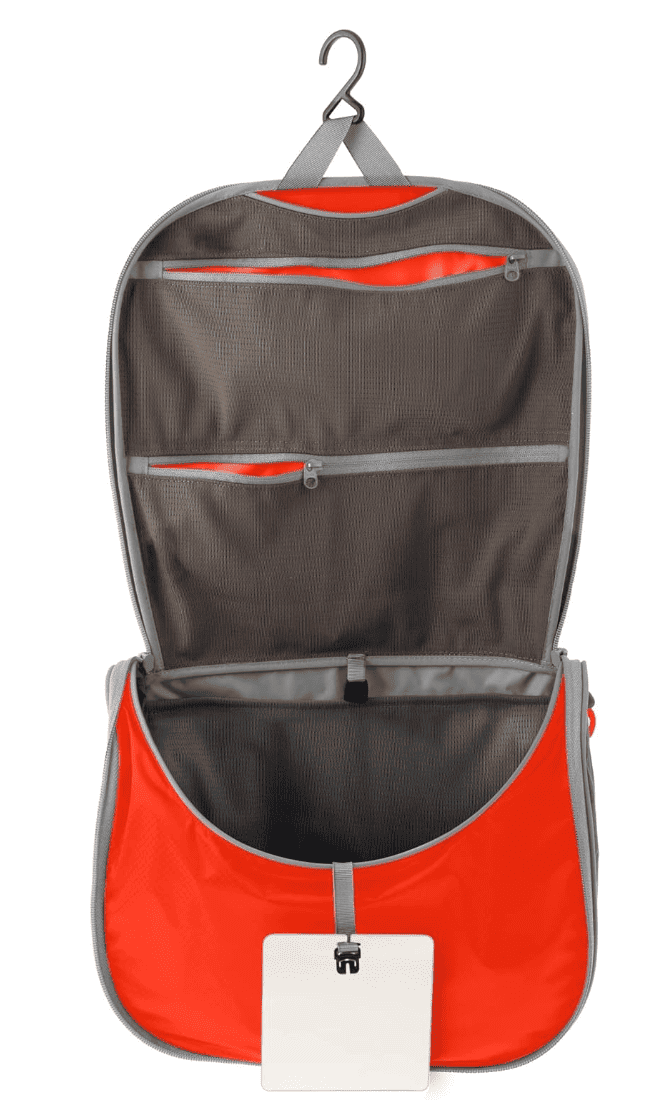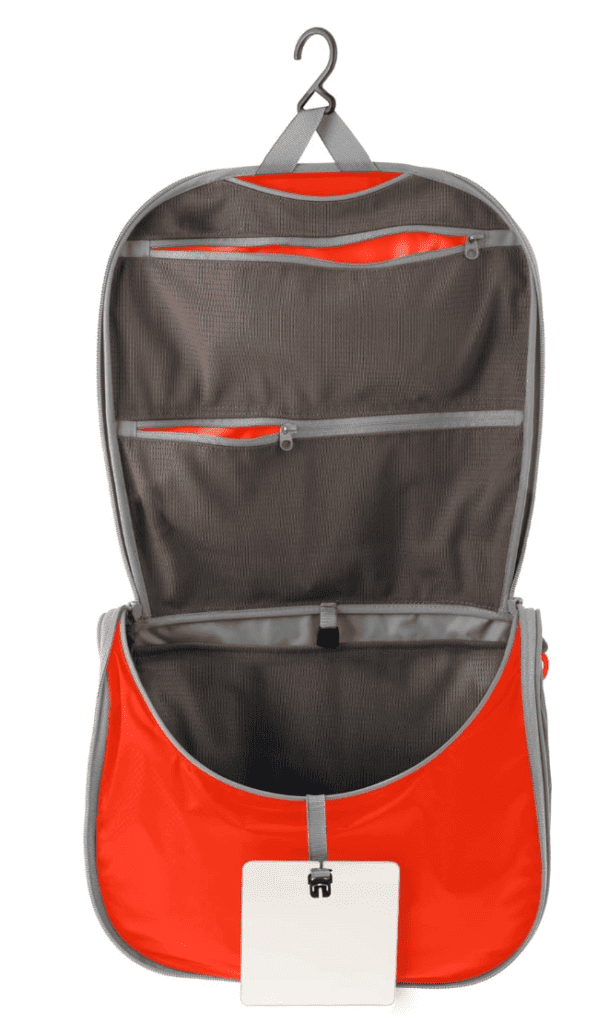 Insect repellent is essential for keeping mosquitoes, ticks, and other bugs at bay. Choose a repellent that is effective against insects found in your camping area and consider options with skin-friendly formulas.
Try a Thermacell mosquito repeller. I used one for the first time on our last camping trip in a buggy area and man did it work great! It kept the entire area around the picnic table bug-free.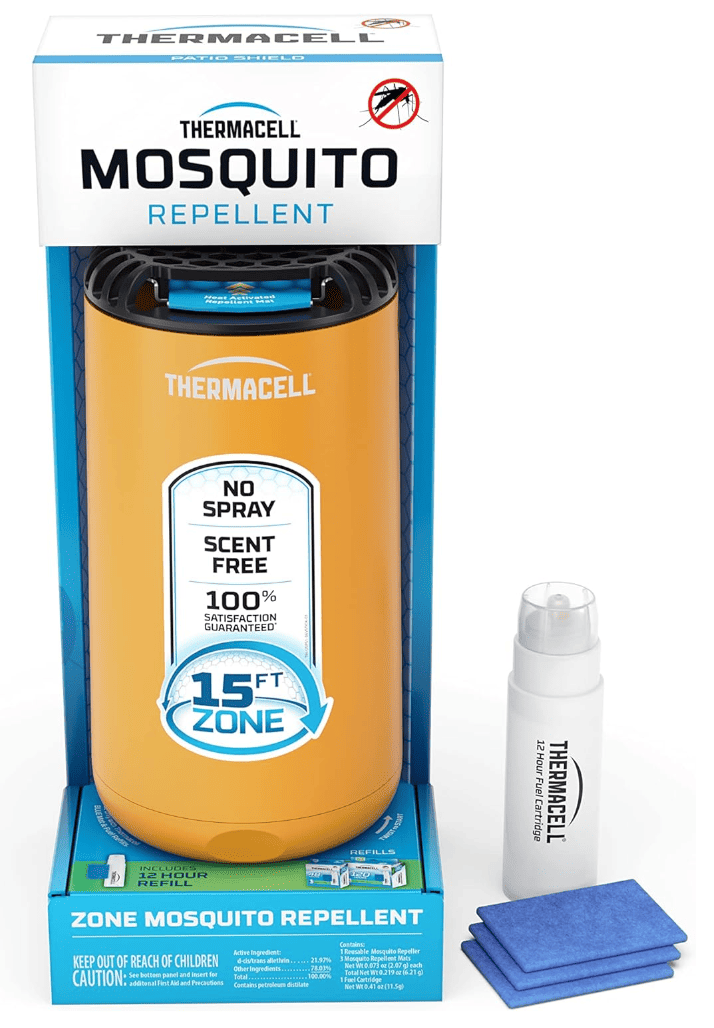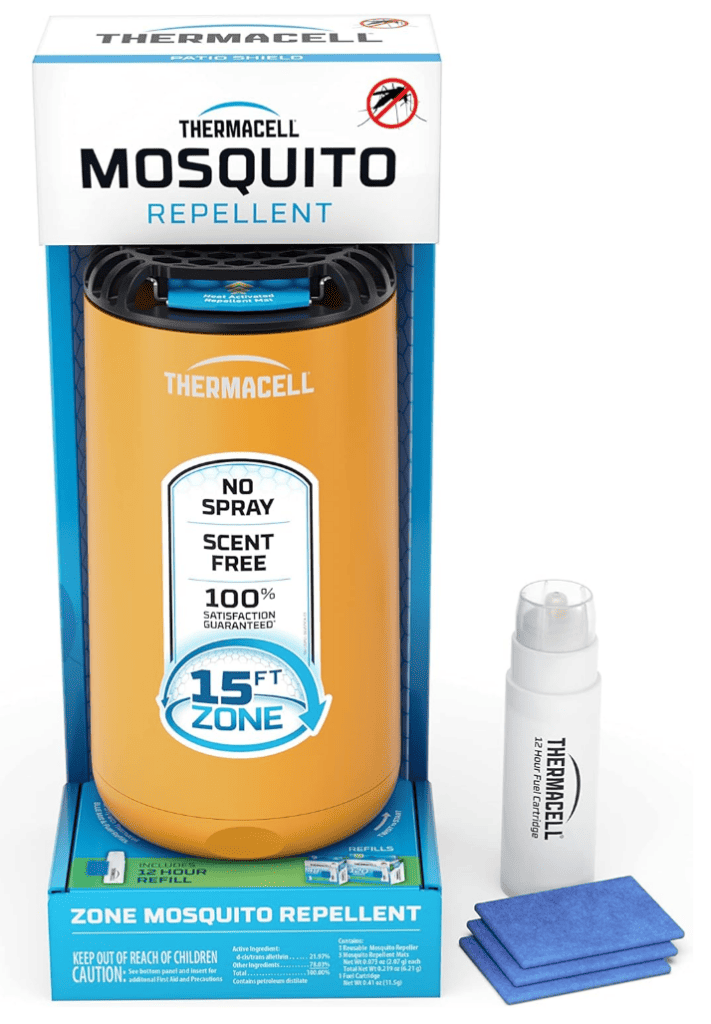 ---
Accessories
Backpacks or daypacks are useful for carrying essential items during hikes or day trips. Look for something that is comfortable to wear even with some weight in it, has flexible storage capacity, and offers organizational compartments for keeping track of smaller items.
When it comes to backpacks, it's hard to go wrong with the Kelty Redwing. The 36-liter Redwing pack has flexible storage options and is even big enough for an overnight hike (as long as you pack light).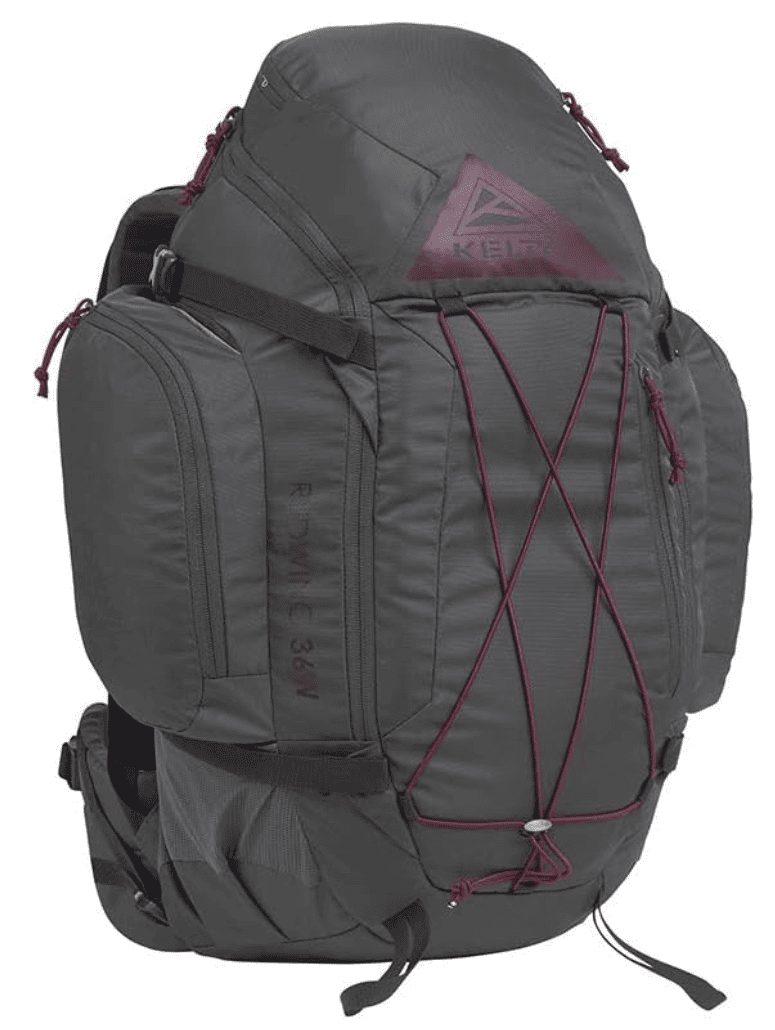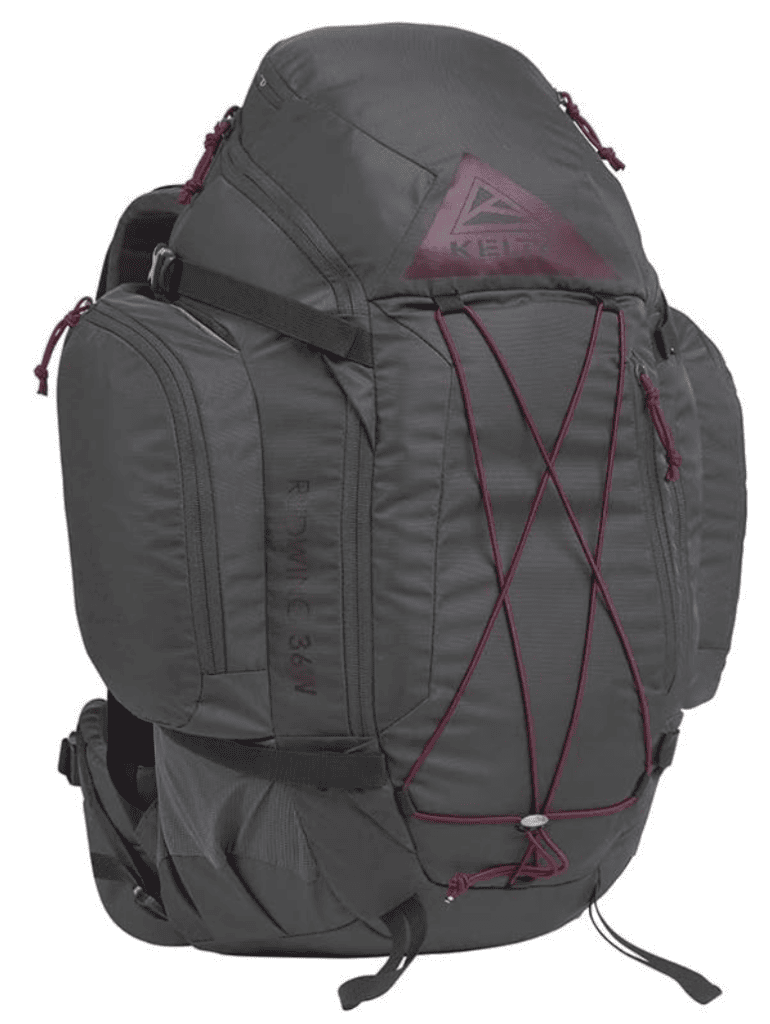 Portable power banks are becoming more and more important for keeping our devices charged. Small power banks like the Anker Portable Charger are useful for keeping your phone charged for 2-3 days.
AWESOME TIP! – Get a simple power bank (you've probably got some lying around the house) and grab some of these outdoor USB powered string lights. String them up around your campsite and plug them into the power bank. We did that on our last trip and they completely lit up the site. Plus, it makes your site look oh so posh!
Portable power station/generator – If you often go boondocking or are camping at sites without electricity for more than a day or two, I would 100% suggest investing in a portable power station. They can even come in handy at home if you lose power for a few hours.
This year I got the Ecoflow River 720Wh Power Station. It kept two phones, 1 tablet, a power bank, lights, and a battery fan charged on a 7-day camping trip at a no-electric site.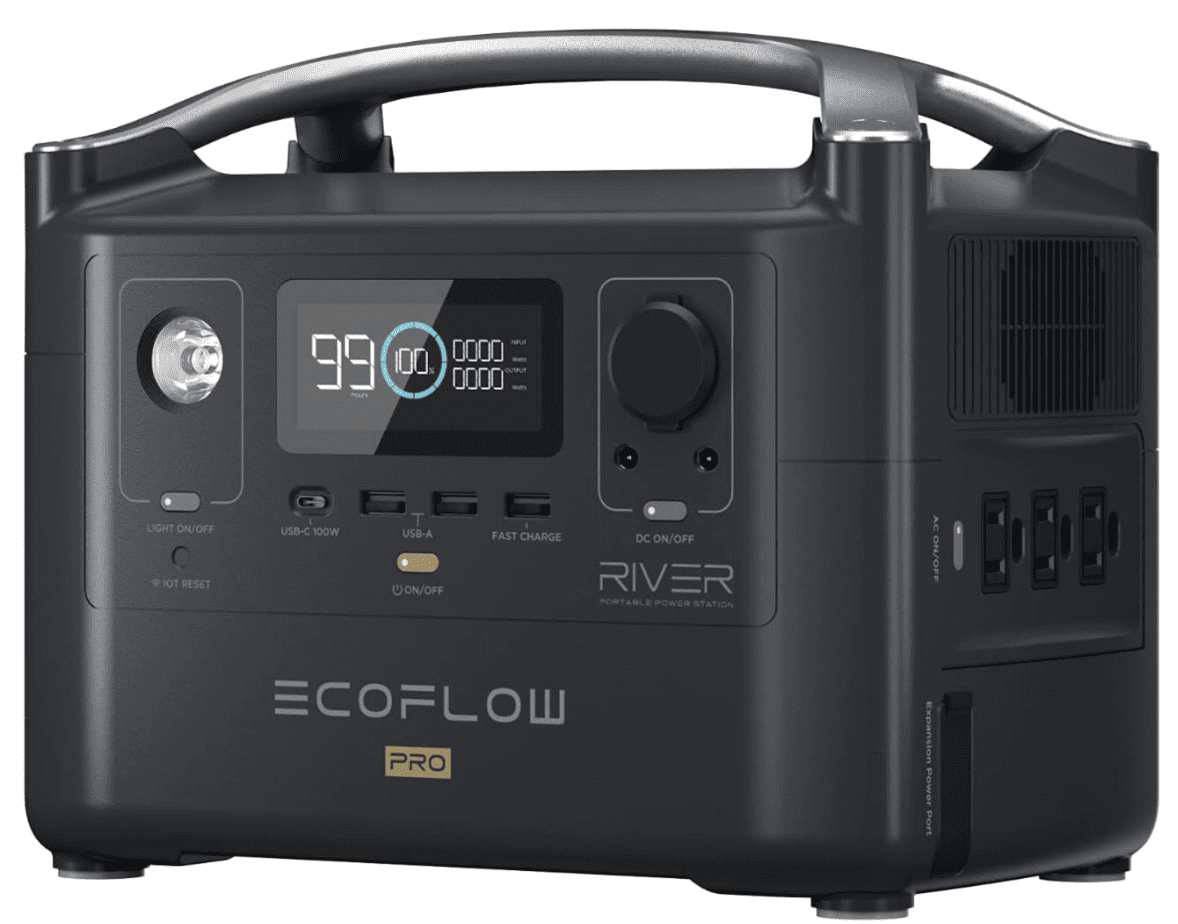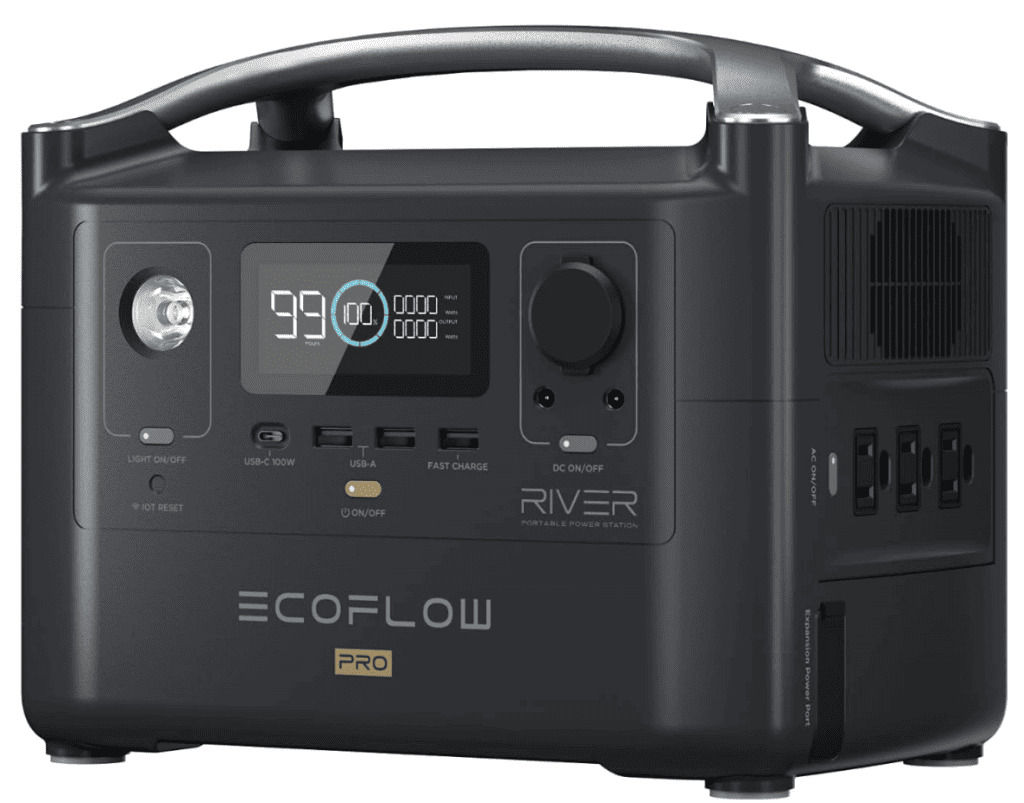 Portable Shower – Sometimes campground bathhouse shower just won't cut it. It can be handy to have your own portable shower on-site. Check out my article 14 Best Portable Camping Showers to Stay Squeaky Clean in the Woods for some nice options!
One of the disadvantages of tent camping in the middle of summer is the heat. Tents can get hot and stuffy at night. That's why I included a battery-powered fan on my tent camping checklist. My favorite camping fan is actually the Dewalt 20V Max Jobsite fan.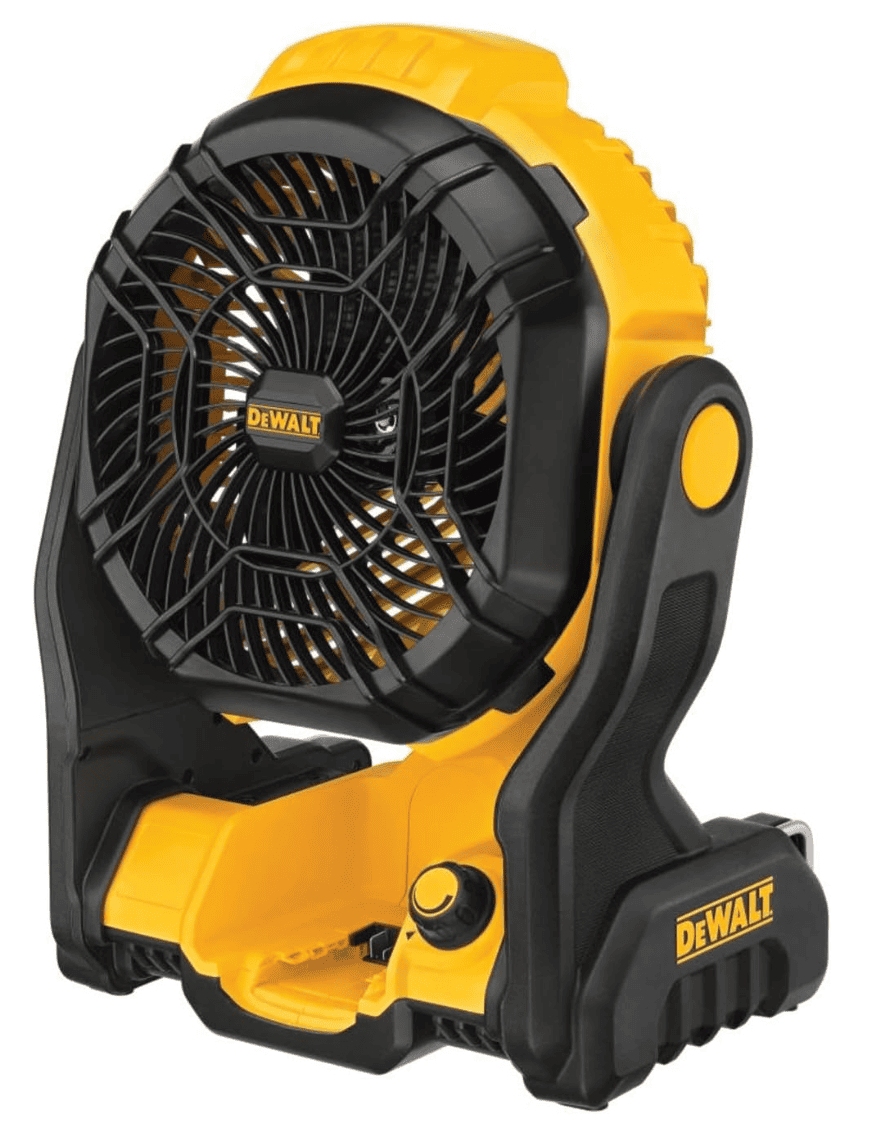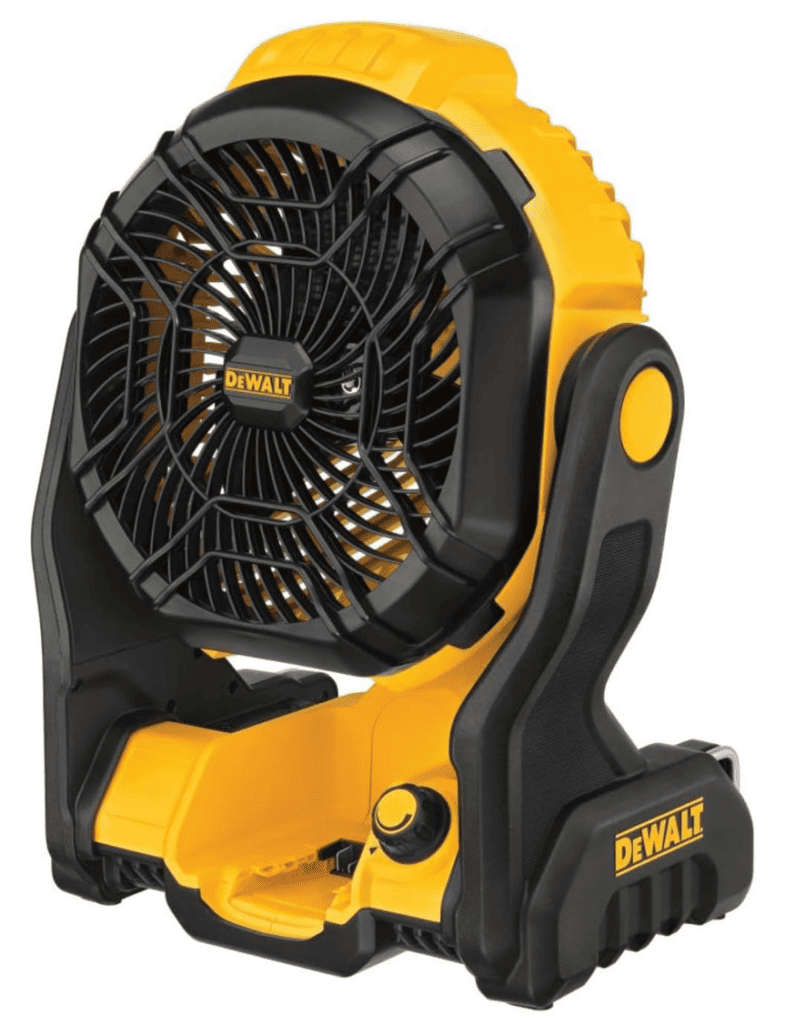 It's rugged and durable so it's perfect for getting moved around the campsite. It works on Dewalt 20V rechargeable batteries and puts out a surprising amount of air. There were two of us in a 4-person tent in the heat of August and we had to keep it at about half of max speed. At max speed it blew way too much air! And one battery lasted about two full nights.
Check the current price of the Dewalt 20V MAX fan.
---
Food and Meal Planning
Meal ideas for tent camping can include simple recipes like foil packet meals, campfire stews, sandwiches, grilled meats, and easy one-pot meals. Try to plan meals that incorporate non-perishable and easy-to-prepare ingredients for convenience.
Not sure where to start? Check out these articles:
A cooler is essential for keeping perishable food items fresh. Look for a durable cooler with sufficient insulation, the capacity to meet your needs and length of stay, and portability for easy transportation…remember, coolers get heavy when they're full!
Here are some tried and tested options for camp coolers:
Coleman 316 Series Insulated Portable Cooler with Heavy Duty Wheels. It seems that Yetis get all the glory these days. But don't forget that more successful camping trips have been taken with Coleman coolers like these than any other type! You just can't beat the size, quality and ice-retention for the price.
If you're looking for something built like a tank, I love Canyon Coolers. They're a small company from the USA and they offer limited lifetime warranties on their coolers! The PRO65 is an awesome choice and should last for many, many camping trips to come.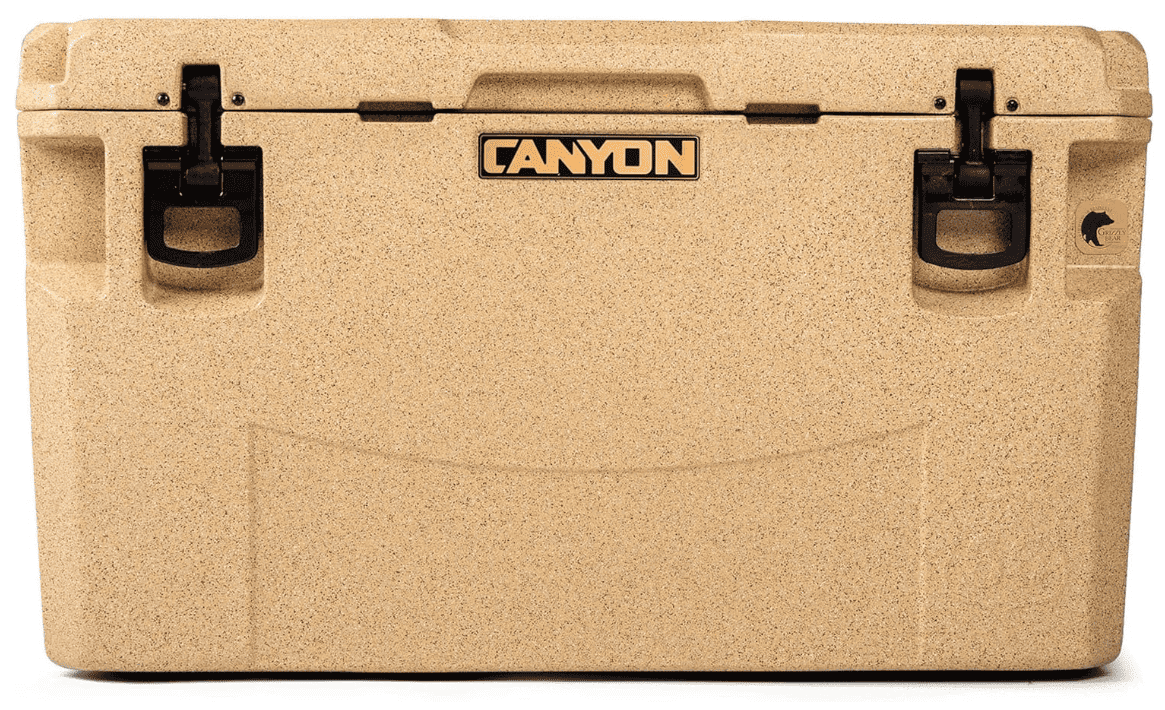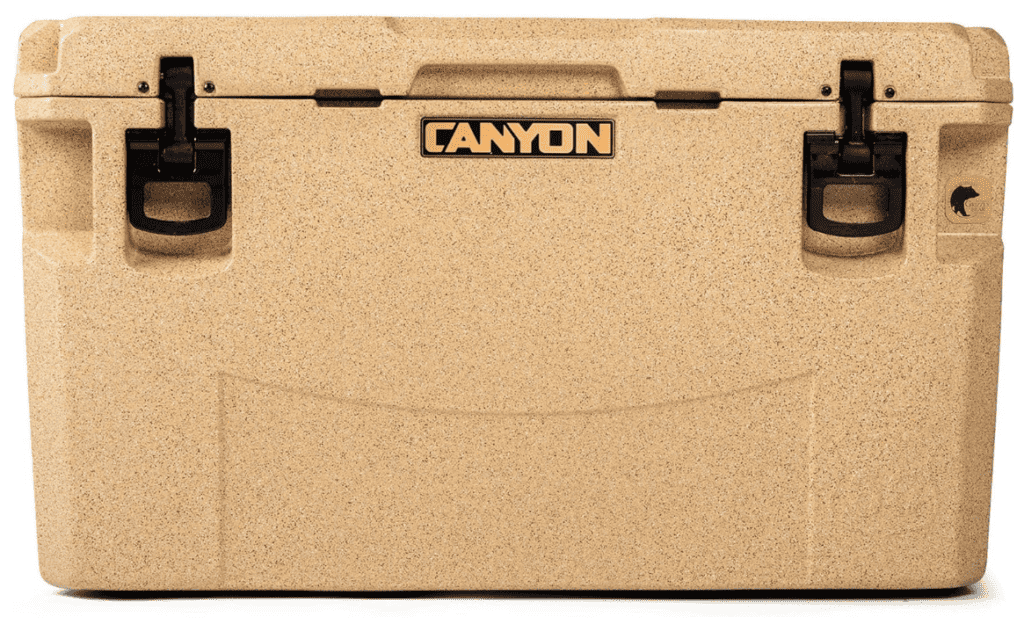 ---
Don't Forget Your Printable Tent Camping Checklist
Don't miss out on the convenience of having our Tent Camping Checklist in a printable form. Sign up for the exclusive Resource Library to access the downloadable PDF version (along with a bunch of other FREE camping printables for organization and FUN!
And don't forget to check out these other articles that'll help you be prepared for your next tent camping adventure!
Latest posts by Stacy Bressler
(see all)