Shopping for Christmas and birthday gifts can be oh-so stressful. Especially if you're unsure of what a tiny campervan owner would love and use a lot. So I've created this list of over 30 campervan gift ideas.
I separated this huge campervan gift guide into these six categories to make it easier to browse through:
Okay onto gifts!!
But first… here are some things to keep in mind while you're shopping…
Things To Keep In Mind When Buying Gifts for Campervan Owners
Before you start shopping, you definitely need to consider some of the unique circumstances of van life. There are some campervan gifts that will be used a ton, and others that are an absolute no-go.
Even if you don't pick an item from my list (don't worry I won't be offended 😂), just keep these things in mind when shopping.
They Don't Have Space to Spare
This is probably the most important consideration. The inside of a van is almost always very small, and campervan owners are always pressed for room. They will typically have a specific spot for every item in the campervan, and only put extra stuff in the van if they need it.
So, look for items that are compact and practical. Funny gadgets and gizmos and gag gifts are fun, but might not make the final cut when it comes to packing up.
Don't Overlook Comfort
All that being said, comfort is definitely a necessity for camper van life. Campervan dwellers are far away from home, often in cold or super hot weather, and in a cramped space. So anything that can make them even a bit more comfortable is probably a great gift.
Choose Quality Over Quantity
If you're deciding between getting lots of small gifts, or one really nice gift, definitely go with one luxury item. It's way better to give very high-quality and practical campervan gifts that they'll use a lot than a bunch of cheap gifts they don't need.
Outdoorsy Gifts Are a Great Go-To
If you're completely unsure what to buy your campervan friend or family member, I'd recommend opting for something outdoorsy. Anyone who lives in a van is going to be spending a lot of time outside so gifts for camping, boondocking, and hiking are going to be super useful.
6 Best Practical Gifts for Campervan Owners
Whatever your budget is, there are tons of great practical gifts out there for campervan owners.
You might think these gifts sound boring, but these campervan gifts will have your friend or family member saying "I use your gift every single day!!!"
Command Hooks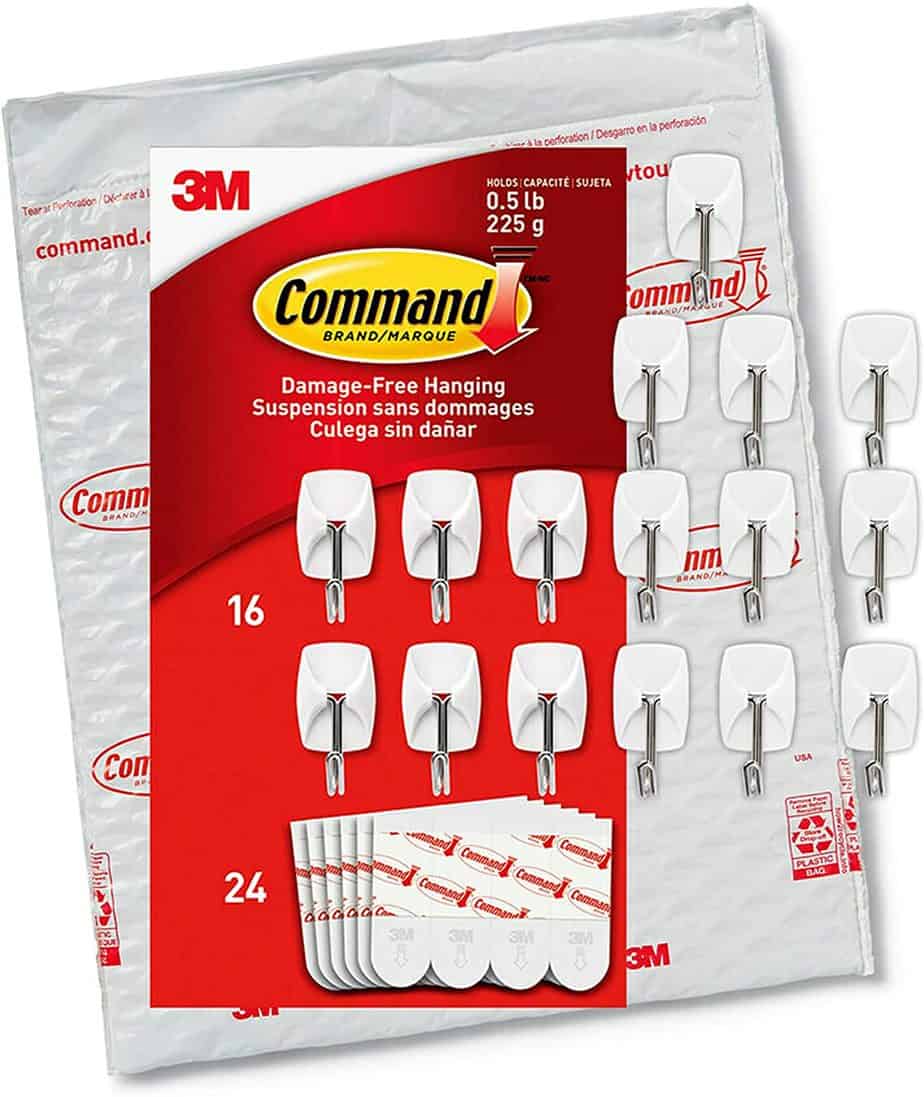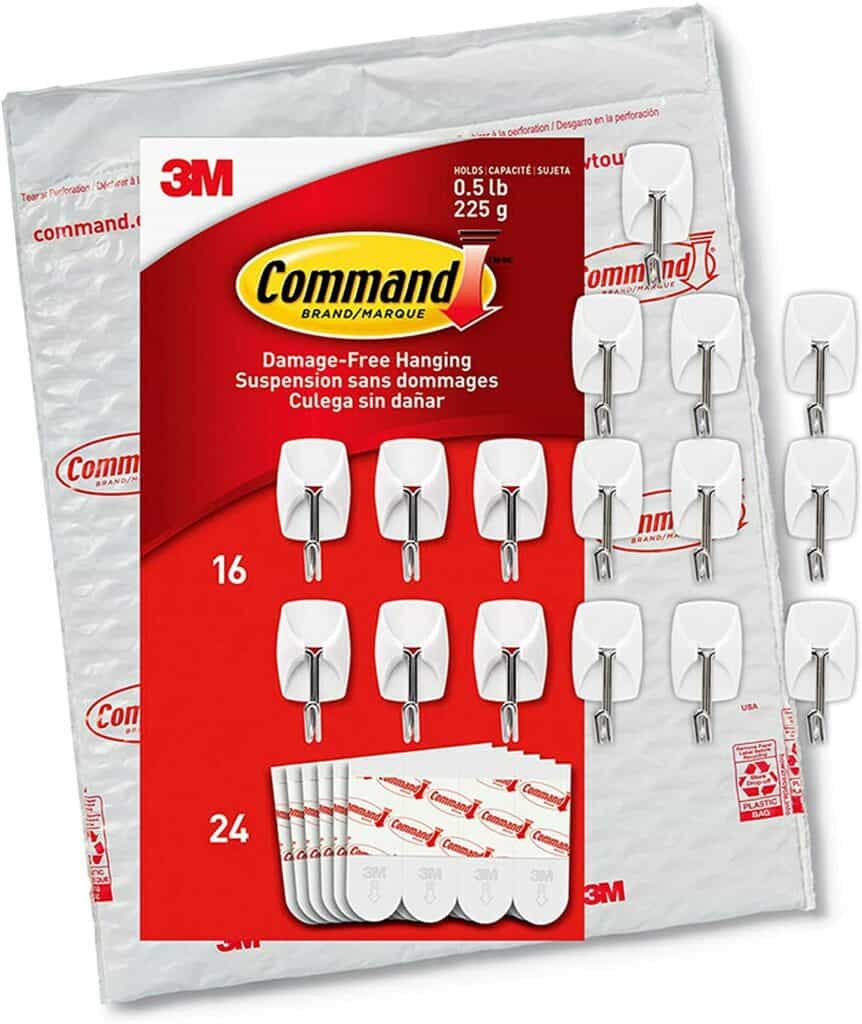 Command hooks are one of the most practical campervan gifts you can find. Even if your campervan-owning friend or family member already has some, I'm willing to bet they need more. These are great for hanging rags, utensils, bags, pots, anything you can think of!
This may not be the funnest gift idea for a campervan owner, but it's one they definitely need and will get tons of use out of. Command hooks come in lots of different sizes as well, so you could get a mix of different sizes for different uses in the van.
Check the price on these little ones here.
Portable Power Station
If you really want to splurge on a gift, a solar power station is a great go-to. These are a must-have for anyone who lives in a camper van.
They can be charged off a home power supply or can be hooked up to solar panels, which makes them super versatile. These can be used to charge laptops and phones, power lights, electric stovetops, refrigerators, and whatever else they'd need to power.
Check out this really in-depth review of the Yeti Goal Zero 1500 to see how it works.
And the current price on Amazon here.
First Aid Kit
A first aid kit is one of those gifts for campervan owners that they may not always think to buy for themselves, but that they'll definitely want to keep on them while traveling. You can purchase one like this that I found on Amazon, or make a personalized first aid kit yourself in a cute DIY container.
From small scrapes to blisters from hiking, to more serious injuries, first aid kits are some of the best practical campervan gifts you can buy. They're also pretty inexpensive as far as gifts go – check the price here.
Car Battery Jump Starter Kit
This campervan gift is a bit more pricey, but it's absolutely something that every campervan-er should keep on hand with them. This self-starter can be charged on a home power supply (or a portable battery) and can help jump a van's dead battery.
Having one of these means that if the vehicle dies in the middle of nowhere, you can easily start it back up again without having to find someone to ask for help. This gives huge peace of mind to your camper van friend or family member, so it's a great practical gift.
Check the current price on this self starter here.
Cell Phone Signal Booster
Life on the road often means super poor cellular data strength, which can be really frustrating–especially if your work necessitates a strong and consistent internet connection.
Anyone who lives in a campervan full time would absolutely love to have one of these cell phone signal boosters, which picks up existing 4G LTE and 5G coverage and boosts it for faster internet speeds.
Yes, it's a pricey gift, but its practicality makes it totally justifiable if you're looking to splurge on a campervan gift.
Here's a nice in-depth review of this pricey practical item.
And you can check the current price here.
Water Storage
Since most campervans lack freshwater tanks, a water storage container is absolutely essential. Your campervan friend or family member can fill these up at rest areas or truck stops, and keep it for drinking, dishwashing, and tooth-brushing. So, this is an incredibly practical campervan gift for anyone who doesn't have a freshwater tank in their campervan.
Check out the price on this water container here –it comes in a 4-gallon and a 5-gallon option.
5 Best Campervan Gifts for Staying Comfy
Like I've said, comfort should absolutely not be overlooked when living in a campervan. Staying warm and cozy (or cool in the summer) is a luxury that makes life even more enjoyable, so these campervan gifts will be truly appreciated.
So here are my gift ideas that will help keep any campervan owner feeling super cozy on the road…
Camping Blanket
Camping blankets are a great versatile campervan gift. They definitely keep you cozy inside the campervan, but they're also really practical. They can be used as picnic blankets, sleeping bags, or just to cozy up by the fire. 

This blanket from Rumpl is down insulated and packs super light so it doesn't take up much room in a campervan. Plus it's spill and odor resistant so it's easy to just wipe down and doesn't need to be washed often. This is a guaranteed awesome gift idea for any campervan owner.
Check out the price and different print options offered by Amazon here.
And for more blanket options check out my list of the 15 best camping blankets.
Tiny Space Heater
Winter campervan camping can be incredibly cold. Even in vans with heaters, small pockets of the inside can get super chilly. Lots of campervan-ers opt to purchase a little space heater to help warm up those chilly areas of their vans, or for really cold days when a small van heater isn't powerful enough.
This one is propane powered so it won't use up electricity, and it has a ton of safety features so it's great for indoor use in a tiny space. It's also really small and folds up compactly so it's ideal for space-saving.
Check out the price on Amazon here.
Indoor/Outdoor Slippers
Who doesn't love a pair of super cozy slippers?
Slippers are an especially great gift for van-owners because mornings in a campervan can get pretty cold. It's nice to hop out of bed and throw on some warm slippers. Plus, these slippers from Kubua are made to be worn outdoors as well as indoors, so they're great for mornings around the fire or a walk around a campground.
Check out the price and color options here.
Tiny Fan
In non-winter months, living in a tiny space can get really hot, and fans are always nice to have on hand to put on while sleeping. A tiny fan like this one from Amazon will get lots of use from any van-lifer. Plus it has a hook so it can hang on the ceiling of the campervan.
Check out the current price on Amazon here.
A Heated Blanket
A heated blanket is great for any campervan that doesn't have a heater. Plus, it can be really useful for nights when it's a bit too warm to turn the heater on but too cool to sleep comfortably.
This heated blanket comes with a rechargeable battery, so it doesn't need to stay plugged in all night which makes it great for conserving energy in a campervan. This gift is definitely not a necessity for van life, but it will make a van bed extra comfy cozy.
Check the current price and color options on this blanket here.
4 Best Kitchen Gifts for a Campervan Owner
Campervan kitchens are all about staying practical. Everything you purchase should either serve more than one purpose, be really compact, or both! (Like the mini Instant Pot, for example).
So, here are all the best campervan gifts perfect for a tiny kitchenette…
Dish Towels
Everyone always needs some extra dish towels. In a campervan, dish towels serve as everything towels, so this is a great multipurpose gift for any camper.
Plus, you can help add to the cute decor of the campervan by purchasing these super cute customized towels made specifically for campers and RVers.
Check out the current price of these cute dish towels here.
Tiny Instant Pot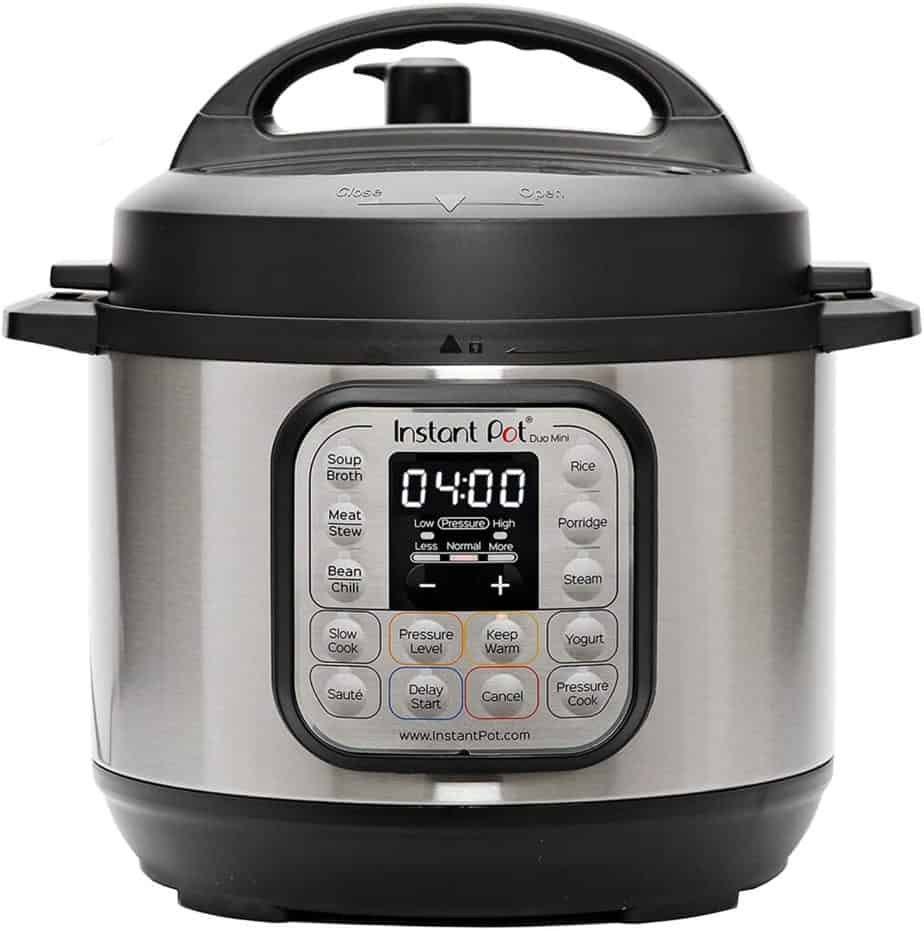 Everything in a campervan has to have more than one purpose, otherwise it's not an efficient use of space. An instant pot is a perfect all-in-one small kitchen appliance that replaces the need for a pot with a burner. It cooks soups, meats, veggies, rice–whatever you need it to!
Plus, this one is nice and small (3 Qt. capacity) so it won't take up lots of room in a tiny van kitchen. I'd recommend it for any van-lifer who doesn't already have a great kitchen setup with pots, pans, and a stovetop.
Check out the current price on this mini instant pot here.
Collapsible Bowl Set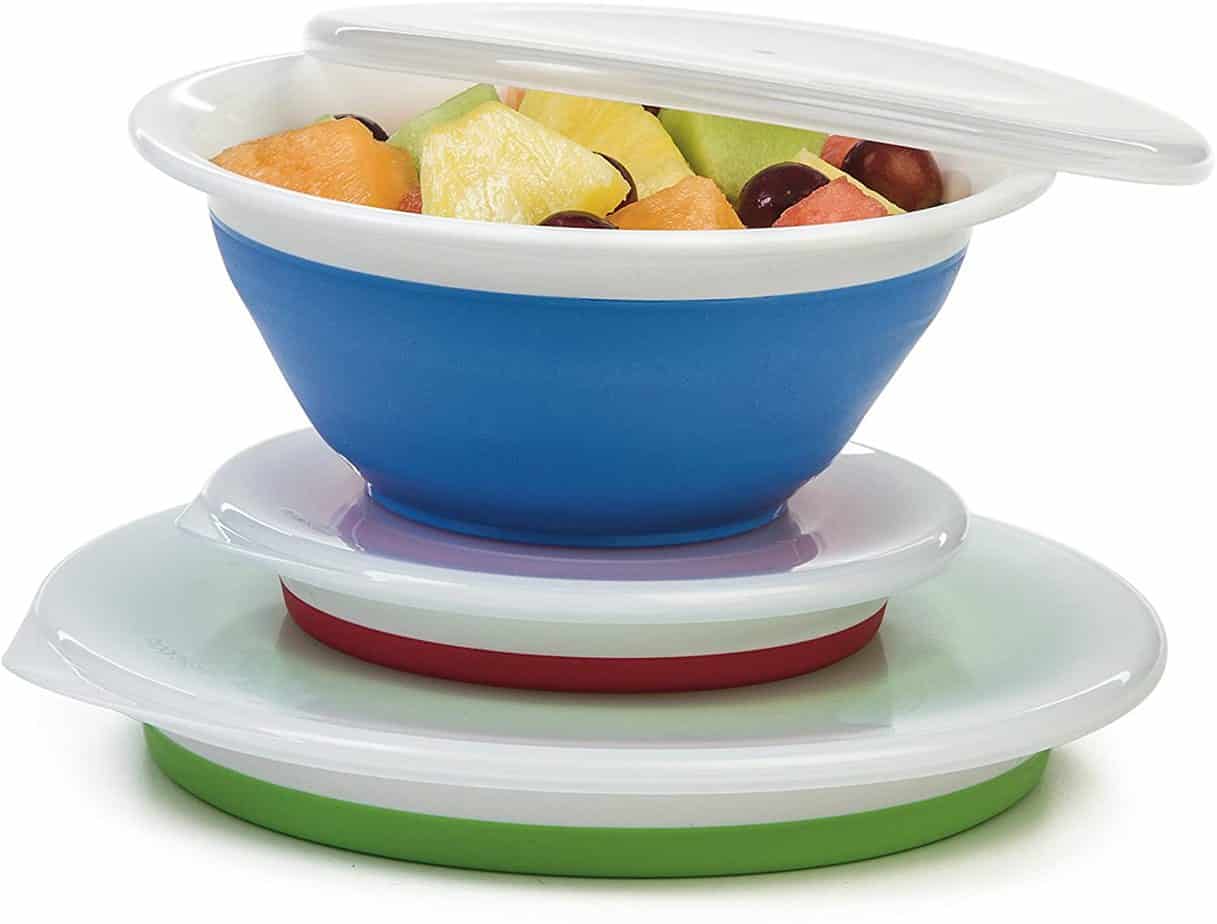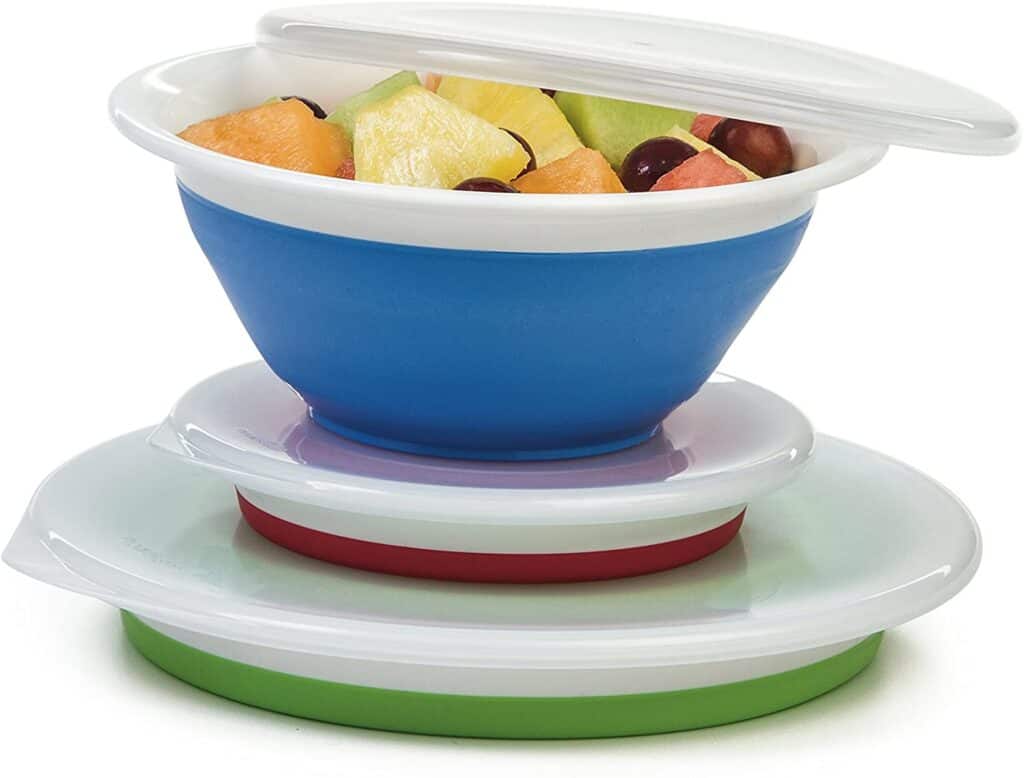 Bowls are essential to have around a kitchen for prep, mixing, and storing food, but in a campervan, they can take up a ton of room. So, collapsible bowls make the perfect gift for any campervan-er who loves to cook.
These bowls come in a pack of three and collapse down almost completely flat so they won't take up any room when they aren't in use. They also come with lids so they can serve as leftover storage too.
Check the price on these bowls here.
Mountable Spice Rack
A spice rack is a kitchen item all van kitchens need, but few campervan owners think to install when building out their vans. Keeping spices in drawers leads to lots of clutter, and takes up tons of room. Having a spice rack allows a campervan kitchen to be super organized, plus, the spices will stay safe and not be flying around and making a mess while driving. They're also super easy to install by just screwing them into the kitchenette wall or backsplash.
Even if your van-owning friend or family member isn't an expert cook, a spice rack is great to store even just salt and pepper for the occasional van meal.
Check out the price for a pack of four on Amazon here.
Related: If you have a friend who loves an organized campervan, check out these 61 additional camper organization ideas!
4 Entertainment Campervan Gift Ideas
Just because you're living in a campervan doesn't mean your only means of fun is hiking or sitting outside.
Believe it or not–campervan life can get boring so it's fun to have things to do indoors especially on rainy days. Whatever gifts you give for entertainment, just make sure they're nice and packable or they won't be brought along.
Here are all my gift ideas to keep any campervan-er entertained on bad-weather days.
A Mini Chess Set
Chess is a perfect van-camping game except that most chess boards are pretty big and take up a lot of room. But not this one! It's just six inches wide! This chess set will fit in even the smallest of campervans.
Plus, the pieces are magnetic, so even though they're tiny, they won't slide around and fall off during gameplay. This is a perfect gift for chess-playing campervan-ers who might never think to buy this for themselves.
Check out the price of this tiny chess set here.
A Kindle Reader
Books are a no-wifi-needed source of entertainment that's perfect for van campers, but unfortunately, they take up quite a bit of room in a small van. So, a tablet reader is a perfect solution since they allow you to have thousands of books all in one place without taking up any room.
Ebooks on the kindle are really affordable, and this tablet takes up basically no room in a van, plus Kindles only need to be charged every few weeks so they won't be constantly sucking power from the campervan like a typical tablet would.
Check out the price for a new 8GB Kindle here.
Phone or Tablet Arm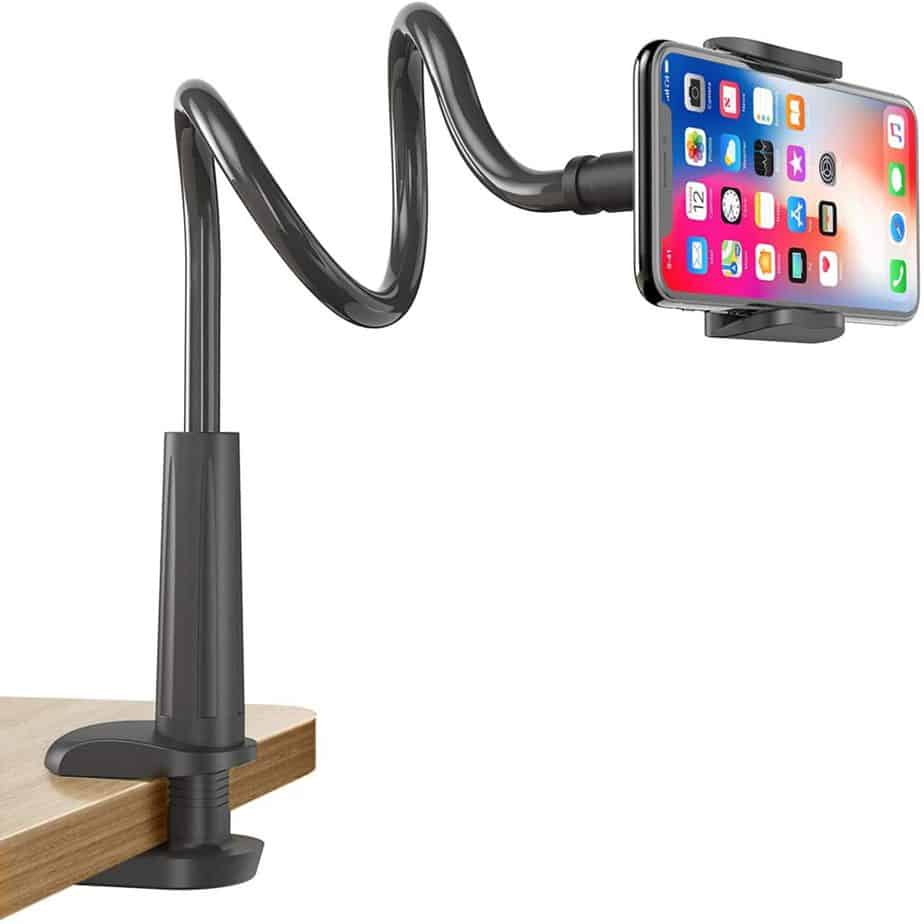 A phone or tablet holder arm is a gift you may never have thought of, but it's something that's super useful to campervan owners. Campervan builds usually do not come with TVs, and there is little room to mount one.
Van-owners can attach the arm to any surface and use it to watch tv and movies while in bed without fear of their phones falling on their face, they can also be used to hold phones for navigation while driving.
Larger arms are also available that hold tablets if your van camper friend or family member has an iPad. This is a great gift that the typical van owner probably won't think to buy for themselves.
Check the price on these here.
Collapsible Cornhole
Who doesn't love bags? I mean cornhole… I mean… bean bag toss? Whatever you want to call it–this is a super fun gift.
Most cornhole games are made of hard wood or plastic and take up a ton of room so they'd be completely off the list for a van camping packing list. This one folds up super small, though (the carrying case is around 1 x 1 ft) so it can easily fit in a tiny van.
Check out the current price here.
6 Best Outdoorsy Gifts for Campervan Owners
Like I said before, if you're completely unsure of what gift to get, pick one from this list! Van-lifers spend tons of time outside their tiny vans so they'll definitely need some of these gifts I've picked out here.
Hammock
Any van owner will get tons of use out of a hammock. They're great for lounging around any campsite, and they're packable and lightweight so they won't take up much room in a tiny campervan.
Check out the price and color options for these hammocks from Amazon here.
Zero Gravity Camping Chairs
In my opinion, nice camping chairs are a luxury no camper should have to live without. They'll get a ton of use so it's worth investing in one that's really comfortable–but not everyone wants to buy themselves a hundred-dollar chair. So, do your campervan friend or family member a favor and buy one for them!
And trust me–these zero gravity chairs are totally worth a hundred bucks. If you've ever sat in one, you'll probably agree with me.
Check out the current price and color options on this zero gravity chair here.
Solo Stove
A Solo Stove is one of the best (pretty much luxury) items you can get for a campervan owner. People who own campervans usually do tons of boondocking–meaning they often stay at undeveloped campsites that don't have fire pits. A Solo Stove is basically a small portable bonfire designed to allow you to have a fire wherever you go.
It's smaller than it looks, super easy to clean, and doesn't produce really any smoke so it won't make their van permanently smell like a bonfire if they're parked near it. It's pricey, but they'll get a TON of use out of this thing.
See the current price here – make sure to look for sales!
You can also check out my review after two years of using the Solo Stove!
Life Straw Water Bottle
Having a source of clean, drinkable water is a top priority when camping, but sometimes clean water sources are few and far between, and water at campsites often tastes pretty yucky. So, a Lifestraw water bottle is an awesome gift for anyone who lives in a van.
This filter cleans out microplastics, chemicals, and bacteria from dirty water sources and turns it into clean tasty water that's safe to drink. It's perfect for long hikes, backcountry camping, and boondocking.
Check the price and color options on this awesome water bottle here.
A 2022 National Parks Pass
This is honestly one of the best-value gifts on my whole list. It's an annual pass you can buy at REI that covers entrance fees to any site on BLM Land, National Forest Land and National Parks.
It's 80$ for a whole year of entrance fees and it covers the cost for a whole vehicle full of people. National Parks Entrance fees can be pricey (they're usually $20-$40), so this pass makes an awesome gift for any National Park lover.
You can buy them in-store at any REI location or online here.
Compact Binoculars
Even if your van-life friend or family member isn't an avid birder, they'll definitely get some great use out of a pair of binoculars. They're great for sightseeing, wildlife viewing, and navigation.
This pair from Amazon is also really compact and will easily fit in the glove compartment or middle console of a van.
Check out the current price on Amazon here.
6 Best Decorative Campervan Gifts
Just because vans are small doesn't mean they can't look cute! In fact–van design and decoration is one of the funnest and most popular elements of van life culture. You can help make your friend or family's van feel more homey with one of these decorative campervan gifts I've picked out here…
Personalized Welcome Mat
A personalized welcome mat is the perfect mix of practical and decorative. Outdoor mats are great to have to wipe off dirty feet or leave shoes on before getting in a van, but they can also make a campsite look extra cute–especially if they're personalized like this one from best custom.
Best Custom allows you to change all the text, the number of people, and the vehicle on the doormat so it's completely customizable to whoever you're giving this awesome gift.
Check the price on this doormat here.
Twinkly Lights
Never underestimate the power of twinkly lights to make a van or campsite feel oh-so-cozy. These are the perfect gift for a campervan owner because they take up basically no room, they're battery-powered, and they help make their tiny home feel a little more comfy-cozy.
These lights on Amazon are 66 feet long (woah) so they're long enough to light up a whole van from the inside–great for people who don't have fancy recessed lighting in their van builds.
They also work indoor and outdoor and they come with a remote control with eight different settings.
Plus, they're super affordable, check the price here.
Tiny Framed Pictures
This is a great DIY gift for your campervan friends or family. In their home-away-from-home, van lifers love to have personalized decor. All you have to do is order some pictures of you and your campervan friends or family, put them in the picture frames, and wrap them up.
I like these picture frames from Amazon. They're technically Christmas ornaments but they're great for hanging on little tacks on the wall of a van to add some personal cozy decor that reminds them of home.
Check out the price on these mini picture frames here.
Air Plants
A little greenery is always nice to have in a campervan, but full-sized houseplants are definitely a no-go–they're too big, don't like dark spaces, and can make a huge mess. So my solution is air plants!
These are little plants that don't need soil to live. All you do is hang them up, give them a tiny bit of sun, and spray them with water every once in a while.
These low-maintenance, easy-going plants are a van lifer's dream. You can order a 12 pack of different plants from Amazon, and purchase separately a glass vase and twine so your friend or family member can hang the plants up in their van to add some life to their tiny home.
If you're worried your van life friend or family member can't take care of these air plants, you can always purchase fake plants that require no maintenance at all but look real.
Check the price on these air plants here.
Fitted Tablecloth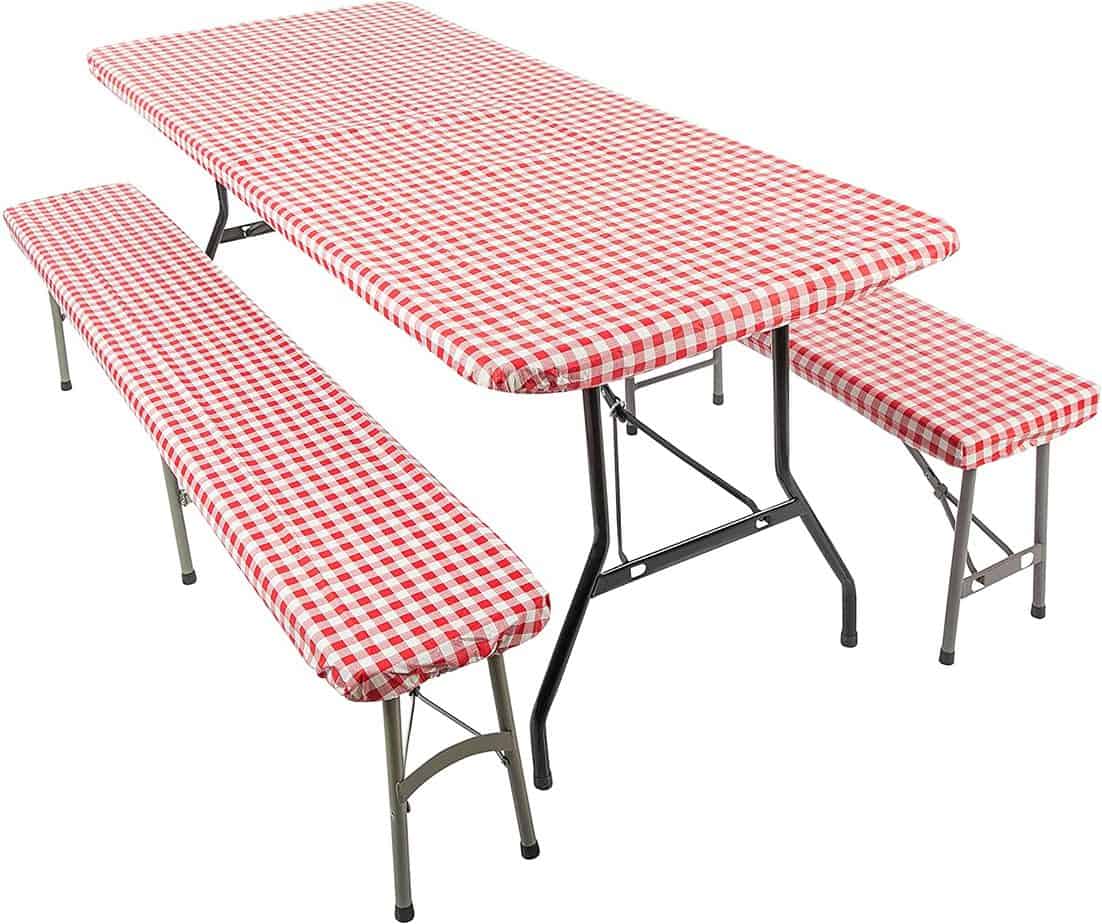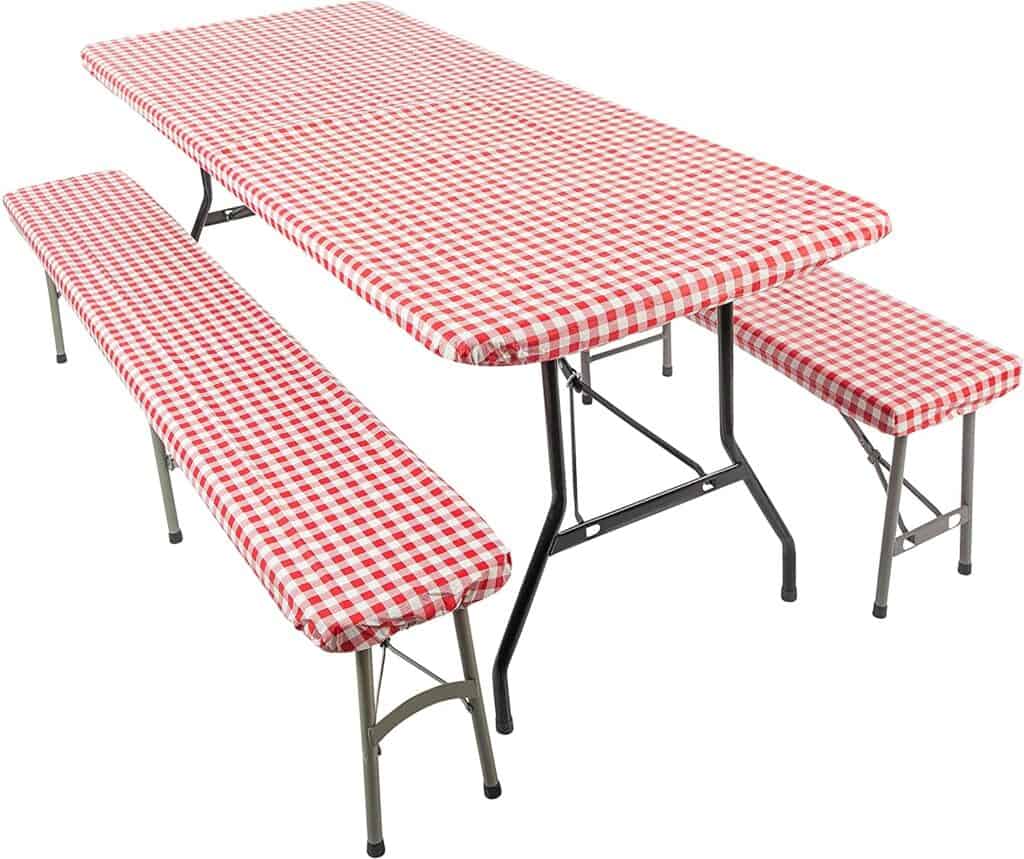 Source: amazon.com
These fitted table clothes are a perfect multi-use gift for any campervan owner. They come in tons of different prints, and they take up very little room. It's super handy to not have to worry about your picnic tablecloth flying away in the wind too!
They can be used inside on the van's table, or on picnic tables at campsites. After use, they're super easy to wipe clean with a sponge. They're super durable too, so they'll be able to weather a lot of outdoor use and will last a long time.
I chose this one from Amazon because I like the design, but there are tons of different prints out there to choose from so you can pick one you think matches the personality of your friend or family member.
Check the price of this one here.
Decorative Pillows
Cute pillows are the perfect finishing touch to design a campervan bed. They'll help the inside of the van feel oh-so-cozy and homey, but your vanlifer friend or family member may not think to buy one themselves. So, they're great campervan gifts for anyone.
There are tons of vanlife-themed pillows out there, I just thought this one from Amazon was super cute. Check out the price here.
So Which Gift are You Gonna Get Your Campervan Friends?
Whether you're going for a fancy solar battery or a similarly-useful pack of command hooks, any of these campervan gifts will be equally appreciated by your friends or family. Just pick one (or a few) of these gift ideas that you could see them using and enjoying a lot!
Thanks for reading! While you're here… check out some of my other camping and RVing gift guides for even more ideas: 
Latest posts by Stacy Bressler
(see all)