Dating can be so stifling sometimes. All those dinners and movies? Snooze. Why not switch it up this year and take your date on an outdoor adventure instead? No need to brave the cold winter air or the scorching summer sun – we've got you covered with 99 ideas for every season. So get ready to explore your city (or state, or country!) like never before!
This outdoor date guide is divided into seasons and I've linked to helpful tips to do the activity in each tip.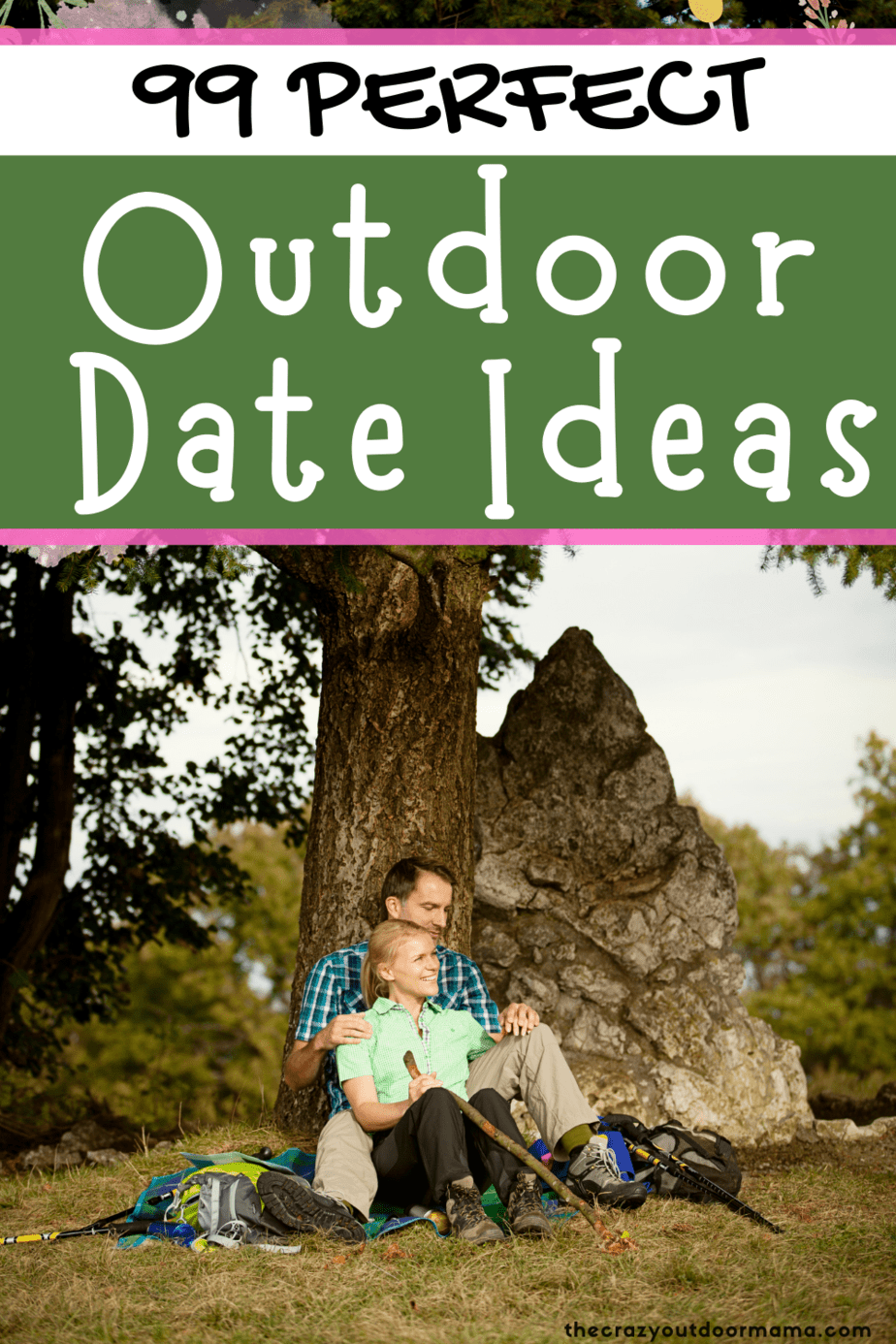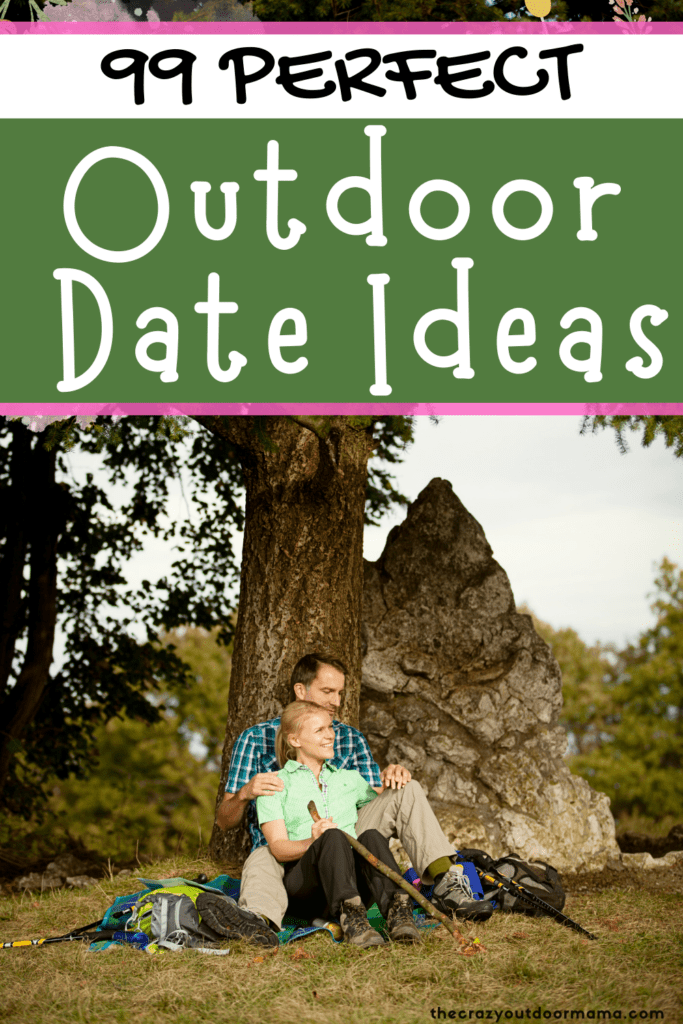 As an Amazon associate, I earn a commission should you purchase though any of my links. Learn more here.
Summer Outdoor Date Ideas
1. Head to your favorite state park and enjoy lunch together – bring a picnic blanket and some small chairs so you aren't restricted to just the picnic area!
2. Take a walk around the lake or riverfront to feel the cool breeze on your face – what better way to cool off than hanging by the water?
3. Visit a botanical garden or arboretum together to learn more about local plants in the area
4. Bike somewhere instead of driving – it can help with awkward car silence, and you both get a workout in!
5. Go explore a new trail with a hike in the woods or up a mountain (bonus points for a scenic view!).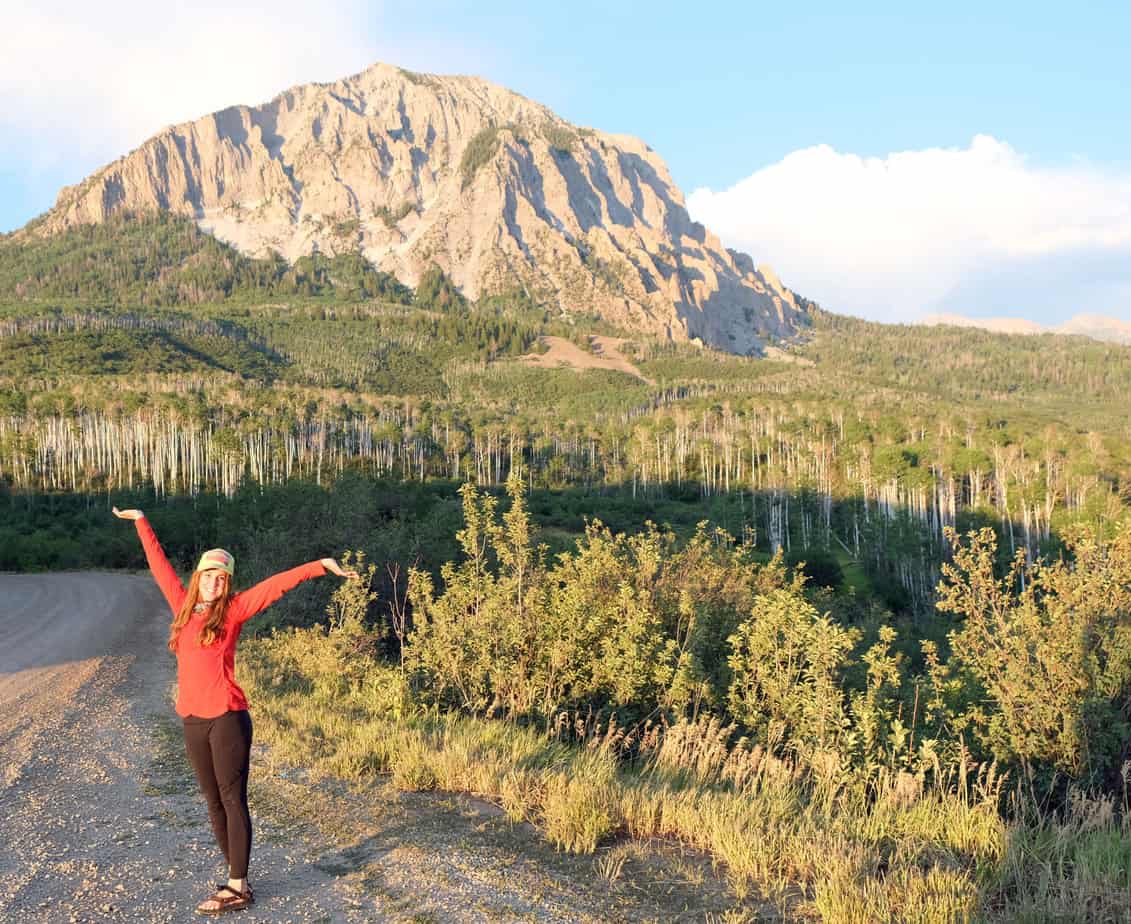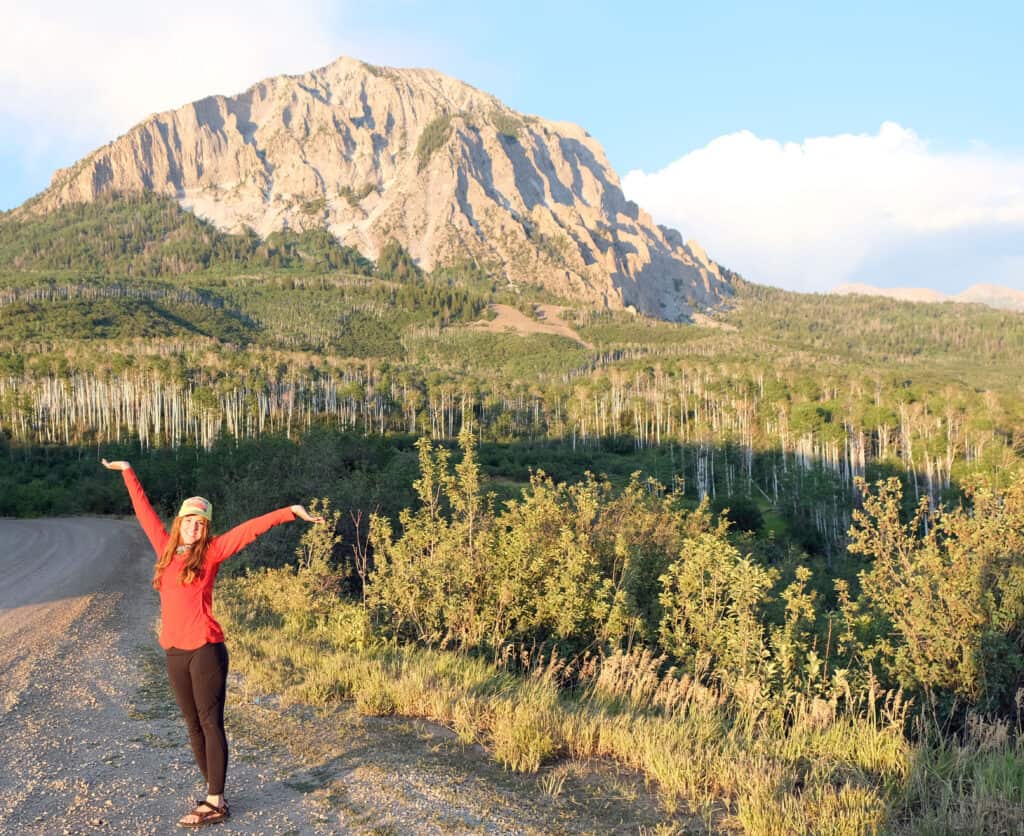 6. Play frisbee or badminton at the beach or in your backyard or at a local park
7. Attend a free outdoor concert or festival in your city – check your towns online calendar to find what's coming up.
8. Visit the local Farmer's Market together for your coffee and muffin – it's going to be WAY better than your typical Starbucks!
9. Release your inner child and have a water gun fight at the park – Make it fun by adding some silly thing as a reward for the winner such as having to wear different shoes for a whole day!
10. Plan an outdoor movie night – choose a movie, bring snacks and blankets, and find somewhere comfortable to watch the show! Try a phone projector to be able to watch your movies anywhere!
11. Stargaze on a clear night – find somewhere dark away from city lights for optimal viewing pleasure). Bonus points if you know somewhere close with dark night skies!
12. Try a new watersport together – paddle boarding, rafting, kayaking, or heck, even fishing.. learning together is fun! Try Groupon for a deal on rentals to save some serious cash.
13. Volunteer together – Not only is someone who is willing to volunteer with you a giant green flag, but it's something free to do together that helps others too!
14 Go geocaching and be treasure hunters together – this is a super fun activity that is free to start! Simply download the app then check your area. There are varying difficulties, but there is always a clue given as well as coordinates.
15. Prep a foil packet meal to cook over the campfire later – there are tons of awesome foil packet meal ideas that are low mess and super easy to cook…. just put it on some coals until cooked!
16. Wake Up Early and Watch the Sunrise (or sunset!)– Any outdoorsy person knows how special it is to watch a sunrise – check here to see the best places to watch the sunrise near you!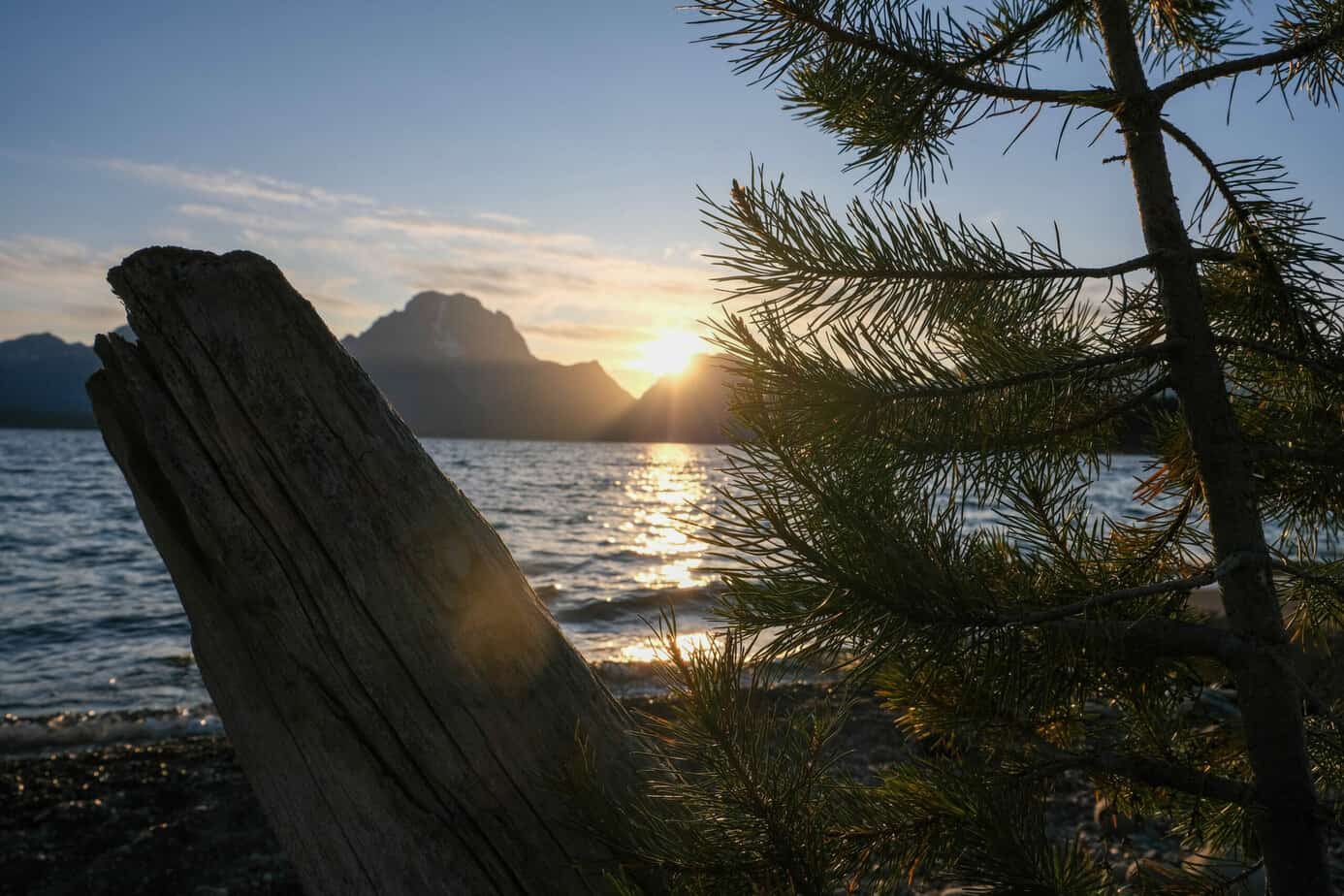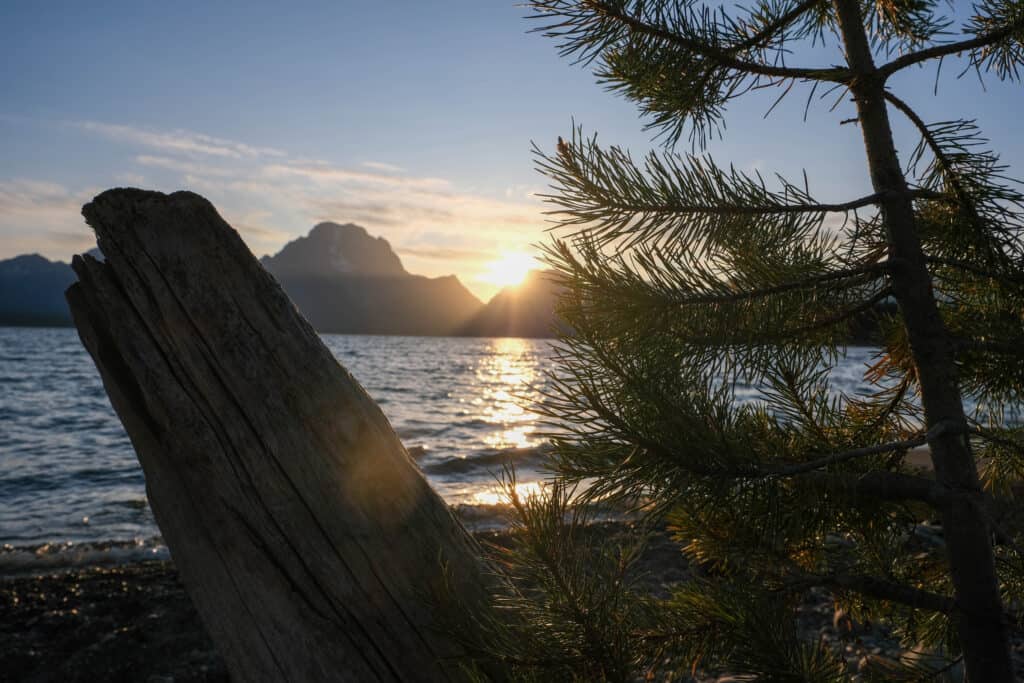 17. Try Bouldering – You don't have to be a climbing pro to have fun scrambling over boulder fields and up cool looking rocks. Just make sure to atleast wear a helmet!
18 Checkout the local nursery together – There are always tons of cute plants at the start of the season… try picking one (or two!) out together. Or just look for succulent leaves that have fallen on the ground (shhh!!)
19. Practice Slacklining together – Small and easy to put up anywhere with trees, slacklining is perfect for the active partner who prefers to be moving over sitting still in a restaurant the whole date
20. Visit a local historical area together – An old school house, settler cabin, mining company, some cool geological formation… it's fun to learn together, even better when it's outside!
21. Play Mini Golf! – These courses are so fun, and require just enough concentration that there won't likely be any awkward silences or a lack of things to talk about. If your partner hates movies or sit down things, a fun night of mini golf might be perfect!
22. Have a Groupon Night Date – Have fun picking something out together in the sports and outdoor activities section of Groupon. It's a great way to do something new outdoors on a budget.
23. Plan an overnight camp trip somewhere together – For the serious outdoor couples, prepping for and spending the night in a tent together can be pretty fun! There are tons of lakes and interesting places only a day hike in away!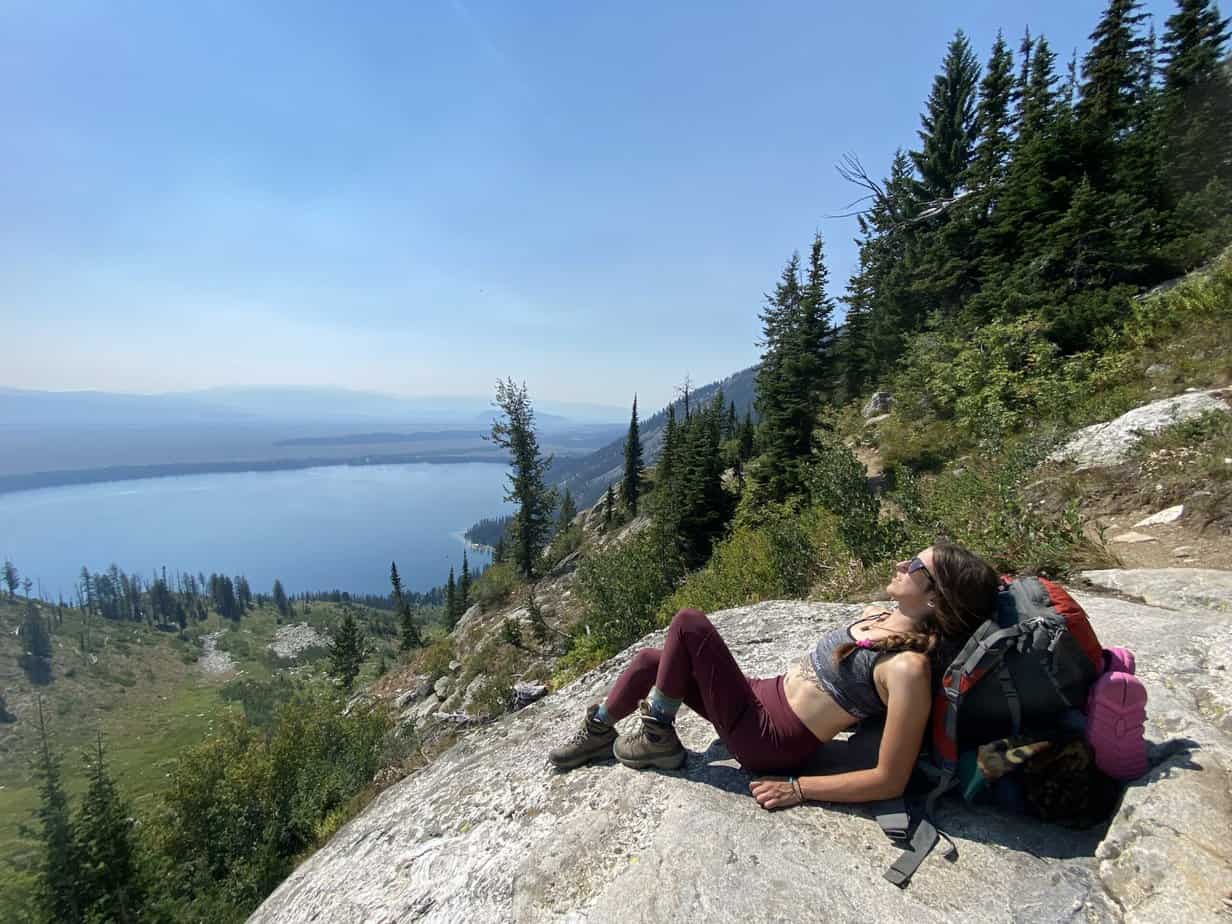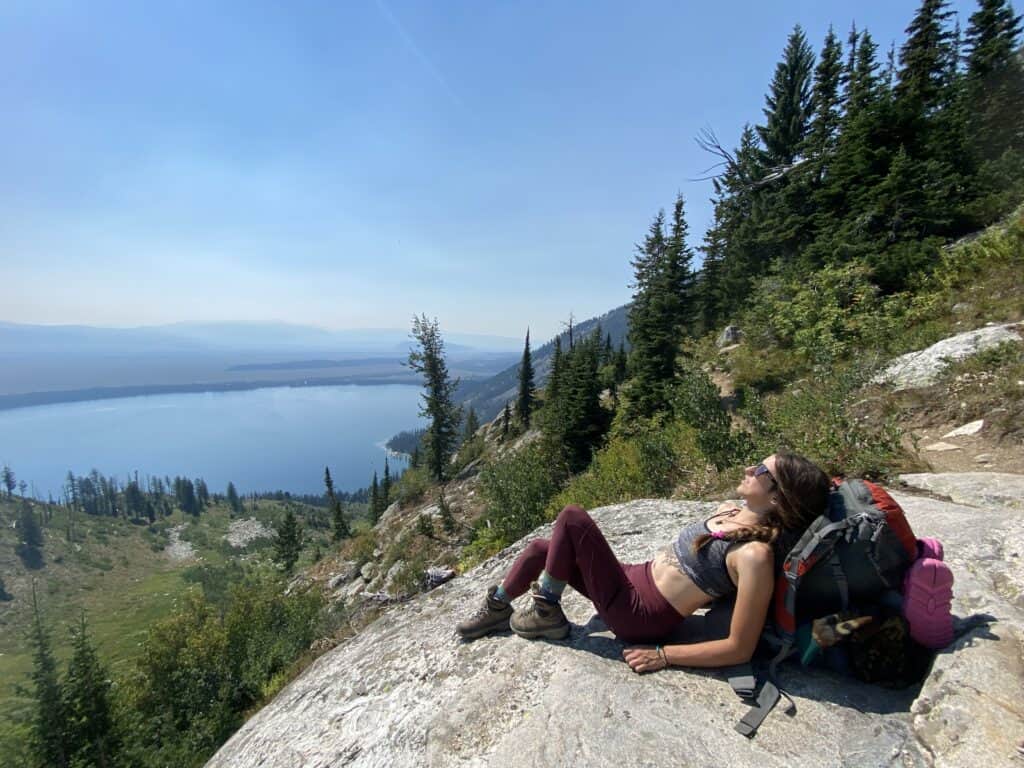 Fall Outdoor Date Ideas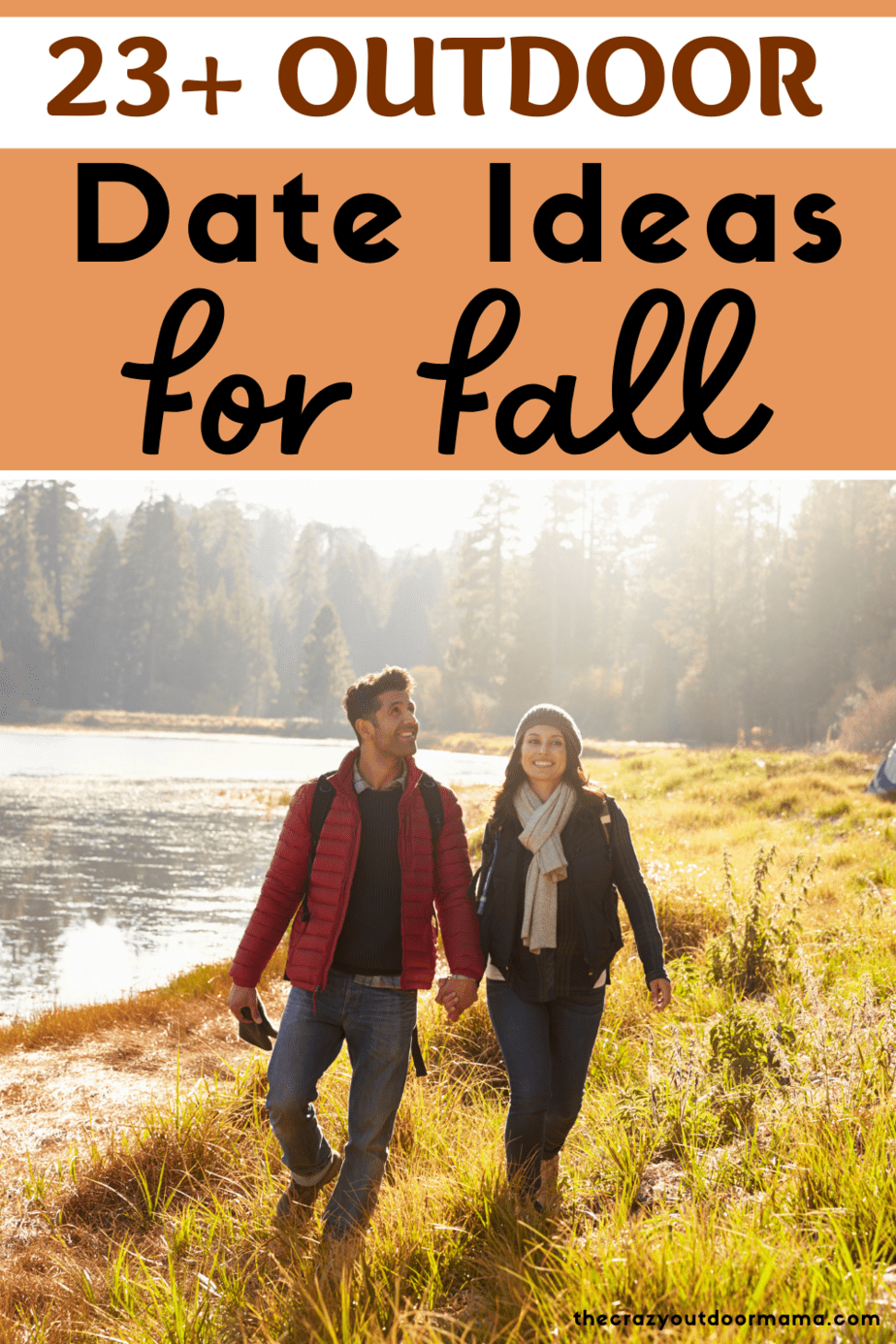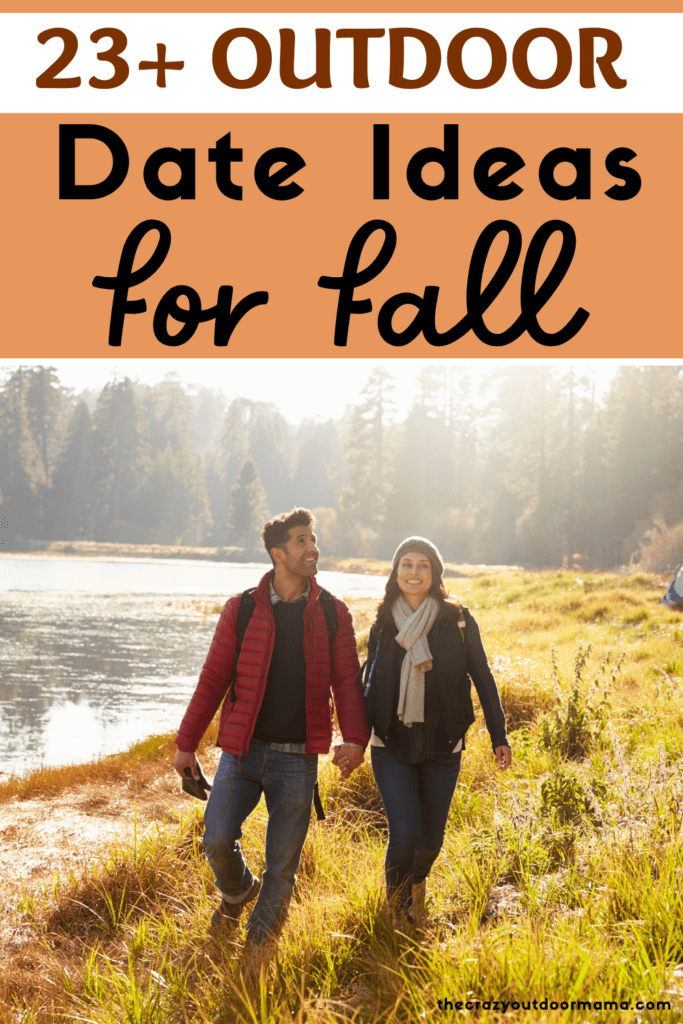 1. Take a scenic hike in the fall colors – try to find out ahead of time the types of trees in the area you pick so you can be sure there will be the oranges and yellows you're seeking! (IE, don't go to a pine forest for fall colors!)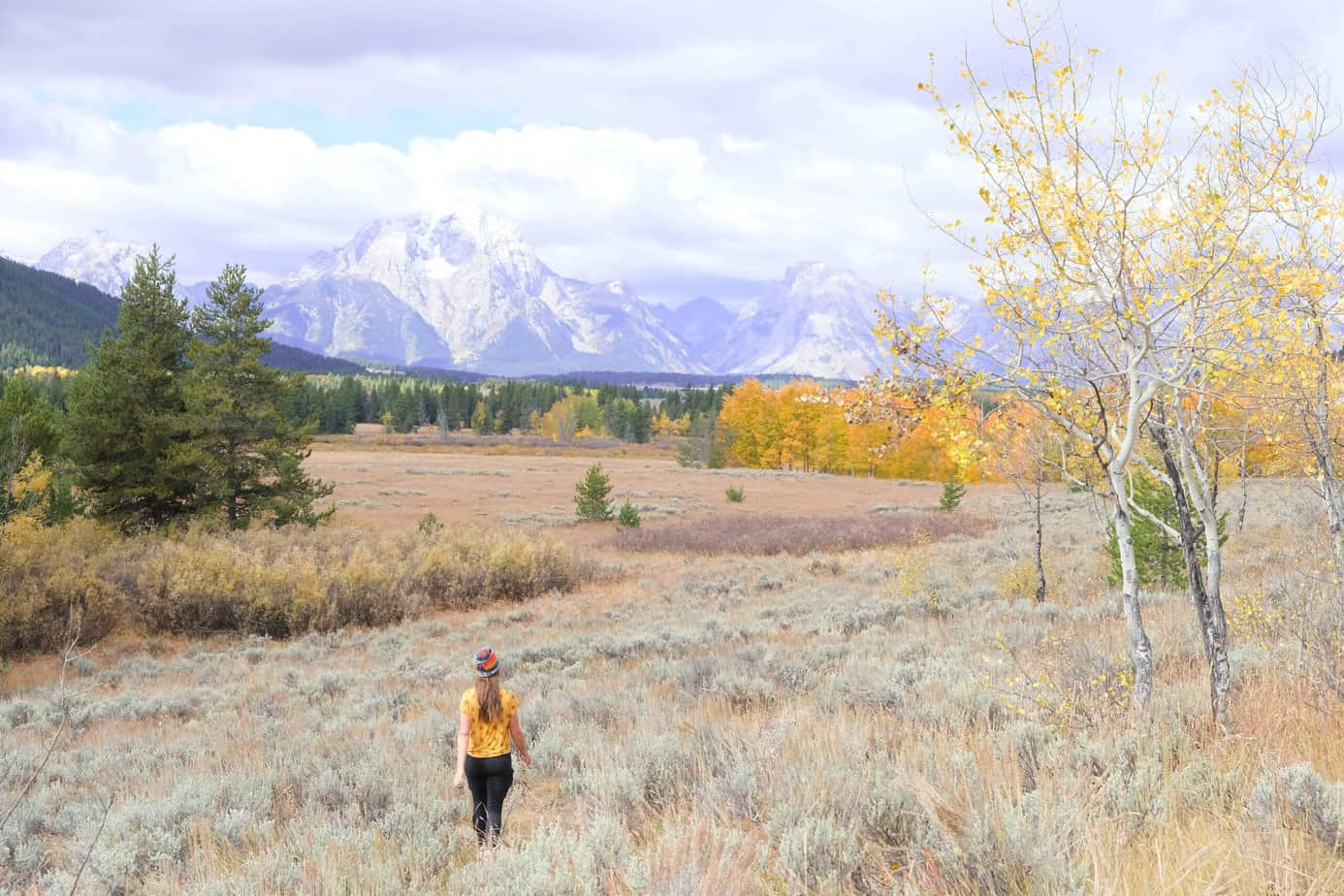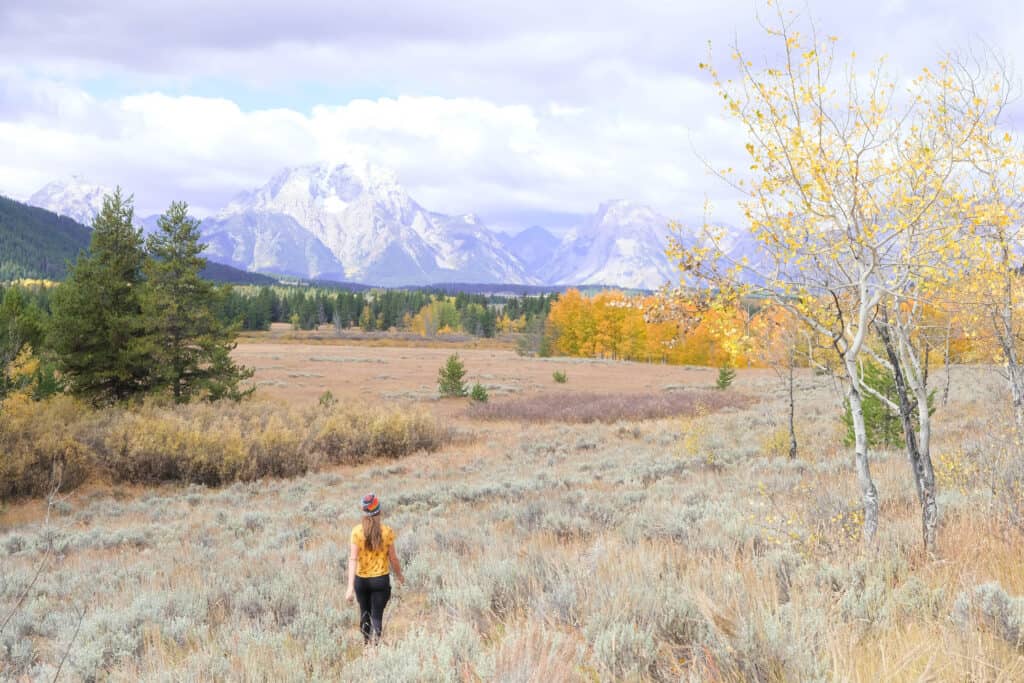 2. Visit a nearby orchard to pick apples and go on a hayride. They may even have homemade apple cider available to enjoy together
3. Head to a U Pick farm to pick pumpkins – any opportunity to support a local farm is great… and there's usually a TON of pumpkins and cute photo ops!
4. Go for a bike ride on a nature trail – seeing the leaves change is absolutely breathtaking, especially when you can cover so much ground on a bike!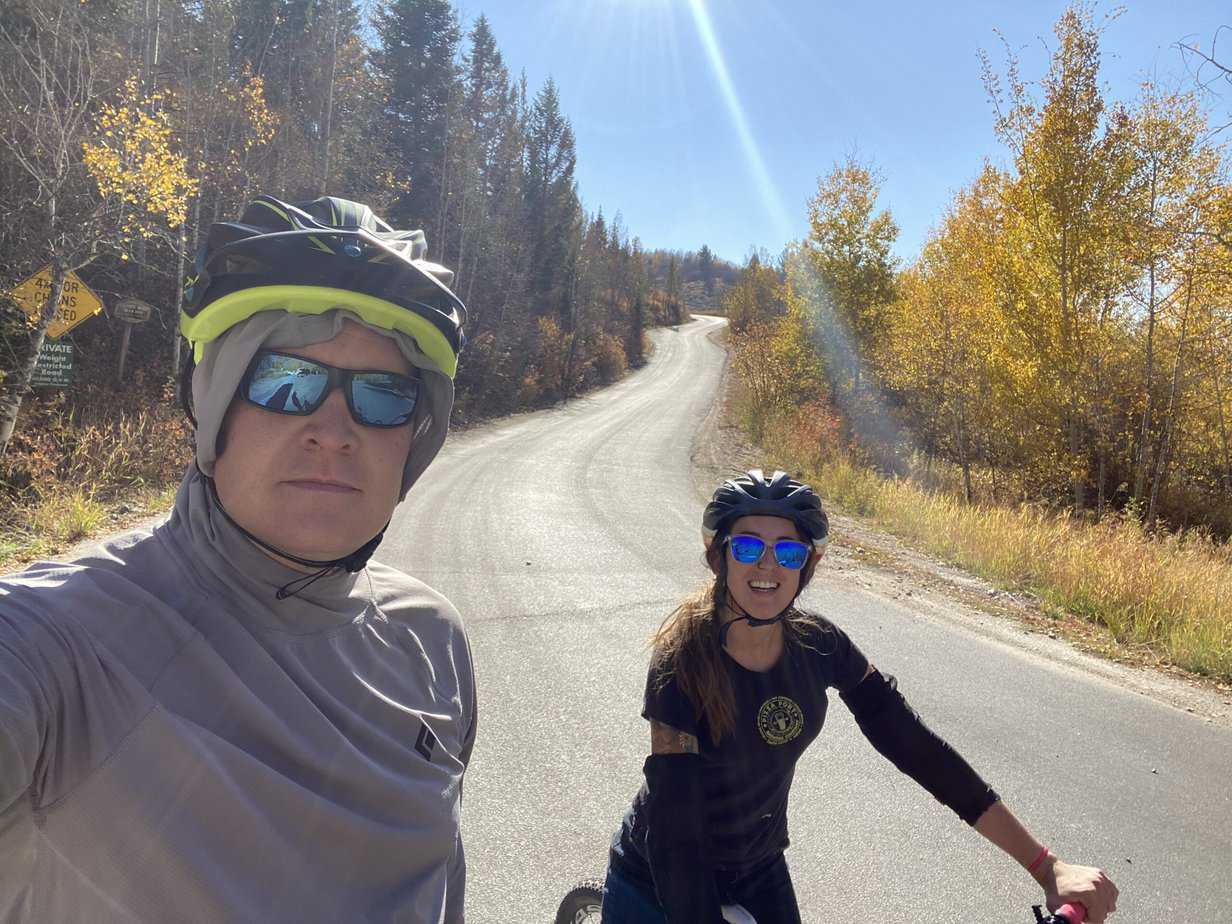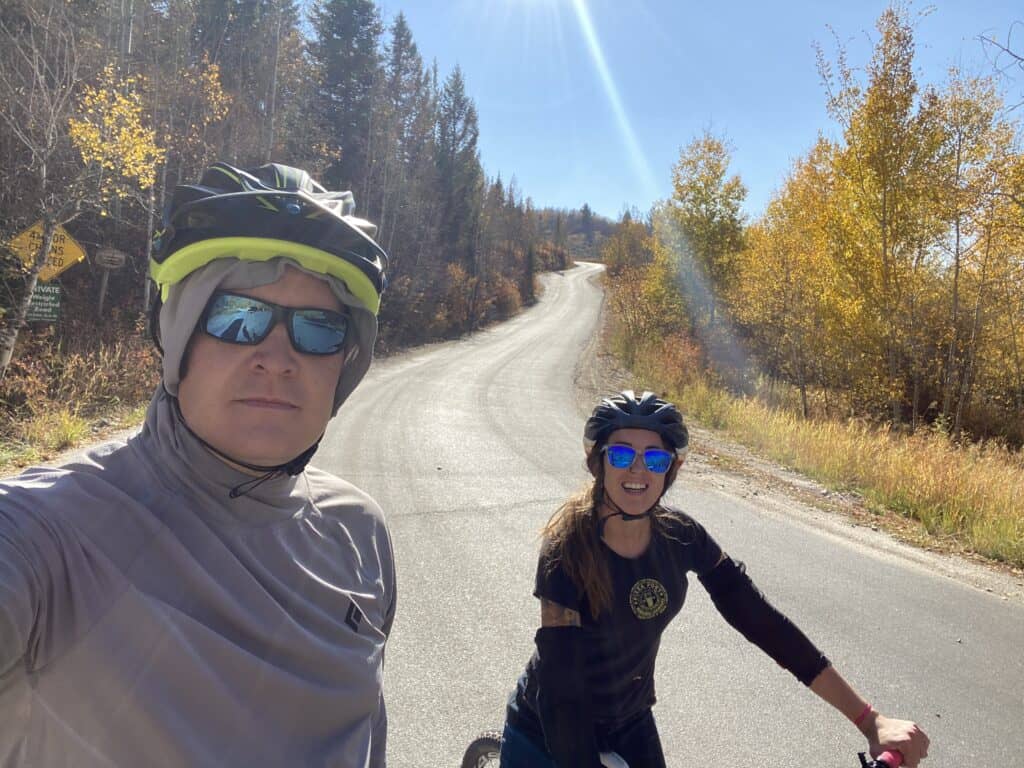 5. Have a picnic lunch in the park – This is a must for every season really (especially when you have a cute basket to set the mood!)
6. Attend a local farmers market to support the community and find some perfect end of season deals!
7. Rake up leaves together (and jump in them when you're done!)
8. Bake some pumpkin or apple pie together – cooking is the perfect opportunity to share something you love with each other (even if that's your favorite premade spice pack!)
9. Make mulled wine or apple cider for a warm delicious fall drink (and keep your house smelling like fall all day long!).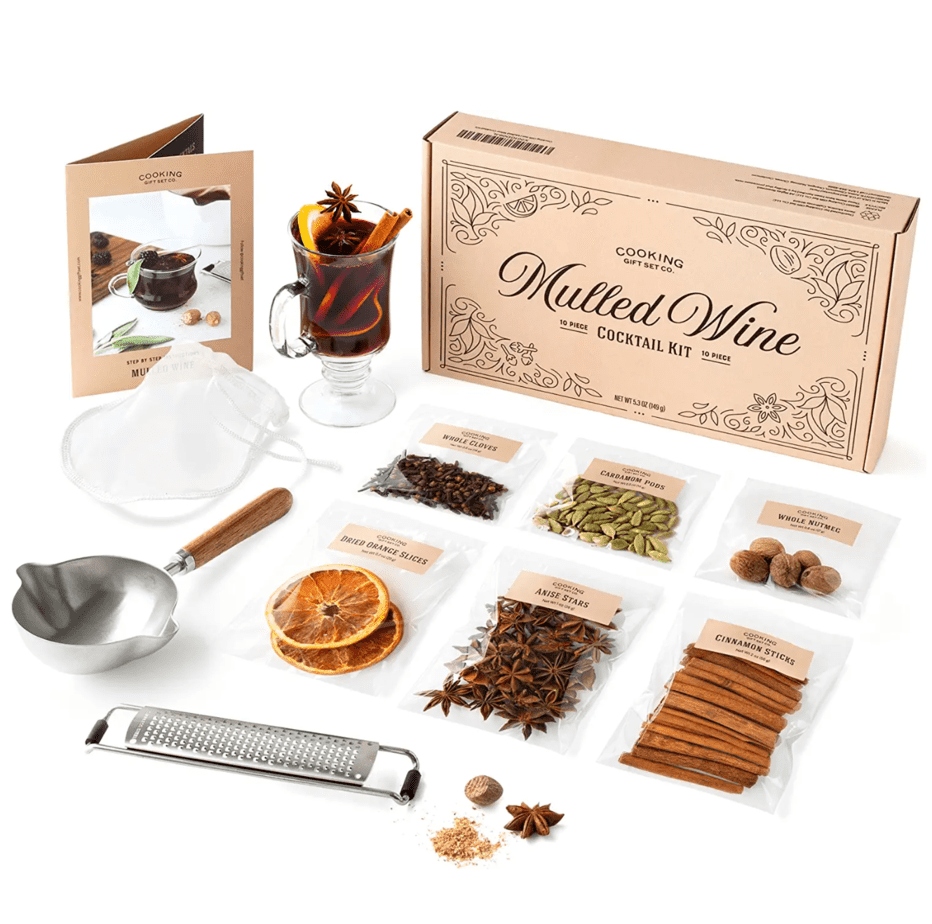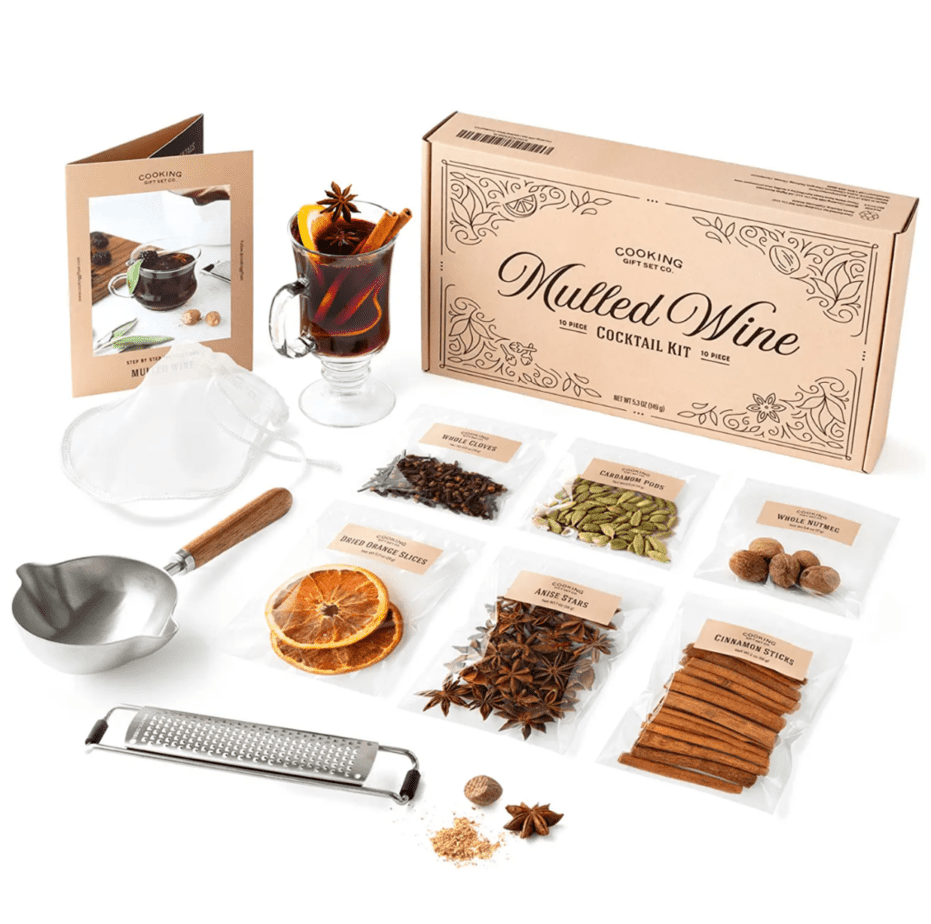 10. Carve pumpkins together and keep the seeds to bake after… yum!
11. Fly kites at a local park – there's something magical about the simple act of working together to get your kite to fly as high as possible!
12. Visit a wildlife refuge to see animals migrating and getting ready for winter.
13. Attend a fall festival such as Oktoberfest or your local country fair/farmers market.
14. Go thrifting at your favorite local place and stay warm inside!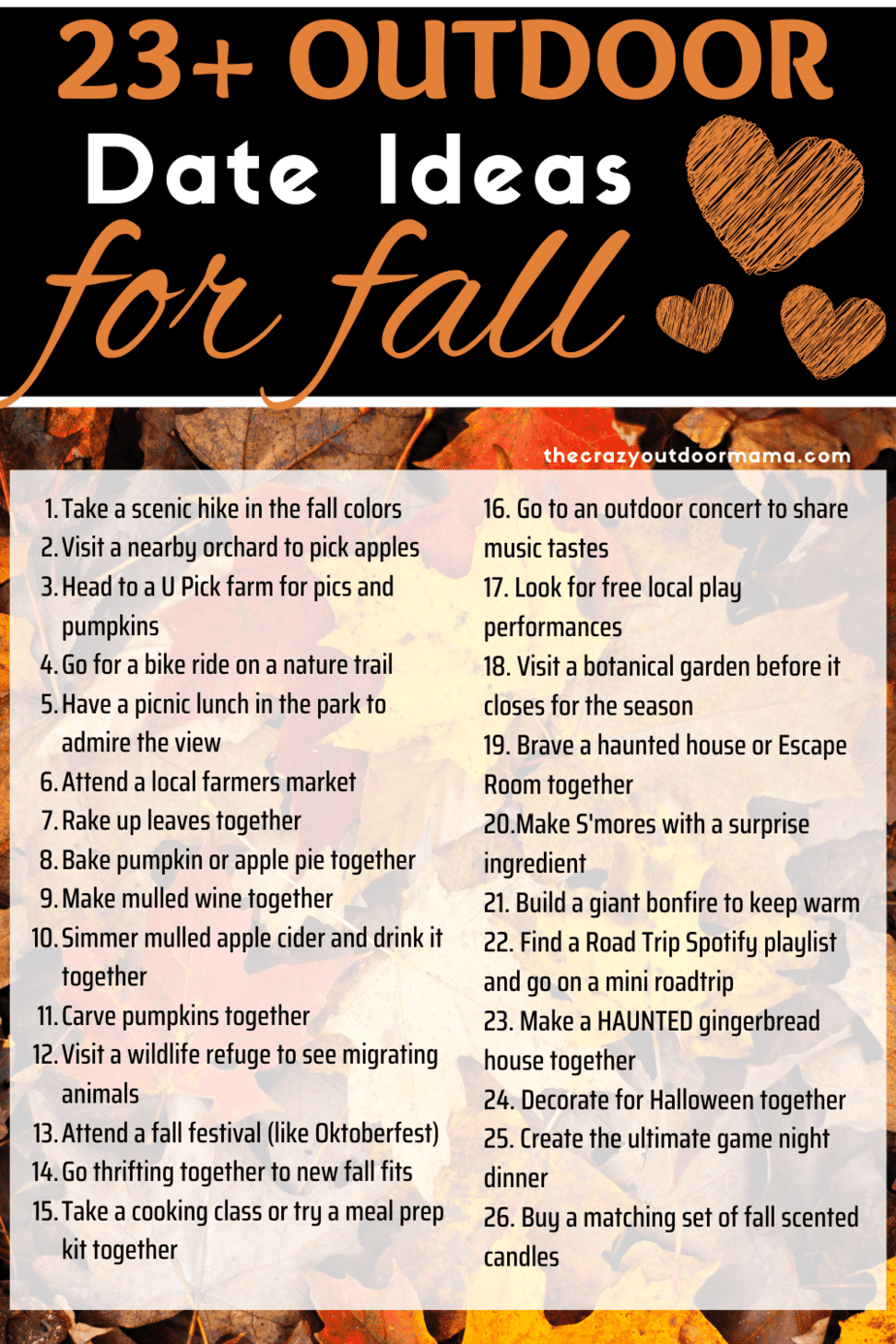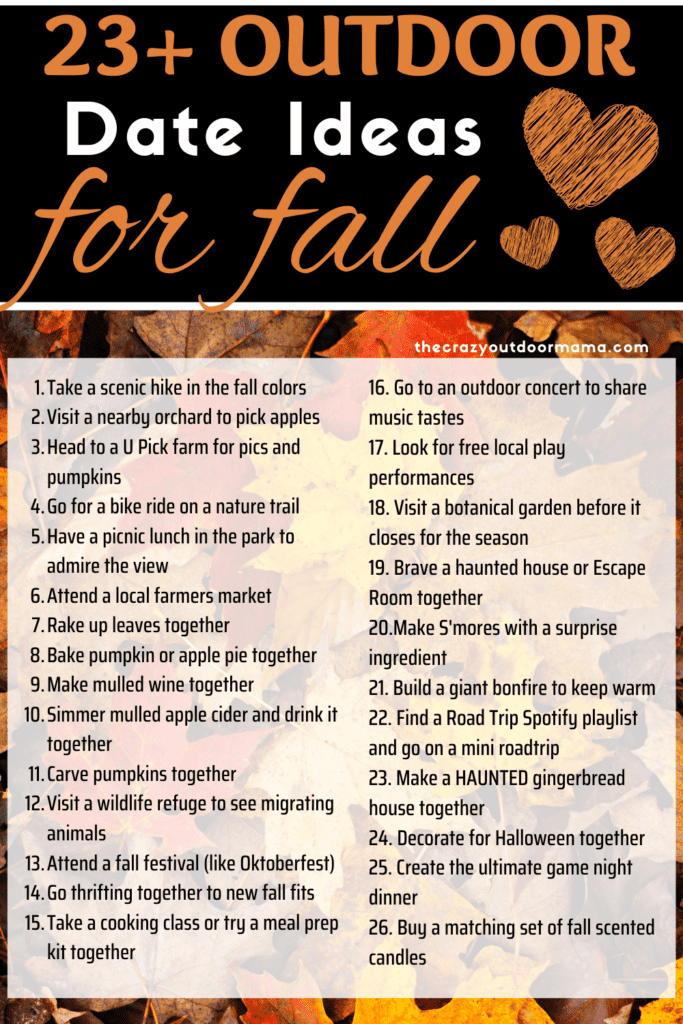 15. Take a cooking class (or a meal prep kit!) and make dinner outside together
16. Attend an outdoor concert or local play – the crisp air and a warm flannel make everything that much better!
17. Visit a botanical garden with vibrant fall foliage
18. If you are both brave enough… visit a haunted house or an Escape Room!
19. Make s'mores (with a twist!) – Ask your date to bring a surprise, non traditional ingredient ahead of time that they think will go great with the s'mores. Pst… try a s'more waffle taco!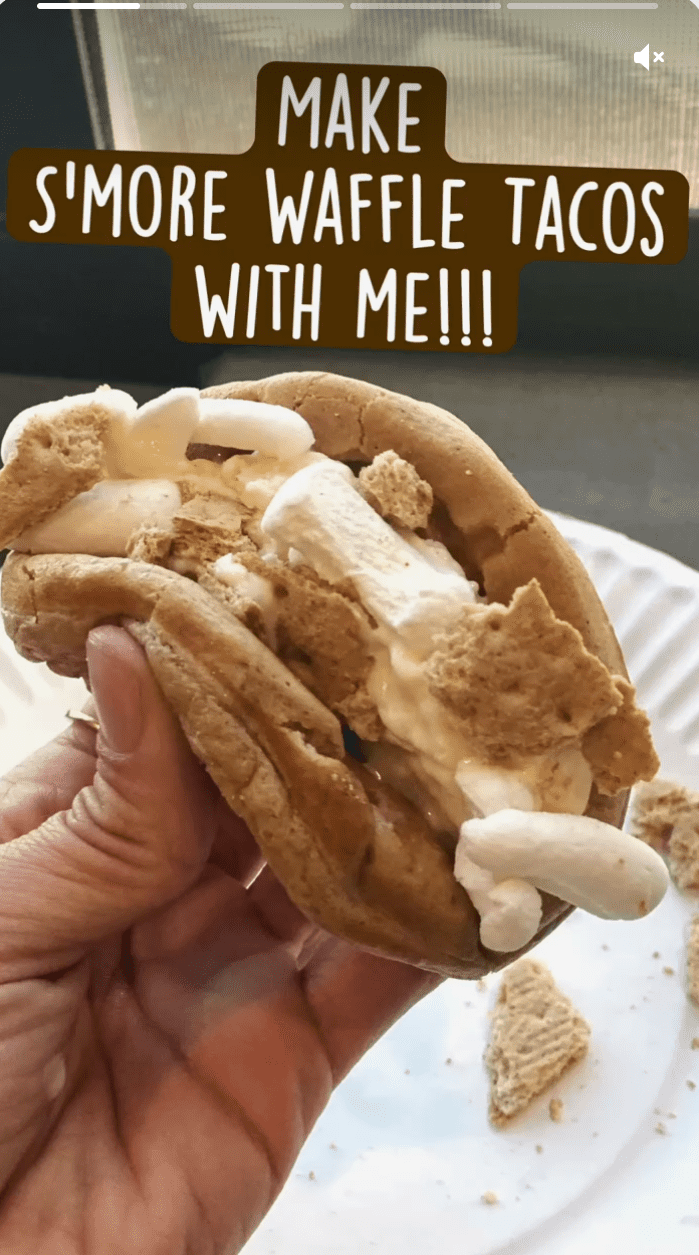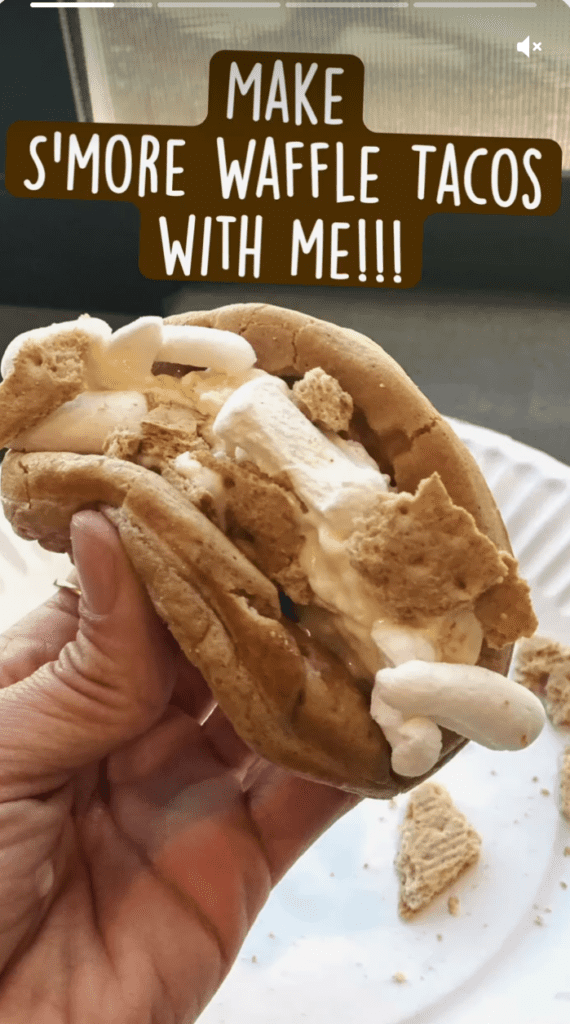 20. Build a giant bonfire to keep warm as the nights get cooler
21. Find the perfect Spotify roadtrip playlist for a long scenic fall drive
22. Make a HAUNTED gingerbread house together – same graham crackers, spookier sprinkles and decor (but this two house kit makes date night prep even easier!)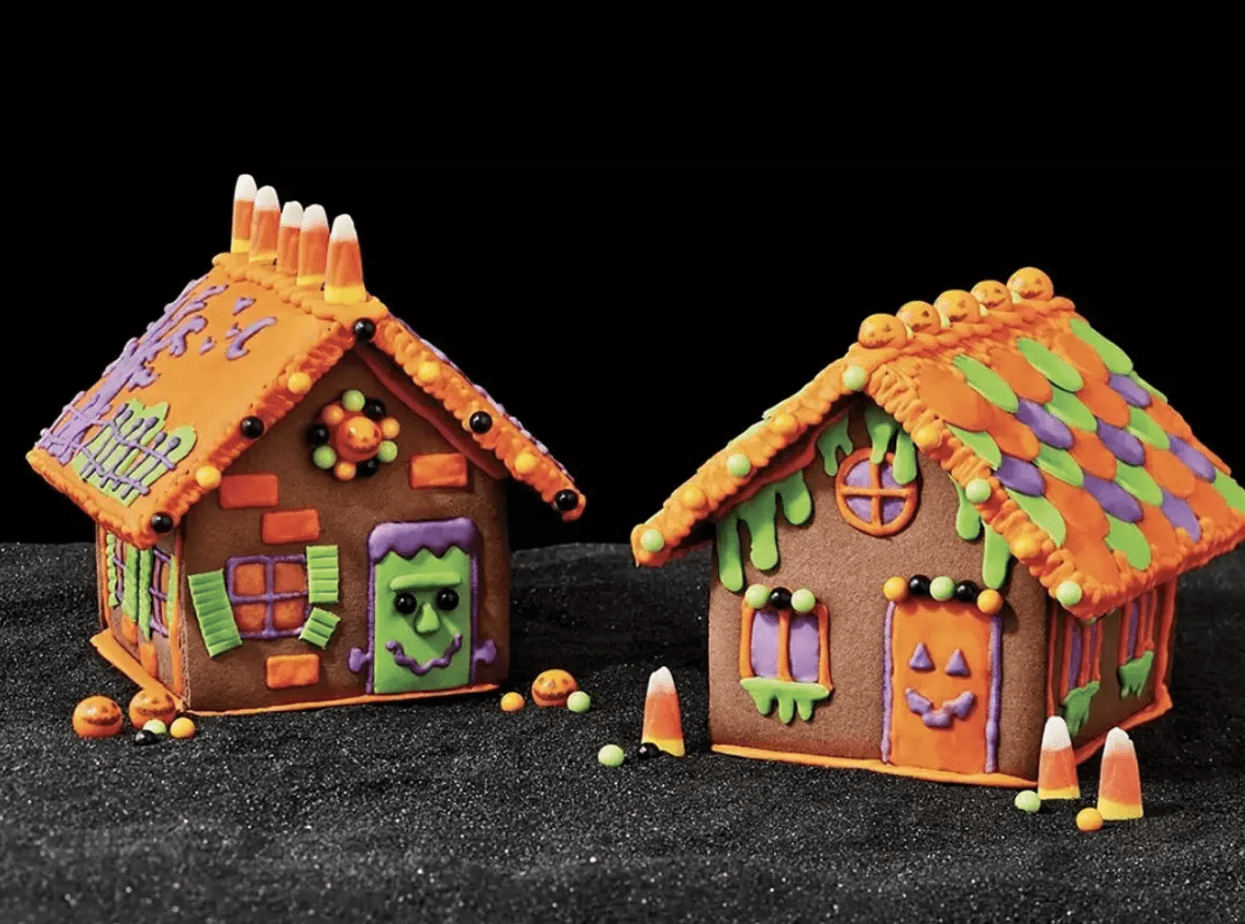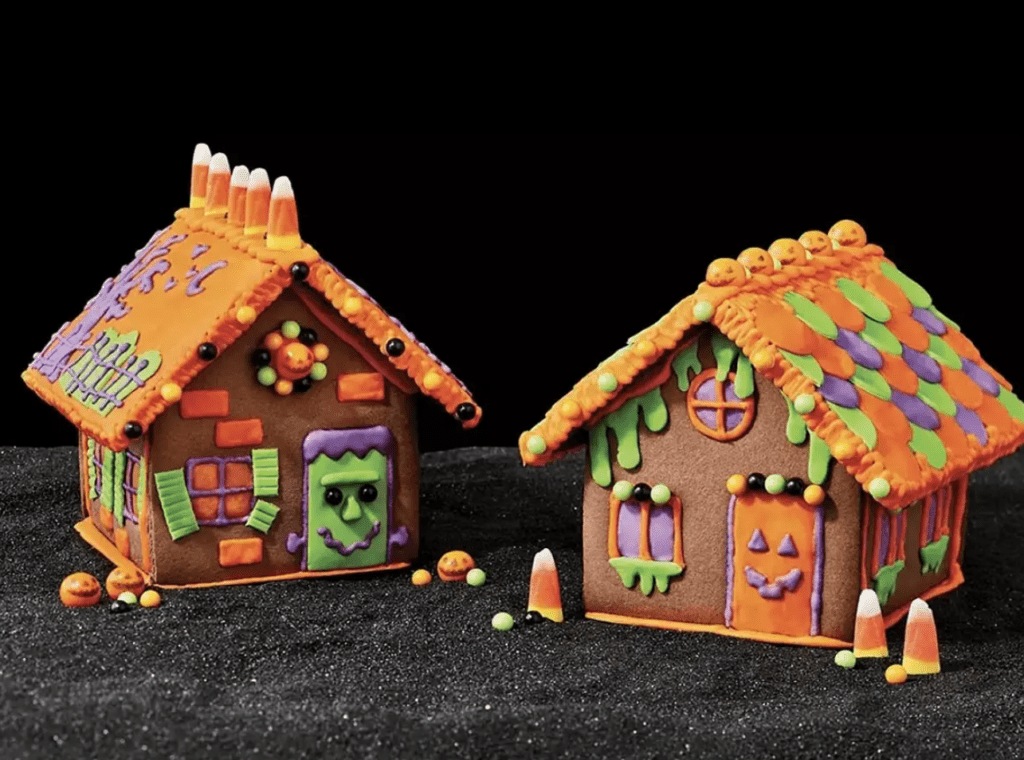 23. Football fan for a date? Make an epic game night meal together and enjoy it during the game!
24. A matching set of mulled cider candles for candel it dinner outdoors– The smells of fall combined sweet memories of your date make cute fall candles like this thoughtful and perfect!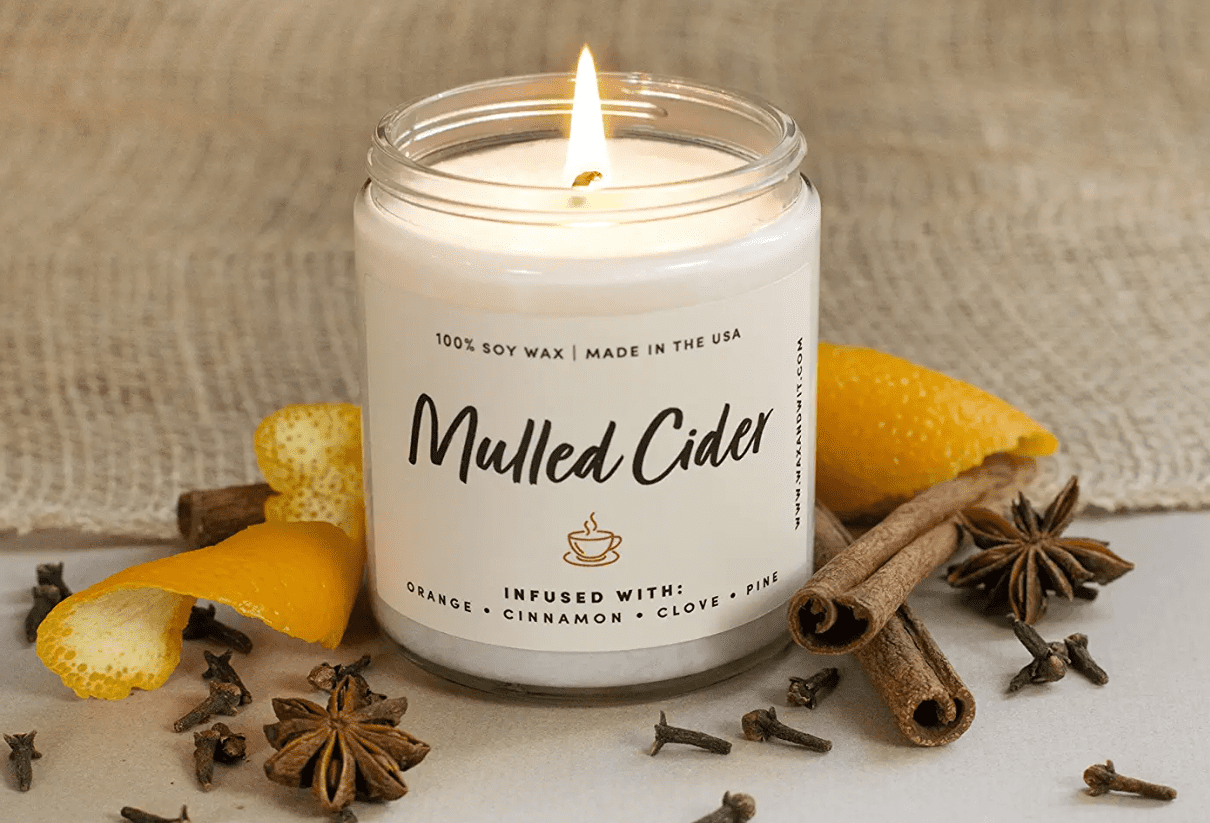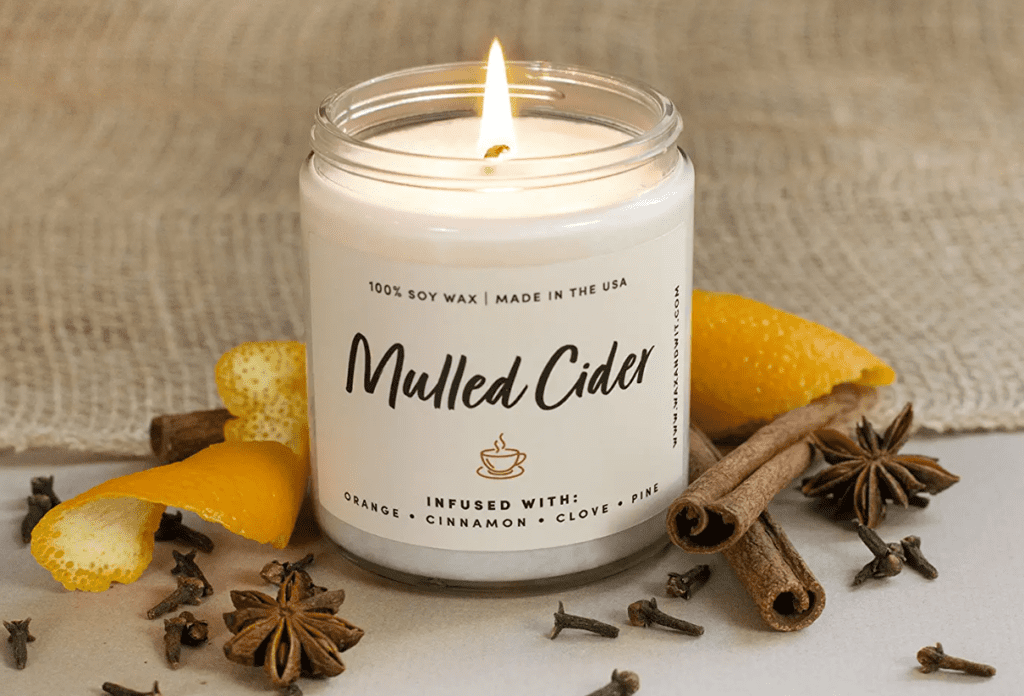 Winter Outdoor Date Ideas
1. Bundle up and go for a walk (or ski!) in a nearby park or nature reserve.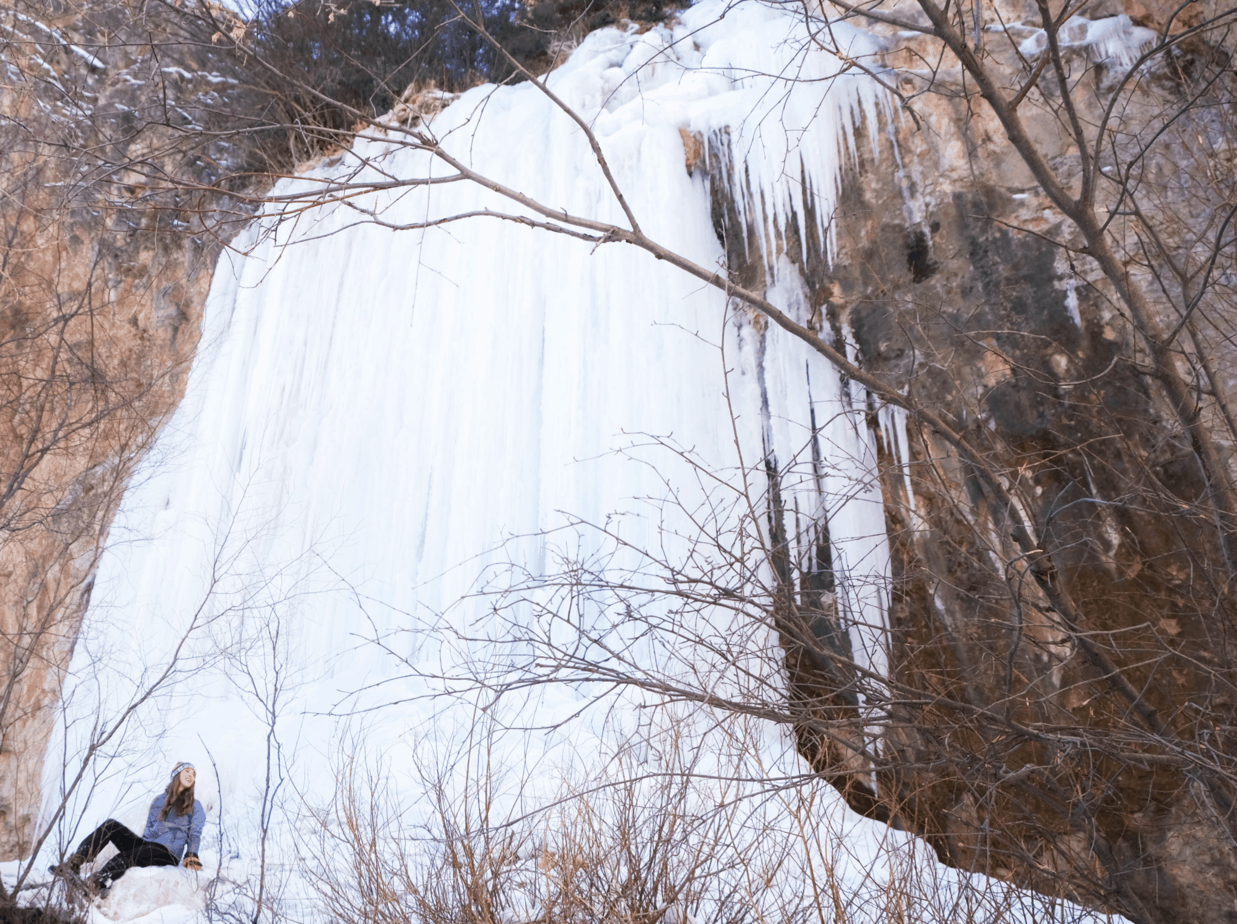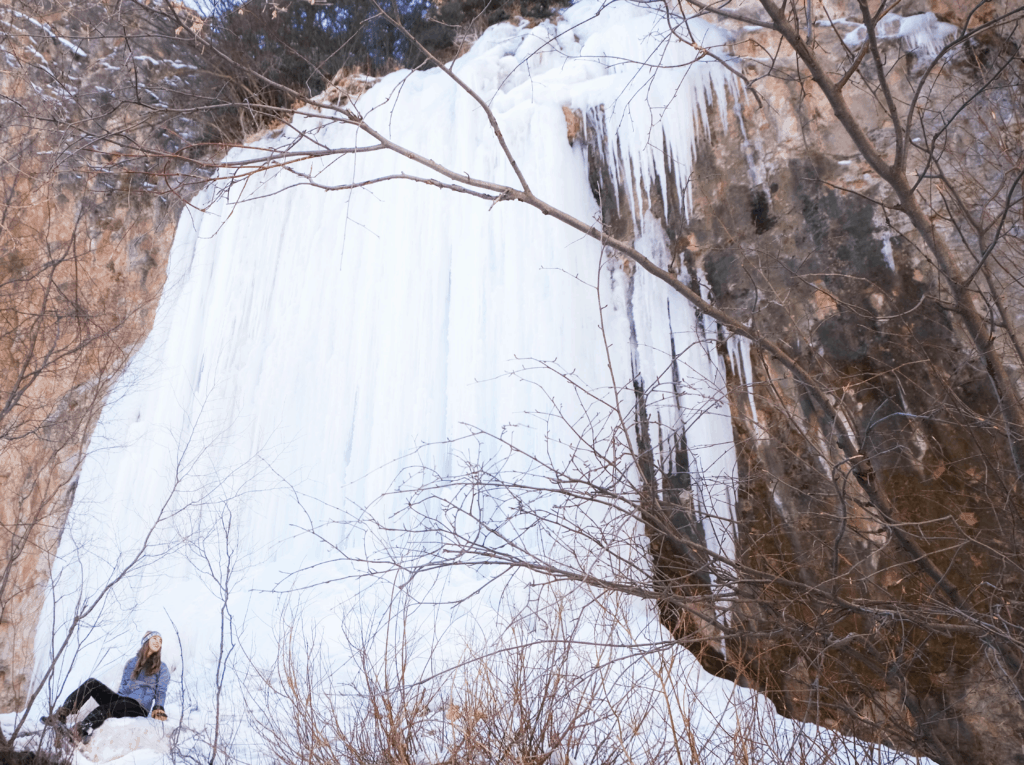 2. Visit the local ski hill for a day of skiing or snowboarding – check for half day discounts first
3. Go ice skating at a local rink or try taking a lesson together!
4. Make a snowman using what you have in the house – bonus points if you can edible items such as carrots and berries so that the animals can enjoy it too!
5. Have a snow sculpture session with your date – Try creating something out of snow and seeing if your date can guess it!
6. Drink hot chocolate and take a horse-drawn carriage ride around town.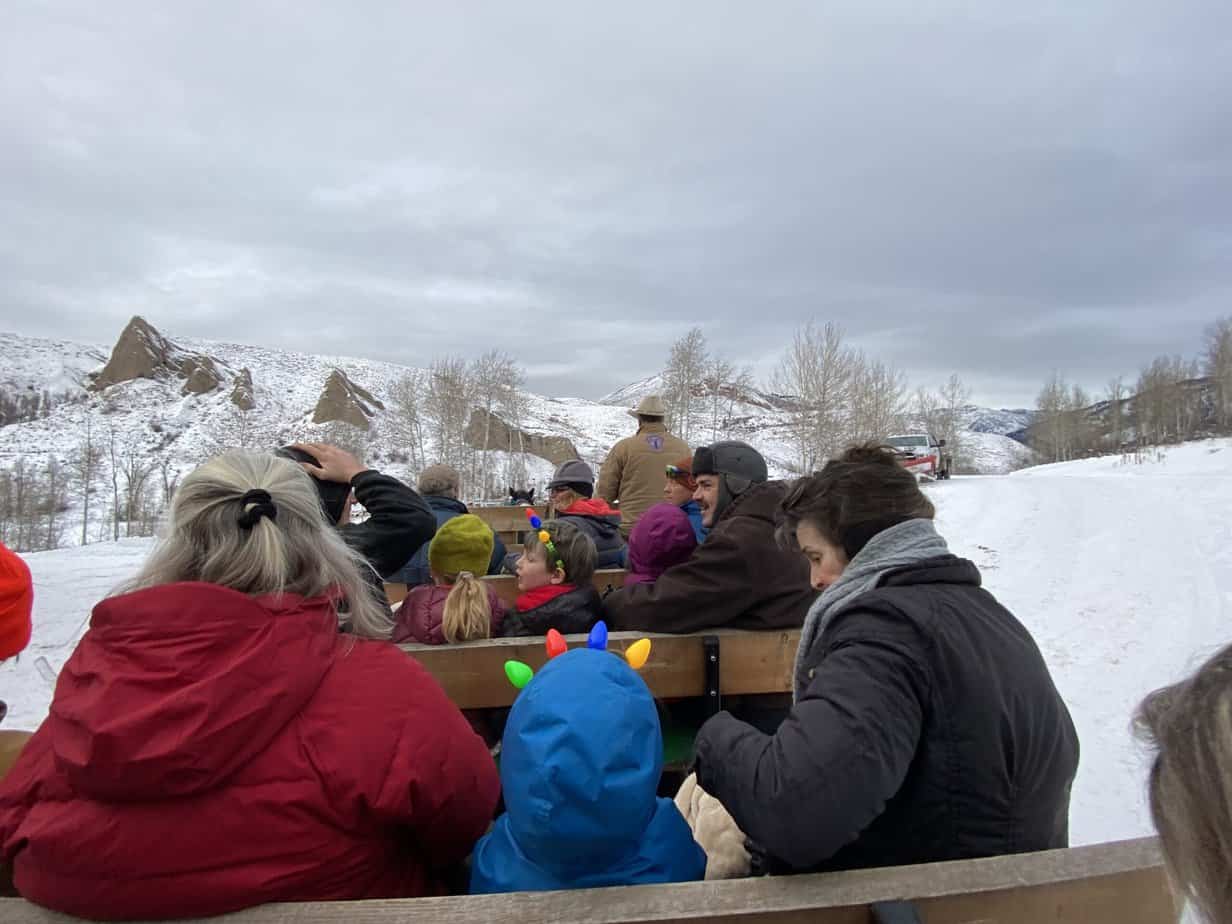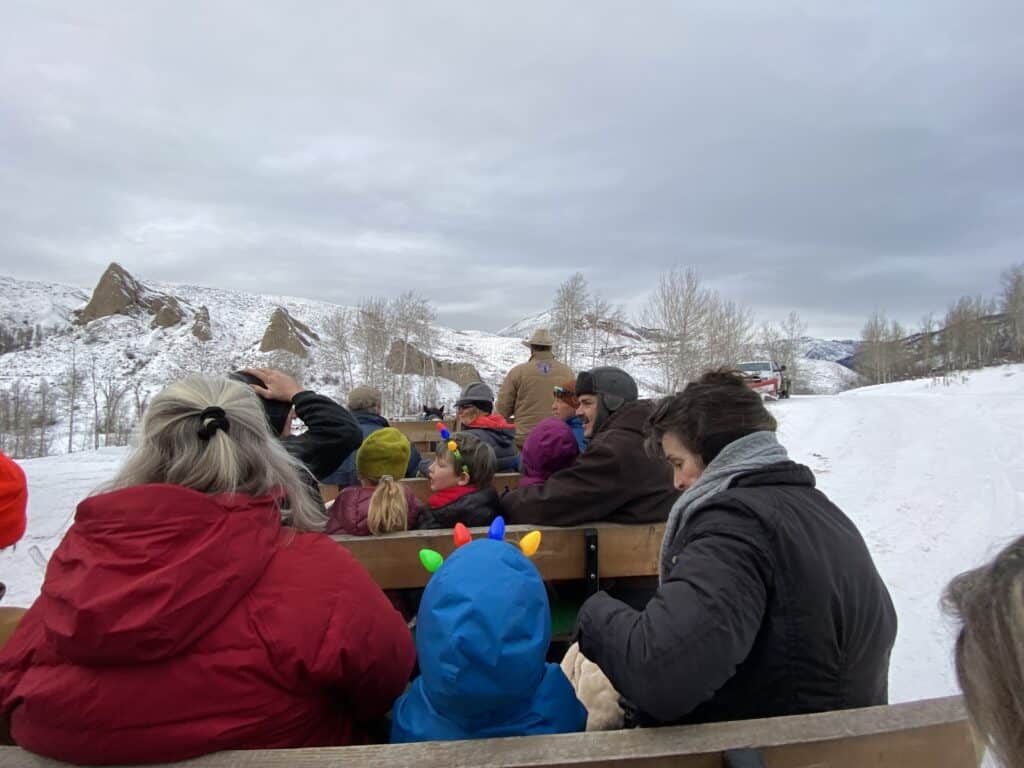 7. Try sledding together at your favorite park – skiing can be scary, but sledding?! Way more doable
8. Take a drive out to see the winter landscape and go sledding – it doesn't take much of a hill to get some speed!
9. Make gingerbread houses together – there are tons of cute kits if you want to save some time prepping everything!
10 Check out Christmas lights together – ask around to find the best neighborhoods to see some good display
11. Build a bonfire and roast s'mores (or hot dogs). – even if you can't have a real bonfire, you can get porch safe wood burniving stoves like this to get the bonfire vibes going anywhere
12. Go on a Polar Plunge together! Science says that the sudden shock of cold water is actually a good thing for your body… so find a local river or lake and challenge your date to plunge with you!
13. Try a new winter event – Ice castles, ice skating, igloo building, snow sculpting… trying something new is a fun way to enjoy a winter date!
14. Go cross-country skiing or snowshoeing through the forest trails nearby. They're both easier to learn than traditional downhill skiing, and you often don't even need a resort to find good trails! Double bonus – the gear set up and rentals are WAY cheaper!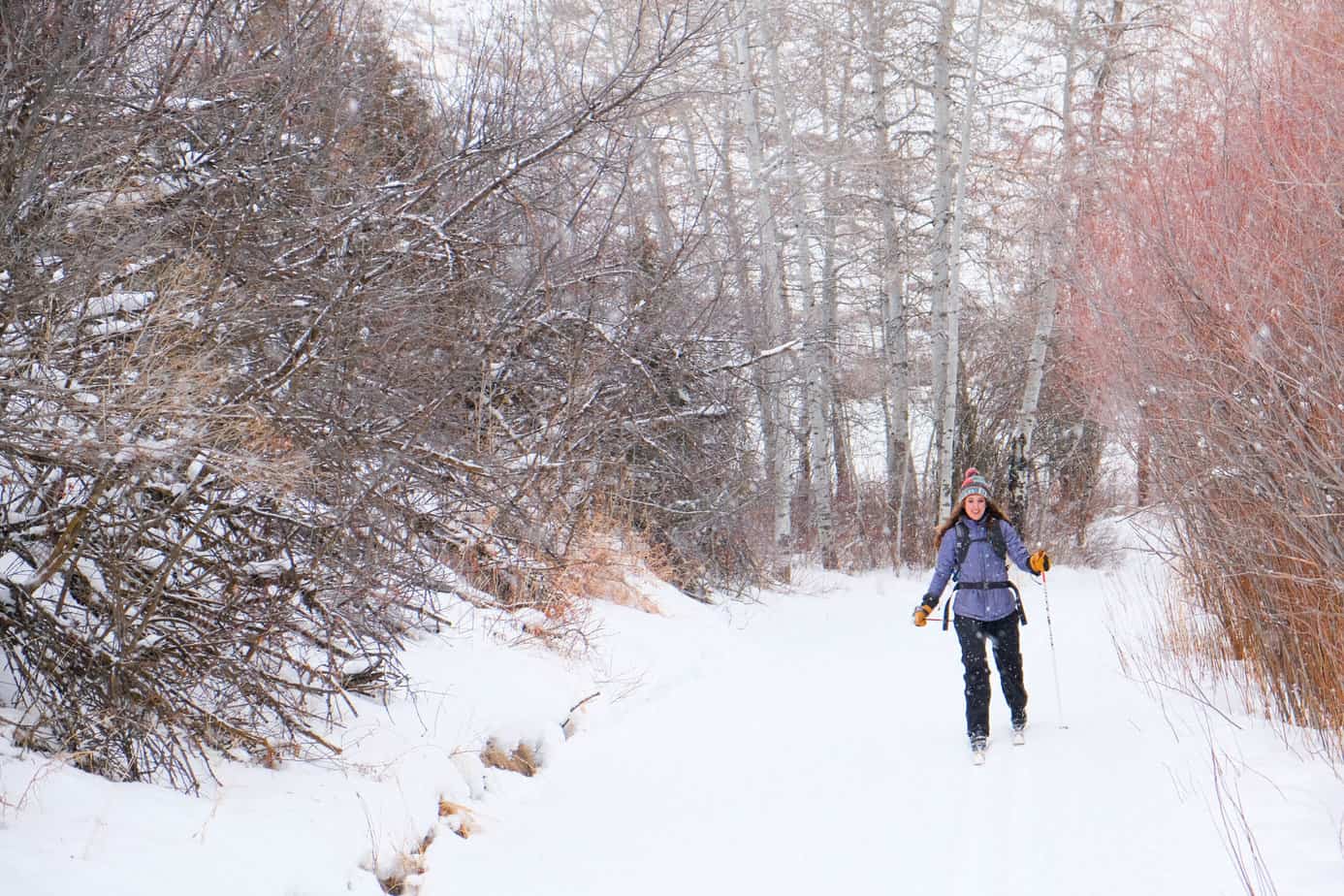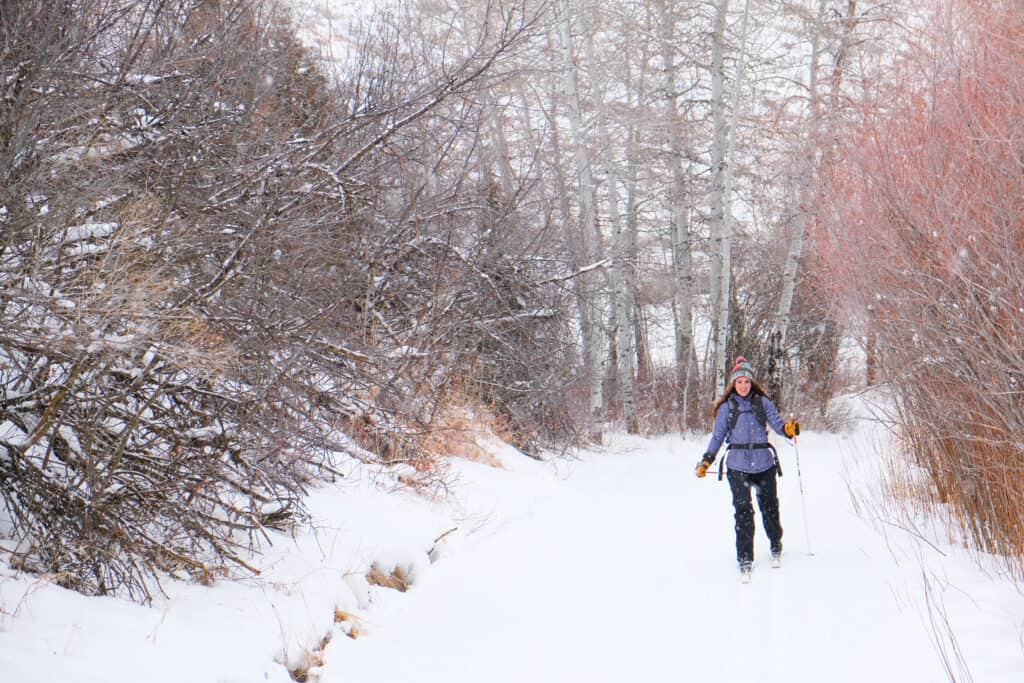 15 Have a Winter Solstice bonfire – this marks the shortest day of the year and the stillness before the return of spring and summer.
16 Have a picnic in the park, complete with hot coco and a warm treat – Any outdoor enthusiast would tell you "No bad weather, only bad gear!" so have fun getting dressed for a winter picnic together!
17 Make Ice Luminaries together – Get a balloon and check out how to DIY your own Ice Luminary or buy a premade kit with instructions. Either way, they look absolutely magical at night!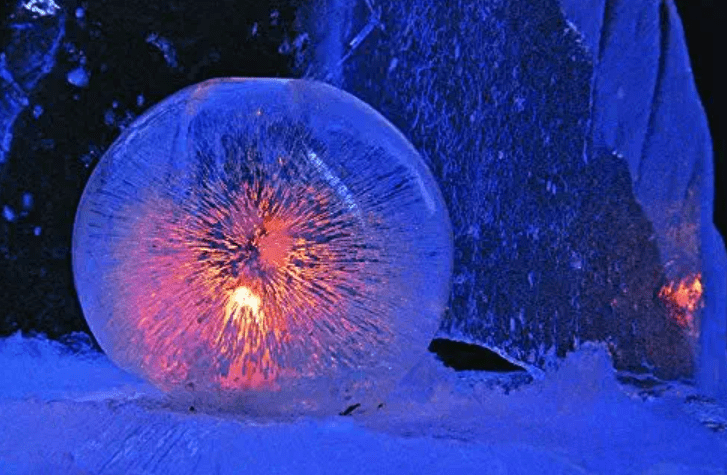 18 Cook dinner at home while watching old Christmas movies together by the fireplace (or skip the screens all together and put on your favorite Spotify Christmas Classics playlist)
19 Build an igloo (using snow brick makers like this) and spend an afternoon playing inside it..
20 Plan and prepare an elaborate New Year's Eve party at home to countdown to midnight together.
21. Explore a new local trail – if you don't know of any, try checking your towns website or download an app to explore a new place together!
22. Embrace the Ice – Strap on your Yak Trax and go on a winter hike to somewhere fun… like an icey cave!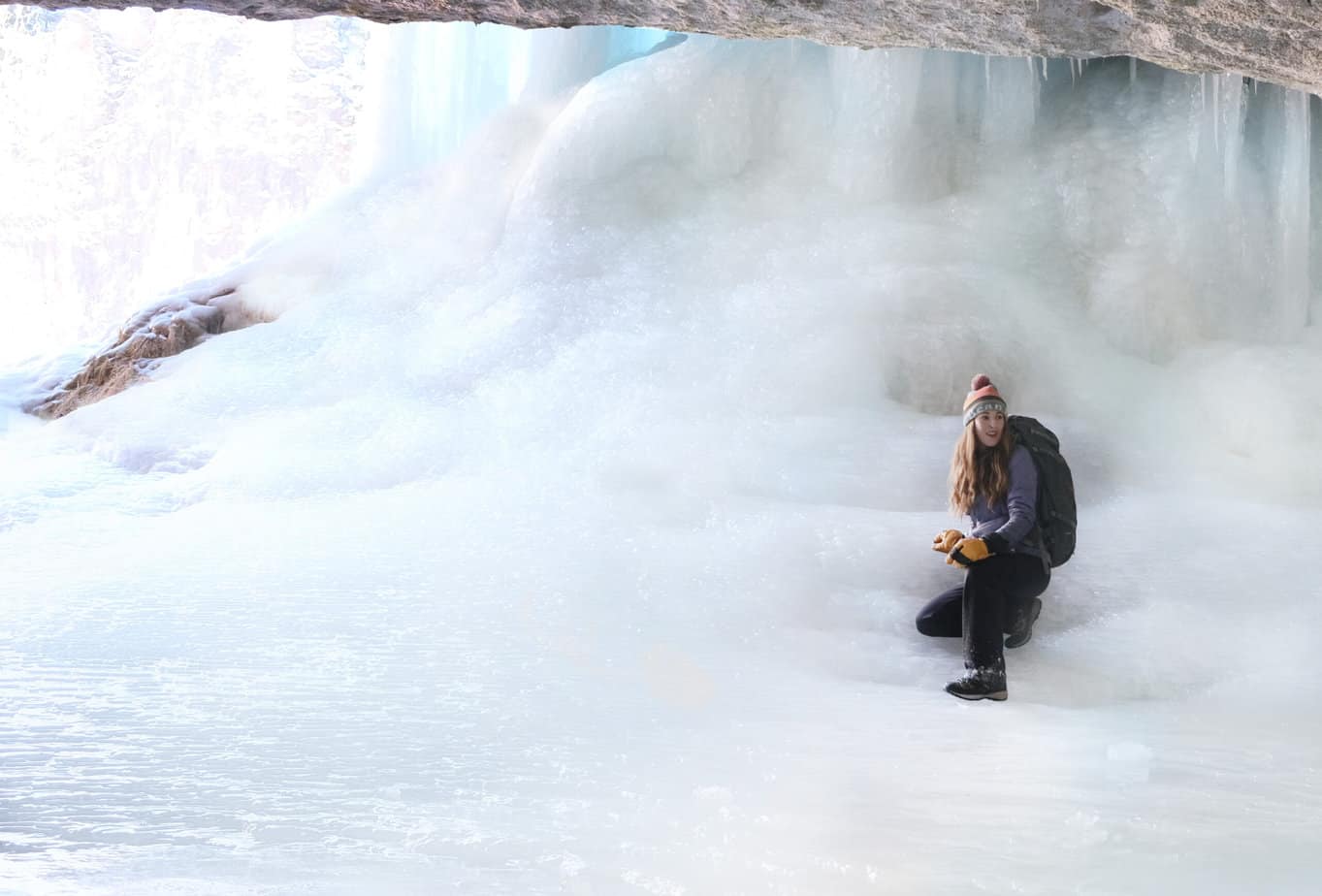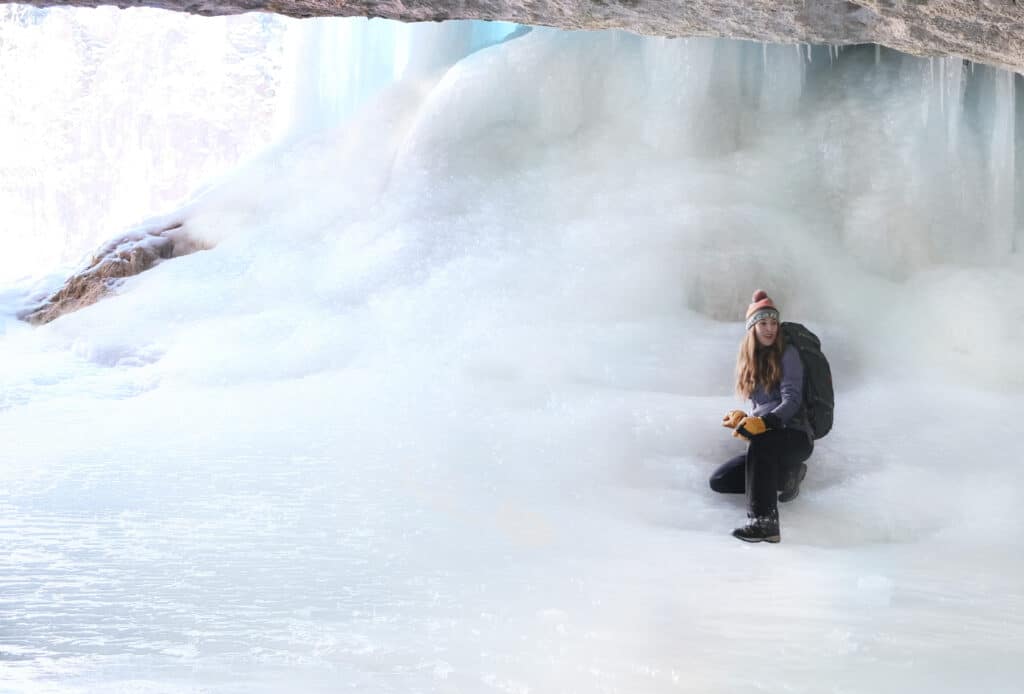 23. Take part in an epic indoor snowball fight together with these cute pretend snowballs.. Winner gets bragging rights for the rest of the winter! 😊 .
24. Pick out a Christmas Tree together... or cut your own (with proper permits of course!)
25. Make your own winter obstacle course complete with sledding, skating, skiing, and snowball fights!
Spring Outdoor Date Ideas
1 Go birdwatching together – spring is a fun time to watch birds build their nests and court eachother!
2 Hike around and look for mushrooms – Spring is a GREAT time of year for new growth… and morels once that perfect combo of warmth and rain hits!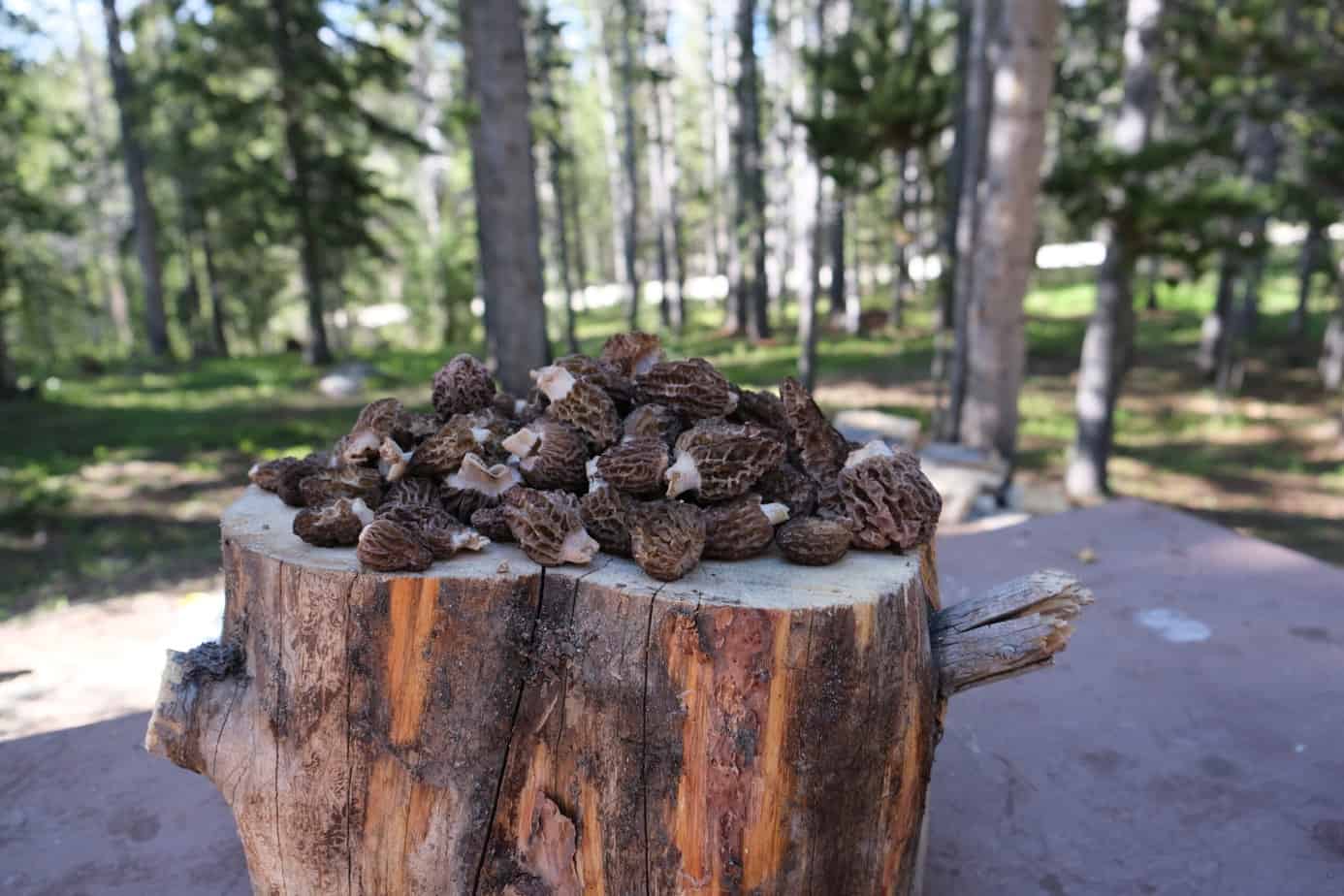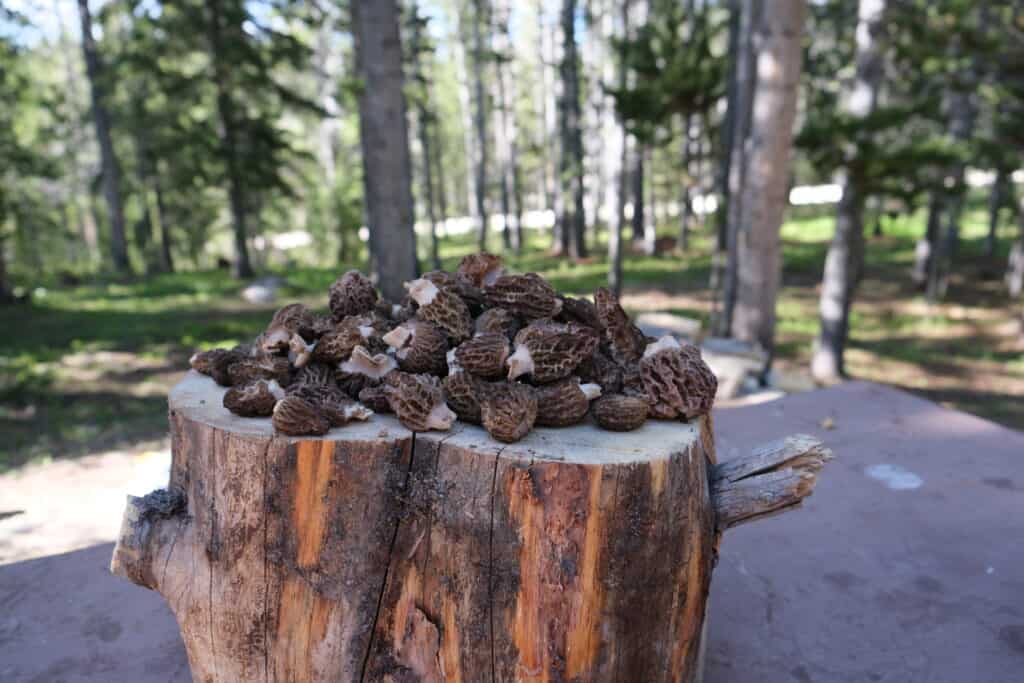 3. Plan a waterfall hike – the runoff that occurs as snow melts in spring makes for SPECTACULAR waterfalls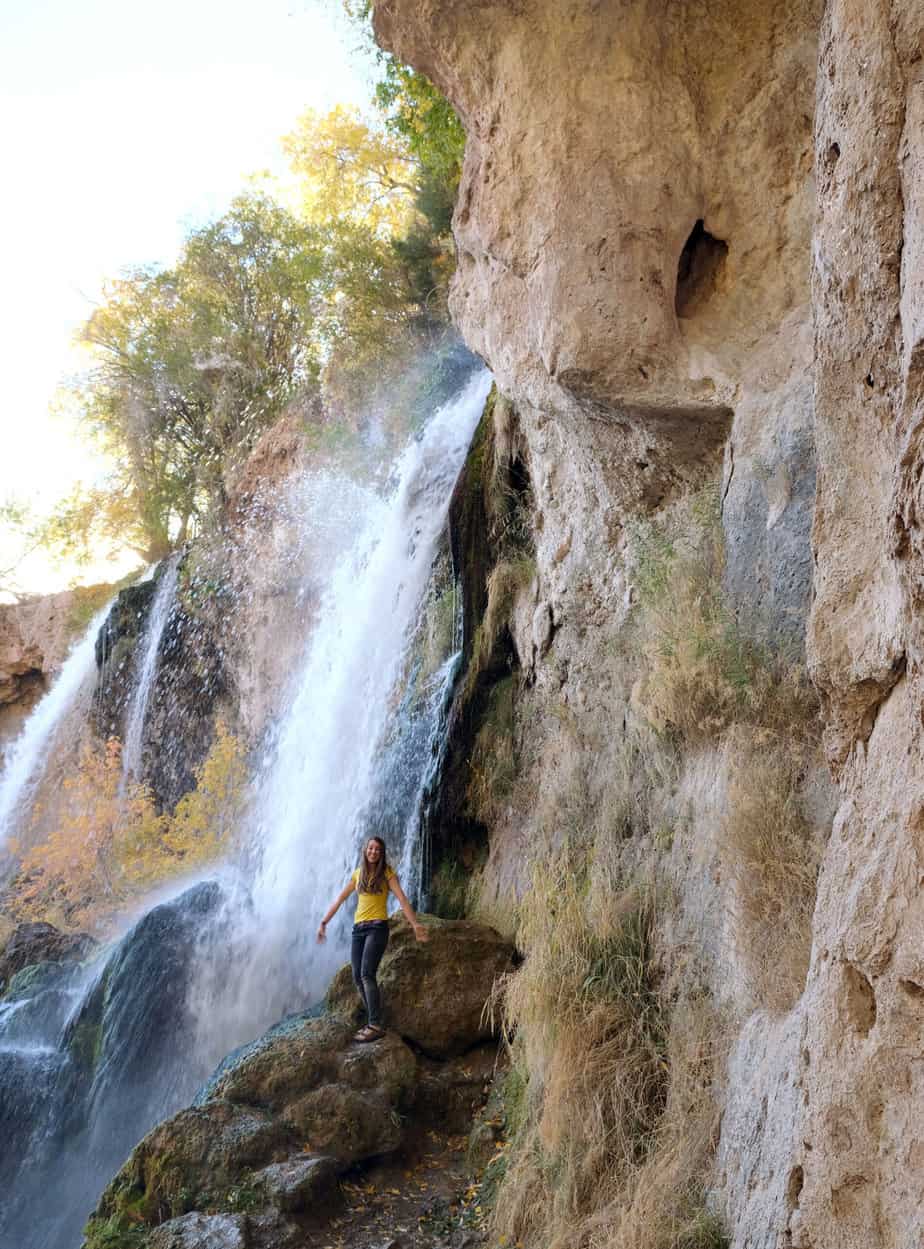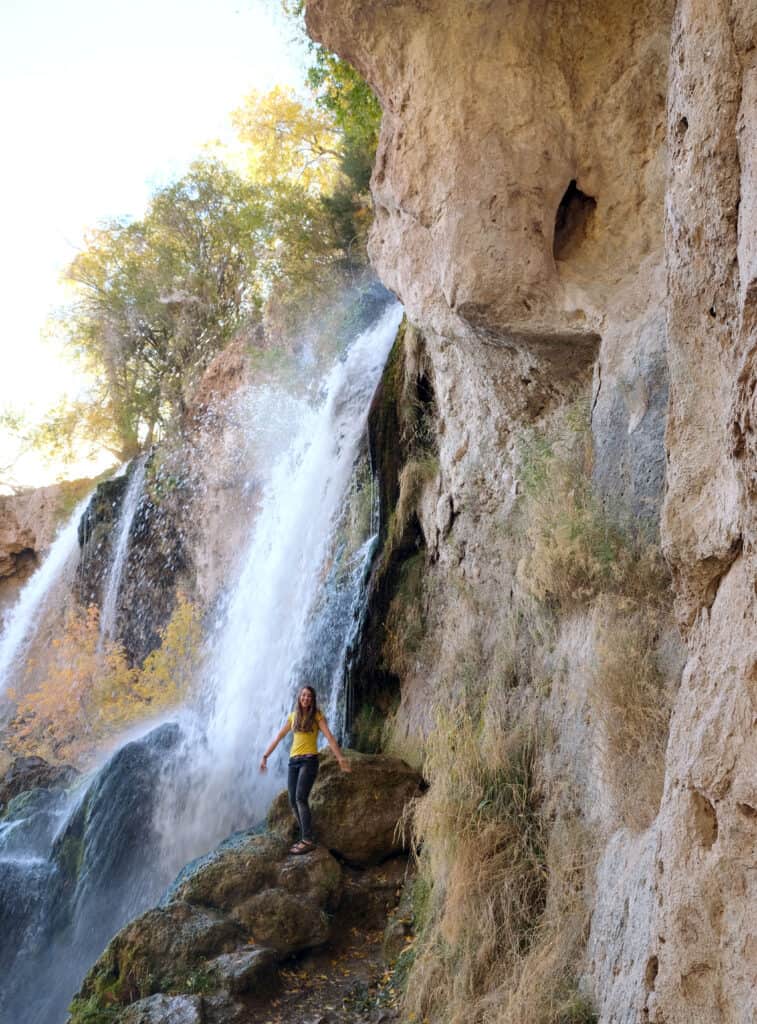 4. DIY some seed bombs together and reseed dead patches you see in town with drought resistant and native palnts
5. Host a Spring cleanup – lots of trash and dog poo gets buried during winter. Bring a bag and some gloves to do some cleanup together with another couple as a date night!
6. Go on a Picnic – What better way to celebrate the return of warmth than a glorious meal in the sun!
7. Visit the Zoo – Spring is the sweet spot before the chaos of school ending… enjoy all the animals emerging from winter without the crowds.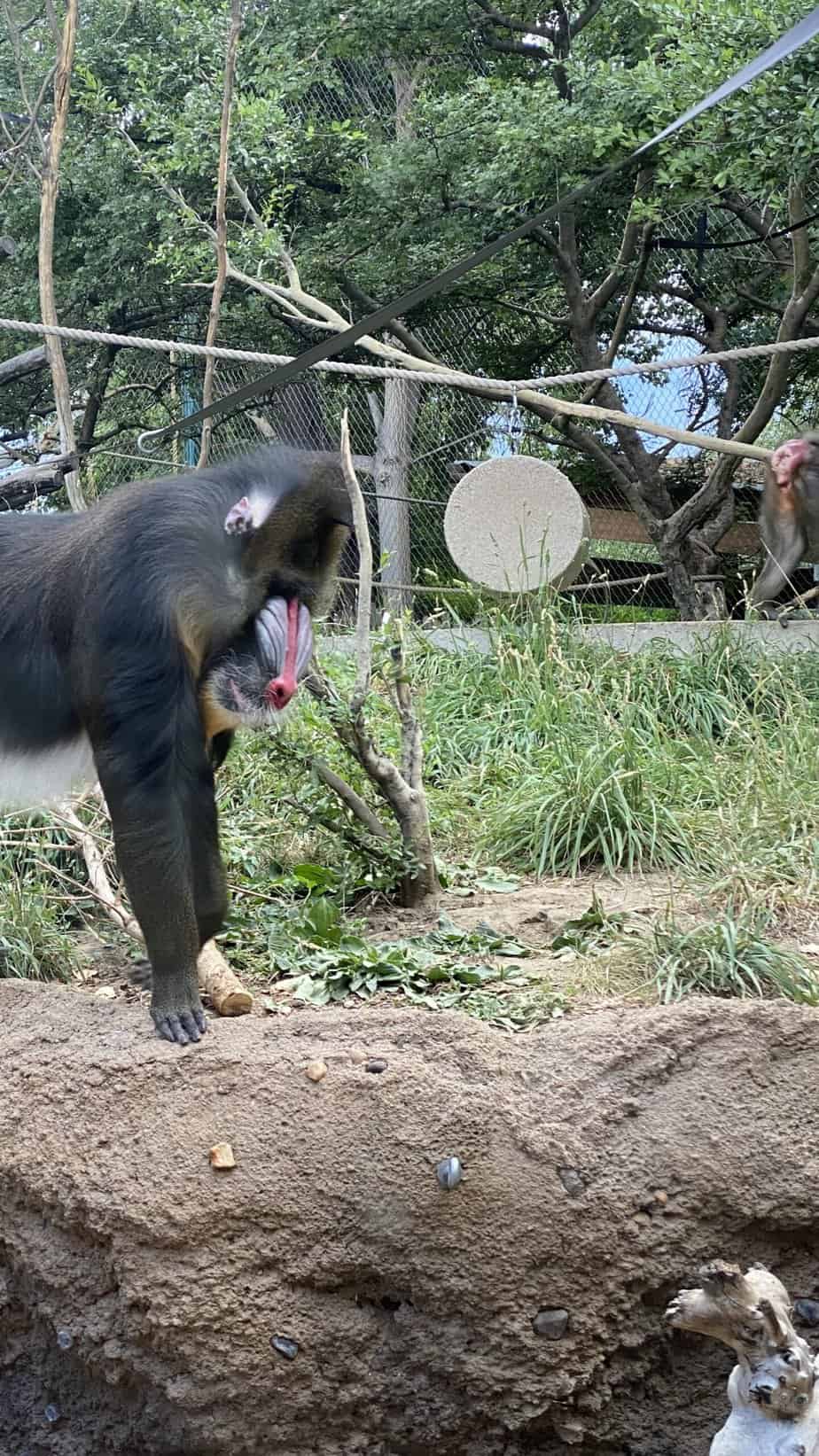 8. Yard Sale shop together – Spring cleanup means LOTS of extra good garage sales. See what good stuff you might find together!
9. Do some planting together – Whether it's a single pot or a garden bed, spring is great for planning these things!
10. Volunteer Together – Whether it's for Earth Day or at your local Senior center, make your community a better place as a couple.
11. Find a Scenic Bike Trail – After months of cold and (possibly) snow, get in a pair of shorts and a tank top to enjoy the sun with your date on a pretty bike ride. It's so fun to see the first flowers of the season and all the new green growth!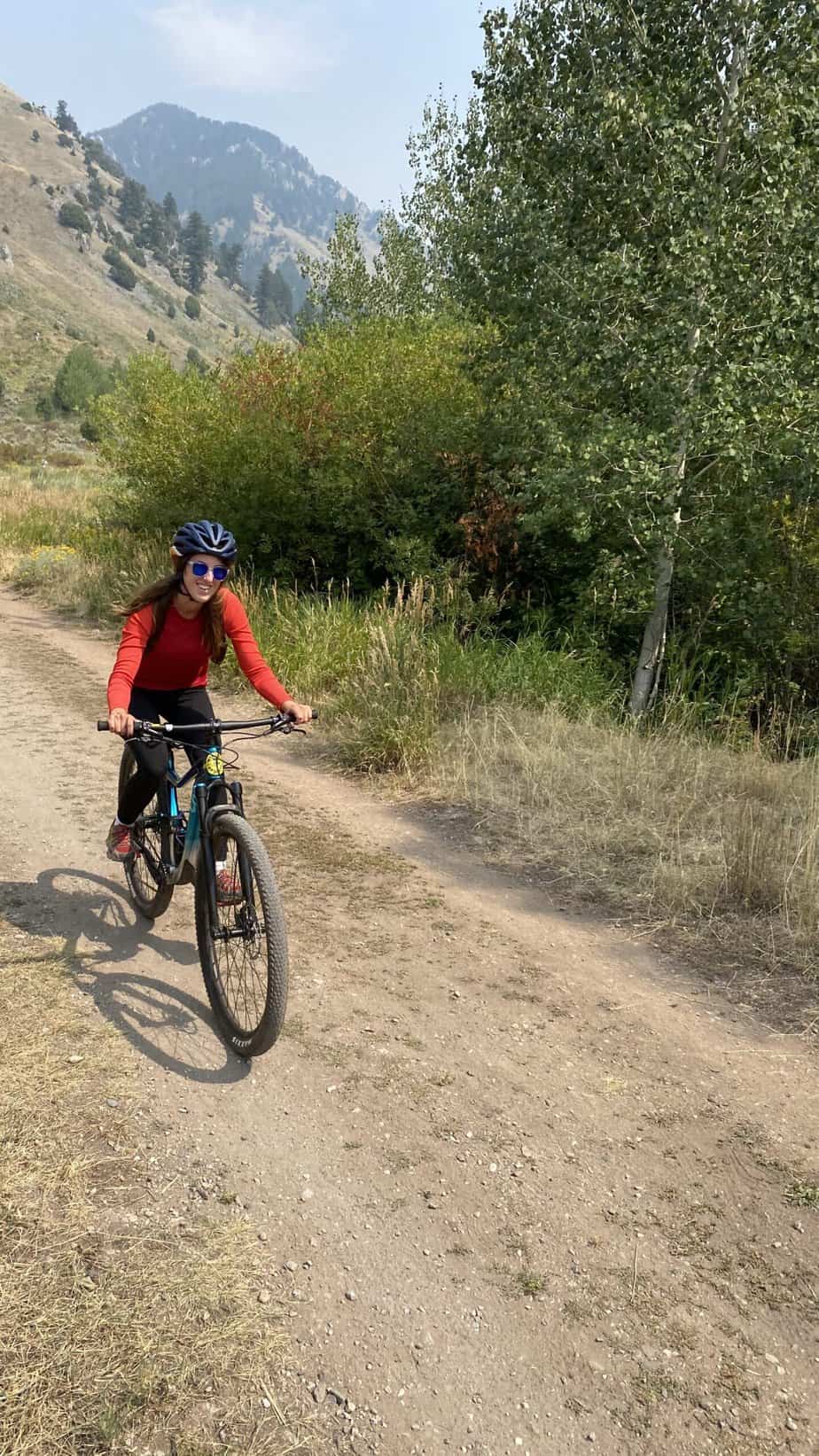 12. Make Dandelion Tea Together – Picking flowers together just soothes the inner child and feels so relaxing! Just make sure you're not picking them from areas that get sprayed or are near the roads