Dealing with toilets may not be the most fun part of RVing, but you've gotta do it!
There are tons of ways to deal with waste in your RV or campervan–traditional toilets, composting toilets, cassette toilets, or just poopin' in the woods (if that's your style!) 
But if you're ready to get in the know about all things cassette toilets, you're in the right place.
Stick around and I'll help you decide if a cassette toilet might be a good option for your RV or campervan setup.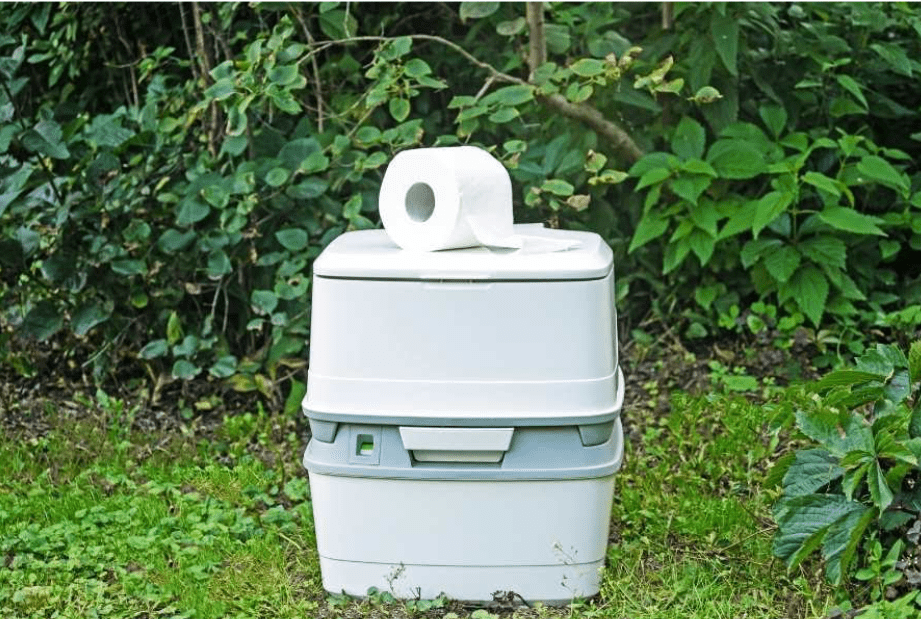 What Is a Cassette Toilet and How Does It Work?
A cassette toilet is a small toilet popular in smaller RVs and campervans. You use the toilet just as you would a regular toilet, and all the waste goes into a small holding tank.
You then remove the waste holding tank, wheel it over to a public restroom or dump station, and dump your waste. Then you rinse the holding tank and put it back underneath the toilet.
This is also called a cartridge toilet. The "cassette" and "cartridge" part refers to the removable waste holding tank below the toilet.
Related: Check out all the options for portable camping potties so you can get a full picture of things.
Pros and Cons of Cassette Toilets
Every toilet option for your RV or campervan is going to have some awesome benefits and some not-so-awesome (and potentially stinky) drawbacks.
Let's discuss those pros and cons for cassette toilets so you can see if they might be a good option for you…
Cassette Toilet Pros
Takes up very little room
Pretty affordable compared to other RV toilet options
Portable waste tanks make them easier to dump than traditional RV black tanks
Doesn't need to be hooked up to plumbing
Cassette Toilet Cons
You have to empty them pretty often
They can get a bit stinky
Not pleasant to dump
Cassette Toilets vs Composting Toilets
Now we know the pros and cons of cassette toilets. But how do they measure up to other RV and camper toilet options?
Composting toilets are another pretty popular toilet option for RV and campers. Composting toilets basically work by having two separate compartments. One for number one and one for number two.
The liquids go into a container that you dump out just like you'd dump out a cassette toilet holding tank. The solids get composted with organic matter so they break down without smelling.
The cassette toilet and composting toilets require a similar amount of work in emptying the holding tanks. However, the composting toilet is a more environmentally friendly option as you never have to use any chemicals.
Composting toilets also tend to have less of a smell, if you're worried about a stinky RV (though the liquid holding tanks can start to smell sometimes).
Overall, these two are relatively similar options.
If you think a composting toilet may be a better option for you, check out my article on those here.
Cassette Toilets vs Regular RV Toilets
Cassette toilets are also pretty similar to a traditional toilet you'd find in an RV.
In a traditional RV toilet, all the waste gets flushed into a large holding tank (the black water tank), underneath the vehicle. When it's full, you dump the black water tank at a dump station.
The difference here is that instead of a large undercarriage black tank, cassette toilets use a small, portable waste tank that you wheel to dump stations or public restrooms.
The three main differences here are how much space is taken up, how often you have to dump, and the grossness of the dumping process.
Since traditional RV toilets have black tanks with a much higher capacity, you will have to dump less frequently, but they take up a lot more room.
And when you do dump, you use a sewer hose so you don't have to be face to face with your waste like you do when dumping a cassette toilet's tank.
A lot of the decision here comes down to how much space you want your toilet to take up (traditional toilets and holding tanks take up way more space), how often you want to dump, and if you're okay dealing with your waste face to face.
Features to Look for in Cassette Toilets
Before you go shopping for a cassette toilet, you'll want to keep some features in mind. The very best cassette toilets would have all of these features:
Fill Indicators
When your holding tank is full, the fill indicator on your toilet will light up to let you know that it's time to empty. The fill indicator will also indicate if the fresh water tank used for flushing is full, or needs to be refilled.
Having a fill indicator is a super helpful thing to prevent messy overflows, and keep the toilet clean.
Although this may seem like a luxury feature, there are tons of reasonably-priced cartridge toilets out there that have fill indicators.
Locking Lid
The best cassette toilets will have an air-tight lock between the holding tanks and the lid. This can help prevent smells, as well as avoid any waste from splashing back up into the bowl and all over your RV.
The toilet lid should also lock down to the toilet seat to further prevent any messes while driving.
Holding Tank With Wheels and a Handle
Depending on your usage, having a cassette tank typically means you'll be dumping it pretty often, so this process should be as easy as possible.
When shopping around, try to find a cassette toilet with a portable tank that has wheels and a handle. Dumping your waste isn't fun, so it should at least be easy to transport from your RV to a restroom or dump station.
Easy-Pour Spout
The best cassette toilets will also have an easy-pour spout where the waste comes out. A proper spout will ensure that your waste isn't spilling all over the place while you're emptying your holding tank.
Powerful Flush
Many cassette toilets have a powerful flush that ensures that no waste is stuck to the toilet bowl by flushing it out with fresh water from the water tank.
The flush mechanism can be powered by a hand pump that you press down, or by an electric (usually battery-powered) flush.
Electric-powered flushes are usually stronger than pump-powered flushes on cassette toilets, but this will vary by toilet.
A cassette toilet with a powerful flushing mechanism will help you keep the toilet clean and prevent smells.
6 Best Cassette Toilets for RVs, Campervans, and Travel Trailers
Okay, now that you know what to look for, let's take a look at the best cassette toilets for your RVs, travel trailers, and campervans.
Here's my list of all of them, and then I'll cover each one more in-depth:
Thetford 365 Portable Cassette Toilet
Thetford's line of portable toilets are just about the standard as far as portable cassette toilets go. The 365 model has a 5.5 gallon capacity, comes with water tank level indicators, and can handle over 50 flushes before it needs to be emptied.
The biggest hassle about cassette toilets in general is that they're difficult (or just plain gross) to clean and maintain. The Thetford 365 offers a hand water pump that cleans out the inside of the bowl. Plus, detaching and emptying the holding tank is super easy with the rotating pour out spout.
Because of its large capacity, though, a full tank may be difficult to hold over wherever you're dumping the black water.
Pros
Comfortable
Easy to clean
High quality
Large 5.5 gallon waste water capacity
Cons
Can be heavy when emptying due to large capacity
Check out the current price of the Thetford 365 on Amazon here.
And watch this quick demo of the Thetford 365:
Thetford 32812 Cassette Toilet
This Thetford cassette toilet toilet has similar perks to the Thetford 365 including tank level indicators and a large capacity. However, the 32812 is not a portable toilet. Instead, it's a permanent toilet you install inside your RV or campervan.
Because it's permanent, it takes up more room, but it definitely is a lot nicer looking compared to a lot of portable camping toilets, and it has a really nice electric flush that helps keep the toilet squeaky clean.
Pros
Sleek design
Stays clean
Great for permanent bathrooms
Holding tank is accessed outside the vehicle
Cons
Pricey
Takes up more room than cassette porta potties
Check the current price on Amazon here.
Dometic 970 Series Portable Cassette Toilet
The Dometic 970 series 2.6 gallon portable toilet is a great option if you're cramped on space. It takes up a lot less room than portable toilets with larger tanks so it's perfect for all you van lifers out there. (This model also comes in a 5 gallon option if you want a larger holding tank.)
The smaller size means emptying more often, and that it might not be as comfortable to sit on. But, it still has all the components you need in an easy-to-use, easy-to-clean portable toilet like fill level indicators and a powerful flush.
Pros
Small size
Easy to clean
Full-sized seat
Cons
May be uncomfortable to sit on because if its small size
Check out the current price of this Dometic toilet on Amazon here.
And here's a demo of the toilet:
Camco 41544 Cassette Toilet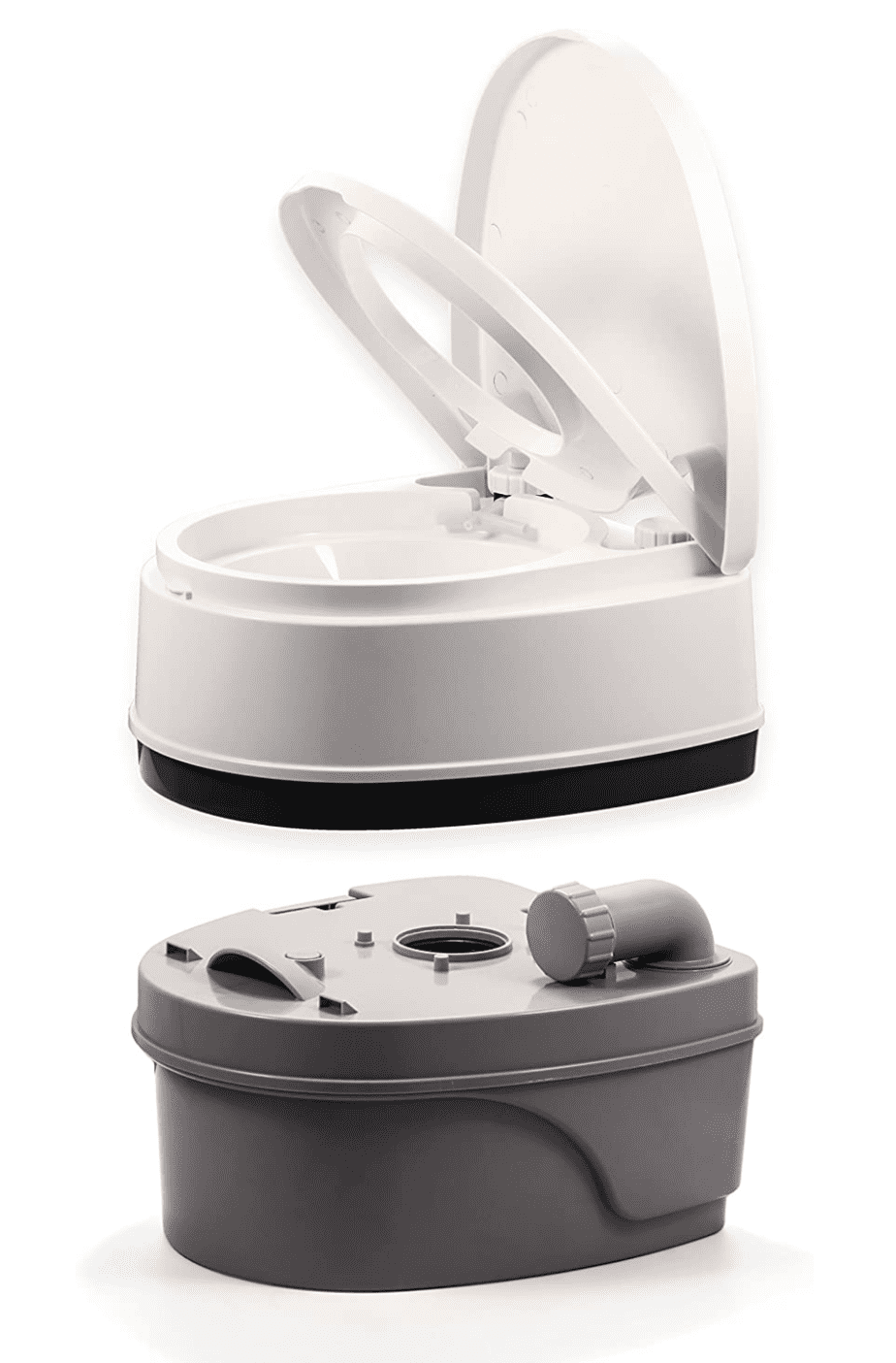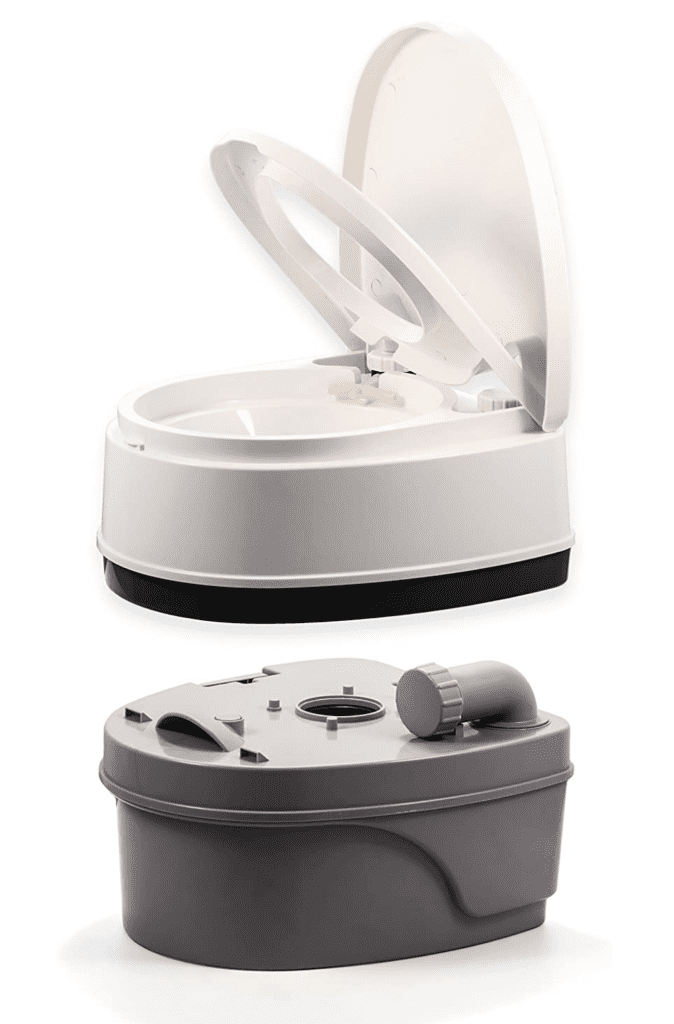 The Camco 41544 portable toilet is a bare-r bones option as far as cassette toilets go. It's much less expensive than the other toilets I've listed here, but it also comes with fewer special features.
This toilet doesn't have a fill level indicator or a fancy electric pump, but it gets the job done surprisingly well for its price point.
Pros
Inexpensive
Comfortable, high seat
Large holding tank capacity
Cons
Check the price of this Camco toilet on Amazon here.
Thetford 565E Cassette Toilet
And last but not least, the widely-used 565E Thetford cassette toilet. This portable toilet has it all–fill level indicators, battery-powered electric flush, locking lid, and even a little pop out toilet paper holder.
Like the 365, this one also has a rotating pour out spout, which makes it really easy and clean to dump.
The toilet has a really small footprint but still has a 5.5 gallon holding tank (that's the highest capacity tank on my list). Honestly, the only thing I don't like about this toilet is it's cylindrical shape–that might just be me though.
Pros
Electric flush
High waste tank capacity
Doesn't take up much room
Comfortable
Built-in toilet paper holder
Cons
Not the best looking toilet
Check here for the current price of the Thetford 565E on Amazon.
And here's a nice demo of the toilet:
Tips for Using A Cassette Toilet
Cassette toilets can be stinky, dirty, and difficult to deal with, but if you keep these tips in mind, you'll be able to avoid a lot of the hassle and stench associated with cassette toilets.
How Do You Dump a Cassette Toilet?
Dumping the cassette toilet for the first time can be a bit scary, but after a while you'd probably be able to do it with your eyes closed.
First, you'll want to close the valve that seals off the toilet bowl from the holding tank.
Then, remove the portable tank from underneath the toilet. The holding tank may be directly underneath the toilet. If it's a permanent cassette toilet, you'll access the waste tank from a door outside the vehicle.
You'll then bring the tank to a dump station, an outhouse, or a public restroom. Open the spout or press the valve open button (if your holding tank has one), and hold it over the dump hole until it's empty.
Then fill the tank with water, shake, empty, and repeat until the water's clear.
Replace the holding tank, and you're done!
Where Can You Dump the "Contents" of a Cassette Toilet?
There are a few main places you can dump your cassette toilet: a dump station at a campground or truck stop, a pit toilet at a campground, or any other public restroom.
You never want to dump your cassette toilet outside, especially if you treat the tank with chemicals. So, if you're using a cassette toilet, make sure you always have access to a place where you can dump your tank.
How Big Should the Holding Tank Be?
The size of the holding tank really depends on how often you use the toilet, and how often you want to empty it.
Typically cassette toilet's holding tanks have around a 2 to 5 gallon capacity. So, you'll have to dump it every few days depending on the number of people using the toilet (and how much you eat 🤣),
You can increase the amount of time between dumping substantially by not flushing your toilet paper and having a waste bin for toilet paper in the bathroom instead.
How Can I Keep Stink Under Control?
The best way to keep stink under control is to dump your toilet very frequently–like everyday or every other day. That's a lot of work, though.
Another major way to prevent odors is to only use the toilet for liquids. A lot of cassette toilet owners have a rule of no pooping in the cassette toilet!
Introducing #2 into a toilet system can immediately cause a ton of odor, and if you're worried about a stinky RV or campervan, I'd recommend only using the toilet for going #1.
Only using the toilet for liquids also makes the cassette toilet way easier and less messy to dump.
Whether you decide to go #2 in your cassette toilet or not, the biggest thing to remember is to keep the toilet very clean and don't ever let the holding tank get too full.
How to Clean and Maintain a Cassette Toilet
As with any toilet system in RVs, cassette toilets require a certain amount of maintenance to prevent stench and smell.
Don't worry, though, it's not that much work…
Using Chemicals in the Holding Tank
The process for using chemicals in a cassette toilet's holding tank is the same as using chemicals in a typical RV black tank.
The only difference here is the amount of chemicals you'll use since the cassette holding tank is way smaller.
There are a couple options for treating the tank. You can add chemicals to the tank after you've emptied and cleaned it using something like this Camco liquid.
Another option for cassette toilet chemicals is drop-in tablets like these that you'd drop into the bowl and flush down, or just put right into the holding tank.
Keep in mind, you don't have to use chemicals in your cassette toilet's holding tank, but it helps an awful lot to minimize smells.
Also, if you're going to be putting solid waste and toilet paper in the toilet, it's pretty much a necessity to help break those down so the tank is easy to dump.
How to Clean the Cassette Toilet
To clean the inside of the toilet bowl, use a really gentle cleanser. This is because harsh chemicals like bleach can wear down the surface of cassette toilets. You should do this once every few days since waste can build up on the inside of the toilet bowl and start to smell.
You can use dawn dish soap and a brush, or a gentle spray cleanser like this one from Thetford.
How to Clean the Holding Tank
You should clean out your cassette toilet's holding tank after every time you use it. To do this, simply add some fresh water after dumping, close the tank, swish it around, and pour it out. Repeat this until the water is clear.
You can use extra cleaning products to deep clean your holding tank if you're having issues with smell. But, the chemicals you use in the tank should do most of the work for you.
Cassette Toilet FAQs
Can I add a cassette toilet to my pop-up camper?
Absolutely! Cassette toilets are the perfect toilet option for pop-up campers because they don't require plumbing and don't take up a lot of room.
Are cassette toilets good for camper vans?
Yes! Cassette toilets are one of the most popular toilet choices for camper vans (next to composting toilets).
Most have a small footprint so they won't take up room in a tiny van, they're easy to use, and they don't need to be hooked up to a plumbing system.
Can I replace my RV's toilet with a cassette toilet?
Yup! The installation process will vary depending on your RV's existing toilet, and the new cassette toilet you want to install.
Many RVers prefer dumping a portable waste tank from a cassette toilet compared to backing up their whole RV into a dumping station every time they need to empty the black tank.
Can you poop in a cassette toilet?
You sure can! Cassette toilets are designed to hold liquid waste, solid waste, and toilet paper, just like a traditional RV toilet.
However, a lot of cassette-toilet owners choose not to use their toilet for #2 just to minimize potential smells, and to make the dumping process less gross.
How often do you need to empty a cassette toilet?
You'll probably need to empty the waste tank anywhere from once every couple days, to once per week.
But really, how often you need to empty your cassette toilet will vary a lot based on how many people are using the toilet, and the capacity of the toilet's waste tank.
Will Your Next Throne Be a Cassette Toilet?
Maybe you've decided cassette toilets are awesome and you're going to install one in your RV or campervan ASAP. Or, maybe you think they're not for you and you'd much rather stick with your good old black tank.
Either way, hopefully I've covered some good info for you.
If you're still unsure, take a look at my other toilet articles:
And more articles about all things RV bathrooms:
Latest posts by Stacy Bressler
(see all)