Thinking of buying a pop-up camper? Then probably one of the first things you're wondering is…how much do pop-up campers weigh?
You need to know the pop-up camper's weight so you know if you're vehicle is big enough to tow it. It won't matter if it's got a bathroom, full kitchen, king beds, and a cupboard for maple syrup if it's too heavy for your tow vehicle, right?
In 5-minutes I'll give you everything you need to know to evaluate pop-up camper weight.
Let's get right into it!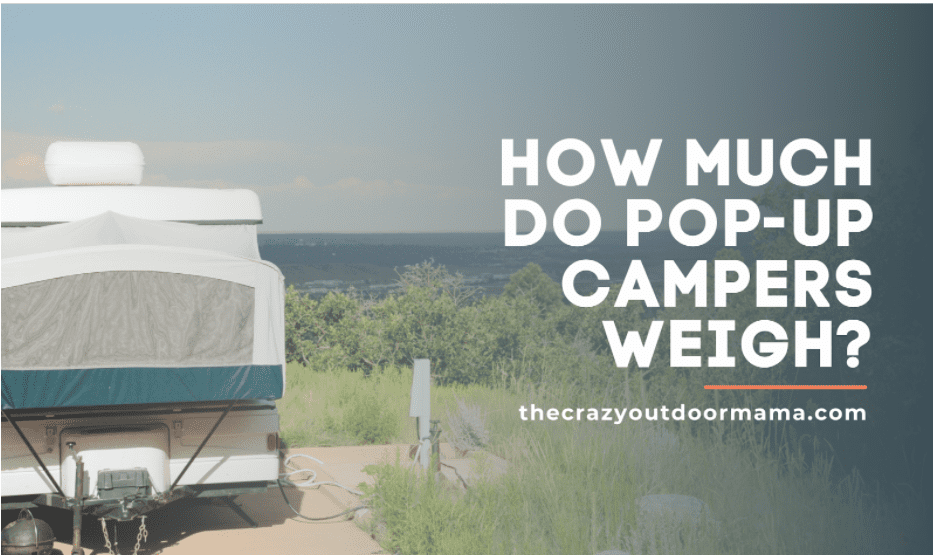 The Average Pop-Up Camper Weight Is…
The average pop-up camper weighs about 2,000 lbs. That's for your average size pop-up camper (or tent trailer as some still call them) with a single axle, bed slideouts on either end, and a 10-ft box size.
*The box is the central "box" section not including the length of the hitch or any slideouts.
Just as an example, this is the Forest River Flagstaff 208. It's pretty much a middle-of-the-road pop-up camper. Simple, but not the simplest. Nice, but not the nicest.
It weighs 1,896 lbs, so it's pretty close to your average pop-up camper weight.
How Much Does a Large Pop-Up Camper Weigh?
Large pop-up campers can weigh 4,000 lbs or more. That means a large pop-up camper can weigh just as much as a small travel trailer.
This is especially true if you're talking about large high-wall pop-up campers with large 14 and 16-foot boxes. The higher sidewalls add to the weight, as does the larger box with all that extra metal. And with a bigger box, comes more space for heavy amenities like bathrooms, kitchen appliances, etc.
How Much Does a Small Pop-Up Camper Weigh?
Small pop-up campers can weigh as little as 800 lbs. But don't expect a lot out of a lightweight pop-up like that. You'll likely won't have a kitchen, large beds, and definitely not a bathroom.
Check out the lightweight SylvanSport – it's a tiny pop-up that weighs under 900 pounds but still sleeps 4!
What Affects Pop-Up Camper Weight?
A pop-up camper's weight is affected mainly by the box size, accessories, and amenities.
A larger box means a larger trailer, more hard wall space, and in some cases, multiple axles. For example, some of the large, high-wall Forest River Flagstaff trailers have dual axles to support all the extra weight.
But a long, high-wall box is just part of the story.
The box size also affects how many accessories and amenities you can fit in the camper. A smaller camper might just have a simple galley setup with a tiny fridge and no bathroom.
But with the extra space of a large, high-wall camper, you've got space for heavier amenities. Things like larger refrigerators, microwaves, toilets & showers, and larger cabinets.
So when you're looking for your camper, it's important to decide which amenities and accessories you really need and which you can live without. That way you'll be able to get the best pop-up camper for you with a weight your vehicle can still handle.
But why do they list different weights on the pop-up camper's specs? Find out in the next section!
*Psst. Need help choosing a pop-up camper? Check out these articles too!
How To Know If Your Vehicle Can Haul a Pop Up Camper
As you're trying to figure out a pop-up camper's weight, your head might be spinning with all those acronyms UVW, GVRW, CCC, FBI?
…just joking about that last one 😋.
Let's have a quick look at each of those acronyms. 
The UVW or unloaded vehicle weight is the weight of an unloaded travel trailer! Who'd 'a thunk it? LOL! The UVW is also sometimes referred to as the "dry weight".
Basically, it's the pop-up camper weight before you add camp chairs, water, pancake batter, and spam. That means if your vehicle can pull 2,000 pounds, you need a pop-up camper with a weight of less than 2,000 lbs.
The CCC or cargo carrying capacity is the maximum amount of cargo you can safely load up in your trailer.
The GVWR or gross vehicle weight rating is the maximum permitted weight of the RV. To get the GVWR, combine the CCC and the UVW.
The GVWR is an important weight to consider because it should match or be less than your vehicle's tow rating.
Once you understand your pop-up camper's weight, then you have to compare it with your vehicle's tow rating (check the manual or along the inside of the door frame.)
So if you've got an SUV that can tow 3,500 pounds and you're looking at a pop-up camper with a GVWR of 3,000 pounds…you've got a winner!
So what kinds of vehicles can tow pop-ups anyway? Check out the next section.
What Kind of Vehicles Can Tow Pop Up Campers?
Of course you can tow pop-ups with a huge diesel truck and a 10,000-lb tow rating. But what about smaller vehicles?
Here are just a few small SUVs, minivans, and crossovers that might be able to tow a pop-up (or another lightweight camper).
*Important: Always double-check your vehicle's trim, engine size, and towing package. Two vehicles that are the same model can have different tow ratings based on the engine and trim level.
| Vehicle | Towing Capacity |
| --- | --- |
| 2021 RAV4 | 1,500 – 3,500 depending on trim and engine |
| 2021 Subaru Crosstrek | 1,500 pounds |
| 2021 Jeep Compass | 2,000 pounds with the 2.4L engine |
| 2021 Kia Sportage | 2,000 pounds |
| 2021 Ford Bronco Sport (W/ Class II Tow Package) | 2,000 pounds (Up to 2,200 on highest trims) |
| Hyundai Tucson (181 HP 2.4 liter) | 2,000 pounds |
| 2020 Ford Ecosport (AWD 166 HP 2.0 liter) | 2,000 pounds |
| 2021 Ford Escape (250 HP 2.0 liter Ecoboost) | 3,500 pounds |
| 2020 Jeep Cherokee (271 HP 3.2 liter V6) | 4,500 pounds |
| 2020 Chevrolet Equinox (252 HP 2.0 liter Turbo) | 3,500 pounds |
| 2021 Subaru Outback (260 HP 2.4 liter Turbo) | 3,500 pounds |
| 2019 Toyota Sienna (296 HP 3.5 liter V6) | 3,500 pounds |
| 2019 Chrysler Pacifica (287 HP 3.6 liter V6) | 3,600 pounds |
| 2020 Honda Pilot (FWD 280 HP 3.5 liter V6) | 3,500 pounds (Up to 5,000 with AWD trims) |
10 Pop Up Camper Examples and Their Weight – Light to Heavy
Here are a few examples of some popular pop-up campers and their weights, organized from lightest to heaviest.
Dry Weight (UVW): 840 lbs
GVWR: 1650 lbs
The Sylvansport Go is probably the best pop-up camper for towing with small vehicles. Plus, it suuuuper versatile as a mini toy hauler too!
This pop-up camper is one of the lightest on the market at just 840 pounds. No, you won't get a wet bath and a kitchen. But this mini pop-up camper unfolds to provide a 4-person sleeping area. And when it's all folded up, you've got a toy hauler deck for a 4-wheeler or dirt bikes and an additional gear rack.
When it's time to camp, just open up the tent pod and slide out the beds. It's even got a generous 6'5" standing height inside and a multi-position table in the middle.
Check out the video tour here.
Dry Weight (UVW): 1795 lbs
GVWR: 3000 lbs
Let's not forget about a-frame pop-up campers. Sure, they're not your traditional tent-style pop-up, but they pop-up so technically they're pop-ups! (Guinness world record for the most time pop-up has been used in a sentence!🤣)
The Aline brand still makes some pretty cool a-frame pop-up campers. And the great thing is that despite having all hard walls, they're actually surprisingly lightweight.
This Aline LXE is one of their larger ones and it only weighs 1,795 lbs. And guess what? It's actually got a bathroom inside! YES!
Check out the video tour.
Dry Weight (UVW): 2,204 lbs
GVWR: 3,223 lbs
Want a decent mid-size pop-up camper? This Coachmen Clipper has simple features that are perfect for a family looking to upgrade from a tent to a pop-up. And with a weight of just over 2,000 pounds, you probably won't need to upgrade your vehicle at the same time.
Fortunately, it does come with some comfort features like insulated bunks, a small galley, and an optional bathroom package.
Check out a short video tour here. (There aren't a lot of video tours for this one so I'll be sure to post a better one once it's available.)
Dry Weight (UVW): 2,076 – 3,377 lbs*
GVWR: 2,884 – 5,222 lbs*
*Depending on the floorplan
The Forest River Flagstaff pop-ups with the Sports Enthusiast Package are great for families who like to hit some rough roads. They sit a little higher off the ground and have some rugged features that'll help them handle gravel roads better than your normal pop-up. Plus they come in a nice variety of weights so you can get one that fits your vehicle.
Just as an example, the smallest one (in the picture above and the floor plan below) is the 207 SE. It's got an unloaded vehicle weight of just over 2,000 pounds and a cargo-carrying capacity of 808 pounds. So even most small SUVs can still handle its weight.
Watch a Forest River Flagstaff Sports Enthusiast video tour. 
Dry Weight (UVW): 3,100 lbs
GVWR: 4,200 lbs
The Opus pop-up campers are the rough and rugged combat-boot-wearing members of the pop-up camper family.😋 They're built to go, well…anywhere you're vehicle can.
They're definitely not the largest pop-up campers but they are some of the heaviest. Take for example the OP4. The OP4 has a dry weight of over 3,000 pounds. And it's rugged enough you can pack on an extra 1,100 pounds of gear before you reach the GVWR!
Check out an OP4 video here.
Dry Weight (UVW): 3,721 lbs
GVWR: 4,999 lbs
We started with the tiny, lightweight Sylvansport GO and now we're up to one of the pop-up campers that weighs the most — the Forest River Rockwood HW296
This is definitely not your normal pop-up. In fact, its GVWR is 1 lb shy of 5,000…so we might as well just say 5,000. You're not going to pull this with your crossover.
*Here are some actual travel trailers that are all under 5,000lbs.
But once you have a look at this thing up close, it's easy to see why it weighs so much. It's got a 16-foot long high-wall box, dual axles, fridge, oven, stove, double sink, and something you don't often see in a pop-up…a hard-wall wet bath. Sweet!
Watch the detailed video tour.
Can I Rent a Pop-Up Camper Before Buying?
Yes, and it's a smart idea (especially if you've never had a pop-up camper before)! Just check out RVShare.
You may not be able to rent the exact pop-up camper you're looking at buying, but regardless, it's a good idea to try a pop-up camper if you've never used one before. It can be a big help in deciding whether a pop-up camper can work for your family or if you'd prefer a lightweight hard-sided travel trailer.
Check out RVShare to see what pop-up campers are available to rent in your area.
Enjoy the Outdoors In Your Pop-Up Camper!
Now that you've got a better understanding of pop-up camper weights, it'll be easier for you to choose the right one for your family.
Whether you go with the small and nimble SylvanSport GO, the heavy but luxurious Forest River Rockwood, or something in between, just be sure to get out there and enjoy the outdoors as a family!
And don't forget these other articles that can help you enjoy camping as a family!
Latest posts by Stacy Bressler
(see all)