So alot of times my crafts tend to be geared towards the younger crowd, but while I was working on my valentine crafts for him this year I realized.. hey, I (as well as other adults and seniors!) enjoy this too!
However, I don't go to school or really give valentine's gifts to my friends or have tons of reasons to craft on valentines… but I DO have a door to decorate!
I love really simple, sort of rustic decorations, and have yard upon yards of burlap (it's REALLY cheap, you should keep some around if you also like to craft!) so I thought a cute banner with bright heart accents would be perfect to hang on my front door!
All you need for this easy valentine diy (for adults… or older kids!) is some burlap, felt and glue!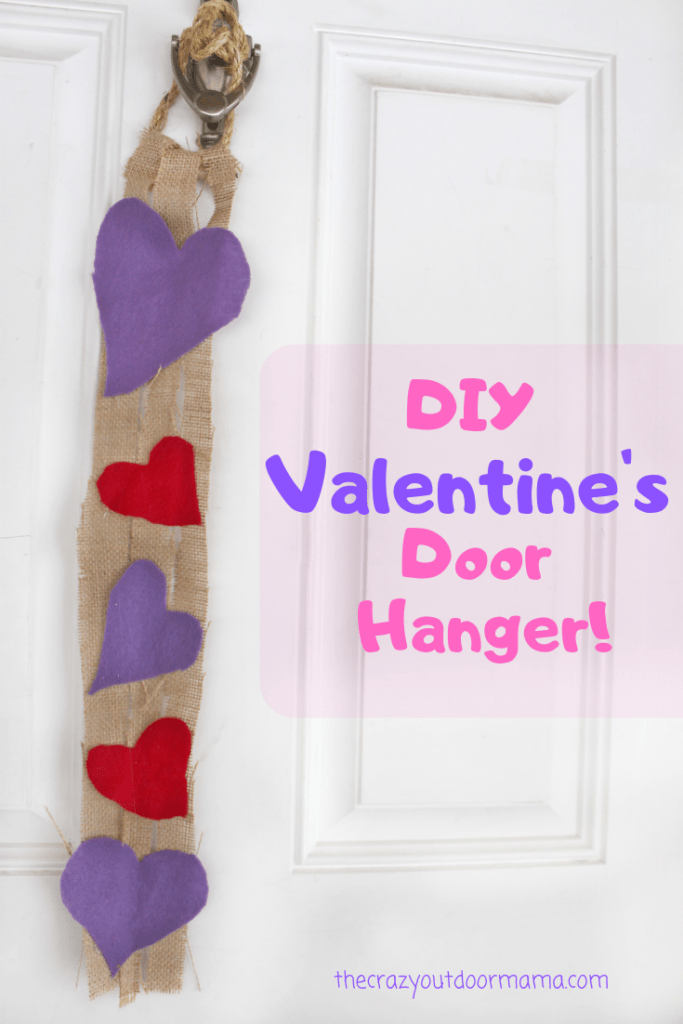 Items needed to make this easy valentines door decor!
Minimum 3 ft long by about 6 inches wide piece of burlap (this is really up to you though, as you can modify it to fit your needs!)
Felt for the hearts – You can cut your own or just buy some really cute

pre cut felt hearts here

(I found 3 of the cutest sets, be sure to look at the sizes though!) which could be useful if you're using this craft for a class!
Glue – I used hot glue, though I have also had good experience with Elmer's Extreme Glue! I just like to be extra safe if this thing might be blowing in the wind outside!
Twine – this is how you will hang your cute banner!
Directions to make Simple Valentine's Door Banner!
Feel free to do something different than felt hearts (I had actually thought about cutting out burlap hearts then painting them Valentine colors!)
Cut burlap into correct length for your door or need


For me this was around 2 feet long, but you may want it longer or shorter!

Cut piece of burlap into 3 even strips

Not neccessarry, but I liked how it added even more variation and texture. These lines don't have to be straight, and honestly the edges look nice if they fray out a bit!

Cut out different shape hearts from 1-3 colors of felt

I like patterns, so just went with a basic 2 color pattern. I did vary the sizes and shapes of the hearts so they didn't look so cookie cutter! I'd suggest making the hearts big enough though so they atlteast touch each of the 3 strips so that they can be glued in place!

Glue hearts to the banner, making sure to that the heart is glued in atleast one spot on each of the 3 pieces of banner

This just means make sure the felt heart is secured by glue the whole way across the banner!

Cut 12 inch length of twine and attatch it to the banner

After cutting your twine, tie it into a loop (I just tied the ends together twice). Depending on the size of your twine (if you have chunky stuff like me, it won't glue nicely under the burlap) lay the loop on the top portion of the banner, leaving about half an inch of buralp above the loop. Put glue on the burlalp under the loop, then fold over the burlap that's above your twine and make it meet at the bottom of the loop where the glue is. (See the picture, my explanation was sort of wierd!)

All done! Hang it from your door to spread Valentine cheer!
I hope you had fun making this valentine decor! This would be perfect for a kids class if you perhaps made it just one piece of burlap, or a great valentines craft for senior citizens! All ages can love this craft!
Here are some other Valentine Posts you might love!
Latest posts by Stacy Bressler
(see all)