There's something magical about campfires, right? They're a place to cook, relax, and tell scary stories! Camping just wouldn't be the same without them.
So when a portable wood stove takes on the name "CAMPFIRE", it's got some pretty big shoes to fill.
Does the Solo Stove Campfire really live up to its name? Can it really replace a traditional campfire in some situations?
You might be surprised!
In my review article, I'll share what I've learned about the Solo Stove Campfire from personal experience. That way you can tell if it lives up to the hype and is worth getting.
I'll be honest, the Campfire is not for everyone. But don't worry, I'll help you figure out if it's for you. In this 5-minute read I'll go over:
What's the big deal with the Solo Stoves anyway?
Campfire's main features
How it compares to other Solo Stoves
Solo Stove Campfire pros and cons
Tips for using
Let's get started with the review!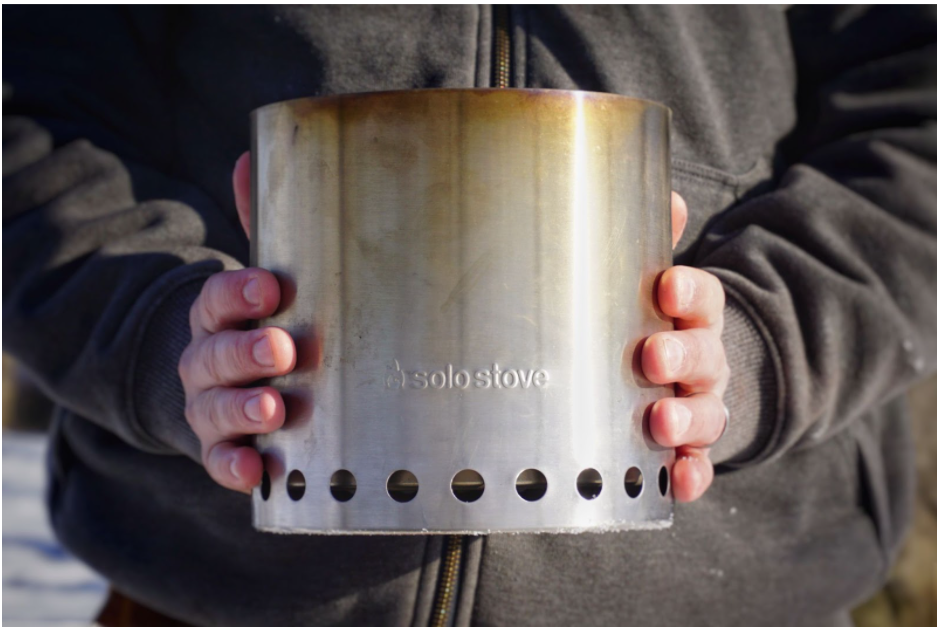 As an affiliate for Solo Stove, I will earn a commission should you purchase through one of my links. However, rest assured that it adds no extra cost and I try my best to provide accurate reviews, pros AND cons, to help you make the best choice!
So What Is the Solo Stove Campfire Anyway?
The Solo Stove Campfire is the big daddy of the Solo camp stove line. Its got two smaller siblings — the Lite and the Titan. But the Campfire is small beans when you compare it to the larger Ranger, Bonfire, and Yukon fire pits.
So what makes the Solo Stove Campfire (or really any Solo Stove) so special?
The Solo Stove Campfire is a two-part wood-burning camp stove — it's got a base and a cooking ring that sits on top. Then when it's time to pack up, the cooking ring nests nicely inside the base.
Plus, the Campfire is a special type of wood-burning stove called a gasifier (or gasification) stove.
Gasifier!???…sounds kinda like uncle Bill after he's had grandma's triple bean chili.
A gasifier stove is a fancy name for a wood stove that burns solid fuel and wood gas.
Wait a sec…wood gas? Where do I get wood gas?
From wood!
If you wanna totally geek out on this topic, check out these articles — Wood Gas and Wood Gasifier. Wood gasifiers have been around for over a century. Complicated versions can even be used as an alternative to fossil fuels for powering gas & diesel engines. You 100% could power your farm truck with wood!
But what does all this scientific stuff mean for you when you're camping?
Basically it means that although you're burning wood, the Solo Stove Campfire acts a lot like a gas burner. That's because at the final stage of combustion, it really is burning gas.
Here's how it works.
Air gets sucked though vent holes at the bottom of the stove.
Some of that air goes to the center of the stove where it helps stoke the primary combustion area (where the solid fuel is burning).
The rest of the air gets pulled through the double-walled design and gets shot out towards the top.
When the solid fuel is combusted, it gives off wood gas. (Aka…smoke and other gases. You know, the stuff that makes your eyes water.)
That wood gas combines with the pre-heated oxygen-rich air shooting out the top holes to create a secondary combustion area. (That's where the wood gas burns.)
All of that equates to…
Hotter fires for faster cooking
Less smoke and fewer tears
Self-contained fire that's safer than regular campfires
Do more with less fuel (No more gathering an armful of logs)
That sounds all nice, but does it really work that way in real life?
And what about the question we all want to know like…can the Solo Stove Campfire really work as a campfire?
Don't worry, I'll answer all those and more. But first lets take a look at a few of the Solo Stove Campfire's features to see how it compares to some other camp stoves.
Solo Stove CAMPFIRE Features
Ok, so let's have a quick look at the Campfire's specs before we move onto my personal impressions.
Size and Weight: The Solo Stove Campfire weighs 2.2 lbs (35.2oz). It's got a diameter of 7 inches and — with the cooking ring — is 9.25 inches tall.
For Comparison: The tiny Solo Stove Lite weighs just 9 oz and the mid-size Tian weighs 16.5 ounces. Probably the closest gas-powered stove for comparison is the Coleman Portable Bottletop Camp Stove.
Here's how this comparison looks in real life (without the cooking rings).
And how does the Campfire's compare to the Solo Stove fire pits? The Solo Stove Campfire is roughly half the size of the Solo Stove Ranger (their smallest fire pit). Plus, the Campfire has an additional cooking ring to help direct the flames while holding a pot or skillet.
So is the Solo Stove Campfire the wood stove you'll take backpacking? Probably not, it's a tad big for that. You could take it on a day hike, but you probably wouldn't want the extra weight in your overnight gear.
However, if you're kayak camping with a group, the Campfire should work really well. Strap it to the outside of your boat along with your other gear and you'll have a guaranteed place to cook and make a campfire each night.
Construction: Just like all Solo Stoves, the Campfire is made from durable 304 stainless steel with a nichrome wire grate in the bottom. The grate helps improve airflow while leaving a space for ash to collect.
It's nice and shiny when you take it out of the box, but don't be disappointed when it gets a brown patina after you first use it. Don't worry, there's nothing wrong with it. That's just part of using it.
Overall the Solo Stove Campfire has a really solid feel too it. You can definitely tell it's going to last for plenty of camping trips! Plus, it's backed by Solo Stove's lifetime warranty.
Cooking Speed: If your top priority is speedy convenience, then go with a normal gas stove. I'm not gonna lie, the Campfire is not the fastest camp stove.
Depending on the pot and how skilled you are at using the stove, once the fire's going it can boil a quart of water in about 5 minutes. You might be able to shave a few seconds off that time if you've got really dry fuel.
That's not too bad compared to stoves like the Jetboil that have 1-quart boiling times of just over 3 minutes. But with the Campfire, you have to factor in a few minutes to prep your fuel and get the fire going.
However one IMPORTANT thing to keep in mind is that you probably won't be cooking on this stove like you would an ultralight backpacking stove. Most ultralight camp stoves work really well for one thing…boiling water. Slap a 10-inch cast iron skillet on a tiny MSR Pocket Rocket and you'll quickly see its limitations.
But the Solo Stove Campfire on the other hand, is made for real camp cookin'.
Pot o' chili? No problem.
Fryin' bacon? Bring it on.
Roasting hot dogs? You betcha!
S'mores? Could it rightly be called a campfire if you couldn't roast like 5 marshmallows at once over it?
Source: Solo Stove
So how is the Solo Stove Campfire to use in real life?
My Solo Stove Campfire Review
Now that we got past all the boring specifications, let's get to what you really want to know…
Can I really make a campfire with the Campfire?
Campfire, yes. Bonfire, no.
Keep it well-fed with fuel and it'll make a small campfire that a group of 4 can enjoy. Check out this video from a Crazy Outdoor team member to see the Campfire blazing.
So absolutely YES! You can make a small campfire in it that's the perfect size for up to 4 people who are boondocking or camping places without an established fire ring.
The Ranger or Bonfire will definitely feel more like a "normal" campfire. But if you're short on gear space and want something that's easy to cook over, the Solo Stove Campfire is a nice choice.
Is the Solo Stove Campfire really worth it?
The Solo Stove Campfire is worth it as long as you…
Like simple camp cooking with 1 or 2-pot meals
Want versatile gear
Prefer a laid-back camping experience
Don't mind getting the bottoms of you cookset black
The Solo Stove Campfire is not for you if…
Convenience and efficiency are top priorities in your camp kitchen
You plan 5-course meals for breakfast, lunch, and dinner when camping
You prefer your camp kitchen to be as similar to your normal kitchen as possible
Let's narrow this down even further with some pros and cons.
Solo Stove Campfire Pros and Cons
PROS
Super versatile design that works great as both a stove and campfire
No need to hassle with fuel canisters
Eco-friendly. Almost no waste.
Very little smoke
Durable. Will last for years of camping
No maintenance
Good choice for leave no trace travel since it doesn't scorch the ground.
Take it on planes.
CONS
Not as convenient as gas canister stoves
Does have a learning curve
Needs to be fed regularly (it's not a "light it and forget it for an hour" kind of stove)
Leaves black soot on your cookware (same happens anytime you cook over a wood fire)
Prohibited during fire bans
So who is the Solo Stove Campfire best for?
Here are some outdoor adventures when the Campfire will really come in handy.
Dispersed Camping and Boondocking: No fire ring? No problem. The Campfire gives you a safe place to cook and enjoy an evening fire without having to make a new fire ring. Mother nature thanks you 😜.
Camping With Small Vehicles: Short on space? Can't bring both a portable fire pit and a camp stove? The Campfire does both so you save space.
Couples and Small Families: Since it's only a 1-burner stove, you are somewhat limited with how much you can cook. But if you plan carefully and cook simple meals, the Campfire can easily feed 2-4 people.
Backyard Camping: Wanna try camping with your kids in the backyard but don't want to burn a hole in your perfectly manicured lawn? Use the Campfire. Roast some mallows. Make some s'mores. Have a blast with the Campfire.
Any other time you want a small campfire that doesn't leave a mark on nature. All the Solo Stoves do a really good job at not damaging the surrounding area. Check out my Bonfire review to see how I even used mine in the middle of a stream!
Think the Campfire is for you? Get it from the official Solo Stove site and earn points towards accessories!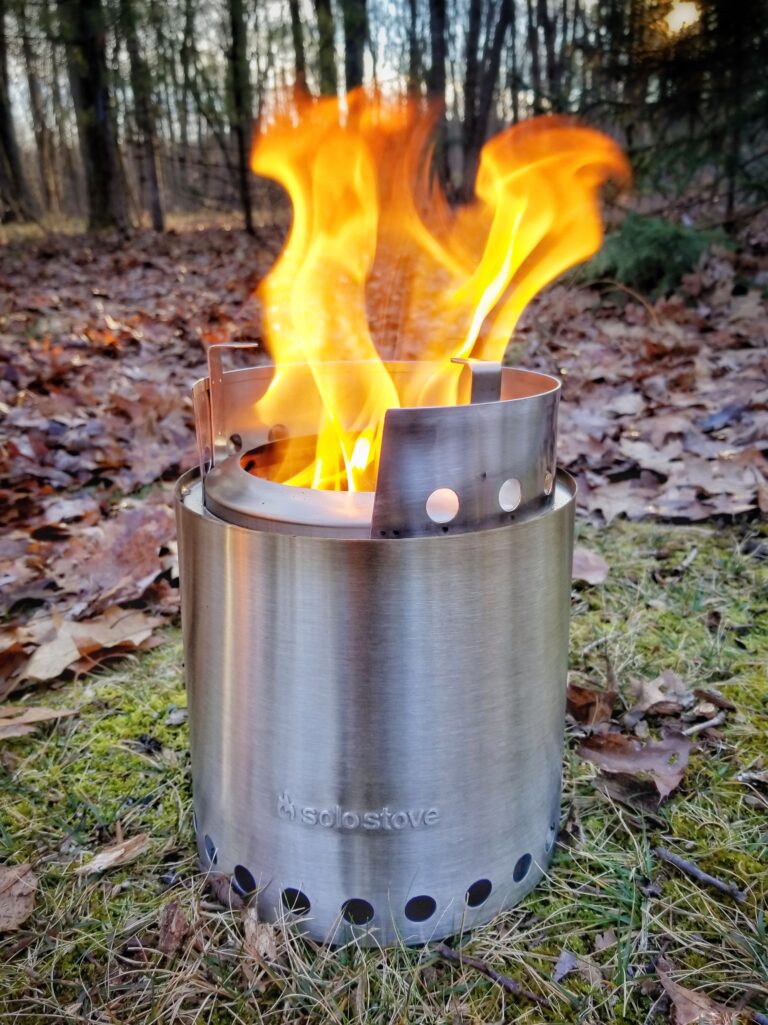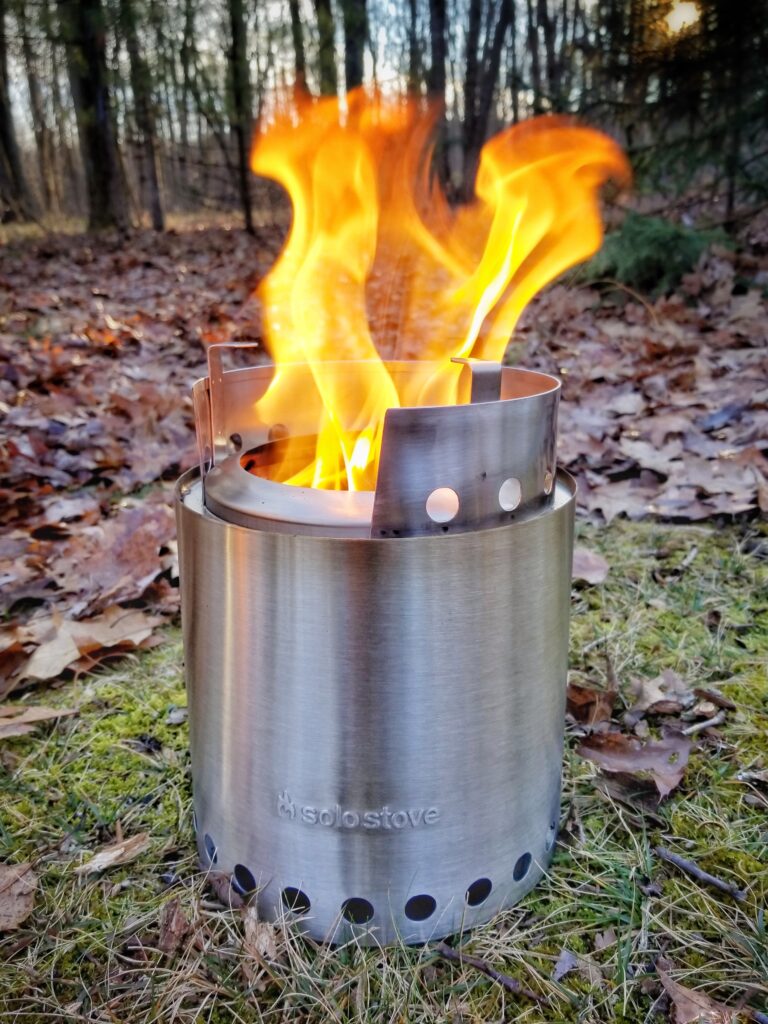 Tips for Using Your Solo Stove Campfire
Since there is a bit of a learning curve to using the Solo Stoves (or any wood fire for that matter), here are a few tips.
Firestarters make your life waaaaaay easier. Get some natural fire-starting nuggets and you can go straight from match to burning twigs without having to worry about tinder and small kindling.
Dry fuel is king. When it comes to cooking over a fire, dry wood is essential. It'll burn easier, faster, and hotter. That means you won't have to wait as long for your coffee to brew in the morning.
Feed it regularly. Since its small size means you can't load it up with huge logs that burn for hours, you need to be ready to keep feeding it every few minutes. I've found it works best if you don't let the fire die down, but just keep feeding it while it's flaming.
Your cookware is gonna get black so bring a bag. To keep your cookware from getting other gear marked up with black soot, bring a small bag for your pots and pans. Better yet…get one of the Solo Stove pots that go with the Campfire! They come with their own stuff sacks.
Solo Stove Campfire Accessories
Step up your camp cooking game with these accessories for the Solo Stove Campfire.
The Solo Stove Pot 4000 has a whopping 4000ml capacity (4.22 quarts)! That makes it perfect for one-pot family camp meals.
Plus it doesn't take up any extra space since the Solo Stove Campfire fits perfectly inside the Pot 4000. And it comes with a handy carrying pouch to help keep the rest of your gear clean.
Insider Tip! – Don't forget to heat up and wash the pot once before using it (same for all the stainless steel cookware). Otherwise you'll get a yucky metallic taste that ruins the first pot of whatever you make in it.
Get the Solo Stove Pot 4000.
The Solo Stove Campfire's size gives you some extra flexibility when it comes to camp cooking. So you might as well get a versatile cookset to match.
The 2 Pot Set comes with a 3-liter and a 1.5-liter pot. The larger pot is perfect for soups and stews while the smaller is nice for meats, veggies, eggs, and things like that.
Best of all…just like the Pot 4000, the Campfire nests right inside the two pots when it's time to pack up!
Get your Solo Stove 2 Pot Set.
The Campfire doesn't have as many compatible accessories as the Lite and the Titan (like the alcohol burner or the windscreen). However, you can save some money and get this gear bundle with everything you need for camp cooking.
It comes with the tripod, the 2-pot set, and of course with the Campfire. The tripod is really nice for making soups and stews. Just hang the pot above the Campfire and simmer away!
Get your Solo Stove Campfire Gear Kit
It's Always a Good Time for a Campfire!
With the Solo Stove Campfire, it's always a good time for a campfire! (Unless there's a burn ban of course 😟) Use it at the campsite. Use it in the backyard. Use it at the tailgating party. Use it just about anywhere.
It really is the "Goldilocks" of portable wood burning camp stoves. Any smaller and it wouldn't work as a campfire. Any bigger and it wouldn't work as a stove. Its size is just right and that makes it an extremely versatile piece of camping gear.
Head over to Solostove.com and get yours today.
Don't need something you can cook on? Then try a bigger fire pit the whole family can sit around. Check out my Solo Stove Bonfire Review!
And don't miss my other Solo Stove review articles:
Latest posts by Stacy Bressler
(see all)