Having a fridge along with you while camping is a luxury just us RVers get to experience. The ability to keep food cool means you can have a whole lot more options on hand for mealtimes. In fact, this might be your most-used appliance in your whole RV.
But, if your RV doesn't come with a fridge or you want to replace yours, how do you pick one out? What sizes are there and how are they powered? And of course, which one is the best??
I've got answers to all those questions and more and a list of over 10 options of RV fridges to choose from. There's definitely one on this list for you. If you're unsure where to start, check out my buyer's guide at the end of the article that'll help you narrow down your search.
Alright, let's look at some "cool" fridges!! 😂
3 Top Picks for the Best RV Fridges
If you're just here to see the best of the best…I understand! Here they are, my top 3 picks.
(If you want to read more about 'em just scroll a bit further.)
Top pick
What people love about this fridge:
Energy efficient
Sleek style
Digital control panel with varying cooling modes
No lock necessary–has a latching handle
Works in any weather
Best small fridge
What people love about this fridge:
Easy to install
No power inverter needed
Glass shelves
Low power draw
Cools very quickly
Best budget option
Source: toolots.com
What people love about this fridge:
Very quiet
Great price
Energy efficient
Electric thermostat
Powered by 12V or 120V
10 Best Refrigerators for RVs, Campers, and Travel Trailers – Full Reviews
Okay, now let's really dive into these reviews. From tiny coolers to large RV fridges that can handle all your ice cream and beverages–I've got 'em here.
These fridges are powered in various ways and come in all different sizes so there's definitely one that will fit perfectly in your RV.
Larger RV refrigerator with reliable cooling and freezing
Best for:
Larger spaces
Warmer temps
What people like:
Stays cold
Latched doors
Powered by 12V DC
Stainless steel doors
What people don't like:
Not the most durable long-term
The Norcold Polar-Series RV refrigerator gives reliable cooling and freezing to all 10 cubic feet of its interior. This is a compressor fridge, which is what most of us have in our homes. Compressor refrigerators are known to be much more consistent compared to typical RV refrigerators which use absorption cooling.
This fridge will keep your ice cream frozen whether you're in a snowstorm or the summer desert.
It comes with latches on the doors so they don't fly open during camping. Plus, the stainless steel look fits a more modern RV interior if that's what you're looking for.
This is a one-way compressor fridge powered by 12V DC power alone. That means your RV's electrical system will be able to power it with no issue without an inverter.
Check the current price here.
*See also: ​​10 Top RVs and Travel Trailers with Washers and Dryers | 2022
Very large but pricey two-door RV refrigerator
Best for:
RVers who need a fridge and freezer with a large capacity
What people like:
Two-door for a residential-style feel
Automatic door-locking system
Digital temperature display
Ice maker
What people don't like:
The Dometic RM 1350S is a 13 cubic foot absorption fridge from their line of RV refrigerators. It's the largest RV fridge Dometic offers, and it's one of the largest fridges you'll find on the market.
It's a two-door fridge (technically four-door because there are two on the freezer and two on the fridge). The doors really make it feel like a residential refrigerator. And the freezer has an ice maker!!
There's definitely enough room in here for a larger family who cooks a lot. And you'll probably need a relatively large RV for this to fit.
Dometic offers some other great features in this fridge like their patented automatic door locking system. The fridge doors lock automatically when the RV's ignition is turned on so you never have to worry about forgetting to lock them.
While this is a great fridge, it's gonna cost you. The current price as I'm writing this is over $6,000!!! But if you have the budget, it's a great luxury to have in your RV.
Check your current price here.
Mid-sized absorption fridge with multiple ways to power
Best for:
What people like:
Multiple power options
Controlled temperature settings
Separate freezer compartment
Latching door handles
Reversible doors
What people don't like:
May not work the best in really hot weather
The RecPro 3-way fridge is great if you want multiple ways to power your RV refrigerator. It'll run off of propane gas, 12 V electric, or 120 V electric. That means whether you're connected to shore power, solar, or just have propane you'll still be able to have a fridge.
This fridge has a capacity of 6.3 cubic feet. I'd consider it a mid-sized RV fridge. It definitely has enough storage to keep food cold and or frozen for 2-3 people for a week or so.
You can custom-control the temperature settings, and there are latching door handles so they'll never swing open in transit. This fridge also has reversible doors. That means you can change the door to open right-handed or left-handed depending on your RV's kitchen setup.
The fridge is powered with absorption technology, which may have a hard time with consistent cooling in hot weather. So, if your RV doesn't have A/C, I'd keep that in mind.
Check the price here.
Small 12V fridge with a tiny freezer compartment
Best for:
What people like:
Easy to install
No power inverter needed
Glass shelves
Low power draw
Cools very quickly
What people don't like:
Very small freezer compartment
This Everchill fridge is just 3.5 cubic feet so it's perfect for any smaller camper, or if you don't need a huge honkin' fridge. The small size also means a very low power draw so you won't have to worry about draining your battery if you're off-gridding.
On the inside, this RV refrigerator has three glass shelves and a produce drawer. You also get some shelves in the door for beverages.
The freezer compartment in the Everchill is just 3.5 cubic ft. and is very small. It does stay very cold but it's probably only large enough to fit a frozen meal or two, or an ice cube tray. Unfortunately, this fridge won't be able to handle several pints of Ben & Jerry's.
It's super easy to install and set up, and it runs on 12V DC so you can just plug it directly into your RV's power grid without needing an inverter.
It also has adjustable legs, so if it doesn't fit exactly into your space for it, you can raise and lower the legs to get a nice snug fit.
Portable camping fridge and freezer with two separate boxes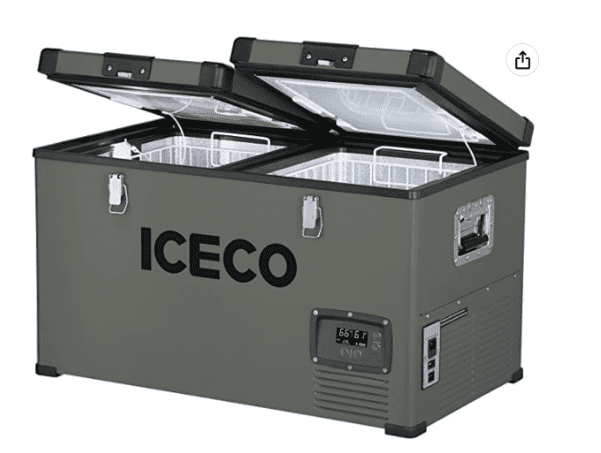 Best for:
What people like:
Quiet
Sleek look
Low power draw
Two cooling compartments with separate temperature controls
Very high quality
What people don't like:
Not big enough for larger families
The ICECO fridge is designed for off-grid camping in campervans or small campers and trailers. It has two compartments with separate temperature controls. That means one can be at "fridge" temp, while the other is at "freezer" temp.
Actual users say they were able to keep ice cream frozen for days while off-gridding with this fridge. It uses very little power and is super quiet. You can also turn off just one side of the cooler if you need to save power.
I love the sleek look of this cooler. It's built to be super heavy duty and it'll last you a long time.
Keep in mind, that the capacity of this fridge is about 60L (just over 2 cubic feet), so it won't be large enough to store a ton of food for a lot of people.
Check the current price on this fridge here.
And check out my favorite desert recipe you can make right at your campsite: – Moist and Decadent Dutch Oven Chocolate Cupcakes (Baked at Camp!)
Compressor fridge with large capacity and efficient cooling
Best for:
Warmer temps
Large families
What people like:
Energy efficient
Sleek style
Digital control panel with varying cooling modes
No lock necessary–has a latching handle
What people don't like:
The Dometic DMC4101 is the best of the best in RV refrigerators. Its large capacity but small footprint means you can store all your fridge and freezer items in almost any RV kitchen.
The best part of this fridge is the compressor technology. Compressor cooling is more efficient and more powerful compared to absorption fridges. No matter what temperature it is outside of the fridge, the contents inside will stay cool.
This fridge has two produce "crisper" drawers and a separate freezer section. There's a digital control panel with modes that increase energy efficiency or decrease noise.
This sleek-looking fridge also does not need locking–the doors open with a latch mechanism that'll stay latched while you're driving.
This fridge is made for RVs so it uses just 12V DC power. This is great if you usually use shore power but if you want the option to use propane, this may not be the fridge for you.
Budget fridge with no freezer powered by 12 or 120V electricity
Best for:
What people like:
Very quiet
Energy efficient
Electric thermostat
Powered by 12V or 120V
What people don't like:
RV refrigerators can be really expensive. I mean, some on this list are over $6,000. But, if you're on a budget and you just need a fridge, this one from Toolots will do the trick.
This is an absorption cooled fridge. Absorption style fridges tend not to cool as well compared to compressor fridges. However, this fridge claims to stay cool in outside temps of up to 90 degrees. So, as long as you aren't in a super hot area, it should stay cool.
This fridge is very quiet and has a small footprint. Because of how small it is (it has a capacity of 1.9 cubic feet) it also has a very low energy draw.
This fridge does not have a freezer compartment. So, if that's a must-have for you, this might just not be the one.
But if you want a smaller fridge on a budget, the Dellcool will work just fine.
Check the current price here.
Small fridge with versatile power options
Best for:
What people like:
Versatile power options
Very compact
Lighting inside
Low energy consumption
What people don't like:
This small 2.1 cubic foot fridge from SMETA is great if you just need enough room to cool creamer for your coffee, fresh fruits, or some beverages.
It's powered by either propane, 12V electric, or 120V electric. This is an absorption fridge so it may not work well in super hot temperatures. However, it is very quiet and you probably won't be able to hear it running.
This fridge does not have a freezer compartment, so if you really need ice cubes in your water, another option might be better for you.
Speaking of off-grid camping, check out these generators that can help power your fridge and other appliances: – 13 Best Quiet RV Generators (2022) for Camping in Peace
Small but mighty electric cooler
Best for:
Outdoor use
Smaller RVs and campervans
What people like:
Great quality
Phone app and Bluetooth connection
Doesn't use a lot of electricity
Durable
Easy to set up
Sleek look
What people don't like:
The Dometic CFX3 45 is a small but powerful compressor RV refrigerator made for outdoor use and backcountry camping. It is 46 liters in volume on the inside and holds 67 cans. It has very little power draw and will cool as long as you need if you have solar.
Dometic offers a CFX3 app that allows you to control the temperature and monitor performance right from your phone. Actual users say that this is super easy to set up, and makes operating this fridge very convenient.
It's powered by either 12V electricity or 120V, so whatever power source you've got in your camper, this fridge will be compatible
Since this cooler is pretty small, it's not going to be able to freeze and cool everything you need for a whole family. However, if you're in a smaller RV, or you do a lot of backcountry camping, this is an excellent little fridge.
Check Dometic's current price.
Check out these Overlanding tables to go with your fancy Dometic cooler: 12 Super Cool Overlanding Tables for Your Off-Grid Adventures | 2022
Gorgeous retro-style fridge with a true freezer
Source: amazon.com
Best for:
Style-inclined fridge shoppers
What people like:
Roomy but has a small footprint
Energy-efficient compressor cooling
Adjustable leveling legs
Glass shelves
Light inside fridge compartment
What people don't like:
Not made for RVs so you'll need to use an inverter
If you want a retro-style fridge but don't want to pay the price for a fancy SMEG, I love this Galanz fridge. It comes in several colors so it'll look ultra-cute in your RV no matter what your interior looks like.
I mean–imagine this inside a little retro camper… so cute!!
Aside from the looks though, this is a really great fridge for the price. It provides consistent cooling and has a pretty large separate freezer compartment. It has glass shelves and a nice light inside which makes the fridge look nice on the inside as well.
The Galanz fridge comes in a few sizes from 4 to 10 cubic feet. So, whatever amount of room you have for a fridge in your RV, the Galanz fridge should fit.
The only downside here is that this is technically a residential fridge. You'll have to use an inverter to convert your 12V power to 120V for the fridge. However, the fridge does come with individually adjustable legs so you can level it wherever you are.
Check the current price for the 7.5 cu. ft. model.
Types of RV and Camper Fridges
When you're shopping, you'll see fridges that are powered in different ways, but you might not know what the heck all the terms mean. Here's a quick guide so you know what you're looking at, plus some pros and cons of each.
12V Electric Compressor Refrigerators
Compressor refrigerators are more common in residential fridge settings, but there are 12V compressor refrigerators you'll see in RVs.
They work by changing the pressure of a refrigerant and pushing it through coils. As the refrigerant moves through the coils, it changes pressure, and state (from liquid to gas and back). This reaction creates cool air.
12V fridges are great for RVs because you only use electricity (not propane), and you won't need to use an inverter to convert the 12V power to 120V. It'll run directly off of your RV's battery.
Compared to an absorption refrigerator (another common option), these fridges are more efficient space-wise. They don't require intense insulation. They also use slightly less power.
Pros:
Uses only electricity
Doesn't require an inverter
Consistent cooling
Energy efficient
Cons:
Pricey
Requires a good amount of electricity (not the best for boondocking)
Two or Three-Way Absorption Refrigerators
An absorption refrigerator is the most common refrigerator you'll see in RVs. It uses a chemical process triggered by heat that causes a refrigerant to change from liquid, to vapor, back to liquid. The process creates cool air.
The part that uses energy in absorption refrigerators is the heat needed to trigger the refrigerant reaction. This heat can come from 12V electric, 120 V electric, and propane.
A two-way absorption refrigerator will use propane or 12V electric. A three-way absorption refrigerator can use propane, 12V electric, and 120V electric to trigger the refrigerant reaction. The circuitry is powered by electricity, so it won't be able to run off propane alone.
Pros:
Great for off gridding: the ability to use propane gas means you won't need a ton of electricity
Multiple ways to power
Well-insulated
Cons:
Usually smaller
Not great consistent cooling
RV needs to be level for the fridge to be able to run
Propane Absorption Refrigerators
A propane absorption refrigerator uses the same cooling mechanism as two and three-way absorption refrigerators. The only difference is that these are powered by propane only.
​​They aren't super common, but there are propane-only options out there. These can be useful if you boondock often and don't have solar as they won't use any electricity at all. However, you will need to make sure you always have propane on hand or you'll be without a fridge.
Pros:
Doesn't need any electricity
Propane is inexpensive
Cons:
Not versatile (can only run with propane)
Need to make sure you always have propane on hand
120V Residential Style Refrigerators
A 120V residential refrigerator is the kind you have in your house. Most cool with the compressor which pushes refrigerant through different coils. Compression cooling is more efficient and consistent than absorption cooling.
The best thing about having a residential-style fridge in your RV means you can have any size refrigerator you want. (As long as it fits.)
So no matter how much ice cream, frozen meals, or cold beverages you like to have on hand, a residential-style fridge will be able to handle it.
The 120V power does mean that you'll have to run your RV's 12V power through an inverter.
Pros:
Very consistent cooling
Any size fridge you want
Cons:
Not designed to be used in RVs
Need to use an inverter
Thermoelectric Coolers
Thermoelectric coolers don't use refrigerants to cool like compressor and absorption fridges. Instead, they work by moving electrical current around. The moving current brings warm air to one end (outside the fridge), and cool air to the other (inside the fridge).
This process does not provide quite as much cool air as compressor, or absorption cooling. So, thermoelectric coolers do not come with a freezer compartment. They're also smaller since the thermoelectric current is not strong enough to cool a large space adequately.
Pros:
Cons:
High power draw
No freezer compartment
How to Choose the Right Fridge for Your RV
Okay, you just read about tons of different fridges, but how do you know what's right for your RV??
The option that's best for you is simply the one that meets all your unique requirements. So here's a mini buyer's guide to help you select the perfect fridge…
Size and Capacity
Size is one of the biggest constraints you'll have when shopping for a new RV refrigerator. The first thing you'll want to do is measure out the dimensions of where you'll be putting the fridge in your RV. If you have a specific slot for it, unfortunately, you'll be constrained to just shopping for RV refrigerators that exact size.
If you have some wiggle room, or you want to customize your kitchen area, you'll have a bit more freedom when shopping.
You should also consider the capacity of your fridge. How many people live in your RV? Do you cook in the RV a lot? Eat a lot of frozen meals? The more people, the larger you'll want your fridge capacity to be.

RV refrigerators can be really small, and sometimes if you want a large fridge, you'll have to end up purchasing a 120V residential fridge. Though, this is totally fine if you have the room in your kitchen for it.
Power
Power draw and what type of power the fridge uses is another important consideration. RV refrigerators are powered in different ways–12V electric, 120V electric, propane gas, and a combination of those three.
Narrow down your options by considering what power sources you have available to you. Don't have an inverter? Don't get a 120V electric fridge. Don't want to use propane gas? Don't get a propane fridge.
If your fridge is electric, consider how much power it eats up and if your RV's power grid can handle that. The larger the fridge, the more power it'll take up.
Also, keep in mind that thermoelectric fridges take up the most power, followed by absorption fridges. If you want to conserve energy and be super-efficient with your power grid, I'd recommend a compressor fridge.
*Speaking of your camper's power grid: 11 Top RV Surge Protectors and EMS to Protect Your Rig in 2022
Price
Price may also put a huge limit on which fridges you can or can't have in your RV. Most RV refrigerators are expensive, but I'd set a limit on how much you're willing to spend.

The less you pay, the less capacity and efficiency you're going to get. If you want a huge fridge and freezer that cools great even on hot days, it's going to cost you.
The average price range is around $300-$1,000. So I'd recommend staying in that range unless you really want to splurge.
RV Refrigerator FAQs
What is an RV fridge?
An RV refrigerator is any fridge that works in an RV. Typically, RV refrigerators will be smaller than residential-style, and they're powered by 12V electricity or propane rather than 120V electricity.
However, you can put a residential-style fridge into an RV if you have a 12V to 120V inverter, and enough room.
What are some good RV refrigerator brands?
Dometic and Norcold are great brands that provide a range of reliable RV refrigerators at great prices.
How does an RV fridge work?
RV refrigerators work in a variety of ways. They can be powered by electricity, propane, or both. Some use absorption refrigeration, which causes refrigerants to change phases, releasing cool air in the process.
Others use compression refrigeration, which is a similar process that pushes refrigerant through coils by changing its pressure, releasing cool air. Some use thermoelectric cooling where a current releases warm air on one end, and cool air on the other.
Can you use a regular refrigerator in an RV?
Yes! Residential-style refrigerators can be used in an RV. However, they use 120V power, so you'll need an inverter to convert your RV's 12V power to 120V electricity.
What's the standard size of an RV refrigerator?
Standard RV fridges will be either 4, 6, 8, or 12 cubic feet. If you want a larger fridge you can install a residential refrigerator which may be around 18 cubic feet.
Will my RV fridge run while driving?
Yes. If there's power running to the RV refrigerator, it'll run while you're driving. However, it's considered unsafe to run propane while driving, so RV refrigerators powered by propane alone should not be run while driving.
Conclusion
Which is the best RV refrigerator? Will you splurge and go for the residential-style Dometic DMC4101? Or maybe you'll keep it small and pick the Dellcool 2 way fridge.
Picking an RV refrigerator can feel like a boring part of designing your new living space, but it might just be your most-used kitchen appliance.
The best RV refrigerator for you is one that's big enough to hold all your refrigerated and frozen foods, doesn't draw too much power, and is within your budget. (However, with RV fridges, you usually get bang for your buck so I'd recommend spending a little extra if you want one that'll last).
Whichever fridge you choose, I hope you enjoy the luxury of having fresh cold beverages and pints of Ben and Jerry's while you're out on the road!!
While you're here, check out some other articles about all-things RV lifestyle:
Latest posts by Stacy Bressler
(see all)