Fiberglass travel trailers are known for having a bit of a cult following in the RV world: their owners tend to be very loyal to their fiberglass camper trailer.
And for good reason!! Fiberglass travel trailers tend to have higher build quality and last much longer than their wood, steel and aluminum counterparts.
And some people just prefer the look of the cute rounded fiberglass shell.
So, whether you want a fiberglass trailer for its look or its functionality, where do you start?
Right here!! I've compiled this list of the 9 best fiberglass travel trailers out there. Plus, keep reading for some valuable info that can help you decide if a fiberglass travel trailer is right for you.
What Is a Fiberglass Travel Trailer?
A fiberglass travel trailer is a camper made of composite glass material. The fiberglass is poured into two molds that are sealed together with a seam that forms the outside shell of the trailer.
Compared to traditional trailers, they tend to be more expensive, but higher quality, with a long lifespan and great resale value.
Pros and Cons of Fiberglass Travel Trailers
Pros
Great insulation: Fiberglass shells are very insulating, and since these trailers just have one seam, they'll be able to stay warmer in the winter and cooler in summer compared to aluminum.
Less prone to leakage: One seam means fewer places for potential leakages. A fiberglass trailer will likely never leak its lifespan.
More aerodynamic: The smooth fiberglass shell means these trailers are very aerodynamic. That means less strain on your towing vehicle.
Hold value very well: They last forever. If you decide to sell, you'll likely get a lot of what you paid right back.
Does not dent easily: Fiberglass is a super-strong material that can take a few bumps without showing any damage.
Cool retro look: Many people like fiberglass trailers just for that classic fiberglass shell look.
Cons
More expensive than other trailers: Fiberglass molds are incredibly expensive to produce, so these trailers can be more expensive upfront.
Heavy: Fiberglass is heavier than aluminum, so you'll have more weight in the same amount of living room compared to aluminum.
Typically smaller than traditional trailers: Fiberglass molds can only be so large. Most sleep just 2-4 people.
9 of the Best Fiberglass Travel Trailers
Okay, now let's take a peek at the 9 very best fiberglass travel trailers of 2022. Scroll down to see floorplans and video tours of each of these awesome campers.
Features
Large wet bath with shower and sink
2 burner cooktop with included vent fan
Interior stereo system
12,000 BTU furnace and Dometic roof air conditioner
The Escape 19 is one of Escape Trailers' line of five different campers. It's not huge, but it offers a bit more room compared to the tiny campers you might expect when thinking about fiberglass travel trailers.
It sleeps just two but feels very comfortable and spacious inside. You get a queen-sized comfy bed in the back and a booth dinette at the front.
The kitchen area comes with a 5 cu. Ft. fridge, a two-burner stovetop, and a sink. The Escape 19 also has a relatively large bathroom with a chemical toilet. (You have the choice to opt for a composting toilet as an alternative).
The Escape 19 isn't anything fancy, but it has a simple and functional design to keep you comfy no matter where you are.
See the tour:
Features
Powered awning
Two dinettes seat a total of 7
Large wardrobe closet
Residential style kitchen faucet
Oliver Travel Trailers is one of the leading manufacturers of fiberglass campers. They're a small company that makes long-lasting and reliable molded fiberglass travel trailers The Oliver Legacy Elite is one of Oliver Travel Trailers' most popular models. It's 18.5 feet in length and sleeps up to three people. 
The standard floor plan offers two different dinettes. One large dinette at the back that converts to a queen-sized bed, and a small one on the side that turns into a twin.
The Legacy Elite offers a bathroom with a shower, toilet, and sink at the back.
Compared to a lot of fiberglass campers on the market, the Oliver Legacy Elite is slightly more modern in design and offers some more luxurious base features.
For example, you get a large wardrobe with LED lights, dovetail joints in the storage drawers, and a high-rise kitchen faucet.
Check out this walkthrough: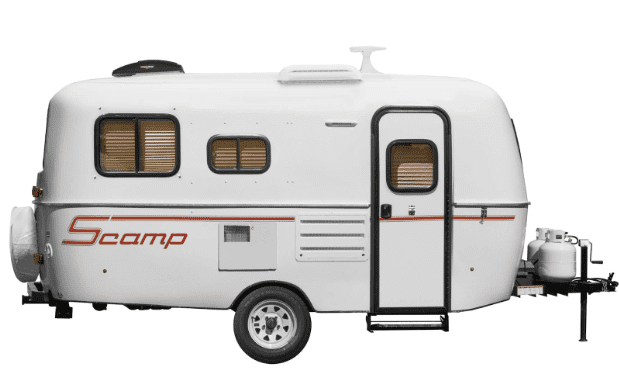 Features
Convertible dinette
Lots of storage space
Wet bath (in some layouts)
When you think of a fiberglass travel trailer, a Scamp might be the first thing that pops into your head. Since they started back in the '60s, Scamp Trailers has become an industry standard for fiberglass travel camper trailers.
See also: 8 Best Travel Trailers Under 1500 lbs (2022) Video Tours + Pics
Scamp offers three basic models: 13', 16', and 19'. The 16' (in my opinion) packs the most into a small space while still feeling comfortable inside.  The Scamp 16' comes in 9 different layout options. Here, I have Layout 5. Not every Scamp comes with a toilet and shower, but this floorplan does.
In the back is a convertible dinette and in between, you get the standard kitchen layout with a two-burner stove and small fridge.
See also: The Best RV Fridge For Your Camper in 2022 | 10 Options
Keep in mind this Scamp layout only sleeps 2. If you need more sleeping room, you'll probably have to sacrifice the toilet and shower.
You can't go wrong with purchasing a Scamp. They hold their value extremely well and they are super high quality.
The only issue is figuring out how to get your hands on one since they're so darn popular!
Here's a quick video tour:
Features
4-Seasons equipped
Queen bed with spring mattress
Dry bath with large vanity
All stainless steel appliances
Because of how fiberglass camper trailers are constructed, they can only be so large. But the Bigfoot B25 is the largest on the market at 25 feet in length! Because of all this room, the Bigfoot B25 feels more like a typical larger travel trailer than a fiberglass travel trailer, but you still get all the benefits of fiberglass.
The B25RQ layout offers a queen bed at the back and a large dinette at the front. You get overhead storage cabinetry across most of the interior.
Because of that extra room, Bigfoot was able to pack in a full dry bathroom with a large vanity. So, if wet baths are a drawback for you, this is a major plus.
The B25 comes equipped with lots of luxurious base features. The queen bed has actual springs in it, all the appliances are stainless steel, and the toilet is porcelain instead of plastic.
It also comes fully equipped for all four seasons so you don't have to purchase any add-on packages to stay in the Bigfoot in the winter.
See also: 10 Best 4 Season Travel Trailers and RVs (2022) Video Tours + Pics
Here's a tour of the rear queen floorplan:
Features
Sleeps up to 5
Personalized exterior color
Large kitchen sink
Lots of cabinet storage throughout
The Armadillo is the cutest little fiberglass camper manufactured by Armadillo trailers, a very small company based out of Canada. They're a relatively new company offering just two models of trailers.
The Armadillo, their flagship trailer is just 13.5 feet long. It's tiny, but that also means it's very lightweight and can be towed by any larger SUV at just 1,800 lbs.
Inside the Armadillo offers very basic features including a convertible dinette, a two-burner stove with a hood vent fan, and a small refrigerator.
See also: 12 Best Overlanding Shower Systems for On-The-Go Bathing
Although it's tiny, the Armadillo can sleep up to FIVE if you go with the front triple bunk option. Alternatively, you can opt for an extra table, or a couch and a single bunk.
See the tour:
Source: casitatraveltrailers.com
Features
Sleeps up to 6
Ample storage space
Double propane tanks
One convertible dinette to double bed, two sets of bunk beds
Up there with Oliver and Scamp, Casita Travel Trailers is another reliable long-time manufacturer of fiberglass campers.
The Heritage is one of their best-selling models from Casita Travel Trailers and fits a variety of amenities in just 17 feet in length.
The Heritage comes in two floorplans: Standard and Deluxe. The main difference is that the Deluxe model has a dry bathroom instead of a bunk bed at the front.
The Standard model sleeps up to six people, which is a ton for a trailer this size. You get one convertible dinette to double bed in the back, and two sets of bunk beds.
See also: 9 of the Coolest Off-Road Teardrop Campers
If you don't need to sleep 6 people, I'd recommend going for the deluxe just because you'll have the added bathroom in there (which might be a must-have for some).
Here's a walkthrough of the deluxe model:
Features
Included furnace
Rock guard
Chemical toilet
Full-height wardrobe
Outback trailers may not be a household name like Scamp or Casita, but they've been around a long time, and their owners love them.
A lot of the older fiberglass camper trailers out there today were manufactured by Outback.
The Outback is a no-frills fiberglass trailer with basic features and tons of add-ons. They offer four basic floorplans
The Bathroom floorplan comes with a convertible dinette to double bed in the back, and a toilet at the front. The kitchen is relatively large for a trailer this size with a good amount of counter space. You also get a large wardrobe for hanging all your clothes.
See also: 9 Best Portable Camping Kitchens for Easier Camp Cooking |
Keep in mind, that the toilet is only enclosed by a curtain, rather than a door, so if privacy is a big one for you, a separate outdoor toilet might be a better option.
Here's a tour of an older Trillium Outback:
Features
Solar equipped
Fits in a normal parking space
Customizable interior
The Happier Camper HC1 might just be the most unique fiberglass camper on the market.
The camper is a shell of a 13' camper. From there, you can customize the interior using different optional "pods". You can add a toilet, a kitchenette, and a sleeping space for up to five people.
The modular interior allows you to set up the camper however works best for you. But the base model comes with solar, lots of electrical ports, and some storage.  It has a small footprint and is super lightweight. It can fit into a normal parking spot and can be towed by most mid-sized vehicles.
See also: 11 Best Warm Weather Sleeping Bags for Summer
If you're interested in essentially designing your fiberglass camper, this might be an excellent option for you.
Here's a tour of one HC1 with some great add-ons:
Features
Aerodynamic design
Included cassette toilet
Water heater
Residential-style cabinetry, sink, and countertops
Snoozy is a new fiberglass travel trailer manufacturer that is slowly growing in popularity. You may notice the biggest difference between the Snoozy and most fiberglass travel trailers is the shape.
See also: 9 Best Kids Hiking Boots and Shoes | Footwear That Can Take a Beating
The Snoozy is shaped with a "nose" at the front compared to most fiberglass camper trailers which just have one tall flat side at the front. This allows the Snoozy to be super aerodynamic and more fuel-efficient. 
Inside the Snoozy II, you can decide between a large queen bed at the back or two twin beds. The trailer comes with an easy-empty cassette toilet and a small fridge with a freezer compartment.
The interior furnishings have the feel of a luxury apartment, with the (vinyl) marble countertops, solid wood cabinetry, and leather couch.
Here's a walkthrough:
How Long do Fiberglass Campers Last?
Fiberglass travel trailers are known to last a very long time. Because of their solid fiberglass shells, the exterior is not prone to dents.
Typical trailers made of low-quality steel, wood and aluminum sometimes don't last even 10 years, but fiberglass trailers have a lifespan of 50 years or longer. This is one reason why fiberglass trailers retain value so well. Just because they're old, doesn't necessarily mean they don't have a lot of life left in them.
It's also why you see so many vintage fiberglass trailers still out on the road today. The best fiberglass travel trailers like Scamp have campers still on the road today that were purchased in the 60s and 70s.
Are Fiberglass Travel Trailers Expensive?
Fiberglass trailers can be more expensive than aluminum campers. This is because the build process is more expensive and can take longer. However, since they last longer, they do tend to be a much better investment
Depending on their size, a fiberglass travel trailer will cost between $10,000 and $30,000.
Do Fiberglass Travel Trailers Leak?
Encountering a leak in a molded fiberglass travel trailer is very rare. Fiberglass travel trailers rarely leak just because of how they're made.
Traditional travel trailers have multiple seams where the parts were put together. These seams are all over the outside of the trailer, including on the top.
But fiberglass trailers instead have one single seam that wraps around the outside of the trailer where the two molded pieces are joined.
Since there's just one seam on the whole trailer, the chance that your trailer will leak is pretty darn low.
Are Fiberglass Campers Good for Winter Camping?
Fiberglass travel trailers are excellent for winter camping. They tend to be very well insulated, and many come with two or even three layers of shells around the interior.
The insulation also benefits from the fact that fiberglass trailers have only one seam so there are fewer places where cold air can get in.
See also: 11 Best RV Covers for Winter | Video Reviews + Buyer's Guide
Normal trailers typically have to have a bunch of added insulation to ensure they'll be able to trap heat effectively. But fiberglass travel trailers are inherently well-insulated just because of the way they're made.
If you're looking for a great winter camper, fiberglass is automatically your best option.
What Are Some of the Best Fiberglass RV Brands?
The brands that make the best fiberglass travel trailers include:
Scamp Trailers
Casita Travel Trailers
Oliver Travel Trailers
Bigfoot
All of these brands are known for making high-quality fiberglass travel trailers that last a lifetime.
That being said, the best thing about fiberglass trailers is how reliable they are. That means no matter what RV brand you purchase from, you're probably going to get your money's worth.
If you want a way more in-depth list of the best RV brands, check here: 13 Best Travel Trailer Brands in 2022
Conclusion
There are tons of fiberglass travel trailers on the market today, and many great new ones each year. Which one is your favorite? Maybe the customizable Happier Camper HC1??
Or maybe you want to go with the old reliable Scamp 16'.
Hope you enjoyed my list of the best fiberglass travel trailers! While you're here, why not do some more shopping?
Latest posts by Stacy Bressler
(see all)