Looking for an outdoor adventure that's a little different than your usual camping trip? Why not try kayak river camping?
For this type of camping, you'll be kayaking down a river with all your camping gear, enjoying riverside campsites each evening. It's a great way to experience nature up close and personal, and it's also a lot of fun.
However, kayak river camping does have some unique challenges. That's why it's important to be prepared before you embark on your kayaking adventure.
Here are a few tips to help you plan your kayak river camping trip like a pro.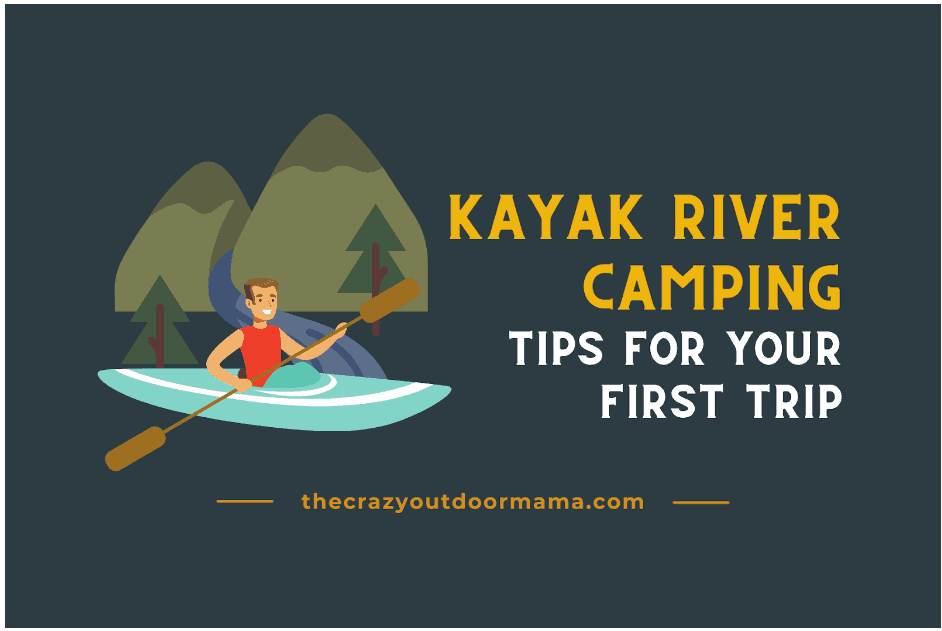 Why Go Kayak River Camping?
Here are 5 reasons why you should give it a try:
1. It's a great way to explore new areas
Many rivers wind through remote regions that are inaccessible by road. By kayak, you can explore these places at your own pace, stopping to enjoy the scenery or take a swim along the way.
2. It's a great workout
Paddling upstream can be tough work, but it's also a great way to get some cardio exercise. And unlike gym cardio machines, kayaking is actually fun!
3. Relax, relax and relax some more
There's something about being out on the water that just makes everything feel more peaceful. Whether you're paddling through calm waters or taking in a few rapids, kayak river camping is an excellent way to unwind and connect with nature. And that's especially true when you're relaxing at your riverside campsite taking in the views.
4. It gives your feet a break
Lugging all your backpacking gear up and down mountain trails is tough on your feet and back. But with river camping, your boat is doing the heavy lifting. Sure, you have to paddle with your arms, but it's still easier than carrying a heavy backpack (especially if you choose to travel downstream!)
5. It's a great way to beat the summer heat
Backpacking is hard enough, let alone in 95-degree summer heat. But 95-degree summer heat is perfect boating weather. Sitting in the water helps you stay cool and of course the daily splash battle between you and your kayaking buddies is a great way to cool off.
7 Places to Go Kayak Camping on a River
Going kayak camping for the first time can be a bit daunting. There are so many things to think about and plan for and one of the most important is choosing where to go.
One of the best pieces of advice I can give is to choose a location close to home for your first trip. That way, if you run into any problems or forgot to pack something essential, you can easily head back home to take care of it. Plus, it'll be more convenient for your family and friends who drop you off and pick you up.
Then, if you end up falling in love with kayak river camping you might decide to venture further away from home next time! In that case, here are a few great rivers to visit.
1. The Rio Grande – Camping here means being able to experience a true wild west adventure.
2. The Susquehanna River – One of the longest rivers in the contiguous United States, kayakers can enjoy beautiful scenery while paddling downstream.
3. The Potomac River – Campers can paddle past historic sites like George Washington's Mount Vernon estate.
4. The Hudson River – This river features stunning views of the New York City skyline.
5. The Delaware River – This river runs through several states, including Pennsylvania, New Jersey, and Delaware.
6. The Missouri River in Montana – Travel the same river Lewis and Clark traveled in 1805 and enjoy varied scenery including kayaking through an 800-foot-deep canyon.
7. The John Day River, Oregon – Kayak the 3rd longest undammed river in the Lower 48 and enjoy leisurely sections of the river that allow you to take in the beautiful scenery. But be sure to plan your route carefully as there are a few sections with class III and IV rapids.
What to Bring on Your River Camping Trip
So, you're going kayak camping on a river? Awesome! Here's a list of essential gear to bring along on your trip:
-A kayak, of course! Make sure it's a comfortable fit and that you know how to paddle it properly. You probably already have a kayak and chances are it'll work for at least a short trip (1-2 nights). It's best if it has at least one dry storage hatch and a gear storage area with bungee straps to keep gear tied down.
-A life jacket. Because safety first!
-Dry bags. Dry bags are a must-have for river camping. Go with several different sizes for items that need to stay dry no matter what — clothing, sleeping bag, tent, electronics, etc. It's also helpful to get different color dry bags that way you can organize your gear better (blue for clothing, red for food, brown for toiletries…or something like that).
-A tent. Unless you're planning on sleeping under the stars, in which case I admire your bravery.
-A sleeping bag. Preferably one that will keep you warm even if the weather takes a turn for the worse.
-An inflatable mattress or a sleeping pad. Nothing ruins a good night's sleep like a bed of river rocks.
-A camp stove. You'll need something to cook all those delicious river camping meals!
-A cooler. Keep your food fresh (and your beer cold) with a good cooler.
-A first aid kit. You never know when you might need it. And don't forget to pack it in an easy-to-access place on your boat.
-A map. Because getting lost is no fun, especially when you're kayaking in unfamiliar territory. Yeah, I know…"but I've got my phone with google maps!" Electronics and water don't play well so always have a backup, especially if you're kayaking in a new location.
-And finally, don't forget the marshmallows! What're s'mores without marshmallows?
*Those are the basics. Get a FULL CHECKLIST for river camping in my article Ultimate Kayak Camping Checklist + FREE Downloadable Gear Lists.
10 Pro Tips For a Safe and Enjoyable Kayaking Camping Experience On the River
1. Plan your route in advance and be sure to leave a detailed trip plan with someone you trust. Make sure they know when you plan to be back and when to contact the authorities if you don't show up.
Get more tips here for staying safe on the water.
2. Pack light but be sure to bring essential items like a first aid kit, a map, and enough food and water for everyone. Remember to keep essentials where you can reach them while kayaking.
3. Try to choose your campsites beforehand and stick to already established campsites.
4. Pack your kayaks correctly so that it is balanced and organized. In fact, it's good to do a dry run and pack your kayaks with all your gear before you head to the water. See how in my article Packing a Kayak For Camping | Complete Guide + BONUS Packing List.
5. Properly store all of your food and trash in airtight containers to keep away critters.
6. Keep a close eye on the weather forecast and be prepared to change plans if conditions look like they might deteriorate.
7. Get up early to enjoy the peacefulness of the river before everyone else wakes up and starts making noise!
8. Take some time to explore the area around your campsite—you never know what hidden treasures you might find.
9. At the end of your trip, be sure to clean up your campsite and leave no trace so that others can enjoy it as much as you did.
10. And most importantly, have fun! Camping and kayaking are supposed to be enjoyable so relax and soak
Ready for River Camping?
Kayak river camping can be a super fun adventure, but it's important to be prepared for the challenges that come with it. So follow these tips, you'll have everything you need to make the most of your kayaking trip and enjoy a safe and fun journey down the river.
And don't forget to check out my other kayaking articles!
Latest posts by Stacy Bressler
(see all)