RV dining tables can take up a lot of room, may not be visually appealing, or may just not work for your lifestyle when you're on the road.
That's why a lot of RVers choose to replace their RV dining table. Whether you want to add more storage space, or you need to work-from-home office, it's relatively easy to remove your RV dining table and replace it with something more functional.
So, if you want to replace your dining table with a larger or smaller table, or just get rid of it and replace it with something more fun and exciting (like a bar perhaps 😊), then come along and I'll go through all your options!!
Here's what I'll cover in this post
Why Consider Replacing Your RV's Dining Table or Dinette?
21 RV Dining Table Replacement Ideas
5 Replacement RV Dining Tables and Dinettes
Is It Difficult to Replace Your RV Table?
Alright, let's get into it!!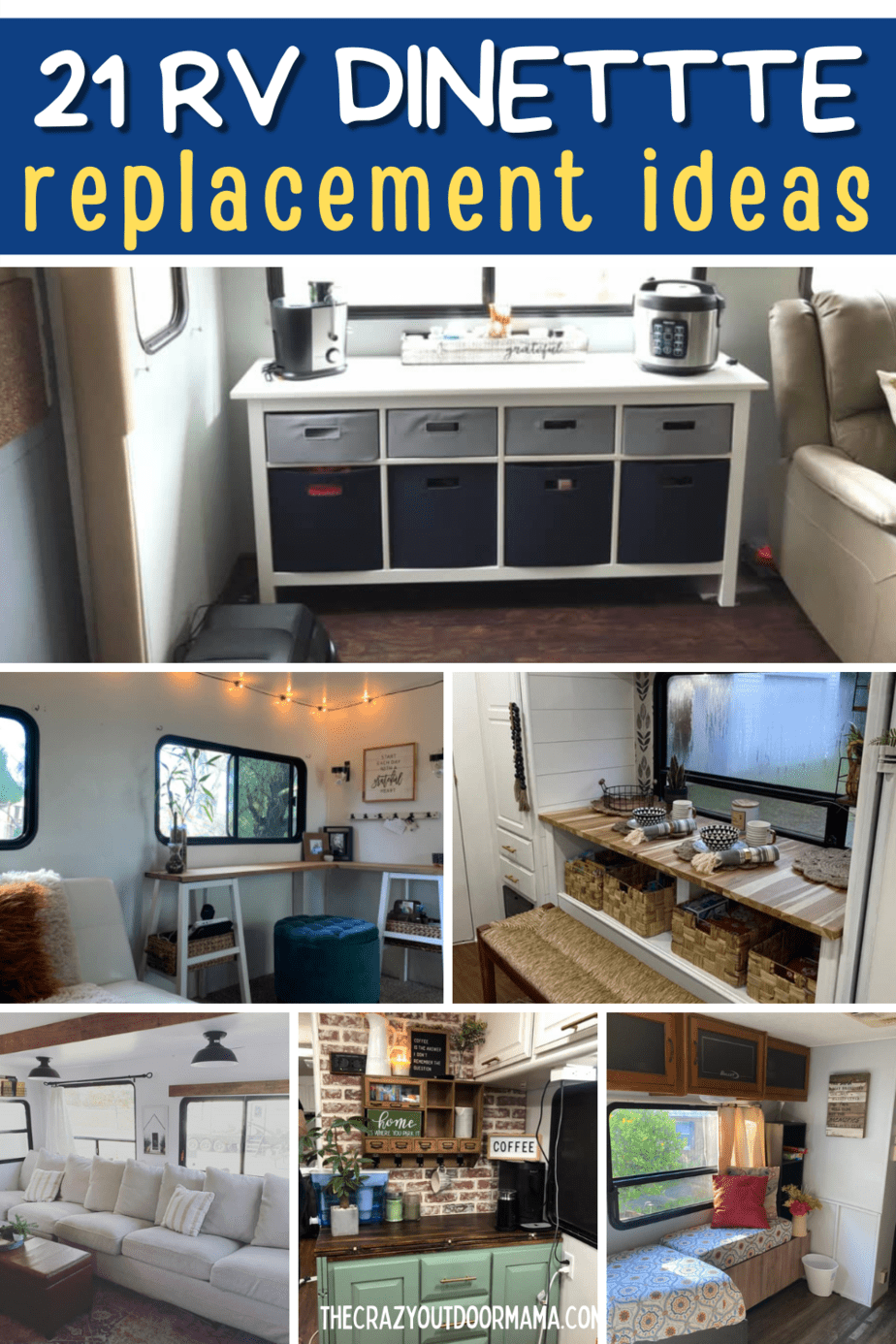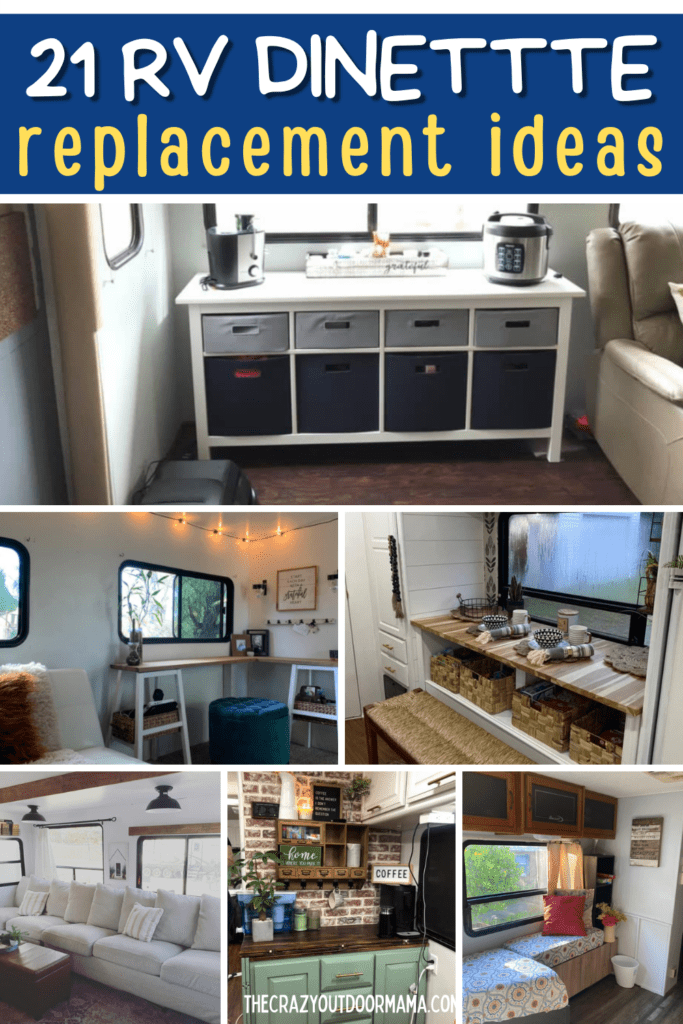 Why Consider Replacing Your RV's Dining Table or Dinette?
Maybe replacing your RV's dining table or dinette hasn't really crossed your mind much. But there are so many things you can do with the space. It may seem like a no-brainer to you once you find an excellent replacement.
Here are a few reasons why you might want to replace your RV dinette:
Upgrade your style: Sometimes the interior of RVs may not match your personal style. And some booth dinettes can look clunky and not-so-trendy. You can easily bring some style into your RV's living space by replacing your RV dinette with one that you really love the look of.
Seat more people: If you find your RV dinette just isn't big enough for everyone you're traveling with to sit down and have a meal, you can easily add a seat or two with a fresh new RV dinette.
Take some weight off: Alternatively, an ultra-lightweight table can help you decrease the load on your rig. Dinettes (especially booth dinettes), can be pretty heavy, so replacing those can take a significant amount of weight off your RV or trailer.
Add functionality: You can also replace your RV dinette with something more functional. Add storage or a desk to your dinette area to make sure you're getting the most out of your RV's living space.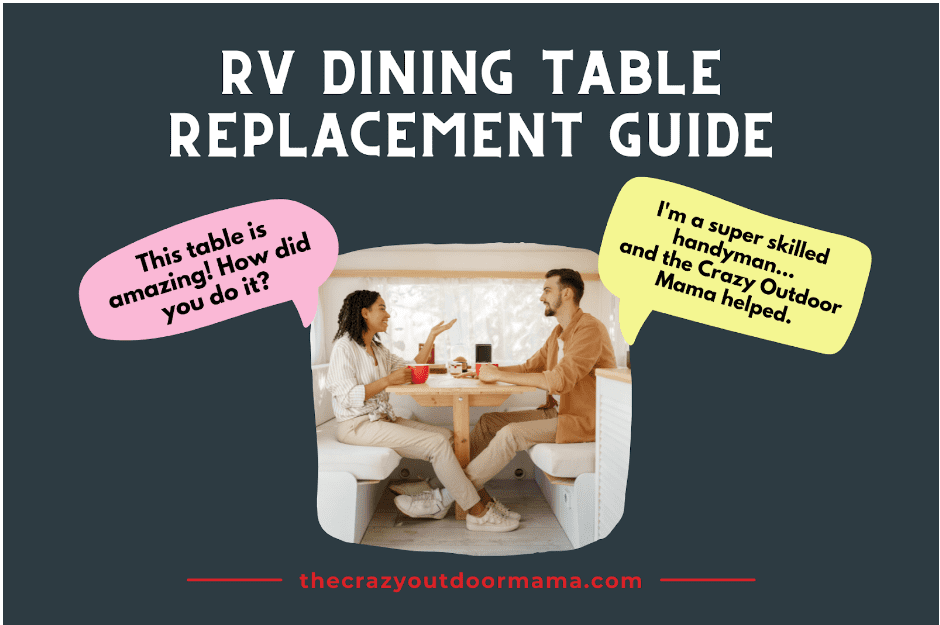 10 RV Dining Table Replacement Ideas
You might know you want to replace your RV dining table, but what should you replace it with? I've compiled some great ideas for RV dining table replacement to help give you a bit of inspiration. These replacement ideas range from adding more seating space, increasing storage space, or adding a fun play space or bar area.
Browse through and find some ideas you think would work well in your RV!
Lightweight Table and Chairs
If you have a lot of outdoor gear, a bunch of extra stuff, or a ton of people, your RV might be pushing its weight capacity. One way to ease up on the weight of your RV is to replace the dining table with a lightweight setup.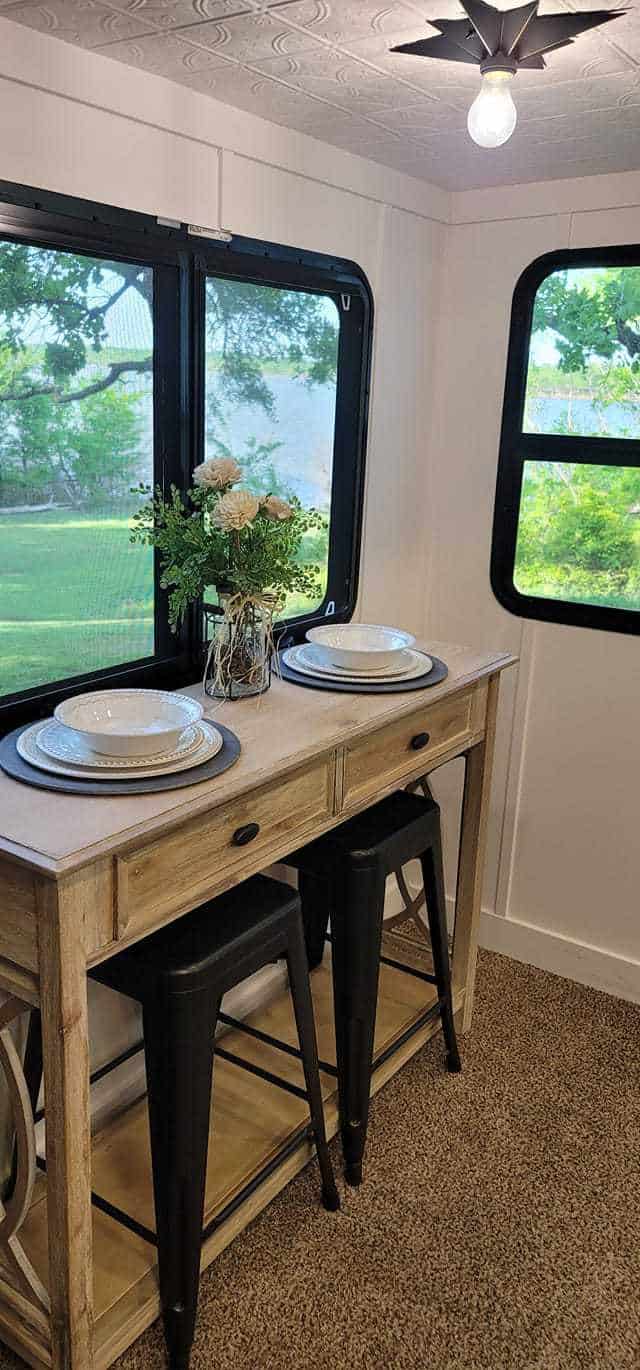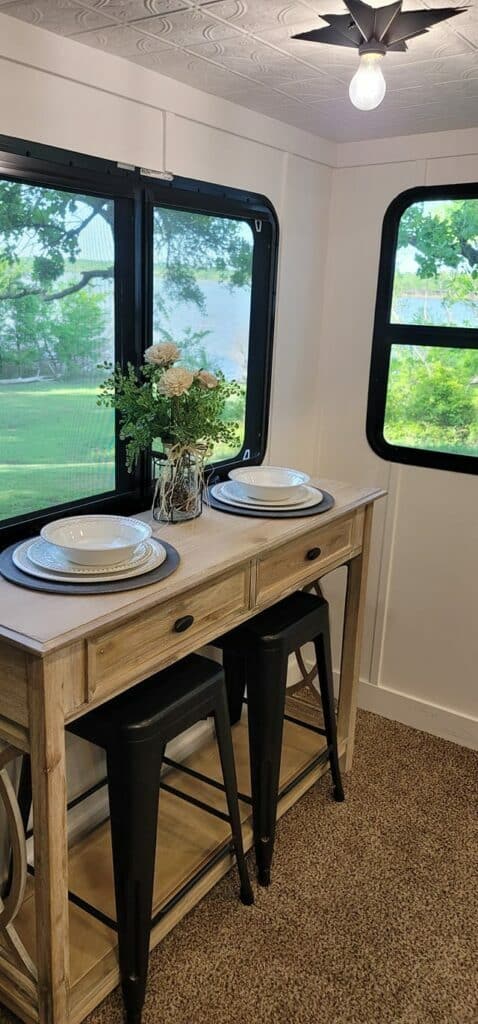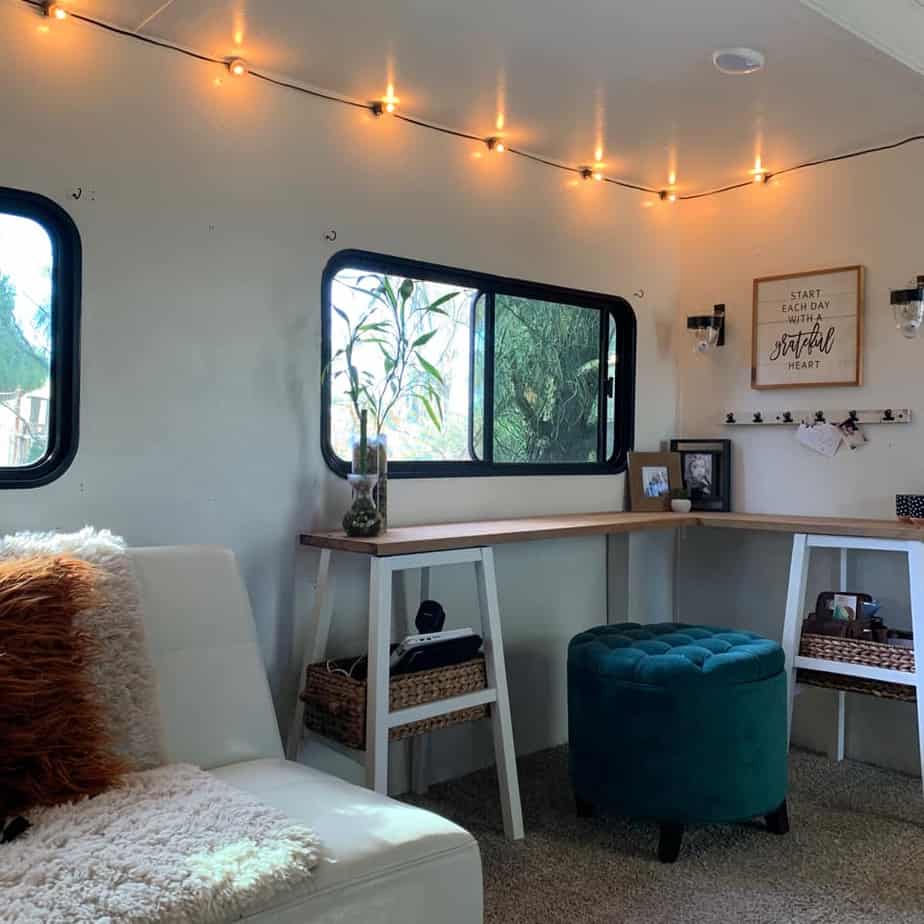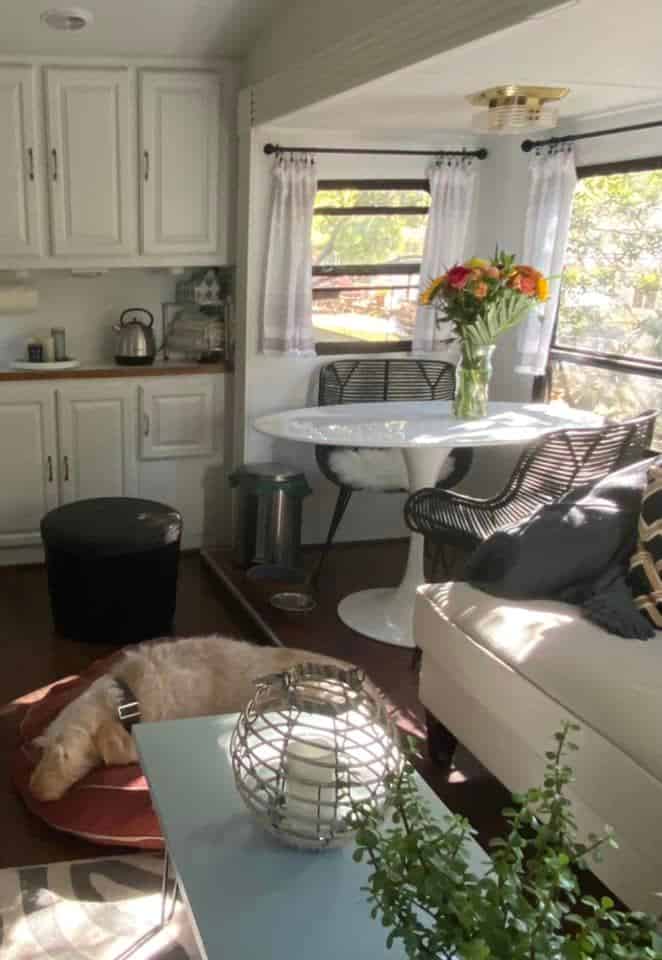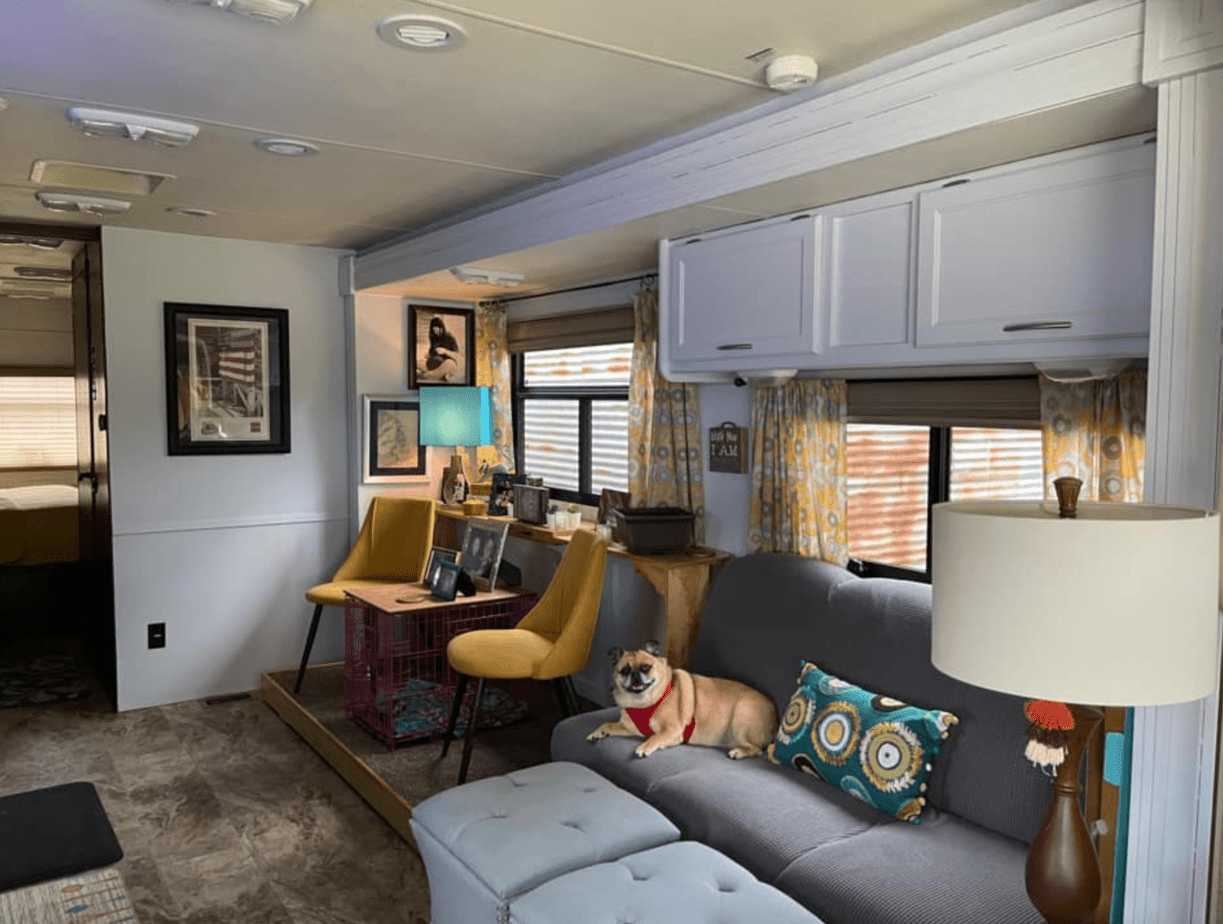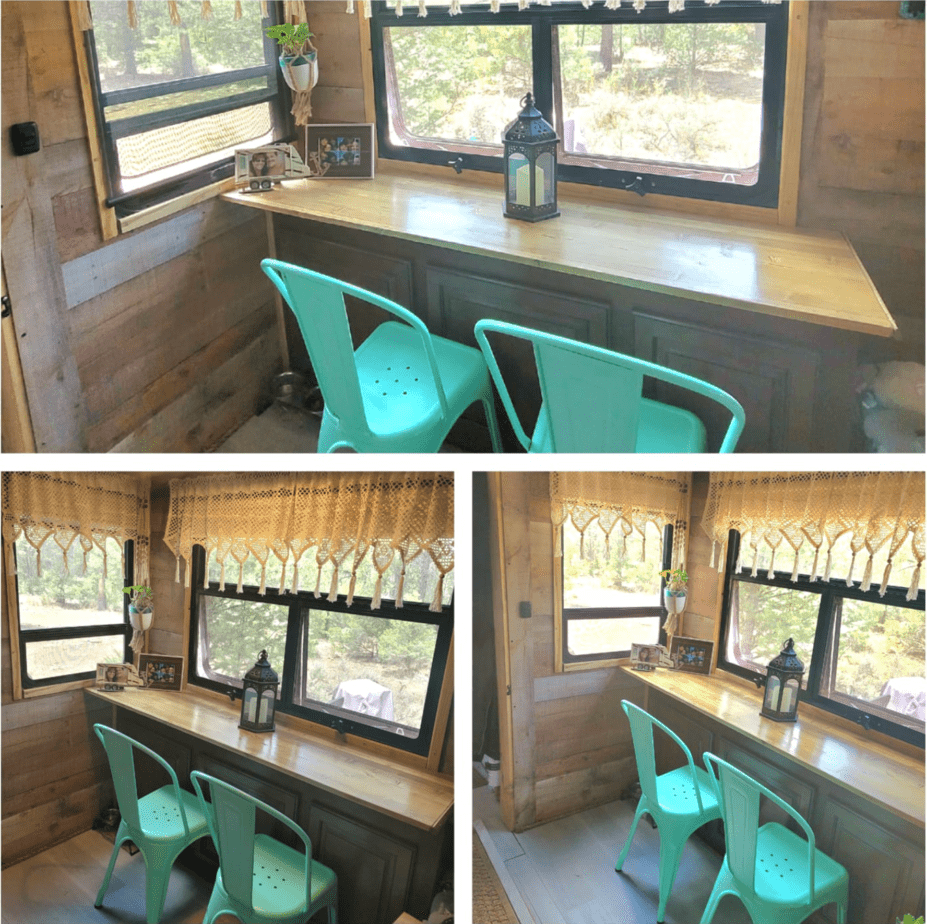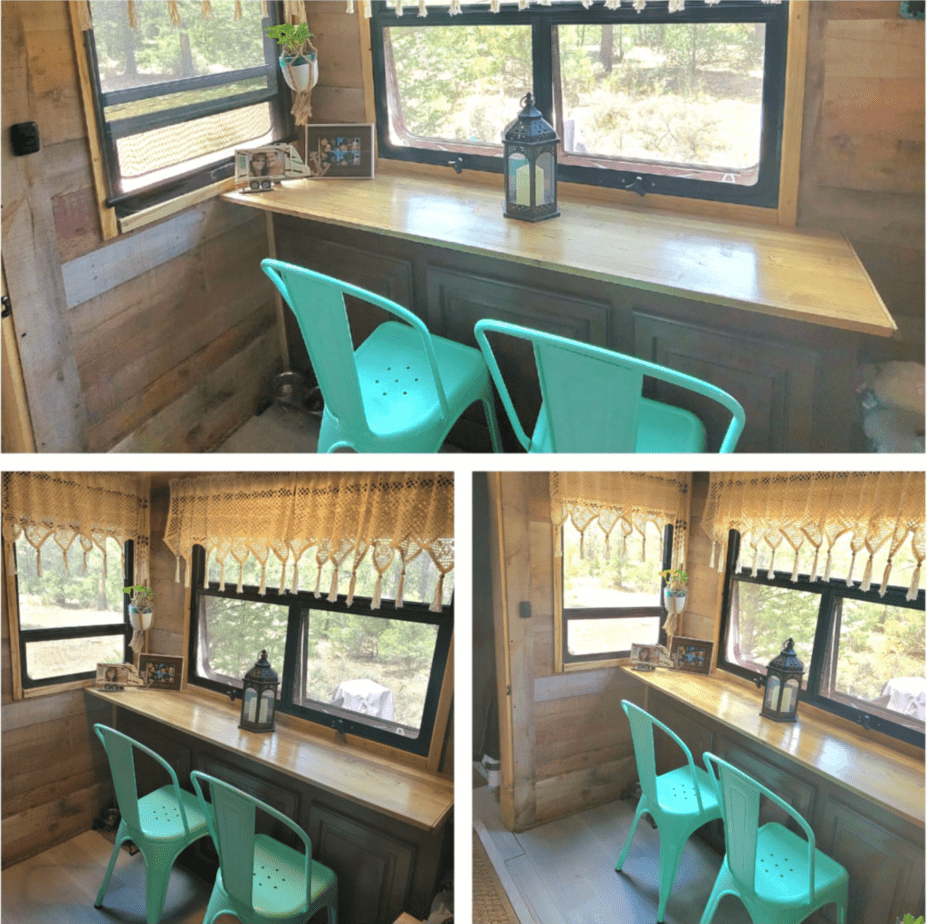 Larger Table with Additional Seating
Traveling with the whole family can be a whole lot of fun, but the issue with RVs is that a lot of the time, there's just not room for everyone. Make sure everyone has a seat at the table by replacing your RV dining table with a larger table that adds a couple more seats. If you have a mini RV dinette with just two seats, you could upgrade to four. If you have four, upgrade to six!
A larger table also requires more seats. You can add extra chairs or a longer dinette booth. Adding a wrap-around dinette booth is a great way to add extra seating without taking up a whole lot of valuable floor space.
Work From Home Office
These days so many of us work from home (or from RV), so it might be really important for you to have a dedicated workspace in your RV. The dining table is a great feature that can be replaced by a desk space since it can still be used as a dining area as needed.
Check here to get tons of ideas for your RV office – 27 RV Office Ideas to Transform Your Space
P.S. – if you can't completely rip out the dinette and start over, consider creating a clamp on set up (like in the picture below!) I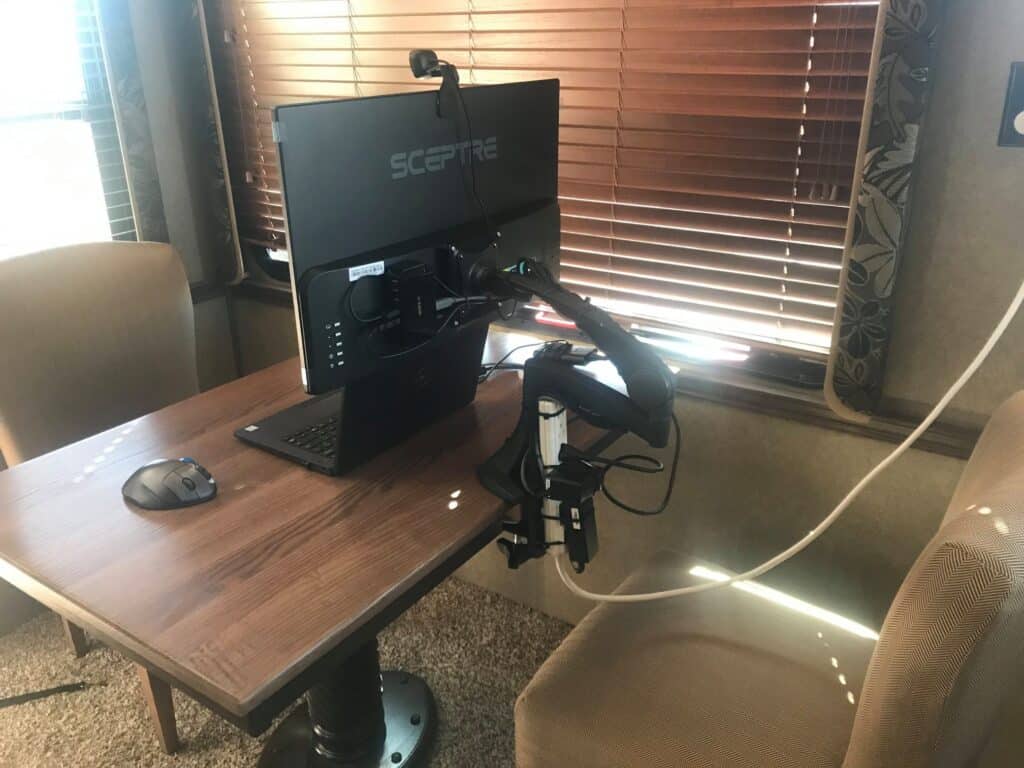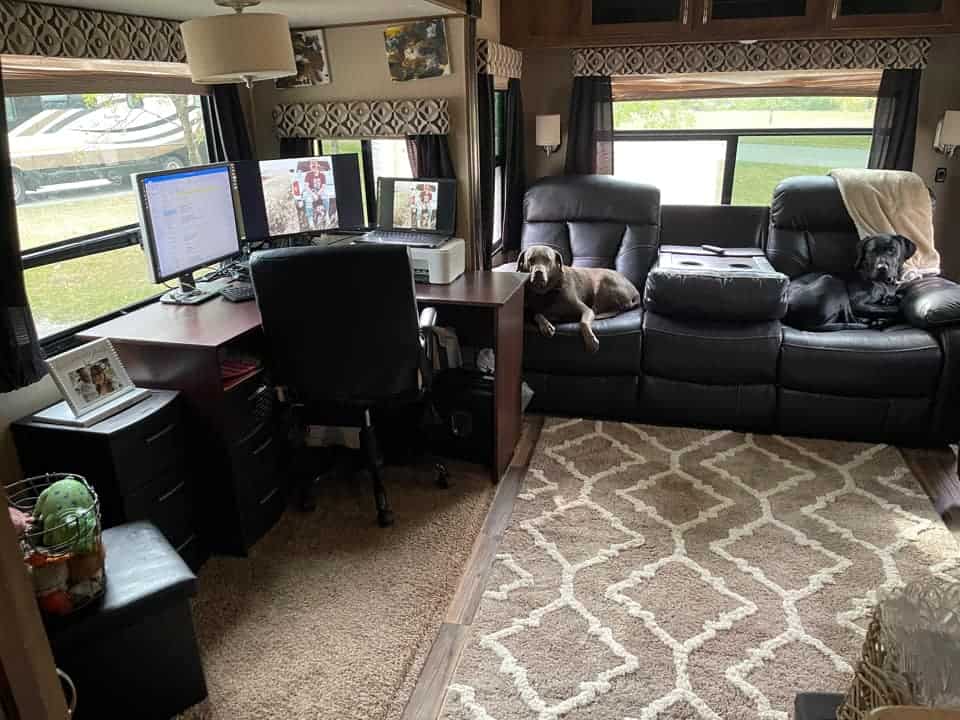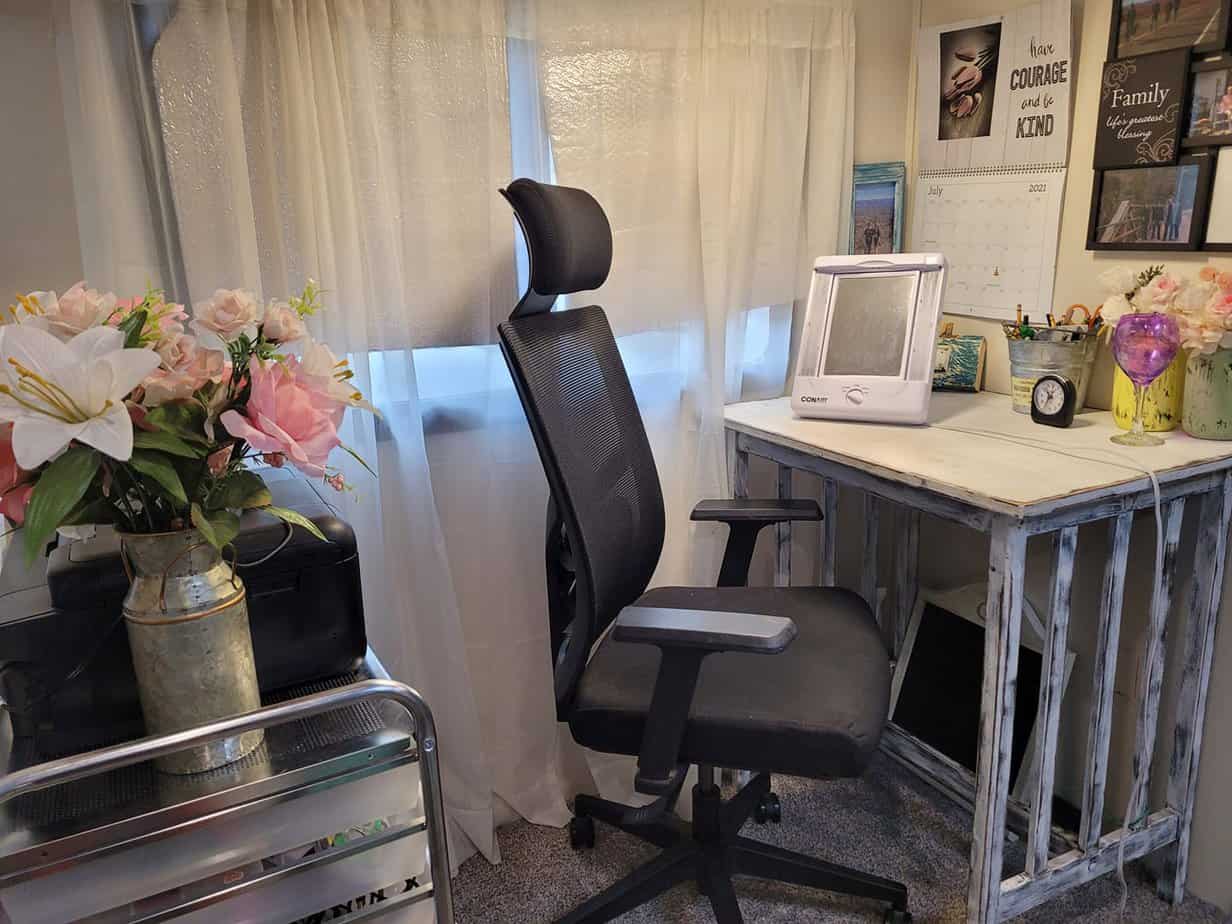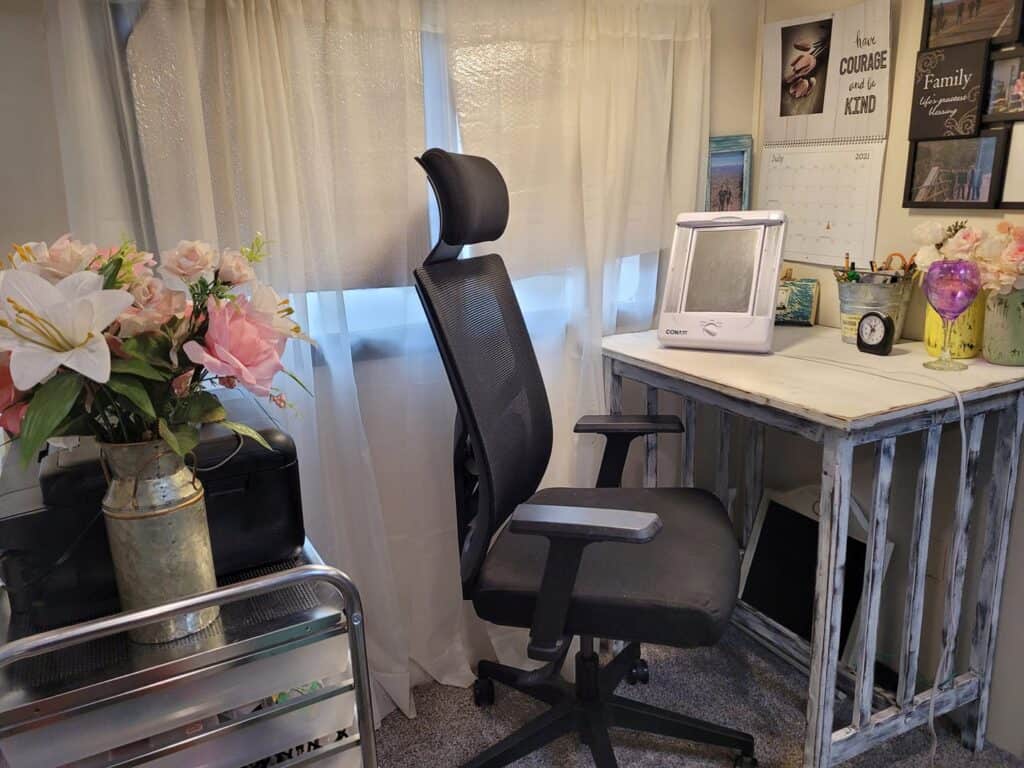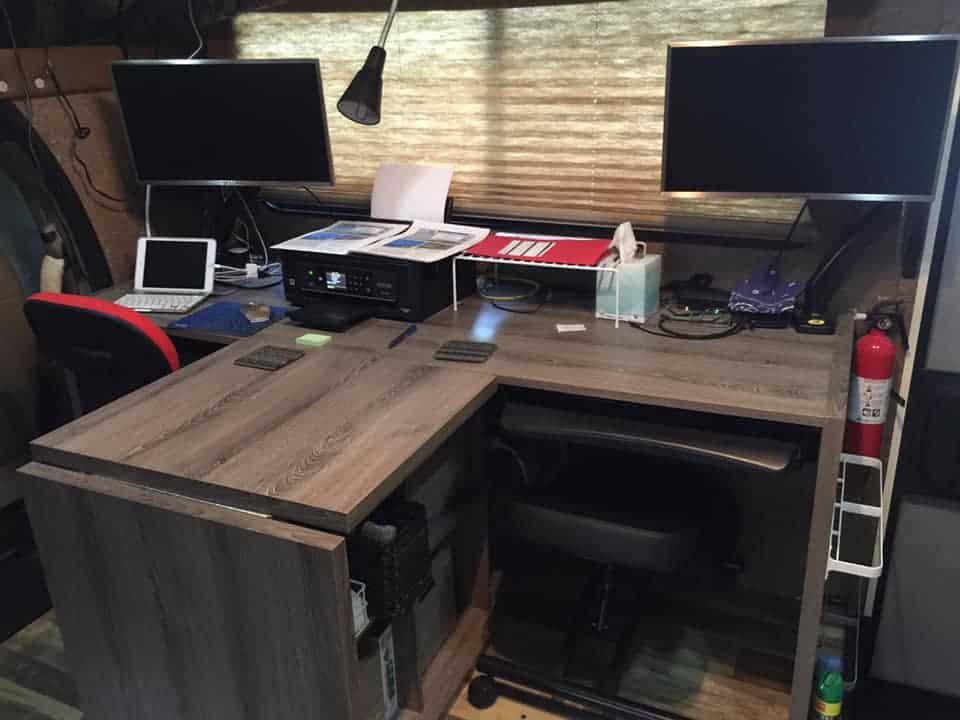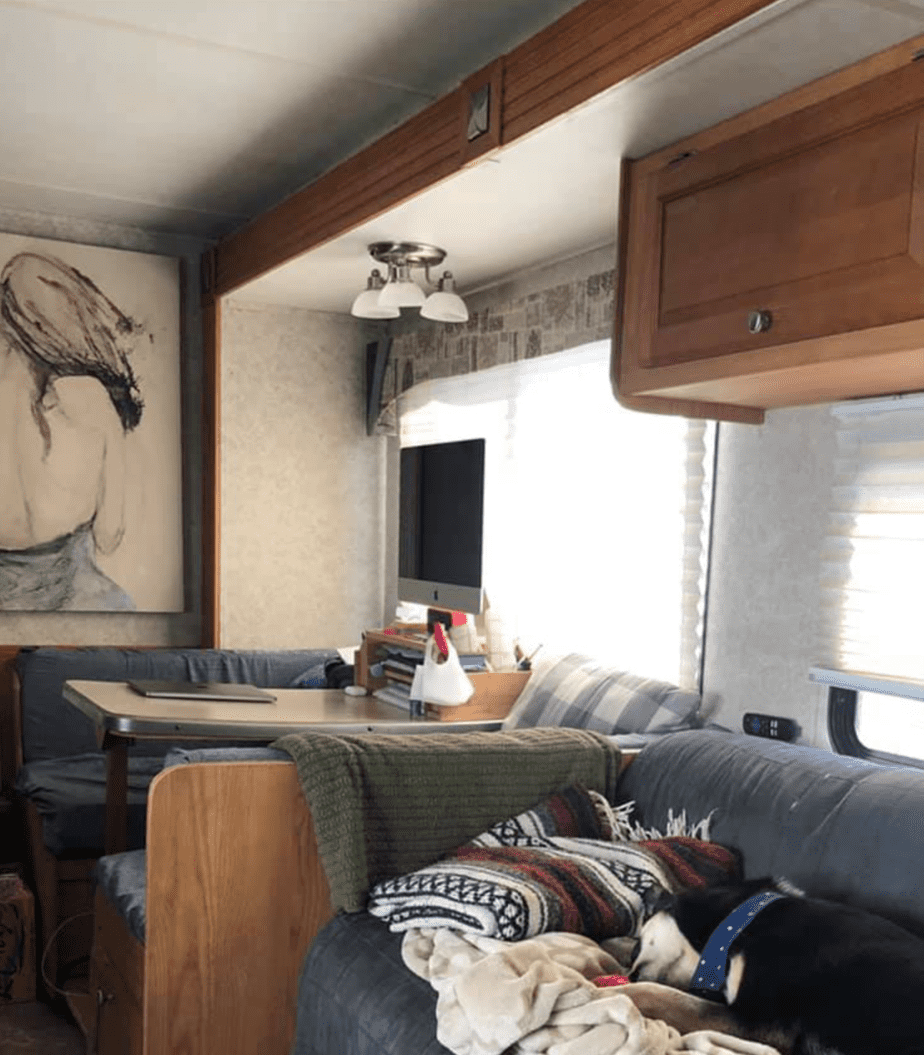 You can add space for your computer, keyboard, charging ports, and other office accessories. You could even add a super comfy office chair that'll help you get work done comfortably. (Or a standing desk if that's more your style).
Like I said, the office space could be multi-use and you could still use the desk for eating meals in between work hours, but having a dedicated space as an office may really help you get work done on the road.
RV Bar
You might have one in your basement… why not have one in your RV?? This may not be everyone's first choice to replace a dining table, but your RV will surely be the party spot at the park or group campsite.
And of course…your RV bar doesn't just have to function as a bar for making cocktails. This would also be a very cute space for a coffee bar, or breakfast bar, or…all three!! Your dining table replacement project is totally up to you, so have fun with it!!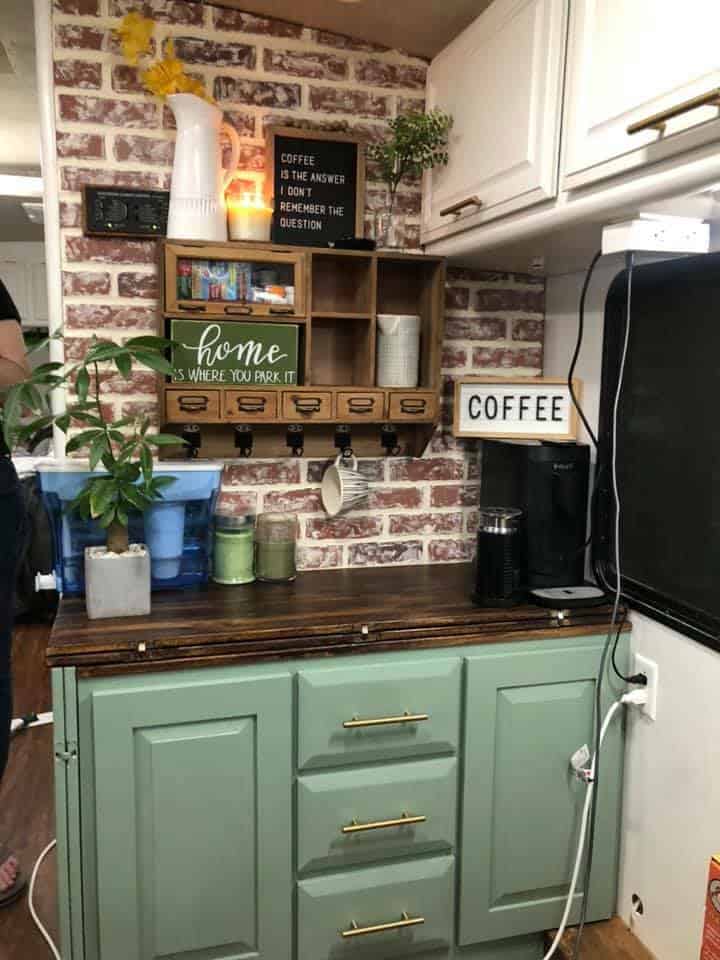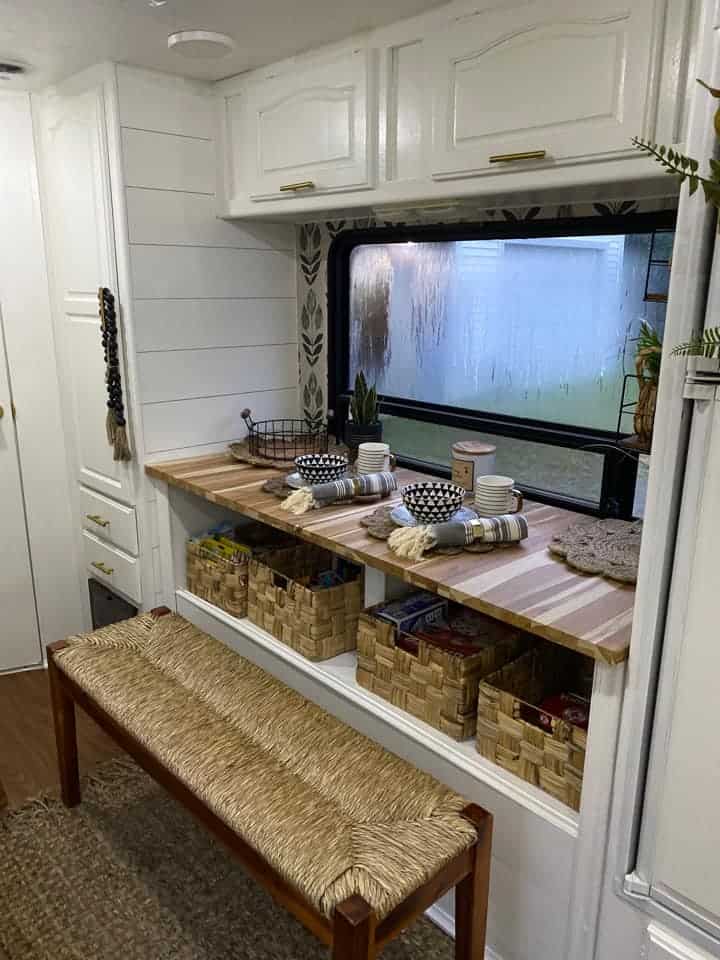 Booths with Storage Underneath
No matter what rig you have, there may come a point when you just run out of storage! You always have more stuff than you think, and you never realize how much you really have until you move into an RV.
If you have storage issues, a great way to add extra space is to replace your RV dinette booth with booths that have storage inside. These are a perfectly stealthy way to add storage–no one even knows they're storage boxes until you open them up.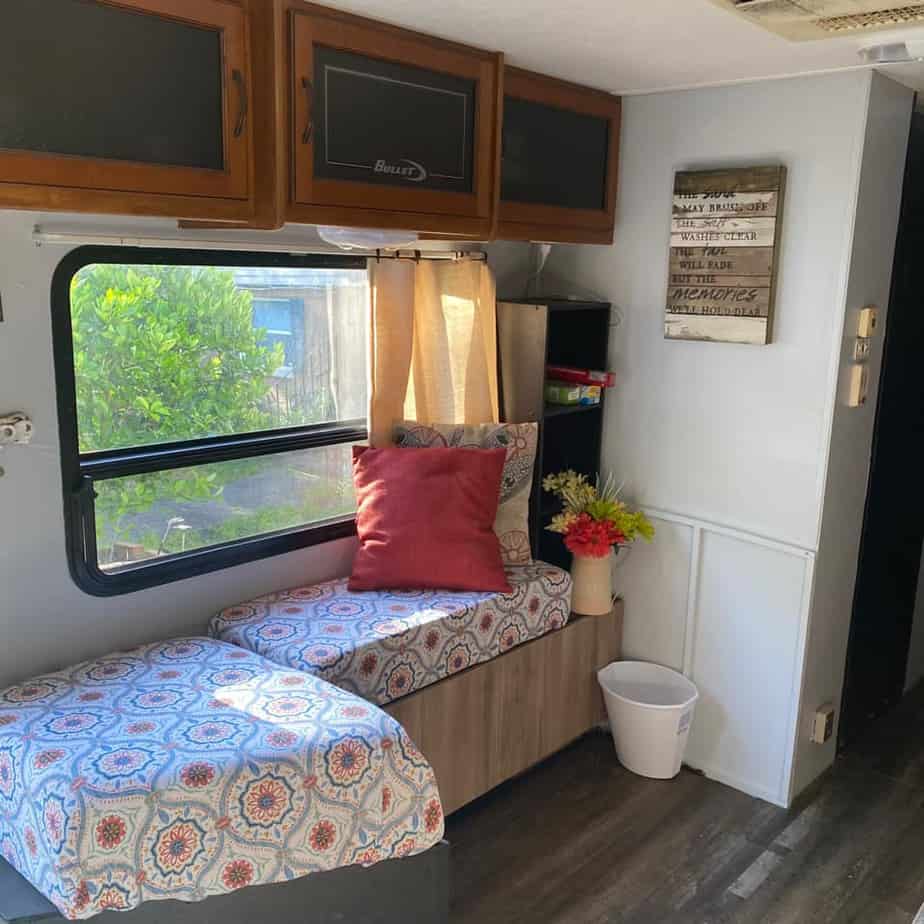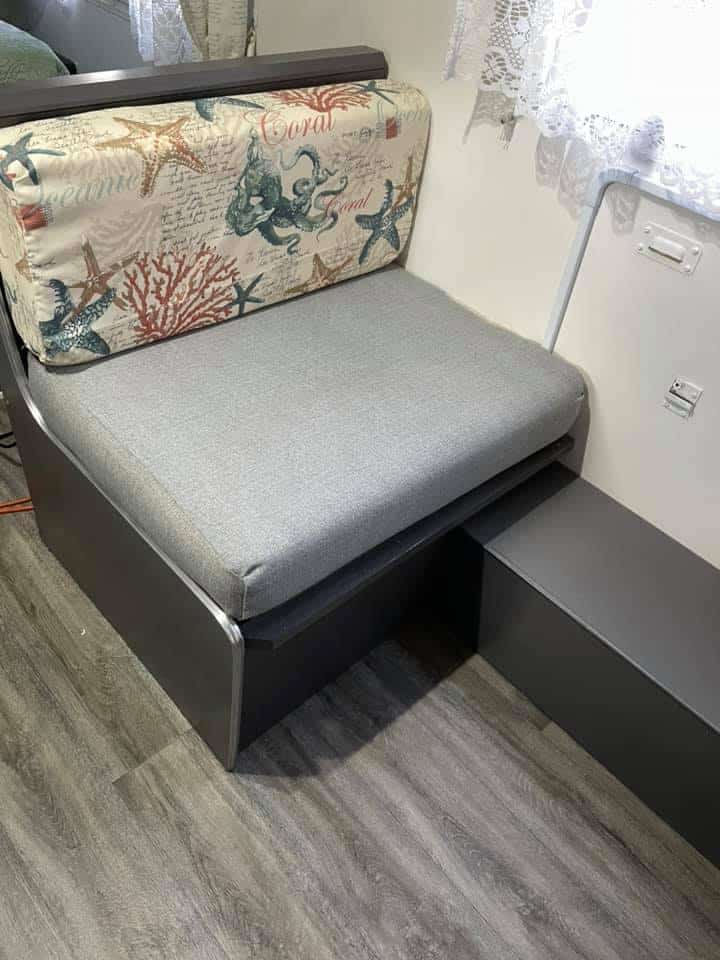 Kids Play Area
Traveling with little ones in the RV can seriously be a joy, but on rainy or cold days, the whole family might start to get a bit cranky getting cooped up inside. If you're willing to sacrifice your dining table, it might be the perfect spot for a small play area for your kids.
You can set up a play mat and boxes of their favorite toys to keep your kiddos entertained when the weather just isn't great outside. If you have a baby, here are some RV nursery ideas that may work in your dinette too!
And for other fun ways to keep your kids entertained while camping: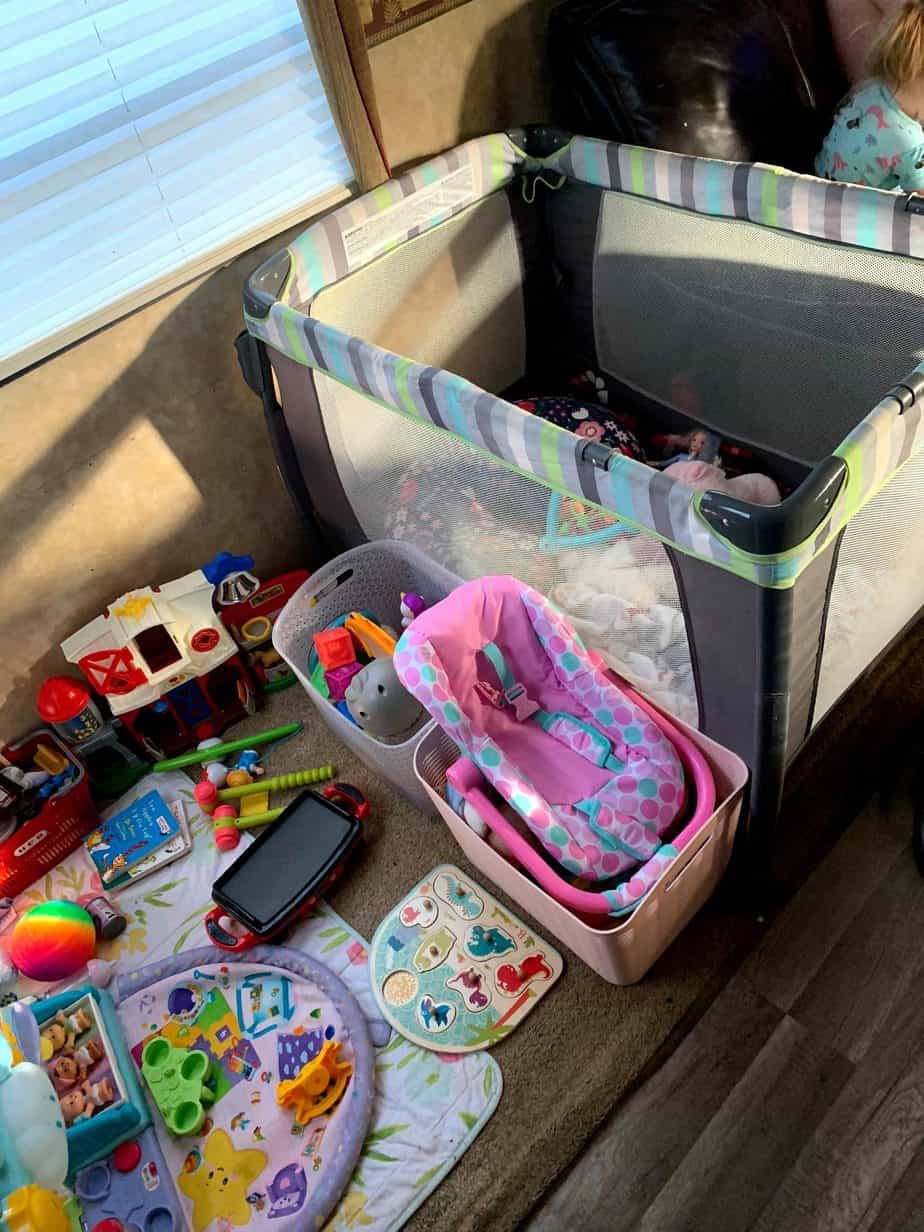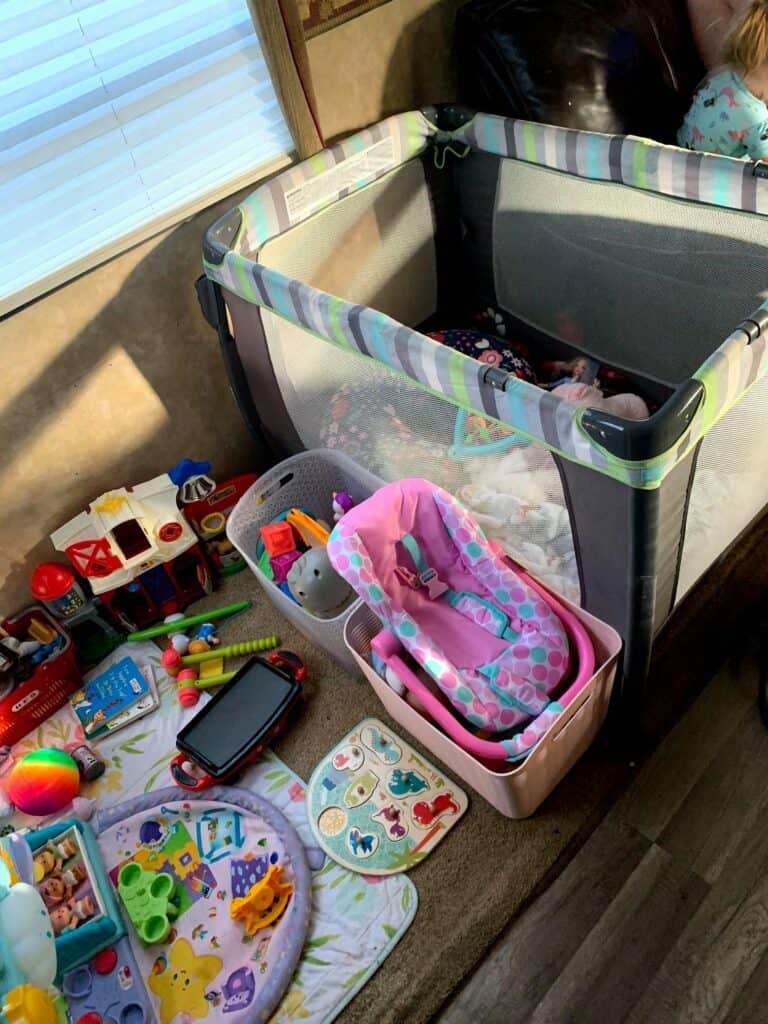 Extra Storage Space
If you need a lot of extra storage space, whether it's for extra gear, extra clothing, or seasonal gear you aren't using, a dinette area is a great place to add storage. If you find you really don't use your dining area at all, why not just take the whole thing out and replace it with some storage?
Whatever storage you do install, just make sure it's really organized and everything's easy to get to. That way you aren't just creating extra hassle for yourself. The better organized the storage is–the more you'll be able to fit in it without feeling overwhelmed.
RVs and travel trailers can often feel really cramped, especially if you've been living in one for a while and have started to accumulate stuff. If you want to open up a bit of floor space to create a more "open" feel inside your RV, you can replace a large dining table with a smaller one.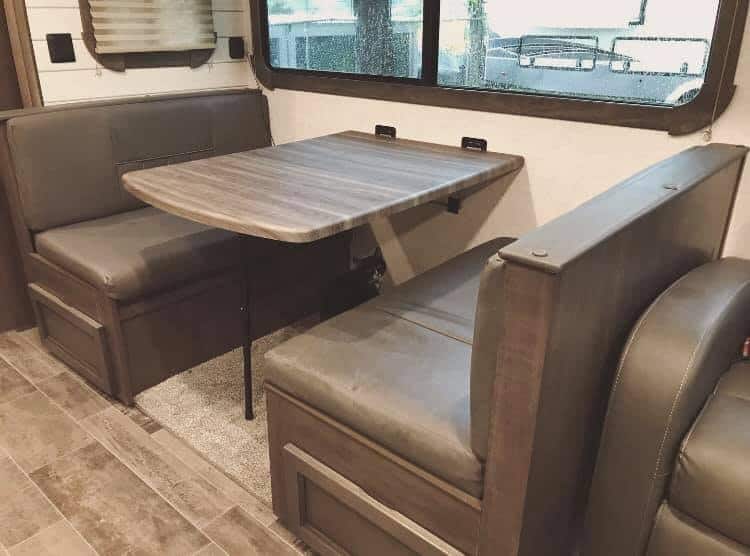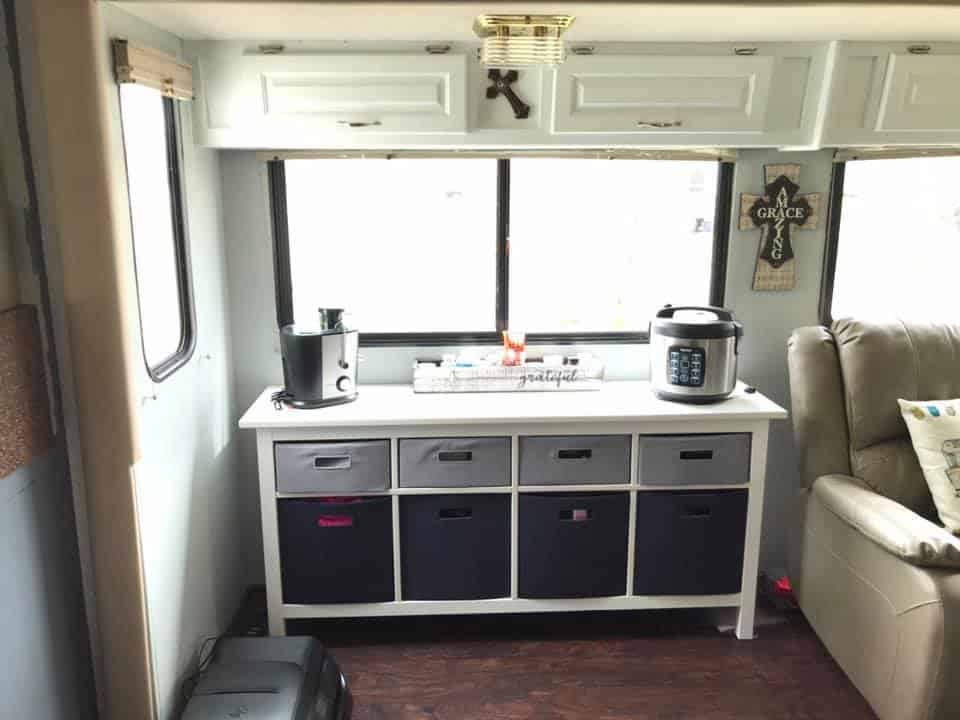 Smaller Table
If you only need seating for two people, you can really downsize your dinette to make the extra space into more storage, or whatever else you need room for in your RV.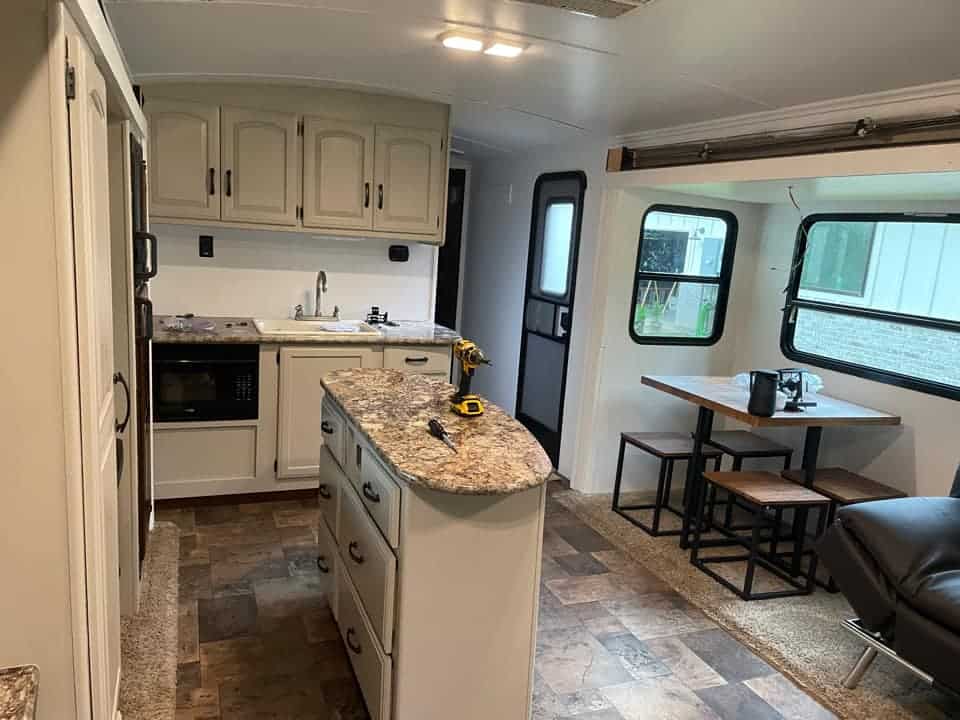 Couch / Lounge Area
RV dinette seats may not always be the most comfortable, and if you don't have a couch in your RV, you might just not have anywhere comfortable to sit. You can always replace your RV's dinette with a big comfy couch.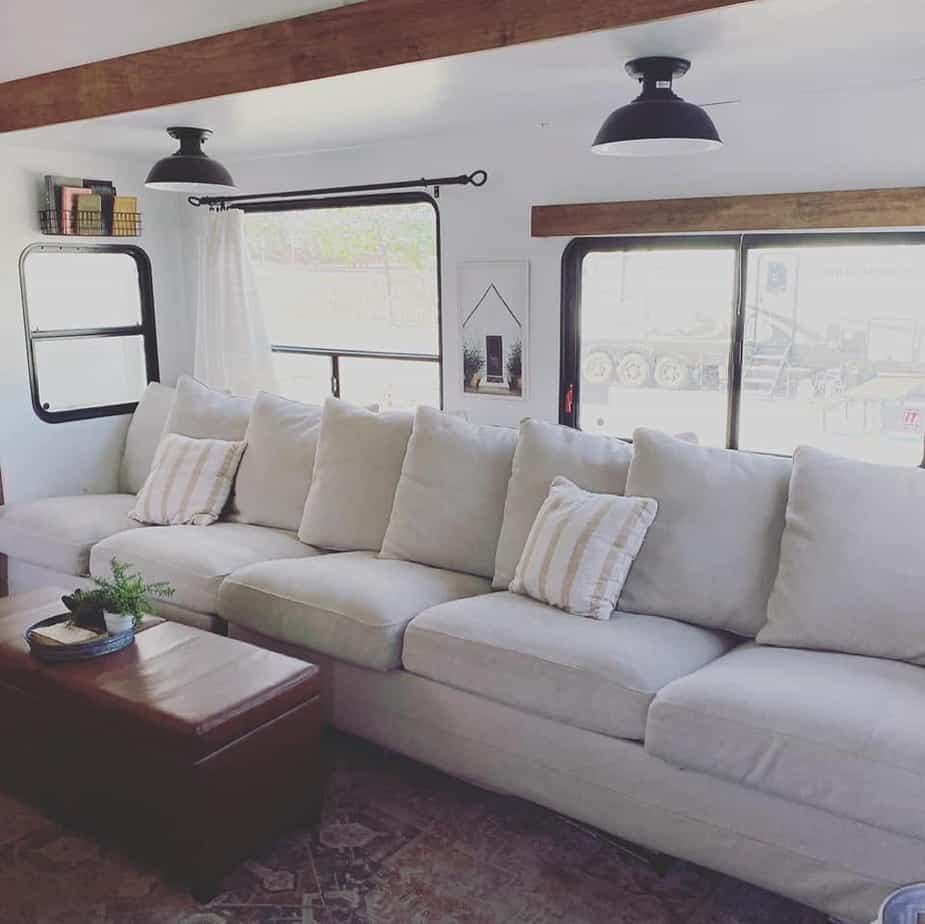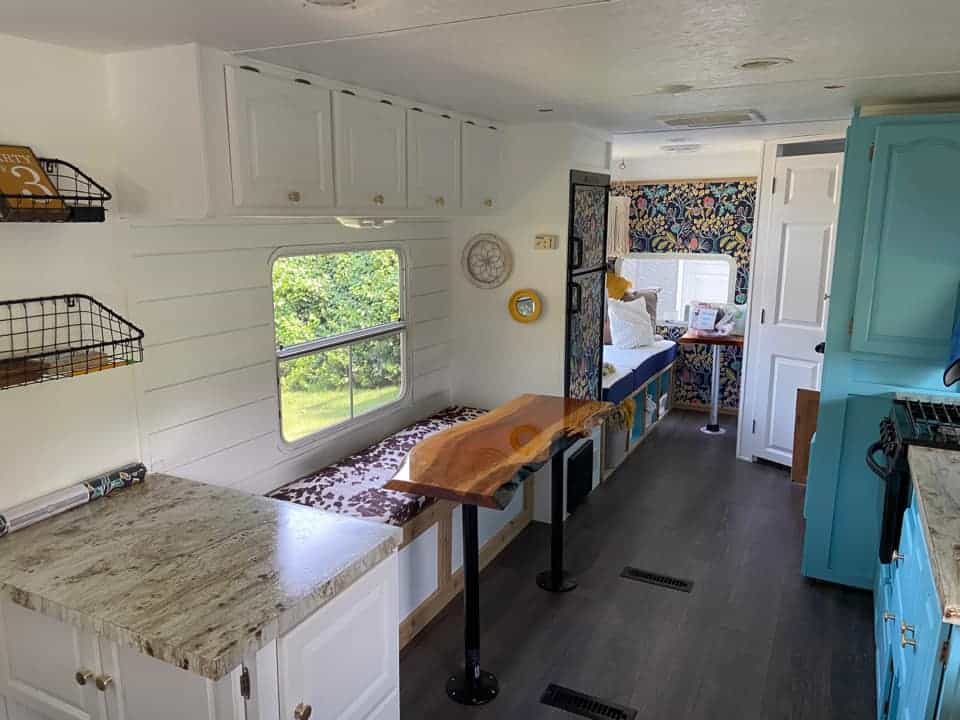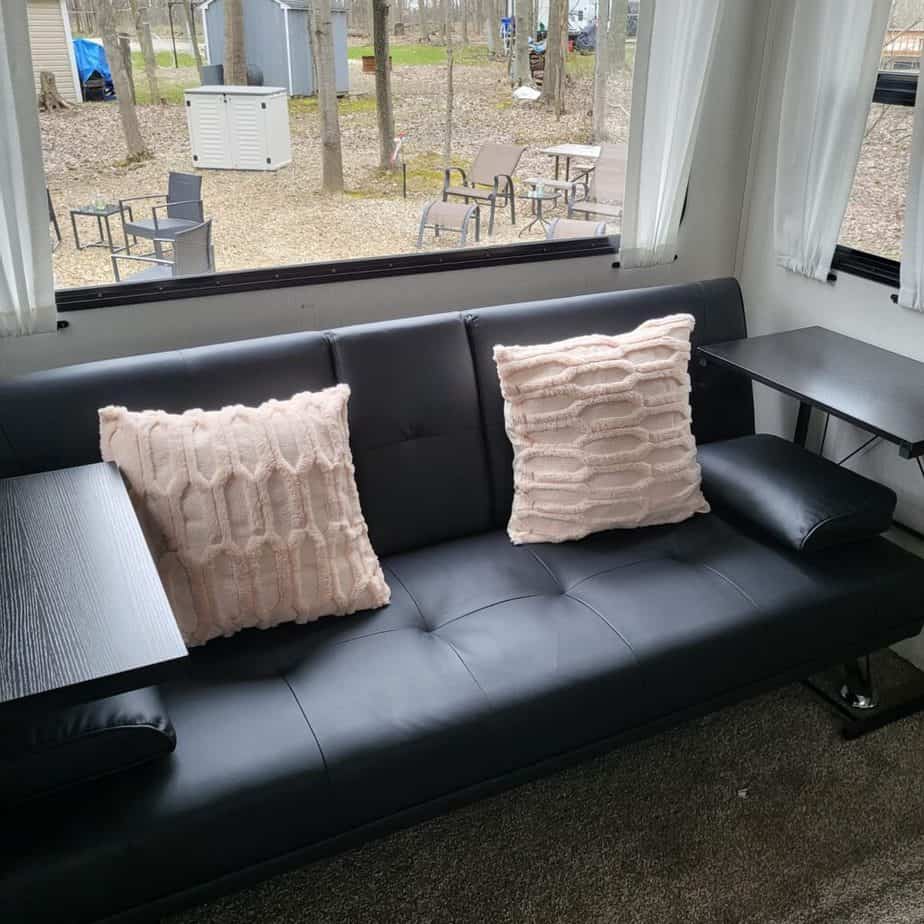 If you still want somewhere to eat in your RV, you could always have small folding tables (like TV trays), so you can sit on the couch to eat your dinner! Another awesome thing about RV couches is that they add extra sleeping room!
A single couch is enough room for one extra person, but you could also get a tri-fold sofa, or a sofa bed, and increase the sleeping capacity by TWO.
Daybed or Futon
This can be an especially easy way to get more sleeping space in your camper without a ton of work! You don't lose the seating of the dinette, but you do gain a bed. I love this idea especially for families with kids (that are still ok with sharing a bed!)
Pro tip: Installing a murphy bed is another great option to add more sleeping capacity, learn more about those here:
Someone even converted their RV dinette area to a bunk – talk about a good use of space! I would definitely double check before doing this if you have a slide, but what a great way to get more sleeping space.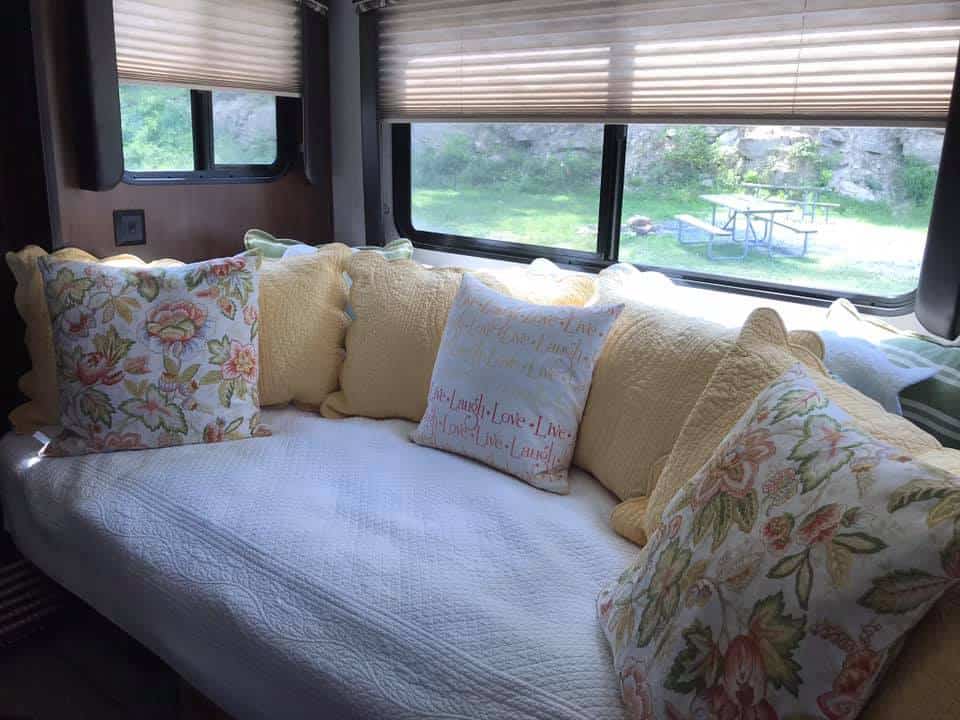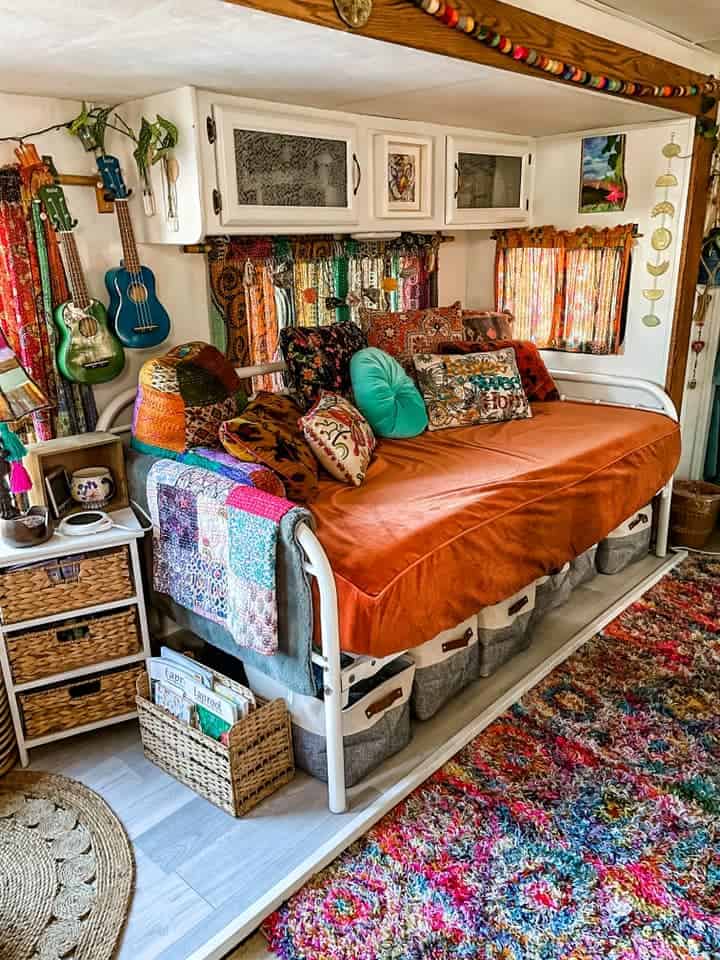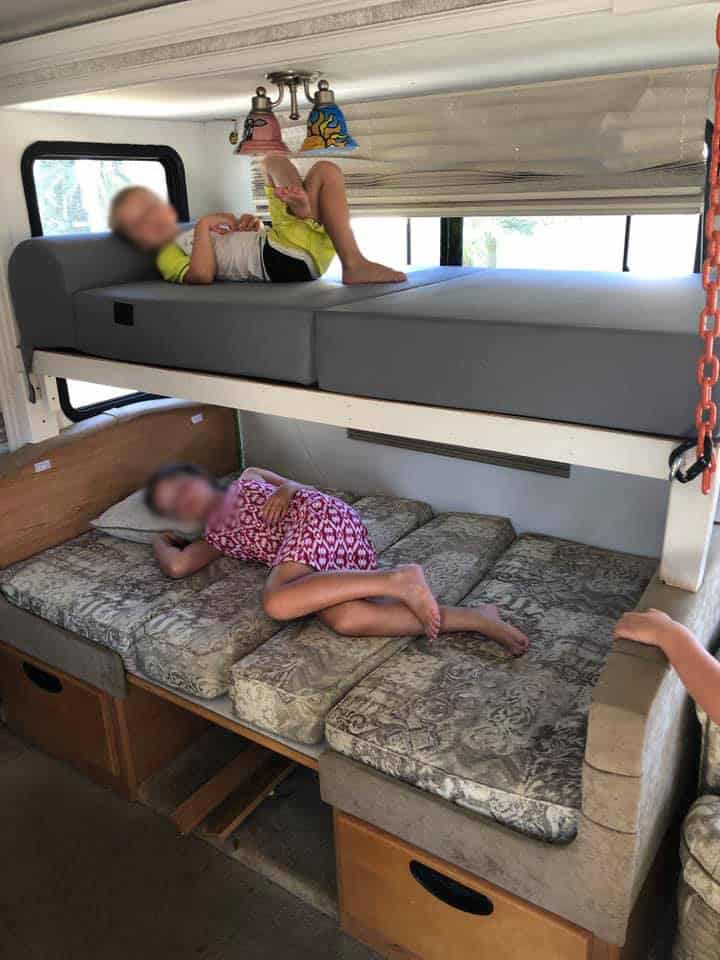 Indoor/Outdoor Portable Dining Set
Let's be real…you're never going to be eating inside, and outside your RV at the same time!! So, getting an indoor/outdoor portable dining set is a really fun option to replace your dinette so you can free up room inside your RV when you need it. You'll always have a dining set when you might be somewhere without one (like when you're boondocking).
Inside your RV, you could turn the dining table area into a temporary play area for your kids, put an extra fold-out bed or cot there, or just use the space to store items. Then, if you ever need to eat inside when the weather's bad, just take out your dining set and set it up where the permanent dinette used to go!
Need a foldable camping table that could work for this? Check out these 13 camping tables!
Entertainment Center
No kids, no dogs, and no job that takes up a ton of space in the camper? Then add some more luxury to your life and replace your RV Dinette with an entertainment center! Whether that looks like a sweet gaming/TV set up or a relaxing fireplace, here are some ideas!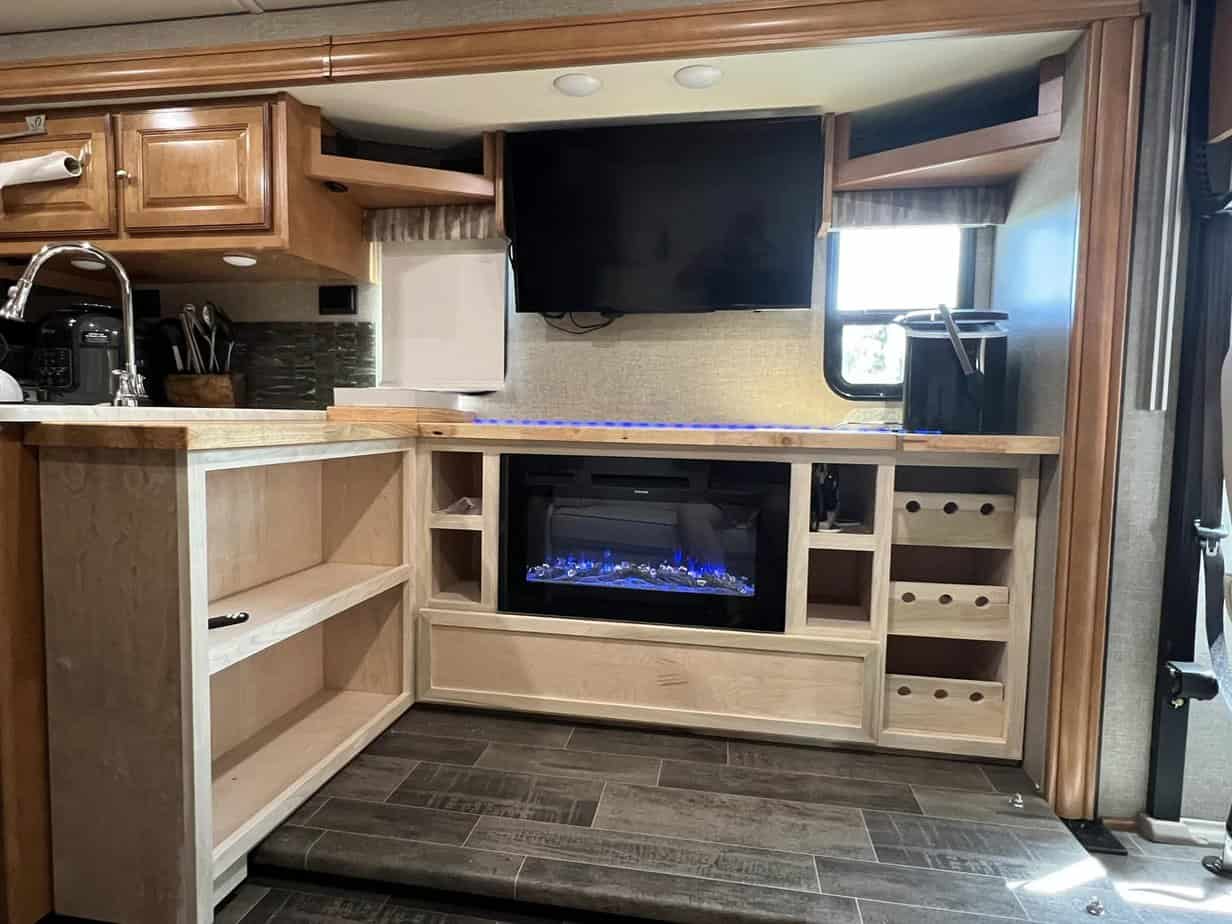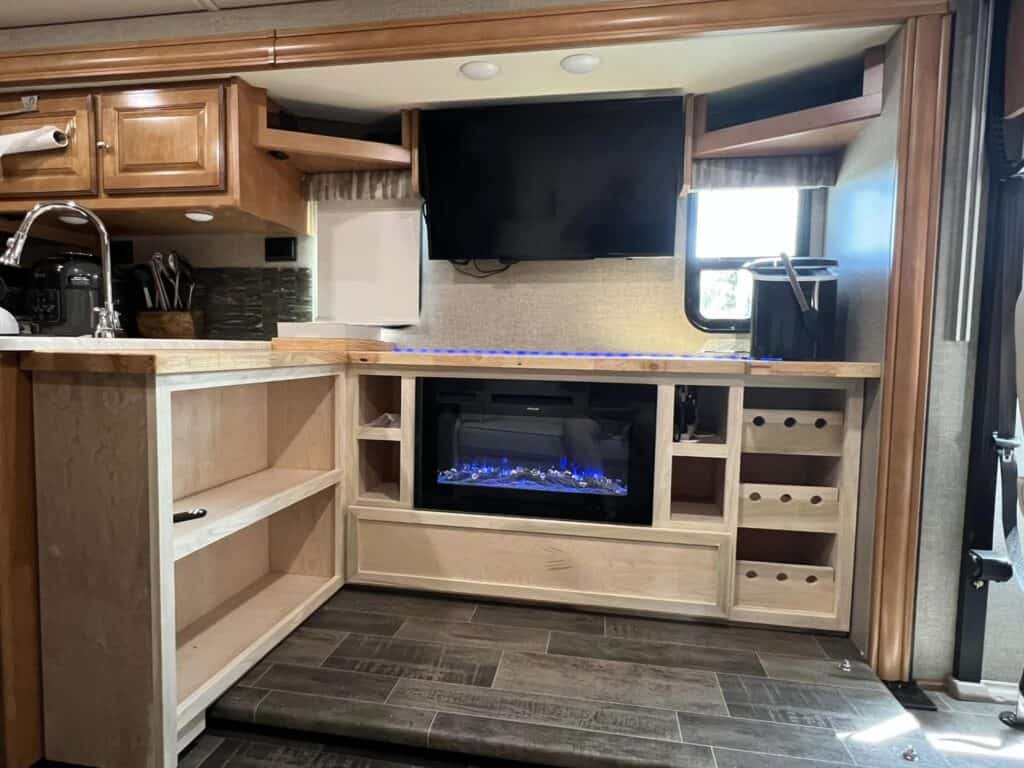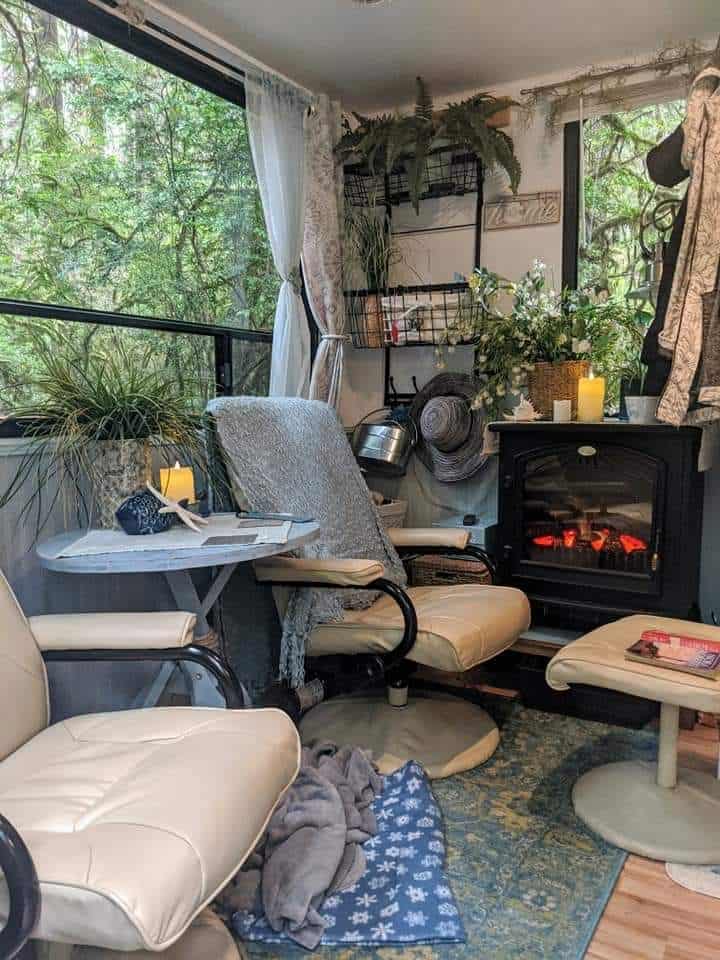 ---
5 Replacement RV Dining Tables and Dinettes
And now for a little shopping!! Here are some great RV tables and dinettes you can purchase to replace your original dining table.
Seats: 2-4
Weight: 11 lbs.
This dinette table from RecPro is a great replacement dinette table if you want to downsize or get something more lightweight. It's just 18 inches wide by 24 inches long, and it's 27.5 inches tall. It'll fit into most spaces as a replacement dinette. This table is made specifically for RVs, and it comes with a mount so it should be pretty easy to install. This table is just about 12 pounds.
If you need something a bit larger, RecPro offers four different larger sizes, up to 42 inches wide. The table also comes in two different finishes: a dark granite color, and a lighter color called "luna imperial".
Seats: 2
Weight: 40 lbs.
Lots of RVers choose to replace their RV dinettes with residential-style dining sets. RV dinettes can often be not so visually appealing (in my opinion), so I think purchasing a residential systel dining set to replace it isn't a bad idea.
This one from Best Choice Products on Amazon is nice and small, but large enough for you and your travel buddy to eat a nice big meal. The wood is super easy to clean and I really like the modern look of this set.
P.S., this set probably works better if you're staying in one place for a long time. It looks like it'd be kinda hard to secure it for transit (but not impossible, if that's what you want to do).
Check the current price on this set here.
Seats: 2
Weight: 11 pounds
This super lightweight set from Sunkroto on Amazon is just 11 pounds. It comes with a table and two chairs, and they all fold up relatively flat for easy storage. This set could be used indoors, or outdoors, and is perfect as an outdoor set if you've replaced your indoor dinette with something you found more functional.
It only seats two, and the chairs don't have backs on them. However, for something this affordable, I think it's a great set to have with you in your RV as a replacement for your dinette.
Seats: Up to 6
Weight: 14 pounds
I absolutely love the design of this extra-large table from ALPS Mountaineering sold at REI. It's really cool and modern looking and folds up super small. It's just 14 pounds which is really lightweight for how large it is. It's super simple to fold up and stow away so you can easily pack it away when traveling.
This table very comfortably seats 4 but can sit up to 6 so you can really have the whole family around here. Stow it away when you need extra floor space in your RV, and bring it out when it's time to play cards or eat dinner.
Check the current price on this table.
Source: amazon.com
Seats: 3
Weight: 16 lbs.
I love love love this wall mounted folding table from Amazon!! If you really need some extra living area when not using your dining table, this might be just the one for you. It's made of real pine wood and it looks absolutely gorgeous.
Plus, it comes with everything you need to install it, and the installation process looks pretty easy. The largest size will seat 3 people, but this brand also offers smaller sizes that take up less room and seat just one. This folding table would also be the ideal space for a home office if that's a must-have in your RV.
Check the current price on Amazon.
Shop for more tables here: 12 Super Cool Overlanding Tables for Your Off-Grid Adventures
---
Is It Difficult to Replace Your RV Table?
Replacing your RV table can be relatively easy based on what you're replacing it with. The process of removing an RV table is actually pretty simple and just involves unscrewing bolts and ripping out booths (if you have 'em).
Replacing that table with another table can be pretty easy, especially if you buy a table that's made for RVs and comes with brackets to screw it down. Otherwise, you'll have to figure out how to secure that table yourself, or just stow it away while you're in transit.
Here's a great example of one RV owner replacing their RV dinette booth with a sofa. This RVer built their couch from scratch, but you could also purchase a ready-made couch for easier installation:
What Will You Replace Your RV Dining Table With?
Replacing your RV's dinette can be a great way to add some functionality or personal style to your RV. Whether you really need a work-from-home space, or you want a big couch to relax on, the dinette area of an RV is a great space to get creative with.
While you're here, go ahead and check out my other articles for some more RV inspiration:
Latest posts by Stacy Bressler
(see all)