Shopping for a travel trailer can be incredibly overwhelming. There are so many brands out there and it's hard to know which ones provide trailers that will last.
Having a list of reliable brands that you know will provide a great travel trailer can help you narrow down your search.
So, I've researched, relied on personal experience, and found the 13 best travel trailer brands out there based on criteria from customer service to interior comfort. No matter the size of the company, all of these travel trailer brands will provide you with an excellent travel trailer that you can rely on.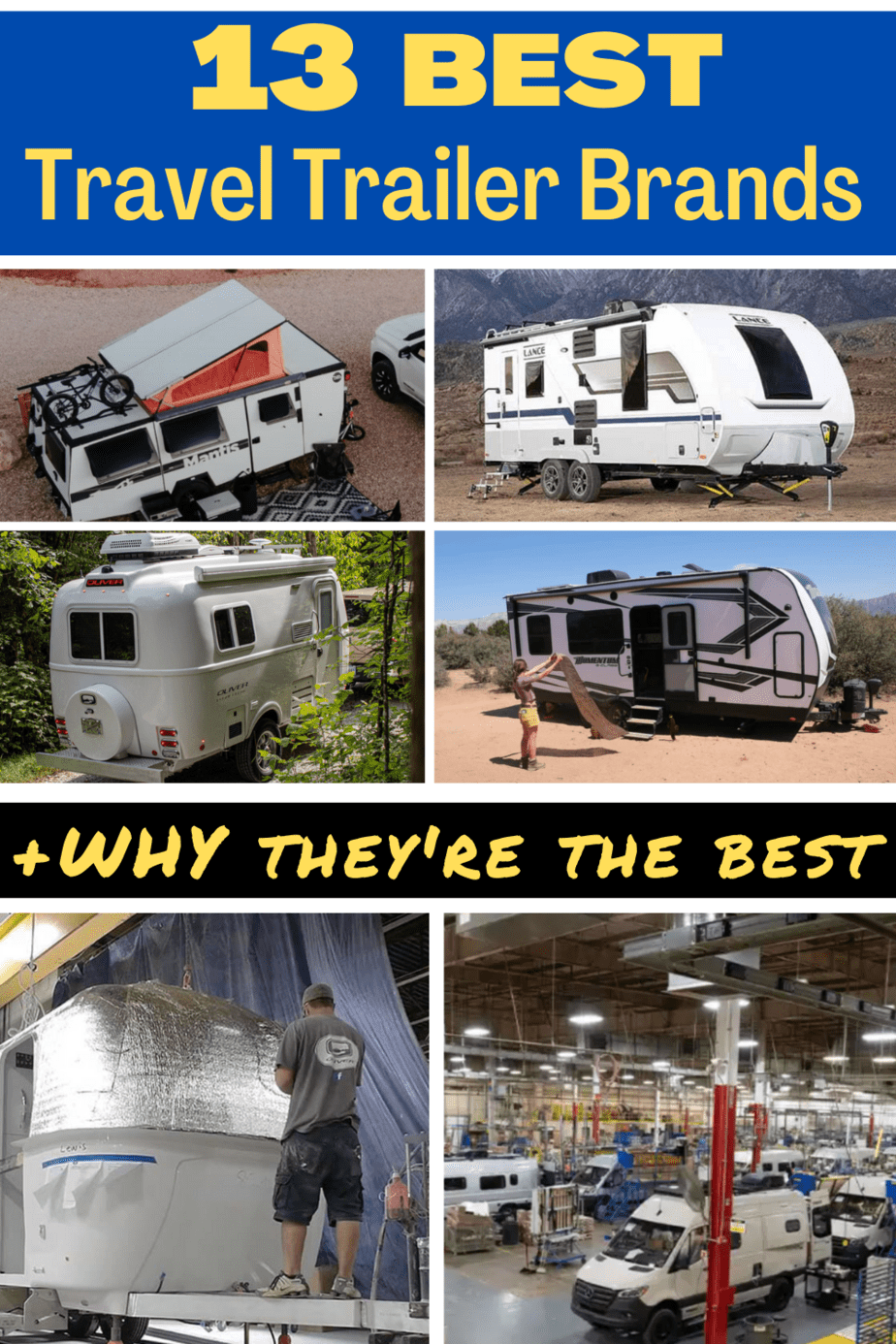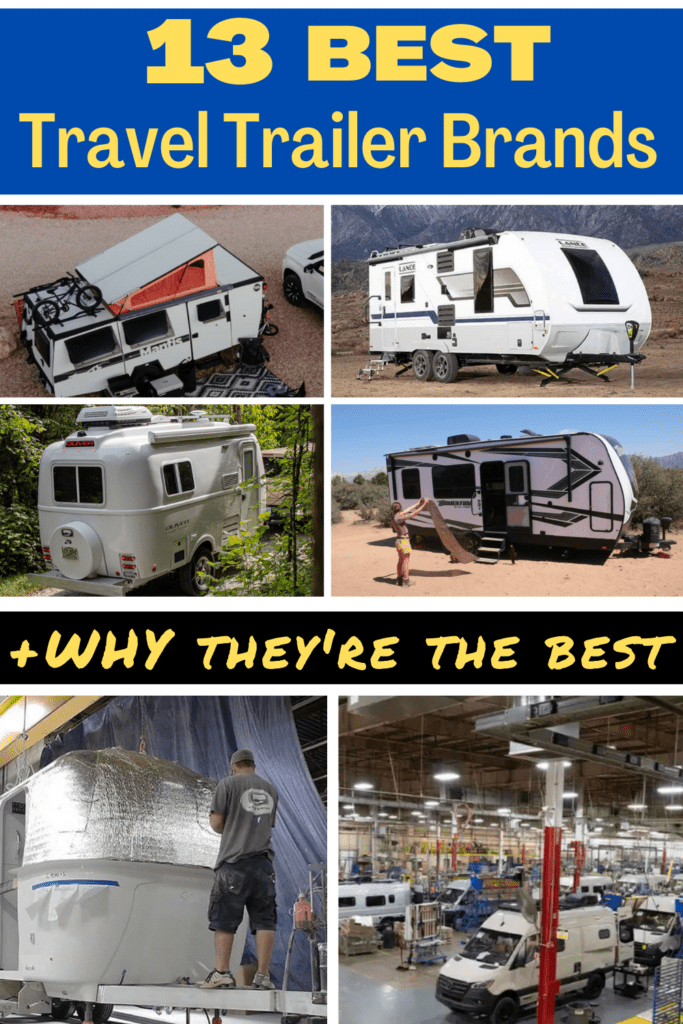 What are the Best Travel Trailer Brands?
Let's just jump right in…in no particular order, these are the 13 very best travel trailer brands out there–from large corporations to family-run businesses:
Taxa Outdoors
Grand Design RV
Airstream Travel Trailers
Thor Industries
Oliver Travel Trailers
Forest River RV
Lance Travel Trailers
Black Series Campers
Winnebago Industries
Scamp Trailers
Opus Trailers
Aliner Trailers
Bigfoot RV
To learn more about these brands, please keep on reading. I'll go through all the criteria that make a travel trailer company great, as well as give you an in-depth look into each brand I've mentioned.
Side note here–a great way to test out the quality of a travel trailer is through RV rental. You can easily rent a travel trailer from RVShare so you can test a travel trailer brand out for yourself before buying!!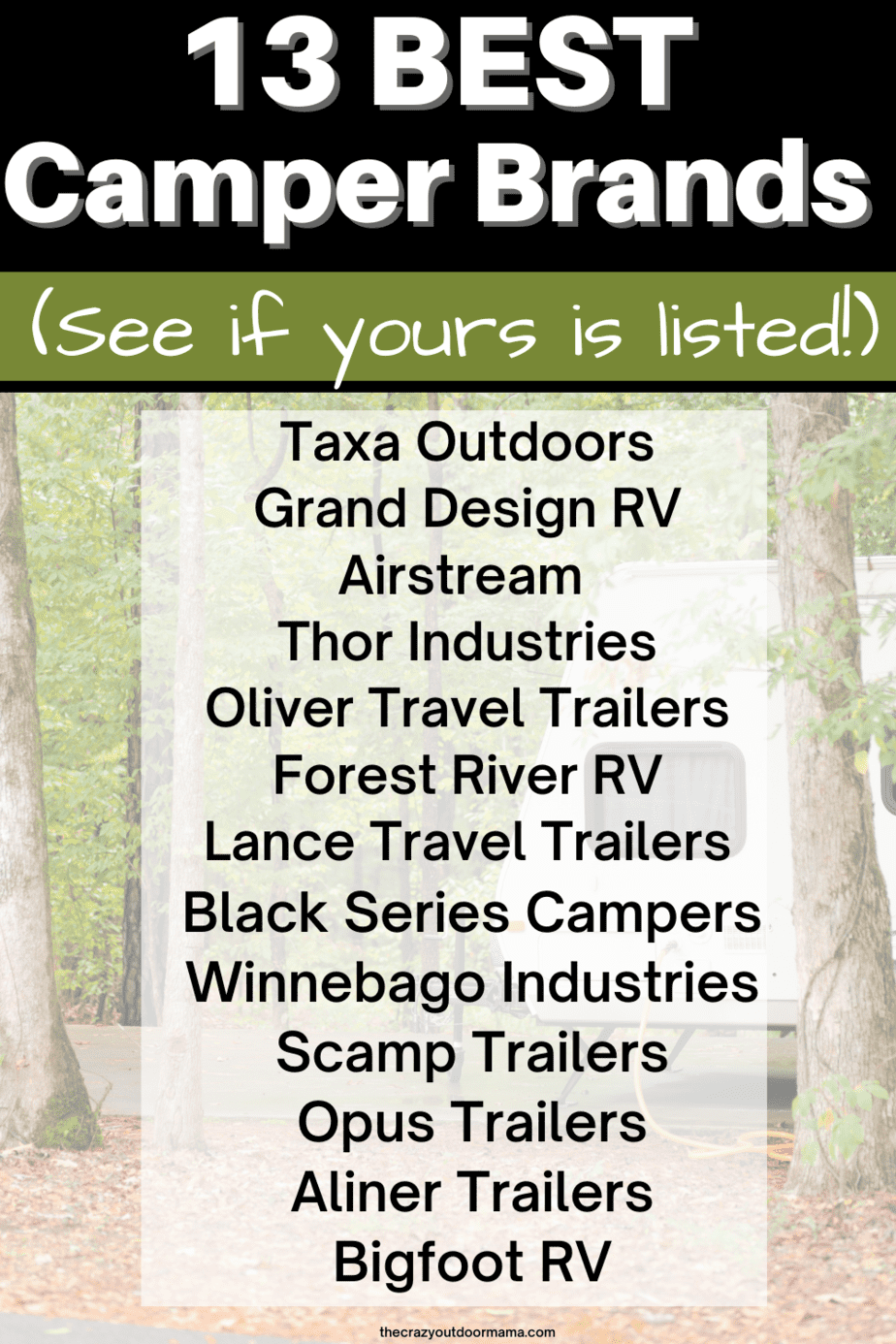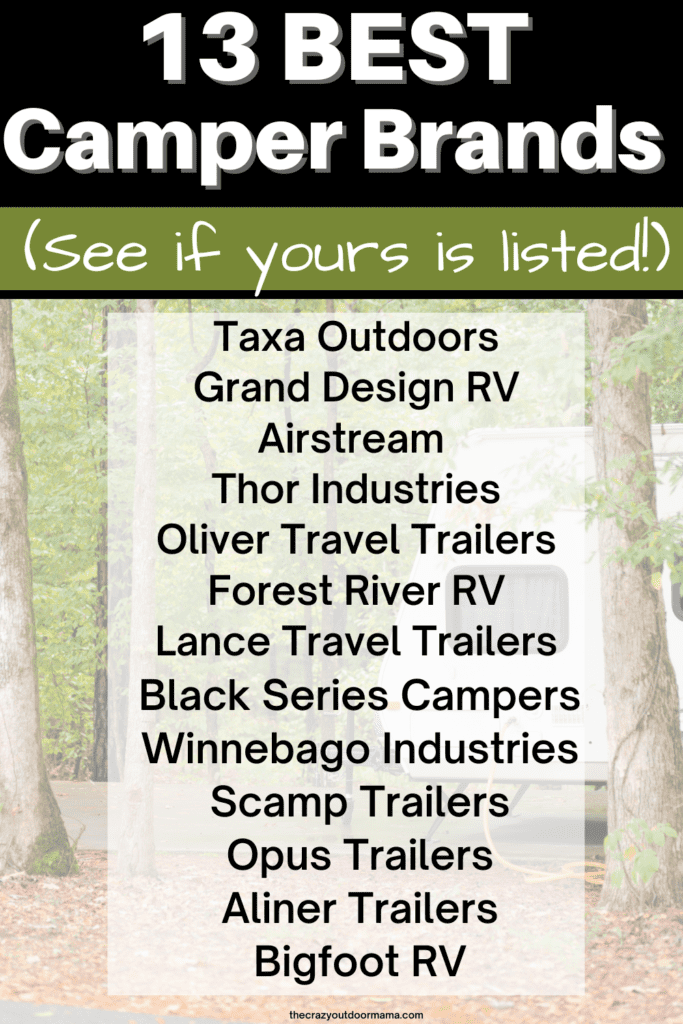 Does It Really Matter What Travel Trailer Brand I Buy?
Yes! I wouldn't recommend buying a travel trailer based on brand alone, but it is a very important factor in choosing the right travel trailer for you. RV brands vary a TON in the quality of products, the value you get, the level of customer service offered, and loads of other areas.
So you want to make sure you're picking an RV from a company with a great reputation.
That's why it's super important to do your research, read real reviews, and get to know the brand you're buying from before you make this big investment. The brand of RV does matter, but you'll also want to make sure the features inside are just what you're looking for as well.
What Makes a Great Travel Trailer Brand?
Before we get started, let's look at the criteria I used to select the best travel trailer brands. If you're doing shopping on your own, just make sure you have some of these expectations and standards in mind when choosing a travel trailer company to purchase from.
Reliability
The best travel trailer brands out there will be very reliable. Basically, what this means is that no matter what travel trailer you choose from their line, it'll have excellent quality and last a long time without too many problems.
One way to tell that a travel trailer manufacturer is reliable is if you see a lot of their old models still on the road today. This means that those trailers have passed the test of rigorous RV life. However, this isn't always applicable since there are plenty of new travel trailer start-ups that produce really high-quality trailers.
Customer Service
Customer service is one of the most important things to research when comparing different travel trailer brands. Having great customer service means that you'll have peace of mind knowing that if anything at all goes wrong after you purchase your RV, they'll help you take care of it.
Other than mechanical malfunctions, having customer service even just to ask questions about your new trailer is an amazing resource.
All the best travel trailer manufacturers will have a direct number you can call to get in touch with someone. Customer service especially stands out in the smaller companies, where you might even be able to speak directly with the person who designed or built your trailer! That's why I've included so many smaller travel trailer manufacturers on this list.
Selection
Having a wide selection of models and floorplans may be really important to you. Maybe you have really specific needs for your new travel trailer, or you just want options to shop from.
A lot of really great RV manufacturers will offer up to a dozen different floorplans on a single model, or total customization on the inside so you have a lot to choose from.
Comfort
Comfort is one point that many travel trailer owners overlook their first time purchasing an RV. Remember, you're going to be living inside this vehicle–even if just for a few days at a time–so comfort should be a top priority.
All the best travel trailer brands ensure that the inside of the travel trailer is as comfortable as possible. This could mean lots of seating options, large beds, or all the amenities you need.
Price
No matter your budget, you'll want to make sure that the travel trailer you're buying is reasonably priced. If you have a smaller budget, that shouldn't mean you'll have to sacrifice the quality of the travel trailer.
Cheaper travel trailer manufacturers are out there that still offer all of the above criteria–their trailers may just have fewer amenities or special specs.
The same goes if you have a larger budget–you want to make sure you're not just paying money to have fancy features in your travel trailer. You should also ensure that the brand will provide you with a functional and high-quality design with excellent customer service.
Tailored to Your Camping Needs
The best travel trailer company for you will make travel trailers that align with the style of camping you like best. Some travel trailer manufacturers specialize in certain types of camping: for example, toy haulers, four seasons, off-roading and boondocking.
So, if you're interested in a specific camping style, make sure you find a travel trailer manufacturer that makes trailers tailored to what you'll be using them for.
13 Top Travel Trailer Brands
Okay, now let's take a deep dive into the very best travel trailer brands. I have them all down below (in no particular order, of course).
Underneath each brand, I'll give you a background of the company, and why owners say it's the best! Then, I'll show you some of the best travel trailer models from each brand so you can get a feel for what they offer.
Small sustainable brand with hugely unique trailers
Company Background:
Started in 2009
Made by hand in Houston, Texas
Popular for overlanding
Why This Brand Is One of the Best:
Sustainably sourced materials
High-quality materials
Transparent build process
TAXA Outdoors is all about transparency, sustainability, and functionality. TAXA's CEO formerly worked for NASA. He brings those functional and efficient design elements into their trailers–and it really shows. Their 7 trailers models all have really awesome designs and customization options to ensure you're as comfortable as possible out on the road.
TAXA Outdoors sources all of their building materials sustainably, and all the trailers are built one by one at their facility in Houston.
They also have an excellent customer service setup. If you go to their website, you can schedule a meeting to talk to an expert about their trailers to see which is best for you. They also have a direct line to speak with customer service, or you can schedule a meeting time with a representative.
Related: Speaking of overlanding: How to Start Overlanding | Overland Camping for Beginners
Popular Travel Trailers this Brand Offers – Cricket and Mantis
Here's the video tour:
Source: taxaoudoors.com
Here's the video tour:
Reliable travel trailers and great customer service (and we personally agree – below is our Momentum 21g that WE LOVE!)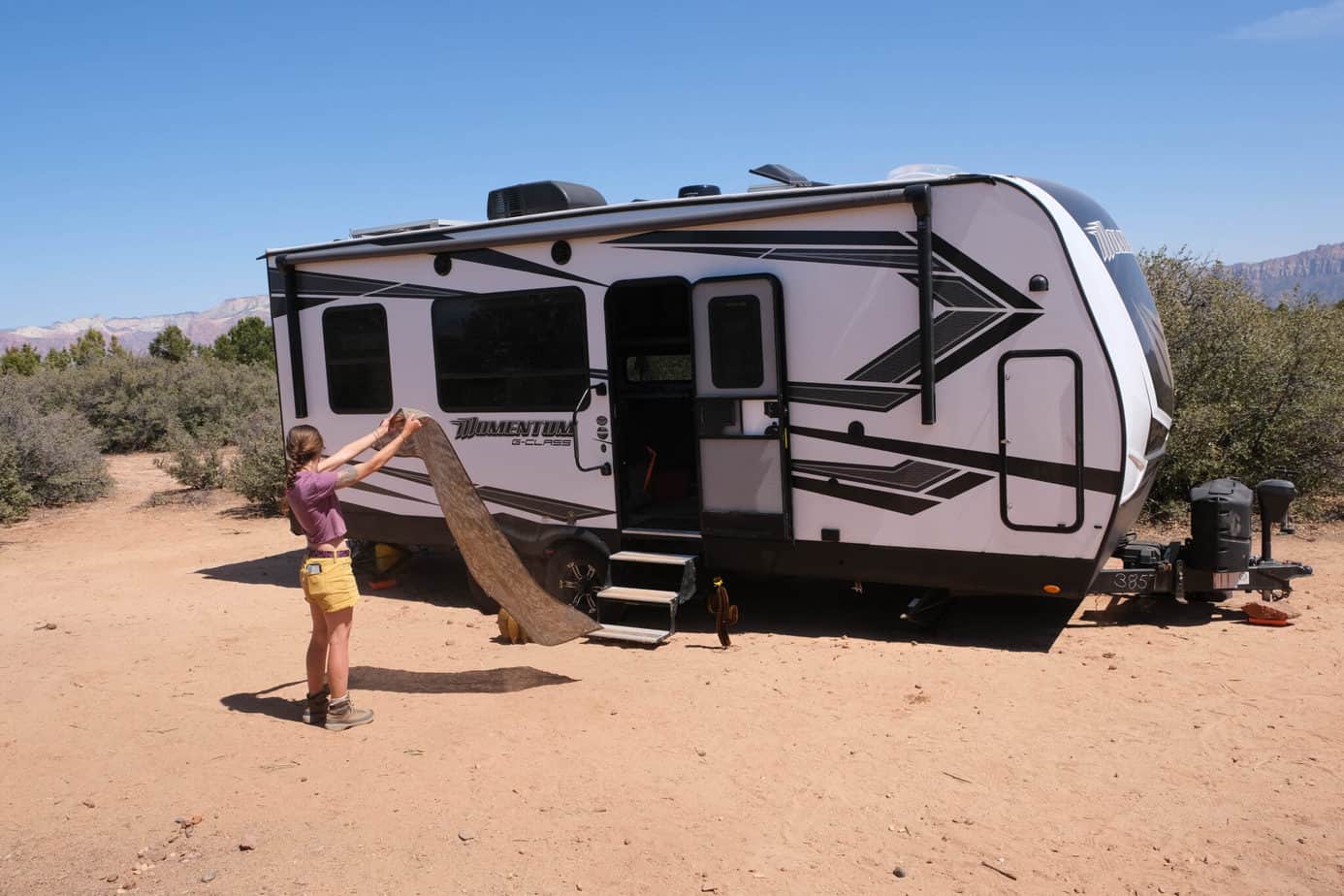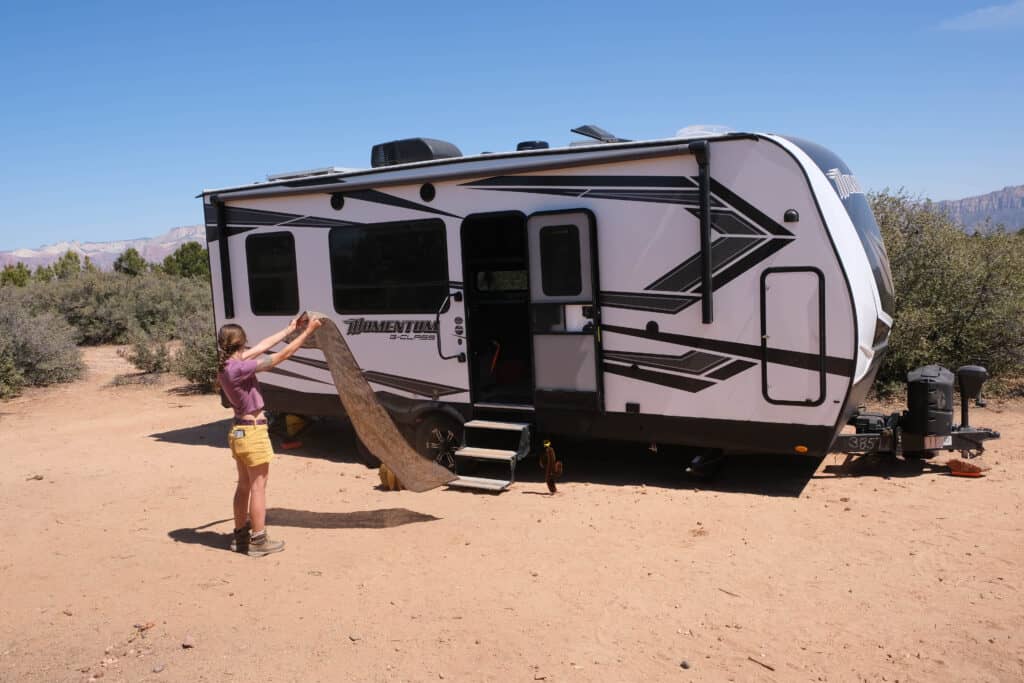 Company Background:
Started in 2012
Manufactured in Indiana
Why This Brand Is One of the Best:
Excellent customer service
Warranty provided on each trailer sold
Rigorous inspection process
Grand Design RV was started in 2012 by three former executives at a very large RV manufacturer. The execs felt they had lost touch with the customers and employees, and wanted to start a smaller company that was based around a personal connection with employees, dealers, and customers.
Grand Design RV's trailers may look similar to a lot of those from much larger RV manufacturers, but they're still a small company. They have one warehouse in Indiana where they manufacture all four of their travel trailer models–with varying floorplans for each. Each trailer is put through a rigorous inspection process so you know that you'll be receiving a reliable trailer.
The company also really values high-quality customer service, so they'll be in contact with you before, during, and after the buying process. You'll also get a guaranteed 3-year warranty on any RV purchased from them at no extra cost.
Popular Travel Trailers This Brand Offers – Imagine and Reflection
Here's a tour of the 2670MK floorplan:
Here's a tour of the 315RLTS floorplan:
Iconic retro-style travel trailers at a price
Company Background:
Started in 1931–one of the oldest travel trailer manufacturers
Known for its iconic aerodynamic aluminum design
Made in Jackson Center, Ohio
Why This Brand Is One of the Best:
Their travel trailers are built to last
Uses recycled materials
Low maintenance and ownership costs
Airstream is one of the oldest travel trailer manufacturers that's still around today. They have been making travel trailers since 1931 and are now owned by Thor Industries.
Each Airstream travel trailer made in their Ohio factory takes around 350 hours to complete. (Average trailers take about 50 hours). Their craftspeople and design team put tons of effort into ensuring the trailers will be super reliable.
And the commitment to quality really shows with Airstream–75% of all the Airstreams ever manufactured are still on the road today. (That's compared to the average lifespan of about 15 years for a regular travel trailer). When you buy an Airstream you can be totally sure that it'll last a lifetime. 
Keep in mind that all that quality comes at a cost. Their smallest trailer, the Bambi, is going for at least $56,000 at the time I'm writing this. However, Airstream also has the lowest maintenance and ownership costs and highest resale value of any travel trailer manufacturer.
Popular travel trailers this brand offers – Classic and Bambi
Here's a tour of the 33FB floorplan:
Here's a walkthrough that compares the different floorplans:
Small company making high quality 4 seasons fiberglass trailers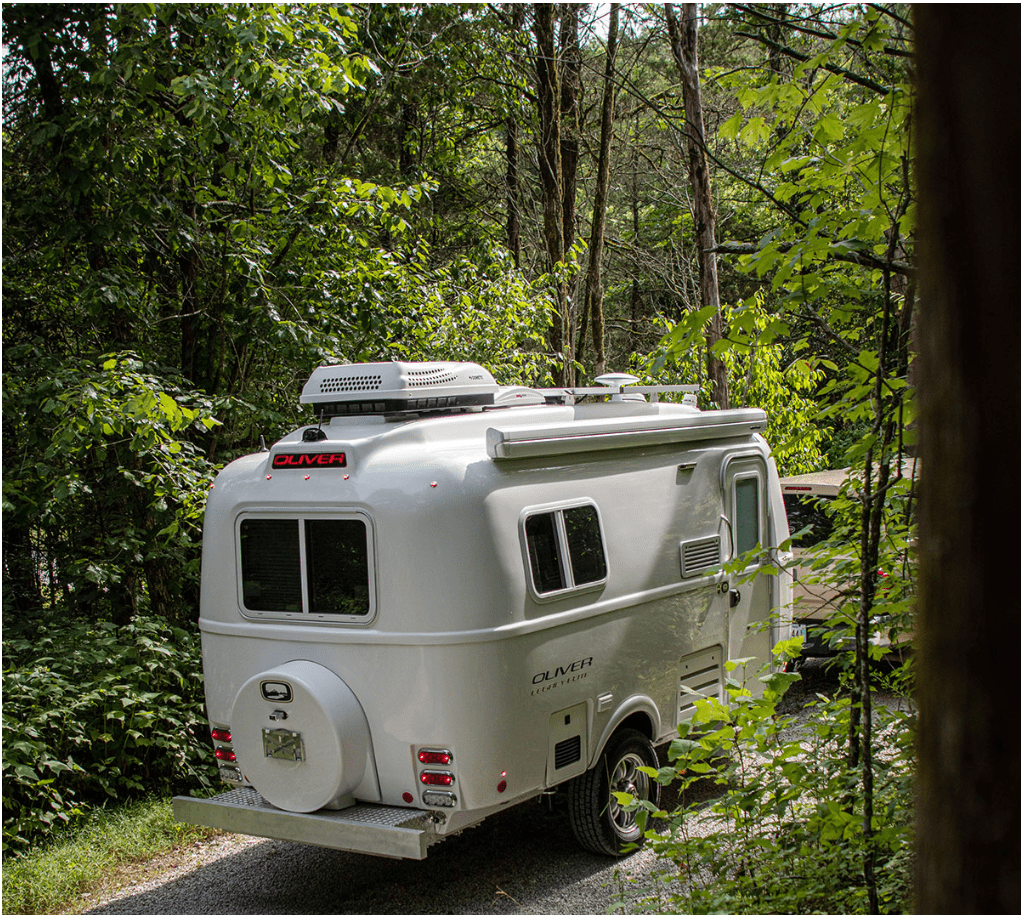 Company Background:
Started in 2007
Known for 4 seasons fiberglass trailers
Made in Hohenwald, Tennessee
Why This Brand Is One of the Best
Made with four fiberglass shells
Personalized education and paid-for first night for buyers
Built to last
Oliver Travel Trailers are very high-quality fiberglass trailers built for four seasons living at the Oliver factory in Tenessee. All the trailers are made with four shells, two inner and two outer, that give you excellent insulation.
The customer care given by Oliver is unbeatable. Once you've selected your trailer, you'll head down to the factory in Tenessee. Oliver employees will lead you through a personalized class on your own trailer. Then, they'll pay for you to camp your first night at one of two local campsites so you can be sure there are no issues with the trailer. After that, they'll ship it to you for free!
Related – Here are some more great 4 season travel trailer options: 10 Best 4 Season Travel Trailers and RVs (2022) Video Tours + Pics
Popular travel trailers this brand offers – Legacy Elite
Here's the tour:
Huge selection of budget-friendly options
Source: forestriverinc.com
Company Background:
Started in 1996
One of the largest RV manufacturers in the U.S.
Why This Brand Is One of the Best
Huge array of travel trailers to choose from
Multiple manufacturing sites mean you won't have to wait to receive your trailer
High-quality standards and inspection process
Forest River RV started in 1996 and has grown to be one of the largest RV manufacturers in North America. They have a huge array of everything from Class A motorhomes to tiny trailers. All-in-all, they offer a few dozen types of trailers, all with tons of different floorplans so you have a lot to choose from.
Plus, since they're such a large company, they have several manufacturing centers. Unlike some smaller companies where you might be put on a waitlist to get your trailer, there are dealers all over the country with tons of Forest River trailers in stock and ready to go.
Popular Travel Trailers This Brand Offers Flagstaff E-Pro and Cherokee
Here's a video tour of the E19FDS floorplan:
Here's a video tour of the 2022 Cherokee 274BRB:
Lightweight trailers with luxurious interiors
Company Background:
Started in 1965
Known for truck campers but recently ventured into travel trailers
Why This Brand Is One of the Best:
Lightweight, reliable four seasons trailers
Guaranteed 2-year warranty on every camper
Gorgeous, comfortable interiors
Lance Camper started in 1965. They're famous for making truck bed campers but started manufacturing travel trailers in 2009. The longevity of their truck campers (most of which are still around) is really a testament to the design quality and thought put into each camper they make.
They currently have a line of 11 different travel trailers. All of their trailers are ultra-light and are built for four seasons weather. What really stands out to me with Lance is the quality inside the trailers.
They just look super comfortable, but still chic and modern inside. They have a comparable price range to other large manufacturers, but I think the interior design of these trailers is what makes them special.
Related: Need options for even lighter-weight travel trailers? Check here: 11 Cool Travel Trailers Under 2000 lbs
Popular Travel Trailers This Brand Offers – Lance 1475 and Lance 2075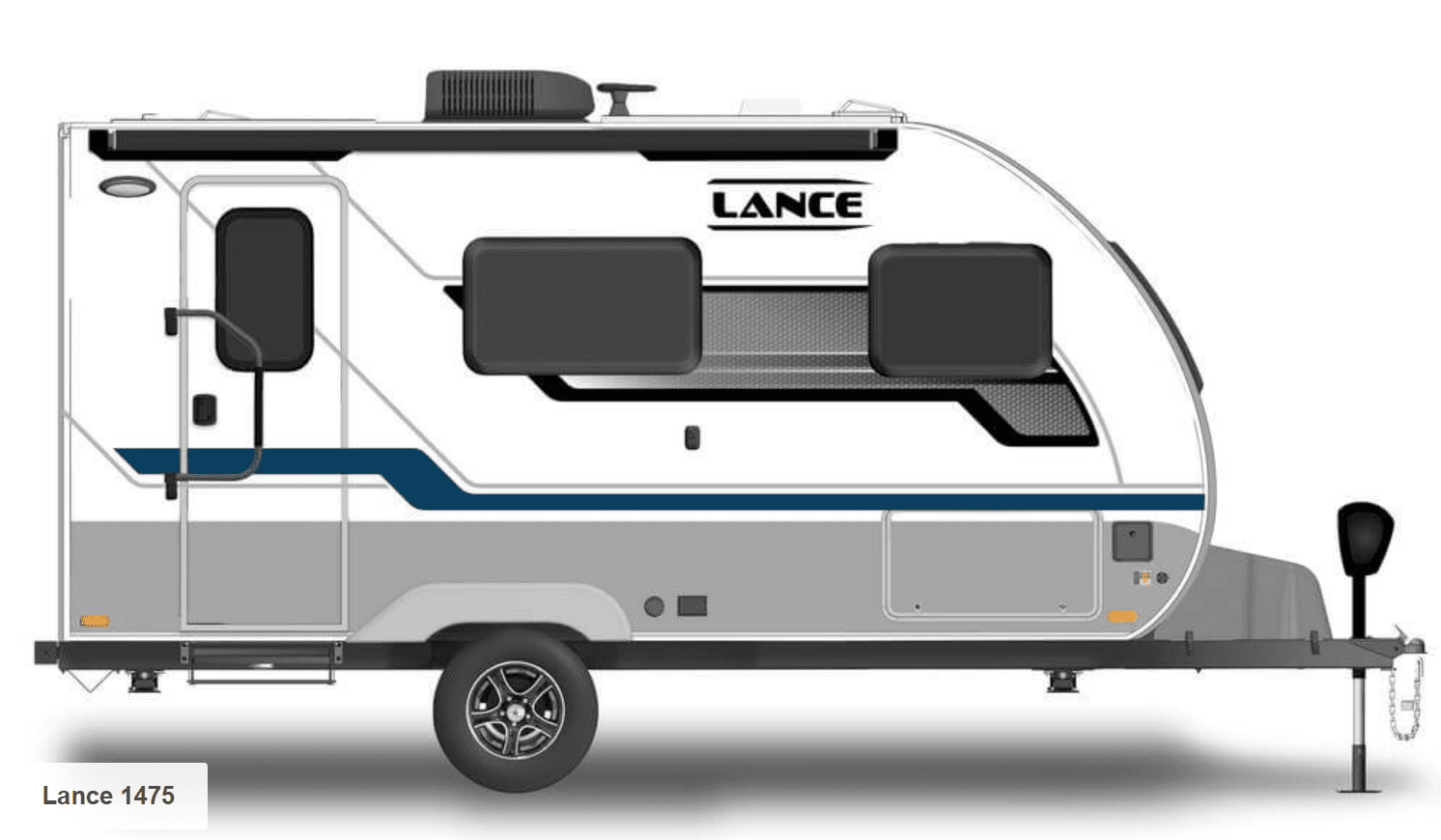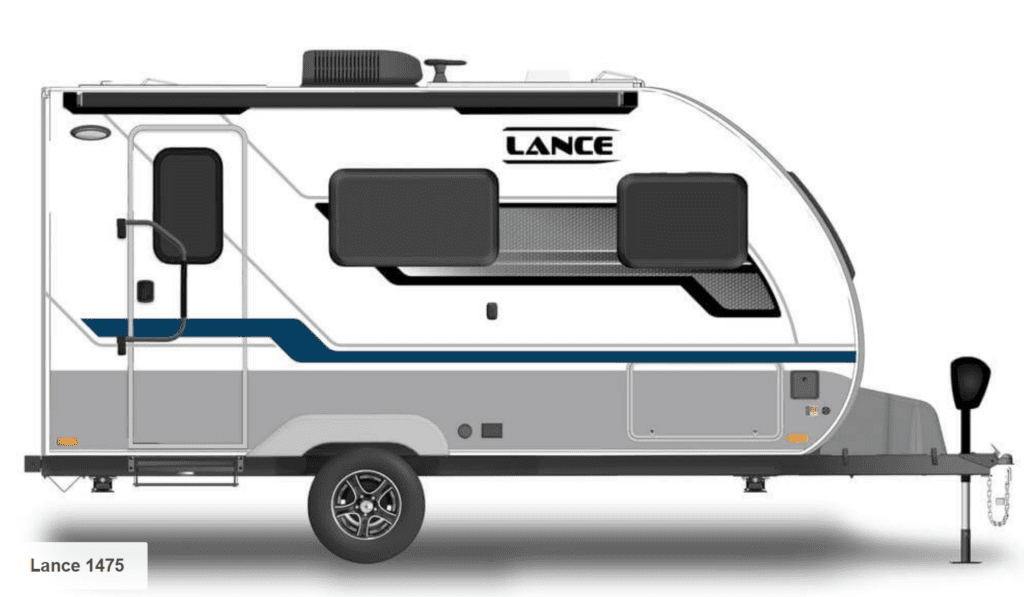 Here's a quick tour:
Source: lancecamper.com

Here's the tour:
Rugged off-roading trailers with super unique designs and luxury features
Company Background:
Started in 1995
Known for super unique off-roading trailers
Based in Australia, China, and the U.S.
Why This Brand Is One of the Best:
Off-grid trailers with awesome features
Built to last with super high-quality construction
Transparent build and quality control process
One look at a travel trailer from Black Series and you know it's a special brand. Their rugged trailers are built to go off the road and off the grid. They currently have a line of six different trailers, all packed with features that help you stay outdoors longer.
They've got solar panels, large water tanks, an armored chassis, and an independent suspension system. Anything you can think of to put on an off-road trailer, they've got it.
And you won't have to sacrifice comfort when you're in the great outdoors. They put a lot of effort into ensuring that the interior is super comfortable and that you'll have all the amenities you need like showers, toilets, and refrigerators.
Related – Here are some pretty cool off road tear drop campers to consider as well!
Popular Travel Trailers This Brand Offers – HQ12 and HQ19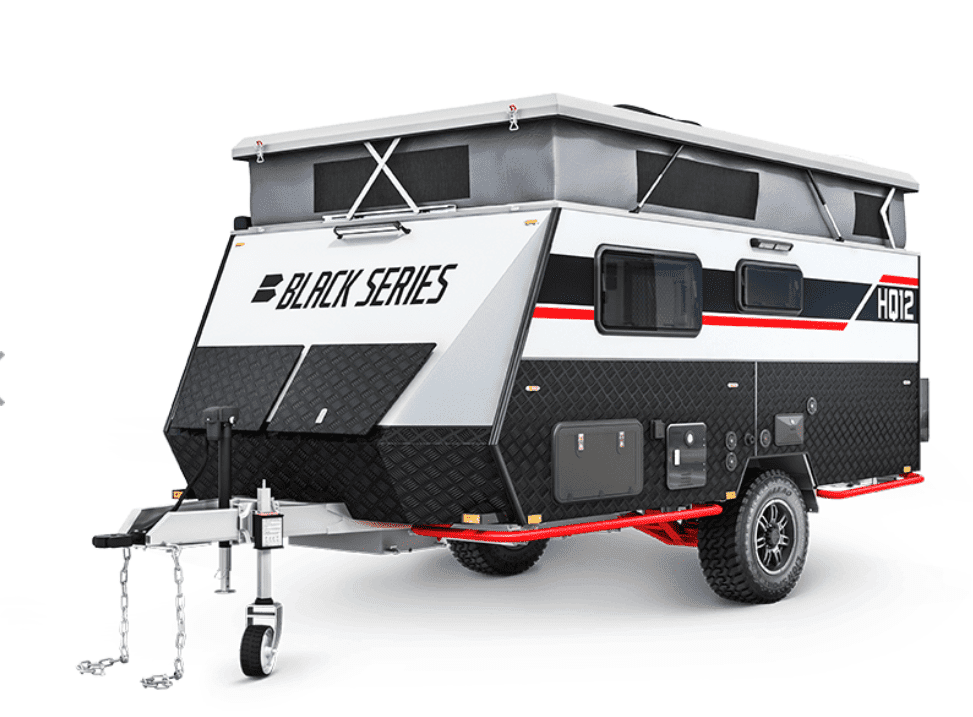 Here's the walkthrough:
Watch the tour:
For other off-roading trailer options, check here: – 13 Best Off Road Travel Trailers and Campers with Bathrooms
Diverse lineup of reliable trailers for any camping style
Company Background:
Making campers since 1961
Known for reliable campervans and towables
Also owns Grand Design RV and Newmar
Why Winnebago Is One of the Best:
Reliable–one of the oldest brands still on the market
Versatile lineup of campers
Widely known as an industry standard for RVs
If you've heard of any RV brand, it's probably Winnebago. They've been around a while and have consistently produced high-quality travel trailers and campers since they began in 1961. Now, Winnebago Industries owns Grand Design RV, Newmar, and a few boat companies. Their RVs are considered an industry standard so you can be assured they're high quality and hold value really well.
Other than their reliability and value retention, the best thing about Winnebago's trailers is the diverse lineup. A lot of travel trailer companies' trailers all look pretty similar, but Winnebago has a trailer for you no matter what you need. From an off-road capable ultra-lightweight two-person trailer to a luxury camper that sleeps six.
Popular Travel Trailers Winnebago Offers – Minnie
Here's a walkthrough of the 2500FL floorplan:
Family-run business making ultra-cute and practical fiberglass trailers
Company Background:
Started by two brothers
Based out of British Colombia, Canada
Known for fiberglass shell travel trailers
Why Armadillo Trailers is One of the Best
Cute and classic round fiberglass design
Very small family-run business with excellent customer service
Excellent amenities and interior personalization options
If you're looking for a high-quality fiberglass trailer with all the amenities, Armadillo might be your best bet. The company was started by two brothers in British Colombia and operates on a very small scale. Each trailer is made to order and they have amazing personable customer service.
The trailers are made of a lightweight fiberglass shell. Inside, they pack a lot of amenities into a small space. You can totally personalize the trailer adding an air conditioner, water heater, toilet, shower, and any other amenity you think you may want. They currently offer two trailers: the original Armadillo and the BACKPACK, which is a bit larger.
Armadillo's Trailers – Armadillo and BACKPACK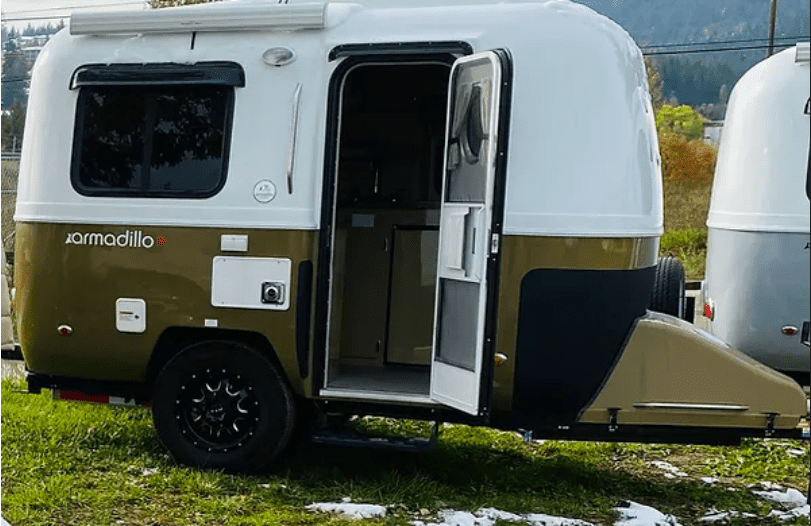 Here's a tour of this original model: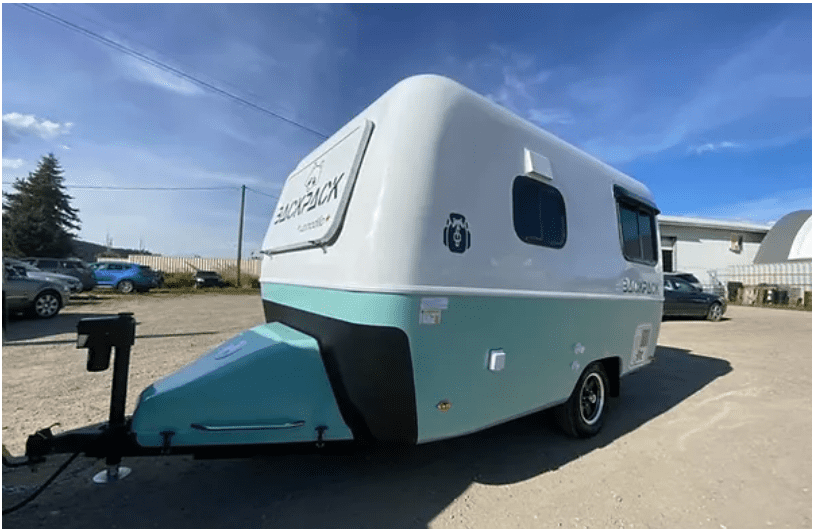 Here's a quick tour:
Affordable lightweight trailers with a classic fiberglass design
Company Background:
Started in 1975
Known for classic fiberglass trailers that haven't changed much since the brand's start
Headquartered and manufactured in Backus, Minnesota
Why Scamp Trailers Is One of the Best:
Smart floorplans
Super lightweight
Long-lasting and holds value very well
Tons of repair info and materials available — large and loyal owner community
Up there with Airstream, Scamp trailers are among the most recognizable campers out there. They've been around since 1975 and the design hasn't really changed much since. Scamp makes three sizes of durable fiberglass trailers. They have an ultra-light 13' model up to the Scamp 19' which will sleep 6.
Scamp Trailers is a truly reliable company, and it really shows through with how long their trailers last. Scamps sold when the company first started are still around today and hold value really well. Inside, you get smart floorplans that really maximize the small area. Keep in mind, that the interior won't be anything fancy. But for the quality and reliability you get, these trailers are super cheap.
Popular Scamp Trailers – Scamp 13' and Scamp 16'
Here's a tour:
Here's a walkthrough:
Low profile trailers designed for off-roading
Company Background:
Started in 2009
Based in Australia
Known for making great off-roading trailers
Why Opus Camper Is One of the Best:
Lightweight
Super easy to setup
Durable trailers built to last
Gorgeous, comfortable interiors
Opus Camper has trailers designed to withstand the harsh Australian Outback. They make two super unique popup campers and one model of a "hybrid" caravan. Their hybrid caravan is designed to have a super low profile and pops up at the campsite with an extra 6 inches of headroom.
Each trailer is fitted with some gorgeous and comfortable amenities. They have bamboo cabinetry, full outdoor kitchens, and tons of extras that allow you to stay off-grid for longer. The trailers are ultra-lightweight, but super rugged and will be able to go wherever your towing vehicle can take you.
Related: Here are some other great options for off-road pop-up campers:  – 7 Best Off Road Pop Up Campers
Opus Campers' Travel Trailer – OP15
Source: opuscamper.us
Check out the walkthrough:
Small, lightweight A-frame trailers
Company Background:
Started in the 1970s
The original A-frame camper
Based in Pennsylvania
Why Aliner Campers is One of the Best:
Lightweight campers
Fits into small spaces
Range of campers for campground camping and boondocking
Aliner was started in the '70s and was the first A-frame trailer on the market. While Aliner's RVs are technically pop-up campers, they're more similar to a small travel trailer as they have hard sides.
The unique A-frame design allows the trailers to be super small and lightweight, but you still get standing room where you need it. When driving, the camper looks kind of like a regular pop-up camper. Then, when you park, the middle pops up to give you that classic a-frame shape.
Aliner currently has several different models, though all are approximately the same shape as the Classic model. The differences in the trailers are mostly in what they're built for. Aliner makes trailers for casual camping trips, along with trailers for off-grid adventures.
Related – 9 Things You NEED To Know Before Boondocking in Your Camper!
Popular Aliner Travel Trailers: Aliner Classic
Here's the tour:
High-quality fiberglass trailers with great amenities
Company Background:
Started in 1978
Based in British Colombia, Canada
Why Bigfoot RV Is One of the Best:
Lightweight, solid construction
High-quality, residential-style furnishings
Works for paved campsites and off-road dry camping
Bigfoot RV is known for its durable, high-quality travel trailers that hold value really well. They're built with two layers of fiberglass to keep the trailer warm in the winter and cool in the summer.
On the inside, you get residential-style furnishings to really make it feel like a home away from home: solid oak cabinets, a real mattress, and a large fridge. As far as fiberglass trailers, it doesn't get much more high-quality than Bigfoot RV.
They currently have a line of three different models of trailers. Each has tons of add-on options like toilets, showers, and anything else you need to stay comfy out on the road.
Popular Travel Trailers from Bigfoot RV: B17FB
Here's a quick tour of the 2019 model:
Travel Trailer Manufacturer FAQs
Which brand of travel trailers is the best?
Among the best brands of travel trailers include Forest River, Scamp Trailers, Taxa Outdoors, and Airstream Trailers. All of these manufacturers offer excellent value and customer service. However, the brand of travel trailers that's best for you will depend on your needs.
What is the best-selling travel trailer brand?
Jayco Inc. is the best-selling travel trailer brand and has been for the past 14 years. This is because Jayco offers a diverse array of models and floorplans, and has expanded to sell their trailers at distributors all over the United States.
Which is the worst travel-trailer brand?
Some of the worst travel trailer brands include Coachmen, Coleman, and Keystone RV. All of the above consistently receive poor reviews from owners, claiming inconsistent quality.
Conclusion
Maybe the Taxa Outdoors Cricket stood out to you with its unique design and off-grid capabilities. Or, you'd rather pick from a bigger company with a larger selection, like Forest River RV. Whatever your choice, now you know which travel trailer brands out there can provide you with excellent products and service. Happy shopping!!
And remember, if you want to try before you by, check out RVShare to rent a travel trailer near you for a weekend getaway.
If you're ready to start shopping, check out my lists of the very best travel trailers out there: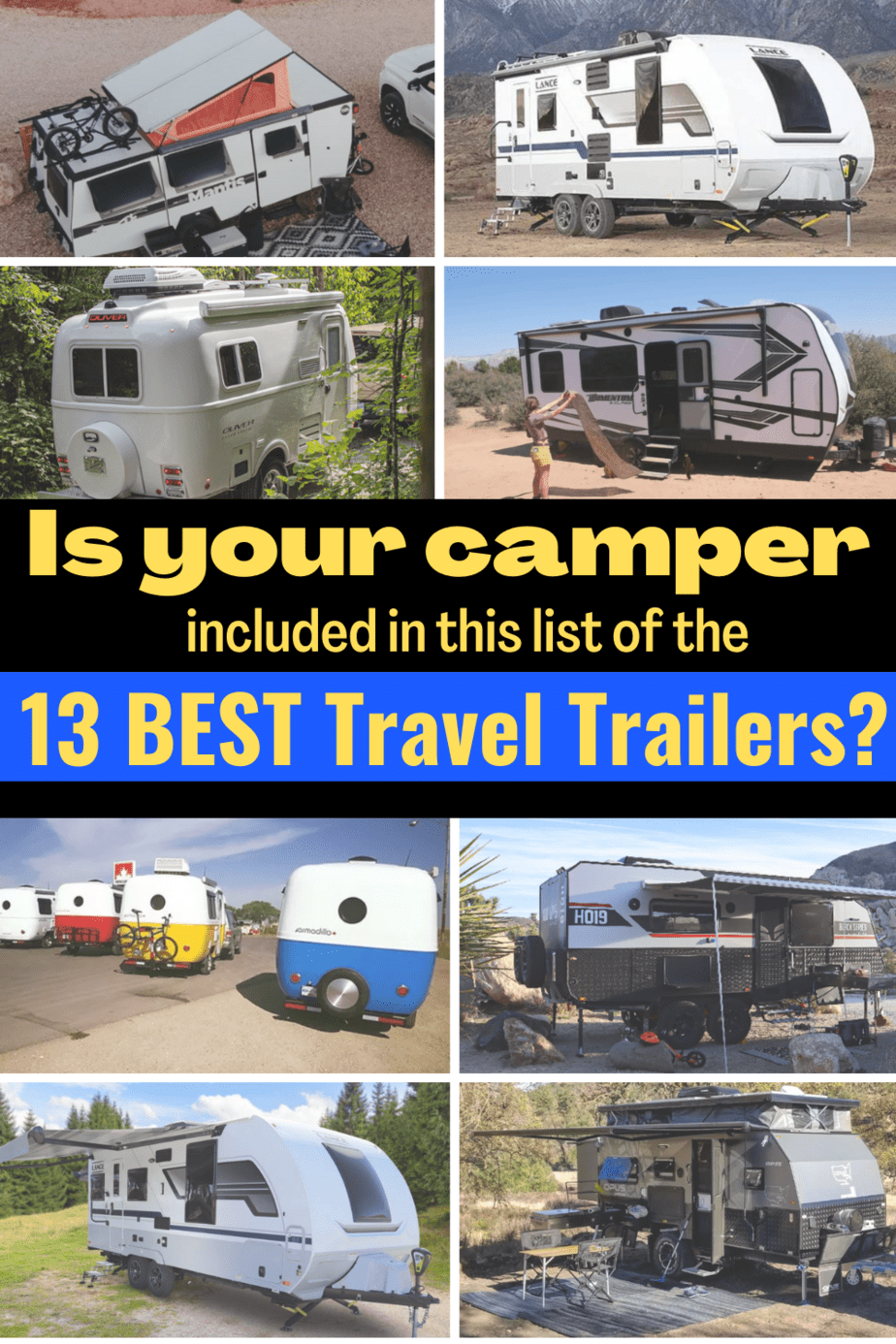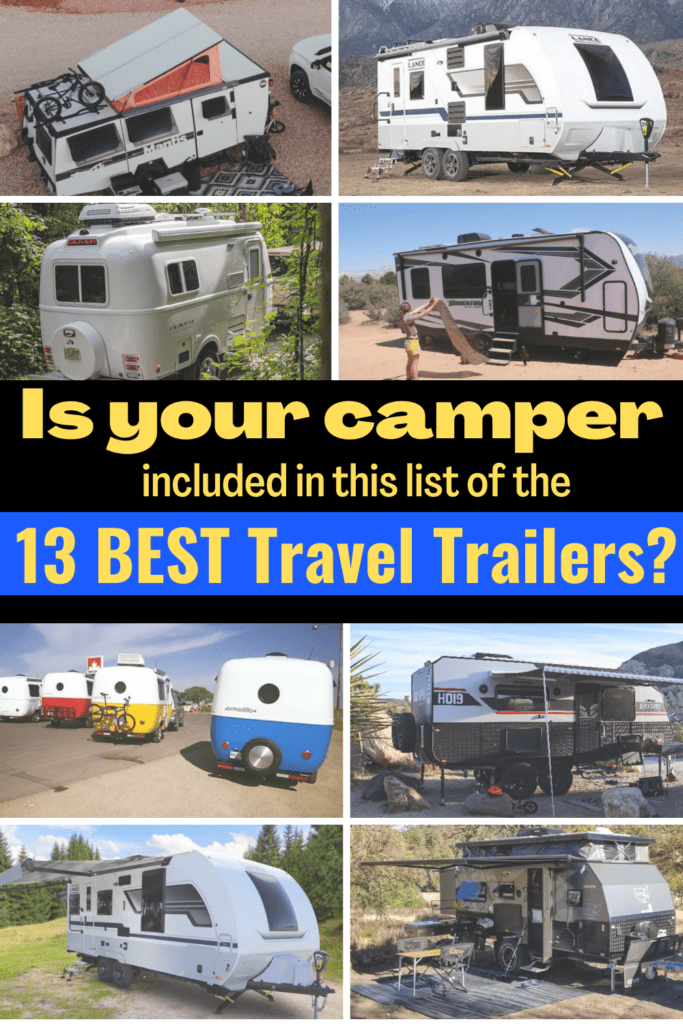 Latest posts by Stacy Bressler
(see all)