Although boondocking is not for everyone, it is certainly one of the best ways to experience RV traveling! You get to unplug and in the process (no cell service sounds terrible at first in this age, but it is a great mental break from social media!) sample some of the most amazing spots and pristine scenery you'll ever see!
The scenery, isolation and mental reset all sound great, but keep in mind that boondocking does require a bit more prep than camping in a "normal" campground with hookups. In this article, you will learn some of the tips you can use to enjoy your first boondocking experience!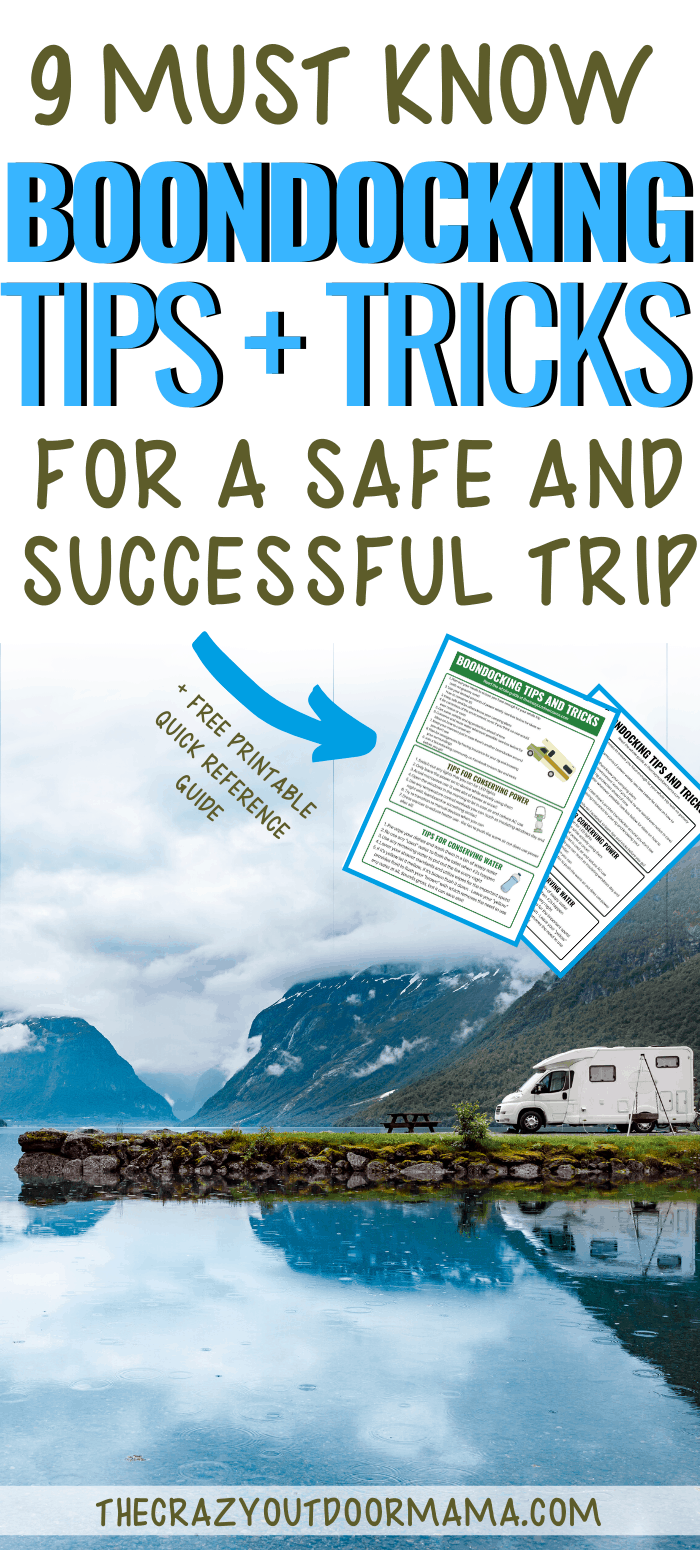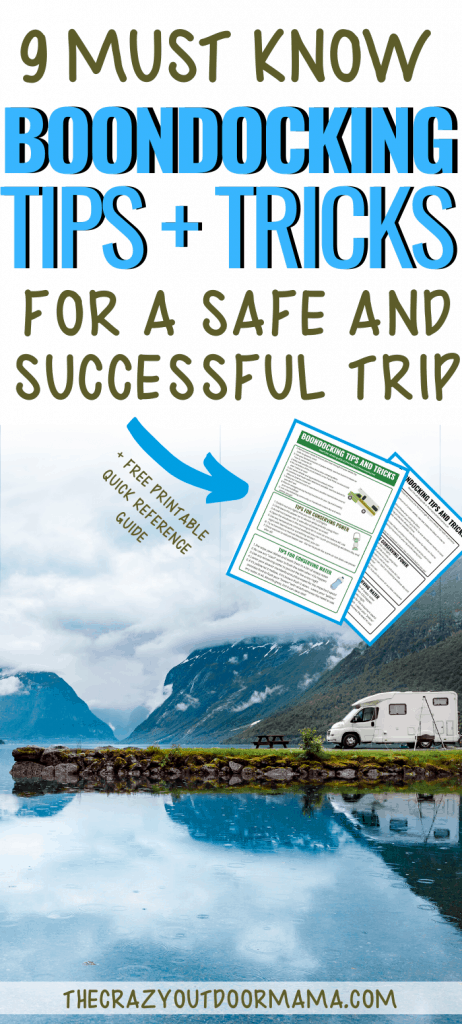 1.    Plan out your meals so you don't have to do an emergency road trip to town!
You will mostly be off-grid, staying in a place where you cannot access gas stations or grocery stores easily. That means you have to pack enough food to last you through the stay (I highly recommend making a meal plan of sorts so that you can use your food wisely!)
With that being said, double check that you'll have enough propane to run your fridge, bring a cooler with dry ice for overflow food, and always bring enough non perishable food to get you through till you can reach somewhere should your plans change!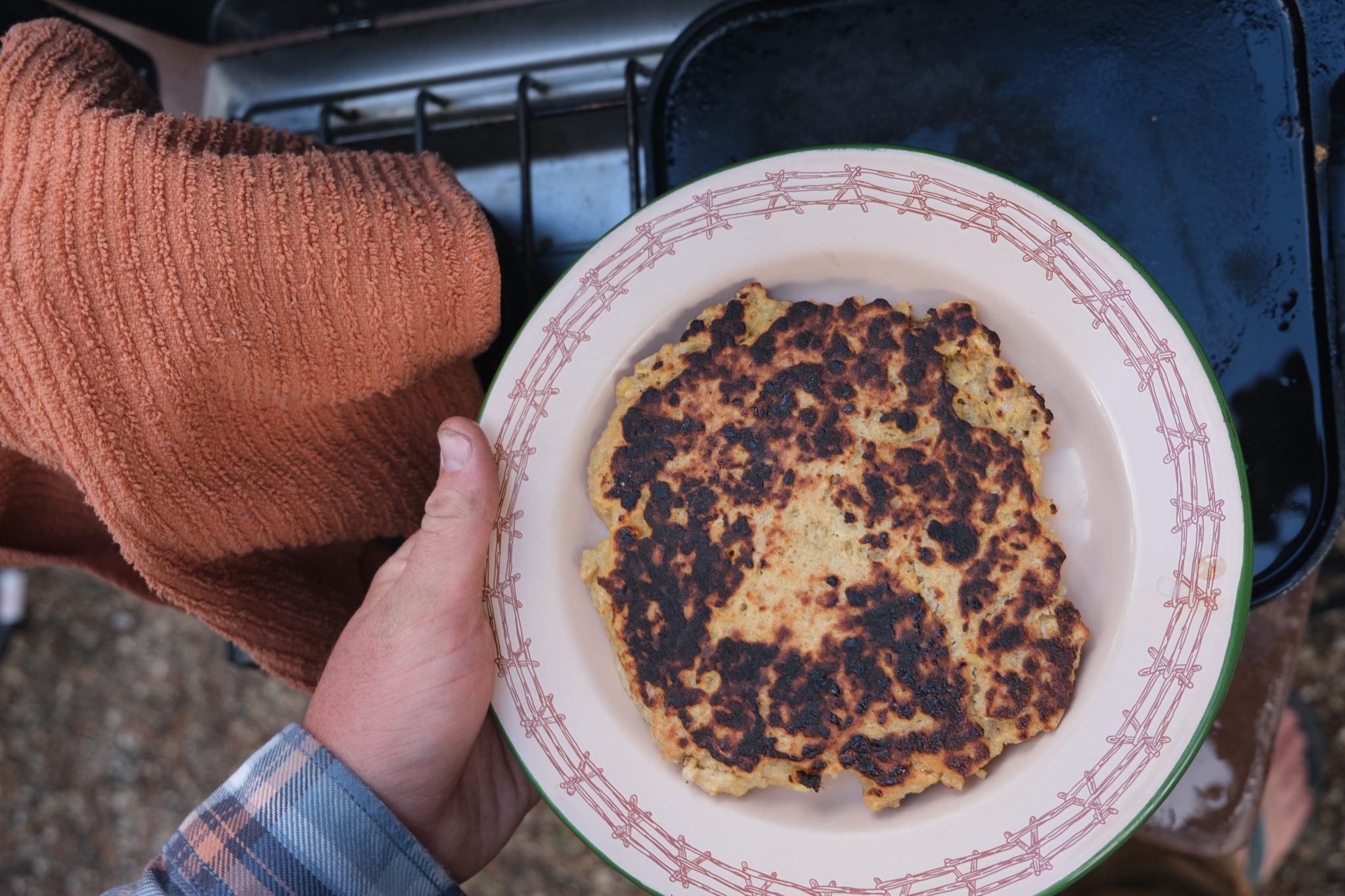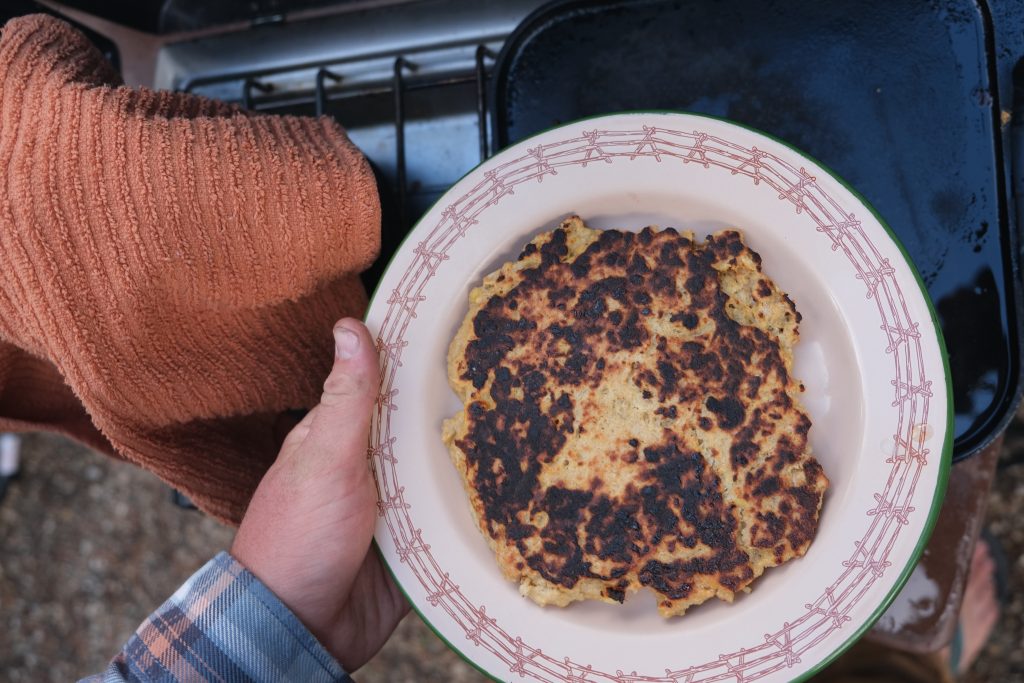 2.   Use your power wisely
If you're boondocking, you'll have no access to "shore power" and will likely either rely on a generator, solar panels or perhaps just not use any power at all! That means you have to evaluate which items that need power are needed vs wanted!
Some things you can do to prep your camper to use less power include
Switch to LEDs – Some say they aren't as bright, but honestly, if you're boondocking you probably aren't in the camper that much anyways! If you have something you really need light for, just try and work during daylight hours!
Only leave the power to items on while you're actively using them This includes things like the bathroom fan or any r radio you have
Avoiding microwave use (it's a lot of power use at once and can really mess with your generator depending on what you use!)
Use the cool morning air – open the windows in the morning to let the cool air in and shut them once it starts to warm up.
Utilize any additional temp control you have – ACs use ALOT of power! I made this

DIY blackout RV window cover

from foam board to block the sun and provide extra insulation so that we didn't have to use the AC for as long or as often!
Try to transition over to manual devices when you can – cowboy and french press coffee are both AMAZING – and they use no electricity! Try and think of other appliances you have you could switch over to the manual version!
Reduce heater use – The fan in your heater actually uses a bit of power! Dress a little warmer at night and in the mornings so you don't have to use it as much (and you'll save on propane too!)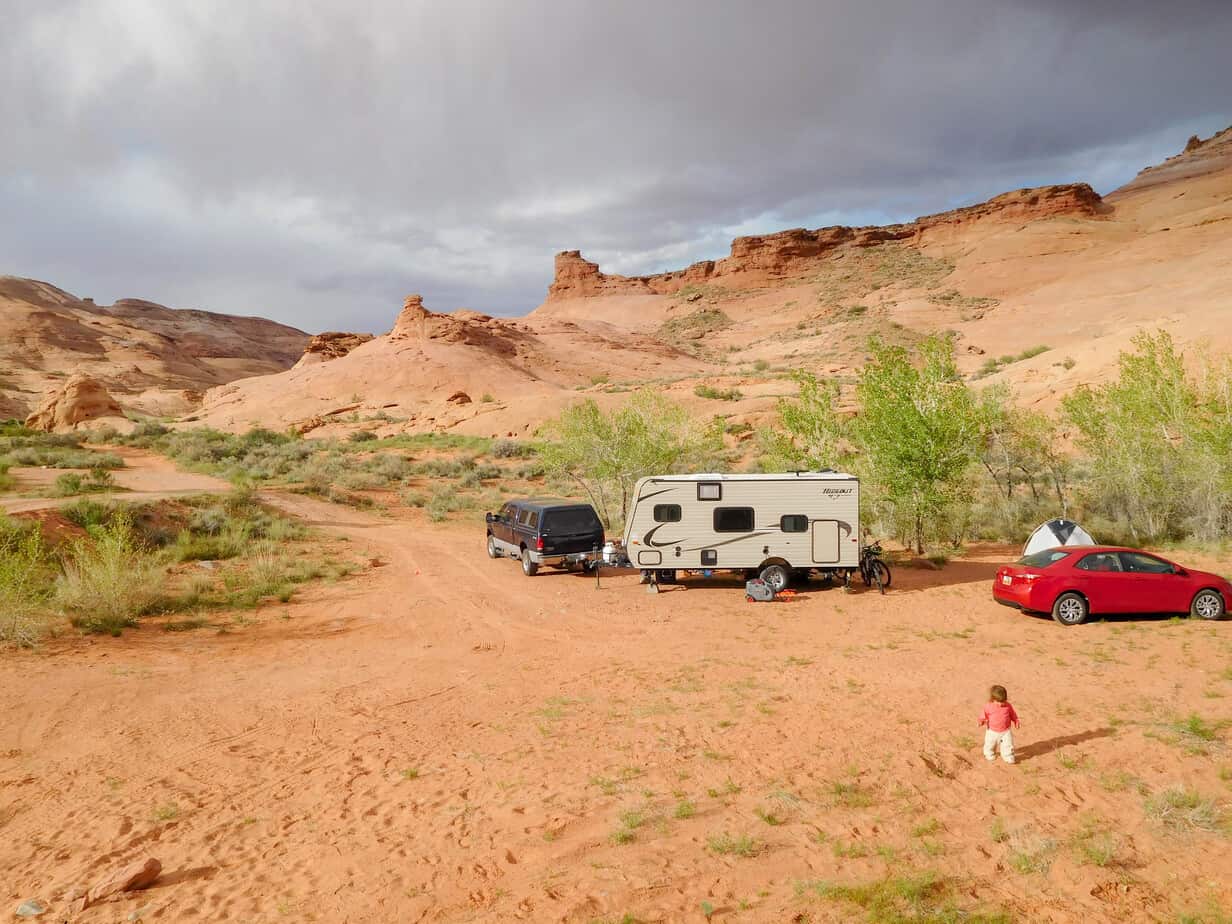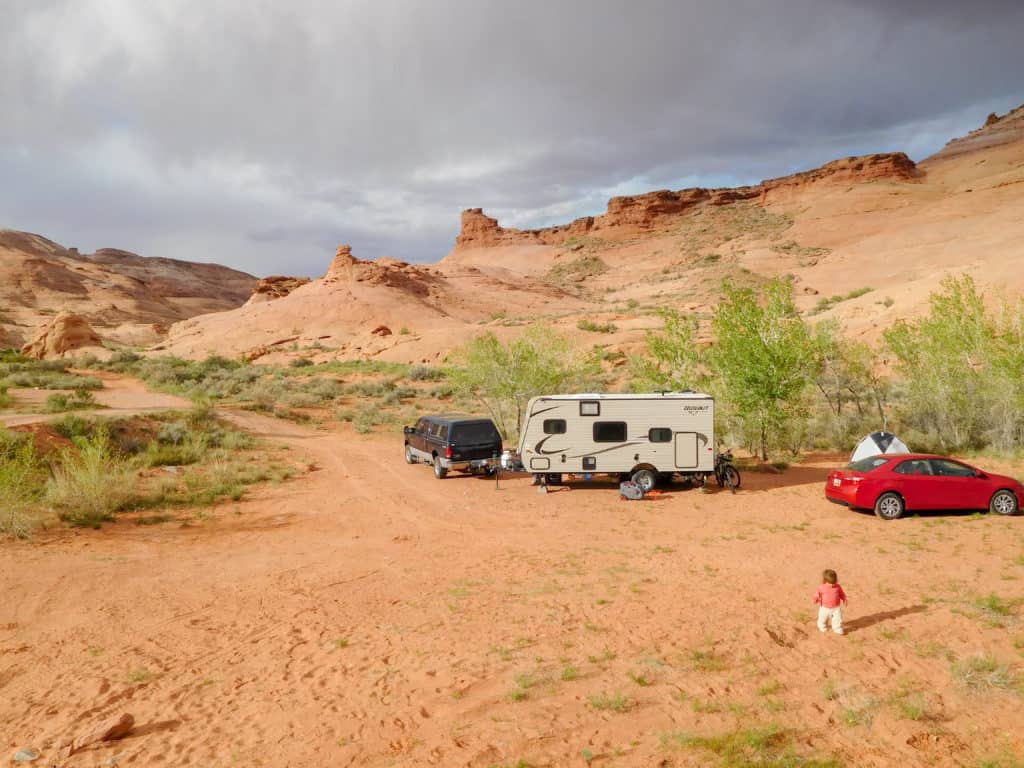 3.    Keep safe and let others know your camping plans
Safety should be an important priority when you are boondocking, especially if you are doing it with your family.
Here are some actions you can take to help keep everyone safe (especially if you're going somewhere with no cell service!)
Use a vehicle that is in good working condition – I can tell you from experience it REALLY sucks to have a vehicle break down while camping! If you're boondocking, it can be much harder to find a tow or repair place, so make sure you keep some basic tools on hand for your vehicle!
Have a basic first aid kit – Make sure to include items like Benadryl and any important prescriptions as well!
Tell someone your plans and locations – We always tell our family a rough idea of where we plan to stay, the locations (sometimes even GPS coordinates) and when to expect contact from us. It's also helpful to include the make and model of your camper/RV/car should you need help and people need to find you!
Get a Garmin InReach Sattelite Device – This isn't necessary, but it has been of immense peace of mind for both my family and those who love us!

Check out the Garmin here

(it's pricey, but if you plan on doing this alot it might be a worthwhile investment)
A firearm – Again, not necessary, but we always carry. I know this is a very personal choice, especially with kids, but we feel the pros outweigh the cons (and I, of course, respect everyone's choice on the matter) When you're isolated and not able to receive help in a timely manner, it's good to be safe from people looking for an opportunity at your expense.
4. Be conscious of the environment (even if you think no one will ever see where you camped!)
The same rule goes for boondocking as anywhere else – leave it better than you found it! Just because you might be camping in the middle of nowhere doesn't mean you get to make a mess of things!
Besides the obvious (no trash, dog poop, etc) make sure to leave no trash in any fire ring you made or apple cores/banana peels around. They might break down over time, but it's not a good idea to leave food scraps for animals!
5.    Get some vehicle and rig protection
You should also take into consideration the wellbeing of your vehicle when you are boondocking. It is a major pain in the behind to break down in the middle of nowhere and not have a clue who to contact (or how to fix your situation!)
This means that you will need to make sure you have the tools needed for basic repair tasks – check out this list of essential RV tools that we always bring with us!
I recommend getting a plan with the Good Sam Roadside Assistance or AAA. We recently got an advertisement from Good Sam, and it does seem like they offer cheaper tow services, so we will probably go with them this year.
Check out Good Sams's Roadside Assistance Plan – they have different levels for every kind of camper and set up!
6.    Conserve water (and reuse it when you can!)
You might not fully realize how much water you use for everyday camp chores until you boondock – usually, it is way more than you should if you want to be out for awhile and not pack a truck bed full of water!
You will need water to bathe, cook food, wash your clothing, drink and maintain some level of hygiene (admittedly, that levels falls quite a bit during boondocking… =P)
I think it's way easier to boondock near water – obviously, it's fun, but then you don't have to worry about dish and flushing water. Just use the river water to wash and do a final rinse with clean water (or wipe it down if you feel comfortable with that and call it good!)
Here are some tips to conserve and make best use of your water while boondocking!
Pre wipe your dishes (and do them in a bin!) – Unlike at home, you shouldn't just use the water to get everything off your plate. Wipe them immediately (stuck on things require more water or soaking!) and then get a big bin of warm soapy water so that you don't have to keep turning your sink on and off!
Use any "used" water for the potty – Save water flushing your #2s and just dump some pre-used water in the bowl! You would be surprised at how quick your grey tank fills up
Use any remaining "used" water to put out the fire every night – We have a 5 gallon bucket we pour any excess used water in. At the end of the night, it's used to put out the fire!
Lower your shower standards – I love long hot showers as much as the next person, but hey… we're camping! Use wipes or rags for the essentials, but save those long showers for the hotel on the way back home or the RV park you will be visiting next.
If it's yellow let it mellow, if it's brown flush it down – I hope I'm not the only person who has heard of that (because it sounds kind of gross) but it is a great way to save water! In fact, if there's a little "yellow" in the toilet before the… brown, then you might not even need to use water to flush with!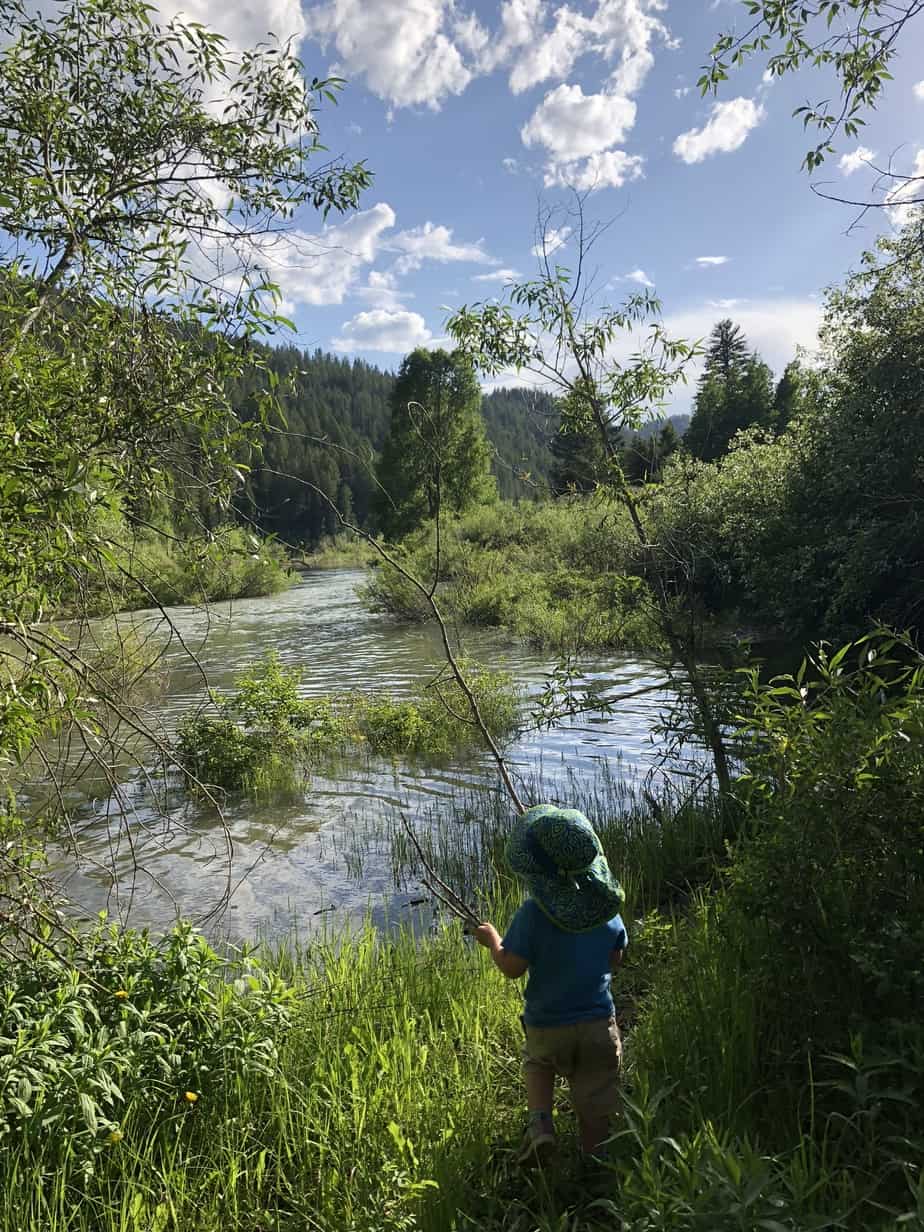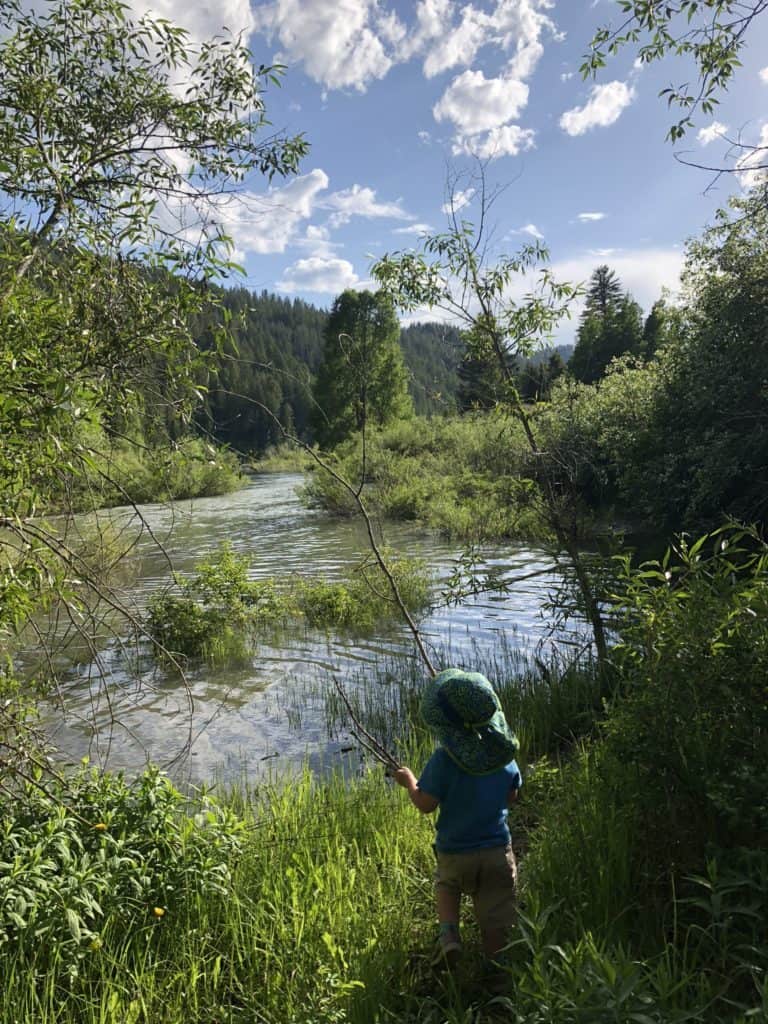 7.    Keep your manners (even if you think there's no one around you)
Go onto any RV forum or FB gorup, and you're bound to find a whole heck of alot of things that annoy other campers – thankfully, they are all pretty reasonable (and I'm surprised that people still do them?)
Anyways, make sure not to do these 13 annoying camping habits – they were the MOST complained about behaviors, and it might be a good read if you haven't camped at all before.
Now, obviously, with boondocking you won't have to worry about some things as much (such as dogs and kids running around) but here's a quick summary.
Don't park yourself right next to another boondocker – This is possibly the rudest thing I've ever seen. Campers boondock to GET AWAY from others!
Don't blast your music – Unless you are camping somewhere flat with no trees and you can see all around you, you never know who might be in earshot.
Let your dogs roam, but have an idea where they are – I HATE when some random dog comes to our campsite.. because of course, they always pee on something! I get that it's hard to see if there are other campers around, but you should probably know where your dog is most of the time anyways.
Make sure your kids know some boondock camp courtesies – No one likes when nosey kiddos bike around their campsite (I have kids, and this still annoys me!) Just let your kids know that it's rude to look in someone's campsite, and if they see one, just keep biking.
Keep your lights off unless you are asbolutely positive there is no one else camped near you – People who boondock usually do so because they really enjoy the solitude and nature sights and sounds… so don't leave your blue LED lights on all night and ruin it.
8.    Plan for emergencies
I wanted to make this it's own section though because it's so important to have a plan if you're going to be far out from others.
As I said before, make sure to bring things like a first aid kit, some basic tools for repairs you might be able to make and let people know where you're going.
Here are some more ways to plan for emergencies while boondocking
Make sure you know any important numbers (so write down your insurance phone number before leaving)
Know what typical conditions for the area you're camping are – floods during spring and wildfires at the end of summer are things to be aware of! For example, it might not be a good idea to camp in a canyon in a known flood area during spring
9.    Join a boondocking community
I HIGHLY recommend joining a boondocking Facebook group for awhile before actually going. This will help you get familiar with common problems and probably get some useful tips along the way from other members!
Just look up "boondocking" in Facebook and you'll find plenty of support groups (like the ones below!)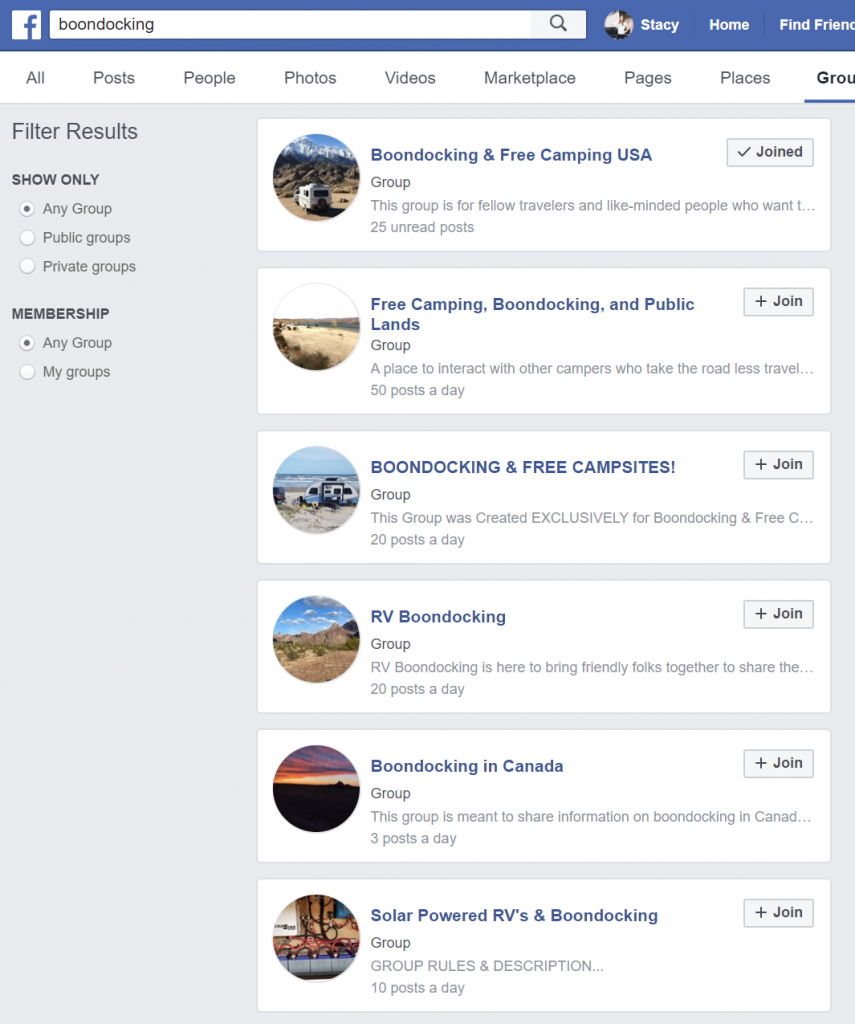 Feel free to print this boondocking tips PDF to remind yourself later!
While I love campgrounds because of how "easy" it is to camp there, I also love the solitude of boondocking!
I hope these tips have given you an idea of what you should look into more if you plan on going soon!
Just click on the version of the tips you'd prefer (color or black and white) and you'll be taken to the PDF to download it!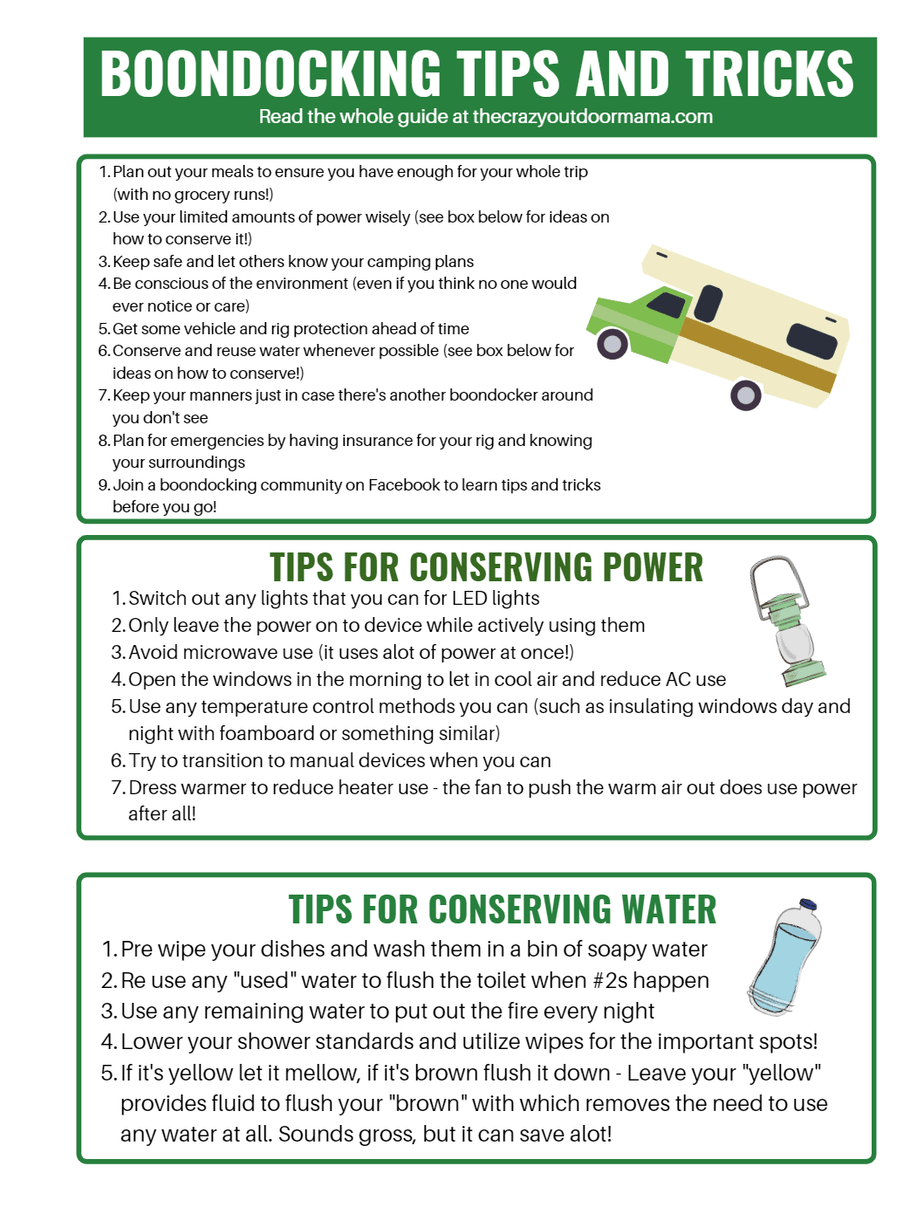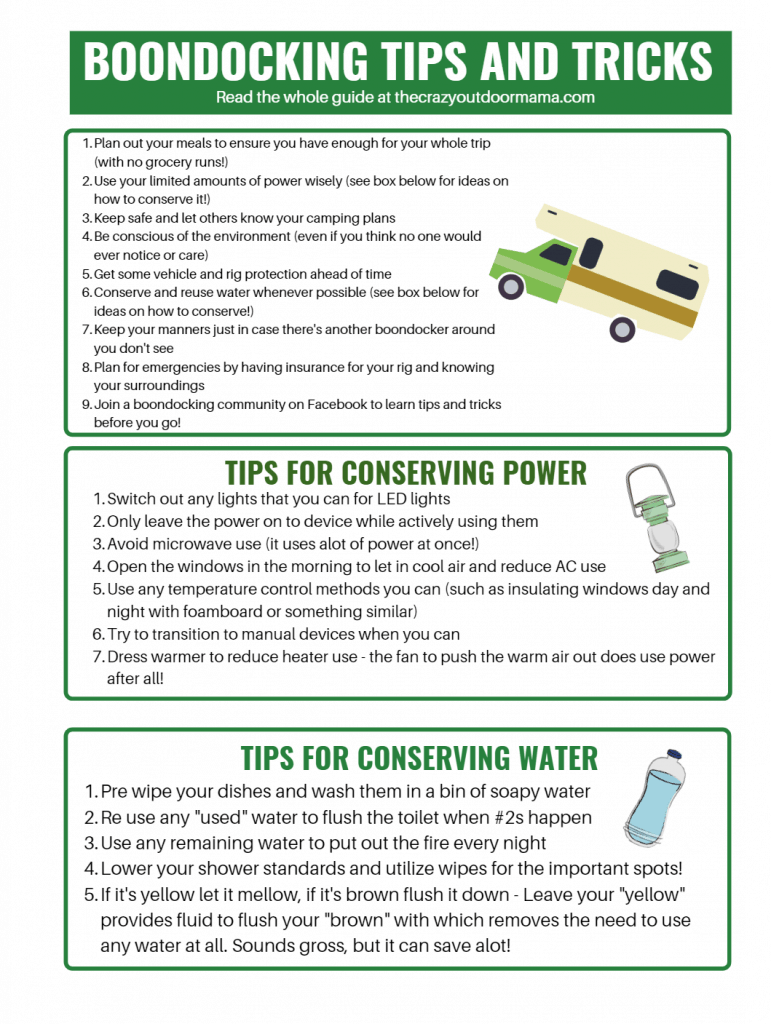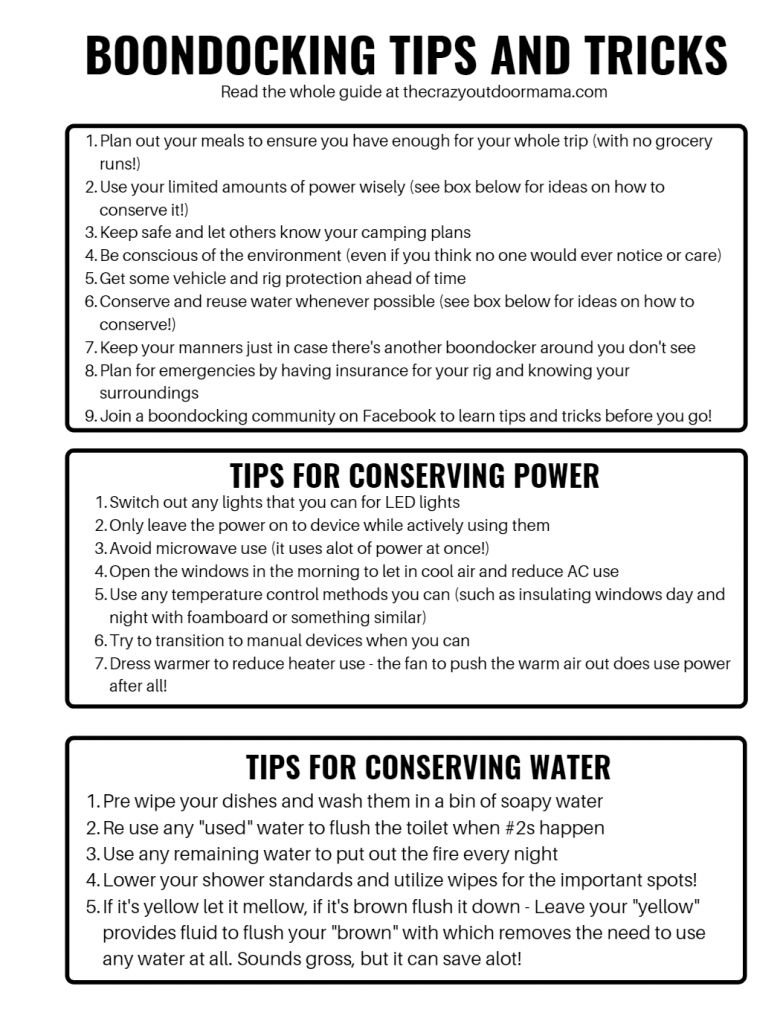 Here are some more helpful camping articles for you to check out!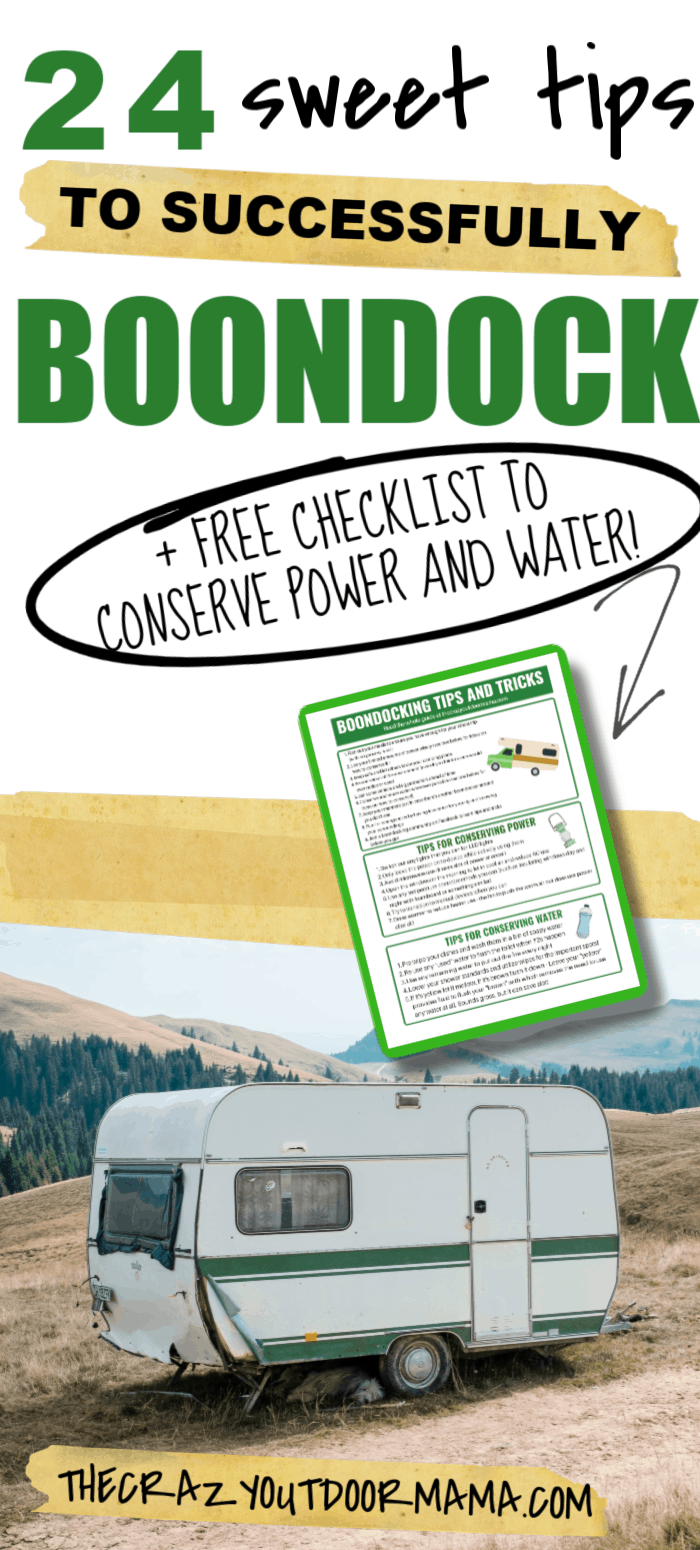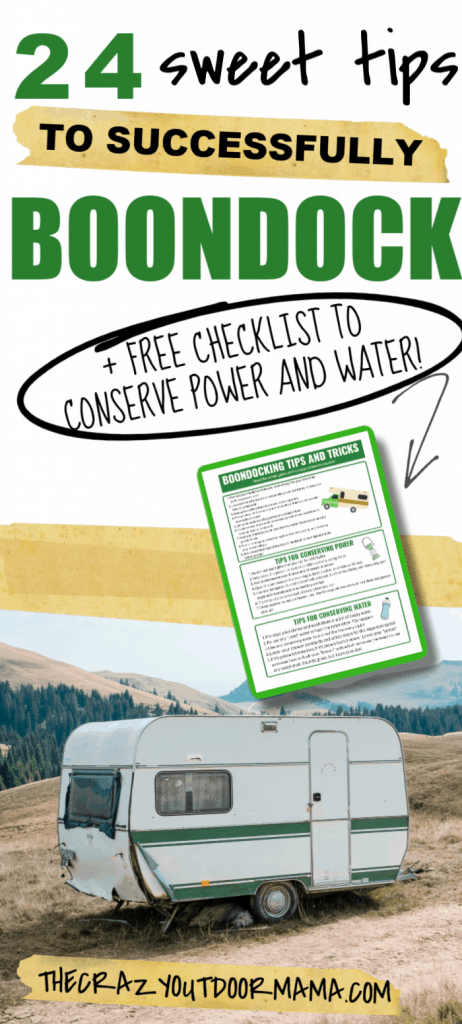 Latest posts by Stacy Bressler
(see all)