If you enjoy fall camping like me, then you might end up camping during spooky season (October!), so why not decorate your campground for Halloween!
I absolutely love Halloween decorating, so I was pretty excited to see such an amazing response when I asked one of my favorite RV groups about what their Halloween decor looks like!
Let's check out some of these fun Halloween camping ideas!
If you're looking for activities to do beyond the decorating, then don't forget to head to this list of 15+ Halloween Camping Activities!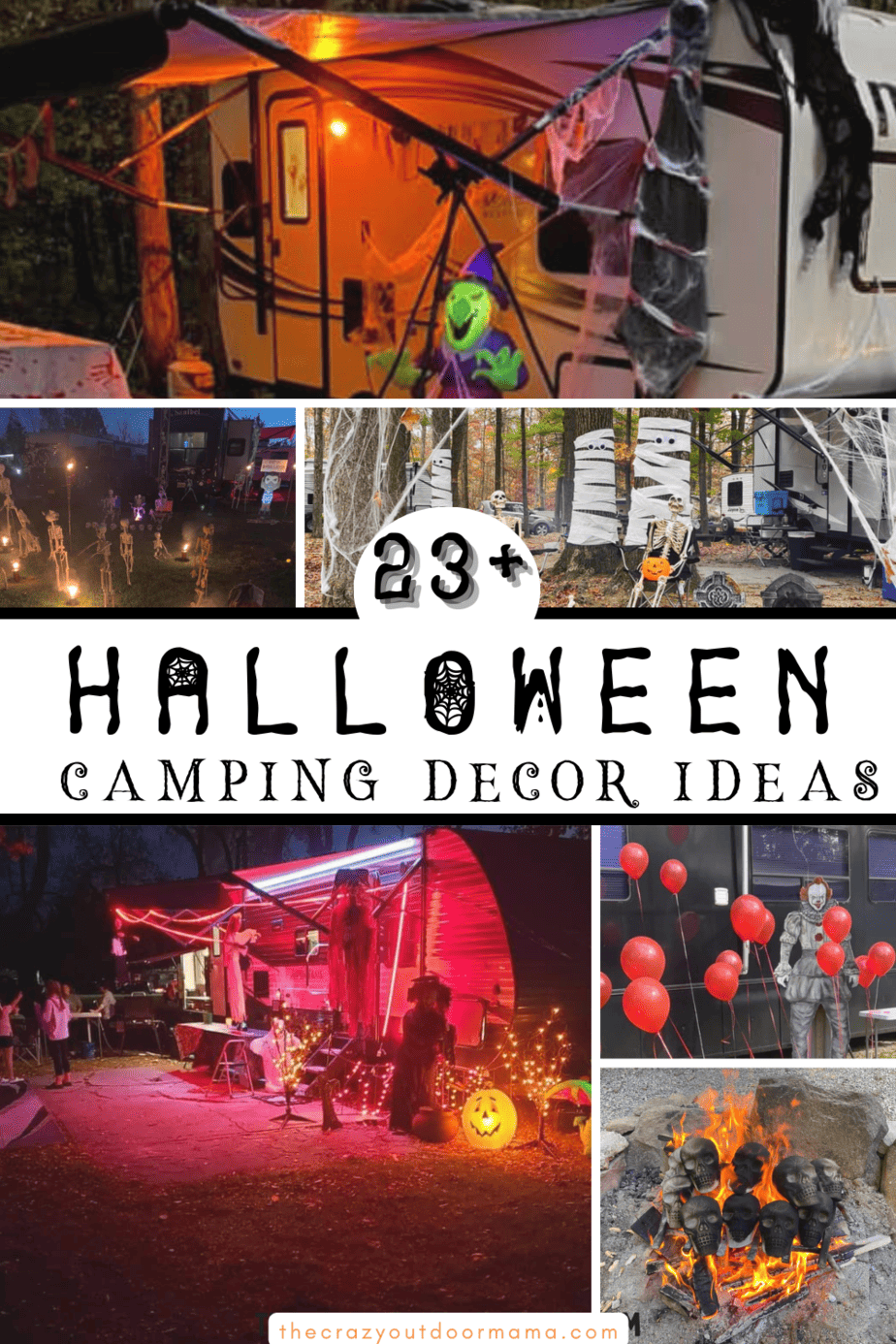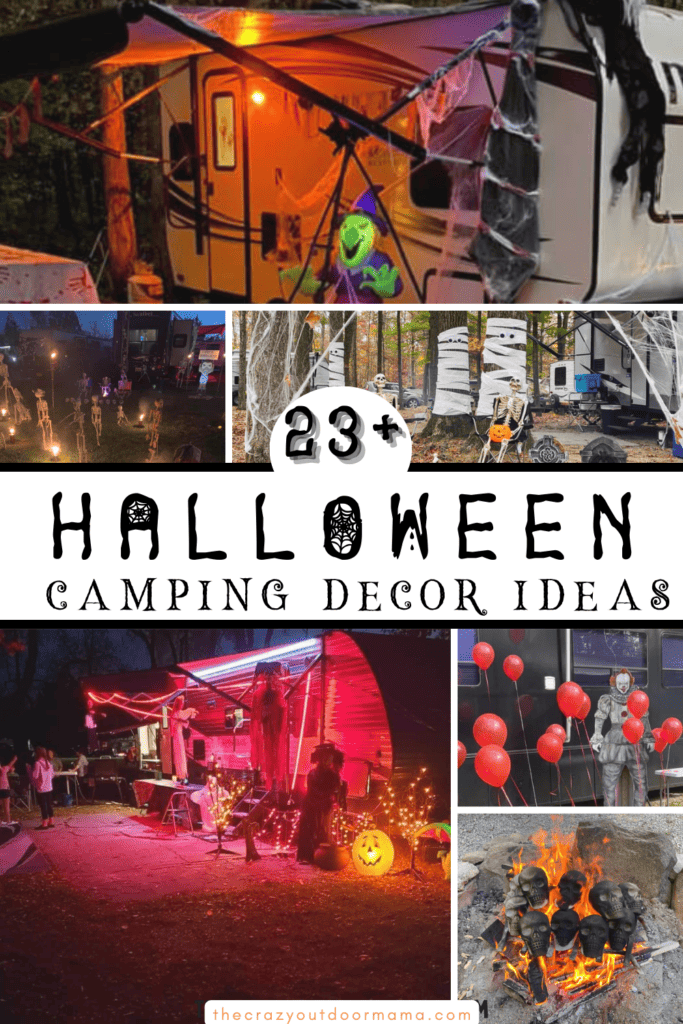 Before we start – if you're going on a Halloween camp trip with kids, make sure to print some of these spooky scavenger hunts ahead of time!
Halloween is my favorite time of year, and for the past couple of years, we've been doing a special Halloween camp trip in lieu of trick or treating!
Bring some decorations and costumes and these Halloween scavenger hunts to create your own Halloween camp memories!
If you want to even more camp themed Halloween fun, be sure to check out my Halloween Camp Pumpkin Carving Templates and my newest addition, these 13 camp themed Halloween wall art printables!
Skeletons by the campfire
I love all the details of this one (besides the obviously awesome skeletons) – the lights, ghosts and bloody handprints make this even spookier!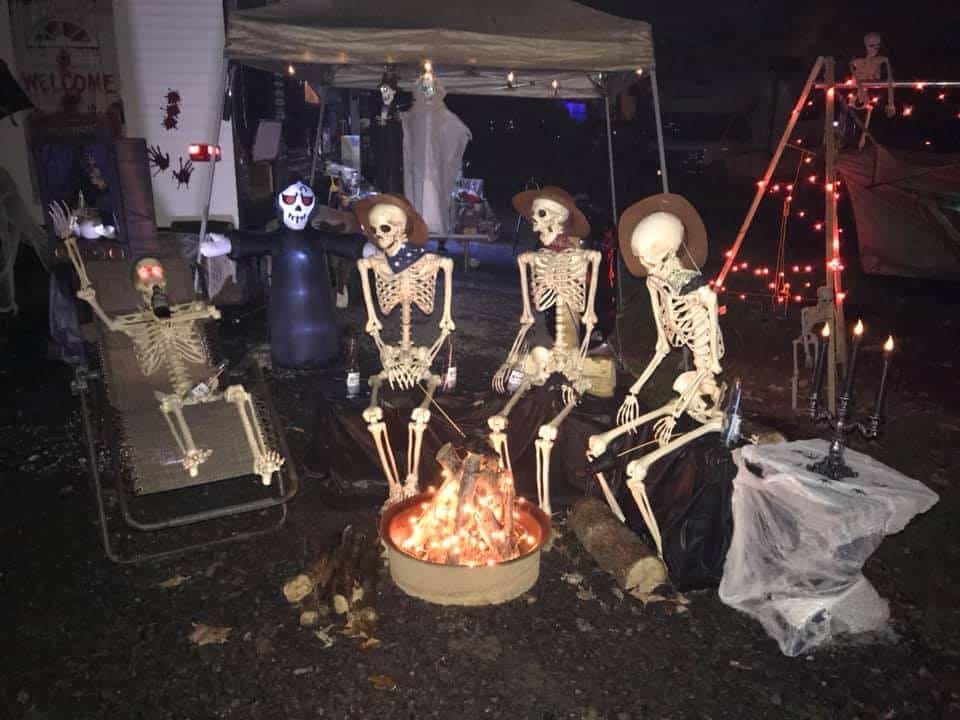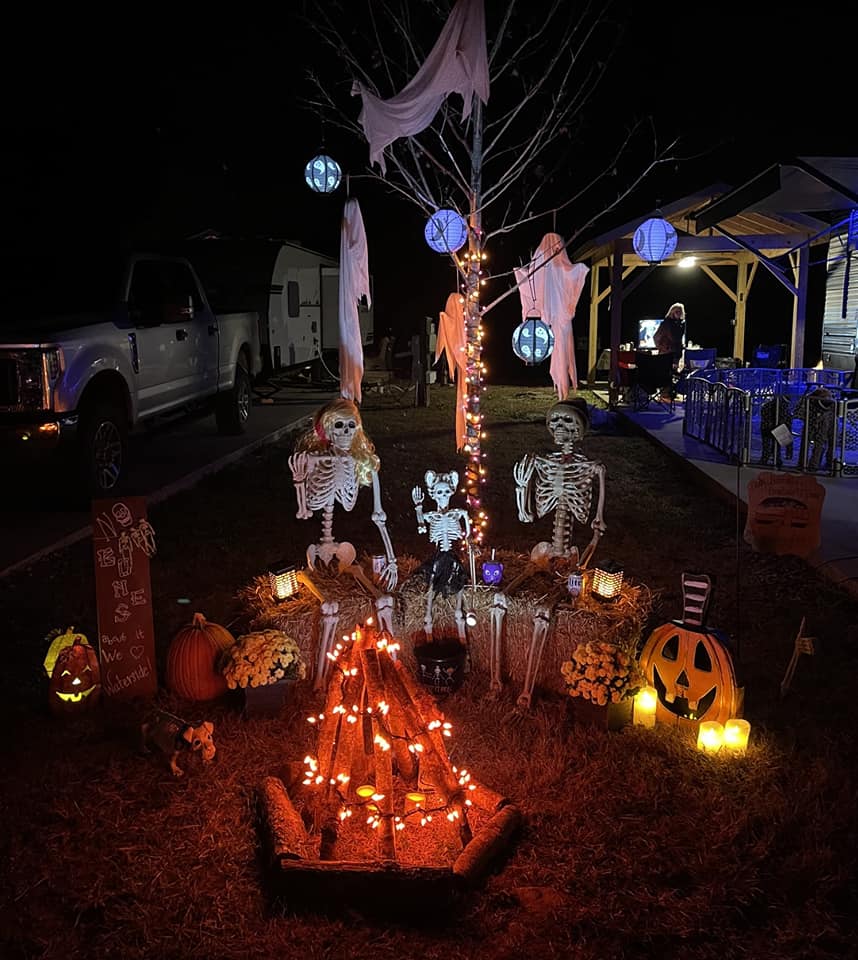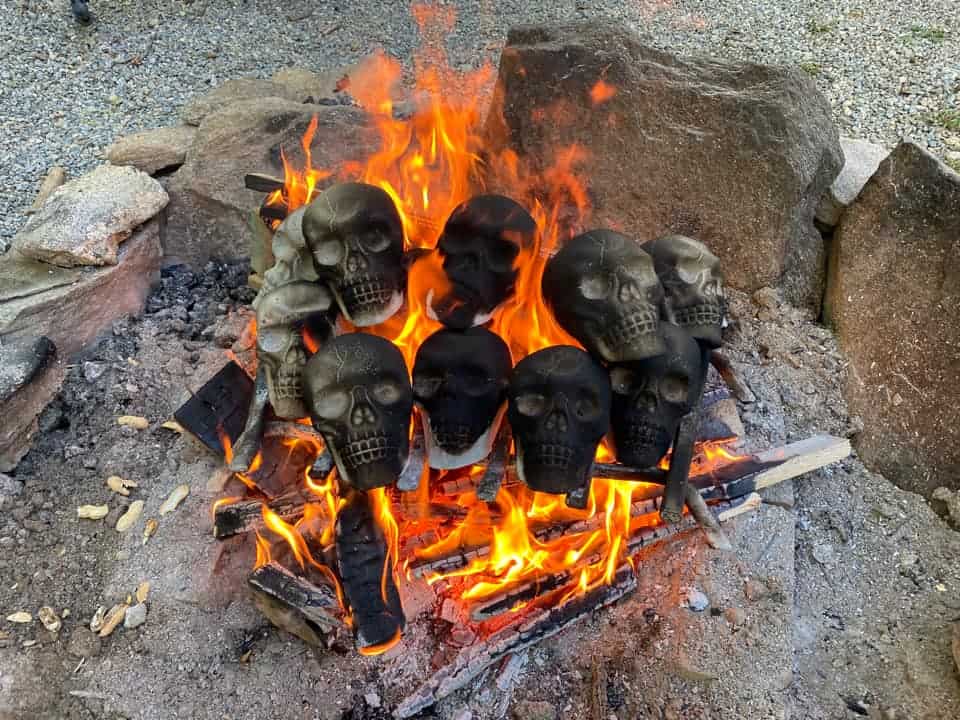 RV Graveyard
Imagine walking through this at night! There's also a haunted doll, werewolf, grim reaper and a spider lurking on the awning!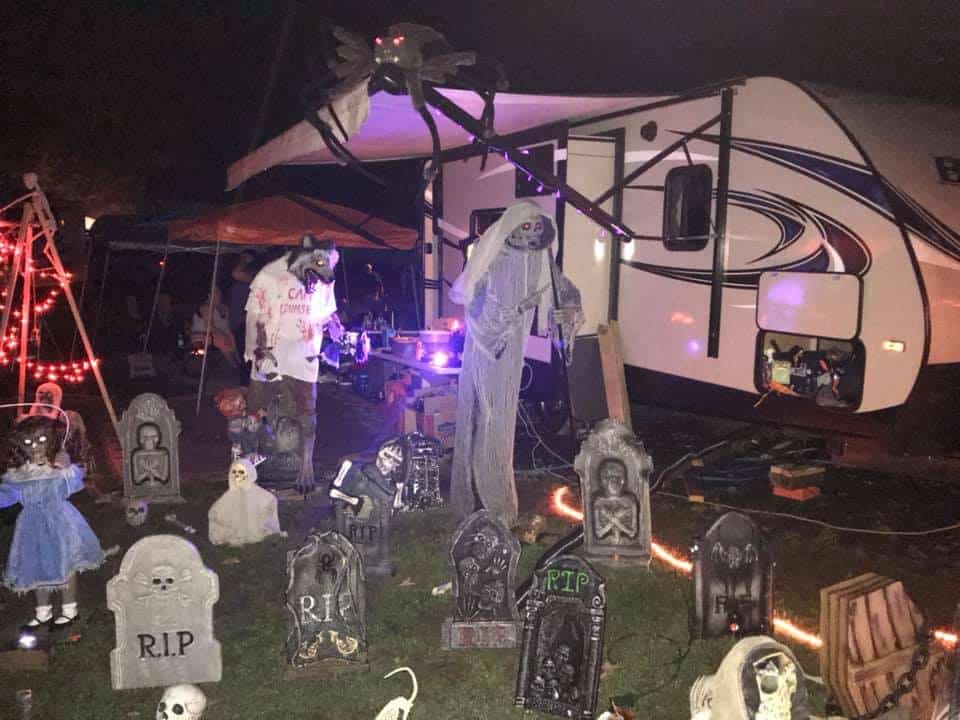 The spider even took over the fencing!!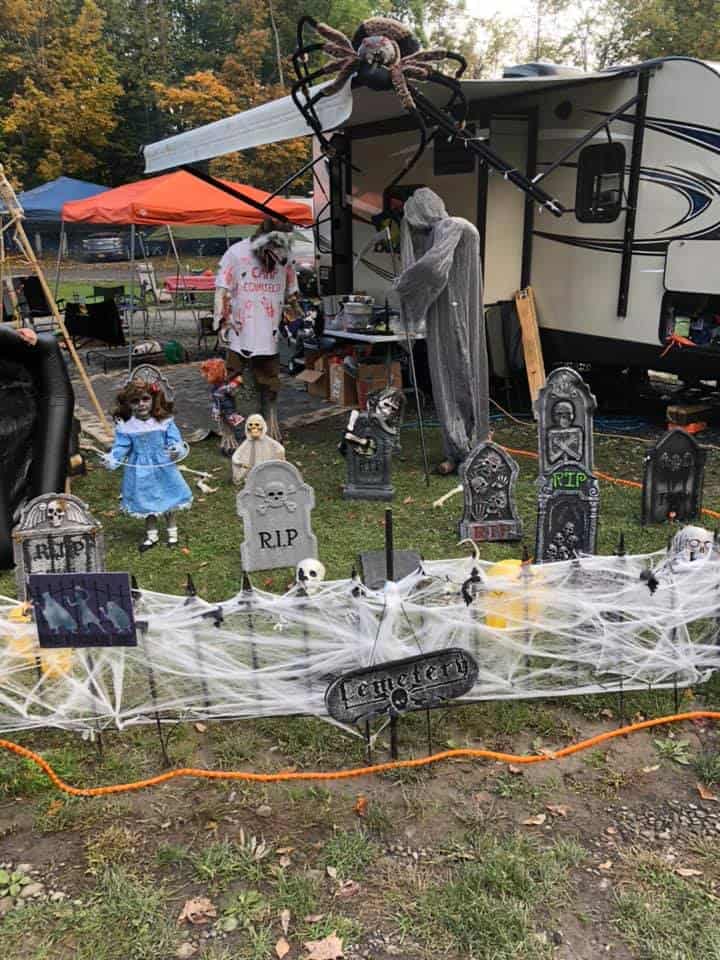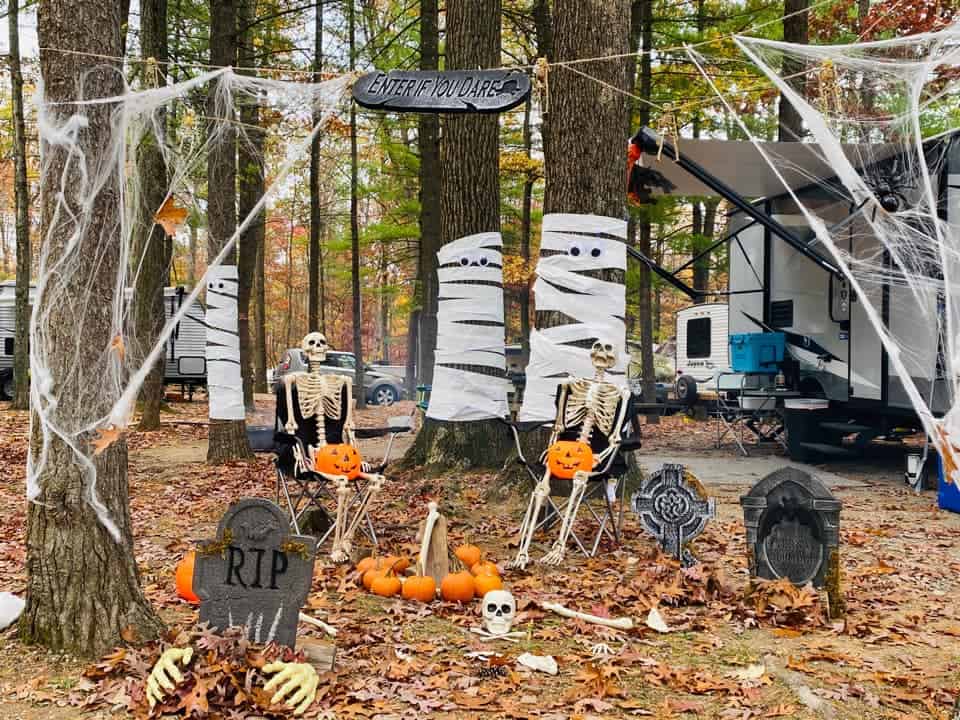 Zombie campsite invasion!
This is what happens if you feed them s'mores after midnight! Want to add a bit more scare? Have someone dress up as a zombie corpse… and then pop out when someone approaches (see the pic below with the "zombie" on the table in front of the RV!)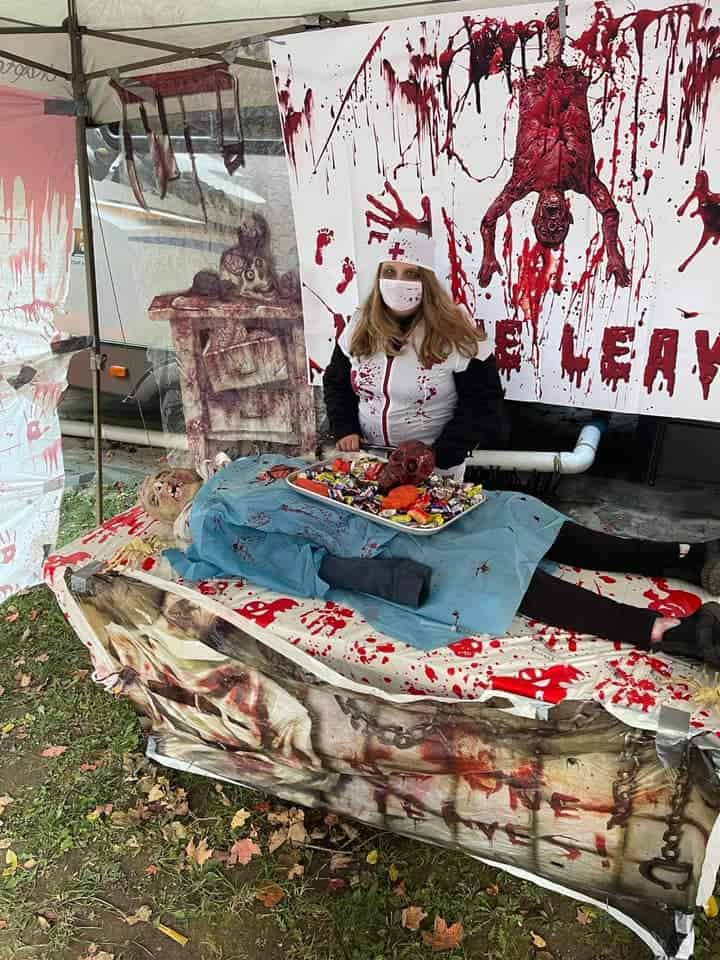 Here's a view during day time – AHHHH!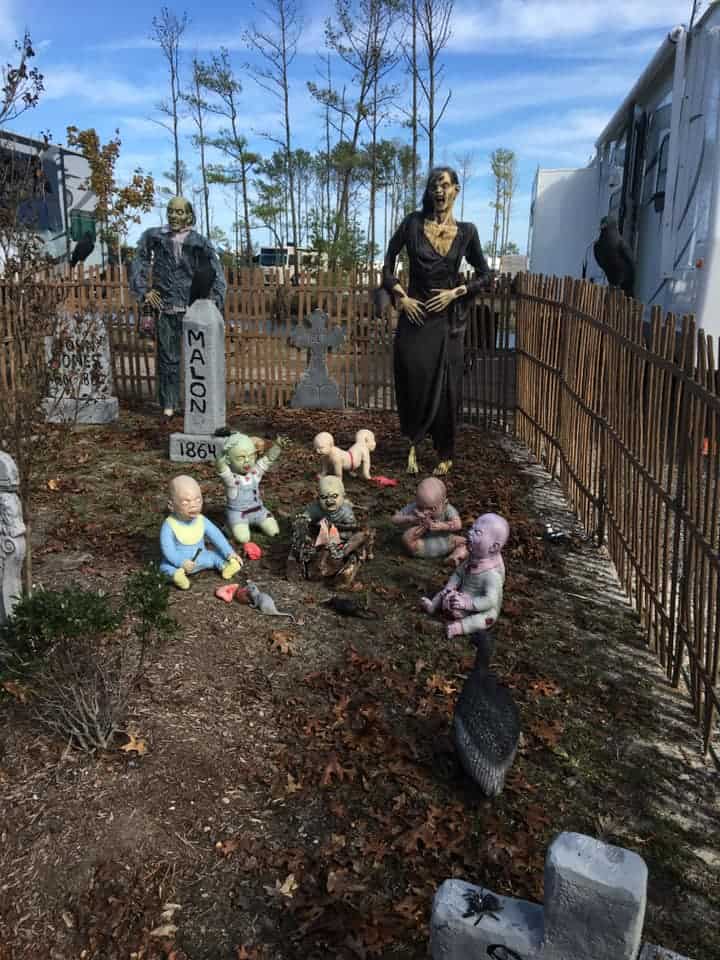 This bloody table cloth and zombie might be the only thing that'd stop me from some yummy camp food!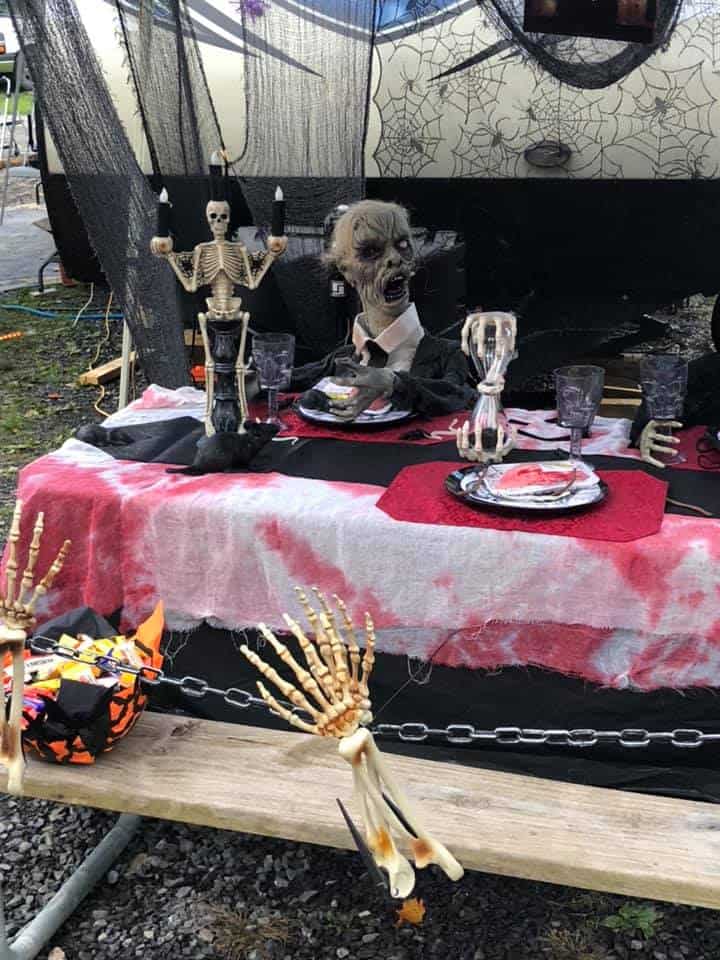 Fun skeleton campsite decor
I love how they even personalized the skeletons in some of these… or just skipped the spook and went for laughs!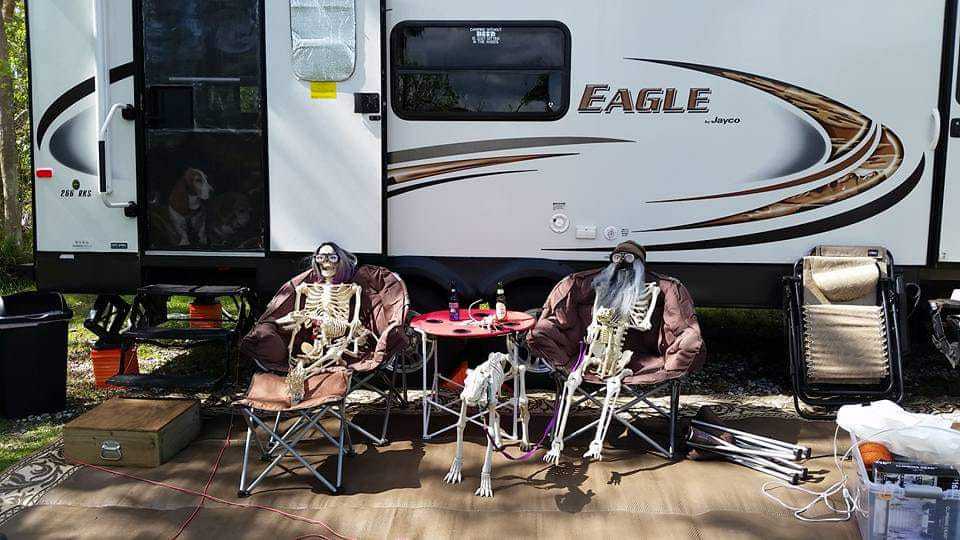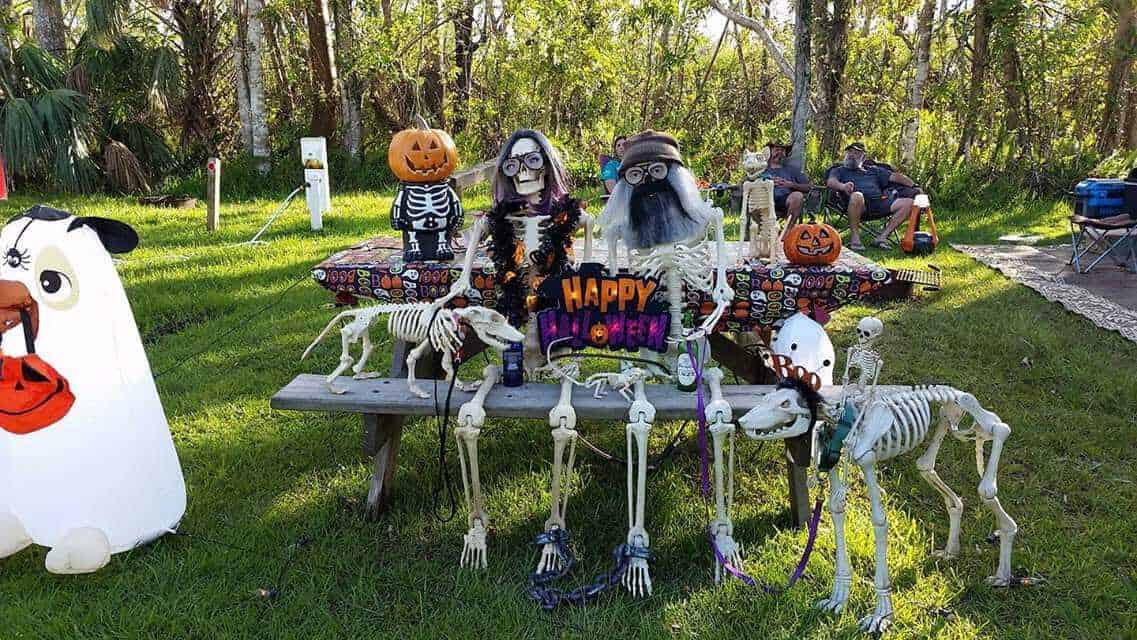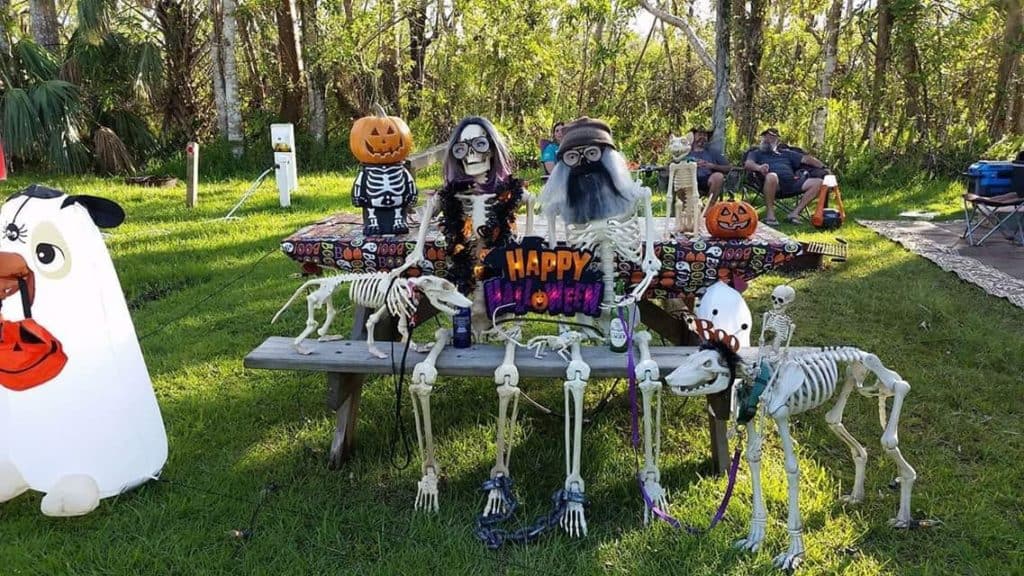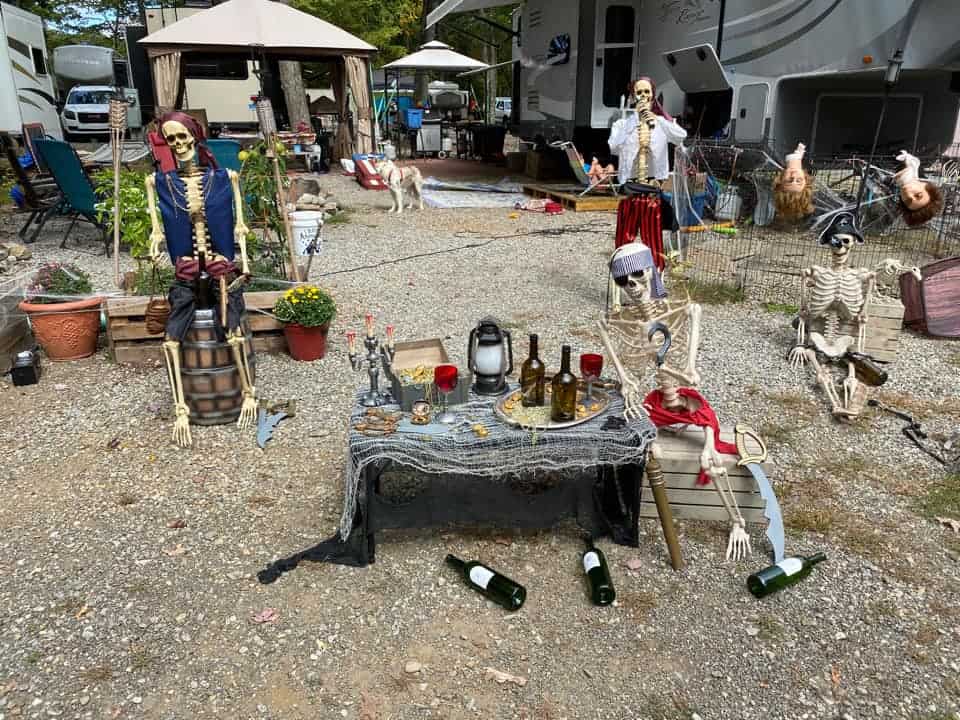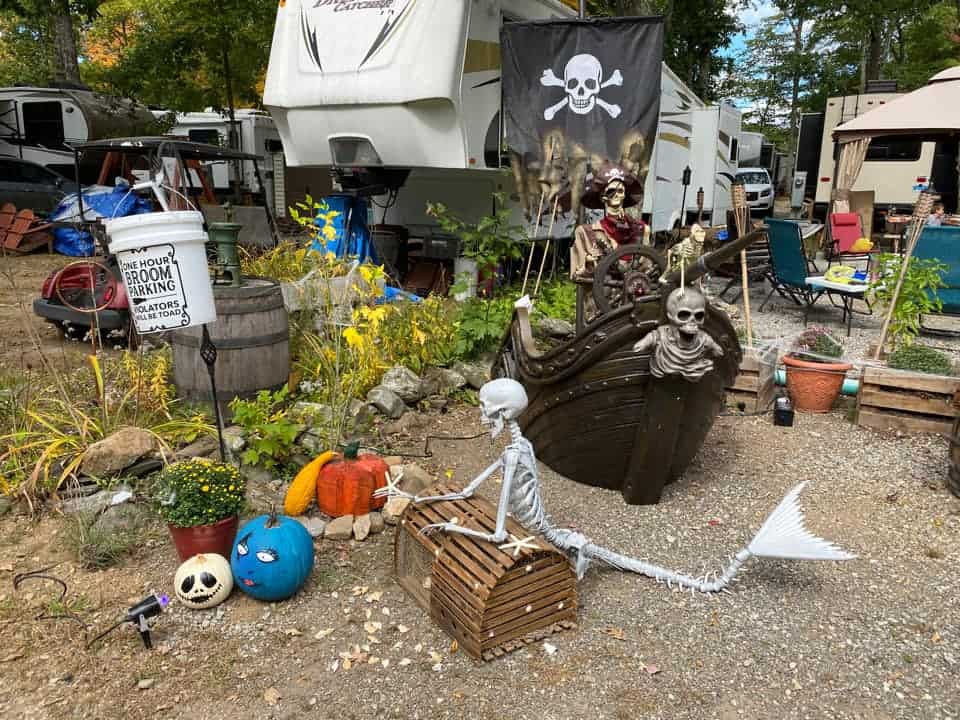 Spooky RV Takeover!
Forget about keeping the mice out of the camper, how in the world do you get rid of spiders and skeletons??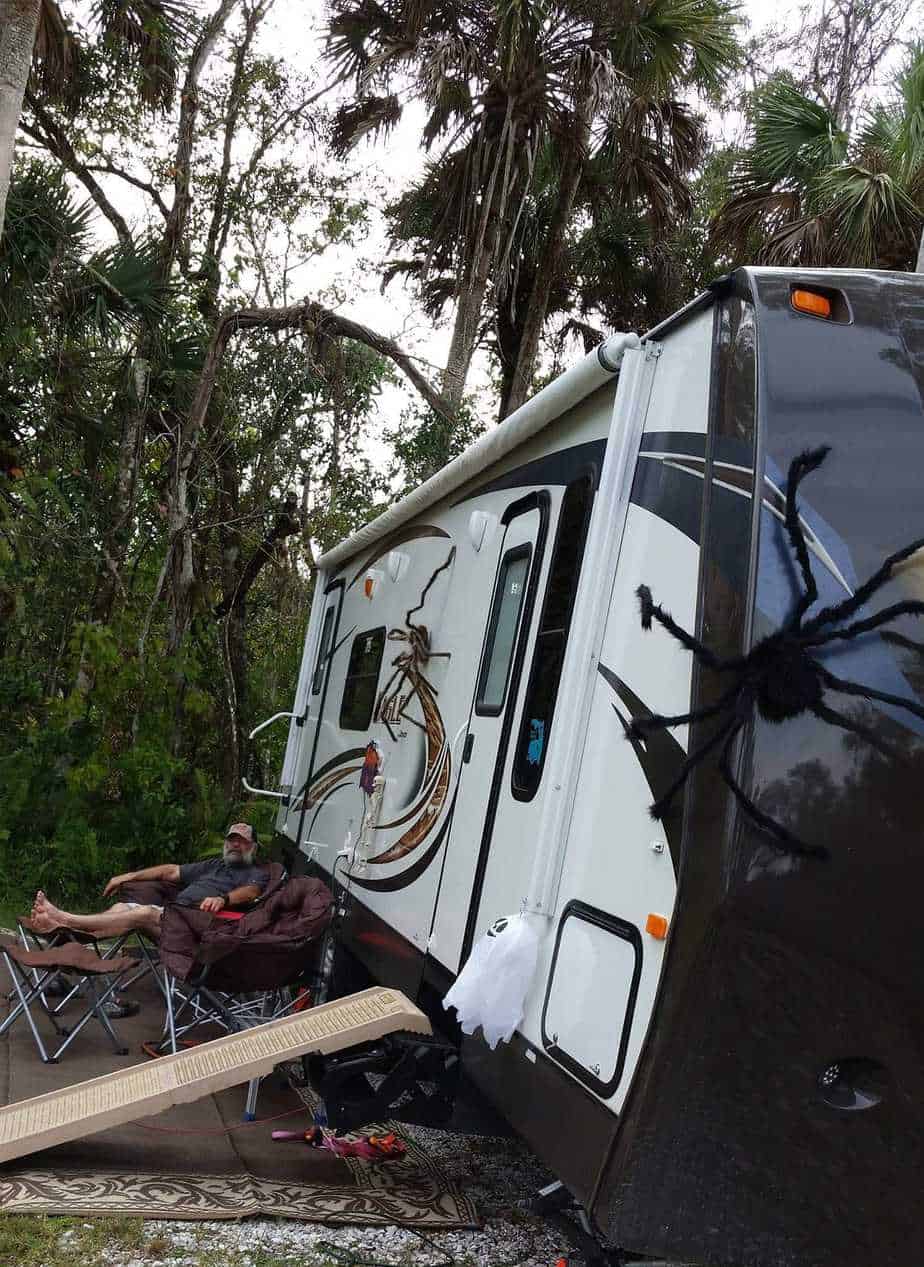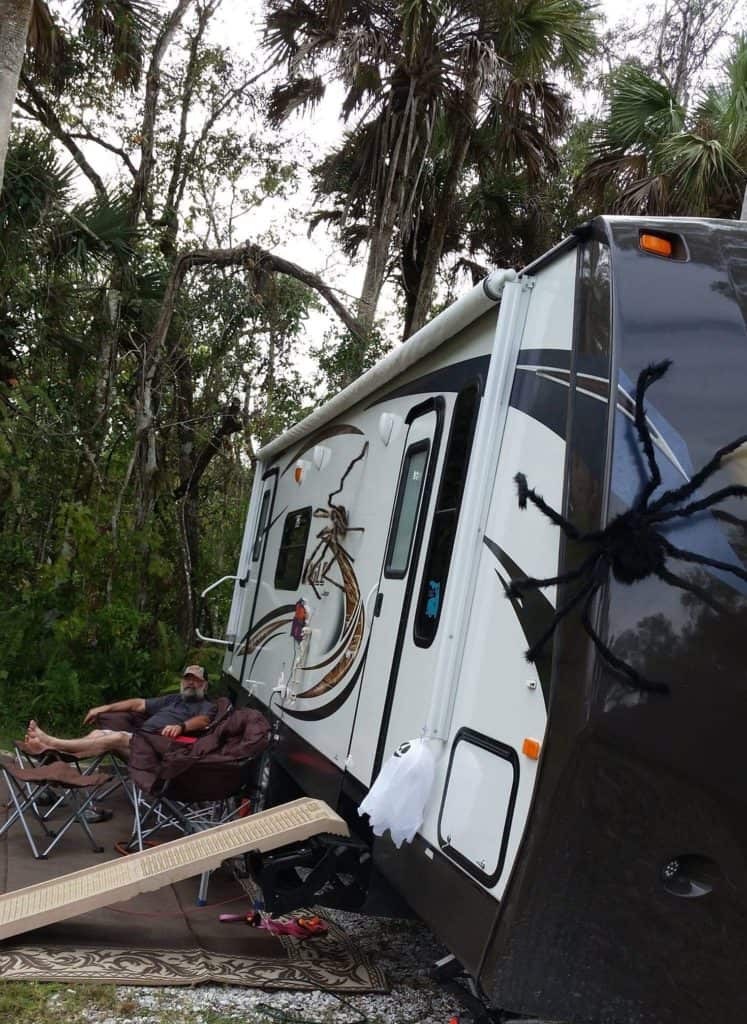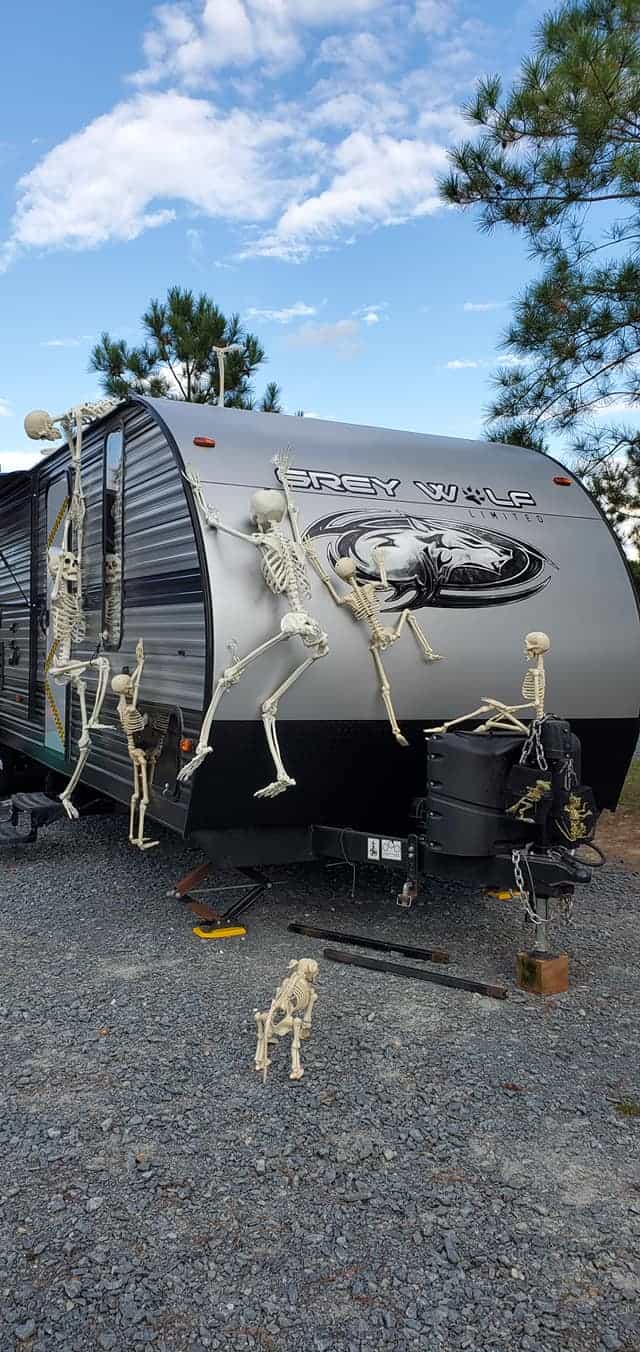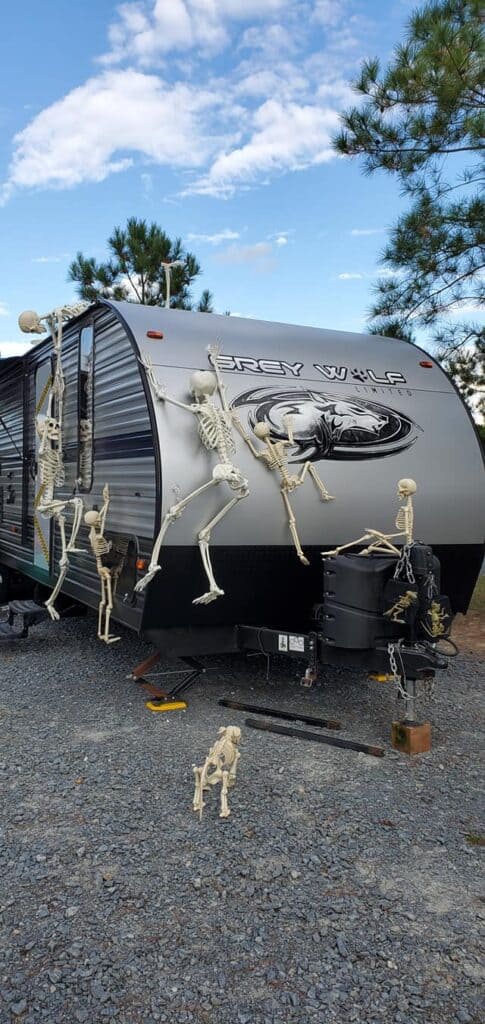 Harvest at the campground!
Celebrate fall the spooky way – pretty autumn colors, corn stalks, and HALLOWEEN DECOR!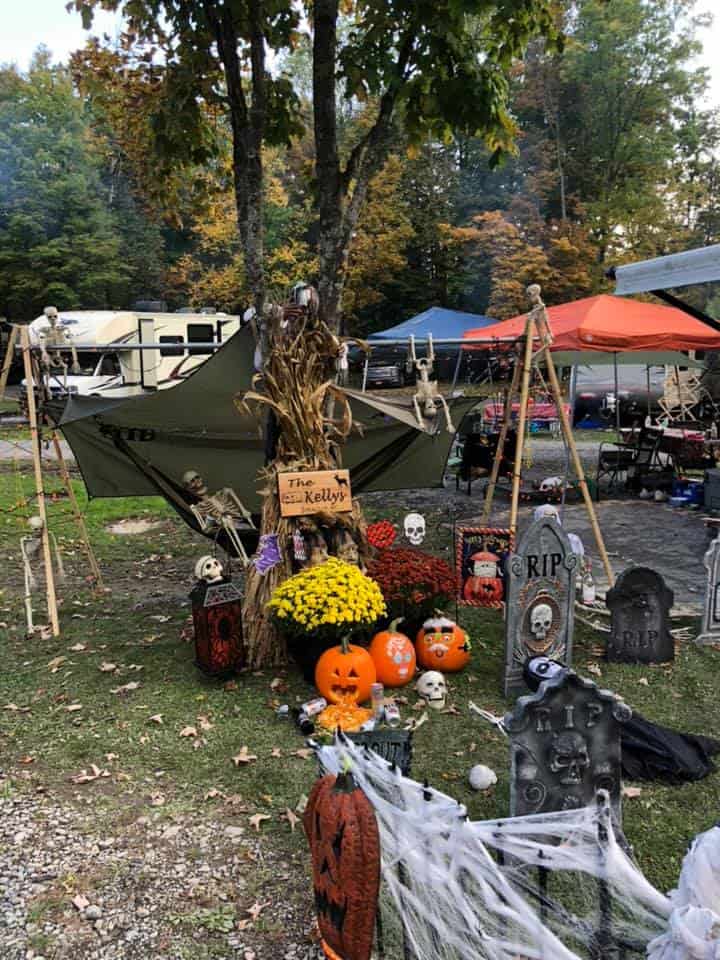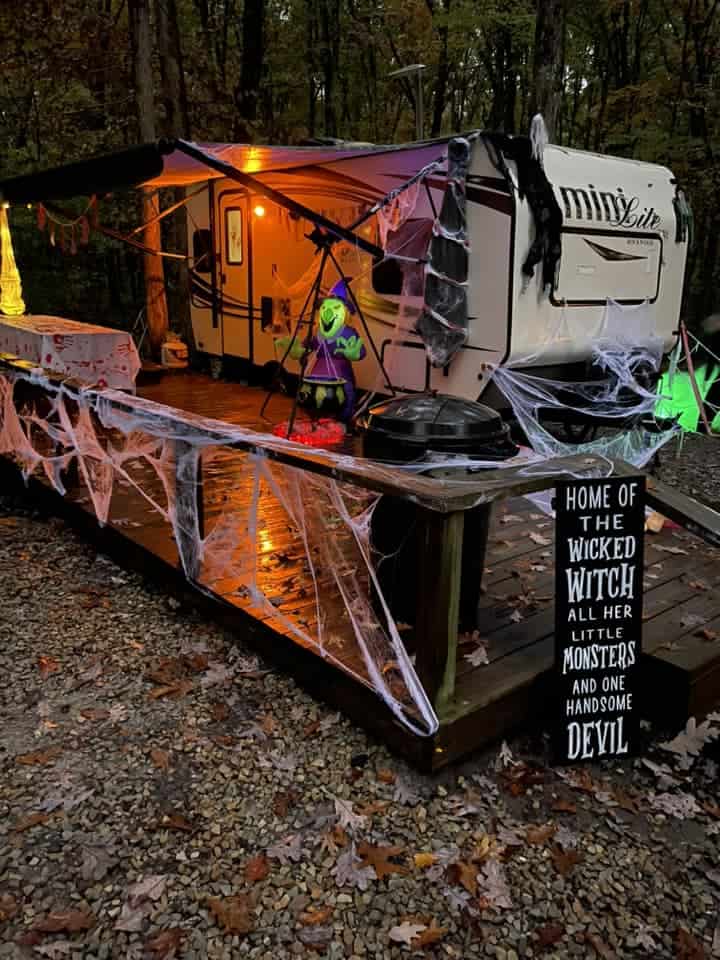 What cooler place to hang out Halloween night?
Light your site up with spooky lawn decor like this!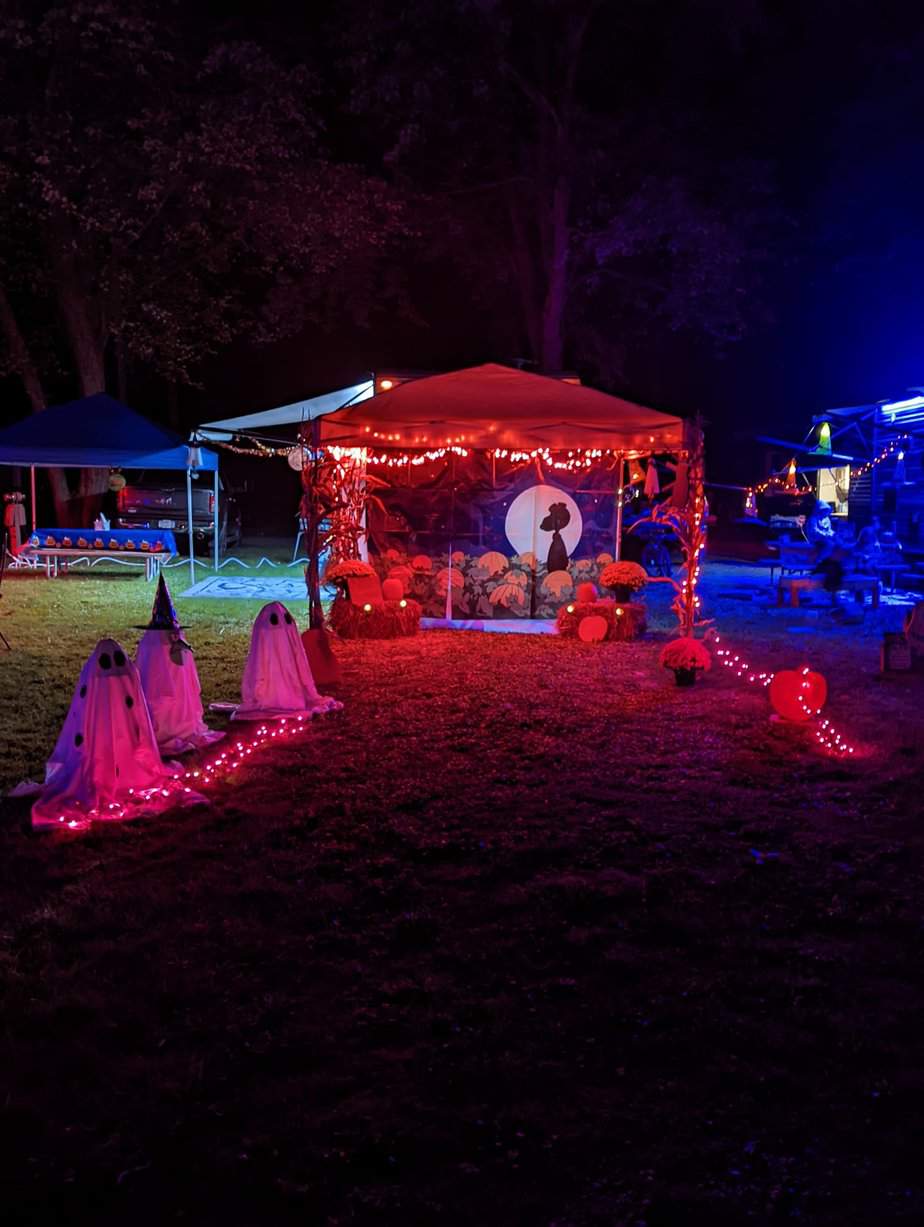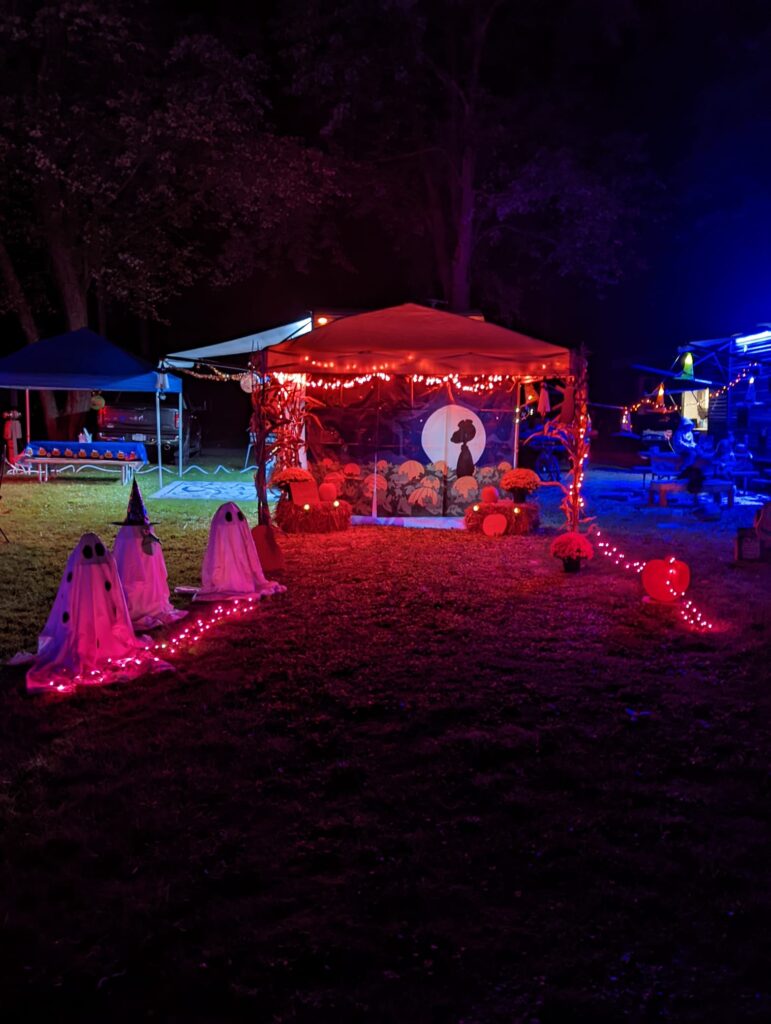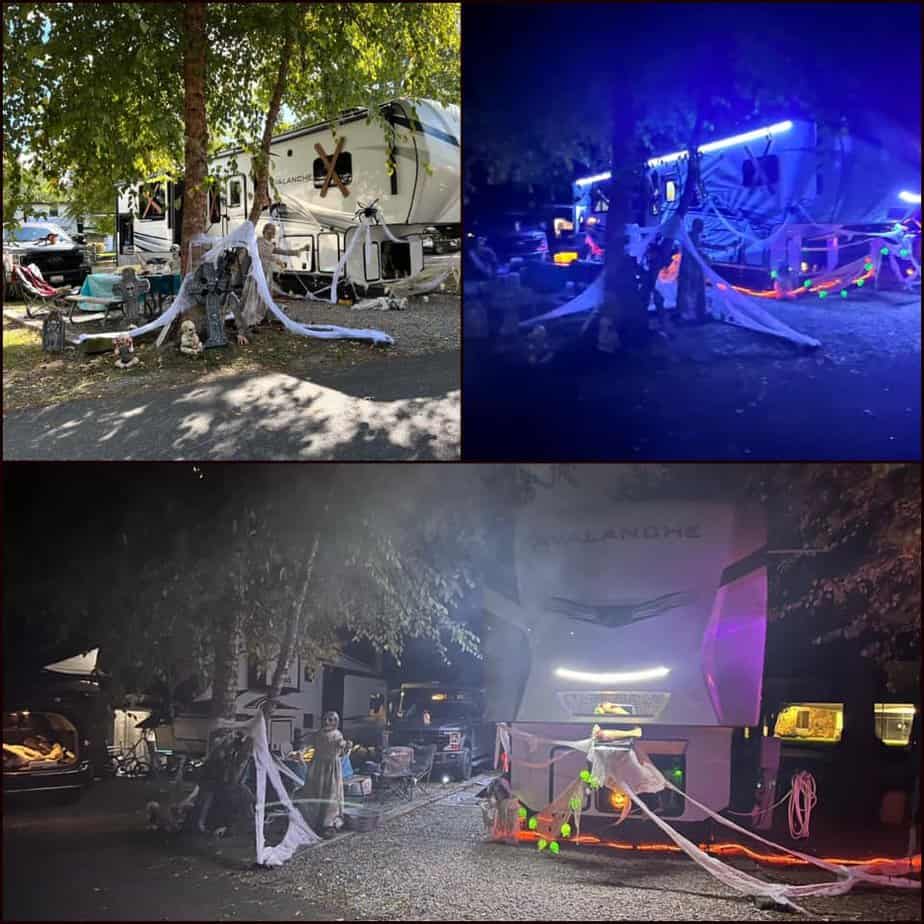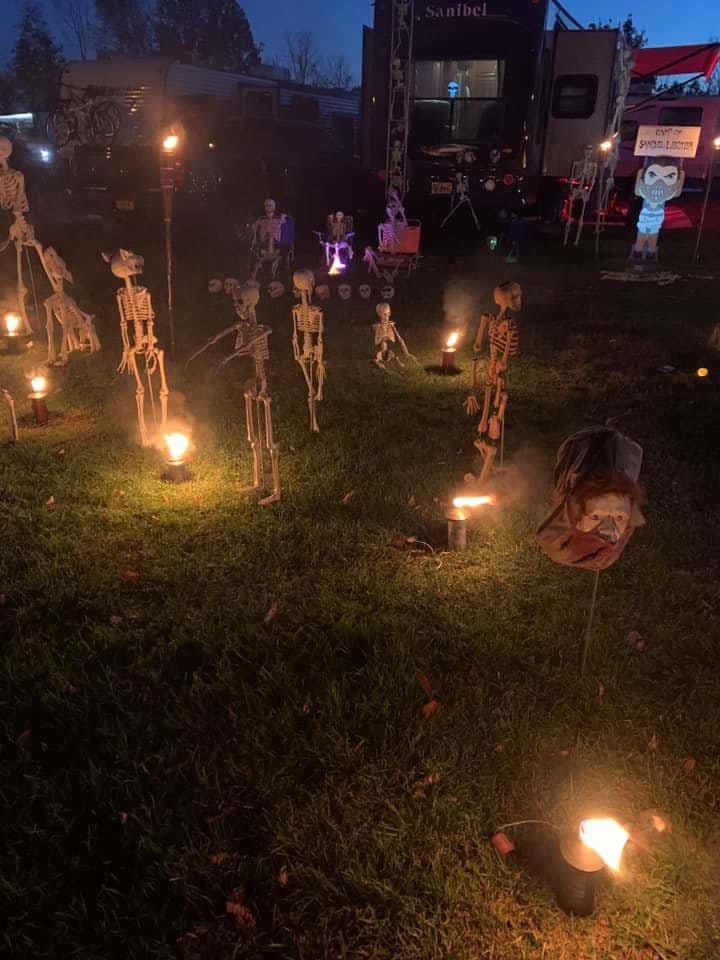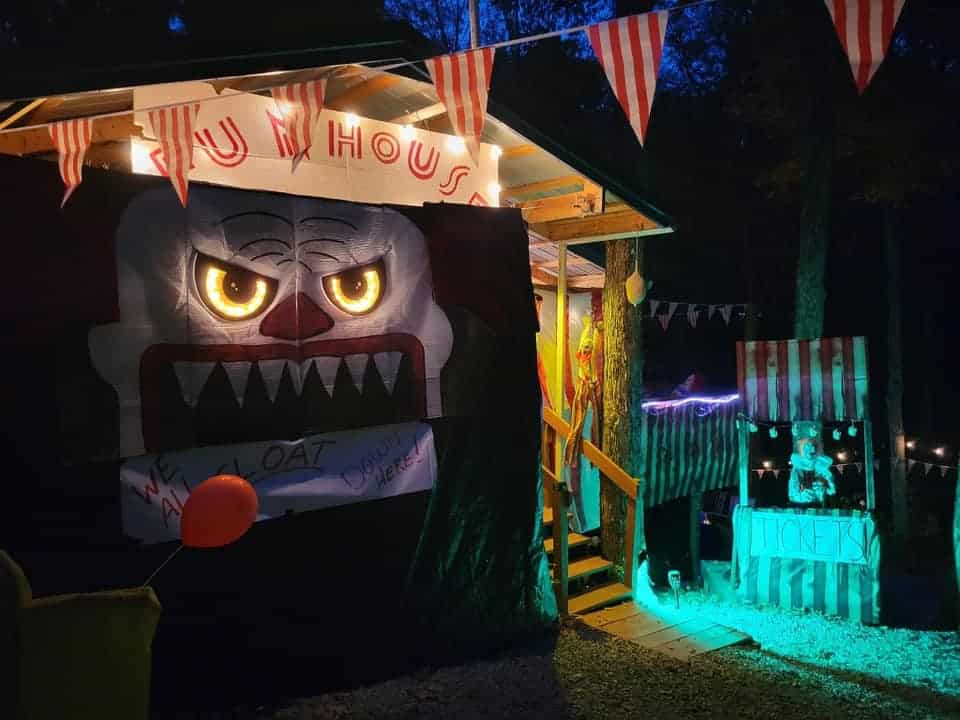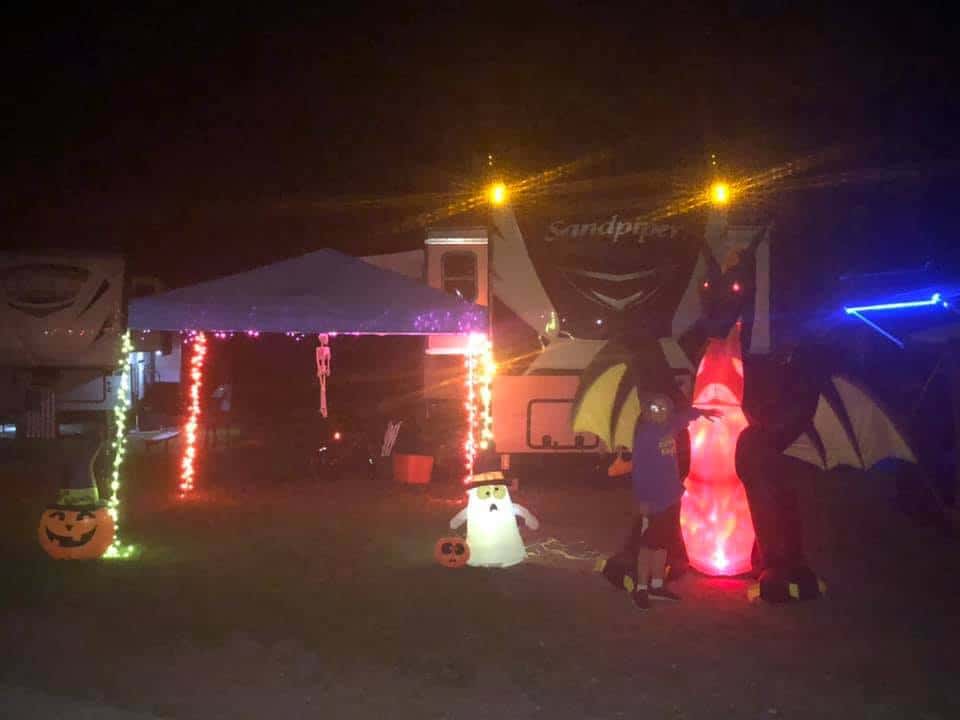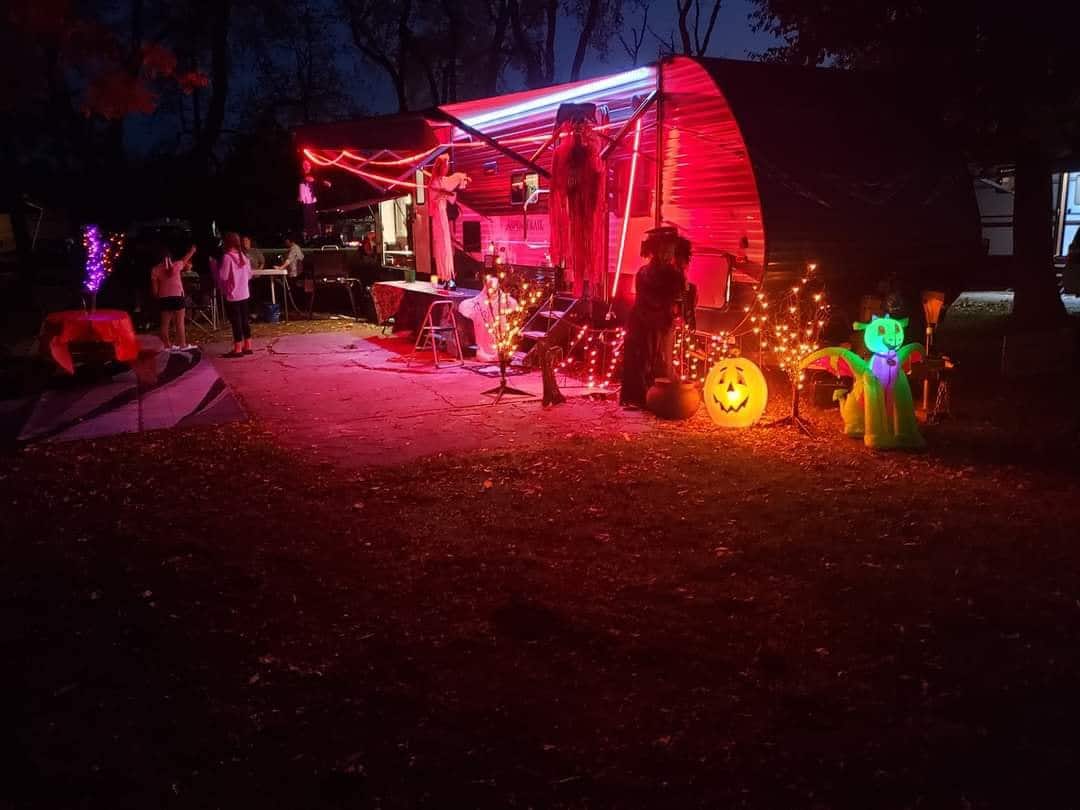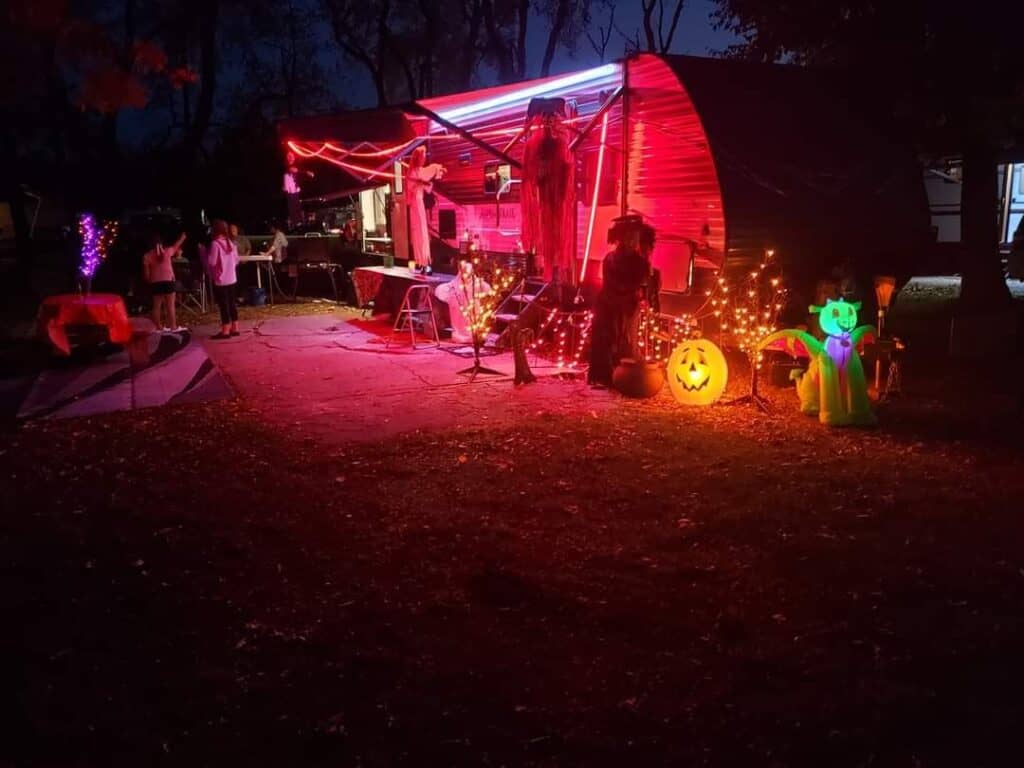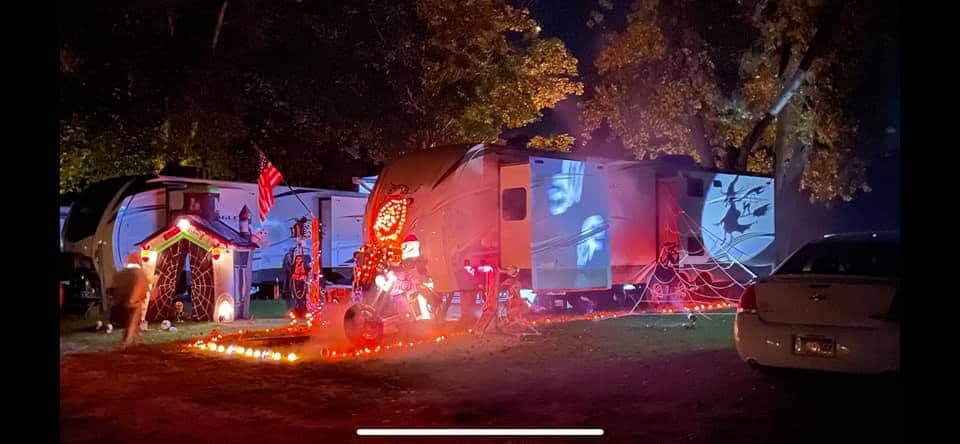 This will keep people from walking through your spot!
Nothing like a zombie hand and some intoxicated pumpkin vomit to stop a person from cutting through your site!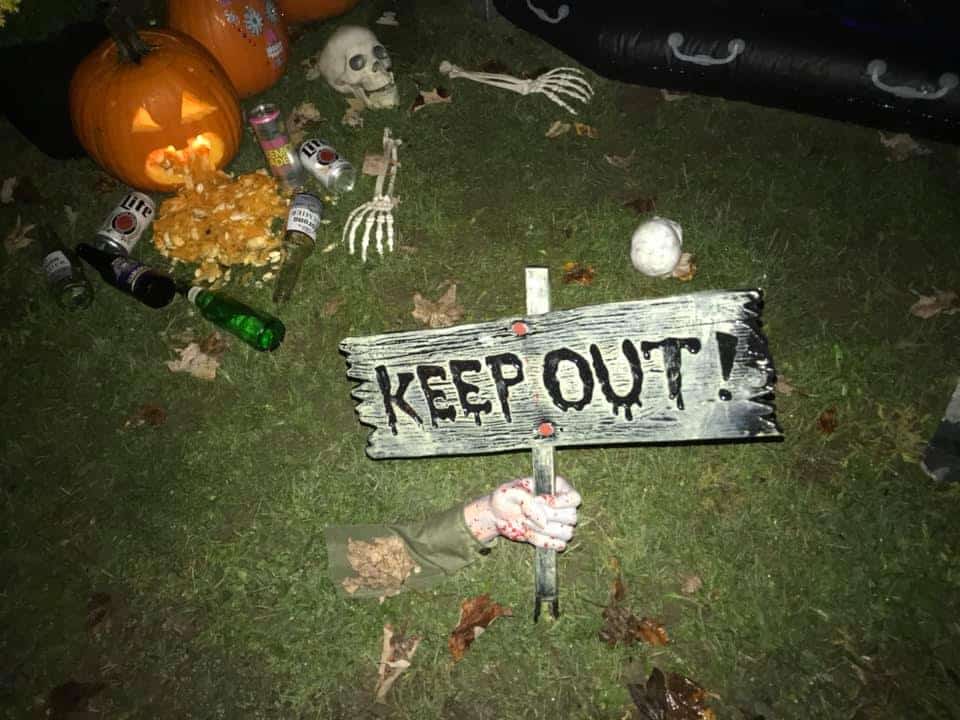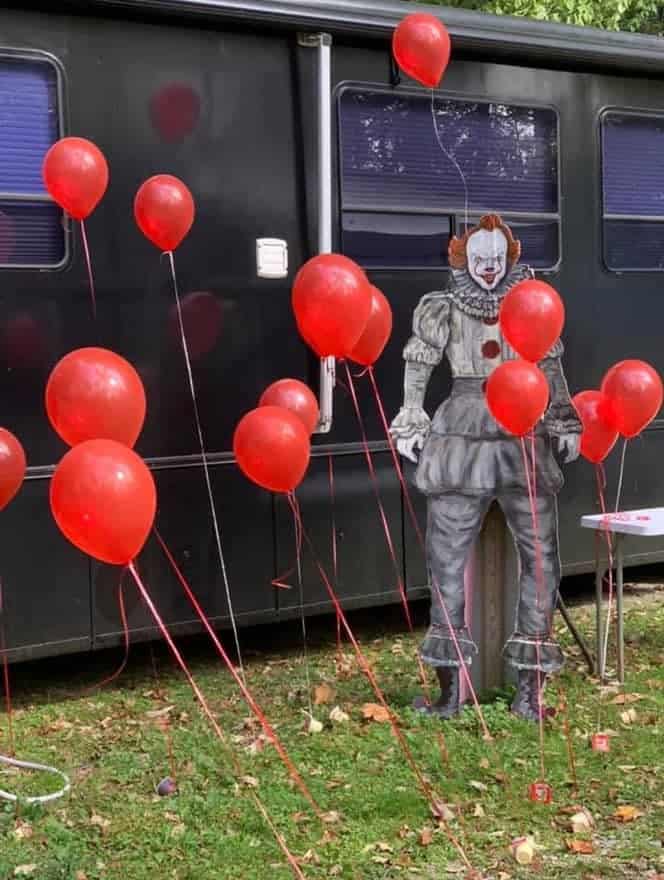 ENORMOUS inflatable creatures!
I'm a giant fan of all inflatable Halloween decor… so here's some awesome campsite decor ideas using them.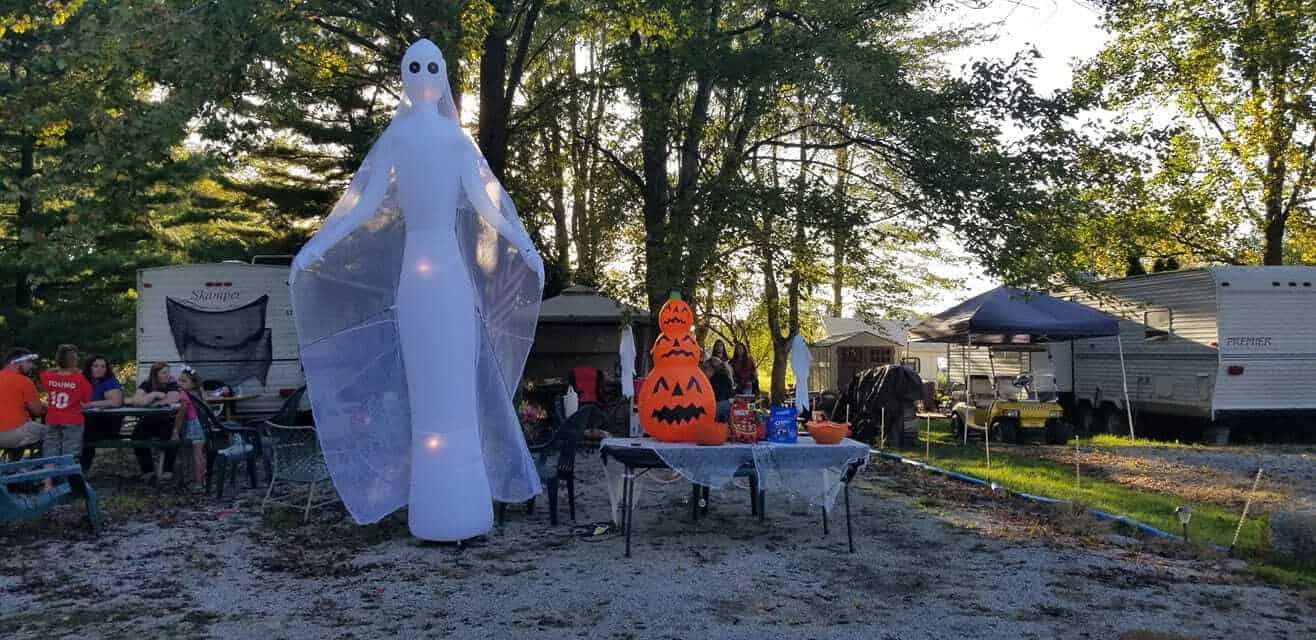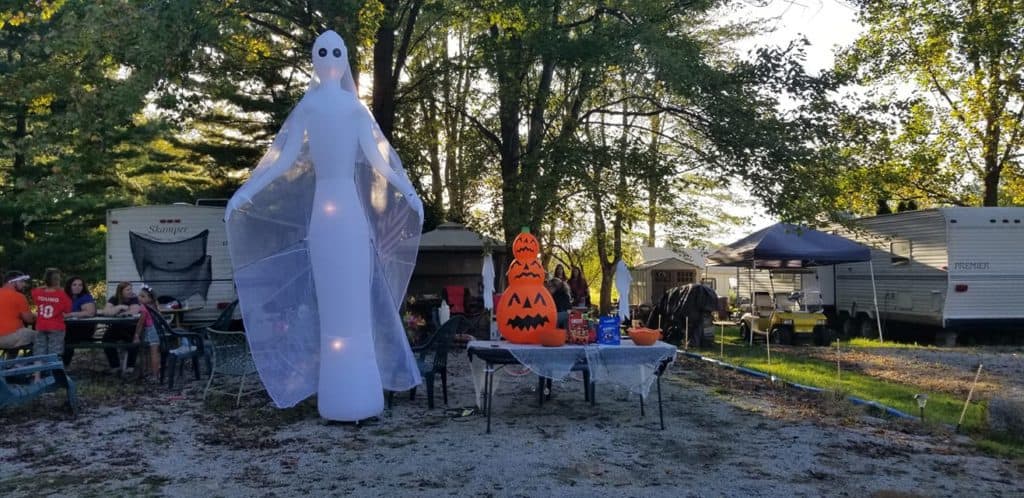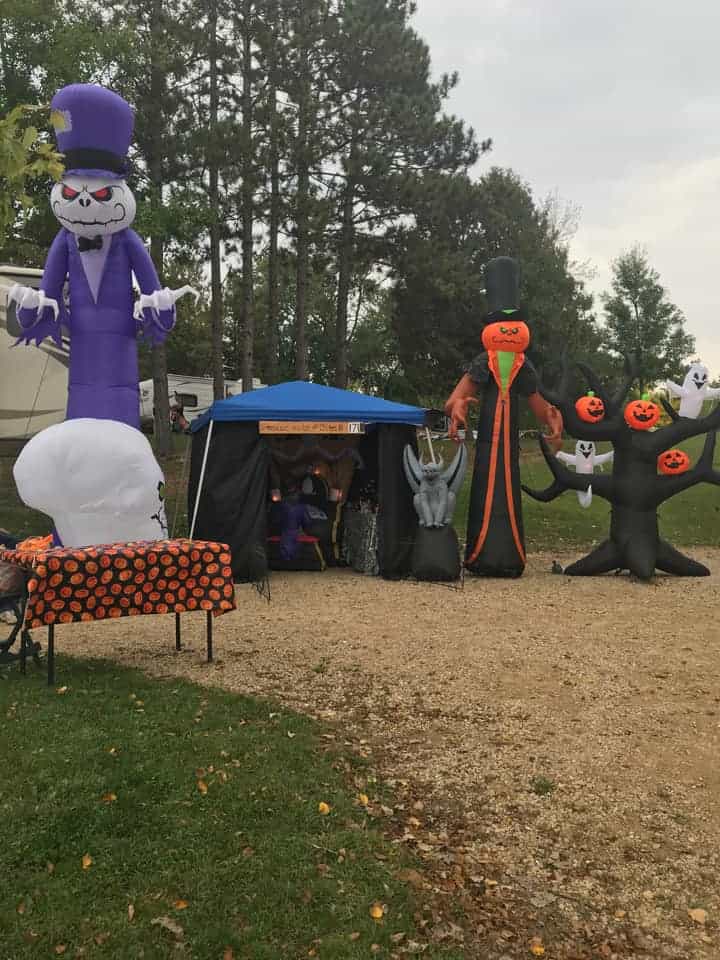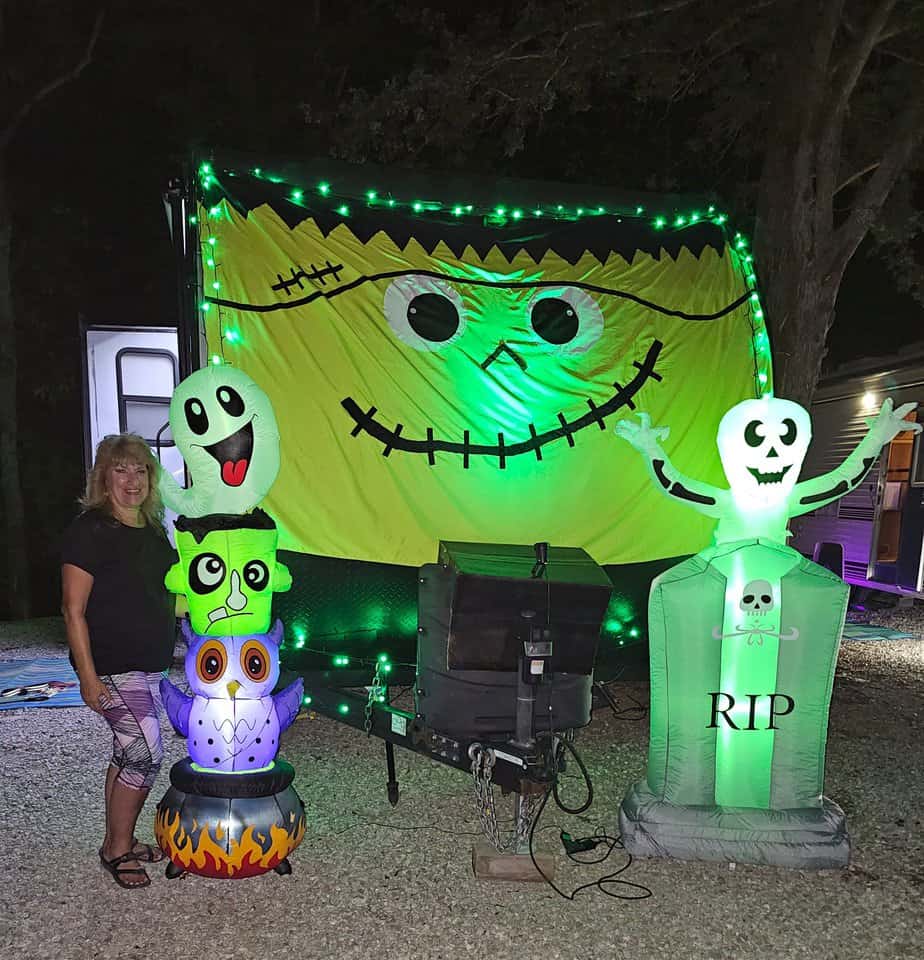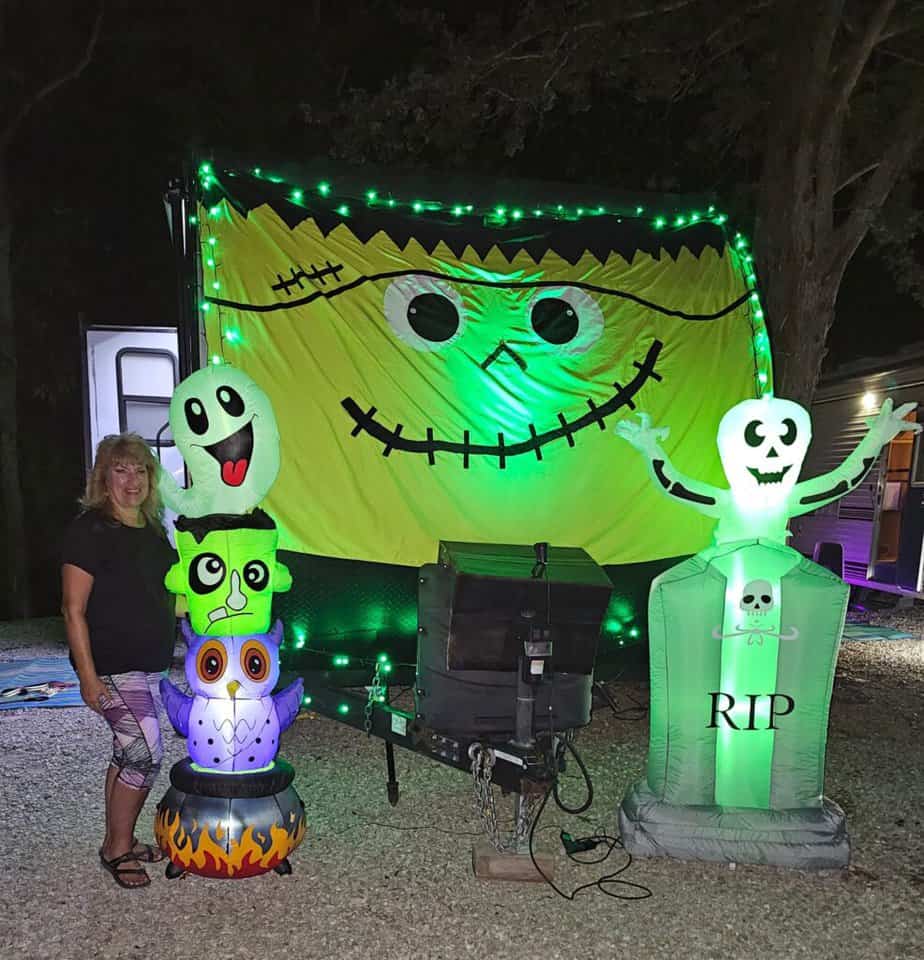 The Notorious 12 ft Skeleton!
This guy is AWESOME and definitely makes a statement – I think he's from Home Depot! Check out the creators Tiktok here to see this set up at night!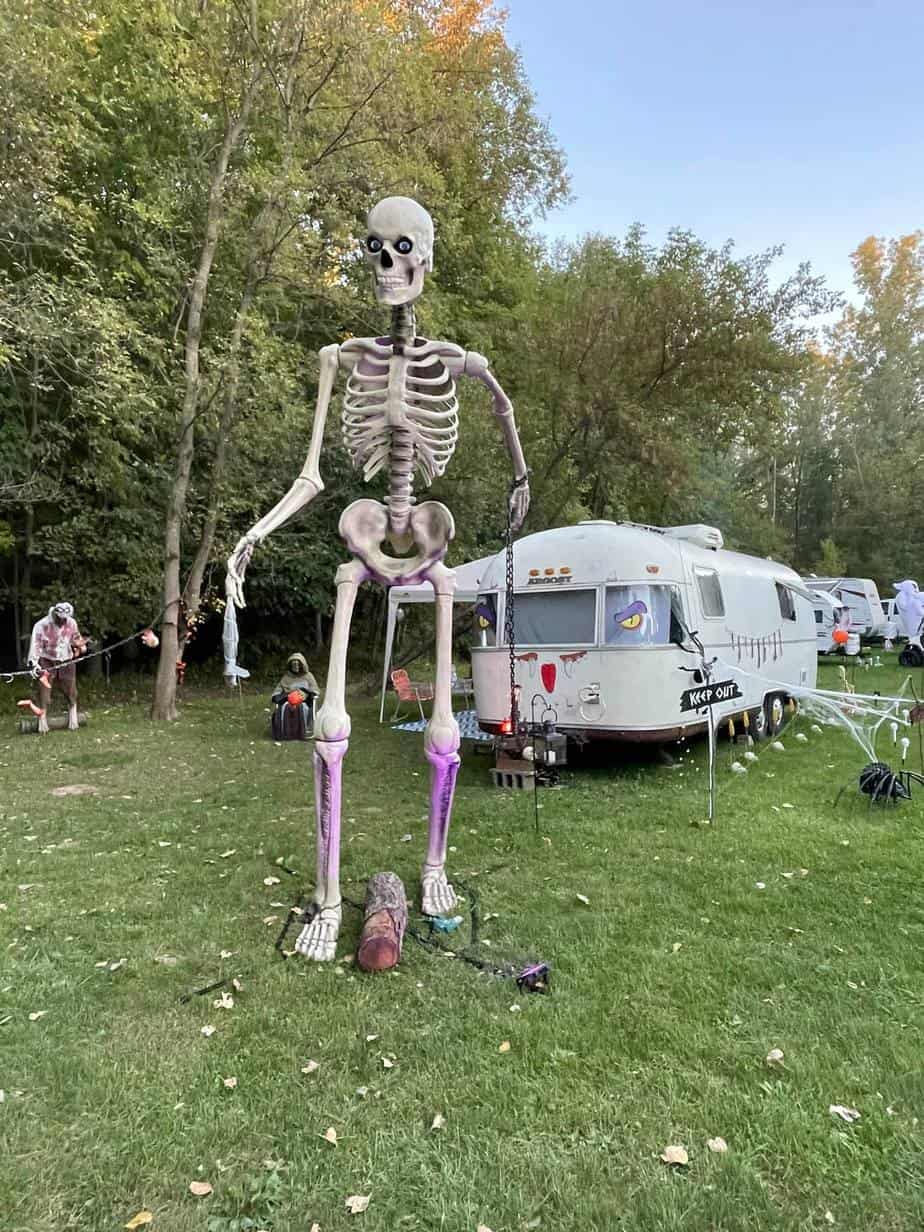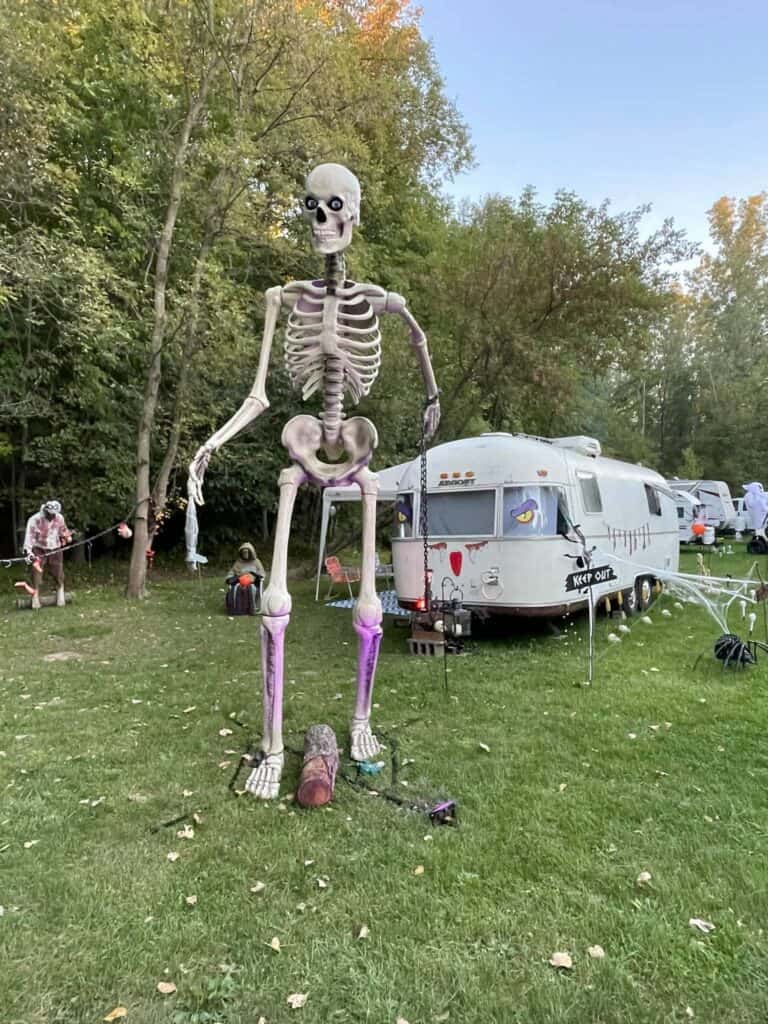 More RV and Halloween articles!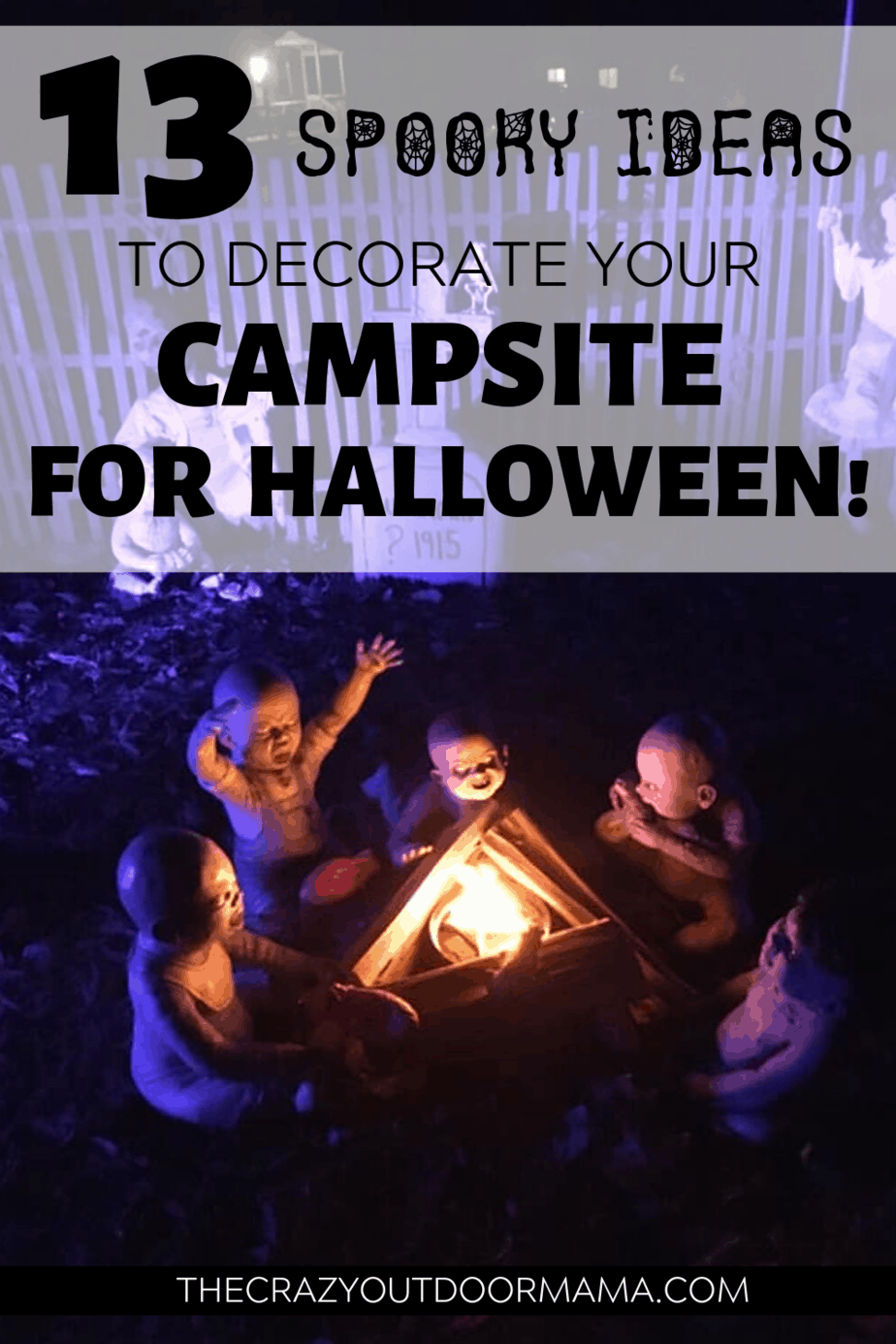 Latest posts by Stacy Bressler
(see all)