Do you ever brainstorm a really thorough camping pack list – you know, you either write it down on a scratch piece of paper, or maybe type it in your phone, and it has EVERYTHING you need?
Then… you lose it! ?
I've done that! In fact, as I sit here and type this, I have about 5 lists of various things sitting here on different mediums – printer paper, flashcards, backs of receipts. BLEH!
I definitely don't go camping to deal with more of the same… it's supposed to be an escape to nature from all the chaos of the real world!
With that in mind, I wanted to control what I could and make an actual organized, typed out version of our camper packlist that we could put in multiple places to ensure we DON'T forget anything, as well as to actually have something nice to refer to!
I don't know about you, but we tend to keep a second set of most things in the camper such as clothes, certain shoes, and of course all the gear that is for the camper only.
However, we do tend to struggle with the stuff we have to pack every time – the PERISHABLES / last minute items!
These are the things that are usually used up to the morning of leaving that can't be prepped ahead of time due to freezing concerns or just the fact that we use the items daily!
BONUS: I have created a filled in version, blank version, and editable via Adobe Reader (free!) so that you guys can get as organized and peaceful of camp trip possible (without the emergency run to Wal-Mart!) Scroll to the bottom of the post to get your printables if you're in a rush!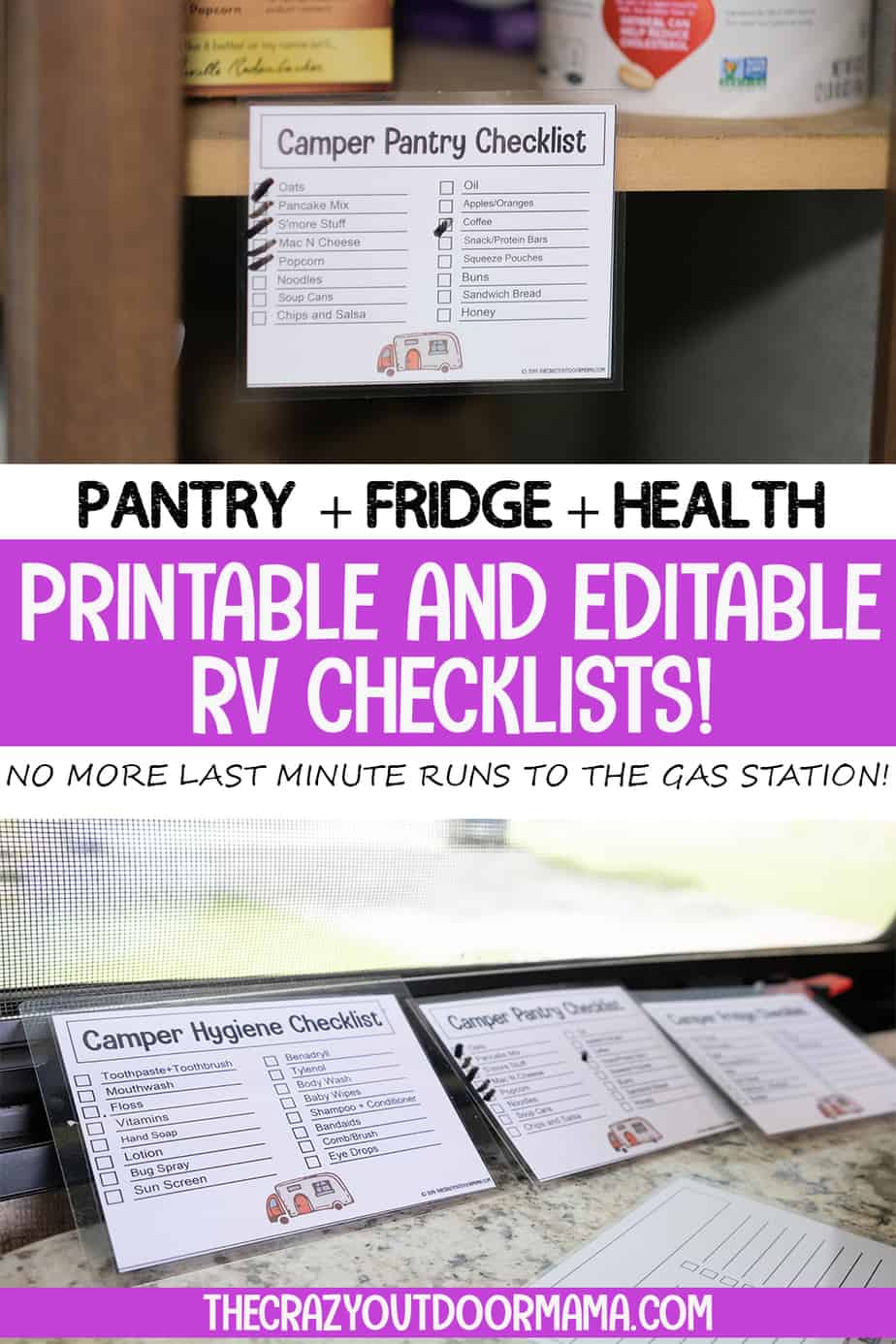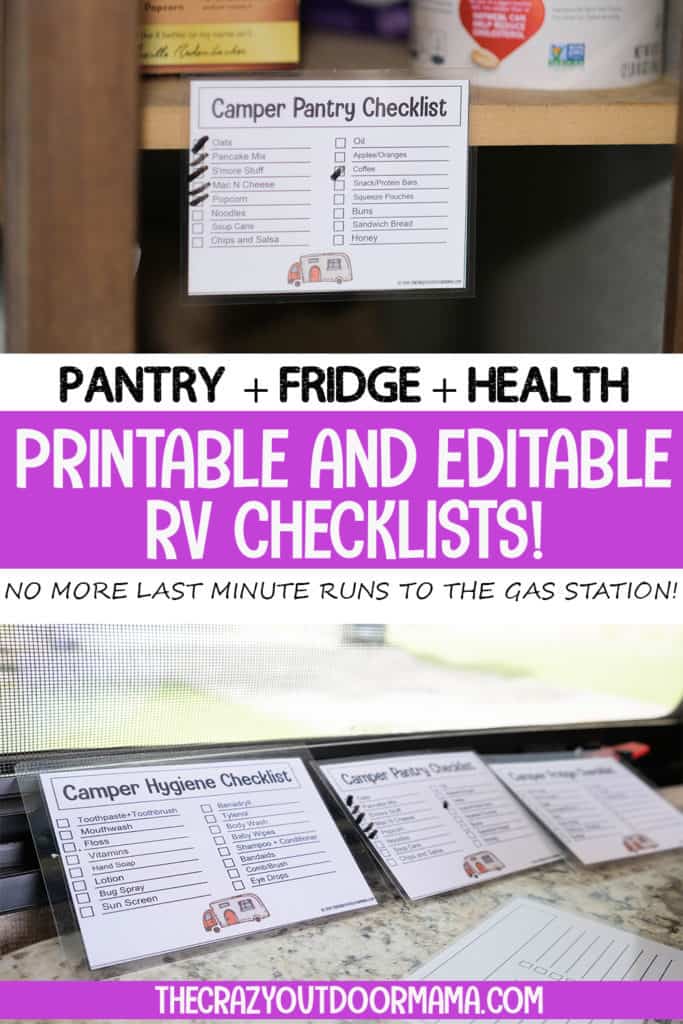 Pantry Staples for RV Camping (with 3 Kids

!)
We definitely like to enjoy our camp trip, so we bring lots of snacks as well as some basics for us!
Our breakfasts tend to be oatmeal pancakes, sandwiches or hotdogs for lunch, and burgers for dinner. As for everything else on the list? Well, kids eat ALOT of food!
We always make sure to bring plenty of snacks, esepcially if we plan on hiking and know the kiddos will need a little extra energy and motivation!
Some of the stuff on the list isn't technically "perishable" but it does often get used up after each trip, so we restock it!
Here's what's in our camper pantry for two adults and 3 kids that are 3 and under:
Oats
Pancake Mix
S'more Stuff
Mac N Cheese
Popcorn
Noodles
Soup
Chips and Salsa
Coconut Oil
Fruit
Coffee
Snack/Protein Bars
Squeeze Pouches
Buns
Sandwich Bread
Honey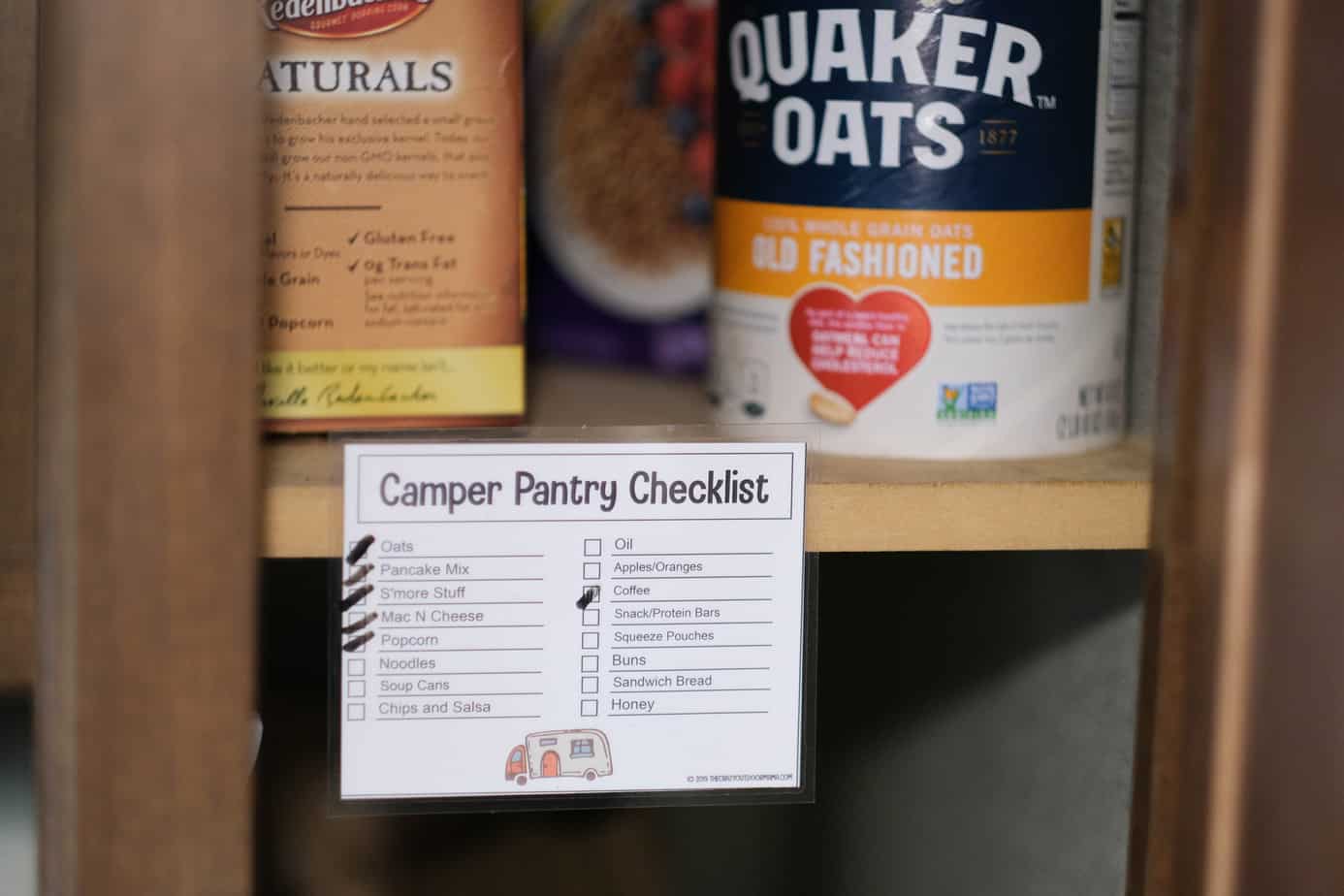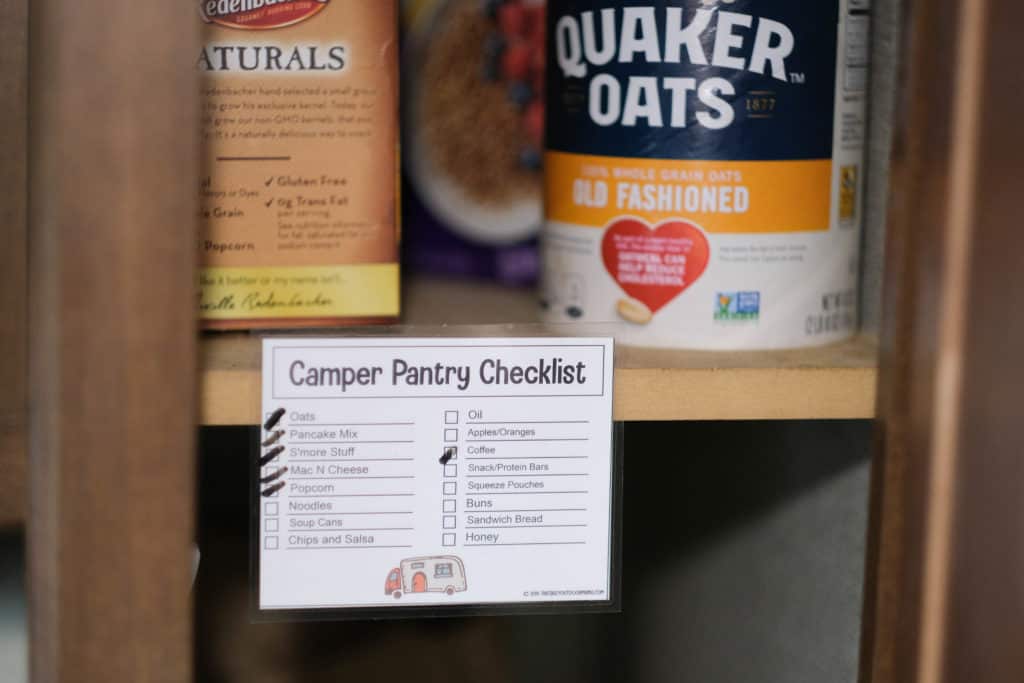 Refrigerated Staples for RV Camping

with the Family
We're a meat heavy family as we find it's the easiest and most filling. We do tend to buy higher quality meat when we can so that our trip isn't a total wreck on our health!
Camper refrigerators can be pretty small (ours is the size of a small mini fridge) so things like sparkling water, beer, waters etc go in a cooler with ice, or sometimes even dry ice depending on the length of the trip.
Here's what we bring on most camp trips in our fridge
Hotdogs
Hamburgers
Eggs
Sausage/Bacon
Deli Meat
Milk
Butter
Cheese Sticks
Ketchup + Mustard
Pickles
Syrup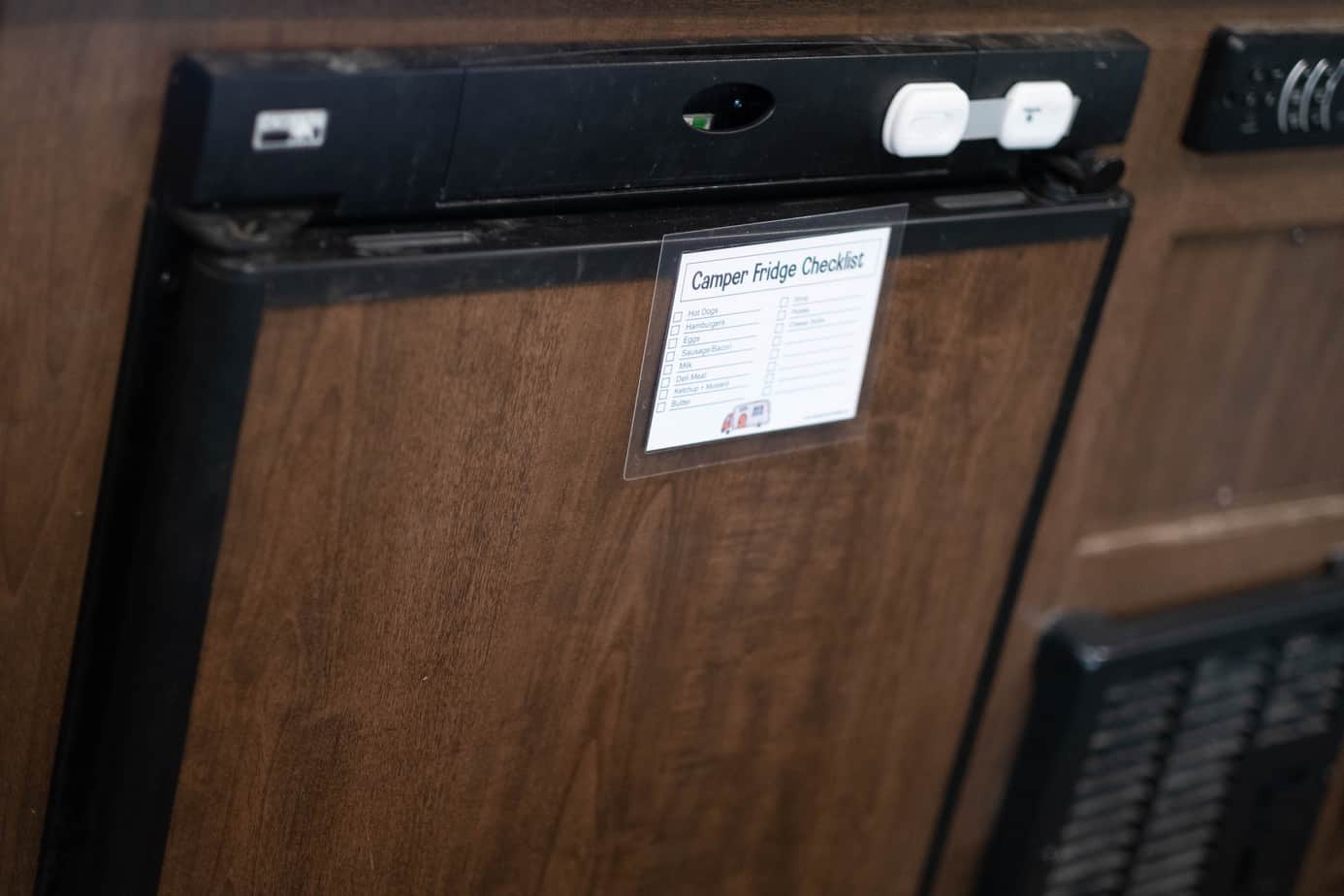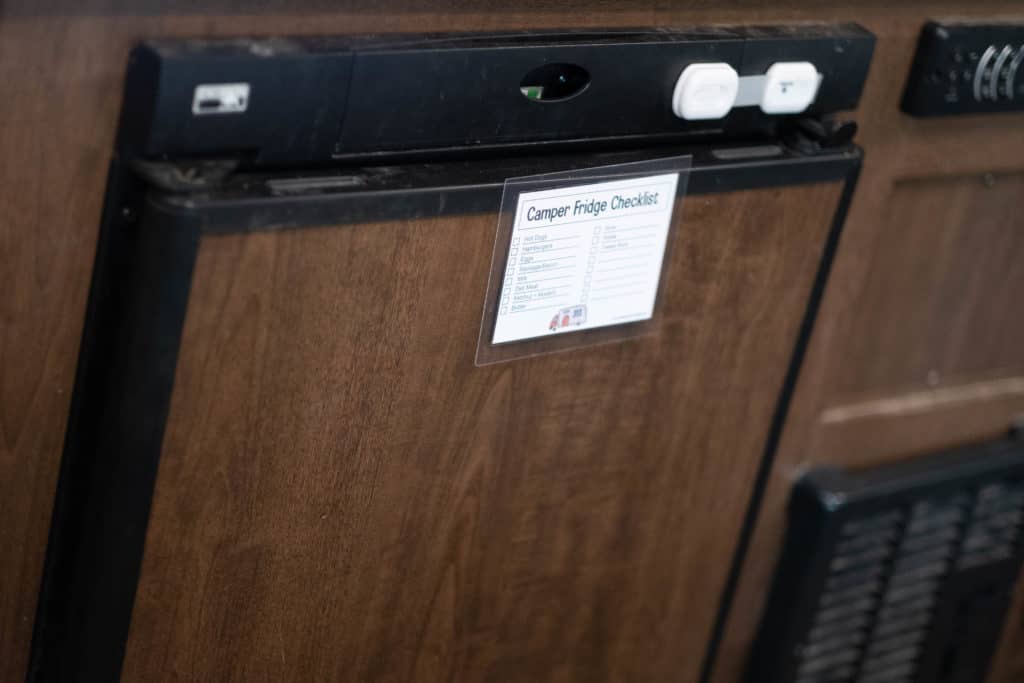 What we bring camping for use in the bathroom
This one isn't technically "perishable" unless you live in the North where you start camping in April/May and it still freezes at night sometimes up until June which can really affect the consistancy of some products!
This is really easy though for the smaller items – just buy one of those travel toiletry bags that zip up, and just move the whole thing back and forth between camp trips!
It's great for transportation as most of them zip securely closed. Once your parked, just unzip, hang it on a 3m hook in the bathroom, and you're ready!
Toothpaste / Toothbrush
Mouthwash
Floss
Vitamins
Hand Soap
Lotion
Bug Spray
Sun Screen
Benadryll
Tylenol
Body Wash
Wipes
Shampoo + Conditioner (if you plan on being gone for awhile)
Bandaids
Comb/Brush
Eye Drops (especially if you go camping in the desert or near high wind areas!)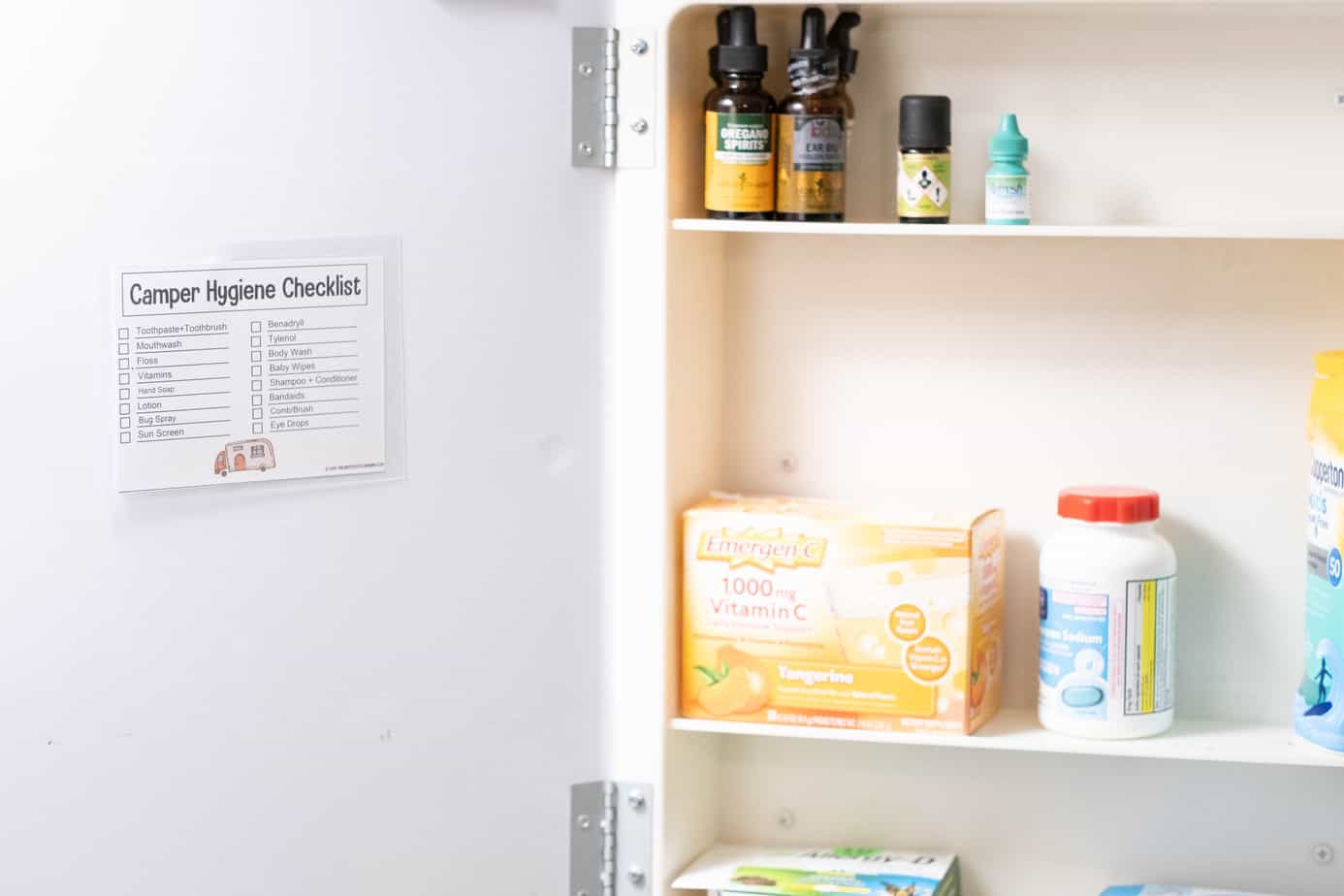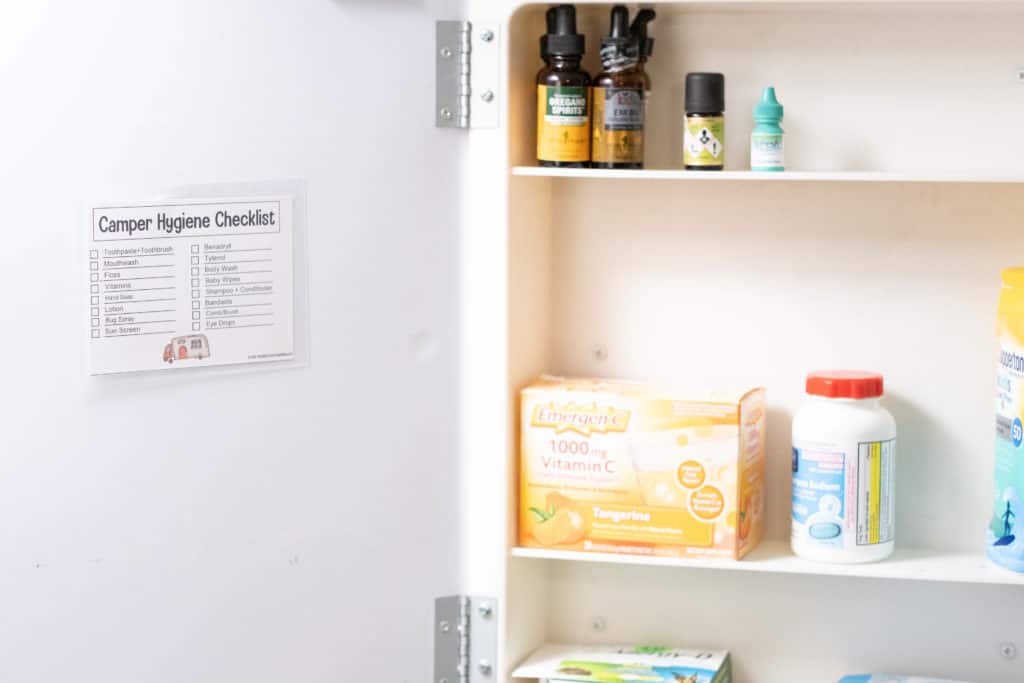 Here are the printable, EDITABLE, versions of these camping packing lists I mentioned earlier!
I'm such a paper person, and if you are too, great! I have a couple of different versions to fit what you need!
(Don't worry, the watermark will go away for your personal copy!)
The size of each category is roughly the size of a 3 x 5 index card, so it's perfect for gluing to that for more durability, or you can choose to laminate for repeated use (I did!)
I also included an extra write in template that could be useful for remembering extra, out of the norm stuff IE a pool/hot springs trip, climbing focused trip etc where you might need different things than normal!
A copy of them with exactly what I included on this list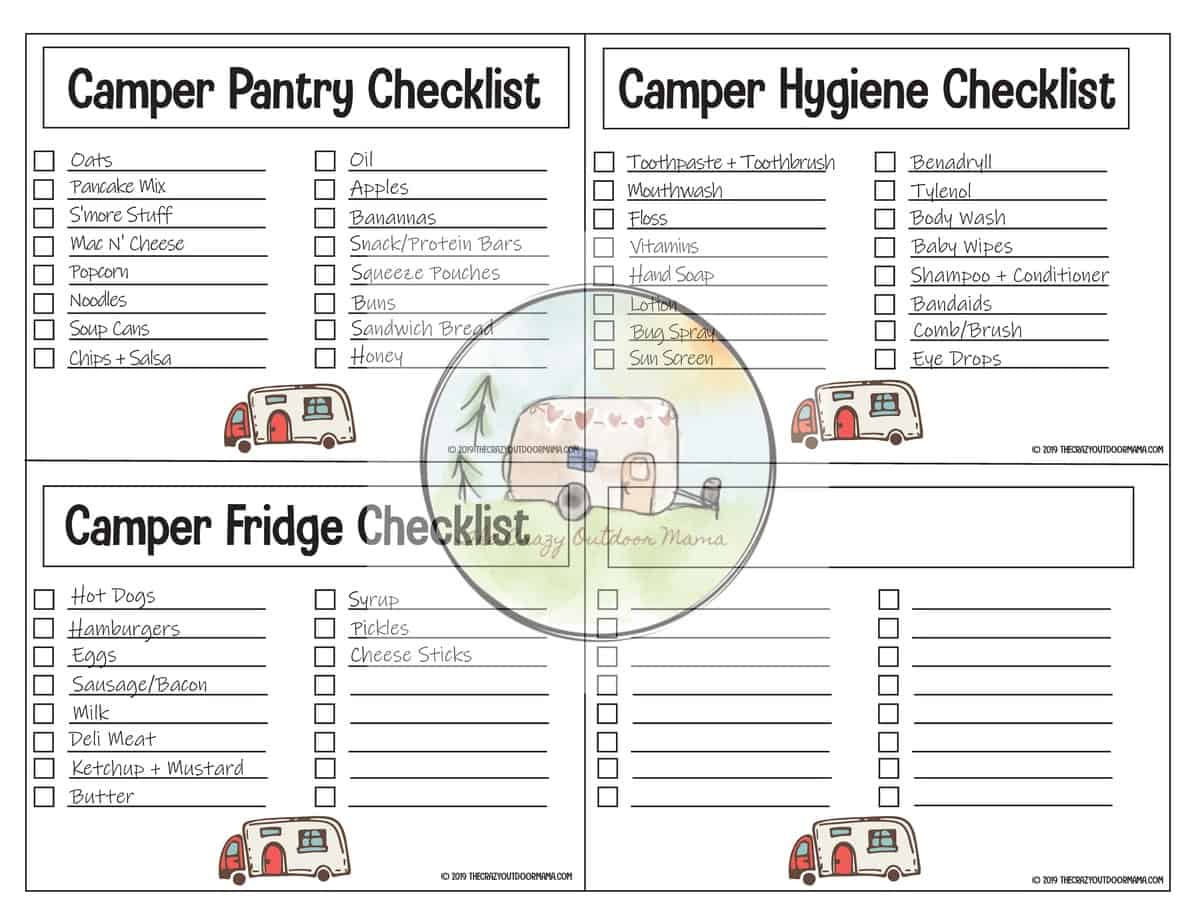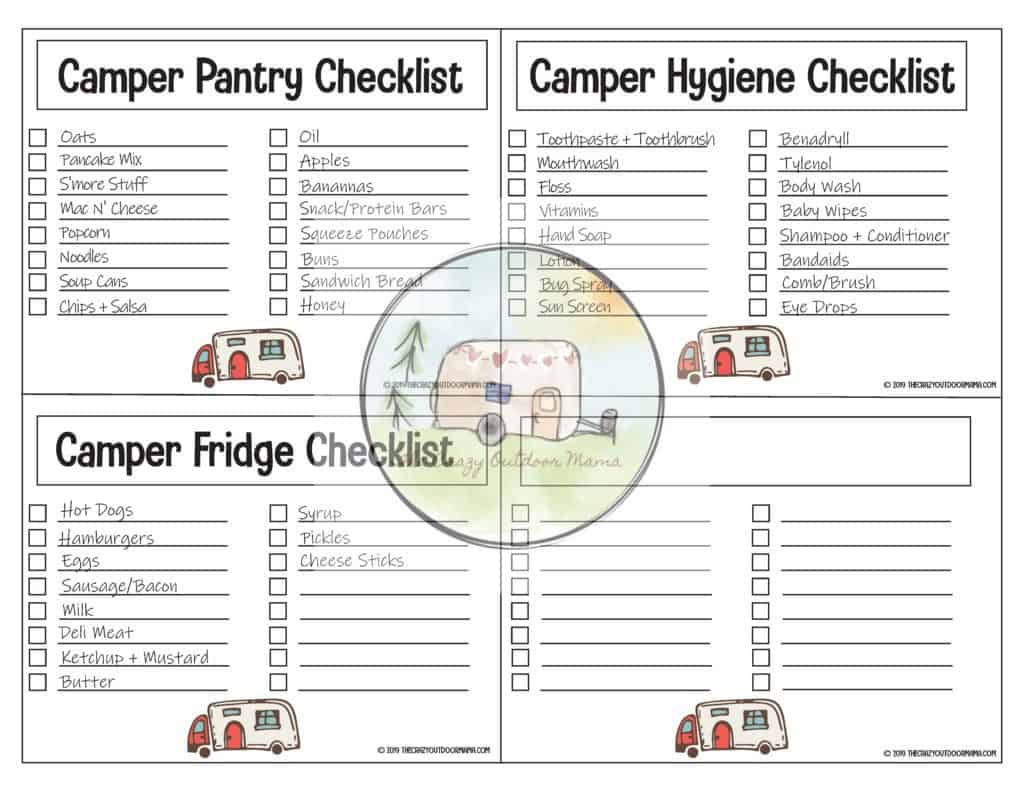 An editable version of this list so that you can swap out/get rid of what you don't need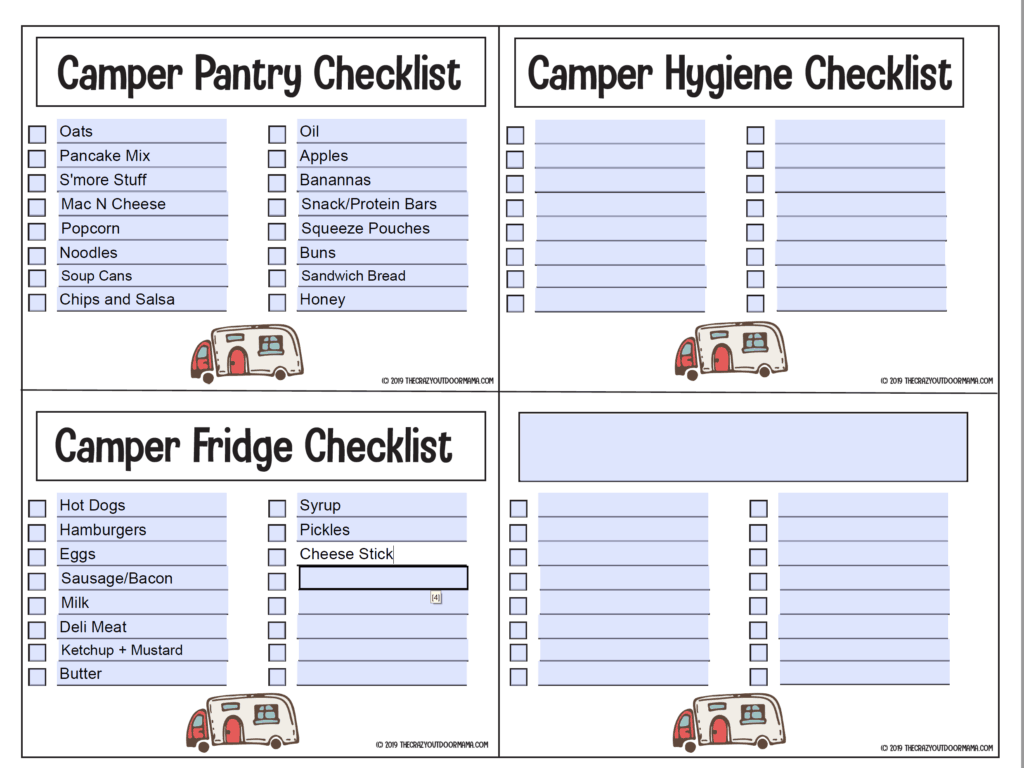 A completely blank template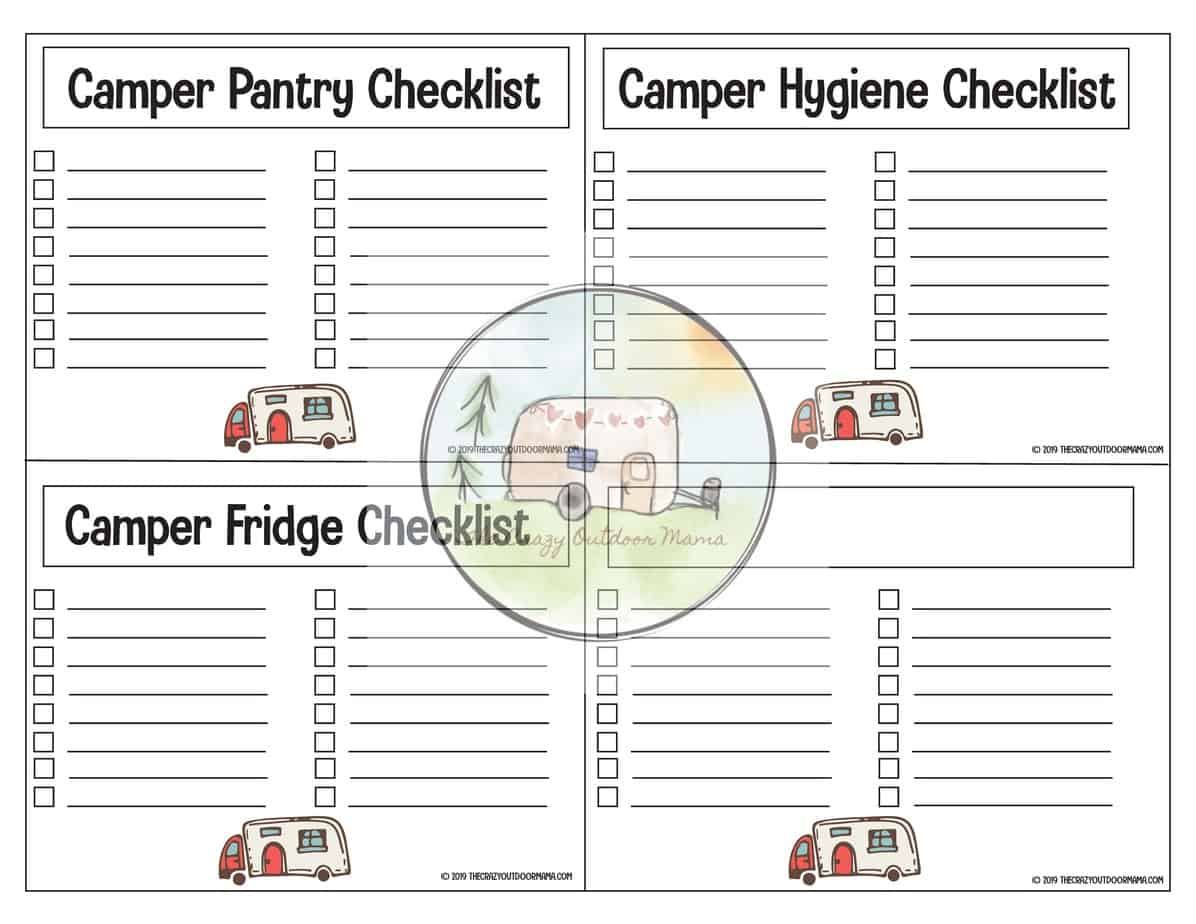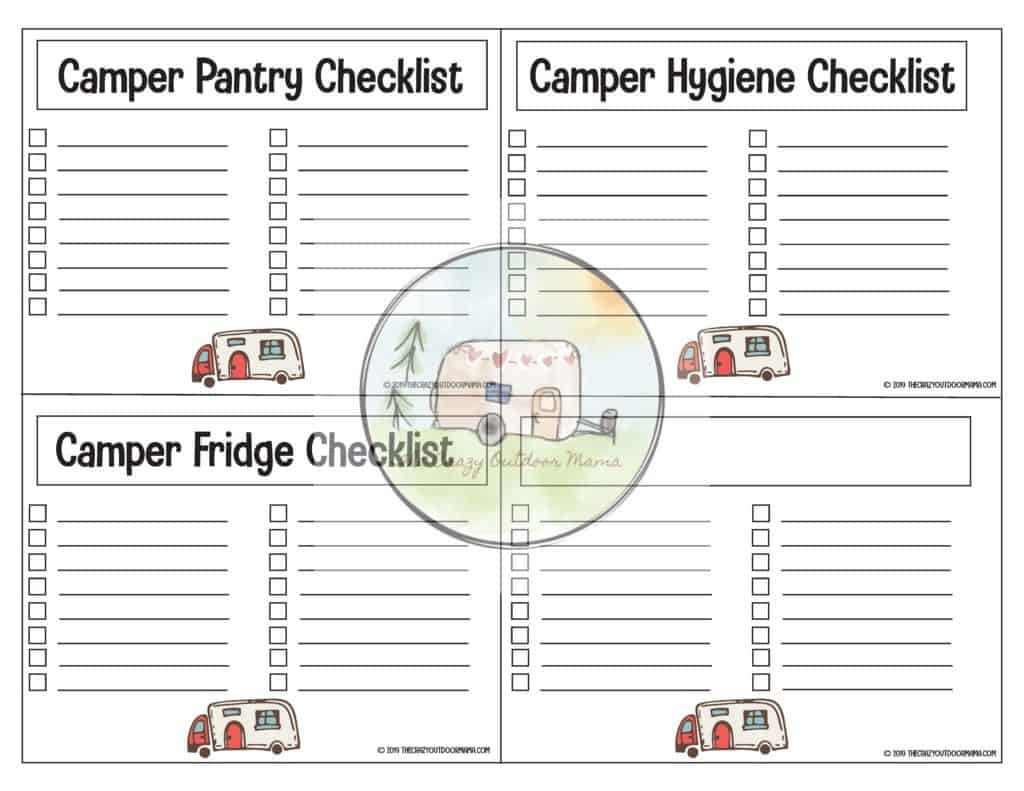 With all these food (and health!) camper checklists, I hope you feel a little less frazzled about camping… especially with kids!
Going camping, if you don't do it often, can feel like alot of work to "relax". But this is especially true if you're bringing children, especially picky ones who will only eat ONE meat item, which is a brand of sausage that only 2 stores in your hometown stock… no one wants to deal with a hunger strike while camping!
So prep ahead of time so that you don't have to make due with whatever food you find near you (gas station hot dogs anyone? EEK!)
P.S. You might also like these other RV articles!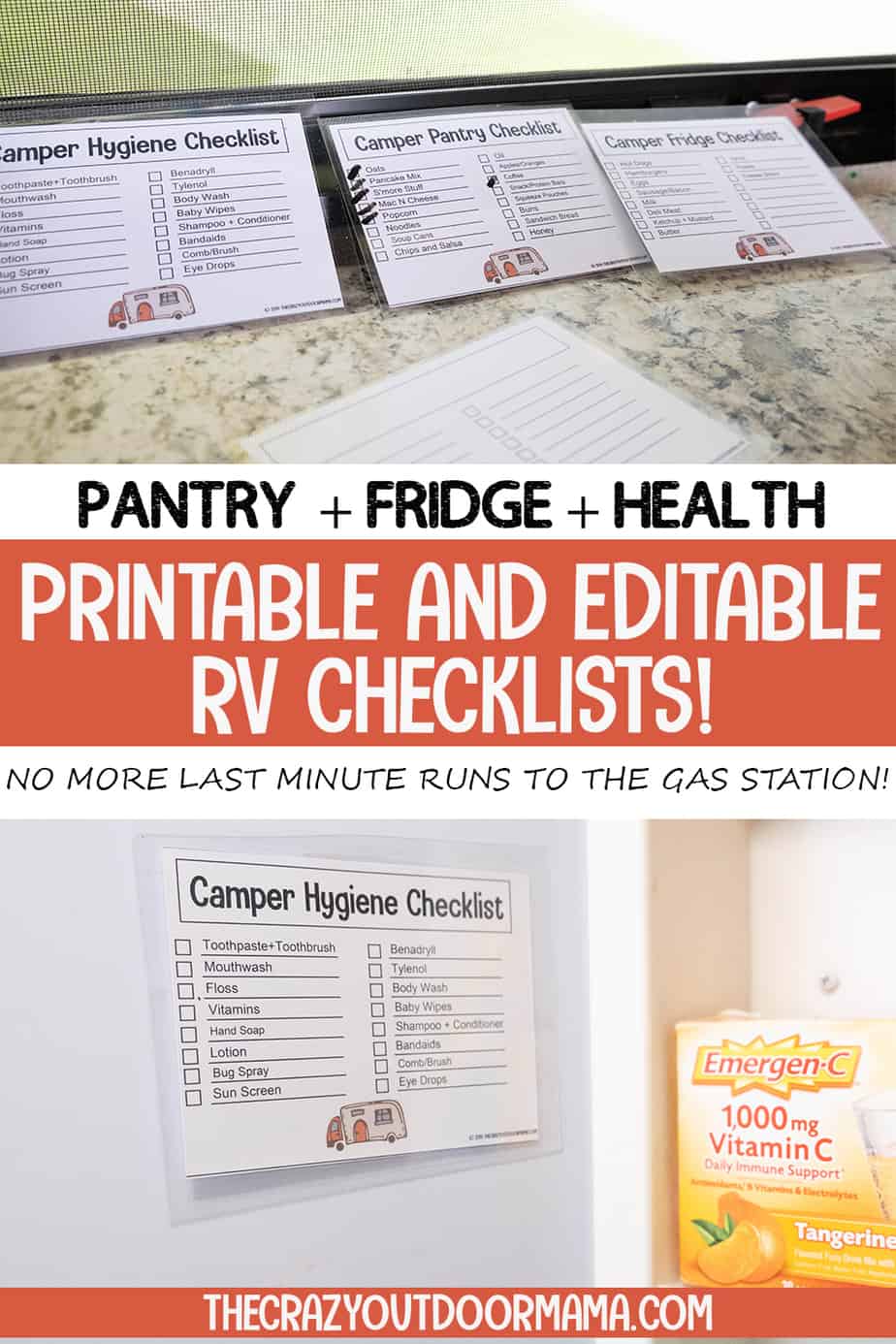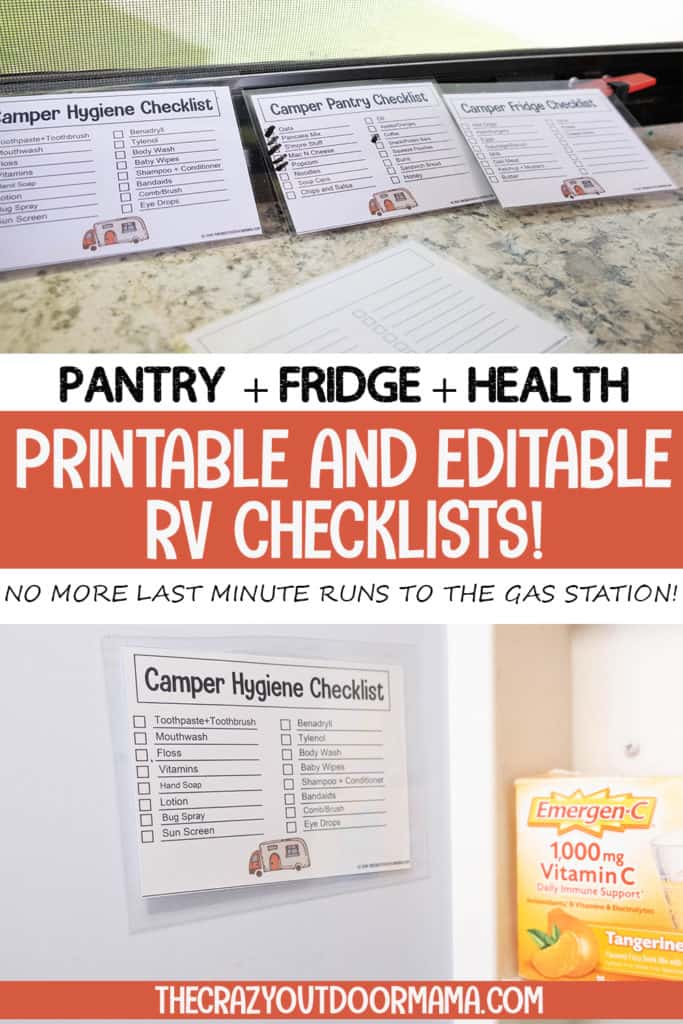 Latest posts by Stacy Bressler
(see all)