Picking a floor plan for your camper van is one of the most important decisions you'll make, but it's also so fun!
Getting to design your own van that's completely customized to you is super exciting, but you might just need some inspiration… So, I've compiled this list of 30 different camper van floor plans that you can browse through to get an idea of what your camper van will look like.
Whether you want a large shower, bunk beds, or an outdoor kitchen, I've got it all right here!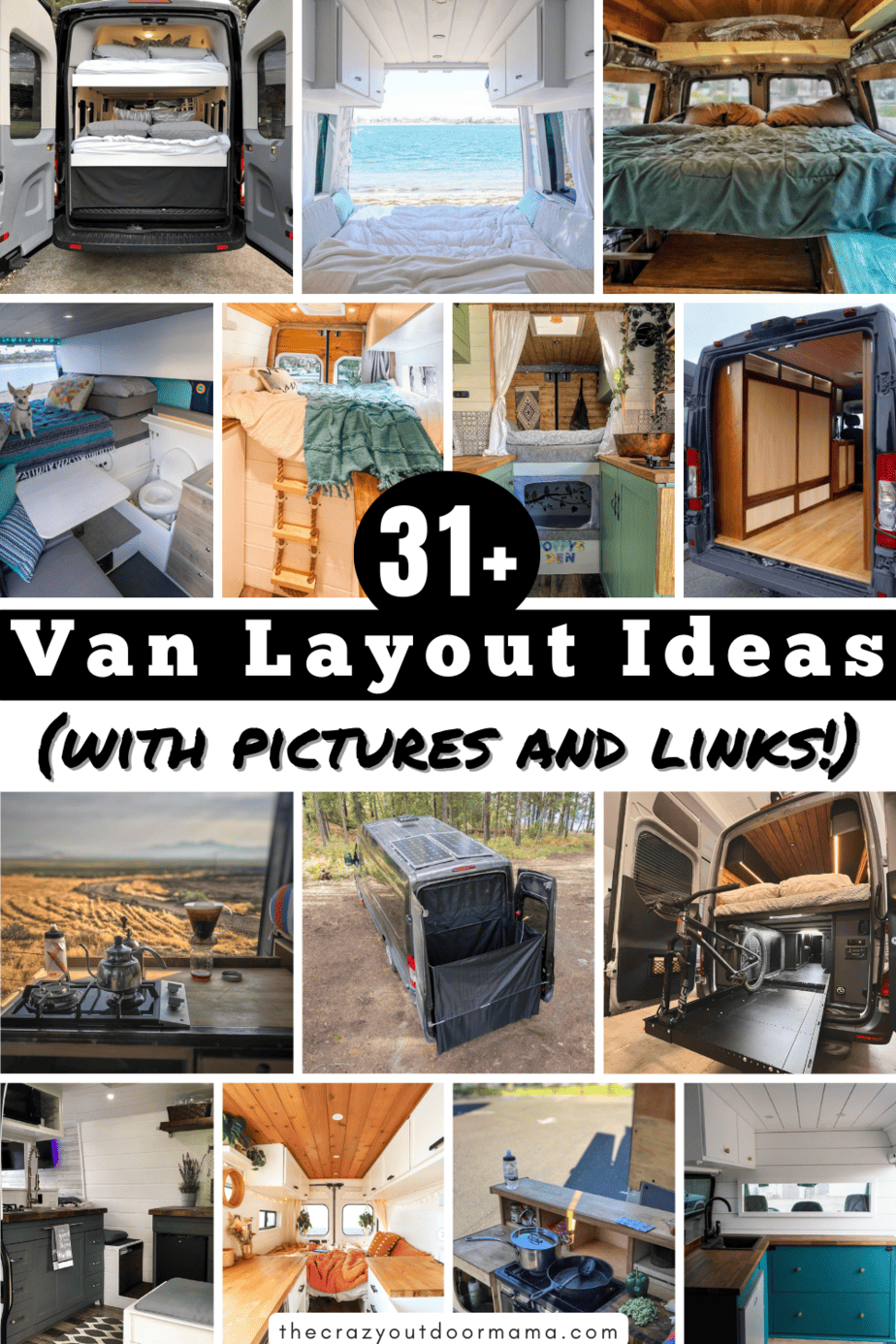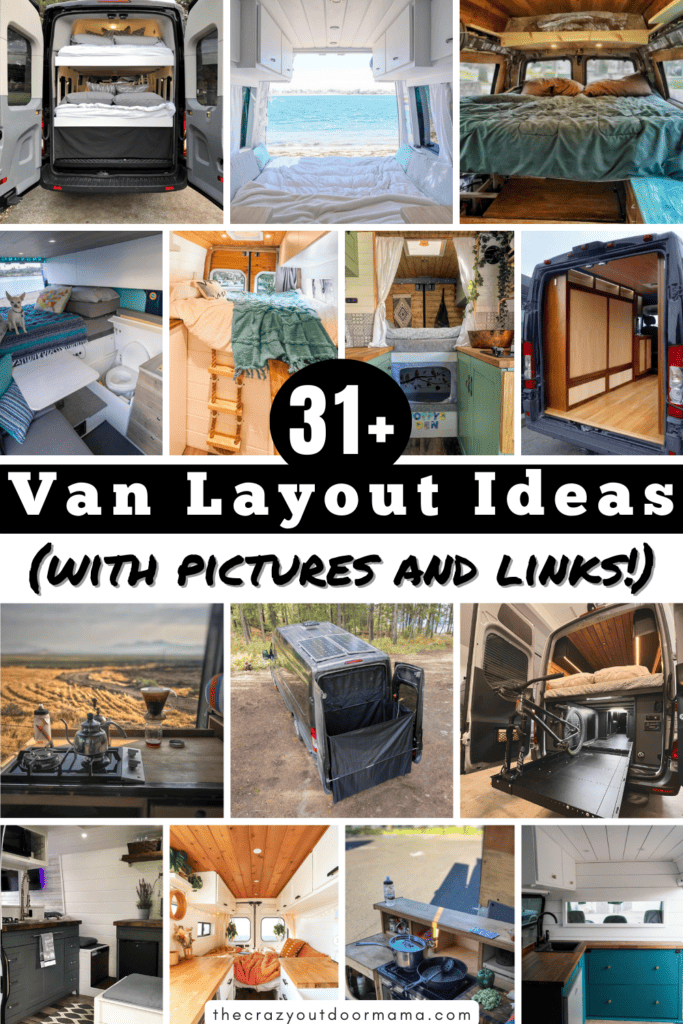 3 Top Things to Consider When Choosing Your Camper Van Floor Plan
Have a Short List of Must-Haves: Because we're working with so little space, it's important to keep your expectations just as small. Before looking at any camper van floor plans, make a mental note of what is absolutely necessary for you in your camper van layout (ex. a bathroom, lots of storage, a full kitchen, etc.)
Multi-Purpose Is King! Look for ways to create multi-purpose design elements. This is the best way you can increase the amount of boxes your camper van layout checks. Camper vans just don't have the space for both an eating table and an office table so be sure that there are many spaces in your layout that serve more than one function.
Choose Functionality Over Aesthetics: Looking at Instagram, you may think that van life is all about aesthetics. And while you can have a van build that is both visually pleasing, and works for your lifestyle, I'd always recommend prioritizing the latter. Living in a really Instagram-worthy van doesn't mean much if it doesn't suit your needs.
30 Super Awesome Camper Van Floor Plan Ideas
Alright, now I'll go into some general ideas for your camper van floor plan.
Remember that each van build is super specific to each person. Any of these camper van layouts absolutely needs to be catered to your specific wants and needs.
I'm starting off with some more general camper van floor plans and then I'll go into ideas for your van's bathroom, kitchen, and bedroom!
Two-Person Workspace and a Shower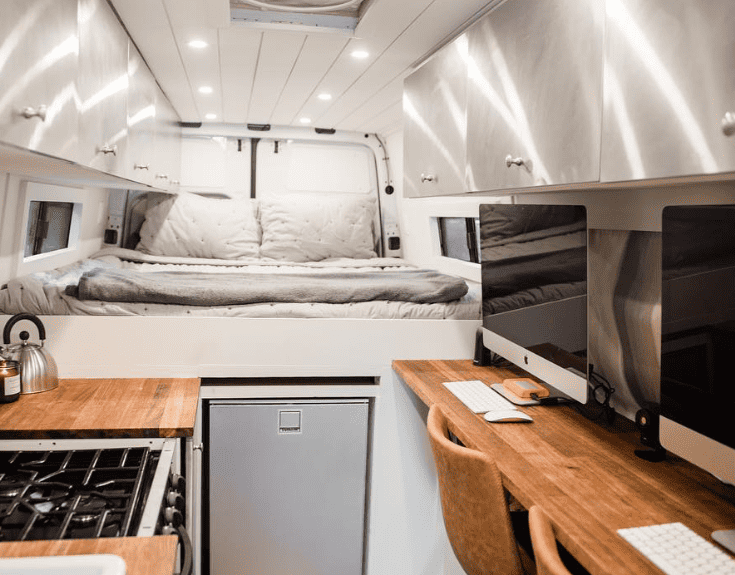 This self-converted Sprinter van has it all. It's arranged with a platform king-sized bed at the back, a kitchen on one side, and a workspace on the other.
They also somehow managed to fit a shower, stove, and garage space for two bikes at the back. You are giving up a good amount of open floor space when packing in this many amenities, though.
Here's a full tour of this camper van conversion:
Workspace/Dining Area with Corner Kitchen and a Wet Room
This Ford Transit conversion is really beautifully designed. It's got a corner kitchen up front that separates the driving cab from the rest of the van.
The wet room has a shower and a chemical toilet, there's a fixed bed at the back, and a working/dining space for two people.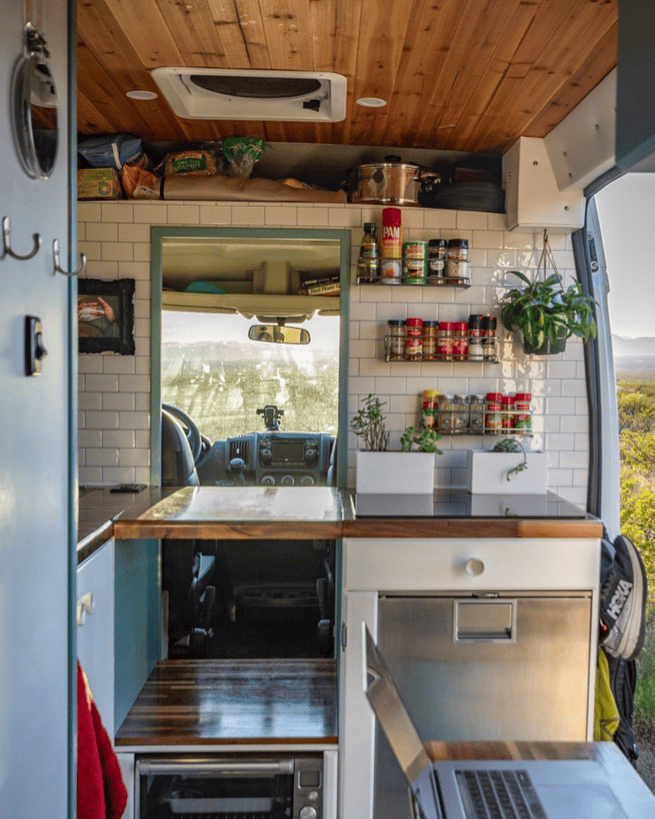 Raised Bed Across the Back and a Dinette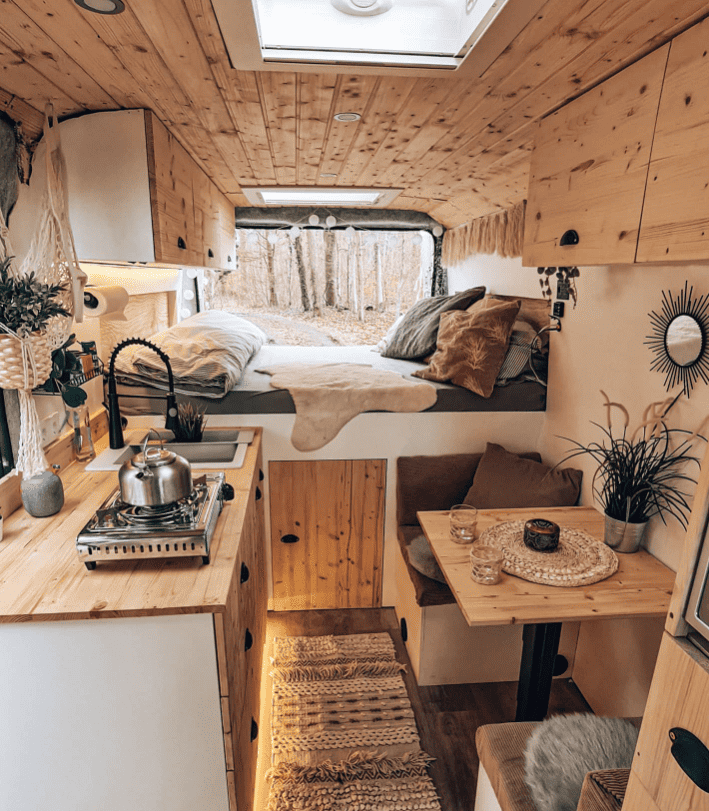 Here's a wood-finished interior van with a platform bed, a kitchen with a countertop burner, and a small dinette. It also has lots of storage under that raised bed.
This Ford Transit build does not have a toilet or shower, but it's so cute inside I feel like I just can't complain!
Gear Storage Build with Seating and a Skylight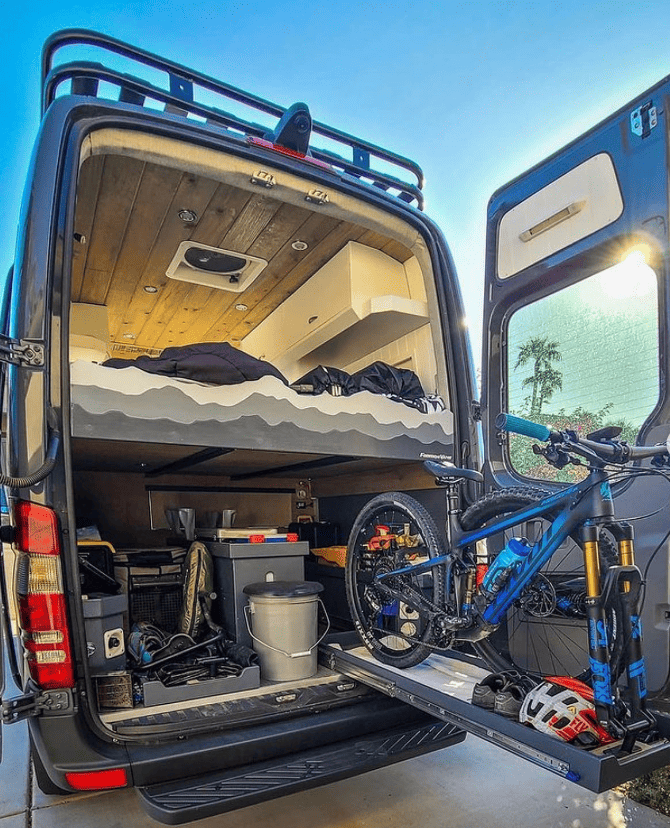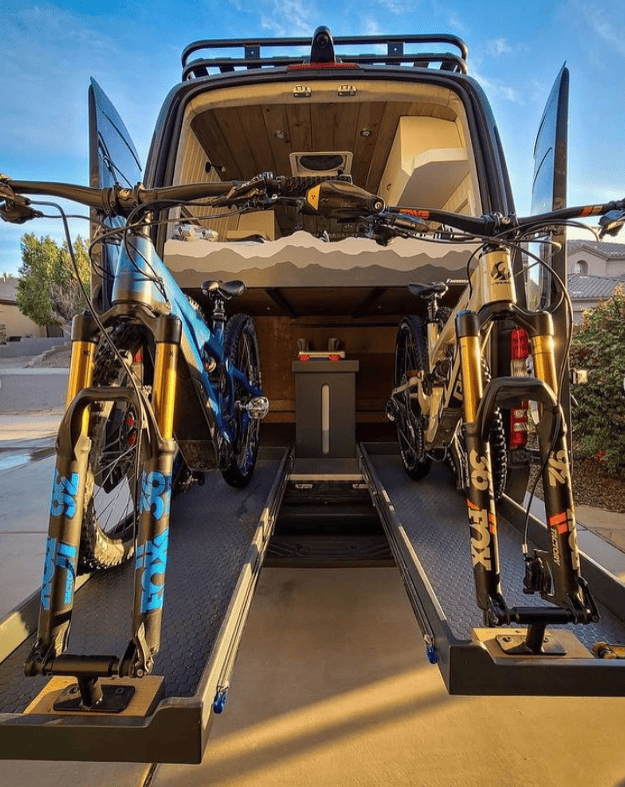 This build has a pretty high platform bed that makes room for bike storage. The "garage" at the back has two slots made specifically for bikes. These slots slide out so you can easily load and unload your gear.
On the interior, there's a large skylight, an induction burner, and a nice bench seating area.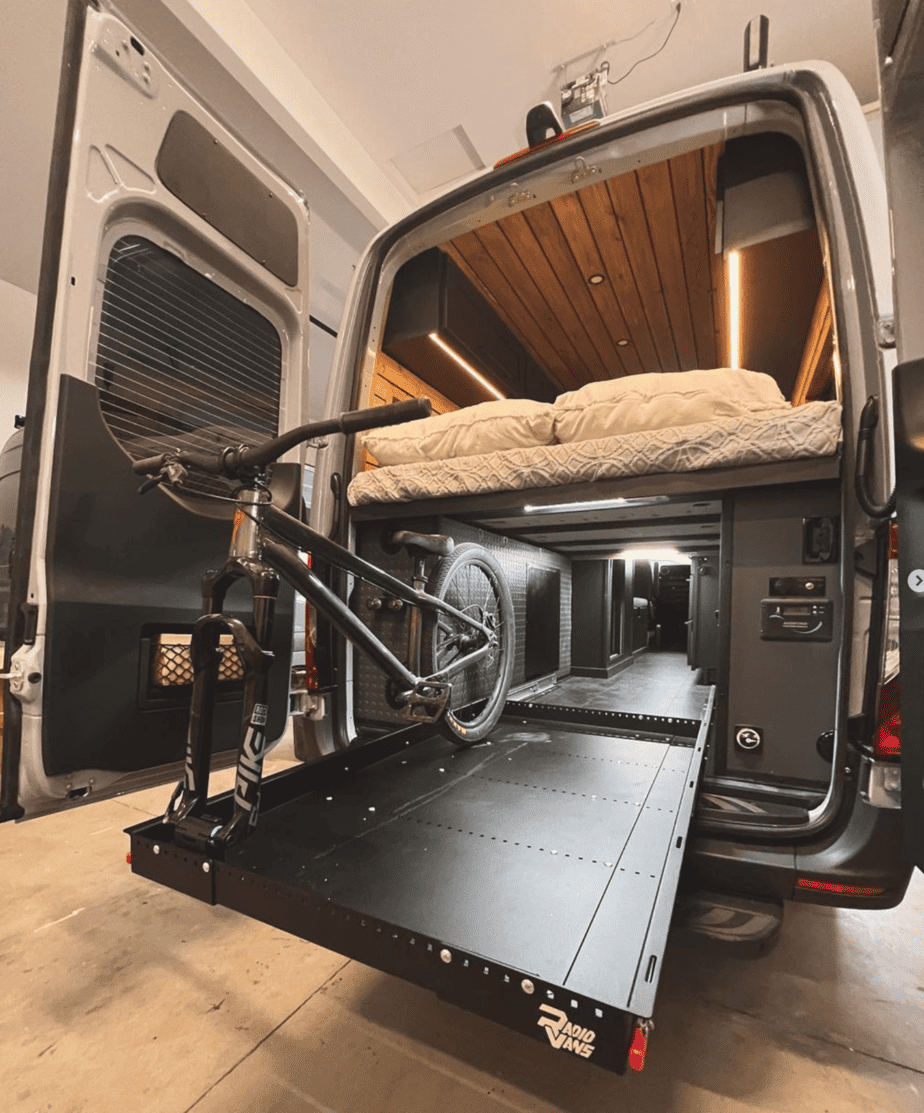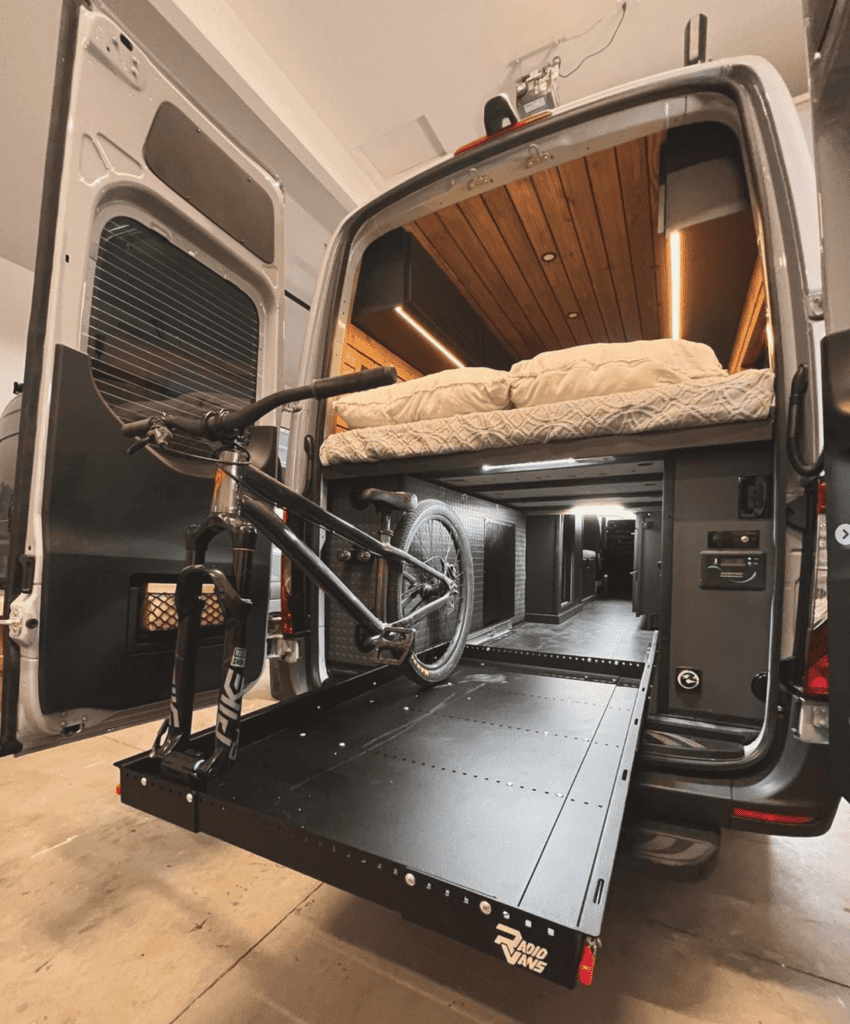 Raised Bed in the Back and a Large Workspace and Kitchen Area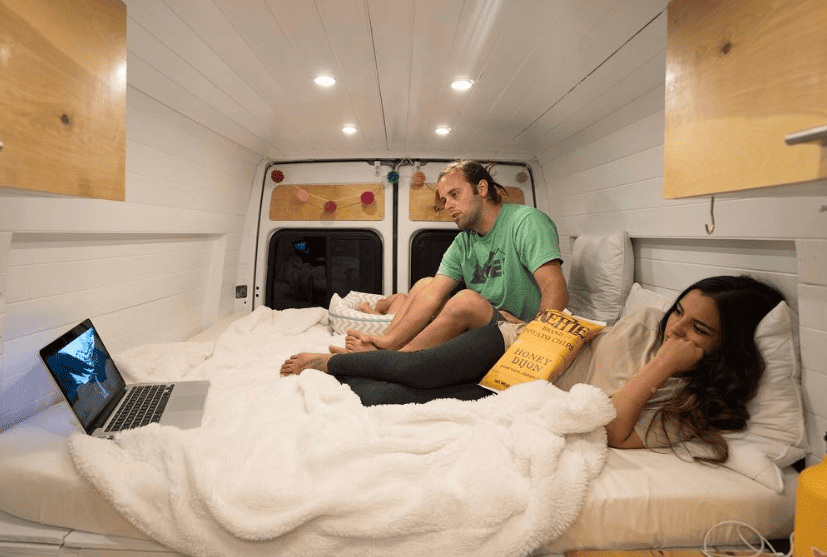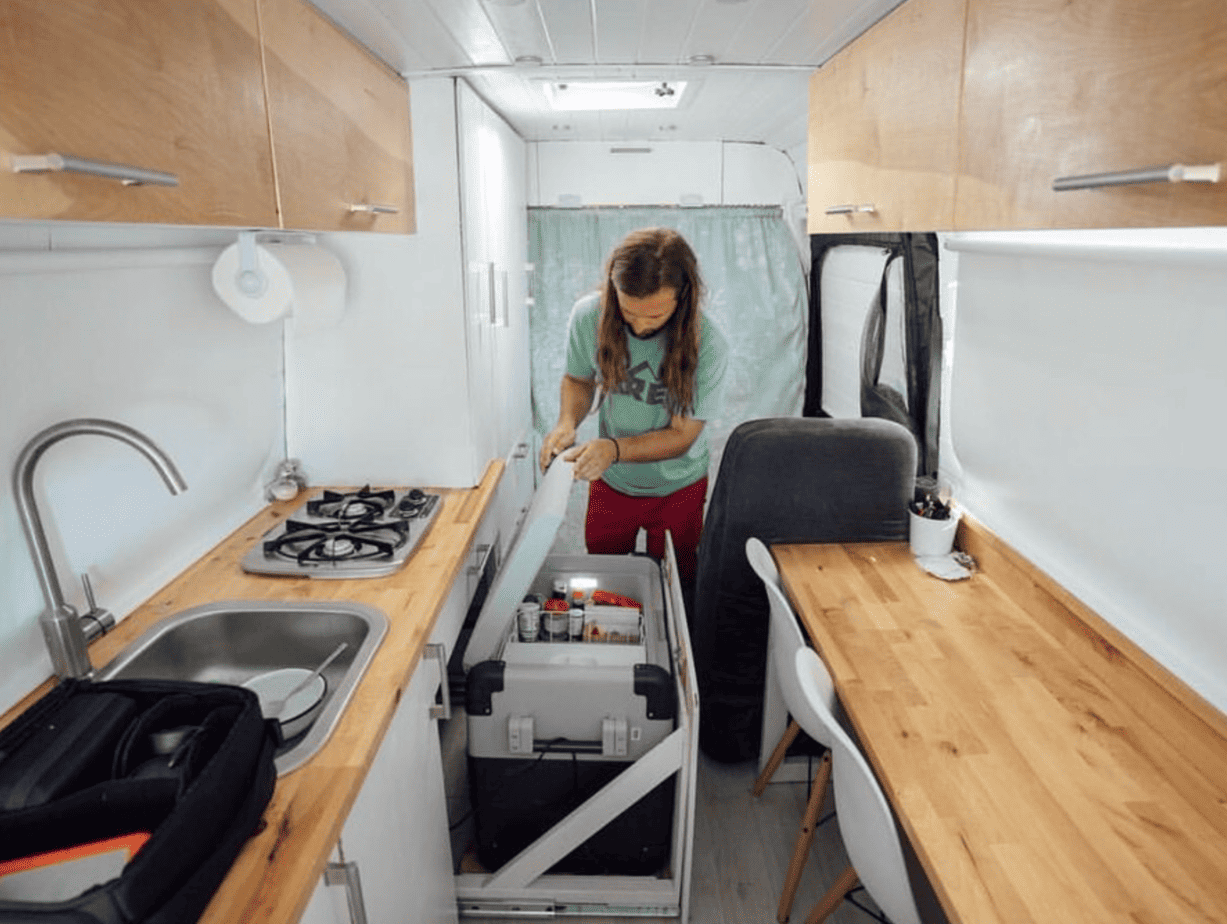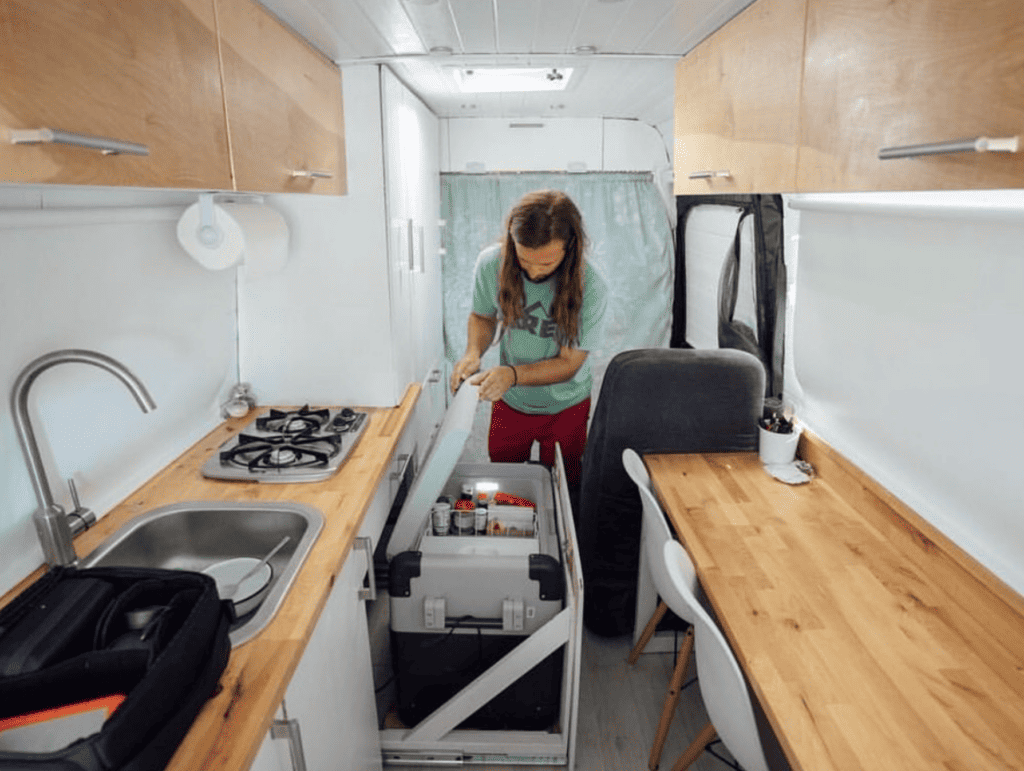 This minimalist van from our home on wheels has all the bare necessities. They've built a large platform bed at the back. On either side of the van is a large workspace, and a kitchen. Plus, I love that pull-out fridge that's completely hidden away in a kitchen drawer.
10 Camper Van Bathroom Layouts
Not all camper vans have bathrooms–some builds just don't have room for one. Those that do have to get really creative with how they incorporate a toilet, shower, or both into the space.
So here are some of the best camper van layouts for your bathroom I could find out there, from just toilets, to showers, to both!
Under-Dinette Composting Toilet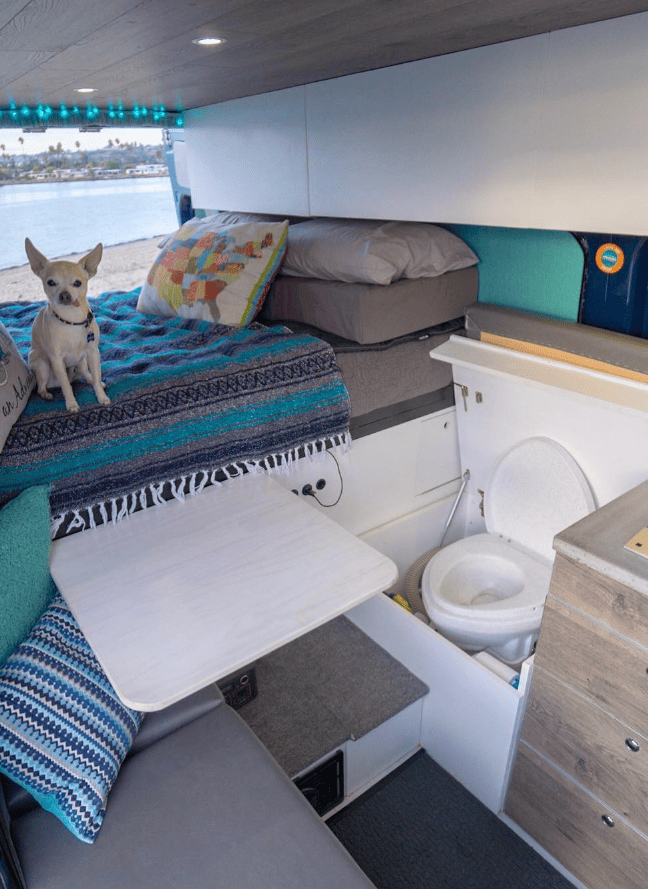 I've gotta say, this is one of the more clever toilet setups I've seen in a camper van.
The toilet in this Mercedes Sprinter conversion is hidden under a cushion of the dinette. And if you didn't know it was there, there's no way you could tell. As long as you're okay with doing your business seated right next to your kitchen and bed, I think this is a really smart setup.
Shower with Toilet Storage
This build has the tiled shower tucked away behind a sliding door next to the kitchen.
The couple that lives in here also decides to store their portable cassette toilet inside the shower, which is super convenient. The shower does take up quite a bit of room, but if you ask me, it's so worth it to have one.
Here's a tour of this gorgeous van:
Exterior Shower With Curtains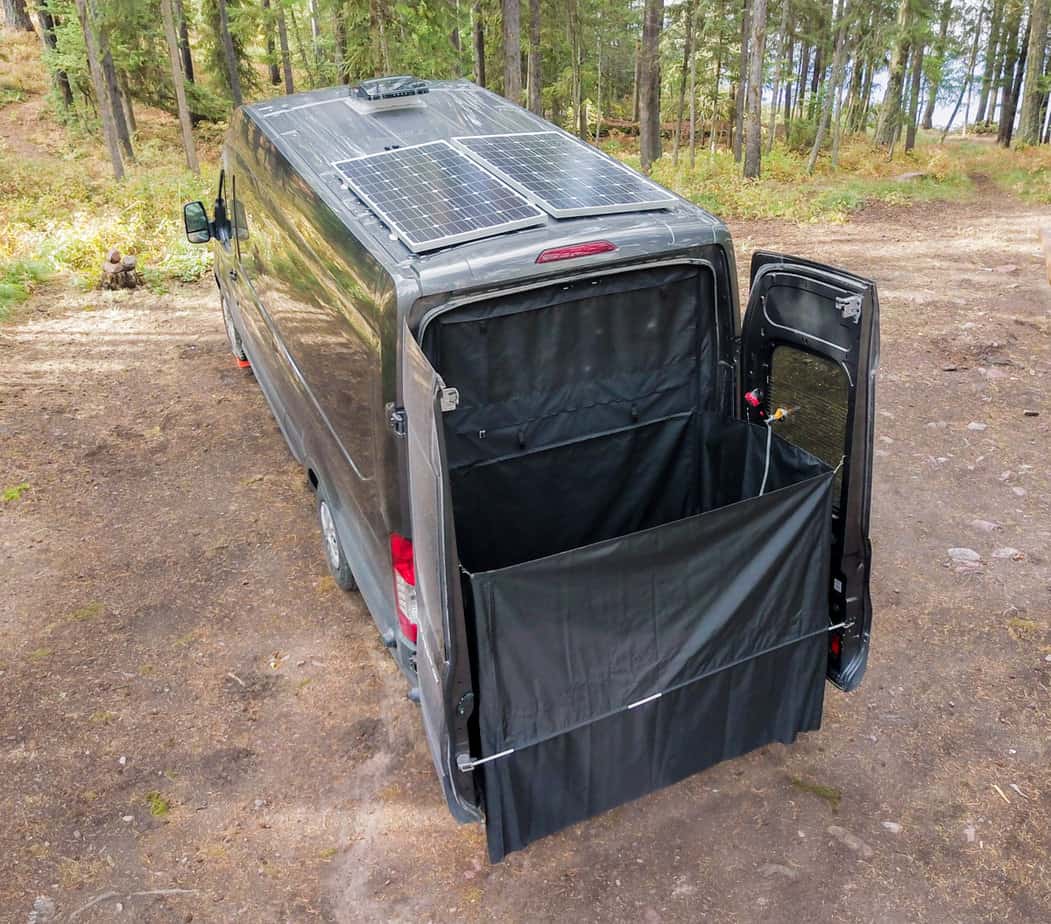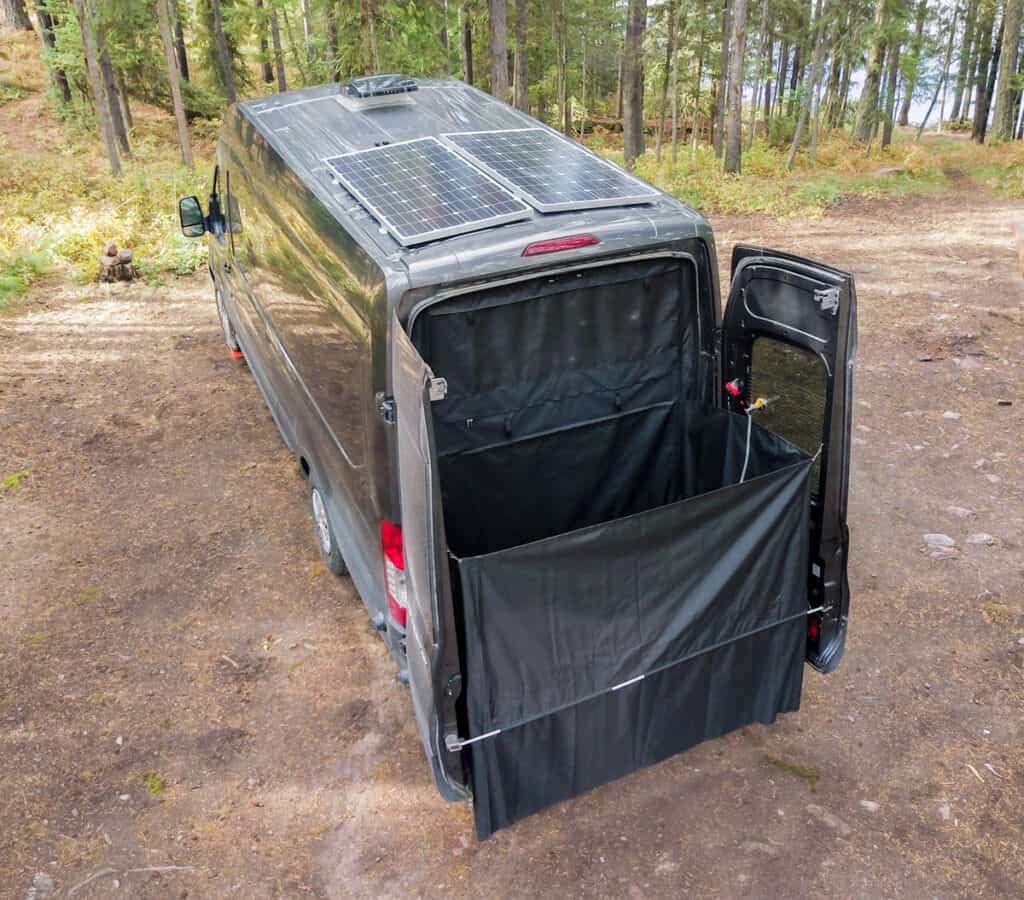 Of course, I had to include this option: the lovely outdoor shower!!
An outdoor shower saves you tons of space, and is a great option as long as you're comfortable showering outside. You will need to be in a warmer climate to use this, though.
Large Shower with Room for a Composting Toilet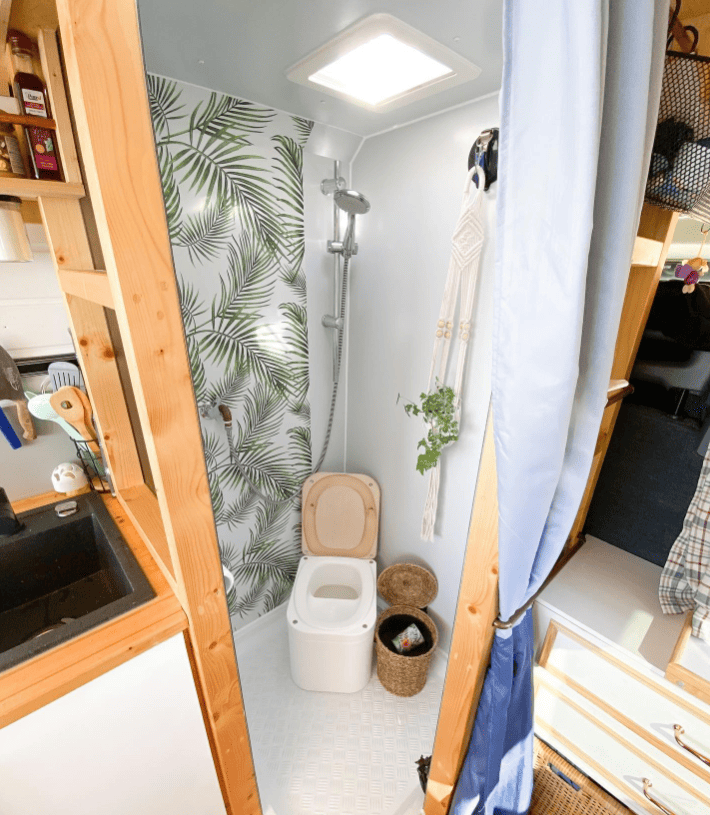 This is one of the largest showers I've seen in a camper van layout. It's got a linoleum floor, a light, and a nice curtain for privacy.
The shower in this Fiat Ducato has room for a toilet–in this one it's a composting toilet, but a portable cassette toilet would work in this space as well.
BTW, if your'e super into organization (like me) check out my 9 PERFECT Small RV Bathroom Organization Tricks!
Shower-in-a-Drawer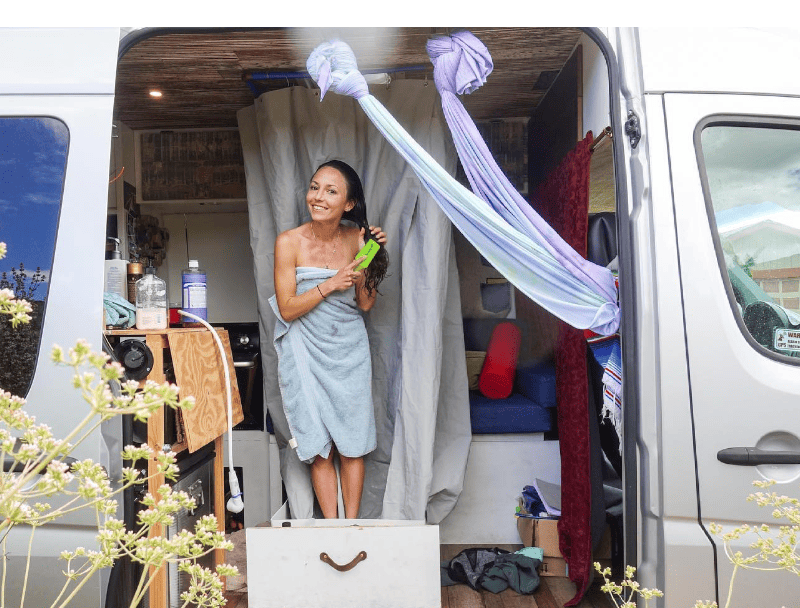 Brittany and Drew over at mr and mrs adventure have one of the most unique shower setups I've ever seen. It's in a drawer!!
The drawer pulls out from under the seating area, and the showerhead is hooked up to the freshwater. They have a curtain that goes around the drawer to keep the water contained.
Check out their video on how they built this unique shower:
Shower in the Counter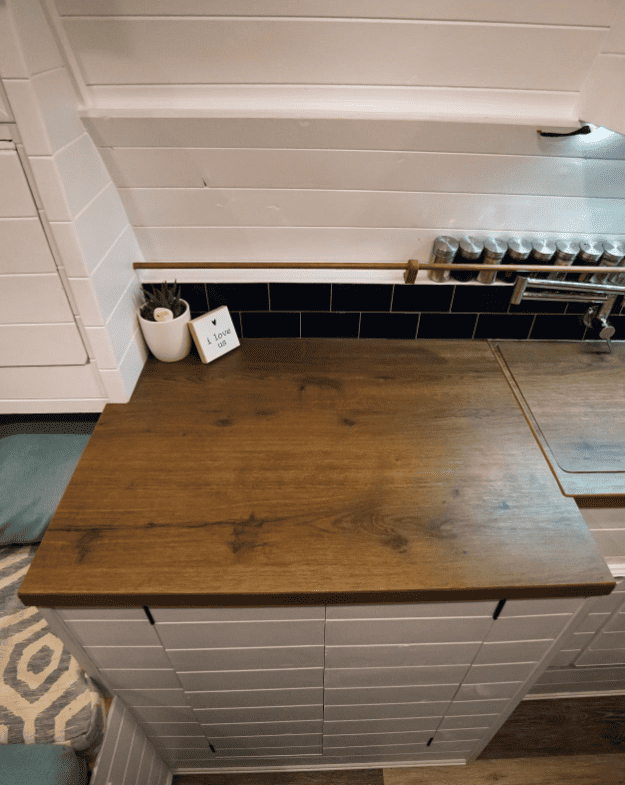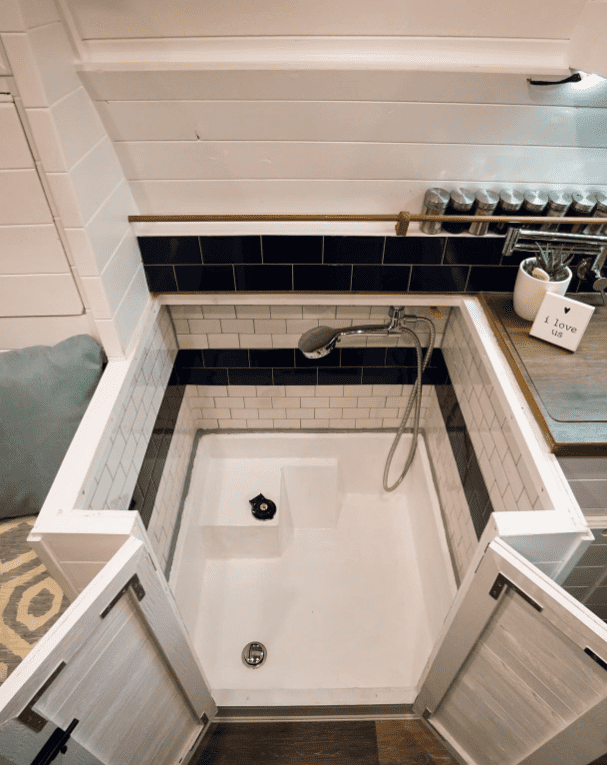 Here's another shower that's completely hidden: it's in the counter!
The top of the counter comes off and reveals a showerhead and a drain. (It's pretty spacious for being on the inside of a counter, right?) They've also got a curtain that attaches to the ceiling so the shower doesn't make a huge mess.
Hidden Pull Out Cassette Toilet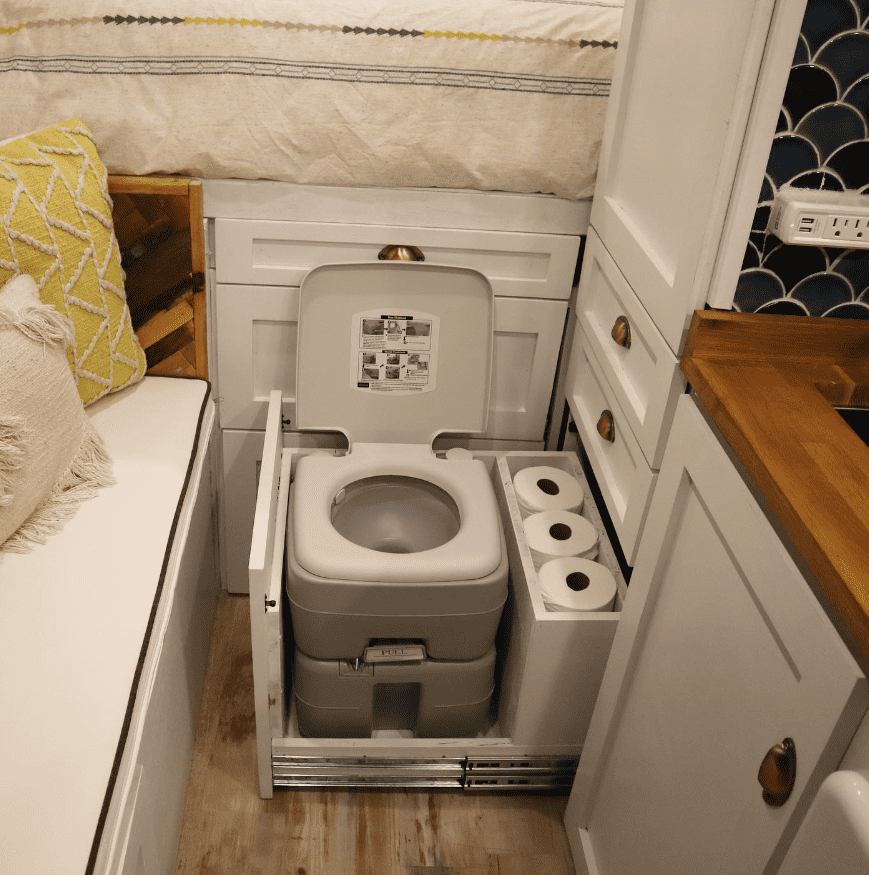 This cassette toilet is tucked away in a small drawer. The drawer slides out and has the perfect amount of room for the toilet plus some toilet paper. It's right next to the bed, so again as long as you're okay with using the toilet so close to your bedroom, it's a great way to save room.
These cassette toilets are a good place to start if interested in going this route!
Under-Bed Composting Toilet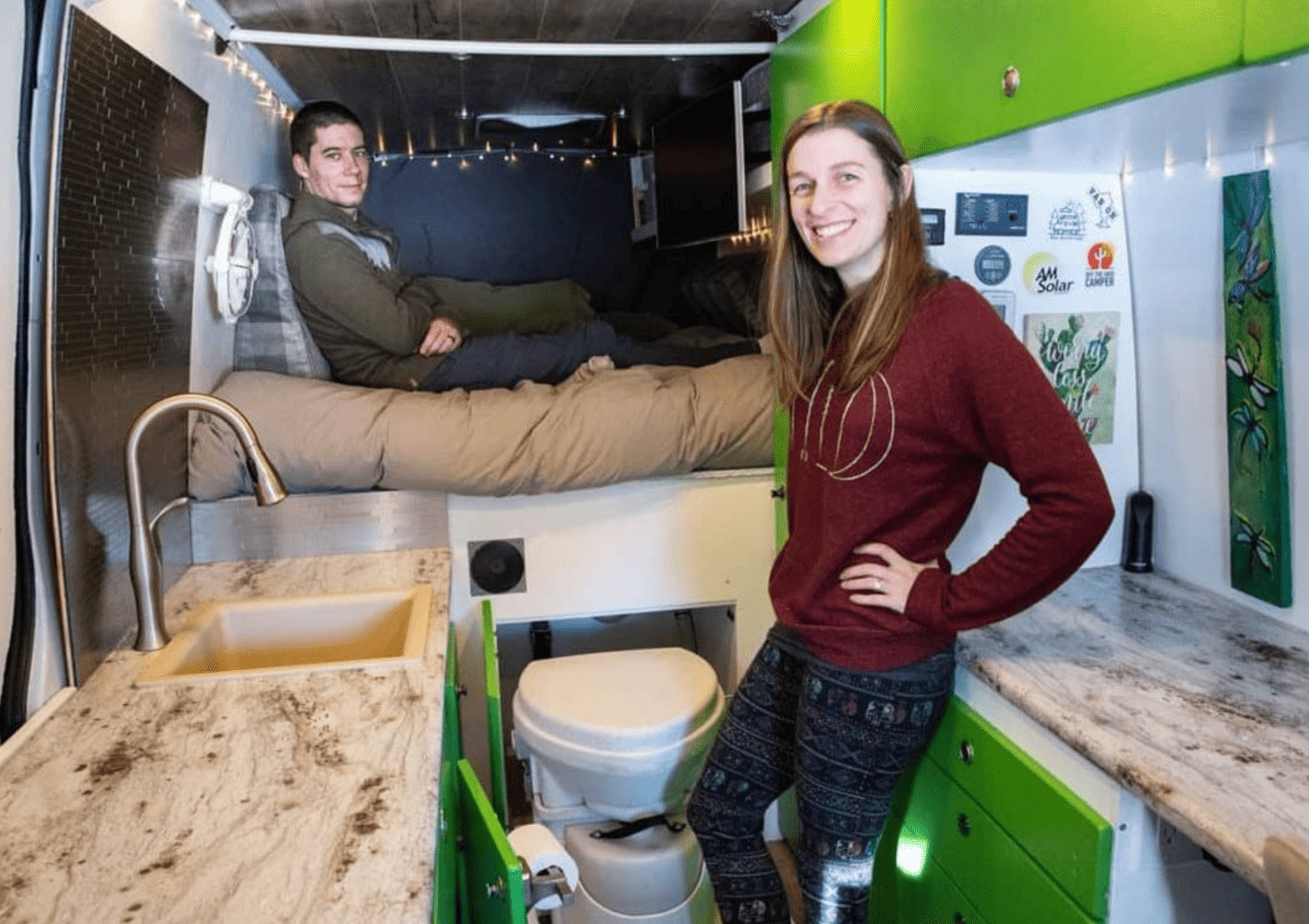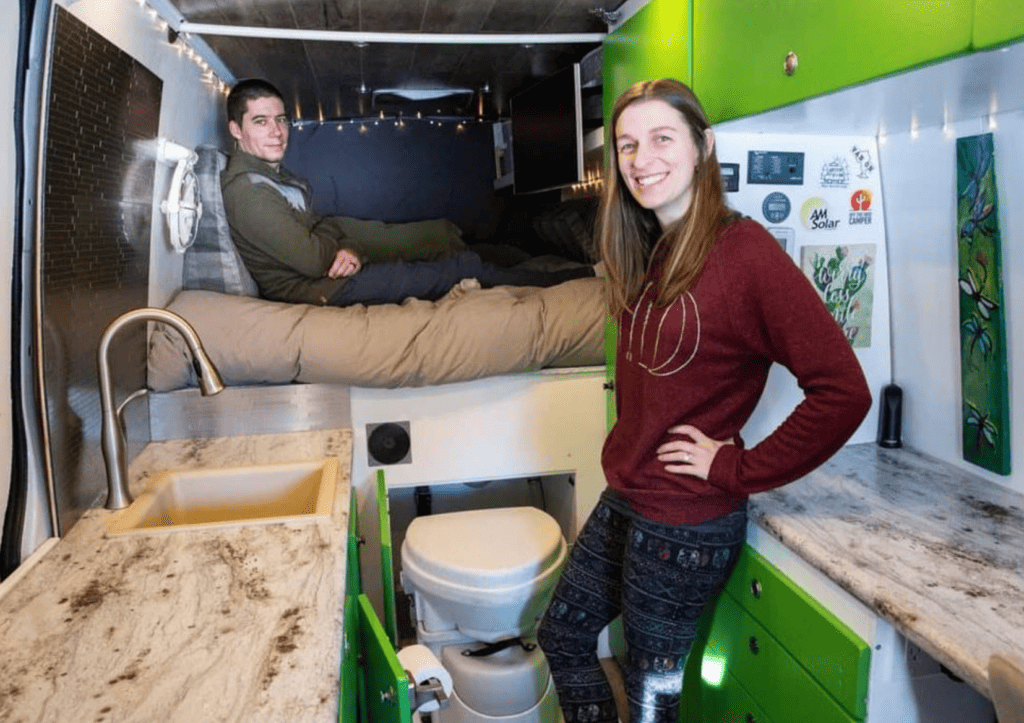 Another hidden toilet! This one is a composting toilet that slides out from underneath a fixed platform bed, and has a door to hide it all away. Platform beds allow for a good amount of room underneath, and I think a toilet is a perfect use for that space.
By the way…if you're reading this and thinking: what the heck is a composting toilet?? Check here: 7 Best Portable Composting Toilets for RVs and Camper Vans (+Buying Guide)
Wet Room at the Back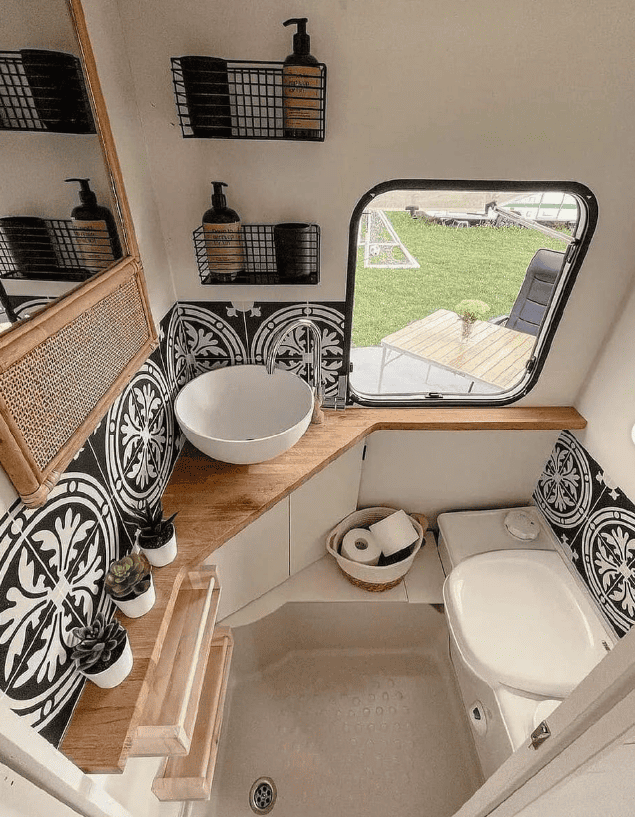 This camper van conversion has a shower and chemical toilet right in front of the back doors, and a sliding door to close it off from the rest of the van.
This build means that if you're out in the middle of nowhere you can open up those backdoors and have a beautiful view while you take a shower.
8 Camper Van Kitchen Plans
Kitchens are one thing that will vary widely between camper van conversions. There are endless options for where to put the kitchen, and what amenities you want in it.
So, here's my list of the very best camper van kitchens, from the totally built out to the most bare-bones.
Corner Kitchen and Private Driver's Cabin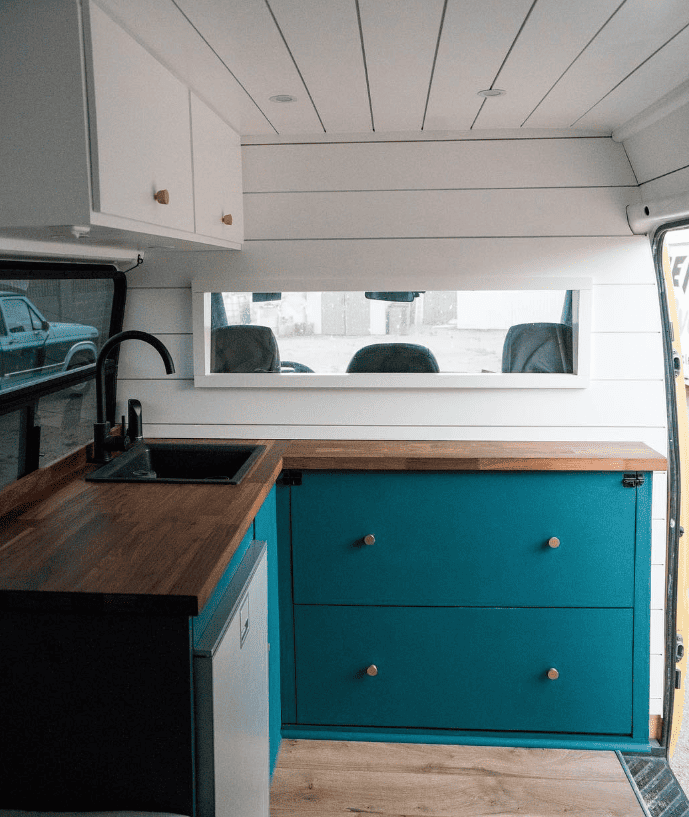 This corner kitchen is separated from the driver's cab by a wall, but there's still a nice window so you don't lose natural light. There's also a window above the sink area.
A corner kitchen design like this one allows for a lot of counter space. (Plus I love the pop of blue from those drawers.)
Slide-Out Outdoor Kitchen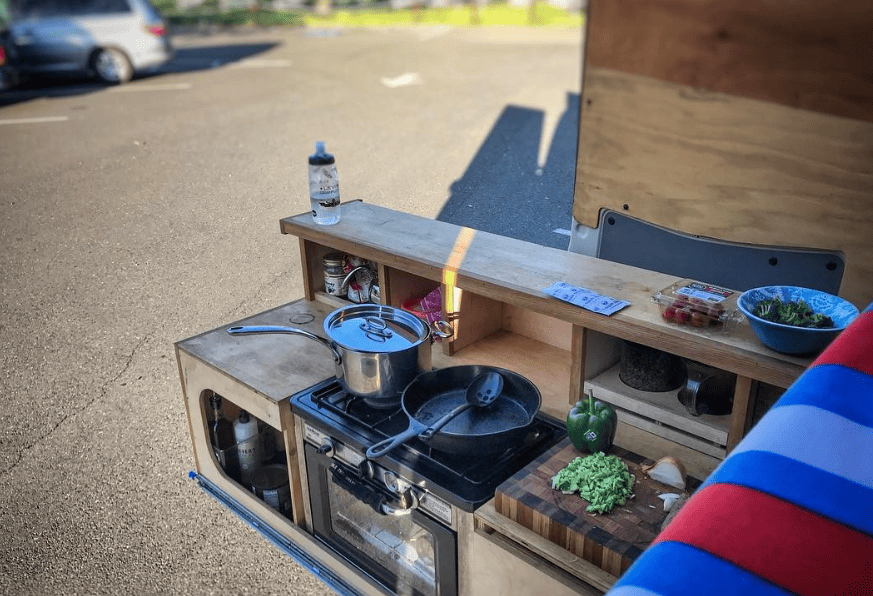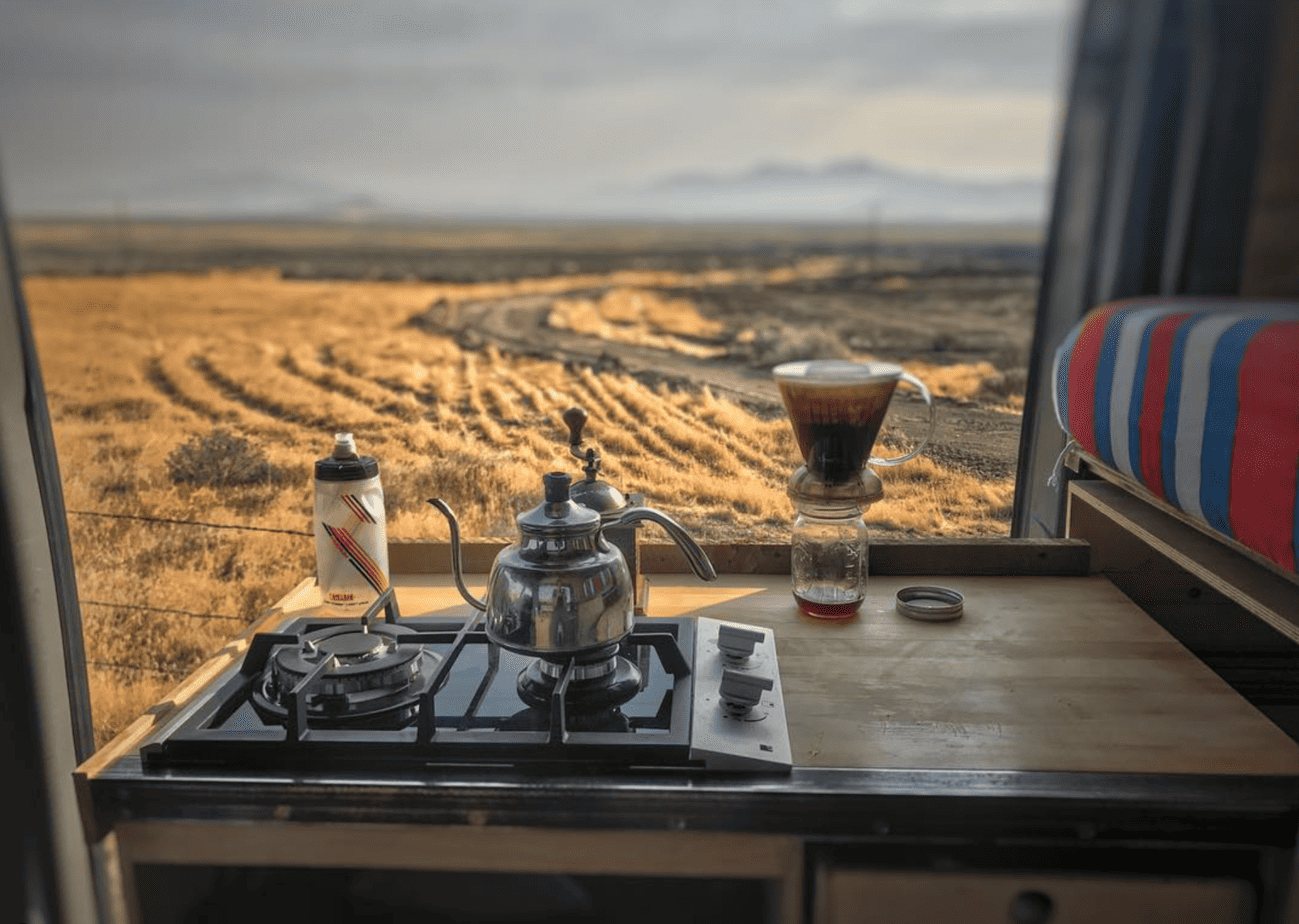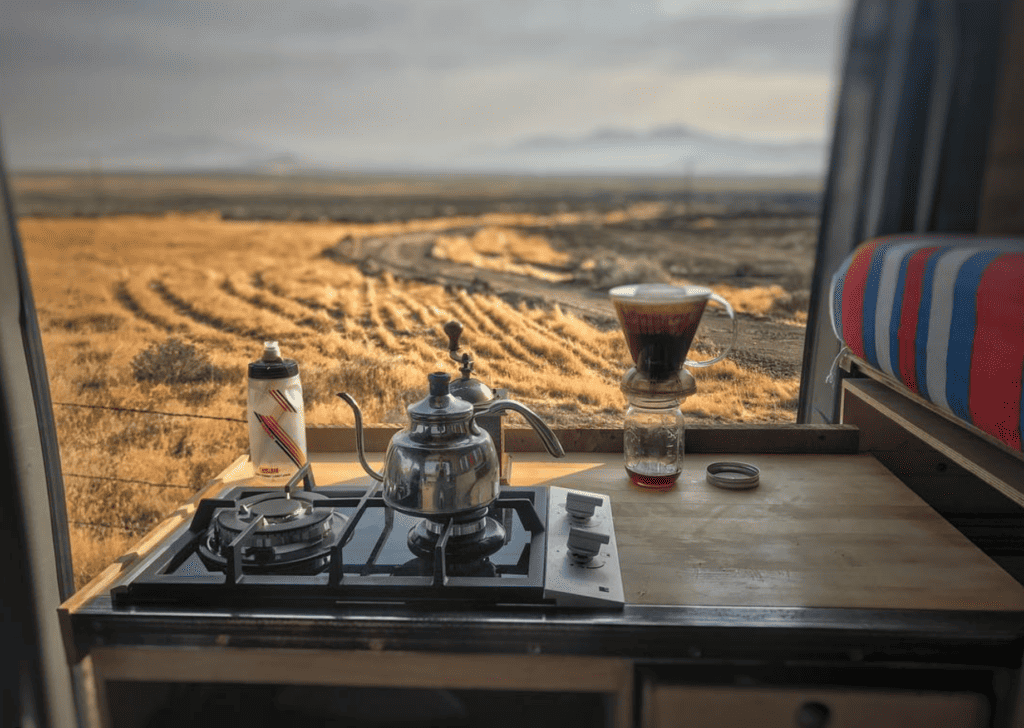 This slide out kitchen comes out of the back doors. It's got a cooktop, a mini stove, and an impressive amount of prep space and storage space.
If it's rainy, you'll likely need an awning, and if it's cold, this isn't the best option. But for warmer climates, a slide out kitchen is the perfect way to save space.
Portable Outdoor Van Kitchen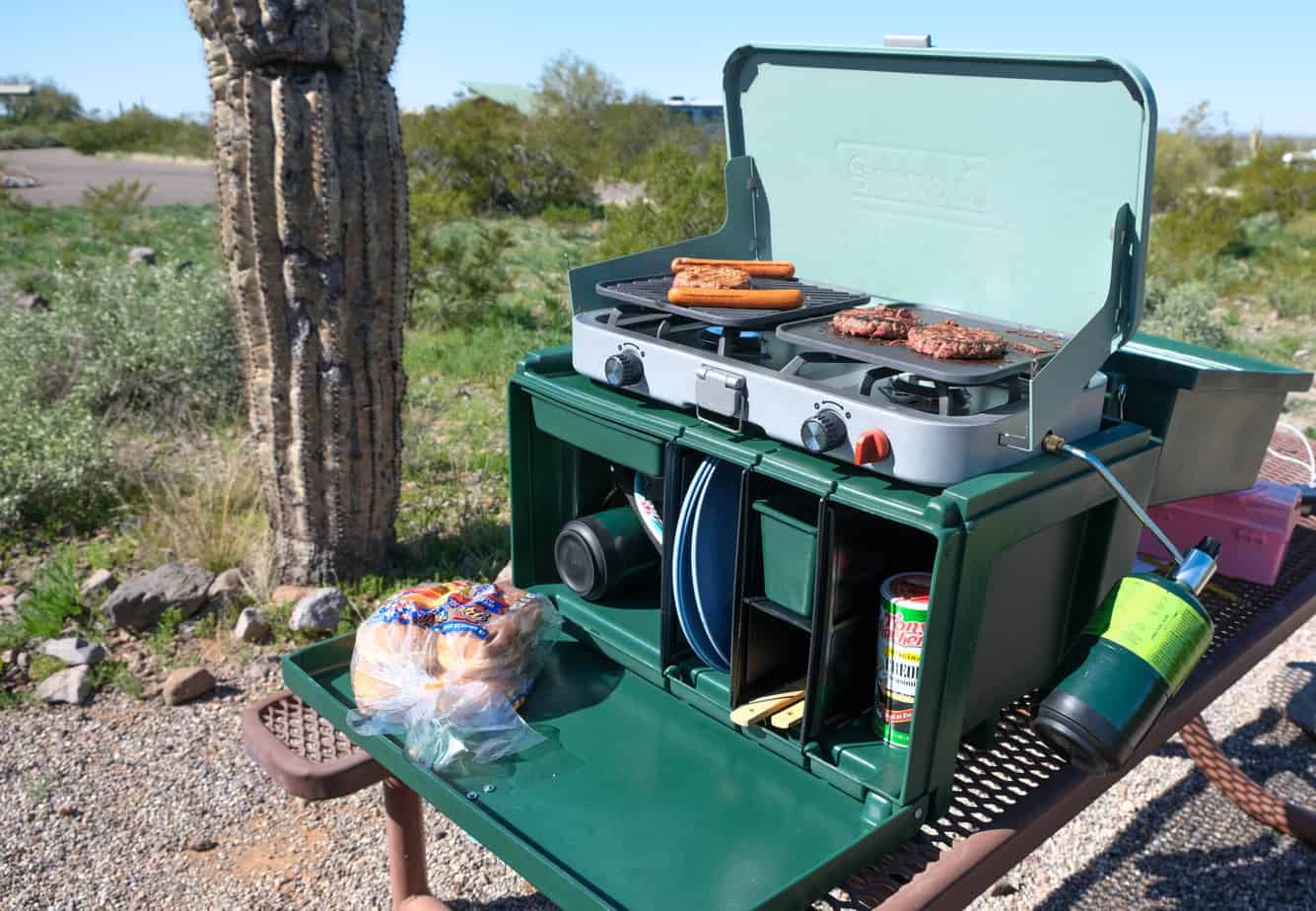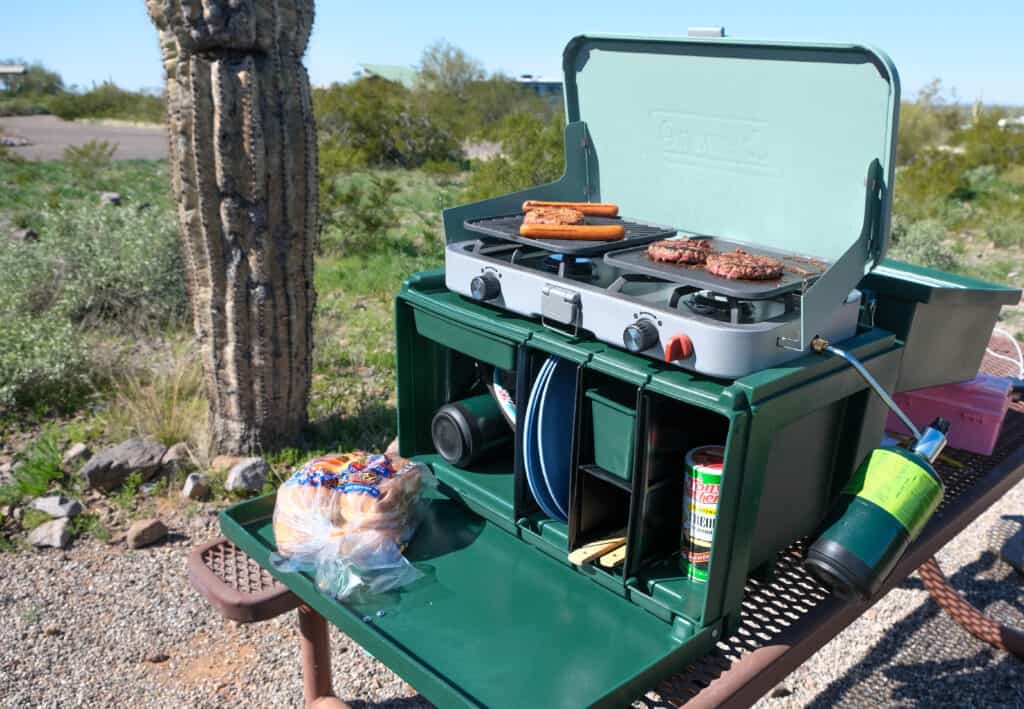 If you're not a full timer, an outdoor kitchen of sorts might be sufficient for you.
Not only does cooking outdoors reduce smells in the van, but a portable kitchen is also nice to have if you're at a campsite and you'd rather cook by the fire and table than cramped in your van.
All you'll need for a portable camp kitchen (we love this chuckbox) is a nice table, a portable stove, and some propane!
Split Kitchen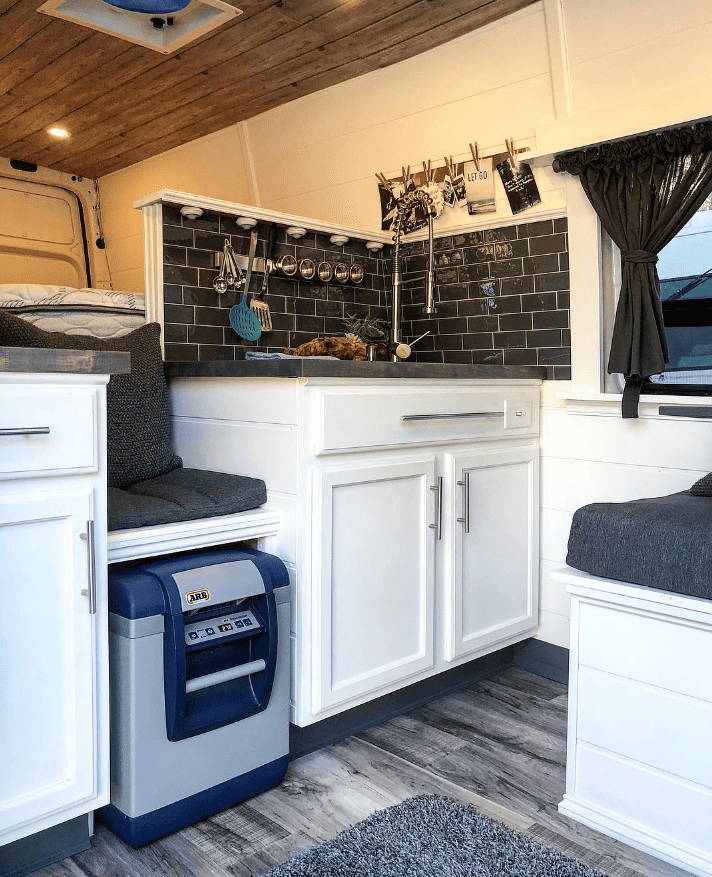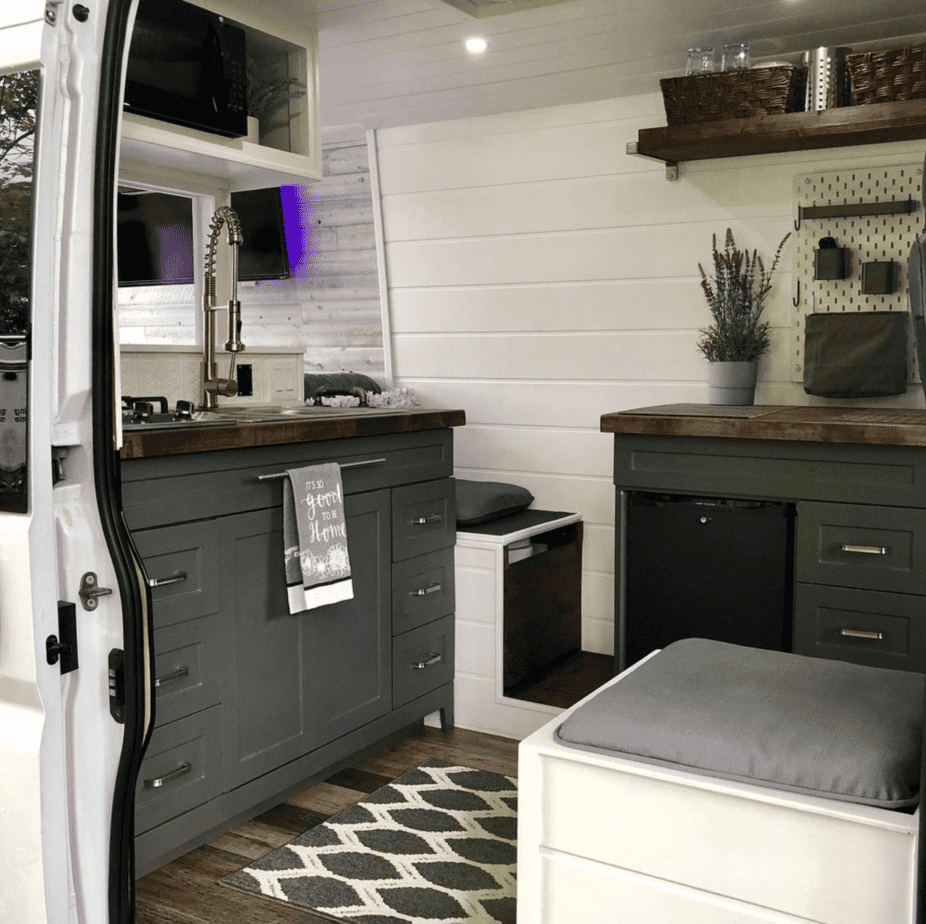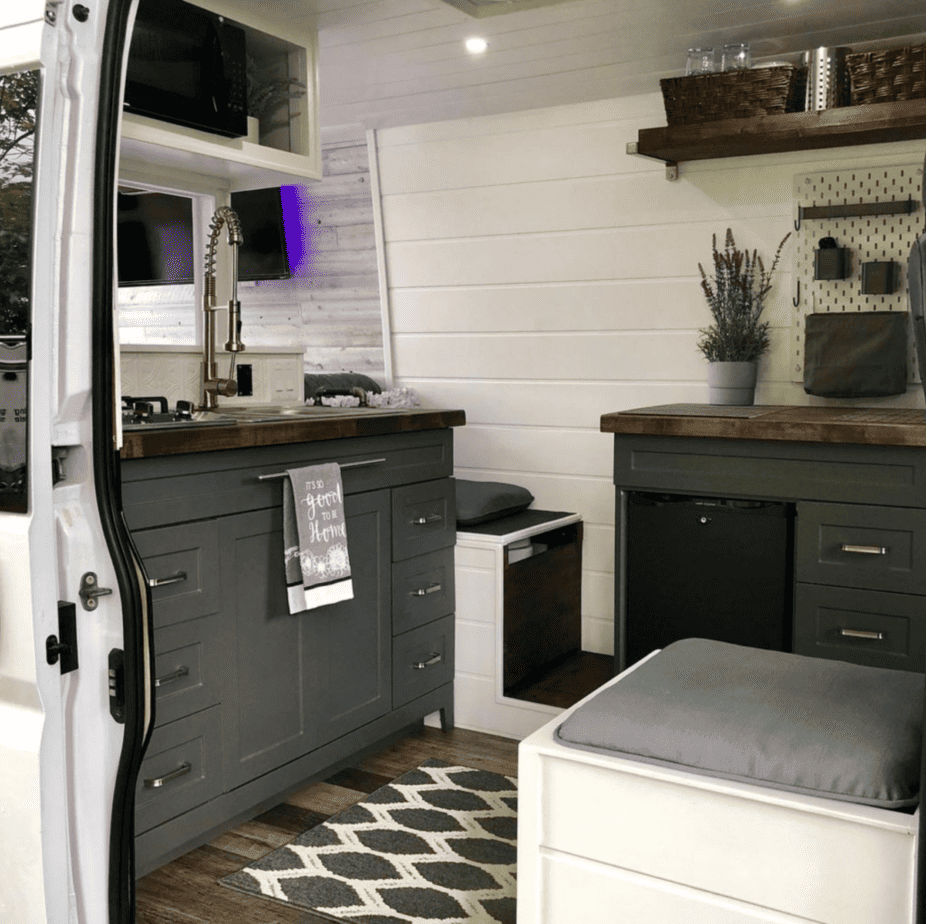 This kitchen area helps divide the space from the bedroom, so it feels less like it's all one room. You've got a little climb-up space leading to the bed that also functions as a seat.
I really like the way this layout divides the space up, even if there's not much counter space built in.
Simple Kitchen with a Countertop, DIY Sink, and Portable 2-Burner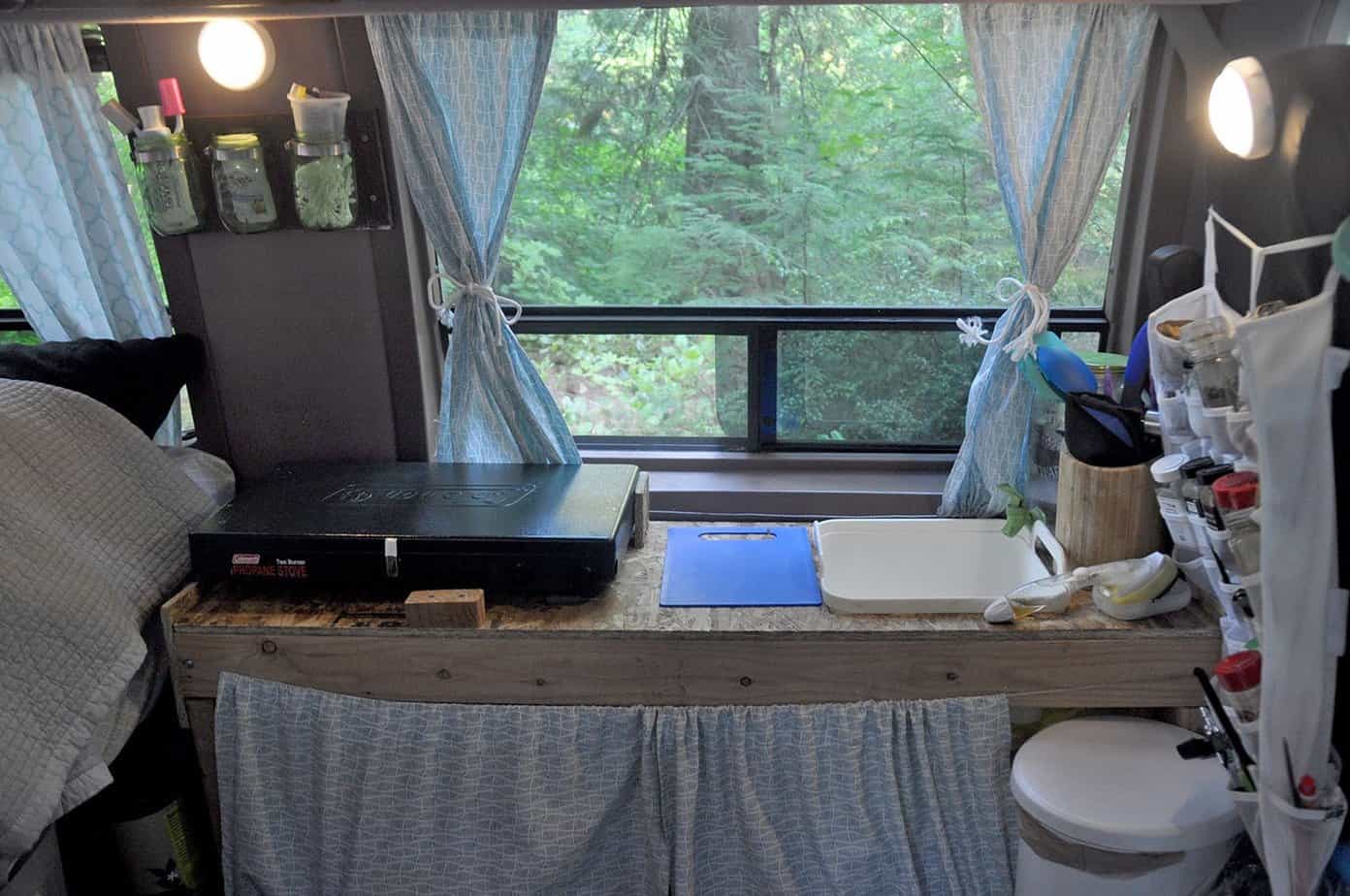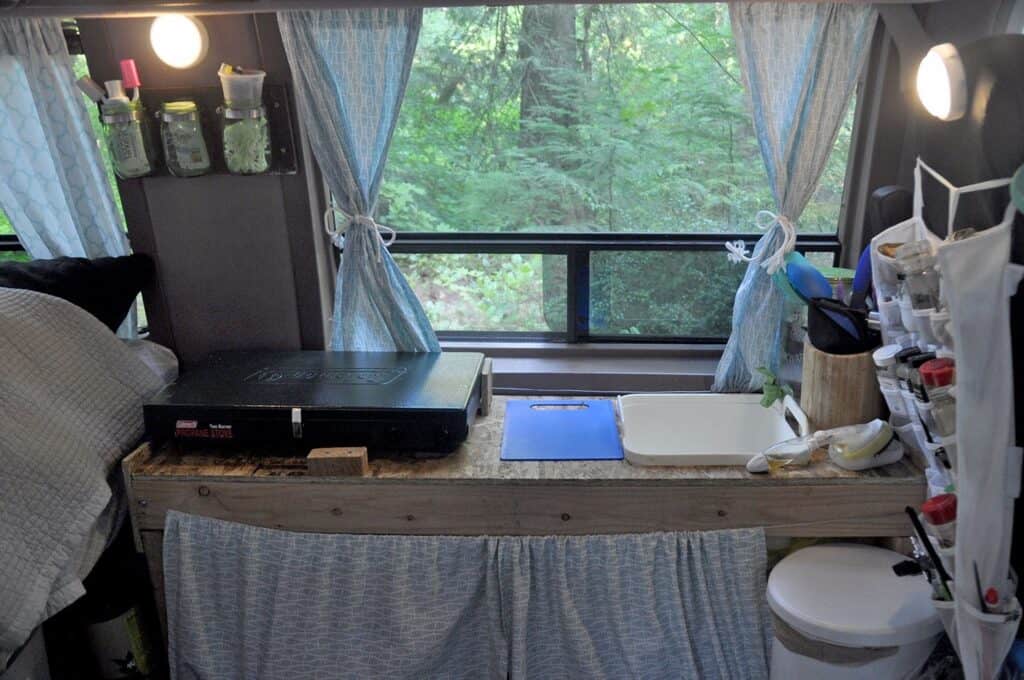 If you're on a budget, or you just don't want to go all out, a super simple van kitchen comes together easily, and can give you every amenity you need.
This kitchen just has a countertop, a portable two-burner, and a DIY sink. It's not fancy, but it has everything you'd need in a van kitchen.
Double-Wall Kitchen with Large Sink and Lots of Countertop Space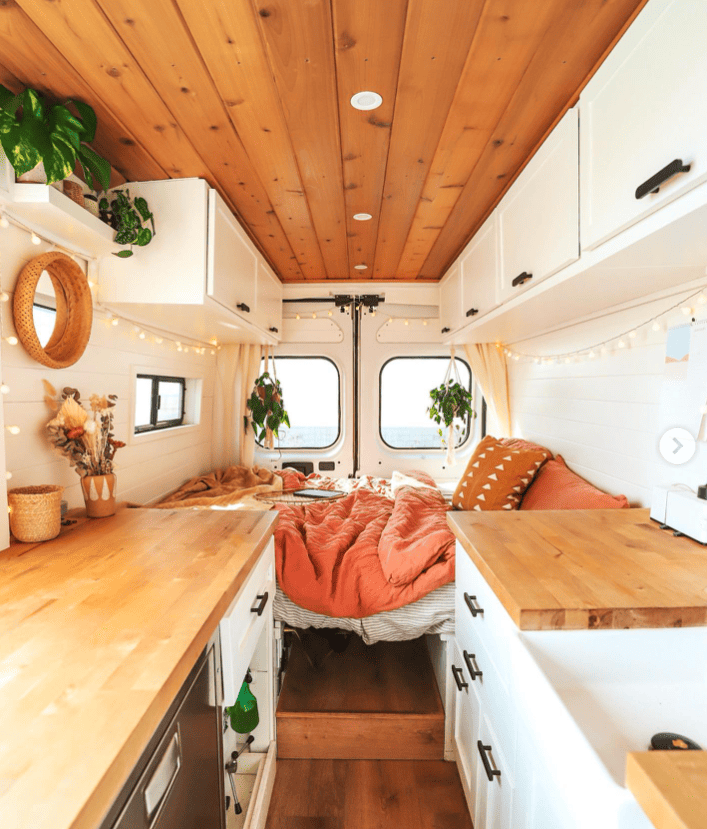 Now this kitchen has more space than you'd see in some studio apartments.
It's double walled, so it has tons of counter space. It has a nice large sink and a built-in gas stove. I also love the butcher block countertops.
Large Window and a Pull-Out Fridge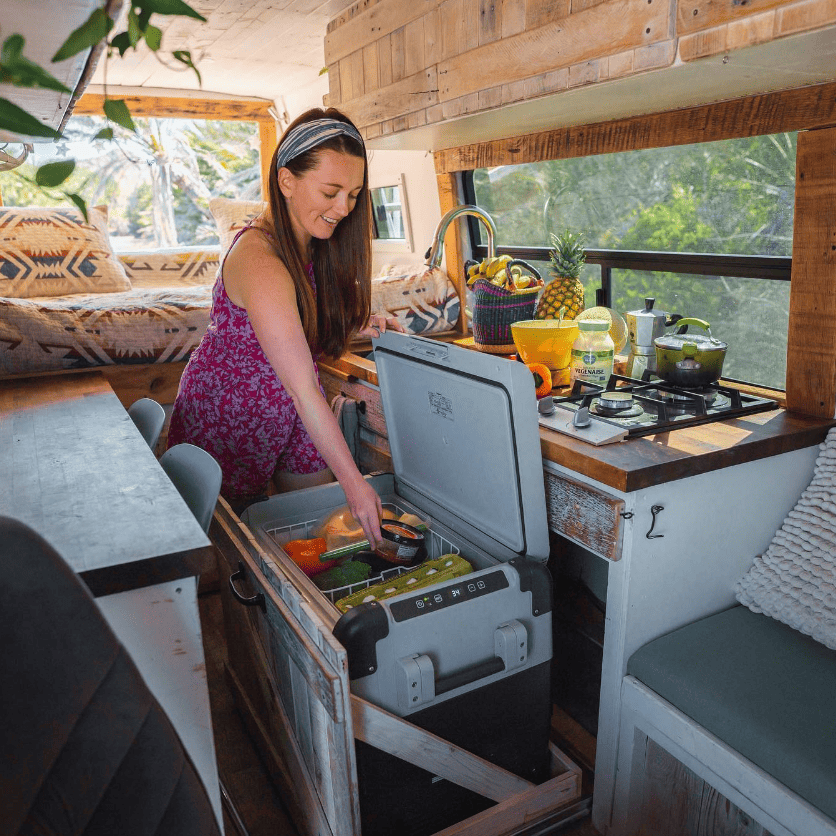 Here's a single-wall kitchen that packs everything into a smaller space. This kitchen has a built-in gas burner and a nice stainless steel sink, all under a scenic window.
The large refrigerator is fully hidden in a pull out drawer. Plus, the workspace opposite the kitchen can help function as some extra counter space if that's needed.
Natural Aesthetic With Oven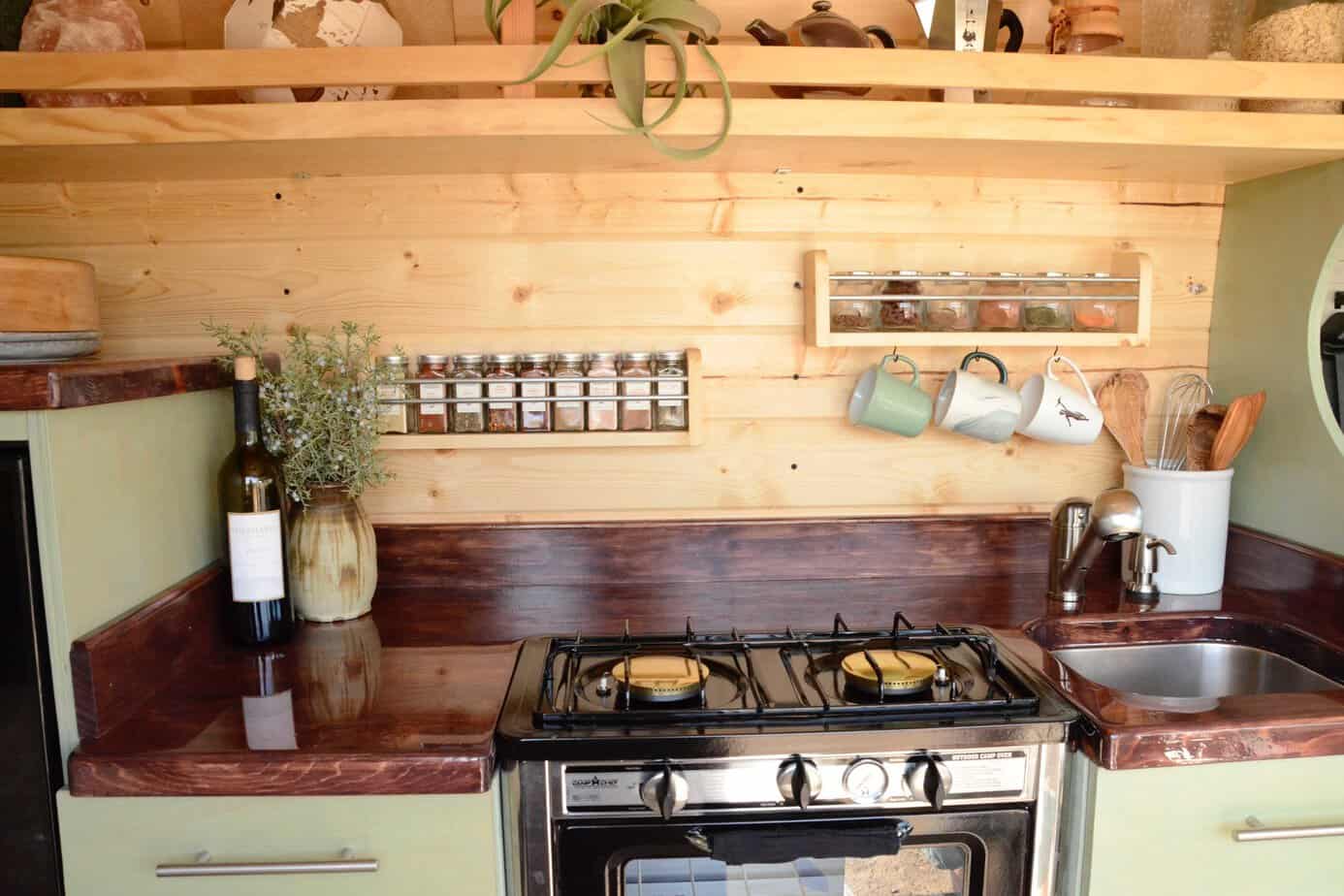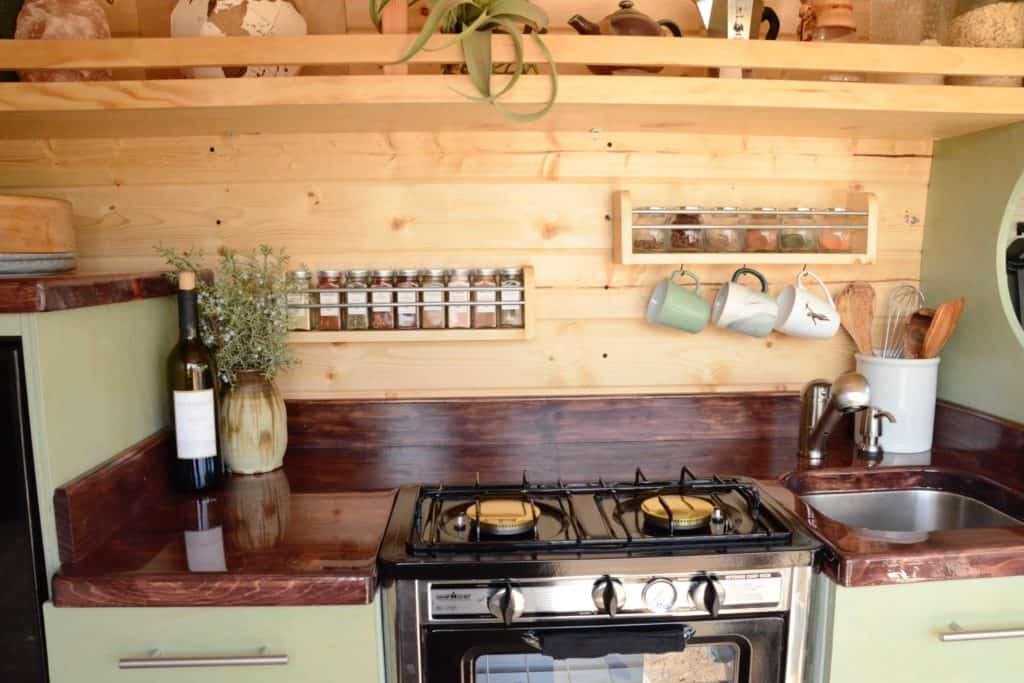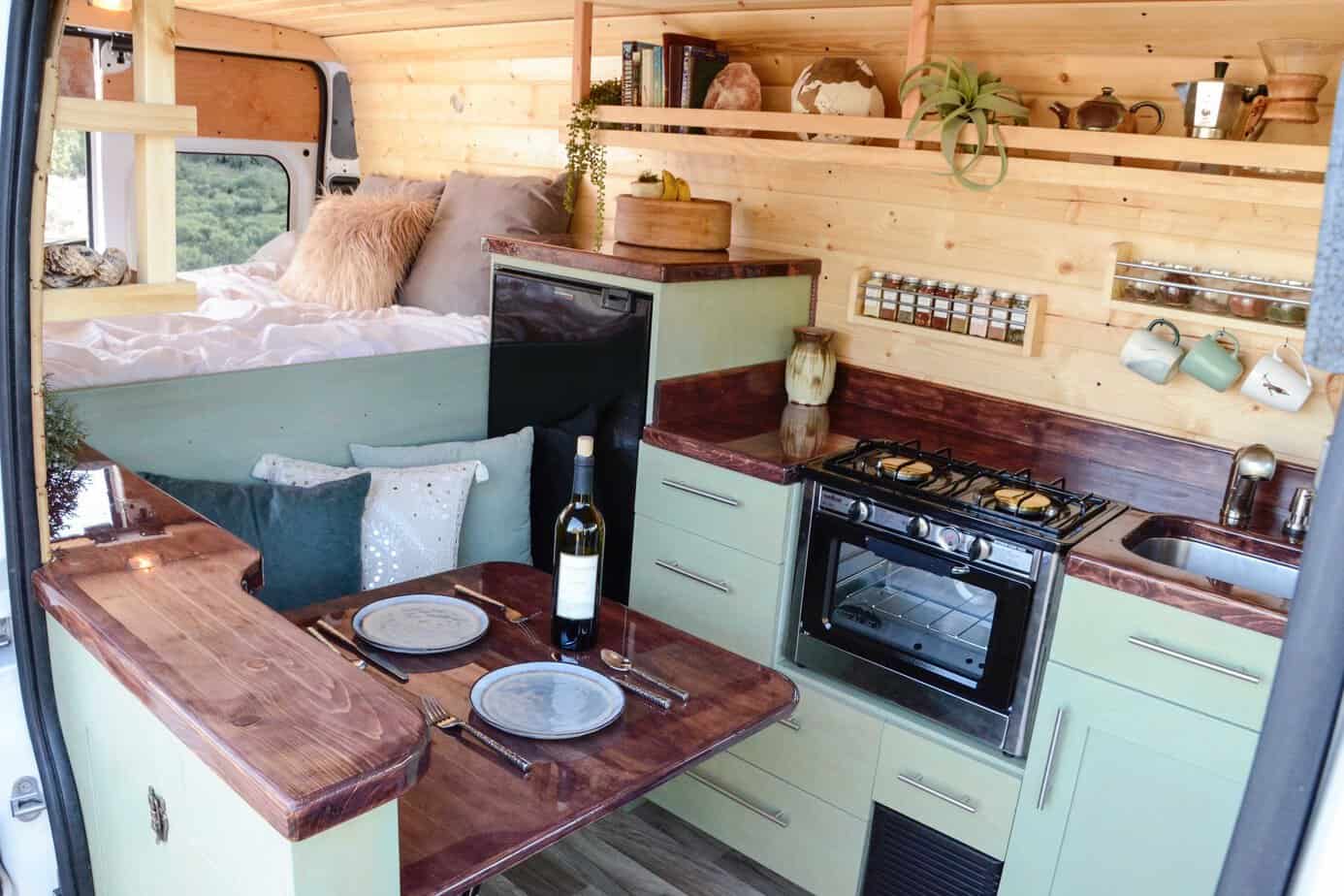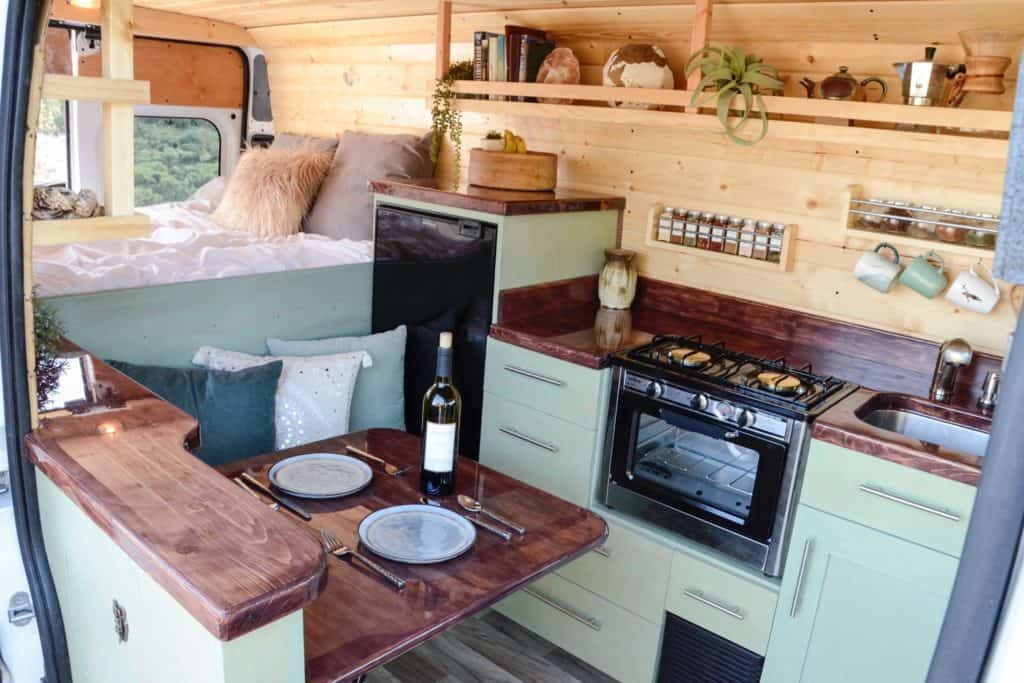 This beautiful van kitchen is actually part of a Dodge Promaster 2500 build I documented that was performed by Stinson Vans. I love the natural aesthetic and fully decked out kitchen – deep sink, fridge, spice racks, oven and even a nice eating area!
7 Camper Van Bedroom Floor Plans
And last but not least… the bedrooms!
The bedroom really should be the coziest space in your van–but you might have to get creative to make it ultra comfy. So, here are seven different van bedroom floor plan options, I've included fixed beds, convertible beds, and bunk beds.
Let's get to it!
Fixed High-Loft Van Bed with a Rope Ladder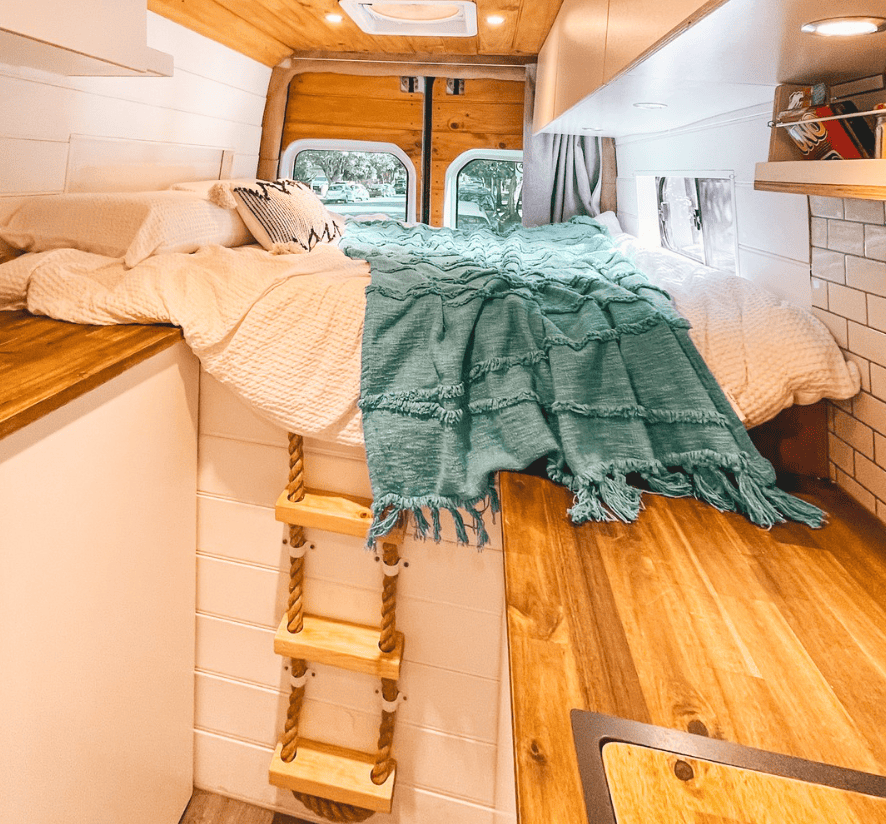 This bedroom setup has a super high loft bed with the cutest rope ladder to help you climb up.
The height of the loft might mean you can't fully sit up in bed, but I think it makes the space feel more cozy. Plus, you get that much more storage room in your garage at the back of the van.
Convertible Couch to Queen Bed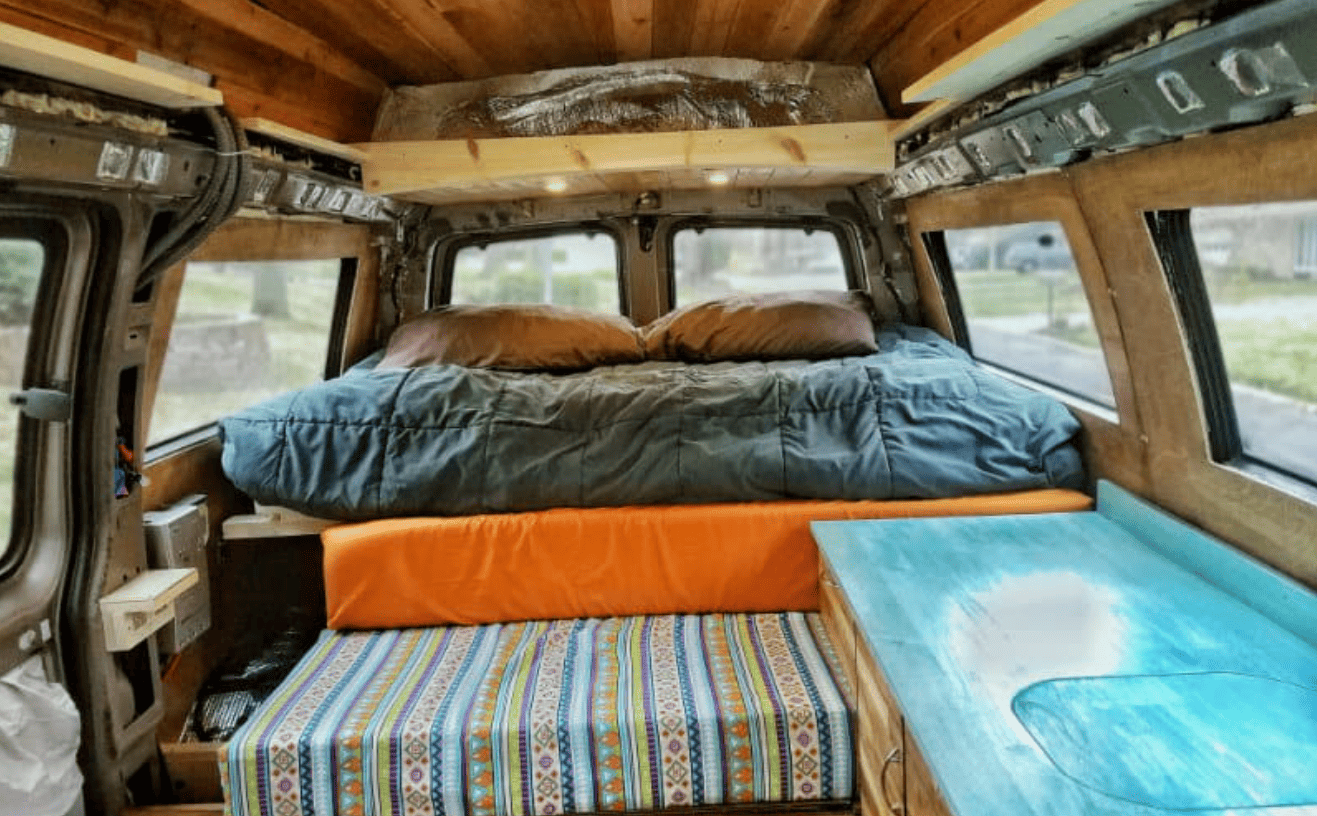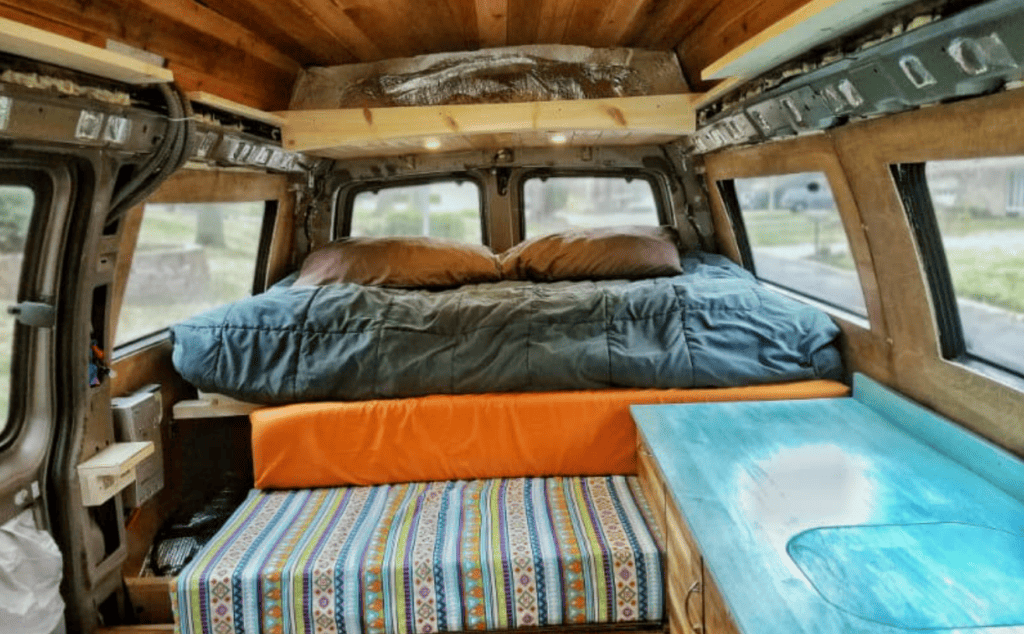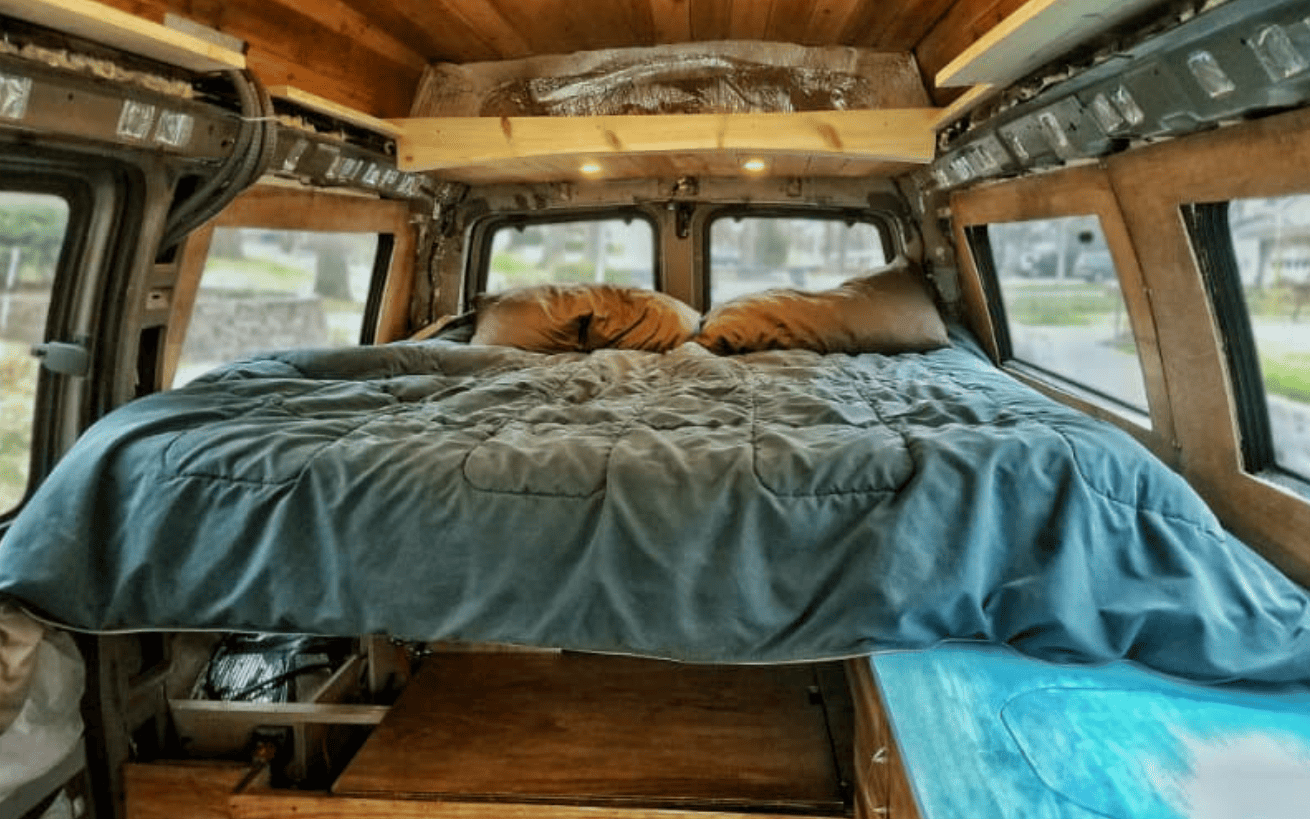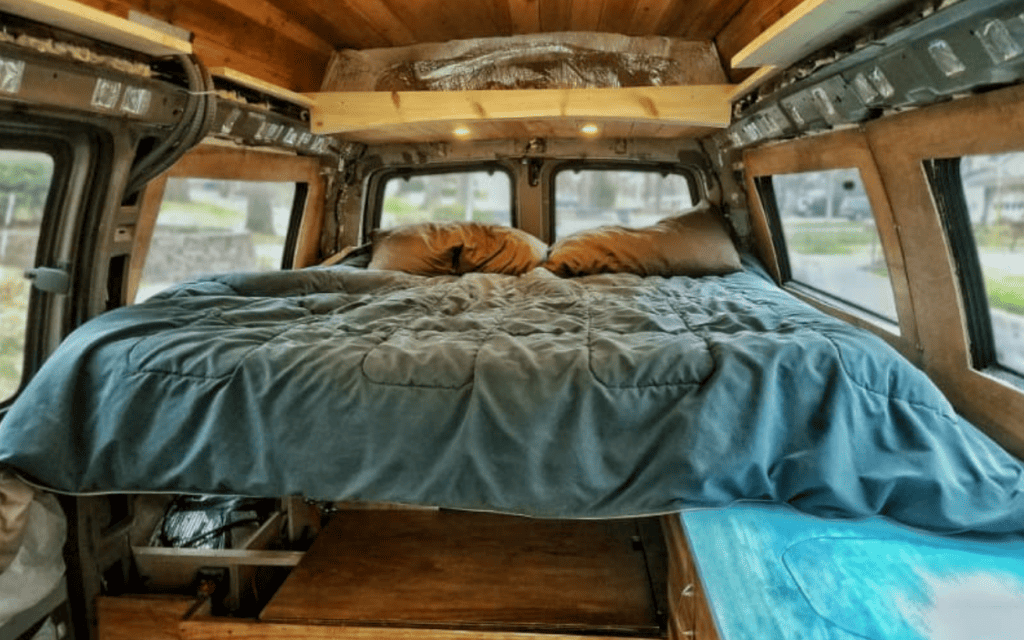 This is a really creative way to do a convertible bed. The bed folds out from a small couch, and rests on the countertop to a queen sized bed.
Convertible beds are an excellent way to save space, but just remember you'll have to be putting away and taking out the bed everyday.
Convertible Dinette to King Sized Bed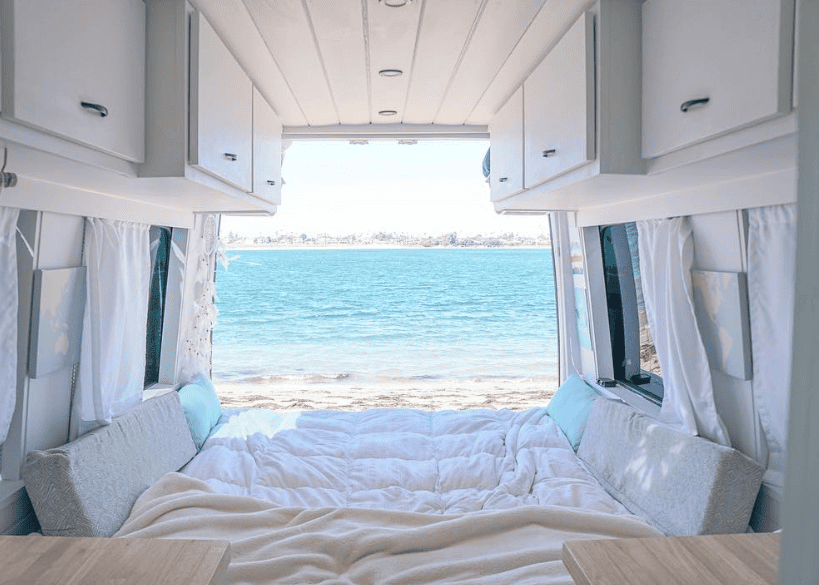 This Dodge Sprinter conversion has a super roomy feel to it thanks to the dinette to bed conversion. The dining area/work space has room for six people to sit.
At night, you'll fold it down into a king sized bed. That's right!! Since the bed isn't super lofted, you get a lot of head room and it won't feel cramped.
Van Bunk Bed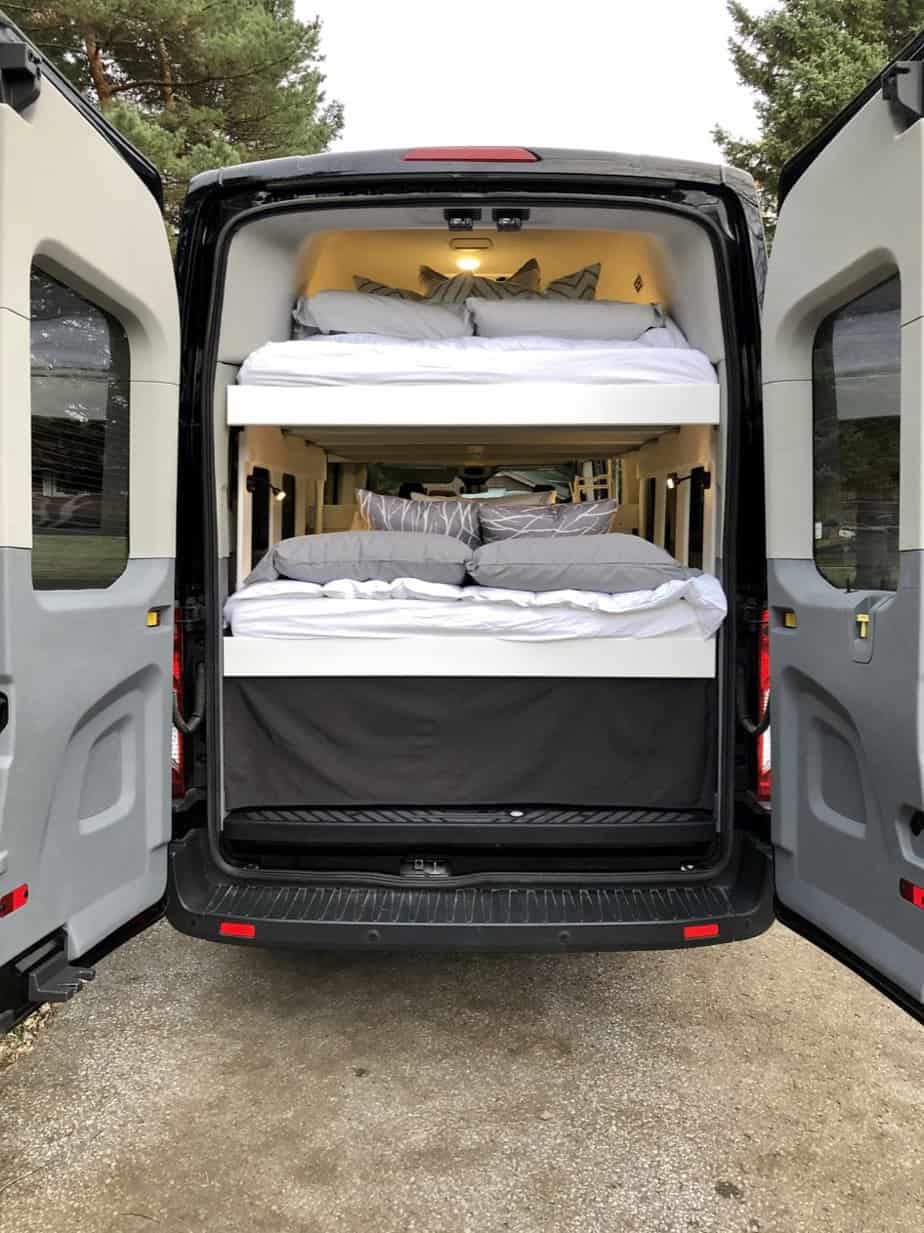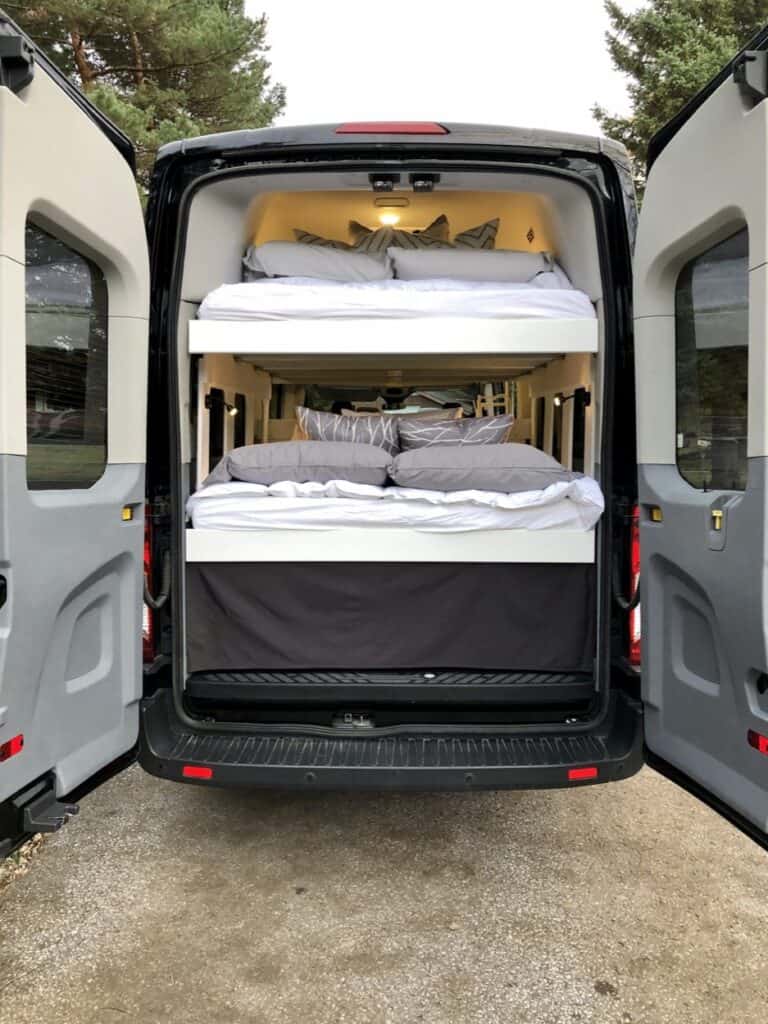 Traveling with more than two people in a camper van means you'll need more sleeping room.
One way to add sleeping space is to install a bunk bed like in this Ford Transit XLT. It'll fit two people per bunk and is a genius use of the XLT's height.
Convertible Double Bench Seats to Bed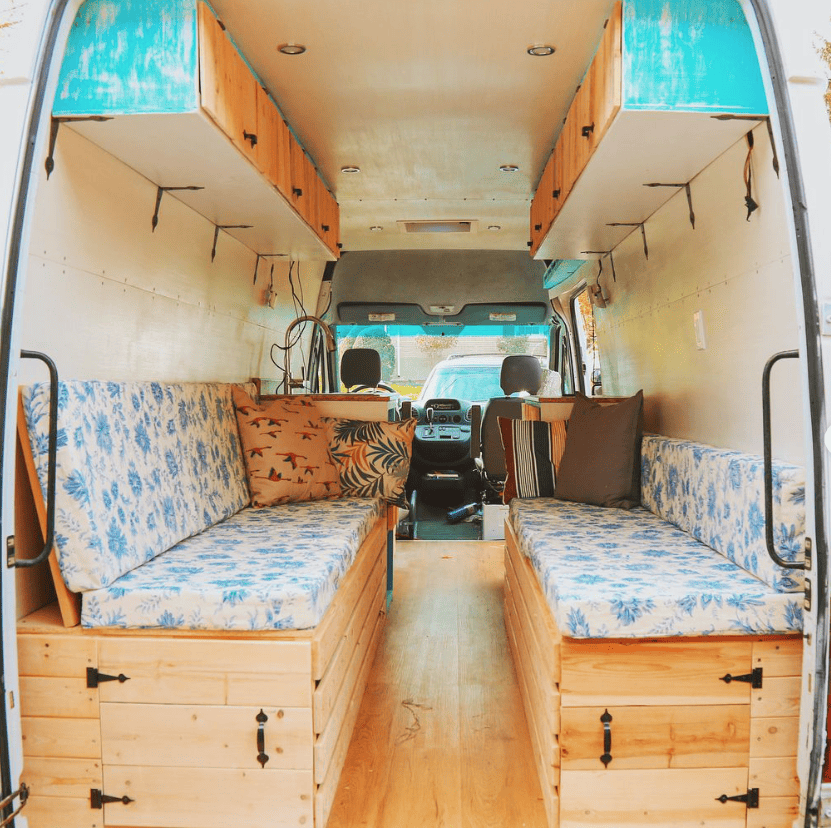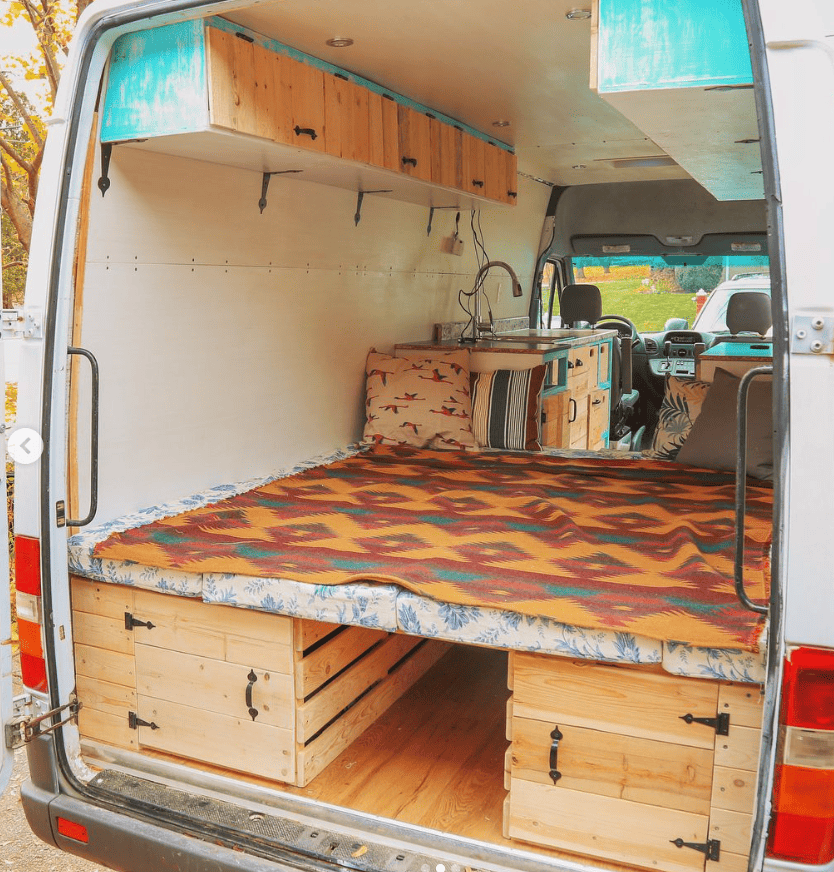 This Dodge Sprinter conversion has two large couches that convert into a bed. The couches sit on either side at the back of the van and have tons of storage underneath.
With this build, you get lots of seating during the day, a nice large bed at night, and ample storage.
Murphy Bed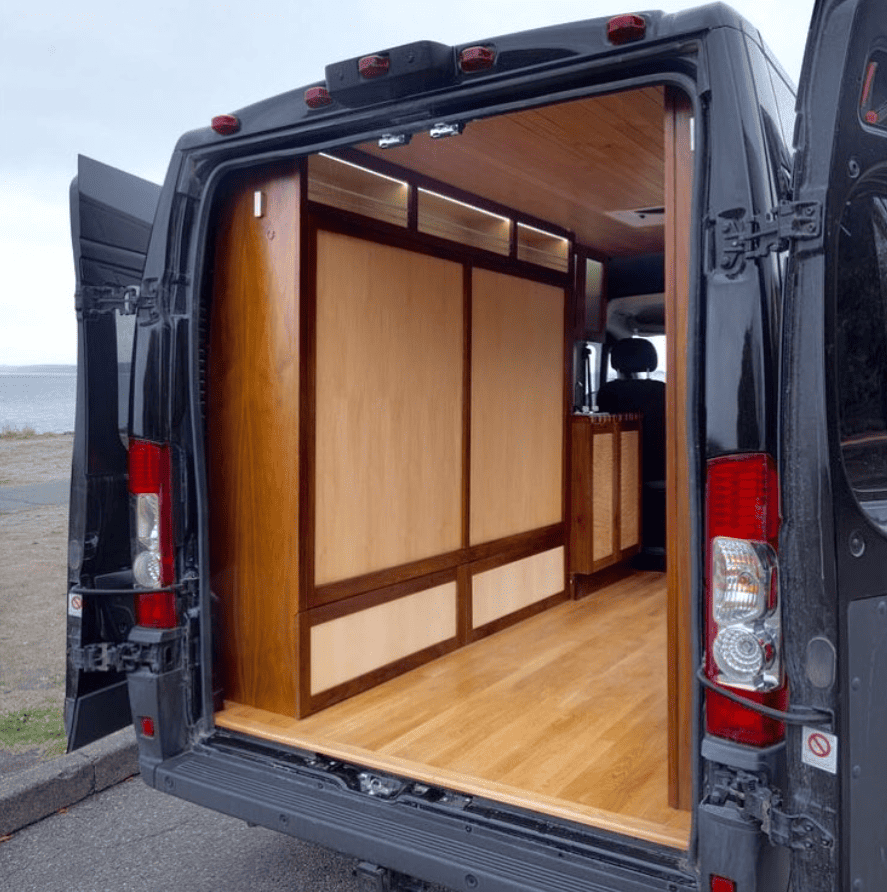 That's right! Camper vans can have murphy beds.
This Murphy bed is located at the back of the van, and folds entirely away, leaving lots of room for gear storage, or just some open floor space.
*Learn more about RV Murphy Beds.
Bunk Bed Over Play Den and Cargo Space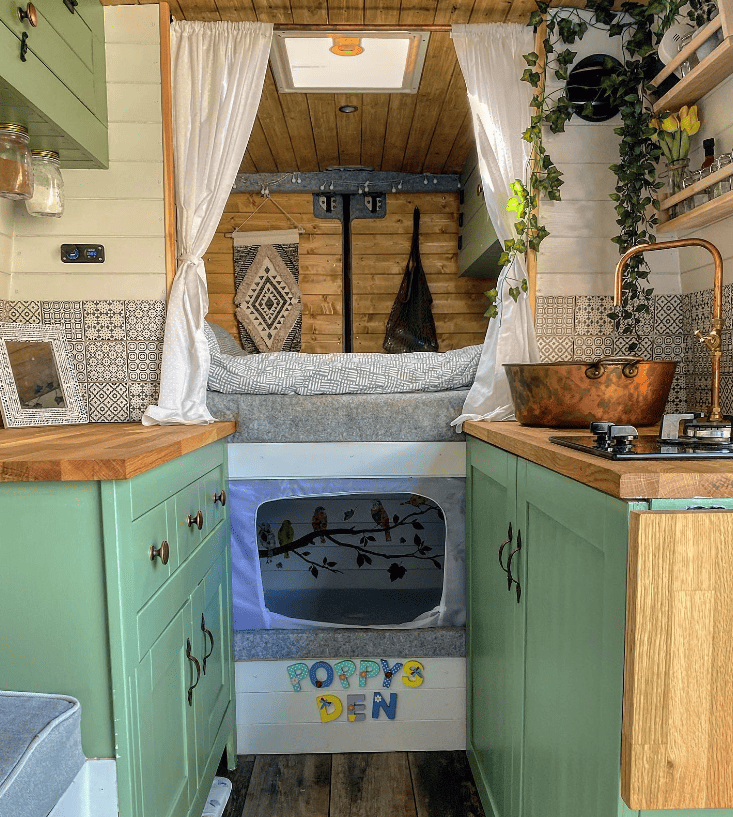 This Volkswagen Crafter has such a cute bedroom setup. The bed is a high loft with a play area underneath it on the inside, and storage on the other side.
If you're traveling with little ones, this bedroom setup is such a cute way to give your kids their own special space in the van.
Tips for Planning Your Camper Van Floor Plan
Looking at all these beautifully-designed vans is fun, but actually planning your own build can get a little stressful.
The van conversion process is so much easier if you go into it knowing exactly what you need. Then you'll create a camper van layout based on that list. From there, all you'll need is a little elbow grease and determination, and you'll have your dream camper van!
**Pro tip: if you aren't ready to go all out on van life, try it out first by renting a van from RVShare. Here's how!: 5 Things to ALWAYS do Before Renting an RV (+step by step how to rent the best one!)
Here's What Your Camper Van Layout Needs to Include
I'd recommend this be the very first step in your process.
Basically, you'll want to go through and list out all the "things" you want to have in your van.
Here's an example of some items you might put on this list:
Bed
Fridge
Stove
Oven
Sink
Countertop space
Toilet and waste tank
Shower
Work space
Eating space
Clothing storage
Outdoor gear storage
Tools storage
Tech storage
Seating
Water tank
Garbage can
Heater
Space for solar battery or inverter
Of course, there's a pretty wide variety of what you want or don't want in your van. But starting off with a basic list of "needs" is super important.
You can use this list (along with measurements of your camper van and the items you'll put in it) to map out a floor plan.
Need a shopping list of gadgets and gizmos before you move into your van?? Check out my list of 31 Campervan Gift Ideas.
Factors to Consider When Creating Your Van's Floor Plan
All of these considerations, along with your list of must-haves, will help give you a pretty good idea of what your van conversion needs to look like.
Weight distribution:
To start, you'll need to look up the weight capacity of your van. Make sure that everything you're putting into your van (plus the weight of you and your van partners) is below the weight capacity.
You'll also need to look at the distribution of weight across the van. Unevenly distributed weight over time can cause some mechanical issues for your camper van.
The weight distribution does not have to be equal. Instead, just try not to put all your heavy items on one side of the camper van.
Plumbing and electrical:
Decide what kind of lights you want, where they'll go, and how much power you'll need. From there, you can decide what kind of electrical system you want:
Solar battery
Lithium battery
Power inverters
Shore power
Then, decide where you'll put your batteries, switches, and bus bars, and create a map, like this one:
For plumbing, first decide if you want a toilet, or a shower, or neither, or both!!
And choose what kind of toilet you want:
Then, decide where your fresh water, gray water, and black water tanks will go, and how you'll hook up all the plumbing.
Storage:
Make sure your van build has designated storage space for:
Outdoor gear
Clothing
Kitchen items
Tools
Tech/work stuff
This is especially important if you have larger items that you haul around such as bicycles or surfboards.
I'd say always err on the side of more storage than less. Once you move into your van, you'll start to accumulate items that you didn't know you needed.
Sleeping arrangements:
There are two major things to think about when deciding on sleeping arrangements:
Fixed bed vs convertible bed
Number of sleeping spaces needed
A fixed bed is better if you're not super short on room. A permanent bed takes up a lot of room even when it's not in use, so if you're looking for something more versatile, go for a convertible bed.
Convertible beds usually turn into a dinette, or a workspace during the day, and you can transform them back into a bed at night.
How to Lay It All Out
When planning out your camper van conversion, it's super important that you create schematics showing exactly what it's going to look like.
Here are some options on how you can create a detailed plan to help you get started on your build.
Good ol' pen and paper:
Maybe using a pen and paper is a good way to get started. You can sketch out generally where everything will go.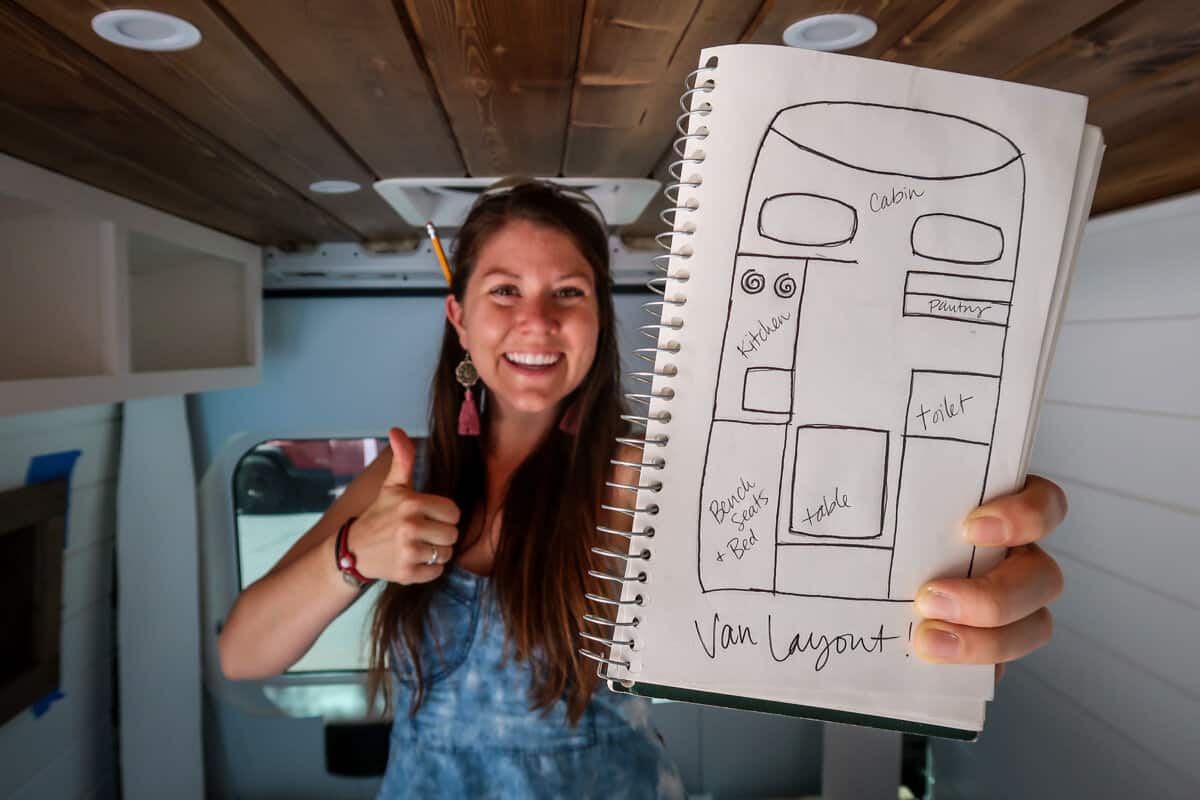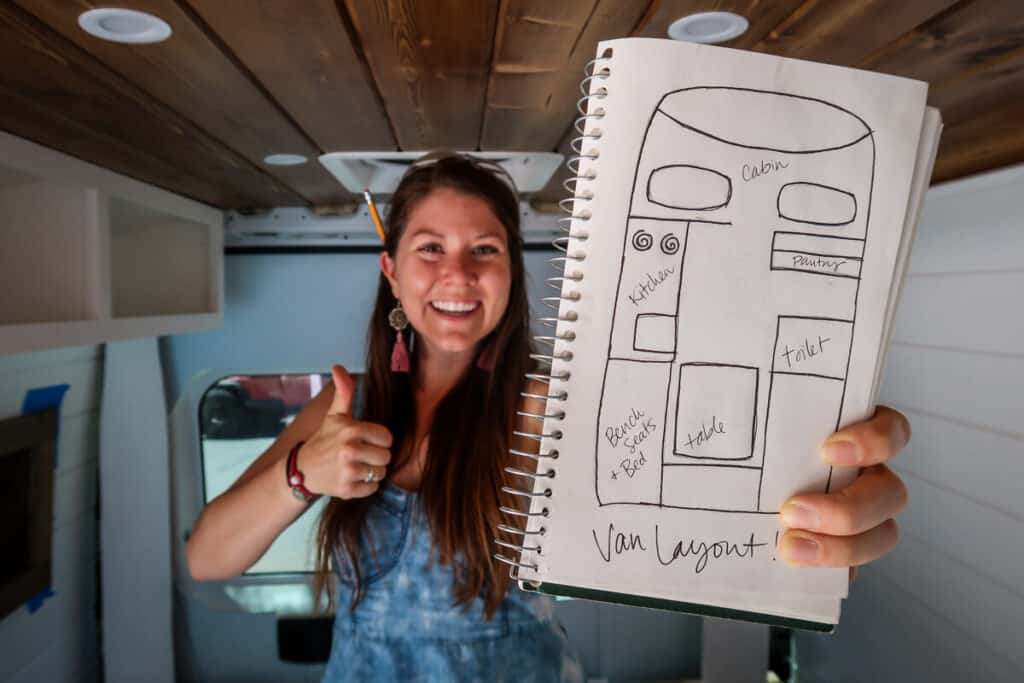 However, it can be difficult to get everything exactly to scale, and unfortunately, you can only draw in two dimensions. You can also make a 2D drawing on your computer using a program like PowerPoint that'll give you something a little more like this: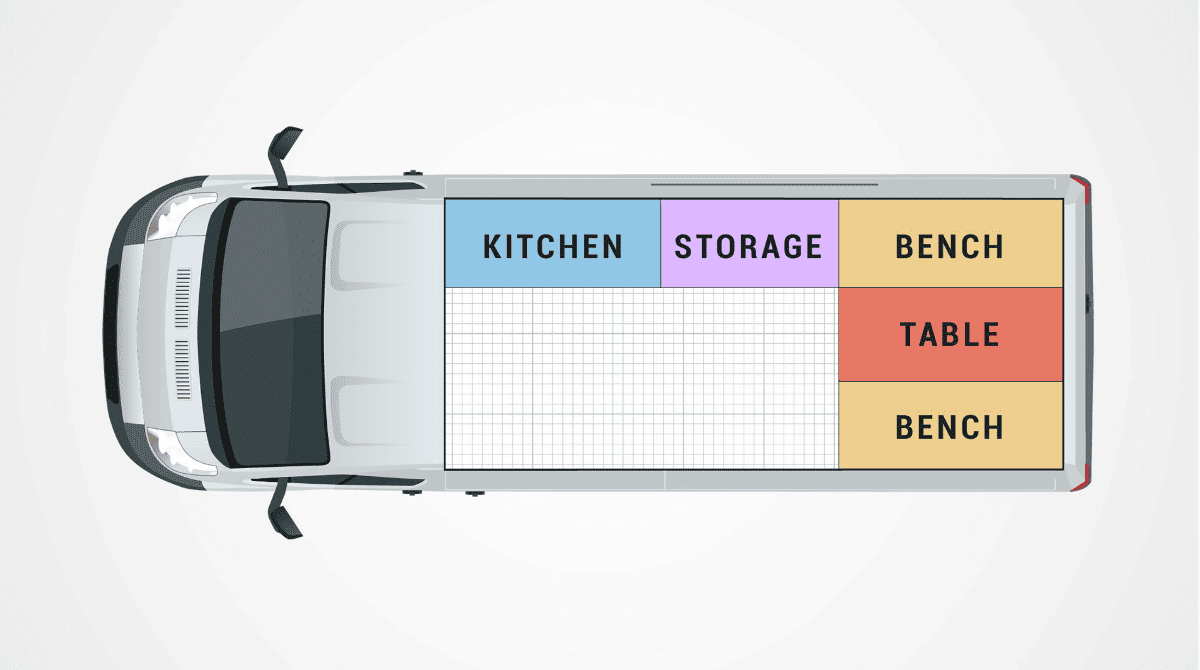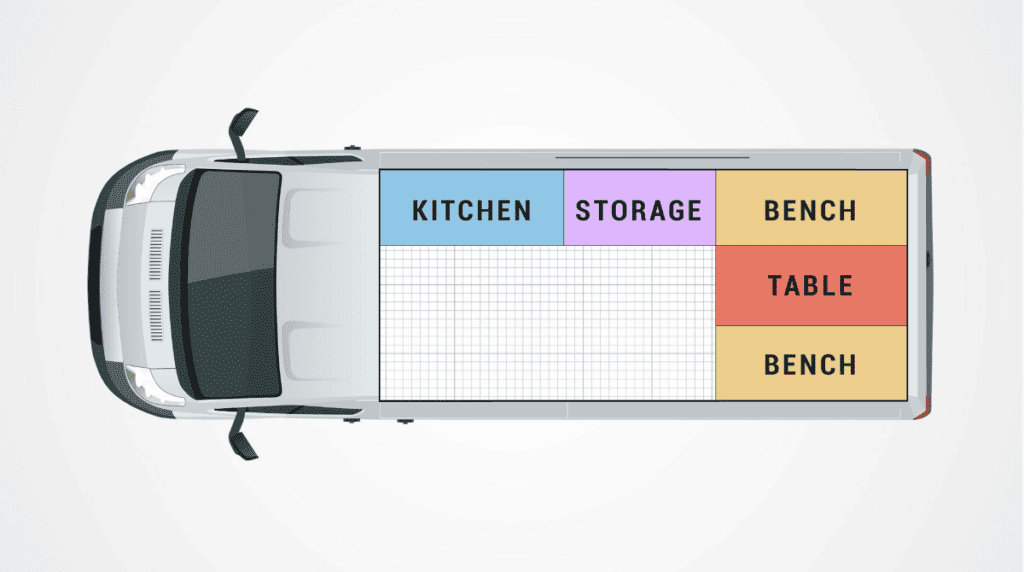 SketchUp is a paid online software that helps you model 3D spaces. Using a 3D layout can help you get really specific with your conversion van layout.
Plus, it helps you to really visualize what the space will look like, which can help point you towards any flaws in your design plan.
The software is pretty intuitive and easy to learn, too.
Here's a great video that shows an example of how you can use it to design your van:
Vanspace 3D is another 3D modeling software. However, this one is geared specifically towards planning out vans.

You get to start off by choosing your specific van, so your van's dimensions will already be loaded on.
Here's a tutorial on how to use the software:
Happy Planning!
Whether you took inspiration from the shower-in-a-drawer, or decided you need an Instagram-worthy van kitchen ASAP, I hope I helped you get started with your planning.
Remember, make a list of your absolute must-haves, and have fun with it from there! Browse other vans you see in Instagram, and create a mockup of yours in online software.
Thanks for stopping by! And check out some of my other van-lifer articles while you're here: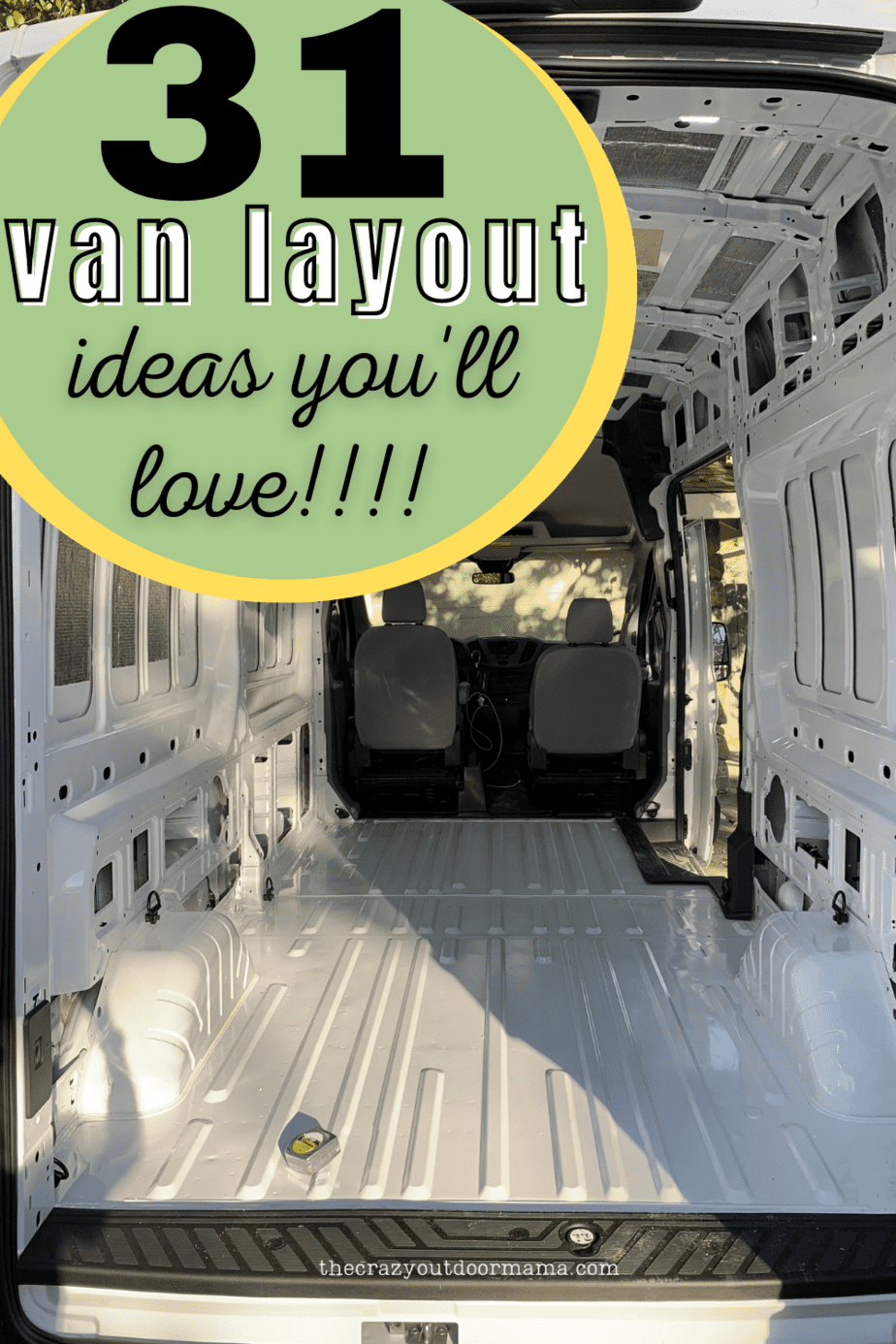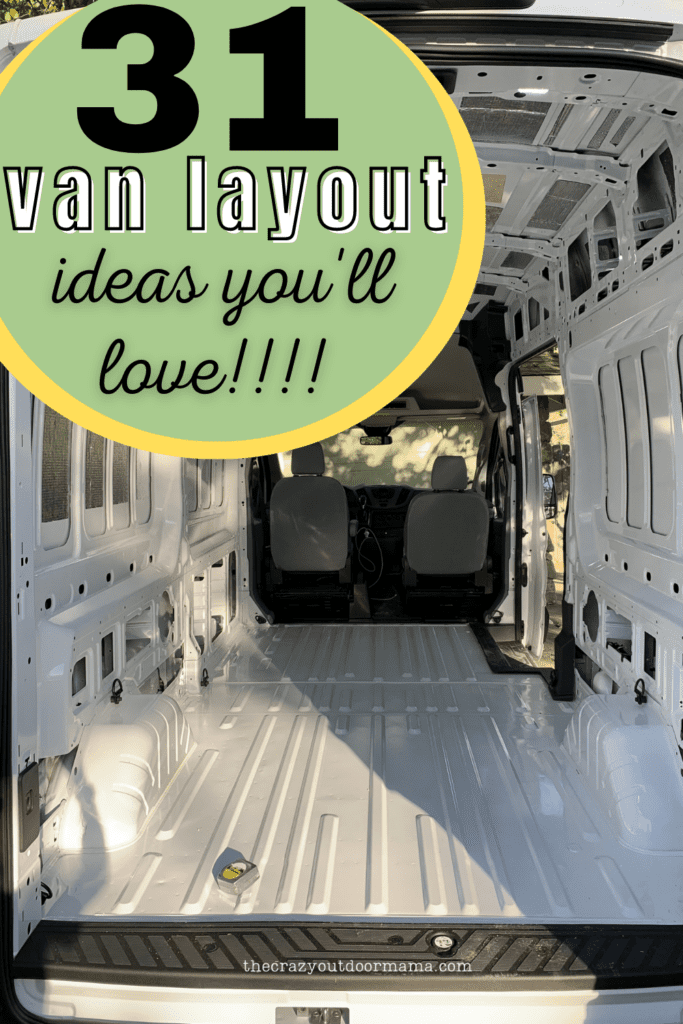 Latest posts by Stacy Bressler
(see all)