If you love camping, and you THINK you've seen it all… well get ready for the BEST camping subscription box yet – the "Out of The Box Camping" quarterly subscription box!
I don't know about you, but I'm always trying to find cool camping themed stuff (decorative and useful!) but I get so tired of filtering through junk on Amazon. I'm sort of an obsessive ratings reader, and I get so overwhelmed trying to find fun, quality camp stuff!
There seems to be a subscription box for just about anything and everything out there, but I didn't really see much SPECIFICALLY for camping (most are just general outdoor or hiking themed).
In comes "Out of the Box Camping"!
I was so excited to work with them and get the word out about this amazing box – I'm amazed that every camper doesn't already know about it!
I'm going to give you guys the in depth review of my fall 2019 box, and I hope you will enjoy it!
It's definitely perfect as a gift to yourself or for that friend you have no idea what to get (it's actually hard to know what kind of camping gear someone would actually want!) but know they like camping.
Here we go!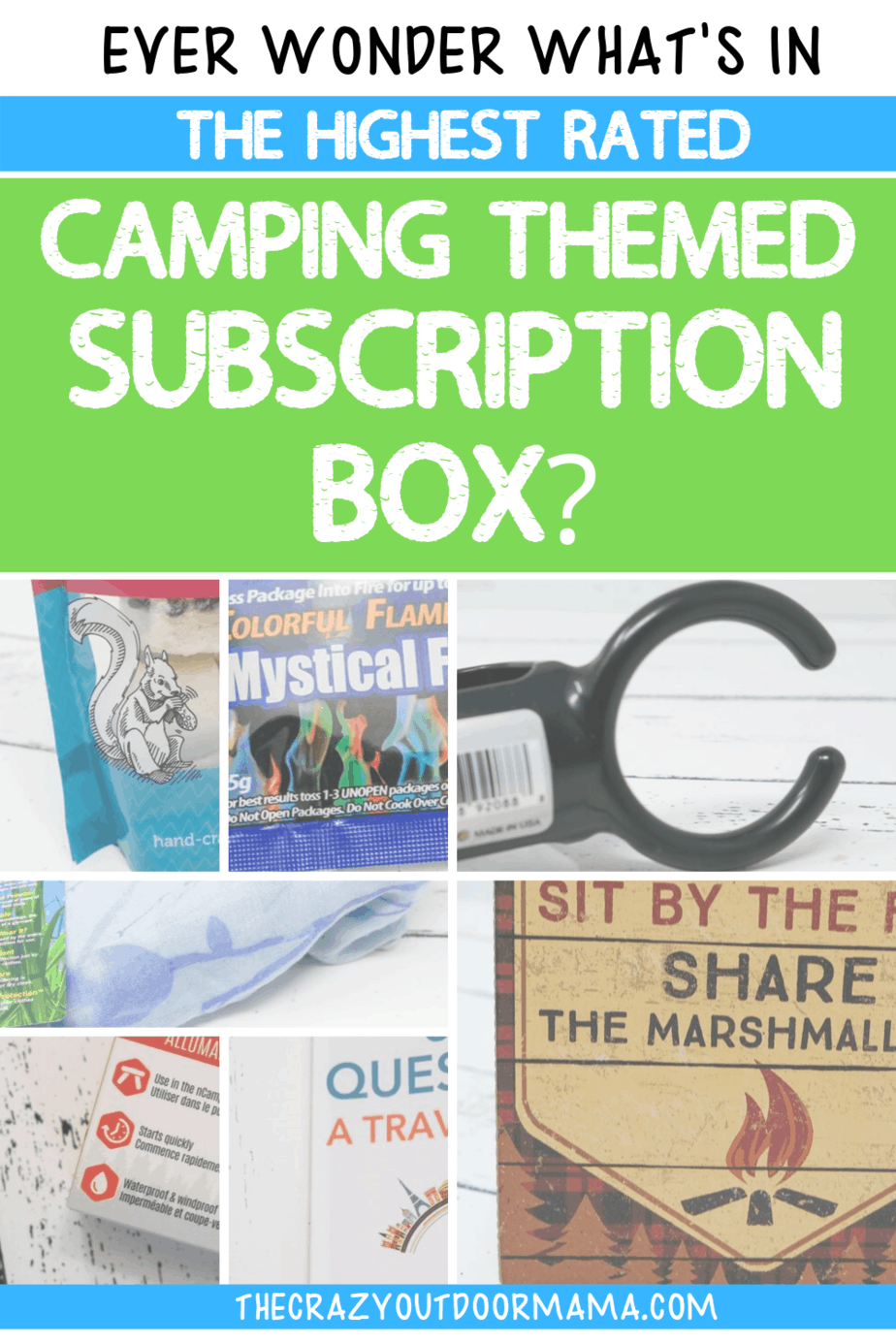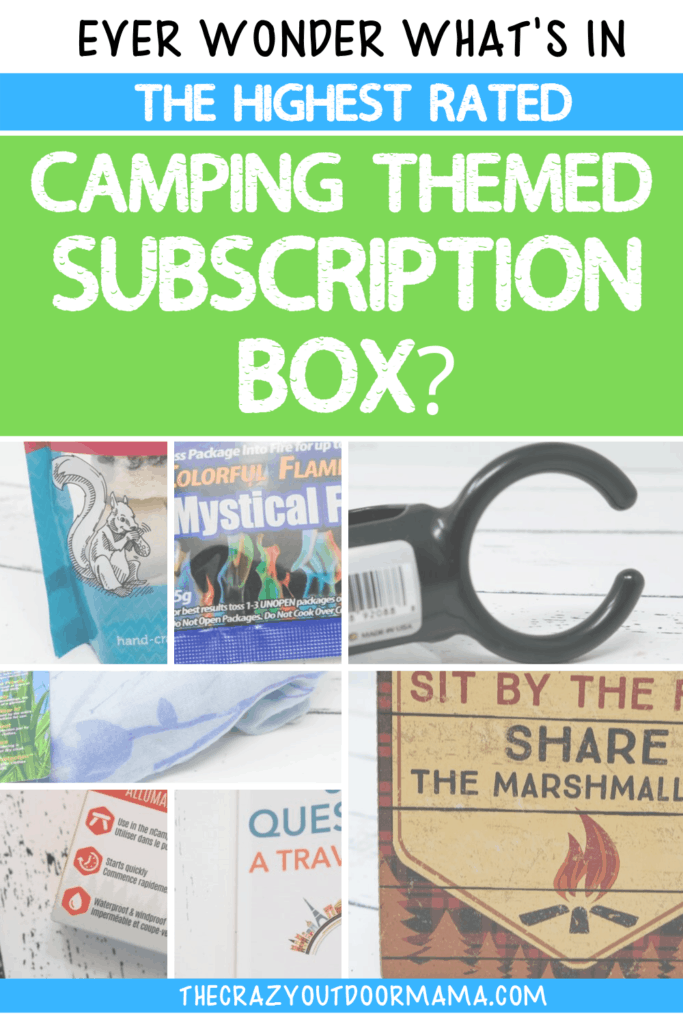 Video Unboxing of The Camping Lovers Subscription Box from "Out of the Box Camping"
I'll include a breakdown a little further down, but I always like to watch something first then read about it!
You can subscribe or learn more by clicking the button below this video. Don't forget to use the discount code " OUTDOORMAMA10″ for a 10% off of your subscription!
Learn more about how to subscribe to this quarterly camping box!
Here's the breakdown about this quarterly camping subscription box
Out of The Box Camping is designed for RV enthusiasts, though I will say everything that came in my fall box could be enjoyed by tent campers too!
They contain 6 to 8 camping themed items that are both quality and USEFUL!
I know I hate to get junk that I just get tired of and throw out once the "surprise" factor is gone – this was not an issue with this box!
If you pay for a yearly subscription, the price for each box is around $46.00 which is a steal when you see what's inside!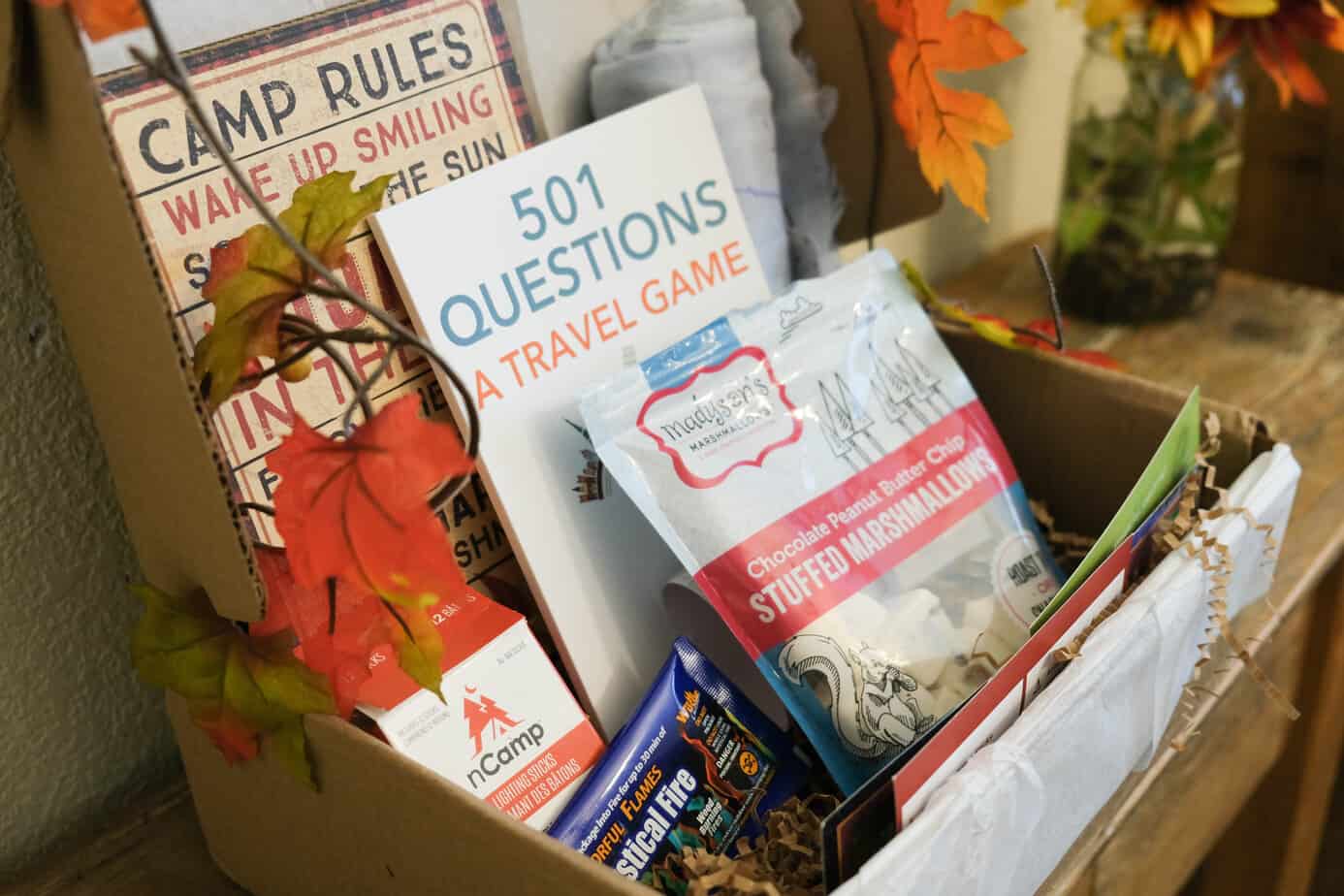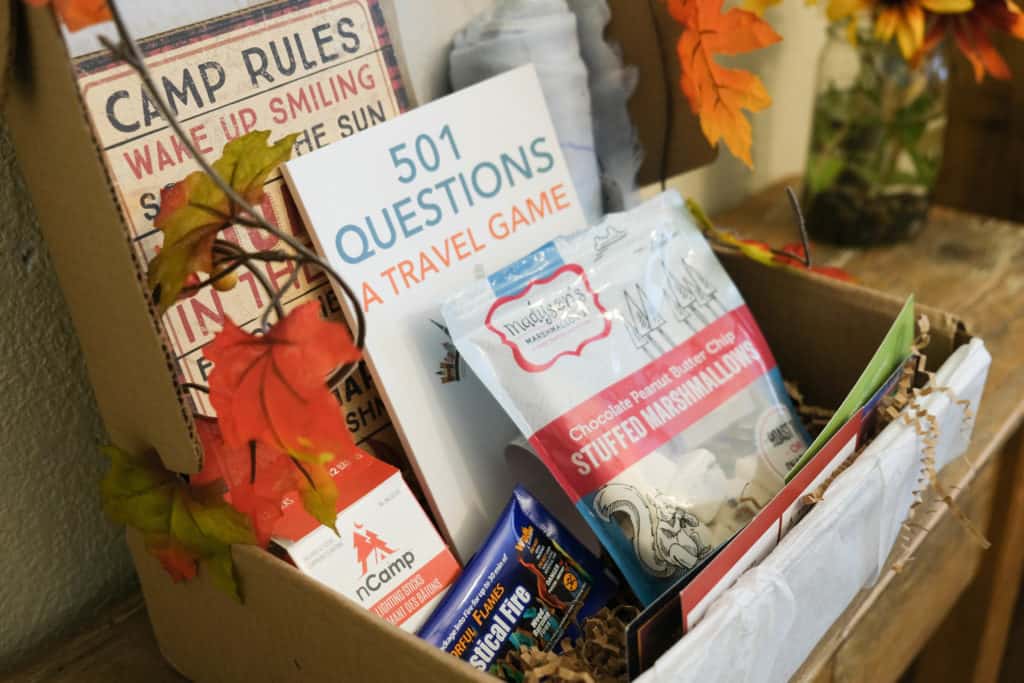 All the camping goodies that were in my fall subscription box!
Pretty (and functional!) Insect Shield Scarf
This beautiful periwinkle scarf was super soft, stylish, and functional! I love that it doubles as a cover for legs at the end of the night to keep cozy! (Valued at 31.99)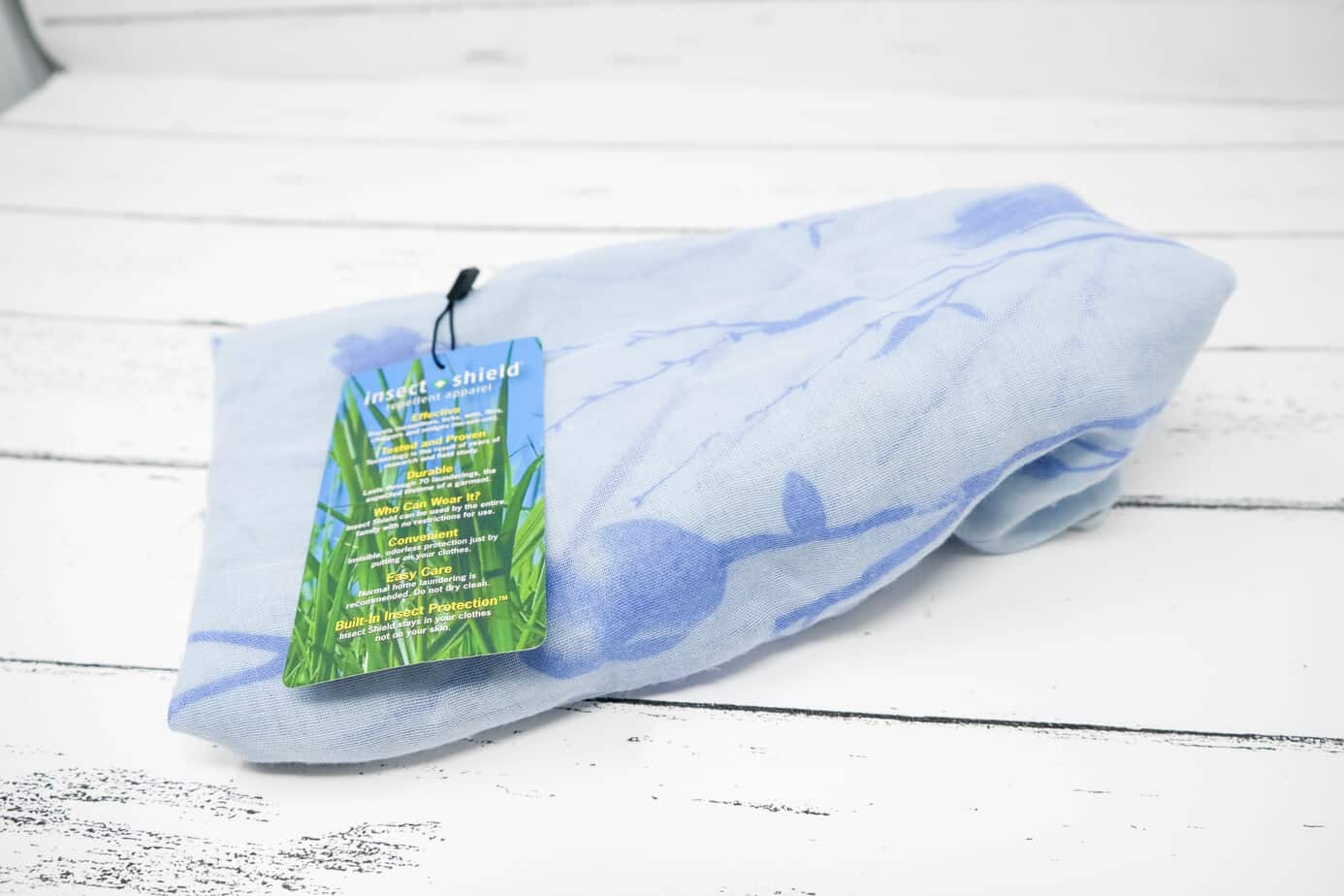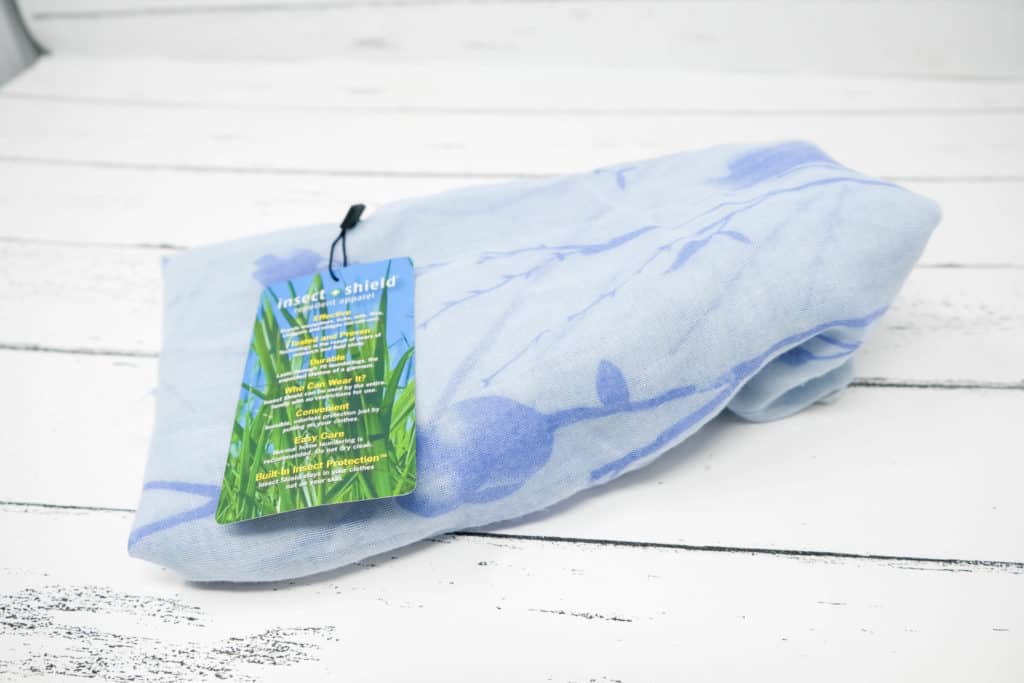 Mystical Fire Pouch
You know those really cool multi colored fires? Well, this is one of the ways to get it! I know my kids will LOVE this magic! (Value 1.49)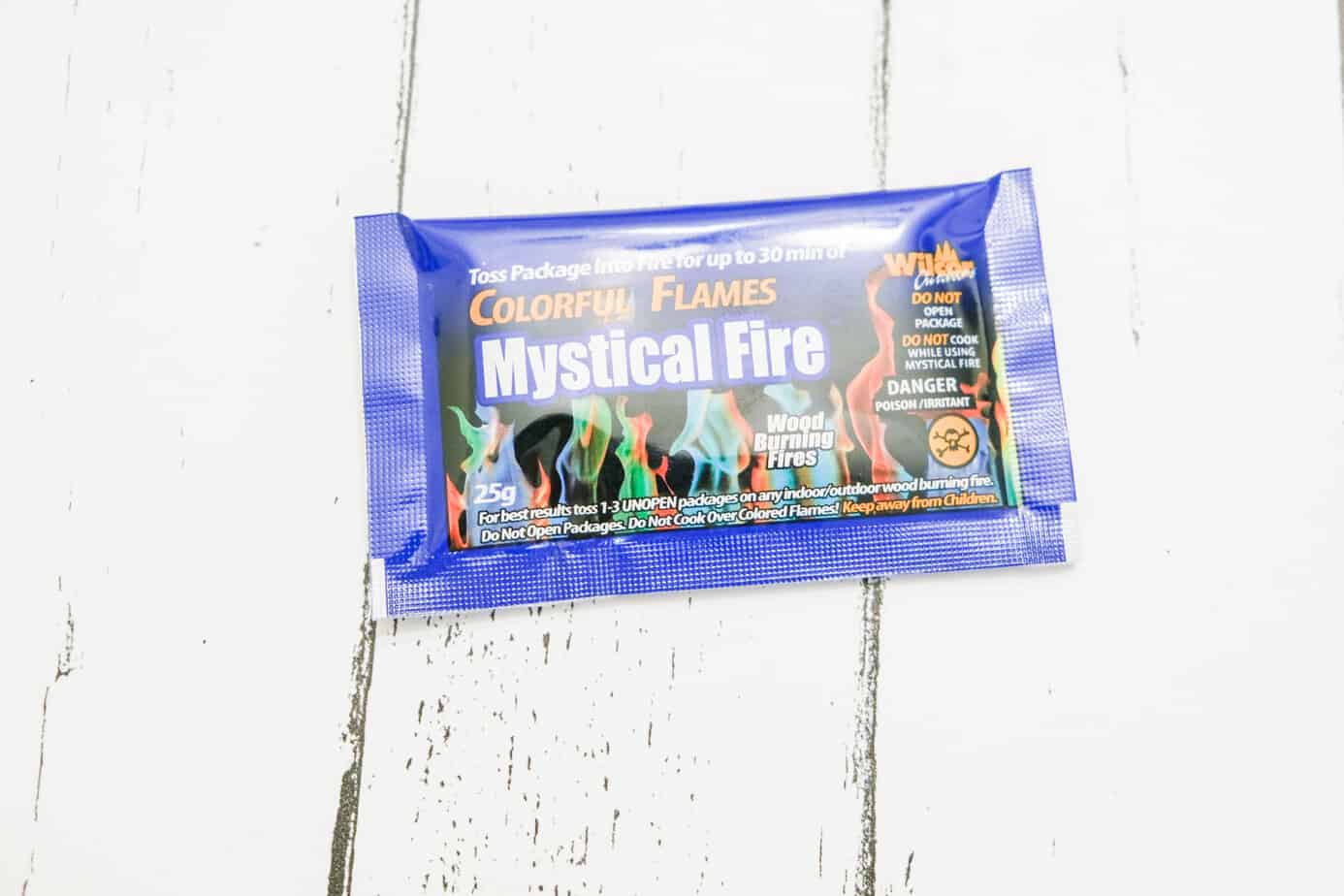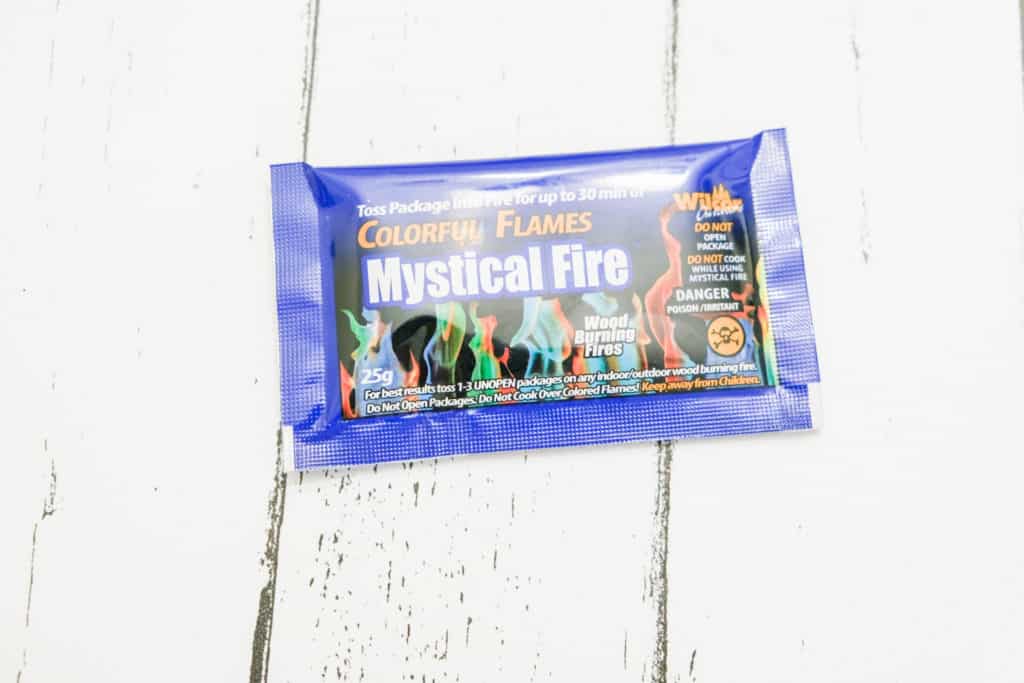 Wine Hook for Your Camp Chair
Slide this on to most camp chairs to hold your wine glass (though you should really use plastic just in case… no one likes to step on glass at camp!) I'm a big wino, so I'm pretty stoked that drinking wine at camp is alot easier now! (Value 9.99)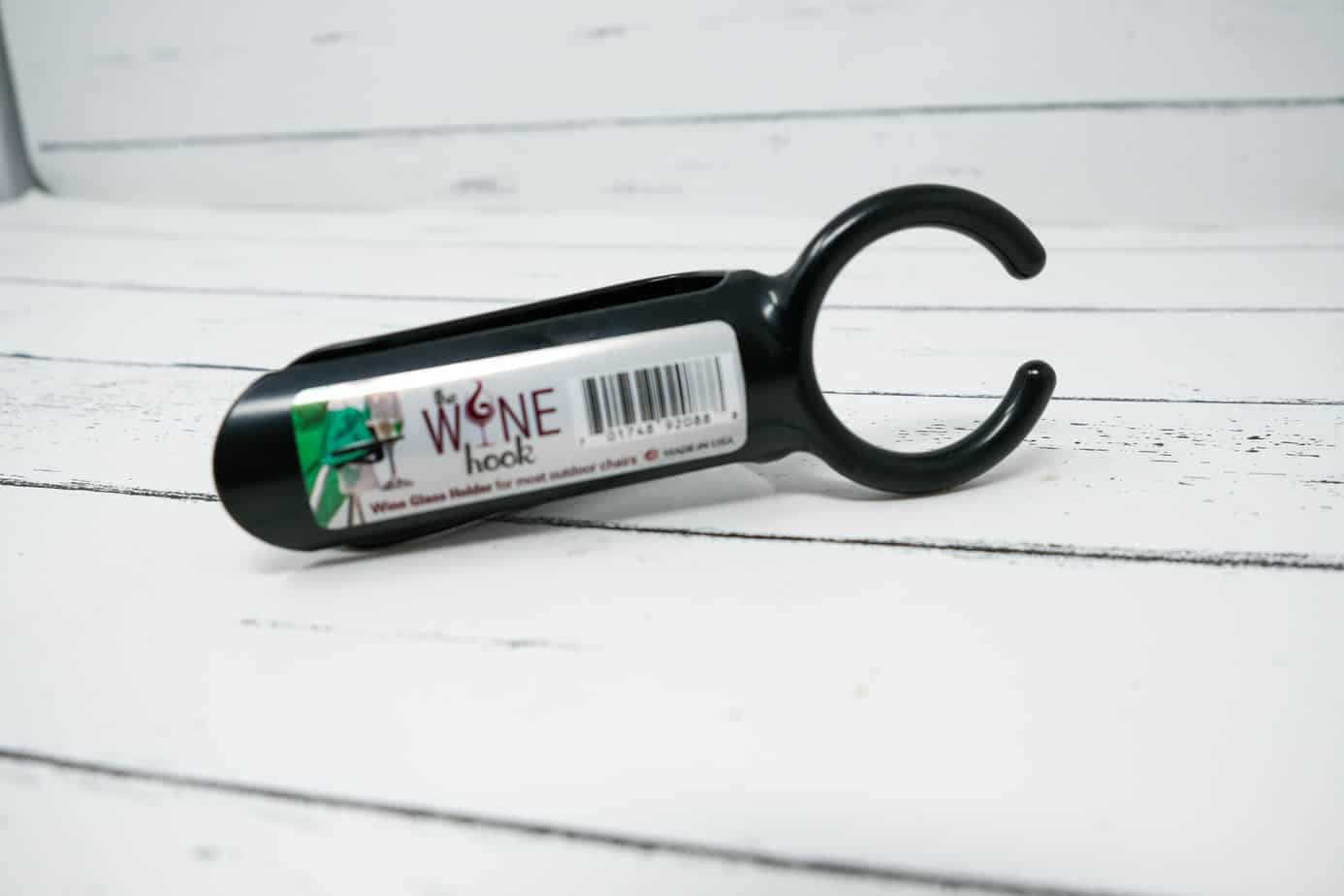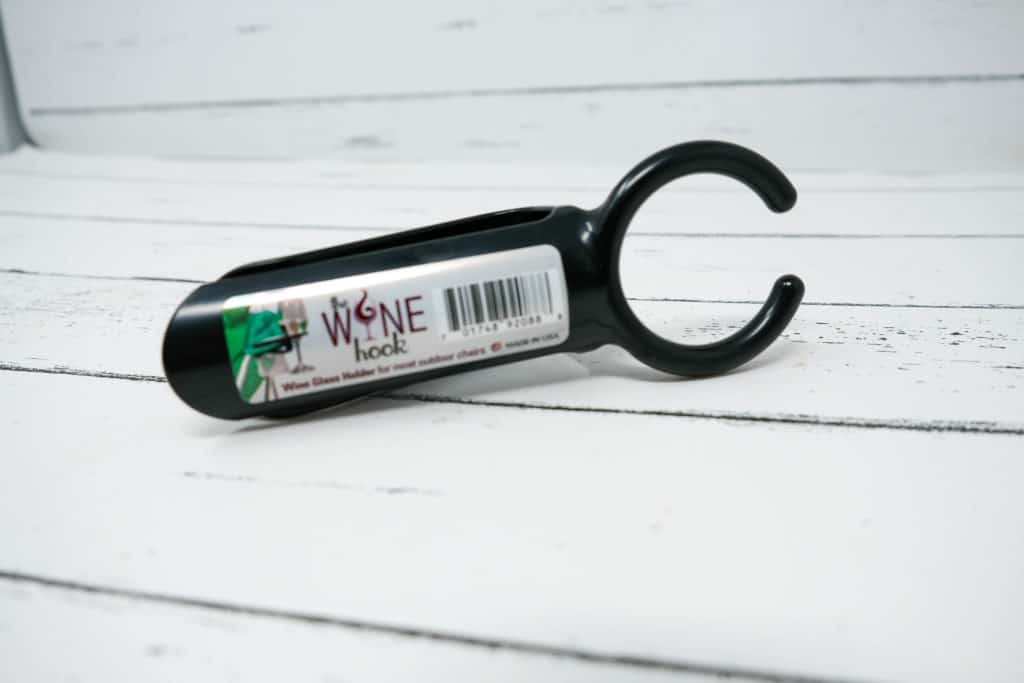 Chocolate Peanut Butter Chip Stuffed Marshmallows
This creation sent from heaven was actually made by a company called Madyson's Marshmallows in Heber City, Utah!
Besides the already assumed (and tested… MMM!) goodness of the chocolate and peanut butter, just the texture and taste of the marshmallow was WAY better than the ones you buy at the store! Less sweet and puffy, but more substantial and TASTY (it didn't feel like I was going to OD on sugar after I ate one like normal!) (Valued at 6.95)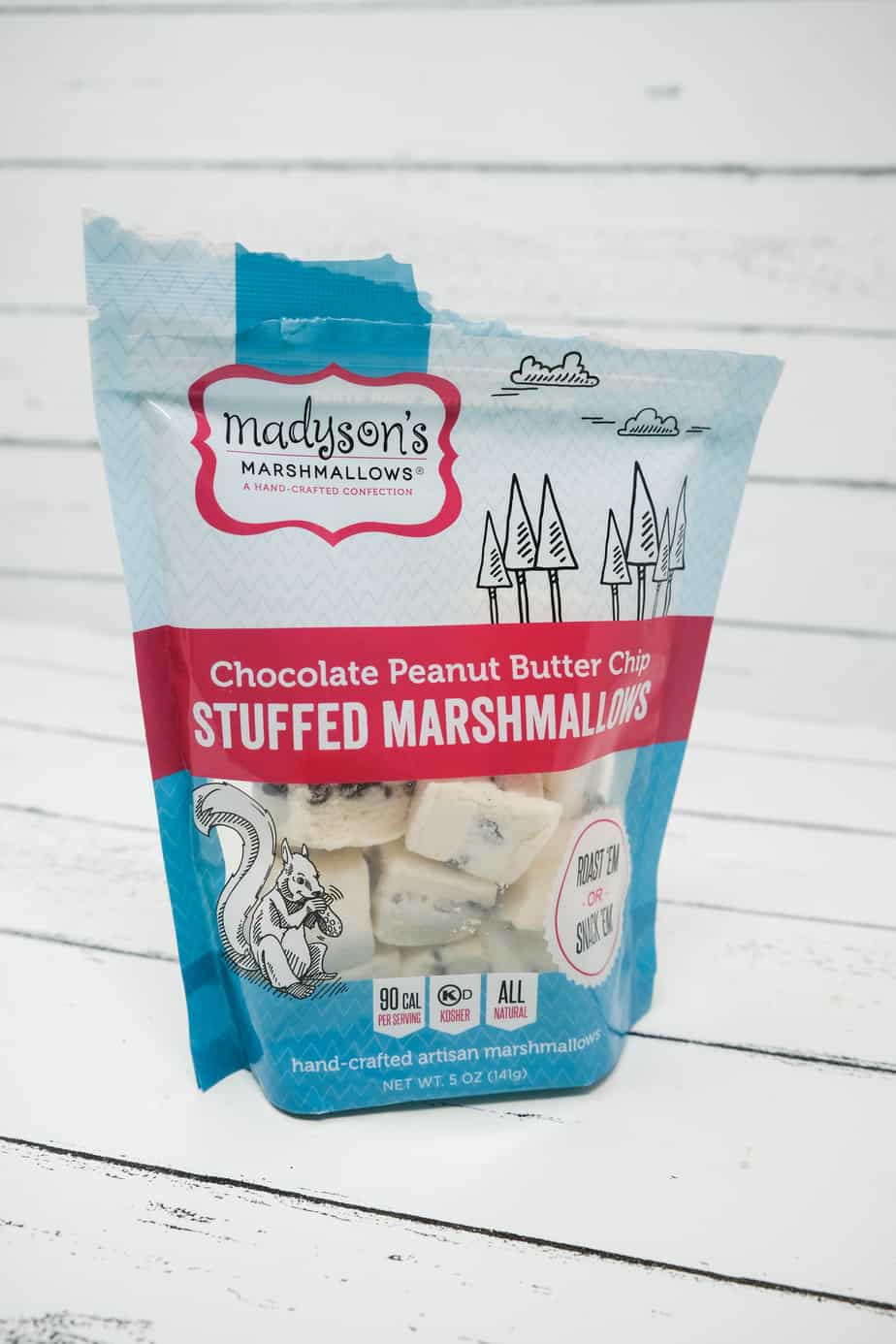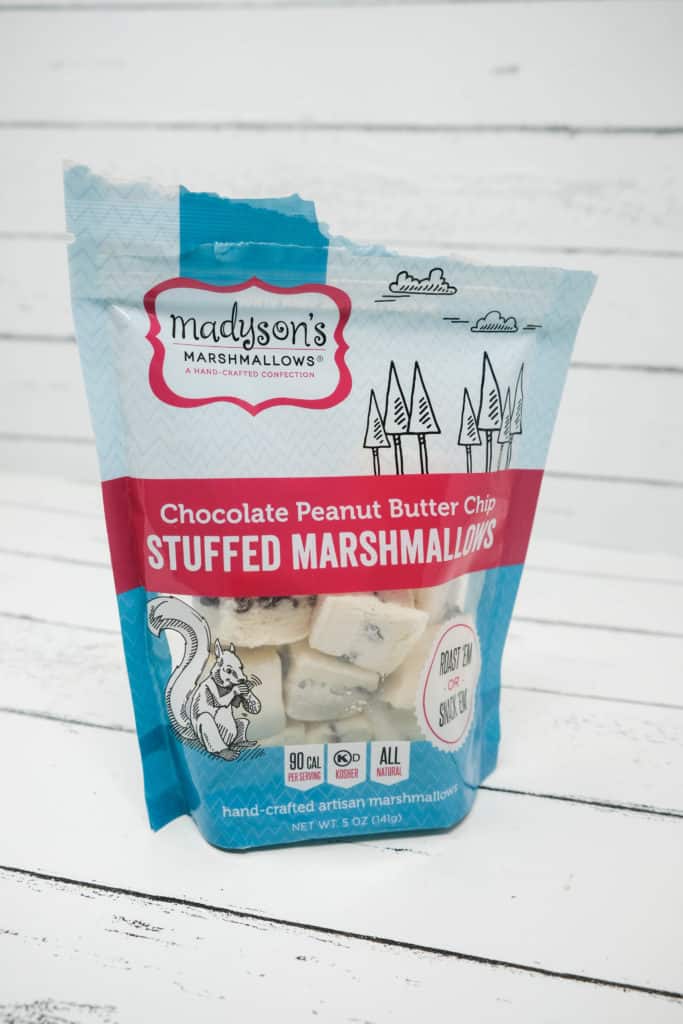 12 Pack of Firestarters
Fellow terrible fire starters, you're in luck! These small lighting sticks from nCamp are waterproof and windproof, making them perfect for both the terrible fire maker and wet fall conditions! (Valued at 9.00)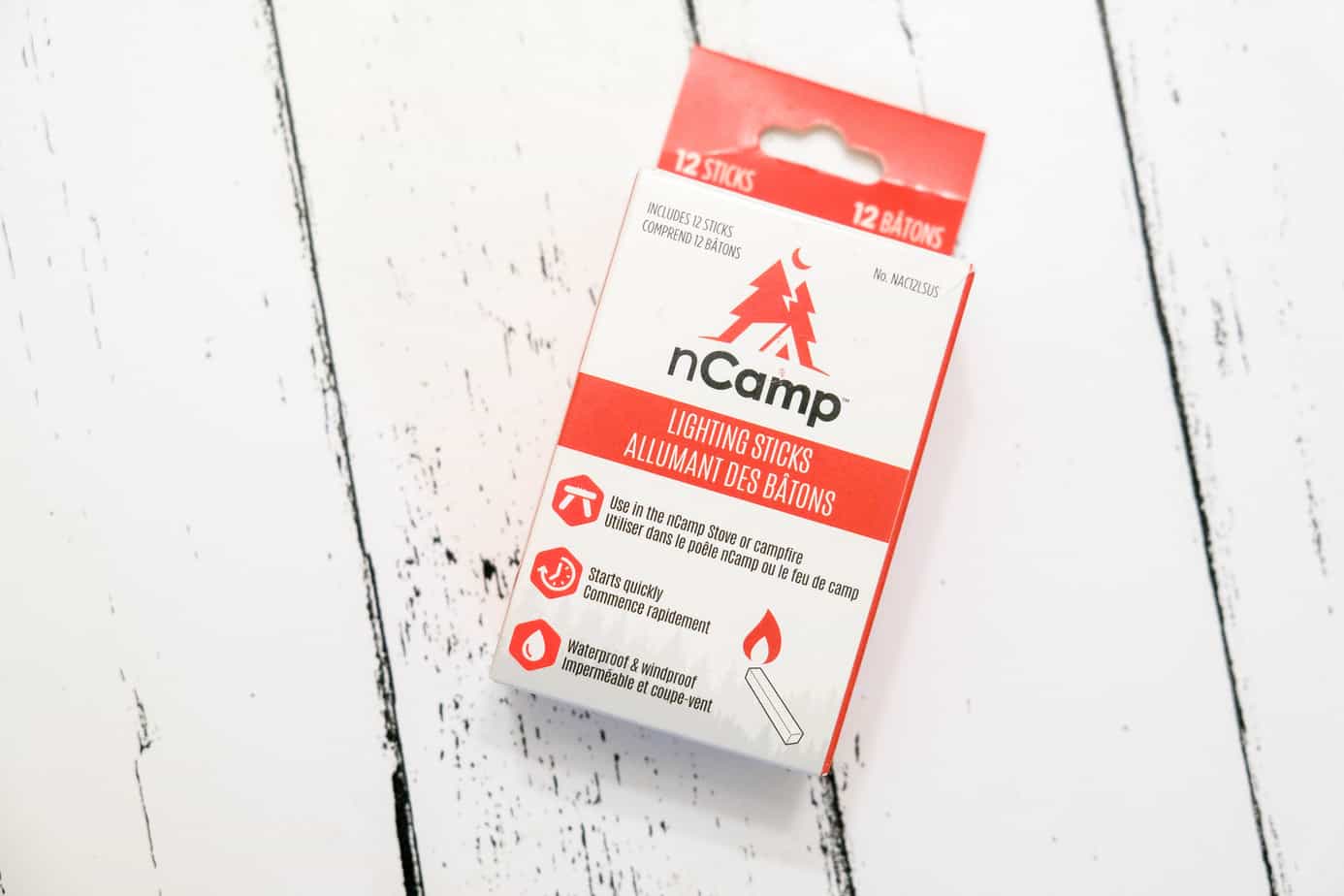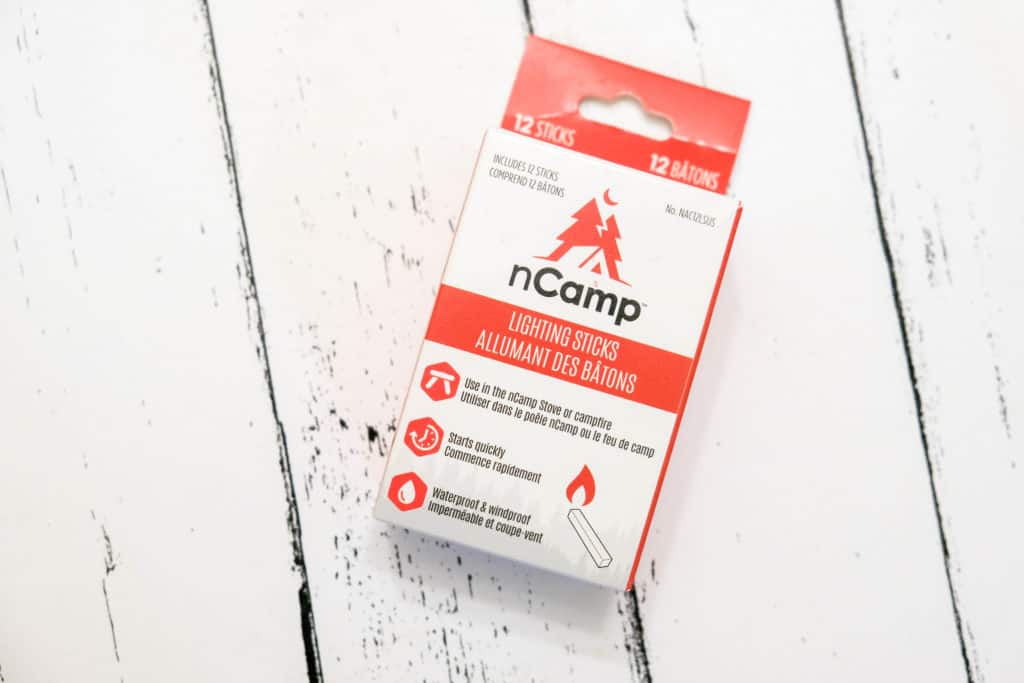 501 Questions Travel Game
I LOVE this because I get so darn bored on our 7 hour + roadtrips we often find ourselves on!
This book isn't just a giant list of questions though (not that I would have minded since that is alot of fun questions to ask!) but it does actually function as a game!
There are four categories of questions (Would you rather, if you could, tell me about… and travel trivia) and there are multiple suggested ways to play! My favorite is the one where you have the other player "choose" their question by selecting a category then picking a number between 1 and 130 (each category has atleast 130 questions!) (Valued at 14.99)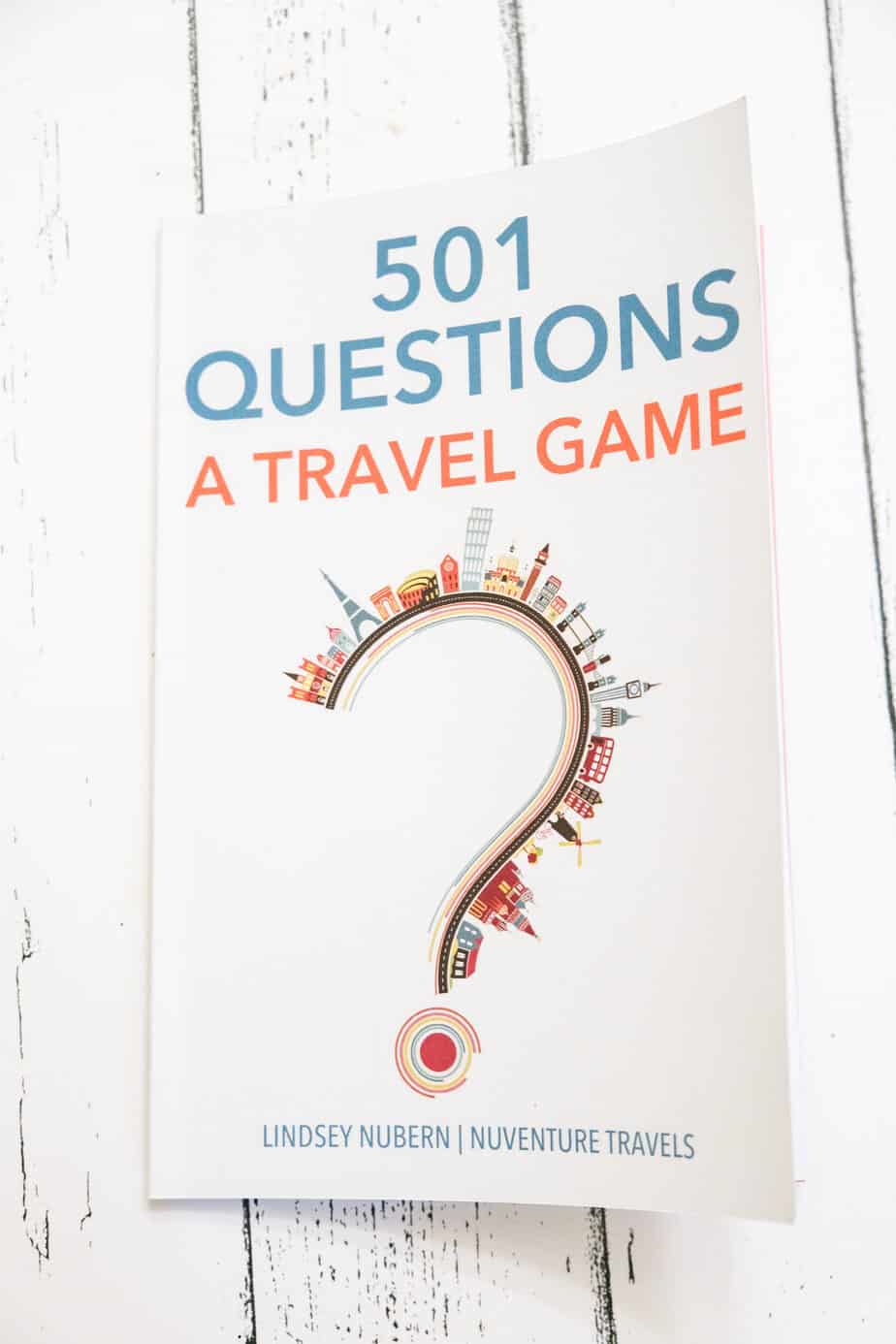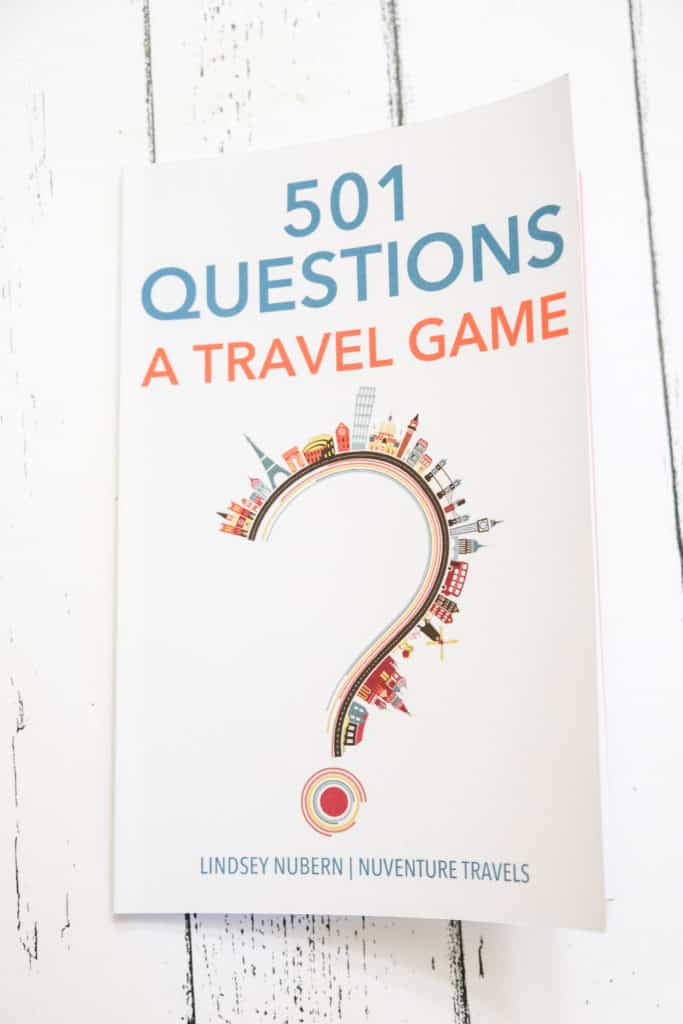 Adorable "Camp Rules" Sign
You know those cute little memes you see on facebook with super campy sayings, and you wish you could just print it and frame it? Well this is one of them!! I absolutely love the look (sort of a rustic chic thing) and I am really going to have a hard time deciding if it should be hung in my camper or my home! (Valued at 14.99)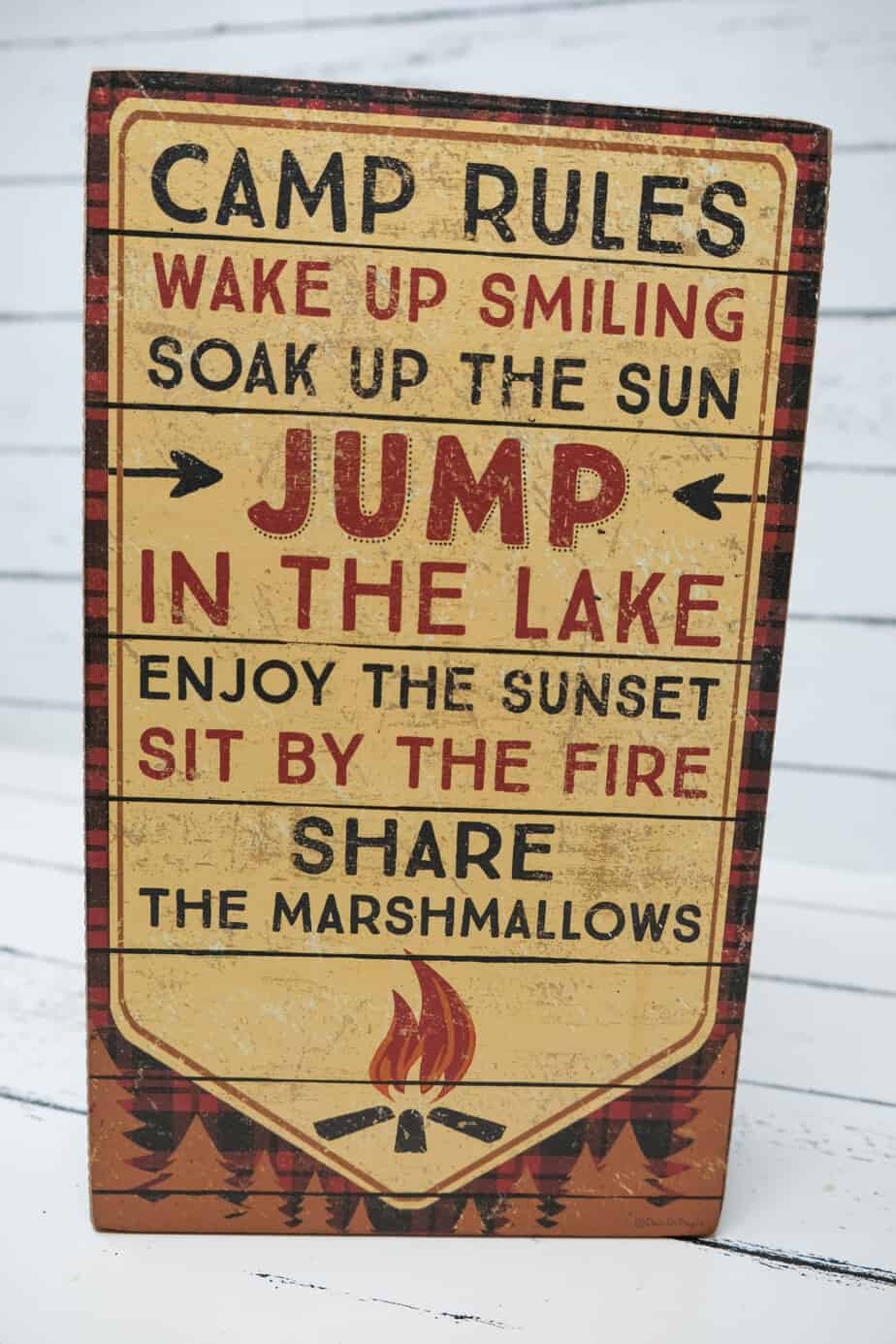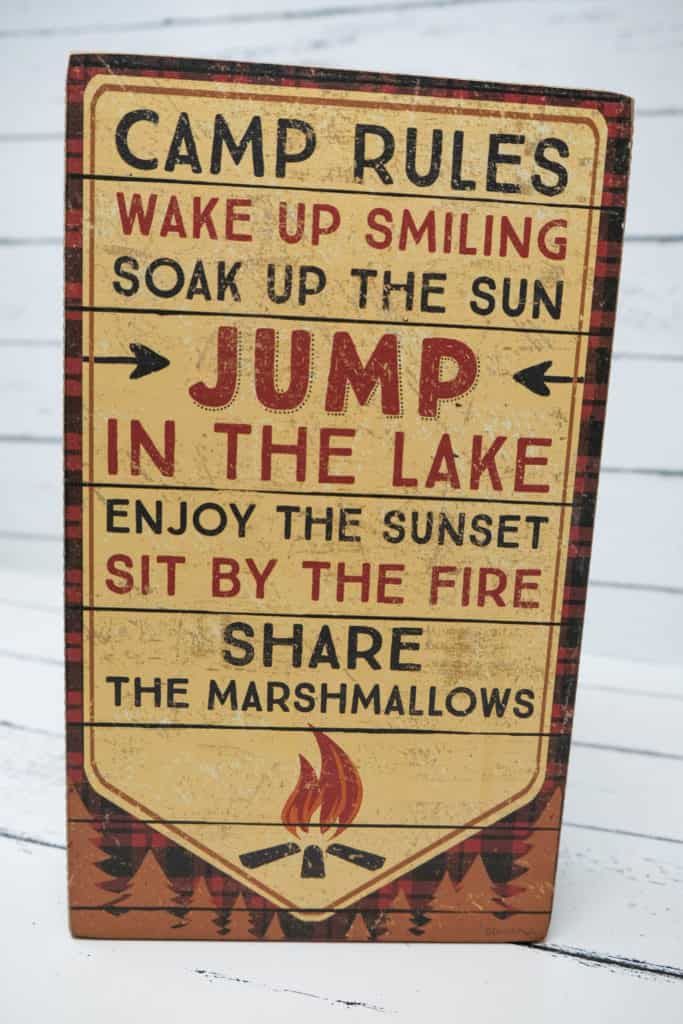 Sweet "Around the Campfire" Playlist on Spotify
I got spotify and checked out this playlist – it's ULTIMATE camp vibes! My favorite thing to do around a campfire with friends is to listen to songs that are slow enough that we can all sing along, and this is it!
I'm listening to it as I type, and I think I might need to listen to this list for awhile! It has some favorites, some newer songs, and overall chill mood!
Would I recommend the "Out of the Box" camping subscription box?
YES!
I think it would also make a great gift for that someone who you don't really know what to get them (it's honestly hard to get someone camping gadgets because you don't often know what they do or don't have, what they need etc) but you know they like camping!
I actually have a use for every item in the box, but I didn't ever think about buying it on my own. And I like that it has some little extras that while not "needed" make camp life alot easier!
My box had contents that both tent and RV campers could enjoy, and while I'm not sure if that's the case for every box, I think most items will make all campers happy! I looked at past season boxes, and it seems that the only kind of camper it might not suit are backcountry campers, as by nature they need to pack light and can't really "glamp out" too much!
You can subscribe or learn more by clicking the button below. Don't forget to use the discount code " OUTDOORMAMA10″ for a 10% off of your subscription!
Learn more about how to subscribe to this quarterly camping box!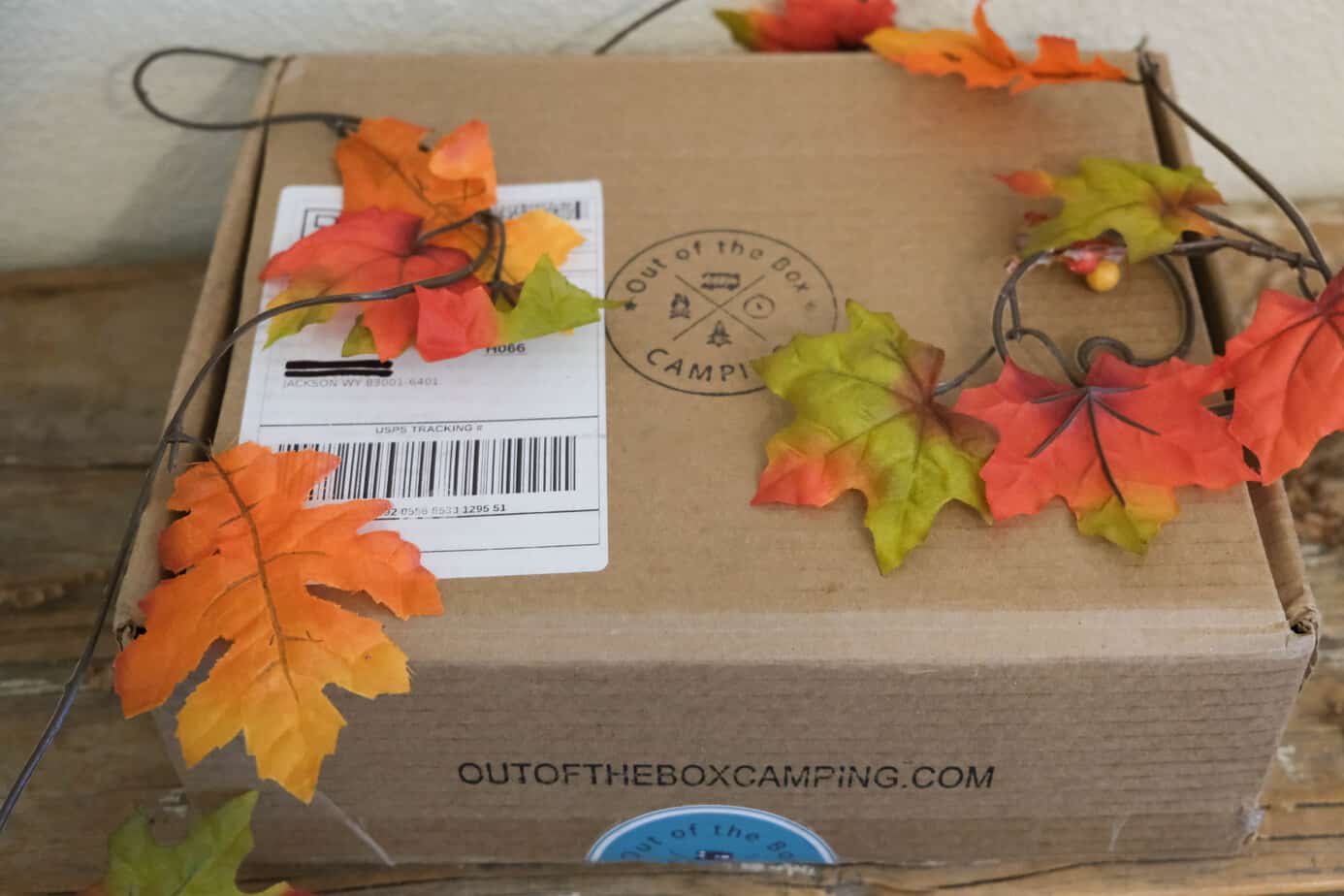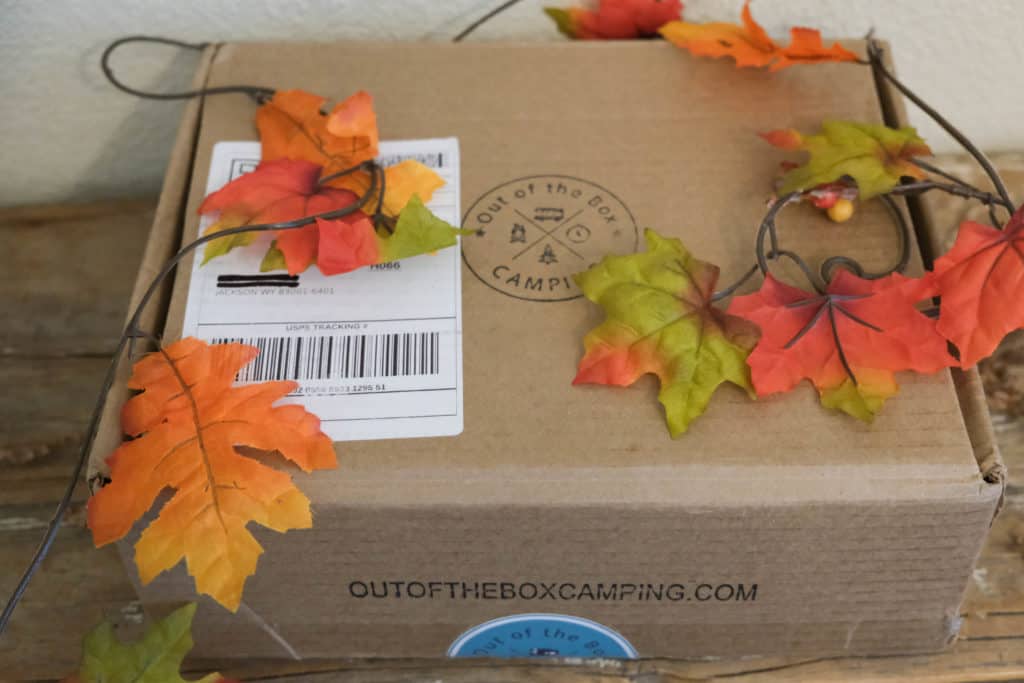 Here are some other RV and camping gear ideas you'll love!