It's time to spread your wings and venture beyond the comfort of your favorite local campground. There's a great big world out there and camping is one of the best ways to fully experience the beauty of each new place.
That's why here I want to share with you some epic camping trips that are worthy of making it on your camping bucket list.
But first…
What Makes a Trip Camping Bucket List Worthy?
Two things… the experience or the place.
Of course, there are some epic places to camp, like places with views that'll take your breath away or parks that are designed to help you and your family enjoy the outdoors.
But there are also camping experiences worthy of your camping bucket list — things you can do without having to travel to one specific spot in the world. 
Which are on my list?
Both.
Here are some incredible places and unforgettable camping experiences that are worthy of adding to your camping bucket list. There's something here for everyone, whether you're an RV camper who likes their comforts or an adventurer who's ready to go off the beaten path.
Let's start with some bucket list camping experiences.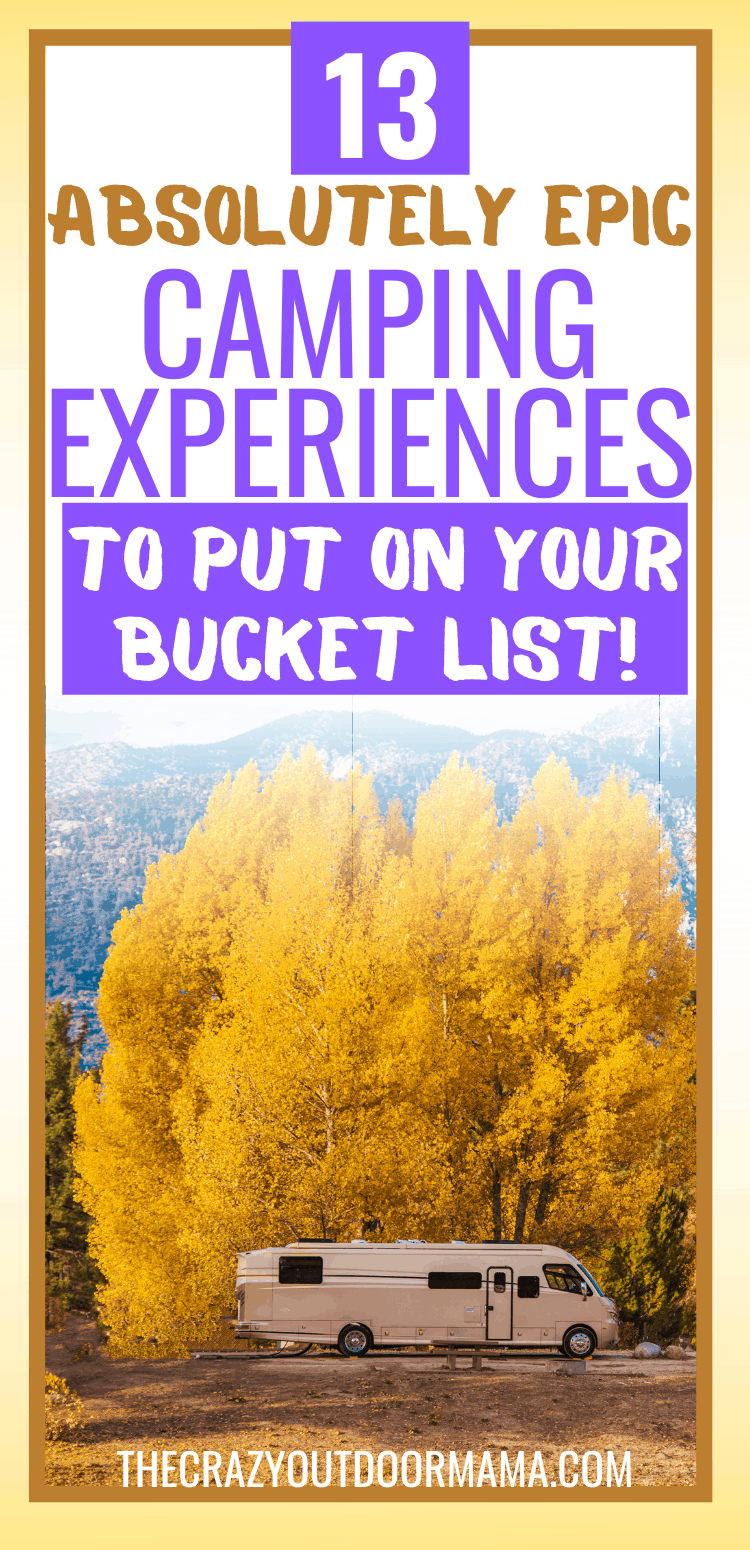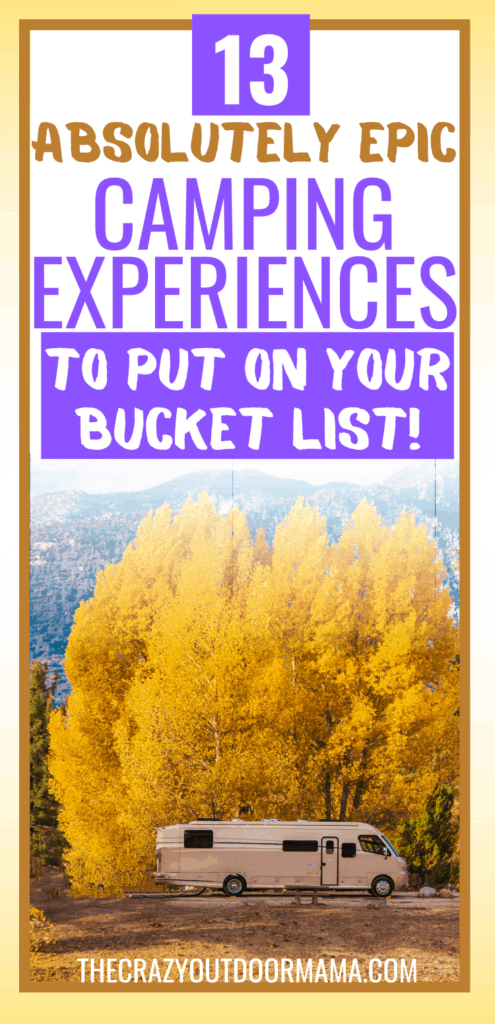 4 Experiences to Add to Your Camping Bucket List
Camp on the Beach
Have you ever fallen asleep to the sounds of the ocean?
From a house close to the beach with an open window, you can sometimes catch the sounds of the waves. But being right on the sand in an RV or tent, just a stone's throw from the water's edge is another feeling completely!
And being right on the beach sets you up perfectly for seeing some spectacular sunrises or sunsets, depending on where you are.
Want to add beach camping to your bucket list? Check out this article for some of the best beach campgrounds in the U.S.
And don't miss one of the places on my list that is one of the best spots for beach camping in the U.S.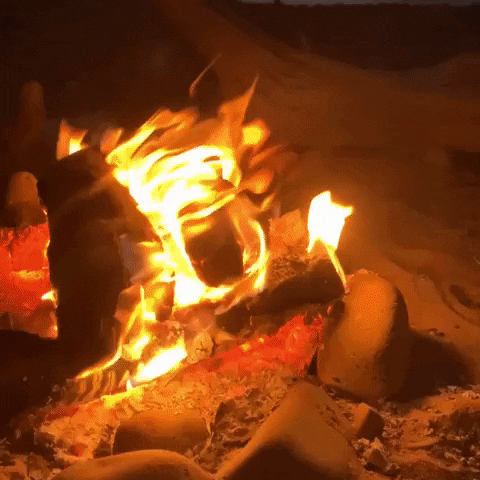 Go on a Backpacking Trip
It's one thing to pull into a campground in your overpacked RV with a full kitchen, bathroom, and Wifi (nothing against that, I love my Wifi while camping), and quite another to walk into the woods with just your backpack.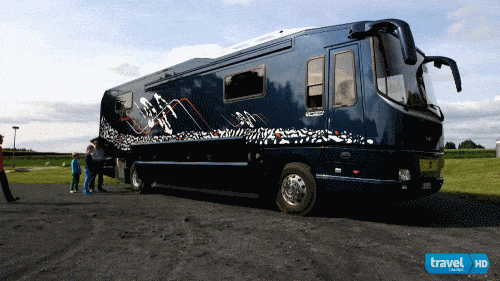 While backpacking, you're less distracted by devices and comforts, and more in touch with the nature around you. You see more, experience more, and feel more.
Sure, you might get a little uneasy the first time you're in the woods at night without the soothing glow of other campsites around you, but isn't that part of the fun?
Plan on doing this bucket list camping trip with friends or family and see how it'll draw you closer together. Check out my guide (with a FREE printable) for expert tips on planning your first backpacking trip.
Camp Where You Can Watch Both the Sunset and the Sunrise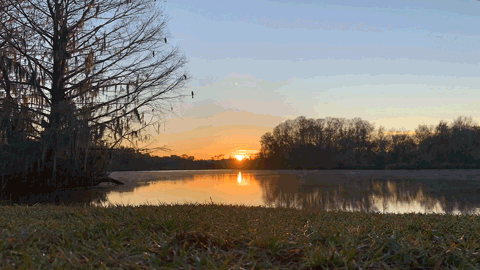 Any location where you can watch both the sunset and sunrise is going to be an epic location with incredible views at any time of day.
It's not too difficult to find a place to camp where you can see one or the other. But any place where you can sit by a campfire while watching the sun go down and then unzip your tent early the next morning to be welcomed by a beautiful sunrise is truly worthy of your bucket list.
Hint: It may take a little planning. Look for a place that's higher than the surrounding areas. The top of a hill or ridge close to a body of water usually makes for the perfect sunrise/sunset location.
Here are some sunrise hike locations to give you some inspiration for your camping bucket list.
Try Kayak or Canoe Camping
While similar to backpacking, traveling along a river or lake adds another dimension to your camping trip. Traveling with a kayak or canoe is a bit of an extra challenge, but it also lets you see things from another perspective you normally wouldn't be able to appreciate while just on foot. 
Kayak or canoe camping also has some advantages over backpacking. You can generally pack a little more since your boat is doing the work and not your back.
Add kayak or canoe camping to your bucket list of camping experiences and check out my guide for planning your first kayak camping trip.
So there you've got four camping experiences to add to your camping bucket list. Keep going to see some epic places you should add to your list to visit.
5 Places You Should Add to Your Bucket List of Camping Trips
I'm gonna divide this list into two parts. The first is a list of places in the U.S. that are worthy of your camping bucket list. Most aren't a specific campsite but a general area, like a National Park that has various camping options depending on if you're tent camping, RV camping, or backpacking. 
What they all have in common are the unique landscapes, nature, and views that you just can't find anywhere else.
In the second part, I'll include a few camping trips for the adventurous traveler's camping bucket list. These can be anywhere in the world and are truly once-in-a-lifetime camping experiences. 
Let's start with some places for your bucket list camping trips in the USA.
Yosemite National Park, California
Best Overall
About four million people visit Yosemite National Park every year and with good reason.
You've got over 1,000 square miles to explore
Experience giant sequoia forests, glaciers, and the famous El Capitan and Half-Dome granite cliffs
It has one of the tallest waterfalls in the world
Convinced yet? Here's one more reason it should be on your camping bucket list.
When the conditions are right, it's one of the few places you can see a rainbow at night!
Here are some other unique things you probably didn't know about Yosemite and some info about its 13 different campgrounds.
Lake Tahoe, California/Nevada
Best for Family Activities and Sports
After you've checked Yosemite off your bucket list of camping trips, head north a little and check Lake Tahoe off your list as well.
Sitting at just over 6,000 feet in elevation, it's the largest alpine lake in all of North America. It has some of the clearest and cleanest water anywhere in the world. In fact, many of the neighboring towns get their drinking water straight from the lake.
This is an amazing area that's full of family-friendly activities and year-round outdoor sports. It's perfect for using your campground as a home base to let you go out and enjoy things like…
Adventure parks and ziplines
Beaches
Brewery tours
Whitewater rafting
Hiking
And a lot more (Like seriously, my blog wouldn't be able to handle the list of everything you can do around Lake Tahoe so add it to your bucket list and find out for yourself!)
Here are some of the top campgrounds around Lake Tahoe.
Assateague Island, Maryland
Best for Secluded Beach Camping
Head to Assateague Island and check beach camping off your bucket list as well. It's a long sand island just off the coast of Maryland and Virginia and is one of the few places where you can see wild horses roaming the beaches. 
There are several different camping options from drive-in sites with electricity to walk-in sites right in front of the ocean. 
Over 100 campsites
Other than the national park and campground buildings there's no other development on the island so you truly have a peaceful sense of seclusion
Backcountry camping areas you can hike or boat to
Watch the sunrise over the ocean and head over to the bay side of the island to watch the sunset
Ready to add it to your camping bucket list? Here's some more info on Assateague Island camping.
The North Rim, Grand Canyon, Arizona
Camp Next to One of the 7 Natural Wonders of the World
Although the South Rim of the Grand Canyon receives most of the visitors, the North Rim has some beautiful places to camp. 
Considered by most to be the best campground around the Grand Canyon, the North Rim Campground offers spectacular views and easy access to trails to explore the canyons and watch bucket list-worthy sunsets and sunrises
Insider tip- Go for campsites 11, 14, 15, 16, and 18 so you can wake up to views of the canyon from your campsite!
Denali National Park, Alaska
For a Sense of Adventure
Denali National Park is one of the more adventurous options on our list of camping trips in the USA. Imagine a national park that's bigger than the state of New Hampshire, with North America's tallest mountain and a single road running down through the middle of it all.
It is Alaskan wilderness at its best. 

Interesting facts about Denali National Park
There are 6 campgrounds in the park
If you win the road lottery you can get a permit to drive the entire length of the Denali Park Road.
See moose, Dall sheep, wolves, caribou, and grizzly bears in the park
Some park rangers still use sled dogs to help patrol the park
Go in the fall, winter, or early spring to see the northern lights
Learn more about Denali National Park here and add it to your bucket list. 
Is my list missing your favorite camping spot? Send me a DM on instagram or facebook and tell me about your favorite bucket list camping trip.
So… are you feeling a little adventurous? Then add some of these next few trips to your camping bucket list. They take a little more planning, but they're once-in-a-lifetime trips that are worth taking.
4 Camping Trips for the Adventurous Bucket List
Camp in the Moroccan Desert
Reenact your own version of Lawrence of Arabia with an unforgettable trip to the desert. Ride a camel, go sand-boarding, and see the stars as you've never seen them before. Want to give it a try? Check out…
Spend a Night in the African Savanna
"Dr. Livingstone, I presume." You know you're going to have to say that at least once while camping in the African savanna! (Along with a host of other reenactments from The Lion King and Madagascar.)

With a variety of camps in and around the Serengeti National Park, enjoy a once-in-a-lifetime camping experience in luxurious tents and relaxing areas to enjoy the Serengetti's wildlife.
Add Serengeti Savannah Camps to your camping bucket list.
Go Overlanding on the Balkan Peninsula
The Balkan Peninsula is home to some of Europe's most undeveloped regions. Often overshadowed by their highly touristed neighbors, Greece and Italy, countries like Croatia, Montenegro, and Albania offer alp-like mountain ranges, turquoise blue waters, and rugged coastlines.

There are some campgrounds that mostly cater to RVs, but wild camping is generally safe and allowed in most public areas. However, the best way to explore the secluded beaches and mountainous terrain is with your own 4×4 vehicle. 
Rent a small 4×4 and camping equipment from Albanian 4×4 Rentals and spend a couple of days (or weeks) exploring the Balkan mountains and coastlines. 

Hike to Everest Base Camp
Reaching the summit of Everest would of course be the pinnacle of one of the world's toughest camping trips. Summiting Everest might be out of our reach, but hiking to Everest base camp is a much more doable, although still challenging, trip.
The roundtrip trek will take about two weeks and offers amazing views of forested river valleys and the highest mountains in the world. And with special permits, you can even sleep right at Everest base camp.

Think this is something you can only do by yourself or as a couple? Think again. Check out this story of a family with two kids who made the trek to Everest Base Camp.
What's On Your Camping Bucket List?
There are so many amazing and beautiful places to visit, it's impossible to list them all here. Did I miss some of the ones that are on your camping bucket list? Send me a DM on instagram or facebook and tell me what other camping trips I should add.
Whatever places or experiences you put on your camping bucket list, make sure they don't just stay on a list. Check them off one by one. Do them and eventually, your bucket list will turn into a list of memories. 
Annette White said it best – "Stop dreaming about your bucket list and start living it."

More camping articles you'll love!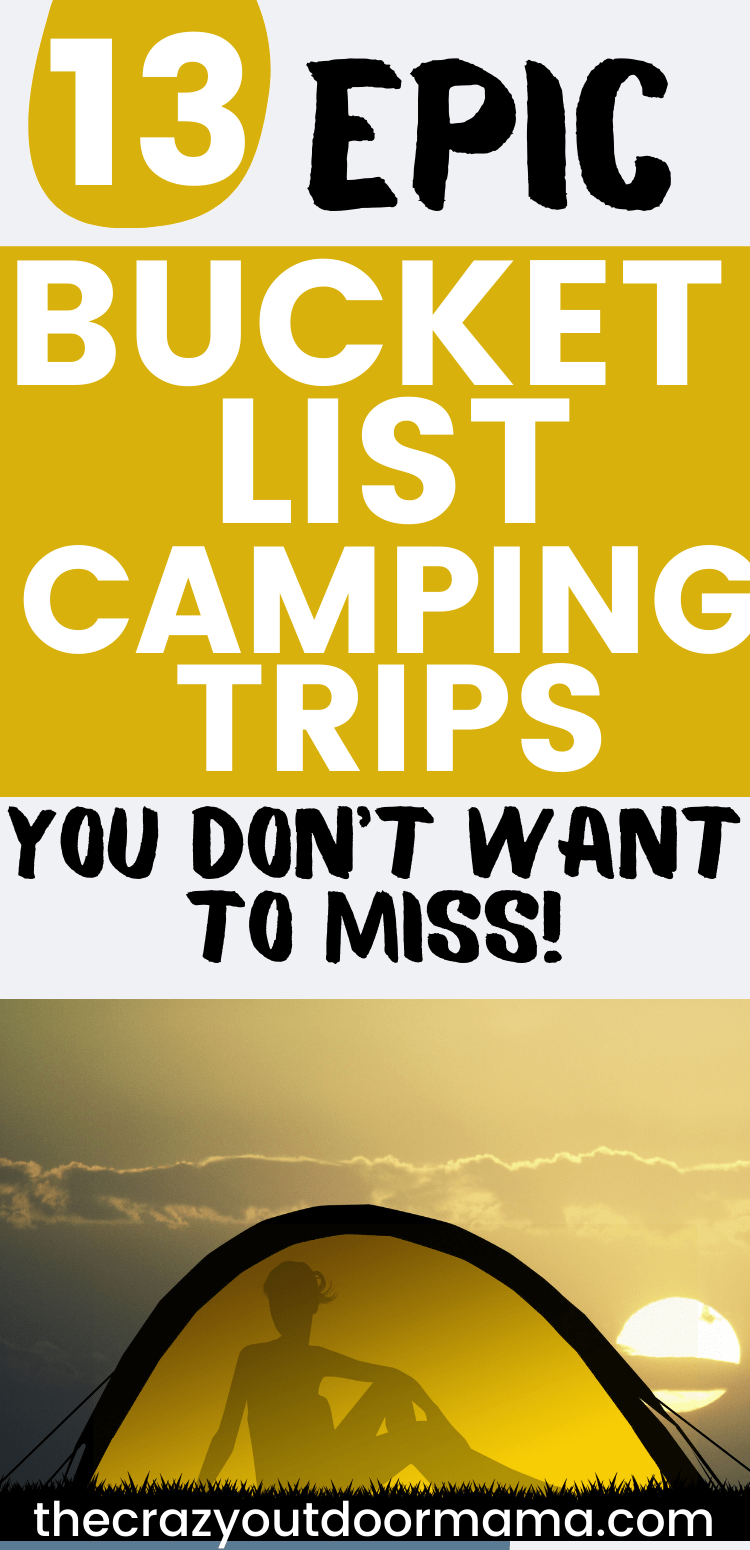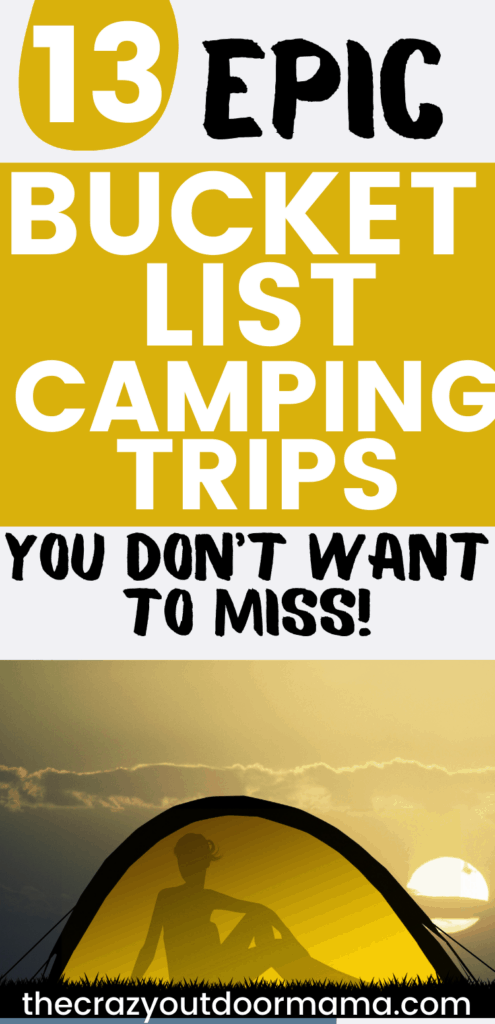 Latest posts by Stacy Bressler
(see all)